It may have taken six Singapore Premier League (SPL) games for Diego Lopes to open his account for the Lion City Sailors, but the Brazilian made sure it was all worth the wait as he scored a well-taken hat-trick to help his team to an 8-0 Singapore Premier League (SPL) win over Geylang International yesterday.
Inventive, sprightly, and full of drive, it was a well-rounded performance that showcased just why the Sailors opted to make him Singapore's first multi-million dollar footballer in January this year.
It is still early days for Diego in his voyage with the Sailors and Singapore football, but if he wants to establish himself as among the best foreign players to play in the SPL, then he need only look to his Sailors teammate Stipe Plazibat for inspiration.
Since making his debut in the SPL – then known as the S.League – in 2016, Stipe has grown from strength to strength and is now regarded by his peers and fans alike as one of the most potent strikers in the league.
Following his two goals against Geylang last evening, Stipe's goal tally in the league now stands at 70 – a fantastic return, considering the Croatian is now only into his fifth SPL campaign.
But the 31-year-old, who won the SPL Top Scorer award last season, is not about to rest on his laurels any time soon. The ambitious Stipe revealed he has set his sights on hitting the 100-goal mark in the SPL.
"It feels good to hit the 70-goal mark, but I've actually set 100 goals (in the SPL) as one of my career targets," said Stipe. "My two goals (against Geylang) brought me closer to that figure, but I still have to grind and continue working hard.
"For now, though, I'm quite happy with my (goal) figures, especially considering that I didn't always play as a striker in the SPL. More importantly for me is that I can ultimately help the Sailors win silverware."
Stipe's dream of helping the Sailors win silverware could well be realised sooner rather than later if the team continues to play the way they did against Geylang.
Ruthless, disciplined, and efficient in possession, the Sailors overwhelmed the Eagles with goals from Diego (3), Stipe (2), Gabriel Quak (2) and Saifullah Akbar doing the damage.
After a mixed start to the season – which saw the Sailors win twice, draw twice and lose once in their first five games – Stipe is confident that this huge victory will galvanise the team as they look to mount a sustained challenge for the SPL title.
"To be honest, we needed a result like this," admitted Stipe. "This will have a positive impact on the team for sure, and be a huge boost in terms of team chemistry and confidence.
"We also played well in previous games, but today, everything just went our way. That's why the result is so impressive."
Stipe also reserved words of praise for hat-trick hero Diego. Said Stipe: "The whole team and I are happy that he scored today. People expect a lot of him and he is under huge pressure, so it's great that he got the goals.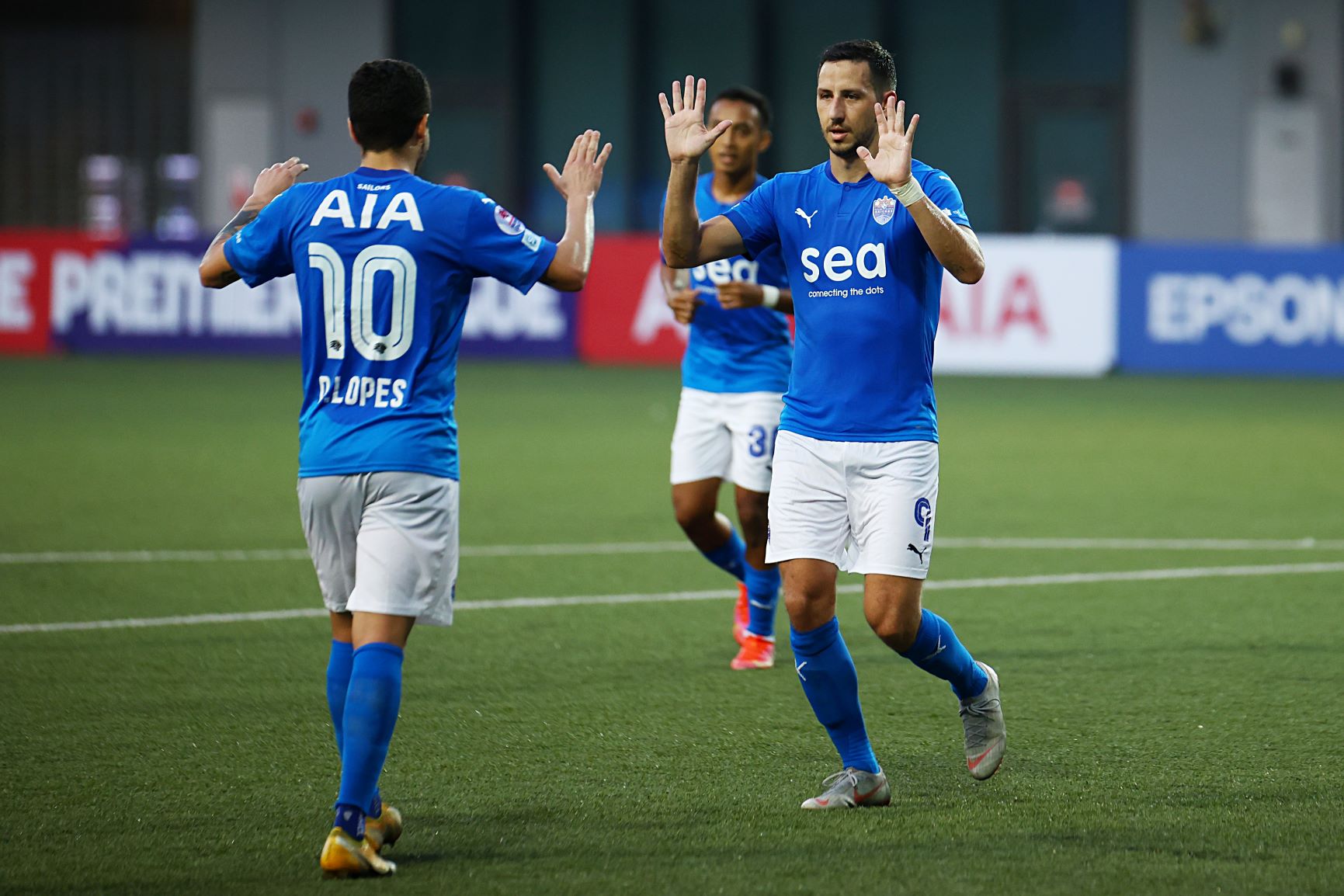 "On a personal level, it's a joy to link up with him because he sees and understands my runs, which is a dream for any striker."
The Sailors will next take on Balestier Khalsa this Sunday, 8.30pm, at the Jalan Besar Stadium. While Stipe believes the Tigers will be a tough test, he knows it is imperative that the Sailors get another win.
"They are a solid team, and never easy to go up against," Stipe mused. "Still, anything less than three points against would be a failure for us, because it's important that we build up some momentum after our Geylang win."
MORE FROM LION CITY SAILORS: