The look on the faces of our Lion City Sailors players when the final whistle blew at the Bishan Stadium last evening (Nov 22) to confirm their 2-3 loss to Albirex Niigata (S) in the Singapore Premier League (SPL) said it all.
This defeat hurt. Badly.
After all, each and every of our Sailors had given their all on the pitch, and had probably done more than enough to secure all three points against Albirex.
Twice Albirex took the lead last night – first, through Tomoyuki Doi (13'), then through Fairoz Hasan (34') – but each time, our Sailors fought back to level the score, with both Song Ui-Young (22') and Tajeli Salamat (45') getting on the scoresheet.
But the visitors took the lead for the third time in the 77th minute courtesy of Yasuhiro Hanada's strike. And that, unfortunately, proved just a bridge too far for our Sailors – who had arguably played the better football on the night. Not that we did not try, with the likes of the impressive Saifullah Akbar and Song Ui-Young both coming close to drawing us level in the final stages of the game.
Speaking after the match, head coach Aurelio Vidmar said he was still pleased with the commitment shown by his charges despite the defeat.
"I thought we had a very good first-half, and certainly in the first 15 minutes of that second half, we had a lot of control, and played some really good football," Aurelio reflected. "But conceding too easily put us on the back foot, so we had to chase (for the win). We've chased a couple of times already this year, and we've shown that we can do that, but it makes it harder.
"What I saw from the players was their courage and belief. Yes, the result didn't go our way today, but they showed a lot of commitment, as they always do. We played some nice little combinations in the midfield, and we continued to play our style. It's just one of those games today.
"Now, we just have to review the game and see where we can continue to work on our weaknesses and strengths. But it's very hard when the next game is in three days' time."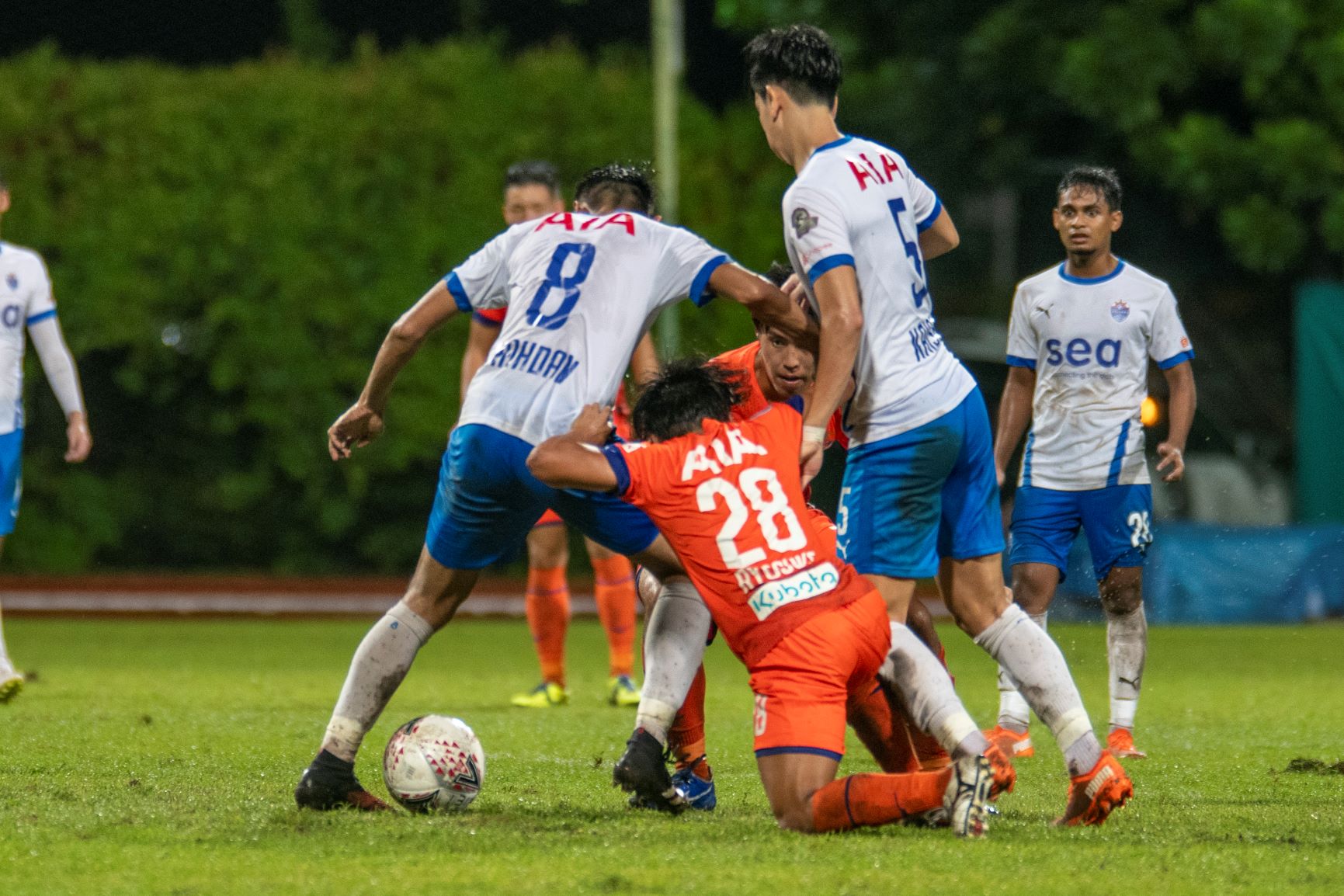 More than the defeat itself, the result was particularly galling because it saw the Sailors' SPL title hopes dwindle further – we are currently six points behind league leaders Albirex with just four more games to go this season, and while we are mathematically still able to win the SPL, our fate in the title race is no longer in our hands.
While Aurelio was just as upset with the defeat as any, he wants his players to recover from this disappointment quickly, and instead focus on ending the season on a high.
"They'd have to pick themselves up… and as hard as that pill is to swallow tonight, it is one of those things we'll have to do," said Aurelio. "This result makes it difficult for (us to win the title) in the last four games, but I still believe there's a lot to play for, you never know what could happen.
"We can't all of a sudden think about throwing the towel in, just because of this defeat. We've done so many good things over the last couple of months, so we need to be fired up for the last four games and finish (the season) strongly."
Our Sailors will be in action again in the SPL this Wednesday (Nov 25), 7.45pm, when they take on Geylang International at Our Tampines Hub.
MORE FROM LION CITY SAILORS: