It was on an innocuous day more than two decades ago, when he was just starting out in his professional footballing career at the now-defunct outfit SAFFC, that Adi Saleh learnt a valuable life lesson that he continues to hold close to his heart.
Then still a student at the Institute of Technical Education (ITE), Adi found himself with time to spare after finishing his classes early that day, and so arrived at the Jurong Stadium two hours before SAFFC were due to train.
After changing into his goalkeeping gear, Adi decided to kill time by resting on the massage bed in the SAFFC dressing room.
Barely half-an-hour later, Adi was roused from his slumber by a loud, commanding voice from across the room.
"Adi! What are you doing here?" shouted Vincent Subramaniam, who was then in charge of SAFFC.
After Subramaniam was apprised of the situation, the former Lions coach directed a simple question to Adi.
"Do you want to succeed as a professional footballer?" Subramaniam asked.
When Adi replied in the affirmative, Subramaniam said: "Then you should be out on the field training now! It doesn't matter that the rest of the players are not here, you can train by yourself, do some drills on your own! The extra effort that you put in will help you get better as a player."
From that day on, Adi made it a habit to put in more hours on the training ground than was required, as he sought to become the best goalkeeper he could be.
More importantly, Subramaniam's words helped Adi realise that there is no substitute for hard work in the quest for success.
That mantra – which all the top players in the world like Cristiano Ronaldo, Lionel Messi and Mo Salah live by – served Adi well, as he went on to enjoy a fulfilling playing career that saw him turn out for the likes of Home United, Balestier Khalsa, and even the Singapore National Football team.
"That lesson of giving extra in everything I do has helped me a lot in my career," Adi mused. "It taught me that if you want something bad enough, you have to work hard for it. 
"There's no shortcut…you cannot simply be good or work hard for just one day. It is the effort that you put in every single day that will count in the end."
While Adi never forgot that life lesson, and continued to hold true to the value of hard work even after hanging up his gloves in 2008, it became especially relevant in 2020, when the Lion City Sailors became the first privatised football club in Singapore.
The 45-year-old had by then been the goalkeeping coach for Home United – the previous iteration of the Sailors – for nearly 10 years, but niggling injuries to his knee and ankle meant he was unable to perform his role at an optimum level.
The Sailors had no choice but to hire another goalkeeping coach to take over Adi, but the club were also determined to retain their long-serving employee, and so offered Adi the role of Video Analyst.
The newly-created job involves having to record and 'code' video clips of certain moments in live matches, which allows the head coach to conduct a more in-depth analysis after the game.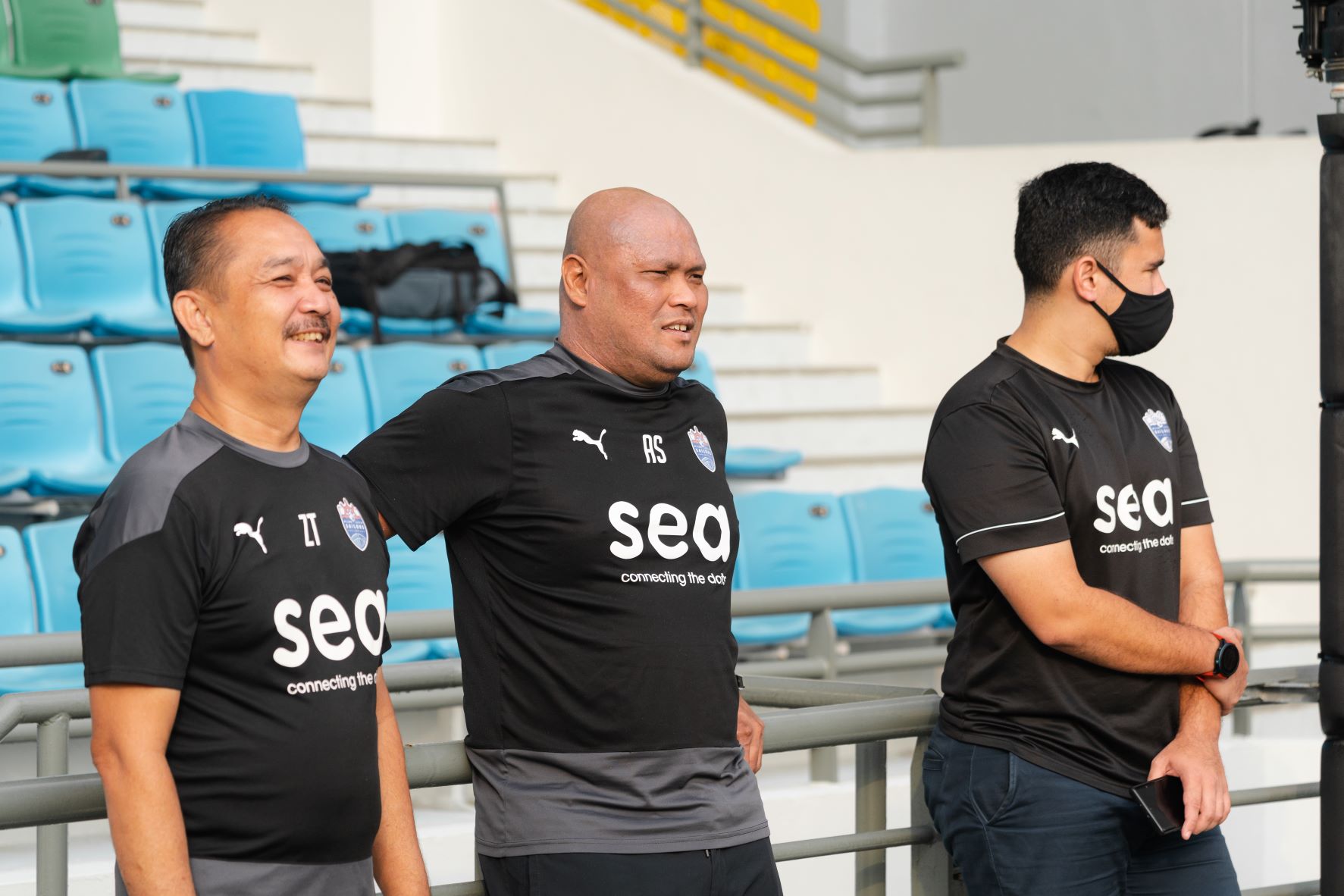 Adi elaborated: "We have a system that helps us code every moment of the game – for example, if we want to see how the team builds up play, we will start recording when the goalkeeper or defenders have the ball, and record all the way till we bring the ball to the final third, or lose possession. That way, the coach can see in the build-up what good moments led us to the final third, and what errors were made that caused us to lose possession.
"It also helps with the development of players. For example, the coach might want to take a closer look at Saifullah (Akbar) after a game, to see every moment that he touches the ball, along with the five seconds before and after he receives it. Once that clip is extracted, he can assess if Saifullah is moving at the right place at the right time, and that's where he will make his assessment and recommendation to the player.
"At the end of the day, the coach wants the players to know what are the things they have done during the game that are good, and what are bad. It's not to be critical of the players, but to help them and the team get better moving forward."
While initially hesitant about embarking on a radically different career path, Adi ultimately decided to give it a go, with the belief that by working hard in his new role, he would be able to overcome any challenges that came his way.
"Having been a goalkeeping coach for some time, it was not easy for me to suddenly change my job scope. The role of video analyst is also quite new in Singapore football, so there wasn't really anyone I could learn from or go to for advice. In addition, we had a new coach from Australia (Aurelio Vidmar), and I did have doubts over whether I could meet his expectations," Adi admitted.
"But I learnt from my playing days that I had to do my best no matter what the situation is. At the end of the day, I trusted my belief that if you work hard, the results will show."
Two seasons later, Adi has absolutely no regrets at having taken the leap of faith.
An integral part of the backroom team, Adi – who credits former coach Aurelio for teaching him a lot on the job – has since been empowered by Sailors' coach Kim Do-hoon to conduct post-match presentations with the team, where he goes through the past game to highlight and analyse its key moments.
"Coach Kim maintains an open line of communication with me, and guides me along his vision, so it's easy for me to progress," said Adi. "Honestly, it's thanks to the help and advice I've received from coaches Kim and Aurelio over the past two seasons that has enabled me to become a better video analyst."
Having witnessed first-hand the Sailors' rapid improvement and transformation into Singapore Premier League (SPL) champions this year, Adi is excited at what the future holds for the club, especially with regard to their participation in the Asian Football Confederation Champions League (ACL) next year.
"I feel blessed and honoured to have been a part of history with the Sailors' SPL title win," the father of three said. "But that is just the beginning. Everyone at the club understands that there is a big responsibility on us to be better, and that we have to prepare to play at a whole new level in the ACL next year.
"It's not going to be easy, so we have to work hard during pre-season. But we are determined not to go there to make up the numbers – we want to compete, because we know that the club is carrying the flag for Singapore in the tournament."
"How we fare will boil down to our mentality and motivation, because I believe we have the talent already. But having been at the club for quite some time now, I know that every player in the team is striving to be the best," he said. 
 "So, I'm confident that we can go far, and I'm looking forward to achieving greater things with the Sailors."
MORE FROM LION CITY SAILORS: