Fitness was a youth-fuelled obsession that was put through the forge of serious injury. But a chance encounter turned the wheels in a different direction, then in the blink of an eye, Fathul Nur Hakim became a world champion working with Singapore footballers looking to put the country on the map of Asian football.
That is the synopsis of Hakim's sporting journey. And the 32-year-old still struggles to believe his own story.
"To beat the best of the best was something that I never expected, and that was a beautiful memory that will stay with me for a lifetime," he said, of his feat: beating over 1000 participants in the 2019 Dr.stretch World Stretching Competition held in Tokyo.
A brand that originated from Japan, Dr.stretch focuses on a "core balance stretch" approach with trainers helping their clients through different techniques to get to deep muscles that they cannot reach by themselves.
Several of those 1000 Hakim beat were master trainers and grand trainers with some 10 years of experience. Hakim only had some two years under his belt at that time, going to the global tourney without any expectations, to "gain experience".
That world championship triumph still feels surreal to him today.
"The winner in the previous year was a Japanese grand trainer who has been in the industry for a long time, while I was just a junior trainer in my second year," said Hakim, putting things in perspective.
"To help people achieve things and go past limits that they never thought they can achieve is something very special," he shared. "At that time, that was what motivated me at Dr.stretch every day."
Today, Hakim is a Lion City Sailor, helping the likes of Singapore's first multi-million dollar footballer, Diego Lopes and 2020 Singapore Premier League Player of the Year, Gabriel Quak reach further than they ever have before.
As a Sailors' sports therapist, Hakim's main task is to help the players recover from their injuries as quickly as possible by utilising his expertise in stretching techniques. He works hand-in-hand with the club's sports trainer Fazly Hasan and sports scientist Danial Feriza, who focus on other aspects of recovery like massage and cupping.
Hakim is a relatively new addition to the team, having joined before the start of the 2021 season and his journey to the Sailors is unorthodox to say the least.
A fitness junkie from a young age, he initially worked as a gym instructor and personal trainer for a period of six years. Being a football lover as well, he still plays the game at the recreational level and that was how he suffered a horrific injury that changed his life in 2015.
At the receiving end of a crude challenge by an opposing player, Hakim tore two ligaments – his anterior cruciate ligament (ACL) and medial collateral ligament (MCL) – in his left knee. To repair the damage, he required metal screws to be inserted into his knee, with weekly physiotherapy sessions at Singapore General Hospital (SGH) for approximately six months a key facet of his recovery programme.
Having regular conversations with his regular physio, Hakim started to appreciate what the job entails and was inspired to work in this field. He started reading up about physiotherapy, and the opportunity for a career change came with a chance encounter in early 2018.
As he was recovering from a hernia injury that he sustained while working out in the gym, Hakim happened to come across a packed Dr.stretch outlet at the NEX shopping mall in Serangoon.
Watching trainers help clients in stretching was something that truly intrigued him, and Hakim did not think twice before sending his resume to apply for a physiotherapy assistant role in the company. He was accepted after a successful round of interviews, beginning a new journey with a 16-day course in Osaka. That course equipped him well, allowing him to build up a solid clientele base.
Things moved quickly, with Hakim being promoted to assistant manager within 12 months, and he was then chosen to represent the Paya Lebar Singpost Centre's branch in a local Dr.stretch competition. Despite having some doubts, the faith shown by his bosses meant he felt obliged to put up a good performance for them.
Participants were marked based on the 'power, transition and the effectiveness of the stretching', as they were given one minute each to stretch the various blind-folded judges on their muscle groups like hamstring, quads or glutes – with the specific areas only made known on competition day itself.
Hakim bested six other participants from various branches to earn the right to represent Singapore at Dr.Stretch's annual World Stretching Competition held in Tokyo in October 2019.
He then beat over 1000 participants to become world champion.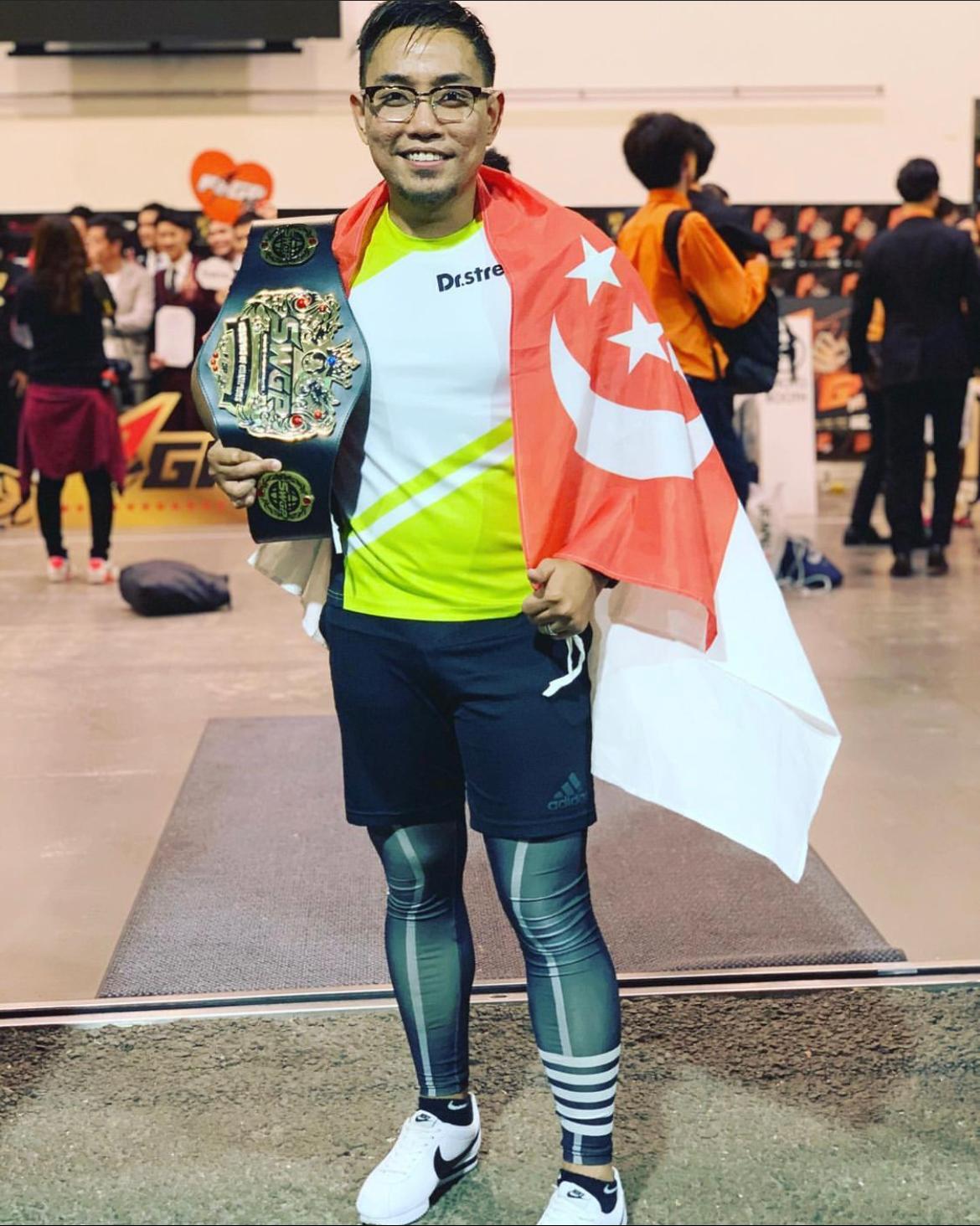 It was a defining moment for the ambitious Hakim, who recognised that he could develop further in the world of physiology. He continued to upgrade himself through courses and got his first experience of working in a football club in 2020 when he was attached to Singapore Premier League (SPL) champions Albirex Niigata (S) from Dr.stretch for a full season.
Later that year, his childhood friend Hafiz Nor acquired his help in terms of recovery and visited him for a one-off session. The Sailors winger "felt a lot of difference in terms of the previous soreness and body aches" and to show gratitude, Hafiz posted a photo of himself and Hakim at Dr.stretch on social media.
The photo caught the attention of the Sailors management, and Hakim was won over by the club's vision to evolve into one of the best clubs in Asia.
For Hakim this was living the dream – the marriage of his two big loves, football and physiology – to work full time as a physio in an ambitious professional football club.
The club's footballers still needed some convincing as stretching is widely viewed as a "very basic exercise that can be done at home". In contrast, massage and cupping are usually the local industry norms in terms of players' recovery.
"Do you know established J-League clubs like FC Tokyo and Yokohama FC have physios who only do stretching for the players?" pointed out Hakim. "I can understand why players here may neglect this area and only prefer massage, but it's my duty to step in and educate them of the benefits of stretching.
"What's the point of the best technology and methods in recovery if you don't even do the basics of stretching? Your muscle fibres are like rubber bands – if you keep pressing on them, it will cause inflammation and they will still feel sore.
"In order to reduce that, you have to stretch and that's where I can help them with my technique, to achieve the range of motion that they can't normally achieve themselves. In that way, the blood circulation can flow properly and they will eventually feel lighter. The results are of course not immediate, but the players will feel the difference in the long run."
It was that wholeheartedness and unwavering dedication to his work that helped him convince the Sailors' players to get in line with his philosophy. Right now, established players like Gabriel, Diego, Jorge Fellipe and new arrival Hariss Harun are undergoing regular sessions with him from three to four times a week.
Hakim finds the most satisfaction from "making a difference in someone's life" as he highlighted how Gabriel's "flexibility and mobility have improved a lot" since the start of the season.
"During my first session with Gabriel, he shared with me that there are certain areas in which he often suffers from pain and are not easily cured," said the therapist. "I began to help him stretch, physically lifting up his leg to a certain degree and in a certain motion.
"After that, he felt lighter and told me this is exactly what he's looking for in terms of recovery. Even when he was away with the national team, he was doing the exercises which I encouraged him to do," said Hakim.
"It makes me feel really good when a player appreciates what you do for him."
While he has now achieved his dream of working in professional football, Hakim is not one to rest on his laurels. Relishing the opportunity to learn from experienced heads the likes of Sailors Head of Sports Science, Mario Jovanovic, Head Physiotherapist Nurhafizah Sujad and Fazly Hasan on a daily basis, he is also consistently doing more research to learn more about treating cumbersome injuries.
Ultimately he aims to be a more well-rounded sports therapist in order to add more value to the club, and he is targeting certification in osteopathy next.
Hakim believes he could not be at a better place, with the Sailors' "family-like atmosphere where everyone respects each other and works as a team to achieve a common goal".
"I can see myself staying at the club for a very long time," he said.
Moving forward, Hakim yearns for the club to continue its emphasis on stretching and go beyond what they are practising now. He believes his measure of success is to help the club get to a level "no other SPL club has achieved before" in terms of recovery and performance.
"I hope we can set the benchmark in what we do," he reiterated. "It's not just doing stretching sessions with me, but every player can also partner with each other to do their stretches or warm-up together. That's the vision and target that I have for them.
"This club has serious ambitions to become a big club in the region and I'm happy to be part of this big project that can do Singapore football proud."
MORE FROM LION CITY SAILORS: