In From the Bridge, we step away from celebrating the anniversary of the founding of the Lion City Sailors to glance in the rear view mirror, to see how far the club has come in the previous year, before turning our eyes to the path ahead. 
The last of this series is extra special. We turn the camera onto those at the centre of all our efforts – you, the football fan – and you get your own title in this series: From the Stands. In this piece, Jonathan Lee speaks on his journey from watching on the periphery of Singapore football, to personally driving fandom of the Lion City Sailors. 
The Lion City Sailors (LCS) were unable to build on the huge buzz following the launch of the club in February 2020, with the global pandemic sending the majority of that year's matches behind closed doors. 
But as Covid-19 restrictions began to loosen in 2021, fans from all walks of life started to flock to stadiums across the island, especially the Jalan Besar Stadium, the Sailors' home for 2021. 
One of those was Jonathan Lee, who had been watching Singapore Premier League (SPL) games on the periphery, through online streaming,  but the Sailors project – and performances – piqued his interest. 
The 4-1 win over Tampines Rovers where the Sailors displayed some swashbuckling football to dispatch a team that participated in the Asian Football Confederation (AFC) Champions League (ACL) two months prior made a huge impression on Jonathan, and he had to see things for himself – and ended up coming back for more.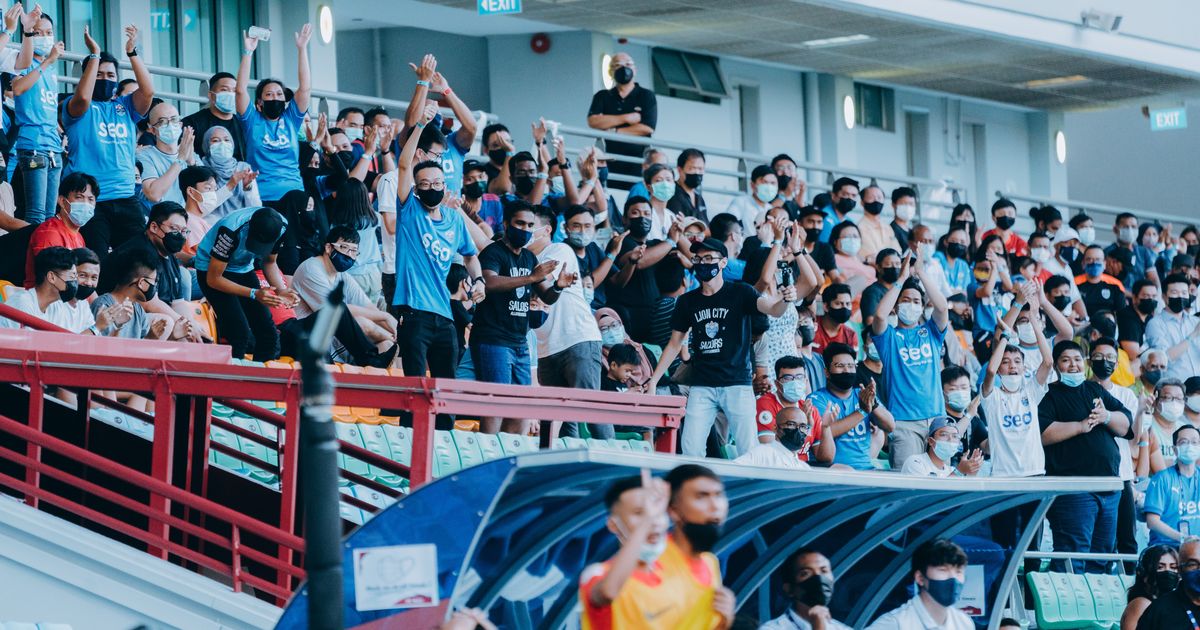 "On matchdays, you can always see club CEO Chew Chun-Liang being there near the stadium entrance to greet and interact with the fans. You can even see him carrying boxes up and down at times," said the 25-year-old. 
"There's a very good vibe at the matches and you can see families coming down – there's a good mixture of the young and old in the stands. Nur Adam Abdullah's family is always there, even his grandmother is always up there in the stands to support him," added Jonathan, who picked up on various non-football aspects of the Sailors' spirit that resonated with him.
"When you bought the Sailors jersey, it came along with a season pass, a Crew t-shirt, a lanyard and a facemask. No other club provides such an attractive package. On the club side, I've spoken to The Lion City Boy (Sailors' Creative Director, Kevin Lester) and Ravi Maan (Sailors' Head of Marketing) and I'm looking forward to having more conversations with them. 
"It's quite rare to have a club that has people who are ever so willing to interact and engage the fans – to know them on a personal level. The club has really done a great job to attract fans and bring back the support."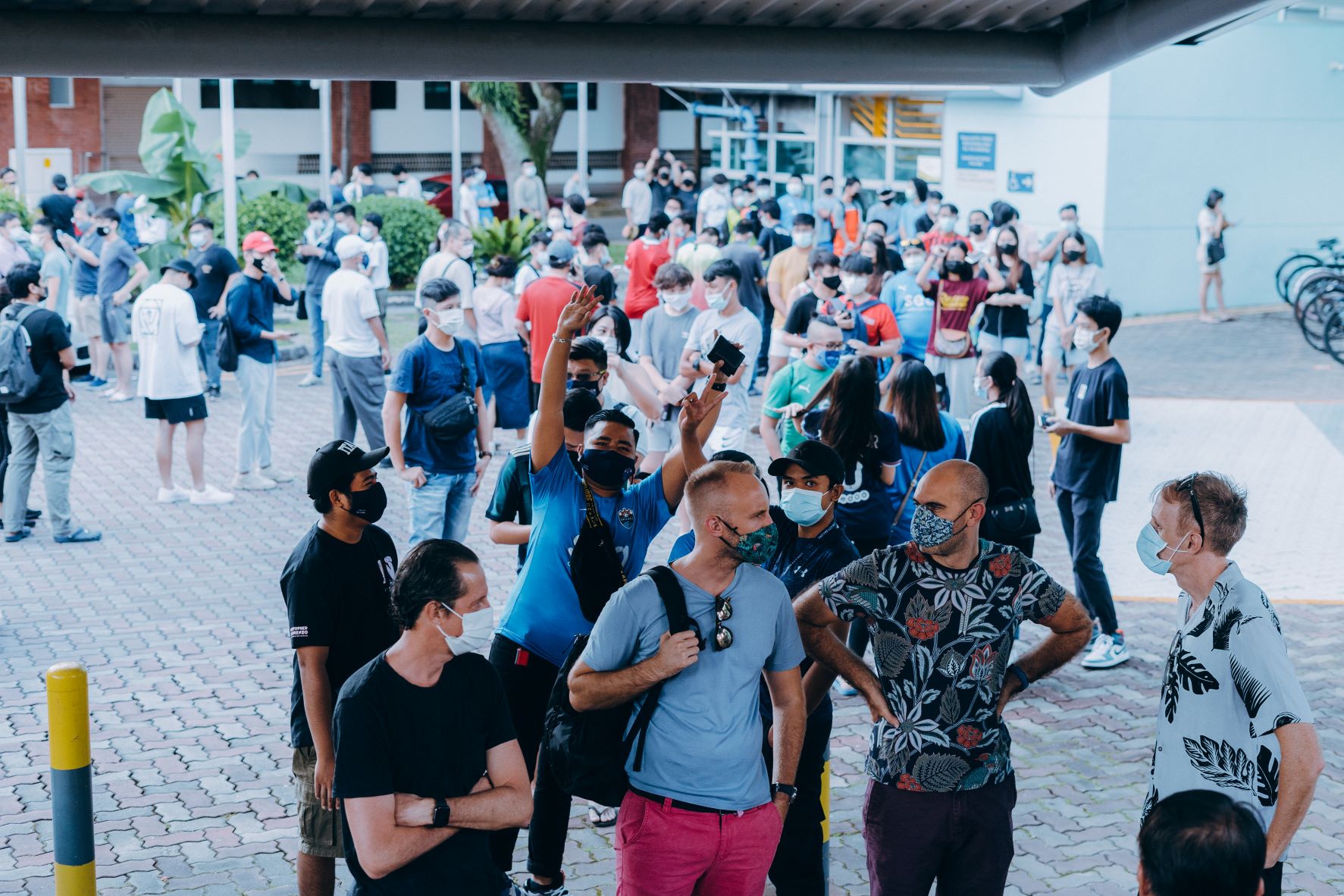 Jonathan has long been a supporter of Singapore football. He was in fact a Warriors FC supporter since his youth, until the club sat out of the SPL from 2020, and did not adopt any club until the lure of the Sailors convinced him to come onboard
"I know there are people out there saying the Sailors are only about money and buying glory, but I don't think it's right to go down those lines. The club clearly wants to bring back the thriving state of Singapore football and push the level of football up another level," he explained. 
"As such, there's a need to invest resources to bring in the best and become the best. If not, Singapore football will always be stuck in this bubble and not be able to challenge in the region."
Soon after becoming a Sailors fan, Jonathan created LCS Family with the aim of creating a platform to further promote the players, and building a community where people from all walks of life can come together to support the club.
 A full-time content creator and designer, he makes full use of his expertise in graphic design to create statistical posts and graphics to help boost the profile of Sailors' players. 
Purely doing this out of passion, the avid fan often puts in hours of hard work – waking up early and sleeping late – but he feels it is all worth it.
"Sometimes after my work, I will rush home just to do more research and work on the ideas that I've for LCS Family," admitted Jonathan, whose inspiration comes from the social media posts of neighbouring Johor Darul Ta'zim and top European clubs like Manchester United and Manchester City. 
Jonathan's LCS Family's Instagram account now has almost 600 followers.
"It's really tiring at times, but I'm really motivated when players start to take notice. Gabriel Quak and (former Sailors' forward) Stipe Plazibat have reposted my photos on their accounts… Aqhari Abdullah and Tajeli Salamat – these two have no airs about them and are very easy to talk to. It's great to have them appreciating what I do and that's exactly the aim – for the club to be one big family, including players, staff and fans."
One memory carved onto Jonathan's mind is sitting in the stands and witnessing the Sailors' first-ever title win last October.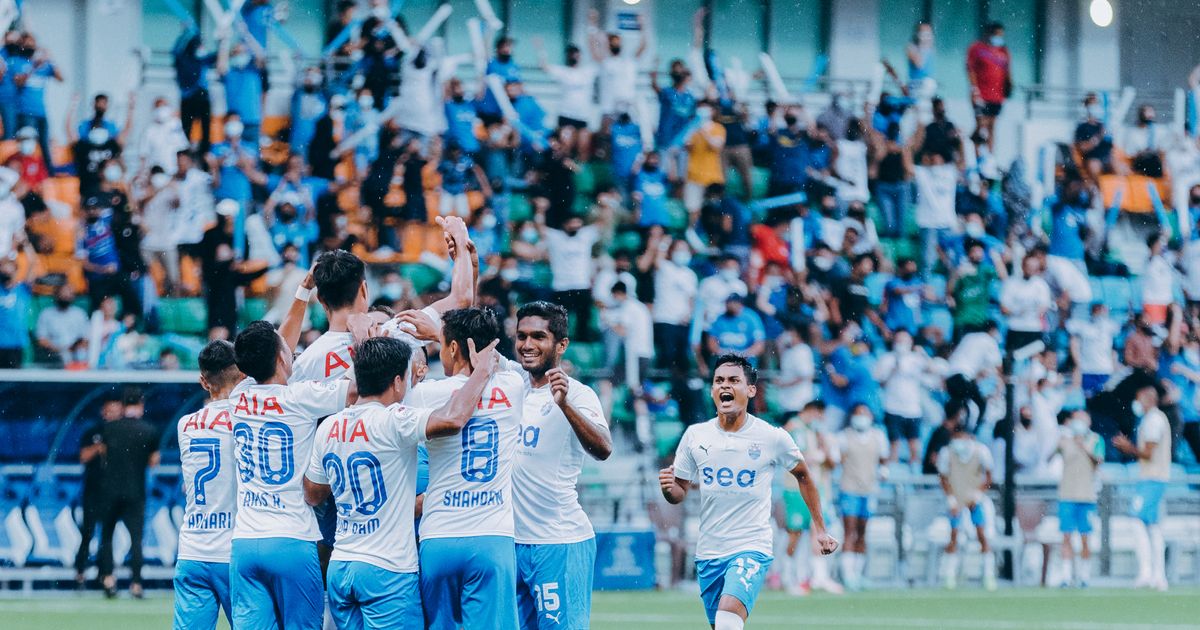 "I went to queue around 1pm on matchday because I was worried that I wouldn't be able to get tickets and I'm lucky to be one of the first few," he recalled fondly. "There were several ups and downs… I was streaming the Albirex Niigata (S) vs Tanjong Pagar United game on my phone while also watching the Sailors' game. Balestier (Khalsa) equalised against us while Albirex were leading by a few goals in the first half. 
"Some fans including me were quite worried, but when Tanjong Pagar started to come back into the game, we shouted to give an indication to our players, and everyone started to be more motivated. And when Gabriel scored that fourth goal, we just knew we're going to win the trophy.
"Everyone was just celebrating together."
Jonathan's love for the club seems set to grow stronger in 2022 – he has received his season pass and his ultimate dream is to do a ACL-winning poster for the club.
"One thing's for sure, I'll be there for every Sailors match – rain or shine. We've signed quality players like Kim Shin-wook and Maxime Lestienne this season," said a bullish Jonathan.  
"I have every confidence in our boys, I will continue to support them and I'm sure we'll make Singapore proud in the ACL."
MORE FROM LION CITY SAILORS: