There was a marked air of self-assurance about Gabriel Quak as he rounded Young Lions goalkeeper Nurshafiq Zaini before slotting the ball into an empty net for the Lion City Sailors' third goal in their 3-1 Singapore Premier League (SPL) win over Philippe Aw's men last Saturday (April 3).
Composed, confident, clinical.
The goal – his second of the game – perfectly encapsulated the evolution of Gabriel into a bona fide goalscorer.
Where Gabriel might have preferred to hug the touchline and send crosses into the box in seasons past, the 30-year-old now often runs into more central areas to get himself into better goal scoring positions.
Indeed, that was how he scored both of his goals against the Young Lions. The first saw him make a lung-busting sprint to latch onto Stipe Plazibat's pass before bending the ball into the top corner, while his second goal owed much to the intelligent run he made in behind two Young Lions defenders to meet Saifullah Akbar's precise through ball.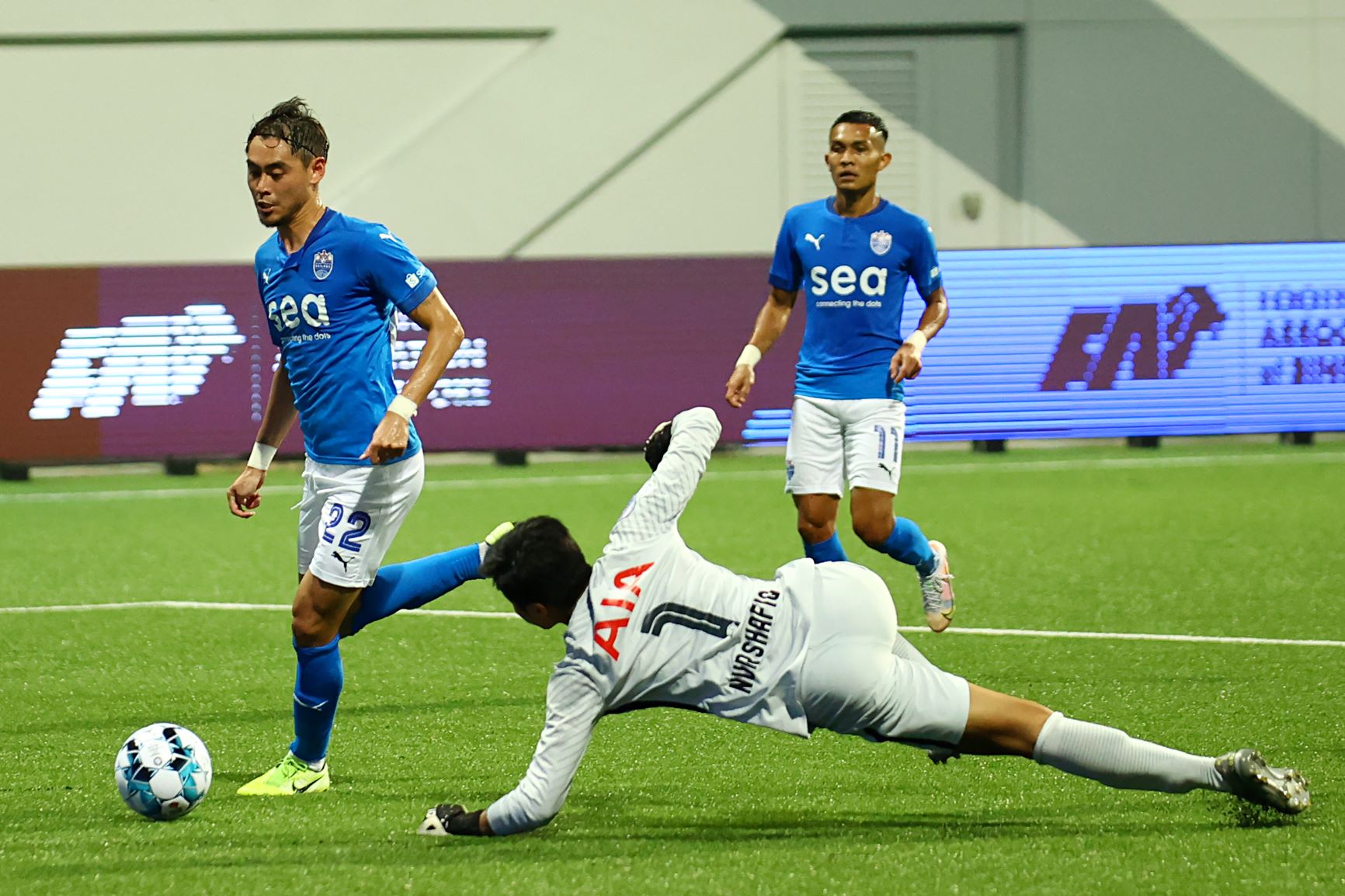 With four goals to his name in the first four games of this season, the Singapore international currently leads the Sailors in the goalscoring charts alongside last year's SPL Top Scorer, Stipe.
To put his hot goal streak in context, Gabriel only found the back of the net five times in total last season. His career-best tally in the league remains the nine-goal season he enjoyed in 2019 with Warriors FC.
So, it comes as no surprise that Gabriel has set himself an ambitious personal target this season: for the first time in his illustrious career, he wants to hit double figures for league goals.
"Yes, it (hitting double figures for goals) is something I want to achieve," Gabriel acknowledged. "As an attacker, I always give myself added pressure to deliver in the attacking third – that's how I push myself to work on my end product every single time. But I'm definitely pleased with my output in terms of goals so far."
But while Gabriel might seem like a natural predator in front of goal these days, he revealed that it actually took hours upon hours of hard work on the training ground to develop his goal scoring prowess.
"It's important to put in your best effort during training so it becomes almost like a repetition," Gabriel explained. "Whatever you do on the training ground – such as the kind of runs you make and the kind of passes you give – you will subconsciously bring it with you into the game.
"Take that first goal which I scored against Young Lions for example. I scored the exact same type of goal during training two days before the game. This is what I mean by it being a routine.
"It also helps that I'm enjoying my game right now. When you enjoy what you're doing, you'll be able to flourish because you won't feel like you're forcing things to happen."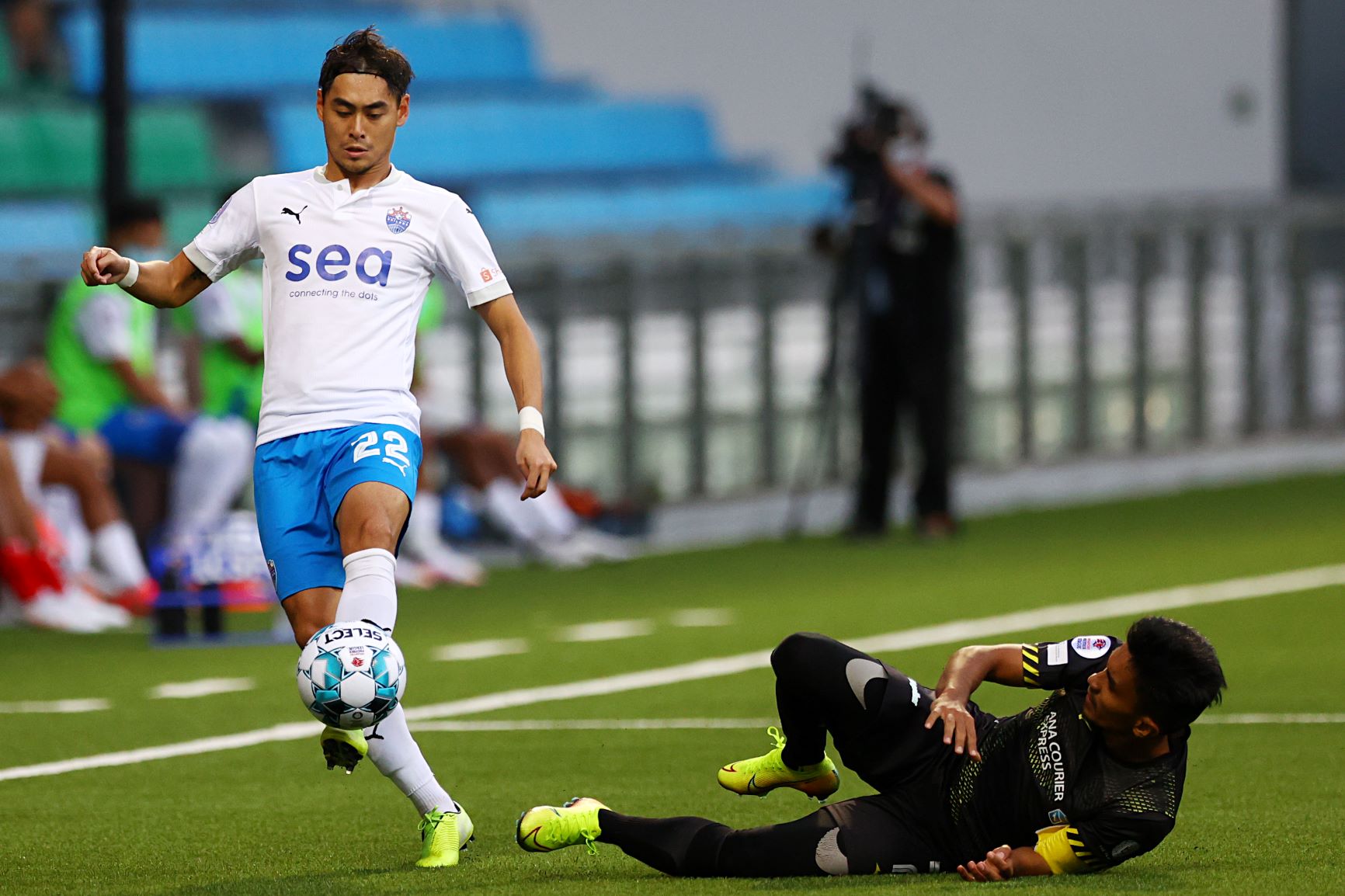 Conversely, however, Gabriel is yet to notch an assist this year – a surprise, considering that he topped last season's assists chart with seven.
But Gabriel remains unperturbed by that statistic, as he believes it comes as a natural consequence of playing in a team that has a plethora of players who have the ability to pick a pass in the final third.
"We have plenty of quality ball carriers this season in Shahdan (Sulaiman), Diego (Lopes), Song (Uiyoung) and Stipe. Let's not forget Faris (Ramli) and Adam (Swandi) as well. Really, it's not that bad being at the receiving end of their passes!" he chuckled.
"Anyway, football is a team sport. It's important how I bring the best out of my teammates, and how they can bring the best out of me. Somebody has to make the runs (to score from their passes), and I'm happy to be that player. Ultimately, if it means the team achieves victory, that's all that really matters."
Having won last season's Player of the Year (POTY) award, Gabriel knows that there are high expectations placed on him to excel again this season.
But Gabriel insists that he thrives upon such pressure, although he remains adamant that the needs of the team come first.
"If you don't have this kind of pressure, you wouldn't try to push past your boundaries," said Gabriel. "I want to be seen as the type of player to stand up and lead the team when the chips are down.
"In the past three to four years, I've been working on my consistency, which I admittedly lacked when I was younger. I'm glad that my efforts were finally recognised with the POTY honour last season, and I would love to win the award back-to-back, but the team comes first. Whatever I do must go towards helping the team achieve success."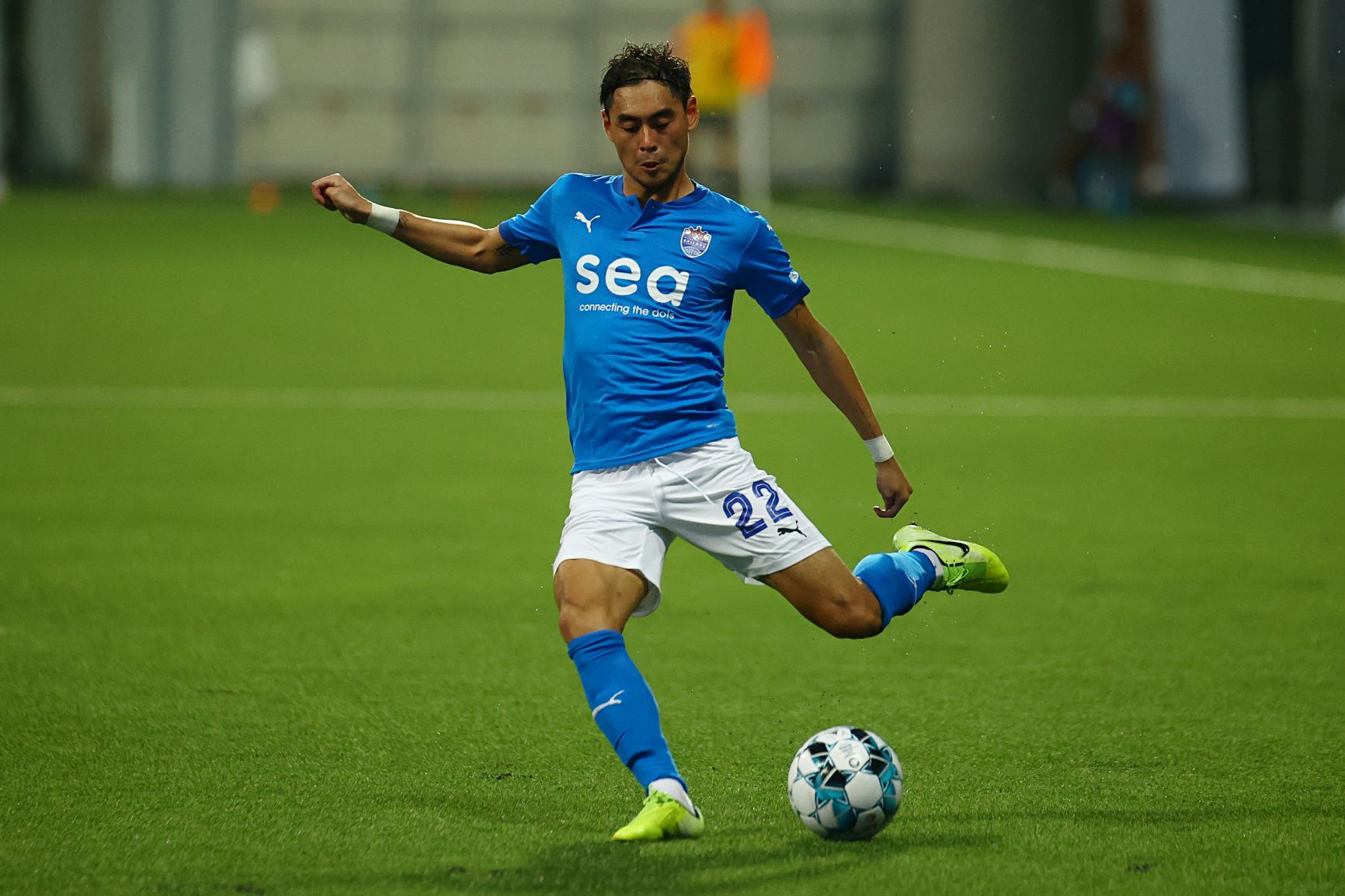 Up next for the Sailors is a big clash against reigning champions Albirex Niigata (S) at the Jalan Besar Stadium on Wednesday night (April 7). The Japanese side has carried on where they left off last year – they currently lead the table on 10 points, have conceded just one goal, and remain the only unbeaten team in the SPL so far.
But Aurelio Vidmar's side has a score to settle with the White Swans – last season, the Sailors were narrowly beaten 2-3 by Albirex in both encounters despite arguably playing the better football.
The Sailors will go level on points with Albirex with a victory on Wednesday, and Gabriel says that everyone in the Sailors camp is eager to get one over their title rivals.
"This is a six-pointer and we want to show a statement of intent by beating a fellow title challenger," Gabriel declared. "We were disappointed not to beat Tampines on the opening day of the season (a 3-3 draw), and we know we need to pick up maximum points in these types of games.
"Playing against Albirex is always tough…they change several of their players every year, but the philosophy remains the same. These players are hungry because they know this is a stepping stone to bigger things in their career.
"They showed over the course of last season why they are deserving champions, but we also did show in the two games against them that we're more than capable of beating them."
Unfortunately, the Sailors will have to rejig their defence, with centre-back Amirul Adli serving a one-match suspension after his dismissal against the Young Lions.
While Gabriel labelled Adli's absence a "big blow", he is confident that the teammate who steps in to fill the void in the centre of defence will be able to "rise to the occasion".
He said: "Adli has been very important to us – he brings stability to our defence. But we have Tajeli (Salamat) and Abdil (Qaiyyim) who can step in and play a good game as well.
"Jorge (Fellipe) had a great game (vs Young Lions), and I'm sure he will help whoever that plays alongside him."
Gabriel was equally bullish about the Sailors' capability in attack – in particular, he hailed the quality of star signing Diego, and tipped him to make a positive impact in the coming games.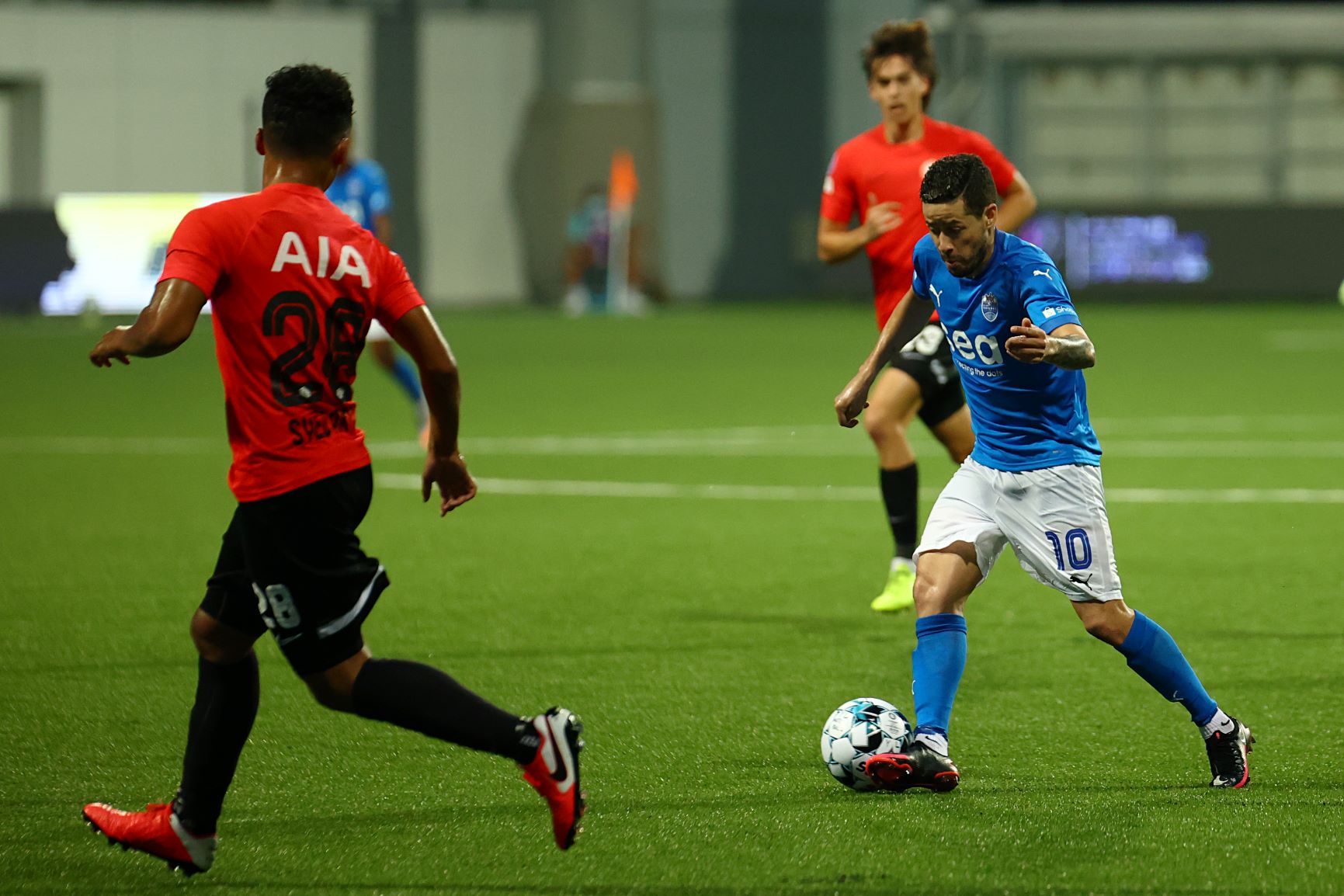 "Diego came with very big hype and a lot of attention in the media, so I was looking forward to meeting him when he came," Gabriel shared. "To me, the behaviour of a person says a lot about their personality – there are no airs about him, he has been respectful of everyone, and we all enjoy having him around.
"We've been combining well when we play small-sided games in training, so we're building some chemistry between us. It's important for us attackers to understand each other's style of play, which makes things easier in the game. I'm sure you'll see more good things from him – and from us throughout the season."
MORE FROM LION CITY SAILORS: