It may not the tidiest of finishes, but it gave Shawal Anuar a goal he will never forget. 
As Maxime Lestienne swung a trademark sublime cross from the right flank, Shawal escaped the attentions of Spanish international Pedro Porro, and instinctively stuck out a foot to divert the ball past goalkeeper Guglielmo Vicario. 
It was 14 minutes into the Singapore Festival of Football's Tiger Cup, and the scoreboard at the National Stadium read: Tottenham Hotspur 0 Lion City Sailors 1. 
Aleksandar Ranković's charges eventually fell 5-1 to the English Premier League (EPL) side. 
However, Shawal made history by becoming the first Singaporean player to score against Spurs since Samawira Basri did so for the Singapore national team in 1995 – when the Lions drew 1-1 with the North London side before prevailing 4-2 on penalties.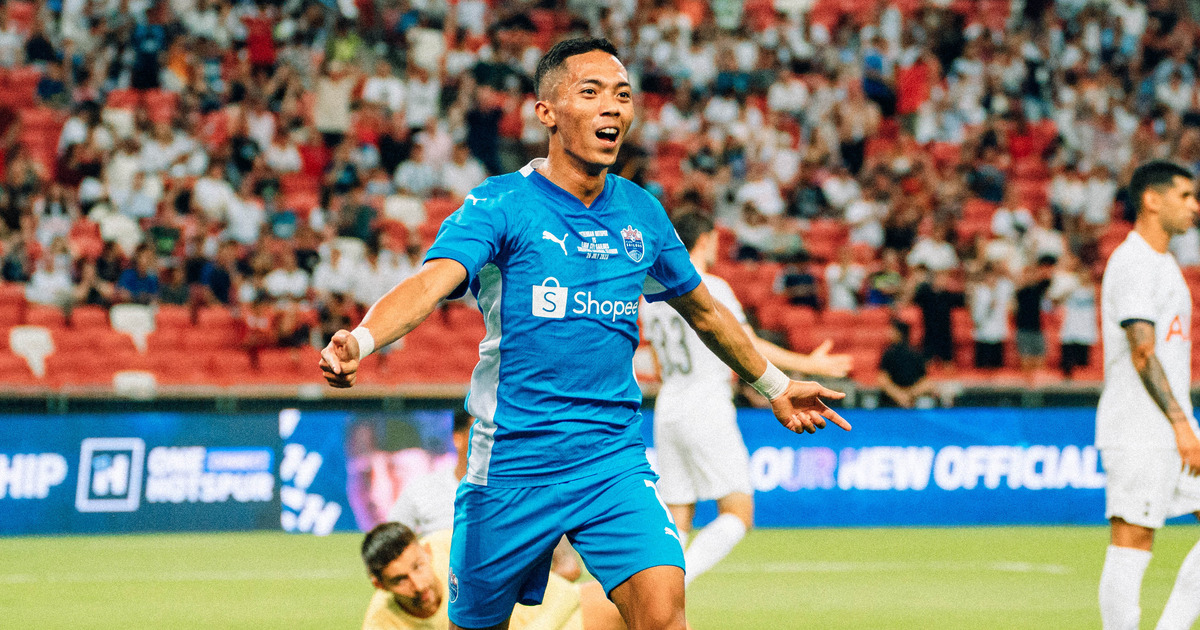 Shawal is still coming to terms with how a training ground move was the platform that gave him a unique goal.
"Before the match, coach Ranko kept telling me 'Shawal, I want you to make the runs into the box'. Max also told me 'you just run inside and I will definitely give the ball to you'," revealed the Singapore international.  "I did and the ball just fell nicely for me to tap in.
"The crowd cheered so loud that I couldn't hear myself, it was like my ears were blocked. This is definitely one of the best moments in my career to score against a team like Spurs. I've never thought something like this would happen," said Shawal. 
But the goal came as no surprise to its architect. 
"I'm not surprised by this goal, honestly," said Maxime. "I've just started playing with Shawal this season, but I already have a very good connection with him – I know where he wants the ball and how he makes the run. 
"I'm very happy for him and he really deserved this because he is a top, top player for us."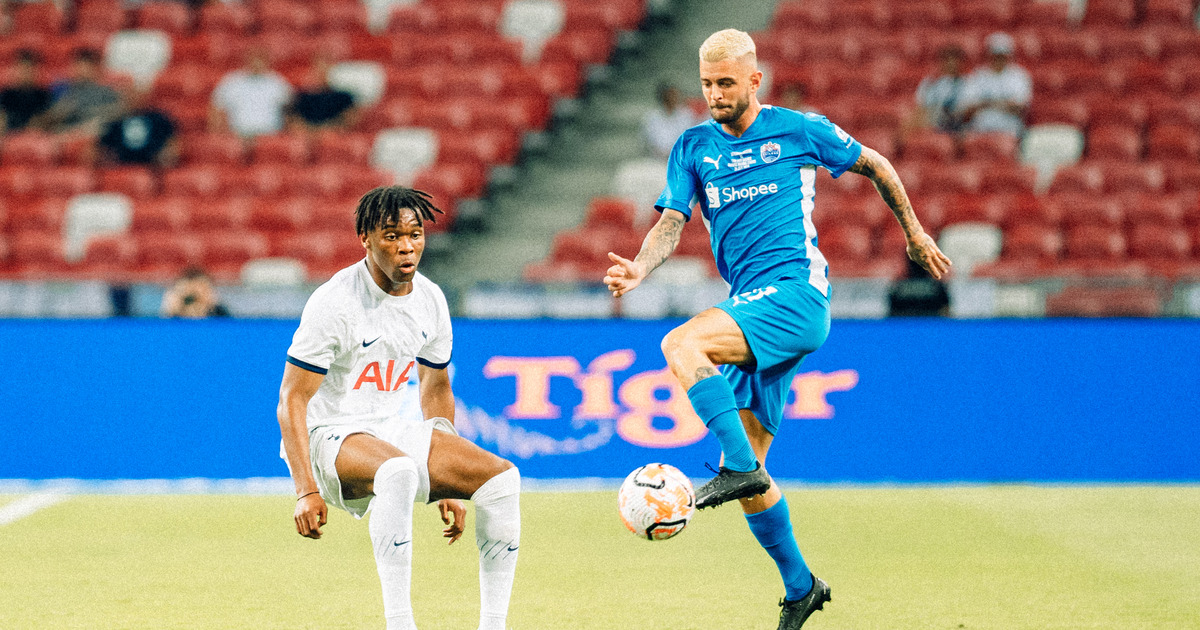 Many probably came to the National Stadium expecting a whitewash given that the Sailors are coming up against an esteemed opponent plays several rungs above in the widely-acclaimed English top-flight, but that goal gave Ranko's men a solid foundation and the confidence to build on as they kept their more reputable opponents at bay for virtually all of the first half. 
Setting up in a compact 5-4-1 formation in preparation for the upcoming Asian Football Confederation (AFC) Champions League (ACL) campaign, the Sailors were resolute in defence. 
On the couple of occasions where Spurs got a clear sight of goal, there was either a decisive tackle from a Sailors defender or an alert Zharfan Rohaizad standing in the way. 
The Sailors backline was eventually breached with the last kick of the half, with Ange Postecoglou's men drawing level through a Harry Kane penalty. 
As Ranko rang the changes with an eye on the Singapore Premier League (SPL) clash against Balestier Khalsa next Monday (31 July), the Sailors lost a bit of momentum and eventually went down to a 5-1 defeat.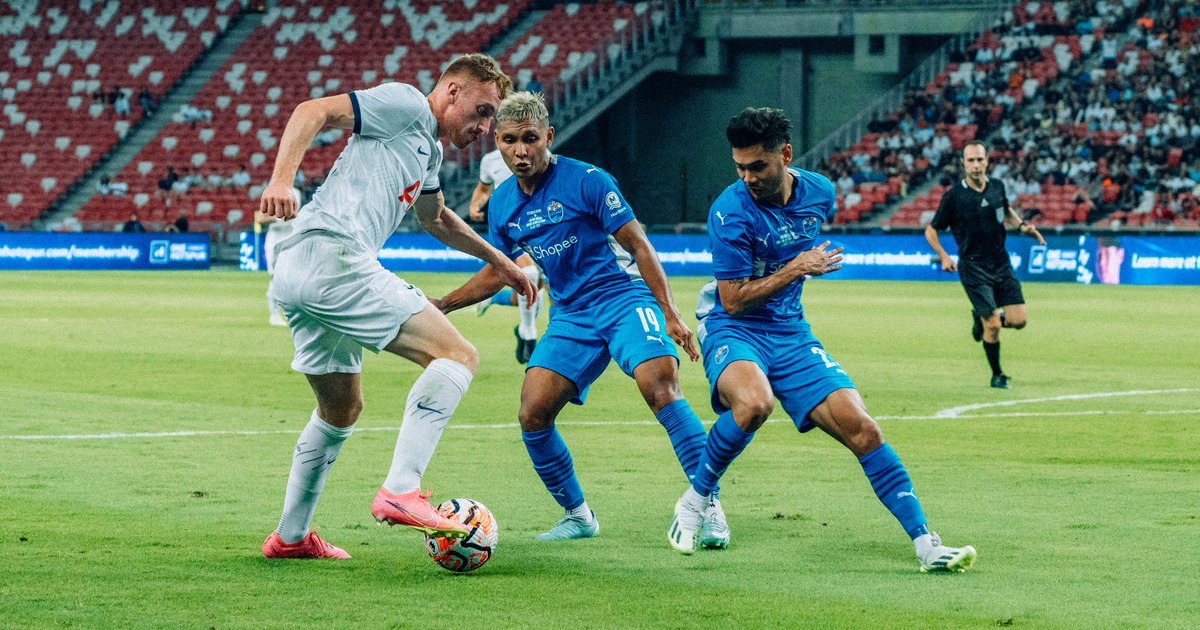 However, the resilience and battling display was one that filled Maxime with pride and optimism ahead of the Sailors' second ACL voyage in September. 
"Today we played as a team and stayed compact according to Coach Ranko's instructions. The focus was really to go out to enjoy the game because ultimately there is no pressure on us," said Maxime.
"And the belief within this team was very strong. We knew we were facing a big team, but football is still 11 versus 11 and anything can happen. We just must go into games with the right mindset and I believe we can do great things as a team."
For the Sailors, the focus now shifts back to the Singapore Premier League as they look to at least finish as the top-ranked local side to ensure qualification into AFC club competitions in 2024. 
Ranko's charges are now two points off second-placed Tampines Rovers, with four games left to play.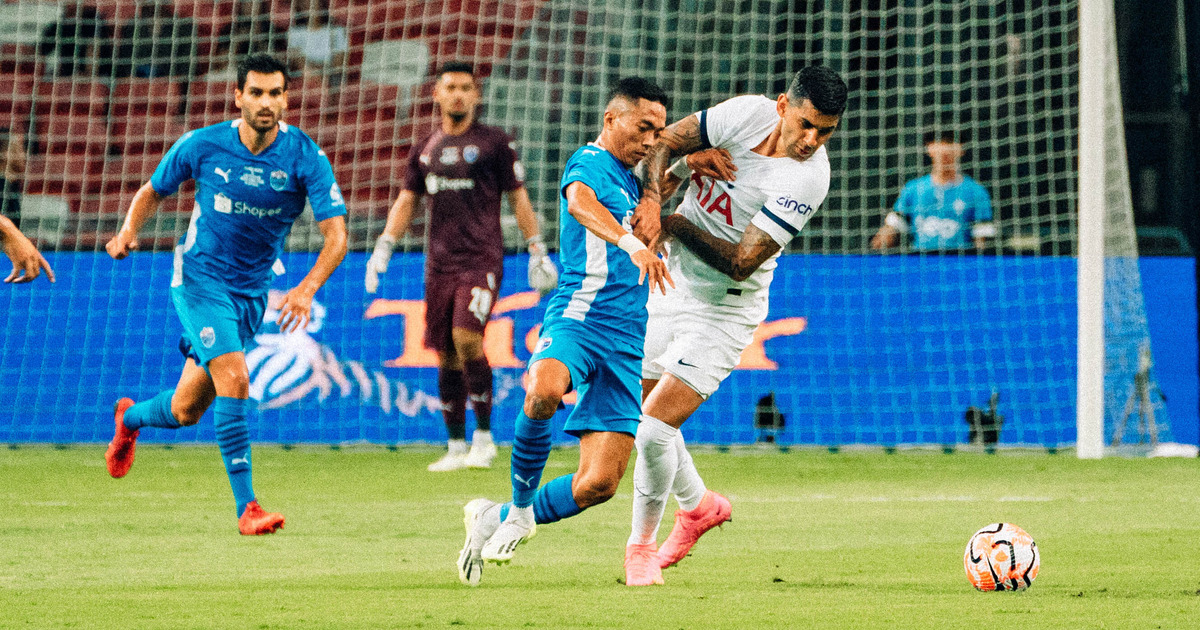 "The way we move, the way we shift as a team is something that we should be doing in every match. We're taking the positives from this match to push ahead and everyone is now looking forward to finishing the season strongly," said Shawal.
"Our fans really turned up and showed us fantastic support tonight, and we don't want to let them down. We're going to push till the end and see where that takes us in the league."
MORE FROM LION CITY SAILORS: