After leading South Korea's Ulsan Hyundai to Asian Football Confederation (AFC) Champions League (ACL) success last December, Kim Do-hoon had plans for a year's sojourn to rest his mind and recharge his batteries.
Coming off a wildly successful four-year spell with the K League 1 side that saw him lead the club to their first-ever Korean FA Cup win and back-to-back runner-up finishes in the league, there was naturally no shortage of suitors for the 50-year-old who was set on taking some time out of the game.
He received lucrative offers from the Chinese Super League (CSL) and Japan's J-League, but ultimately it was a meeting with Lion City Sailors chairman Forrest Li that convinced Kim to change his mind.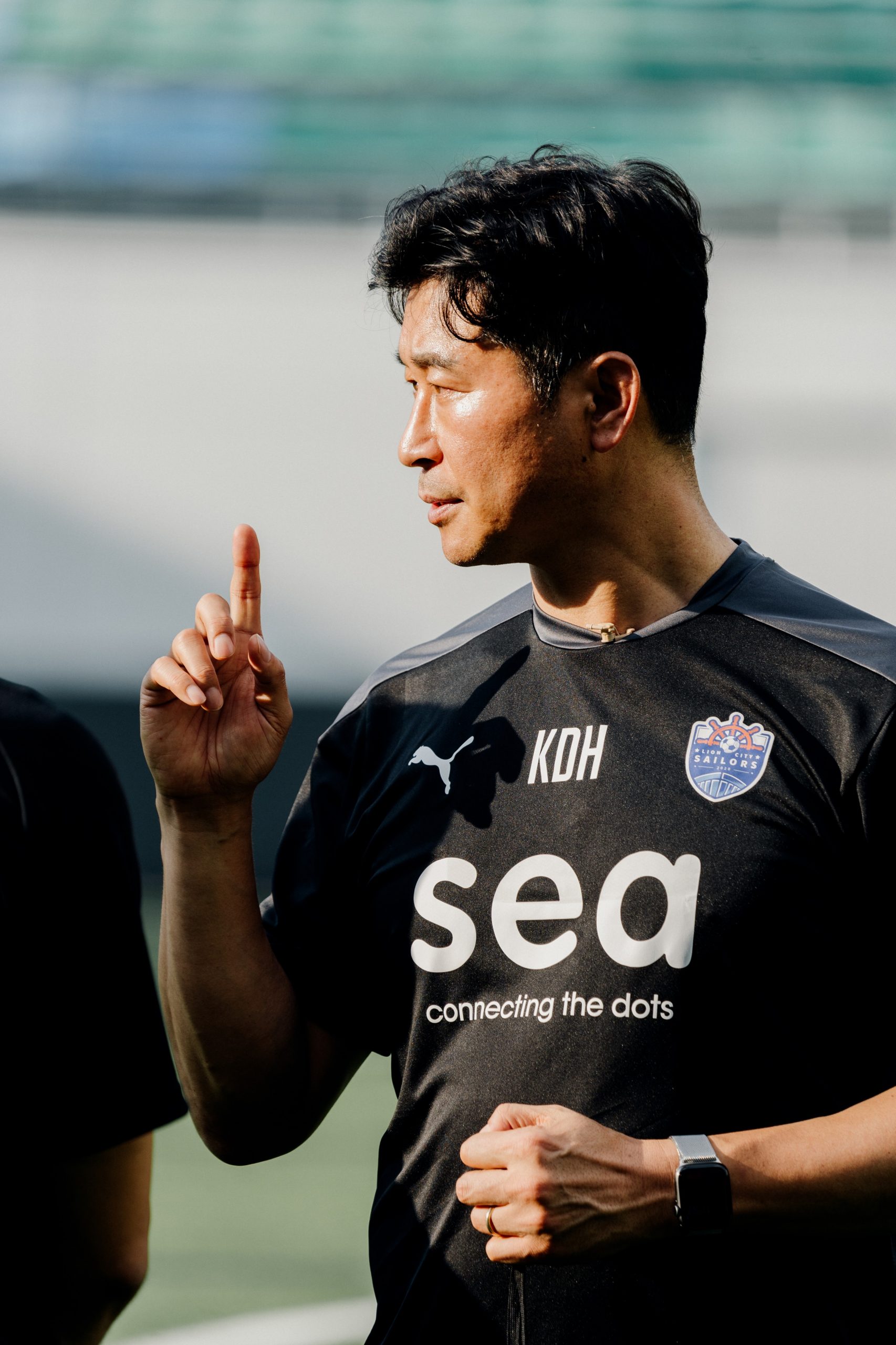 He had never managed outside of his home country, but Kim was won over by Li's vision and commitment to revolutionise Singapore football and equip the Sailors to challenge the best in Asia. It was Li's ambitious Sailors project that intrigued Kim, a new challenge that ultimately saw him cut short his planned sabbatical.
"I could tell from my conversation with Forrest that he's a football man – he really understands the game and is heavily invested in the club. He not only wants the club to become the best team in the country, but also has the vision for us to be a proud representative for Singapore on the regional stage," said Kim through a translator.
"Because of that, we always try to get the best players, coaches and backroom staff. And it's this kind of environment that I really like, and I feel that Forrest's vision is really in line with mine – a firm commitment to excellence and serious ambition to achieve targets.
"That's why I really wanted to be a part of the Sailors."
Talks between the club and Kim progressed swiftly with terms agreed on a two-and-a-half year contract that would last till the end of the 2023 season, as the South Korean was officially confirmed as the Sailors' new head coach in mid-May.
Kim had been in Singapore a couple of times prior to this appointment, including once as an AFC coaching instructor in 2013. In his short stays here he was left impressed by the security and cosmopolitan culture of the country.
While Singapore may not be an established Asian powerhouse like Korea or Japan, ambitious plans have been laid out to improve the standard of the game here and to eventually take it to the world stage– through the nation's much talked-about Unleash The Roar! project.
This is where Kim sees himself fitting in perfectly, as part of a larger plan to improve football. Since he started his coaching career with the South Korean Under-20s in 2014, Kim has thrived on bringing through promising young players and improving the style and results of teams he managed.
When he was at Incheon United, he led the club to a historic runners-up finish in the 2015 FA Cup – still their best-ever achievement in the tournament – where they only lost out to the more fancied FC Seoul, falling to two late goals.
At Ulsan, where the club's only honour in the 11 years prior to his arrival in 2017 was the 2012 ACL triumph, he masterminded two trophies in four years and went closer to challenging Jeonbuk Hyundai Motors for the league title. The Tigers only narrowly missed out in 2019 due to an inferior goal difference.
"I know there are big aspirations to improve the footballing scene here and to close the gap with other countries," he said. "Hopefully with my experience, I can be part of the change in Singapore – maybe to improve professionalism and football quality as a whole."
Having completed a 14-day quarantine after arriving in Singapore from his native Gyeongnam, Kim has wasted little time in getting down to work as he oversaw his first training session with the Sailors on Tuesday (29 June) evening.
Under his tutelage, Ulsan evolved into a team that not only played an eye-catching brand of attacking football, but was also known for their strong defence. Kim has laid out the same philosophy for his new charges.
While still in the midst of getting to know the players better, he has already observed enough from their matches this season to know that they have the potential to meet his high demands.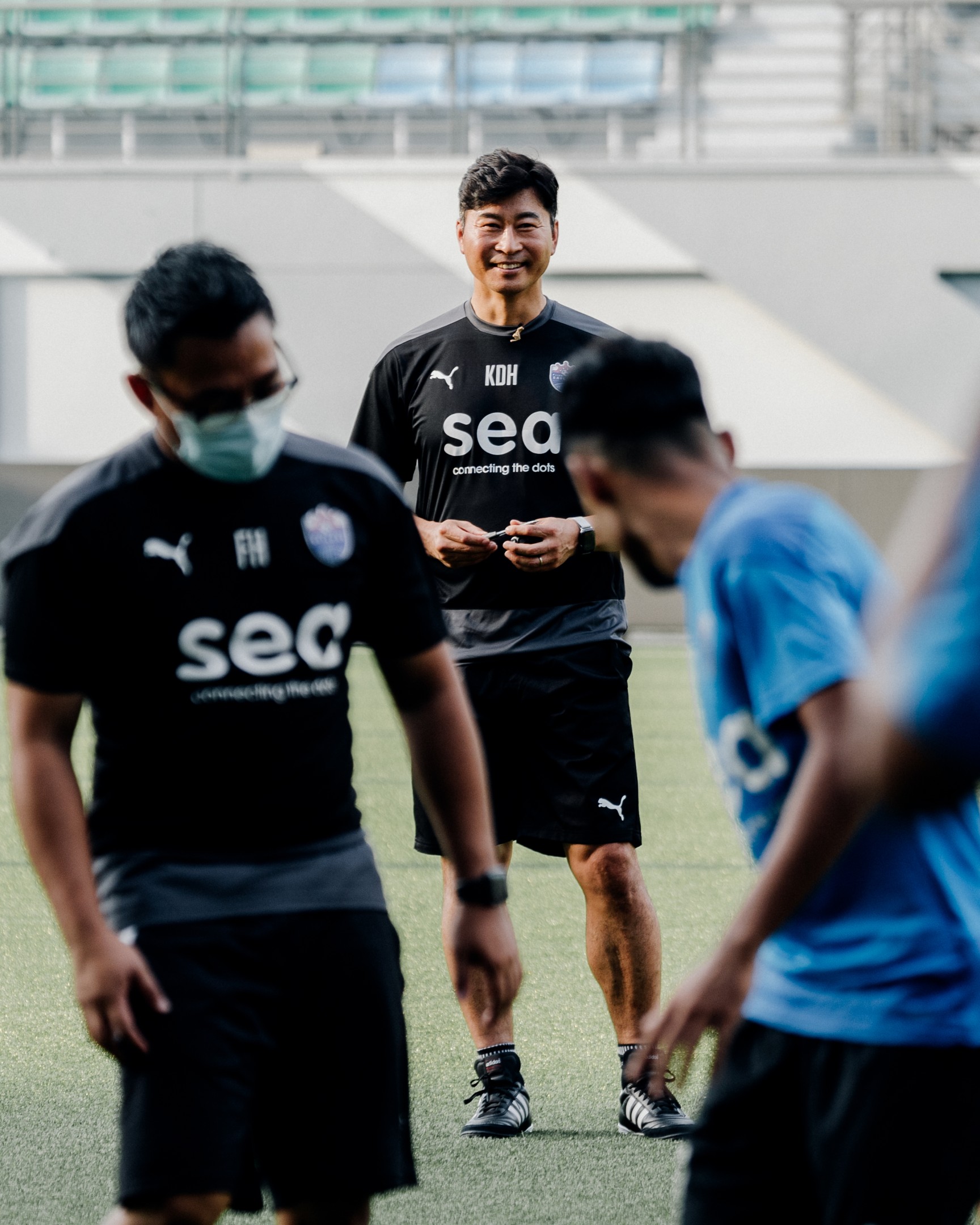 A prolific striker who represented the South Korean national team on more than 70 occasions, including at the 1998 FIFA World Cup, Kim certainly knows a good player when he sees one.
"Obviously there is the stigma of the SPL not being comparable to the big leagues in Asia, but I can see for myself, we're not as low as everyone thinks," he emphasised. "I like what I'm seeing from these players and I'm here to help them reach their potential. I'm sure we can achieve things together once everyone is accustomed to what I want from them.
"Essentially I want the team to play a dynamic style of attacking football so that the fans that come to watch us can enjoy the game. I want to focus on the team cohesion – we must be a hardworking team that fights for the ball all the time, we have to control the game as a whole while being compact at the back."
Kim believes the Sailors have the capacity for success, and is here to help to "accelerate the process" of the Sailors being competitive in the region.
"There is still a lot of room for improvement. But if we work together as a team and put in the effort, we can become a force in Asia in due time," he proclaimed. "There are no shortcuts to success, but I'm here to help us achieve our goals in a faster manner."
The short-term target: to lead the Sailors to their first-ever Singapore Premier League (SPL) title since their 2020 inception.
Kim will be looking to help the Sailors continue their excellent form before the international break, achieving a club-record six-game winning streak that has seen them go to 26 points, just one off the summit.
His first official game in charge of the Sailors will be a bumper top-of-the-table clash against league leaders and reigning champions Albirex Niigata (S) on 23 July.
And Kim cannot wait to get started.
"Obviously the target is to win the league title this season. That will help us qualify for the ACL next year and challenge ourselves," he said.
"We have to focus on this objective now before having bigger dreams and goals for next season and beyond."
MORE FROM LION CITY SAILORS: