The Lion City Sailors have endured mixed fortunes since the Singapore Premier League (SPL) restarted, with Aurelio Vidmar's charges first scoring a big win, then hit with a heart-wrenching defeat. But for one Sailor, football's resumption has seen nothing but a rise in his stock, a rise that started at the beginning of the year.
Joining from the Young Lions after the end of the 2019 season, Naqiuddin Eunos perhaps thought he would need to bide his time for regular football. But instead, he has already cemented himself in Aurelio's starting eleven, missing just one minute of action in 2020, this after being substituted late on in the season-opening 1-1 draw against Tanjong Pagar United.
The 23-year-old is one of only four Sailors who have started each of the four games this year, alongside the more experienced figures of Hassan Sunny, Hafiz Nor and Song Ui-Young.
Naqiuddin is surprised by how well his Sailors career has taken off, especially having to adapt to a new role at a new club that boasts a roster packed with established senior players.
Despite being deployed mainly as a winger, and occasionally at left wing-back, throughout his time with the Young Lions, Naqiuddin was asked to adapt, and challenge for the left-back position at the Bishan Stadium.
"Slowly I managed to adapt to the role, and it's been so far so good. I just take what the coaches taught me and go out there to perform to my best for the team," said Naqiuddin, who is predominantly right-footed.
"It's still quite early now, but I guess this position will stick, because I'm getting really comfortable playing at left-back now," added Naqiuddin, who paid tribute to Sailors Assistant Coach Noh Rahman for his quick acclimatisation to life as a left-back.
Defensive technique was not all Naqiuddin had to learn – and learn fast – at the Sailors. Having played for a developmental Young Lions side, Naqiuddin noted the 'much higher expectations' that has come with pulling on the shirt of a wildly ambitious outfit like the Lion City Sailors.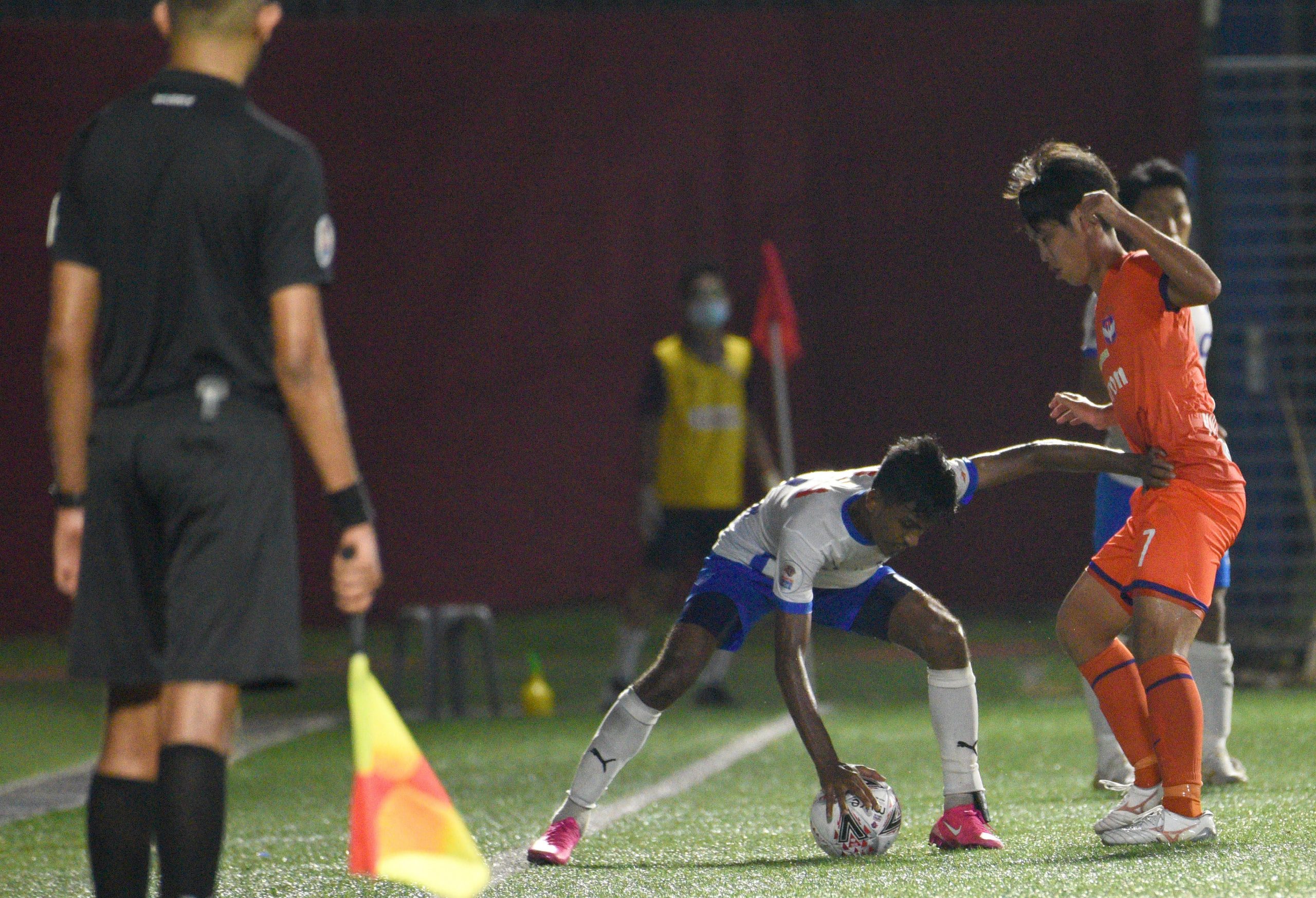 "Yes, there's so much attention and scrutiny when you're playing for a big club. But that's exactly why it was the right move for me to come here," he emphasised. "As a young player, I have to learn how to cope with this type of pressure if I want to make it to the top as a professional footballer.
"The good thing is that there are several experienced coaches and players here who can help me to become a better player. For example, the intensity of Coach Aurelio's training sessions is great, and he really understands and takes care of every single player," added Naqiuddin.
He can be described as a late bloomer, but that has not stood in the way of what has been a rapid rise for Naqiuddin. Unlike a number of his peers who rose through the national age-group squads from a young age, his is a road less travelled.
Spotted by Fandi Ahmad while playing for ITE College West three years ago, he was soon drafted into the Singapore Under-20 squad before making his professional bow with the Young Lions the following year in 2018.
Under the tutelage of Fandi and then-assistant coach Nazri Nasir, Naqiuddin developed into a fine player and was part of the national U-22 squad that played at the 2019 SEA Games before making the big move to the Sailors.
"To be coached by Fandi – one of the best Singaporean players ever – was a great experience. Nazri was great too, he helped me a lot with his encouragement and advice every day," said Naqiuddin. "Training under them, I really improved a lot from year to year."
Naqiuddin is set to face Young Lions for the first time when the Sailors host them at Bishan on Sunday evening. The developmental side is now led by Nazri, with several of his young squad getting their first taste of professional football.
While the Sailors are firm favourites to win, Naqiuddin believes Young Lions should not be taken lightly. He knows too well the dangers that lie in complacency – especially against the Young Lions.
"I remember when I was with the Young Lions, we were always eager to win and prove a point. We wanted to show that even though we're young, we're capable of competing," he recalled.
"There were always comments saying Young Lions were not good or it's a waste of time having the team in the league. But as players, we never dwelt on that – we just trained our best and went all out on match day," added Naqiuddin.
"I expect the same fighting spirit from this year's batch, especially because this squad is younger than before. They'll definitely be eager to beat us, and coach Nazri is someone who can motivate the young boys."
After the contentious last-gasp 3-2 defeat to Albirex Niigata (S) last Saturday, it is imperative that the Sailors bounce back with victory to remain within touching distance of the pacesetters.
The Sailors are currently in sixth place, seven points off Albirex, albeit with a game in hand.
"Sometimes football can be unpredictable like that. We played so well in the second half to level the game at 2-2, but the manner of the last goal from Albirex was a massive disappointment for us," he said.
"We cannot go back to change the result so there's no point talking about it now. All we have to do is work on our own performance. We're definitely ready to bounce back this Sunday and get all three points."
MORE FROM LION CITY SAILORS: