The ball had found the back of the net after a huge deflection, but Lion City Sailors midfielder Diego Lopes couldn't care less.
After all, the goal sealed his first-ever career hat-trick on what was a perfect night for the Sailors last Sunday – they thumped Geylang International 8-0 in the Singapore Premier League (SPL) at Our Tampines Hub.
In addition to his hat-trick, Diego also notched two delightful assists for Saifullah Akbar and Stipe Plazibat. The assist for the former in particular showcased Diego's ingenuity, as the Brazilian used his chest to lay off a cross into the path of Saifullah, who made no mistake from close range.
It was a stunning individual display by Diego, and one that indicated that he had finally found his feet in Singapore football.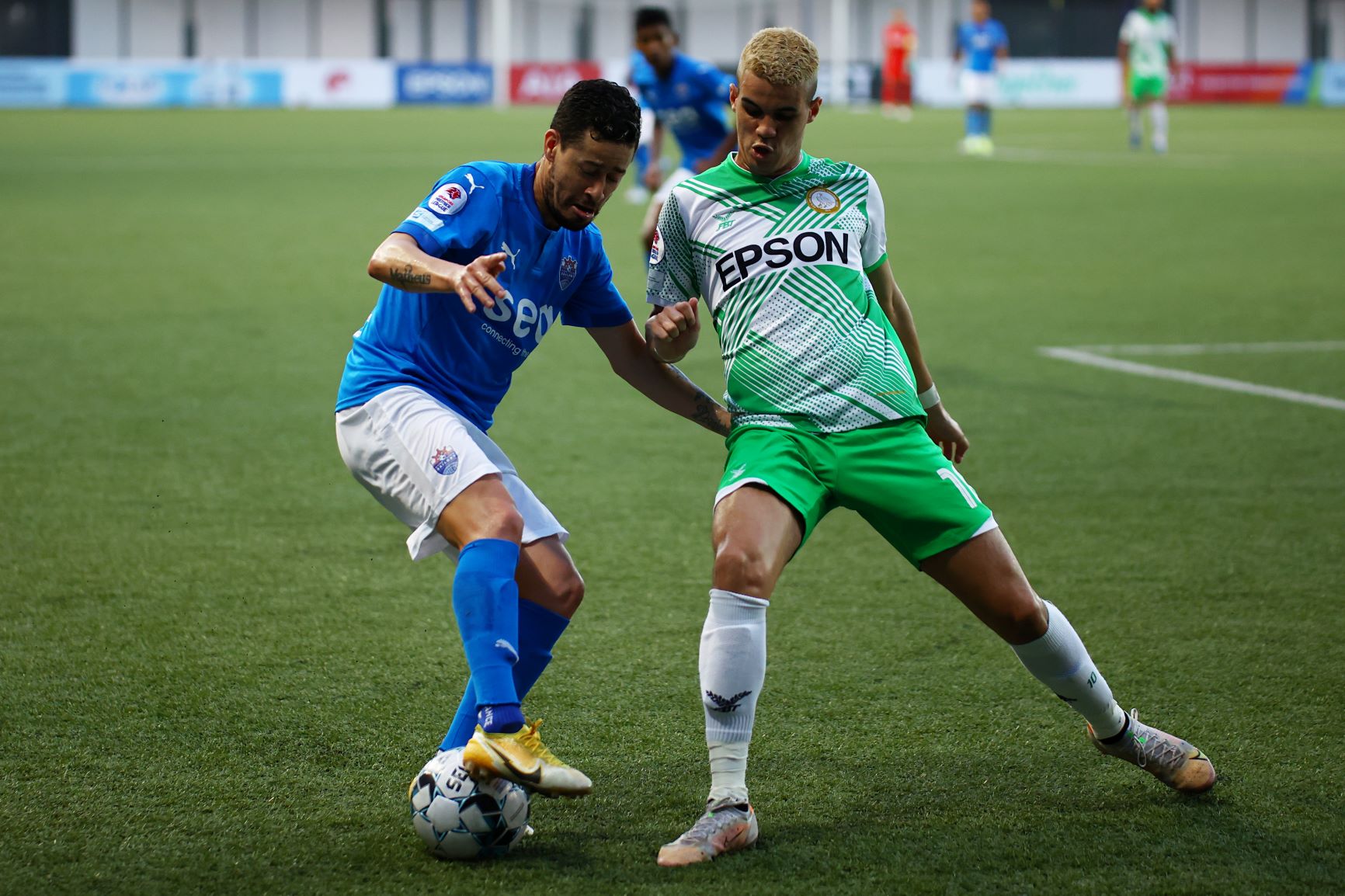 With five appearances for the Sailors so far this season – including three as a starter – Diego says he is pleased with how things have gone for him at his new club.
And while the former Rio Ave star admits he was pleased to have recorded his first career hat-trick, he insists that getting a good result for the team will always be more important than any individual accolade he achieves.
"It's a great feeling to score a hat-trick for the first time, but the most important thing is that it helped the team to get three points," Diego said through a translator. "The whole team did what we were supposed to do and played very well, which is the most pleasing aspect.
"This is the third straight game in which I'm in the first 11 and that gives me a good feeling. It also helps that I've already adapted to the team's style of play, which makes things so much easier.
"My main job here is to help the team play well and get the victory. It doesn't matter which position Coach Aurelio (Vidmar) plays me in – wherever I play, I will give my 100 percent for the team. I will continue to work hard to help the team to achieve our objectives."
Thankfully for Diego, who arrived in Singapore only in early February, life off the pitch is going well for him too.
While this is his first foray into Southeast Asia, the 26-year-old says he already feels very much at home in the Lion City.
"Singapore is a very different city from where I've lived and been before," said Diego, who had played in Portugal, Turkey, Greece as well as in his native Brazil. "It's a very clean place and things are very safe. The most important thing is that the people here are very polite and show a lot of empathy to a foreigner like me.
"It's not just people at the club, but also the people outside the scope of football. For example, when I'm out on the streets and I'm not feeling very sure about something, or I'm trying to find my way to somewhere, there are always people who will try to help me out. I've met many good people in this wonderful city so far, and I really want to spend a long time here."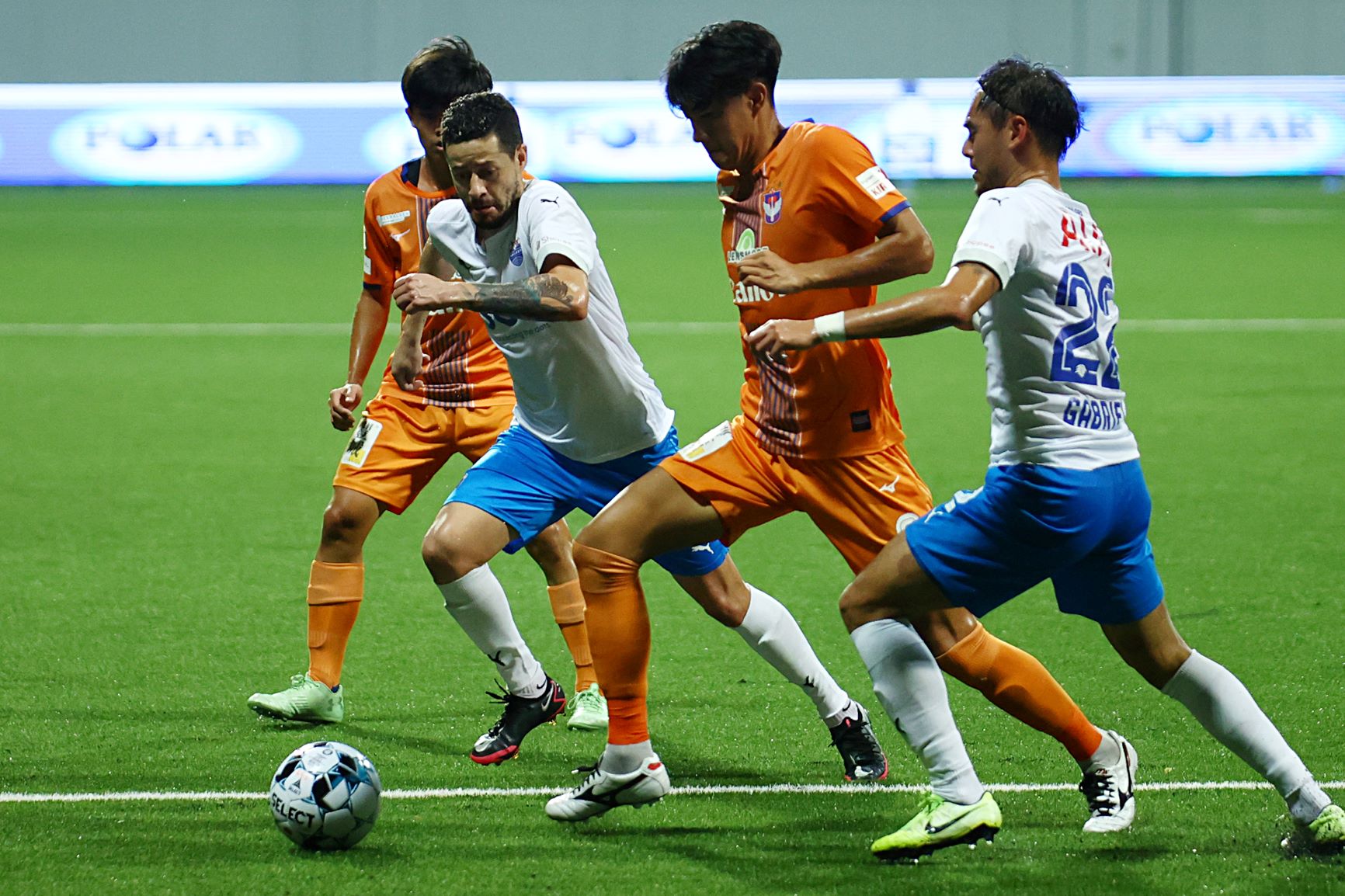 Diego also revealed that he has been adapting well to local food, and even cites the iconic chicken rice as his favourite Singaporean dish.
While waiting for the relevant logistics to be sorted so his wife and son can come over from Brazil, Diego says that he generally leads a simple life away from football at the moment.
"I'm a very homebound person. So, whenever I'm not training, I tend to be resting at home," said Diego. "Maybe when my family is here, I'll bring them to a few places.
"Once in a while, I will just go to some restaurants to eat with (compatriot) Jorge (Fellipe). Those are the only places that I've been to in Singapore, outside of football."
While he is unable to speak in fluent English just yet, it has not stopped Diego from building an excellent relationship with his Sailors teammates.
"Once my family comes here, we're going to take formal English lessons together. Hopefully, that'll be soon!" he shared. "Although I can't really speak English yet and my teammates barely understand me, we still try to talk anyway, and we manage to communicate in certain ways.
"Most of the time, I make mistakes in my pronunciation. But they're always there to correct me and teach me some new words at the same time. I'm very grateful for their help, both on and off the pitch."
Diego also says that he enjoys playing alongside the likes of Saifullah, Shahdan Sulaiman and Gabriel Quak in the attacking third, and claims that they are not in any way inferior to his previous teammates.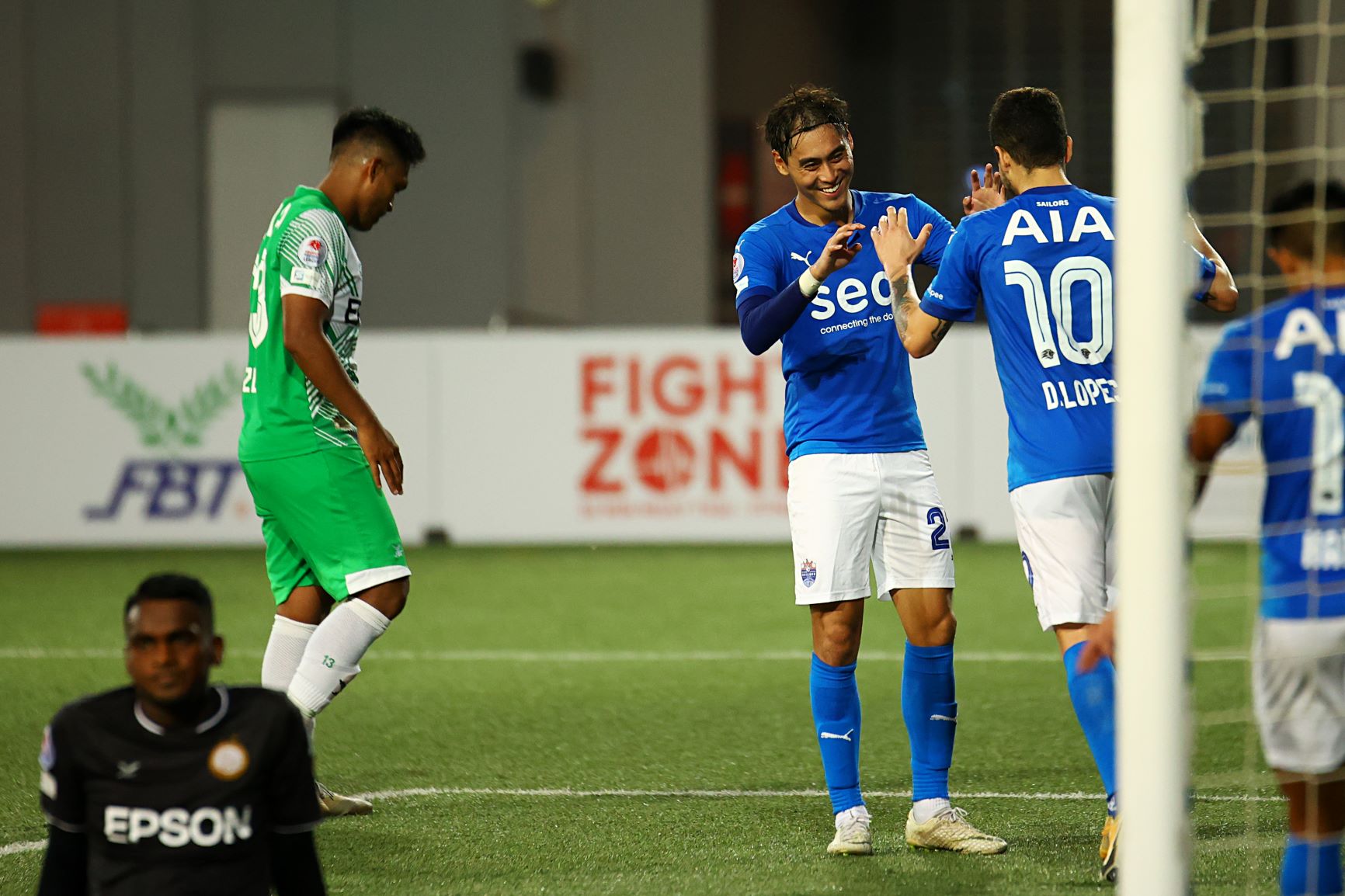 "Not just the three of them, but also quite a few more in our team are talented individuals who can definitely play in Europe," Diego emphasised.
"Their abilities are not in question at all. The only thing is how they adapt themselves in another league and environment. There are several factors outside of football that can affect a player's career."
Having signed a three-year contract that will take him to the end of the 2023 season, Diego is determined to stamp his mark on this ambitious Sailors project, as the club seeks to dominate Singapore football and compete in the region.
"We've set very high goals for ourselves. That's a key reason why I decided to come and represent this club, because I want to be a winner," he explained. "We're aiming to become champions not just in the league, but also in the Asian competition (the AFC Cup). We want to make it to the AFC Champions League next season.
"The club is doing a lot of things off the pitch to give the players the right conditions, so they can fulfil their potential. The club is very supportive and takes good care of everyone, so it's important that we (the players) all do our jobs on the pitch to repay them."
In the short-term, the Sailors are looking to continue their recent run of fine form in the league when they take on a gritty Balestier Khalsa side at the Jalan Besar Stadium tomorrow night.
A win will help them keep pace with current league leaders Albirex Niigata (S), but it will not come easy against a Tigers outfit which has developed a reputation for being tough to break down under Croatian tactician Marko Kraljevic.
Marshalled by towering Serbian centre-back Ensar Brunčević, Balestier boast the second-best defensive record this season with just seven goals conceded in six outings.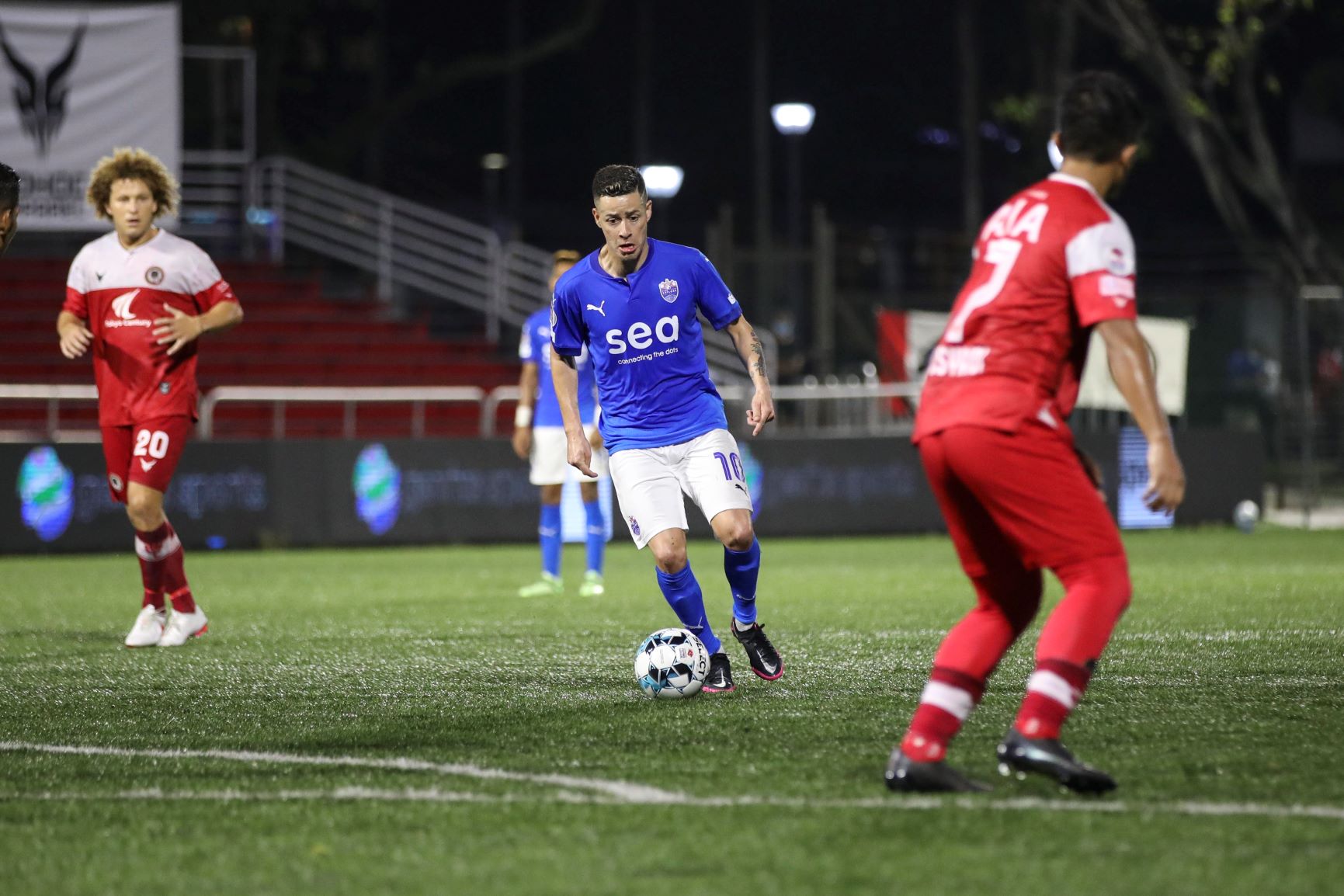 Diego believes the key to prevailing in this clash is to be patient, and to stick to the team's usual pass-and-move philosophy.
"We've many talented players who're capable of scoring from any position, so definitely we can expect teams to be more defensive and try to hit us on the counter," Diego elaborated.
"What we've got to do is to play smart, move the ball around as fast as we can with one or two touches and wait for the best opportunity to find an opening to score. With the quality and our team's philosophy, I'm sure we can do just that."
MORE FROM LION CITY SAILORS: