Make no mistake about it, the 1-1 draw against Balestier Khalsa at the Toa Payoh Stadium on Sunday night (8 August) was a disappointing result for the Lion City Sailors. 
Trailing league leaders Albirex Niigata (S) by four points before kickoff – but with two games in hand – the Sailors could have reduced the gap to just one point. This after watching the White Swans' surprising first defeat of the season on Friday, falling 2-1 to Tanjong Pagar United at the Jurong East Stadium. 
In the end, Kim Do-hoon's men had to be content with whittling down the deficit to three points, after a frustrating game in which the Sailors struggled to break down a dogged Tigers unit. 
The Sailors went 1-0 down on the hour mark through a Šime Žužul's strike that came against the run of play, but rallied, displaying a gritty determination to get back into the game. 
Creating chance after chance, the Sailors reaped their reward five minutes into injury time when Jorge Fellipe's goal-bound header was denied by a blatant Ensar Brunčević handball. Stipe Plazibat duly buried the resulting penalty to earn his side a share of the spoils. 
It was not the result that the Sailors wanted, but one that they can still take heart from – they are very much still within touching distance of the summit. 
"It wasn't easy for us. The pitch was bumpy and we couldn't really play our way of football," explained Stipe, whose goal was his 11th of the season. "We were definitely the better team and had a few shots, but we just couldn't find that final pass. Balestier didn't really create one apart from that goal. 
"We upped the tempo (after conceding) to be more direct and aggressive then we got the goal to draw level. After everything that has happened in this game, we can be satisfied with this one point although we're still disappointed not to win."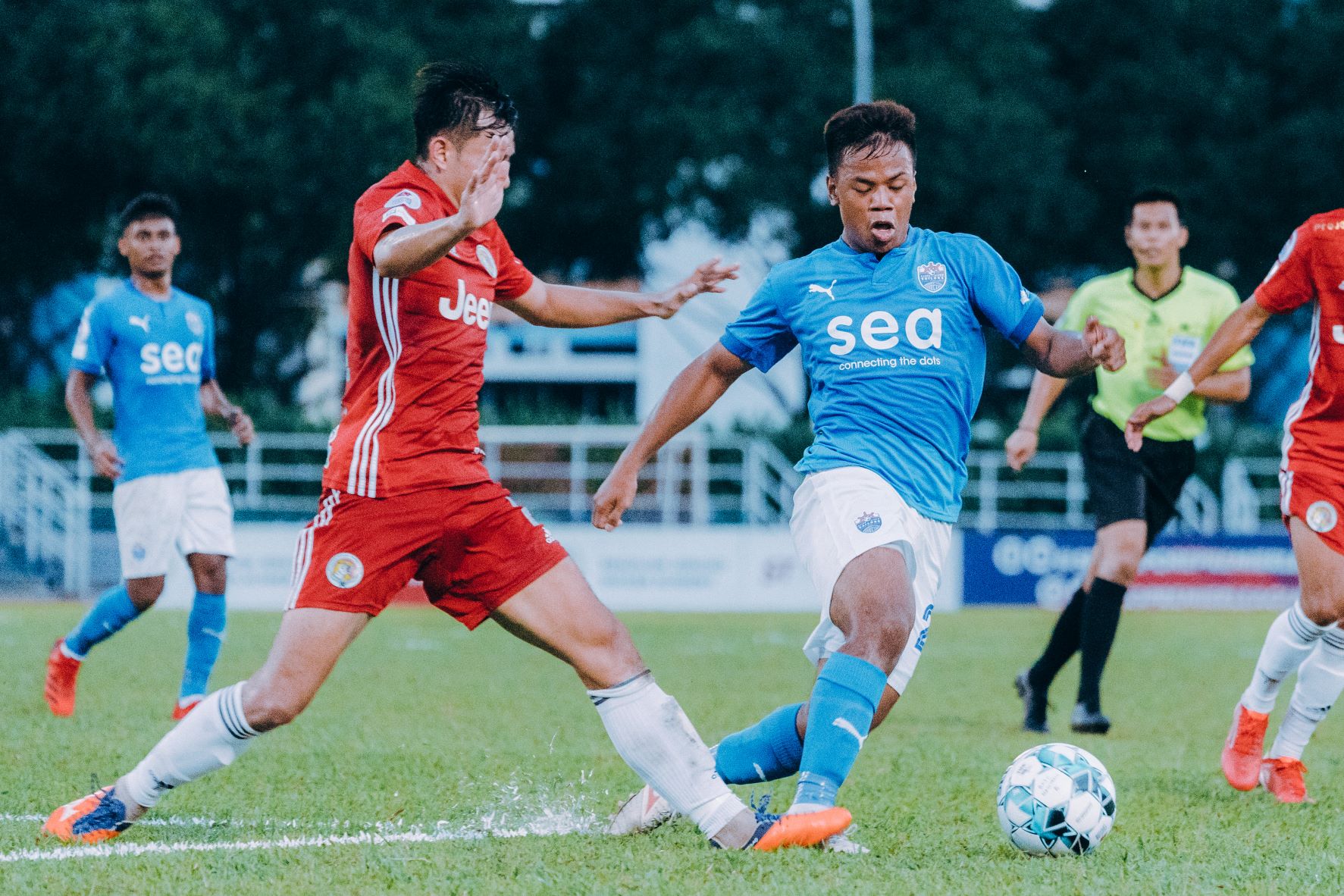 Right back Naqiuddin Eunos echoed similar sentiments – acknowledging that the Sailors were "not able to work our attacking moves into the box" through their typical passing style of play until adopting a more direct route towards the end. 
"In the first half we were decent – we were playing our usual football without getting the results that we normally do," explained the 24-year-old, who got his first start under Kim. "For the final 40 minutes (including the 10 minutes of injury time) after we went down, everyone pushed up – from the full-backs to the central midfielders. 
"We had a lot more chances from there and perhaps we should have just played in this manner from the start. Going more direct is not what we usually do, but sometimes you just have to do it to get a result from a difficult game like this."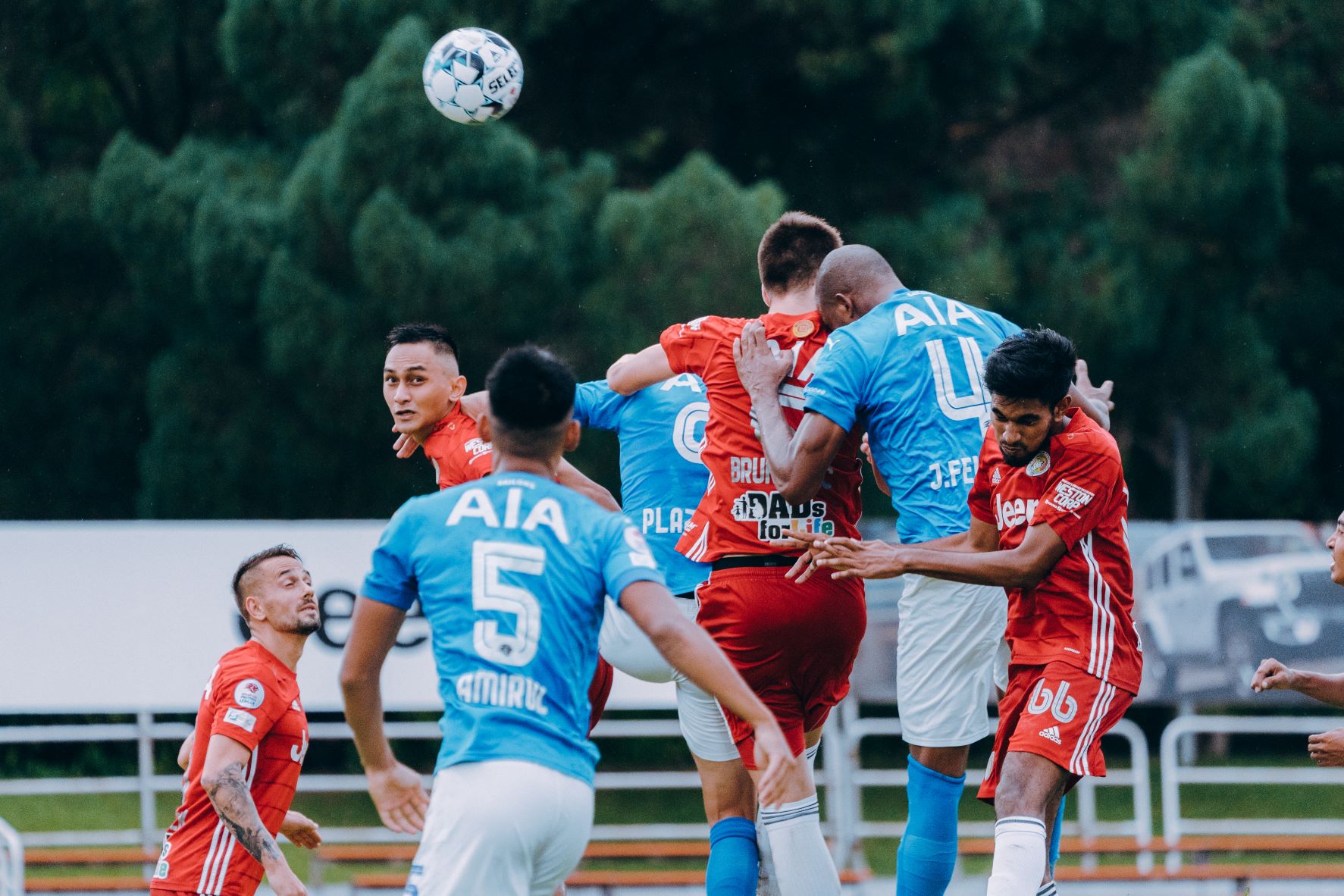 The Route One approach was exactly how Balestier got the opening goal against the Sailors, with Shuhei Hoshino's knock-on from Zaiful Nizam's long free-kick causing all sorts of trouble before Croatian hotshot Žužul pounced to tap into an empty net. 
Admitting that the defence "switched off" for that moment, Naqiuddin knew the team ought to have done better.
"We all know what Balestier's strength is – they have tall players and are very good at set-pieces. We prepared throughout the week for this, but yet this happened," said the former Singapore Under-22 player. "I think we lost focus for that second… that's something that we have to learn from. We cannot afford to let in such easy goals."
There were further reverberations in the process of conceding that goal, with Sailors captain Hassan Sunny suffering an unfortunate collision with the towering Jorge that left him needing lengthy medical attention. An oxygen mask was put on Hassan who was carried off the pitch on a stretcher in what was a worrying scene for all watching. The 37-year-old custodian was then rushed to the hospital with a suspected neck injury. 
Both Naqiuddin and Stipe concurred that it was "not nice" to see a teammate lying down on the pitch, almost motionless. "I didn't even think of the goal conceded, I was just hoping he will be okay," added Stipe. 
Rudy Khairullah deputised for Hassan in the last half-hour against the Tigers and the reliable 27-year-old may well find himself starting in next Sunday's (15 August) fixture against title rivals Tampines at the Jalan Besar Stadium. 
Turning their attentions to the crunch tie between last season's top two local sides – Tampines finished 2020 second in the eight-team SPL, with the Sailors two points behind in third – Naqiuddin and Stipe know exactly what is at stake. 
"We've one week to prepare for this game and we're definitely up for this battle. We need to get all three points and nothing less," declared Naqiuddin. 
"We've to treat our last eight remaining games as cup finals and not slip up anymore," added Stipe. "We need to start from the very beginning and take control of each game."
MORE FROM LION CITY SAILORS: