In celebration of Father's Day, we sidestep pleasantries and get properly stuck into the family lives of our Sailors and their relationship with their dads.
We sit our Sailors across from their fathers and pit them against one another in a friendly game of Jenga – with a sneaky Sailors' twist – to cut through the noise and fuel real conversations.
From cutting jibes to heartwarming revelations, the responses to the Sailors' very own Jenga Jive-talk were as varied as they were interesting.
In the first of this two-part series, we put Sailors Women's Team forward Lila Tan on the spot with her father, businessman, David Tan.
Lila Tan sat across from her dad, David, in the Lion City Sailors Training Centre's player recreation room and posed a question which momentarily stumped him. 
"What is one thing that your daughter or sons will change about you?" 
Seconds of silence hung heavy in the air before David responded with a bludgeon. 
"I think there's nothing to change. For them about me: nothing to change," he said, before adding, "Maybe they want me to have more time with them – this is the only change." 
The father-daughter pair were playing the Sailors' Father's Day game: Jenga Jive-talk – the Sailors' own twist on the classic Jenga – with each tile corresponding to specific questions crafted to spark both inane and meaningful conversations between players.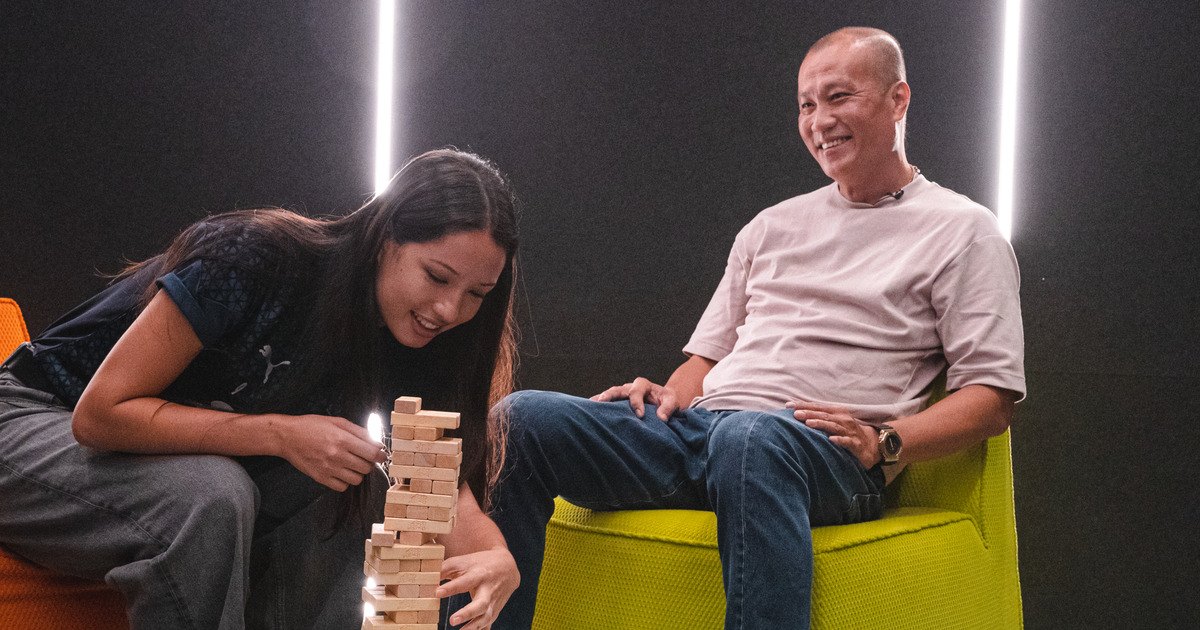 And the Tans were right up in it.
David went next and picked a question for Lila from the Sailors' from-left-field category: Would you want your dad to be in your crew during a zombie apocalypse?
"I would not because you would run very slow and we probably would die," said Lila. "You have a knee injury so you can't run very fast."
Her words drew a quick riposte from Dad. 
"My pick-up (acceleration) is better than yours," he spat back. "It's just the speed (that loses out) only." 
Lila's face immediately twisted with a wild incredulity that seemed to encapsulate at least half of what Jenga Jive-talk was designed for, and the Tans did not disappoint, fully embracing the other side of the game as well – real conversations. 
"He is so stubborn! He'll never let me or my mum win in an argument – he'll always try to have the last word," said Lila, who threw in what seemed like a sharp finishing jab for good measure. "Right?"
David seemed to prove his daughter's point, but what seemed like a move to grab the last word went a tad further into the realm of real emotions – emotional baselines, if you will. 
"To her, it's stubborn, to some other people it's wisdom – it's how you perceive it. We've been through certain things in life before, so we want to advise you and not want you to go 'bang the wall', he explained. 
"Okay, sometimes it's good to bang the wall and learn things the hard way, but sometimes it's good to heed advice so that you no need to go through so much hardship or obstacles in life. After all, parents just want our kids to head to a bright destination and fulfil all their potential."
It appeared that tough love – but real and deep love – was bubbling to the surface. And right behind that raw emotion, came a fragment of David's philosophy of life. 
"Sports actually help my kids in their studies," he declared, with a smile that went against the grain of Singapore culture.
"A lot of parents have the misconception that if their kids spend too much time on sports, their studies will deteriorate – but it's the reverse," explained the 53-year-old who dabbled in various sports, including track and field and football. 
And David has ensured that his children embrace that neat little trick of leveraging sporting passion to drive what future academic success he believes will inevitably follow. 
Lila and her three younger brothers have all committed to football. She is now starting to establish herself in the Singapore Women's National Team, while 18-year-old Louka is with Hougang United's Under-21s, 15-year-old Lukyan is with the Sailors Under-15 side, while youngest sibling, 8-year-old Lael trains with the ActiveSG Football Academy.
"When you use more time to do sports, you have less time for studies," admitted David. "And that's when effective time management comes in. So, when they study, they're focused so their results could actually be better that way."
And David goes even further. 
Apart from joining his children in casual kickabouts, David also takes the time to go through videos that illustrate good examples of passages of play, coaching philosophy of top-class managers, all to help develop a better understanding of the game in his children. 
As Jenga Jive-talk went on there was a soft touch to David's approach that came to the fore, surprising even Lila. 
"In three words, describe my ability in the kitchen," asked Lila. 
David paused. Lila squirmed.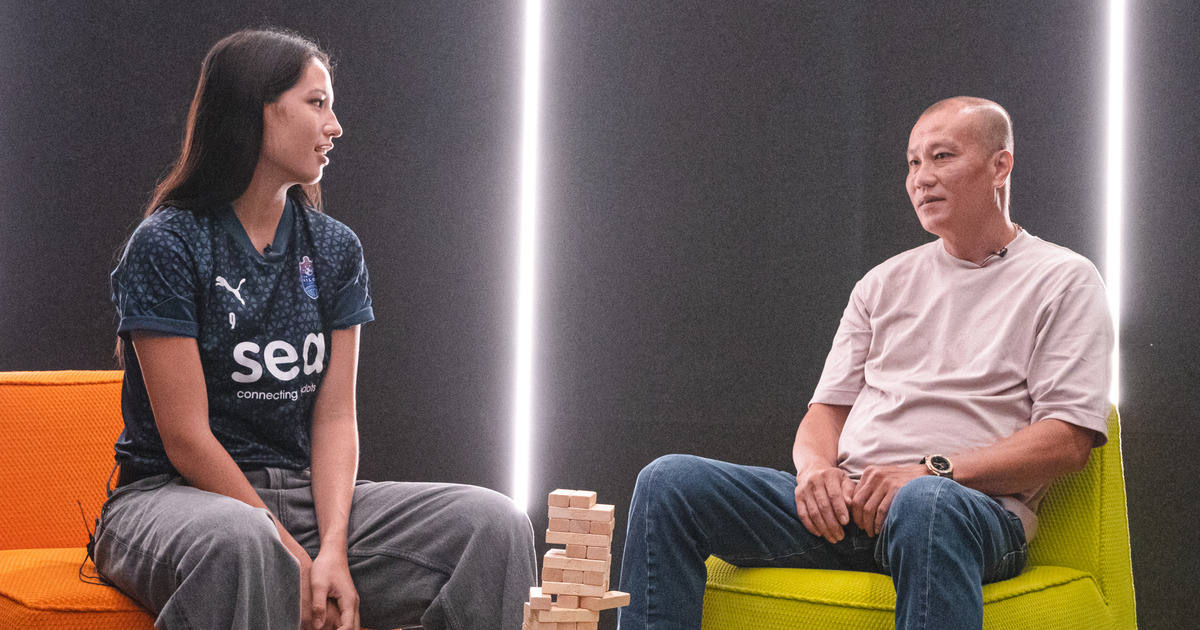 And just as Lila was going to surrender to a snarky remark about her cooking, David exclaimed: "Not so bad! 
"If it's something that you want to do, you'll do it well – even food. I've tasted your cooking and it was good – she cooks pasta and omelette quite well, I have to say," said David, to more squirming from Lila, who came back with a soft touch of her own. 
"I appreciate the effort he puts in (sending) us to training and back. Despite it being late at night around 10.30pm and after a long day of work, he'll be there, nonetheless, for us – I've never really told you this, but I really do appreciate it."
Having just turned 20, Lila is still trying to figure out her direction in life – she is currently fussing over which university to go for and whether to pursue football long-term, and she has David firmly in her corner.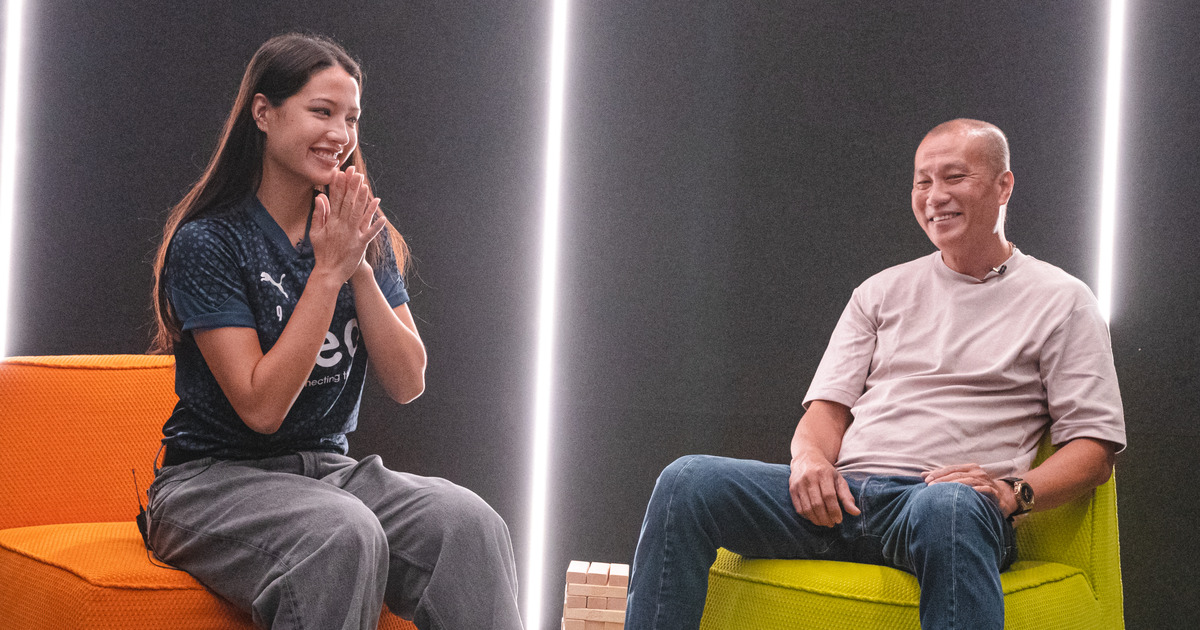 "I want her to be happy – and to do what she has passion for," he said, with Lila nodding quietly to herself. 
"If she's doing what she truly likes, she will be happy and that's really the biggest factor."
MORE FROM LION CITY SAILORS: