It was past 8pm on a Wednesday at HYFA, and most of the young players from the Lion City Sailors Football Academy had already left for home after their training session.
Five of the academy trainees, however, remained behind on the pitch – sat in a semi-circle around Sailors centre-back Abdil Qaiyyim, eyes focused on the 31-year-old, hanging on to every word that came out of his mouth.
Abdil, one of the most experienced players in the Sailors squad, was sharing with them the valuable lessons that he had learnt – both on and off the pitch – throughout his illustrious career to date.
And the academy trainees – all centre-backs – were enraptured. 
Abdil revealed that the one thing he wanted to get across to the five young players was that there was no escaping hard work and grit if they wanted to succeed at the top level of the game.
"My message to them was that even if you have a lot of talent, if you don't work hard, your talent is going to be wasted. You need to put in the work," said Abdil. "I told them to look at Cristiano Ronaldo, or Lionel Messi – they're not the players they are simply because they were born like that. They had to put in a lot of time and sacrifice to perfect themselves.
"Even for me, when I was younger, I wasn't a first team player. There were a few other players who were a lot better than me, but I did not give up. I knew that I had to put in the work, and that's what I did. After training, if I had to stay back to do extra work, I would do it."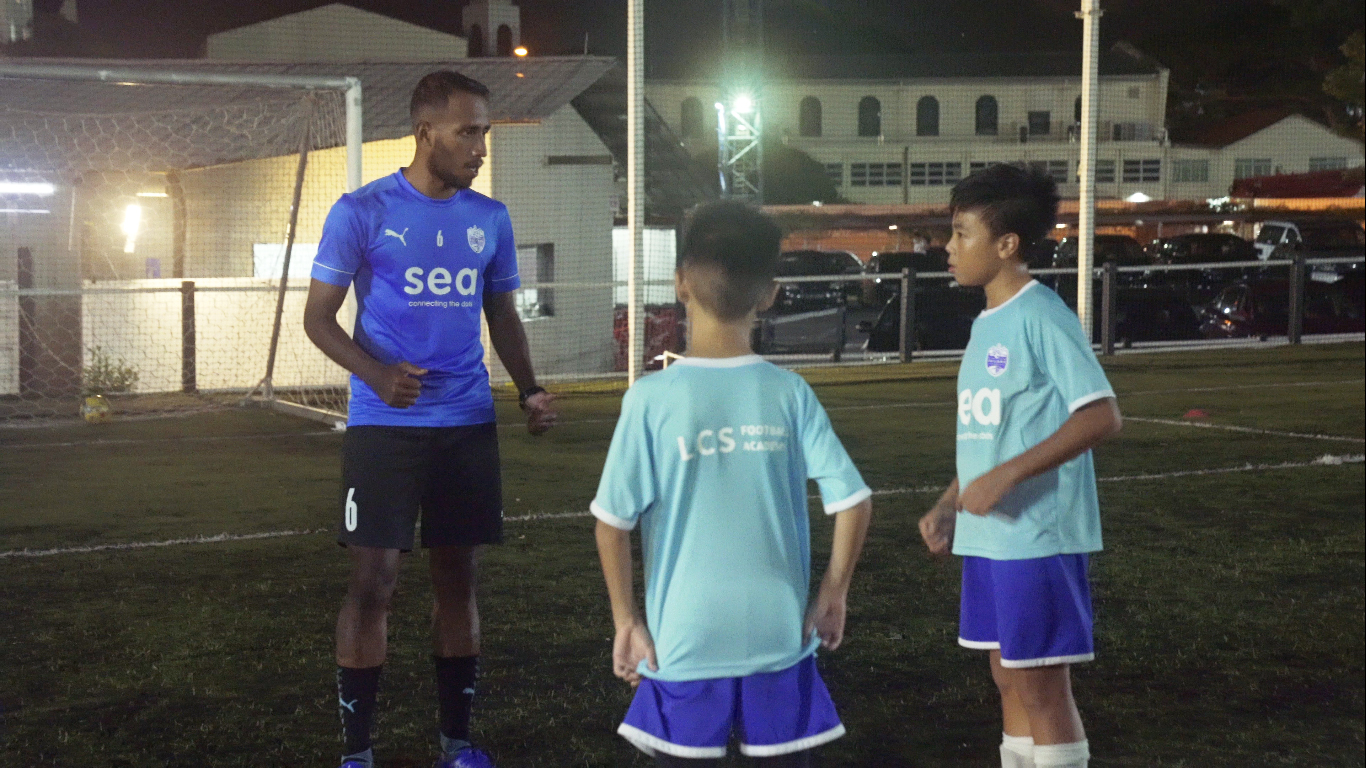 Abdil's impromptu sharing came after he, along with nine other Sailors, had donned their coaching hats and put the LCS Football Academy trainees through their paces in a special training session.
The session saw each Sailor personally conduct training for a group of up to five academy players who played in the same position as they did.
And Abdil, who taught his group about defensive positioning, as well as the art of defending corners, remarked that he was very "impressed" with what he saw of the young players.
"I was actually quite impressed with my group of kids because they showed me that they have a good mentality and the right traits in them despite being still so young," explained Abdil.
"There was this boy, Jack, and he's still in Primary School, but the determination that he showed, and his willingness to learn, really blew me away. He was also quite a fighter for his size, and that sort of spirit is very important for a centre-back."
Abdil, however, was keen to emphasise that these young players had to not just hone their talent on the pitch, but also develop themselves in the right way when they stepped off it.
Reflecting on his own development as a player, Abdil said: "I'll be honest, when I was younger, I made a lot of mistakes in my career. But I've learnt from these mistakes, and I can now share my experience with the kids so they don't make the same mistakes I did.
"So, I think it's great that such sessions have been organised for the academy players. Sometimes as players, there are some things that you want to ask your coach, but you're afraid to do so because they think the question might sound silly.
"But now, these kids acknowledge me as a (fellow) player, so we're sort of on the same level. I think it's easier for them to interact with us, because it's on a player to player basis. This gives us senior players the opportunity to impart our knowledge and experience, and guide the next generation of players for Singapore football."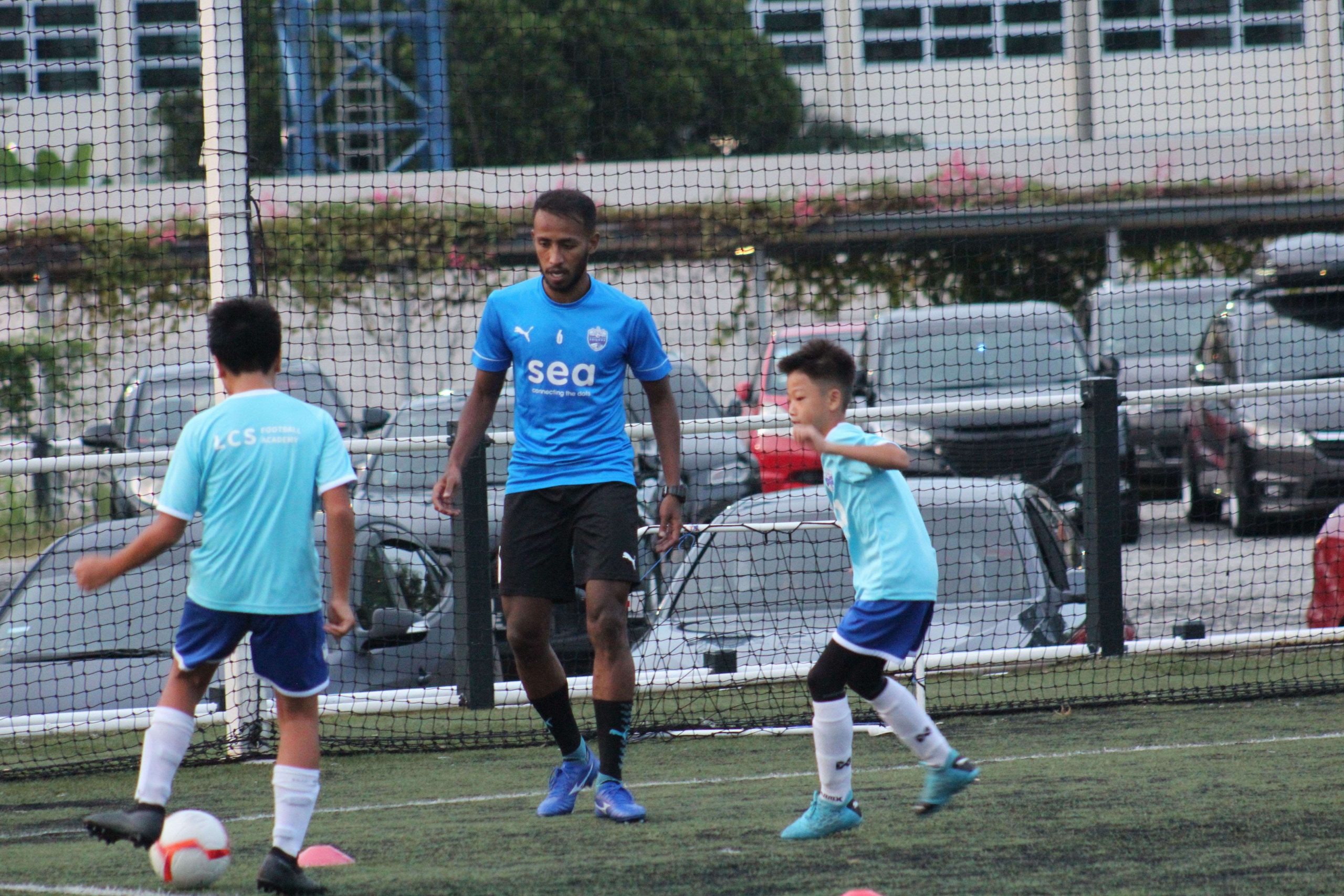 But while Abdil described his time with the academy players as "refreshing", he remained coy on the possibility of going into coaching once he hangs up his boots.
"I don't know if coaching is in my future, to be honest," he said with a wry smile. "But I have friends and ex-teammates who went on to become coaches, and I actually look up to coach Noh (Rahman).
"After all, he was once a player, and I even played with him, but he's now our coach. He's a person who I look up to, so maybe I can follow his footsteps. But whether I really want to go down this (coaching) path is still unclear to me. Let's just say I'm keeping my options open!"
MORE FROM LION CITY SAILORS: