Standing on the pitch at the Jalan Besar Stadium, hands behind his back, Kim Do-hoon watched as his Lion City Sailors warmed up on the sidelines. This training session would be one of the last few before his charges raise the curtain on the 2022 domestic football season – as defending champions of the Singapore Premier League (SPL) – but there was no tension in his shoulders, or his eyes. 
It was only his words that hinted at that winning mindset and relentless drive for excellence. 
"There's always tension and pressure on match days and that should only help our players to bring up their concentration for the game. In order for the Sailors to become a strong and great team, we need to overcome this and it's also the job of our coaching team to prepare them to go into every game full of confidence," said the man who led Ulsan Hyundai to the Asian Football Confederation Champions League (ACL) title in 2020.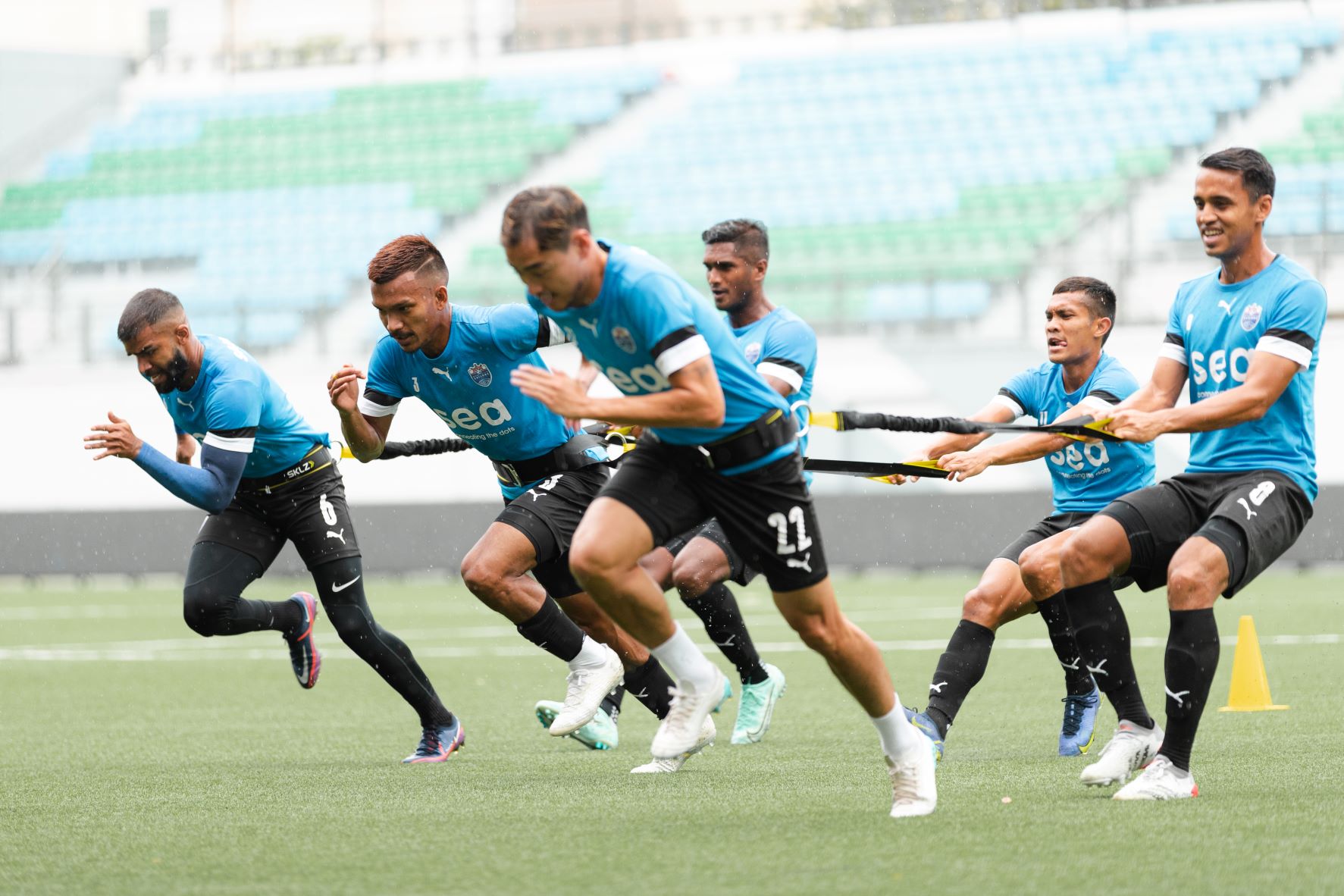 Expectations are understandably sky-high this season, with many expecting the Sailors to run away with the title and sweep all three domestic trophies – including this weekend's (19 February) AIA Community Shield and Singapore Cup. 
Kim acknowledged that pressure is something the Sailors have to learn to live with, but stressed that there are other barometers of success he is looking for in 2022, indicators that go beyond just winning silverware. 
"We hope to improve endlessly and provide joyful and touching moments for the fans – not only through victories but also by showing our persistence in putting in our very best efforts till the last minute of every game. Only through that then more fans will gradually grow their love and affection over football," he emphasised. 
But the fiery drive to win clearly remains. 
The first order of the season is the Community Shield clash against Albirex Niigata (S) and Kim wants his team to lay down the marker ahead of what could be another tough race to the SPL title. 
"Winning the first game is a very important first step to the season," he said matter-of-factly. "Albirex will obviously be up there again, but looking at the recruitments of the other teams we're also expecting them to put up serious challenges. 
"That can only lead to excitement, interest and development of the league – which can only be good for Singapore football in the long run."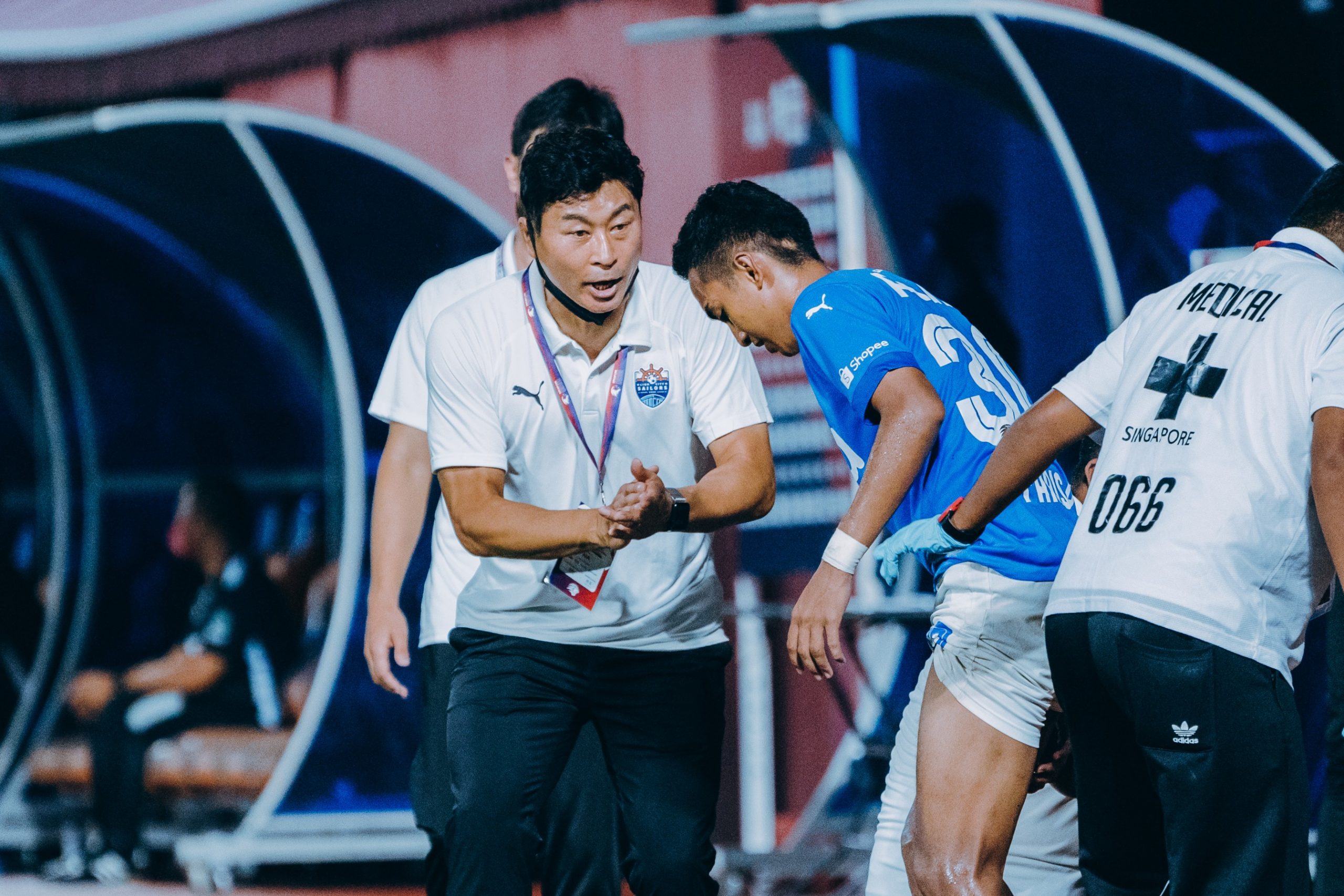 Behind the scenes, much work has gone into ensuring the team is well prepared to battle and win, this despite the fact that a large number of players only had a two-week break following the Singapore national team's semi-final exit in December's AFF Suzuki Cup. 
"The preparations are not entirely smooth of course, but I've to say everyone is displaying the right attitude and effort in training to keep improving and developing physically to a standard that we need to be at," he said.  
At the very least, having a pre-season where there is more time to try and instil his philosophy and get his ideas across to the players ahead of his first full year at the club is something that has given Kim satisfaction, and he is delighted that he has –  in the Sailors' backroom staff – an excellent, committed team. 
"Pre-season's crucial for us to share the upcoming season's directions and preparations through effective communication and meetings with the players. It's not just the physical aspects, we also have to make improvements on players' tactical and positional understanding," explained Kim. 
"I've happy that we've a strong technical team behind us – there's Myung Jae Yong, Kim Young Kwang, Noh Rahman, Mario Jovanovic, Firdaus Maasar, Chua Lye Heng and many others who have put in many sacrifices to fulfil their specific roles and convey their experience to the players."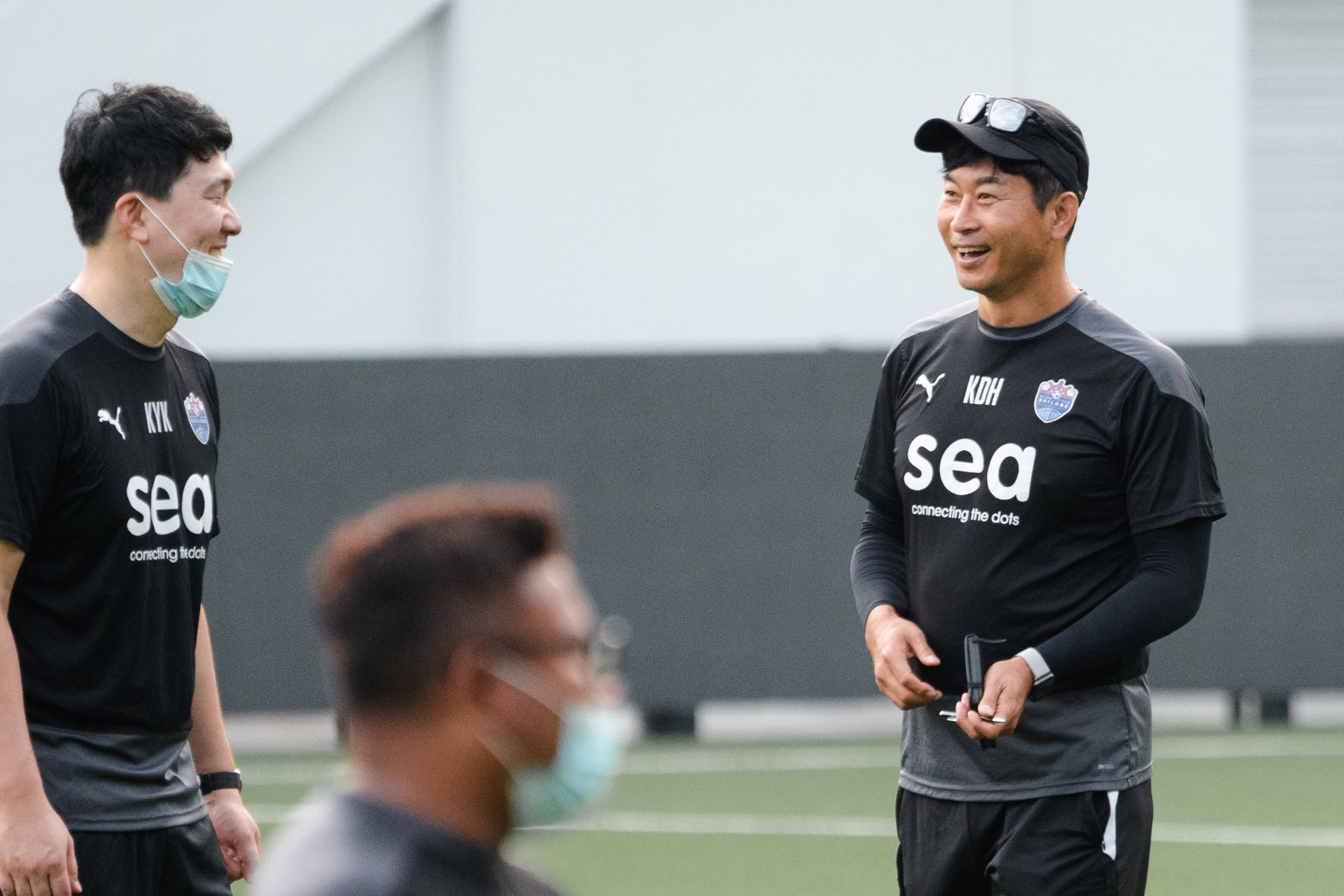 To prepare for a proper assault on all fronts – including a first-ever ACL campaign coming in April – the Sailors have brought in credible foreign signings in the form of Maxime Lestienne, Pedro Henrique and Kim Shin-wook. 
While Lestienne has yet to train with the team, the latter two have already "assimilated well", with Coach Kim eagerly anticipating the impact that his fellow countryman Shin-wook – a scorer of over 100 goals in Korea – could make. 
"I'm very thankful for the club's support and assistance to recruit these great players. Shin-wook is a player that any manager would have the desire to work with. I'm sure his performances and level of professionalism is something that will rub off on the players and bring excitement to the fans," he shared. 
Having also recruited national team players Izwan Mahbud and M. Anumanthan, the Sailors now have a handy squad with good depth to call upon throughout the season. 
"Healthy competition is necessary. We are planning to utilise the players based on the game strategy and their conditions," he said. 
Kim's philosophy has been largely focused on having a strong defence and being compact as a team – indeed the Sailors have not conceded more than one goal in each of his 10 matches in charge. 
While that will not change this season, the South Korean has hinted that the team could adopt a more front-foot attacking style with the number of quality attackers at his disposal.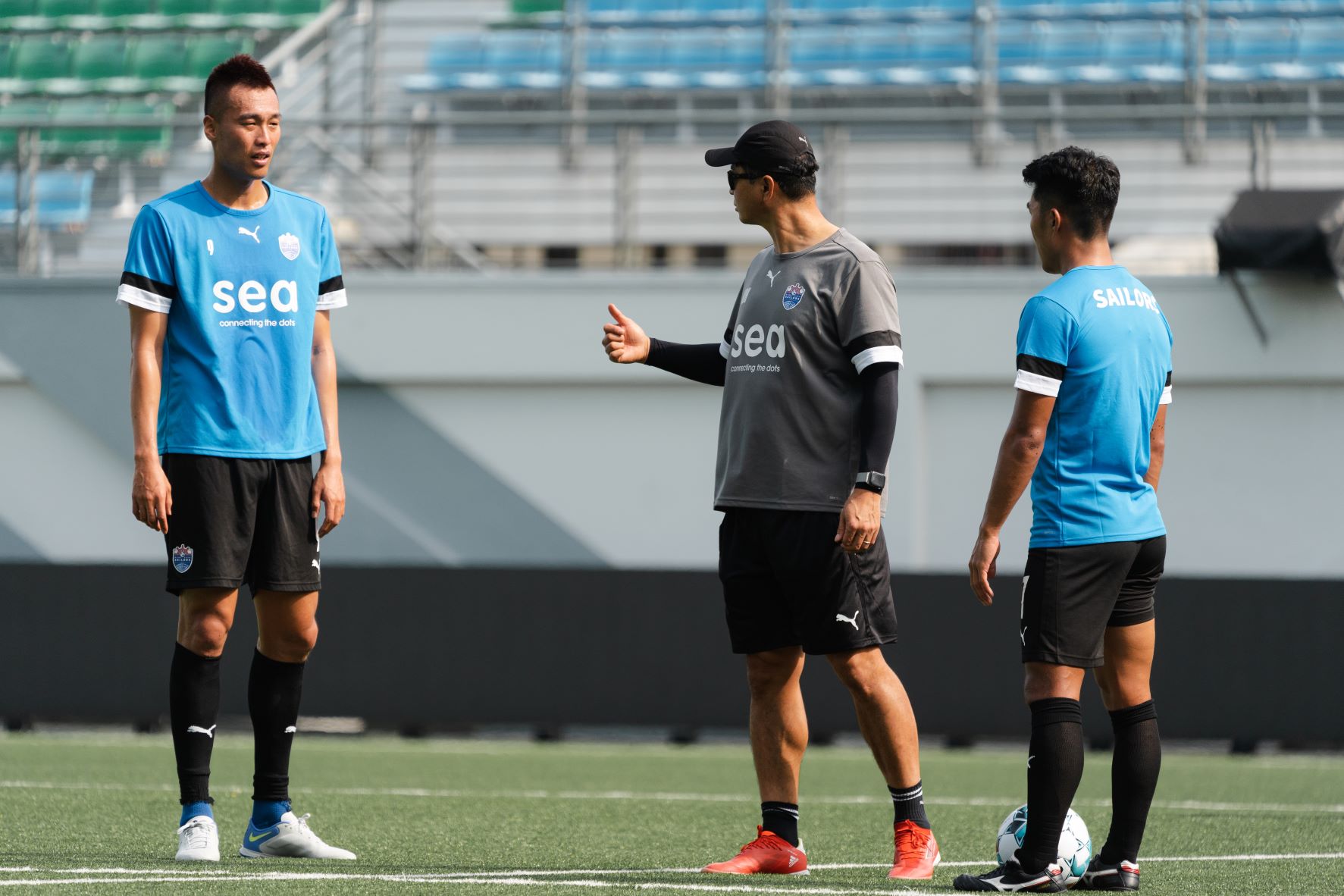 "We've been focused on improving the speed of our game including on transitions… we're working on scoring through various attacking combinations by creating space, changing and controlling the pace of the game in the attacking area, as well as our build-up and taking aerial advantages," he revealed. 
Kim is ready for a charge after a restful post-season, that included a family trip to his hometown in Korea – Tongyeong, Gyeongnam – before returning to Singapore to explore his newly adopted country. 
But football was never far from his mind. The 51-year-old set aside time to watch his charges at the Suzuki Cup. 
"This is the first time I have cheered for a country other than South Korea," he said. "Hassan Sunny and Shahdan Sulaiman proved their worth with their performances, but the performance and persistence of the other players until the very last minute of the final game (against Indonesia) also touched the hearts of many fans."
That, and the fresh memory of being crowned SPL champions – Kim's first league title victory as a coach, that came just three months after taking the reins at the Sailors – seemed to have redoubled his resolve for excellence as the 2022 season looms.  
"That was a very memorable moment for myself and the club," said Kim. 
"It was a title that allowed us to remind ourselves with a lesson that persistence without giving up will lead to great results."
MORE FROM LION CITY SAILORS: