Francesinha.  
That was the solitary word from the Portuguese lexicon that was uttered by Lion City Sailors' new signing Rui Pires during the entire recording of his First Interview with the club. 
This from a man who had on several occasions prior to sitting down in front of cameras at Mattar Road, warned that because his spoken English is not great, a switch to Portuguese may be necessary from time to time, perhaps especially with the more difficult questions.  
There was one English word that clearly came easy to Rui, and was peppered across his responses – win.  
Rui dropped the word "win" more than a dozen times across the interview – evidently a word that underlines his key objective in signing up as a Sailor. 
"No, of course it's not," rebutted the 25-year-old when quizzed about whether it is a step down from the top European leagues in France and Portugal where he used to play in. "This is the best team in Singapore and I can see this team trains to win every game.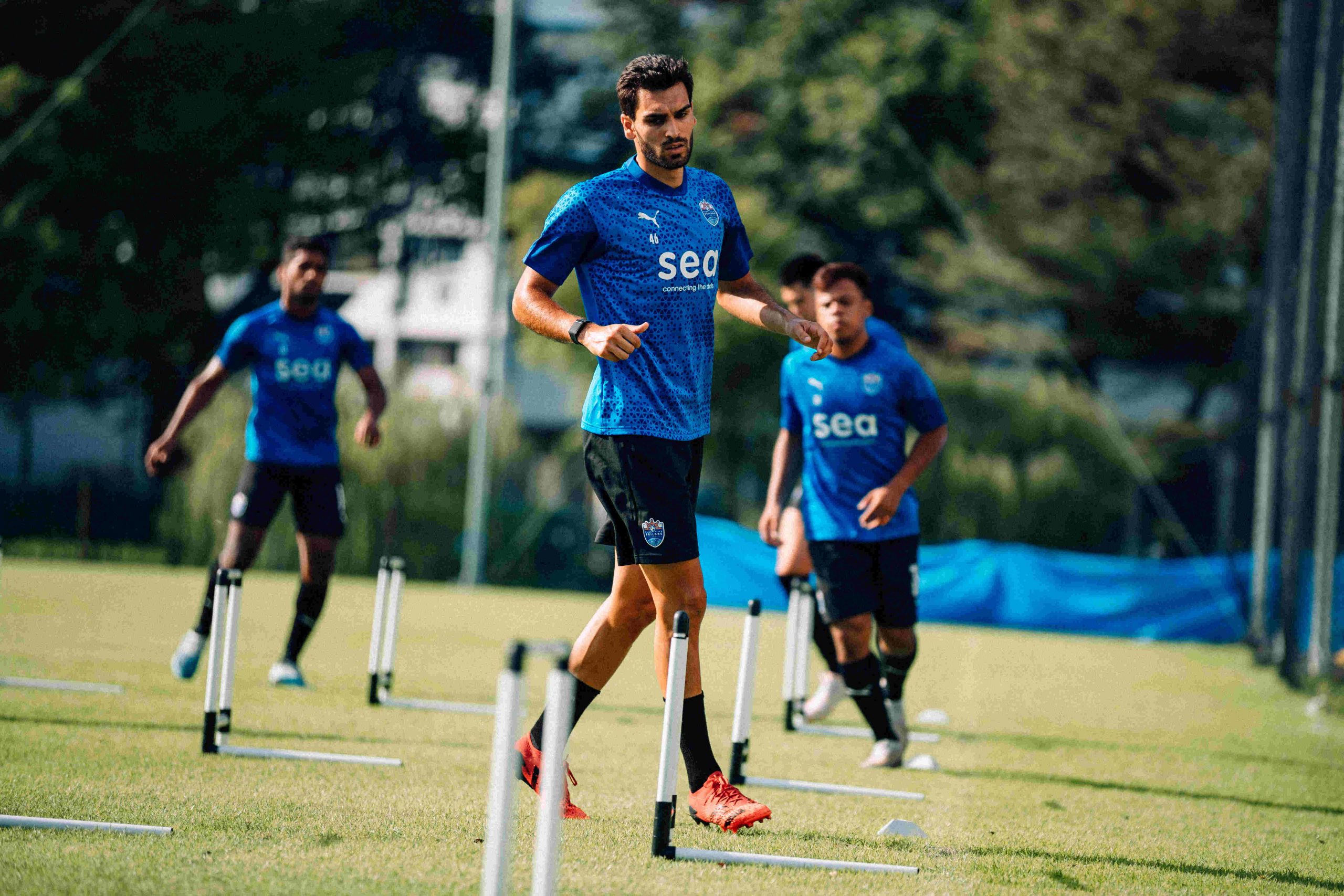 "In Europe, the teams I played in – a few of them are in the middle of the table. Over here, the expectations are very high and that's something I like. My mentality is the same – to win and keep doing the things to help us win titles," added Rui, who was signed with the aim of helping the Sailors become more competitive at Asia's top table when they commence their second Asian Football Confederation (AFC) Champions League (ACL) campaign this September.
"Of course, I know it'll be very difficult in the ACL, but I think we have the capability and the players to compete and win games," he said of his key assignment.
Rui comes with real pedigree, having progressed through the youth system of famed Portuguese side FC Porto and regularly captained their reserve side Porto B as well the Portuguese age-group teams till the Under-20 level. 
He skippered the Portugal side – filled with talents like Manchester United-linked goalkeeper Diogo Costa, current United star Diogo Dalot and AC Milan forward Rafael Leão – at the 2017 UEFA European Under-19 Championship, with the team finishing as runners-up. Rui's individual performances earned him a spot in the official Team of the Tournament. 
The midfielder also won the French second-tier Ligue 2 with Troyes in 2020/21 and played in the UEFA Europa Conference League qualifiers against Tottenham Hotspur in August 2021 with Portuguese top-flight side FC Paços de Ferreira. 
It was the audacious ambition of the Sailors project that piqued his interest and ultimately pulled him to Singapore. 
"I know of Singapore because the Formula One race here is very famous, and in fact, my wife and I were thinking of coming this way for a holiday, but now we're actually living here!" said Rui, chuckling.  
"When the club spoke to me and presented this project, I was really impressed, especially with the conditions here with a very established Academy – something like we see in Europe," said Rui who also trained on plenty of occasions with Porto's first team alongside the likes of Rúben Neves, Éder Militão and Pepe. 
"That's why I really want to be part of this club and I believe I can still continue to play at a very high level like before."
Describing himself as a deep-lying defensive midfielder who likes to help teammates "recover the ball faster and play the key passes to make the team go forward", Rui is a deep thinker on the pitch and an avid reader off it. 
"I like to read – a lot. My last book was Rich Dad Poor Dad. (By Robert T Kiyosaki). I also like the book of the Tesla guy, Elon Musk, and Shoe Dog: A Memoir by the Creator of Nike by Phil Knight. 
"I really like to read books about business, finance and investments so that I can have more knowledge," he revealed.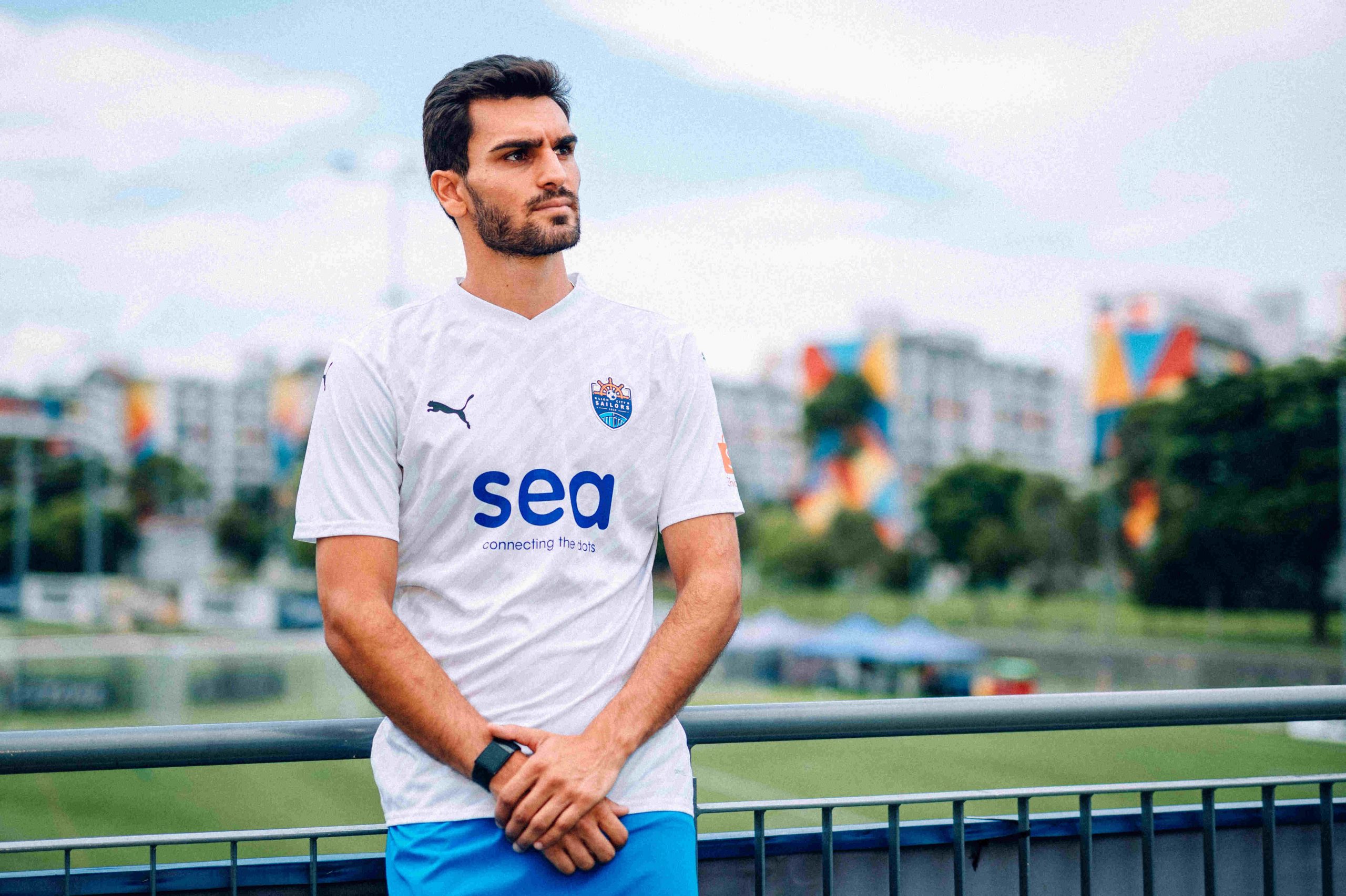 Rui is now acclimatising well and has already struck up a good chemistry with fellow foreign players in the team like Maxime Lestienne and Diego Lopes in training. 
"Since Day One, the club has helped me a lot and I was warmly welcomed by everyone. The Brazilian guys Diego and Pedro (Henrique) speak in Portuguese as well so it's much easier for me. I've also watched some matches and I'm really impressed by the quality of our team. 
"Weather-wise, it's nice because it's summertime all year. The only thing is that I have to bring a (foldable) umbrella every day because you never know when it might rain!"
Having chosen no 46, his first jersey number at Porto, Rui is targeting a long stay at the Sailors. 
"I really want to stay here for a few years. I believe I can win games here and I really want to help the club get to where we want to be."
For those who do not know, francesinha is a type of Portuguese sandwich made with layers of toasted bread and assorted hot meats – and it is Rui's favourite cheat meal. But perhaps the more important aspect of Rui Pires that Sailors' fans need to know is that he is here to win. 
And he can definitely tell you that in English. 
MORE FROM LION CITY SAILORS: