Trudging off the pitch at the Bishan Stadium last Sunday (Nov 22), Saifullah Akbar was a picture of despondence, and for good reason.
The 21-year-old had given everything to help the Lion City Sailors get the three points that night, but still suffered a narrow 2-3 defeat to Albirex Niigata (S) in the Singapore Premier League (SPL). The home side had arguably played better football throughout, and had done enough to get the win, so to eventually come away with a defeat at the end of 90 minutes was a huge disappointment for the Singapore Under-22 international.
Nonetheless, Saifullah's display for the Sailors was certainly encouraging – he was one of the standout performers against Albirex, covering every blade of grass and racking up the joint-highest number of shots in the team alongside Song Ui-Young.
Saifullah even went close to scoring in the 18th minute with his close-range snapshot looking destined to nestle in the bottom left corner of the net, but Albirex keeper Kei Okawa somehow managed to keep the ball out with a flying save.
To put it simply, Saifullah did almost everything right, apart from finding the back of the net. To compound matters, he received a yellow card late in the game – his fourth booking of the season – which meant he was suspended for the Sailors' following fixture – a 3-0 win over Geylang International.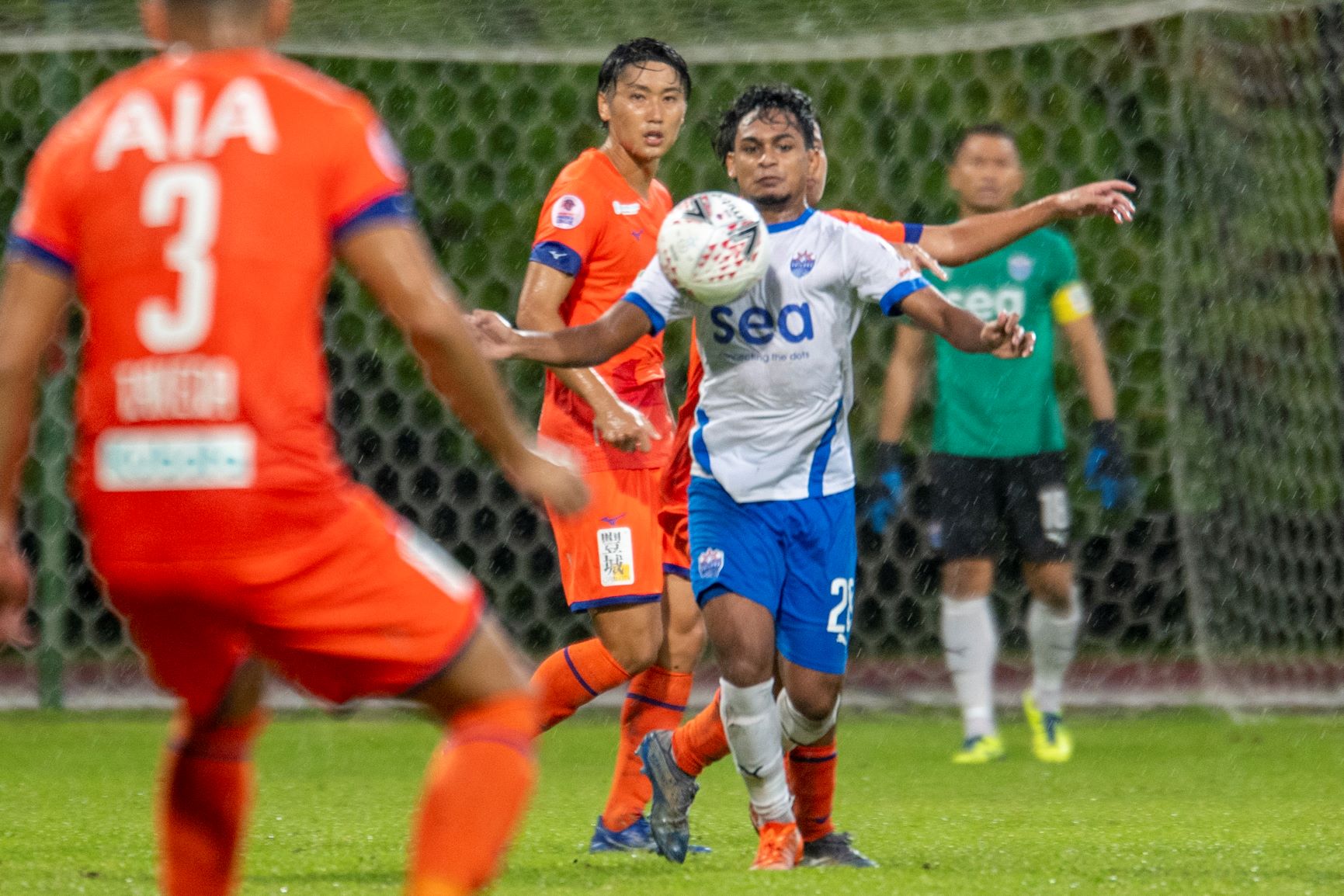 Reflecting on the Albirex result, Saifullah lamented: "Obviously that was such a frustrating night. Coach Aurelio (Vidmar) told us to bring our A-game and we did – from Hassan (Sunny) in goal to Shahril (Ishak) up front, we put up a good show and gave nothing less than 100 percent. But the result just didn't go our way.
"Personally, for myself, I felt I played one of the best 90 minutes of my career. The intensity and pace of the game was on another level – it's always like that against Albirex. I'm glad I was able to adapt and thrive in that game. I got to run all over the park, get shots on goal and contribute both in defence and attack. 
"However, not getting the three points meant the good performance did not matter at all and I would not like to experience that again."
Thankfully, such disappointments have not been a frequent occurrence for Saifullah since he joined the Sailors in the off-season. Having started in eight of the ten SPL games before his suspension against Geylang, the skilful playmaker has been a lynchpin in the centre of the park for the team, with his performances getting better with each passing week.
And Saifullah credits coach Aurelio's advice, as well as being around quality players, for his rapid improvement.
"The areas that I feel I've improved the most in are getting shots and running into the box more," said Saifullah, who has one goal and one assist so far this campaign. "Before the start of the season, Coach said that for me to take the step up to another level as a midfielder, I've to get into the box more; to get more shots away, and to capitalise from any rebounds that fall my way.
"So, after I make forward passes, I have to continue my runs into the box – like how I scored (in the 7-1 win) against Balestier. That is what Coach demands from me so that I can develop into an all-round midfielder. I'm really enjoying it so far, and I hope to get more goals and assists – that's the target," he said. 
"Being at the Sailors is similar to what I experienced in my first professional season with Tampines (Rovers) in 2016. There are experienced national players as well as quality foreign players within the team.
"As a youngster, it's a blessing for me to learn from seasoned pros like Song, Shahdan (Sulaiman) and Gabriel (Quak) every single day about what true professionalism is, on and off the pitch, and what it takes to succeed at the highest level. Being around so many good players also means that I've to be on top form in every training session to show that I deserve to be in the starting 11."
The ambitious Saifullah has also set his sights high on making the breakthrough with the Singapore national team, although he is fully focused on his current mission with the Sailors.
"Of course, like any other player, I dream of playing for the Singapore national team. But first things first, I have to put in more consistent performances to convince the national coach (Tatsuma Yoshida) to call me up," he said.
"Right now, though, my main focus is to help the Sailors win trophies, and I really want to help us qualify for the AFC Champions League (ACL) next season."
Up next for Saifullah and the Sailors is a clash against his former club Young Lions at the Jurong West Stadium. It is a must-win game for the Sailors if they are to stay in the hunt for ACL qualification although they may well have to cope without top scorer Stipe Plazibat, who is still recovering from a niggling hamstring problem. 
The Sailors are currently third in the table, four points off Tampines and a further two behind Albirex.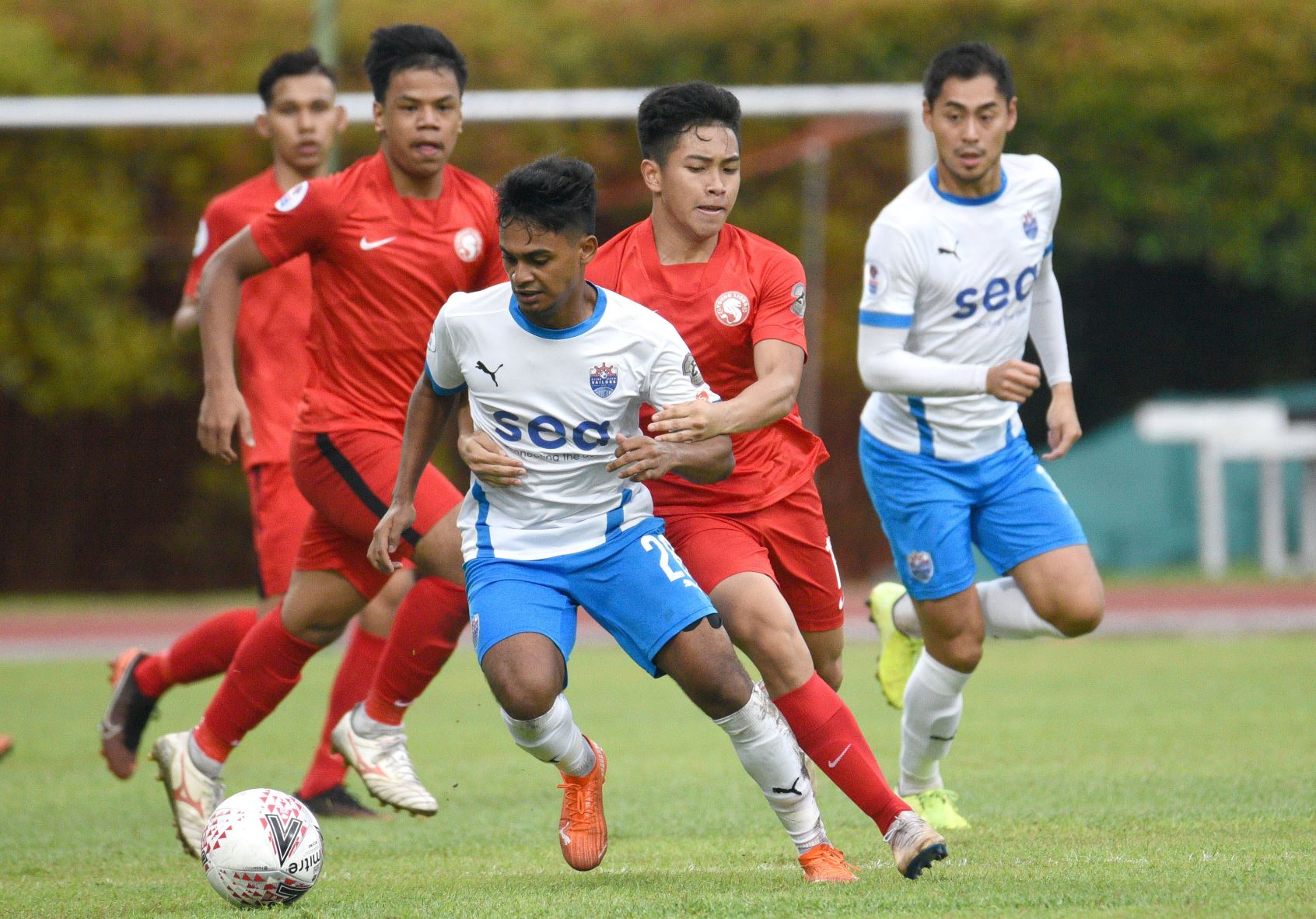 "Yes, Stipe could be a big loss for us (if he doesn't play), but we have Shahril who has the experience to help us in the attacking third," insisted Saifullah.
"From my time with the Young Lions, I know they can really put up a good fight on their day. They always play their hearts out with something to prove, and coach Nazri (Nasir) always pumps in a lot of energy into the team, so it may be a tricky game for us. Moreover, they've got Hami (Syahin) and Ilhan (Fandi) now back with the team, so they are a very different side from the one we beat (5-0 at the start of November).
"We're not too worried about the top two (Albirex and Tampines) for now. We just have to focus on getting the full nine points from the remaining three games and see where that brings us. Football's an interesting game and many things can change over a week."
MORE FROM LION CITY SAILORS: