In Sailors Abroad, we take an in depth look at the Sailors' foreign stints, through the eyes of those who lived through the experience.
First up in this series, Sailors' Chief Executive, Chew Chun-Liang looks back at the Sailors' 2021 trip to Europe. 
There was privileged access to operational facilities, face time with both coaching and administrative staff, a slew of competitive matches against top European academy sides, and even the added bonus of taking in the famed "Der Klassiker" from the stands of the Signal Iduna Park. 
It came as no surprise that Lion City Sailors Chief Executive Chew Chun-Liang returned from Europe last December, hailing the club's European sojourn as a roaring success. 
The trip was built on the platform of the deepening partnership between Sailors and eight-time German champions Borussia Dortmund (BVB), and saw Sailors club officials learn from some of the best in the business, while the Sailors Football Academy's Elite Under-14 team spent 42 days in Germany and the Netherlands gaining invaluable experience playing 11 matches across both countries. 
"A key focus of the trip was to ensure our elite academy boys could get unrestricted training sessions, and also play in a full 11v11 games to benchmark ourselves against top youth teams in Europe," said the 45-year-old.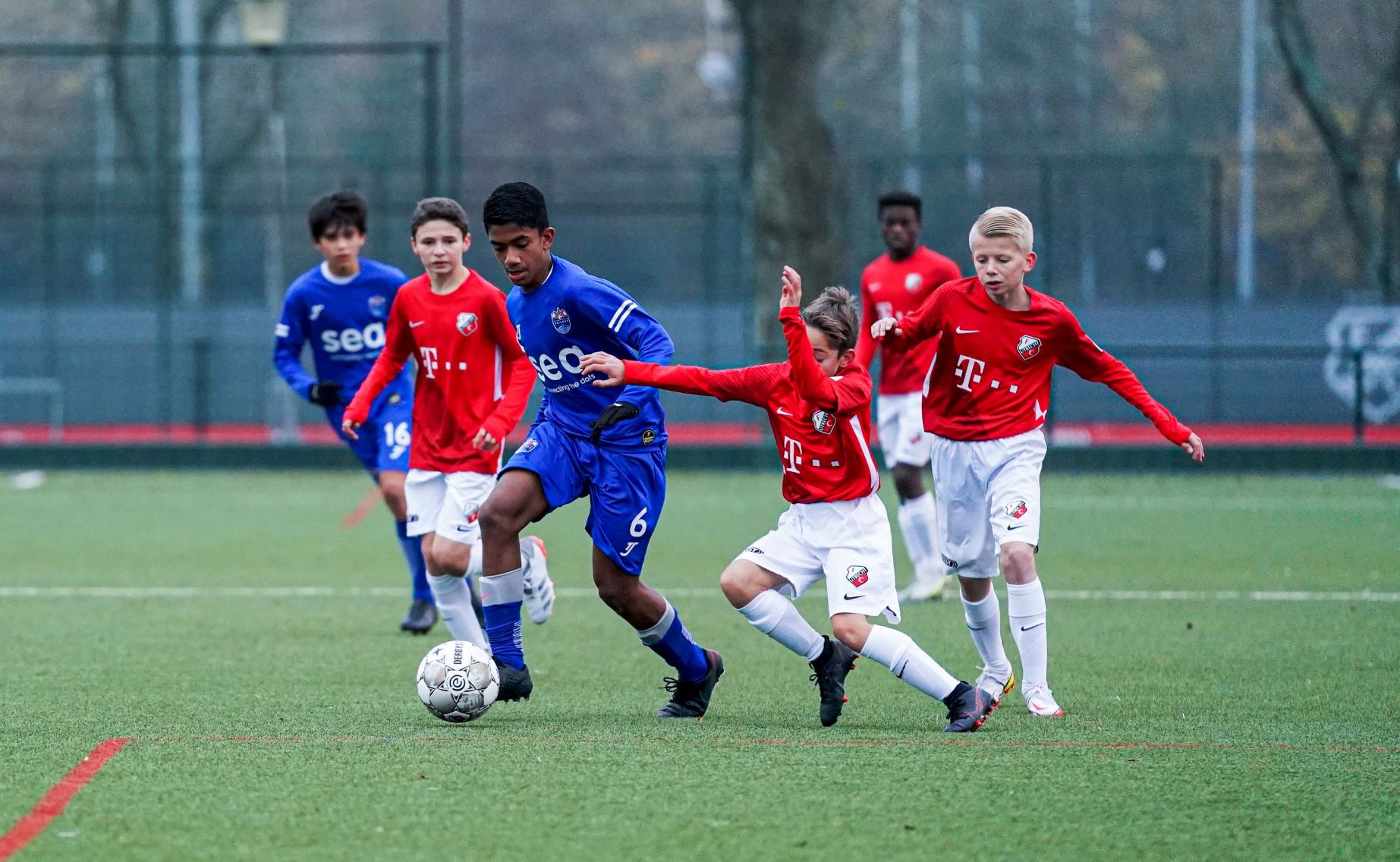 "The team did an excellent job on and off the pitch. Our coaches were pleased with the discipline and determination the boys demonstrated and how they grew as a team, while their performances on the pitch showed that our team is indeed competitive at the European level."
The trip to Europe had another key purpose as well, to drive improvement and professionalisation in the club's specialist teams and administrators. 
"There was much gained by our backroom staff as well: our staff from the sports science department, fitness, match analysis and even goalkeeping departments got insights into how a club like a top European club like Dortmund operates and picks up best practices to implement in our club," said Chun-Liang.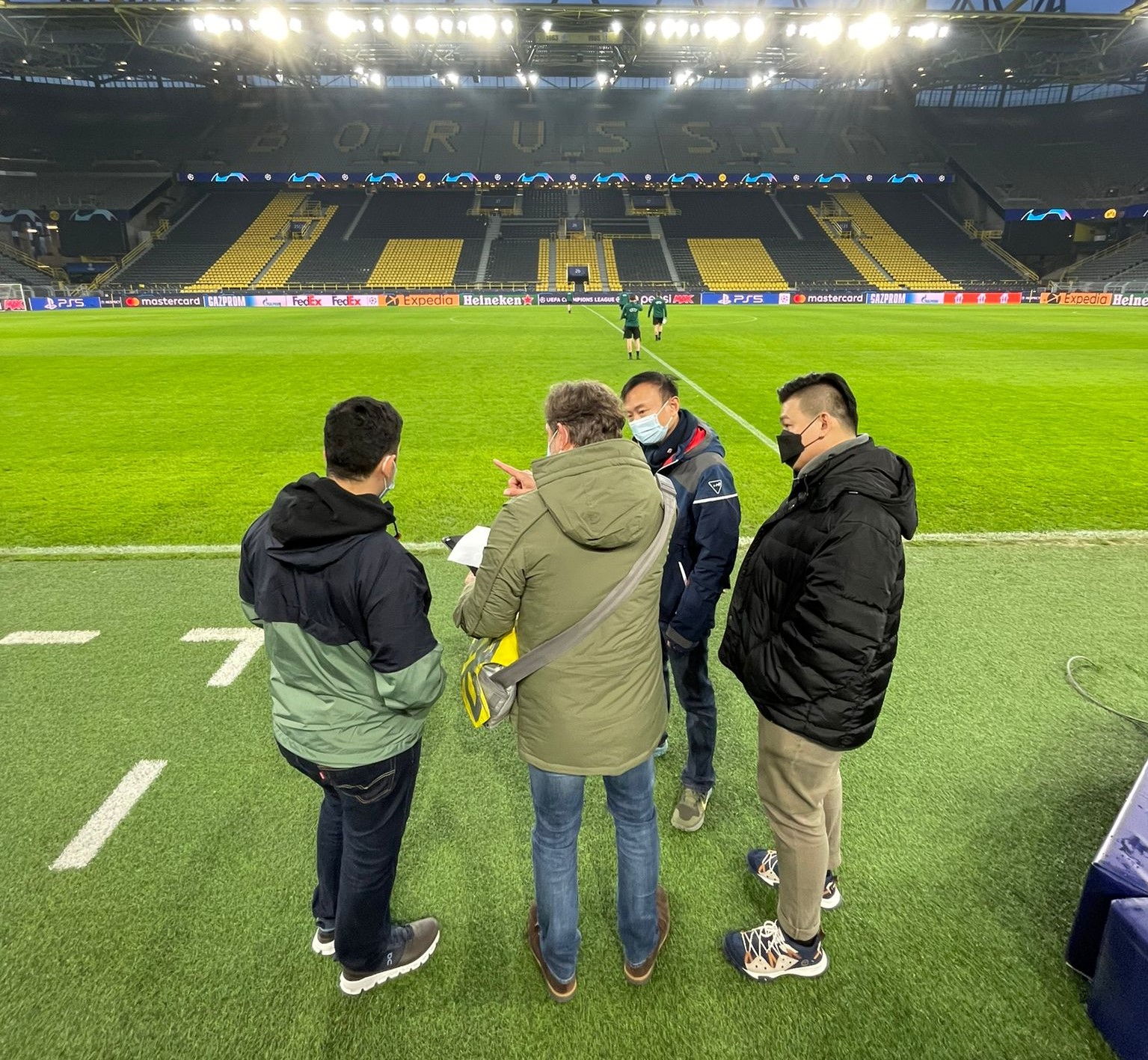 "On the administrative side of things, we were allowed access to observe even restricted areas in matchday operations – including matchday experience for fans – merchandise sales, and also how our partners in Dortmund run ticketing, hospitality, security, and crowd control."
Chun-Liang and the Sailors also visited the BVB training facility to see first hand what it takes to put together an excellent football infrastructure, perhaps an important facet of the trip with the Sailors' training centre at Mattar Road set to be open later this year. 
"We're of course not there yet, but our BVB partners are at a level that we aspire to be at and it was important to learn best practices from them," he said. 
"Despite the difficult situations of Covid-19 and the rise of the Omicron variant, we're delighted that we came together and persevered to make this trip work – it was invaluable in so many ways."
The Europe training camp came just some four months after both clubs forged a two and a half-year partnership last July, and also saw the Sailors invited to watch a BVB first team training session and watch the likes of Erling Haaland, Marco Reus and Jude Bellingham up close. 
The club were given access to certain parts of the stadiums on matchday of the match between Dortmund and rivals Bayern Munich, and were allowed to step onto the pitch for a jersey presentation ceremony to officially cement the LCS-BVB partnership.
The ultimate goal was to provide opportunity for unrestricted training and match exposure for the academy's U14 team, in a safe environment with regular testing for all involved. This was especially important with Covid-19 restrictions limiting 11-a-side training and game opportunities for the team in Singapore since it was first set up in 2020.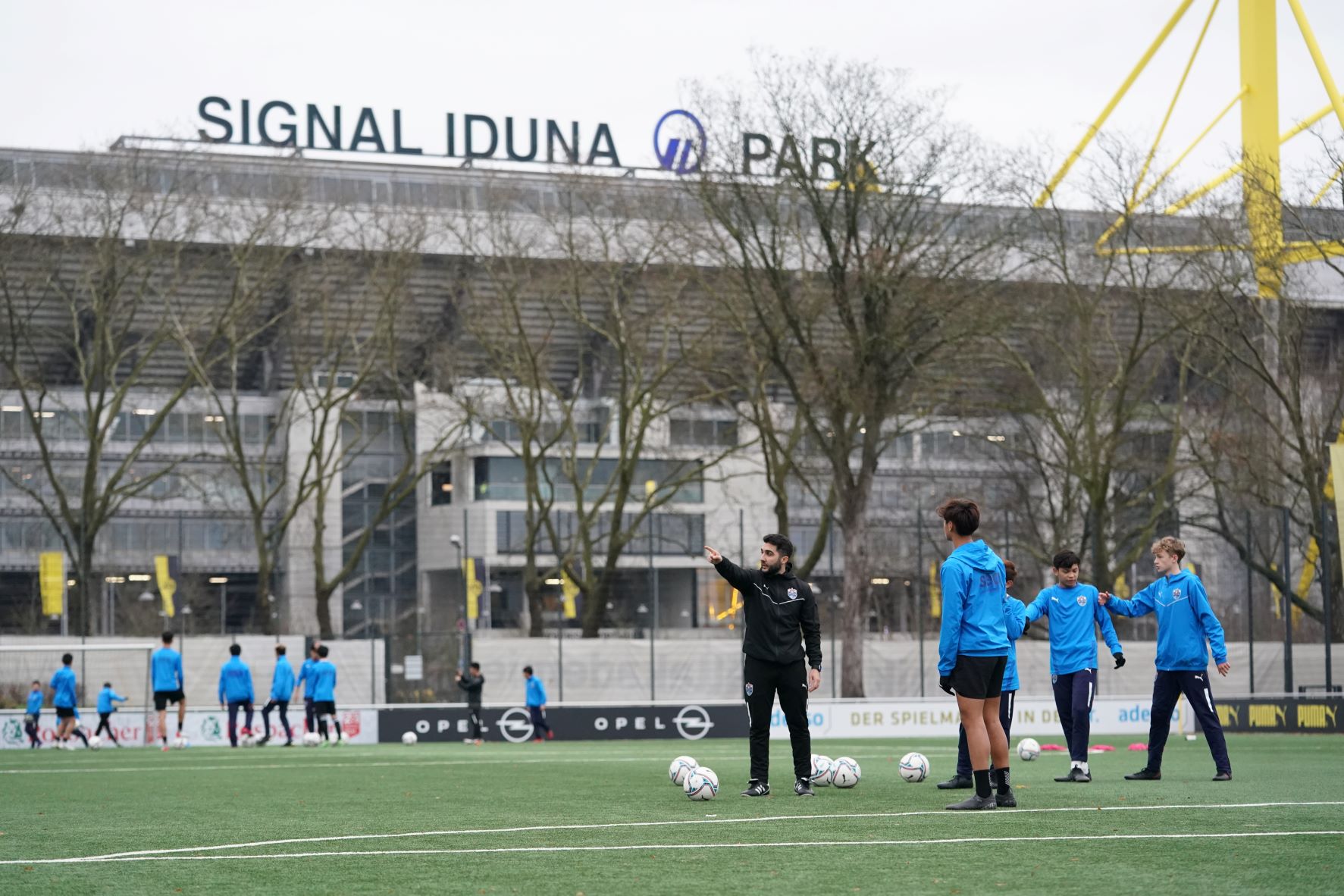 "We were somewhat forced by circumstances to look abroad to ensure that our players continue to develop and match the progress of players in other countries around the world who have been training with fewer restrictions," said Chun-Liang. 
This Europe training camp was, in fact, only penciled in for 2022 but, when the Vaccinated Travel Lane (VTL) between Singapore and Germany was first announced in early September 2021, the Sailors raced to sort things out from planning to logistics to execution. 
BVB graciously accommodated the club's special request, and just six weeks later, the Sailors were on a plane to Germany. 
"The VTL gave us the opportunity to do this because  a trip would not have made sense if you're going to do a 14-day quarantine in both countries. You can imagine how fast we decided to do this after the VTL was first mooted," he shared. "Credit goes to Luka and Academy General Manager (Tan) Li Yu for pushing and we quickly got the green-light approval from club Chairman Forrest (Li). 
"We're very grateful to Dortmund for helping us make this happen. A typical training camp overseas would've been around two and a half weeks, but since this was a rare opportunity, we wanted to maximise it. The cost was high, but the club moved ahead, for the good of our boys." 
It was not just about the two clubs, but also getting approval from schools in Singapore, as the boys had to skip their final academic week to make the trip and reassuring the parents as the Covid-19 situation was still fluid in Europe – a process which was made easier due to the support from both parties.
Beyond the tangible benefits to players and officials, the trip also served to solidify the relationship between LCS and BVB even as the partnership agreement was 'practically done over Zoom'. 
"Club Chairman Forrest was also there with us, and it was important to us that we could connect with BVB's senior management to develop a deep relationship with them going forward," stressed Chun-Liang.
Even before the trip, the two parties worked on several initiatives together – from virtual challenges between both sets of players to Zoom workshops on fan engagement to youth development philosophy, and even a combined CSR (Corporate Social Responsibility) effort supporting the Macpherson Community, that witnessed staff from both LCS and BVB, along with Member of Parliament Tin Pei Ling distribute gifts to some 130 children in a "Grant A Wish" event.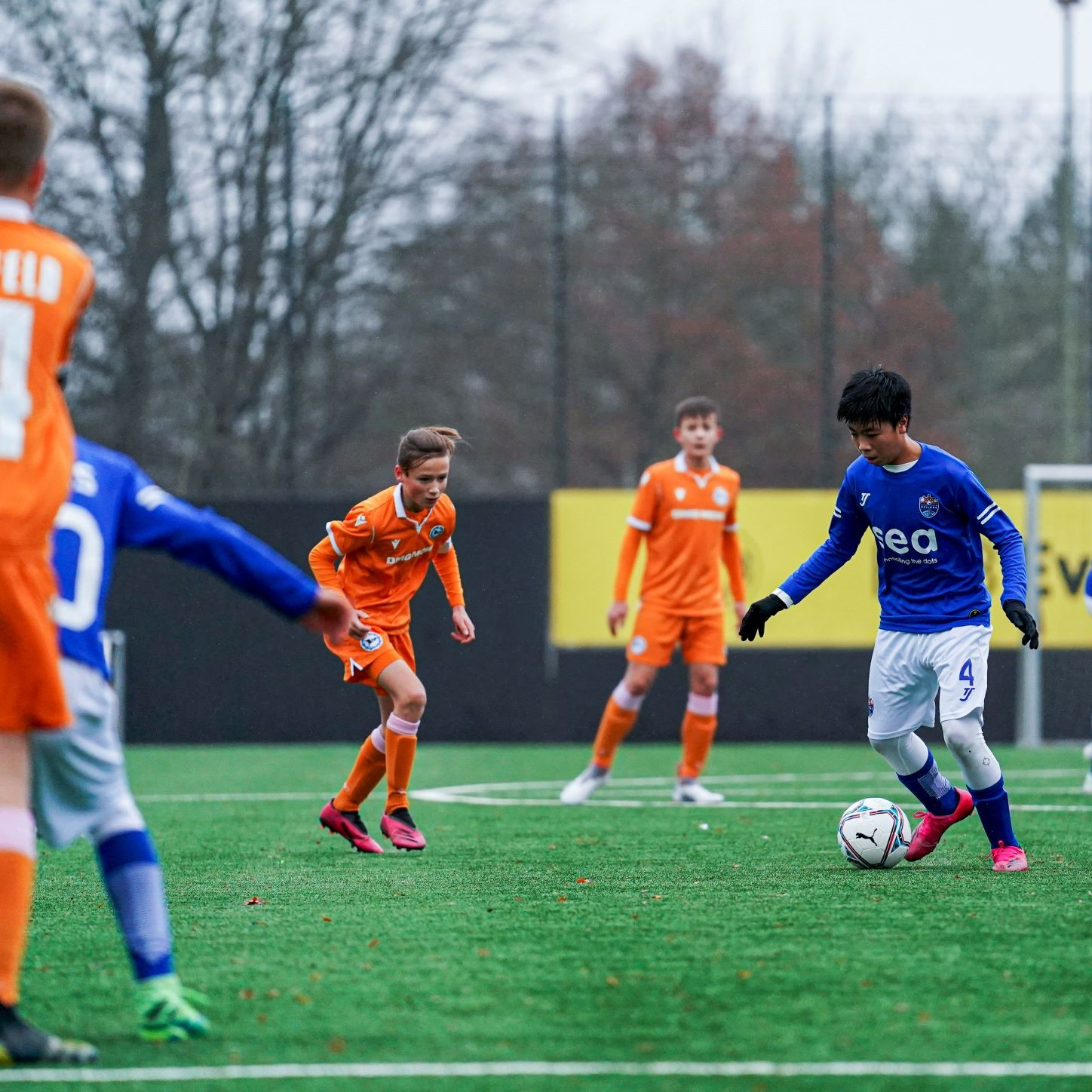 The club has hosted members of the BVB management in the last couple of months as well, with Benedikt Scholz, Head of International & New Business and Managing Director of BVB Football Academy in town to explore collaborative efforts in 2022. 
With both clubs sharing lofty ambitions and even adopting similar beliefs, Chun-Liang firmly believes this partnership is one that can last the distance and also hinted at more exciting developments ahead. 
"I think it is quite extraordinary, what we've done in just six months, and we're all looking forward to doing much more in the months ahead," he said. 
"It's certain that we'll send a youth team to Dortmund every year, and depending on the pandemic situation, we want to explore the possibility of having some of our players spend time with BVB, be it with the first team, reserves or U21s," added an optimistic Chun-Liang.
"We would love to have some form of exchange involving both our first teams too, perhaps even inviting Dortmund to play in Singapore."
MORE FROM LION CITY SAILORS: