Fourth time's the charm for the Lion City Sailors as they finally managed to defeat Singapore Premier League (SPL) title rivals Tampines Rovers after three unsuccessful tries since their inception in 2020. 
The 4-1 victory at Jalan Besar Stadium on Sunday night (15 August) was as convincing as it got, with the Sailors largely dominant at both ends of the pitch even with the absence of the Brazilian duo of Jorge Fellipe (suspension) and Diego Lopes (injury). 
The victory puts the Sailors just three points behind league leaders Albirex Niigata (S) with a game in hand – and with better goal difference – the Sailors are determined to carry the momentum from this victory forward in their quest for the league title. 
"For sure, the atmosphere and vibe in the team is very good now," said Gabriel Quak, who opened the scoring on the evening with a  classy 34th minute lob. "We've to continue working hard to put further pressure on Albirex. The title race is still quite open now and we're not ruling out Tampines and Hougang United. The good thing is we're in control of our own destiny now and that's a positive."
There also were several positives in the Sailors' performance on an evening the league were able to welcome up to 500 fans to each match.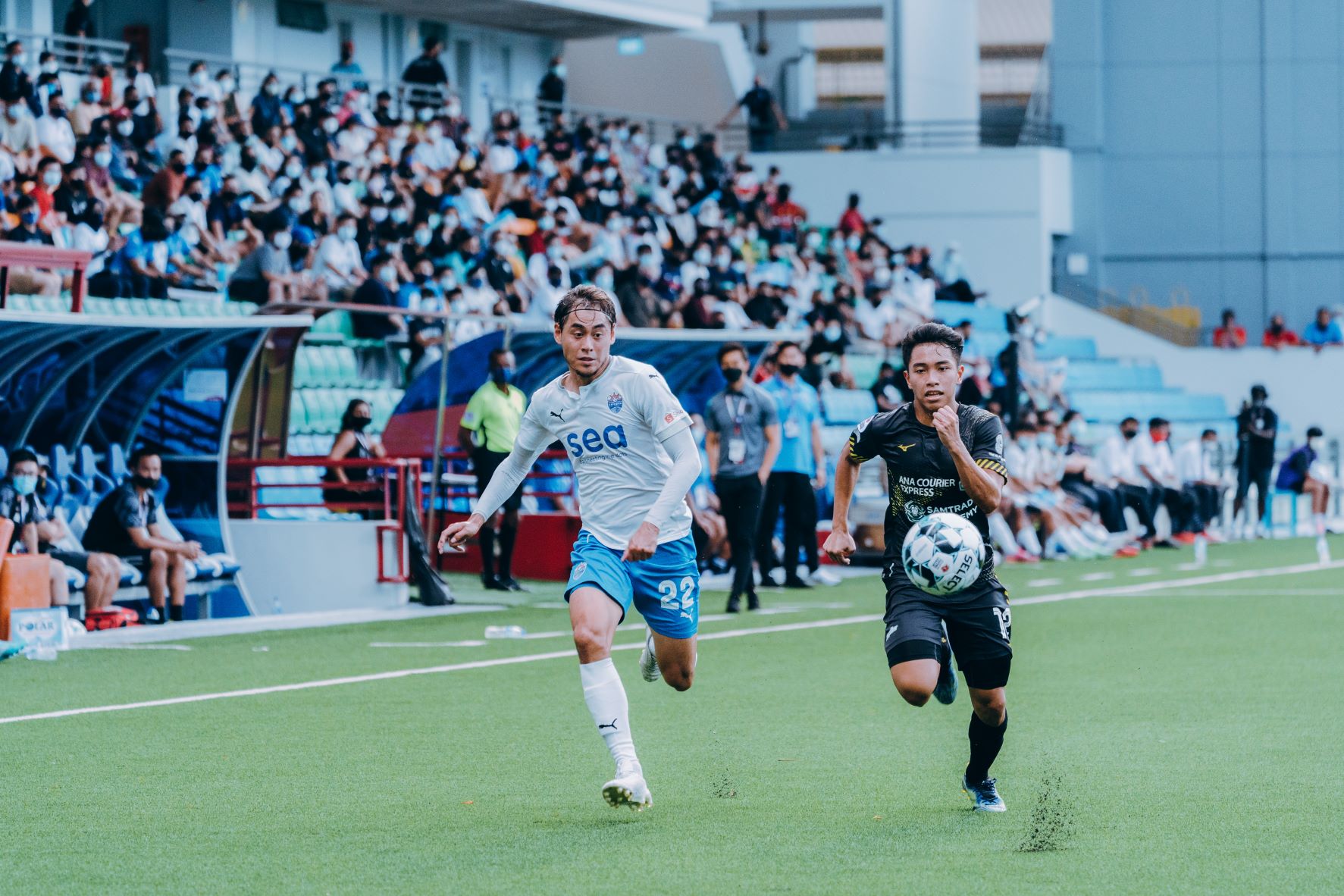 Leading 2-0 at the break after quick-fire goals late into the first half (34th minute and 36th min), Kim Do-hoon's men picked up where they left off in the second period, with another brace in rapid succession (46th and 48th min) to effectively end the game as a contest. 
Tampines did pull one back through Boris Kopitović just before the hour mark, but the Sailors would see out the game comfortably, delivering Kim's first victory since taking charge in late June. 
The slick football and dominant display that came from a masterful execution of Kim's tactical plan gave the most satisfaction to the Sailors. 
"The performance showed exactly what we've been working on in training for the past few weeks under Coach Kim," said Faris Ramli, who played a starring role, with three assists for the four Sailors' goals.  
"It was pleasing to see the whole team working well together – that is why we managed to execute whatever we've trained to. We worked our socks off to the extent that almost everyone was talking about cramps after the game – that was the level of commitment we put in."
Echoing his sentiments was Gabriel, who believes the victory is a culmination of the hard work of all in the Sailors' camp. 
"It's definitely a comprehensive win for us and credit goes to everyone involved with the club," said the 30-year-old.
"From the head coach to the backroom staff, everyone did their part this past week – that's why we managed to produce such a convincing performance."  
Gabriel's opening goal came as a result of some intelligent play by Croatian frontman Stipe Plazibat, who dropped deep into midfield before producing a measured pass that split the Tampines defence wide open. It looked like a well-worked move right off the training ground – except that it was not.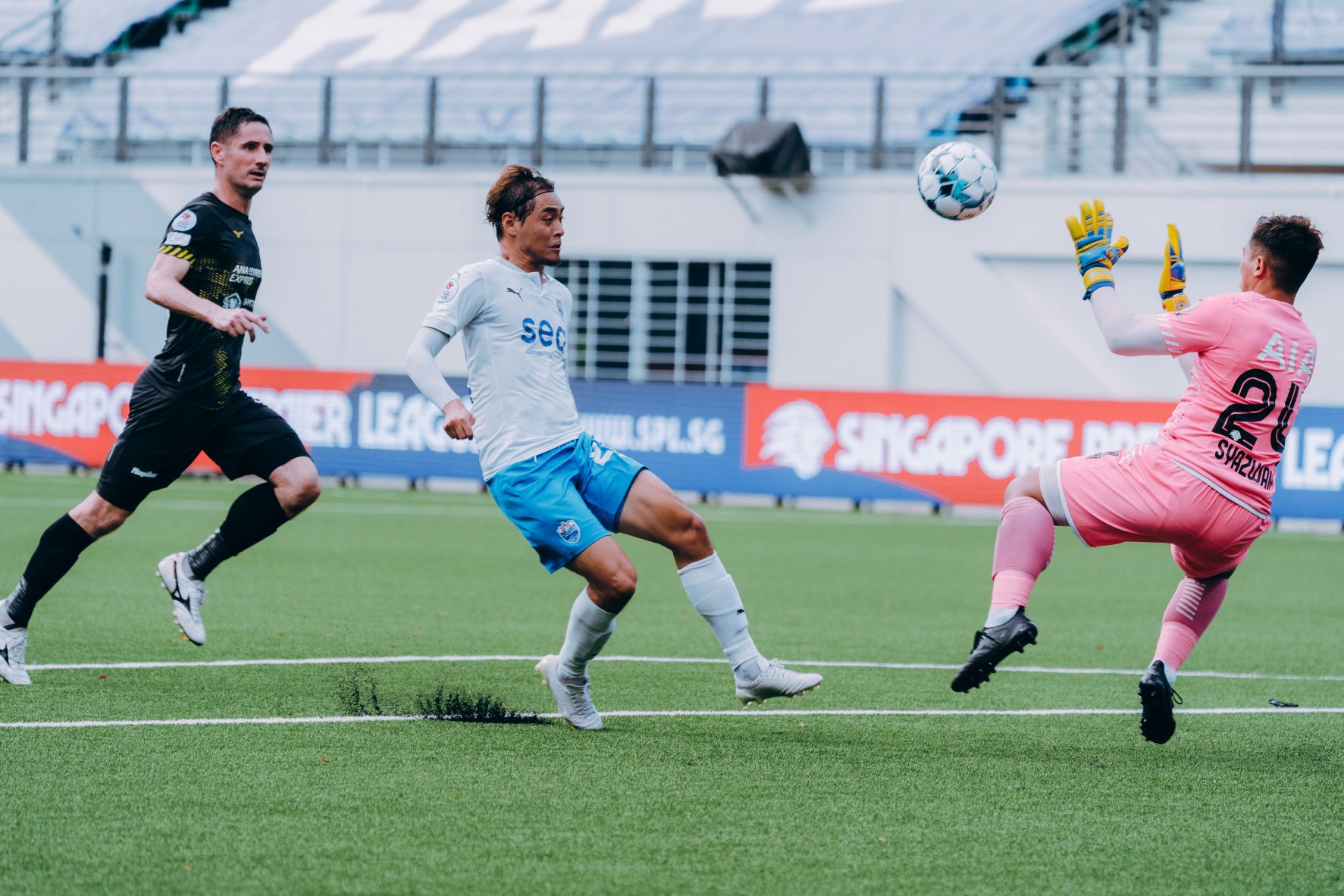 "The lead up to that goal was down to how our game has been evolving," explained the 2020 SPL Player of the Year. "There were a couple of goals I've scored in this manner and it's down to the understanding that we've built over time. I've to thank Stipe for that lovely pass to set us on the way to victory."
Gabriel's goal set the stage for the Sailors' win, with Faris then taking centrestage, his execution of defensive duties as well as creativity driving the team to what was an emphatic victory over fellow title challengers. 
After two perfectly-weighted passes for Stipe and Saifullah Akbar to score on either side of the break, it was his anticipation and industry that enable him to steal the ball off Kyoga Nakamura before teeing up Stipe for the Croatian's second of the night and the Sailors' fourth. 
With that, Faris became the second player after Tampines' Armin Bošnjak to chalk up three assists in a single game this season and it was a feat that did not dawn upon him until the dust had settled.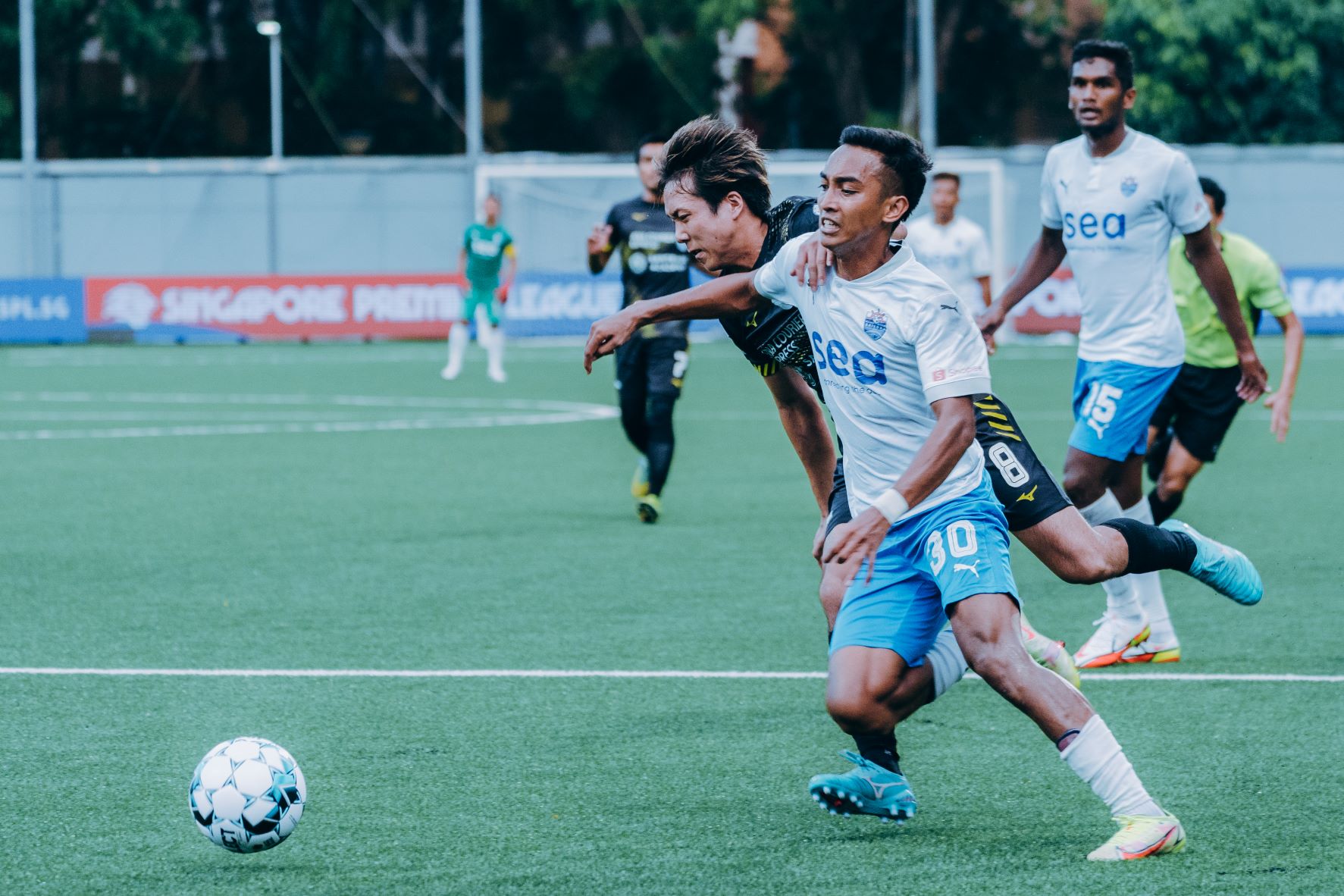 "I didn't even think of the assists during the game because the most important thing was to get us the three points," said the 2019 SPL Player of the Year. "It was only after the game when my teammates were telling me about it when I realised." 
A huge part of this victory must be attributed to Kim, who identified the loopholes and weaknesses of a strong Stags side for the Sailors to take full advantage. 
Gabriel said the South Korean's game plan was "executed to perfection", while Faris enjoyed the opportunity to play a roving role in a fluid tactical system. 
"He wanted me to harass them in the middle and win balls in that area, and as a result, I was not always in the same position," revealed Faris. "We all had to do that, so everyone needed to be really in sync with each other. 
"When I'm not in a certain position, someone else needs to take up the space I left behind, and I need to do the same as well, filling a position when my teammate is not there. Our roles and responsibilities can change during a game, and that's part of the beauty about what we're learning under Coach Kim – this tactical flexibility that can bring us to another level."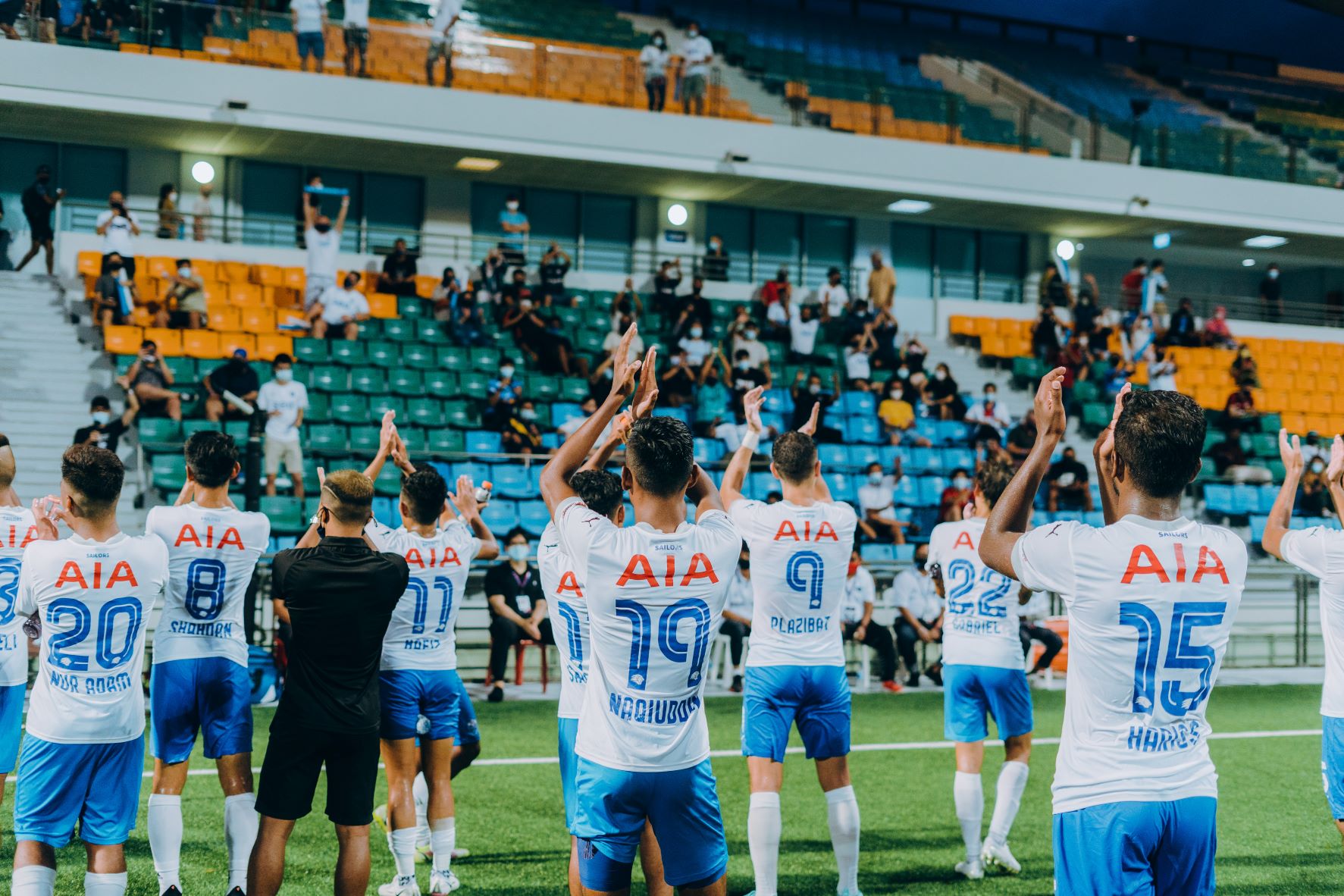 On an individual level, the performances of both Faris and Gabriel last night were also a testament to their mental fortitude and ability to rise above challenges. 
Gabriel was hauled off before half time in last week's disappointing 1-1 draw with Balestier Khalsa, with the Singapore international admitting it was "not a good feeling". 
"When something like that happens, you either crack and crumble or you get going and fight again," he said. "I didn't like what happened that day, but it was all good after I had a talk with the Coach. 
"I can't go into details about the conversation. All I can say is I took a slightly different approach for this game and it has helped me."
Faris is also beginning to blossom again after a difficult first half of the season where he was unable to break into the first team. 
"As I said before, this has been the most challenging year for me. But now I feel really good under Coach Kim," he shared. "Today I'm needed as a second striker and maybe in another game I'll be needed on the wings. Wherever he wants me to play, I'll do it for the team."
And the Sailors are acutely aware that their performance levels must continue to rise if they are to meet the target of winning the league. 
"Teams are observing how we play, so it's definitely going to be harder in the coming games and we cannot expect to win easily," warned Faris. "But we're feeling confident under Coach Kim. It's not always going to be the same formation against every team and if we continue to execute his tactical plans like we did against Tampines, I believe we can achieve our target." 
The Sailors next face Tanjong Pagar United at the Jurong East Stadium on Friday night (20 Aug), and could rise to the SPL summit before Albirex take on Young Lions on Sunday (22 Aug) evening. 
MORE FROM LION CITY SAILORS: