It was in the 56th minute of the Lion City Sailors' Singapore Premier League (SPL) match at Hougang United last Wednesday (Nov 17), when Gabriel Quak received a loose ball just outside the penalty area.
Almost instinctively, Aqhari Abdullah raced into the box from the right in anticipation of a through pass from Gabriel, who did not disappoint with an inch-perfect ball for the Sailors right-back.
Aqhari knew exactly what he had to do once the ball reached his feet – whip in a dangerous first-time cross across the six-yard box, where he was confident one of his team-mates would pop up to divert the ball towards goal.
As it turns out, that team-mate was Hafiz Nor, who simply tapped the ball into the back of the net for his first goal of the season – his team's second goal of the night – as the Sailors went on to win the match 3-1.
That assist by Aqhari was an exact replica of what he did to set up Shahril Ishak for the final goal in the Sailors' 4-0 victory over Geylang International a month ago.
Those two moments encapsulated the evolution of Aqhari into a modern-day full-back who is not just strong defensively, but also adept in the attacking third.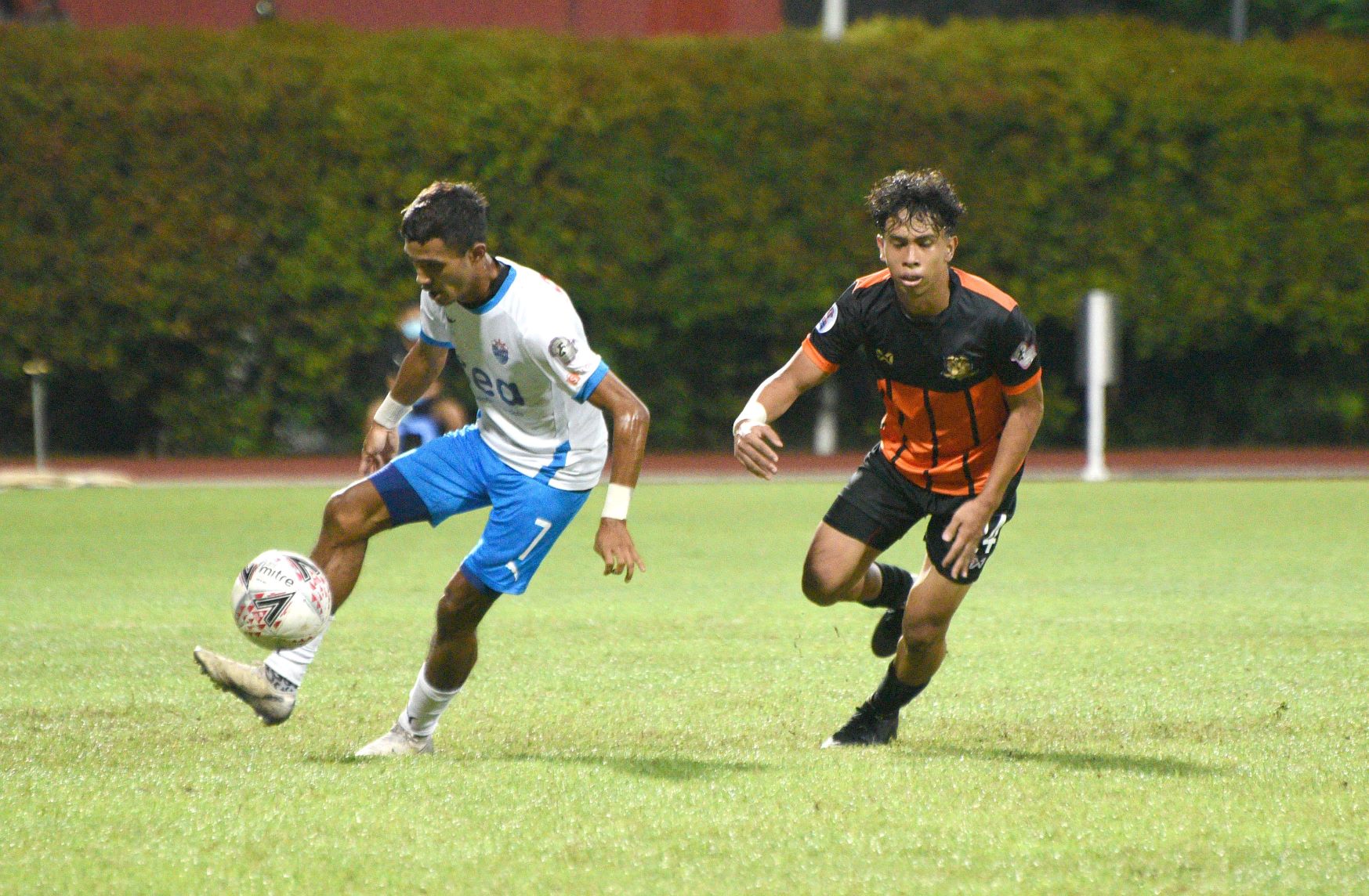 While widely regarded as one of the most committed right-backs in the league over the past few years, the 29-year-old's attacking qualities have never been as evident as this season under Coach Aurelio Vidmar.
In fact, Aqhari has already equaled his 2019 tally of two assists. And with five more matches to go, there is every chance that he will be able to add to that count before the season ends.
"My role in this team is a bit different (as compared to last time) – defending is still my priority, but I'm now expected to contribute a lot more in attacking," explained Aqhari. "For this, I really have to thank Coach Aurelio because he has taught me how to attack from another perspective, and how to see the game from another angle.
"My game has changed a lot and I've improved immensely under him. Hopefully I can continue to develop further and get more assists to help the team."
This year has been quite the ride for Aqhari, who reclaimed his spot in the starting-11 through sheer hard work after not being selected in the squad for the Sailors' first two outings back in March. He has since started in six of the seven matches since the SPL restarted in mid-October, missing only the 5-0 win over the Young Lions as he was rested on the bench.
"It's normal for any player who is not selected amongst the matchday 18 to be disappointed – and the same goes for me," he admitted. "The (COVID-19) pandemic then came and everyone was unsure whether the league is going to restart, but I just kept myself positive.
"I had a chat with Coach and he told me I really have to work hard to get my position back. So, I did just that once training resumed (in mid-June) to convince him – whatever he wants me to execute, I'll do it. And once I got the position in the first-team back, I just played my best in every game, and gave my 100 per cent without holding back."
Aqhari's professionalism and unwavering commitment are attributes which the club clearly values. It explains why he has stayed on at the Bishan Stadium since joining the club – then known as Home United – in 2016. From the current group of players, only Abdil Qaiyyim, who signed for the club a year earlier, has stayed on longer.
Having been an integral part of the Home United teams that reached the AFC Cup zonal final in 2017 and 2018, he is now seen as a senior figure in the Lion City Sailors – a role which he clearly relishes.
"It has been an enjoyable five seasons, four with Home United and this year in this new journey with the Sailors," said Aqhari, who has made 73 league appearances (114 in all competitions) with the club across both entities. "The management takes care of me on and off the field, and as a professional player, I make sure I don't give them any problems.
"Now that I'm one of the older players in the team, it's important for me to share my knowledge and experience to help the younger players – especially when they come to me personally for advice."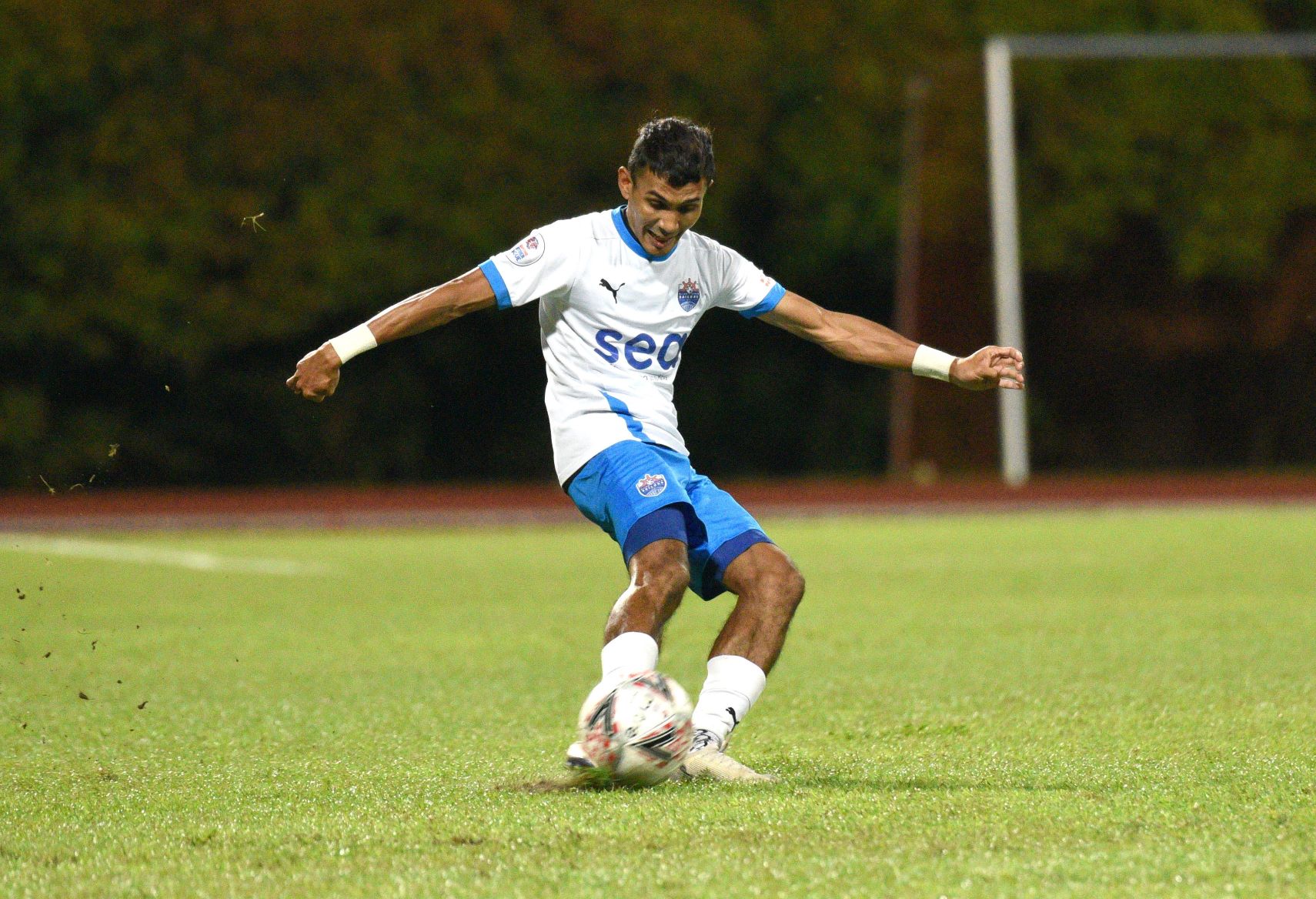 After an uncertain start to the campaign, the Sailors appear to be finally hitting top gear, having recorded three straight victories – while scoring an impressive 16 goals in total – over the past two weeks.
"It's been enjoyable to see this team showing the progress that we've made," commented Aqhari. "The team has gelled together really well because we worked really hard in training and we tried everything that Coach wants us to do in every game."
The Sailors' recent results set them up nicely for a rematch against current league leaders Albirex Niigata (S) on Sunday (Nov 22) in a crucial six-pointer that could potentially decide the winners of the SPL title. Aurelio's side are now just three points off the White Swans and Tampines Rovers in the table.
The Sailors went down to a contentious 3-2 defeat when both sides met at Jurong East nearly a month ago, with Albirex's 94th-minute winner allowed to stand despite a handball in the build-up.
"That was quite a tough one to take because from what I saw, it was a definite handball," Aqhari lamented.
"If that game had ended in a draw, that one point would have meant a lot to us (in the title challenge). But it's over now and we just have to focus on each game as it comes. Now that we're chasing Albirex, it's good that we get to play them, because then we can do something about it."
Albirex are in similarly good form, having also won three matches in a row, with Aqhari emphasising that the Sailors will likely have to toil to claim the three points on Sunday.
"They're technically very good, disciplined and work very hard. So, the key is to work harder than them and overpower them," he said.
"Usually the game is lost from our own errors, so we have to cut down on as many mistakes as we can and try to capitalise with the experienced players on our side."
MORE FROM LION CITY SAILORS: