It took all of five minutes for Nur Adam Abdullah to make an impact in his Singapore Premier League (SPL) debut for the Lion City Sailors.
Driving infield with the ball from his left-back position, Nur Adam split the Tampines Rovers defence with a neat slide-rule pass into the attacking third to Gabriel Quak.
Four touches later, the ball was in the back of the Tampines net, with Song Uiyoung tapping in Haiqal Pashia's cross from close range.
The teamwork shown in the build-up to that first goal in a thrilling season opening 3-3 draw was impressive, but what really caught the eye was how willing and comfortable Nur Adam was in bringing the ball forward.
Nur Adam's critical role in the goal perfectly encapsulated the talented youngster's rapid rise to the big stage. The fact that he has played every minute for the Sailors so far is also testament to the trust that Coach Aurelio Vidmar has in him.
Reflecting on the goal, Nur Adam said: "I'm glad that I was able to contribute to the team in that game. It may not be an assist, but it was something which I created that ultimately led to the goal, so I'm quite happy with that."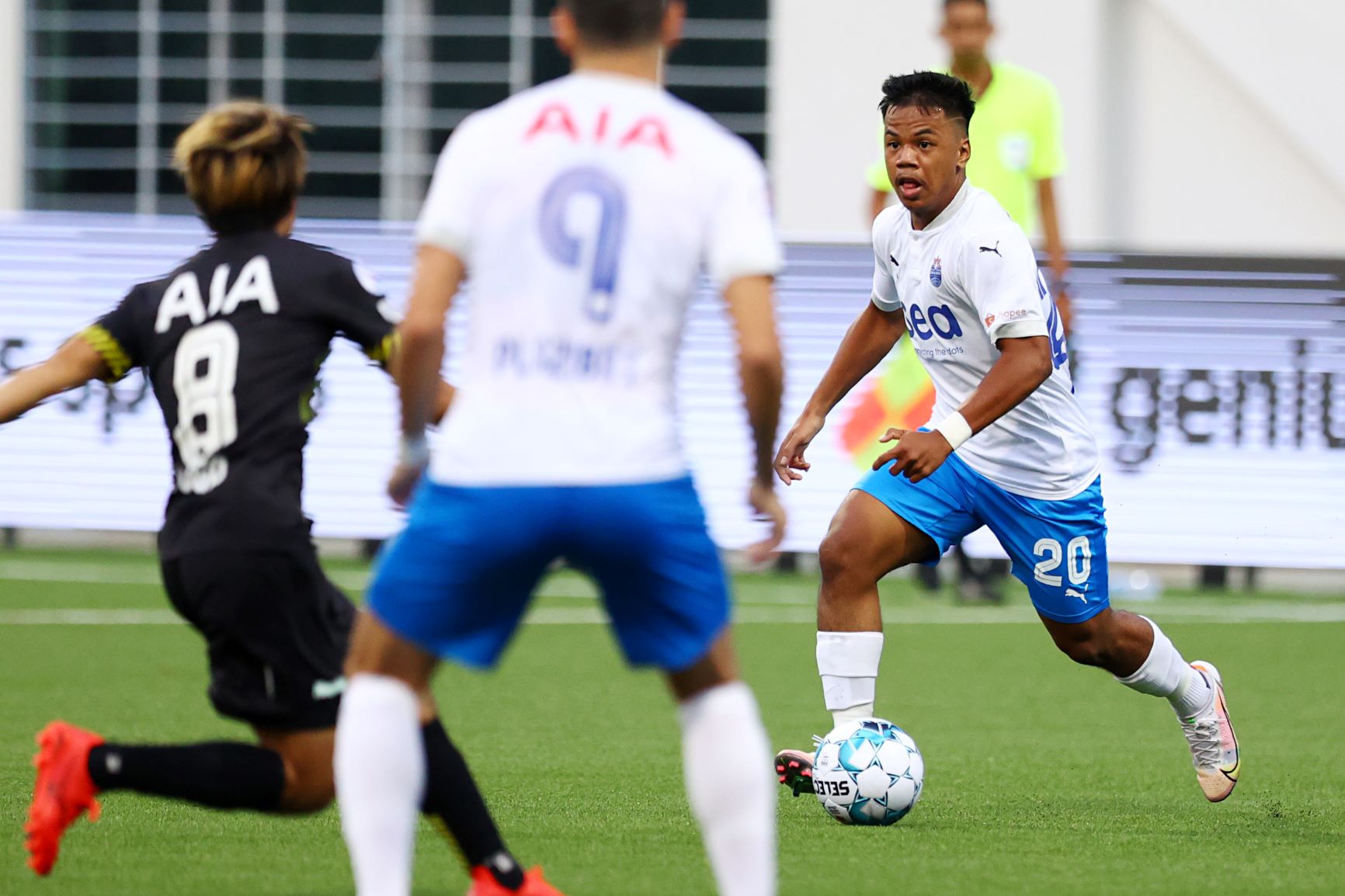 It would be fair to say the 19-year-old has taken to life with the Sailors like a fish takes to water, impressing local football observers with his all-action style of play and never-say-die attitude.
But Nur Adam knows he has only just begun. With competition for places in the starting XI as fierce as it is, he is fully aware that he has to keep working hard to build on the fine start to his Sailors career – starting with this weekend's SPL clash against the Young Lions at the Jalan Besar Stadium.
"Going forward, I want to improve my level of performance even more and add more numbers to my game," Nur Adam declared. "I want to get goals and assists if I can, but the priority, of course, is we keep winning as a team.
"It's amazing to be part of this squad. I felt very welcomed from day one – everyone's so friendly and approachable at this club. There is this healthy environment which keeps the younger players like myself motivated, and I'm really glad I made the decision to come here."
Despite standing at just 1.68m tall, Nur Adam does not shy away from facing off against bigger and stronger opponents. Instead, he relishes the challenge, and makes up for his lack of height with a tenacious playing style.
"My teammates and coaches used to call me a 'bulldog' who just rams through!" he recalled, chuckling. "I've adopted this fearless attitude since young, and I've always liked the physical side of the game. To me, size doesn't matter on the pitch – it's the heart."
His promising displays for the Sailors have not gone unnoticed, and he was recently rewarded with a first call-up to the senior national team by coach Tatsuma Yoshida – a moment which he will always cherish.
"I'm honoured and thankful that I got to be part of the national team after a long journey," said Nur Adam, who is now into his third and final year as a sports management student at Republic Polytechnic (RP).
"At first, I felt the pressure of training with the big boys, but I managed to settle down and enjoy the process because this is the level I want to be at as a professional footballer. The training was highly intense, and we had to keep running and pushing ourselves throughout. One lesson I learnt was not to give up so easily."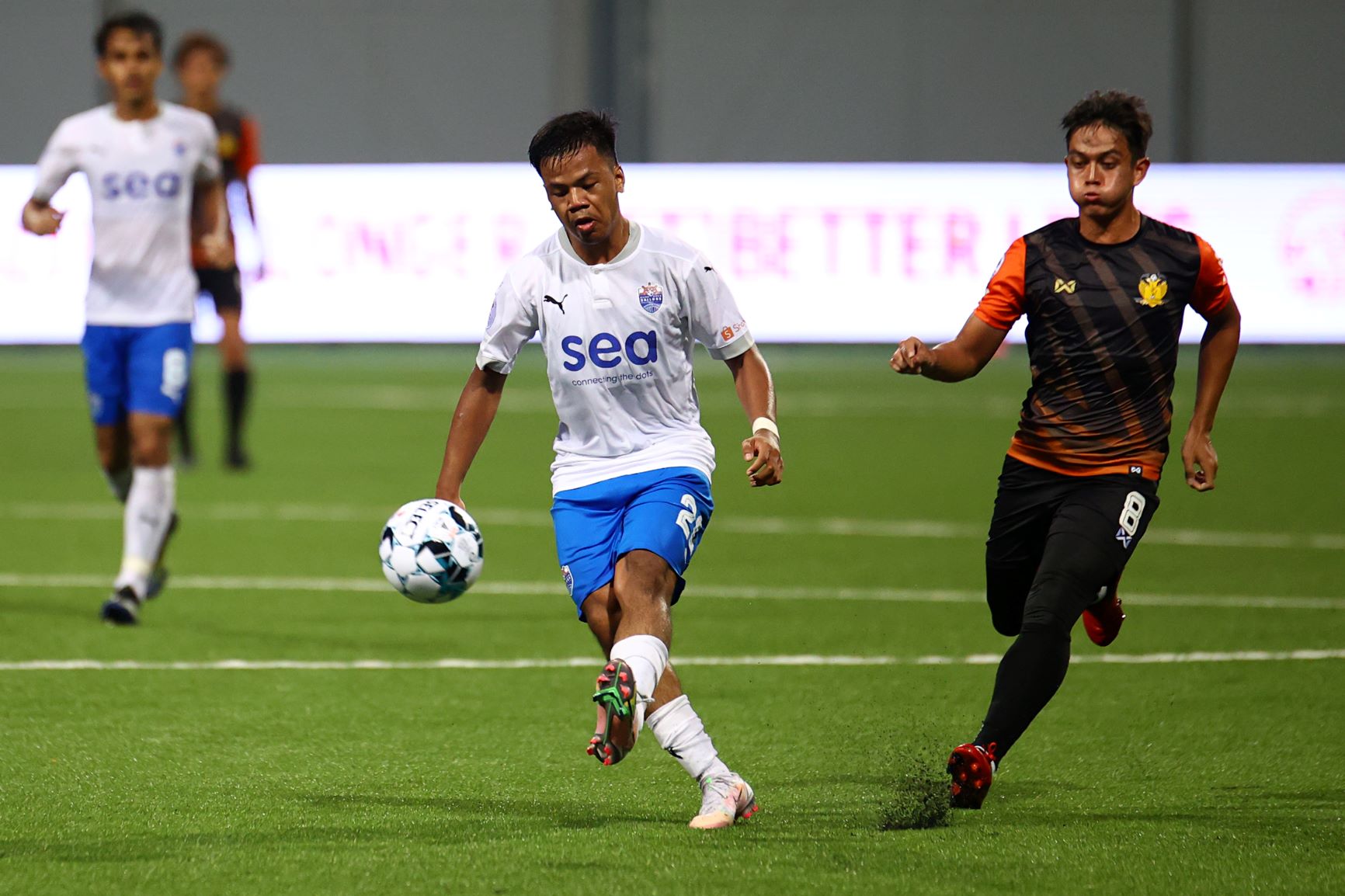 After a week away with the Lions, Nur Adam now has to shift his focus back to club level where he will face his former side.
While the Young Lions have yet to win this season (two draws and a loss), Philippe Aw's team has earned the admiration of many with their enterprising play. And so, Nur Adam knows that the Sailors cannot afford to take this game lightly.
"People always underestimate the Young Lions and say that they're weak. But from my experience, I know that's not the case," he said. "They have a pretty strong squad this year, with the likes of Hami (Syahin) and Syahrul (Sazali). So, we will have to play our best to defeat them."
Coach Aurelio echoed Nur Adam's remarks, challenging the Sailors to make a return to winning ways after a mixed start to the season. The Sailors held fellow title challengers Tampines to a 3-3 draw, then thrashed Tanjong Pagar United 5-0 in the next game, before falling to a shock 1-3 defeat to Hougang United.
"The Young Lions are playing very well at the moment – they're very aggressive and play a good brand of football," said Aurelio. "Looking at the metrics, it was our mistakes that cost us (against Hougang). Now, we've to bounce back and do it in a big way."
MORE FROM LION CITY SAILORS: