The appointment of Kim Do-hoon as Lion City Sailors' new head coach in May made waves in the local football fraternity. It was a move signalling the Sailors' lofty ambitions to not just dominate the Singapore Premier League (SPL), but also a step towards growing into one of the best clubs in the region. 
After all, the 51-year-old has won the Asian Football Confederation (AFC) Champions League (ACL) with K League 1 side Ulsan Hyundai as recently as last December. He also has a proven track record of improving the playing style and results of teams that he managed in his native Korea. 
Just over three months since Kim officially came on board in late June, it already appears things are working out well. The Sailors are unbeaten in nine matches under him, with the report card showing five wins and four draws. 
Kim is pleased with what his side has dished out on the pitch so far – both in terms of results and performance – and a key reason behind that is the Sailors' firm commitment to adapt to his demands. 
"A club like ours is expected to win every game and we know the expectations that are put on us. We've not been able to do so, but in every match there have certainly been positives that we can take away," reflected the South Korean. 
"The fact that we've been maintaining an unbeaten run shows that this team has a lot of grit and character."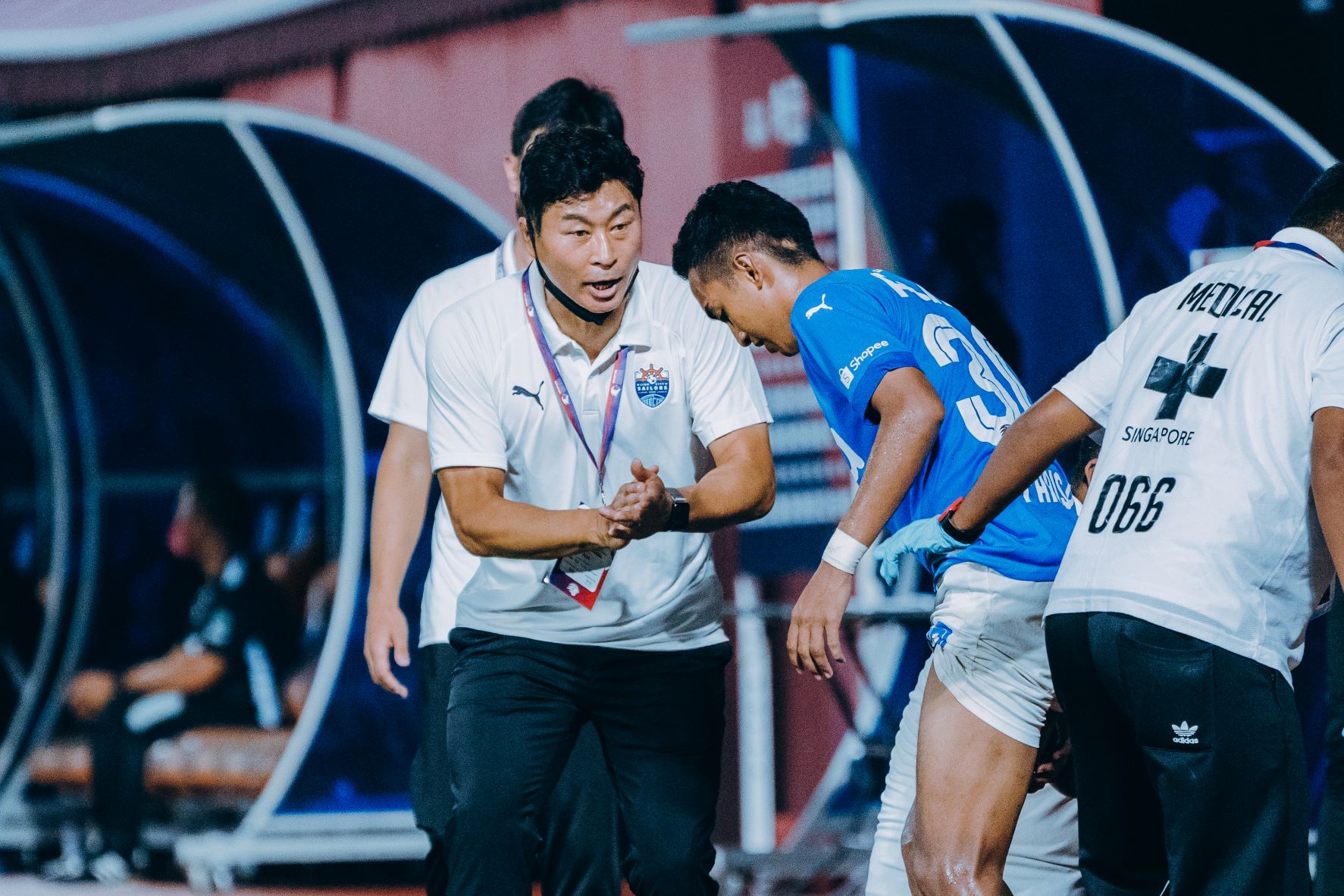 Coming into a team that already has the tools to succeed, Kim knew he had to manage things delicately and not throw the baby out with the bathwater. In short, change needed to come via evolution, not revolution – no matter how successful his methods were at Ulsan. 
The first order of business, team cohesion. 
From Day One, he moved to establish a club rule: players and officials form a circle before training sessions giving high-fives to one another. After the sessions, they will gather and clap three times before they leave. It is something centre-back Tajeli Salamat noted has improved the morale and vibe within the team.
"Building a positive club culture is very important to me," said Kim. "At Ulsan, I established something similar. I want the players to not only feel a sense of belonging to the club, but feel like they're part of a family together."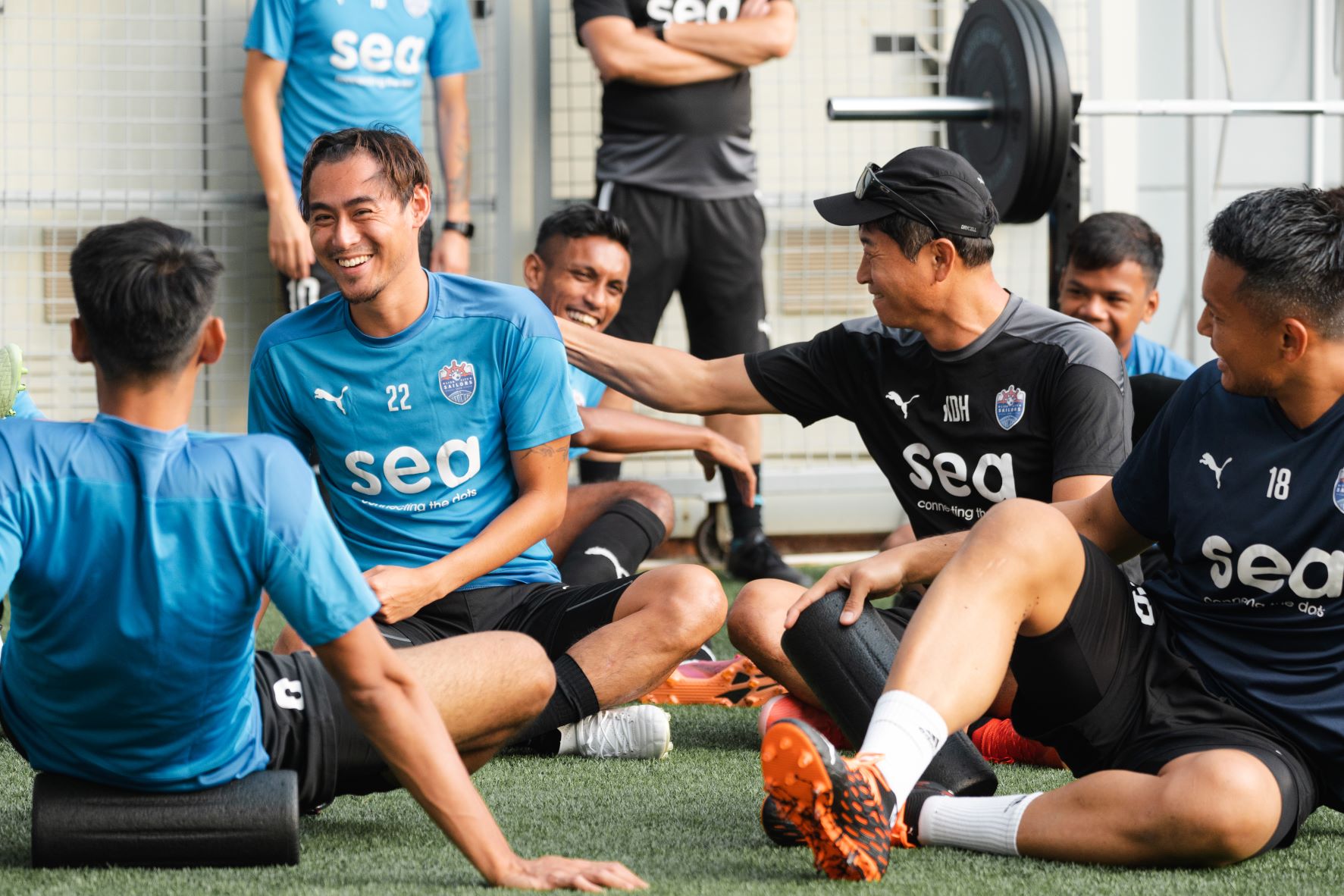 And this has had an impact on the pitch. The Sailors are becoming a hardworking team that fights for the ball and are compact at the back, an improvement that complements their slick attacking qualities that were already in place. 
But it was not all plain smooth-sailing. 
The Sailors drew his first two matches in 1-1 draws against Albirex Niigata (S) and Balestier Khalsa. In the latter game, they struggled to break down a gritty Tigers outfit and had to rely on a 95th-minute Stipe Plazibat penalty to rescue a point. 
That copped quite a bit of criticism on social media, but the Sailors committed to the change, and were confident of the work in progress, and duly delivered Kim's first win in style, with a 4-1 thrashing of Tampines Rovers. 
"Of course winning is always important, but time is needed for players to adapt to new tactics," explained Kim. "Even during the first two games, the players and staff were committed to the philosophies that I've introduced, and I had confidence in them. 
"The win over Tampines only served to enhance the confidence in what we're doing."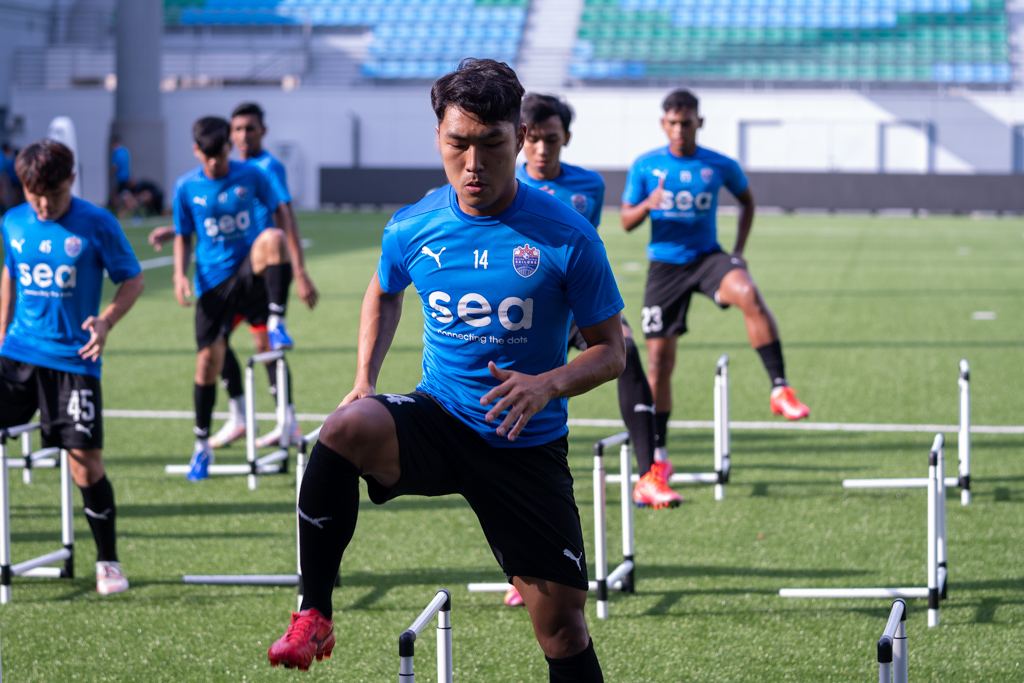 Under Kim, training has also been more physical and intense. The impact is undeniable. The Sailors have shown an improved ability to last throughout matches, coming from behind four times under his charge to rescue points. 
One of those was a 3-1 win over Young Lions, a match in which they scored late goals to turn things around after trailing at half-time. 
"Lasting the 90 minutes both physically and mentally has to be a basic for football players," asserted Kim. "I'm happy to see how the players are able to do that and have always responded well to my training regime."
Kim has also displayed a shrewd ability to get the best out of a quality squad. Under his charge, the likes of Tajeli Salamat, Song Ui-young and Hafiz Nor have been revitalised, including Faris Ramli who has racked up two goals and five assists in nine outings, this after just one goal and one assist in his first 10 appearances this season. 
"I truly believe in squad rotation – giving everyone a chance to show what they got and also keep them match fit," he said. "Keeping morale high is important for team cohesion.  Furthermore, injuries can happen anytime and we need all players to be ready. Rotation of players therefore keeps the squad fresh and ready."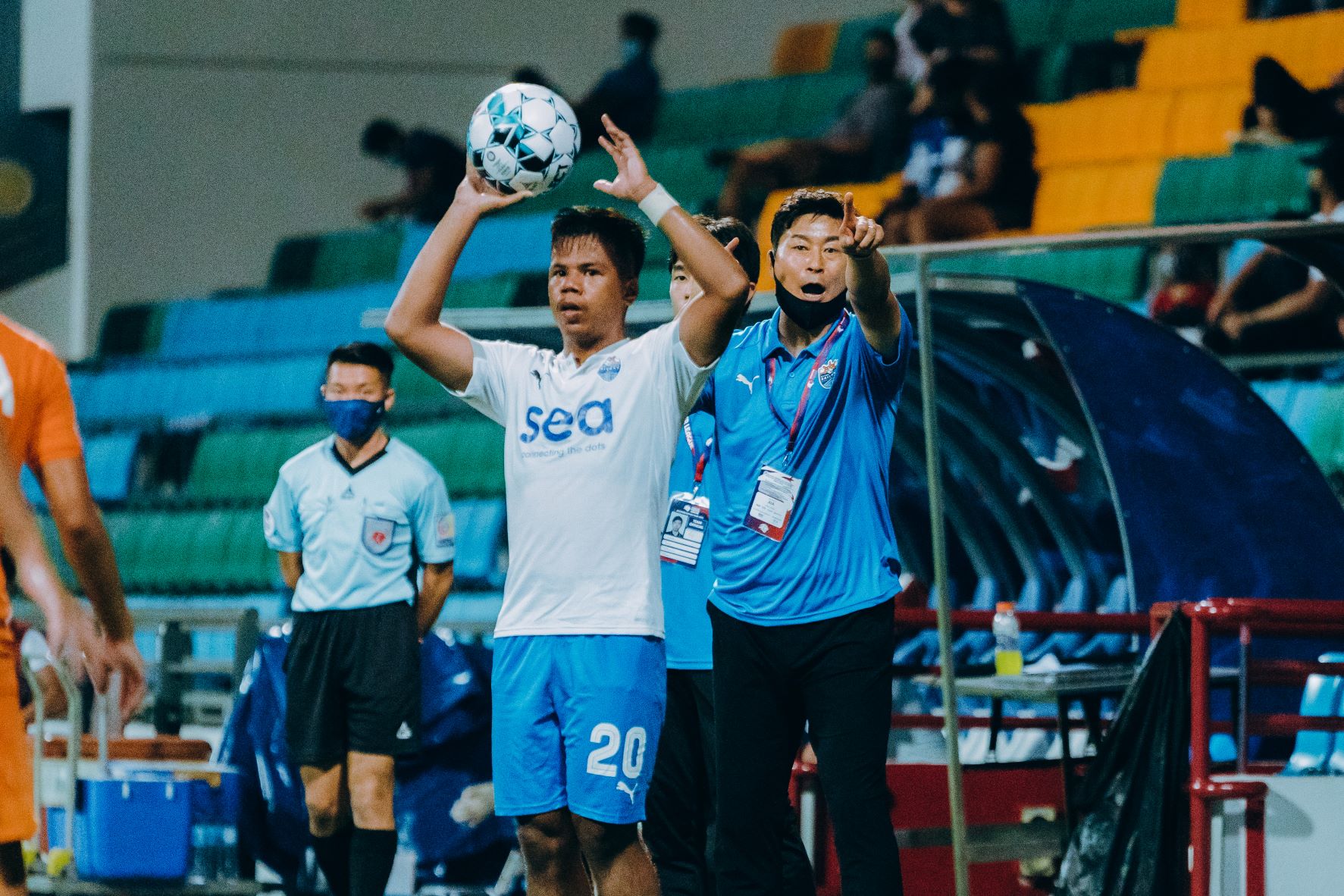 The hard work and persistence could be rewarded handsomely. The Sailors are now on the verge of a first-ever SPL title. Having remained hot on the heels of Albirex all season, they took over at the summit at the end of Matchweek 20 and will now go into the final day of fixtures with destiny in their own hands. 
Level on points with the White Swans albeit with a better goal difference, all the Sailors have to do is to equal or better Albirex's result on 10 October to get their hands on the big prize. 
Kim is proud of how far the team has come. 
"The boys have been very cooperative and have shown a strong willingness to learn. It's never easy to learn things under time constraints, but they've done really well to commit to what I've implemented for them," said Kim.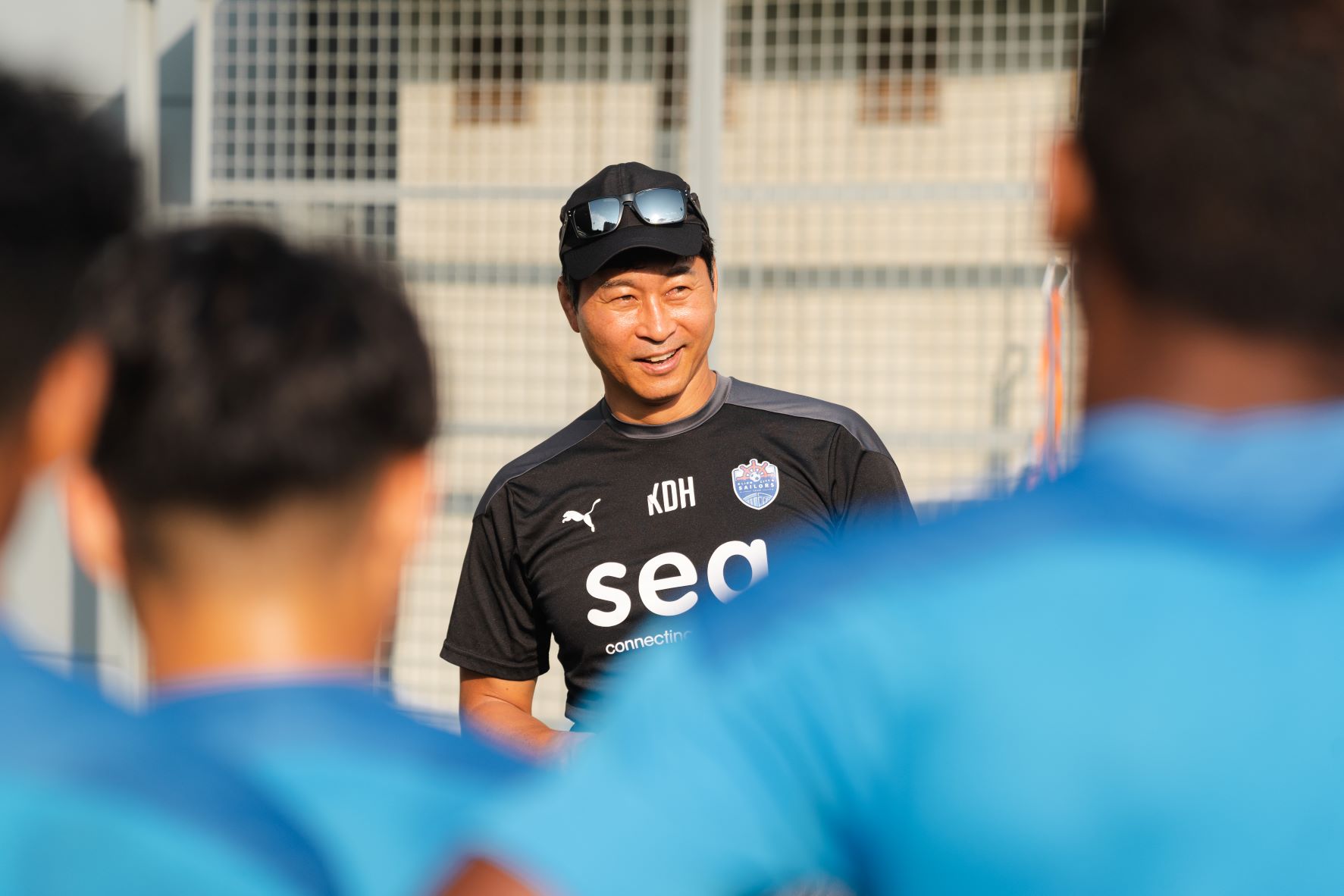 "The team now looks more in sync, like a well-oiled machine. There's definitely a better understanding in terms of attack and communication in defence. We've not just improved physically, but also mentally with increased durations of focus.
"We kept our heads high and carried on as professionals to win the next two games after dropping two points against Albirex (in September's 1-1 draw). That is a huge credit to the team's fighting spirit and winning mentality."
While the focus is on winning the SPL, Kim has already set his sights on a bigger goal – excelling in the ACL next season. 
"The players will deserve to celebrate and have a good rest after this season, but once we return, they know there's more work to be done ahead of the ACL," he said. "We have to continue to work hard together to forge higher standards for other Singaporean players and clubs to aspire to."
MORE FROM LION CITY SAILORS: