Goals, goals and more goals. These days, it seems that whenever Song Uiyoung plays, he is more than likely to hit the back of the net.
Song's brace in the Lion City Sailors' 5-0 thumping of Tanjong Pagar United on Wednesday night (Mar 17) puts him at the top of the club's scoring charts this season, with three goals to his name so far.
More impressively, it also took his goal tally to 12 in his last 12 outings for the Sailors – a run that stretches back to the team's 4-0 win over Geylang International last October. It is a remarkable feat, considering that the South Korean is not deployed as a forward for Aurelio Vidmar's outfit.
And while plaudits might go to Song for getting his name on the scoresheet, he would much rather give the credit for the goals to his teammates.
"Yes, I feel good about this record (of scoring 12 in the last 12 games), but I really have to appreciate my teammates for giving me all the good passes," said Song.
"Individually, it's a good start to the season for me. Now I just need to keep scoring and do my best to keep the good momentum going for the team."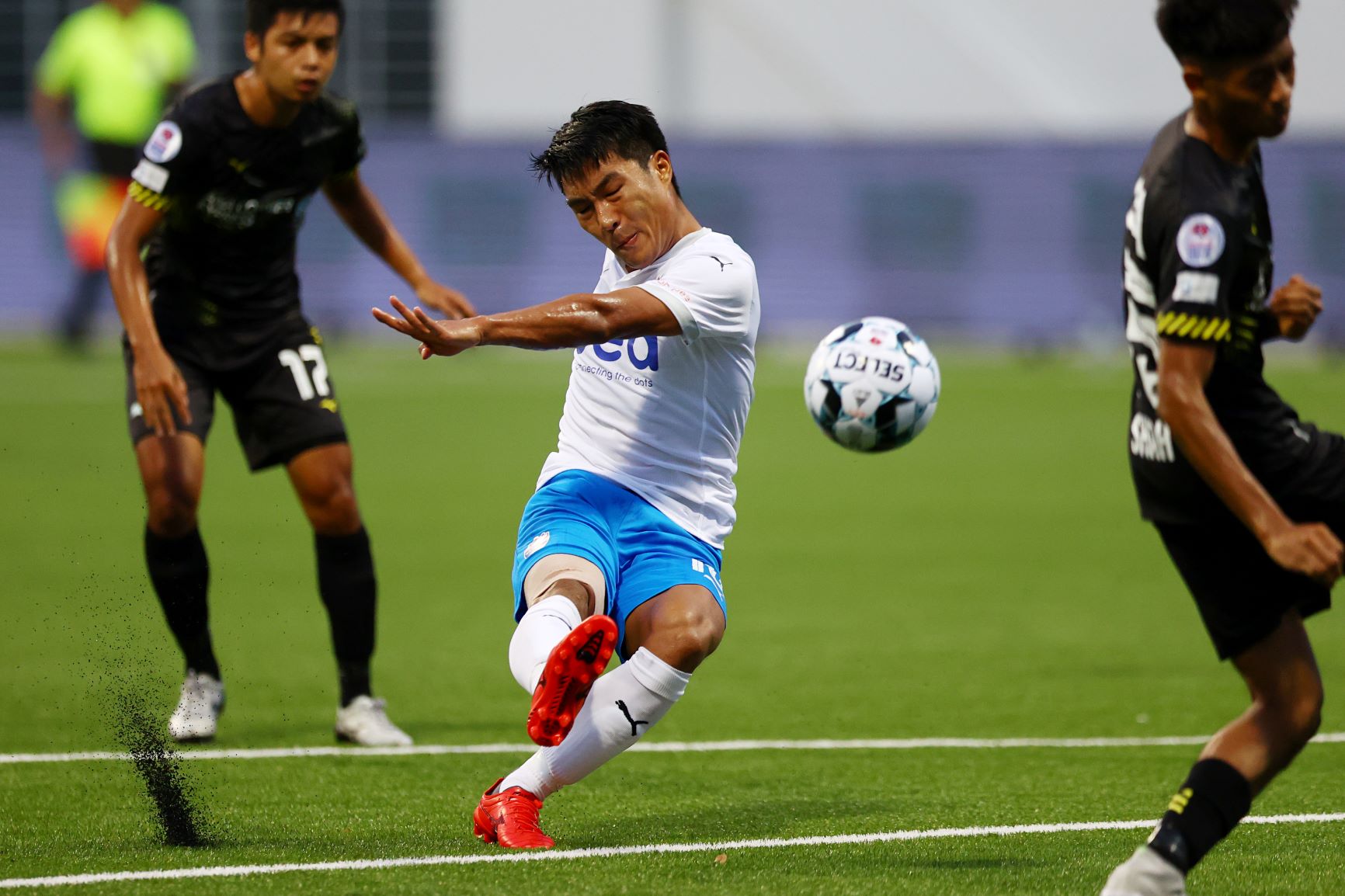 Since arriving in Singapore with Home United in 2012, the 27-year-old has gradually evolved into one of the most accomplished midfielders in the Singapore Premier League (SPL).
In the last couple of years, he has developed a knack for producing smart, first-time finishes in the box.
That was how he converted Haiqal Pashia's low cross in the Sailors' season-opening 3-3 draw with Tampines Rovers last weekend – a goal similar to the one he scored in the Sailors' 3-0 win over Geylang towards the tail end of last season, when he calmly guided home Adam Swandi's assist.
"Before matches, we always practice our attacking moves so that's how the goals came about," Song revealed. "It was the perfect assists from both my teammates – their crosses were so good that all I needed to do was make sure I was at the right place to score."
Given his goal scoring prowess, it may come as a surprise to many that Song does not prioritise finishing during training sessions. Instead, his main focus still remains on being a creative outlet for the team.
"I'm a midfielder so I try to focus a lot on providing passes," he explained. "Sometimes I will try to practice a bit of finishing. I never really put in extra work on it because it's not a priority for the position I play in."
Song's best-scoring season was back in 2018, when he netted 20 goals across three competitions for Home United as they achieved a second-place finish in the league and became ASEAN zonal champions in the Asian Football Confederation (AFC) Cup.
With the Sailors set to compete on three fronts – the SPL, the Singapore Cup and the AFC Cup – he hopes to surpass that tally this season.
"I've already scored three, so I have 17 more to go!" he quipped. "Of course, I want to try to improve my record from 2018, and I have every confidence in my ability to do so.
"But I'm not too stressed about it, because I know we have strikers who are capable of scoring goals. The most important thing is the team's result."
Having brought in a multi-million dollar signing in former Benfica midfielder Diego Lopes, while also assembling a squad full of current and up-and-coming Singapore internationals, the Sailors are understandably under pressure to deliver some form of silverware this year.
Nonetheless, Song is relishing the 'positive' pressure that comes with representing the club, even as he looks forward to pairing up with Lopes on the pitch. The latter is pushing for a first start after impressing as a second-half substitute in the win over the Jaguars.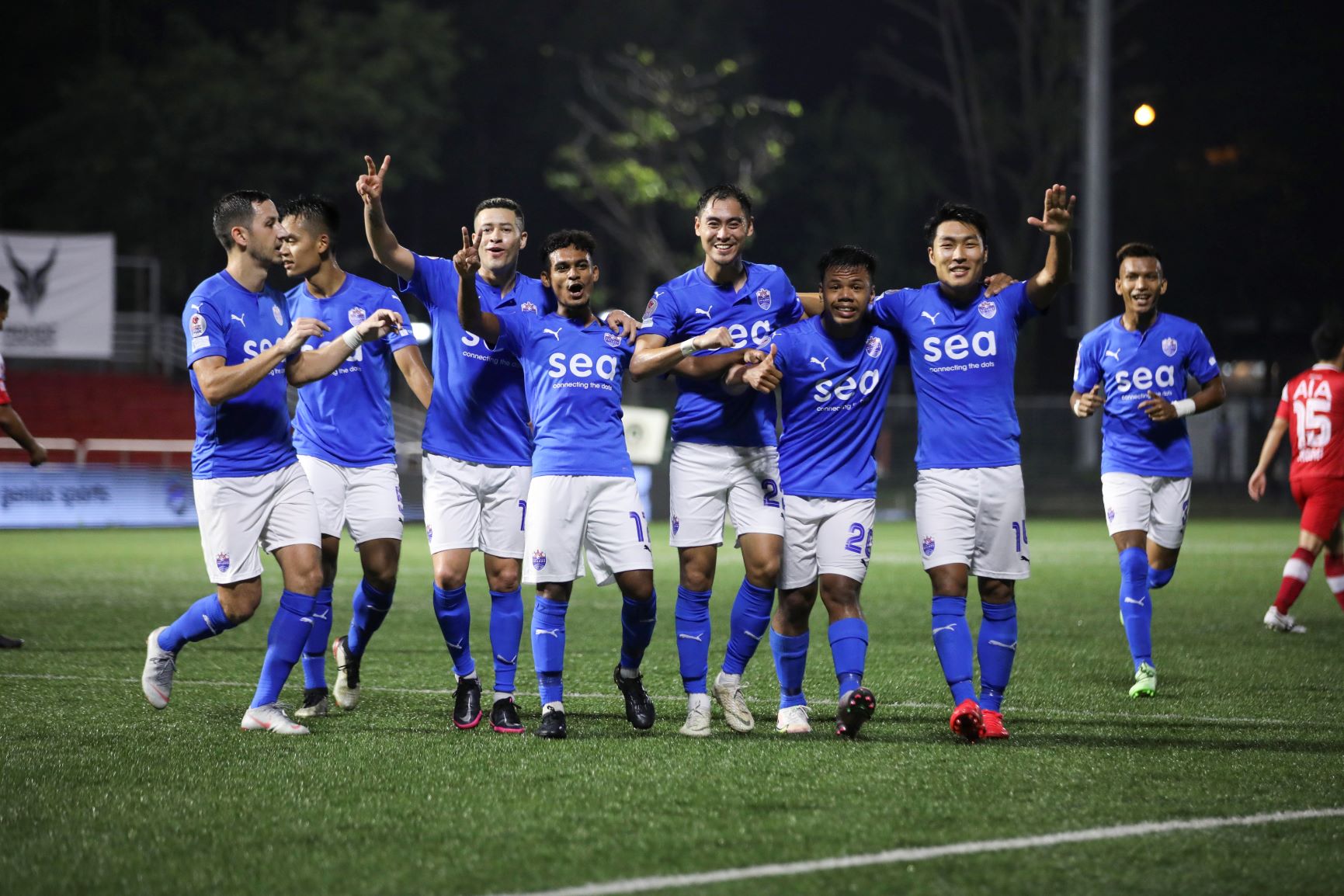 "Everyone in the team knows the level of expectations on us. We just have to focus on our individual jobs and believe in what we can achieve as a whole," he said.
"The attitude and team morale has been very good from day one. You can see everyone is really happy to come in and work with each other every day.
"Diego really helped the team a lot when he came in (against Tanjong Pagar)…he was controlling the tempo of the game and contributed a lot of passes. I feel we already have a good understanding on the pitch. He's a top professional who can really bring the best out of the players around him."
Next up for the Sailors is a huge clash against title hopefuls Hougang United at the Jalan Besar Stadium on Saturday evening.
The Cheetahs have reinforced their ranks after a disappointing 2020 season in which they finished sixth out of eight teams. The likes of Tomoyuki Doi, Khairul Nizam, Gilberto Fortunato, as well as Sailors old boys Shahril Ishak and Kaishu Yamazaki, all made the move to Hougang Stadium during the off-season.
And Song says he is looking forward to a reunion with his former teammates, as the Sailors seek a second straight win to close out the month of March before the two-week international break.
"Shahril and Kaishu are very nice people…we enjoyed a very good relationship with each other and I still catch up with them on social media sometimes," he shared. "Now, I'm really looking forward to competing against them.
"Everyone in Singapore knows what a legendary player Shahril is. I learnt a lot from him when he was my teammate, so I'm sure he will be a key player for Hougang.
"Hougang are a much different team as compared to last season, but we just have to focus on how we play and stick to our game plan to get the three points."
You can catch the Sailors taking on Hougang at the Jalan Besar Stadium this Saturday, 5.30pm, either on SPL's Facebook page or YouTube channel.
MORE FROM LION CITY SAILORS: