In celebration of Mother's Day, we take a deeper look beyond on-field heroics and into the stories of the unsung heroes who shaped our Sailors – their mothers. In this two-part special series, we delve into the childhood lives and experiences of our Sailors, told through the loving eyes of their mothers. 
In the second part of our series, we look deeper into the multi-faceted roles that mothers play in the lives of players across the Sailors' stable. 
A big tear rolled down her cheeks as she choked up. It looked like the floodgates were going to burst open, but Mdm Roziah Abdul Aziz recovered her poise – just for a moment – before a second tear pulled a steady stream from her watery eyes.
 "I'm very grateful for the way you brought us up, even though it was a very strict upbringing.  I know me and my siblings often say 'Why did you never let us go out? Why did you never let us do this, or that?' But for me, it was very useful because it made me the person I am today.

"It was actually a blessing for us because now we're more responsible, more disciplined, all thanks to you," said her son and Sailors wide man, Danish Qayyum.
Those words gave Mdm Roziah – a stay-home mum – both vindication and gratification. And what is more, perhaps encapsulated the sheer impact a mother can have on the person – and athlete – her child grows up to become. 
"Yes, I'm a tigress – like what Qayyum described me as. Every mum wants the best for their child and sometimes our good intentions are misunderstood. So, I want to thank him for understanding me," she added, cheeks still damp.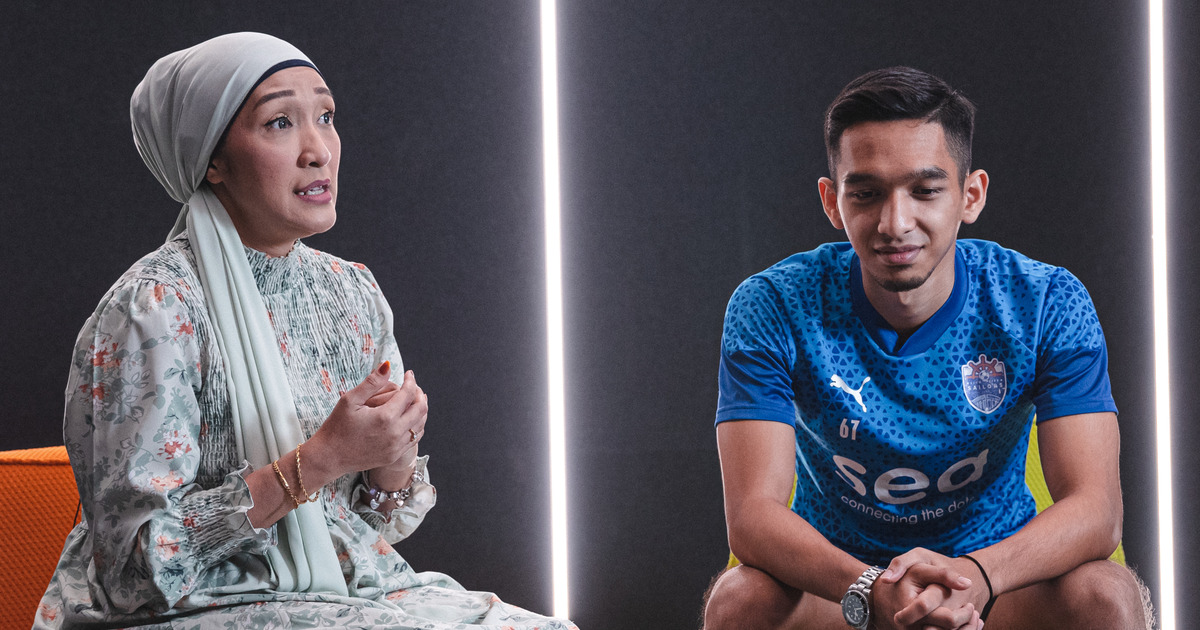 While house rules and lessons can provide a setting for the development of young athletes – a clearly observable setting – young ones often fail to recognise the platform on which they stand to launch into the future.
Mom, the provider
Mdm Rohaini Hassan, a single parent, knew that she had to work doubly hard to raise Hami Syahin, ensuring she earned enough to fuel her young son's dreams. His first love was football, and at her core, she knew she needed to do all she could to empower him to flourish.
And that she did, sending him for football lessons at Fandi Ahmad's now-defunct Team-17 Soccer Connection academy from age five, and subsequently to the Singapore Sports School. 
"The fees were quite expensive, and I was already paying for his older brother, so I didn't want to send him there initially. But coach Fandi kindly gave us a discount, so I decided to let him go. It wasn't easy, every Sunday we had to take a taxi to and from Bukit Panjang to Yio Chu Kang," she said.
"At age 12, he was chosen to go Sports School and that cost $500 monthly – quite expensive to me – but because he loves football so much, I tried my best to support him and get the help of his uncles and aunties to chip in a bit to buy him boots and jerseys."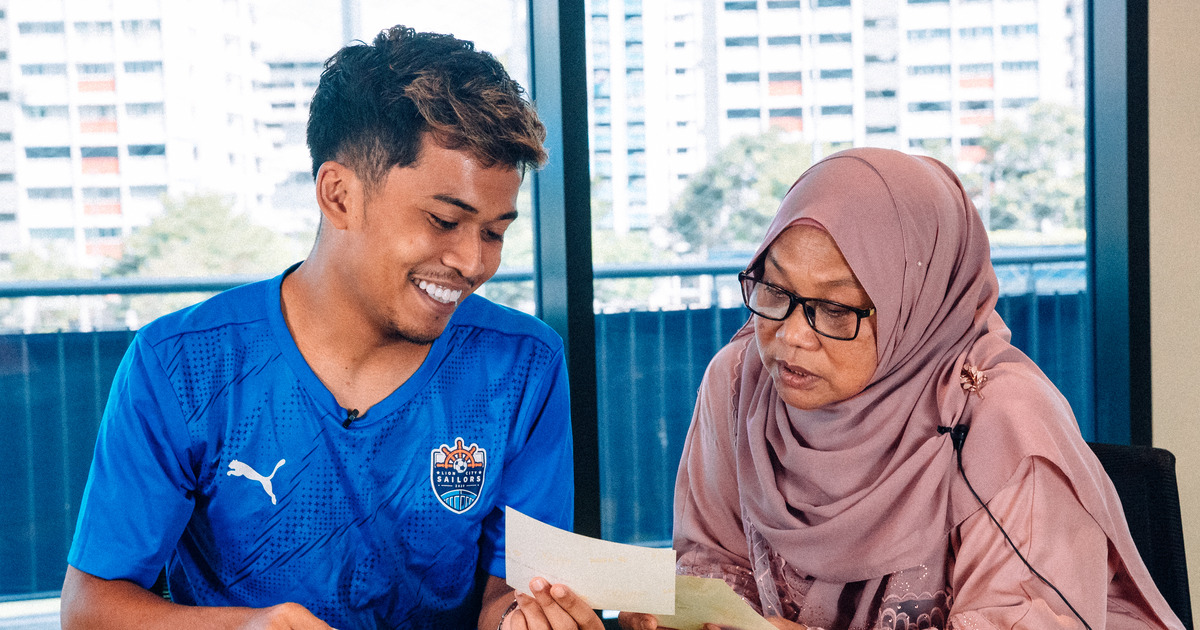 Sacrifice, par for the course
Mdm Jenny Tan –  a single mother of 13-year-old Celine and 16-year-old Chloe Koh who are part of the Lion City Sailors Girls Programme and Women's Premier League (WPL) team respectively – wears different hats.
She has to, to make ends meet and to support her daughters and their football dreams. 
On top of being the team manager of the Sailors WPL team and doing administrative work for the Sailors Girls Programme, she also crochets for extra income. 
"My day starts at 5.30am and we'll leave the house around 6 plus am. I'll drop Chloe at Bugis MRT where she takes a direct train to school, before dropping Celine directly at her school. I then go home to do my crochets – I try to do as many as I can before reporting to the Training Centre for work. 
"On weekends, there are matches for the WPL team so basically all my days are very packed. Income-wise, I'm still struggling a bit, but it's all worth it for the girls," she said.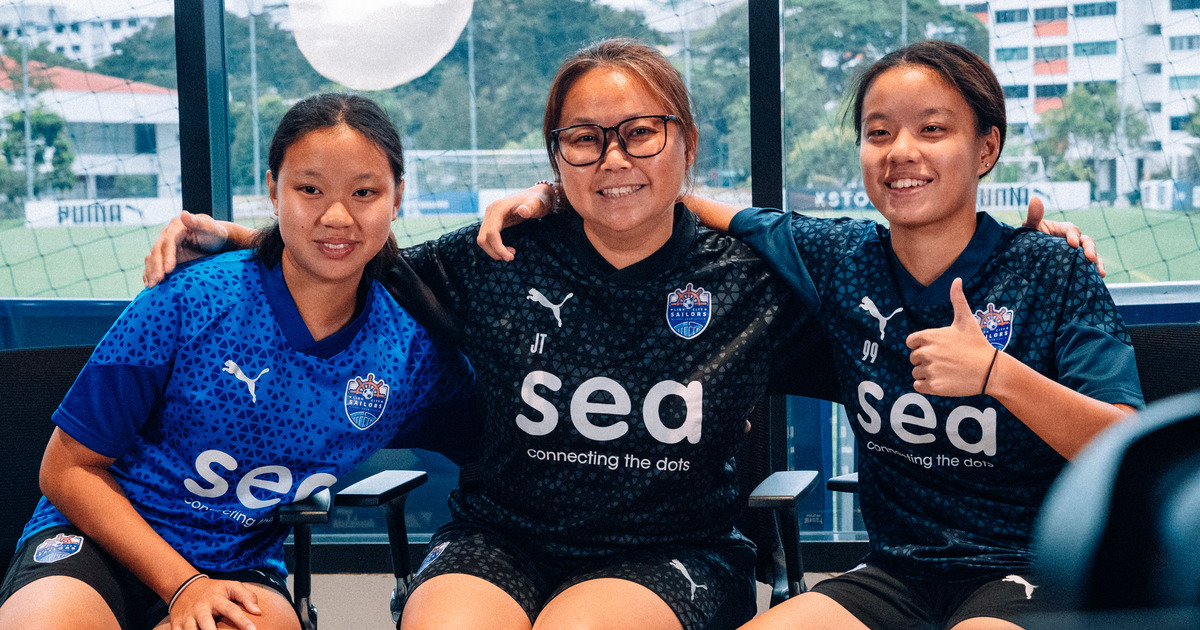 "Usually when I'm sending them home after training, they will share with me how their day went and I'll be encouraging them if they're feeling a bit down. 
The work has already started to pay off for Jenny who felt an immense sense of pride watching Chloe score two goals in her competitive debut for the Singapore Under-16s in the AFC Under-17 qualifiers at Jalan Besar Stadium last month.
A cheerleader, especially in tough times
Mdm Rafeah Awang is well familiar with having footballers in the household – three of her sons pursued football as a career with two of them, including Sailors full-back Zulqarnaen Suzliman, now playing professionally.
She was the biggest supporter and confidante when Zulqarnaen was out injured for a long period in 2022. 
"Last year, he went through an op and was feeling really down. He was concerned about his recovery and kept telling me things like 'I cannot tiptoe, Mummy', 'I'm useless, Mummy'," she recalled, her heart clearly breaking all over again.
"I had to be there to encourage him, telling him that he's still young, so just focus on rehab and doing physiotherapy. I wanted him to believe that he can get back to his best."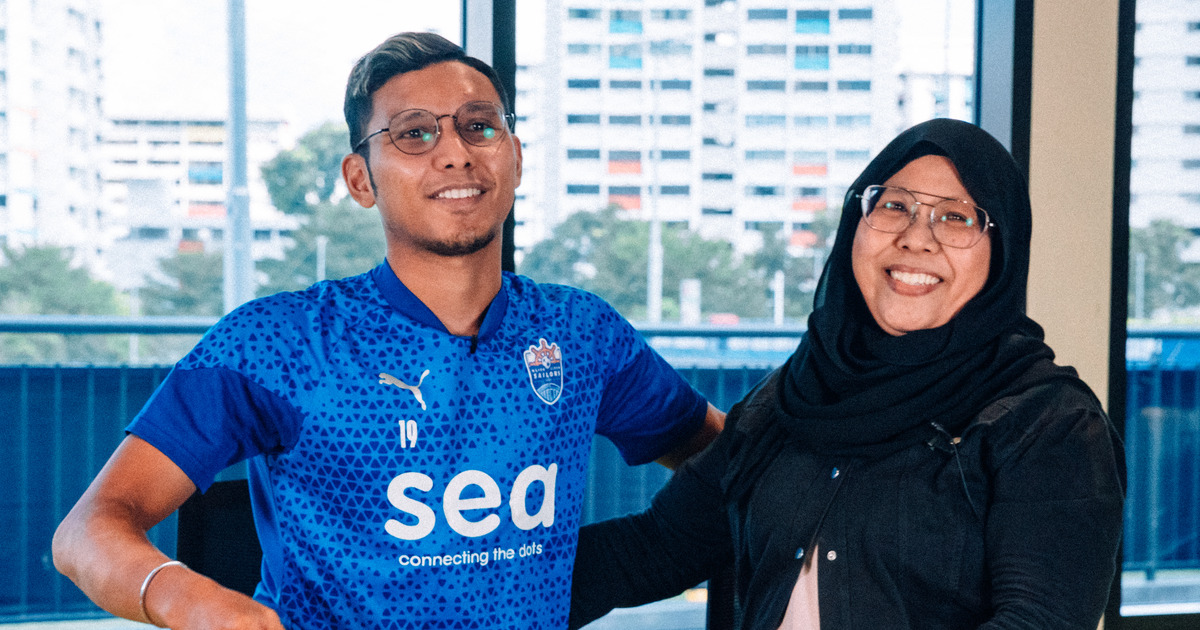 And he has since returned strongly with several good performances in 2023, including a stirring display against Geylang International in which he produced three critical defensive challenges to help the team to a 2-1 victory.
A mother undoubtedly plays multifaceted roles in the life of her child – from discipline master to cheerleader and chefs, even nurse. 
Dreamer, believer, constant
Perhaps most importantly, a mother is a young athlete's first coach, shaping their worldview as they embark on their chosen sporting path. 
In Jenny, Chloe and Celine have an enabler who believes studies and sports can come hand in glove, and that football – still somewhat of an out-of-the-norm dream for Singapore girls – is a sport they can and should commit to.
"I used to be a Combined School softballer, so I know how sports can really help kids develop resilience, time management and learn about teamwork. I believe that sports participation will definitely help my girls in school group projects or even when they go out to the corporate world to work," she said. 
"As long as they try their best in school and can be promoted every year, I'm okay – I don't need them to be top A-star students. I want them to be all-rounded people who can excel in a few areas in life."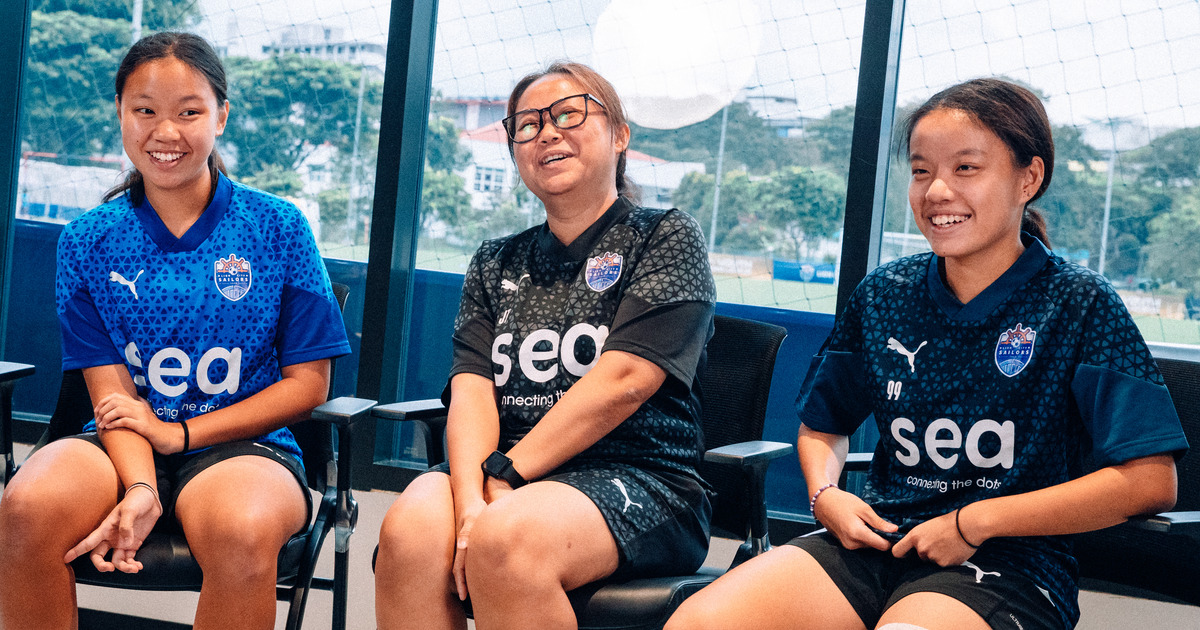 It is clear that even as sportsmen are at the age that they are fully able to take care of themselves, mothers still play a big role in their lives. 
From setting the stage and providing a platform for their young to grow, one thing is clear. Mothers never stop, even – in the eyes of their children – at the expense of being embarrassingly naggy.
"Sometimes she will still give advice in front of my friends and that makes me very malu!" said a sheepish Hami.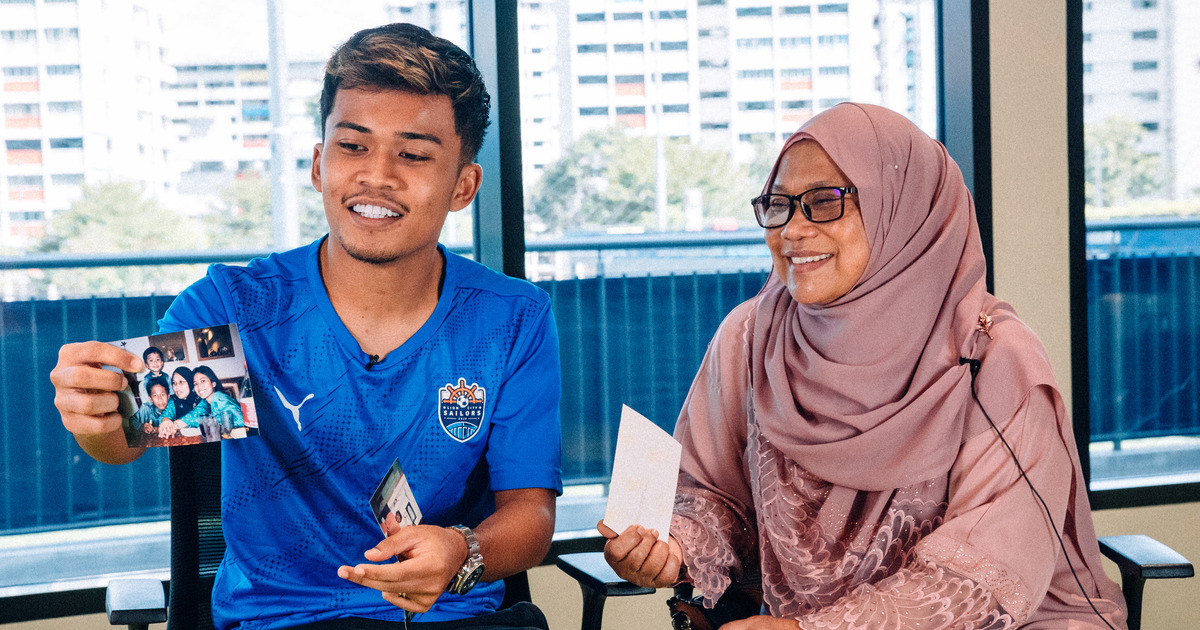 "But I guess that's what mums are and will always do. They'll always be there to be our guiding hand, ensuring we stay on the right path in life and be a righteous human being."
MORE FROM LION CITY SAILORS: