In the spirit of International Women's Day (IWD) that is celebrated annually across the globe on 8 March, we delve into the lives and experiences of our Sailors Women to better understand their struggles, challenges and inspirations as they make their mark in what is a male-dominated Singapore football industry.
In this, the third and final instalment of our IWD special, we turn the spotlight on Lion City Sailors Women's team goalkeeper Beatrice Tan and Yingying Seah, Business Development Manager of the Lion City Sailors Football School.  
She is standing under the Esplanade Bridge with Diego Lopes on one side, Umairah Hamdan on the other, and a wince drawing awkward lines on her face. 
The photographer calls for a pose with street attitude, and suddenly the game is on: her elbow rises to rest on neighbour, head tilts groundwards and hand follows, sliding over thigh. When her eyes rise off the floor, the gawky discomfort seems to have melted away and it is a completely different Beatrice Tan who meets the camera lens.  
This was a photoshoot to launch the Sailors 2023 jerseys, and the 30-year-old Beatrice is not a runway model. But it is no surprise that the Lion City Sailors Women's Team goalkeeper can turn it on on demand. 
She is also the National Women's Team custodian, an elite athlete, and a role model for aspiring female footballers, including those she oversees in the Lion City Sailors Girls Football Academy.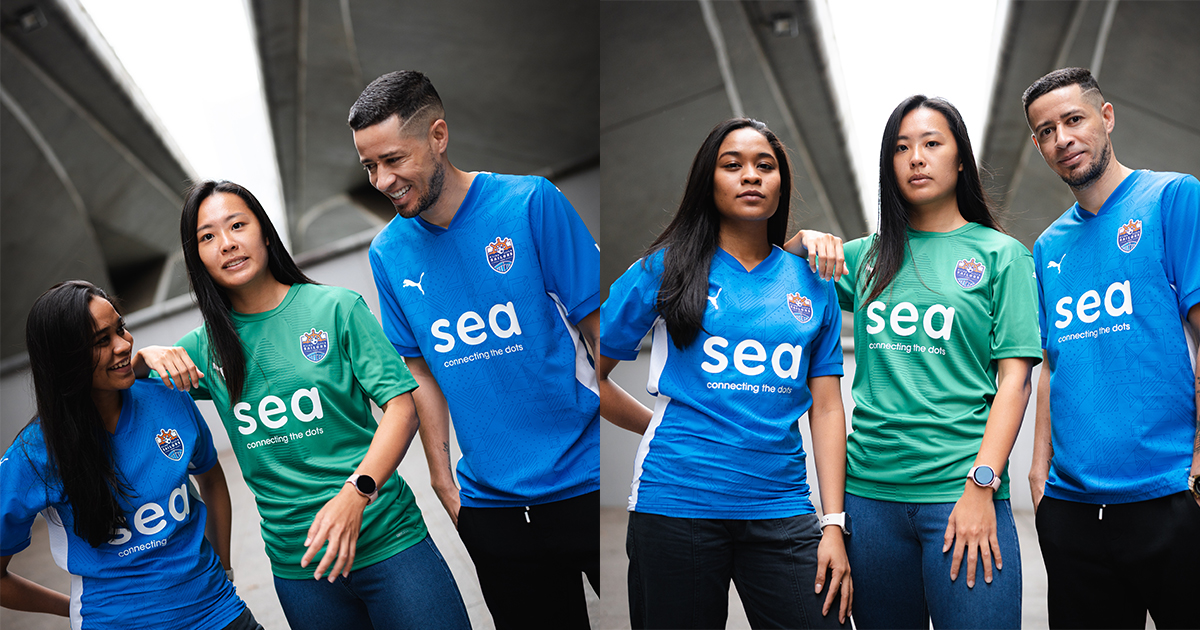 "Yeah, I absolutely love it that I'm contributing to the future of the women's game in Singapore, and not just as a player. And I can't begin to say how heartwarming it is that the girls actually remember my name and greet me when we run into each other at the training sessions," said Beatrice, who by day, serves as the Academy's Special Projects person.
The former Singapore Sports Hub venue manager oversees a range of unique projects at Mattar Road including the Academy scholars' academic progress and the development of the Academy's all-girls programme – that she sees as her real calling. 
"I definitely feel more affinity for the girls' football role, largely because the boys' game tends to grow organically, but there needs to be a push if we want to help the girls – and the girls' game –  grow."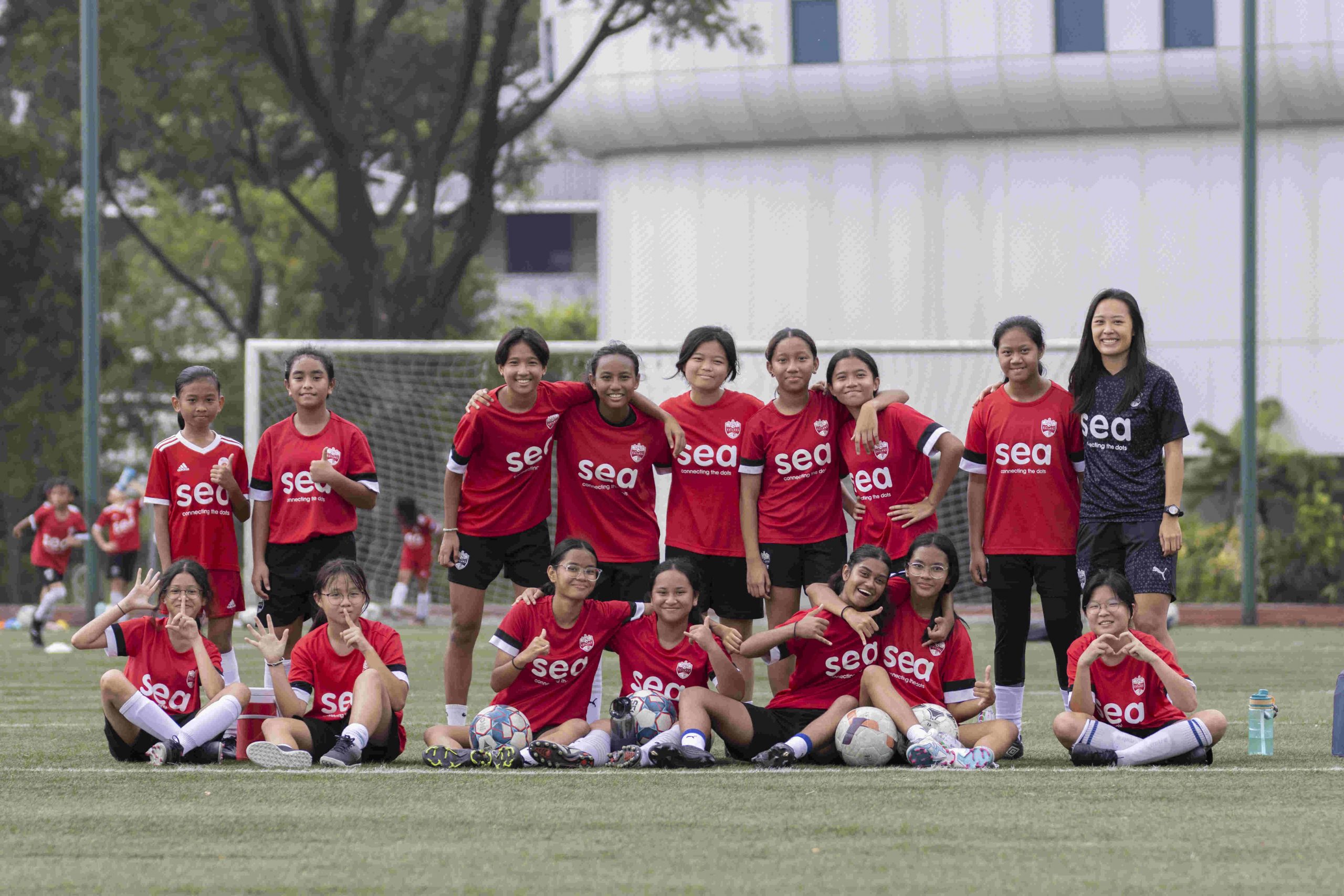 At the frontlines of that, Beatrice has a comrade in arms in what has become a bit of a personal mission for both women. 
"I'm certain that there are many young Singaporean girls who love football, like I did when I was a child, and it's fantastic to see more and more young girls play – and with parents who are supportive of their efforts too," said Yingying Seah, the Lion City Sailors Football School's Business Development Manager. 
The Football School is the revenue generating arm of the Sailors Academy.
"The perception that football is only for boys is changing – perhaps slower here in Singapore than it is across the globe – and I'm delighted to be able to contribute to that in my own little way." 
Even before she finished that last sentence, Yingying's eyes lit up, as a young trainee walked by and waved hello. She knows his name, of course, and chirped a greeting of her own as he trotted off towards the pitch at Mattar Road.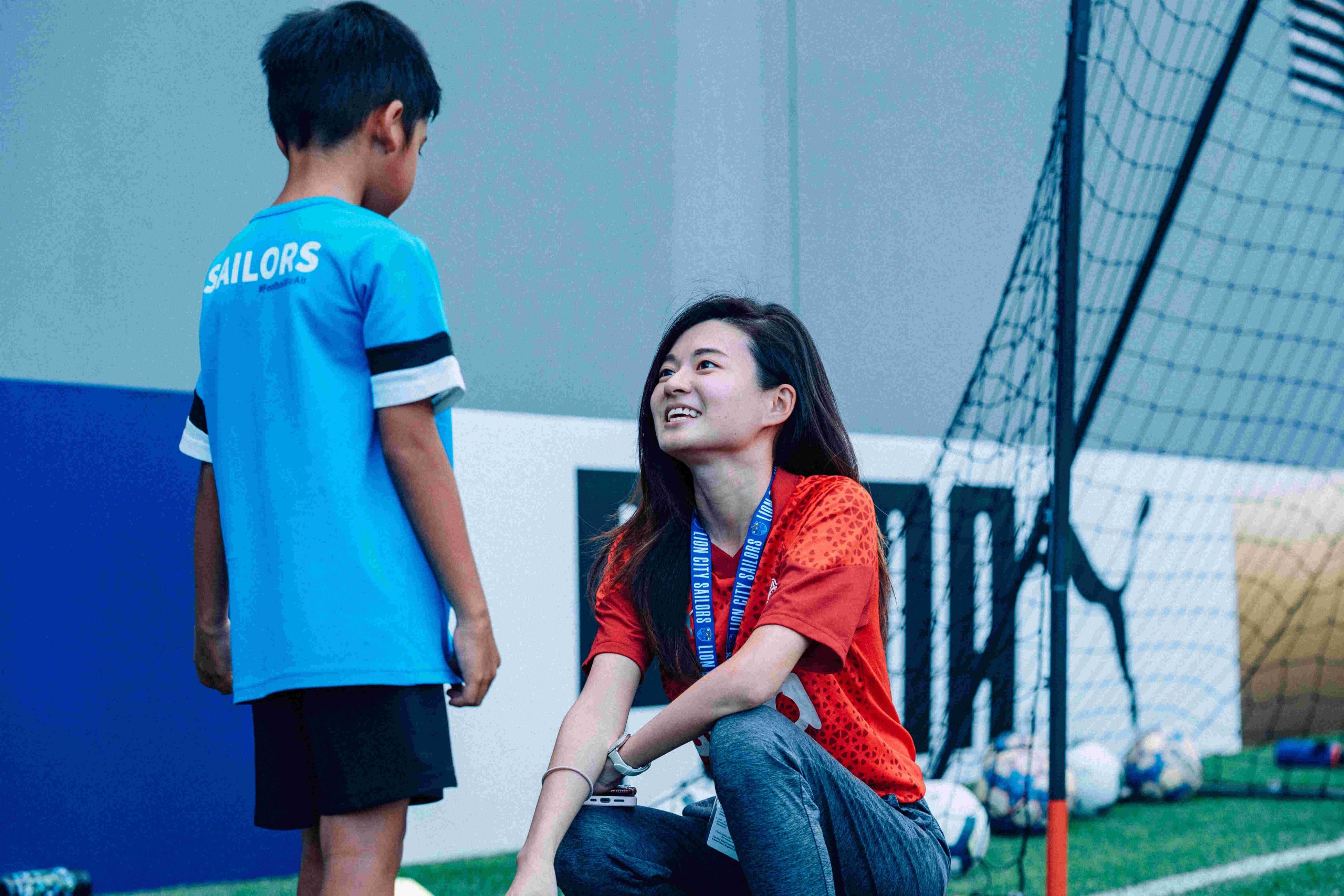 Her high pitched voice immediately dropped an octave as she finished her interrupted thought:"It's also important that for football lovers like me who can't play or coach that we have options in the sport too, and that we have someone to look up to," said Yingying who only had one female colleague – current Sailors Women's Head Coach, Yeong Sheau Shyan – when she joined the Sailors in 2020. 
Yingying is a Psychology and Marketing Double Major graduate from the Singapore Management University, and she is adamant that skills beyond the football pitch are very much in demand at football clubs, and women need not fear embracing the sport. 
"It was challenging at the start because it was a male-dominated environment, and I felt it was a bit harder to be taken seriously, and I had to adjust – like step up in conversations – and I think in the end, like in football, performance will speak for itself," she said, revealing that trainee numbers more than doubled in her three years at the Football School, with the girls' programme also seeing some 50 girls train and play every weekend. 
Female trainee numbers are a source of pride for both Beatrice and Yingying, but it has not exactly been an easy journey working to grow figures.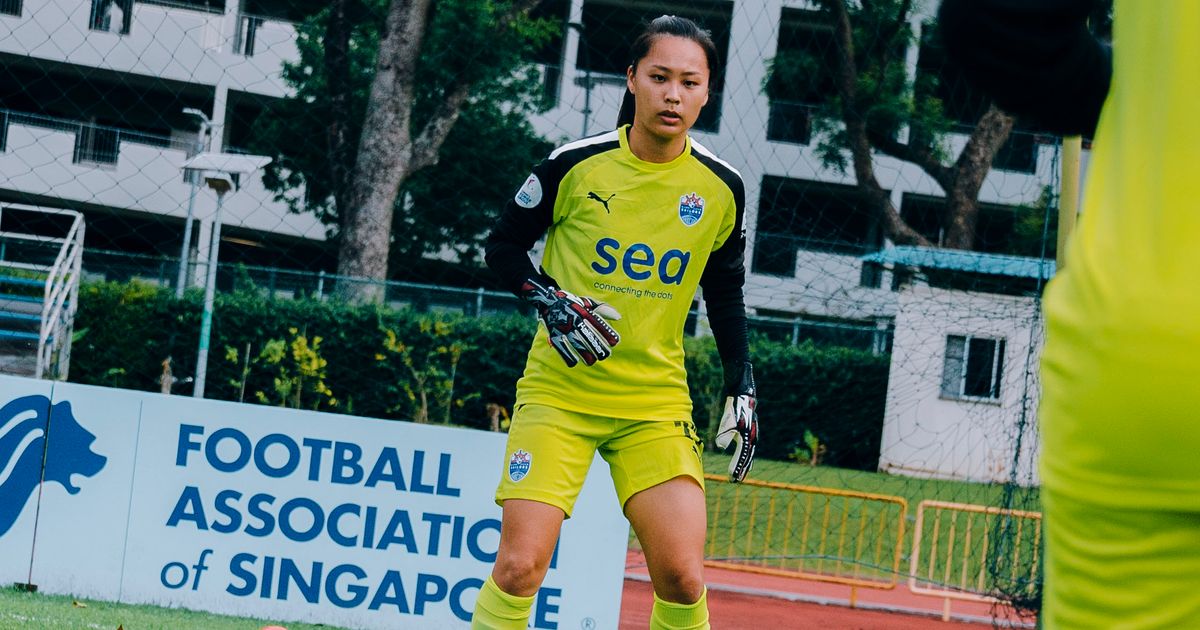 "It was clear that to see regular participation, we need to understand what issues the girls were facing – and engage their parents in the conversation as well," said Beatrice. "Some girls feel bad that they can't keep up with the boys they train with, others are just more comfortable in the social environment that comes with playing in an all-girls team.
"I see our role as helping to remove barriers and make it easier for girls to enjoy and embrace football," added the 2022 Deloitte Women's Premier League (WPL) Golden Glove winner. 
While she only played for six months as a teenager and stopped because she was a self-confessed "terrible player", Yingying shares the same drive to encourage female participation in the game, with the Football School perhaps best equipped to jump start moves towards all-girls football environments that encourage more to stay in the sport. 
"Our Football School is still a business, and if it's all men making decisions, there is a danger of losing alternative perspectives that can make impactful change. Talking to children is one example where having a softer touch helps, even talking to parents, to understand the needs of families," said the 29-year-old Yingying. 
"Then it's just about being assertive enough to drive those changes internally, and follow through with making sure we implement what we set out to do."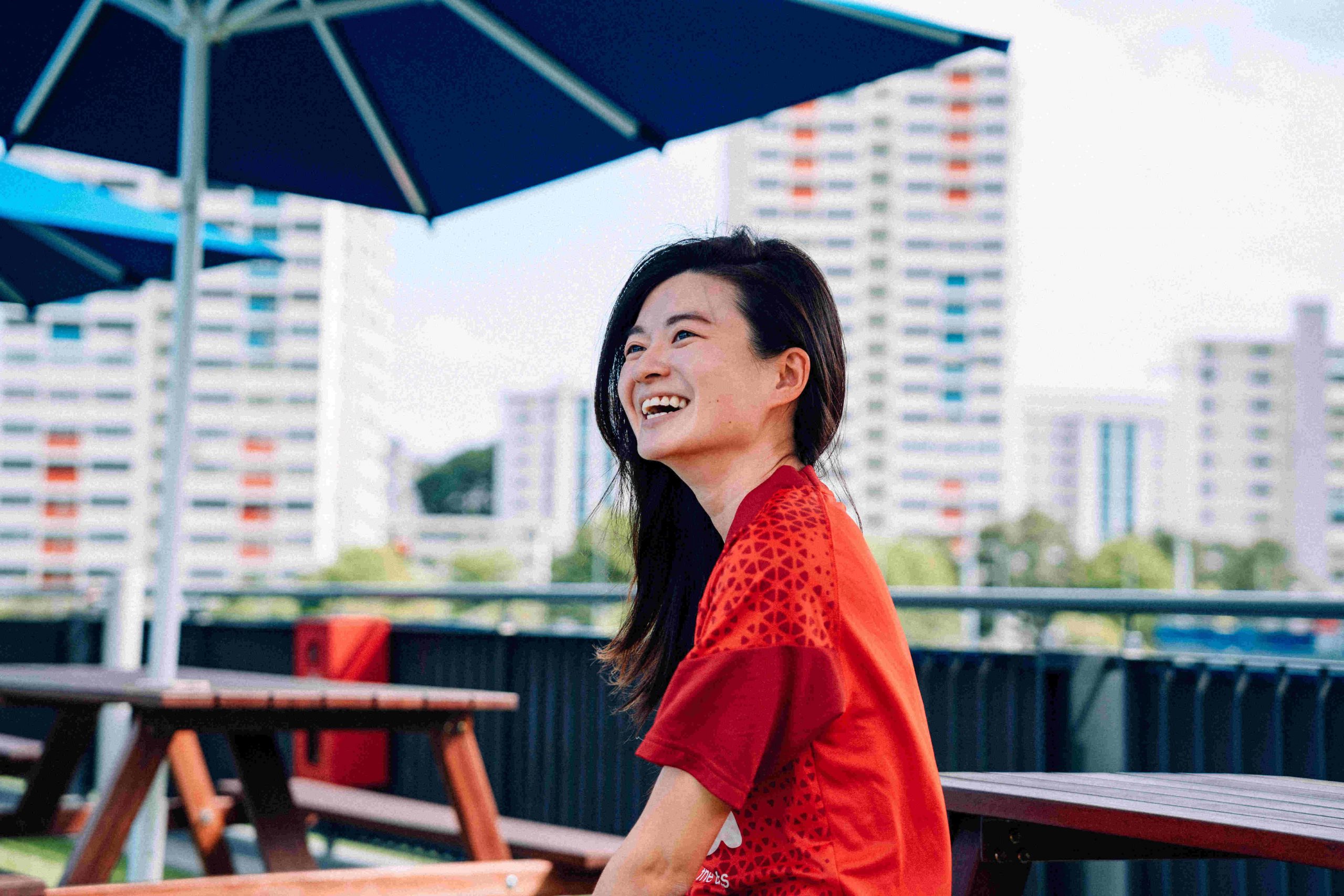 It is perhaps this need to manage different needs between a male-dominated office and family-focused training environment that has honed the ability of both women to code-switch at will, but Yingying would not have it any other way. 
"My colleagues would never leave me out of anything, even the guy-talk," she said eyebrows furrowing before her eyes lit up once more, and the same chirpy voice returned, as her thoughts floated to the Academy's trainees like Nur Ain Salleh and the other Sailors' women the likes of First Team manager Huong Tran and Operations Manager Carolyn Chia. 
"But it has been rewarding and enriching: I love kids, I love football and I love what I'm doing. I hope I never leave football, and maybe even encourage more to join us – the women and girls like Ain, Huong, Beatrice, Carolyn, and me – in the sport." 
MORE FROM LION CITY SAILORS: