Lion City Sailors Football Academy's vision of growing into an elite development hub received a boost after the Academy was endorsed by the Asian Football Confederation (AFC) as a One-Star academy.
The LCS Football Academy is the first academy in Singapore to be receive One-Star grading, recognising the structured development system for elite youth footballers that has been implemented.
AFC Elite Youth Scheme 
The grading is part of the regional football governing body's Elite Youth Scheme aimed at lifting development programmes in AFC member nations. There are three tiers of academy grading in the Scheme – One-Star, Two-Star and Three-Star – with academies rated on 20 performance categories spanning across administration, facilities and programmes, as well as player-centric factors such as welfare, psychology and education
One-Star grade academies are recognised for having put in place basic essential ingredients required for an elite youth academy, while a Two-Star grading recognises academies with the same ingredients but at a better quality. Three-Star academies are recognised for having implemented a wide range of services, with top infrastructure and having achieved successful elite-level outcomes, and a reference points for all academies in Asia. To date only two academies in Asia have received a Three-Star rating: Aspire Academy in Qatar, and South Korea's Jeonbuk Hyundai Motors FC Academy.
LCS Football Academy on the right path
The LCS Football Academy features a $1 million scholarship for its four-year Elite Development Programme aimed at nurturing the professional careers of Singapore's most talented footballers. The scholarship is at the apex of a holistic programme that includes consistent high-level competition, off-the-field tools to deal with the competitive nature of football, and a clear pathway into a professional career.
Formerly known as the LFA Protectors, the LCS Football Academy – that was launched earlier this year in June – has built upon the structures that were already firmly in place, when FAS Technical Director Joseph Palatsides initiated the AFC Elite Youth Scheme application process in late 2019.
"This endorsement by the AFC is…validation that the systems and processes we have put in place give our trainees the best chance of growing into elite players," said LCS Football Academy General Manager, Tan Li Yu.
"We are proud to be recognised as a One-Star academy, but we are aiming higher. This is only the first step for the LCS Football Academy on our path towards becoming an elite development hub," he added.
Academy Director Luka Lalic, who was Feyenoord Rotterdam's Head of Methodology, International Development Coach before signing with the Sailors, asserts that the next steps are already being taken.
"We were informed that the Academy missed out on the Two-Star grade because we have yet to involve more specialist staff in our programmes and processes. But this is part of our phased improvement plans, and we will be ready with that soon. In the meantime, we haven't been resting on our laurels, our team has been working hard behind the scenes," he said.
"Our first batch of LCS Football Academy scholars are already on board, and the full training program will kick off upon completion of the PSLE exams. We are excited to have them grow in the Academy, as we move to put in place plans that are part of our phased approach to becoming an elite development hub," added Lalic.
FAS recognised as full member of the scheme 
LCS Football Academy's One-Star grading was a key factor in the Football Association of Singapore (FAS) passing AFC's 11-point evaluation criteria, and being recognised as a full member of the Elite Youth Scheme.
The FAS was evaluated on the first 10 categories ranging from facilities to sport science and competitions. But the 11th category – the existence of at least one One-Star academy – was the critical factor that determined whether it would be recognised as a full member or a provisional member of the Scheme.
"The membership signifies that AFC, the governing body of Asia, has given their seal of approval for FAS' Youth Development plans. It is affirmation that we are headed in the right direction to improve Singapore football," said FAS Technical Director Joseph Palatsides, who was appreciative of the role played by the LCS football Academy.
"The decision to endorse LCS Football Academy for the grading was made after careful review and assessment. They have the required infrastructure and detailed plans in place, which put them in a promising position to be accredited," added Palatsides.
With LCS Football Academy having set the benchmark for academies here, Palatsides hopes that this will bring about a domino effect in the football ecosystem, with other academies following on the same path.
It is a goal shared by the Sailors.
"We were in constant communication with the FAS during the process of AFC audits, and the open approach to working hand-in-hand for the improvement of Singapore football will continue," said Tan.
"LCS Football Academy will continue to do its part for our football ecosystem."
When Lion City Sailors defender Naqiuddin Eunos was 13, his father, then the sole breadwinner of the household, suddenly found himself out of a job.
It was a terrible blow for Naqiuddin and his family – with Naqiuddin and his brother still schooling, and his younger sister just three years of age, the family struggled to make ends meet during that time.
It is why the full-back was enthused and eager to have participated in Beyond Social Services' (BSS) food distribution programme.
"The loss of my father's job came very suddenly, and it was a real shock to us. It led to a very tough time for my family in terms of finances," 23-year-old Naqiuddin recalled. "Both my brother and I had school expenses to pay for, and my sister was still so young then, which meant my mother had to stay home to look after her.
"Thankfully, we did receive some aid from the financial assistance schemes in school, and I remember being really appreciative of this help. I realised then that every little bit of help counts, especially when it goes to someone who needs it."
That difficult period in Naqiuddin's life, however, helped to mould him into the hardworking, tenacious and motivated individual he is today – traits which are evident in the way he plays.
"From that time where we had to endure financial hardship, I made a promise to myself to work hard to achieve what I want so I won't be a burden to my family in the future," said Naqiuddin. "Instead, I want to support my family and give them a good life. That keeps me motivated to grind hard every day so that I can reach the top of my game."
Having experienced how hard life can be for families who struggle financially, Naqiuddin is now keen to give back and help the disadvantaged members of society whenever he can.
Naqiuddin's involvement in the food distribution programme came about as part of a collaboration between the Lion City Sailors and BSS, which saw our Sailors – both players and staff alike – volunteer their time and effort to pack and distribute food to BSS' beneficiaries.
Speaking about the volunteering experience, Naqiuddin said: "All of us at the club were really happy to help in the programme. We all recognise that while we have enough resources in our lives, there are people in Singapore who need help, so it's important for us to give a helping hand.
"We could see how difficult life was for some of the families, where they sometimes don't have enough to eat, and live in very bare homes. Personally, I've seen my family struggle financially at one point of time in my life as well. Now that things in my life are stable, I want to give back to the community now, and do my part to help ease the burden in whatever way I can for the underprivileged."
Relieved. Happy. Excited.
Those were the three words that Lion City Sailors defender Naqiuddin Eunos used to describe how he felt following the resumption of full training at the start of this month.
It's no surprise that the 23-year-old feels so upbeat. After all, the Sailors had been unable to train together as a whole team for the past five months or so, due to the safety guidelines implemented by Singapore's sports authorities.
While on-pitch training resumed in June, there were still several restrictions placed on clubs, such as being allowed to only train in groups of up to five.
And this, according to Naqiuddin, severely limited the type of drills the players could do.
"When we were training in groups of five, we had to follow certain protocols like not having any body contact, as well as not being able to train with goalkeepers," Naqiuddin revealed. "So, we could only focus more on the technical aspect of training, like passing and shooting, but even then, only among the five of us, which is quite limiting."
Now, however, Naqiuddin says they are able to do a whole lot more on the training ground.
"Now that the whole group is training together, there are many other things we can do," he said. "We can start to work on our build-up play, and because we have 22 to 23 players, we can focus on playing style and team shape, as well as on the tactical aspect of the game.
"And honestly, it's great. The intensity is much higher than before, but nobody's complaining. This is what we've all been waiting for since April, when training was suspended, and we're all so happy that it's finally here. Now, the next thing everyone is looking forward to is for the league to restart."
Naqiuddin's enthusiastic response to the resumption of full training was echoed by fellow defender Kaishu Yamazaki.
The Japanese centre-back, however, admitted that it took some getting used to at the start, especially from a physical standpoint.
"We've waited a long time for full training so we're very happy but physically, it was tough at first," Kaishu said. "Usually when we were in groups of five, we had to do the same drills every day, but now, we can do everything in training, like practice shooting or play small-sided games.
"I did enjoy training with my group of five because they were all very nice and funny, and we trained well together. But it's important for me now to be able to connect with my other centre-back partners so that we can get a better understanding with each other on the pitch."
He might have only just signed for the Lion City Sailors, but striker Stipe Plazibat is already dreaming of achieving great things at his new club.
"I want to win everything. That's why I'm here at the Lion City Sailors," was the 31-year-old's unequivocal proclamation when asked what his ambitions at the club were.
In fact, Plazibat revealed that it was the prospect of winning silverware that attracted him to the Lion City Sailors project in the first place.
 "The biggest reason I joined the club is because their ambitions are the same as mine," explained Plazibat. "They also want to win as many trophies as possible, and I can tell that our Chairman (Forrest Li) is very serious about having us fight for the top spot every season.
"I also spoke with coach Aurelio (Vidmar)…we shared our ideas with each other, and we realised that we're both looking in the same direction. So, I'm feeling really great about joining the Sailors, and I can't wait to start my new adventure with the team."
While winning every available trophy is a bold dream, it is one that could very well become a reality with Plazibat leading the line for the Sailors.
After all, the Croatian is regarded as one of the deadliest strikers in the Singapore Premier League (SPL) at the moment – to date, he has recorded an incredible 54 goals in 70 SPL matches, including the first hat-trick of the current season.
More than just goals, however, Plazibat – who has plied his trade in countries like Thailand and Japan – believes his experience and professionalism will also have a positive impact on the team.
"Obviously, I want to score many goals for the Sailors to help us win games," he said. "But I also hope to help the team by providing leadership, and use my experience to guide the younger players. I intend to lead by example by working hard and behaving professionally, both on and off the pitch.
Plazibat, who will don the number 29 jersey at the Sailors, is no stranger to the Bishan Stadium, having played for Home United during the 2017 season.
And the ex-Hougang United star admitted that he was happy to be reunited with some of his team-mates from that campaign, which include the likes of Song Ui-Young, Abdil Qaiyyim, and club captain Izzdin Shafiq.
Reflecting on his first training session with the Sailors, Plazibat said: "Everything was perfect because I know almost all the players, having played with them previously in 2017. So, it was very easy for me to gel in with them, and it was a joy to be able to play with them again.
"In particular, I'm very happy to be on the same team as Song again, because we share a good understanding on the pitch, and also have a close bond and friendship outside of football."
It was past 8pm on a Wednesday at HYFA, and most of the young players from the Lion City Sailors Football Academy had already left for home after their training session.
Five of the academy trainees, however, remained behind on the pitch – sat in a semi-circle around Sailors centre-back Abdil Qaiyyim, eyes focused on the 31-year-old, hanging on to every word that came out of his mouth.
Abdil, one of the most experienced players in the Sailors squad, was sharing with them the valuable lessons that he had learnt – both on and off the pitch – throughout his illustrious career to date.
And the academy trainees – all centre-backs – were enraptured. 
Abdil revealed that the one thing he wanted to get across to the five young players was that there was no escaping hard work and grit if they wanted to succeed at the top level of the game.
"My message to them was that even if you have a lot of talent, if you don't work hard, your talent is going to be wasted. You need to put in the work," said Abdil. "I told them to look at Cristiano Ronaldo, or Lionel Messi – they're not the players they are simply because they were born like that. They had to put in a lot of time and sacrifice to perfect themselves.
"Even for me, when I was younger, I wasn't a first team player. There were a few other players who were a lot better than me, but I did not give up. I knew that I had to put in the work, and that's what I did. After training, if I had to stay back to do extra work, I would do it."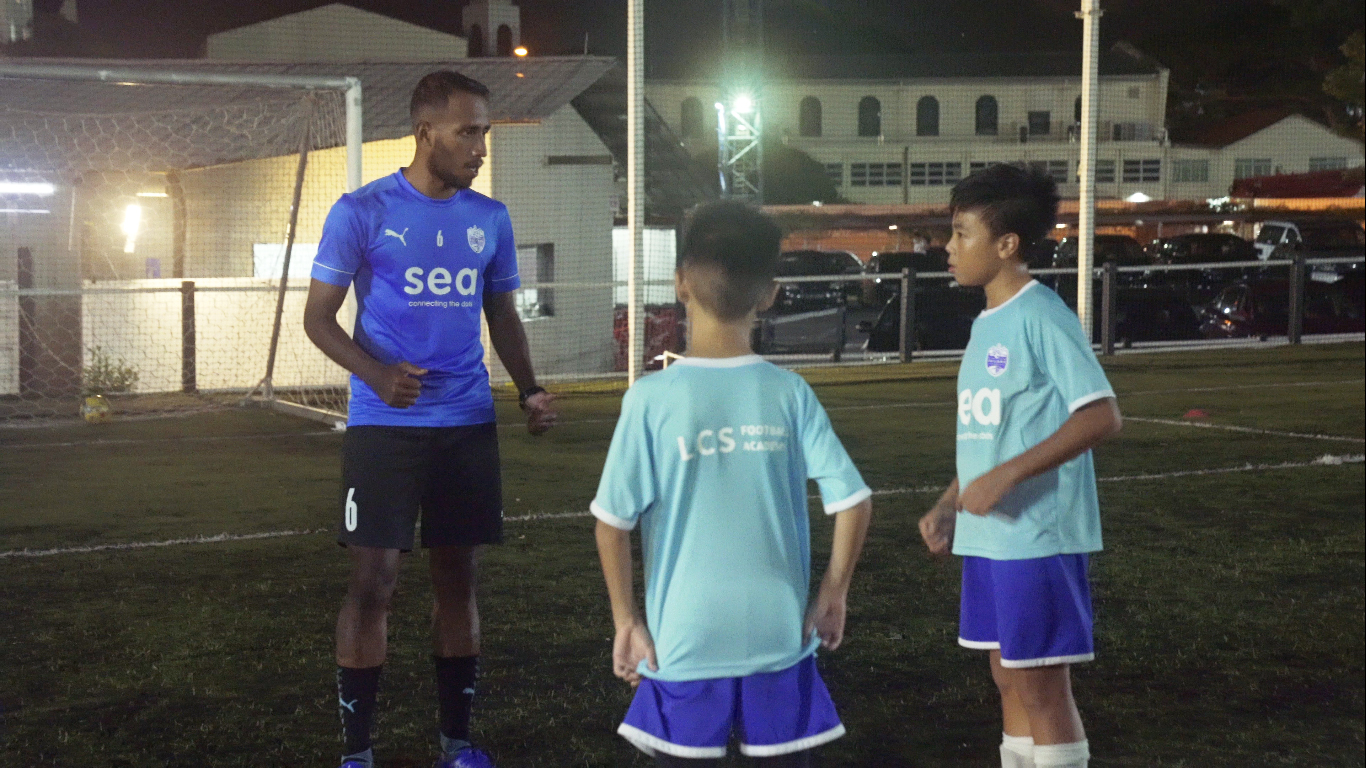 Abdil's impromptu sharing came after he, along with nine other Sailors, had donned their coaching hats and put the LCS Football Academy trainees through their paces in a special training session.
The session saw each Sailor personally conduct training for a group of up to five academy players who played in the same position as they did.
And Abdil, who taught his group about defensive positioning, as well as the art of defending corners, remarked that he was very "impressed" with what he saw of the young players.
"I was actually quite impressed with my group of kids because they showed me that they have a good mentality and the right traits in them despite being still so young," explained Abdil.
"There was this boy, Jack, and he's still in Primary School, but the determination that he showed, and his willingness to learn, really blew me away. He was also quite a fighter for his size, and that sort of spirit is very important for a centre-back."
Abdil, however, was keen to emphasise that these young players had to not just hone their talent on the pitch, but also develop themselves in the right way when they stepped off it.
Reflecting on his own development as a player, Abdil said: "I'll be honest, when I was younger, I made a lot of mistakes in my career. But I've learnt from these mistakes, and I can now share my experience with the kids so they don't make the same mistakes I did.
"So, I think it's great that such sessions have been organised for the academy players. Sometimes as players, there are some things that you want to ask your coach, but you're afraid to do so because they think the question might sound silly.
"But now, these kids acknowledge me as a (fellow) player, so we're sort of on the same level. I think it's easier for them to interact with us, because it's on a player to player basis. This gives us senior players the opportunity to impart our knowledge and experience, and guide the next generation of players for Singapore football."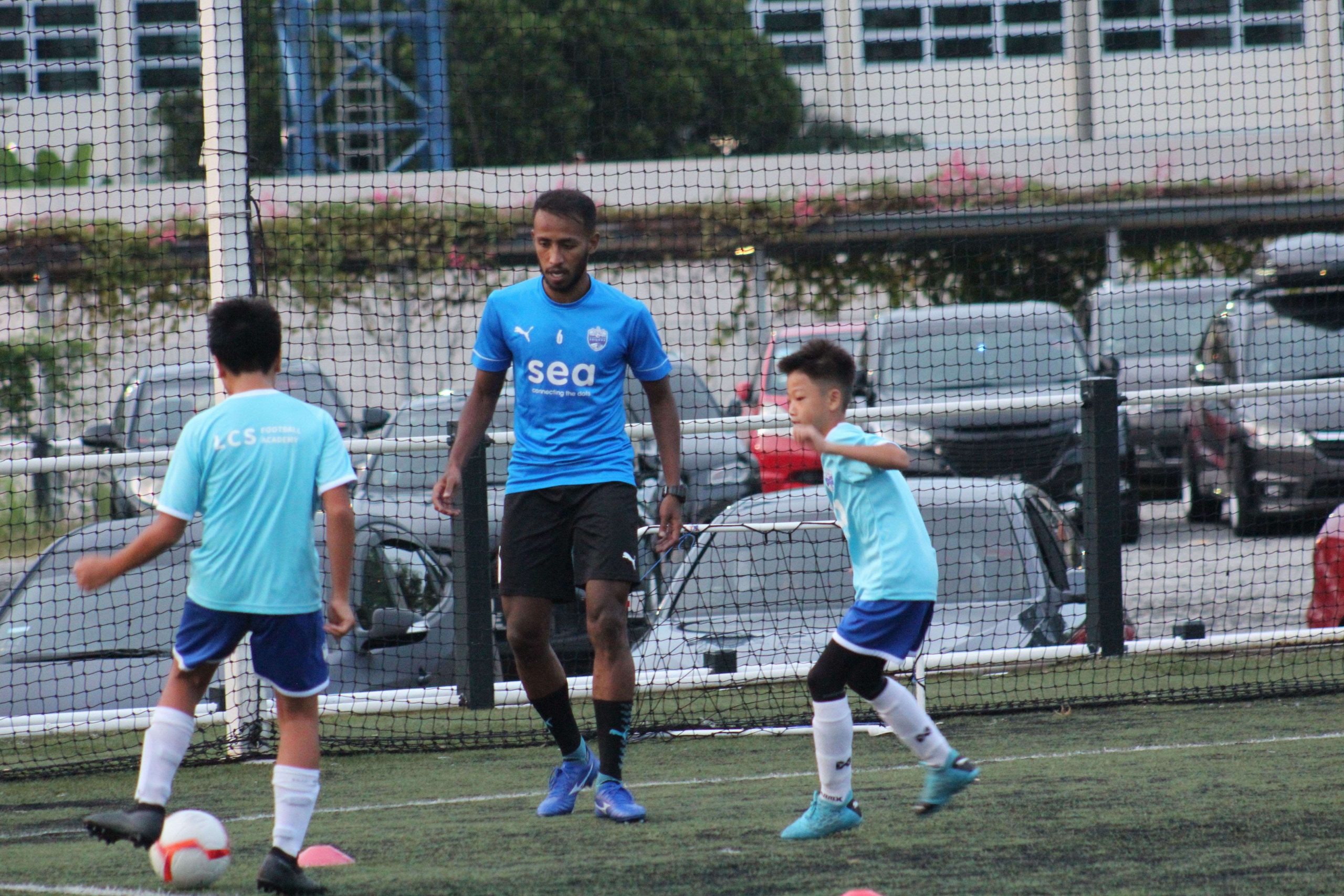 But while Abdil described his time with the academy players as "refreshing", he remained coy on the possibility of going into coaching once he hangs up his boots.
"I don't know if coaching is in my future, to be honest," he said with a wry smile. "But I have friends and ex-teammates who went on to become coaches, and I actually look up to coach Noh (Rahman).
"After all, he was once a player, and I even played with him, but he's now our coach. He's a person who I look up to, so maybe I can follow his footsteps. But whether I really want to go down this (coaching) path is still unclear to me. Let's just say I'm keeping my options open!"