After a frustrating 3-3 draw with Balestier Khalsa in their opening Singapore Cup match, the Lion City Sailors will seek their first win in the competition when they come up against Young Lions at the Jalan Besar Stadium on Monday (31 October) night. 
Both sides meet just slightly over a week since last facing off in the final match of the 2022 Singapore Premier League (SPL) season when the Sailors edged it 2-1 courtesy of a Faris Ramli double. 
Having sat out that match as he was still recovering from sickness, Nur Adam Abdullah watched keenly from the stands and is acutely aware the Young Lions will not be as easy fodder as widely perceived. 
"Young Lions have faced a lot of criticism this season for losing games and conceding a lot of goals, but I know for sure they have quite a few talented players and they're out to prove to the fans that they can do something.
"They did well to come back against us recently and gave themselves a chance of getting a point. It is clear that we cannot take this coming game lightly – we've to go out there with full focus and commitment to get the three points," said the Sailors full-back.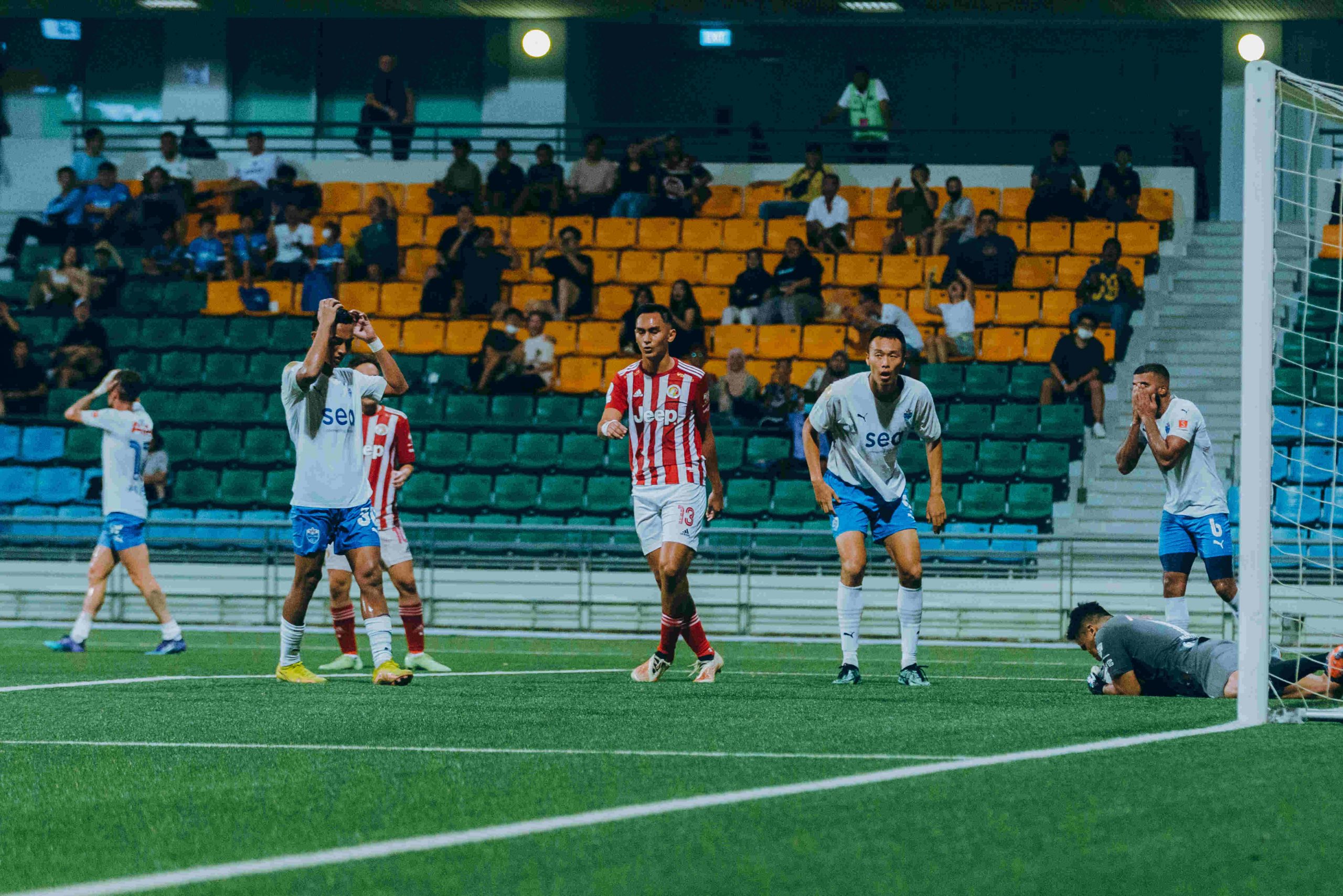 The Sailors trudged off the Jalan Besar pitch on Thursday (27 Oct) night, visibly exasperated after a night of wasted chances saw Balestier equalise three times. 
Nur Adam, who played the full 90 minutes, admitted the team could have managed the game better. 
"We didn't put away our chances and conceded goals that we should not be conceding," said the 21-year-old matter-of-factly. "We have to learn to kill the game off earlier and not allow our opponents a way back into the game. 
"Defensively we have to stop allowing space in between our players and be tighter so that we won't be easily breached. We've been putting in good performances and we need the results to back that up."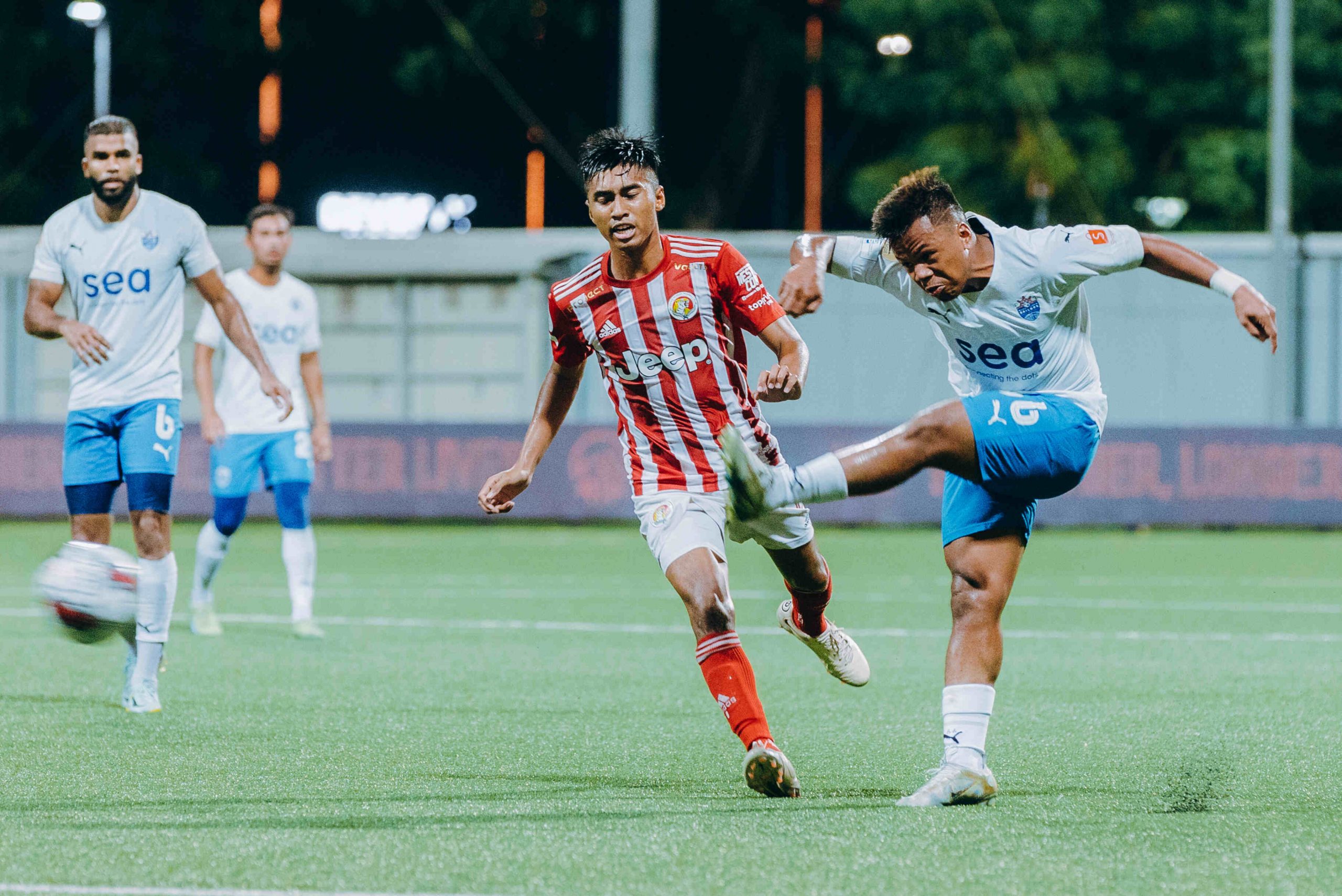 The Sailors will need all hands on deck to go far in the Singapore Cup and Nur Adam has faith that the team will deliver the goods. 
Now joint-second with Balestier in Group A, Luka Lalić's charges are targeting wins against Young Lions and Albirex Niigata (S) to qualify for the semi-finals. 
"I've read comments online saying we're not motivated or committed. That's absolutely not true – you can see we've been fighting for each other. Everyone's pushing themselves and we were still creating chances till the final whistle against Balestier.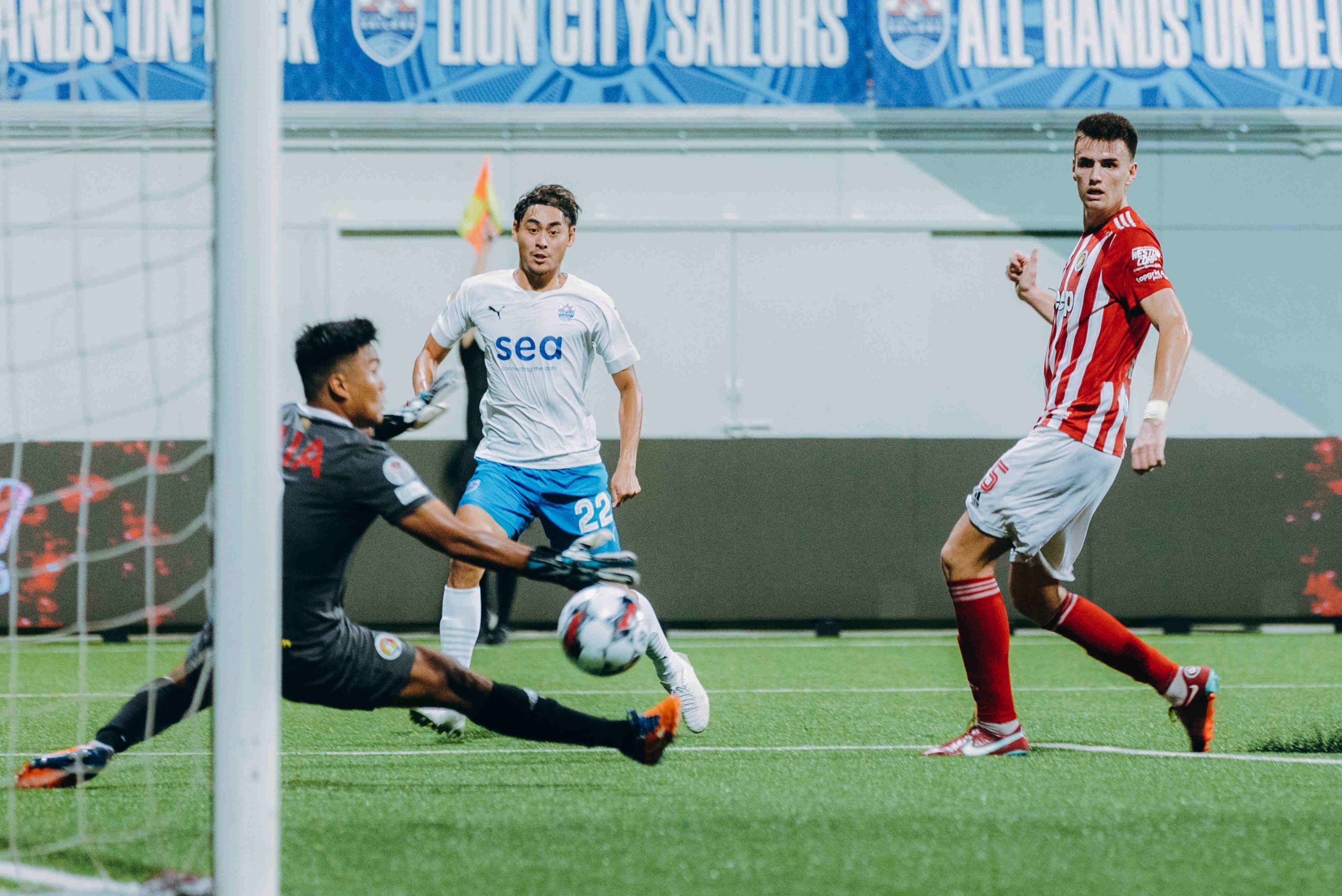 "Those who didn't start but came on as substitutes like Sai (Saifullah Akbar) and Gab (Gabriel Quak) contributed massively to the team and could have scored," said Nur Adam.
"This is part and parcel of football – we have to get through the tough period and all of us have to stick together in this. What's important now is to ignore the noise, look forward to the upcoming games and focus on our ultimate aim of winning the Singapore Cup." 
The Lion City Sailors did not get an ideal start to their maiden Singapore Cup voyage on Thursday (27 October) night, as they were held to a frustrating 3-3 draw by Balestier Khalsa at the Jalan Besar Stadium. 
In an open game which saw both sides recording more than 20 shots each, the Sailors – led by two-goal hero Maxime Lestienne – took the lead three times but defensive lapses allowed the gritty Tigers to come back on each occasion to claim a point. 
At the end of the game, Sailors interim Head Coach Luka Lalić was left wondering what could have been.  
"This is not the first game that ended this way for us. Instead of going into half-time with a big lead, we put ourselves in this situation. We lost focus after scoring and were a bit shaky at the back – which were the issues we had previously. 
"This game shouldn't have ended as a draw, but that's the reality," said the 35-year-old.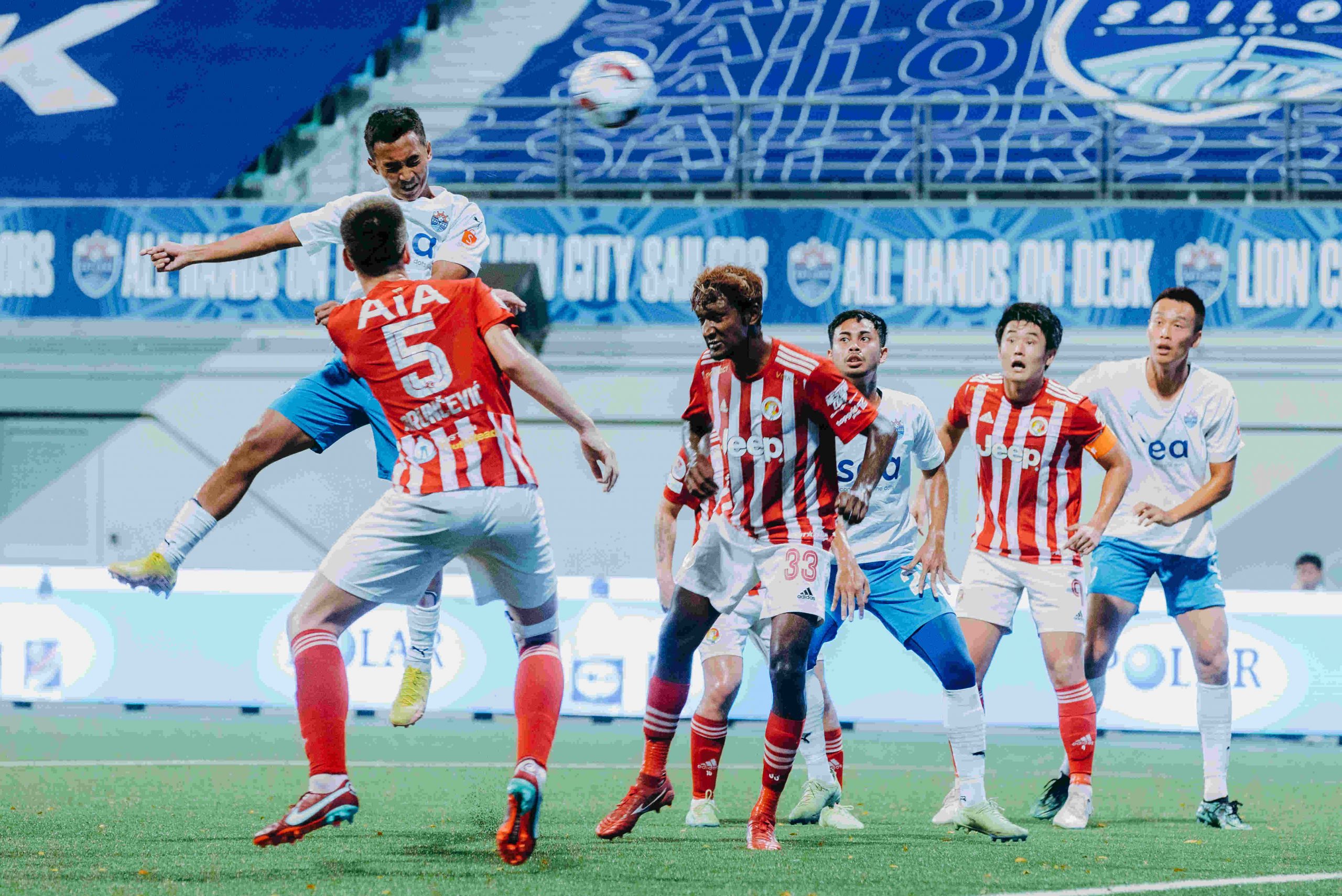 The Sailors got off to an assertive start and took a deserved lead in the 14th minute, with Faris Ramli nodding home Hafiz Nor's pinpoint cross for his third goal in two games.
But Balestier hauled themselves back into the game just eight minutes later with Kuraba Kondo sweeping in after Daniel Goh's shot was spilled by Izwan Mahbud in the Sailors' goal. 
After wasting a few chances before half time, the Sailors reclaimed the lead in the 47th minute with Maxime – who asked questions of the Balestier defence all night – firing into the bottom right corner after great work by Faris to set him clear. 
The visitors then restored parity again – through the same man – eight minutes later as Kondo cut inside Hariss Harun before slotting past Izwan.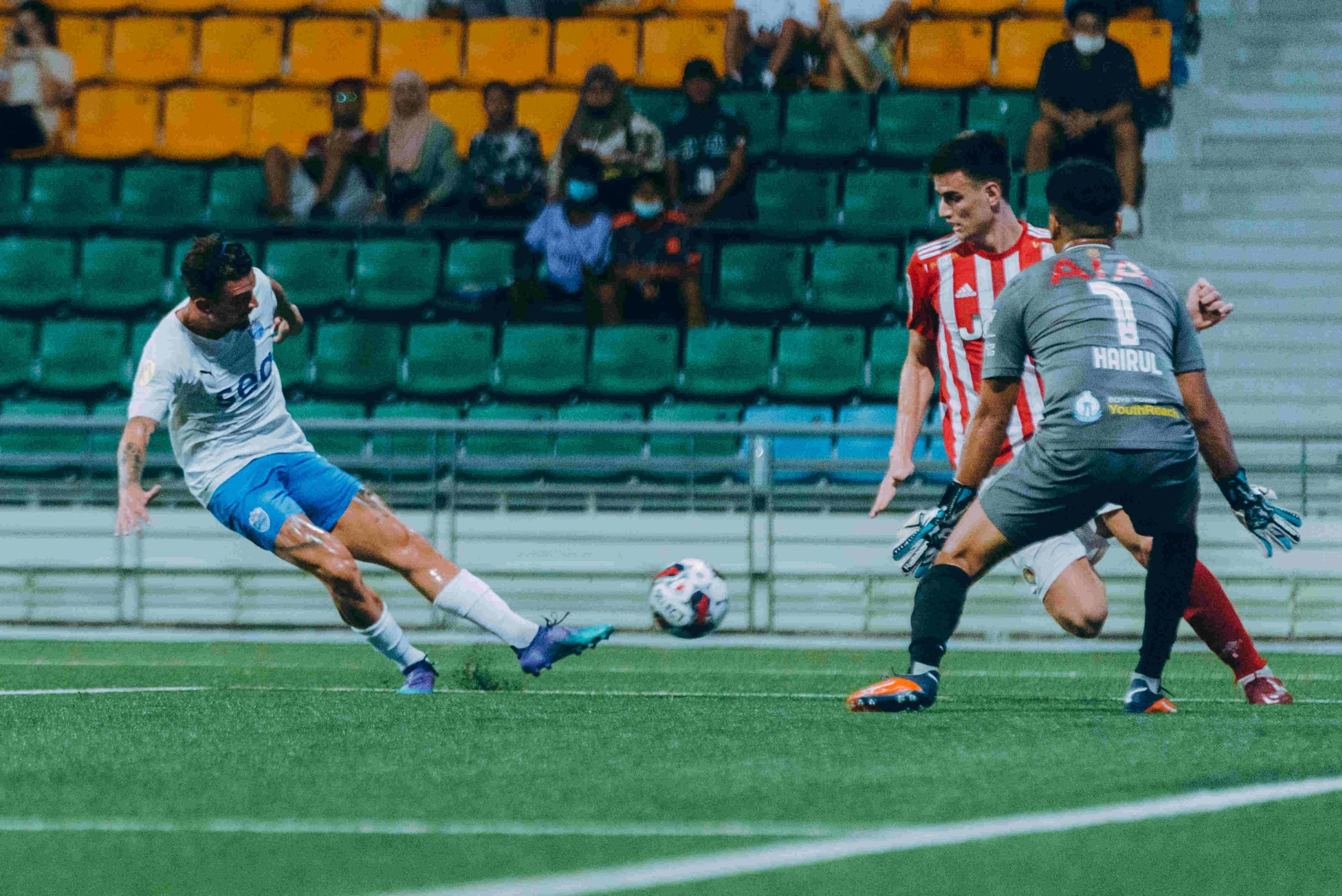 Luka's men went back ahead at 3-2 on 57 minutes with Maxime producing another moment of magic as he raced down the left courtesy of Kim Shin-wook's through ball, expertly giving his marker the slip before slamming it in from a tight angle. 
But Peter de Roo's Tigers levelled it up for a third time on the night, through Shuhei Hoshino who converted from close range after Izwan could only parry Delwinder Singh's shot into his path. 
The Sailors kept going in search of the winner in the latter stages of the game but could count themselves unlucky not to leave with all three points. Saifullah Akbar was denied by the post a minute after coming on as a 72nd-minute substitute, while fellow substitute Gabriel Quak saw his goal on 81 minutes controversially chalked off offside.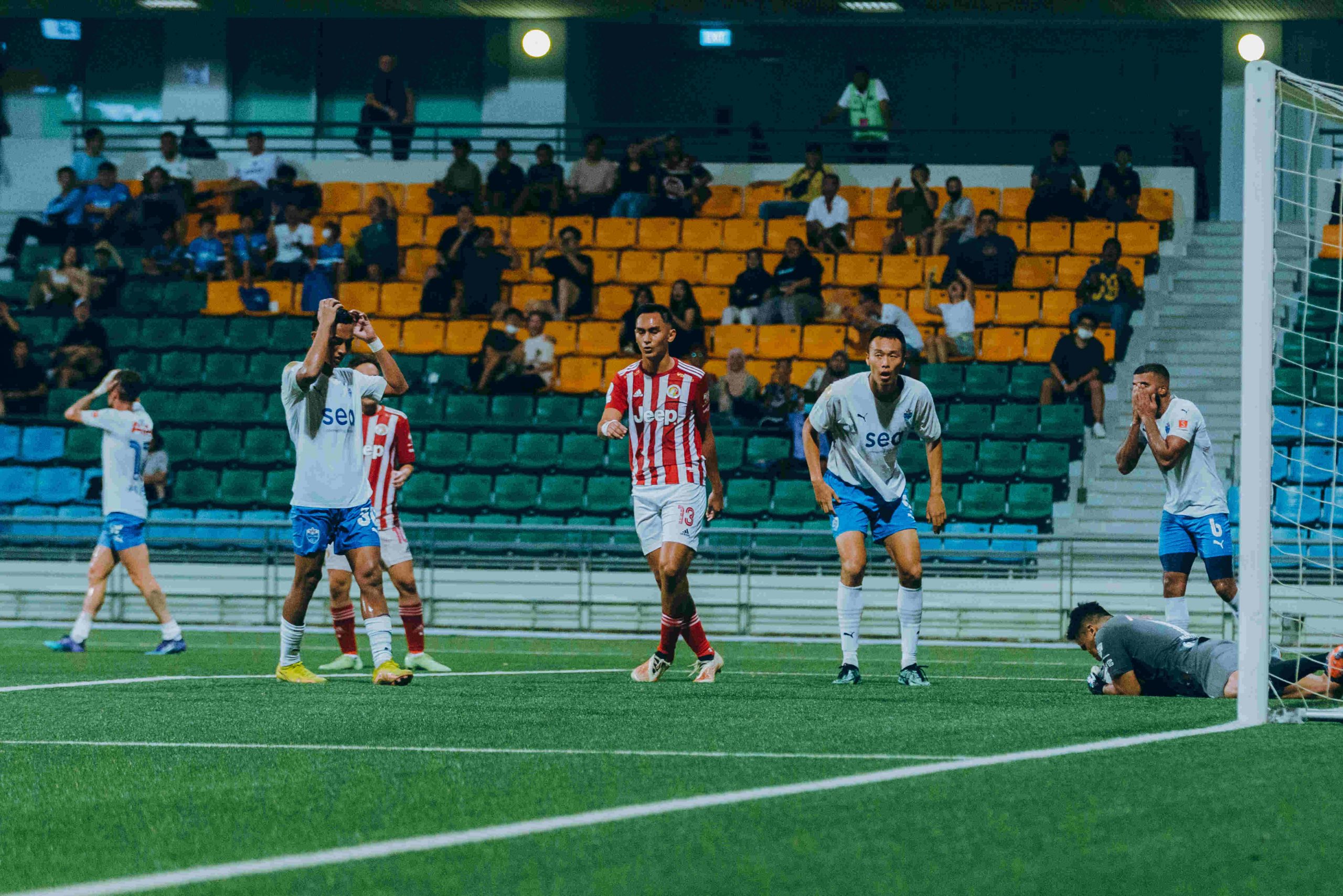 After Izwan pulled off a wonder save to deny Goh on 89 minutes, the Sailors could have stolen it at the death – in the fifth and final minute of injury time – but Shin-wook could only direct Gabriel's cross straight at Balestier custodian Hairul Syirhan. 
The result meant the Sailors are now joint-second in Group A with Balestier, behind Albirex Niigata (S) who thrashed Young Lions 4-0 in a concurrent match, with the Sailors looking for more improvement ahead of their second group match against Young Lions next Monday (31 October). 
"We have to continue to work hard," said Luka. "We have to work out the things that we didn't do well in this game and do better in our next match."
The disappointment of not retaining the Singapore Premier League (SPL) title still lingers, but the Lion City Sailors are now more determined than ever and fully focused on their task ahead: to win the Singapore Cup and end the season on a high. 
The Sailors take on Balestier Khalsa in the tournament opener at the Jalan Besar Stadium on Thursday (27 October) night, looking to get their maiden cup voyage off to a positive start. 
Sailors interim Head Coach Luka Lalić is relishing this latest challenge and has seen enough from his charges that they have what it takes to go all the way. 
"We all know the Cup competition is a different prospect – you can win a trophy by doing well in a short space of six matches and it's something surely not beyond us. 
"We've worked on some things recently and it's been improving. Training for the past week went very well and there has been this new wave of energy within the team. We're going into this game confident and we're going for first place in the group," declared the 35-year-old.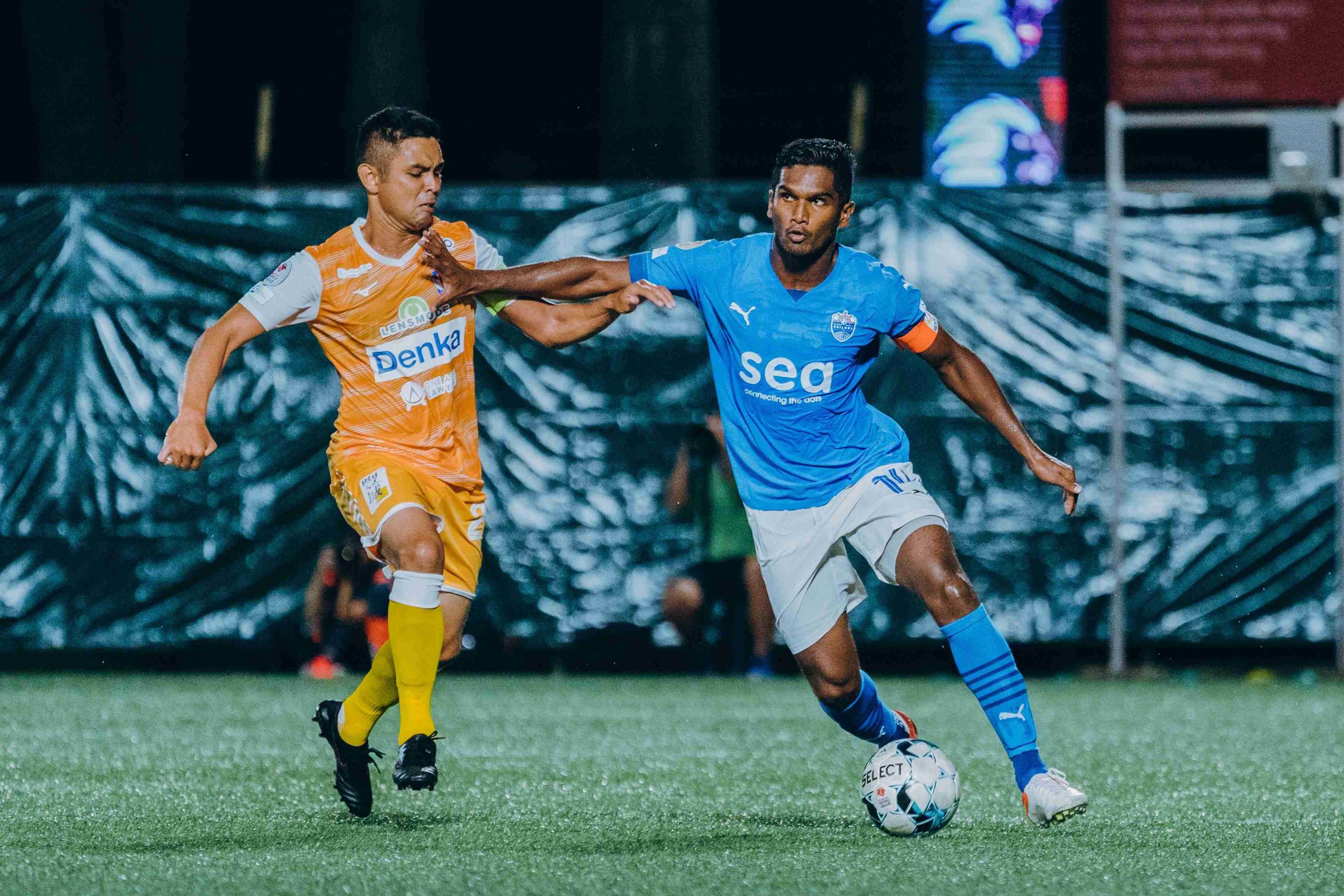 Captain Hariss Harun is similarly convinced that the Sailors are ready to make a splash in the cup, after ending their league campaign with two straight victories – 3-1 over Tanjong Pagar United and 2-1 against Young Lions. 
"Obviously winning matches gives the team a boost and that feel-good factor. We've been honest with ourselves and learnt some harsh lessons over the past couple of months, but now there's this opportunity to win something and all of us are eager to make up for the disappointment," said the 31-year-old. 
Placed with Balestier, Albirex Niigata (S) – two teams that they had lost to just earlier this month – and the Young Lions in Group A, the Sailors have extra motivation to do well. 
"There are always lessons to learn in football. Against Balestier (in that 5-3 SPL loss), they showed that they wanted it more than us. In this upcoming game, we have to go in with the right mindset – we have to prove that we are hungrier," said Hariss. 
"With the quality we have, there are no excuses for us. We're grabbing this opportunity to win something with both hands and we want to put up a good show for our fans who have stuck with us throughout the season." 
It is exactly one month away from the highly anticipated Lion City Sailors-Borussia Dortmund (BVB) clash on 24 November and there is palpable excitement amongst the Sailors ranks, perhaps most among the younger members of the squad. 
Two rising Sailors stars, Nur Adam Abdullah and Bill Mamadou, are already looking forward to the enticing prospect of jostling with some of Europe's best – and impressing. 
The Sailors-BVB friendly match is the crown jewel of the first leg of BVB's Southeast Asia Tour that kicks off in Singapore (22-26 Nov).
"Of course, every player would feel nervous and at the same time excited at this type of opportunity to play against one of the most prestigious clubs from Europe – it doesn't come every day. 
"It's going to be challenging for sure, but what better way to improve ourselves than by playing against an elite team? On a whole, this experience is going to help the team and challenge us individually as well," said 21-year-old Nur Adam.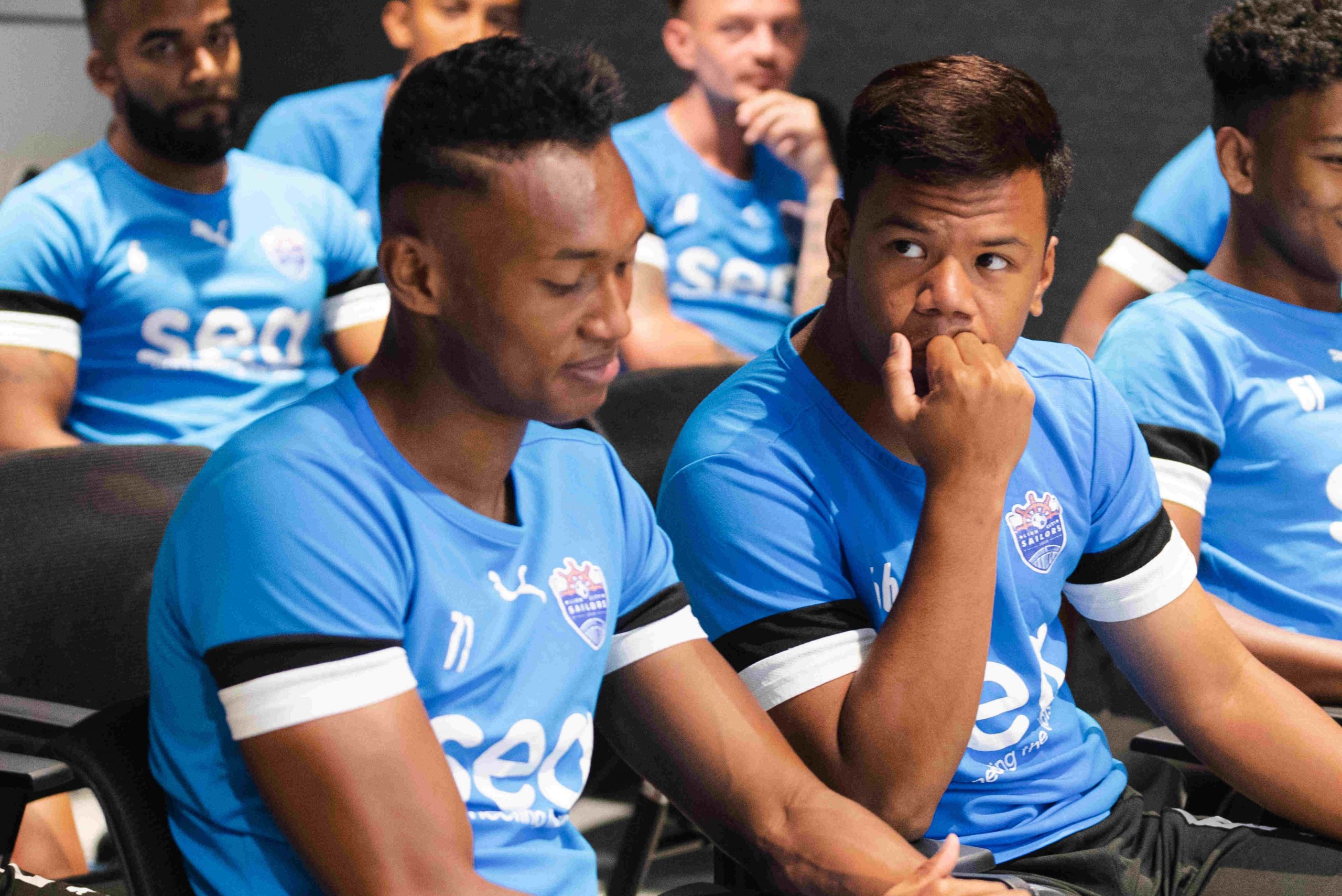 Bill, also 21, was in complete agreement with his teammate. 
He said: "We're going to play against proper world-class players and everyone knows how good they are. But as much as we respect them, we have to approach the game like any other game and not be afraid.
"At the end of the day, we are out to gain more experience out of these 90 minutes, and test ourselves."
The Sailors have swiftly broken new ground since their 2020 inception. The club won their first domestic Singapore Premier League (SPL) title in 2021 before chalking up the best-ever points and goals tally – seven and eight respectively  – by a Singaporean club at an Asian Football Confederation (AFC) Champions League (ACL) campaign, on their April 2022 debut at the tournament.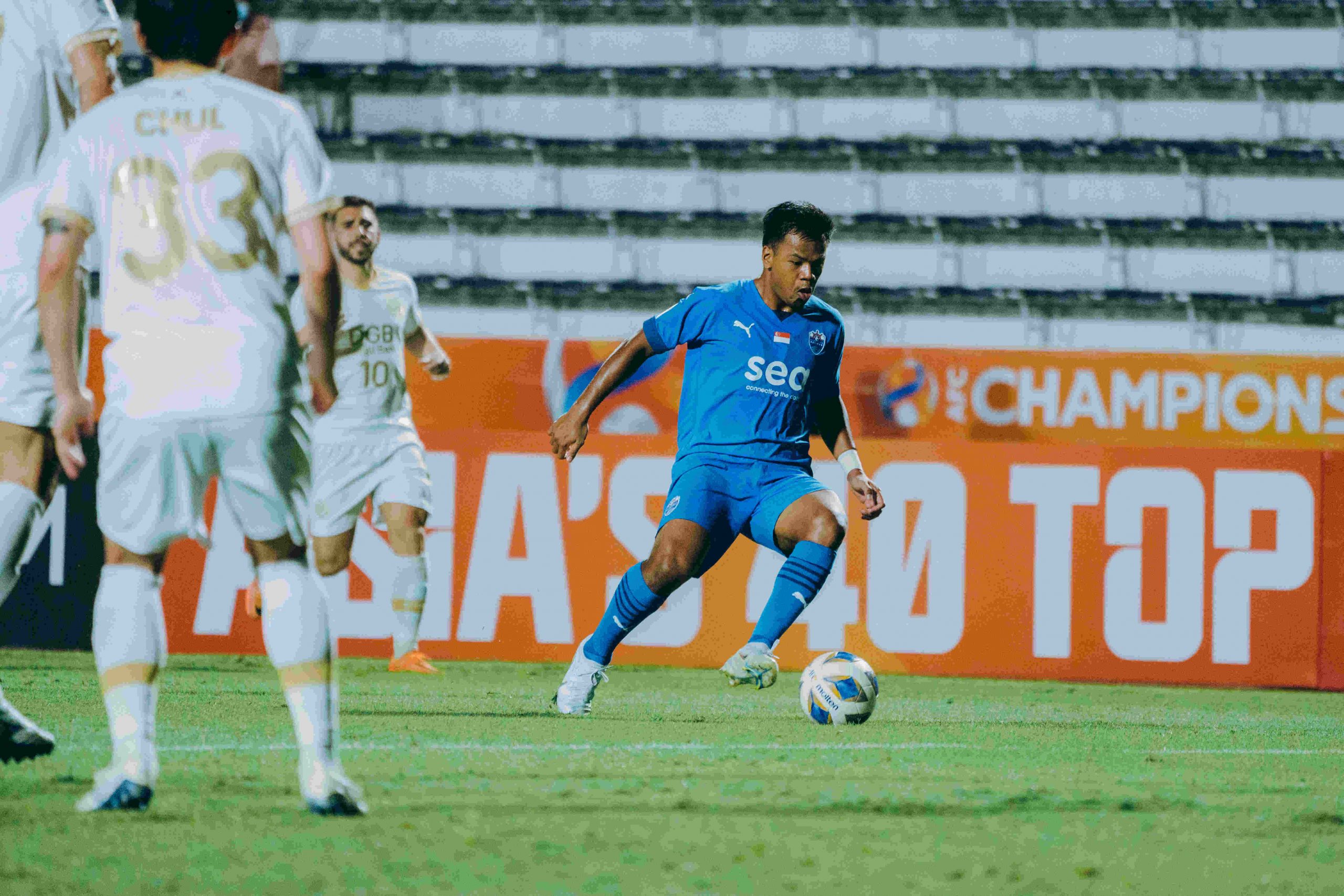 Borne from the two-and-a-half-year partnership penned between the Sailors and BVB in July 2021, the BVB Southeast Asia Tour 2022 – The Singapore Leg will also see a series of off-the-field professional activities that will further underscore the deep relationship and drive further improvements at the Sailors. 
To Nur Adam, the BVB fixture is a natural next step for the Sailors: to go up against teams that have an established culture of professionalism and success at a high level – and learn from the experience. 
"As a new club, we're always learning and improving, while being ambitious and aiming high. Take for example at the ACL, we played against Urawa Red Diamonds and Daegu FC – top teams in the region – and we really loved the experience," said the young full-back, who has already made more than 50 domestic appearances. 
"Going up against bigger teams, we're bound to face defeats but it's not just about the result in this type of match. The experience and what we can learn on and off the pitch is perhaps much more valuable and that benefits us on our journey towards our target of becoming one of Asia's biggest clubs."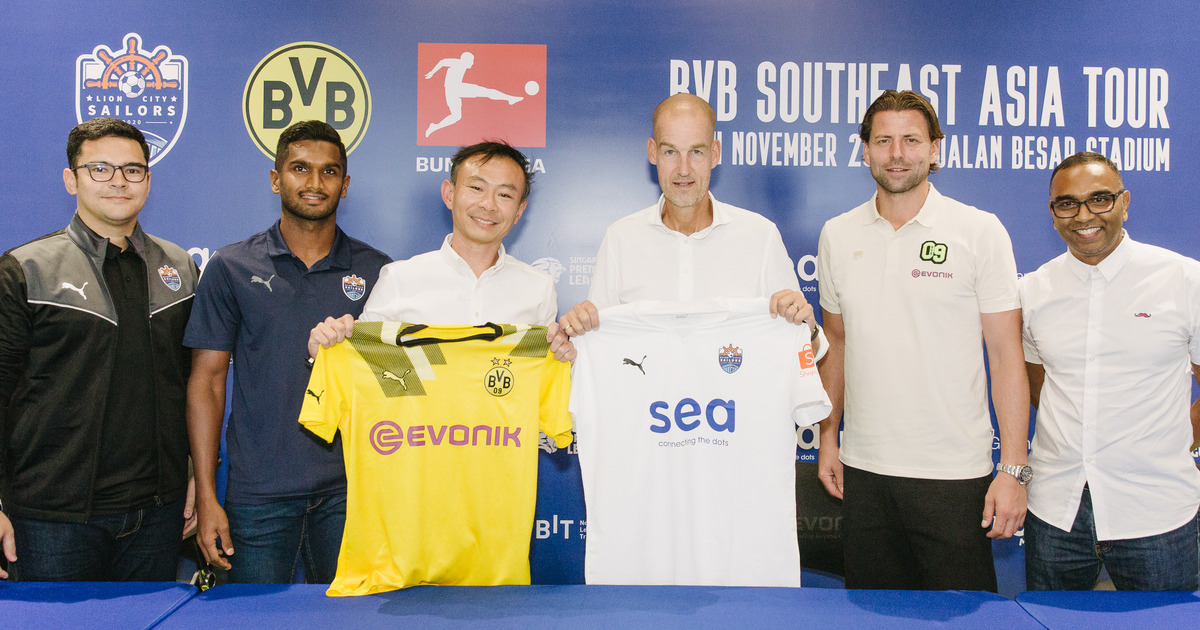 Early Bird tickets are fast being snapped up by football fans on online ticketing platform SISTIC and Bill is relishing the opportunity to put on a good show in front of a packed Jalan Besar. 
"We all know that there will be attention on this game and how excited our fans are. It'll be something new for me personally, but I will just focus on my game and do what I can for the team," said the centre-back, who has broken into the Sailors first team and impressed in recent weeks. 
"I'm lucky that I'm learning from the best local players like Hariss (Harun) and (Amirul) Adli everyday in training. Also, my dad (former Singapore international Bah Mamadou) is always giving me advice on how to perform and excel, so I'm just absorbing as much as I can so that I can be an important player for the first team in the years to come."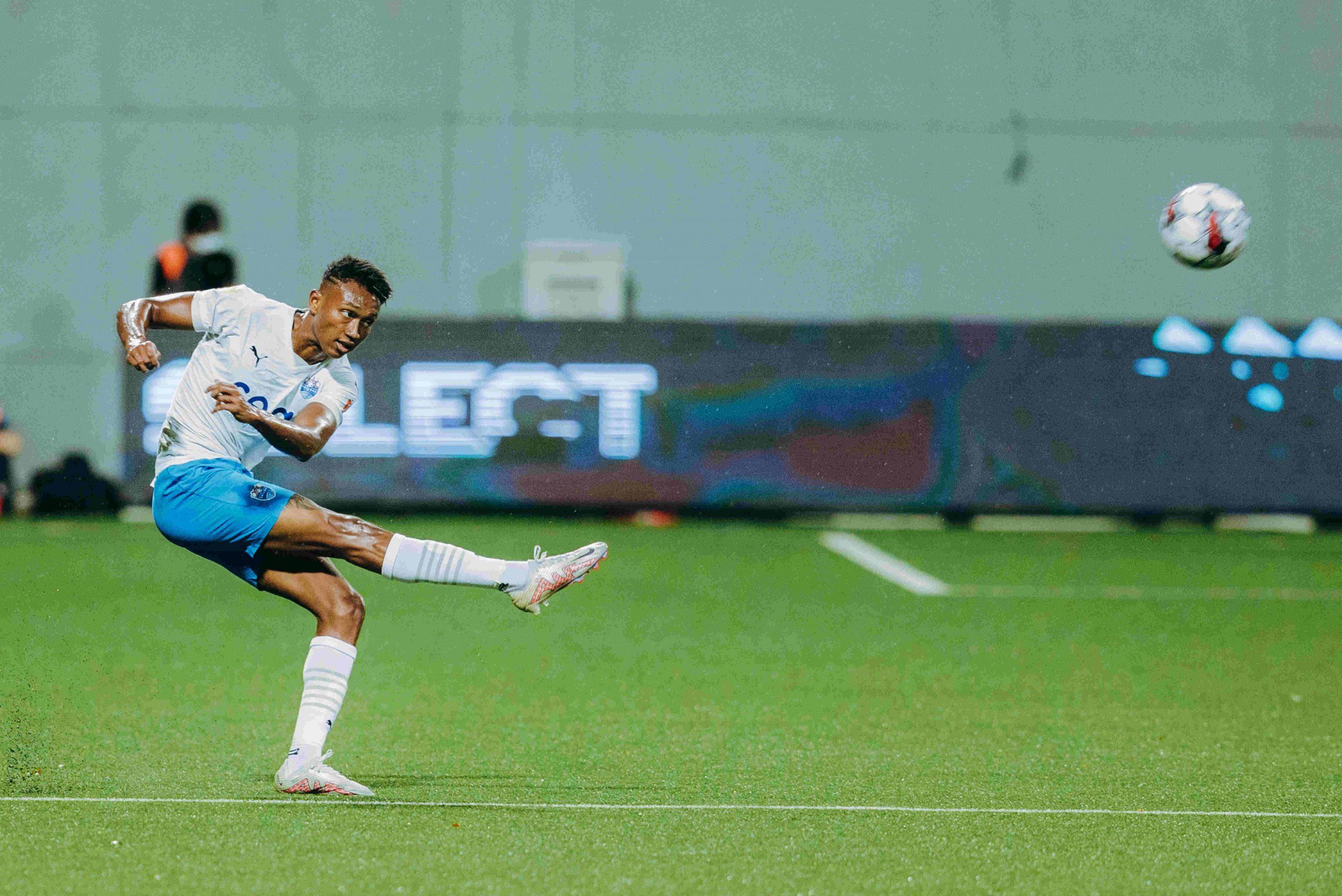 Before turning their gaze to the gala friendly, the key priority for the Sailors is to excel in the upcoming Singapore Cup – Luka Lalić's men begin their campaign against Balestier Khalsa next Thursday (27 October) – which will round off their 2022 campaign. 
It is a fact not lost on Nur Adam and the rest of the Sailors. 
"We failed to retain the SPL title and that's a big disappointment for the club all round, no doubt. We're out for redemption in the Cup and we're out to win it for our fans and families who have been supporting us," he declared. 
"Once we're done with that, then we'll properly look towards BVB and I know the only way I can be in the starting lineup for that is to put up consistent performances in the Cup."
Tickets for the Balestier Cup fixture are already available on SISTIC, while Early Bird tickets for the Sailors-BVB game can still be purchased, also on SISTIC, here.  
Faced with a long list of unavailable players, the Lion City Sailors Women's Team showed resilience and character to dispatch Thailand's Phranakorn FC 3-0 in their final Women's Football Championship (WFC) 2022 match at the German European School Singapore on Friday (21 October) night. 
Without the services of captain Ernie Sulastri, Nur Izzati Rosni, Umairah Hamdan, Fatin Aqillah, Venetia Lim and Dorcas Chu, the 2022 Deloitte Women's Premier League (WPL) champions were only able to call upon 14 players for this game – including four Under-16 players. 
Three of them started, with Ardhra Arul Ganeswaren and Seri Ayu Natasha playing in defence, while Madelin Sophie played in midfield alongside the experienced Ho Hui Xin – who took the armband in the absence of Ernie. 
The final one, Cara Chang, came on as a second half substitute.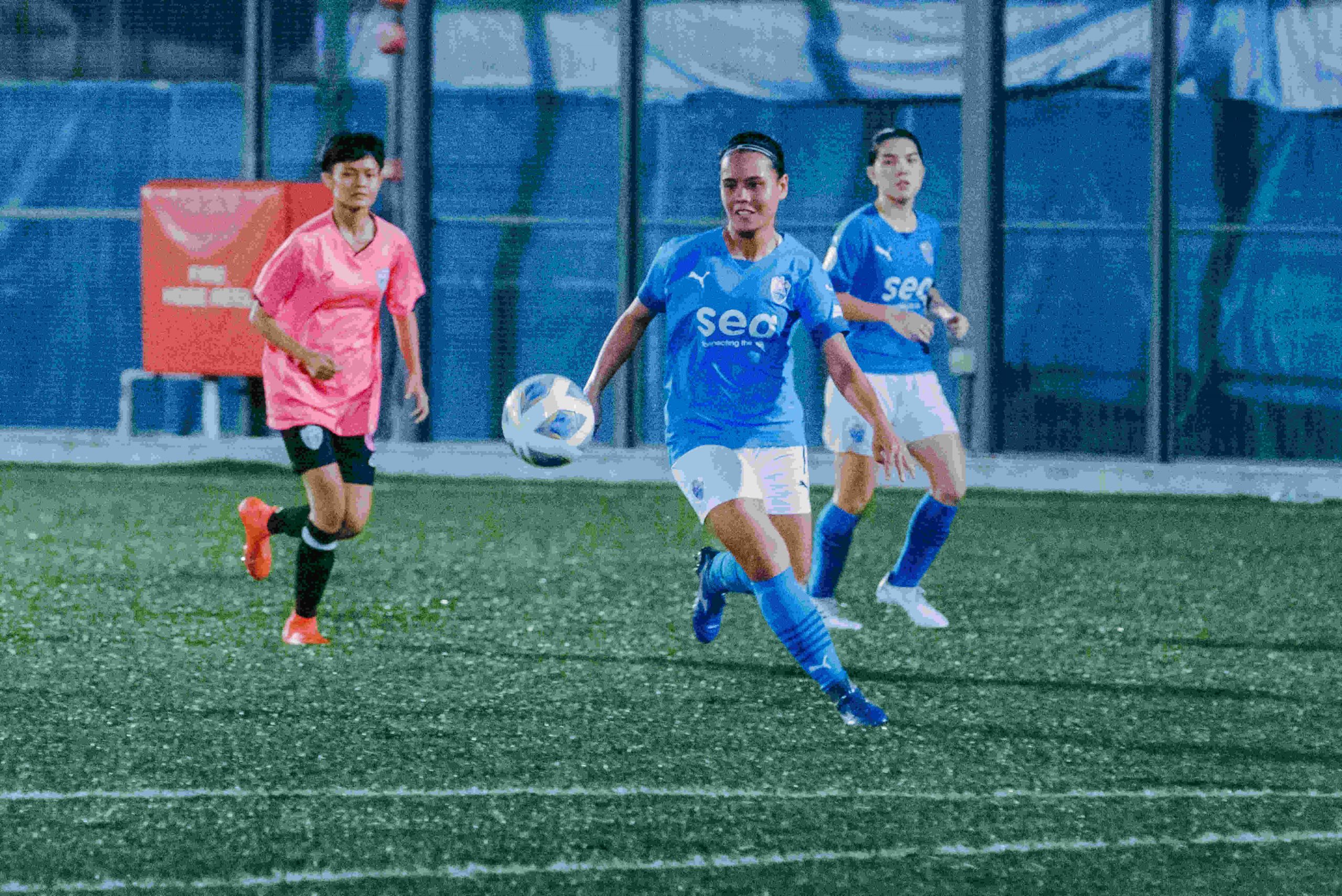 It was truly all hands on deck for the embattled Sailors, with goalkeeper Noor Kusumawati coming on as an outfielder for the final 30 minutes and even went close to score – on two occasions. 
The reshuffled Sailors took a while to get going and required a stunning point-blank save from custodian Beatrice Tan in the 68th minute to stay level, before finishing the game with a flourish. 
The in-form Miray Altun poked the ball past Phranakorn goalkeeper Pimlapat Aeewong to break the deadlock on 77 minutes, before producing another calm finish from close range 10 minutes later to put the Sailors firmly in charge.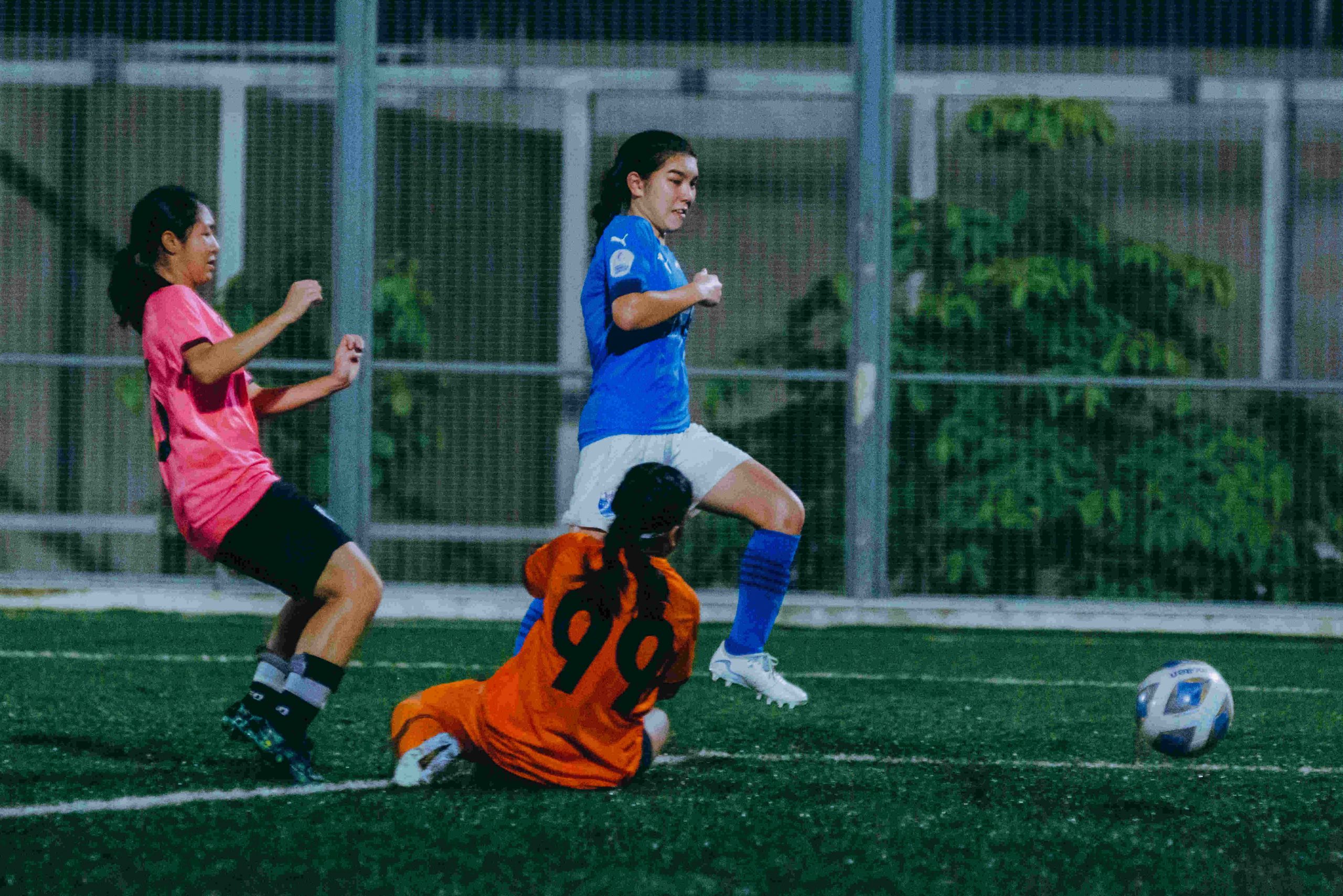 Paula Druschke then benefitted from Khairunnisa Khairol Anwar's 89th minute free-kick, cheekily lobbing home to round off an emphatic Sailors' victory. 
Head Coach Yeong Sheau Shyan was proud of how her charges battled against the odds to defeat a young and feisty Phranakorn outfit. 
"The first half, our performance was really quite poor – we were sloppy and not focused. I haven't seen the girls play so badly for a long time. Perhaps they were just tired from work and also the tournament schedule (playing three games in five days)," said the 44-year-old. 
"We did much better in the second half, showing good fitness and intensity. It was a good blend of experience and youth. The young players play with no fear and aren't scared of making mistakes, while the older ones play with more urgency – they can learn from each other that way. 
"And I have to praise Wati (Kusumawati). She has never played outfield in a match before, but she is willing to do it for the team and didn't look out of place at all."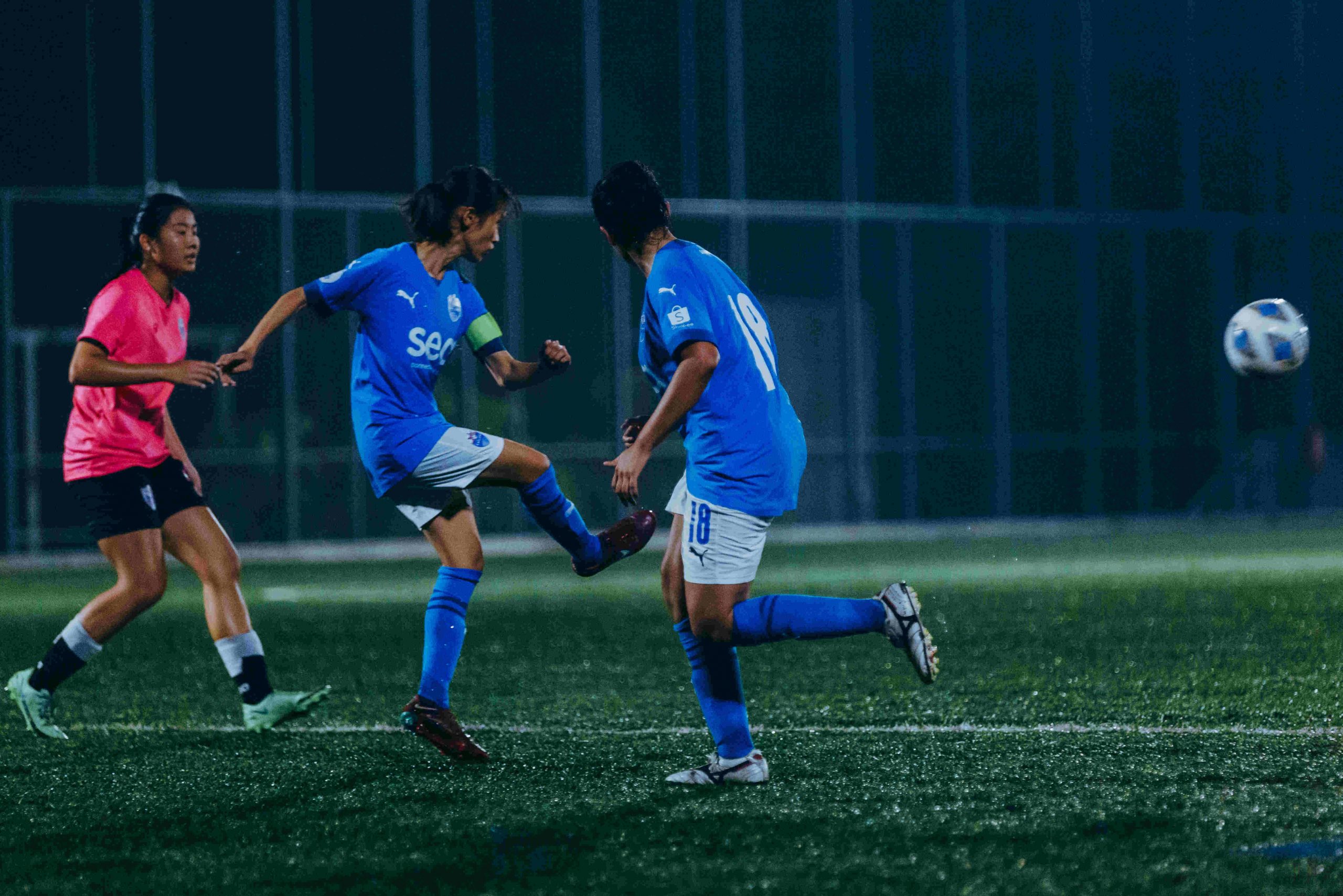 With two wins out of three, the Sailors Women finished a creditable second in the four-team WFC – just behind champions Kaya FC-Iloilo – as stand-in skipper Hui Xin reflected on what was a good tourney. 
"We didn't have the full squad due to various reasons, but the fact that we could still do well showed the depth and versatility of our players," said the 30-year-old. 
"It's great that our current squad players were able to guide and instruct the younger players on the pitch. Everyone here is mature enough to know that any instructions given are really for the team and for us to execute a good game plan.
"All in all, we did well to take the step up to go toe-to-toe with these teams (from the region) and that's something which we should always strive to achieve."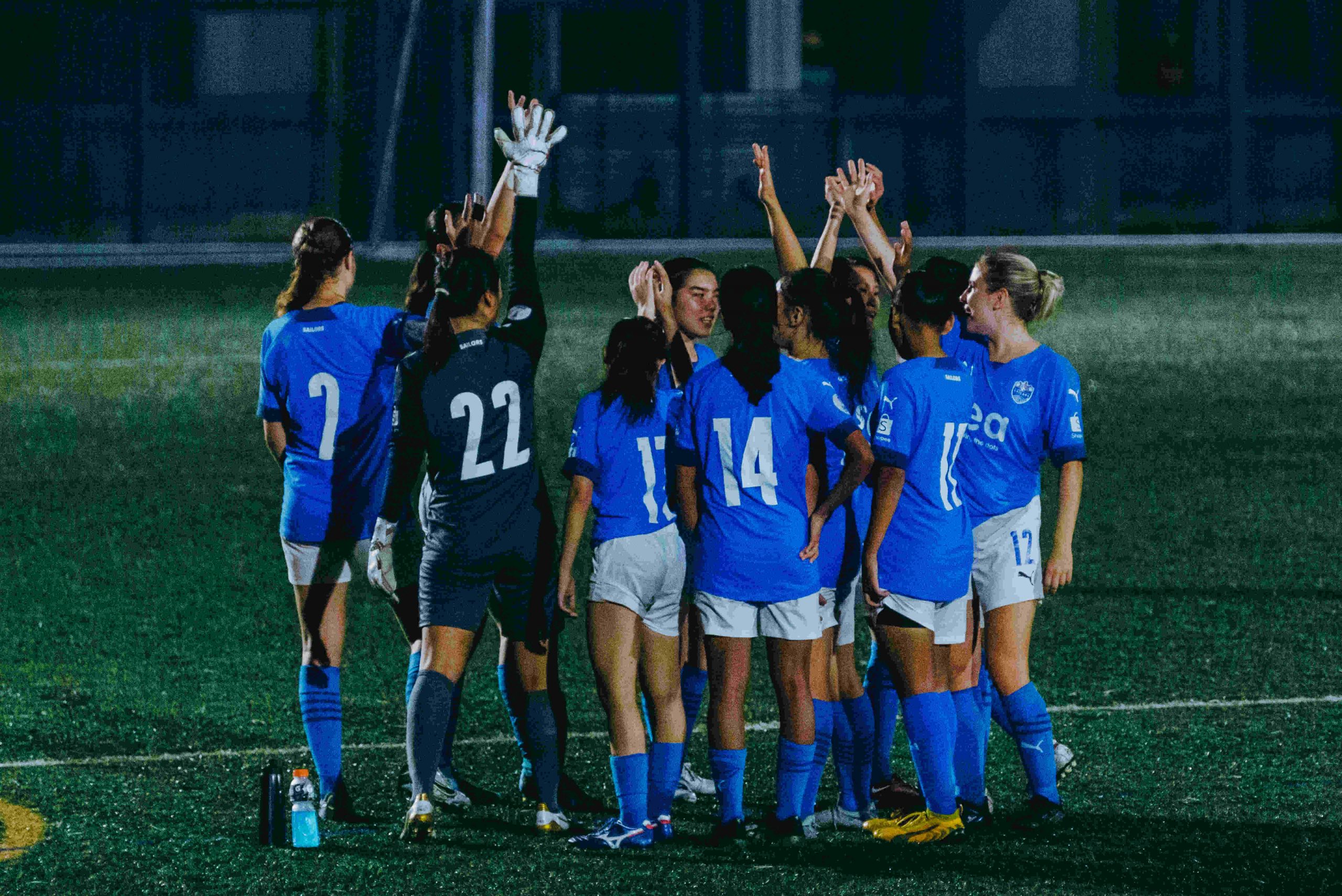 Sheau Shyan sang from the same hymn book as the Sailors Women now take a deserved break before preparing for the 2023 WPL campaign as defending champions. 
"It's a fun learning experience especially for the younger girls because the game play is quite different from what we've been experiencing in the league – it's cagier. When I wanted to sub players off, they would always say 'no, no, no! Coach, I still want to play!'. 
"That desire and hunger to improve and test themselves against the best is something that stands us in good stead for next year."
The Lion City Sailors had winger Faris Ramli to thank after his second-half brace secured a 2-1 win over Young Lions in their final Singapore Premier League (SPL) encounter at the Jalan Besar Stadium on Friday (21 October) evening. 
It was by no means the most convincing of victories for Luka Lalić's men, who struggled to find rhythm and were made to rue a number of missed chances throughout. 
A late penalty conversion from Jordan Emaviwe halved the deficit to give Young Lions hope, but the Sailors eventually prevailed. The result meant they finished the season two points behind SPL champions Albirex Niigata (S), who drew 1-1 with Geylang International on the same day. 
Luka admitted his side were not at their best and gave credit to the performance of Nazri Nasir's Young Lions.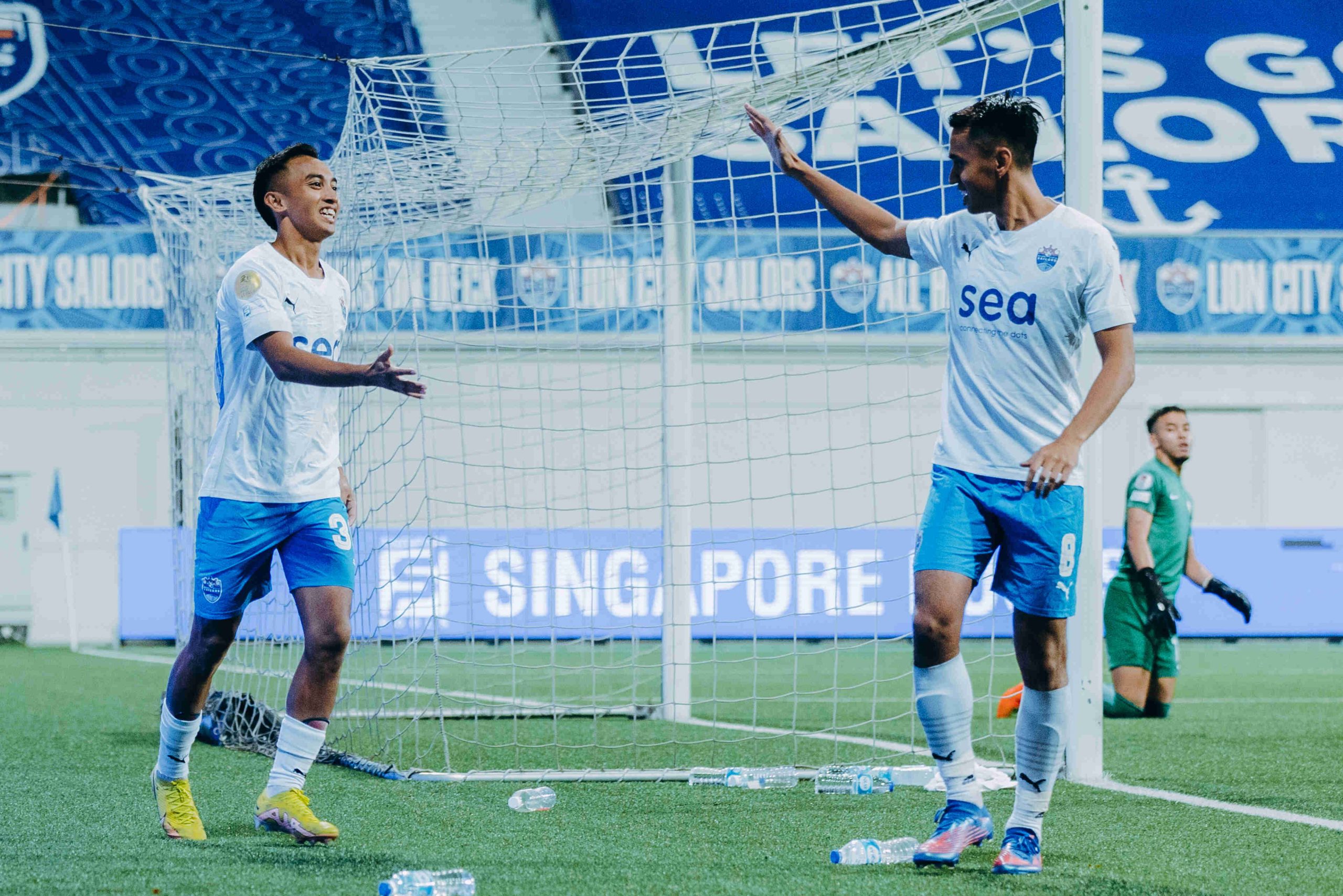 "I wouldn't say it was a good win, but a win nonetheless. It was difficult to play against a well-organised and compact Young Lions side, who came with an effective game plan," said the 35-year-old. 
"We could have scored more today but like in recent matches, we conceded again and I'm not too happy about that, but we're all looking forward to the Singapore Cup."
Seemingly with an eye on their Singapore Cup opener against Balestier Khalsa on Thursday, the Sailors named an all-local starting line-up. 
But without the likes of Song Ui-young and the suspended Maxime Lestienne, the Sailors found it hard to get going in the opening exchanges. 
Faris came close to putting the hosts in front after 20 minutes with an effort that sailed narrowly wide, before Gabriel Quak missed a gilt-edged opportunity when he fired straight at Young Lions goalkeeper Ridhwan Fikri from point-blank range.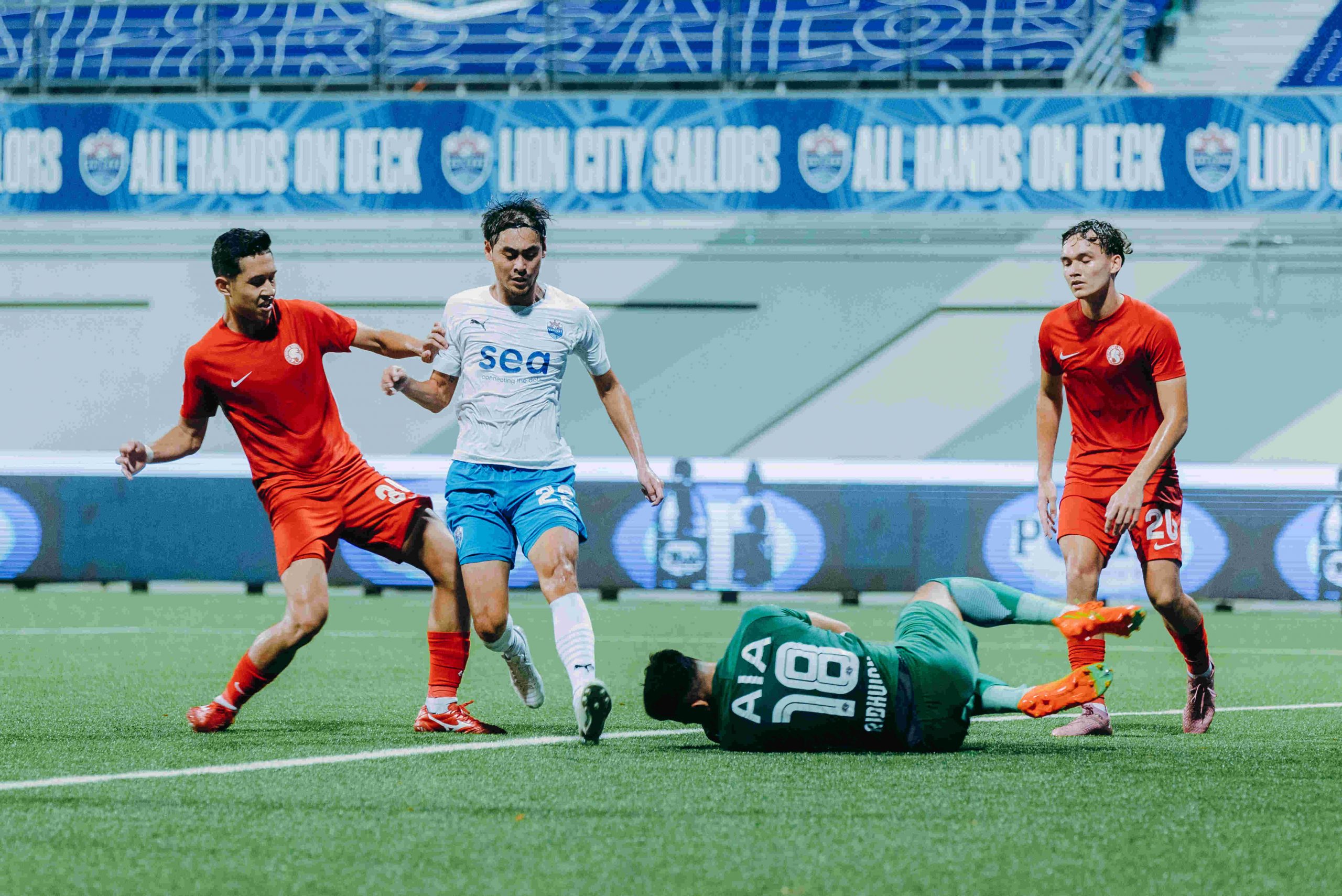 At the other end, Emaviwe was a constant thorn in the Sailors defence who were nearly made to pay for their profligacy three minutes before the break. 
With Izwan Mahbud at sea after keeping out Amir Syafiz's initial shot, Danish Qayyum could only see his left-footed effort crash off the frame of goal. 
Luka's half-time team talk seemed to work a treat, with the Sailors taking the lead within four minutes of the restart. 
Taking down Hafiz Nor's beautiful pass from deep, Faris held off his marker before unleashing a crisp shot into Ridhwan's far post for his fourth goal of the season. 
Buoyed by the opener, the Sailors went in search of a second and could have doubled their advantage.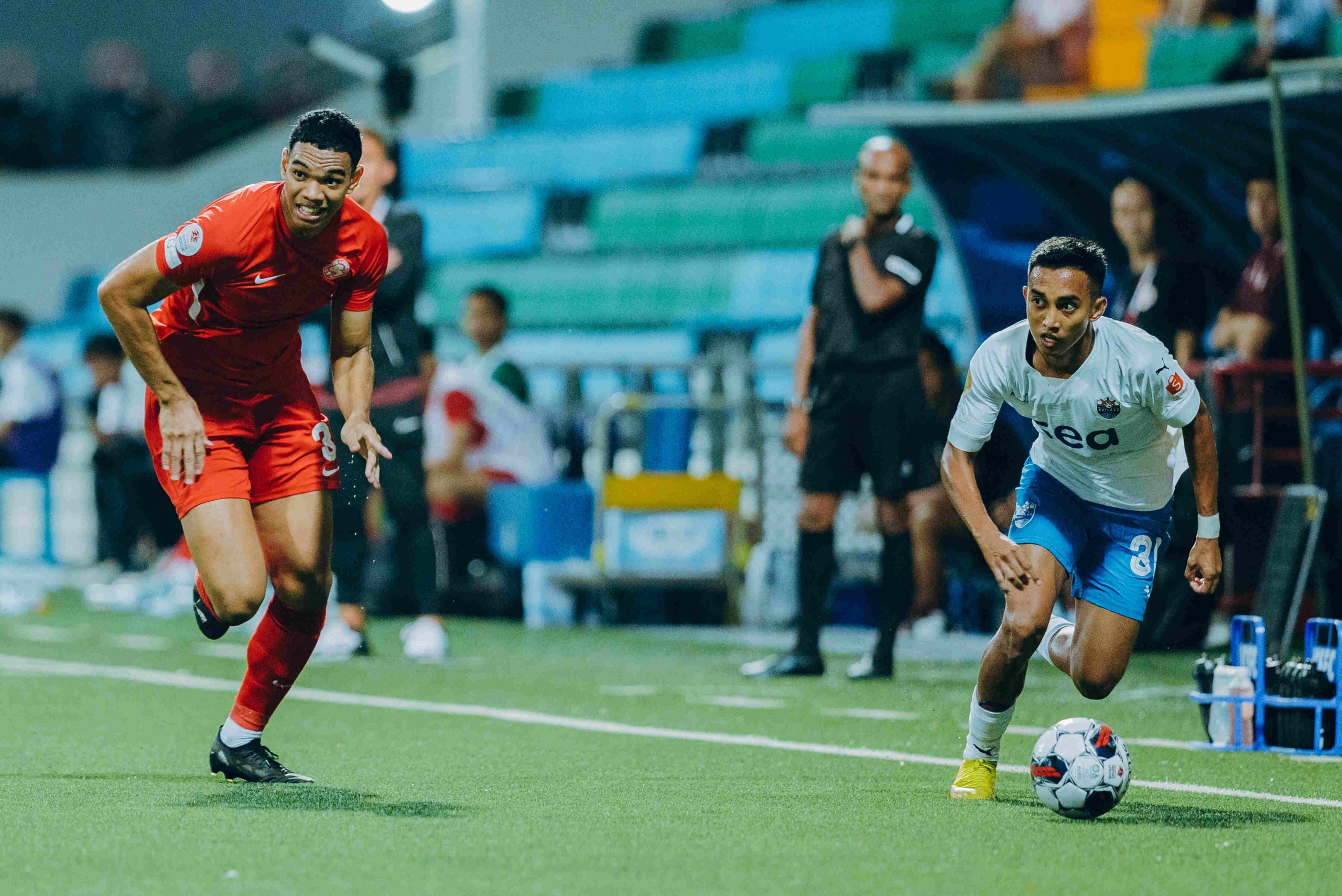 Gabriel blazed over on the hour mark before Faris' header pinged off the crossbar after Ridhwan had parried Gabriel's low drive into his path.   
There was no denying Faris on 66 minutes however, as his cheeky chipped finish gave the Sailors some breathing space. 
Picked out by Izwan's inch-perfect pass, the Singapore international proceeded to lift the ball over an onrushing Ridhwan to make it 2-0. With that pass, Izwan became the only goalkeeper to register an assist in the 2022 SPL season.  
Emaviwe then smashed home a penalty to set up a nervy finish after skipper Hariss Harun was adjudged to have handled in the box.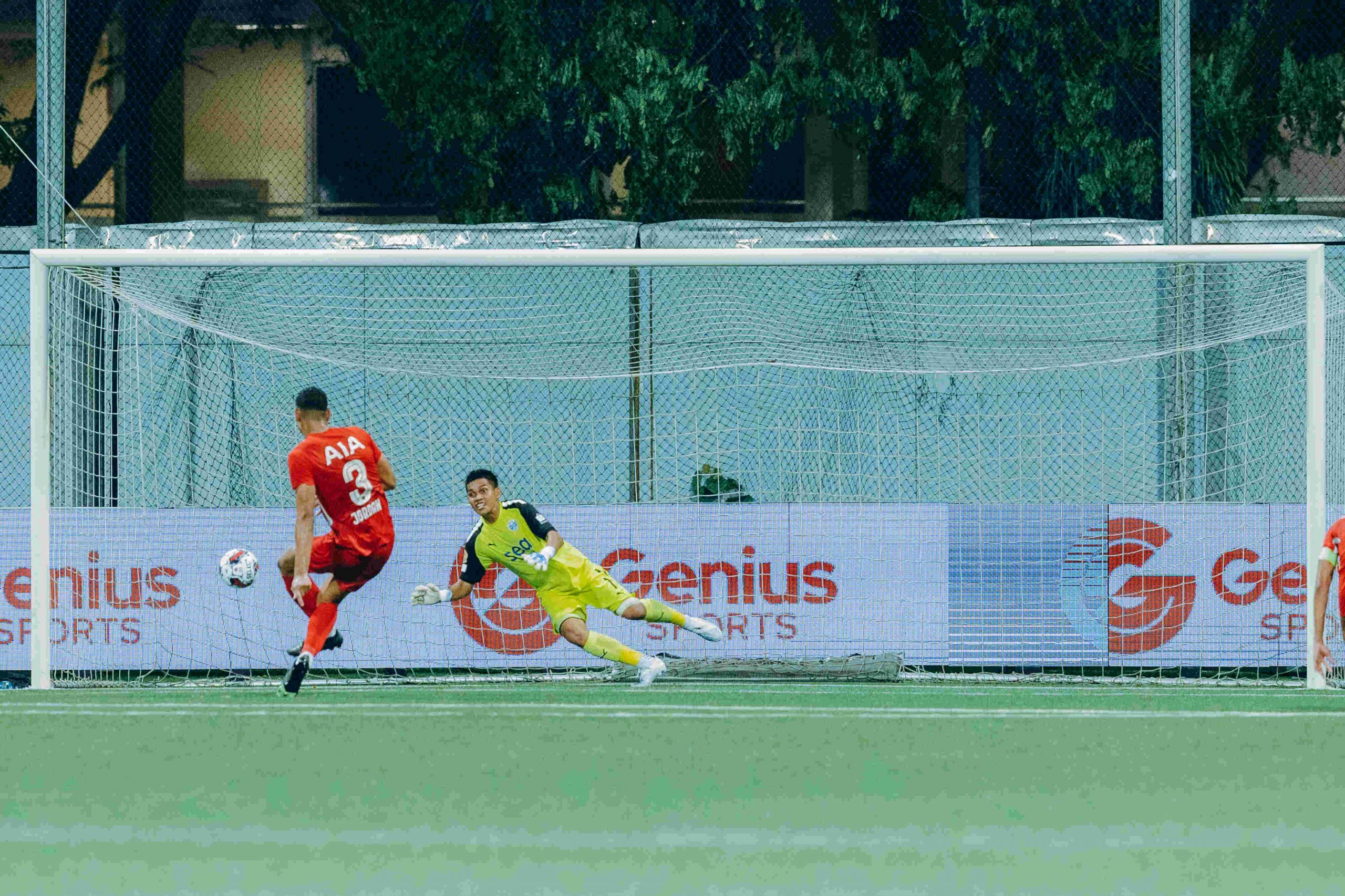 It proved merely a consolation as the Sailors hung on for three points to end their season on a high.
Two-goal hero Faris said the win was a 'morale booster' ahead of the Balestier clash.
"As a team, we haven't been at our best in the last few games but we managed to pick ourselves up and we are already looking ahead to our Singapore Cup opener," he added.
"This year has been a roller-coaster ride for me, I'm happy with my performance thus far, but I know I can do better and I hope it's not too late to make an impact for the team."
The Lion City Sailors Women's team followed up an encouraging display in the 3-1 defeat to Philippines Kaya FC-Iloilo two days ago with another impressive runout in the Women's Football Championship (WFC) 2022. They dispatched Indonesia's Indonesia's Persib Bandung Putri 3-1 at the Bedok Stadium on Wednesday (19 October) night for their first win at the tourney. 
The 2022 Deloitte Women's Premier League (WPL) champions took a deserved lead in the 29th minute through an emphatic 25-yard drive by Miray Altun, then had goalkeeper Beatrice Tan to thank for retaining that lead – she pulled off two stunning point-blank saves that gave the Sailors women a platform to build on the 1-0 advantage.
German winger Paula Druschke curled home a stunning free kick on the stroke of half time to double their lead, before Windi Nopianti Putri slalomed through to pull one back for the visitors four minutes into the second half. 
However, the victory was sealed in the 57th minute with forward Nur Izzati Rosni getting just ahead of Persib goalkeeper Neni Apriyanti to net the Sailors' third and final goal of the night.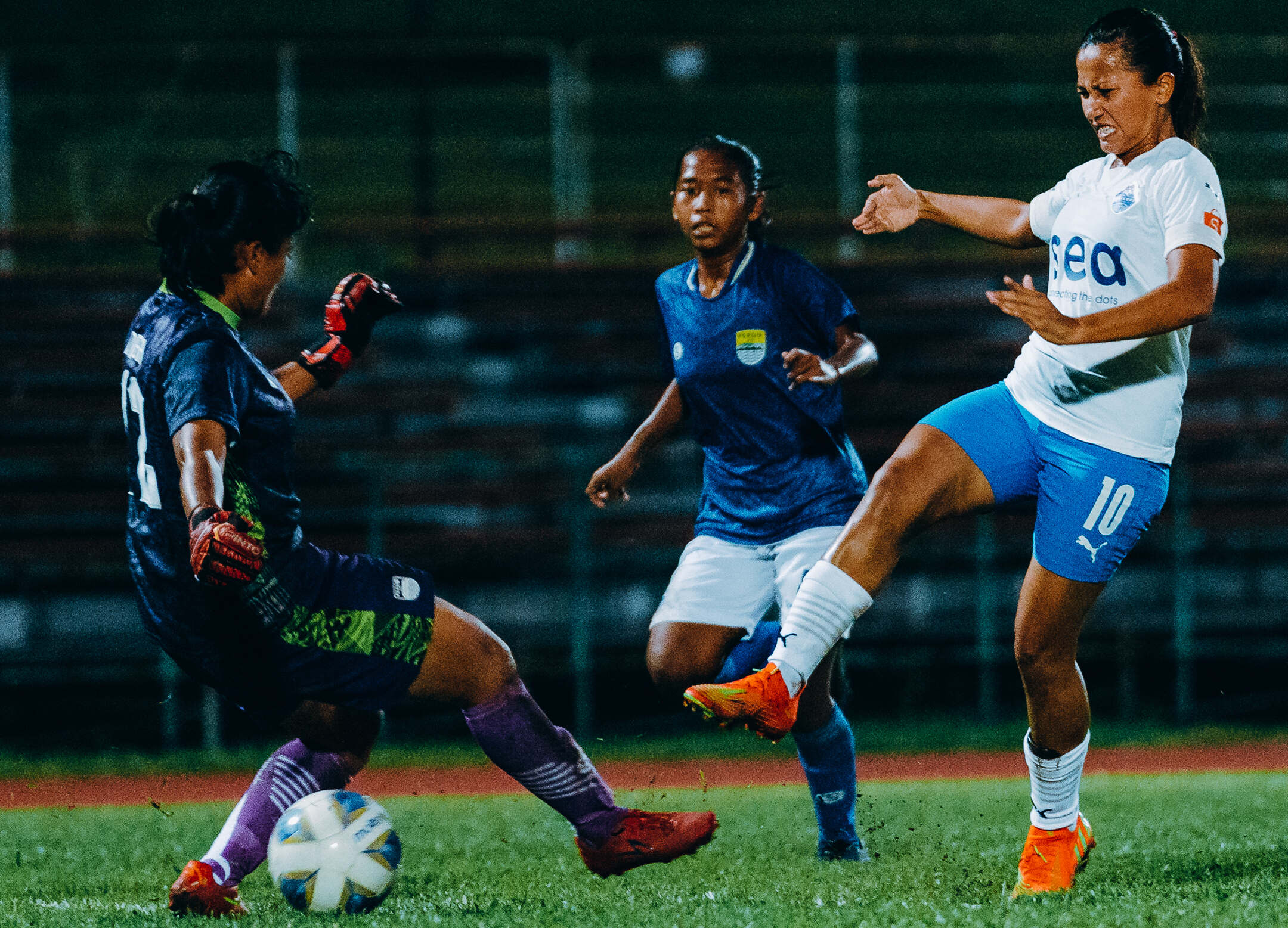 There were positives all across the pitch, including 15-year-old Ardhra Arul Ganeswaren who continued to give a good account of herself – doing well on the Sailors' left flank after coming on as a second-half substitute for captain Ernie Sulastri. 
Head Coach Yeong Sheau Shyan was proud of how her charges overcame adversity to defeat the reigning Liga 1 Putri champions. 
"We came into the game today with a difficult situation. We had some injuries and some players weren't feeling too well, but they still got through the entire game. That's a testament to how tough these girls are and I know I can depend on them," said the 44-year-old. 
"It's difficult for our players in this tournament because most of them are working or still in school while the visiting teams get to rest during the day. You would notice the first 10 minutes, they found it hard to get into the rhythm. 
"But they managed to create some good chances and played some good passing football – that's what was pleasing to me and we can definitely improve even further."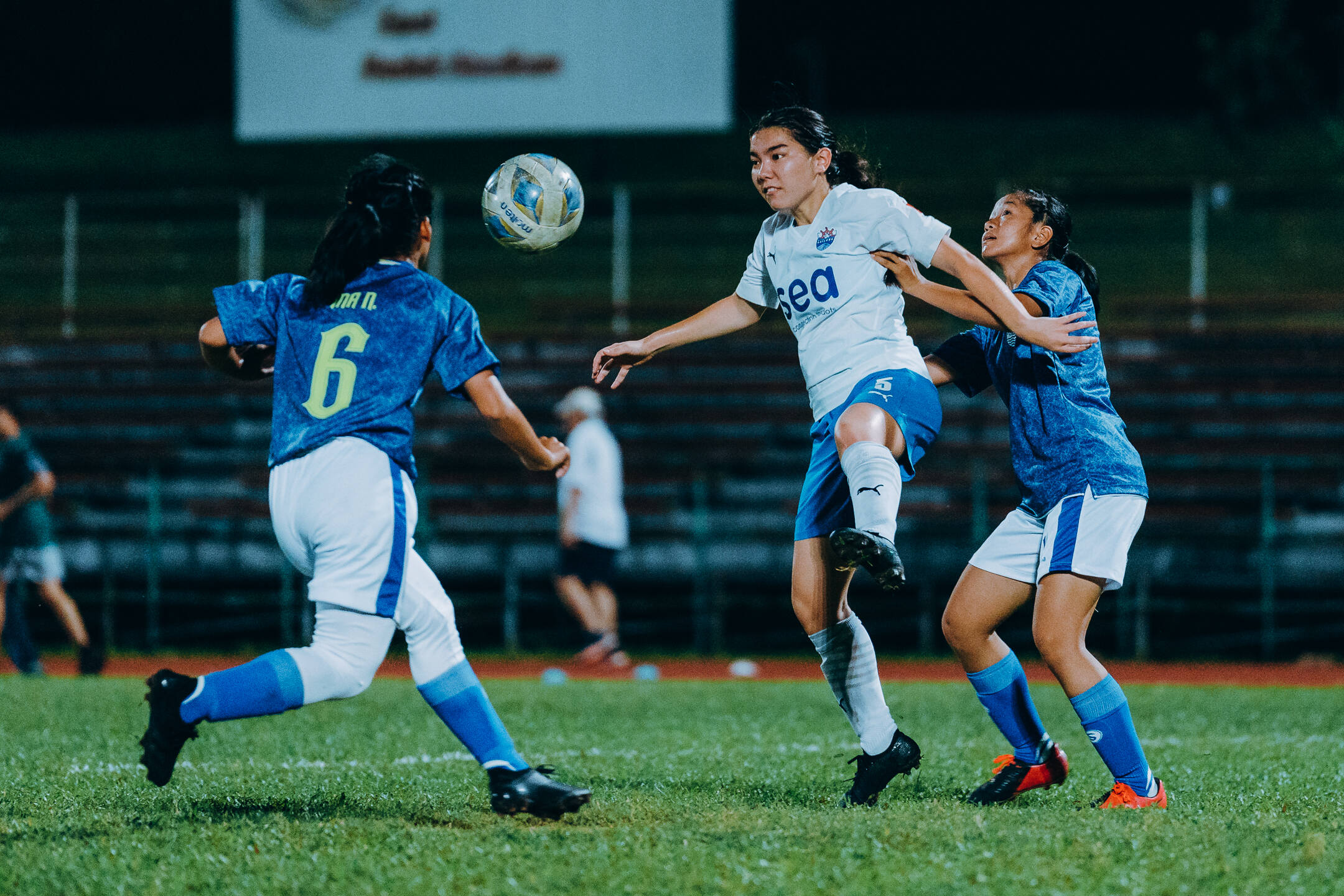 Goalscorer Miray is relishing the opportunity to play against higher-level opponents and seeing hard work on the training ground pay off. 
"It's definitely a huge test so far playing against these teams, and I knew before this tournament that I didn't want to miss this experience. Everyone in the team has been giving their 100 percent commitment to take this step up and the same goes for me," said the 17-year-old. 
"The feeling of scoring was really great. I've been trying that – getting the curl on the shot into the far post from a left-sided position – so I'm really glad I finally did it."
Now second in the four-team table behind Kaya who won both their games, the Sailors will look to end their WFC campaign on a high note when they entertain Thailand's Phranakorn FC at the German European School Singapore on Friday (21 October) night. 
A final Singapore Premier League (SPL) test awaits the Lion City Sailors as they take on the Young Lions at Jalan Besar Stadium on Friday (21 October) evening. 
This comes after a hard-fought 3-1 away victory over Tanjong Pagar United in their penultimate game, where Gabriel Quak came off the bench to net a match-winning brace. 
Looking ahead to their clash against the developmental outfit, Sailors interim Head Coach Luka Lalić has called for his charges to be ruthless in front of goal while keeping things tight at the back.
"I hope to see us put away the chances that come our way and finally end the game with a clean sheet to boot. 
"Against Tanjong Pagar (on 14 Oct), we did not exactly do that and missed a host of chances but I'm optimistic we will improve in this aspect," reflected the 35-year-old, whose side's last clean sheet came in a 7-0 win over Tanjong Pagar on 20 August. 
"Some of the things we tried in that game were also not up to my expectations and we will be looking to try new variations this time around."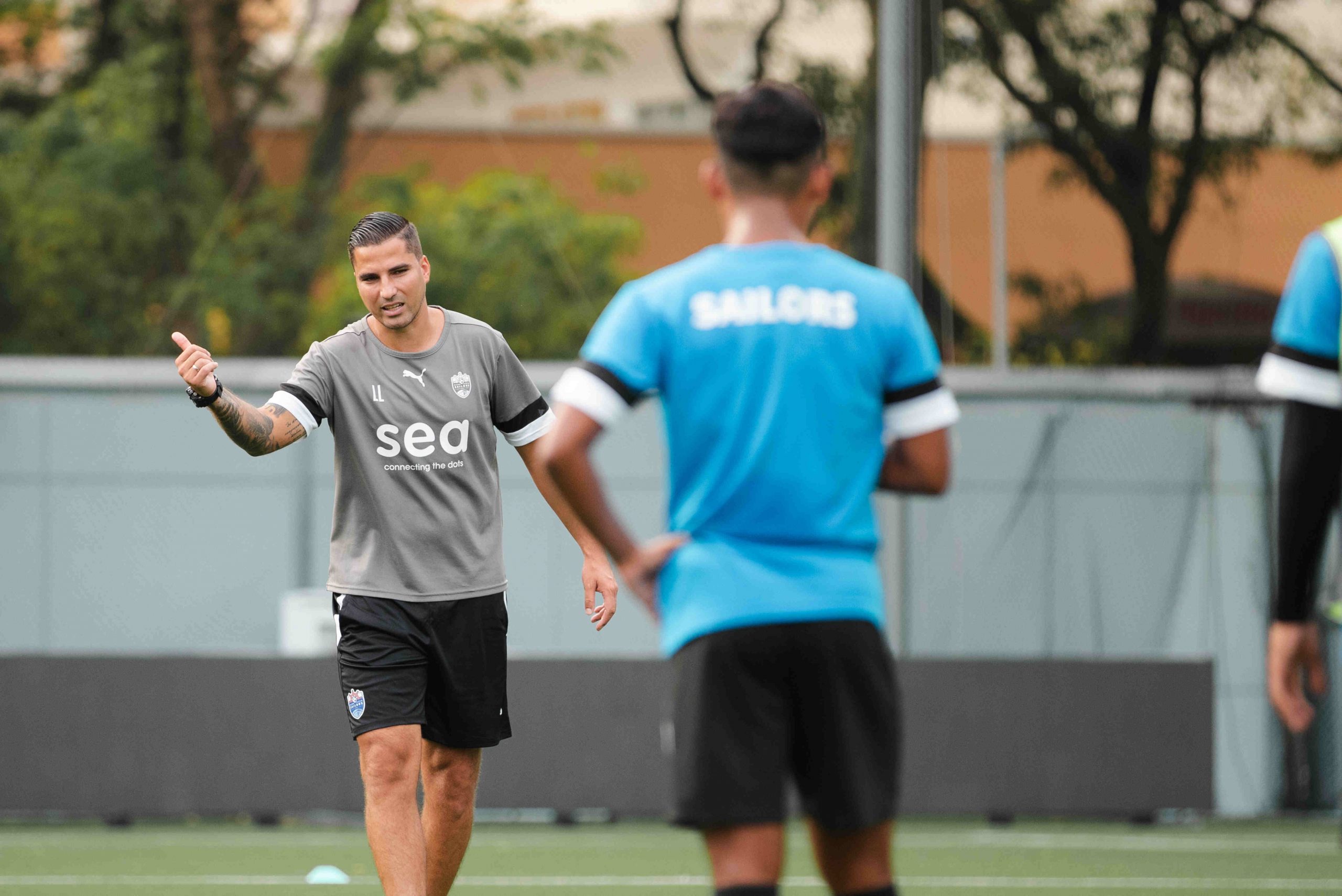 Luka also acknowledged that Nazri Nasir's side will be no pushovers and have the ability to hurt anyone on their day. 
"This is a different Young Lions team from the ones we played previously," he noted. 
"From their last game against Hougang, it's clear they have some good players and we shouldn't be taking this game lightly at all."
Regardless of the result, the Sailors – who have 54 points from 27 games – will finish as runners-up behind newly-minted champions Albirex Niigata (S). 
In spite of that, midfielder Adam Swandi believes there is still plenty to play for, with the Sailors looking to make amends in their Singapore Cup debut after being dethroned as SPL champions. 
Luka's men play host to Balestier Khalsa in their Group A opener on Thursday (27 October).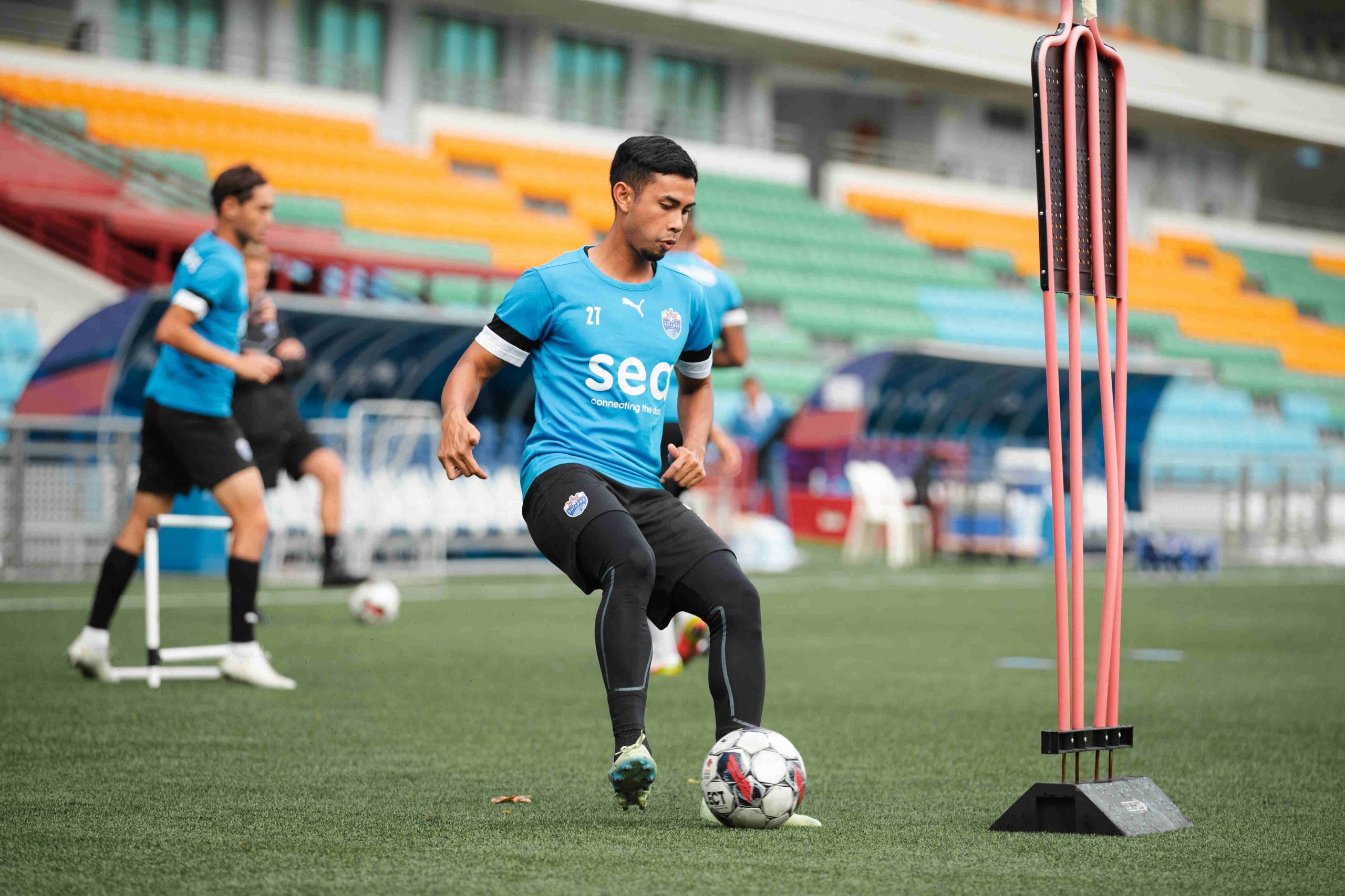 "We are all professional players who go into each game wanting to win them," the Singapore international asserted. 
"While the result will not change anything in terms of league positions, a victory would boost our morale and we want to win this game with style."  
Three points here will go a long way in repaying the faith of the club's supporters, Adam added. 
"Our fans have stuck with us through thick and thin and they are the best 12th man one can ever ask for," the 2018 SPL Young Player of the Year said.
"Although we didn't manage to retain the SPL this season, we hope to give them something to cheer about with a result (against Young Lions) and go into the Singapore Cup with a positive mindset." 
The Lion City Sailors Women's team acquitted themselves well against Kaya FC-Iloilo in their Women's Football Championship (WFC) 2022 opener on Monday (17 October) night at the German European School Singapore, despite falling 3-1 to the Philippines side.  
The Sailors women trailed two-nil at half time courtesy of a quick-fire brace from Philippines international Dionesa Tolentin, but showed great spirit in the second period and halved the deficit through a 30-yard screamer from Canadian midfielder Madison Telmer in the 74th minute. 
The 2022 Deloitte Women's Premier League (WPL) champions were relentless in the dying stages and went agonisingly close to grabbing an equaliser through substitute Nur Syazwani Ruzi, before Rochelle Mendano netted a long-range strike on the stroke of full time to seal the win for the visitors. 
Sailors Women Head Coach Yeong Sheau Shyan was pleased with how her charges adapted to the higher intensity of play and showed signs of getting to grips with regional club football. 
"In the first half, we were admittedly off-pace because we're not used to playing that quickly and playing against such technically adept players. But in the second half, the girls settled down and got better as time went on," said the 44-year-old.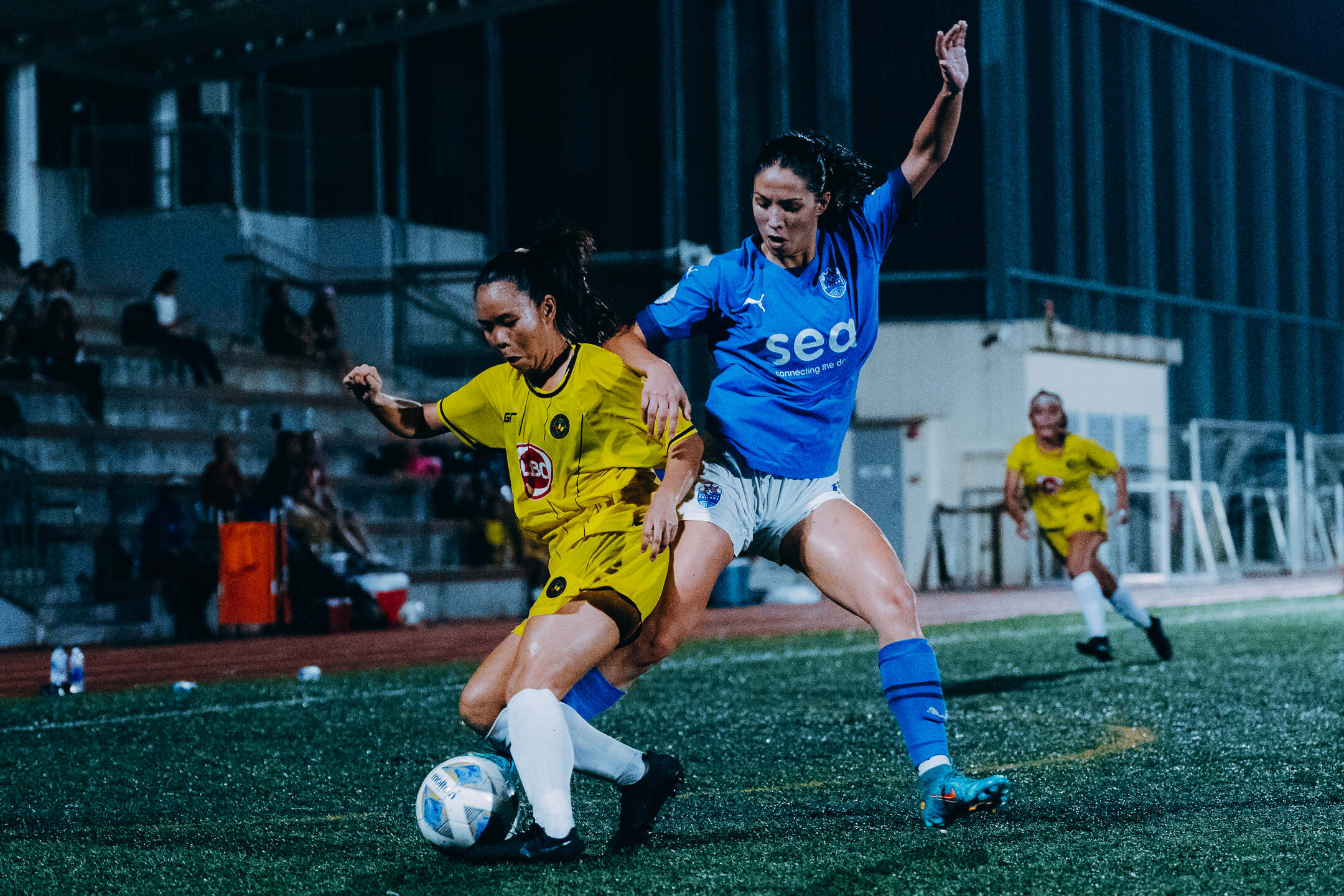 "I was pleasantly surprised by how good their fitness is – they were still chasing and running until the final minute. Overall, it's a great test. We definitely need matches like these to progress as a team and properly challenge our players to take the next step." 
Goalscorer Madison sang from the same hymn book and is already looking forward to the next two WFC matches. 
"Everyone in the team was fighting so hard for each other in the second half and we showed that we can match the standards of a team that is one of the better ones in this region," commented the 18-year-old. 
"It was an incredible feeling to score – I couldn't believe it at first but was exhilarated when the ball hit the back of the net. Overall, we enjoyed the game and we just can't wait to get out there again for the next two games."
The game against Kaya also saw two Under-16 players featuring for the Sailors. Ardhra Arul Ganeswaren filled in at left back for rested skipper Ernie Sulastri and lasted 70-odd minutes before being subbed off, while Cara Chang came on as a second-half substitute and showed promise on the left wing. 
Sheau Shyan lavished praise on the duo. 
"It's not easy for them to play in this game. Ardhra had some difficulties at the start, but settled down and showed that she is comfortable enough to keep possession of the ball on a few occasions. 
"Cara did very well to keep up with the pace and intensity towards the end. We definitely have some good young players coming up," she said. 
The Sailors will next play Indonesia's Persib Bandung Putri on Wednesday (19 October), before ending their WFC campaign against Thailand's Phranakorn FC on Friday (21 October). 
A week after being dethroned as Singapore Premier League (SPL) champions, the Lion City Sailors showed resolve to dig deep and claim a 3-1 victory over a gritty Tanjong Pagar United side away at Jurong East Stadium on Friday (14 October) night. 
A terrific Diego Lopes volley was cancelled out by Shodai Nishikawa's header, before Gabriel Quak came off the bench to devastating effect with a clinically-taken brace that turned one point into three. 
The Sailors could have won by a larger margin and killed off the game much earlier, if not for a combination of some wasteful finishing and masterful goalkeeping by Tanjong Pagar goalkeeper Zharfan Rohaizad. 
Sailors interim Head Coach Luka Lalić gave praise to his charges for halting a four-match losing streak, but acknowledged that there is still room for improvement ahead of a maiden Singapore Cup campaign in late October.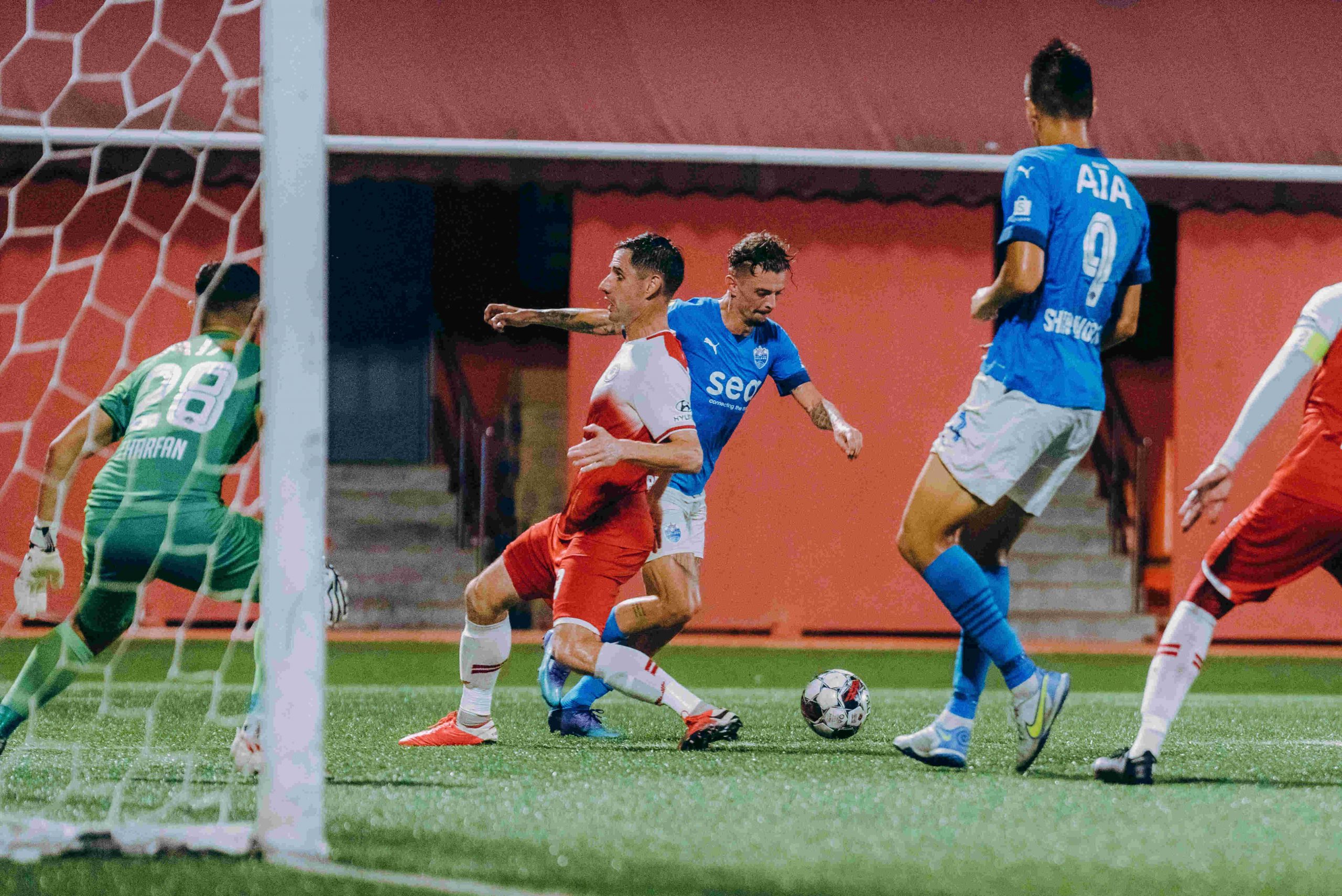 "I have to give credit to the guys for coming through with a win – they've been working hard to get this winning feeling back and we have to keep this going," said the 35-year-old. 
"We could have ended this game much earlier if we had finished the chances we had, but we didn't and paid the price by conceding a goal. That made the game more complicated for us, but we still got the result in the end. 
"We'll have to continue to work on things defensively because we're still allowing things to go through too easily for my liking and, of course, use our chances better in the upcoming games."
Luka stayed true to his pre-match declaration and put out a strong lineup against a Tanjong Pagar side, who are chasing for Asian Football Confederation (AFC) Cup qualification and keen to put up a good show for their fans in what was their last home game of the season. 
The Sailors were dominant in the early stages with Kim Shin-wook denied by the bar, before taking a deserved lead in the 17th minute.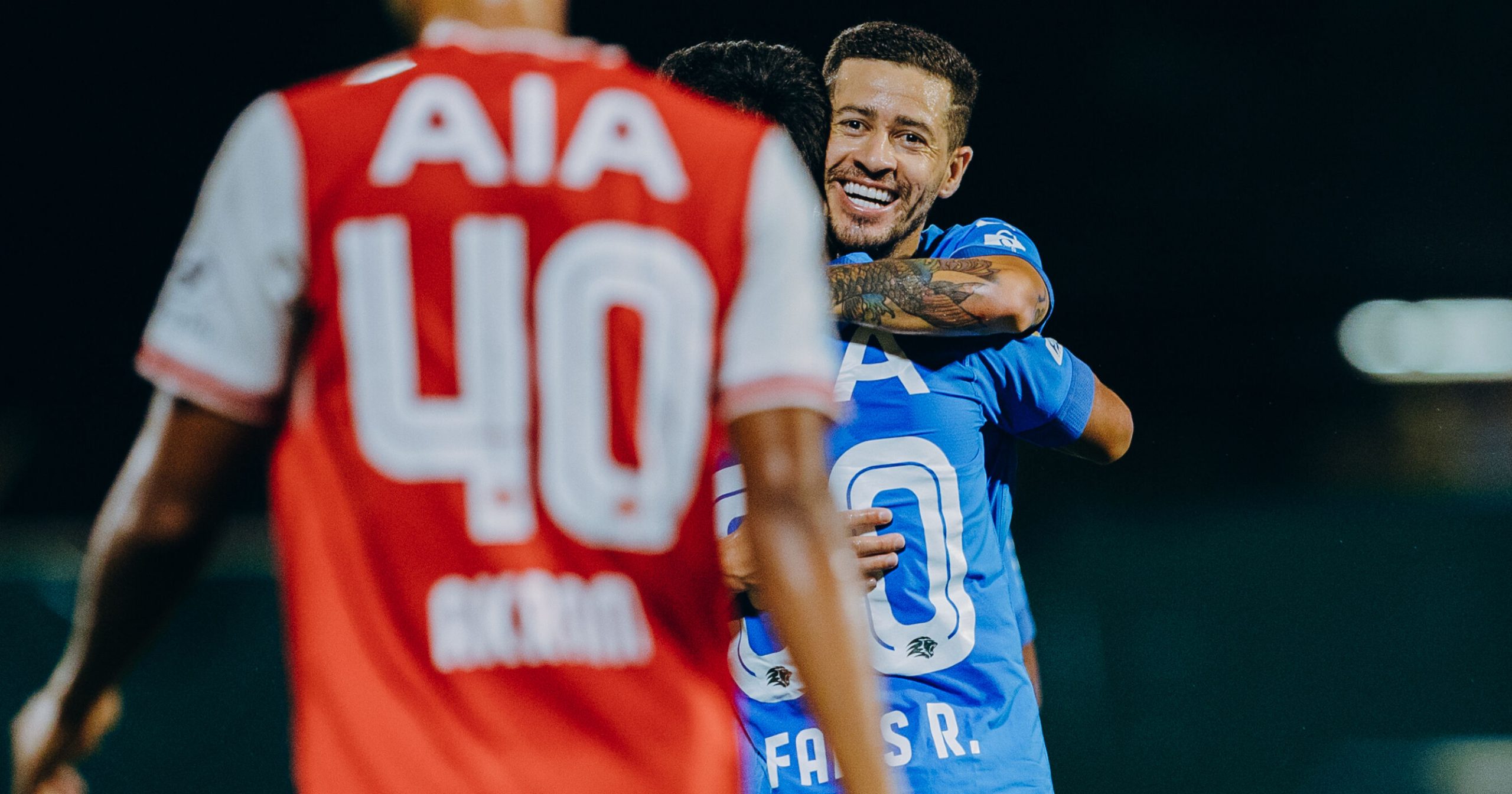 Keeping his eyes firmly fixed on Faris Ramli's inch-perfect cross, Diego connected with a sweet volley that nestled right into the bottom right corner of the Tanjong Pagar goal. 
That meant the Brazilian midfielder has scored in all four outings against the Jaguars this season, netting a total of seven goals. 
Luka's men then carved out several chances to extend their lead, but Zharfan stood tall in the Tanjong Pagar goal, pulling off some amazing saves to keep his team in the game. Shin-wook also missed a sitter, while Saifullah saw a wonder volley denied by the woodwork as the scoreline somehow stayed at 1-0. 
Tanjong Pagar rode through the storm and found an equaliser on 73 minutes, with Nishikawa sneaking in at the back post to nod past Izwan Mahbud after Khairul Nizam had knocked an Aqhari Abdullah cross into his path. 
But the Sailors regained the lead immediately from kickoff, with Gabriel benefitting from an excellent Maxime ball over the top to fire a sharp finish past a helpless Zharfan. 
At the other end of the pitch, Izwan did well to deny Reo Nishiguchi in a one-on-one situation and that seemed to spark the Sailors into action.  
Found by yet another exquisite Maxime cross in the 89th minute, Gabriel did the rest with a crisp volley to notch his 11th goal of the season and bag the Man-of-the-Match award for good measure. 
Having hit double digits for two seasons running, Gabriel is driven to help the Sailors end the year on a high note. 
"I have faith in my own abilities and believed that I could come on and make a difference. I'm just glad that I'm able to contribute to this victory," said the 2020 SPL Player of the Year. 
"It's not easy to get back up after losing four games, but the team showed character and fought till the end. But we cannot be content with this victory, we have to continue to put in the hard work and go into the Singapore Cup in good shape. That's the only way to repay our fans."