Author:
Lion City Sailors
A late goal. A matchwinner. A perfect parting gift.
The script could not have been written any better for Lion City Sailors Women's team forward Paula Druschke.
Playing her final game for the Sailors last evening (21 May) before returning to Germany following the end of her school exchange programme, Paula was determined to leave the club with a bang.
And the 20-year-old duly delivered.
With the Sailors unable to find a way past a resolute Tampines Rovers side in their Deloitte Women's Premier League (WPL) fixture at Choa Chu Kang stadium, Paula was sent on from the bench to provide more goal threat for her side.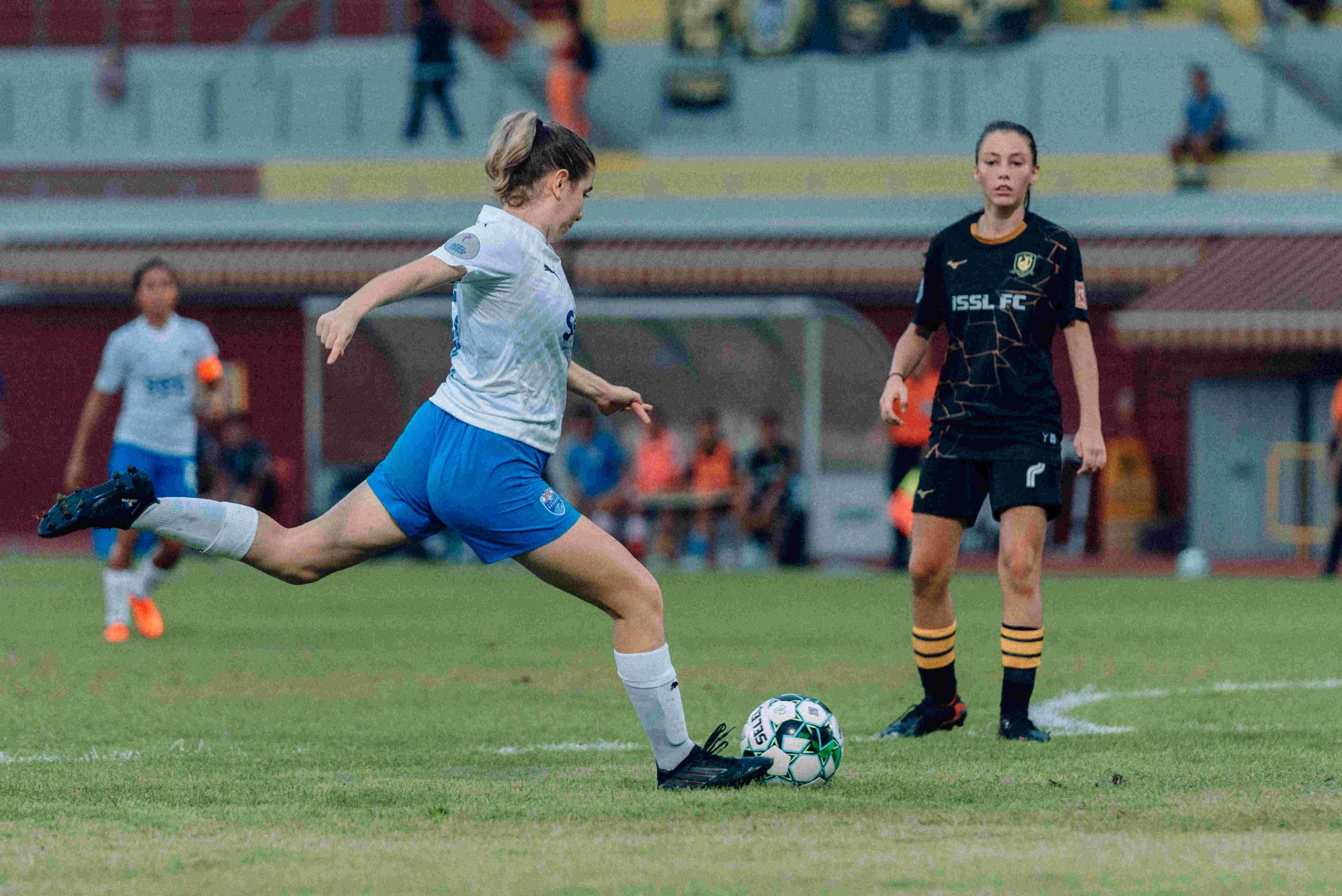 It proved to be a masterstroke, as she produced a moment of magic in the 87th minute – a first-time curler with her left-foot that sent the ball into the top corner of the net – to secure a 1-0 win for the reigning WPL champions.
"That goal was something every one of us wanted so badly for Paula," Sailors Women Head Coach Yeong Sheau Shyan said. "Paula's brought a lot of energy and laughter to the team. She's always raring to go, ready to run at defenders with the ball, and gives her all in every training session and match.
"The team adores Paula, not just as a player but as a person. She's family forever and we will miss her a lot."
However, while the Sailors' night ended on a good note thanks to Paula's goal, Sheau Shyan admitted that the outcome of the game could have easily turned out differently.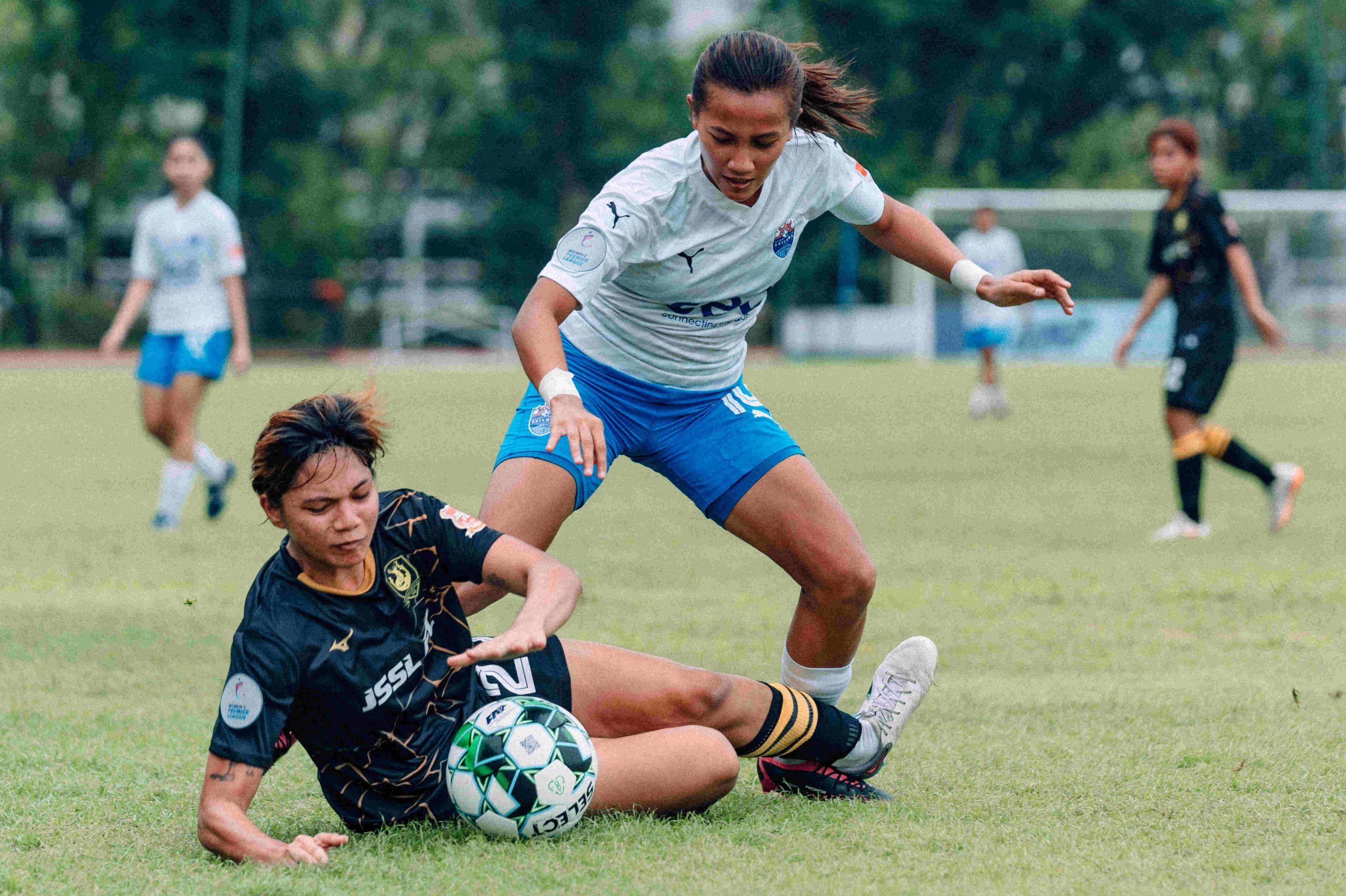 "The game really could have gone either way today. We were very fortunate that Paula gave us a valuable parting gift," Sheau Shyan mused. "Although it looked like we had good possession, we gave away the ball too often in the middle third. 
"Honestly, I was very concerned with the way we played in the first half.  We have seen enough games last season when the opponents took one chance to score despite us having more of the possession."
Sheau Shyan was especially concerned with her team's lack of penetration and cohesion in the attacking third.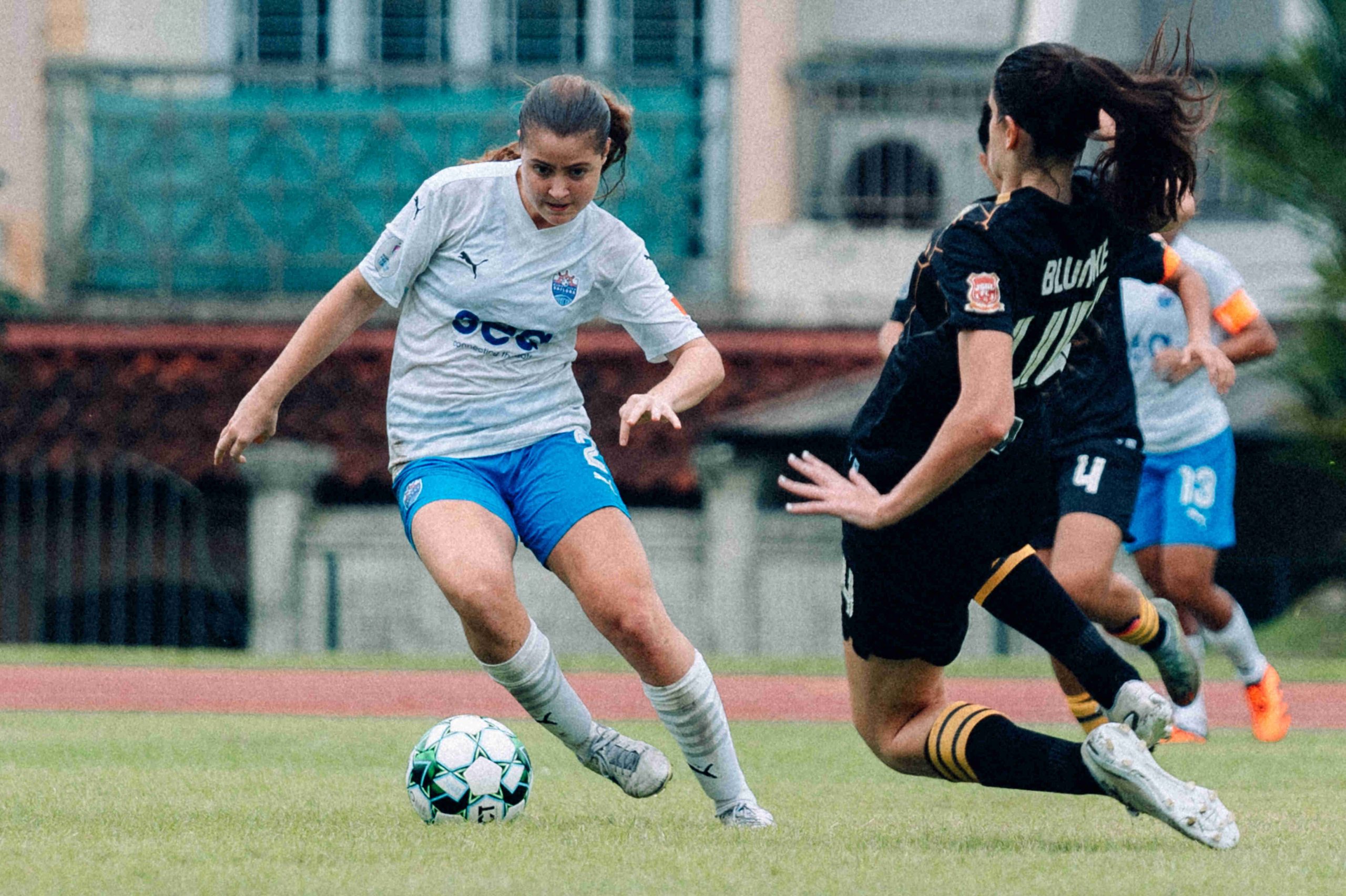 "Throughout the game, we were consistently getting into the attacking third on our right flank. But our conversion rate from crosses was zero. This has to be improved," Sheau Shyan elaborated. "As mentioned before the game, our team's preparations were disrupted for more than a month due to national team commitments, and we've always struggled to adjust back to our attacking style when the players return from their international duties.
"We must work on getting our groove back, to improve the players' movement off the ball in the attacking third. It's also important that we turn our possession into goals."
Nonetheless, Sheau Shyan praised her players for their persistence in getting the winner, as she added: "The players have a strong belief that we will score even when we are goalless for long periods in a match. They keep going at it, and I'm very proud of them for that. I think this shows that we've grown as a team in terms of composure."
The Sailors, who remain perfect this season with three wins in three games, will next take on Tanjong Pagar United this Saturday (27 May) evening.
They had the opportunity to close the gap on Singapore Premier League (SPL) leaders Albirex Niigata (S), but the Lion City Sailors were held to a 3-3 draw by a dogged Brunei DPMM side at Jalan Besar Stadium on Saturday (13 May) evening. 
After the Sailors had done brilliantly to come from behind to take the lead twice, Andrei Voronkov netted a 89th-minute equaliser to seal his hat-trick and steal a share of the spoils for Adrian Pennock's side. 
The result was enough for the Sailors to leapfrog Tampines Rovers – who face Tanjong Pagar United later today – into second in the nine-team SPL standings on goal difference. But it left Risto Vidaković's men wondering what could have been.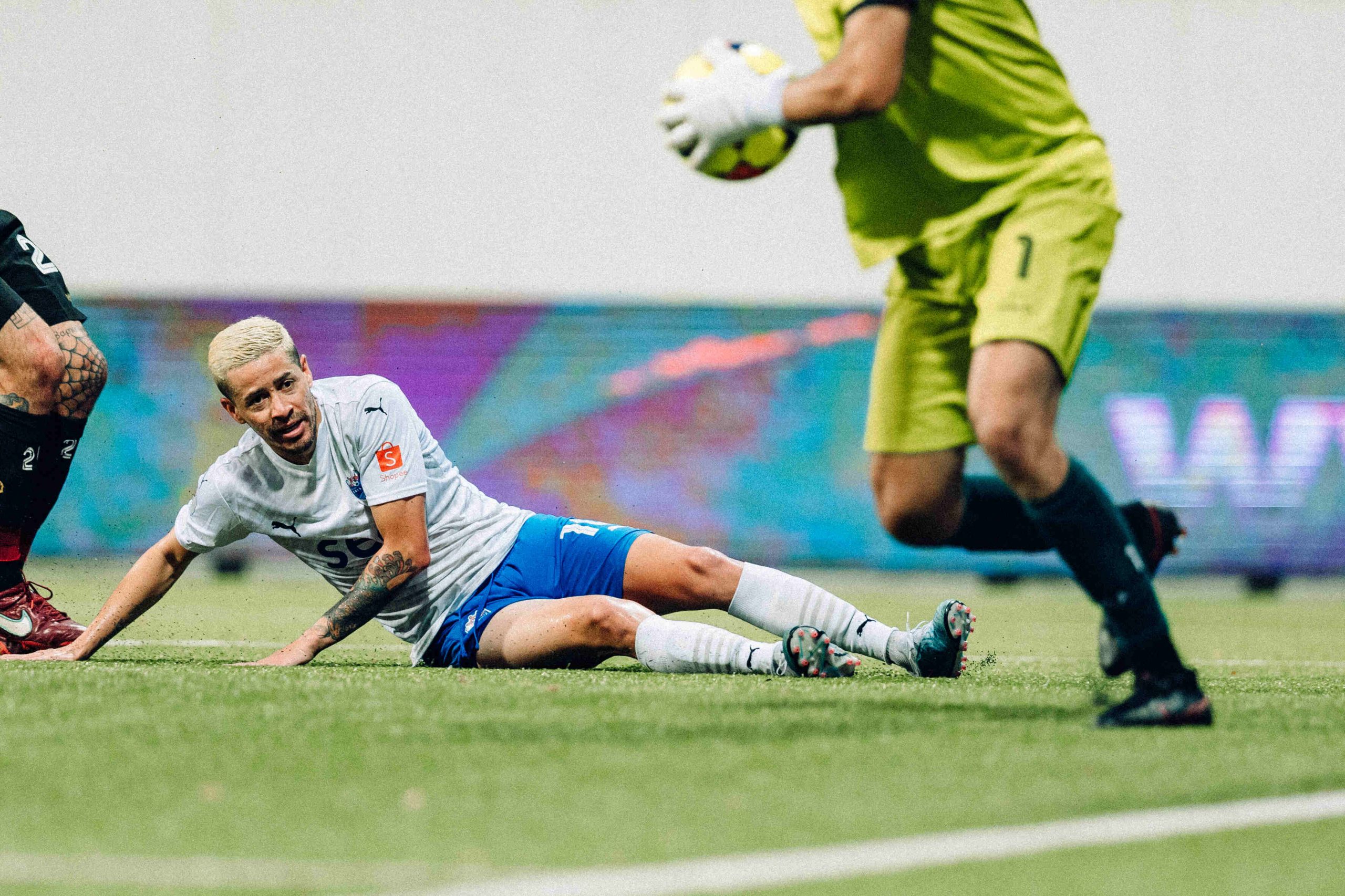 "I cannot fault my players, they gave everything today. The team played a good game and this is football, sometimes unpredictable," the Sailors head coach said after the match. 
"We have to look forward. We are playing good football. I can tell that the team is growing. We are improving and taking a step in the right direction." 
Just like their 2-1 win over Geylang International last week, it was a case of déjà vu when the Sailors found themselves behind early in the game with Voronkov nodding home Hakeme Yazid's corner after just four minutes. 
The opener sparked the Sailors into life and they nearly got an immediate response down the other end, but Bernie Ibini-Isei and Maxime Lestienne failed to put their chances away.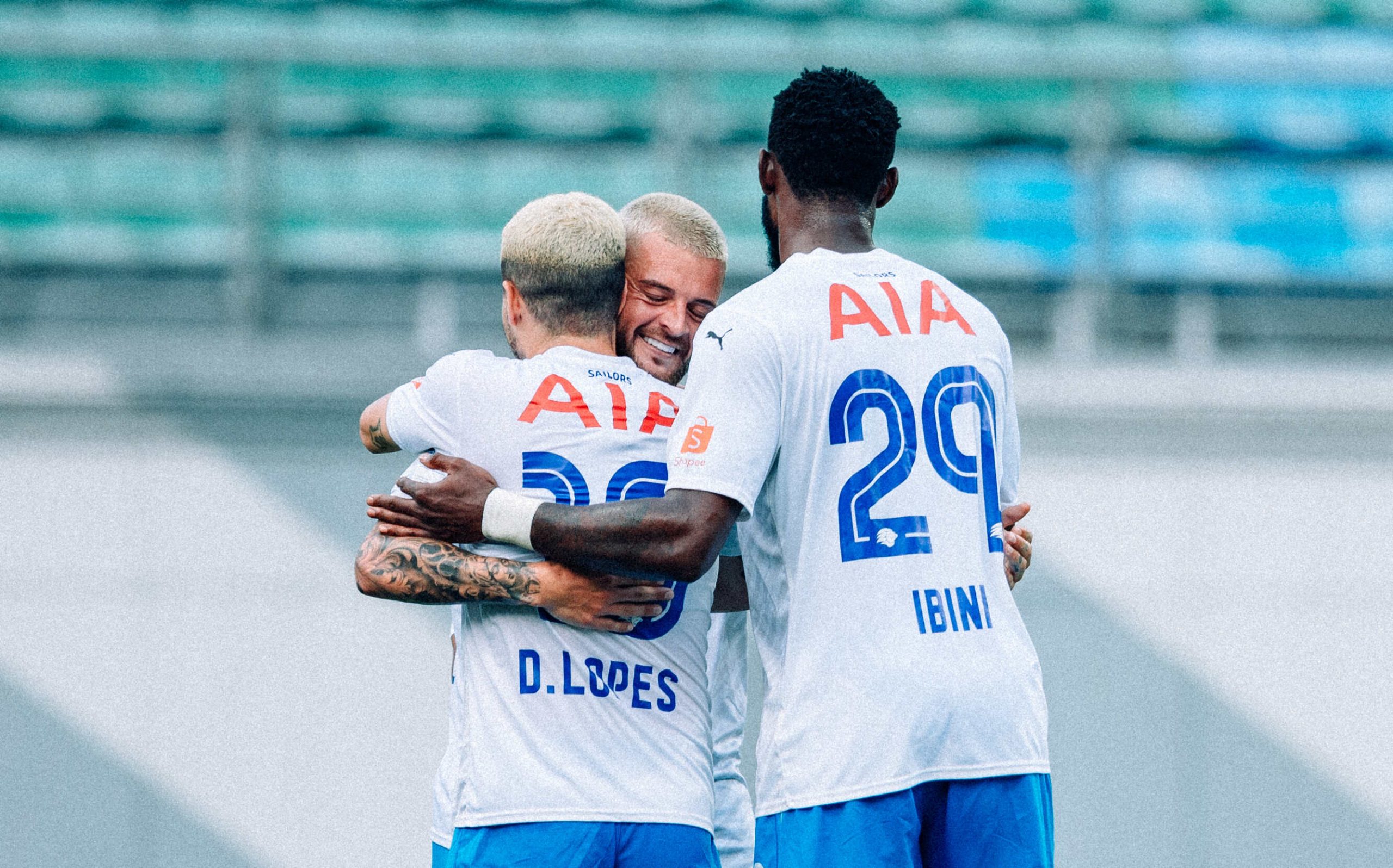 It did not take long for the visitors to equalise, however, with Diego Lopes sweeping home Maxime's cutback on 15 minutes. 
Diego would return the favour four minutes later as his laser-guided through pass picked out the run of Maxime, who proceeded to curl the ball beyond DPMM custodian Akmal Tursunbaev with trademark precision.
But DPMM levelled matters again on the half-hour mark. 
The lurking Voronkov was quickest to react after Sailors custodian Zharfan Rohaizad could only parry Abdul Azizi Rahman's effort into his path.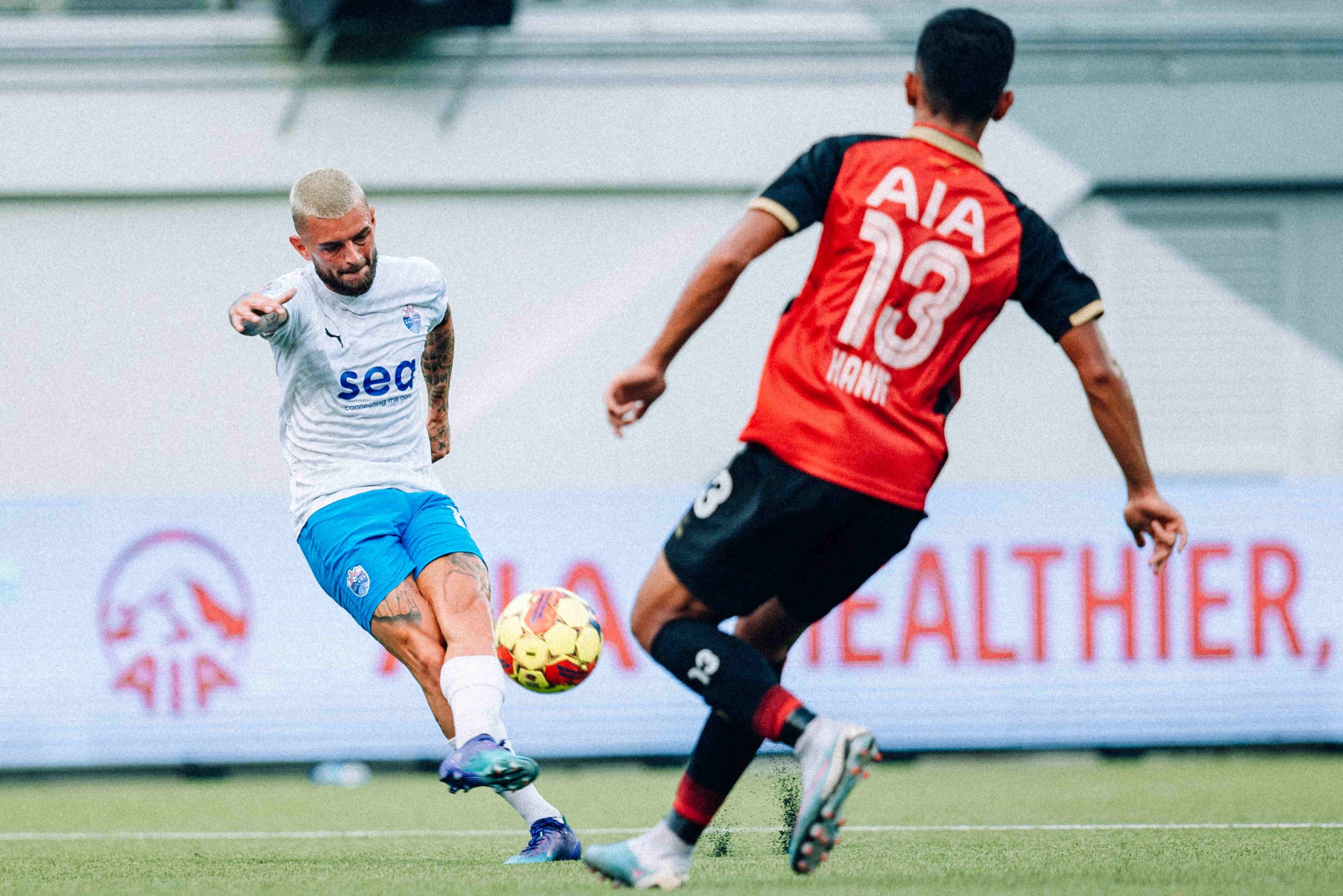 The Sailors would then retake the lead for a second time on the night just before the interval. 
It was the combination between Diego and Maxime yet again, with the former slipping the ball through to his Belgian teammate down the right with a smartly taken quick free-kick. 
Maxime still had work to do as he cut inside Angel Martinez to drill an unerring finish into Tursunbaev's far post for his 10th goal of the season, with the goal allowed to stand following a VAR check. 
Praising the duo, Risto said: "They know and understand each other's style of play and that makes it easy to have that kind of connection. Their teammates also have a good chemistry with the pair and that can only be a good thing for us."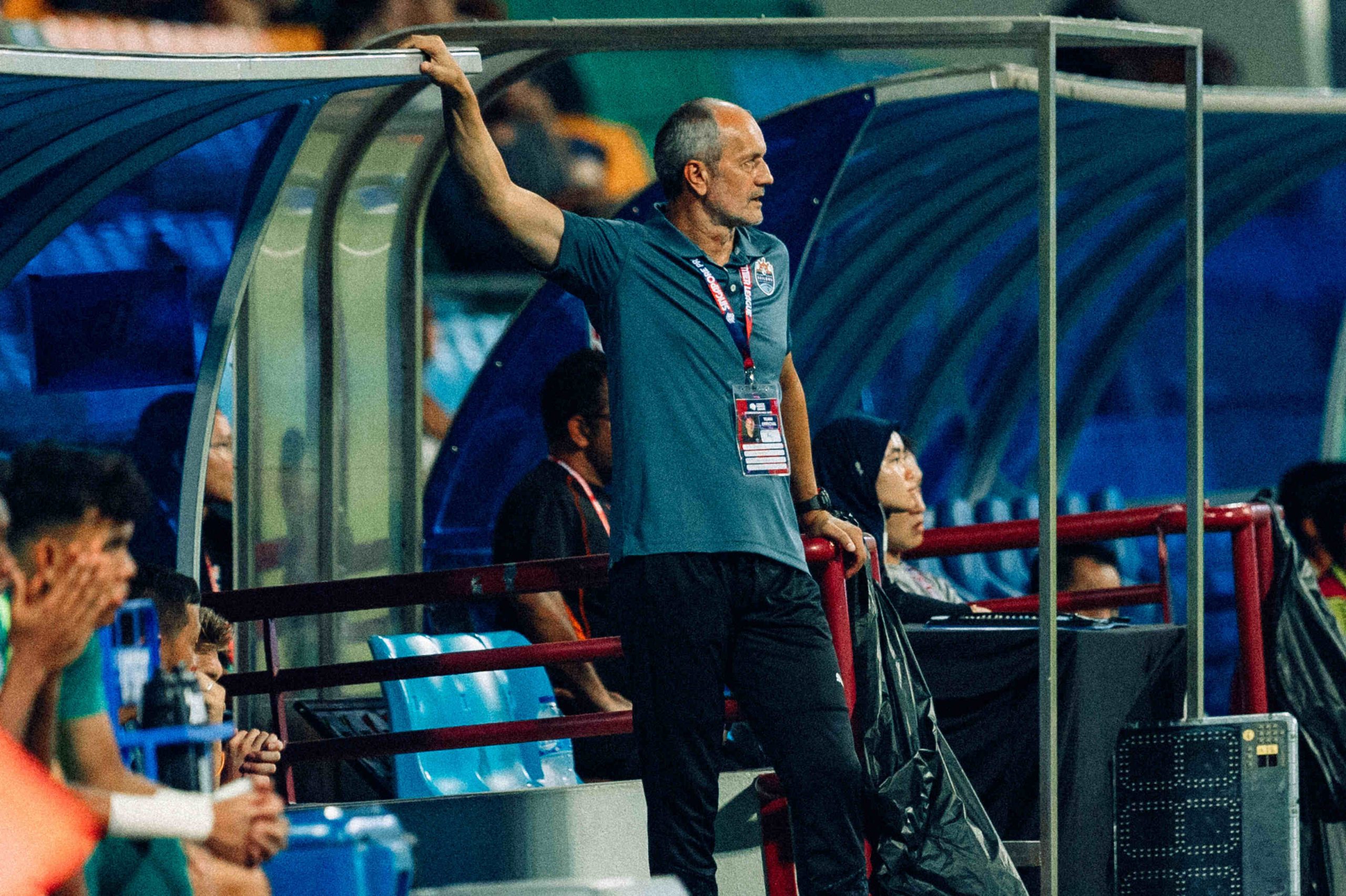 The second half was a stark contrast of the five-goal first half, with clear chances few and far between. 
Bernie and Shawal Anuar – a returning name to the Sailors starting line-up – both came close, but it was all the Sailors could muster after the restart. 
Just as the Sailors thought they had done enough for the win, Voronkov slammed home the loose ball at the death in the area to earn a point for the 2019 SPL champions. 
There was one final chance for the Sailors to steal a dramatic late victory shortly after, but Maxime could only drag his right-footed effort wide. 
Risto still refused to pin any blame on his players.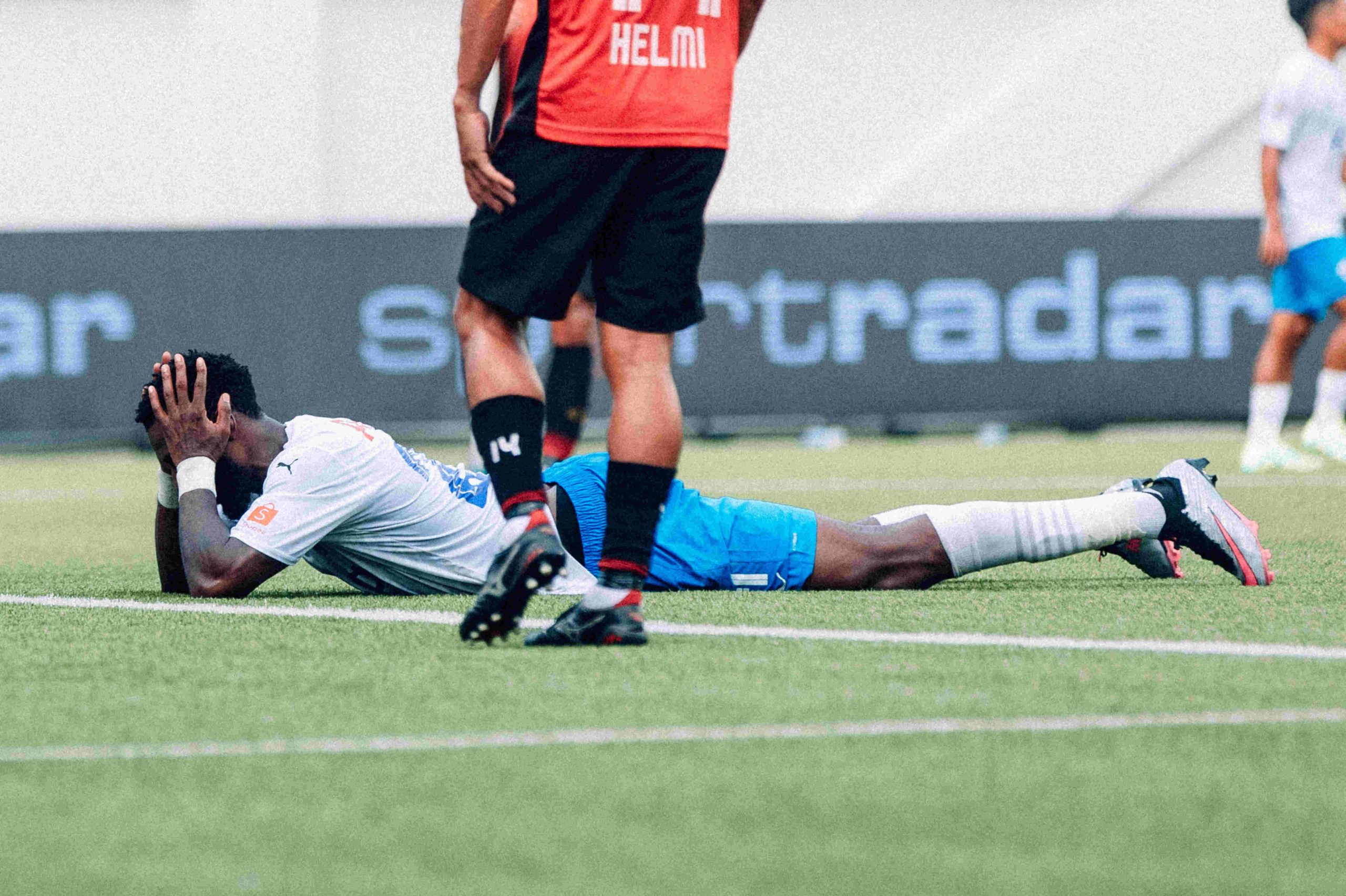 "We should have closed the game with the chances we created. They (DPMM) didn't do anything special in the second half, but got one chance and they scored," said the Serbian. 
"We now need to rest and recover well, analyse this game and see what we can improve on."
Midfielder Adam Swandi echoed Risto's sentiments. 
"All of us came into this game looking to get the three points, so we were naturally disappointed to concede late on. There's nothing we can do now, except to bounce back stronger in our next game," added the 27-year-old.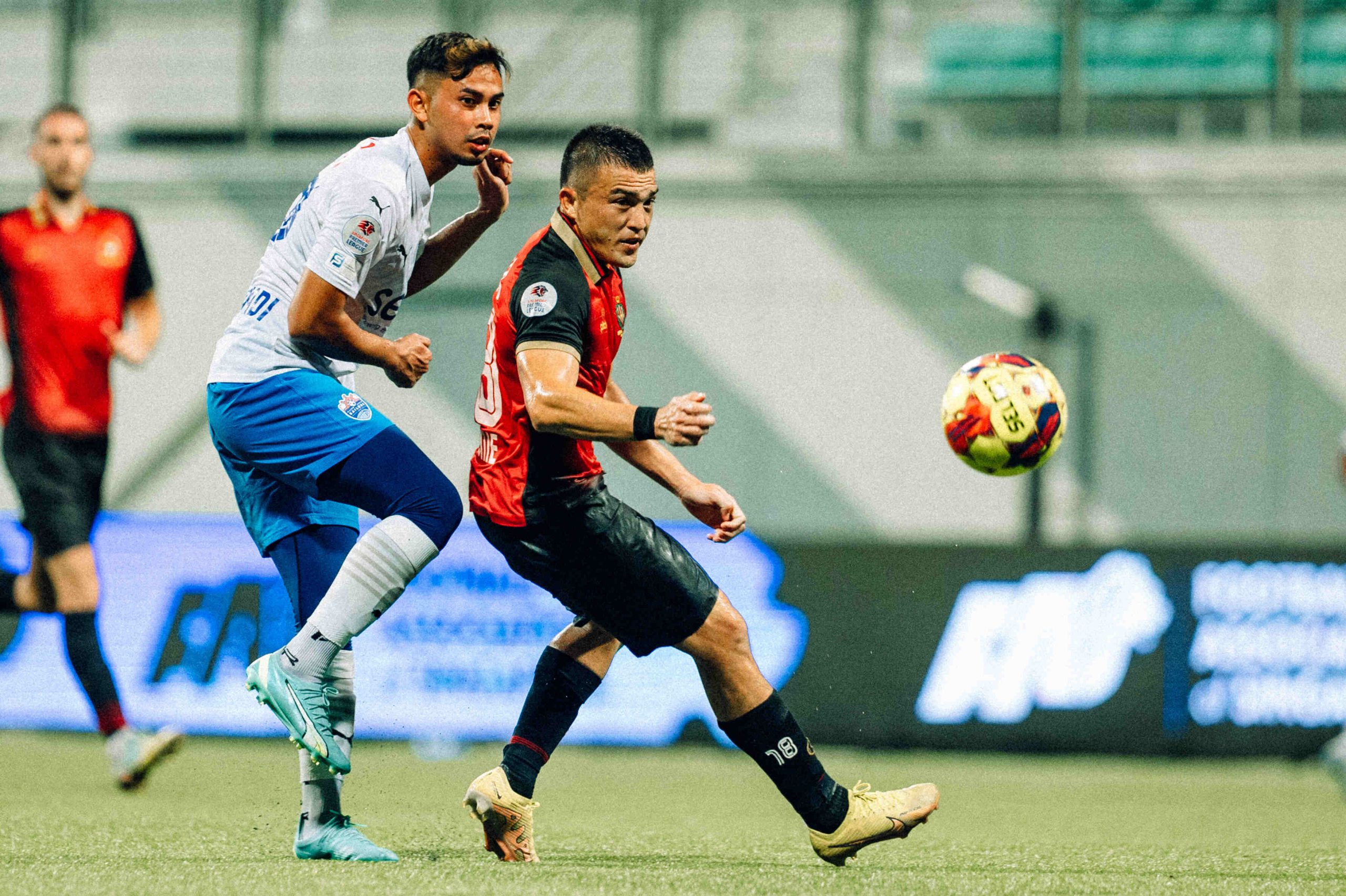 With Albirex up next in a huge clash at Bishan Stadium on Sunday (21 May), Adam has his eyes firmly set on taking down his former employers. 
"Albirex are comfortable at the top and we will go into this with everything we have," he declared.
"A win against DPMM would have set the stage nicely for this game, but we are definitely gunning for the three points to show that we mean business."  
The Lion City Sailors paid the penalty for their profligacy against the Young Lions on Saturday (15 April) night, as they were held to a 1-1 draw in the Singapore Premier League (SPL) by Philippe Aw's men at the Jalan Besar Stadium.
Despite taking an early lead through Maxime Lestienne, the Sailors just could not find the crucial second goal to put the game to bed, despite having more of the ball and fashioning the better chances.
They were eventually made to rue their failure to capitalise on their dominance late on, when Sailors centre-back Lionel Tan was adjudged to have impeded Jordan Emaviwe in the penalty box – with the latter then converting from the spot to equalise with what was the last kick of the game.
Labelling the late equaliser as "unlucky", Sailors head coach Risto Vidaković admitted that it was a momentary loss of focus that cost them the three points on the night.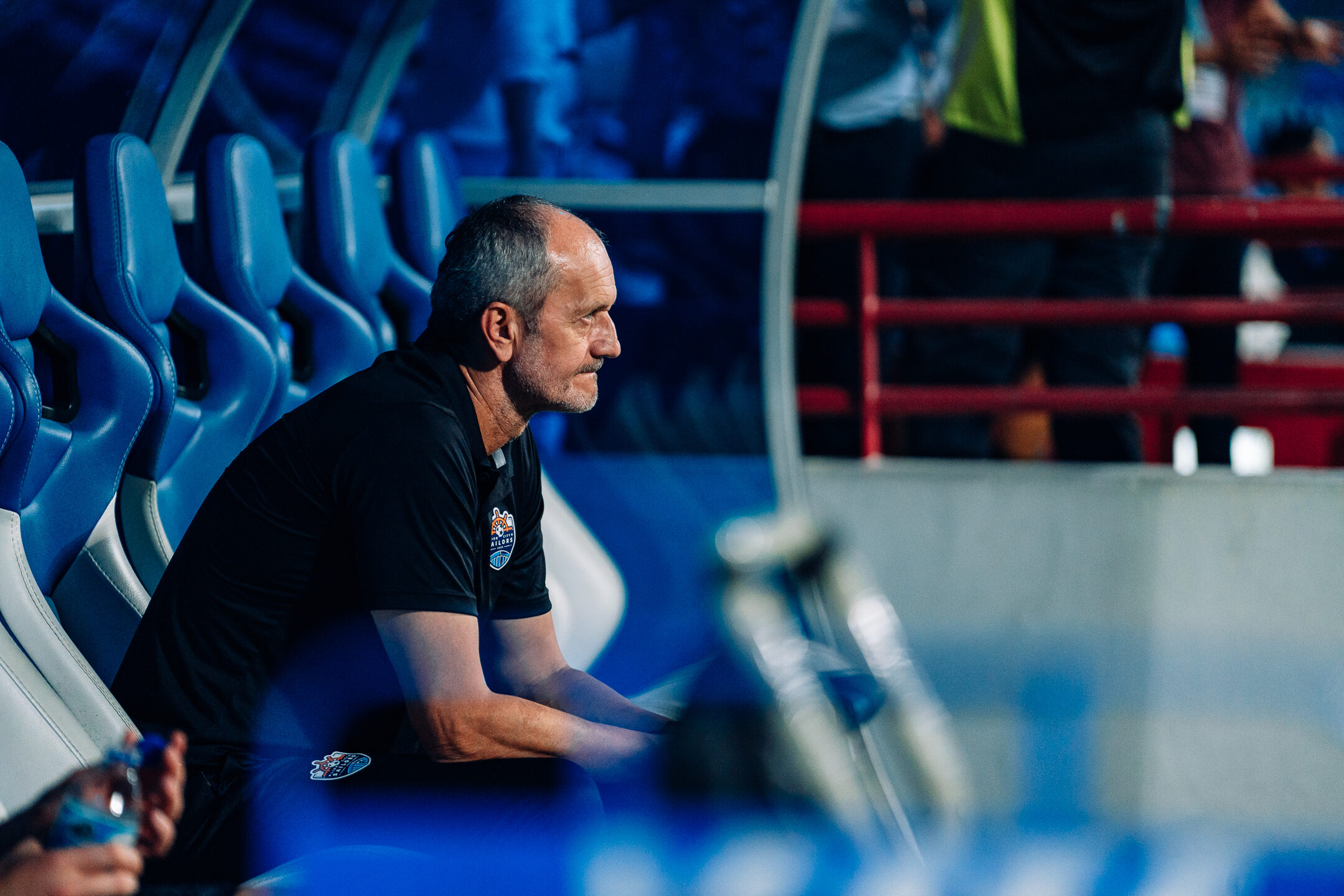 "In the end, we were unlucky in the last minute with the penalty, which I think came at a very bad moment for us," Risto reflected. "But in football, this can happen – you lose concentration at the last minute and commit a foul. It's something that can happen, and we just have to improve."
The night, however, started on a brilliant note for Risto's side as it took only six minutes for the in-form Maxime to open the scoring, with the Belgian meeting Diego Lopes' cutback and placing an unerring shot into the bottom corner for his sixth goal of the season. 
The Sailors continued to put pressure on the home side, and very nearly doubled their lead in the 29th minute when striker Abdul Rasaq Akeem uncharacteristically put his close-range effort off-target after being found in the box by stand-in captain Hafiz Nor.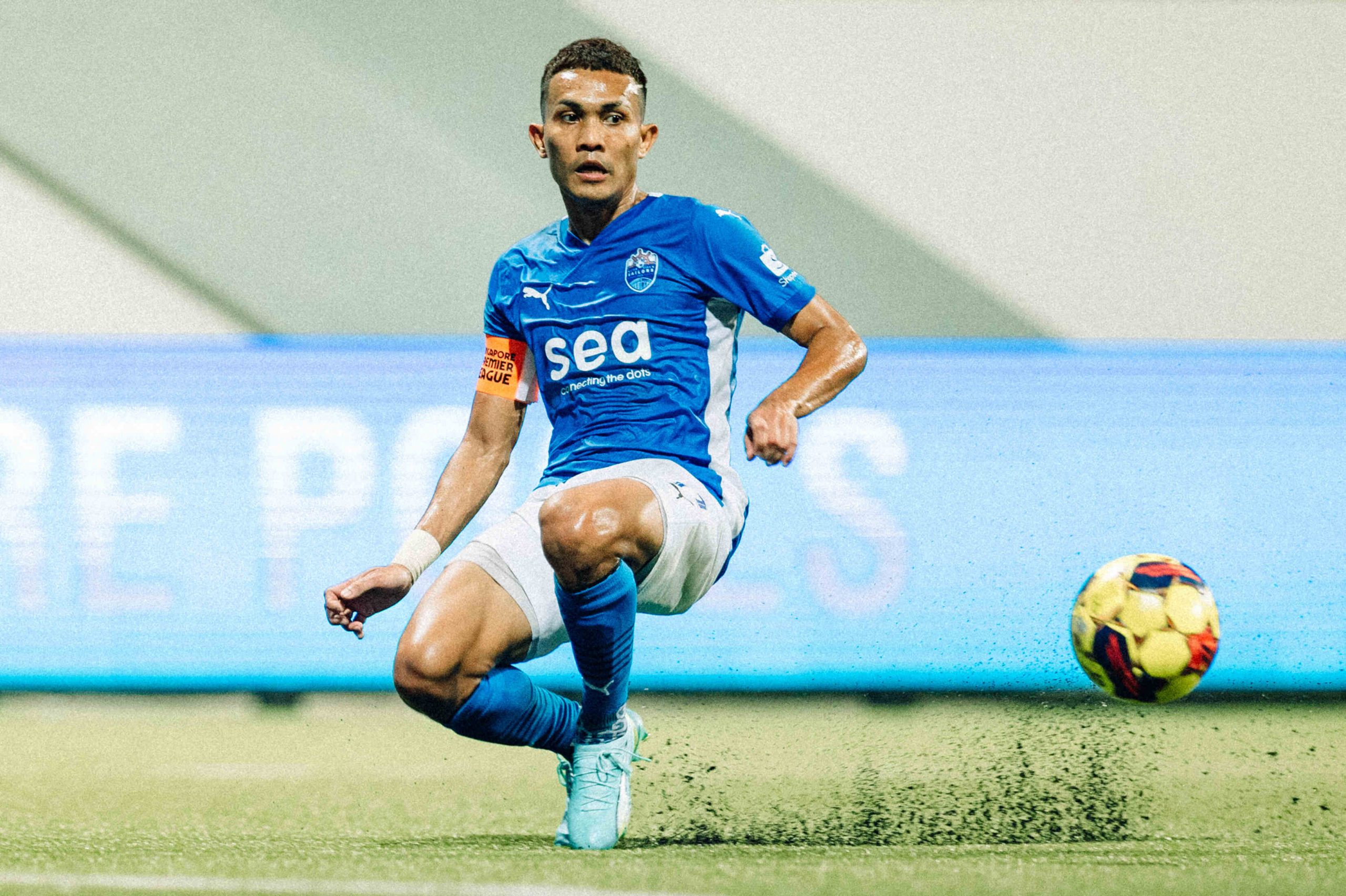 Hafiz wore the armband – in place of Hariss Harun who was sidelined by illness – in what was his 60th SPL appearance for the Sailors. 
The 34-year-old is now the top SPL appearance maker for the club, superseding Gabriel Quak who played 59 times between 2020 to 2022. 
While the Young Lions came out of the second half determined to put up more of a fight, the Sailors were still able to fashion several decent chances in front of goal, including substitute Shawal Anuar's first-time volley in the 71st minute that went just wide.
Maxime found himself through on goal, 15 minutes later, but his shot from a tight angle was denied by Young Lions custodian Aizil Yazid at the near post.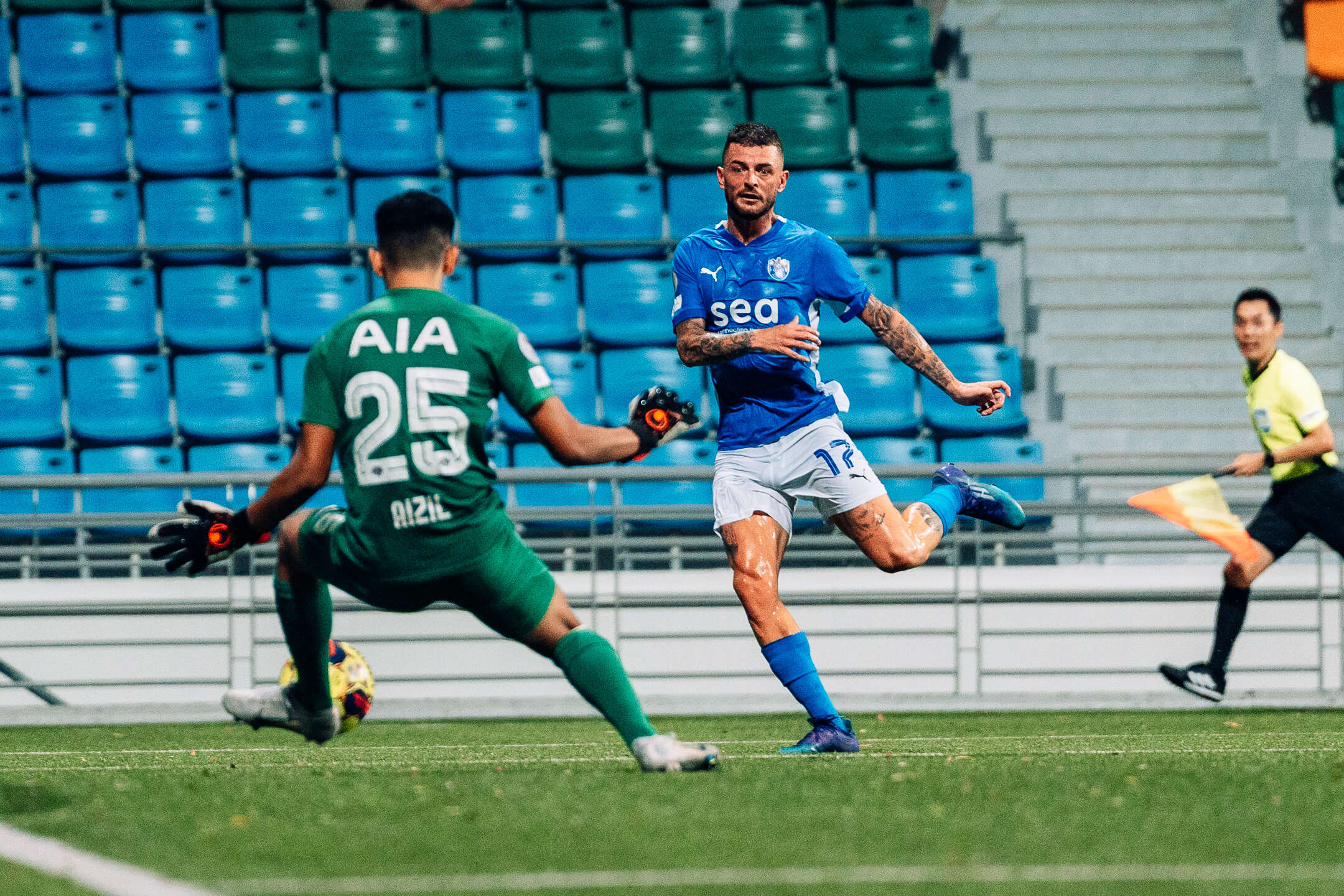 Those missed opportunities came back to haunt the Sailors as the Young Lions stole a share of the spoils from the spot nine minutes into injury time. 
Reflecting on the match as a whole, Risto said: "I expected a game like this. It was very competitive, they defended well, sat deep, kept compact, and gave us a physical battle. So it didn't surprise me that the Young Lions put up a fight, especially in the second half.
"However, we tried our best, but missed a lot of chances in the first half. Now, we have to rest and forget what happened in this game. We'll recover from this and try to play better in the next part of the season."
Sailors defender Súper (Manuel Herrera López), who was named Man of the Match, added: "We are very disappointed with the result today because we got one point, but we were looking for all three points.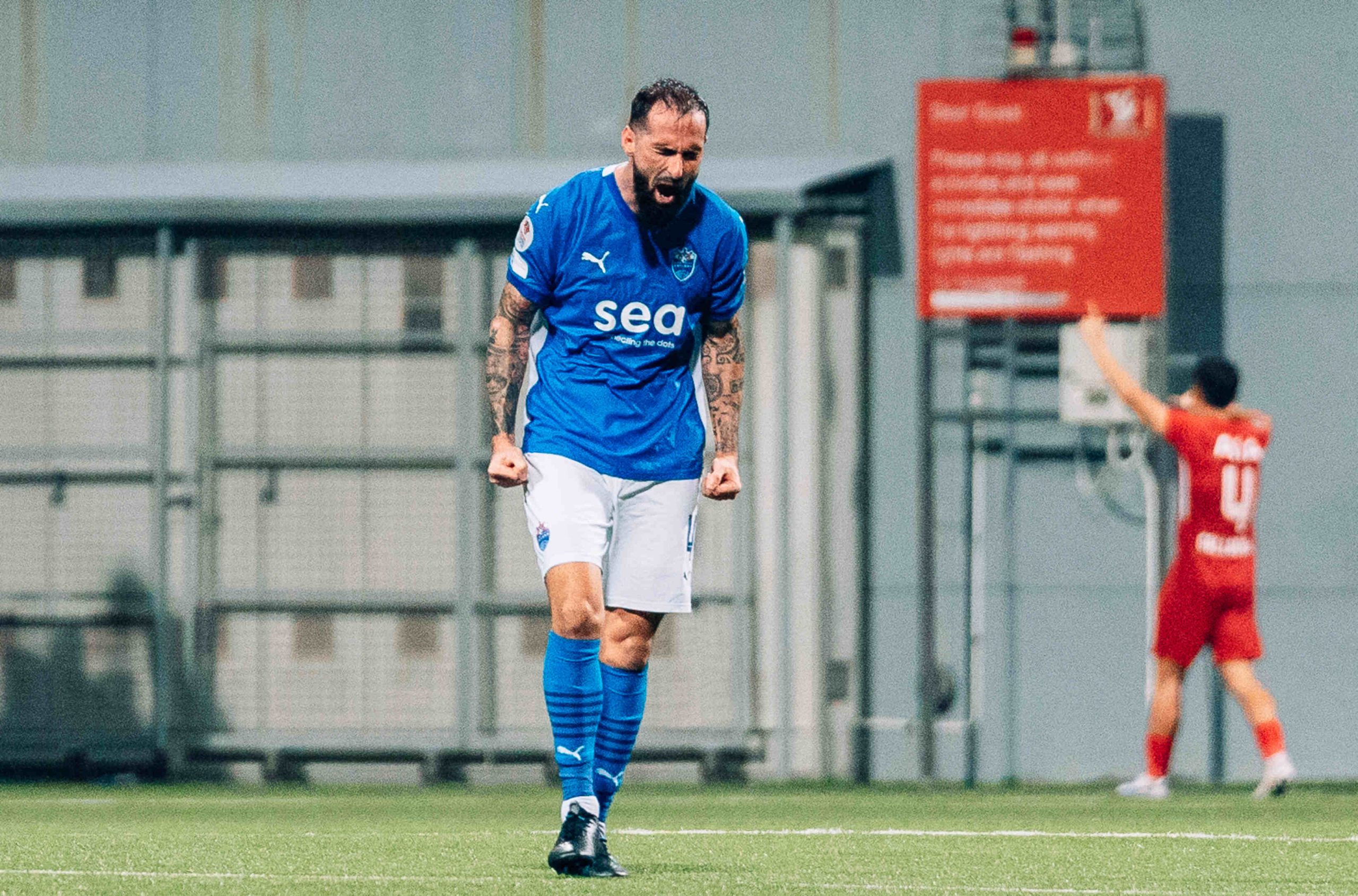 "Our promise to the fans is that we will keep working hard to improve in every department – from the defence to the midfield, to the strikers, and come back stronger."
The result leaves the Sailors second in the SPL, five points behind league leaders Albirex Niigata (S). The Sailors will next be in action on Sunday 7 May, when they go away to face Geylang International.
Last night (10 March) the Lion City Sailors returned to Jalan Besar Stadium for the first time since the club moved out of the venue for Bishan at the end of the 2022 Singapore Premier League (SPL) season. But the Sailors looked like they never left.
With Maxime Lestienne as conductor extraordinaire on Jalan Besar's artificial green stage, the Sailors waltzed around Hougang United, comfortably dispatching the Cheetahs 5-0. 
Magnificent Max scored two goals and set up another two for his teammates on the night, but he was quick to turn attention back to the team and the title race. 
"I'm very happy with what I was able to do today, but it was a team performance, especially from Diego (Lopes) and (Abdul) Rasaq (Akeem) who scored," said the Belgian, whose goal and assist tally for 2023 stands at five and eight respectively.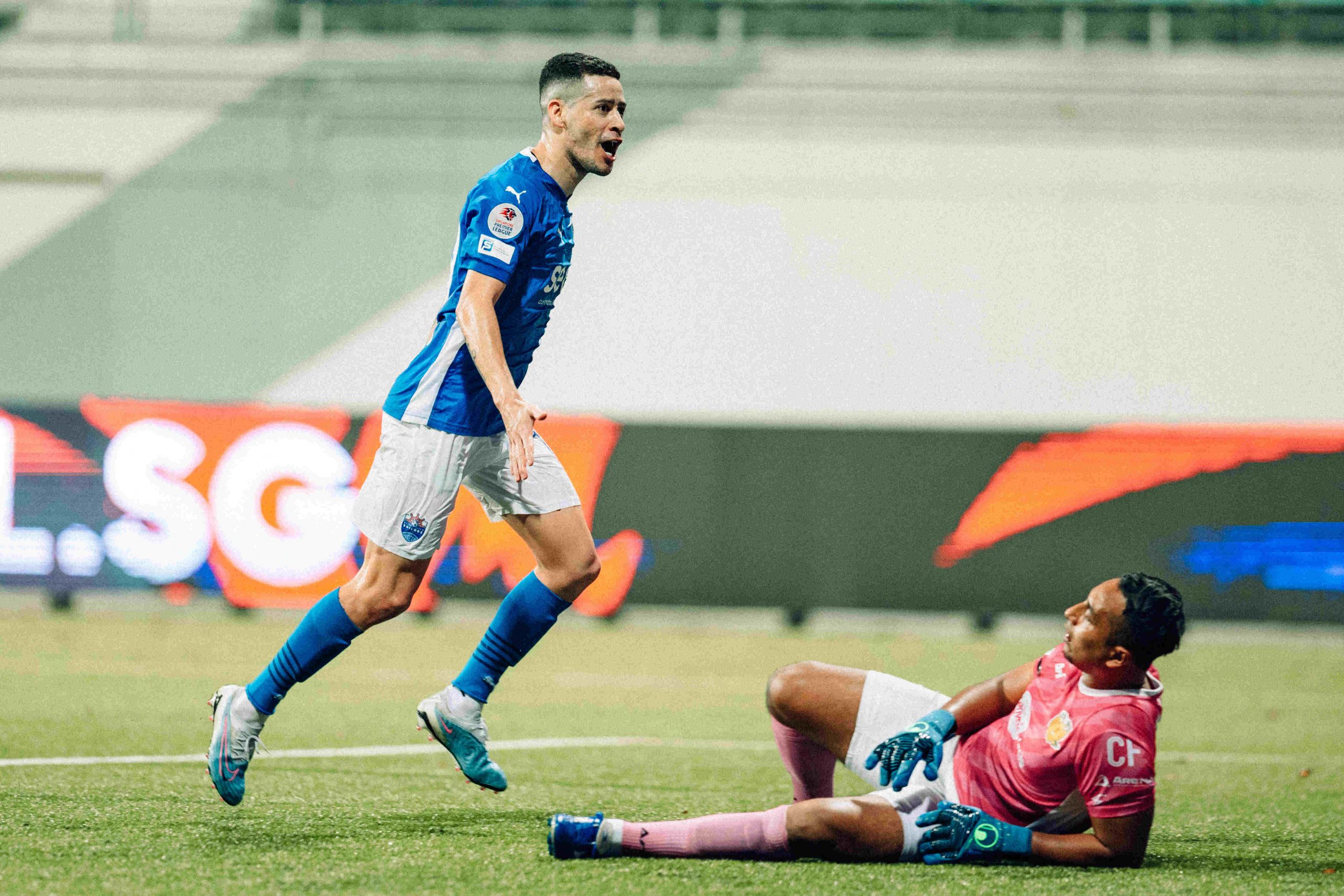 "I hate to lose, and I was really upset about our loss to Tampines so I'm happy that we got the three points. We were able to show glimpses of what we are capable of and what our coach expects of us – something we failed to do last time out," added Maxime.
"I'm happy with my performance so far this season, just try to do my best every day. I don't really care if I score – that's a bonus, of course – but the most important thing for me is that we win games and push to win the league title." 
The result was the perfect response that Head Coach Risto Vidaković had called for, following the 4-3 reverse to Tampines on 31 March. 
Having made three changes to the starting line-up, Risto's Sailors took just five minutes to open the scoring.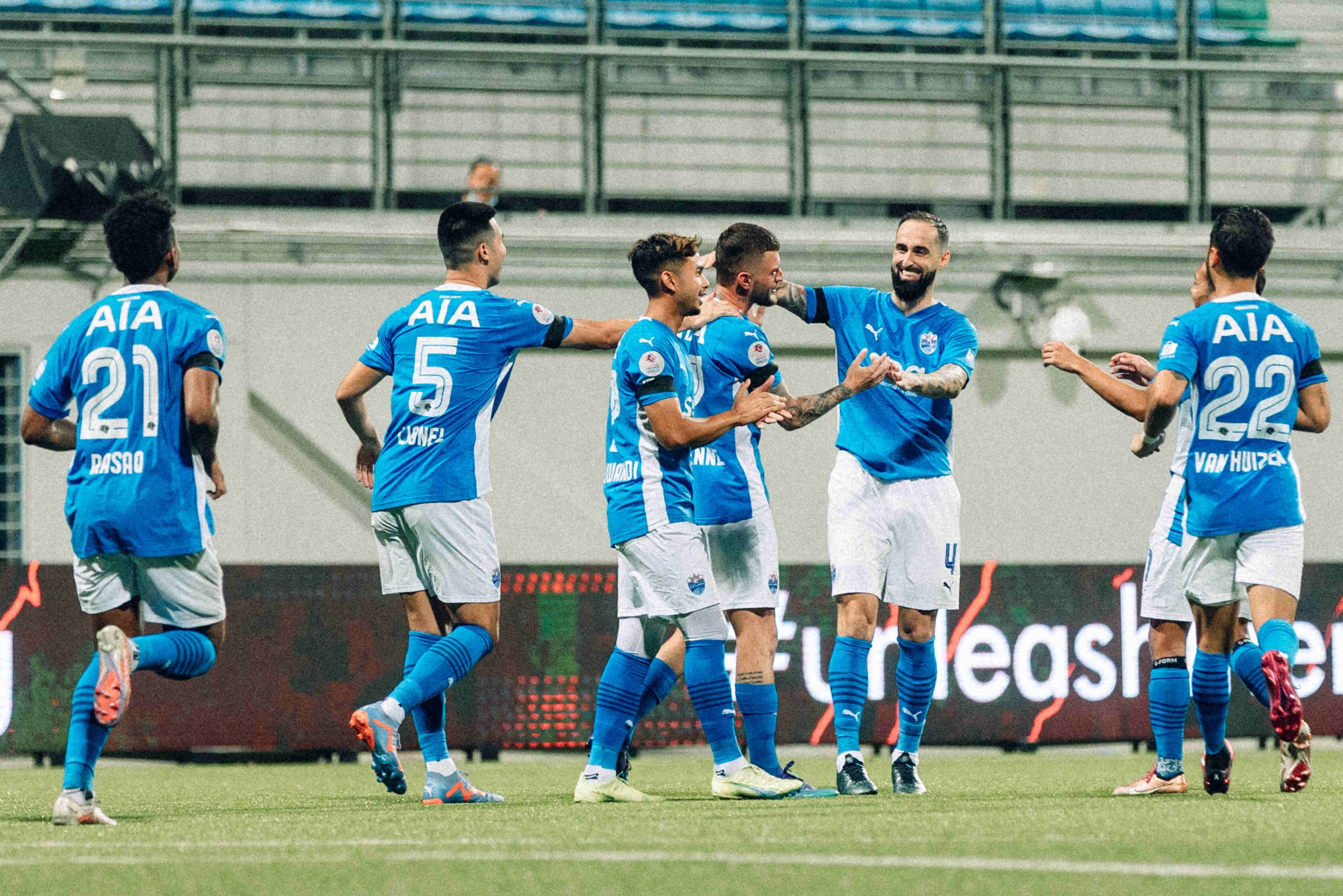 After Rasaq – who returned to the starting line-up after missing the Tampines match – was fouled on the edge of the area by Kristijan Krajček in the fifth minute, Maxime proceeded to curl a sumptuous free-kick past a Zaiful Nizam at full stretch. 
The game turned in Hougang's favour thereafter, Sailors custodian Zharfan Rohaizad being kept busy with Hougang even putting the ball in the back of his net through Krajček on 38 minutes, but it was ruled out for offside, much to the relief of the Sailors defence. 
The Sailors would go two up just before half-time when the unmarked Rasaq clinically swept home Maxime's cutback from inside the area.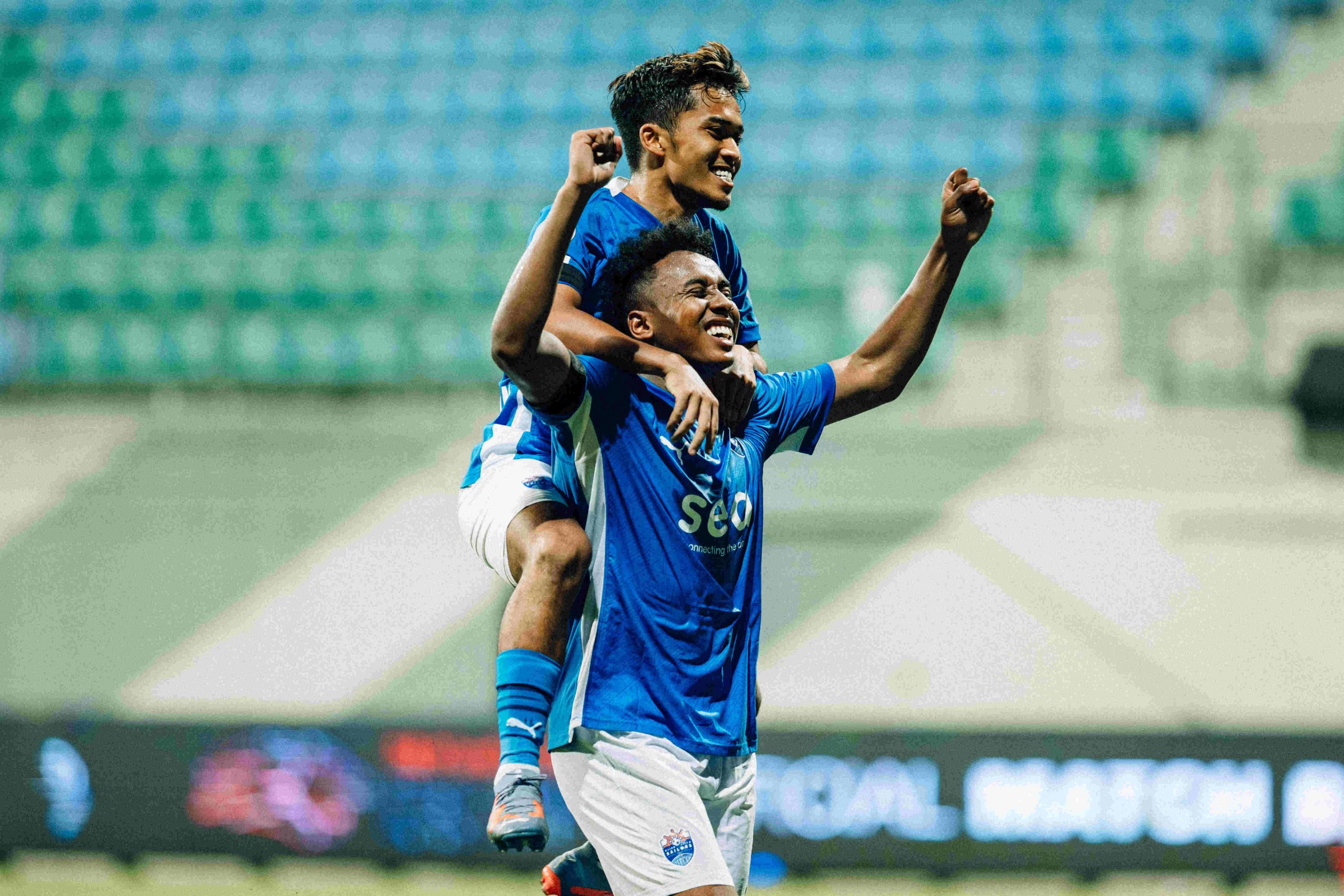 Rasaq then netted his second of the evening in the 72nd minute with an unerring finish after being teed up by Hami Syahin. It was the forward's fifth league goal of the season, surpassing the four he netted with the Young Lions in 2022.
"He's a young player who needs time, but for now he is giving more than expected so it's a good thing," Risto said of the 21-year-old.
Rasaq was soon replaced by new signing Bernie Ibini-Isei for his Sailors debut, and the goals kept coming.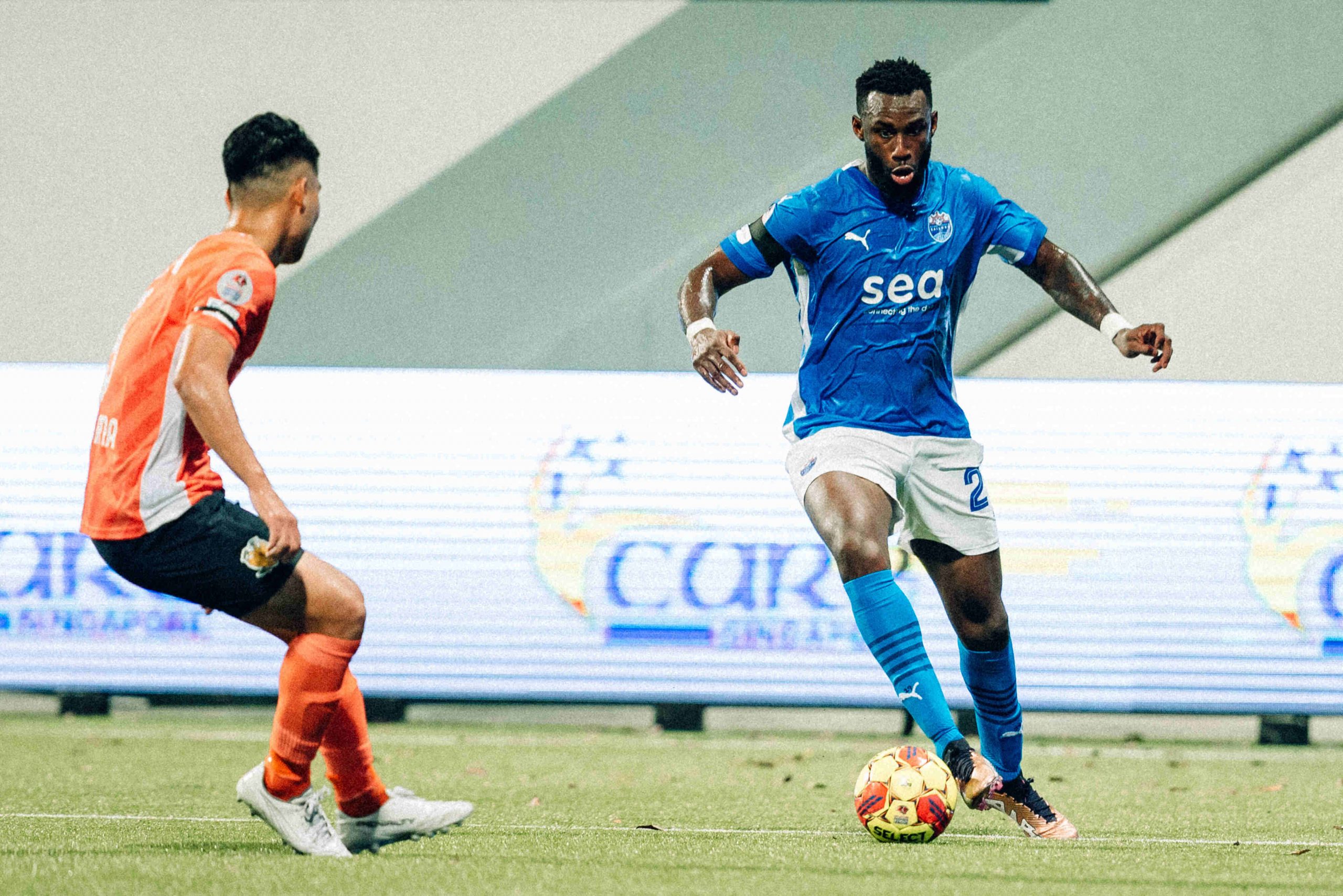 Diego – who took over the armband after Hariss Harun was replaced by M Anumanthan – got his name on the scoresheet two minutes from time, poking home following a stunning team move – with Maxime again the creator – for his second goal of the season. 
The Belgian rounded off the scoring in stoppage time with a tidy finish into the far corner as the Sailors returned to winning ways.
Risto said after the match: "We struggled a lot in the first half where we couldn't really keep the ball and play the way we wanted, but things got better after the third goal and we showed what we can do.
"I understand that it wasn't easy on the players, it's normal for the younger members of the team, especially those who may not have been in this situation of challenging for the title. Hopefully this win will give them the necessary confidence for the upcoming games."
The Sailors will be in action in the SPL again this Saturday, 15 April, when they face the Young Lions at the same venue. 
Few would have predicted before the start of the 2023 Singapore Premier League (SPL) season that the joint-top scorer for the Lion City Sailors after their first five games would be a certain Abdul Rasaq Akeem.
Perhaps the only one who would have backed Rasaq to achieve such a feat was Rasaq himself.
With three goals for the Sailors so far, Rasaq – who has scored in three out of his four league appearances this season so far – is not short of confidence, despite his relative youth.
The 21-year-old was rewarded for his fine form with a call-up to the Singapore Under-22 squad for their recent Merlion Cup campaign, where he started in both games against Hong Kong and Cambodia.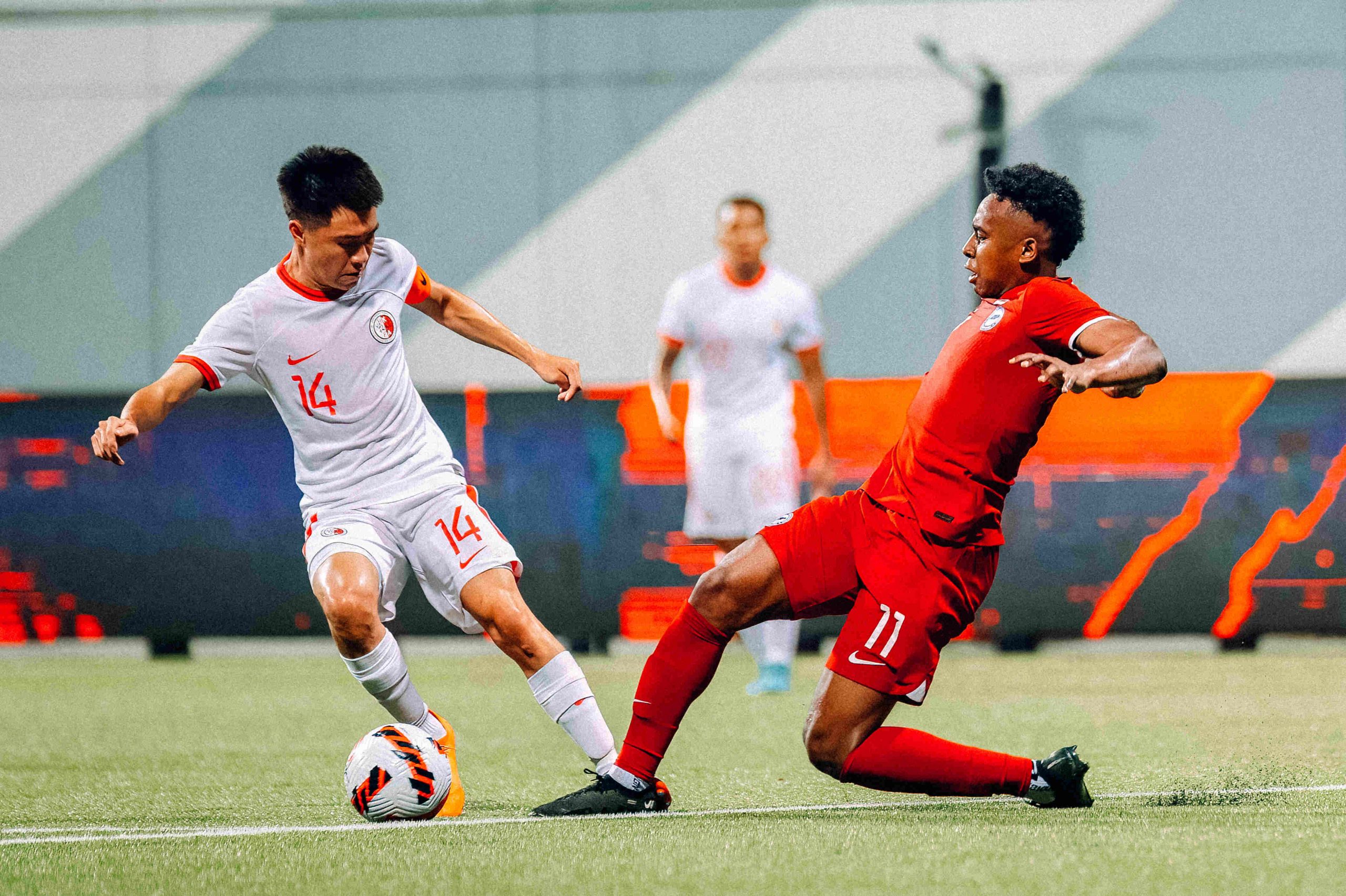 (Photo courtesy of FAS)
While results did not go Singapore's way – the team lost 1-0 and 2-1 to Hong Kong and Cambodia respectively – Rasaq came away from the experience with a better understanding of what it takes to succeed at the top level.
"As a team, we learnt that in international football, you have to be at the top of your game for the whole 90 minutes," Rasaq reflected. "You can play well for most of the game, but the moment you switch off, you will get punished.
"We have to improve individually and collectively if we are to do better at the SEA Games next month. We must not underestimate the importance of preparation for the tournament, or we will be going into it at a disadvantage."
Another Sailor who made a splash on the international stage this past week was defender Lionel Tan.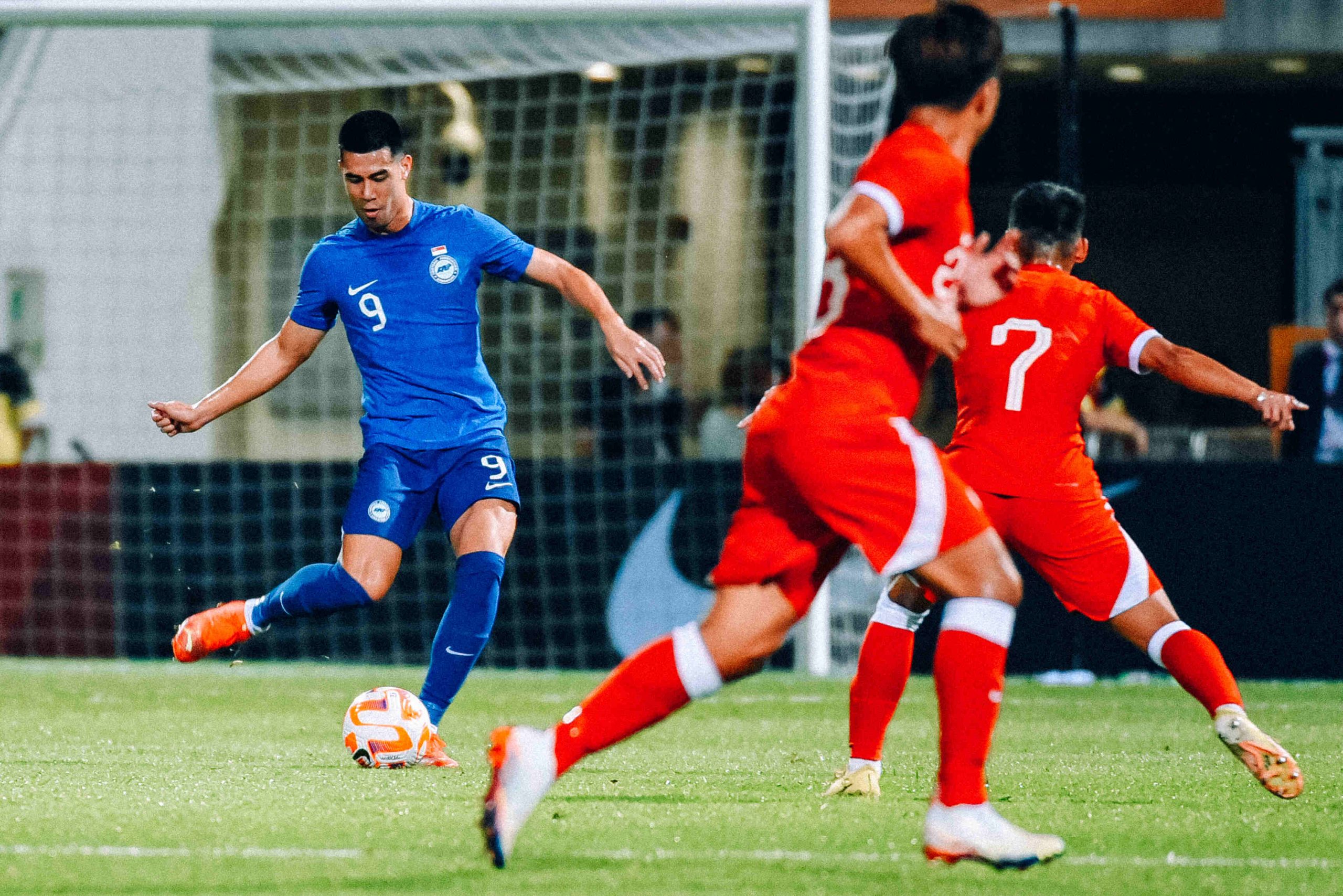 (Photo courtesy of FAS)
Making his long-awaited debut for the Lions, the 25-year-old scored the only goals for Singapore as they drew 1-1 with Hong Kong and beat Macau 1-0.
While the goals gave Lionel a confidence boost, the centre-back is not resting on his laurels, and insists he is only focused on how to further improve his game. 
"The goals were nice, but that's in the past now. I'm looking forward to putting in the hard work and training with the Sailors again," said Lionel.
"I think it was a good experience playing for the National Team, and it inspires me to want to continue playing at a higher intensity. I also picked up some tips and made slight changes in my body positioning to defend better. 
"Ultimately, I'm still developing as a player. I did make mistakes, but what's important is that I learn from them and improve game by game."
For now, both Lionel and Rasaq's immediate priority will be to help the Sailors seize the initiative in the SPL title race.
With forward-in-chief Kodai Tanaka out for the rest of the season due to injury, Rasaq is the only recognised senior striker in the team.
But the heavy responsibility of leading the Sailors' frontline does not faze Rasaq.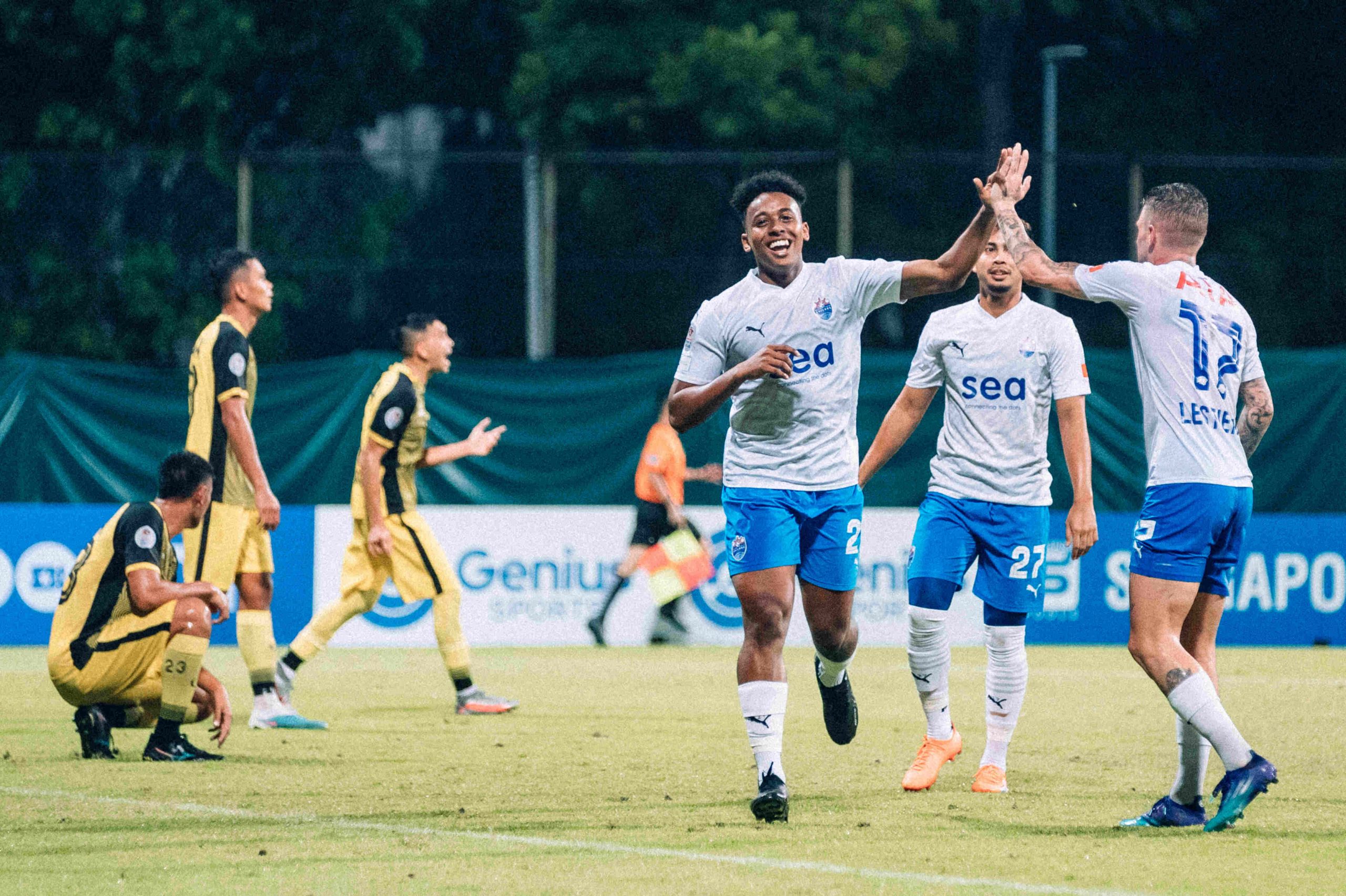 "It is a chance for me to step up and show what I can do for the Sailors," Rasaq declared. "My approach will be to always give my 100 percent every time I'm on the pitch. But I will also stay level-headed and take it one game at a time.
"Of course, I wish Kodai a smooth recovery, and I hope to see him on the field soon. He was one of the players I was looking forward to learning from this season. Even from the short time he was with us, I could already see why he was at the level he was at because of how hard he works, and what a good person he is."
Rasaq also credits his good run of form in front of goal to his teammates, as he said: "They have helped me settle down at the club, and made me feel welcome. All I've had to focus on was on my performances, be it in training or during a game. I have many senior players guiding me all the time, and they make it a lot easier for me."
Having started the Sailors' last game – a 3-0 win over Balestier Khalsa – Rasaq is hoping that he will once again be trusted by Head Coach Risto Vidaković to spearhead the attack when they take on current league leaders Tampines Rovers on Friday (31 March).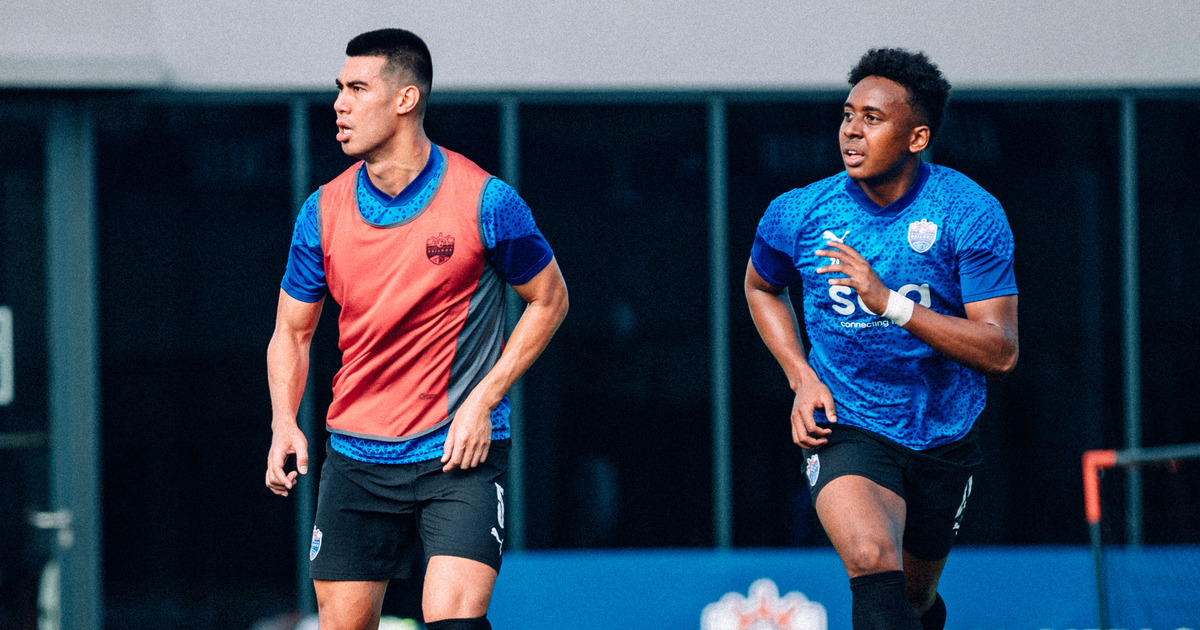 And if he does get the nod to start, Rasaq knows that he and the rest of the Sailors will be in for a hard battle against the Stags.
"This will be a tough game for us. They are the league leaders and have been playing very well," Rasaq said. "They are a ball playing team with many good attackers who are able to find the net, and we will have to be on top of our game the whole 90 minutes.
"Crucially, we have to take our chances. We must also work hard as a team defensively and offensively. We have shown before that we are capable of doing this, and If we do it again, I'm sure we can get the result we want."
Lionel echoed Rasaq's sentiments, adding: "We all know Tampines have quality players, but we are all focused on ourselves and on our game. What the game will come down to is hard work, commitment, good organisation, and importantly, playing with the desire to get all three points."
The Lion City Sailors Women made it two wins on the trot in the 2023 Deloitte Women's Premier League (WPL) as they recorded another 3-0 victory, this time against Still Aerion Women at Choa Chu Kang Stadium on Saturday (25 March) night. 
The victory came with the same scoreline Yeong Sheau Shyan's women managed in their WPL opener against Police SA last week (19 March), and in the same vein – the start of a bit of a trend that brought a smile to the Sailors' Head Coach. 
"We look like we have a clearer picture in mind of how we want to play now," she said. "I'm happy with the way we start matches and that we are scoring first early on in the game, which is different from last year where we only start scoring in the second-half when our opponents begin to tire out."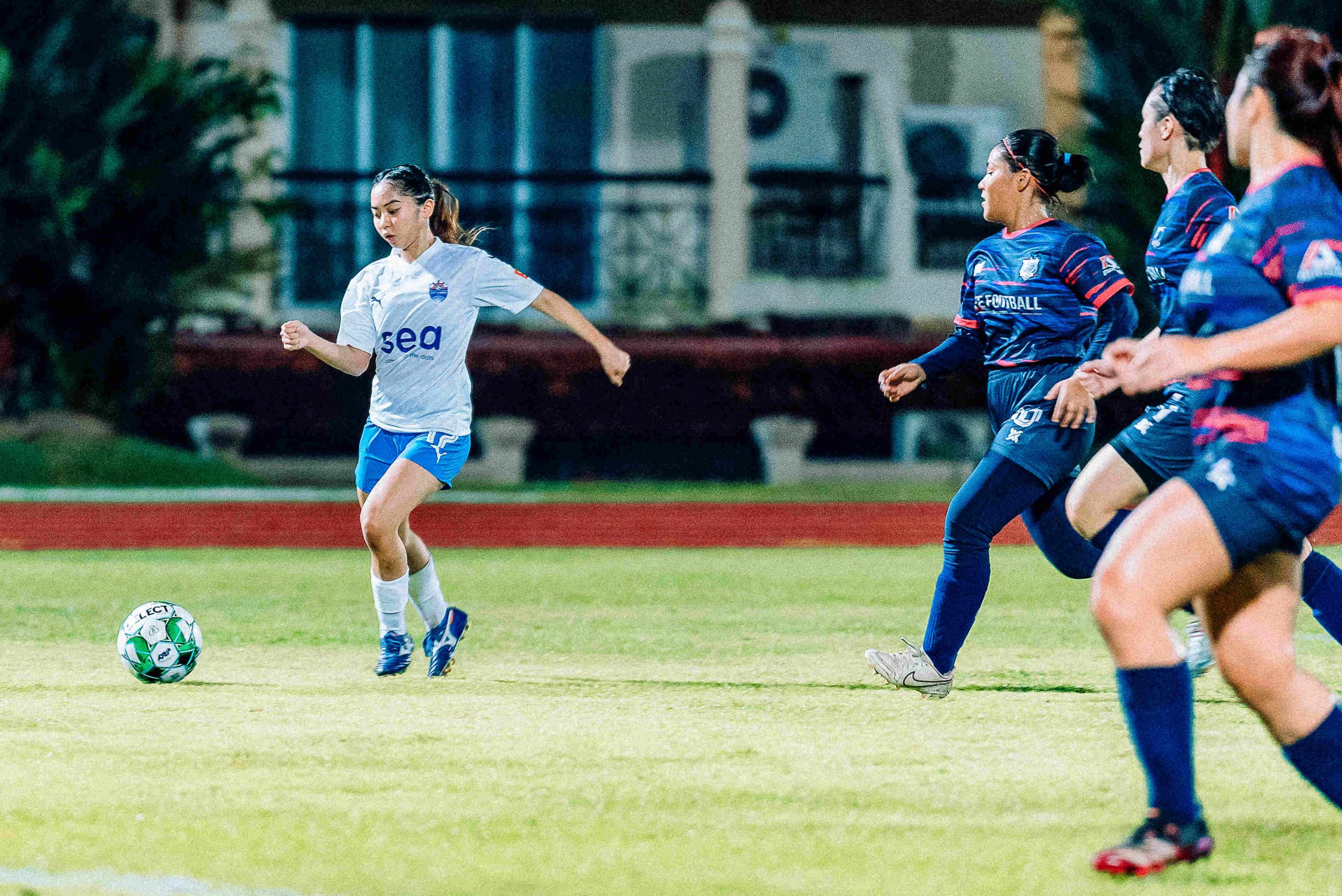 The Sailors raced to a two-goal lead in what was a dominant first-half display. The Invincibles of 2022 got their noses in front through Khairunnisa Khairol Anwar's sublime effort on 18 minutes, this after being set free on the right wing by a brilliant Madison Telmer pass. 
Right-back Nur Syazwani would double the lead just three minutes later, slamming home after the Aerion defence failed to clear their lines from a corner. 
Substitute Fatin Aqillah then rounded off the scoring five minutes after the interval with a powerful close-range finish to ensure the Sailors extend their unbeaten run in the WPL to 14 games, a run that stretches all the way back to the start of the 2022 season.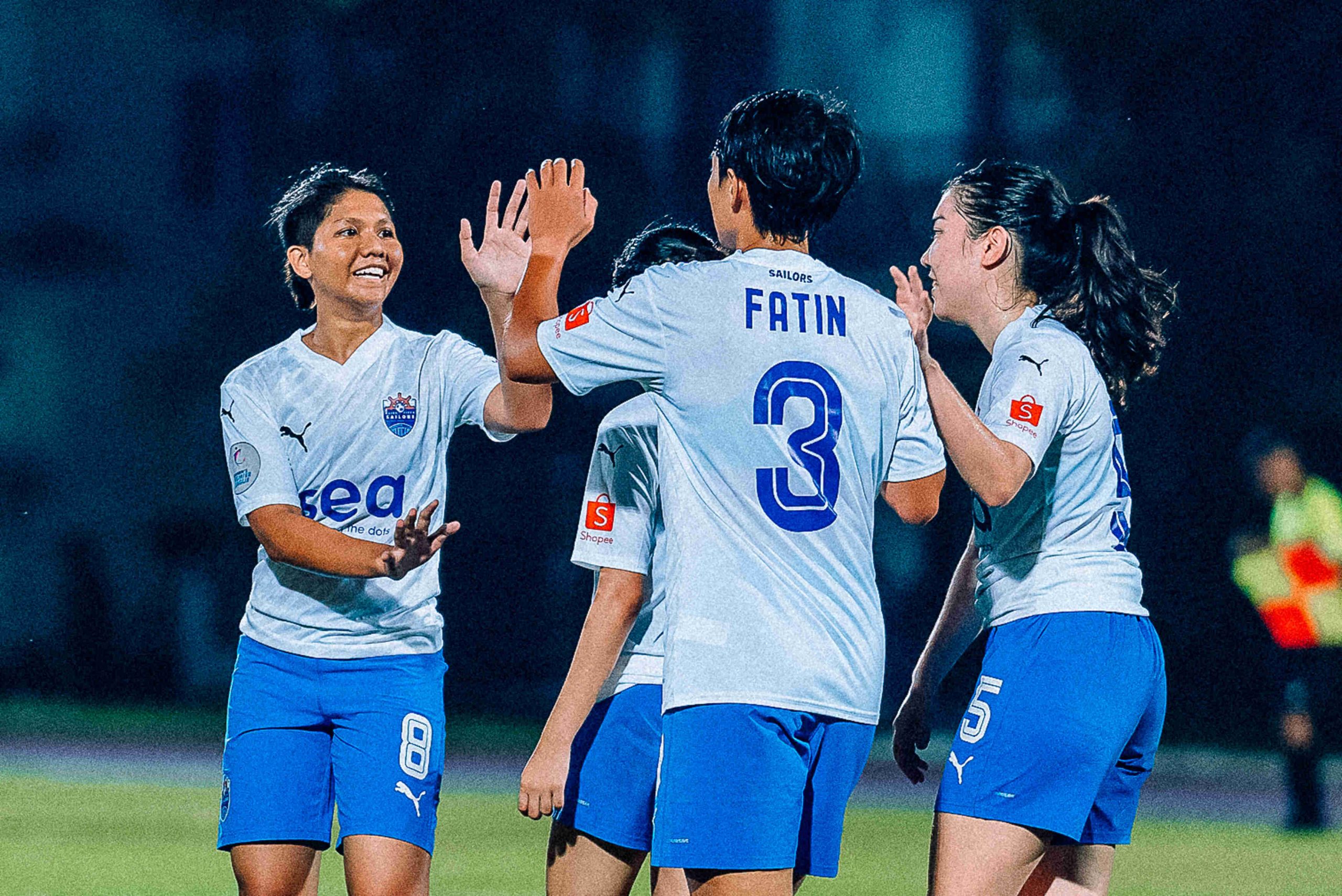 While she was pleased with the early establishment of domination and the spread of goalscorers, Sheau Shyan acknowledged that there was still much room for improvement. 
"There might be three different scorers, but we were also guilty of wasting many opportunities tonight," she noted, of a first half performance that could have brought six goals. "We were waiting for the perfect chance to come to us and it's something we need to work on. 
"Despite being sloppy in terms of defending in the second-half, we managed to keep a clean sheet but we need to learn how to be patient after scoring."
Midfielder Ho Hui Xin, who slotted into the Sailors' engine room as a second-half substitute spotted similar issues out on the pitch.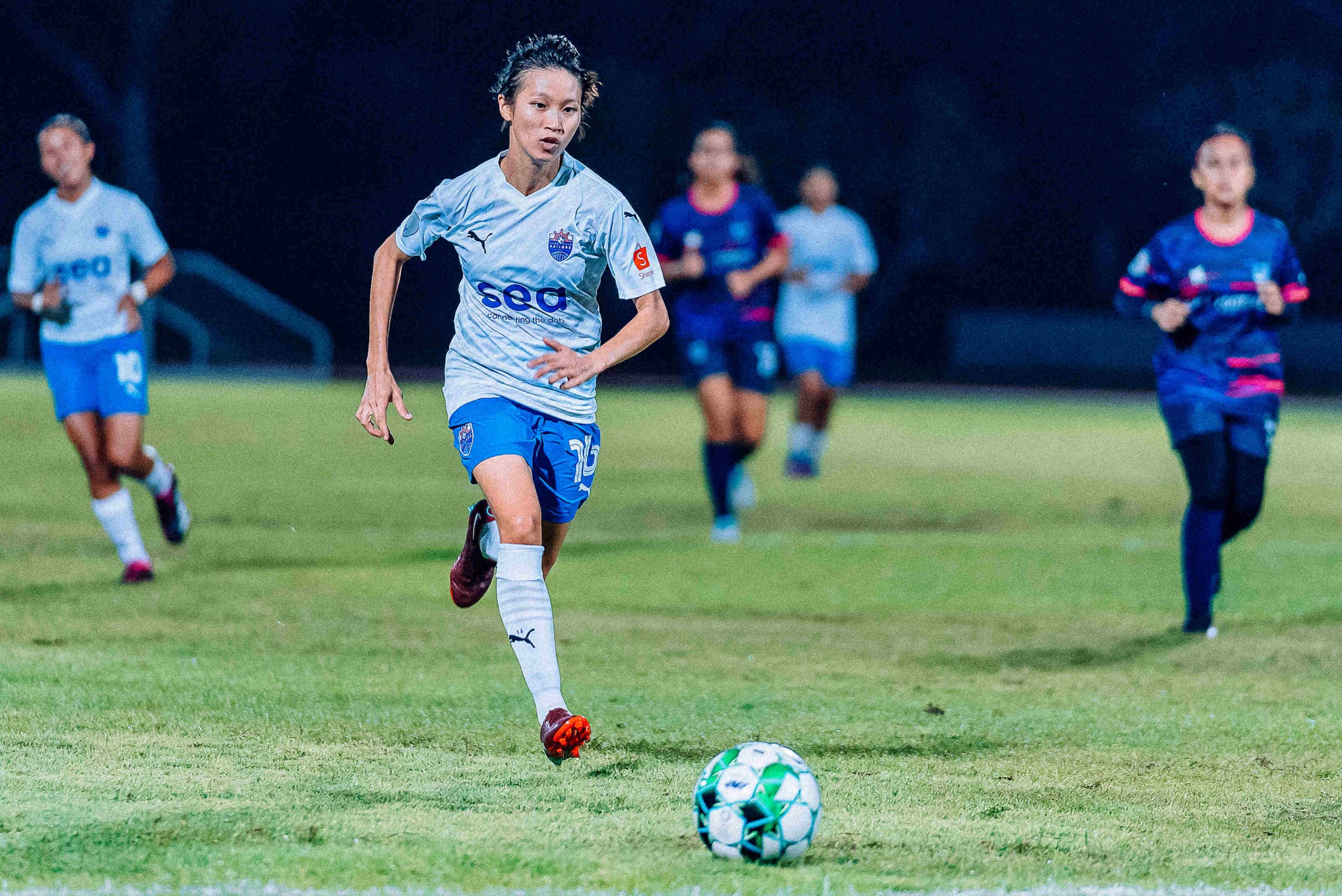 She said: "We tend to play to the speed of our opponents and it slows things down a lot when that happens. We know we are capable of commanding the pace (of the game) and that would in turn give us more goals." 
But Hui Xin still left Choa Chu Kang with a smile on her face. 
"It's always a nice feeling to get the three points, and the goals we scored were pretty good as well," said Hui Xin. "The fact that it came from three different players goes to show the amount of depth we have in the squad."
The Sailors Women will return to WPL action after the international break and will face the Tampines Rovers Women on Sunday, 21 May.
They were undefeated in all of 2022, en route to the Deloitte Women's Premier League (WPL) title and a rare coronation as Invincibles of the women's game, and the Lion City Sailors Women are once again favourites to win the league in 2023.
An unbeaten run comes with its own pressure – with somewhat different expectations – that can stab at nerves when the heat is on. But Sailors midfielder Paula Druschke is not just taking this added pressure in her stride, she is relishing it. 
The 20-year-old believes that this pressure will only serve to elevate their performances this season, especially with everyone in the team pulling together in the same direction.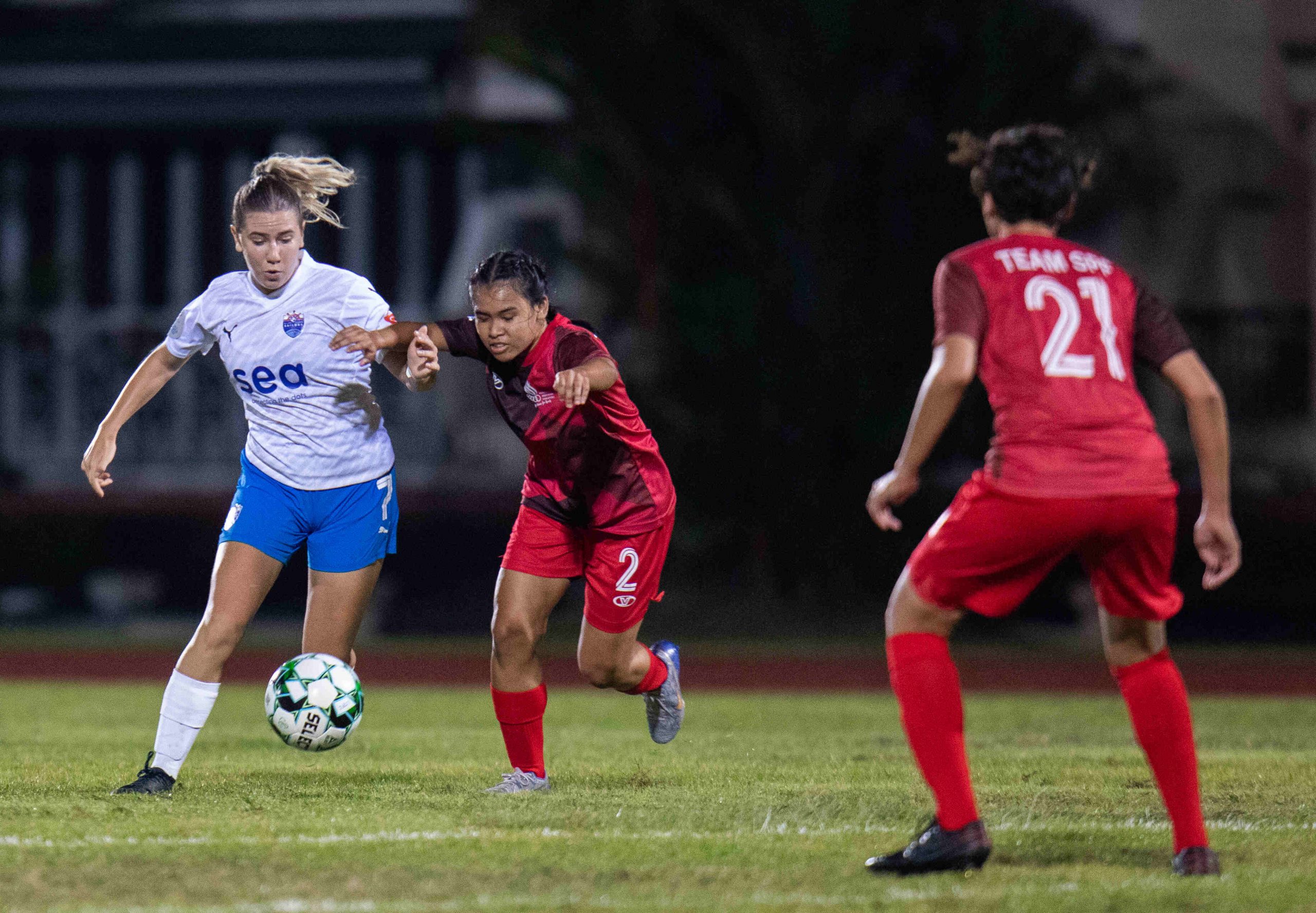 "Teams that play us will definitely have added motivation, as they will want to end our unbeaten run. Personally, I used to love to play against the big names and championship winning teams, because then you have nothing to lose, and you can just give everything on the pitch," Paula admitted.
"So yes, the Invincibles tag does put more pressure on us. But I think that's a good thing. My confidence stems from seeing how well we work together as a team, and we support each other when we have a bad day. We have a diverse squad that works well together, so I don't see why we should not believe that we can retain the title."
Paula's bullish outlook for the 2023 season was given credence by the efficient manner in which the Sailors dismantled new WPL outfit Police SA – a game they won 3-0 – in their opening league fixture last Sunday (19 March).
"I think we could definitely see some of the things we worked on during the offseason in our game, which was really good," Paula recounted. "At the same time, I believe we adapted our playing pace too much to suit our opponents. I think we can play even faster and better when we stay true  to our own playing style."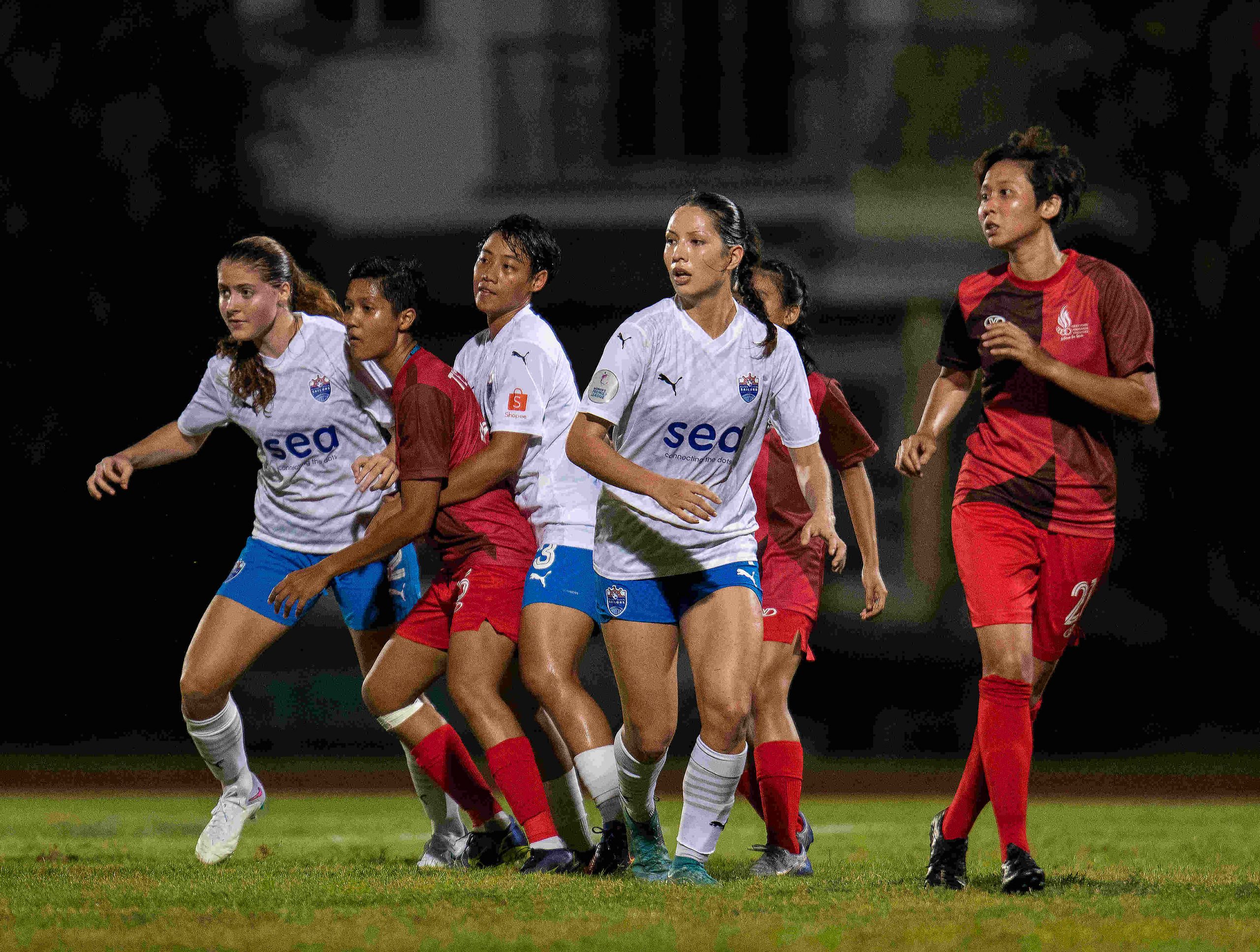 Up next for the Sailors is a test against a more familiar foe in Still Aerion on Saturday evening (25 March) at the Choa Chu Kang Stadium. Last season, Aerion were beaten 4-0 both home and away by the Sailors, as they finished sixth in the seven-team league.
While Aerion also did not get their season off to a great start – losing 3-0 to Hougang United – Paula is not taking anything for granted when the Sailors play them this weekend.
"It is important that we do not underestimate the team, even though they have lost their last match," said Paula. "They worked very hard during the offseason and have made some changes in their squad as well.
"So, it is important that we play fast and creatively in the attacking half. Playing attacking football is what we want to do all the time.
"Of course, that can make us also vulnerable in the defence, so everyone in the team must work hard to protect our goal as well. Personally, I would hope to see an early goal or two so that we can play with more freedom for the rest of the game."
In the spirit of International Women's Day (IWD) that is celebrated annually across the globe on 8 March, we delve into the lives and experiences of our Sailors Women to better understand their struggles, challenges and inspirations as they make their mark in what is a male-dominated Singapore football industry.
In this, the third and final instalment of our IWD special, we turn the spotlight on Lion City Sailors Women's team goalkeeper Beatrice Tan and Yingying Seah, Business Development Manager of the Lion City Sailors Football School.  
She is standing under the Esplanade Bridge with Diego Lopes on one side, Umairah Hamdan on the other, and a wince drawing awkward lines on her face. 
The photographer calls for a pose with street attitude, and suddenly the game is on: her elbow rises to rest on neighbour, head tilts groundwards and hand follows, sliding over thigh. When her eyes rise off the floor, the gawky discomfort seems to have melted away and it is a completely different Beatrice Tan who meets the camera lens.  
This was a photoshoot to launch the Sailors 2023 jerseys, and the 30-year-old Beatrice is not a runway model. But it is no surprise that the Lion City Sailors Women's Team goalkeeper can turn it on on demand. 
She is also the National Women's Team custodian, an elite athlete, and a role model for aspiring female footballers, including those she oversees in the Lion City Sailors Girls Football Academy.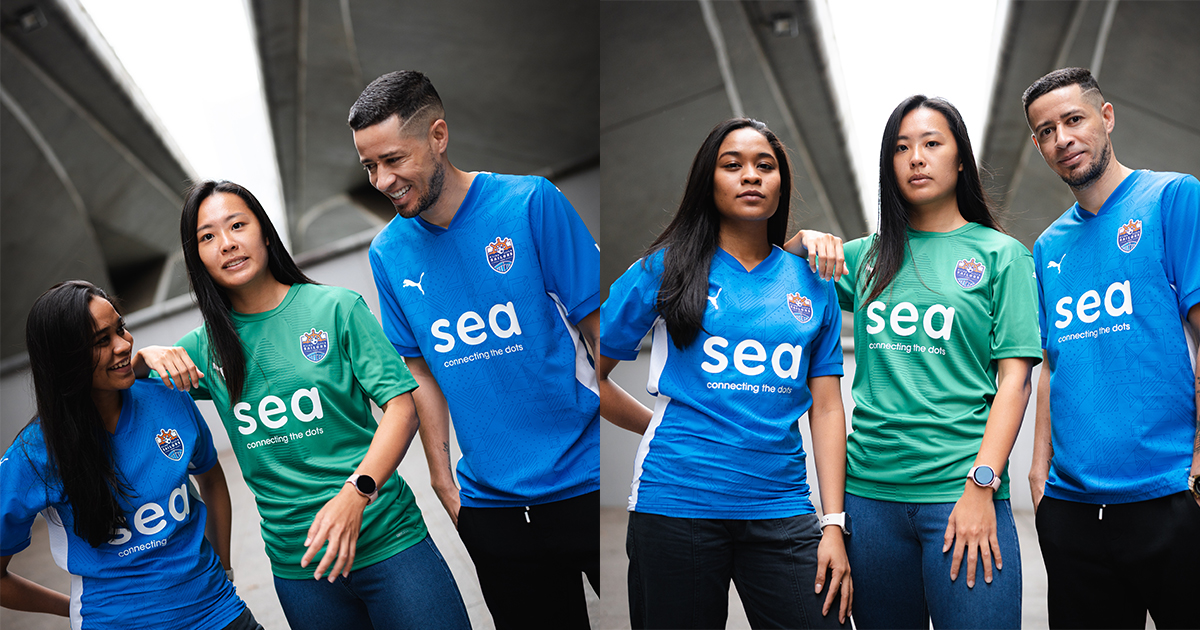 "Yeah, I absolutely love it that I'm contributing to the future of the women's game in Singapore, and not just as a player. And I can't begin to say how heartwarming it is that the girls actually remember my name and greet me when we run into each other at the training sessions," said Beatrice, who by day, serves as the Academy's Special Projects person.
The former Singapore Sports Hub venue manager oversees a range of unique projects at Mattar Road including the Academy scholars' academic progress and the development of the Academy's all-girls programme – that she sees as her real calling. 
"I definitely feel more affinity for the girls' football role, largely because the boys' game tends to grow organically, but there needs to be a push if we want to help the girls – and the girls' game –  grow."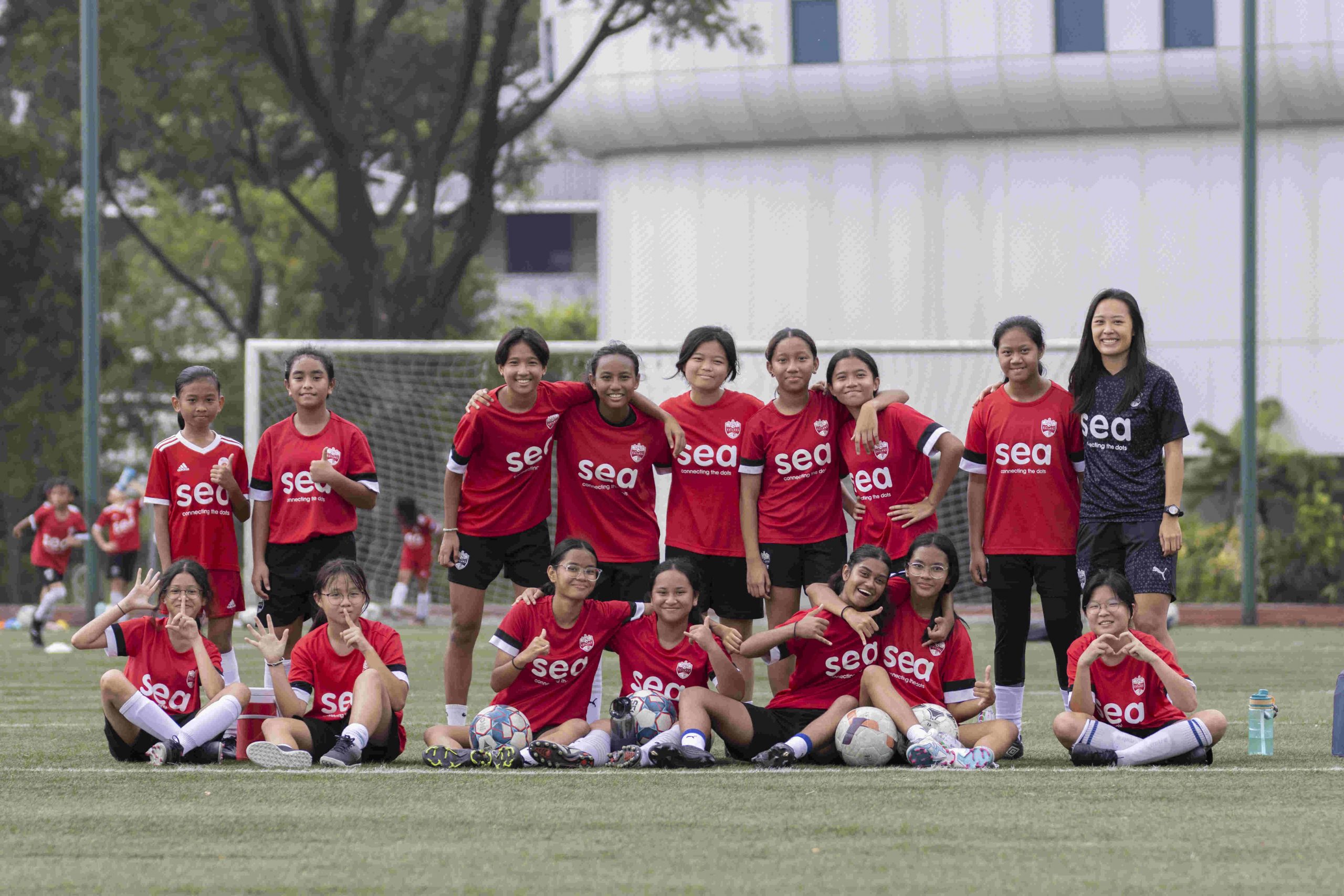 At the frontlines of that, Beatrice has a comrade in arms in what has become a bit of a personal mission for both women. 
"I'm certain that there are many young Singaporean girls who love football, like I did when I was a child, and it's fantastic to see more and more young girls play – and with parents who are supportive of their efforts too," said Yingying Seah, the Lion City Sailors Football School's Business Development Manager. 
The Football School is the revenue generating arm of the Sailors Academy.
"The perception that football is only for boys is changing – perhaps slower here in Singapore than it is across the globe – and I'm delighted to be able to contribute to that in my own little way." 
Even before she finished that last sentence, Yingying's eyes lit up, as a young trainee walked by and waved hello. She knows his name, of course, and chirped a greeting of her own as he trotted off towards the pitch at Mattar Road.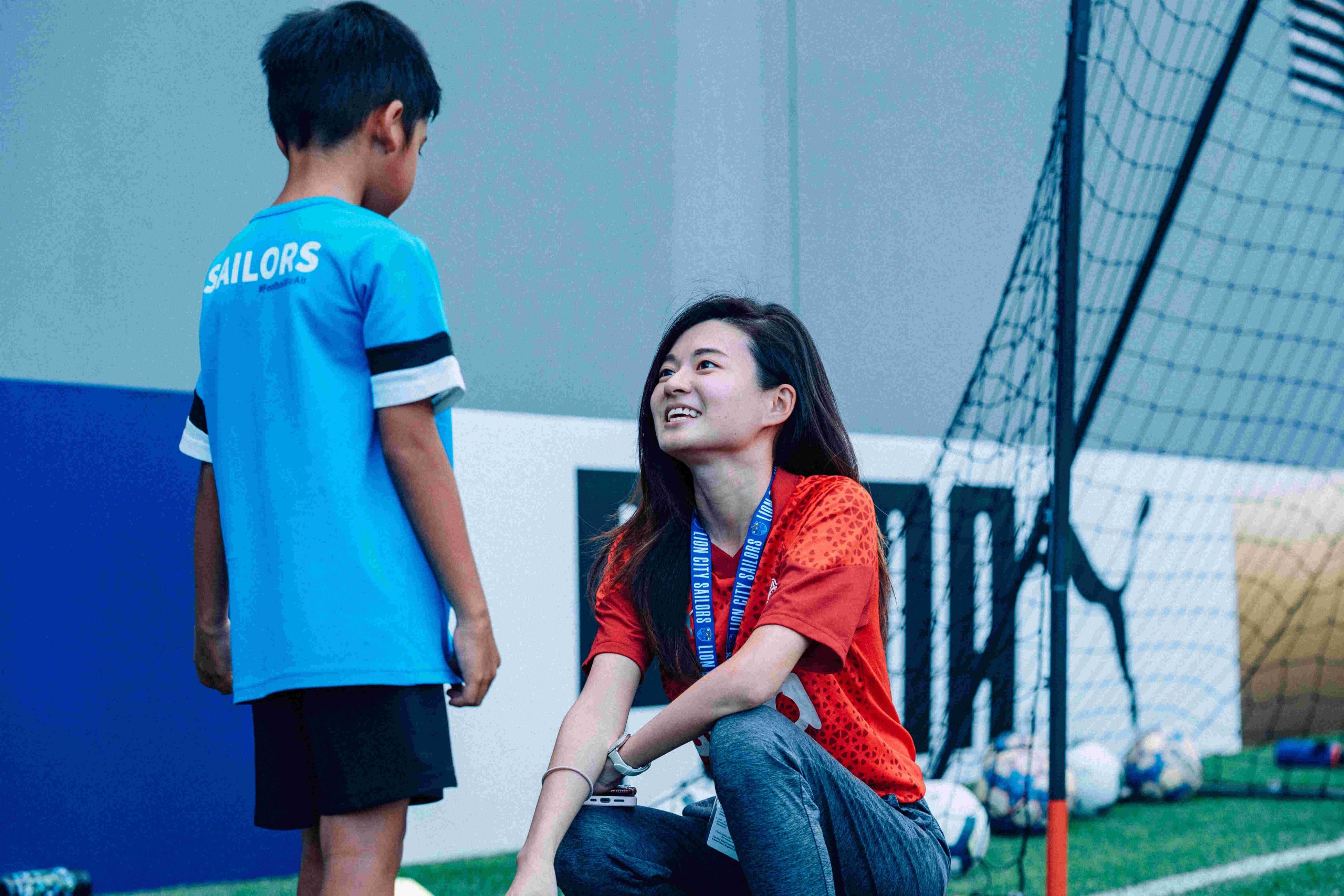 Her high pitched voice immediately dropped an octave as she finished her interrupted thought:"It's also important that for football lovers like me who can't play or coach that we have options in the sport too, and that we have someone to look up to," said Yingying who only had one female colleague – current Sailors Women's Head Coach, Yeong Sheau Shyan – when she joined the Sailors in 2020. 
Yingying is a Psychology and Marketing Double Major graduate from the Singapore Management University, and she is adamant that skills beyond the football pitch are very much in demand at football clubs, and women need not fear embracing the sport. 
"It was challenging at the start because it was a male-dominated environment, and I felt it was a bit harder to be taken seriously, and I had to adjust – like step up in conversations – and I think in the end, like in football, performance will speak for itself," she said, revealing that trainee numbers more than doubled in her three years at the Football School, with the girls' programme also seeing some 50 girls train and play every weekend. 
Female trainee numbers are a source of pride for both Beatrice and Yingying, but it has not exactly been an easy journey working to grow figures.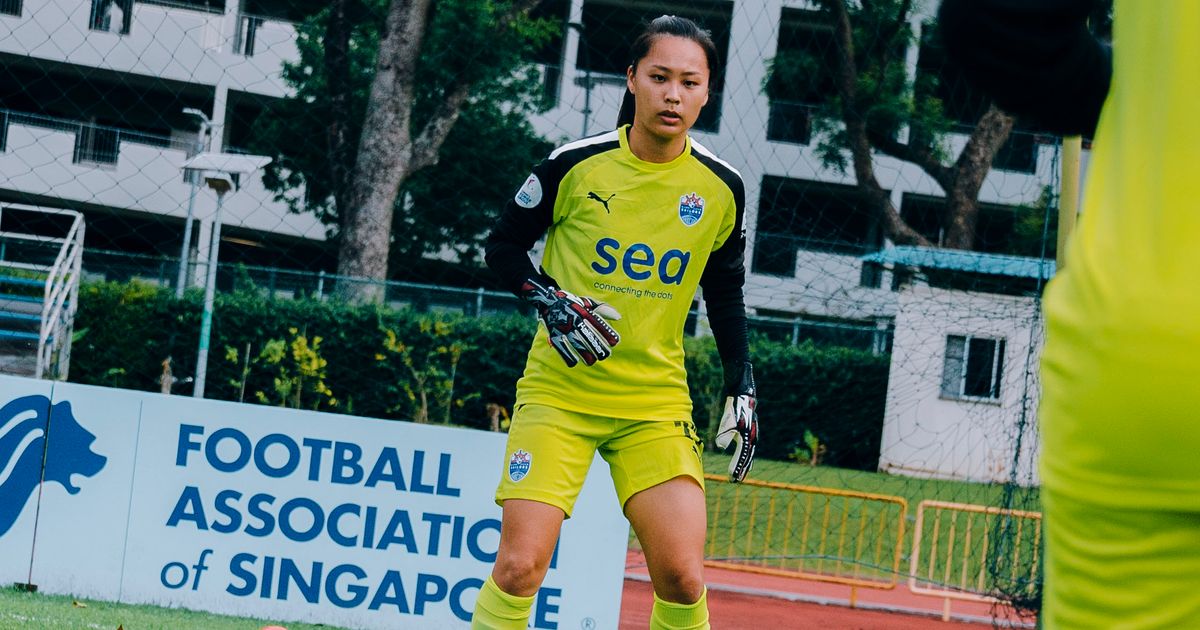 "It was clear that to see regular participation, we need to understand what issues the girls were facing – and engage their parents in the conversation as well," said Beatrice. "Some girls feel bad that they can't keep up with the boys they train with, others are just more comfortable in the social environment that comes with playing in an all-girls team.
"I see our role as helping to remove barriers and make it easier for girls to enjoy and embrace football," added the 2022 Deloitte Women's Premier League (WPL) Golden Glove winner. 
While she only played for six months as a teenager and stopped because she was a self-confessed "terrible player", Yingying shares the same drive to encourage female participation in the game, with the Football School perhaps best equipped to jump start moves towards all-girls football environments that encourage more to stay in the sport. 
"Our Football School is still a business, and if it's all men making decisions, there is a danger of losing alternative perspectives that can make impactful change. Talking to children is one example where having a softer touch helps, even talking to parents, to understand the needs of families," said the 29-year-old Yingying. 
"Then it's just about being assertive enough to drive those changes internally, and follow through with making sure we implement what we set out to do."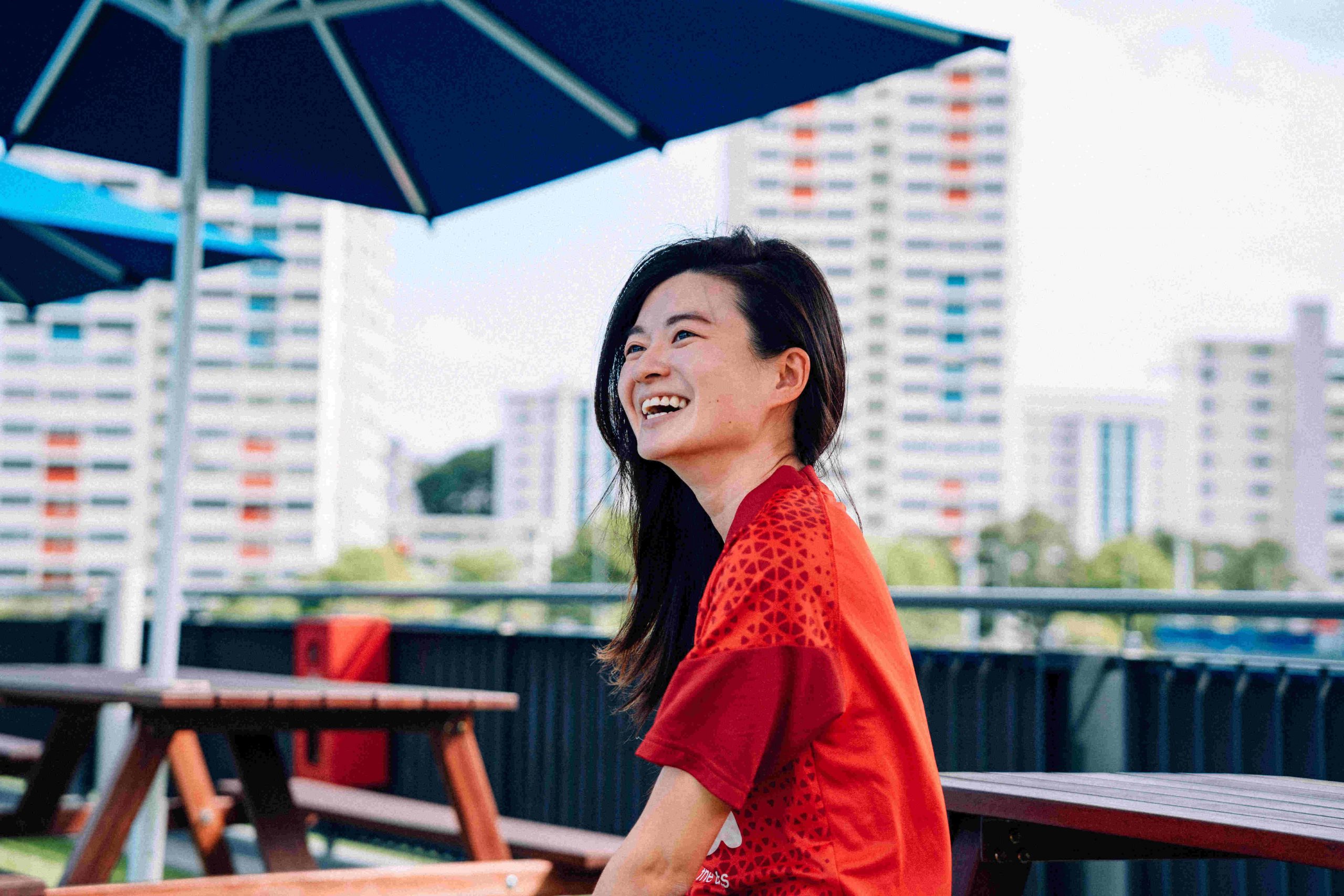 It is perhaps this need to manage different needs between a male-dominated office and family-focused training environment that has honed the ability of both women to code-switch at will, but Yingying would not have it any other way. 
"My colleagues would never leave me out of anything, even the guy-talk," she said eyebrows furrowing before her eyes lit up once more, and the same chirpy voice returned, as her thoughts floated to the Academy's trainees like Nur Ain Salleh and the other Sailors' women the likes of First Team manager Huong Tran and Operations Manager Carolyn Chia. 
"But it has been rewarding and enriching: I love kids, I love football and I love what I'm doing. I hope I never leave football, and maybe even encourage more to join us – the women and girls like Ain, Huong, Beatrice, Carolyn, and me – in the sport." 
The Lion City Sailors Women – Invincibles of 2022 – picked up where they left off last year in their opening fixture of the 2023 Deloitte Women's Premier League (WPL), securing a comfortable 3-0 win over Police SA at the Choa Chu Kang Stadium on Sunday evening (19 March).
Indeed, it took all of three minutes for the Sailors to get their season off the ground, with midfielder Madison Telmer breaking through the heart of the Police defence to break the deadlock with a crisp right foot shot.
Against Police SA's deep, defensive block, however, the Sailors struggled to make any meaningful headway in the final third, and were often left frustrated in their quest to double their advantage.
It fell to last season's WPL top scorer Izzati Rosni to find the answers for the Sailors, as the 23-year-old struck twice late in the game to secure all three points for the defending champions.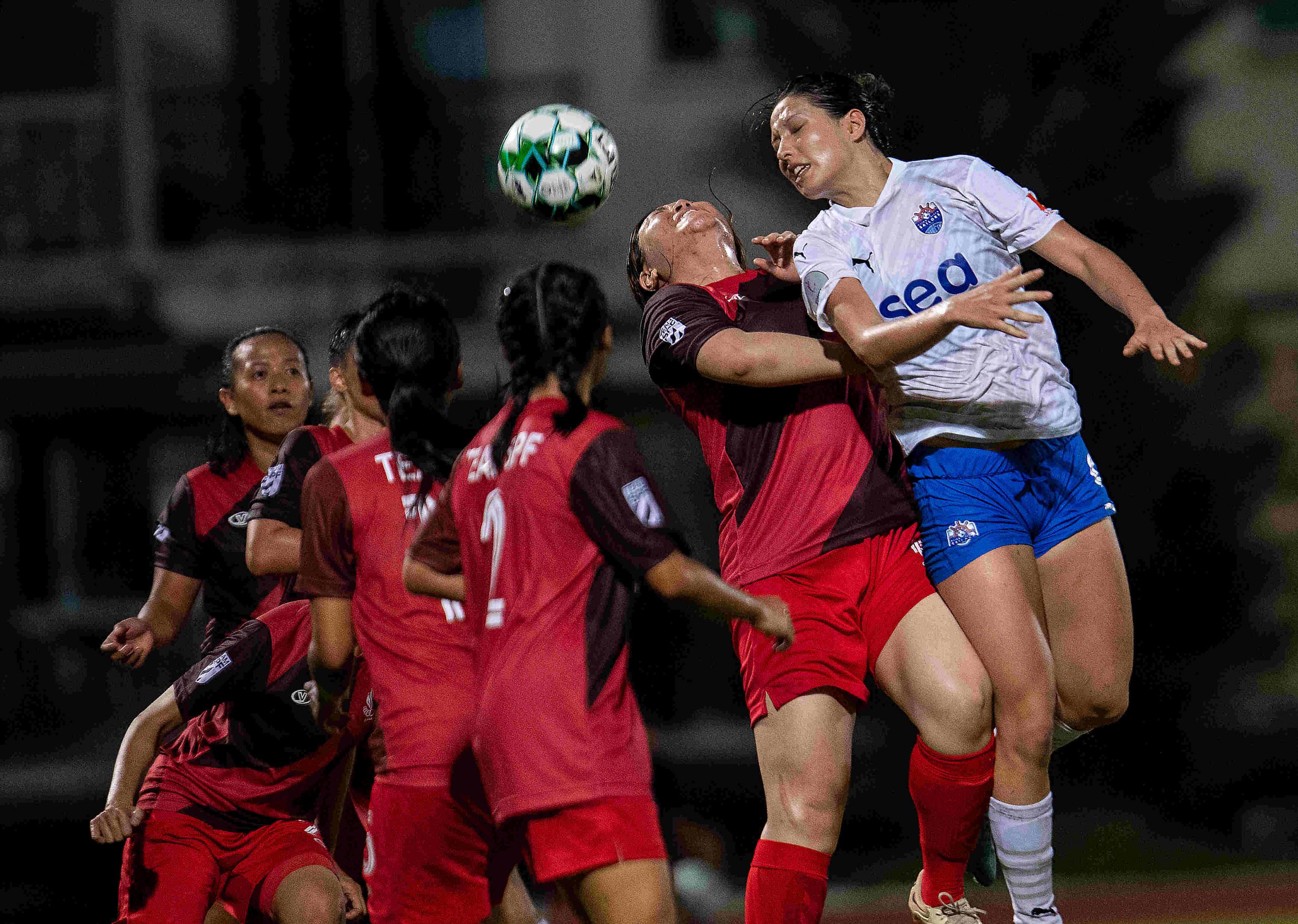 Sailors Women head coach Yeong Sheau Shyan admitted that, despite the early lead, her side had found it tough going at the start due to the "conservative" Police SA approach.
"I think we started out very well, we did exactly what we wanted to do," Sheau Shyan said. "But we were not used to the ground, so it was a bit difficult for us to control the game. The pitch was also a bit slippery because of the rain earlier, so it was a bit hard for us to play in the middle, although we eventually got used to it.
"Police SA played conservatively and were more concerned with getting the ball out with long balls. Every time we get to the final third, if we didn't score, the ball would be kicked all the way back. So, there was a lot of running up and down the pitch, and it required a huge physical effort from both teams."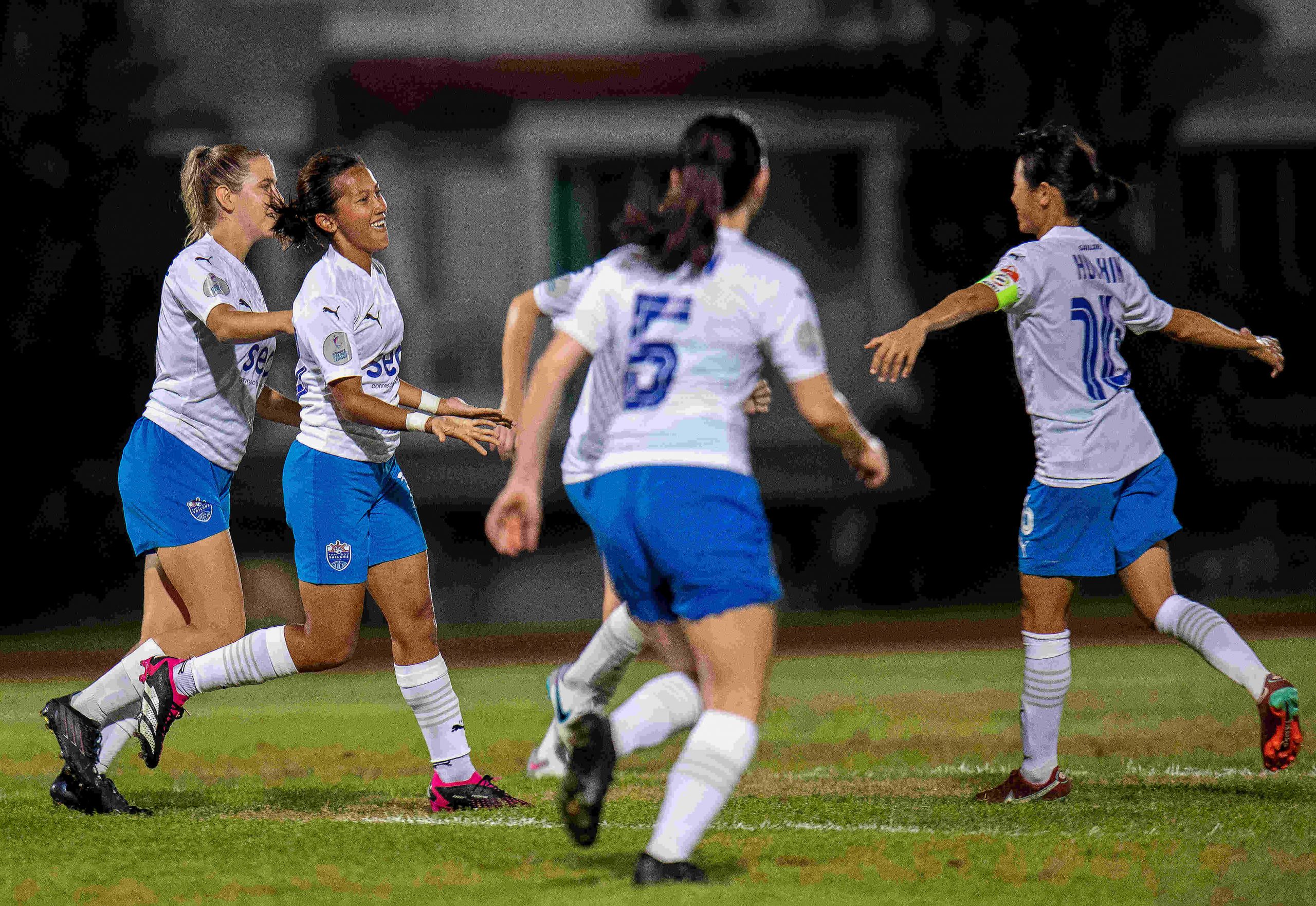 However, Izzati believes that the turning point came when the Sailors decided to focus on playing their usual game, rather than worrying about the threat that Police SA posed.
 "At times, we followed the opponent's pace of the game, when we should be setting the pace instead," Izzati explained. "I think we came back stronger in the second half. We were quick on the counter, and instead of just dribbling and kicking the ball long, we focused on passing and quick movement to keep possession."
Echoing Izzati's sentiments, Madison added: "Our opponents are very experienced, so as the match progressed, they could understand how we were trying to play, and knew what to do to make it difficult for us.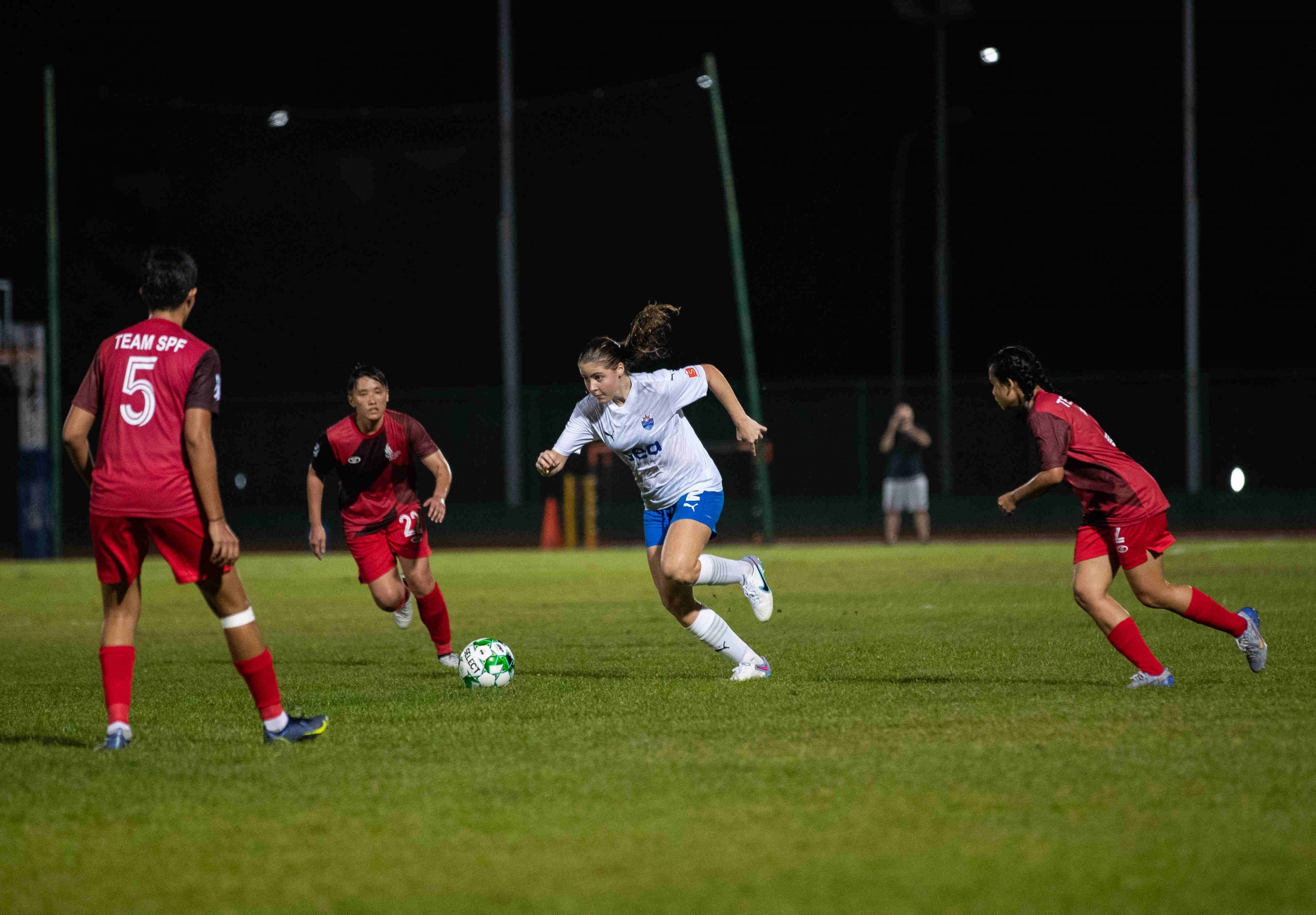 "We had to work to mix things up, and it took us a while to get into the game. But towards the end, we got more comfortable with passing the ball around and getting it up front, and we finally got our second and third goals."
The Sailors, whose unbeaten run in the WPL has now extended to 13 games, stretching all the way back to the start of the 2022 season, will next take on Still Aerion Women's FC at Choa Chu Kang on Saturday, 25 March.
The Lion City Sailors will head into the upcoming international break in good cheer, following a 3-0 win over Balestier Khalsa at the Bishan Stadium on Saturday (18 March) evening. 
The three points earned – their fourth victory in five games – means that the Sailors have now made their best-ever start to a Singapore Premier League (SPL) season. Their previous best points tally after five games was 10, with three wins, a draw and a loss in the 2022 season.
More importantly, however, the result propelled Risto Vidaković's side to the top of the nine-team SPL standings. They could remain league leaders heading into the international break should Albirex Niigata (S) and Tampines Rovers play out a draw in their game on Sunday (19 March), although a victory for either team would see the Sailors bumped down to second.
Nonetheless, the ruthless manner in which the Sailors dispatched the Tigers was a reminder to the rest of the league of not only the quality they have in their ranks, but of the team's determination to regain the SPL title.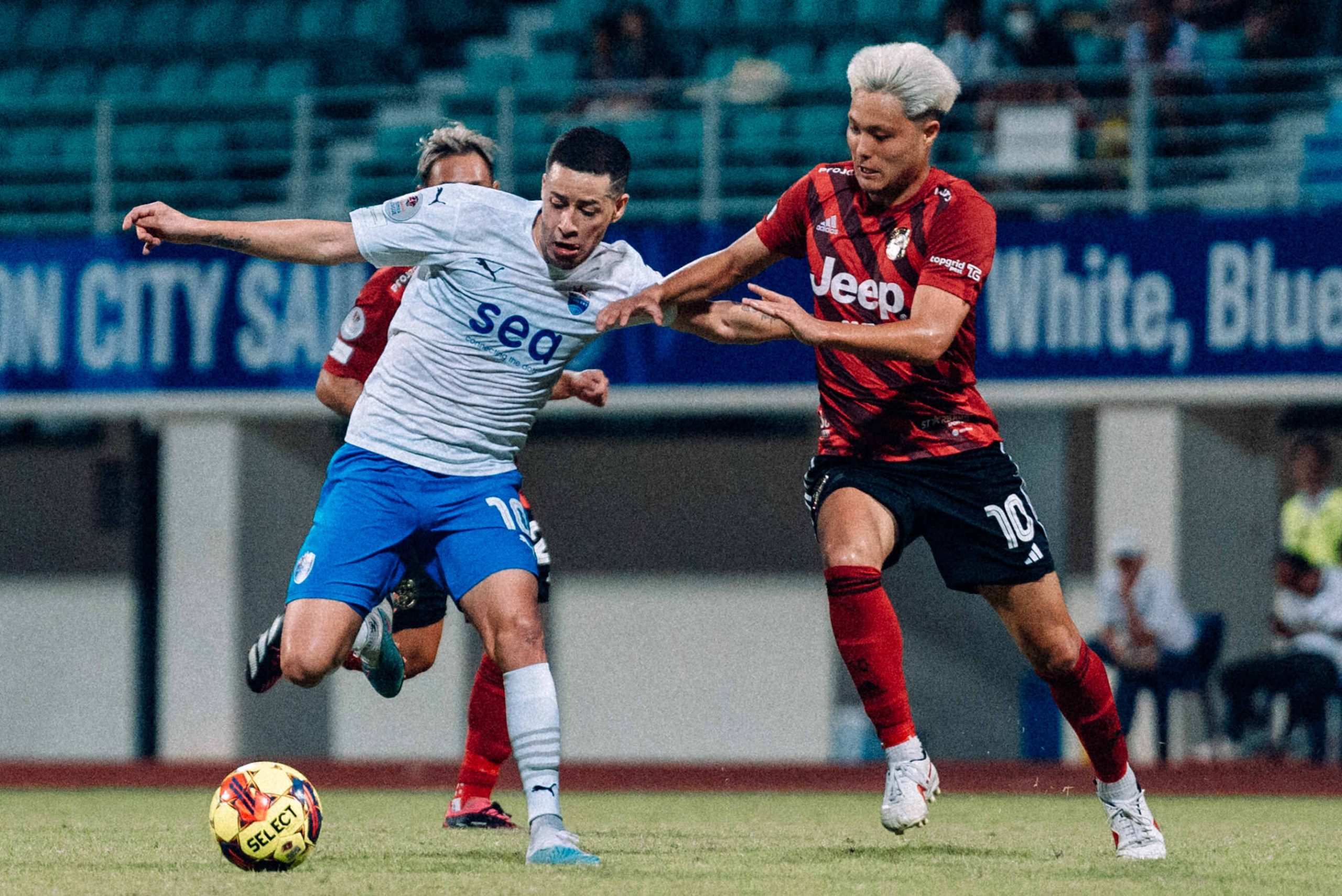 "The players gave everything today, their 100%, and I think that's the most important aspect of the match. I can't fault them for their effort," said Risto. " We suffered a bit in the first half, but in the second half we controlled the game a bit more and got the win. The players who were not called up for international duty can now take the time during the upcoming break to rest and recover, and get themselves ready for our next game."
While the Sailors put in an accomplished performance against Peter de Roo's men, their opening goal in the 19th minute perhaps owed more to luck than it did to skill, as Maxime Lestienne's scuffed shot off Christopher van Huizen's cross bounced off the turf and looped over a wrongfooted Hairul Syirhan in the Balestier goal.
There was, however, nothing fortuitous about the Sailors' second goal in the 48th minute. Maxime played a beautiful one-two with Diego Lopes down the left, before sending an inch-perfect low cross for Abdul Rasaq – making his first start of the season – to tap home into an unguarded net.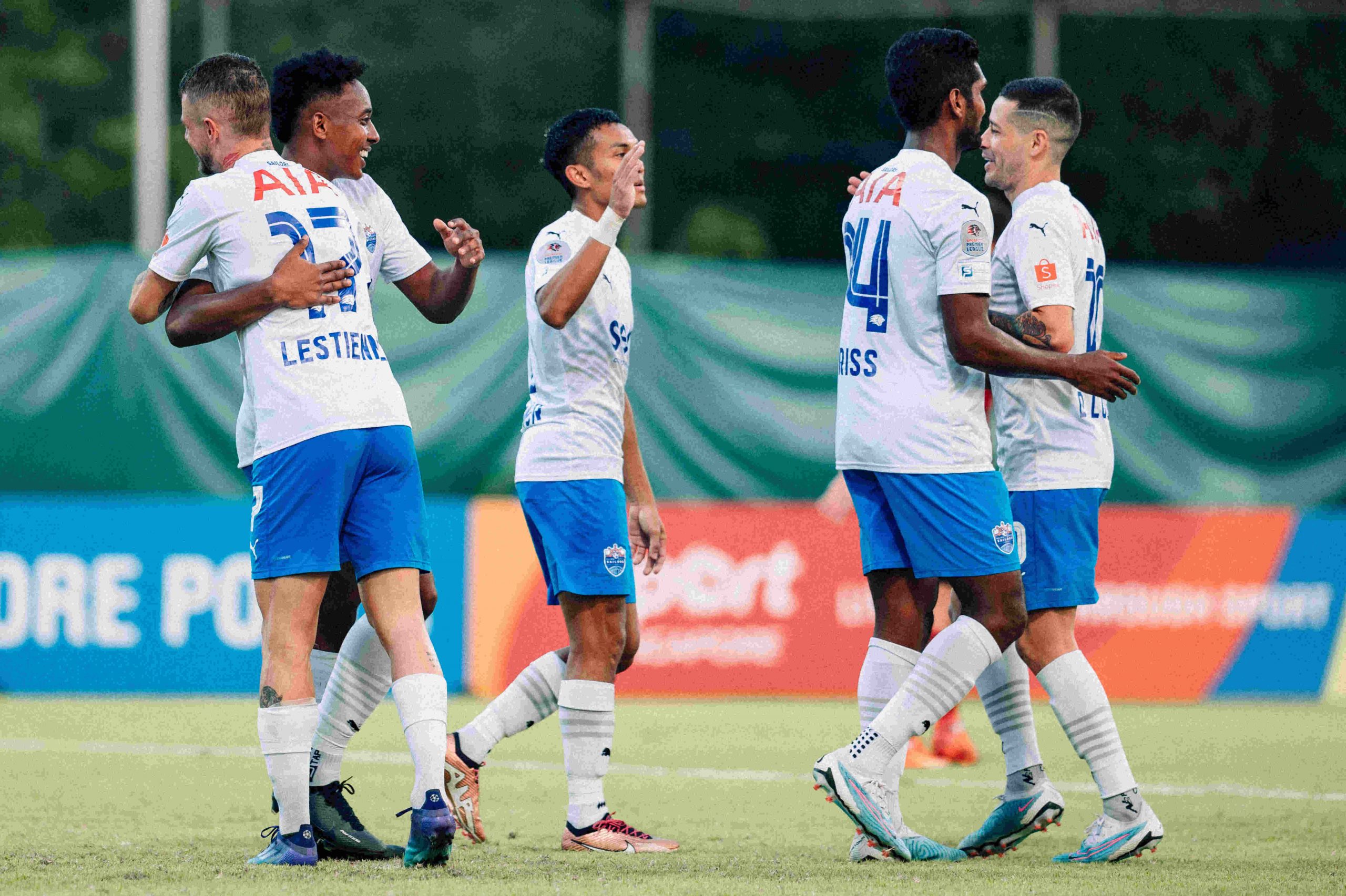 Maxime put the icing on the cake for the home side in stoppage time, confidently dispatching a penalty which substitute Shawal Anuar had earned after being fouled by Balestier's Emmeric Ong in the box – capping off a virtuoso performance with two goals and an assist. 
With the Sailors scoring three goals and keeping a clean sheet in back-to-back games – they had beaten Geylang International by the same scoreline in their previous game – goalkeeper Zharfan Rohaizad believes momentum is on their side.
Man-of-the-Match Zharfan, who played a crucial role in the win over Balestier with a number of key saves, said: "I'm happy with my performance, but more importantly, I'm happy with the team's performance.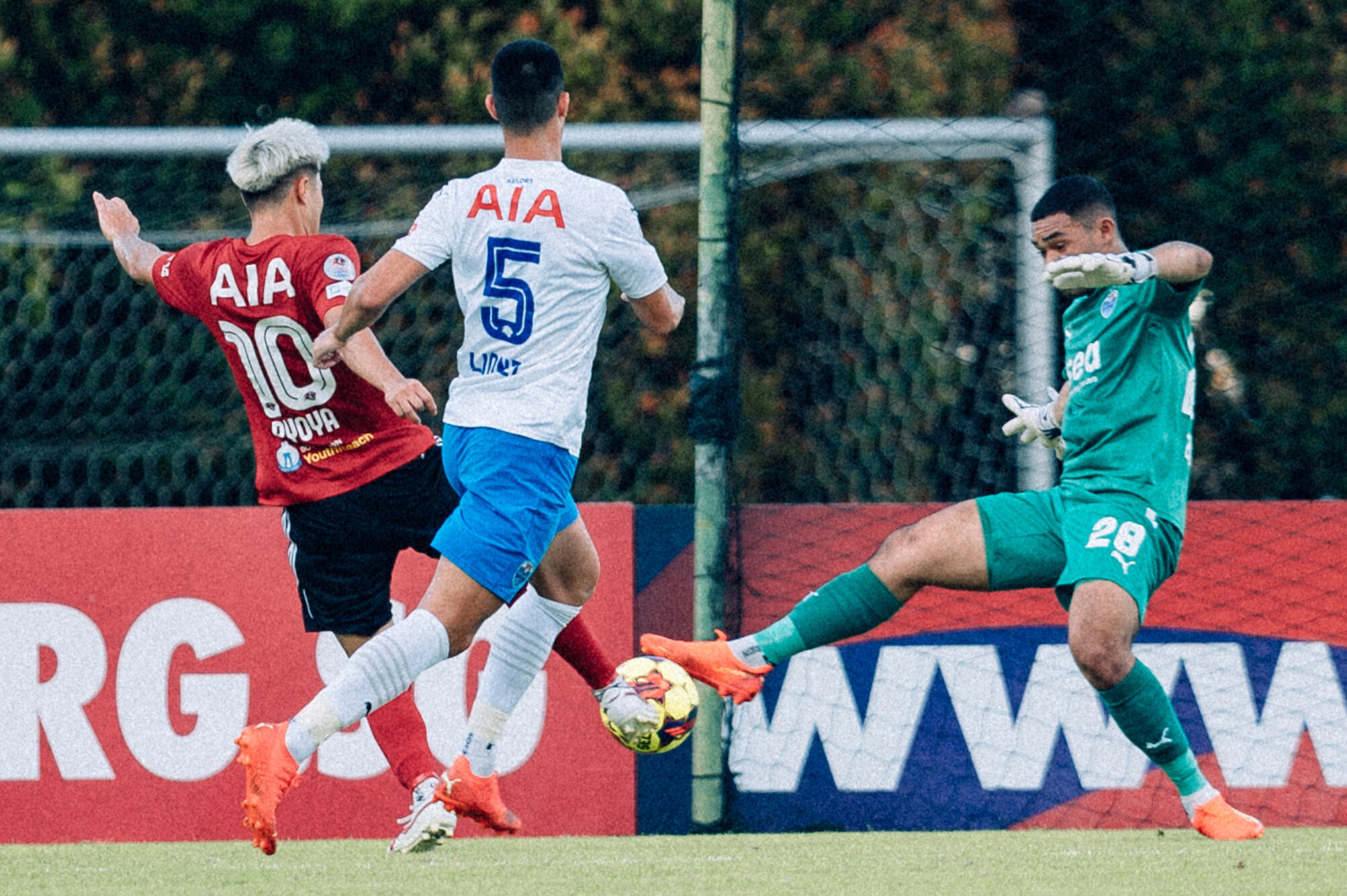 "From the start, we tried to play out from the back and it worked out for us. Winning was the only thing that was on our minds ahead of the international break.
"We are going to face Tampines next, so having these three points gives us momentum, and we're all looking forward to that big game."
The Sailors' highly-anticipated clash with fellow title challengers Tampines will take place on Friday, 31 March at Our Tampines Hub.