They huffed and they puffed, and after 85 long minutes at Choa Chu Kang Stadium on Sunday (30 July) night, the Lion City Sailors finally broke through a resilient Hougang United defence to score what could well be a crucial goal in the race for the Deloitte Women's Premier League (WPL) title. 
The 1-0 win saw the Sailors Women reclaim top spot in the 10-team WPL standings with 22 points, two ahead of second-placed Albirex Niigata FC (S), with Hougang still very much in the race, in third spot with 18 points.
"We knew that they were going to play the long ball, but it was not easy to suddenly deal with it, so the team took the first half to get used to their style," said Sailors Head Coach Yeong Sheau Shyan. "In the second half, it is when we really started to play our football, which was good to see."
"I have to give credit to Hougang, they really pressed us, chased every ball and made things difficult for us. That goal from Miray (Altun) really saved us," added the 44-year-old.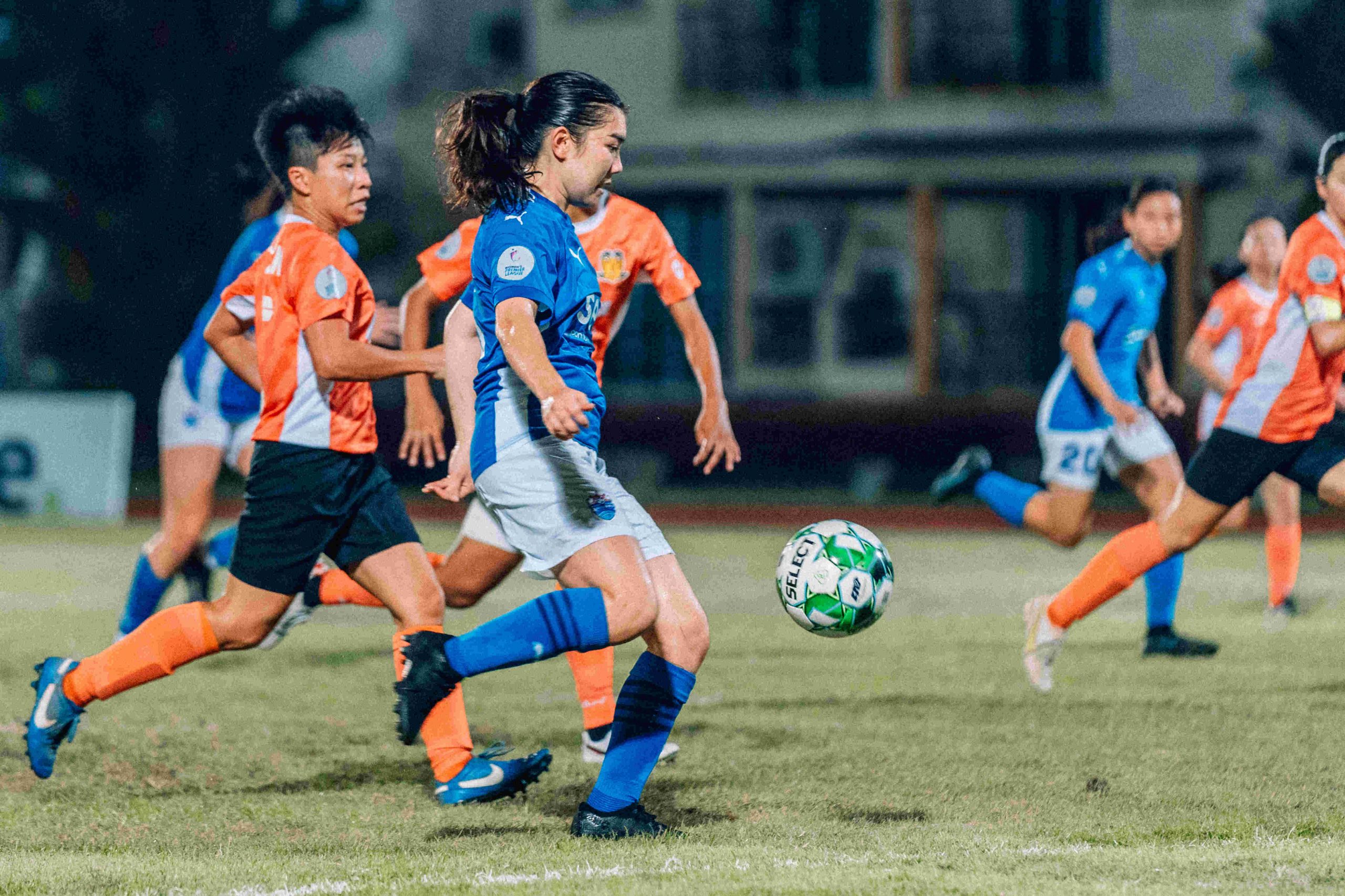 In the 86th minute, Miray took down Ernie Sulastri Sontaril's diagonal ball with delicate finesse and displayed a composure beyond her 18 years of age to put the ball into the back of the net to score her third goal of the season.
That goal meant Miray is now the Sailors' joint-second highest scorer this season along with Madison Telmer and Chloe Koh, behind Nur Izzati Rosni who has six to her name. 
The Sailors had several other opportunities to score much earlier in the game, but were thwarted by a resolute Cheetahs side.
The Sailors dominated possession early on, and within the first ten minutes, Miray peppered the Hougang penalty box with a couple of crosses that needed Hougang goalkeeper Azura Azlan to be alert.
In the 45th minute, Lila Tan weaved her way through the Hougang defence but her shot from just outside the penalty box went straight to Azura.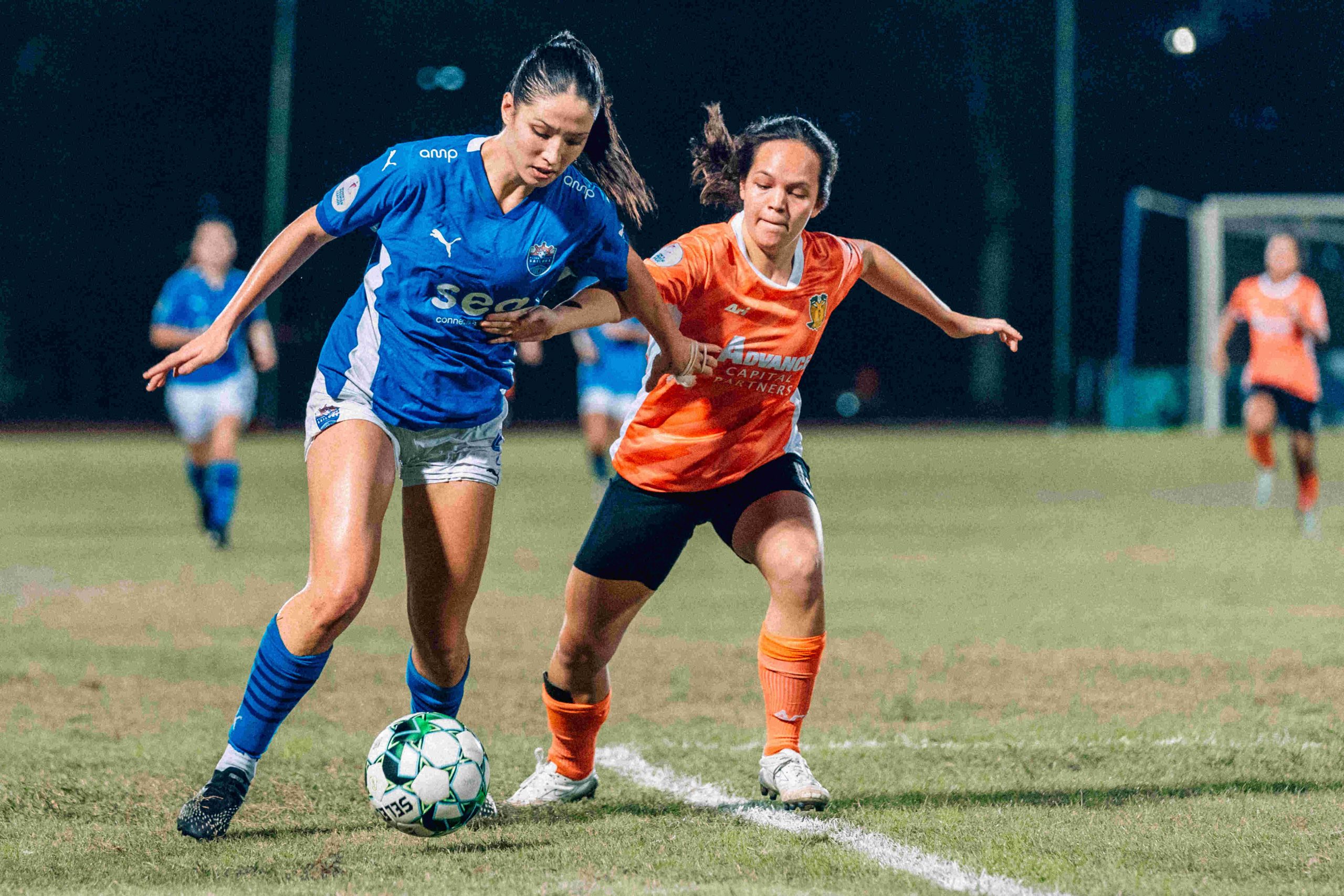 Even in the execution of their defensive game plan, the Cheetahs fashioned goal-scoring opportunities too.
Former Sailor, Nicole Lim, found herself in a promising one-on-one situation with Sailors custodian Beatrice Tan, but the latter stood tall to save the shot and keep the scores level.
In the 74th minute, 14-year-old Cara Chang came on for Ardhra Arul Ganeswaran for her Sailors Women debut and it was a substitution that injected fresh energy into the team.
Cara is the seventh player from the Sailors' Girls Academy to make the step up to play for the club in the WPL this season. 
"Our substitutes in the second half made a difference in terms of attacking and changing things up. Our build-up plays in the second half were good, and Cara's aggressive pressing helped us a lot," said Sheau Shyan.
Just two minutes after taking to the pitch, Cara smartly laid off the ball for Madelin Lock, who unleashed a powerful shot that narrowly missed the target.
And the Sailors fashioned more opportunities after Miray found the back of the net in the 86th minute.
Lila came close to doubling the lead for the Sailors in stoppage time, her shot from a tight angle going just wide.
"We still need to put in a lot of work on the training ground," said Sheau Shyan. "We need to improve on our own style of football and also how we handle our opponents on the pitch."
The Sailors Women next take on second-from-bottom Tiong Bahru on Saturday (5 August).
After putting up a creditable display in a 5-1 loss to English Premier League side Tottenham Hotspur in the Singapore Festival of Football's Tiger Cup on Wednesday, the Lion City Sailors will return to Singapore Premier League (SPL) action next Monday (31 July) as they take on Balestier Khalsa at the Bishan Stadium. 
The Sailors are currently third in the nine-team Singapore Premier League (SPL) standings with 42 points, nine points ahead of the fourth-placed Tigers. 
Despite the gulf in points tally, midfielder M. Anumanthan called for laser-sharp focus, especially in matches like these in the business end of the season.
"Balestier is fast on the break and when we are attacking, they tend to leave three to four players – including Jumbo (Shuhei Hoshino) who can hold the ball well and Ryoya Taniguchi who can cause us problems – in front and if the ball gets to those guys, anything can happen," warned the Singapore international, who skippered the Sailors in the 5-1 loss to Spurs.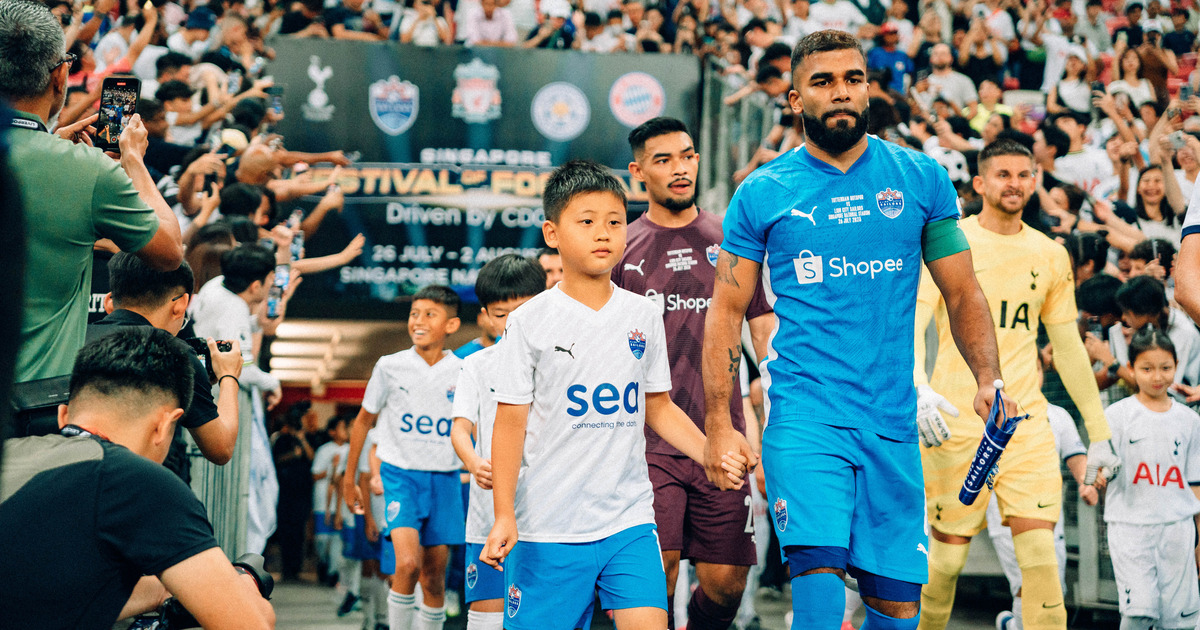 The Tigers scored four goals against the Sailors the last time the two sides met in early June, in a match that was labelled the Sailors' "worst performance of the season". Trailing 5-2 with just 14 minutes left to play, Peter de Roo's charges upped the tempo and launched an improbable comeback that fell just short. 
The final whistle was blown with the Sailors running out 5-4 winners, despite an error-strewn showing that could have seen things go terribly wrong. 
With only four games left to play in the SPL season, there can be no repeat. 
Every single match is like a final for the Sailors, who are eight points behind SPL league leaders Albirex Niigata (S), and two adrift of Tampines Rovers with a game in hand over the Stags. The top local side will earn the right to be Singapore's representatives in 2024/25 Asian Football Confederation (AFC) regional competitions.
Anu is firm in his belief that there is everything still to play for.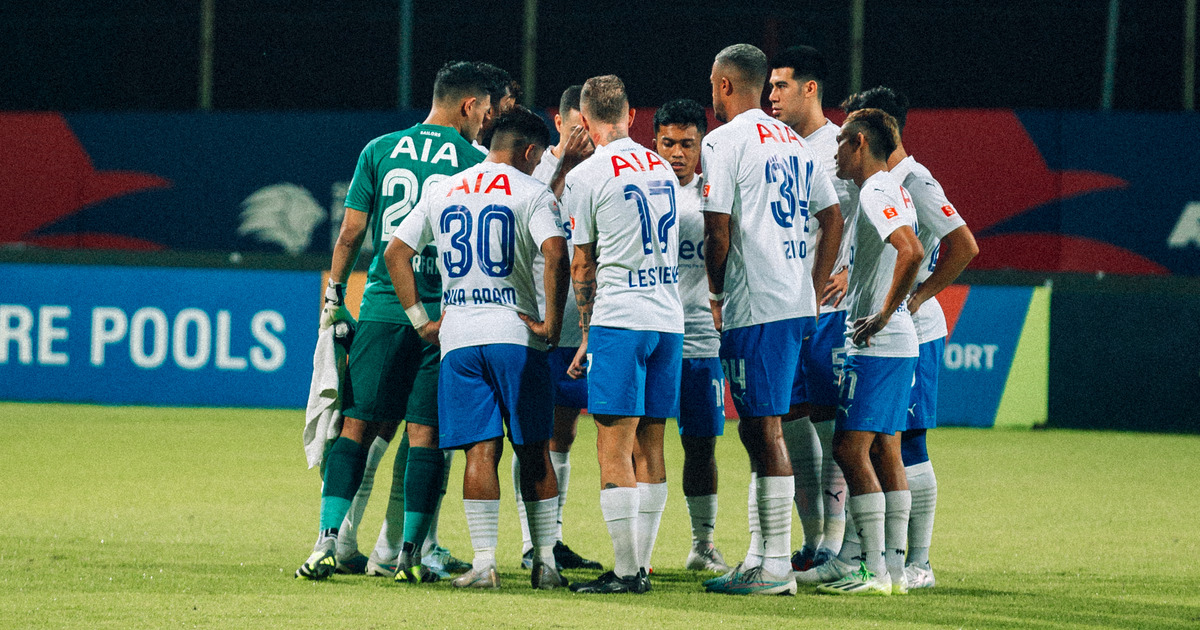 "We have to take it like we have four cup finals left to play, and we have to go out there each of those times and play like it is the last match of the season," said the 29-year-old. "There is still a lot of work in front of us, but we are confident in the quality that we have and the work we have put in to say that we will be able to get the job done." 
Sailors' custodian Zharfan Rohaizad shares similar concerns raised by Anu, and also the same resolve that his team has what it takes to get across the line in what is their seventh and final match in a hectic July.
"If we are able to contain their key players, get goals, and kill the game as early as possible, then we won't have much to worry about," said the 26-year-old, who is one of two Sailors players alongside Maxime Lestienne to have started all 20 SPL matches this season.
"Ultimately we need to overcome our individual weaknesses and fight it out on the pitch. So if we can win our own battles, I'm sure that getting the results is in our hands."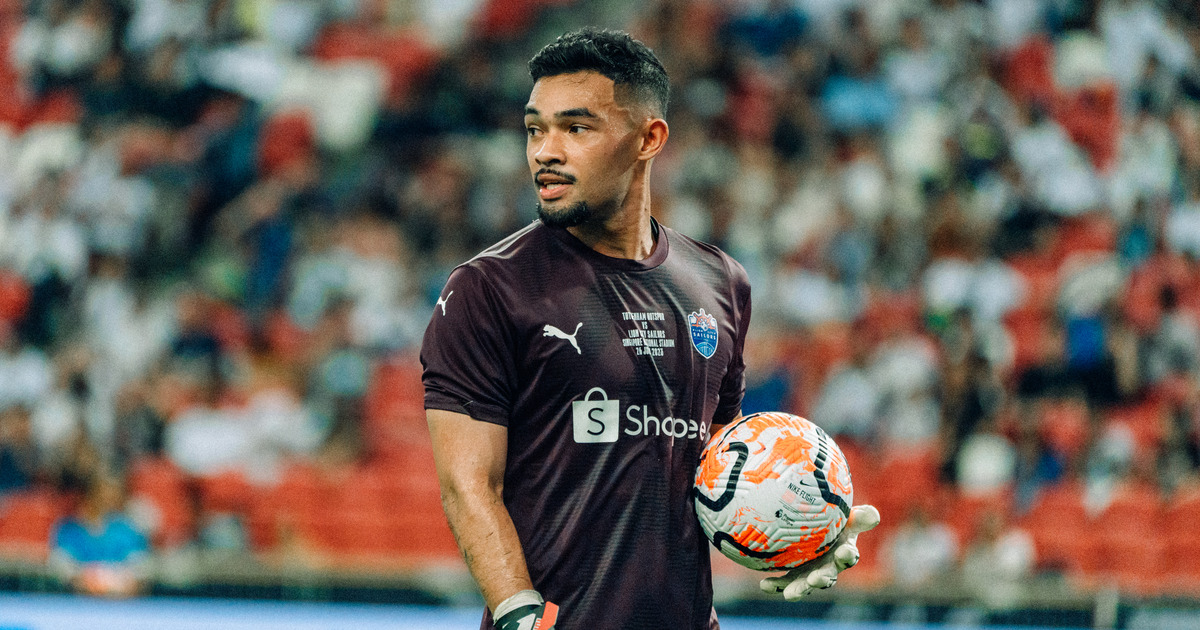 "There will be challenges but I think we are more than capable of getting what we want."
There is only a single point separating the Lion City Sailors and Hougang United at the top of Deloitte Women's Premier League (WPL) table, with both sides looking to take control of the title race this Sunday (31 July) night at the Choa Chu Kang Stadium, in a top-of-the-table clash that is poised to thrill. 
The Sailors lead the 10-team WPL standings with 19 points, while Hougang are breathing down their necks with 18. 
Coming up against a Hougang side known for its resolute defending will be a stern test of the Sailors' ability to attack effectively, but Sailors captain Ernie Sulastri Sontaril believes there has been enough work put in on the training ground to get her Sailors across the line. 
"Hougang are usually strong at the back and will look to exploit any chance to counter attack. Their playing style is contrasting to the possession-based football that we prefer, and it is going to be challenging for us," said Ernie. "But Coach (Yeong) Sheau Shyan has organised our backline and our attack, and we have also been practising various ways of breaking through defence lines."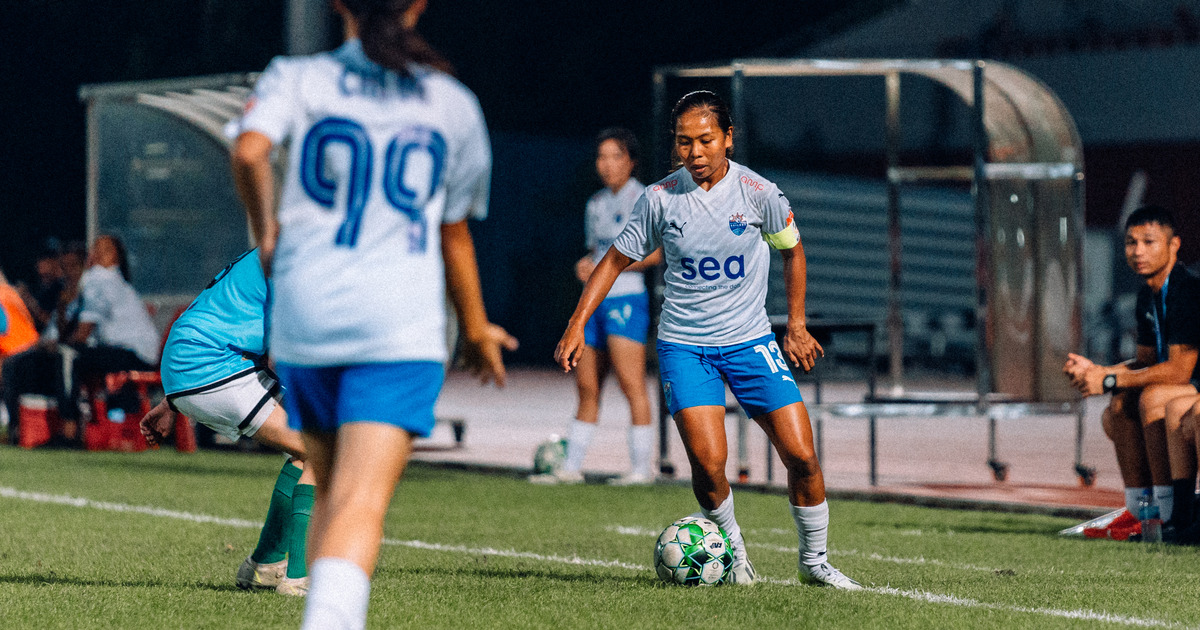 "Right now it is all about us being able to bring this to the pitch and execute our plan. We are well-prepared, and I'm confident we'll be able to get the job done."
Despite her confidence in her team's preparation, Ernie remains cautious of the threat that the Cheetahs – a team that has lost just once in seven games, conceding only two goals all season – present. She called for the Sailors to approach the match with focus and discipline.
"Hougang's a team that's tactically disciplined, has good fitness and has this never-give-up attitude. Even when they're tired or cramping, they look like they are very determined to push through everything," said Ernie.
"Their backline is stable and they have good attackers like Raudhah Kamis and Nicole Lim (joint-third highest WPL scorers with five goals each) who can pose problems in the transition. We need to be alert on that day and take our chances."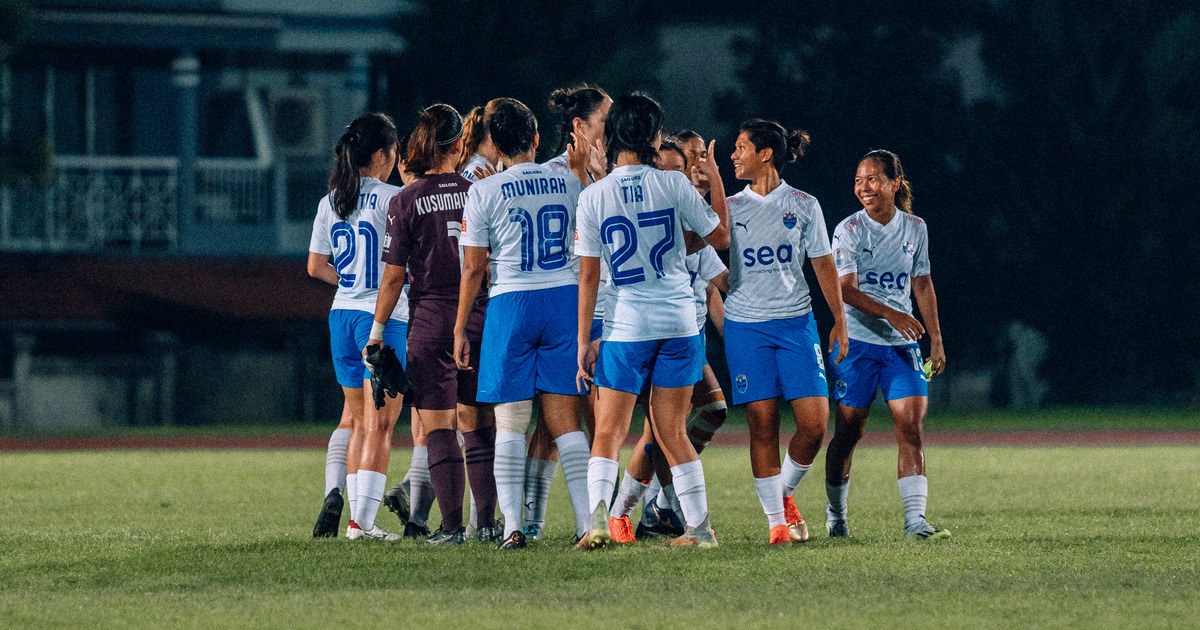 While the Sailors will now have to navigate the rest of the season without midfield driving force Madison Telmer who has left for Canada to pursue a university education, Ernie remains optimistic about the Sailors' playing style and their drive towards the WPL title. 
Madison was a key player who started every WPL game and has three goals to her name in 2023. 
"She is very daring and confident in her ability to beat players and take shots – not many players in Singapore have that kind of confidence – and that's perhaps why she contributed a lot, especially to our attack," said Ernie.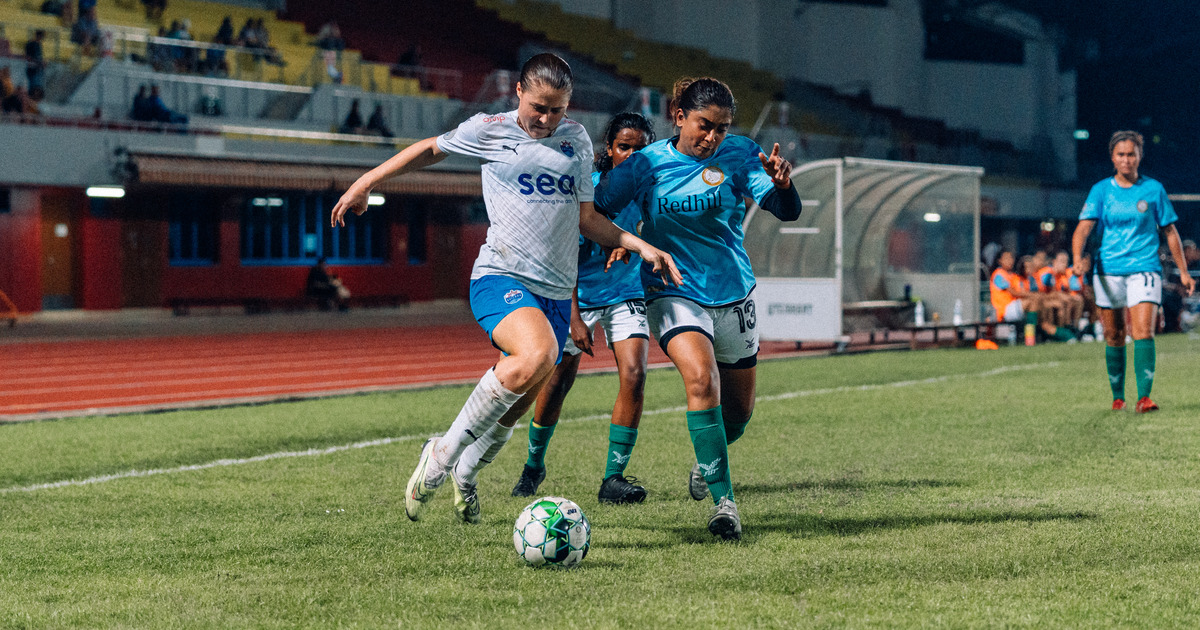 "But I'm confident we will be able to cope by relying on two things I believe are our greatest strengths – keeping the ball and beating the line, and our cohesive team work – to help us to move forward."
It may not the tidiest of finishes, but it gave Shawal Anuar a goal he will never forget. 
As Maxime Lestienne swung a trademark sublime cross from the right flank, Shawal escaped the attentions of Spanish international Pedro Porro, and instinctively stuck out a foot to divert the ball past goalkeeper Guglielmo Vicario. 
It was 14 minutes into the Singapore Festival of Football's Tiger Cup, and the scoreboard at the National Stadium read: Tottenham Hotspur 0 Lion City Sailors 1. 
Aleksandar Ranković's charges eventually fell 5-1 to the English Premier League (EPL) side. 
However, Shawal made history by becoming the first Singaporean player to score against Spurs since Samawira Basri did so for the Singapore national team in 1995 – when the Lions drew 1-1 with the North London side before prevailing 4-2 on penalties.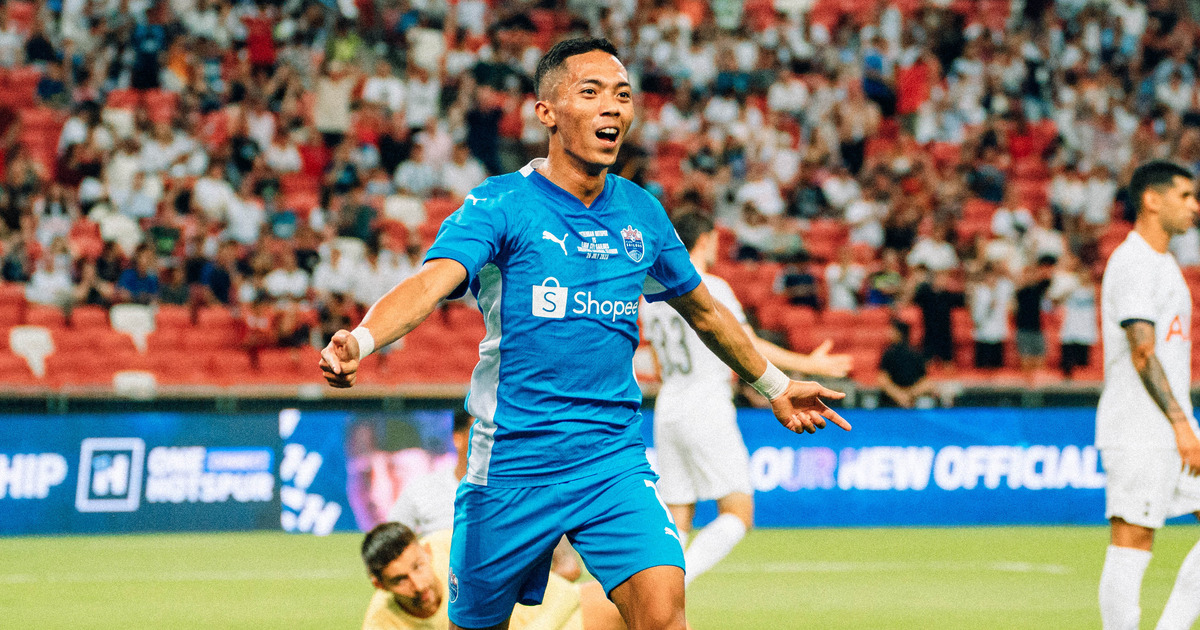 Shawal is still coming to terms with how a training ground move was the platform that gave him a unique goal.
"Before the match, coach Ranko kept telling me 'Shawal, I want you to make the runs into the box'. Max also told me 'you just run inside and I will definitely give the ball to you'," revealed the Singapore international.  "I did and the ball just fell nicely for me to tap in.
"The crowd cheered so loud that I couldn't hear myself, it was like my ears were blocked. This is definitely one of the best moments in my career to score against a team like Spurs. I've never thought something like this would happen," said Shawal. 
But the goal came as no surprise to its architect. 
"I'm not surprised by this goal, honestly," said Maxime. "I've just started playing with Shawal this season, but I already have a very good connection with him – I know where he wants the ball and how he makes the run. 
"I'm very happy for him and he really deserved this because he is a top, top player for us."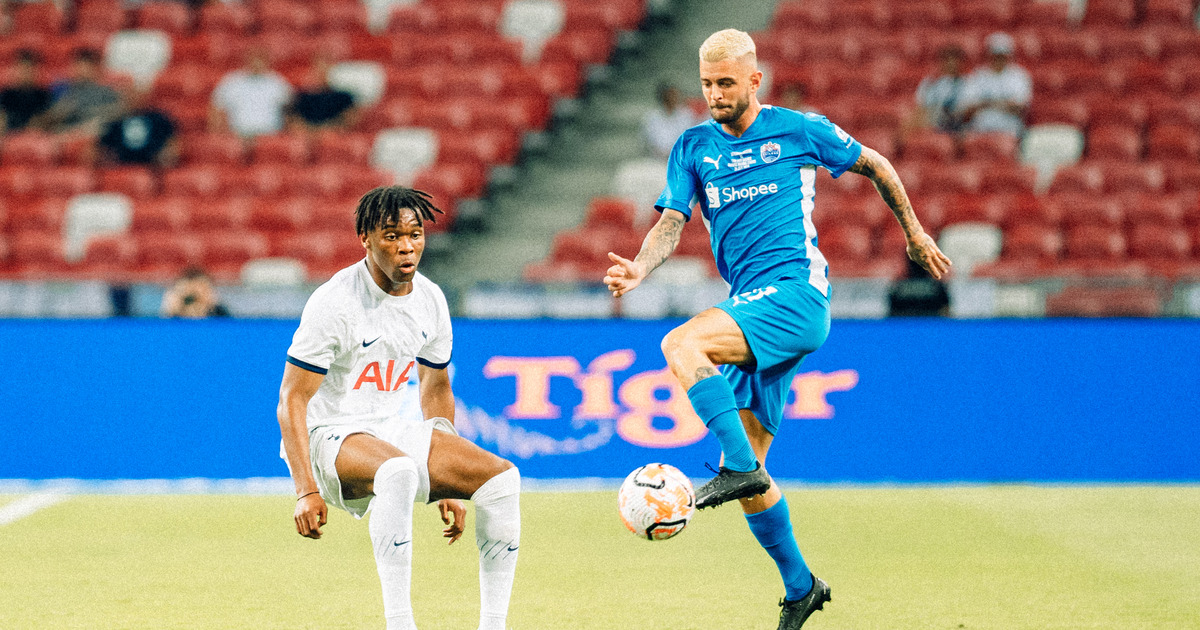 Many probably came to the National Stadium expecting a whitewash given that the Sailors are coming up against an esteemed opponent plays several rungs above in the widely-acclaimed English top-flight, but that goal gave Ranko's men a solid foundation and the confidence to build on as they kept their more reputable opponents at bay for virtually all of the first half. 
Setting up in a compact 5-4-1 formation in preparation for the upcoming Asian Football Confederation (AFC) Champions League (ACL) campaign, the Sailors were resolute in defence. 
On the couple of occasions where Spurs got a clear sight of goal, there was either a decisive tackle from a Sailors defender or an alert Zharfan Rohaizad standing in the way. 
The Sailors backline was eventually breached with the last kick of the half, with Ange Postecoglou's men drawing level through a Harry Kane penalty. 
As Ranko rang the changes with an eye on the Singapore Premier League (SPL) clash against Balestier Khalsa next Monday (31 July), the Sailors lost a bit of momentum and eventually went down to a 5-1 defeat.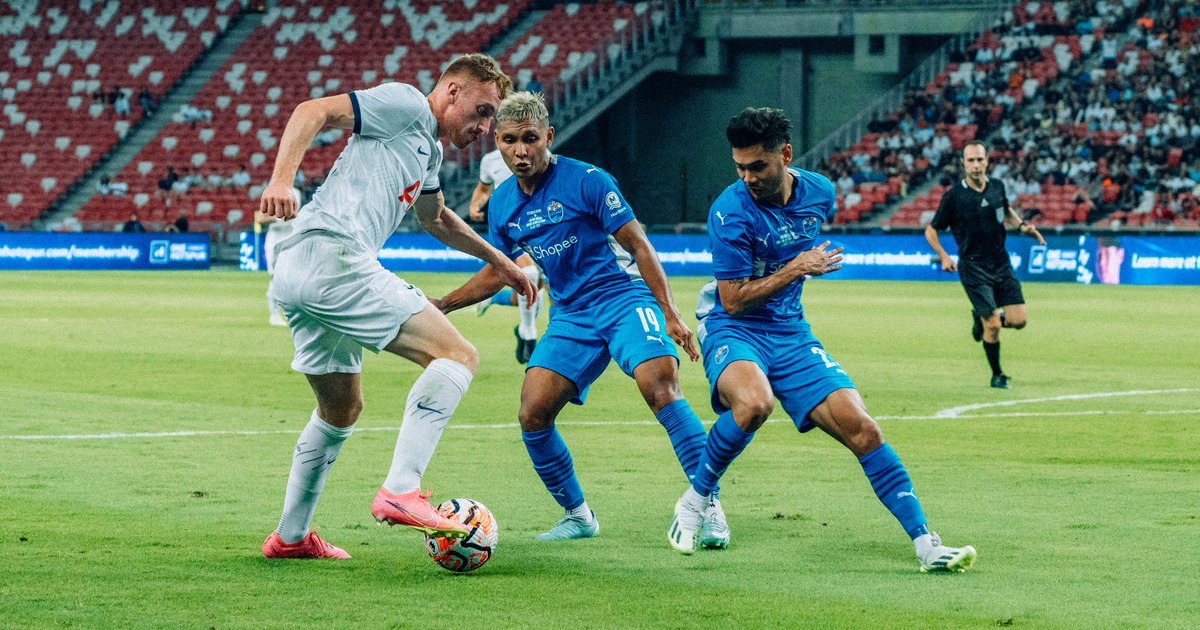 However, the resilience and battling display was one that filled Maxime with pride and optimism ahead of the Sailors' second ACL voyage in September. 
"Today we played as a team and stayed compact according to Coach Ranko's instructions. The focus was really to go out to enjoy the game because ultimately there is no pressure on us," said Maxime.
"And the belief within this team was very strong. We knew we were facing a big team, but football is still 11 versus 11 and anything can happen. We just must go into games with the right mindset and I believe we can do great things as a team."
For the Sailors, the focus now shifts back to the Singapore Premier League as they look to at least finish as the top-ranked local side to ensure qualification into AFC club competitions in 2024. 
Ranko's charges are now two points off second-placed Tampines Rovers, with four games left to play.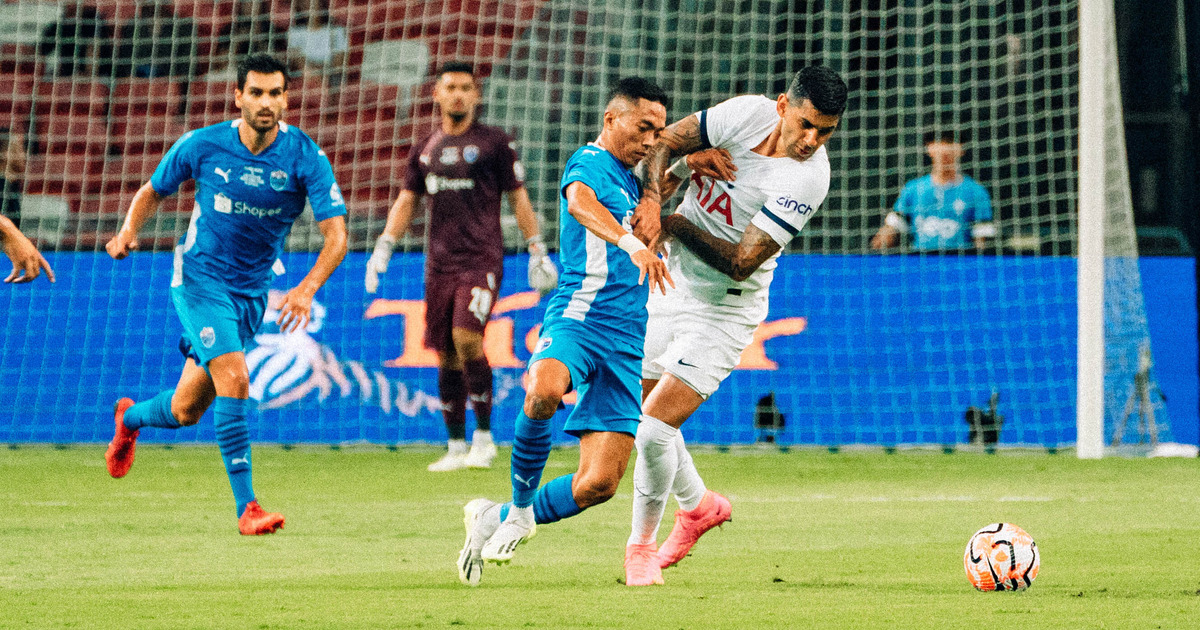 "The way we move, the way we shift as a team is something that we should be doing in every match. We're taking the positives from this match to push ahead and everyone is now looking forward to finishing the season strongly," said Shawal.
"Our fans really turned up and showed us fantastic support tonight, and we don't want to let them down. We're going to push till the end and see where that takes us in the league."
As the final whistle sounded at the National Stadium on Wednesday (26 July) night, Lion City Sailors fans rose to their feet, raised their scarves into the air, and painted the Kallang sky with swirls of blue and white. 
The Sailors lost 5-1 to Tottenham Hotspur in the Singapore Festival of Football's Tiger Cup, but won hearts with what was a battling performance in front of over 25,000 under the domed crown jewel of the Singapore Sports Hub.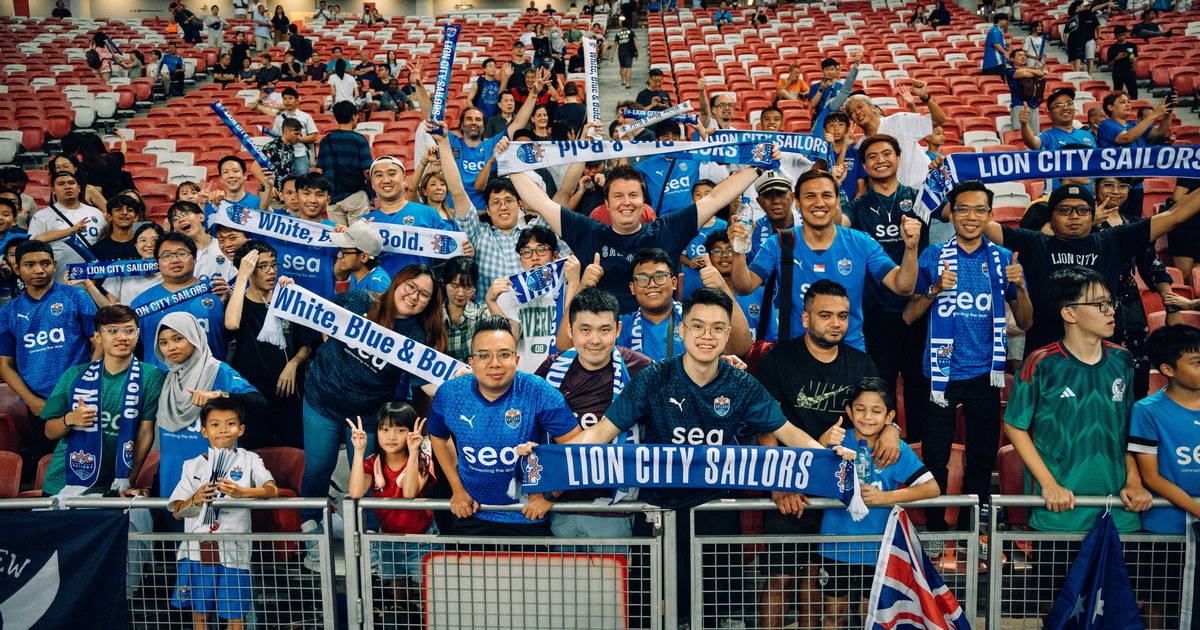 Aleksandar Ranković's side gave the English Premier League (EPL) side – that fielded a line-up that included crowd favourites Harry Kane, Son Heung-min as well as Argentina's World Cup winner Cristian Romero – a scare, taking the lead and holding onto it until the last kick of the first half, before conceding four goals in the second half. 
Ranko was satisfied with both the experience that the occasion provided, and the performance that it drew from his charges.
"I think we gained a lot from this game and we experienced how top opposition can play – speed, power, physicality and tactical awareness – differently. This was a great learning opportunity for my team," said the 44-year-old.
"In the first half, we put up a good fight and I am very pleased about it, and I was happy to see a lot of duels and it was very competitive in both halves," said Ranko.
Ranko put out a strong starting 11 as he looked to experiment ahead of the Sailors' upcoming Asian Football Confederation Champions League (ACL) campaign – a total of six foreign players started with Manuel Herrera López (Súper) and Pedro Henrique on either side of mid-season signing Bailey Wright in a three-man backline.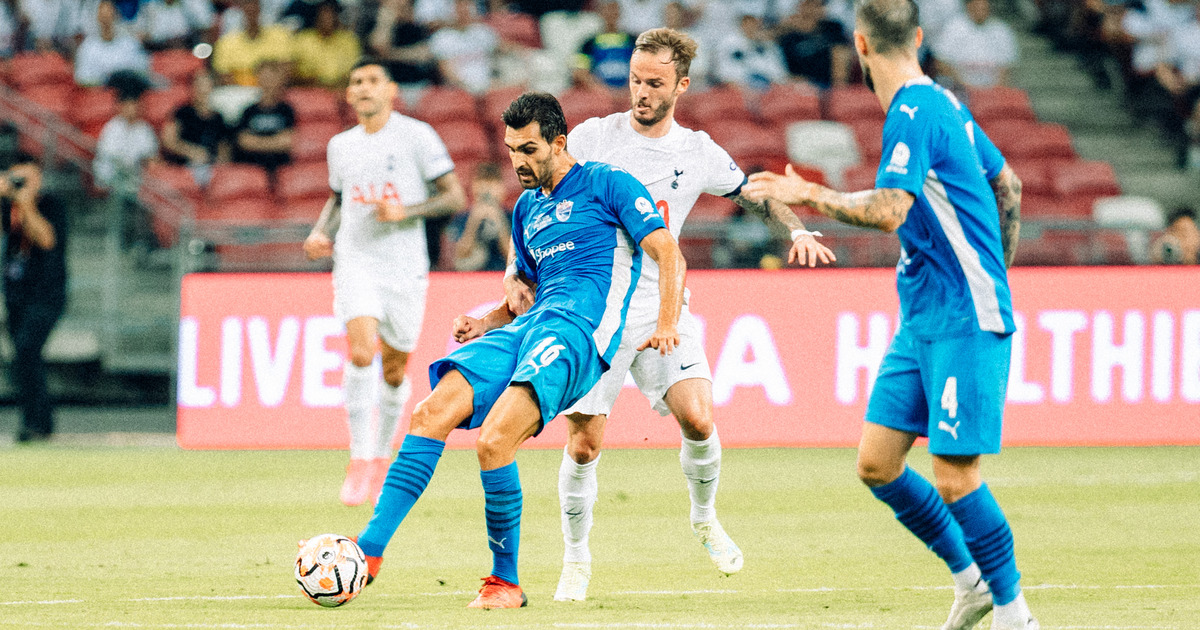 In midfield, former Portugal youth captain Rui Pires started alongside M. Anumanthan who wore the armband for the Sailors. 
The match commenced with Spurs having an early chance in the 3rd minute, as Yves Bissouma delivered a delightful pass over the top to Dejan Kulusevski. However, left back Christopher van Huizen put in a well-timed sliding challenge to put the ball out for a corner, thwarting the opportunity.
While the Sailors were under pressure from the Spurs attack from the get go, they stunned the visitors with what was the first meaningful chance on goal in the 14th minute. 
Rui, who was playing his first game for the Sailors, intercepted a pass in the middle of the park before finding Maxime Lestienne on the right flank. The Belgian winger delivered a splendid cross to Shawal, who instinctively stuck out a leg to divert the ball past Spurs' new Italian goalkeeper Guglielmo Vicario. 
"I think he'll have trouble sleeping tonight," quipped Ranko. "That was a great moment for Shawal, considering that they have a central defender (Cristian Romero) who won the World Cup just last December, and he'll definitely remember this goal."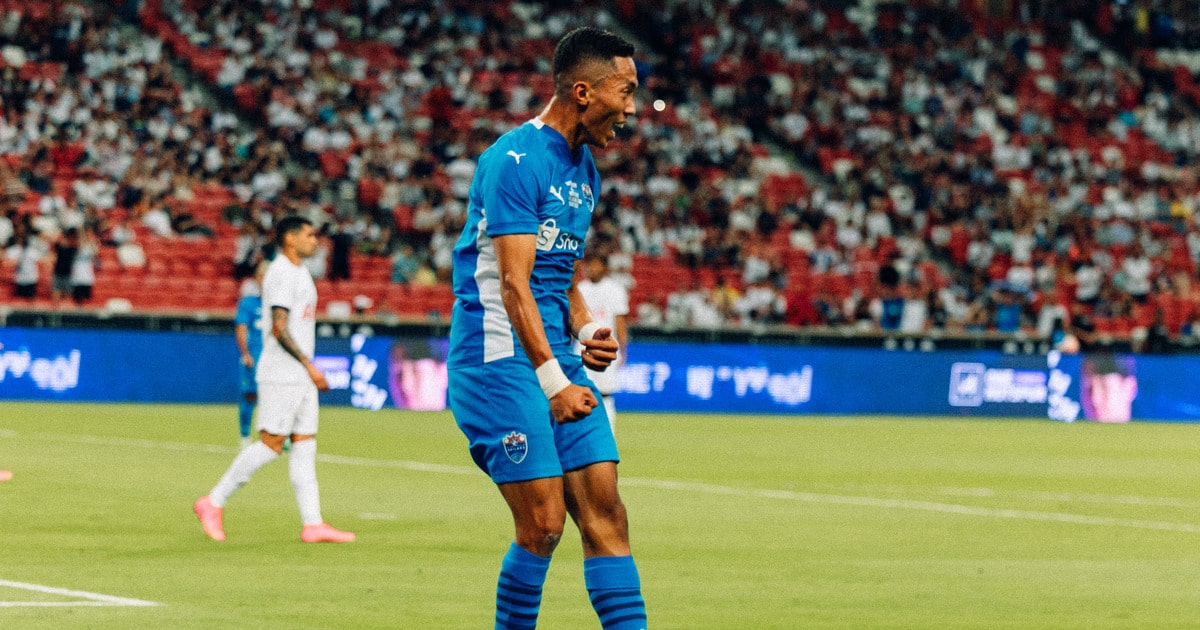 Spurs continued to dominate possession and create chances in the first half, with new signing James Maddison coming close but failing to capitalise on a Kulusevski pass. It was a combination of resolute defending and the commanding presence of Zharfan Rohaizad in goal that saw the Sailors hang on to the lead. 
One of those chances fell to Son Heung-min at the edge of the box in the 44th minute. In what is now his trademark move, the South Korean talisman cut inside and unleashed a powerful left-footed strike that narrowly dipped dangerously, but narrowly missed the target, landing on the top of the net. 
The Sailors weathered the storm and while it looked like they would take a shock lead into the break, Spurs were awarded a penalty. Rui was adjudged to have impeded Pape Matar Sarr in the area, and Harry Kane stepped up to convert the penalty and level the scores with what was the last kick of the half. 
Both sides rang the changes after the break, with the Sailors – who had one eye on Monday's Singapore Premier League (SPL) fixture against Balestier Khalsa – making six changes with the likes of Hariss Harun, Hami Syahin and Abdul Rasaq Akeem entering the fray.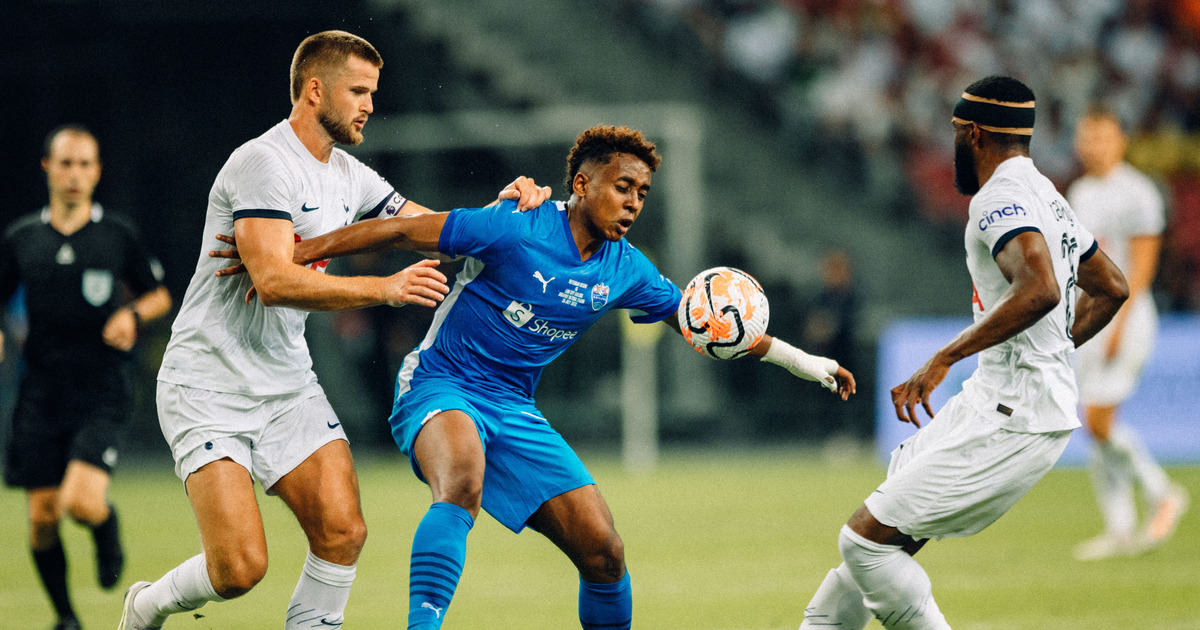 Ange Postecoglou's men took just three second-half minutes to race ahead. 
Giovani Lo Celso made a powerful run into the box, only to be denied by a block from Hariss Harun, but Richarlison was quick to jump on the rebound to put Spurs 2-1 up in the 48th minute. 
Four minutes later, a long throw from Ivan Perišić caused chaos in the Sailors' defence, with Richarlison pouncing on a poor clearance to head home his second of the match.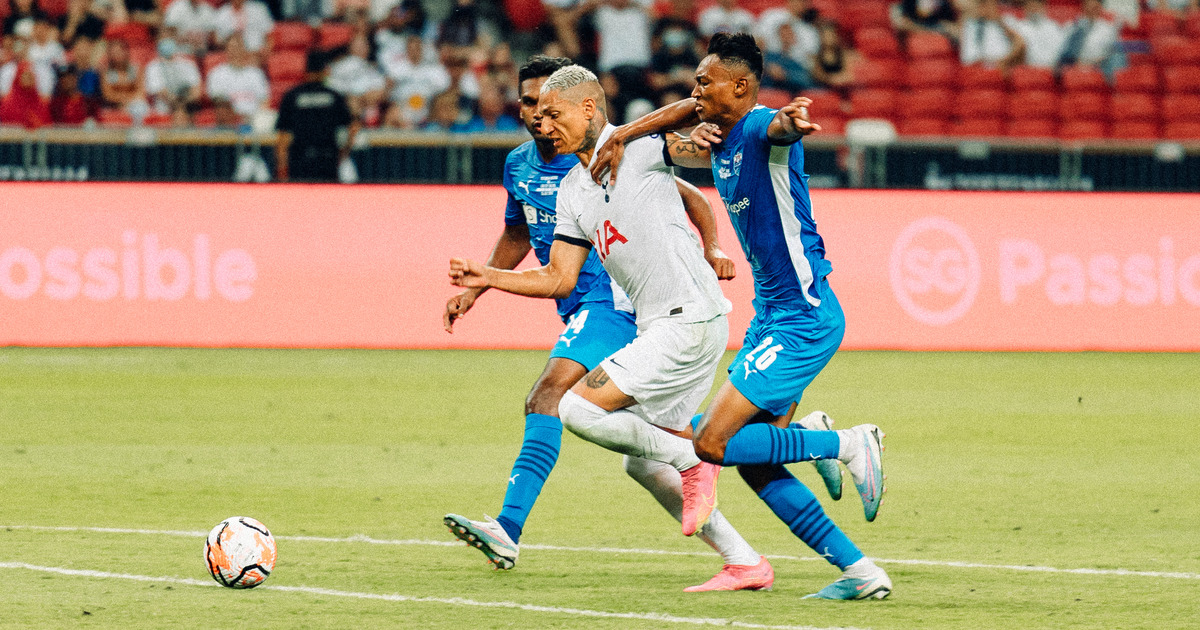 Spurs continued to press forward, and Lo Celso found the net on 73 minutes to make it 4-1 after Manor Solomon's cross was deflected onto his path.
Richarlison completed his hat-trick in the dying embers of the fixture, calmly slotting the ball past Sailors' substitute goalkeeper Adib Azahari who had come on for Zharfan in the 79th minute.
"I think it was a good game. Traditionally (the Sailors) have always been one of the two strong sides in Singapore and it was definitely a worthwhile exercise for us," said Spurs manager, Postecoglou. "And we got a great reception here in Singapore too."
Despite watching his team concede four goals in the second half, Ranko came away from the match satisfied.
"I was not disappointed with the second-half performance at all, because I know that we cannot keep this pace for 90 minutes. Even though it was mostly different players who played in the second half, I think they gave their best and I am not disappointed about their performance," he said.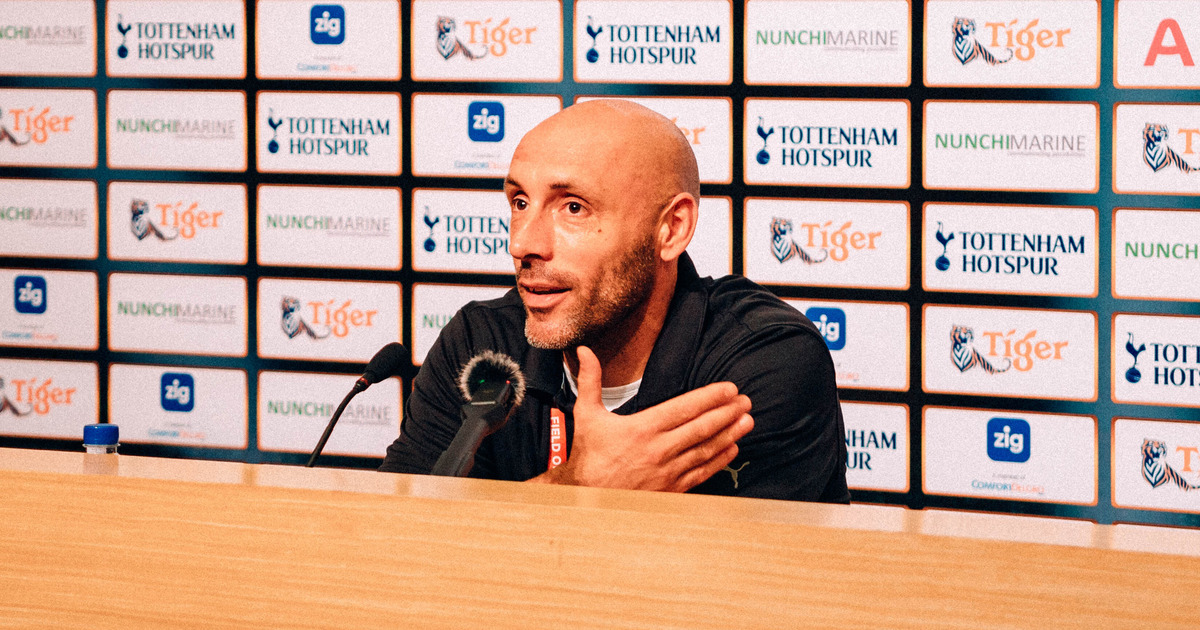 "I was looking at this game as a learning process and also as a test of things that we can apply in the ACL. I tried a different formation today and I still have other ideas as well, so it is not 100 percent confirmed," added Ranko who also drew other positives from the game.
"I am very pleased that I can use all of these (foreign) players in the ACL, and I have to respect Pedro, especially because he is coming back after 11 months out injured," said Ranko.
"He needs some time to build his physical strength back and this game was a great opportunity for it."
Sailors' young guns Nathan Mao and Muhammad Nur Asis were also given the opportunity to step onto the field for the final five minutes in an experience that the pair relished.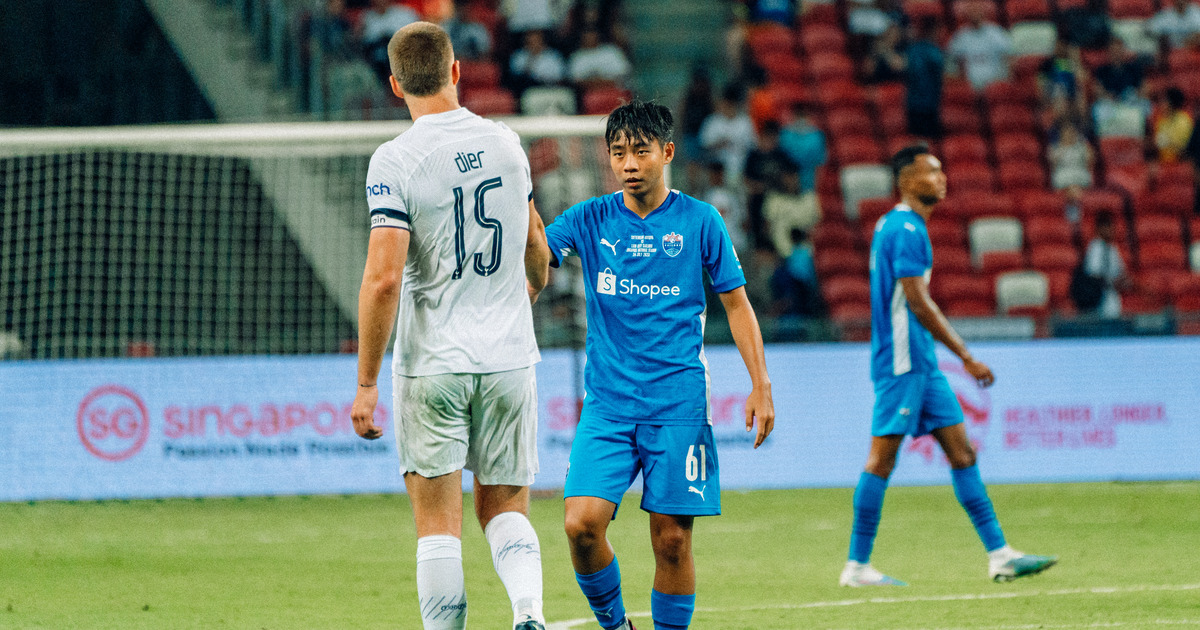 "It was a good opportunity and I will cherish this experience," said 15-year-old Nathan. "And despite the short period of time played, I can see their qualities and I know how much more I have to improve to get to their level." 
The Lion City Sailors are bracing themselves for the clash against English Premier League giants Tottenham Hotspur in the Singapore Festival of Football's Tiger Cup on Wednesday (26 July), but instead of fear, Hariss Harun and his Sailors are embracing what could well be a test of a lifetime.
"They have prominent players like Son Heung-min and Harry Kane, but once we cross that white line, it's all about what we want to do and what we want to achieve as a team," said Hariss, who addressed the media at the pre-match press conference at the Lion City Sailors Training Centre on Tuesday (25 June). 
This is the final game of Spurs' Asia-Pacific Tour 2023, they lost 3-2 to fellow English Premier League side West Ham United in Perth before travelling to Bangkok, Thailand where their friendly game against Leicester City was called off due to a waterlogged pitch. 
Hariss believes that the Sailors must test their abilities against the best to rise up to the challenge that lies ahead in the Asian Football Confederation (AFC) Champions League (ACL).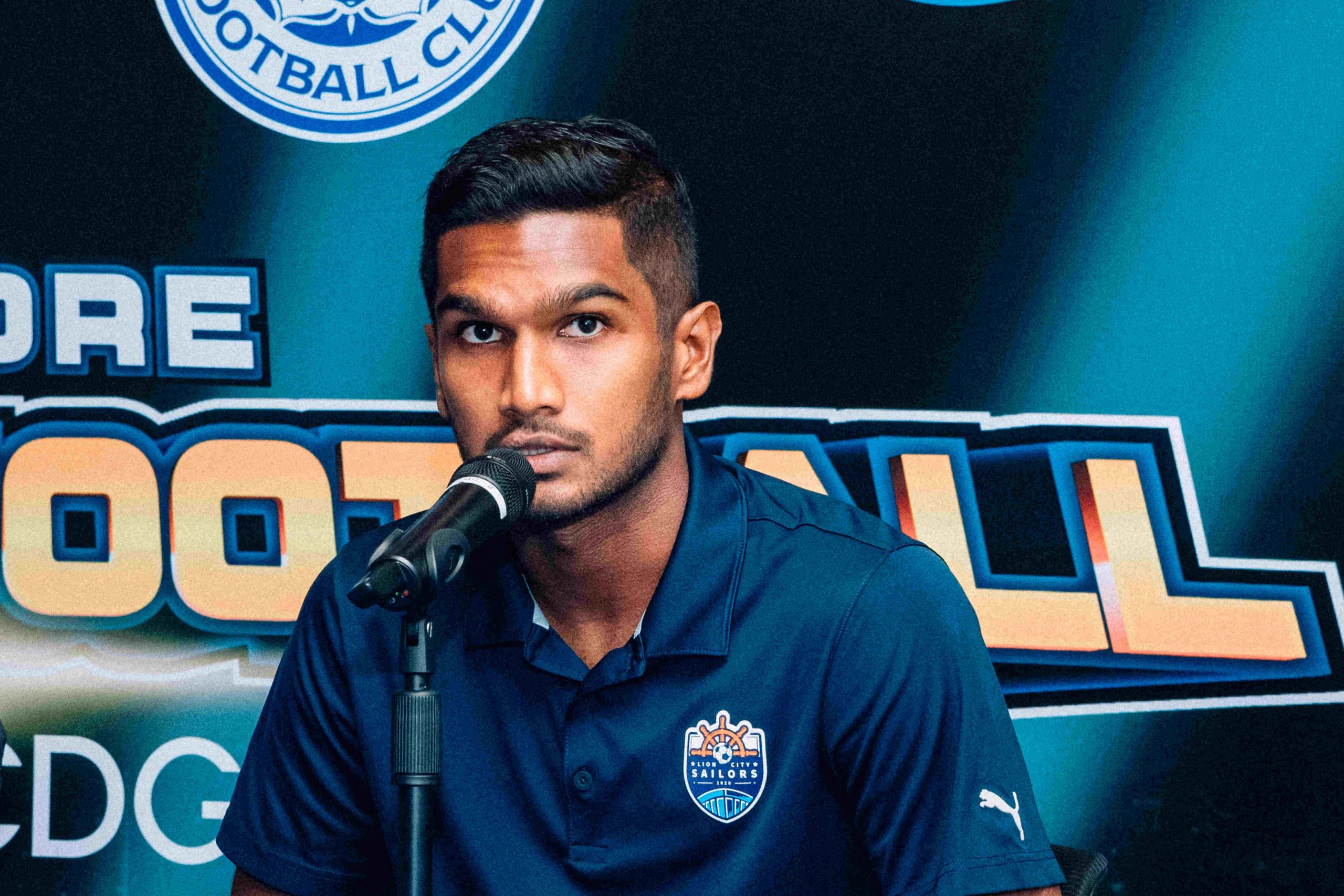 Tottenham, with their reputation and international acclaim, provide the perfect litmus test for the Sailors to gauge their own strengths and areas of improvement.
"Spurs are of a different calibre and they play at a higher level week in and week out, and it is going to be a good challenge for us," he said.
"It is pretty cool that we are involved in this game, especially because it will be played at the National Stadium. It is a wonderful arena and a fantastic pitch and it will be good preparation for us ahead of the ACL."
"Most importantly, the players can soak in the atmosphere, in the minutes we get and relish the experience," said the Singapore captain. 
Sailors Head Coach Aleksandar Ranković echoed similar sentiments.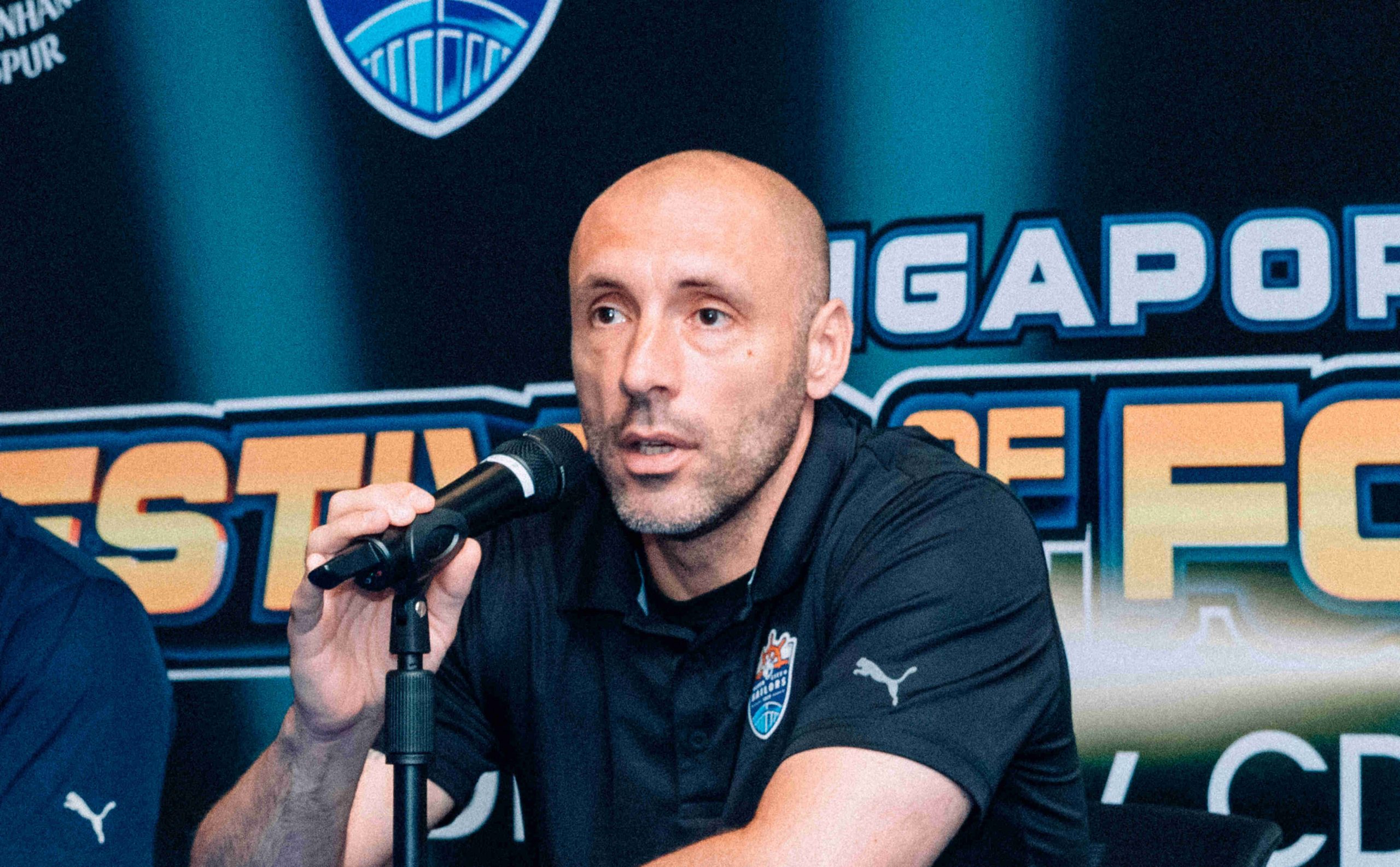 "It is very important to play games like this because this game against Spurs will help us to test ourselves against world class players, I can use every single player in the squad, and this game serves as a platform for me to try out formations and strategies that I can use in the ACL," said the 44-year-old.
Admitting that this game against Spurs would be different from their style of play in the Singapore Premier League, Ranko is relishing the chance to play differently while embracing what will be a stern test against a higher level of competition.
"Of course it's not going to be the same game we play in the local competition – we won't have much possession compared to what we get against opponents in the local league – and that's something that I'm going to be looking out for," said Ranko.
Bailey Wright, one of three mid-season new signings, is looking forward to a mini Aussie reunion at the National Stadium. Spurs manager Ange Postecoglou and assistant Mile Jedinak were key figures in the Australian national team when Bailey donned the green and gold.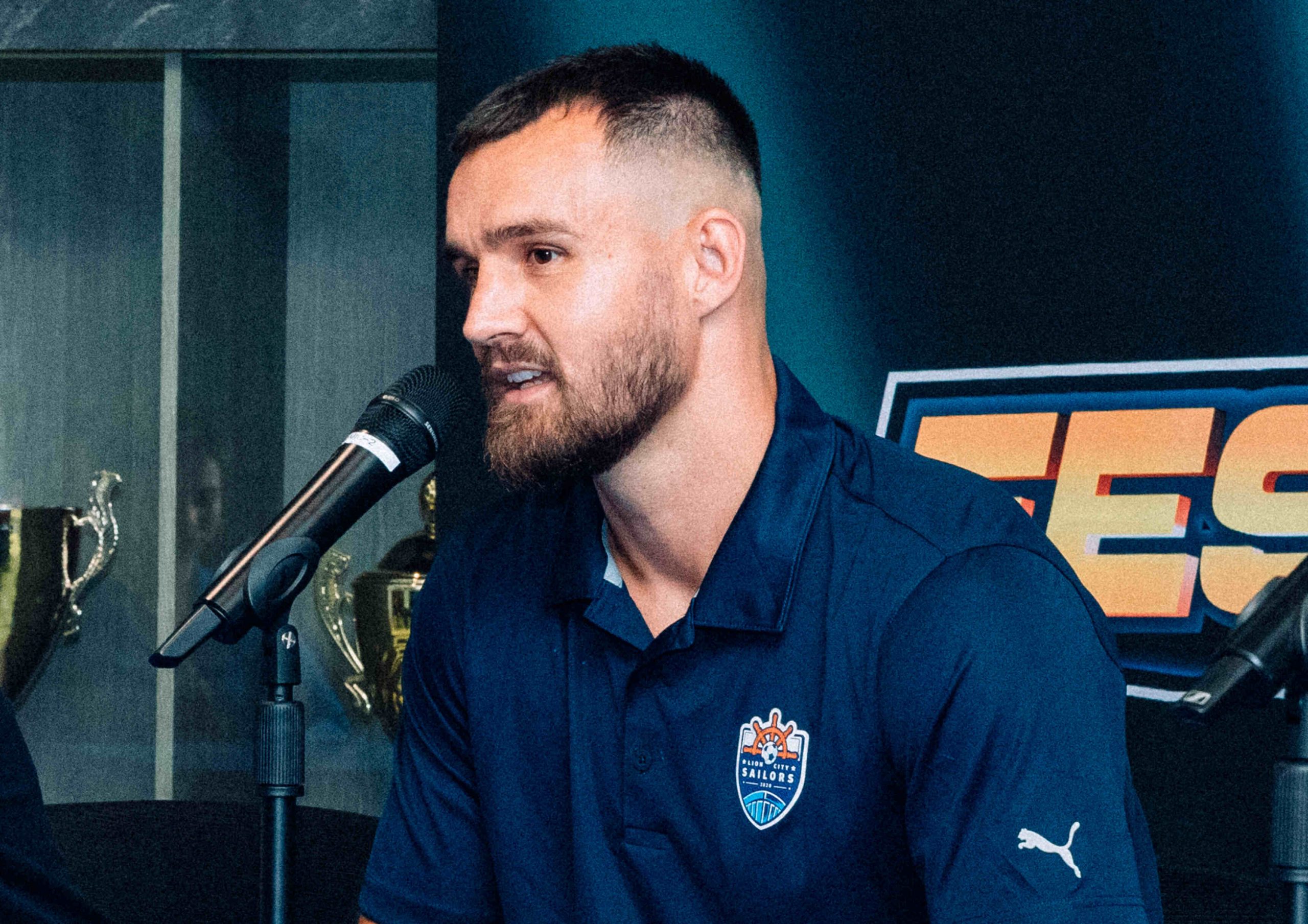 The relationship with Ange holds a special place for Bailey, Ange was the manager who gave him his debut for Australia and the opportunity to participate in the 2014 FIFA World Cup in Brazil.
"Ange was my national team manager for a number of years and gave me my first-ever national team call up, which led to taking me to the 2014 World Cup in Brazil. So obviously I've always been grateful and thankful for the opportunities he has given me and he also was a great person to learn from on and off the pitch. He always wanted to push the game forward and his vision was always clear," said Bailey.
"I am looking forward to catching up with him and Mile but obviously I'll probably leave all that after the game and for now, focus is on the game," chuckled Bailey.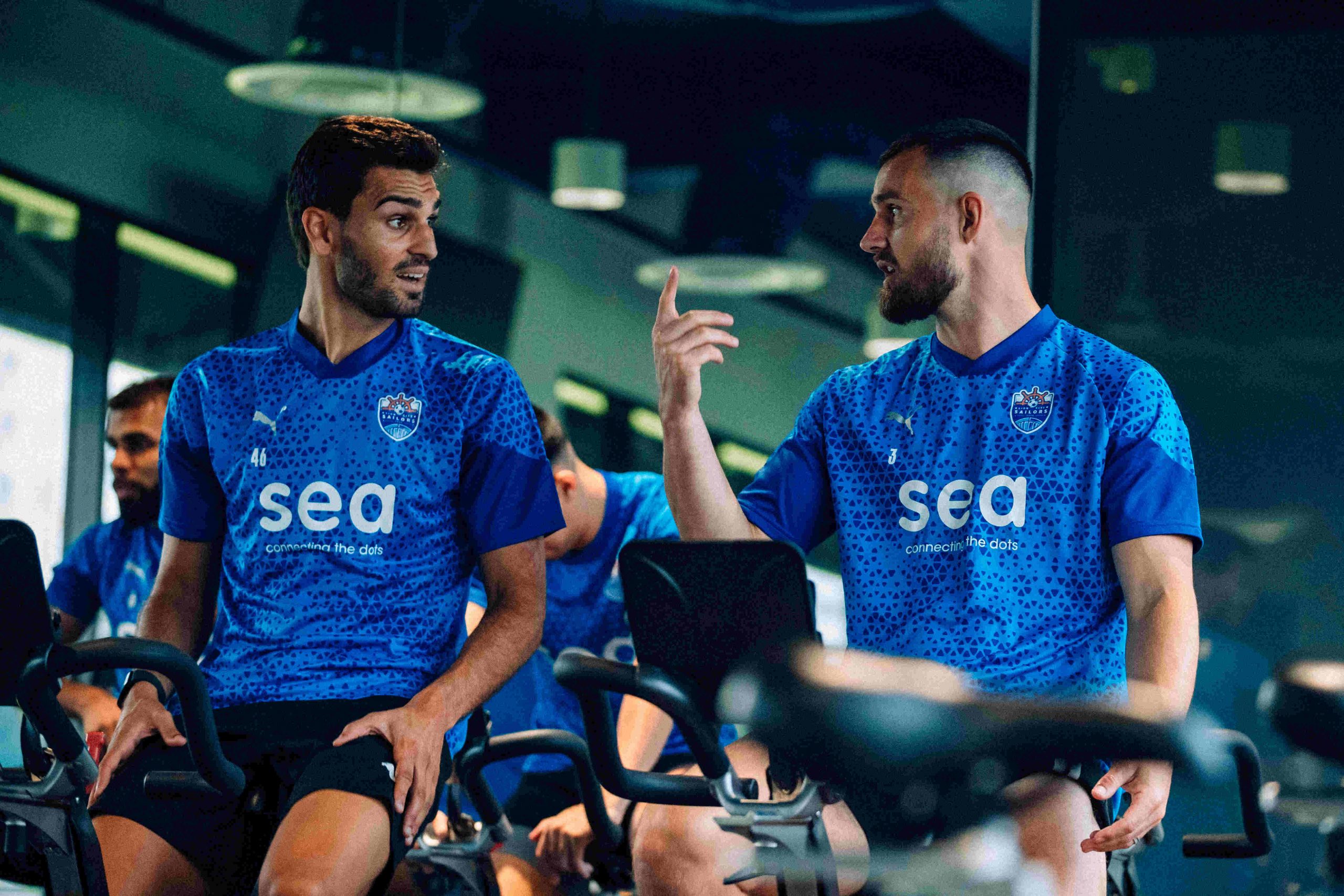 Bailey, who already feels a strong sense of belonging to the Sailors, attributes this to the cohesive and professional environment at Mattar. 
"Even though I just joined the Sailors, I feel like I've been here longer, and that's because I feel there's a great group of people here who work hard every day to get to know each other and get to improve as a team," said the former Sunderland skipper.
For Bailey, the upcoming encounter is more than just a battle on the pitch. 
"The opportunity for us to test ourselves against opponents like Spurs – with some world class players – is great. In addition to that, we can put into practice things we've been working on," he added.
"We really want to take in this experience, test ourselves against some of the best, and put on a performance our fans can be proud of."
An invaluable opportunity awaits the Lion City Sailors as they face English Premier League (EPL) side Tottenham Hotspur in the Tiger Cup at the National Stadium on Wednesday (26 July) night. 
The match-up will kick off the Singapore Festival of Football (SFoF23) Driven by CDG Zig, which also sees EPL giants Liverpool take on Leicester City in the Standard Chartered Singapore Trophy on July 30 before the Merseysiders lock horns with reigning German champions Bayern Munich for the Singapore Trophy Presented by Audi and Standard Chartered on 2 August. 
This will be the second time in as many years that the Sailors are playing reputable European opposition, they faced eight-time German champions Borussia Dortmund (BVB) last November in the first leg of the BVB Southeast Asia Tour and showed moments of good football in the 7-2 defeat. 
The Spurs-Sailors tie was confirmed just two weeks ago with Aleksandar Ranković's charges stepping up to replace Italian side AS Roma. This move was due to a change in the Italians' pre-season plans, a move that has seen Mattar Road bubbling with excitement.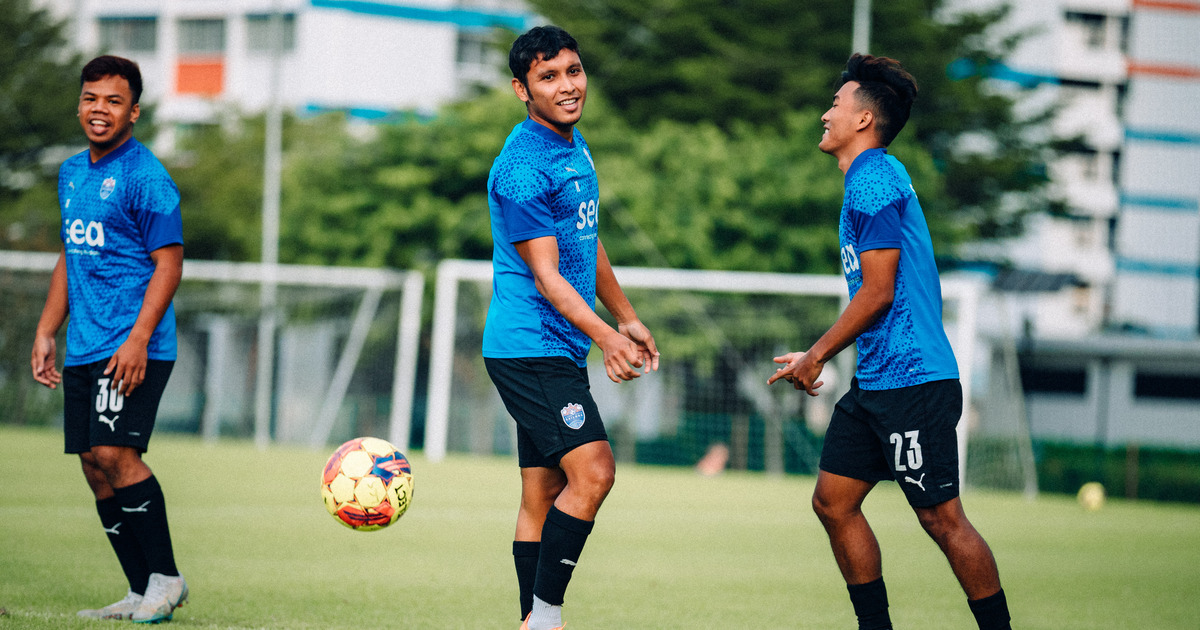 "Obviously everyone in the squad was thrilled when we were informed of this game. It's not every day that you get an opportunity to come up against players that you're usually watching on TV and to test yourselves against the very best," said defender Zulqarnaen Suzliman, who last played against European opposition in the youth sides of Manchester City and FC Porto in the 2012 Lion City Cup. 
"Unfortunately, I was not able to play any part in the game against Dortmund last year due to injury, so I'm going to grab this opportunity with both hands and hopefully I get the chance to impress in this match."
With the 2023 Singapore Premier League (SPL) campaign just four games from its conclusion, attention will turn to the 2023/24 Asian Football Confederation (AFC) Champions League group stage with the Sailors flying the Singapore flag in what is their second appearance in Asia's top-tier club competition. 
ACL regulations allow teams to field six foreign players in the starting lineup – up from the four that are allowed in the SPL – this game is the first time the Sailors will be able to test themselves under similar conditions against a Spurs side that plays at a much higher intensity, and with a world-class squad to call on, no less. 
With former Portugal youth captain Rui Pires set to make his first Sailors appearance alongside the likes of Maxime Lestienne, Diego Lopes, Richairo Živković and Bailey Wright – all coming with experience in top European leagues – the Sailors will look to give a good account of themselves. 
"Within the club, we all know how important the ACL is and the target is really to do even better than the 2022 campaign. It is great for us to have the opportunity to test ourselves against a team like Spurs because we're surely going to play against teams that play at a similar intensity and have physically strong players in their ranks," said forward Shawal Anuar, who already has eight goals in his debut season with the Sailors.  
"Apart from our foreign players, we also have exciting young local players who are hungry and eager to show their abilities against a world-class opponent so we're all ready to go out there to put up a good performance."
With big names like Son Heung-min, Harry Kane, as well as new signing James Maddison included in the Spurs travelling party, the Sailors will be in for a stern test. 
"It's not about the scoreline in matches like these, we're not worried about being thrashed. It may sound like a cliché, but the performance is more important and we want to show that we can match up to Spurs in certain moments or aspects of the game," said Shawal, who is particularly looking forward to coming up against Spurs' experienced Welsh full-back Ben Davies.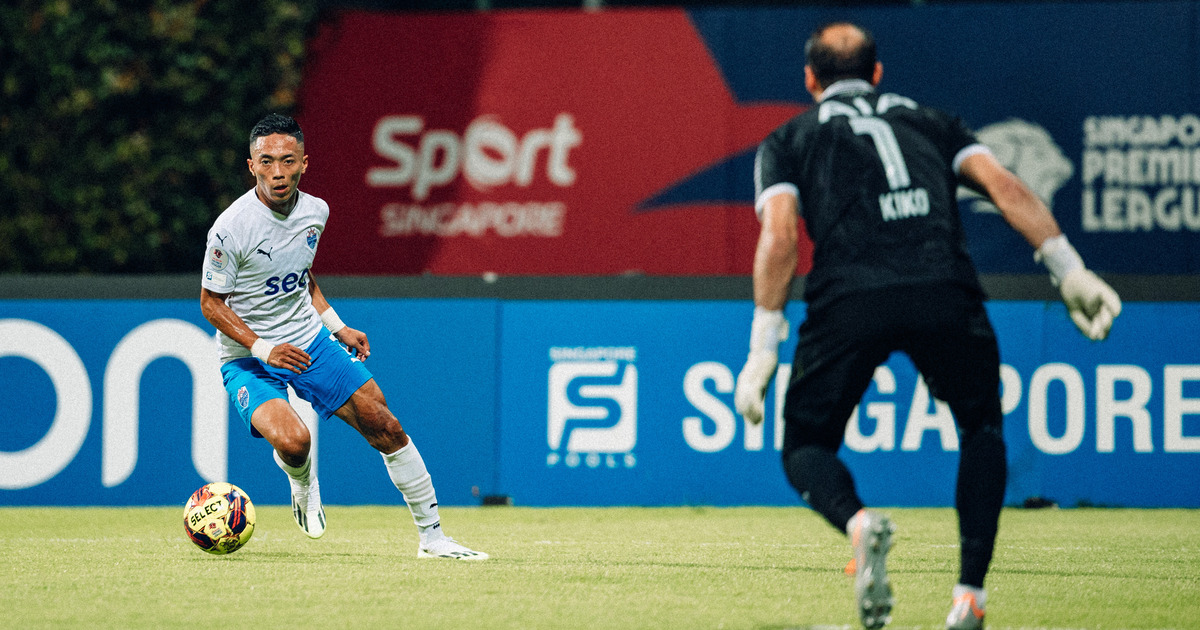 "We have to be tactically sharp and play as a team, according to coach Ranko's instructions. If we can do that for long periods of the game, then we can say that we've done well and achieved our objectives."
The clock is ticking down to the Sailors' first-ever appearance at the National Stadium and Zulqarnaen is looking forward to seeing the fans paint Kallang blue on matchday. 
"This match is important for the club as it gives us international exposure and we know we can attract more eyeballs and fans if we turn in a good display," said the 25-year-old full-back. 
"Our fans have really backed us this season and we really look forward to hearing their chants at the National Stadium. We're going to give our 100 percent in this game and make sure we don't disappoint those who turn up."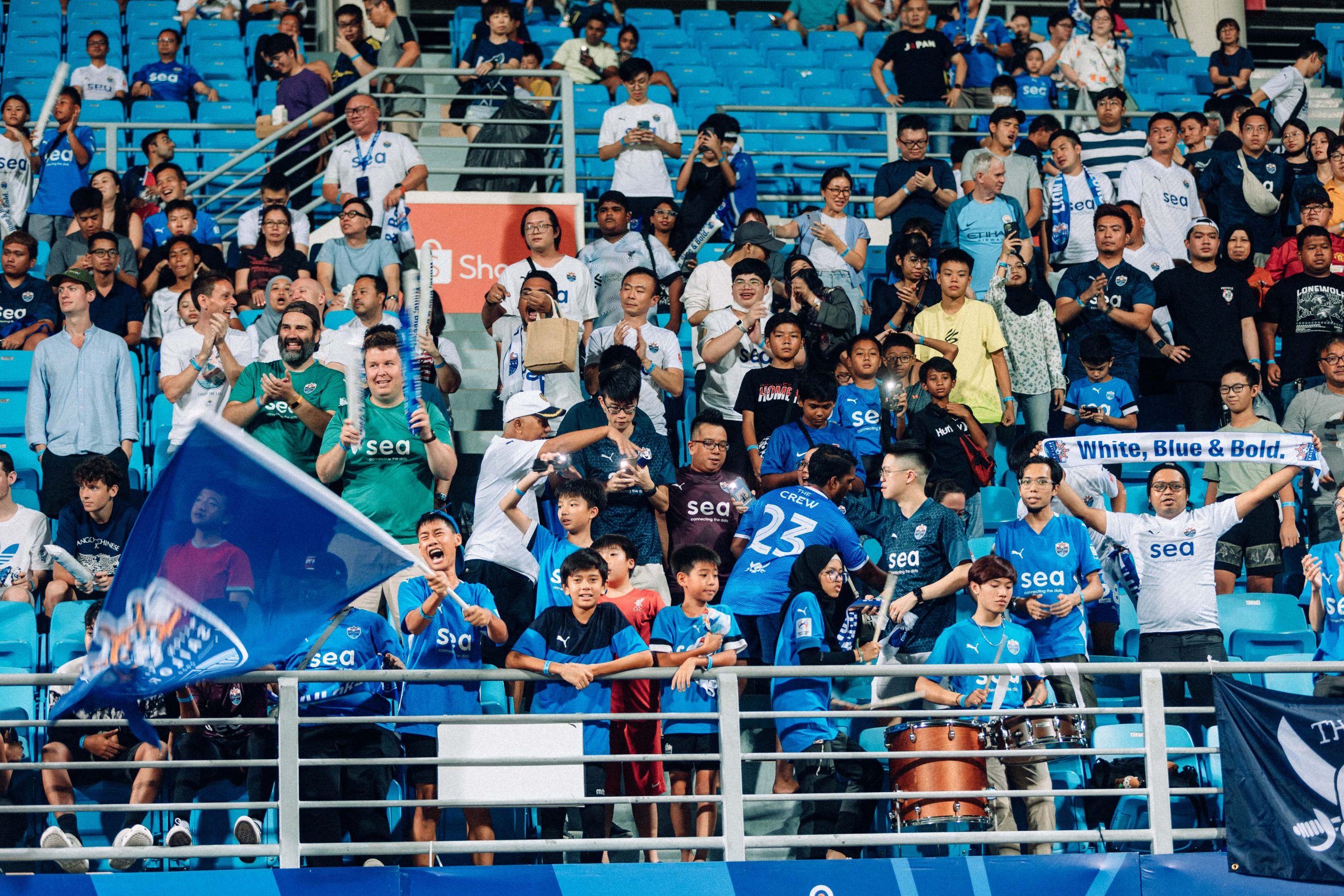 Tickets for the game are still available on Ticketek. Use promo code SFOFLCS before checking out to get 50% off tickets for the Sailors supporters' end @ $99. 
The Lion City Sailors Women quashed any doubts over their ability to deal with the various challenges arising over the FIFA international window – and emphatically so – with a 6-0 thumping of Geylang International at the Choa Chu Kang Stadium on Saturday (22 July).
The win – that witnessed an emotional farewell, a stirring first start and a teenager's hat-trick – saw the Sailors remain atop the 10-team Deloitte Women's Premier League (WPL) table on 19 points, one ahead of Hougang United.  
"There were a lot of feelings because this was Madison's last game before she leaves and we really put our hearts into getting the best out of the game," said winger Miray Altun, of midfielder Madison Telmer who departed Singapore the following morning for a university education back home in Canada.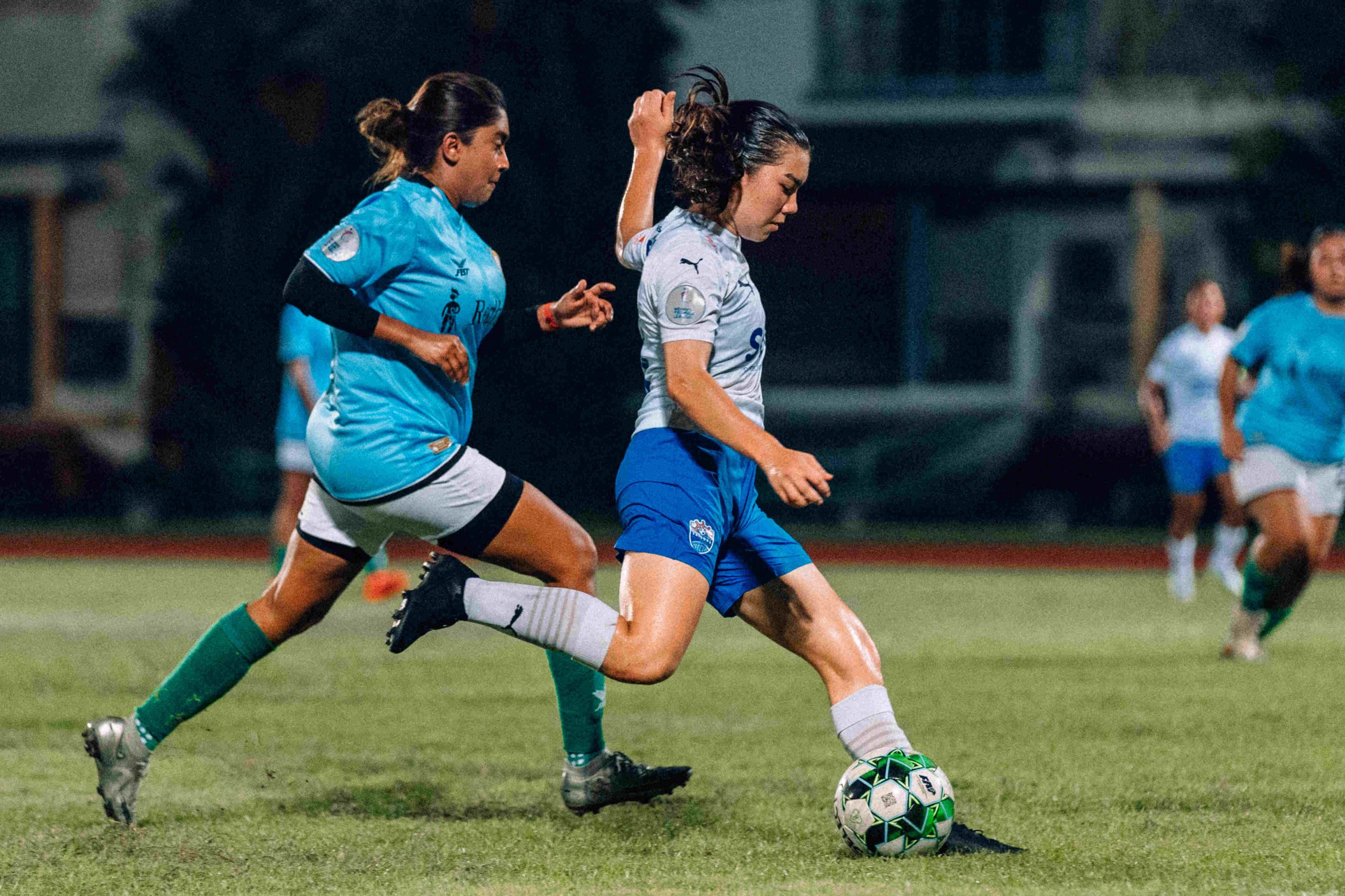 "There were also other factors at play, including a technical knowledge gap partly because a big number of our team – about half – were away with the national team. But we solved that issue with proper communication out on the pitch," added the 18-year-old. 
It was Miray who got the Sailors going on the night, capping off an elegant dribble by slotting the ball into the bottom left corner of the Geylang net in the 26th minute.
"I usually don't score that much, but this was my second this season and I am very happy about it. It's a great feeling to start off the goalscoring on the night, and it was a good team play leading up to the goal too," she said.
The Sailors fashioned more chances to extend their lead with Ardhra Arul Ganeswaran and Madison – her 37th-minute thunderbolt crashed off the crossbar – coming close, but the Sailors Women went into the break with just a 1-0 lead.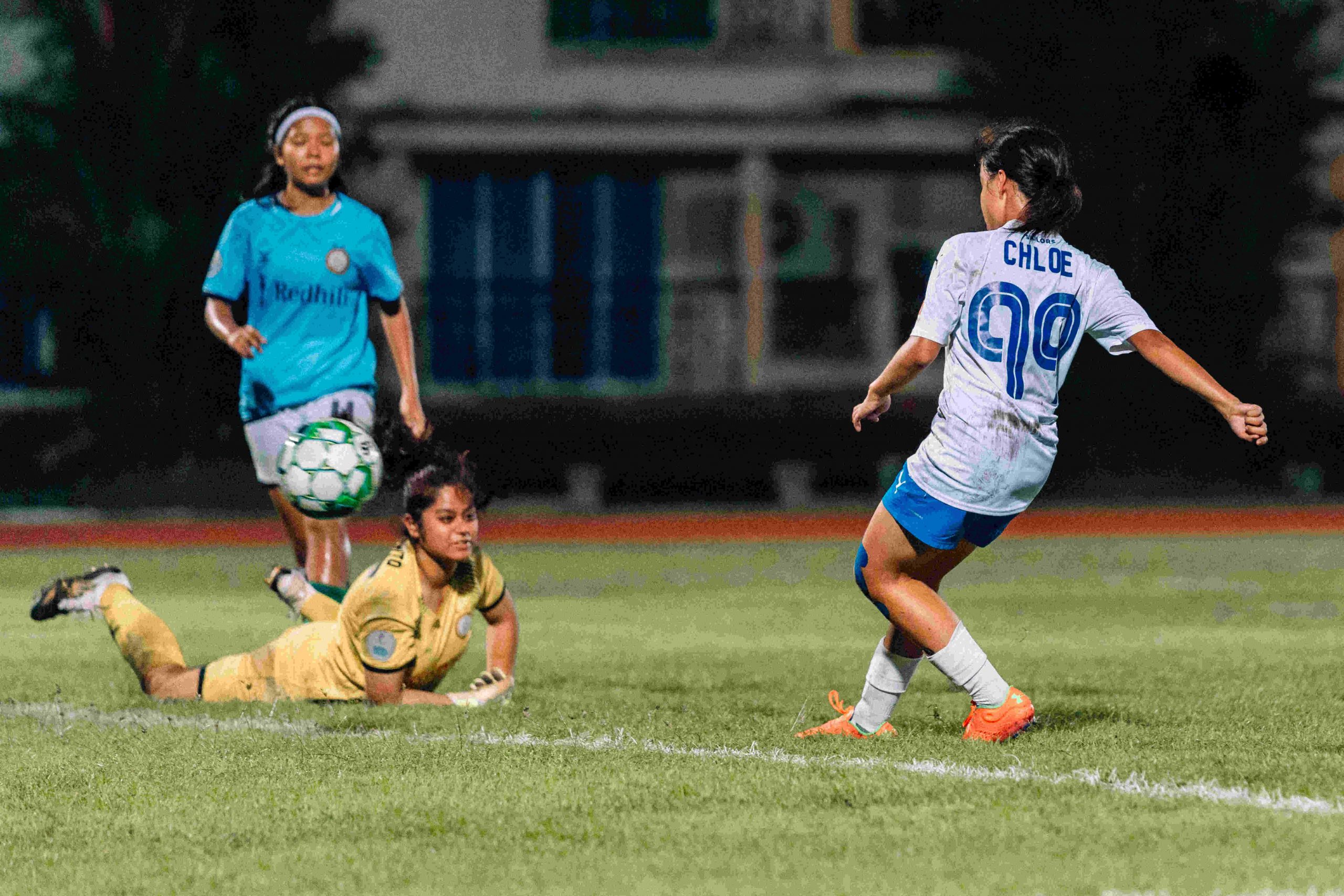 The second half saw the Sailors press forward and get an early goal. Chloe Koh, 16  – who came on for Ardhra – was left with a tap-in to convert a well-placed Miray right-wing cross in the 47th minute. 
It was another substitute who came on to make an almost immediate impact on the game. 
Venetia Lim came on for Madelin Lock in the 52nd minute, and just two minutes later sent a stunning freekick into the Geylang goal to extend the Sailors' lead to 3-0.
Chloe continued to shine, scoring her second goal of the match in the 62nd minute, the teenager was again the beneficiary of another excellent Miray cross.
She would score again, this time off a pinpoint Tia Foong cross that rendered the entire Geylang defence helpless. The goal capped off two milestones: it saw Tia mark her first start for the Sailors with an assist, and rounded up Chloe's first Sailors' hat-trick. 
A beaming Chloe said: "In our last training session, we practised crossing and finishing, and before the game I told my mom that I really wanted to score – and finally, I did." 
"When the crosses came in, I told myself that Geylang weren't doing well clearing loose balls in the box and I took my chances all three times," added Chloe, with a slight grin.
Venetia would round up the scoring on the night with another free-kick goal to seal the 6-0 victory.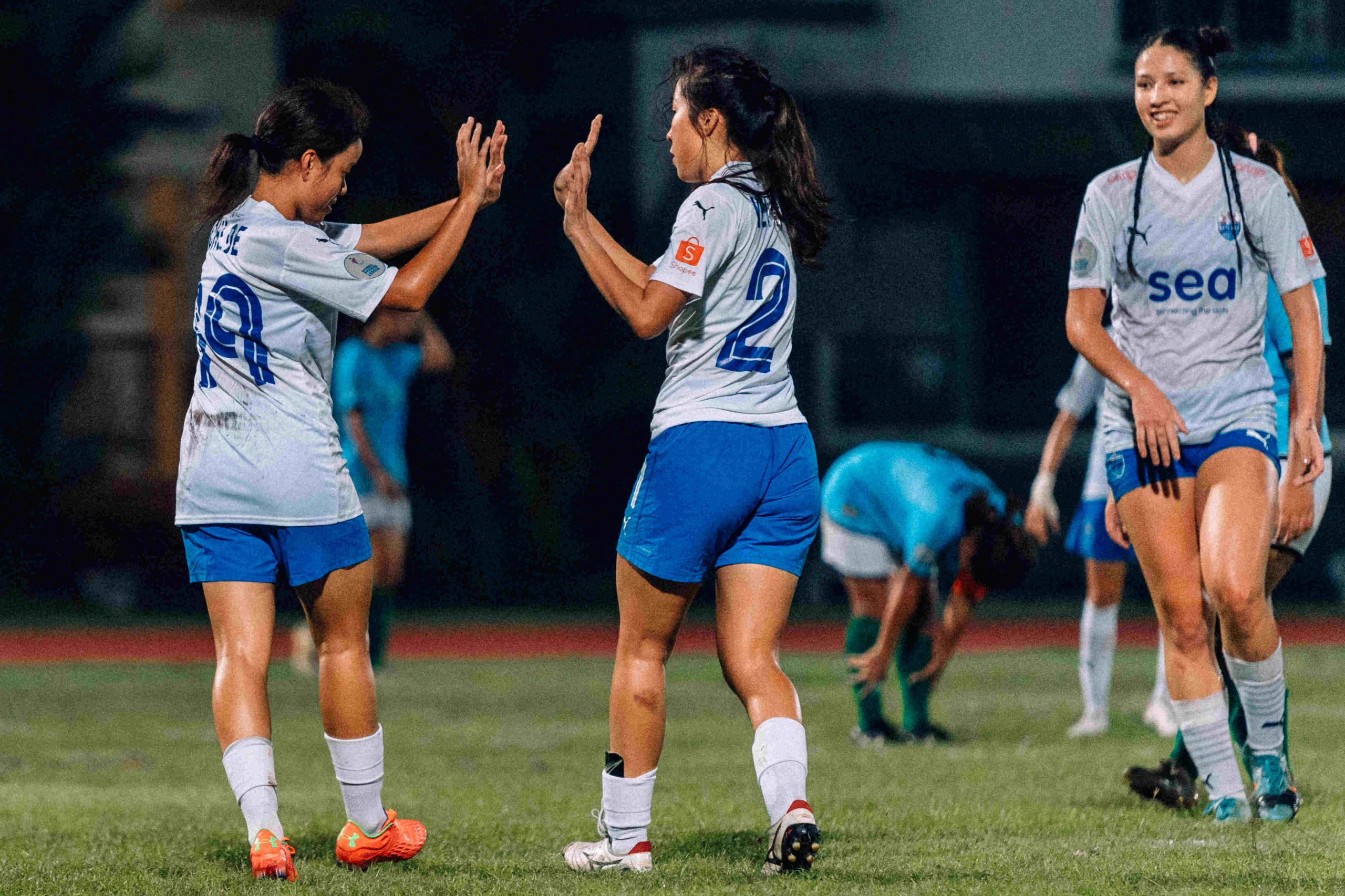 The Sailors Women may have scored six goals, but Chloe believes that there is still much room for her and her team to grow. 
"I think we could have actually scored more goals. Our decision making in front of goal was a bit slow and hesitant. It felt like we were afraid to take shots in front of the goal and we were not aggressive enough as well."
But the hat-trick and win gave Chloe an experience that is seared into her memory, especially with devoted Sailors' fans singing from the stands at Choa Chu Kang. 
"It is always heartening for the fans to come down and support us," she said. "They are very special to us and I am very grateful for their support."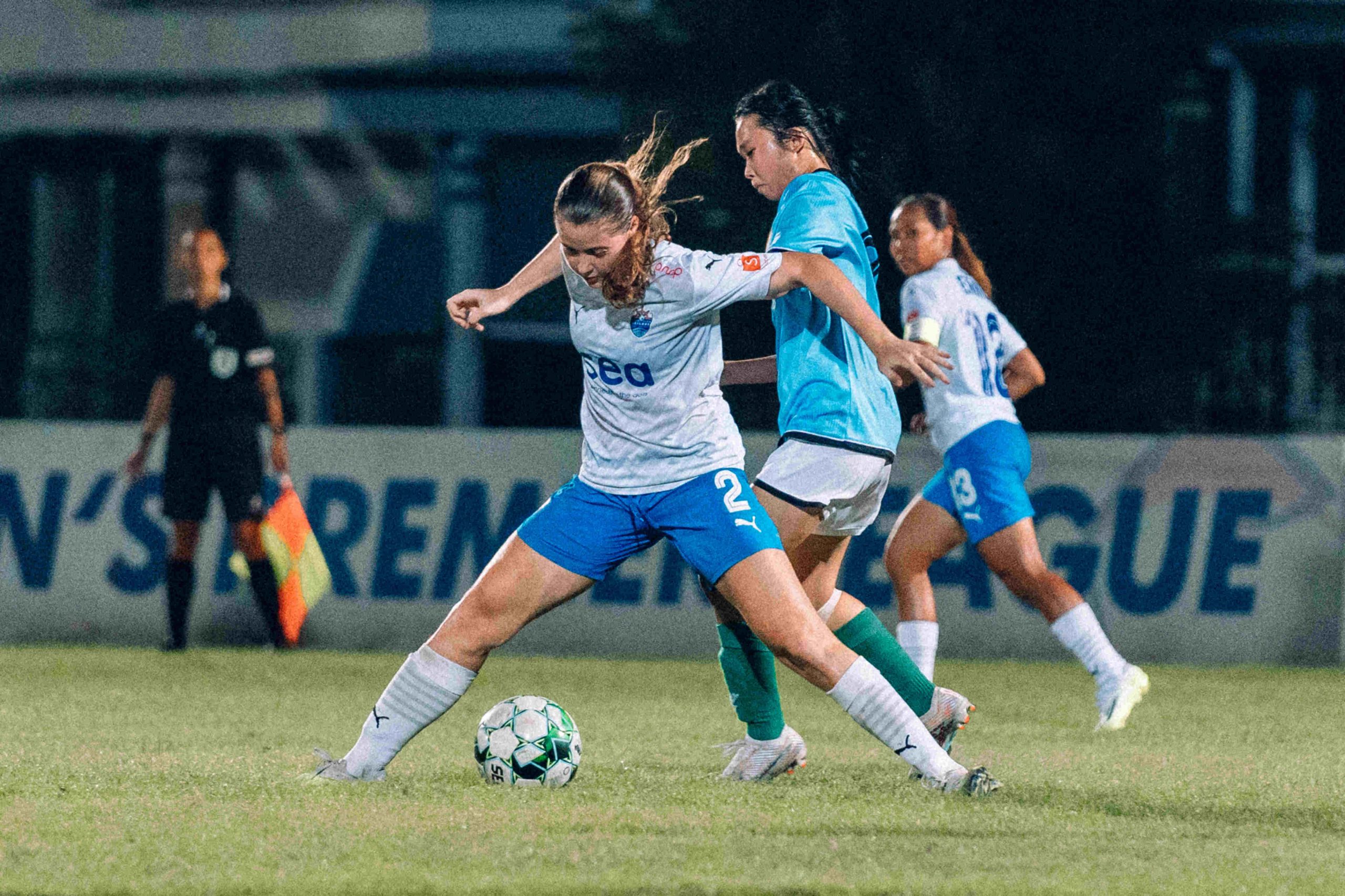 "It's been an unbelievable couple of years with the Sailors. This team has been like family to me – training with them everyday, not just my teammates, but also the coaches as well as our fans from the Crew," said Madison, who scored a total of nine goals across 15 WPL games and has been a major driving force in the Sailors' engine room.   
"These will definitely be my best memories from Singapore. I'm so glad to help my team win the title last season and be involved again this season. Hopefully they go on to win the title without me and I'll be supporting the team from wherever I am."
The women will line up against fellow title challengers Hougang next Sunday (30 July) night at the Choa Chu Kang Stadium in their next WPL assignment.
For some 20 minutes at the Bishan Stadium on Thursday (20 July) night, Aleksandar Ranković's Lion City Sailors looked like they were spinning towards defeat at the hands of a robust Tanjong Pagar United side.
Akram Azman's 64th minute goal put the Jaguars 2-1 up on the night, and it took a Maxime Lestienne penalty to drag the Sailors back into the game before Shawal Anuar scored to secure all three points. 
While pleased with the hard-fought 3-2 victory, Ranko has demanded improvement in the team's overall performance, but perhaps more importantly, in his players' mental approach.
"It is good that we won but this kind of game should not happen especially with the quality that we possess," said the 44-year-old, after watching his side forced to battle to come from behind.
"When we conceded the first goal, I saw a lot of guys hanging their heads down and that is really something that I want to change in this team. I don't want to see that in my team even if everything goes wrong. I want my team to be immediately hungry to get back into the game and that is something we should improve on," said a disappointed Ranko.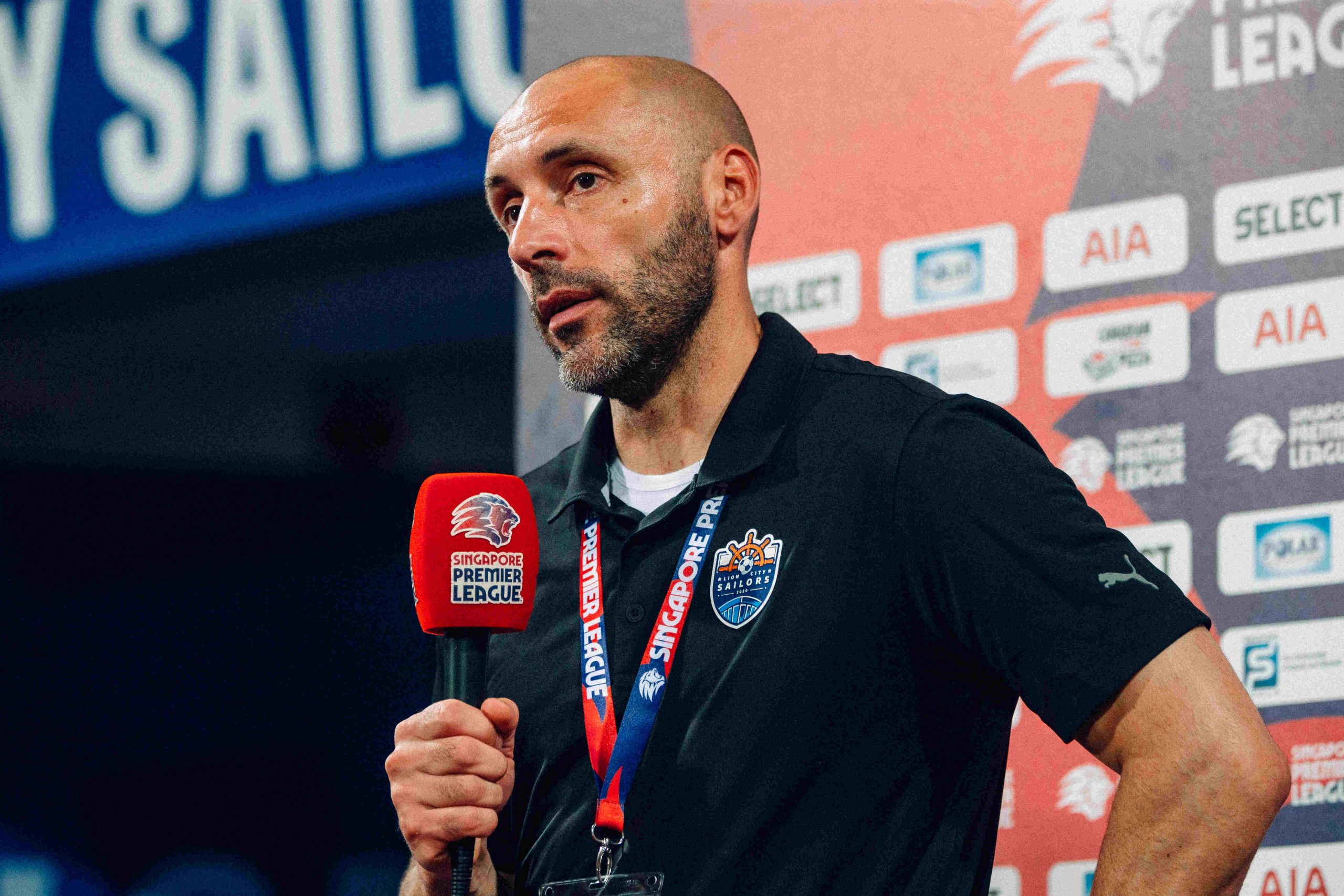 "And it is my job to make that a reality."
The result saw the Sailors narrow the gap to league leaders Albirex Niigata (S) and Tampines Rovers to just two points, but that provided Ranko scant consolation. Tampines have a game in hand over the Sailors, while Albirex have two. 
"I don't think we should talk about the title race. We should approach every game one step at a time and we have to win everything, then see where we will end."
The Sailors started the game with real attacking intent, dominating possession right from the kick-off, taking an early lead.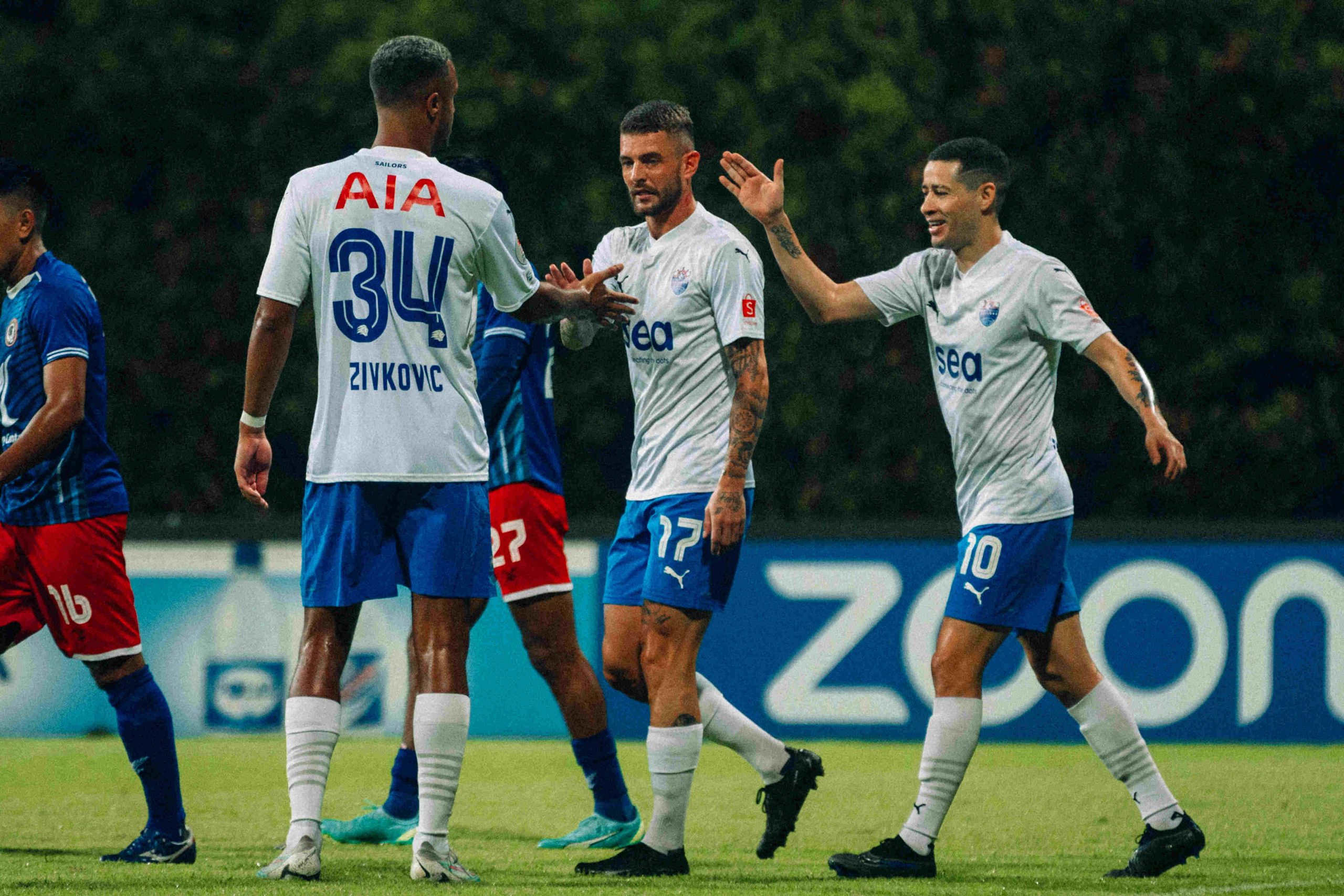 Diego Lopes forced Tanjong Pagar goalkeeper Fashah Iskandar into a full-stretch dive to keep out his 12th-minute shot, but Maxime was on hand to tap in the rebound to make it 1-0. 
Just six minutes later, Hafiz Nor almost doubled the lead with a powerful shot that was tipped over the bar by Fashah. 
Even this early on, it wasn't just one-way traffic at Bishan. 
In the 28th minute, Khairul Amri's long-range shot tested Sailors goalkeeper, Zharfan Rohaizad, before Syukri Bashir's follow-up somehow went off-target.
In the 33rd minute, Tanjong Pagar was awarded a penalty when skipper Akram was brought down by Hafiz. Syukri then made no mistake from the spot, levelling the score.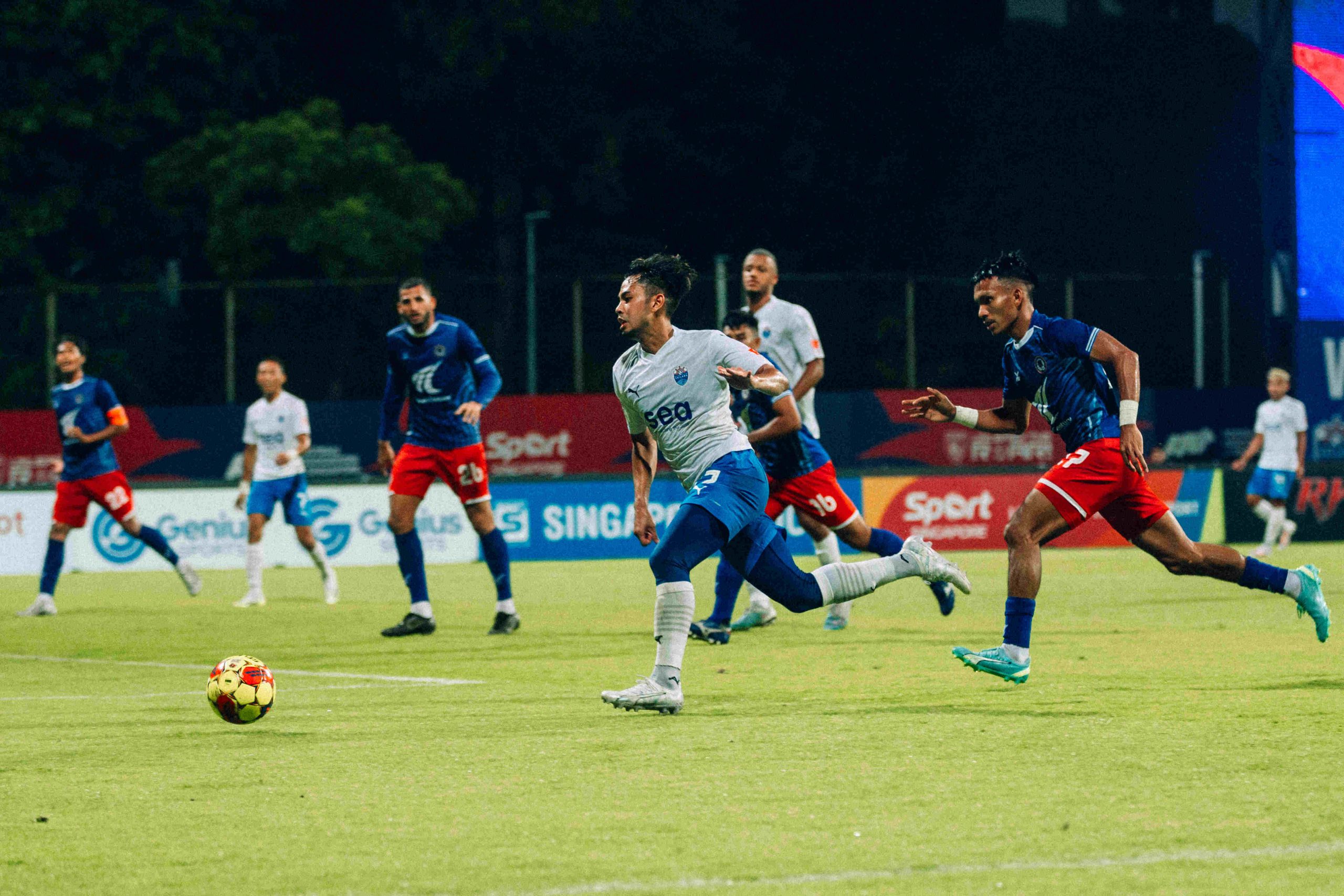 "I think we played well in the first 35 minutes and we should have scored a lot more goals. But there was a lack of concentration after that and once Tanjong Pagar equalised, it was tough to open them up once they started to be more compact.
"Their goalkeeper played very well too, big compliments to him because he saved a lot of shots," said Ranko of Fashah, who was named the Man of the Match.
The second half witnessed a determined Tanjong Pagar side take the lead in the 64th minute through a well-placed shot from Akram that nestled into the bottom corner.
The Sailors pushed forward to salvage the game and were presented with a golden opportunity in the 81st minute when Raihan Rahman was deemed to have kicked out at Maxime inside the penalty area. The Belgian picked himself up to level the scores and set the Sailors back on the hunt for a win.
That was Maxime's 20th goal of the season, seeing him pull level with Balestier Khalsa's Ryoya Taniguchi at the top of the SPL scoring charts.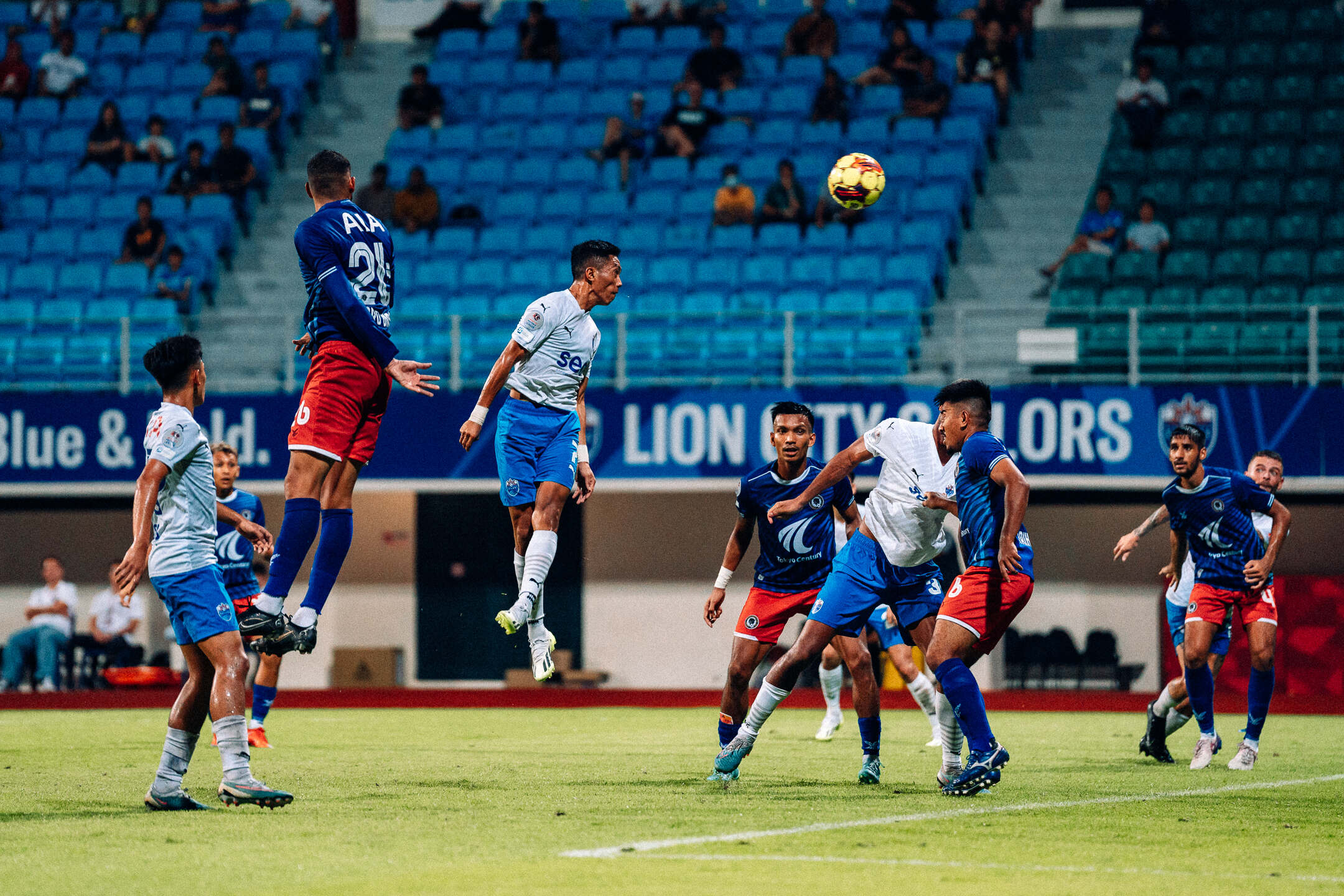 The Sailors intensified their attacks following the equaliser, and in the 86th minute, a pinpoint Adam Swandi cross found Shawal who made no mistake with his header, giving the home side a 3-2 lead that they saw out to the end of the match.
"I am delighted that the younger players and the players who don't start that often have been stepping up in the recent games. They are really knocking on the door of the first 11," said Ranko, who drew some positives from the game.
"But overall there are several aspects we must improve on." 
Balestier are the Sailors' next SPL assignment, on Monday, 31 July at Bishan Stadium. 
After a three-week international break, the Lion City Sailors Women's Team return to action in the Deloitte Women's Premier League's (WPL), taking on league cellar-dwellers, Geylang International, at the Choa Chu Kang Stadium on Saturday (22 July) night. 
The Sailors Women are perched atop the summit of the 10-team WPL table with 16 points from six games, while Geylang have lost all of their six WPL matches thus far, with just a solitary goal to their name. 
Despite what the numbers suggest, midfielder Venetia Lim warned against complacency, pointing to where potential banana skins could lie.
"With a relatively new team of young talents, you can expect some unpredictability in terms of their performances, but we know they have key individuals in their team who have quality. I foresee them being hungry to show their potential. 
"We could also be surprised by them changing up their tactics that we might not have seen before," said the 20-year-old.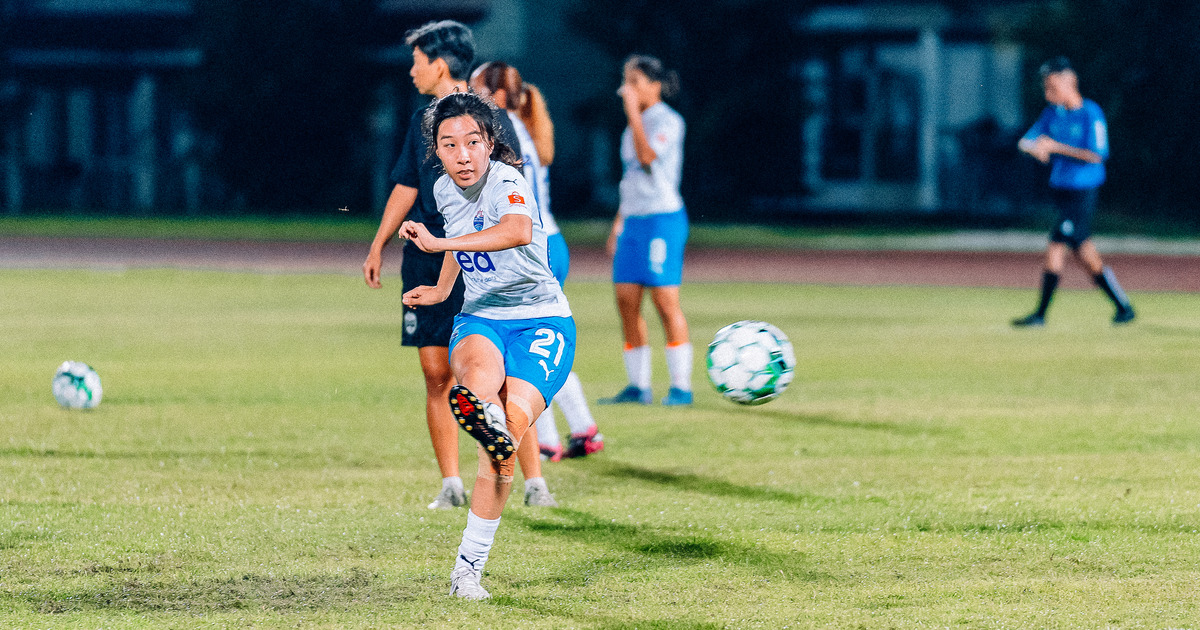 Venetia has a clear picture of just what the team needs to do to secure three points on Saturday. 
"We simply cannot be complacent. We must stay focused on ourselves, how we play as a team and execute what we have worked on in training sessions," she said.
"Respect for our opponents, combined with tenacity on the field will be important for us."
With 12 games – two-thirds of the WPL season – still to go, Venetia stressed that the learning process holds far greater significance than merely winning on the field on Saturday.
"I hope to put into action the things I have been working on, contribute effectively to the team and guide the younger players on the field," said Venetia. "Every game we play presents an opportunity for us to learn and grow so we will approach this upcoming game with the same mindset as we do with every other game."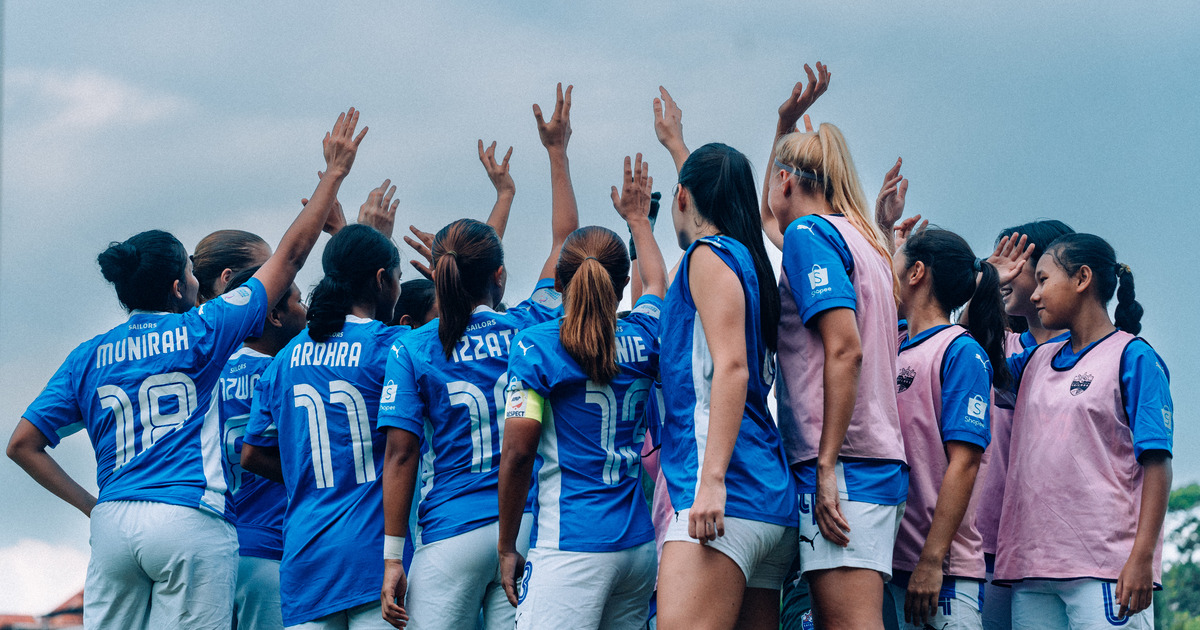 Nine Sailors were part of a 20-strong Singapore squad that beat Pakistan 1-0 in an international friendly played on Tuesday (18 July), and the last time the Sailors Women played together was 25th June – almost a month before Saturday's Geylang clash – in a 8-0 win over Balestier Khalsa.
But Venetia remained confident that her Sailors Women are equipped to deal with the situation, perhaps even flourish. 
"Returning from a long break does pose certain challenges – disruption to the team's rhythm and tactical flow – for the team to regroup and play again," noted Venetia, who played the full 90 minutes for the Lionesses in that Pakistan win.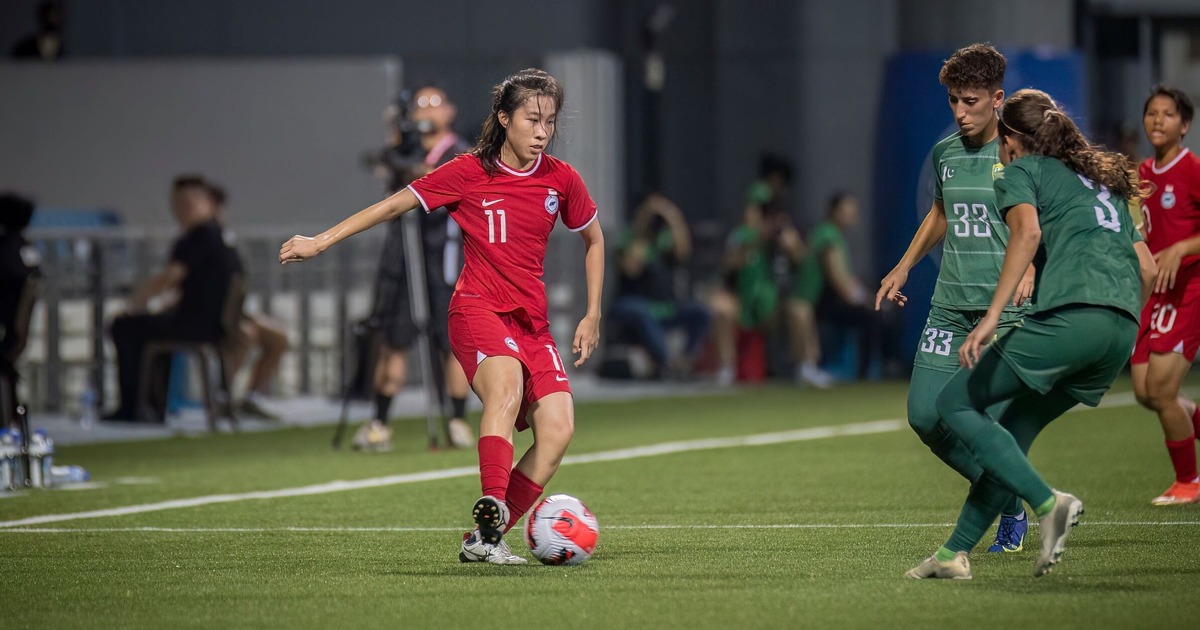 Photo courtesy of the Football Association of Singapore
"But this is not the first time we have experienced this, and we have learnt how to adapt to similar situations. Regardless of whether it is with the national team or the club, everyone in the team has worked hard and continued to improve during this period. 
"I believe we are ready for Geylang."