The Lion City Sailors have endured mixed fortunes since the Singapore Premier League (SPL) restarted, with Aurelio Vidmar's charges first scoring a big win, then hit with a heart-wrenching defeat. But for one Sailor, football's resumption has seen nothing but a rise in his stock, a rise that started at the beginning of the year.
Joining from the Young Lions after the end of the 2019 season, Naqiuddin Eunos perhaps thought he would need to bide his time for regular football. But instead, he has already cemented himself in Aurelio's starting eleven, missing just one minute of action in 2020, this after being substituted late on in the season-opening 1-1 draw against Tanjong Pagar United.
The 23-year-old is one of only four Sailors who have started each of the four games this year, alongside the more experienced figures of Hassan Sunny, Hafiz Nor and Song Ui-Young.
Naqiuddin is surprised by how well his Sailors career has taken off, especially having to adapt to a new role at a new club that boasts a roster packed with established senior players.
Despite being deployed mainly as a winger, and occasionally at left wing-back, throughout his time with the Young Lions, Naqiuddin was asked to adapt, and challenge for the left-back position at the Bishan Stadium.
"Slowly I managed to adapt to the role, and it's been so far so good. I just take what the coaches taught me and go out there to perform to my best for the team," said Naqiuddin, who is predominantly right-footed.
"It's still quite early now, but I guess this position will stick, because I'm getting really comfortable playing at left-back now," added Naqiuddin, who paid tribute to Sailors Assistant Coach Noh Rahman for his quick acclimatisation to life as a left-back.
Defensive technique was not all Naqiuddin had to learn – and learn fast – at the Sailors. Having played for a developmental Young Lions side, Naqiuddin noted the 'much higher expectations' that has come with pulling on the shirt of a wildly ambitious outfit like the Lion City Sailors.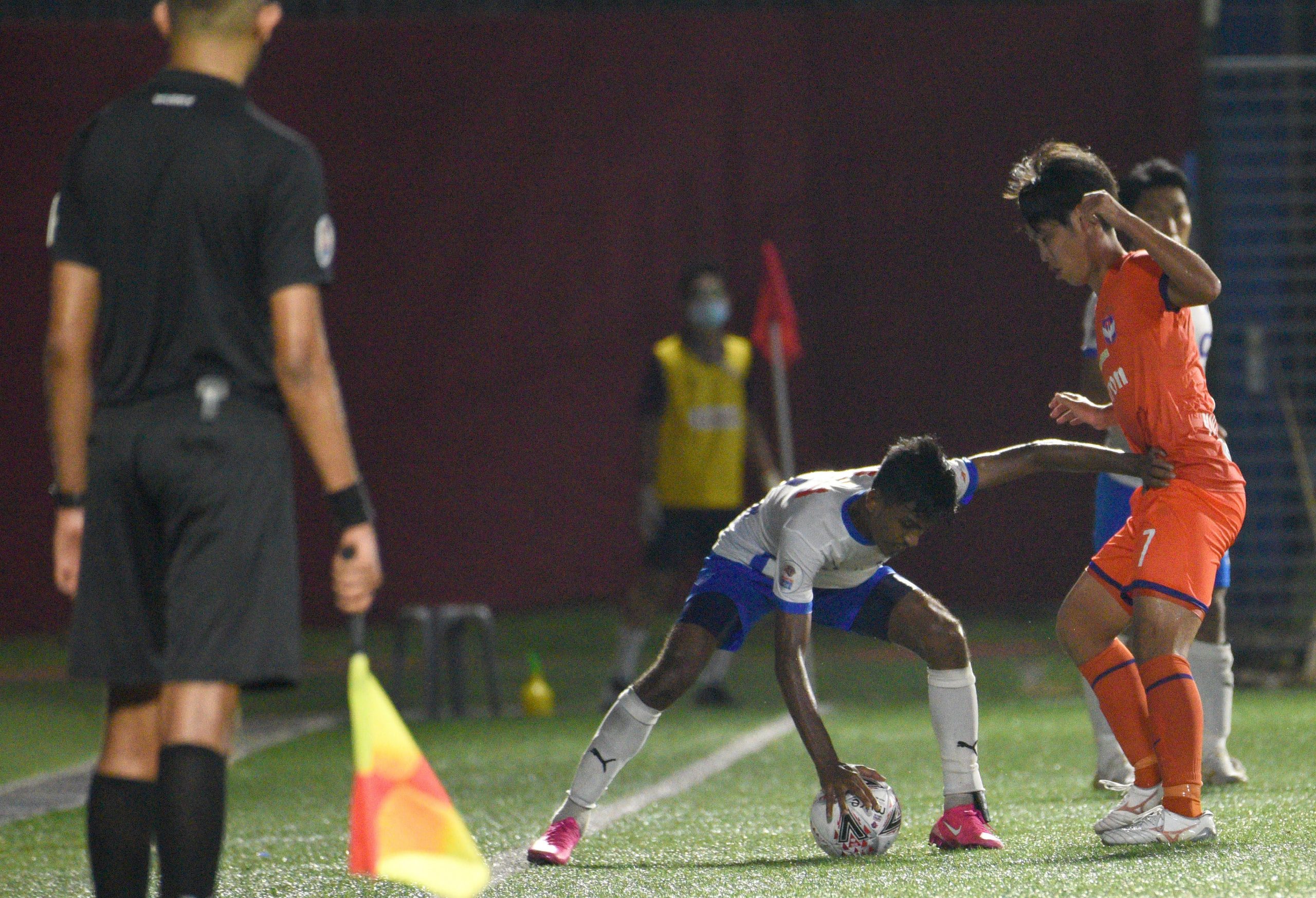 "Yes, there's so much attention and scrutiny when you're playing for a big club. But that's exactly why it was the right move for me to come here," he emphasised. "As a young player, I have to learn how to cope with this type of pressure if I want to make it to the top as a professional footballer.
"The good thing is that there are several experienced coaches and players here who can help me to become a better player. For example, the intensity of Coach Aurelio's training sessions is great, and he really understands and takes care of every single player," added Naqiuddin.
He can be described as a late bloomer, but that has not stood in the way of what has been a rapid rise for Naqiuddin. Unlike a number of his peers who rose through the national age-group squads from a young age, his is a road less travelled.
Spotted by Fandi Ahmad while playing for ITE College West three years ago, he was soon drafted into the Singapore Under-20 squad before making his professional bow with the Young Lions the following year in 2018.
Under the tutelage of Fandi and then-assistant coach Nazri Nasir, Naqiuddin developed into a fine player and was part of the national U-22 squad that played at the 2019 SEA Games before making the big move to the Sailors.
"To be coached by Fandi – one of the best Singaporean players ever – was a great experience. Nazri was great too, he helped me a lot with his encouragement and advice every day," said Naqiuddin. "Training under them, I really improved a lot from year to year."
Naqiuddin is set to face Young Lions for the first time when the Sailors host them at Bishan on Sunday evening. The developmental side is now led by Nazri, with several of his young squad getting their first taste of professional football.
While the Sailors are firm favourites to win, Naqiuddin believes Young Lions should not be taken lightly. He knows too well the dangers that lie in complacency – especially against the Young Lions.
"I remember when I was with the Young Lions, we were always eager to win and prove a point. We wanted to show that even though we're young, we're capable of competing," he recalled.
"There were always comments saying Young Lions were not good or it's a waste of time having the team in the league. But as players, we never dwelt on that – we just trained our best and went all out on match day," added Naqiuddin.
"I expect the same fighting spirit from this year's batch, especially because this squad is younger than before. They'll definitely be eager to beat us, and coach Nazri is someone who can motivate the young boys."
After the contentious last-gasp 3-2 defeat to Albirex Niigata (S) last Saturday, it is imperative that the Sailors bounce back with victory to remain within touching distance of the pacesetters.
The Sailors are currently in sixth place, seven points off Albirex, albeit with a game in hand.
"Sometimes football can be unpredictable like that. We played so well in the second half to level the game at 2-2, but the manner of the last goal from Albirex was a massive disappointment for us," he said.
"We cannot go back to change the result so there's no point talking about it now. All we have to do is work on our own performance. We're definitely ready to bounce back this Sunday and get all three points."
It was a disappointing outing for the Sailors on Saturday evening as they went down to an unlucky 3-2 defeat to title rivals Albirex Niigata (S).
Trailing 2-0 at half-time after goals from Tomoyuki Doi and Ryosuke Nagasawa, Aurelio Vidmar's charges rallied in the second half with Song Ui-Young pulling one back from close range before substitute Gabriel Quak powered home a stunner to equalise with just two minutes left on the clock.
Just when the Sailors thought they had grabbed a valuable point, Albirex stole it at the death with Reo Nishiguchi scoring the winner under controversial circumstances.
Here, we look back on four talking points, that the Sailors can build on as the Singapore Premier League (SPL) continues…
An encouraging second half performance
First things first, our first-half display was not good enough for a team with title aspirations. But after Coach Aurelio's half-time team talk and some soul-searching, the team came out flying in the second half and duly pulled one back through Song after some good build-up play.
There were times during the second half when we camped in Albirex's half in what seemed like an attack versus defence exercise. We created chance after chance – with 14 shots to Albirex's 10 – and eventually found the equaliser through Gabriel's moment of brilliance.
It would have been easy to be content with a point away from home, but instead of just sitting back, we pushed on for a possible winner. That drive to win was great to watch, but it eventually left us exposed at the back, leading to Albirex's late winner.
The team ought to be lauded for finding a never-say-die spirit when it seemed like the match was dead and buried by half time. This attitude will stand us in good stead as we look to tackle the challenges ahead in a jam-packed match schedule till the end of 2020.
Unjust, but errors happen
Football is a game of fine margins and we were ultimately denied a point away at our title rivals, after Albirex's winner was allowed to stand. This despite what looked like a handball in the lead up to the goal.
Talking about this now does nothing to change the result, and after all, referees are humans and humans do make mistakes and commit errors in judgement. Instead of crying over spilt milk, we perhaps have to defend better and possibly not put ourselves in such a situation in the first place. Albirex's first two goals could have been prevented as well if not for lapses in concentration. The onus is on us to iron out the kinks while hoping we get the rub of the green in terms of refereeing decisions in the future.
Gabriel is knocking at the door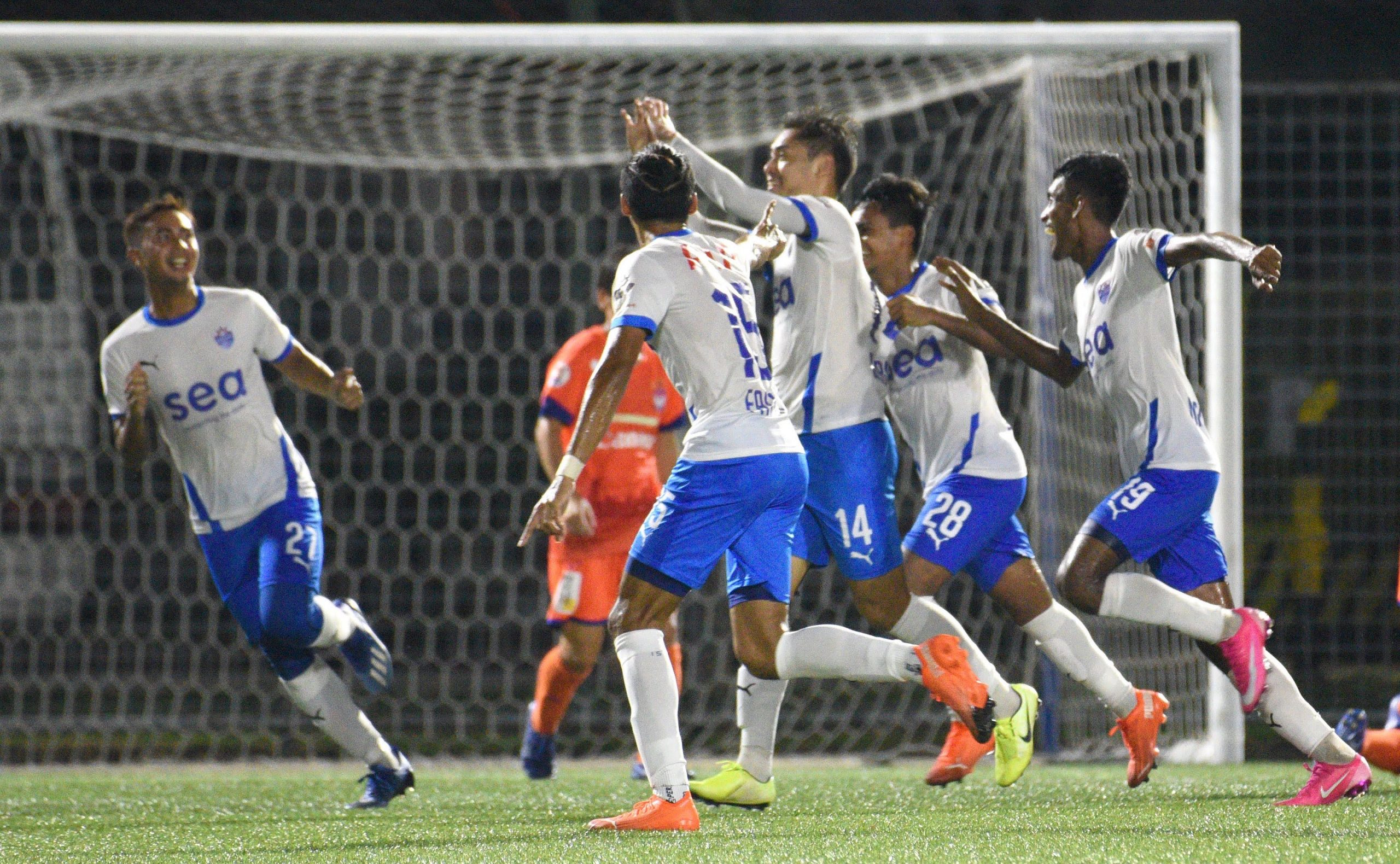 He was a starter in his first two matches for the Sailors, but since the league's restart, he had to be contented with making appearances off the bench instead. Instead of sulking and questioning the decision, Gabriel took it in his stride and impressed in his two substitute appearances to date.
Last week, he came on for the last half hour to good effect by setting up two goals in the 4-0 win over Geylang. This time round, he came on even later on the 69th minute. But in the short time on the pitch, Gabriel made his presence felt with three shots – only Song had more in the game with four – including that one that almost earned us a point.
Nudged on the back by Kenta Kurishima in the build-up, he could have easily stayed down to appeal for a possible penalty. But he jumped back up to his feet, shrugged off his marker, side-stepped another before firing a sizzling shot that arrowed into the top left corner.
The past couple of games should have given Coach Aurelio enough food for thought on whether to re-jig his tactics and re-instate a determined – and in-form – Gabriel back into the starting eleven.
Kaishu and Faizal capable of stepping in at the back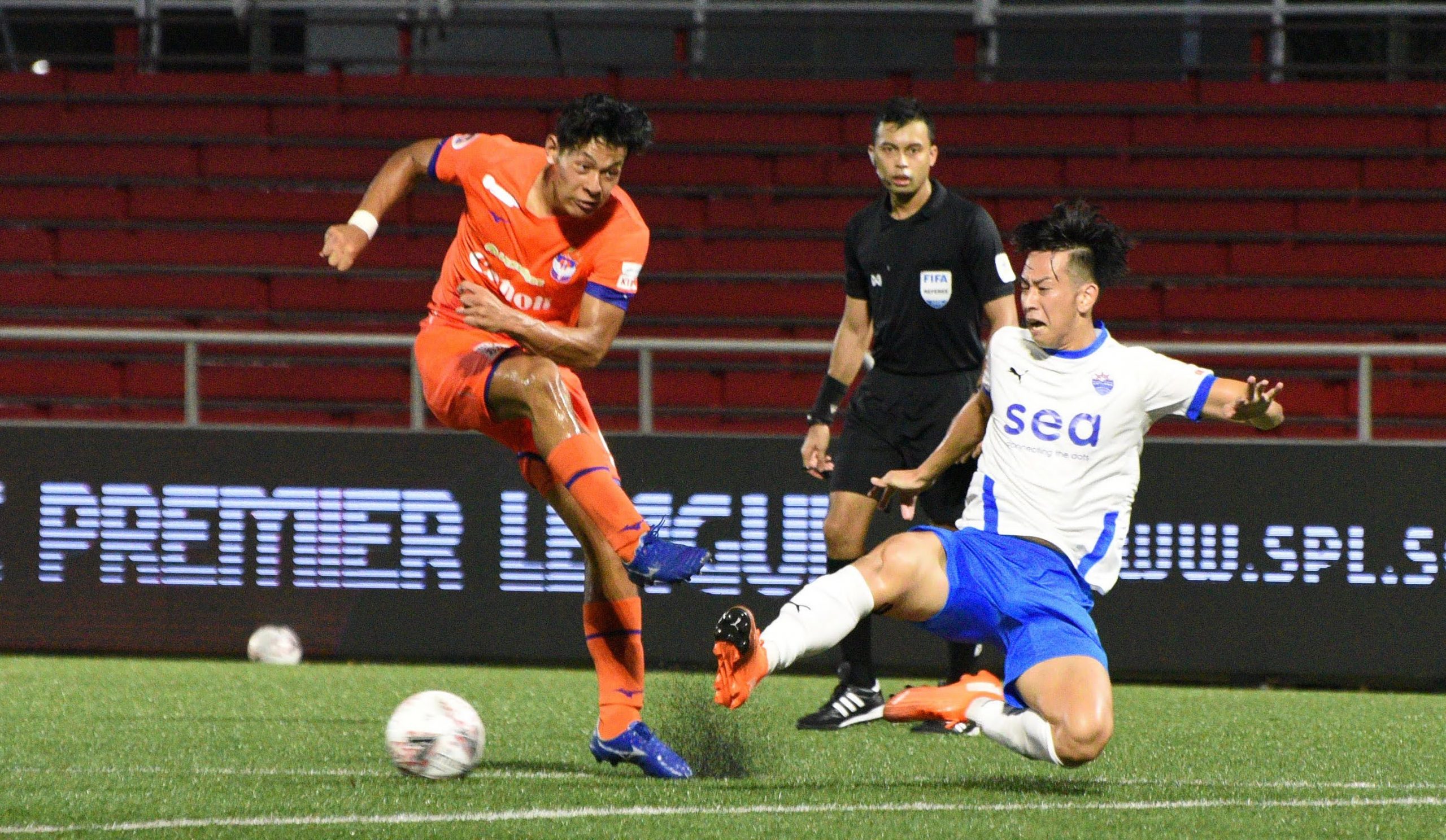 Since the restart of the SPL, Abdil Qaiyyim and Tajeli Salamat have been the preferred centre-back pairing for the Sailors. However, when the former succumbed to muscle cramps shortly into the second half, it paved the way for Kaishu Yamazaki and subsequently Faizal Roslan to come into the picture. Yamazaki, who had been down with a niggling injury, slotted in well at the back before being shifted into the middle of the park – where he played his part in Gabriel's equalising goal.
Faizal then took over at the heart of defence for the final 20 minutes and managed to keep Albirex at bay with some crucial interceptions and clearances – showing why he started all 48 league games across the 2018 and 2019 seasons when the club was known as Home United. As such, it was perhaps a tad surprising to learn that Faizal's appearance against Albirex was just his first of the season.
Their performances were encouraging, especially with games coming thick and fast in this period. While Coach Aurelio will surely hope to have a settled backline, it is imperative that there are capable deputies that are ready to step in when called upon.
The Lion City Sailors were on the wrong end of a five-goal thriller in the Singapore Premier League on Saturday (24 October), falling 3-2 to Albirex Niigata at the Jurong East Stadium.
Battling back from a 2-0 first half deficit to draw level, Aurelio Vidmar's charges had their hearts broken right at the death by a controversial Reo Nishiguchi winner. Albirex captain Kazuki Hashioka appeared to have controlled the ball with his hand before setting up Nishiguchi to score at the far post in the fourth minute of injury time.
But Vidmar saw several positives in the performance despite the Sailors remaining in sixth spot in the nine-team SPL standings.
"I saw a strong mentality and a winning mindset throughout the game," said a dejected Aurelio after the match. "We started off really well in the first 20 mins, unfortunately a couple of errors cost us goals, but we were certainly controlling the game, and continued that form into the second half."
Albirex took the lead in the 19th minute, after Hassan Sunny in the Sailors goal could only palm a Hiroyoshi Kamata cross, with Tomoyuki Doi sweeping home the loose ball – this despite the Sailors looking comfortable in the opening period of the contest.
Song Ui-Young had two opportunities to level the game, but it was Albirex who doubled their lead, with Ryosuke Nagasawa rifling home in the 36th minute after the solid Tajeli Salamat uncharacteristically missed a clearance.
"We showed great resilience and that's what it's all about," said Aurelio, who saw several encouraging signs. "This was never going to be an easy game, but we showed a lot of fight and a lot of spirit and great unity, and the boys kept pushing themselves right to the very last minute."
The Sailors came out of the break battling. The team took control of the match, scoring first through Song who swept home in the 59th minute after a flowing move.
Substitute Gabriel Quak then bounced to his feet after falling in the Albirex penalty box in the 88th minute, shrugged off a challenge and sent a left foot bullet that easily beat Albirex goalkeeper Kei Okawa.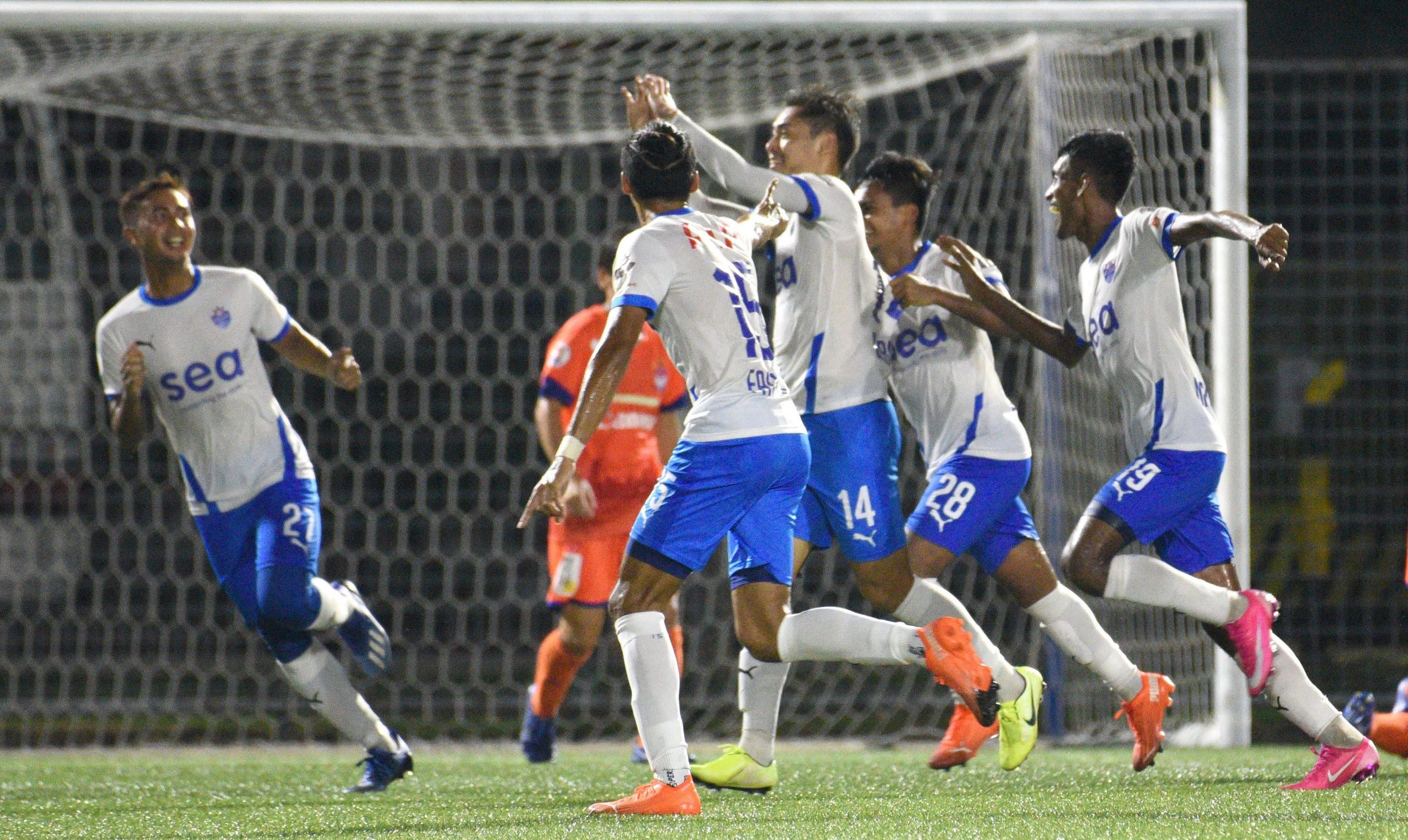 Despite having their hearts broken in injury time, Vidmar was wildly encouraged by the football on show.
He said: "We're playing very good football and we showed that again tonight. We had a lot of great combinations, especially in the second half. The performance from the team was fantastic, special mention to all the boys who came off the bench."
Aurelio was particularly pleased with the performances of the substitutes who drove the team forward in the second half. Kaishu Yamazaki and Faizal Roslan came on for their first appearance since the SPL restart, with Adam Swandi and Gabriel also coming on to good effect.
"It's not easy being on the bench, cos everybody obviously wants to play. Their performances showed me that they were mentally and physically ready – all the boys who came on in the second half did a great job," said Aurelio.
It was a similar positivity shared by Sailors midfielder Song.
"We made mistakes to concede those first half goals, but it was clear that we believed in our coach and in each other. Once we had some time to reorganise, we bounced back very strongly," said the South Korean.
"I watched the video again after the game, and I think there's an obvious handball before the last goal. But we will put the negativity behind us, and I'm certain that we will keep getting better as the season goes on."
While Aurelio easily found positives from this defeat, he was less pleased about what lies ahead for the Sailors. The participation of 2019 SPL champions Brunei DPMM has yet to be confirmed, with their scheduled return to action – against Hougang United on Oct 25 –postponed, and no indication if the Brunei side will show up to face the Sailors at the Bishan Stadium on Wednesday (Oct 28).
"The whole league can't just sit and wait, we have to prepare, we have to plan, we have to organise training venues and sessions. How can we do that if we don't know if we're going to play?" said a frustrated Aurelio.
"It's so uncertain and something needs to be done immediately."
There were 62 minutes on the clock at the Bishan Stadium when the assistant referee held up the electronic board to signal the entry of jersey no. 27. And the long wait was finally over.
The Lion City Sailors' 4-0 victory over Geylang International in the Singapore Premier League last weekend marked Adam Swandi's successful return to competitive action, after 15 months away due to a serious knee ligament injury.
For the talented midfielder, there was no better feeling than being back on the pitch doing what he loves most, especially after what was a tough rehabilitation process.
"There were a lot of things going through my mind when I was preparing to come on. I was definitely worried, but the strongest feeling was the excitement to return to playing competitively," said the 24-year-old, who thoroughly enjoyed his 30-minute run out.
"It went as well as I could have hoped: We dominated the game and managed to get all three points. It definitely felt like all the months in rehab paid off because it was such a long period, with disruptions to the process too, during the Circuit Breaker."
Adam is now hell-bent on going a step further and secure a starting berth. But he is aware that the league's requirement of at least three Under-23 players in the starting eleven, and the sheer number of quality attackers in the Sailors ranks mean he may have to bide his time.
"Of course, my main target this year is to go back to the levels I was at before, and I think I will definitely get my opportunity. That's when I have to capitalize and show that I am worthy of a starting position, or at least be a regular sub for the club," said the former FC Metz trainee.
"I know the U23 ruling will affect the decisions made by the coaches, but I'm determined to do my best in the hope that I'll be given an important role in the team."
So far Adam is enjoying life under the experienced Aurelio Vidmar, noting that the Australian is not just a 'one-way' coach.
"He's someone who's open to a lot of options and changes. He's not the kind who says something and everyone has to just do it. To me, that's a very good approach in modern football and we're learning a lot from him every single day," said Adam.
After the euphoria of a first win, the Sailors have to buckle down – they next face second-placed Albirex Niigata (S) in the SPL on Saturday evening.
The Japanese satellite club are one of the two remaining unbeaten sides – along with Brunei DPMM – and are the current league's top scorers with 12 goals from four matches.
Adam, of course, knows the White Swans well, having spent a year with Albirex in 2018 where he was part of that all-conquering squad that went the entire season undefeated en route to clinching the league title. Albirex made a clean sweep of all domestic titles on offer, winning the Community Shield and the Singapore Cup.
"It was memorable not to lose a game all season, but it wasn't as beautiful as it looked," he reflected. "From the outside, it seems like everything is just very flowery. But there was huge pressure because all the players and staff had stated the goal was to win all games.
"I remember when we had our first draw of the season, it felt like a loss and felt like as if we had lost the title altogether."
But the year provided win after win for Adam, including one on the personal front. His excellent performances won him the Young Player of the Year award.
Adam readily acknowledged that his spell with Albirex taught him huge lessons and also helped him mature as a player.
"The key takeaways for me was to take every training session as a match and to always fight to be the best player in the team in your position – that's the mentality that Albirex instilled in me," he said.
"Every year, the players that come into Albirex Singapore are very driven in their mindset because they know this is the stepping stone for them to achieve bigger things in their professional careers."
The bulk of that 2018 Albirex squad has since either returned to Japan to play in the lower leagues or are plying their trade in other parts of the world. Only four from that team are still playing in Singapore.
Utility man Hiroyoshi Kamata is the only one still on the books of the White Swans and is now into his fifth season in Singapore. Centre-back Kaishu Yamazaki is now reunited with Adam at the Sailors, while forward Shuhei Hoshino is now with Balestier Khalsa.
"Hiro's a super versatile player who can play anywhere. He's physically small, but he makes up for it with his tireless runs and he's just everywhere on the pitch. He is very unselfish and a brilliant team player," analysed Adam.
"As for Kaishu, it feels good now that we're in the same team again because that year we enjoyed a good connection. He was the left-sided centre back and I was playing left wing, so he played some great long balls to me," Adam recalled.
"Although we haven't played together for the Sailors yet, once we get the opportunity, I'm sure we'll be able to show what we're capable of."
It looks like a tough match awaits the Sailors this Saturday, but Adam believes the presence of new Sailors signing Stipe Plazibat could tip the scales.
"Everyone in this league knows that Stipe is a natural finisher who simply knows how to put the ball into the back of the net," said Adam.
"With him in the team, we have got every chance to win. Of course, we must also match Albirex's hunger and it's important we perform on the day."
The Sailors are up and running in the Singapore Premier League (SPL), having defeated Geylang International 4-0 on Sunday evening for their first ever win. 
New signing Stipe Plazibat opened the scoring early on, before Song Ui-Young netted from the spot on the stroke of half time to double the advantage. 
With Geylang playing the entire second half with a man less following goalkeeper Zainol Gulam's dismissal for the foul leading to the penalty, the Sailors would go on to score a further two late into the game, with Stipe netting his second and substitute Shahril Ishak rounding off the victory near the end of the game. 
Here, we look back on four talking points from an excellent evening for the Sailors… 
Stipe makes an instant impact… at both ends
All eyes were on Stipe making his much-anticipated debut for the Sailors and he duly delivered. Our Croatian hotshot converted two out of his three shot attempts, which showcased his ruthlessness in front of goal. 
His predatory instincts were perfectly encapsulated in his maiden Sailors strike after just eight minutes, as he got ahead of marker Yuki Ichikawa to divert home a Tajeli Salamat knock-on from Shahdan Sulaiman's outswinging corner. The second goal was much more straightforward, as he swept home from unmissable range after being teed up by substitute Gabriel Quak. He could have ended the night with a hat-trick, but a snapshot earlier in the first half was turned round the post by Zainol. 
The goals aside, his all-round play upfront was promising, with Stipe constantly providing an outlet to link up with his team-mates. To cap it off, he also made significant contributions at the other end by often tracking back to help out the team in defending set-piece situations. All in all, it was a superb debut performance which will surely leave Sailors fans salivating for more. The danger for the rest of the league is that Stipe is just getting started.
Song, now the wily old head
A lot of attention before the season started was focused on how the Sailors' new recruits like Hassan Sunny, Shahdan Sulaiman and Gabriel Quak would impact the team, so much so that those who were already plying their trade at Bishan Stadium were perhaps overlooked. One such player is South Korean midfielder Song Ui-Young, who is now into his ninth season in Singapore (having spent 2012 to 2019 with Home United, our previous entity). 
While he has been deployed in a few positions across midfield over the years, Song currently plays as a no. 8 in a three-man Sailors midfield – a role which allows him to utilise his incredible stamina to roam from box to box. The Incheon native showed why he is such a valuable member of the Sailors by putting up an impressive display against Geylang. 
His clever movement and top-notch passing ability helped to link the lines between defence and attack seamlessly – which meant we often managed to get balls in behind the Geylang backline. A video that has been making its rounds on social media summed up Song's key attribute in a nutshell – having evaded his marker with a strong run, he proceeded to produce a delicious 60-yard ball in between two Geylang defenders that teed up Hafiz Nor for a one-on-one which he did not manage to finish off.
This ball by Song though…. Shades of UCL 2005 final Kaka to Crespo…deserved a similar finish. Can we just give Song an honorary assist? #LCSGEY #SPL pic.twitter.com/mjJnD7vk9t

— Rhysh Roshan Rai (@RhyshRai) October 18, 2020
Also, his penalty? Coolness personified.
Despite turning just 27 in November, Song is already regarded as the wise old head in the Sailors squad, as he leads by example from the middle of the pitch.
Young talents rise to the fore
The presence of experienced figures like Stipe and Song seems to be rubbing off on the younger players in the team, with Arshad Shamim and Saifullah Akbar showing their potential with good shifts on Sunday night. 
Winger Arshad constantly provided an outlet down the right flank with excellent, probing runs – with one of those resulting in the 20-year-old being brought down by a crude challenge from Zainol that drew a straight red for the latter. Meanwhile, 21-year-old attacking midfielder Saifullah did not look out of place on his Sailors debut, with his tidiness in possession and incisive passes. 
Nurturing young talents and seeing them progress to bigger and better things is a key facet of the Sailors' philosophy, so it is important for Arshad and Saifullah to build on their encouraging performances against Geylang. Likewise, the youngsters' good performances will also drive the senior players to take their game to a higher level – as evident in the impact that Gabriel and Shahril both made when they came off the bench. 
A handy first shutout to build on
It is an obvious fact in football that clean sheets breed confidence, thus the Sailors should be happy with their night's work. Geylang did have some good moments in the first half, but goalkeeper Hassan Sunny was generally untroubled throughout, although he still had to make an excellent late save to deny Khairul Nizam's downward header in the second half. 
Tajeli, in just his second start for the Sailors, put up an accomplished performance at the heart of defence alongside the experienced Abdil Qaiyyim. Tajeli's impeccable positioning and reading of the game allowed him to hack off the line from Darren Teh's goal-bound header, and he was also influential in the Sailors' opening goal with an excellent leap in the air to knock Shahdan's corner into the path for Stipe to do the rest. 
Meanwhile, full-backs Aqhari Abdullah and Naqiuddin Eunos gradually grew into the game and got forward well, with the latter teeing up Shahril for the late goal. 
All in all, the win and the performance that accompanied it is a huge confidence booster for the Sailors, as we gear up for the big clash against the free-scoring Albirex Niigata (S) next week.
It was a very positive return to competitive football for the Lion City Sailors, as we beat Geylang International 4-0 at the Bishan Stadium in our first match of the Singapore Premier League (SPL) restart on Sunday evening.
Debutant Stipe Plazibat opened the scoring for us in the eighth minute, as he poked home a loose ball from close range after Geylang failed to clear Tajeli Salamat's header from a corner.
The Eagles were then reduced to 10 men at the stroke of half-time, after our young midfielder Arshad Shamim was brought down in the box by Geylang goalkeeper Zainol Gulam, who received his marching orders for the challenge.
Our midfield maestro Song Ui-Young stepped up and confidently dispatched the resulting penalty to give us a two goal lead, and we never looked back from there.
Stipe then crowned his dream debut with his second goal of the night in the 84th minute, as he coolly side-footed Gabriel Quak's unselfish cutback into a near-unguarded net, before veteran Shahril Ishak put the icing on the cake for the Sailors in the 90th minute with a simple tap-in for our fourth goal.
Naturally, Sailors head coach Aurelio Vidmar was delighted with how his charges performed against a robust and determined Geylang side, and believes this victory – our first in the SPL – will give everyone a huge lift for the remainder of the season.
"I'm of course very happy with the win and the clean sheet, and I think that this result will give everyone a lot of confidence as we go through the season," said Aurelio.
"I think even after seven months without competitive football (due to Covid-19), we're in reasonably good physical condition. And we showed that here at the Bishan Stadium, even though they (Geylang) had 10 men.
"We were able to control (the game) and make some good actions going forward, and I'm very pleased with the way we stayed disciplined throughout the 90 minutes. Being able to score four goals was also very positive for the group."
Aurelio also had words of praise for new signing Stipe, who currently leads the SPL goalscoring chart with seven goals.
"Scoring two goals on his debut was fantastic," Aurelio said of Stipe. "We all know what he's capable of. He's a top goalscorer, and he continued to prove that again tonight. But he also worked hard to make good chances for himself and for others, so I'm very pleased with his overall performance."
Speaking about his debut, Stipe expressed his joy at having gotten his Sailors career off to a winning start. The 31-year-old said: "It feels great to get the victory, especially after we've waited so long to play again. I'm really glad that we started with a strong performance, and of course, scoring is just the cherry on top.
"We played very well, although we still have room for improvement in certain areas. But, for a first match after so long, I am satisfied with how we reacted. It was very important that we got the win, because we have high hopes for this season and it was crucial to take all three points."
Apart from Stipe, young playmaker Saifullah Akbar also made his debut for the Sailors on Sunday, and Aurelio claims the 21-year-old should be happy with his performance.
"Saifullah was making his first start for us, and I thought he was very serviceable throughout the time he was on the pitch," Aurelio explained. "I can say that both he and Arshad performed well and gave us a lot of good moments, especially in the first-half."
Despite the convincing victory over Geylang, Aurelio knows that there is still work to be done in order for us to achieve our goals this season. But the Australian tactician is confident that we will only get better with more matches under our belt.
"I thought some of our movement up front was very good, but we just kind of overcooked the ball on a couple of occasions when we got into really good areas," Aurelio reflected.
"The weight of passing was a bit sloppy when we had good opportunities to get behind the (Geylang) defence. But these are the things that will happen after seven months of no football. We were a little bit rusty, and we've probably seen that from the first round from all the teams that have played, but that will improve over the next three weeks after playing more matches."
The Sailors move up to sixth in the table, and will next play Albirex Niigata (S) this Saturday (Oct 24), 5.30pm, at the Jurong East Stadium.
His surprise transfer to the Lion City Sailors grabbed all the eyeballs and was the talk of the footballing community in Singapore.
Now, Stipe Plazibat is set to make his much-anticipated debut for the Sailors in the Singapore Premier League (SPL), as they host Geylang International at Bishan Stadium on Sunday evening.
Having been with the team since September 1, the time is ripe for the 31-year-old hotshot to prove his mettle and carry on where he left off.
The Croatian began the year in fine fashion, scoring nine goals in six games across two competitions for his previous employers Hougang United – including the five that made him the league's top scorer before it was halted in mid-March due to the COVID-19 pandemic.
And our head coach Aurelio Vidmar has no doubt that Stipe will be a hit for the Sailors after seeing his performances in training.
"He has fit in seamlessly since joining us six weeks ago, so much so that it feels like he has been here for a long time," said former Australian international Aurelio. "He's been a positive influence to everyone and there haven't been any issues between the two of us.
"He has a lot of experience and is a very good goal scorer. And he has been at this club before (when it was previously known as Home United). When we knew he was available, there was absolutely no question we had to bring him in. He's the type of player who I know will turn it on when it's game day, and I expect him to continue on this way."
With the unexpected long break providing extra time for coach Aurelio to impose his philosophy on the team, he believes they are now better equipped for the challenges ahead than they were at the beginning of the season.
"I know a bit more about the team…the players also understand more about me and the playing style I want them to have. Now, there's a better understanding of what we're trying to do," noted the 53-year-old, who was only appointed as our head coach last December.
"But obviously the dynamics of training amongst yourselves and actually up against real opponents is completely different. So, we have to go out there and try to perform."
With the league's schedule now reduced to two rounds being played over just nine weeks, it is imperative for the Sailors to hit the ground running once the SPL restarts, in order to make up for the slow start to the season which saw them attaining just one point from two matches.
However, coach Aurelio is keen to exercise caution when necessary.
"Yes, any slip-ups can cost you and we need to start strongly. But we want to be still firing in Round 24, and not just be firing in Round Five then slowing down in the next four or five rounds," he emphasised. "That's my approach, and I'm confident that if we are focused and committed in what we're doing, we'll do very well."
The build-up to Sunday's game against Geylang is a vastly different one, with the technical team not being able to scout and analyse their opponents as they would have usually done in the past. As such, coach Aurelio believes the key to success comes internally.
"It's been seven months since everyone last played. While there might be some similarities with what we know about the opposition previously, it's still a little bit of an unknown," he explained.
"We can prepare for them as much as we can, but our focus has certainly been on what we need to do as a team."
Apart from the arrival of Stipe, the Sailors are further boosted by the return of Adam Swandi for the remaining games. The skilful attacker is now fit for selection again after recovering from a serious knee ligament injury attained back in July 2019, with coach Aurelio noting that he 'looks very, very sharp' in training.
They will, however, not be able to call upon the services of Zulqarnaen Suzliman due to his National Service commitments, while Ho Wai Loon, Iqram Rifqi and Amiruldin Asraf are all currently still out injured. As such, three Under-21 players in the form of Danish Iftiqar, Anaqi Ismit and Aizal Murhamdani have made the step up to be included in the fold.
With matches to be played behind closed-doors for the rest of the year, the presence of the Sailors faithful will be sorely missed, but coach Aurelio has vowed that his team will put on a show for the fans watching the game on television and the various streaming platforms.
"We're very sad not to be able to see the fans because they're all so important to us, but it's difficult for them to come to the stadium at this point of time," he commented.
"On behalf of the staff and all the players, I just want to say that we're going out to every game to give our absolute 100 per cent. We're going to leave every ounce of sweat, blood and tears on the pitch to give us a better chance to be successful.
"And certainly, we hope to be able to see the fans and to allow them to get up close to the players in the near future."
With one draw and one loss, it would be fair to say that the Lion City Sailors did not enjoy the best of starts to this season's Singapore Premier League (SPL).
Before the Sailors could bounce back, the SPL was suspended, with no football action for close to seven months due to the Covid-19 pandemic.
Now the SPL is set for a restart. And so are the Sailors, according to goalkeeper Hassan Sunny.
With the Sailors set to play their first match of the league restart on Oct 18 against Geylang International, the 36-year-old shot-stopper claims that everyone in the team is ready to start afresh after their disappointing opening two games.
"Everyone of us have been waiting for months for the league to restart, and now that it's here, we are all excited and cannot wait to get back on the pitch to play competitive football matches again," said Hassan.
"Unfortunately, the team didn't get off to the best of starts to the season. But we have been working hard throughout the past few months to ensure that we are in the best of shape for the league restart because we are all determined to do better."
Hassan added that he has seen an "improvement" in the cohesiveness of the team, with the players now more attuned to head coach Aurelio Vidmar's footballing philosophy and tactics.
"I've definitely seen our team cohesiveness improve since the start of the season," said Hassan. "All of us are focused on getting our season back on track, and I'm happy to say that preparation has been good so far.
"The boys have all been putting in their 100 per cent effort during training, and we are all feeling positive ahead of the league restart. I have full confidence in the team and the coaches to achieve our goals this season."
One of the reasons for Hassan's confidence stems from the Sailors' capture of hotshot striker Stipe Plazibat, who joined the club at the start of last month.
When asked whether Plazibat – who has to date recorded an incredible 54 goals in 70 SPL matches – has managed to get the better of him in goal yet, Hassan laughed, and revealed that both he and the Croatian striker would always challenge each other during training.
"I always compete with him (Plazibat) during training!" said Hassan. "He will try to score and of course, I will try to stop him from doing so. We always challenge each other to do better, and this competitiveness has helped both of us improve as players.
"But so far, he's adapted very well with the group because many of us already know him. He's no stranger to the league, and he will definitely be a huge asset for us this season."
Nonetheless, while Hassan is brimming with confidence for the restart of the league, he is aware that their upcoming game against Geylang – with a record of two wins and a loss so far – will be anything but a walk in the park.
He explained: "We all know that Geylang are a very difficult team to beat. They have players who will fight till the final whistle. All of them are willing to put their bodies on the line, so we will have to be at our best to beat them. But I'm sure that if we perform to how I know we can, we can get the victory."
The Singapore Premier League (SPL) is set for an imminent restart, and the Lion City Sailors have been training on the pitch striving to be in the best shape to challenge for the title this season.
But one Sailor has been conspicuously absent from these sessions – full-back Ho Wai Loon.
Instead of being out on the pitch with his teammates, the 27-year-old has been forced to stay at home in a cast, after he sustained a right ankle fracture early last month.
The injury, which occurred during our second full training session, was severe enough that Wai Loon had to undergo surgery on his ankle the very next day.
"We were having possession training, and during one passage of play, I slid in to try and block a goal. But my right ankle got stuck in the ground, while the momentum carried me forward, and I suddenly heard a loud crack," said a disappointed Wai Loon, recalling the painful incident. 
"I knew immediately then that it was a bad injury, and that I'd be out for a long time."
His recovery is estimated to take about four to six months, and the Singapore international will very likely miss a large chunk of the coming season, if not all of it.
After close to seven months without football due to Covid-19 measures, the left-footed Wai Loon was naturally upset at suffering such a serious injury, especially now with the season about to restart.
"It was a devastating blow for me," said a candid Wai Loon. "Frankly, this year has not been a good year for me, football-wise. We only managed to play two games at the start of the season before circuit breaker started.
"Then just when things were picking up and we got back to full training, I suffered this injury, and will now have to miss another four to six months of football."
Despite the ill-timed setback, Wai Loon is determined to maintain a positive mindset throughout his rehabilitation.
After all, he believes that the key to a better and faster recovery is to stay positive – something he learnt while recovering from an anterior cruciate ligament (ACL) injury in 2015.
"When I had my ACL injury, I realised that your mindset plays a very important role in your recovery," said Wai Loon. "You have to be mentally strong, and stay optimistic. It is hard, but you cannot wallow in self-pity because it is what it is, and there's nothing you can change.
"So, instead of focusing on the injury, focus on the recovery. That's why I'm choosing to look at the positives of my injury now. I believe that things happen for a reason, and maybe because of this injury, it'll allow me to reset, recharge, and come back a stronger player."
As part of Wai Loon's rehabilitation, he continues to work with the club's trainers to keep active in order to maintain fitness.
"I had just one week of rest after the operation," Wai Loon revealed. "Since then, I've been going for treatment and working with our trainers to keep my quadriceps and hamstrings active so that my fitness levels don't go down too drastically.
"Thankfully, the recovery process isn't as tough as when I suffered the ACL injury, and doctors say I can probably begin cycling in a month, which will help with my cardio fitness."
It helps, too, that Wai Loon's friends and family, as well as his teammates and coaches, have been hugely supportive and encouraging.
"After the injury, my teammates have been checking up on me often, and of course it helps knowing that they care and that I'm not alone in this," said Wai Loon. "Their encouragement, along with the support of the coaches and the trainer who's helping me with my treatment, makes me extra determined to work hard.
"I know they're all waiting for me to come back, so I shouldn't disappoint them. Having said that, I won't rush my recovery too or I might risk getting another injury."
And while we will be without Wai Loon – who was set to play a key role in our charge for the SPL title this season – for the majority of the campaign, the full-back is optimistic in the team's ability to achieve success on the pitch.
"I'm confident that the direction we're going is the right one," Wai Loon declared. "The coach, the staff, the players are all pulling in the same direction, and everyone is doing well.
"I believe the team will perform well this season, and we will soon be able to show everyone our way of playing football. The morale is high among the boys, and everyone is putting in a lot of effort in training. So even for me, while I'll be sidelined, I'll still be there to support the team throughout the season."