Despite controlling early proceedings and taking the lead, the Lion City Sailors fell to a 4-2 defeat to title rivals Albirex Niigata (S) in a thrilling top-of-the-table Singapore Premier League (SPL) clash at Jurong East Stadium on Friday night.
M Anumanathan drew first blood for the champions, but Albirex came back and led at half-time through a lethal brace by Kodai Tanaka.
The White Swans extended their lead through Kan Kobayashi before Kim Shin-wook came off the bench to pull one back for the Sailors, but the night belonged to the home side – who added a fourth through Tadanari Lee to seal the three points in front of a sell-out crowd. 
The result meant Albirex closed the gap on the table-topping Sailors to two points with a game in hand, with Sailors Head Coach Kim Do-hoon left lamenting the critical mistakes that led to the loss.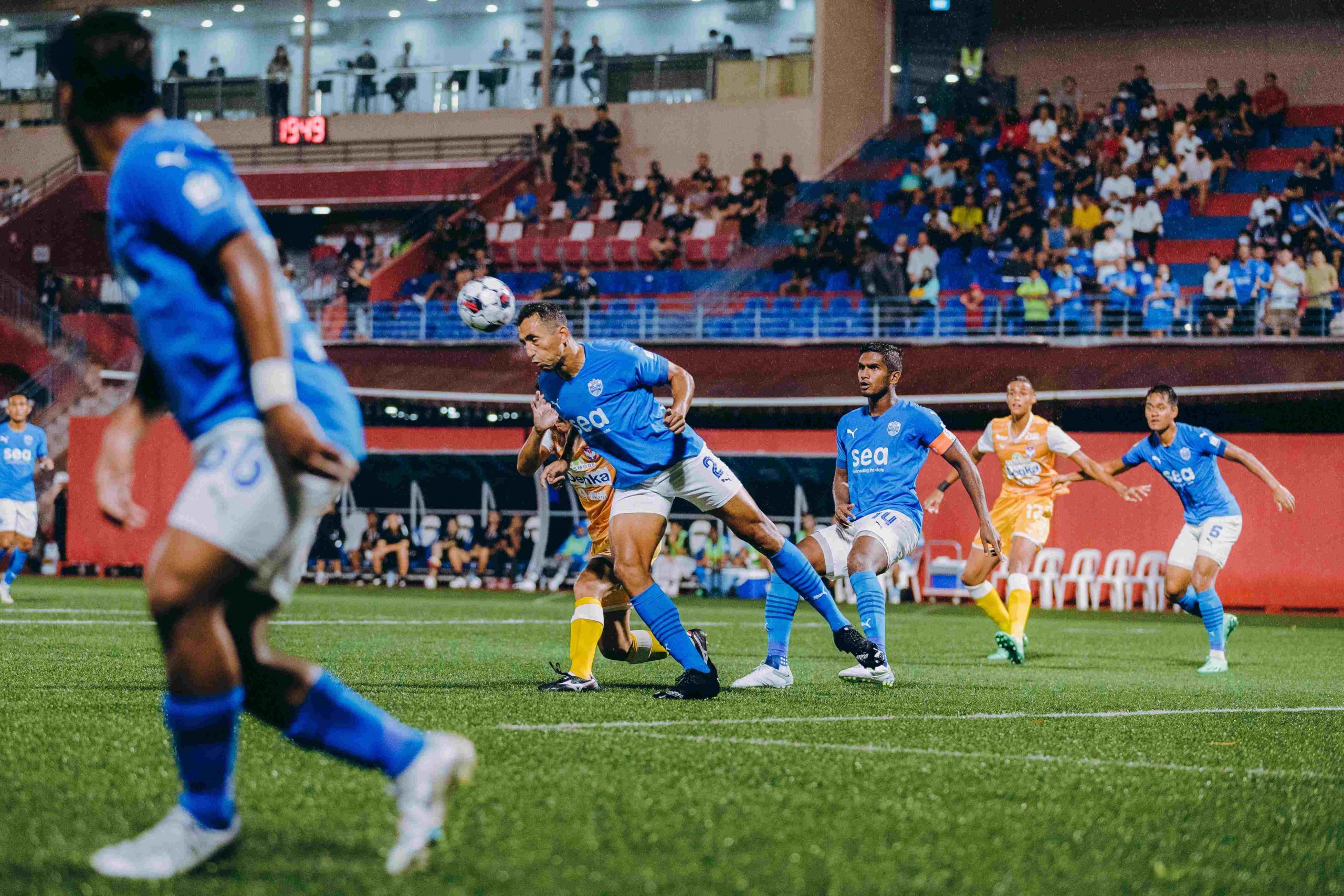 "One of the disappointments tonight was not being clinical and precise enough to finish the chances we had. Another one was conceding too early after scoring the first goal. If we had been able to keep the lead longer, it could have been a different game. 
"This was a game that we really wanted to win, but the result turned out otherwise – so huge apologies to the fans who were giving us awesome support till the final whistle," said the 52-year-old. 
In a game played under rainy conditions, the Sailors looked sharp in the opening exchanges as Diego Lopes and Hafiz Nor drew excellent stops from Albirex goalkeeper Takahiro Koga within the first 20 minutes. 
Kim's men duly took a deserved lead in the 21st minute, with Anumanthan benefitting from Diego Lopes' cut-back to fire home albeit via a deflection for his first goal for the Sailors.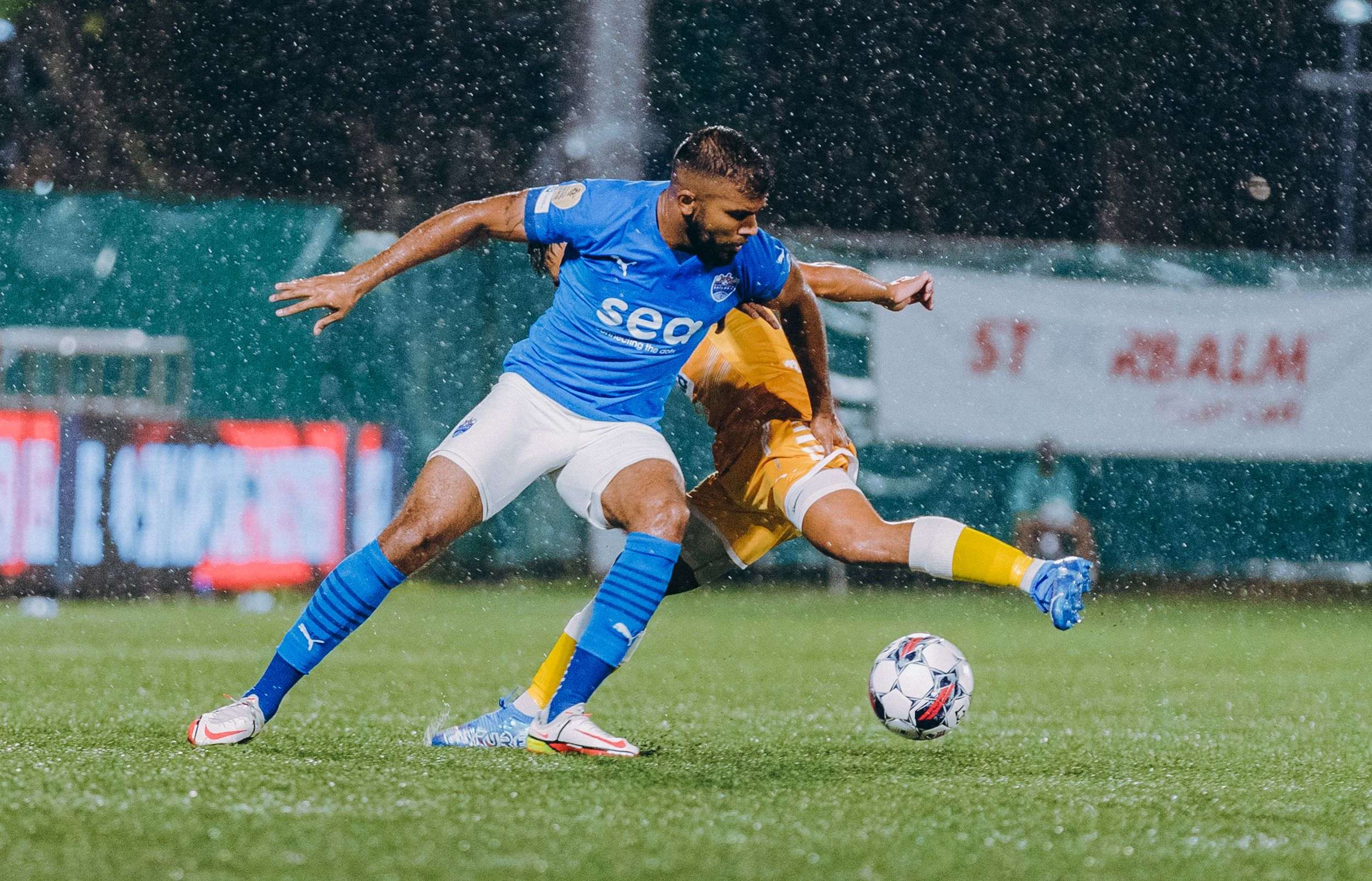 However, the joy proved to be short-lived as Albirex equalised just two minutes later – with Tanaka popping up at the back post to nod home Masaya Idetsu's deep cross from the right. 
The 22-year-old – who scored the match-winner the last time both sides met in June – proved to be the standout performer once again. In the 38th minute, he cut inside Amirul Adli before unleashing a curling shot from the edge of the box for his second goal of the night. 
Tanaka then turned provider to tee up Kobayashi to lash low past Hassan Sunny in the 56th minute to make it 3-1 for the hosts. But the Sailors rallied and reduced the deficit in the 74th minute, courtesy of substitute Shin-wook who came on 11 minutes earlier.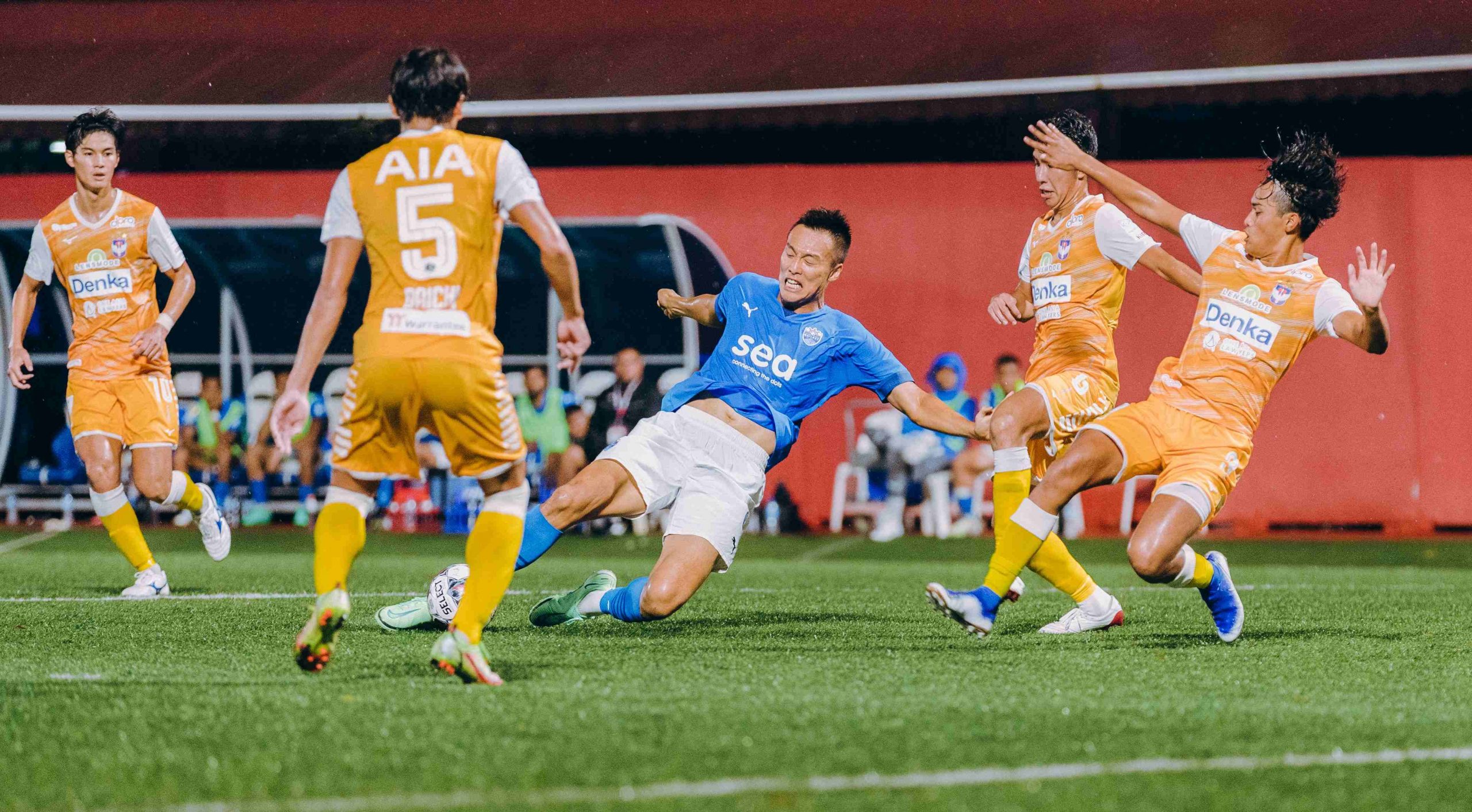 After intercepting a loose ball, captain Hariss Harun drove forward to release Song, who in turn laid it off for Shin-wook to thump an emphatic finish past Koga and spark hopes of a Sailors comeback. 
Hassan then produced a stunning save to deny Kobayashi from point-blank range in the 79th minute, but the 38-year-old was left helpless for Albirex's fourth goal five minutes later. Idetsu floated an excellent cross into the area for former Southampton man Tadanari Lee to head home. 
The Sailors battled to the finish, but eventually went down to their third defeat of the season in what is turning out to be an enthralling SPL title race.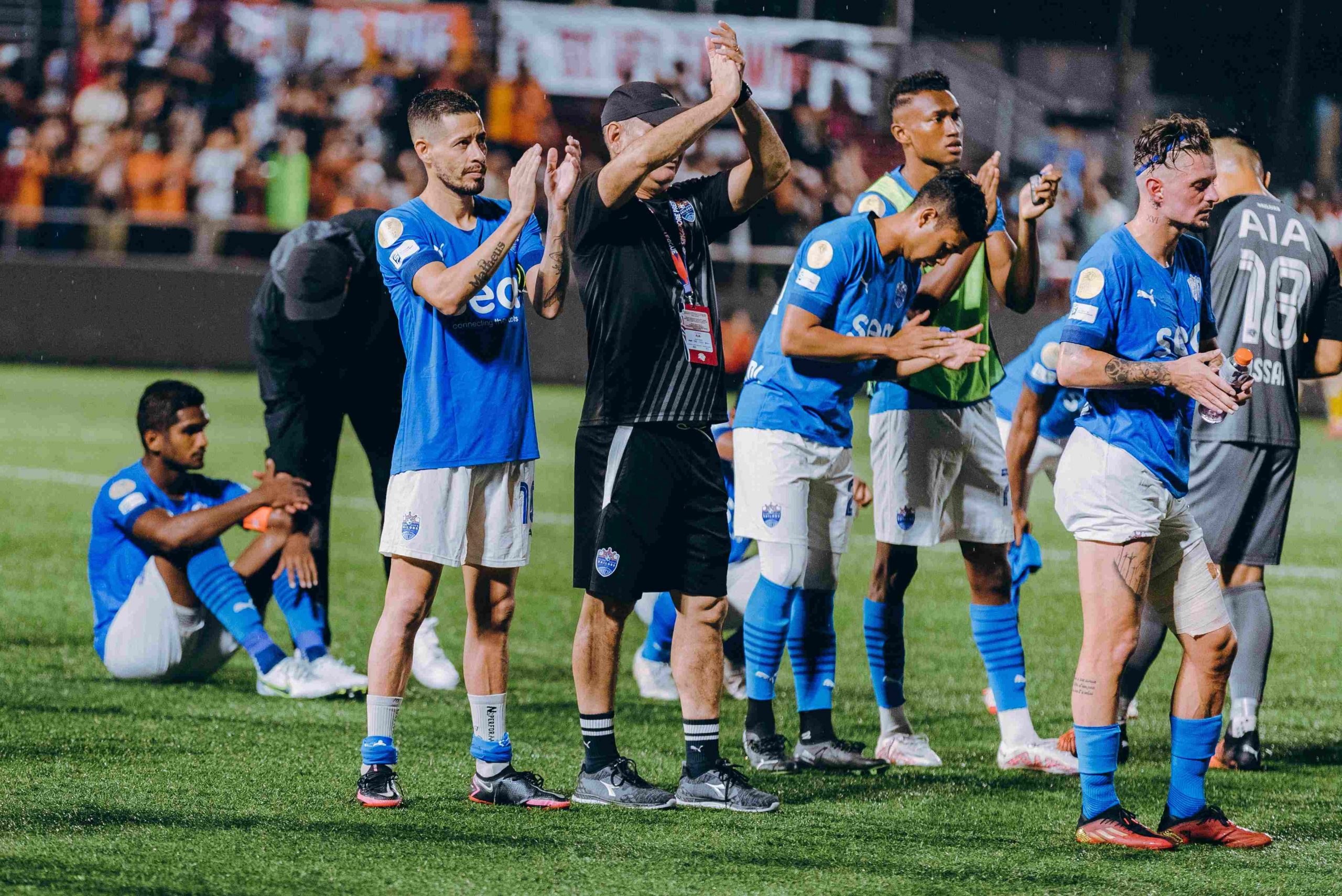 But a bullish Coach Kim refused to look too much into the current title equation and preferred to focus on the 10 remaining games left in the season. 
"Obviously it's a huge disappointment tonight, but it's too early to make any judgement (on the title race). We just have to shake this result off, keep our heads up and get ready for the next match. 
"We'll evaluate and go through the match videos to see where we didn't do well and try not to repeat the same mistakes again. What I want to tell our fans is that we're going to fight and give everything to become champions again," said the former Ulsan Hyundai man. 
The Sailors will host Balestier Khalsa in their next SPL match next Saturday (6 August).
She spent seven fulfilling years playing for Tanjong Pagar United's Women team, before finally deciding to take the leap of faith to join the Lion City Sailors in November 2020.
And this Sunday evening (31 July), for the first time since moving to the Sailors, goalkeeper Beatrice Tan will finally face her former club in competitive action, with the two teams set to duke it out in the Deloitte Women's Premier League (WPL). 
Unsurprisingly, given her lengthy affiliation with Tanjong Pagar, Beatrice admits that she will head into this top-of-the-table clash with "mixed feelings".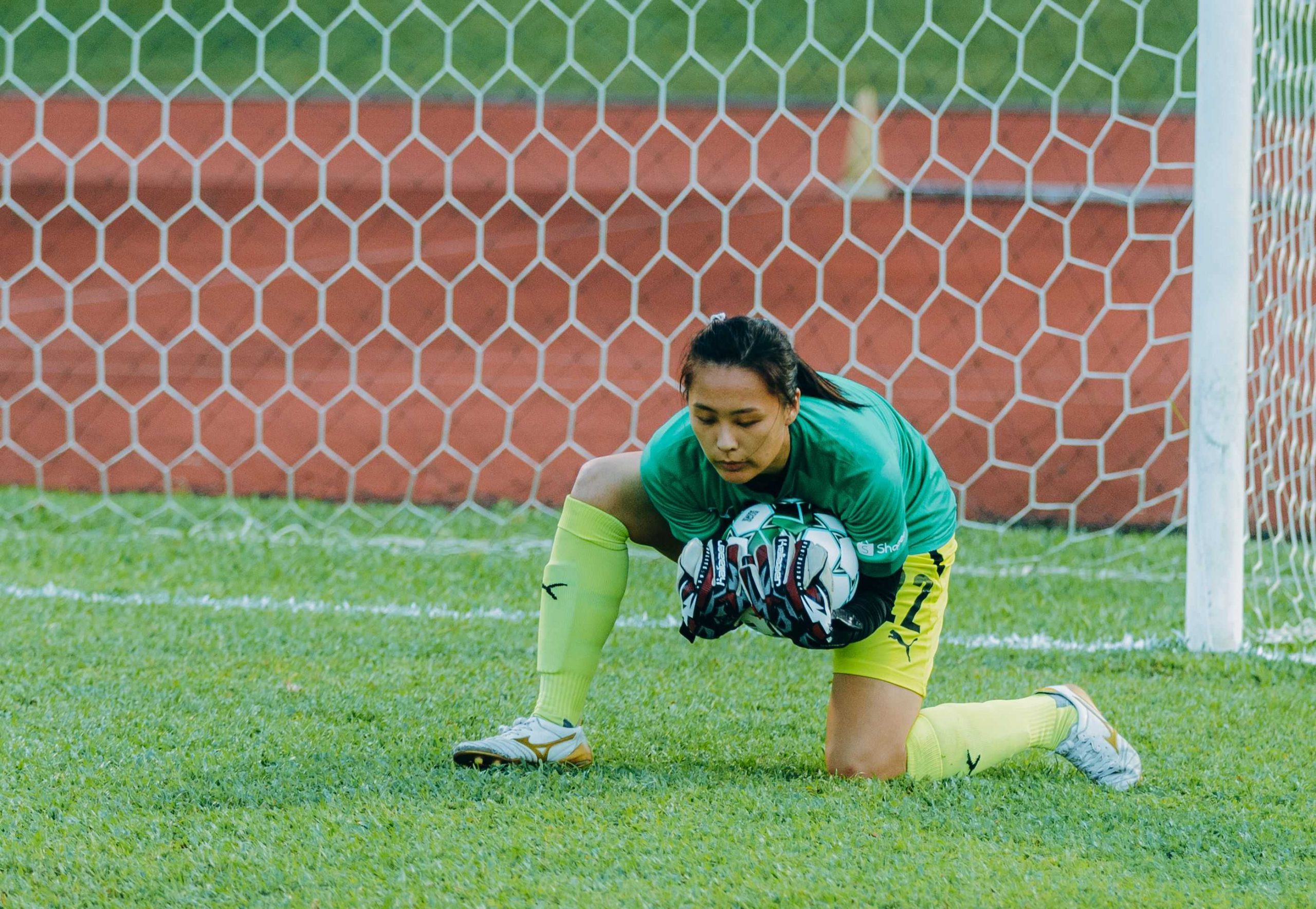 "I'm feeling excited, but also a little nervous to be playing my former club," said Beatrice. "After all, I was with the team since 2013, back when it was still known as the H2O/ITE Dream Team.
"But I made the difficult decision to leave them and join the Sailors because I felt that moving to another club would help me to continue to grow as a player by playing with different teammates, and under a different coaching style."
Putting sentiments aside, Beatrice insists she is fully focused on ensuring that the Sailors come out on top against their WPL title rivals at the Yishun Stadium this weekend.
The Sailors are currently top of the WPL and level on 12 points with Tanjong Pagar, who have played a game more.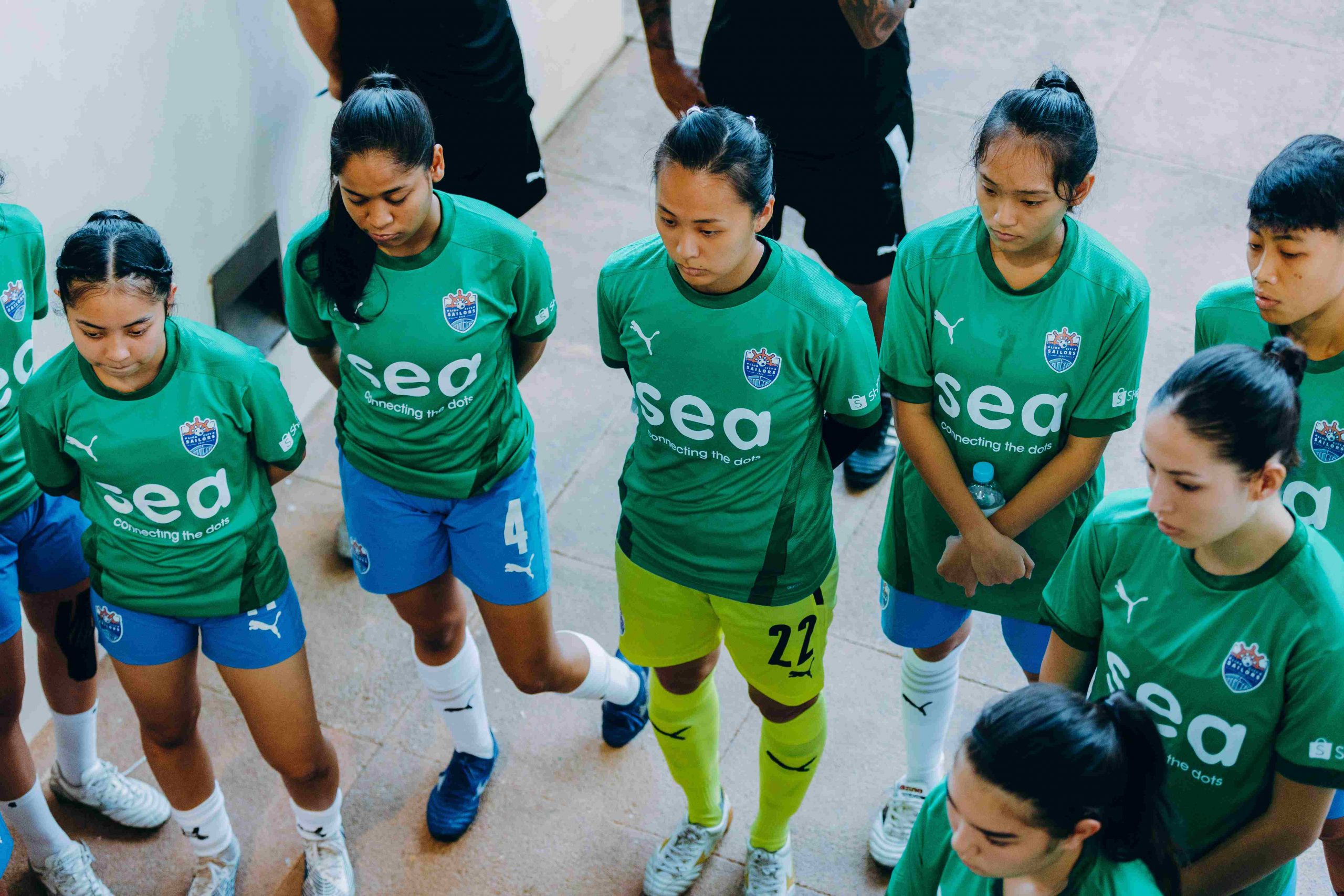 "All of us are definitely ready for the challenge (of Tanjong Pagar)," Beatrice declared. "We know how important getting the three points will be, and there will be pressure on us, of course.
"But we're all just focusing on what we can control, which is to play the game we want to, with quick combination plays. I think that will be key in breaking down the Tanjong Pagar defence and scoring the goals that will win us the game."
While the Sailors are better known for their sleek attacking prowess, their recent run of good form – they remain the only team with a perfect record in the league – also owes a lot to their sturdy defensive unit that Beatrice is a key part of.
Indeed, with just two goals conceded so far this season, the Sailors currently boast the best defensive record in the league.
But Beatrice knows that their defence will be pushed to the limit against Tanjong Pagar, who are the league's second-highest scorers with 14 goals – two fewer than the top-scoring Sailors women.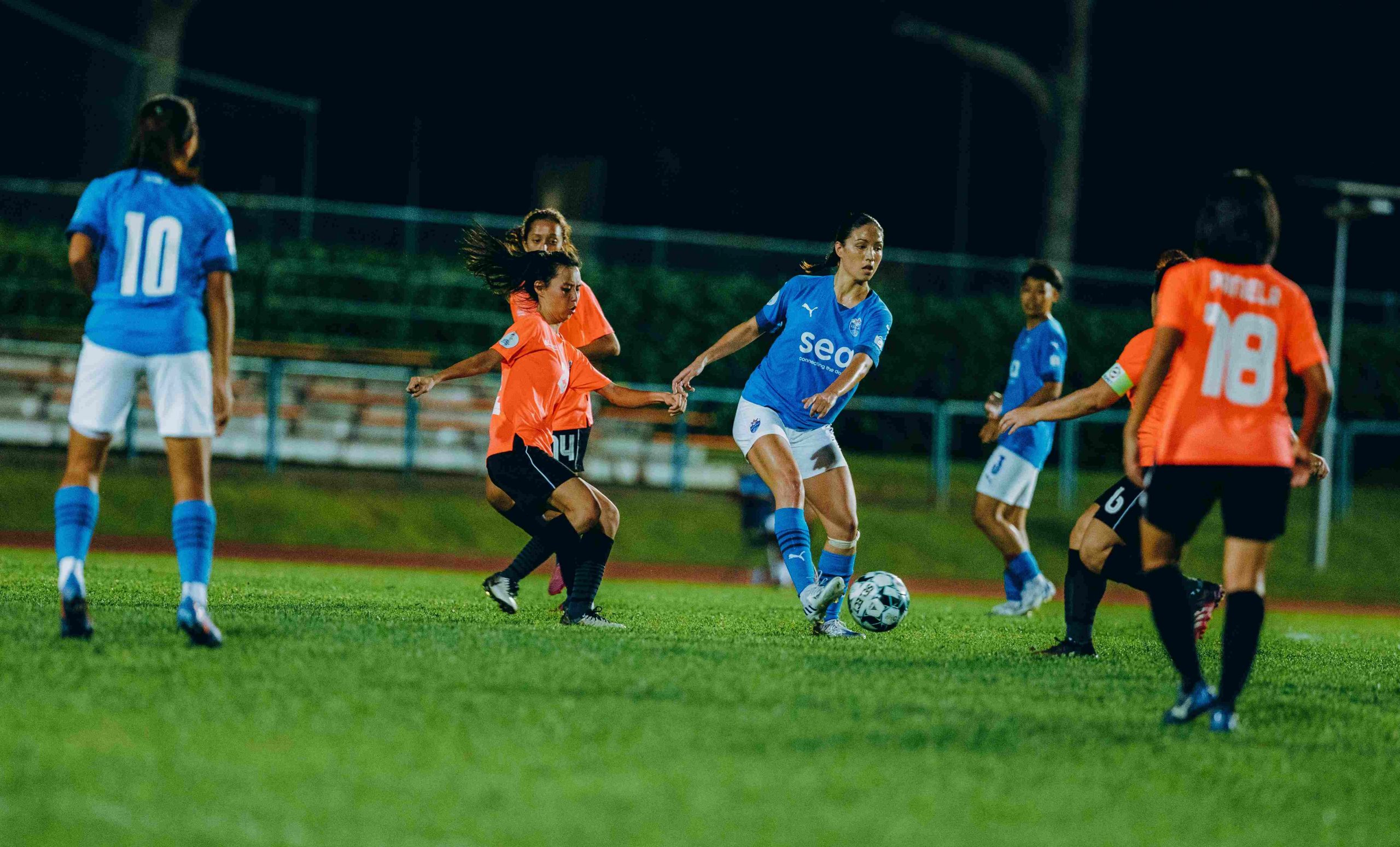 Nonetheless, Beatrice believes the collective manner with which the entire team defends will be key in shutting the Jaguars out.
"Tanjong Pagar are a good team with talented players like Manami (Fukuzawa) and Captain Nuriah (Mohd Noor), who are very comfortable with holding the ball, have the vision to distribute it effectively, and are good with their finishing.
"But our solidity in defence so far has been built upon teamwork, where everyone, including the attackers, work hard to win the ball back. That has to continue against Tanjong Pagar, while our backline has to be switched on at all times and not get complacent, or we can get punished," said Beatrice.
"It won't be easy, but if we all play our part and do our best, I'm confident we can get the win."
The Lion City Sailors Training Centre was officially opened yesterday (28 July), with club Chairman Mr Forrest Li joined by Guest of Honour, Mr Edwin Tong, Minister for Culture, Community and Youth and Second Minister for Law at the opening ceremony at 8 Mattar Road. 
This is the first-of-its-kind integrated football training facility in Singapore. The Training Centre that features physiotherapy rooms, a gym, an analysis room as well as study facilities for academy trainees alongside five top-of-the-line football fields, is the new home of the Sailors first team, Under-21 side, academy trainees as well as its women's team.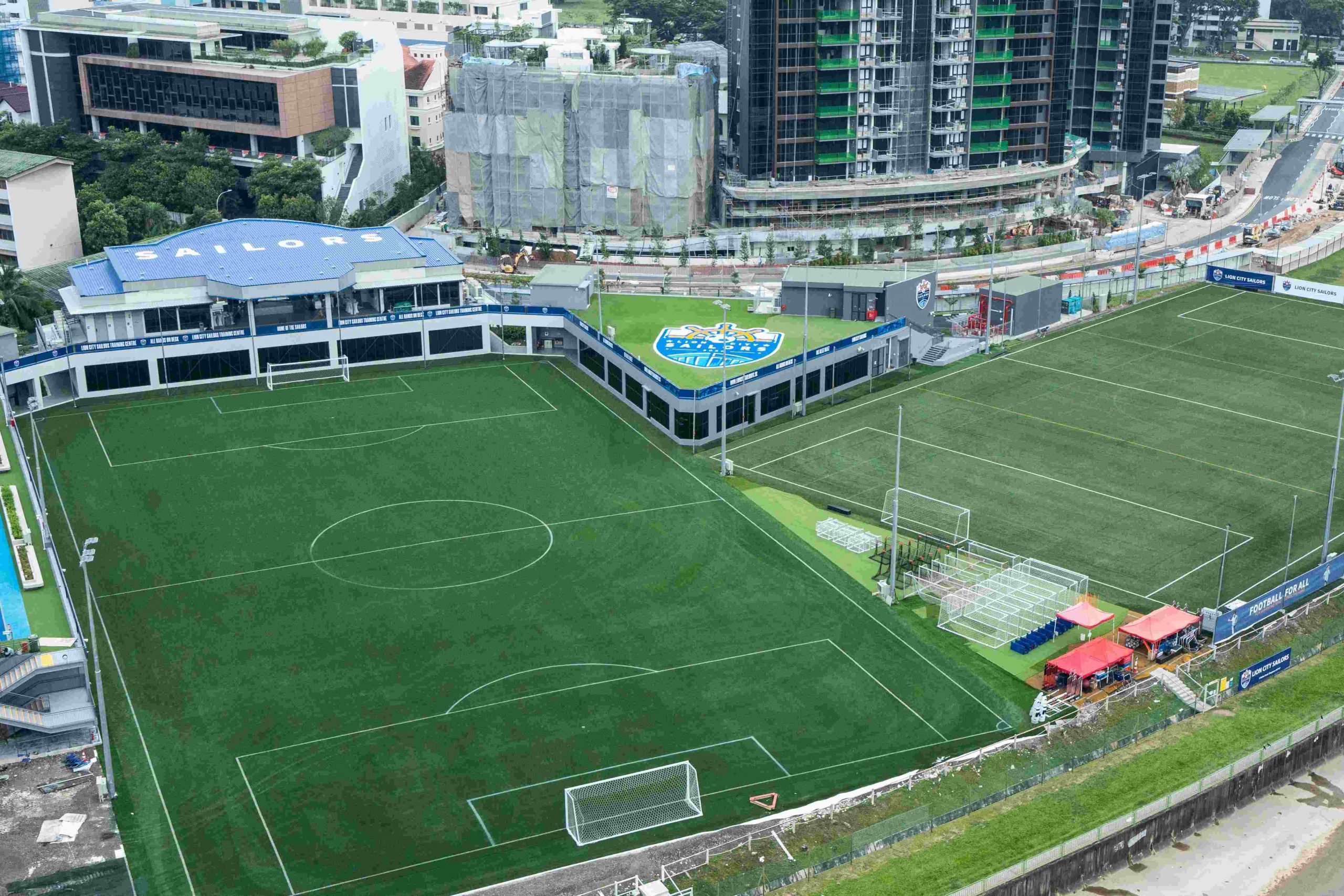 A tangible manifestation of the Sailors vision 
The training centre is the most tangible manifestation of the Sailors' commitment to excellence as the club drives towards its vision of reinvigorating Singapore football. 
In addition to providing the club with a sturdy platform to launch the next phase of its growth, the Training Centre will facilitate the establishment of a pipeline of footballers as it aims to boost youth development as part of the national project: "Unleash the Roar!" (UTR!).
"This training centre is a symbol of our commitment to revitalising local football, and to pursuing excellence for the Lion City Sailors, now and in the future. We built this centre because infrastructure is the basis of any good ecosystem," said club Chairman Mr Forrest Li.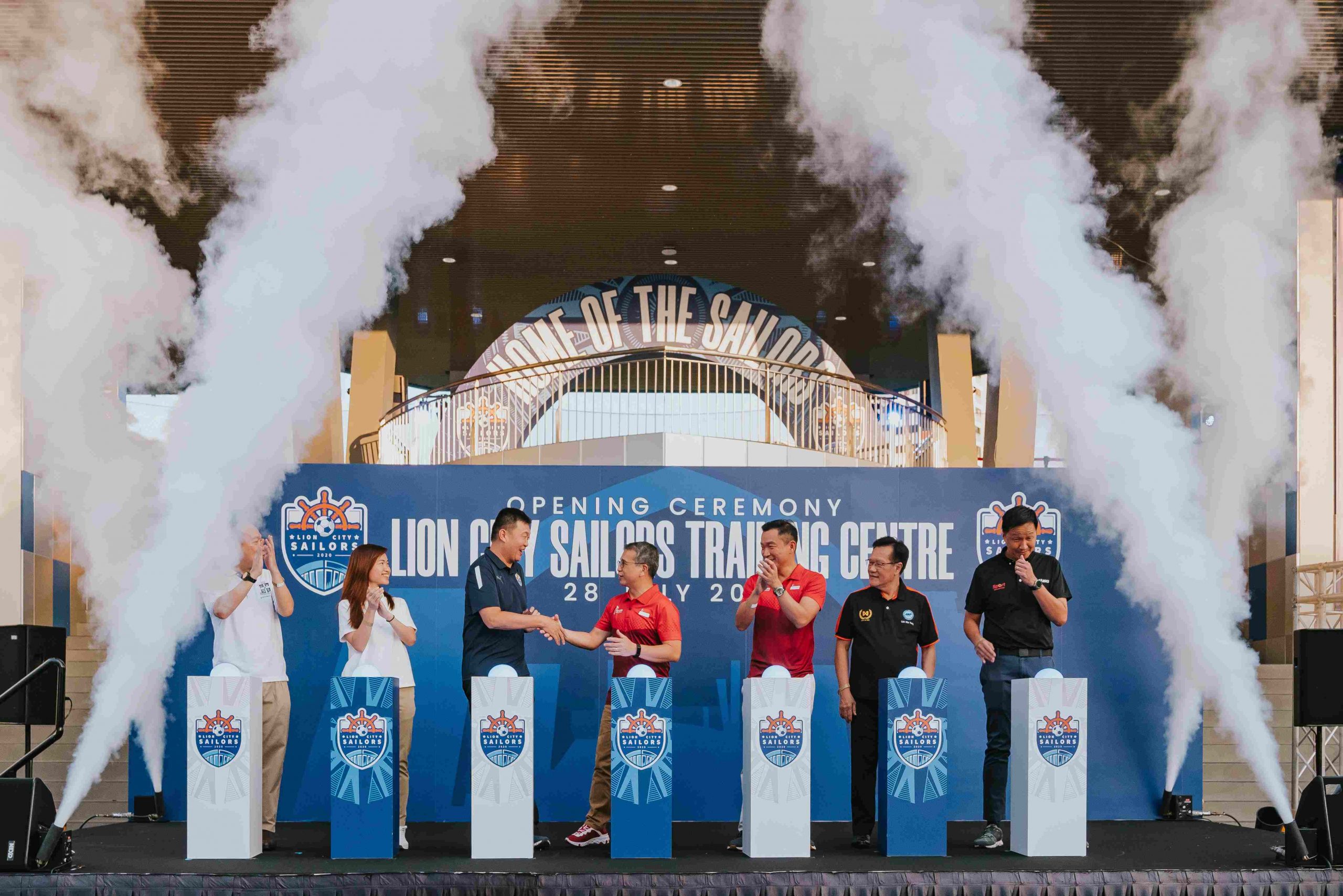 "Singapore's urban planning shows how excellent infrastructure can lay the foundation of a thriving society and economy – and it is the same with football. We are excited to be a part of the UTR! initiative announced by SportSG and the FAS, which has infrastructure and youth development as two of its key pillars," he added.
"We hope this training centre pushes the football scene a bit further along that journey."
A vehicle for the larger sporting fraternity 
In line with the objectives of UTR! there is a clear national drive to create opportunities for more young Singaporean boys and girls to undergo structured high-quality football training, with talent pathways for those who aspire to play professionally. This perfectly aligns with the vision of the Sailors, with the Training Centre poised to act as an effective development platform.
The Sailors are hosting sessions for the Sailors Development Centre that is a part of the ActiveSG Football Academy, while also providing an avenue for the development of talent in auxiliary sporting industries like sports medicine, physiotherapy, and strength and conditioning.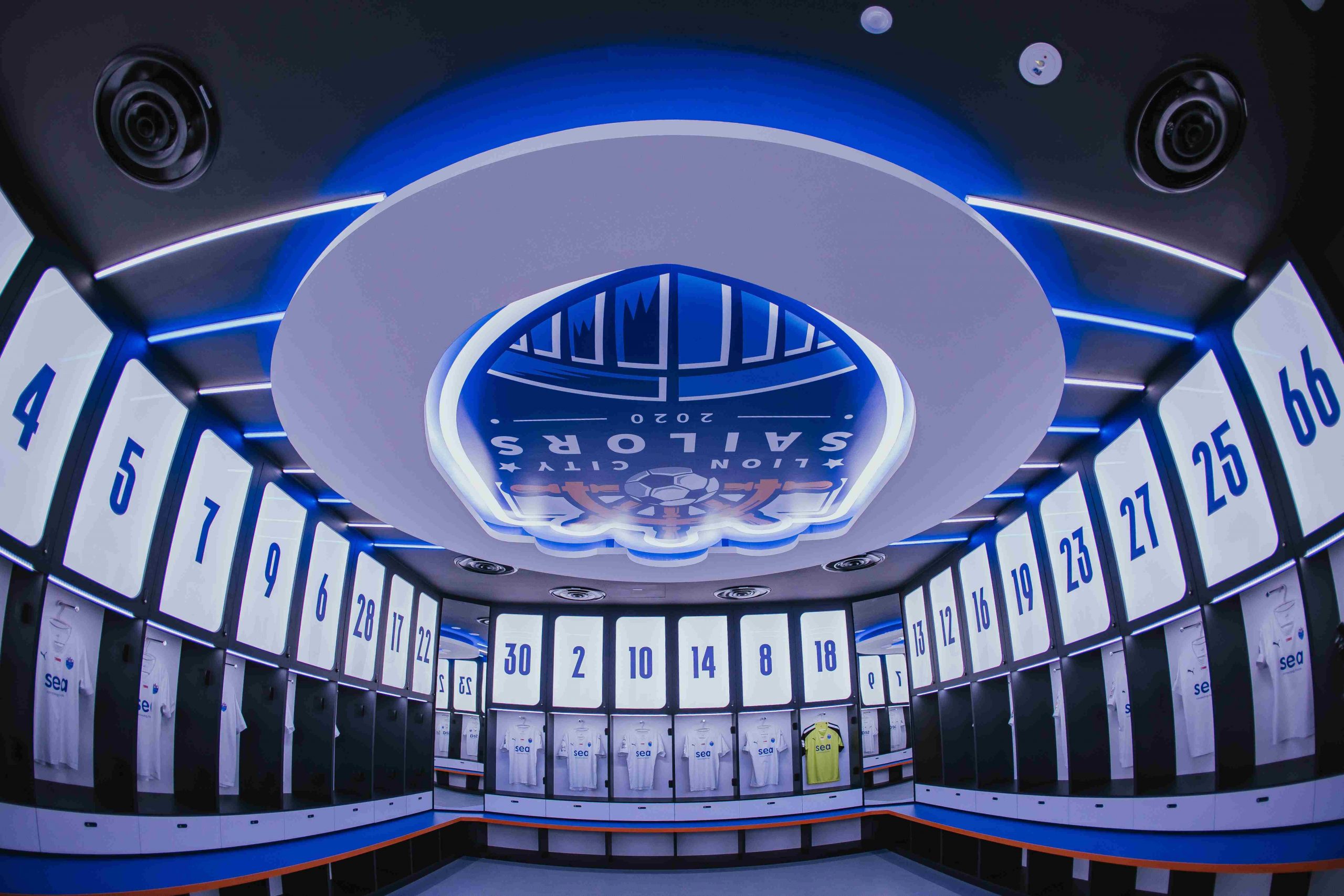 A beacon of community cohesion in MacPherson 
The Lion City Sailors Training Centre is designed to support more than just elite sports. 
The facility includes a viewing area for the public, a café, as well as community-friendly spaces where grassroots activities for residents of MacPherson can be hosted. These features come as part of the facility's secondary goal to serve and support the residents in the community, with the aim of bringing greater vibrancy and cohesion to the MacPherson community as an inclusive sports hub in the neighbourhood.
"Our thanks go to MacPherson, Ms Tin Pei Ling, and the community as a whole for welcoming us so warmly into Mattar. At the end of the day, anything we do on the field means little without the passion of our fans and support from our community," said Mr Li, pointing to the Sailors' efforts in MacPherson that have already kicked off even before the official opening of the Training Centre.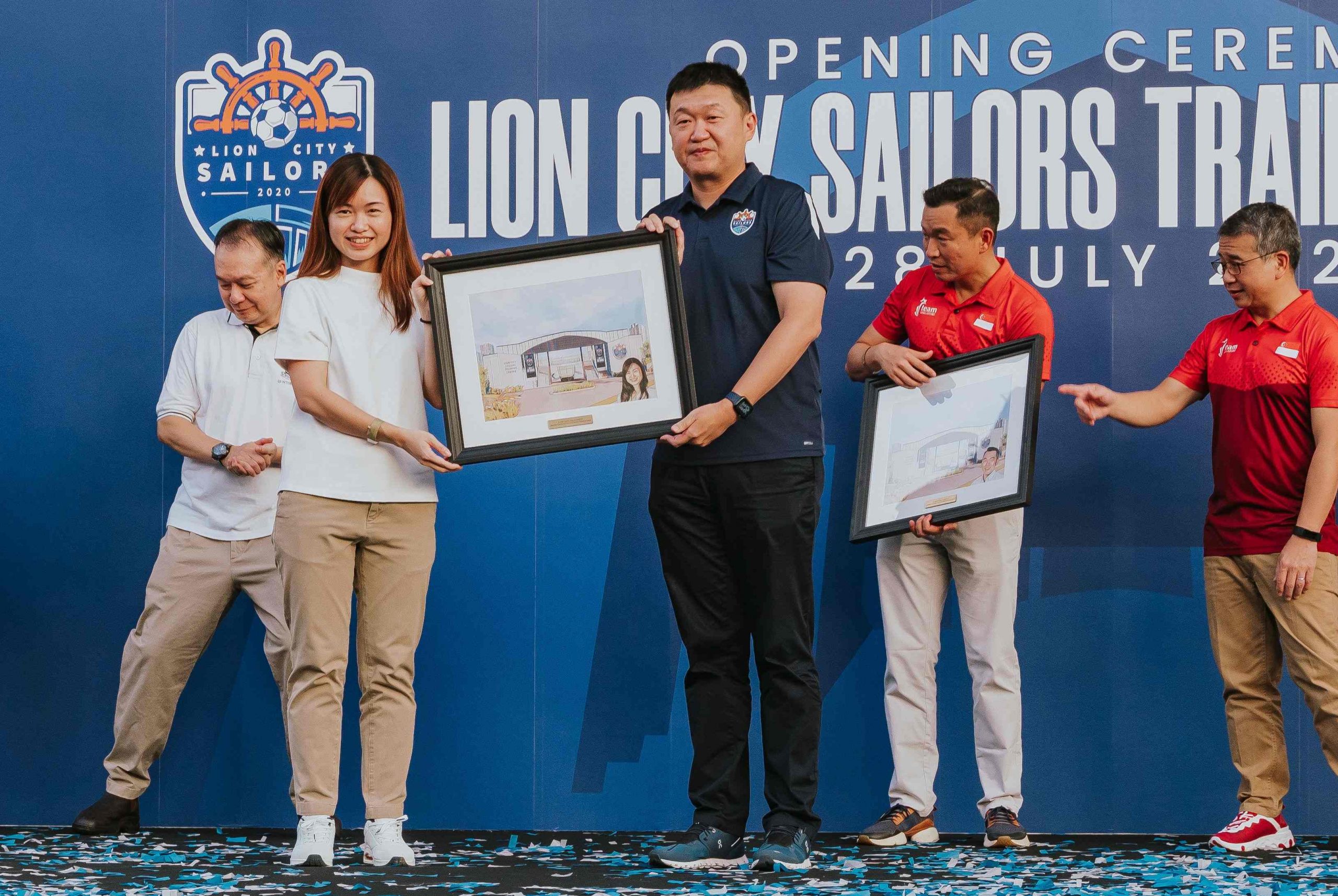 The Sailors collaborated with grassroots organisations in MacPherson for its Grant-a-wish initiative in November 2021, further solidifying the partnership by collaborating for the MacPherson Cares Carnival last weekend, on 24 July.
"Our hope is to bring people together through football, giving people of all ages and backgrounds something to unite around. We will continue to work closely with our community partners on fun and exciting initiatives for residents," added Mr Li. 
"These are still the early days, but we are in this for the long haul. I have been happy to see the Sailors take steady steps in our first two years, and look to the future with great optimism."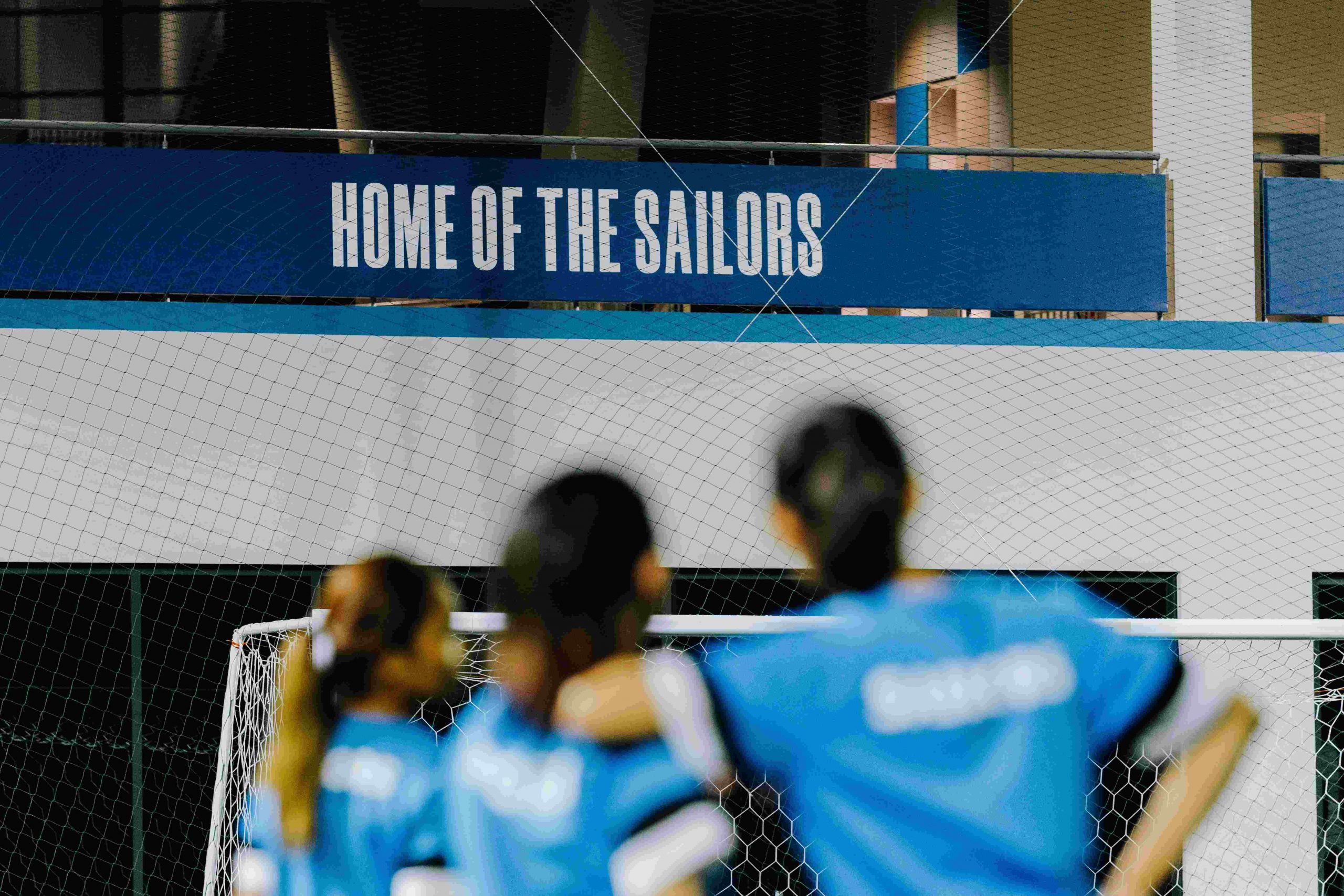 Key facilities at the Lion City Sailors Training Centre:
5 football pitches 

1 hybrid 11-a-side pitch 

1 artificial turf 11-a-side 

3 7-a-side pitches

5 Academy changing rooms, including one for female trainees 

3 Study rooms 

3 Meeting rooms 

Fully equipped gym

2 Physiotherapy rooms

 

2 Briefing rooms 

Office space for up to 48 staff 

Café – Sailors' Galley 

Rooftop public access and event spaces
They have returned to winning ways with a dramatic last-gasp 2-1 win over Tampines Rovers, but the Lion City Sailors must now turn their attentions to yet another game of huge significance – an away clash against Singapore Premier League (SPL) title rivals Albirex Niigata (S) at the Jurong East Stadium on Friday (29 July) night.  
While Kim Do-hoon's men hold a five-point lead atop the SPL standings, second-placed White Swans have a game in hand and will look to turn the tables with a win against the champions.  And the records suggest the Japanese side hold a bit of an advantage – the Sailors have yet to defeat Albirex in the league in seven meetings since their 2020 inception. 
But attacker Song Ui-young believes things will be different this time out. 
The Sailors have been buoyed by their win over the Stags and are in prime position to get one over the satellite Japanese side this time round. 
"Albirex is a well-organised and compact team. They have many quality players, but we can beat them. Traditionally it has always been close affairs between us and we were unlucky on a few occasions, so we need to get the little details right to get a win against them.
"Everyone's well motivated after winning on Sunday and the atmosphere within the team is superb. We have had five days to recover and that's enough – we're going all out for the victory on Friday," said the 28-year-old.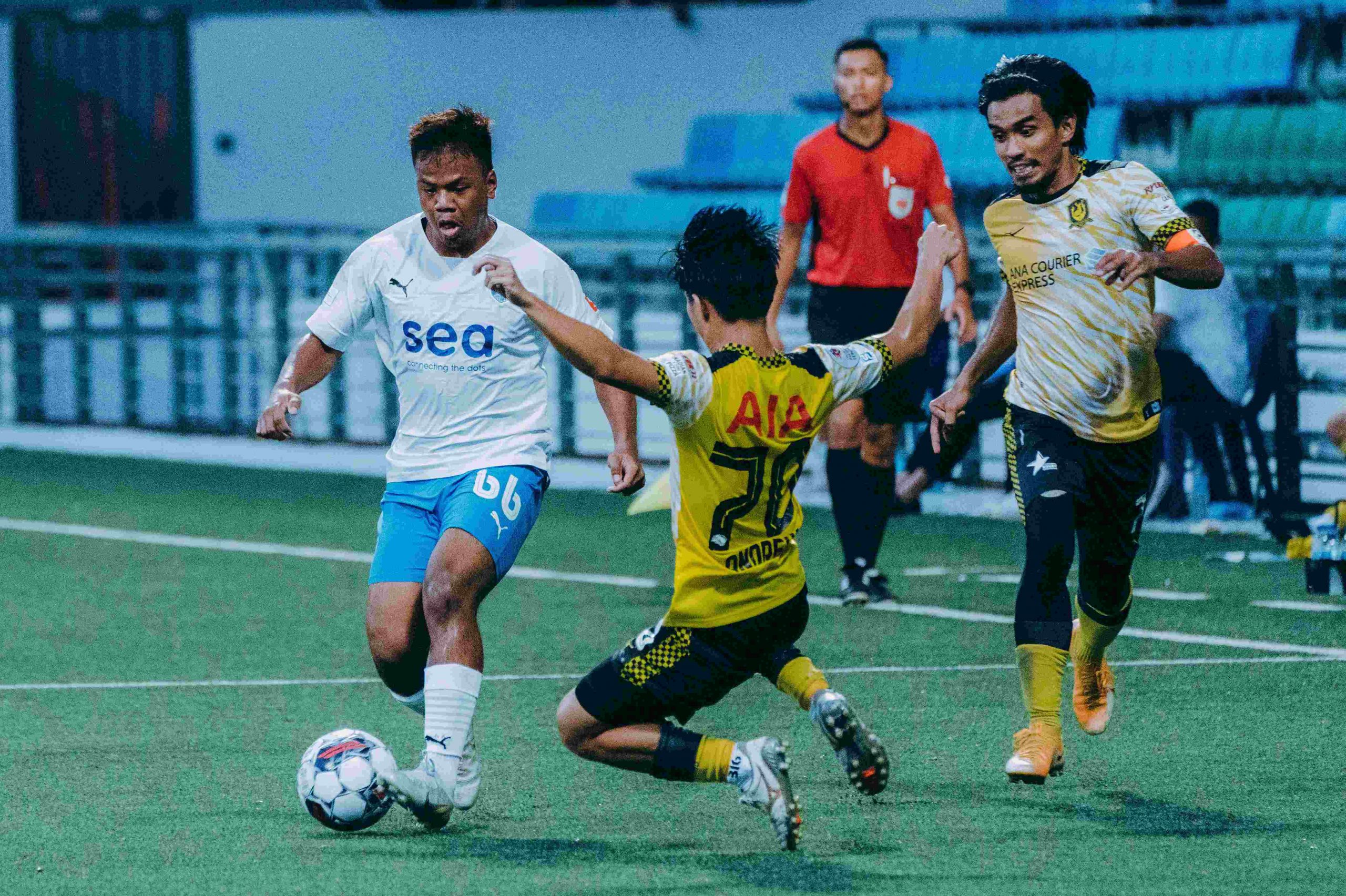 A huge takeaway from the Tampines victory was the team's belief, desire and unwavering commitment to go for the win in the dying moments of a game in which a third straight draw was imminent. 
Song believes that bodes well as the league edges towards the business end of the season. 
"We left it quite late to score the winner, but at no time did we panic or fear or have any negative emotions within the team. We were just focused on getting the three points and we believed that we'd always have a chance to score if we kept pushing ourselves.
"What happened in that game showed the spirit we have and it's clear to me: we're ready to give everything to win the SPL title again," declared the South Korean-born Singaporean. 
The Sailors may be facing disciplinary action for the unpleasant scenes in the last game against Tampines, but Song asserts that his team is fully focused on the task ahead.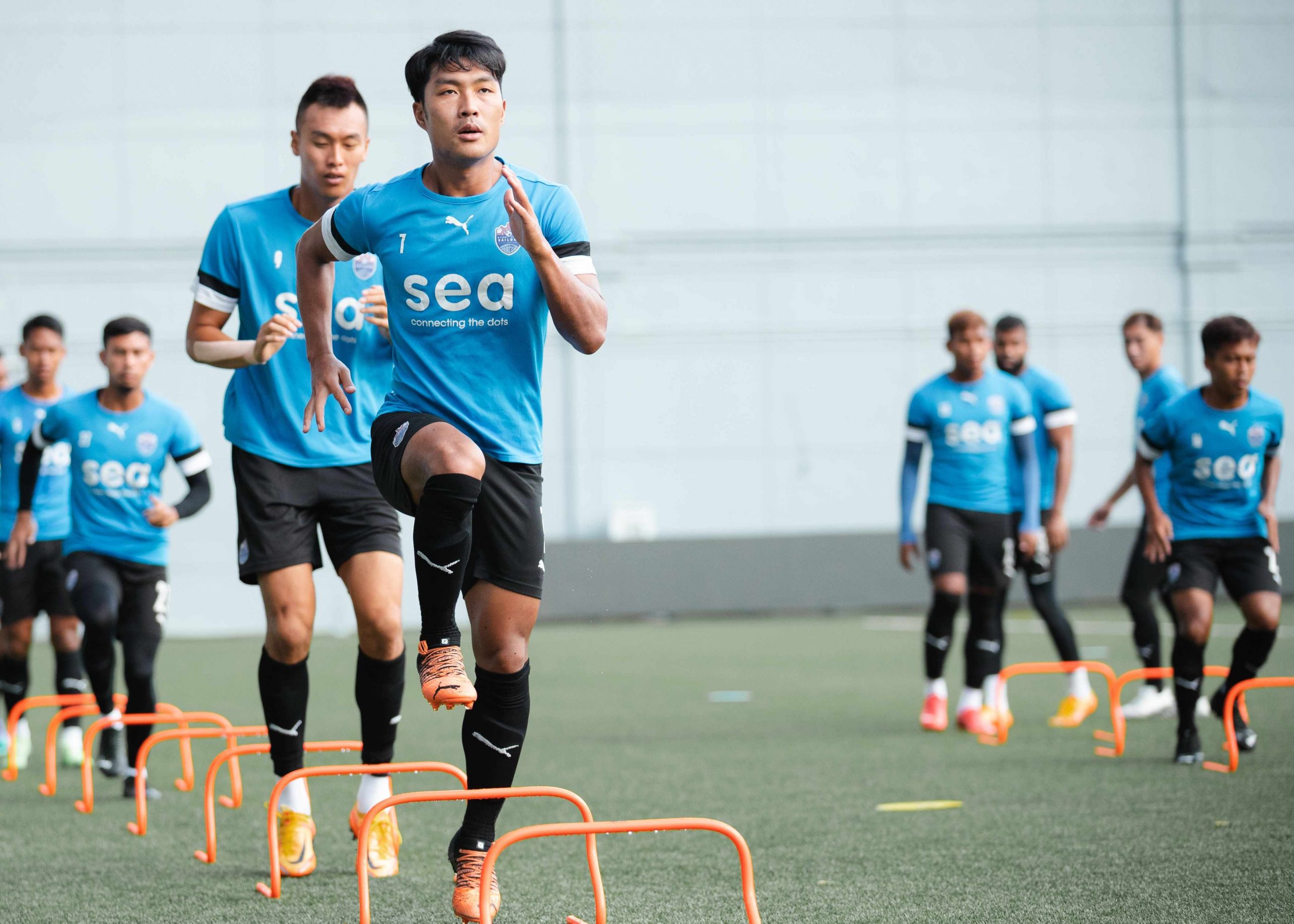 "These things have already happened and if I'm honest, we're no longer thinking about them. For us players, the focus is on our football and what we need to do. We are professional football players and we're not going to allow things outside the pitch to affect our focus," he said. 
On the personal front, Song is looking to continue in the same vein and recent good form that saw him net three goals in his last five outings. 
"I'm happy that I've been performing well. The understanding between Maxime (Lestienne), Diego (Lopes) and me is getting better with each game. It's so enjoyable to combine with them on the pitch," said Song.  
"For me, there are no big or small games, every single game is important. We are motivated to go out there and do the job for the club – and that is exactly what our fans will see on Friday."
Desire, commitment and grit – the Lion City Sailors displayed all these qualities as they dug deep into their reserves to claim a much-needed 2-1 win over Tampines Rovers at Jalan Besar Stadium on Sunday (24 July) evening to return to winning ways in the Singapore Premier League (SPL). 
After two consecutive 1-1 draws and seeing their lead atop the SPL standings whittled down to two points after Albirex Niigata's 5-0 win over Young Lions the day earlier, the Sailors needed to win. 
And Kim Do-hoon's men seized the initiative to lead at the break, courtesy of Song Ui-young's header. 
But Taufik Suparno's late equaliser for Tampines thereafter looked set to condemn the champions to a third straight draw, until Pedro Henrique popped up in the box in the fourth minute of injury time to slam home a dramatic last-gasp winner.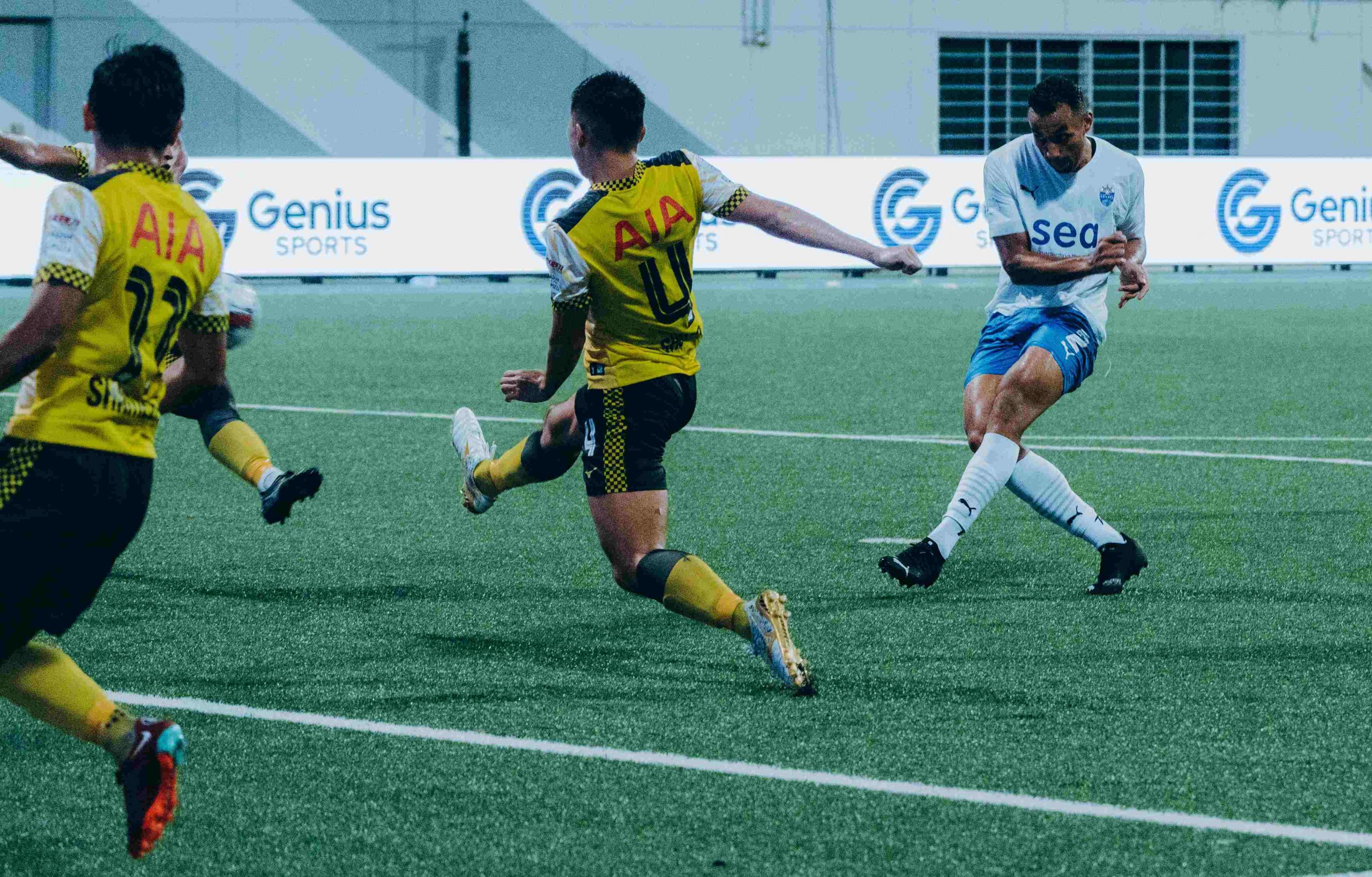 After making a crucial intervention to stop a Tampines through ball, the Brazilian centre-back burst forward to support the attack. 
As substitute Maxime Lestienne combined expertly with Diego Lopes down the left to work the way into the danger area, Pedro found himself at the right place at the right time to slam home – and in the process, restored the Sailors' five-point lead at the SPL summit. 
Sailors head coach Kim Do-hoon was proud of his side's resilience and the unwavering fan support that brought forth a massive three points ahead of a crucial away game against title rivals Albirex this Friday (29 July). 
"After two draws, we needed to come back stronger – and we did. The players ran and fought till the last minute – we owe it to them and the fans who were cheering all the way. 
"These three points are very important for us and give us a huge boost for the upcoming games, but we're also aware we need to train harder to refine our touches and finishing," said the 52-year-old.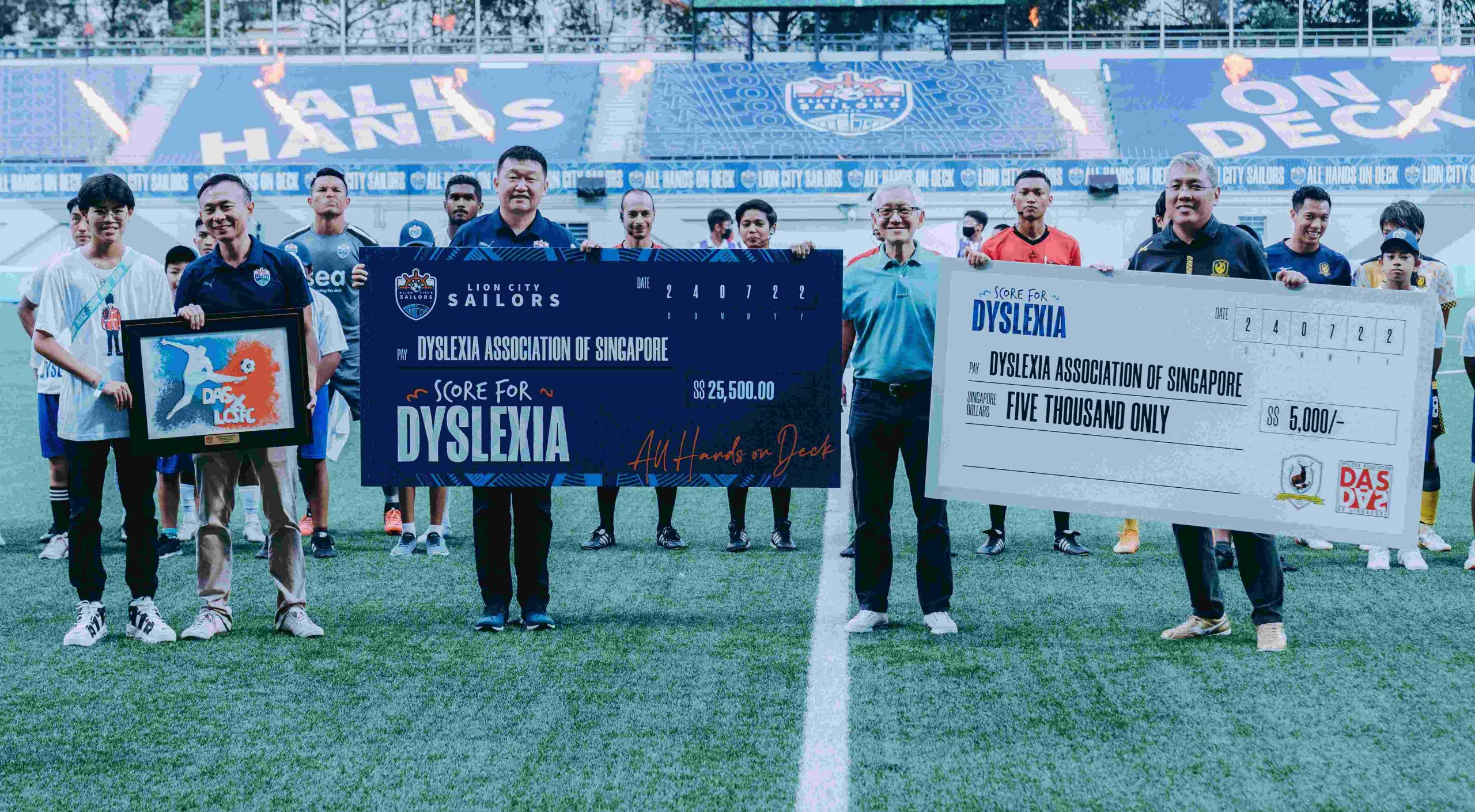 This game also marked the Sailors' partnership with Dyslexia Association of Singapore (DAS) to promote awareness of the cause. A total of $25,500 was raised for DAS through tickets issued ahead of kickoff, with Tampines getting on board the worthy cause as club Chairman Desmond Ong presented a cheque of $5,000 to DAS. 
The Sailors have never gone three games without a win since their 2020 inception and the players on the field dug deep to prevent that scenario. 
Pedro and captain Hariss partnered well at the back to shut out the threat brought by Tampines' league-leading goal scorer Boris Kopitović in the first half as the Sailors gradually took command of proceedings. 
After Diego produced a silky pirouette turn to earn a foul off Firdaus Kasman on the edge of the box, Shahdan Sulaiman played in the perfect free-kick for Song to nod past a stranded Syazwan in the Tampines goal in the 30th minute.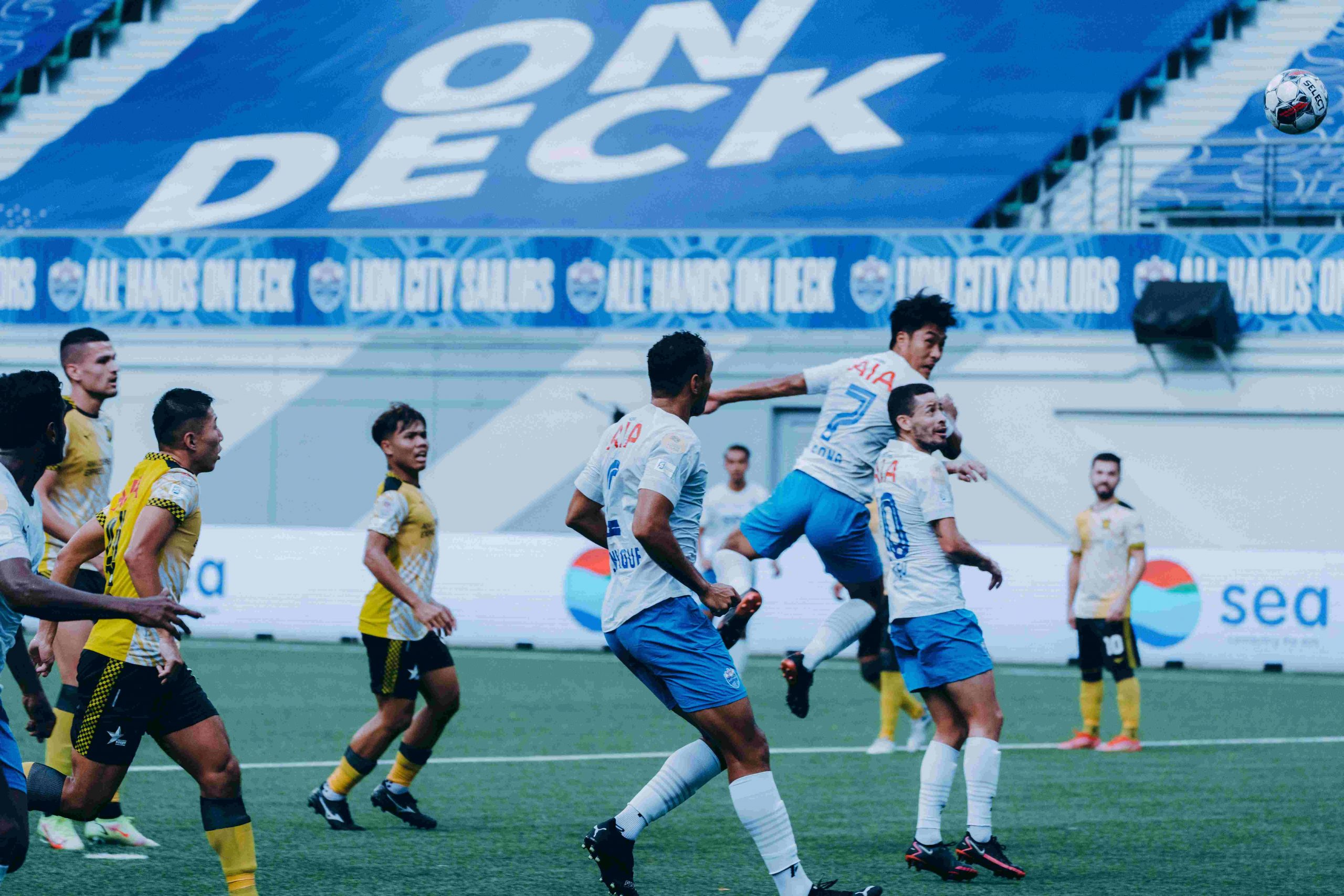 The Sailors went close on another two occasions before half-time and had a couple of half-chances after the break, but Tampines came back strongly in the latter stages of the game as Taufik slotted the ball past Hassan Sunny after being put through on goal by fellow substitute Irwan Shah to equalise on 77 minutes. 
Hassan later stood firm to deny Kopitović from point-blank range six minutes later, and that brilliant save paved the way for a stunning late show by the Sailors.
With the clock ticking down, the Sailors surged forward and found a stoppage-time winner through Pedro – who altered the complexion of the SPL title race with one clean swing of his left boot.   
Emotions ran high in a game of huge significance with both sets of players involved in some unsavoury scenes after the final whistle, as Coach Kim apologised for what transpired. 
"Results aside, we would like to apologise to the fans for showing such emotions," he said. 
"Emotions can get rough during a game and it's up to us to control it. It got a bit heated, but we'll make sure this won't happen again."
She had vowed to do all she can to help the Lion City Sailors Women's team in their quest for the Deloitte Women's Premier League (WPL) title this season, despite only being able to feature in a handful of games this season.
And last evening at the Yishun Stadium, Danelle Tan made good on that promise, scoring twice to lead the Sailors to a 2-1 victory over Tiong Bahru FC.
It was the second game in a row that Danelle had netted a brace, with the 17-year-old repeating her two-goal heroics from the previous week in the 4-0 win over Still Aerion FC.
This time, however, the sprightly forward's goals proved to be even more important. They ended up being the difference in what was a tightly-contested encounter.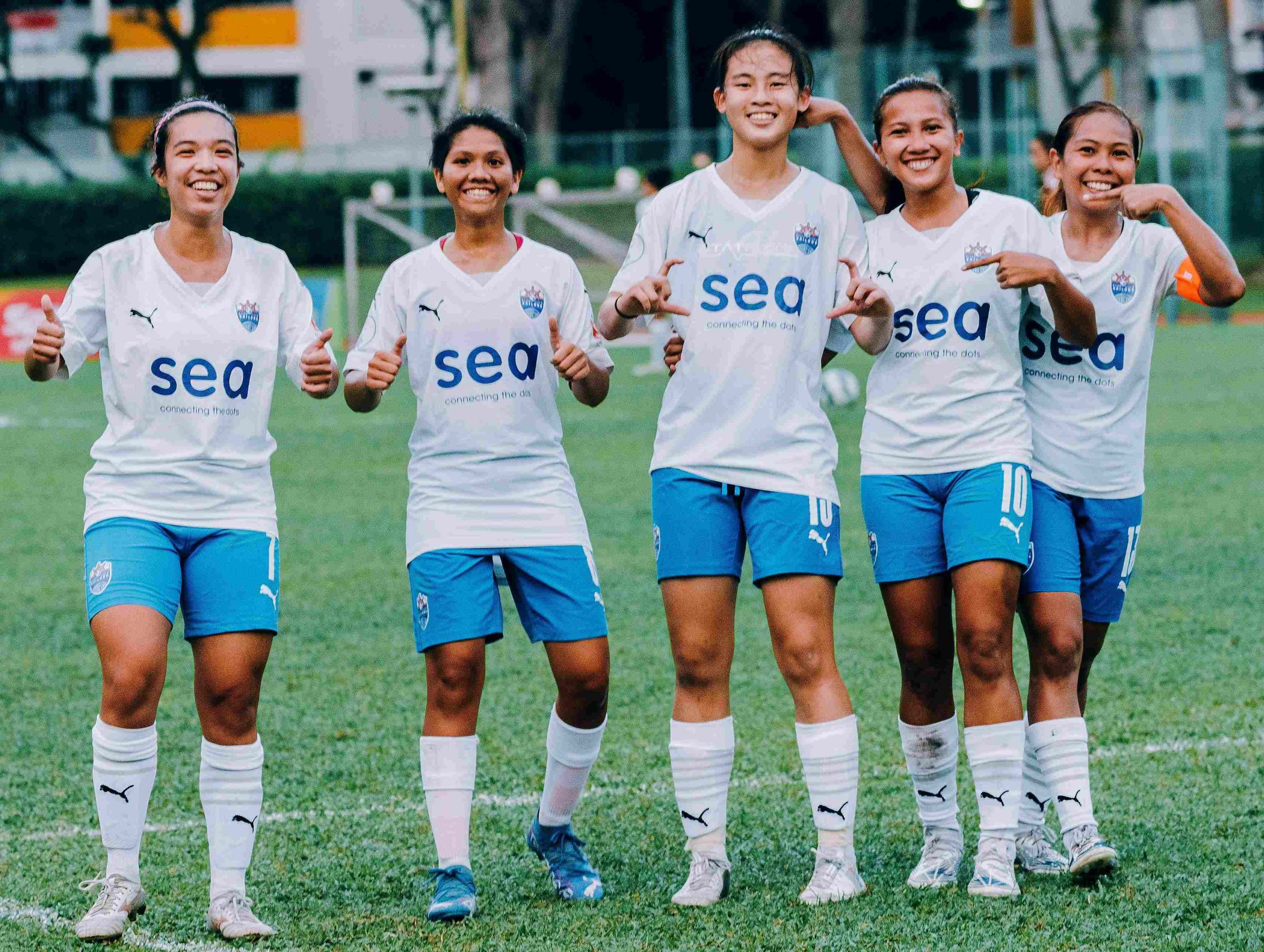 Reflecting on her match-winning display, Danelle said: "I'm obviously very happy to be able to score and help the team to a win! Tiong Bahru proved a strong side, and kept a very low and tight block in the first half, so we found it really hard to break through. 
"In the second half, I dropped into a deeper role. This gave me more space to create chances for my teammates and myself. It was a tough three points earned today, but it's nice that we're back at the top of the table."
The win ensured that the Sailors' perfect record this season was kept intact. Crucially, it also propelled them to the top of the WPL – level on 12 points with Tanjong Pagar United, but with a superior goal difference, and game in hand.
That it was Danelle who scored the goals to secure the victory and came as no surprise to head coach Yeong Sheau Shyan, who remains confident that Danelle has what it takes to become one of the best players that Singapore has ever produced.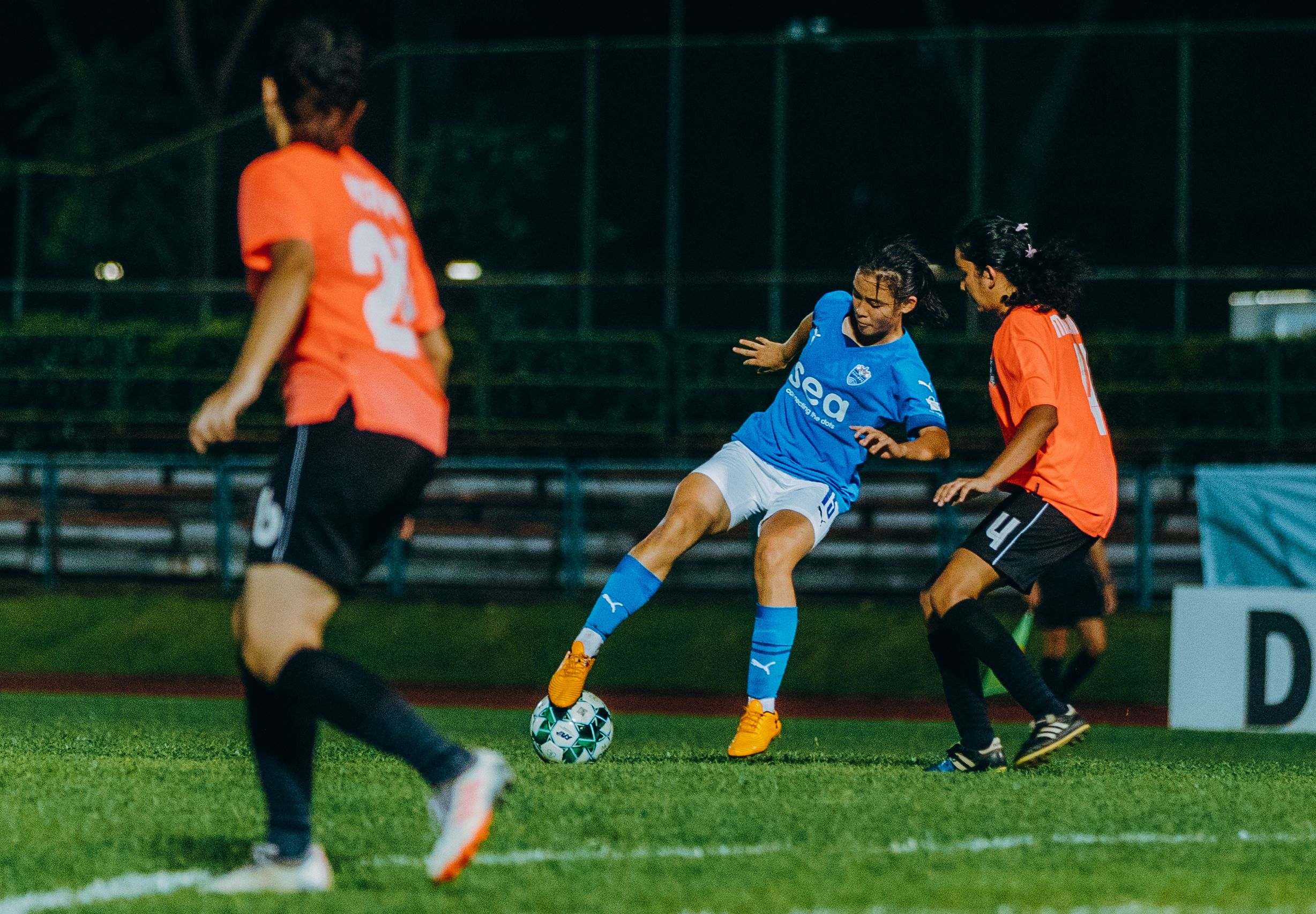 "She is not just talented. The amount of work she puts into improving herself is unmatched. In Singapore, very few others have the kind of support system she has, which allows her to train so wholeheartedly," said Sheau Shyan, pointing to the phenomenal family support Danelle has to pursue her football dreams.  
"We have other girls who are just as passionate and talented, but the problem is we don't have the infrastructure and support for them to help pursue their dreams.
"Danelle definitely has a lot of potential, and I'm excited to see how far she'll go internationally."
While the Sailors were able to get all three points this time around, Sheau Shyan knows that her side will have to quickly find a way to overcome teams that defend in low blocks if they are to continue their winning streak.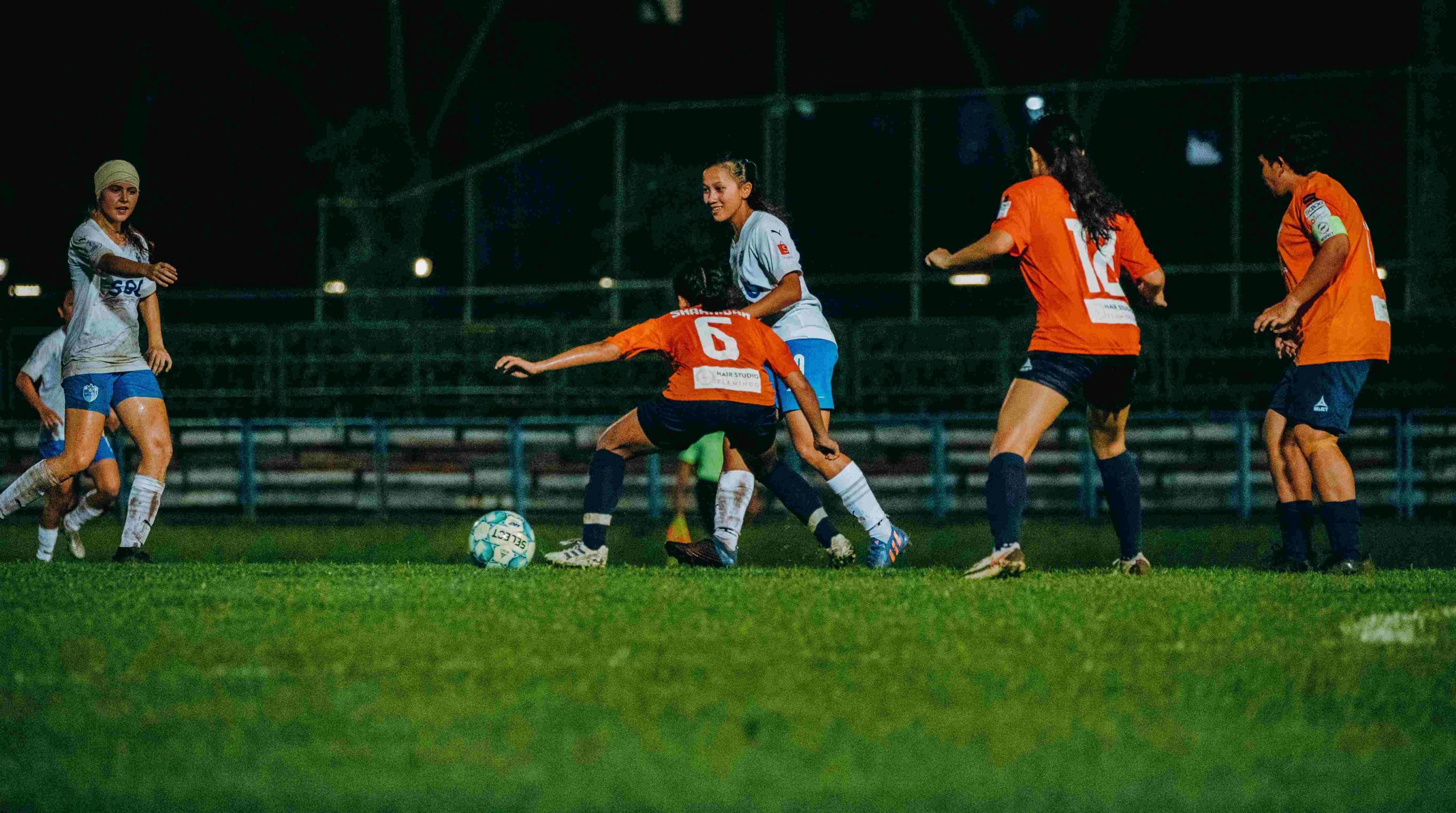 "We've expected this to be the case with most of our opponents, but we haven't had much time to work on it," said Sheau Shyan. "There are still many areas we need to improve on. Being patient in the build up, playing quick combinations, switching play – we don't have the tools to be efficient against compact blocks yet."
Sheau Shyan, however, credited her players for their unwavering persistence in trying to break down the resolute Tiong Bahru defence.
"We don't have a huge squad, but we have the quality and fitness needed to keep playing the match at a high intensity. Just as it was difficult for us to break through, it was equally hard for our opponents to maintain the block for long periods. We kept poking at them until they were worn down in the second half," Sheau Shyan mused. 
"We don't intentionally try to leave it to the second half (to score)…that's just how long we needed to physically break them down today."
After dropping points for a second match in a row in a frustrating 1-1 draw against Geylang International and having their lead at the top of the Singapore Premier League (SPL) cut down to five, the Lion City Sailors are hell-bent on a return to winning ways against Tampines Rovers at the Jalan Besar Stadium on Sunday (24 July) evening. 
The Sailors have triumphed in both SPL encounters this season – a 1-0 win at JBS in March and a 4-0 thumping at Our Tampines Hub in May – but captain Hariss Harun knows they will have to bring their A-game to defeat the Stags for a third time in 2022. 
"Tampines have good players that can cause us trouble. In the first game they were the better team, but we got the result. In the second game, we were not that good in the first half before coming into life in the second," recalled the 31-year-old. 
"For sure, we cannot underestimate them. But at the same time, we're focusing on what we can do better than what we managed in our last game. On the whole, we've done well coming into Round 3 of the SPL, but there's still a lot of room for improvement."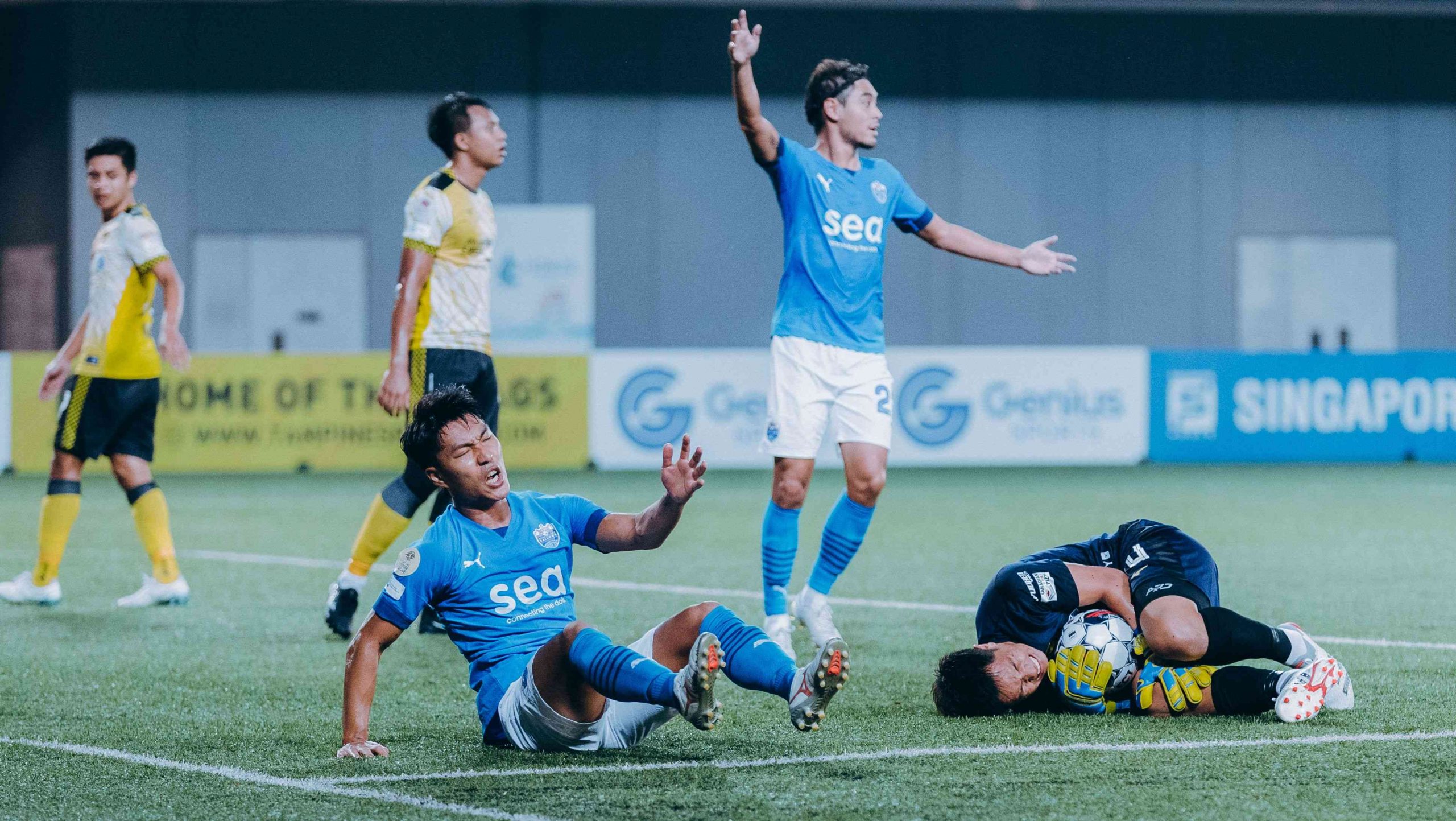 The Sailors went away from the last couple of outings – against Hougang United then Geylang – with visible disappointment as they failed to win in successive league matches for the first time since August 2021, in Kim Do-hoon's first two games at the helm. 
While admitting their recent form is "not ideal", Hariss is firm in his belief that the defending SPL champions have what it takes to pull themselves out of this rut. 
"I know people expect us to win every game because of the quality we have in our squad and the money that the club has spent, but it's virtually impossible to have a perfect season. 
"To take two points from two games is not enough for us and we accept that. But it's normal to go through a blip, or whatever you call it, like ours. The onus is on us to stick together and come through this as a team," he added. 
"We just have to put the last two results behind us, but at the same time not to forget the experience and how we felt – because that's how we learn. The beauty of football is that there's usually an opportunity coming up very quickly for us to correct our mistakes and for us, that comes this Sunday."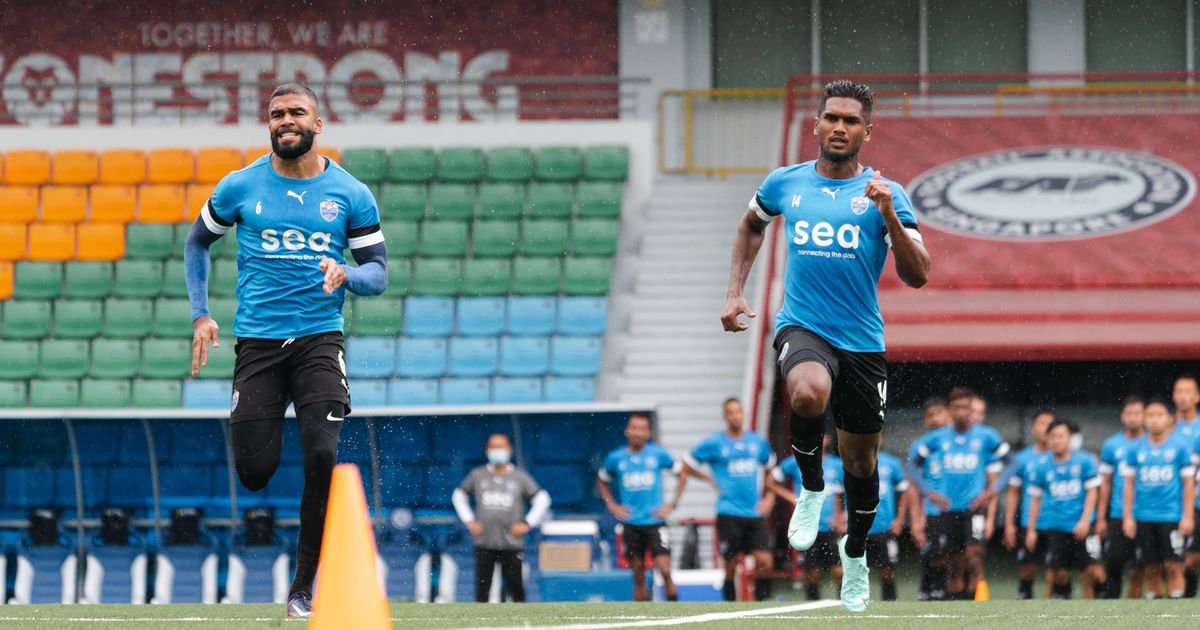 The key for the Sailors, according to Hariss, is to regain the attacking fluidity that the team had previously shown – which saw the Sailors score at least four goals in seven out of the 10 matches prior to this run. 
"It just seemed like we were quite laboured in our play in those two draws, while in other games everything flowed very nicely. We know other teams are always going to make it hard for us, so it's down to us to find the solutions and try to adapt to the situation of the game. 
"Instead of pointing fingers at each other, we need to solve this issue collectively. Now it's about how we stand strong and keep going as a team, instead of backing down in difficult times," stressed the Lions captain. 
This home match against Tampines also takes extra significance, with the Sailors partnering the Dyslexia Association of Singapore (DAS) to promote awareness and raise funds for the cause. All the ticket proceeds will go to DAS, in support of their efforts to empower children with dyslexia. 
Hariss called for football fans to throw their weight behind this charitable initiative. 
"While we're hustling and working hard in our chosen professions, we must not forget people in the community and we must be as inclusive as possible," said Hariss. 
"Football is one great way to show how this can be done, so I urge and encourage the fans to come down to the stadium and give these kids the biggest encouragement we can."  
Two minutes. That was all it took for Danelle Tan to make a significant mark for the Lion City Sailors Women in her long-awaited debut for the team.
Having come on at half-time for the Sailors in last Saturday's (16 July) Deloitte Women's Premier League (WPL) clash against Still Aerion FC, Danelle wasted no time in announcing herself in the best possible way – with a well taken goal in the 47th minute. She went on to double her tally 14 minutes later to seal a 4-0 win for her team.
Danelle's opening goal came at a crucial time for the Sailors, who, despite holding a 1-0 lead then, had struggled against a stubborn Aerion side in the first-half. The 17-year-old's strike was later highlighted by head coach Yeong Sheau Shyan as the catalyst for a much-improved Sailors performance in the second-half.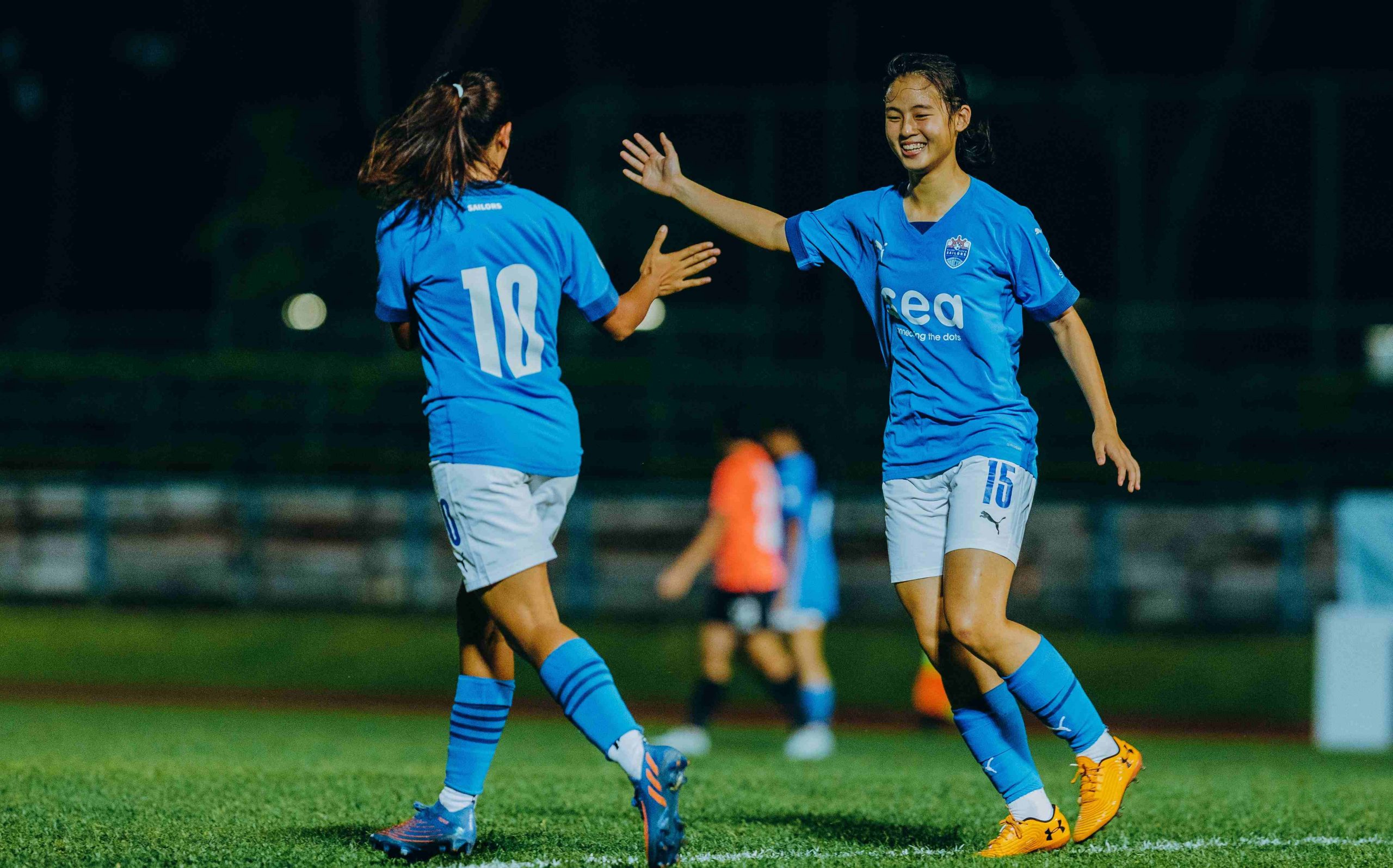 And Danelle, who missed the Sailors' first two WPL games as she was in the United Kingdom (UK) for her studies, was pleased with the positive impact she had on the team.
"It was really nice to be able to get on the scoresheet and help the team to a win, especially on your debut. Scoring within two minutes of coming on is always a great way to announce that I'm back!" she exclaimed.
However, fans hoping to see more of Danelle in action will have limited opportunities to do so, as the Singapore international will be returning to the UK early next month.
This means that she will likely only be able to feature for the Sailors another two more times, at most.
Nonetheless, Danelle is determined to make the most of her short spell with the team.
"I know I won't be playing many games because I'll be heading back to the UK soon, so it's more of me just trying to help the team in any way I can," mused Danelle. "Hopefully, I'll be able to add a few more goals to my Sailors tally in the next few games."
While she might not be able to see out the entire season with the Sailors – who are currently second in the WPL with three wins out of three – Danelle is confident that the team has what it takes to achieve their target of becoming league champions.
Indeed, the forward even believes the Sailors should aim to finish the season with a perfect record.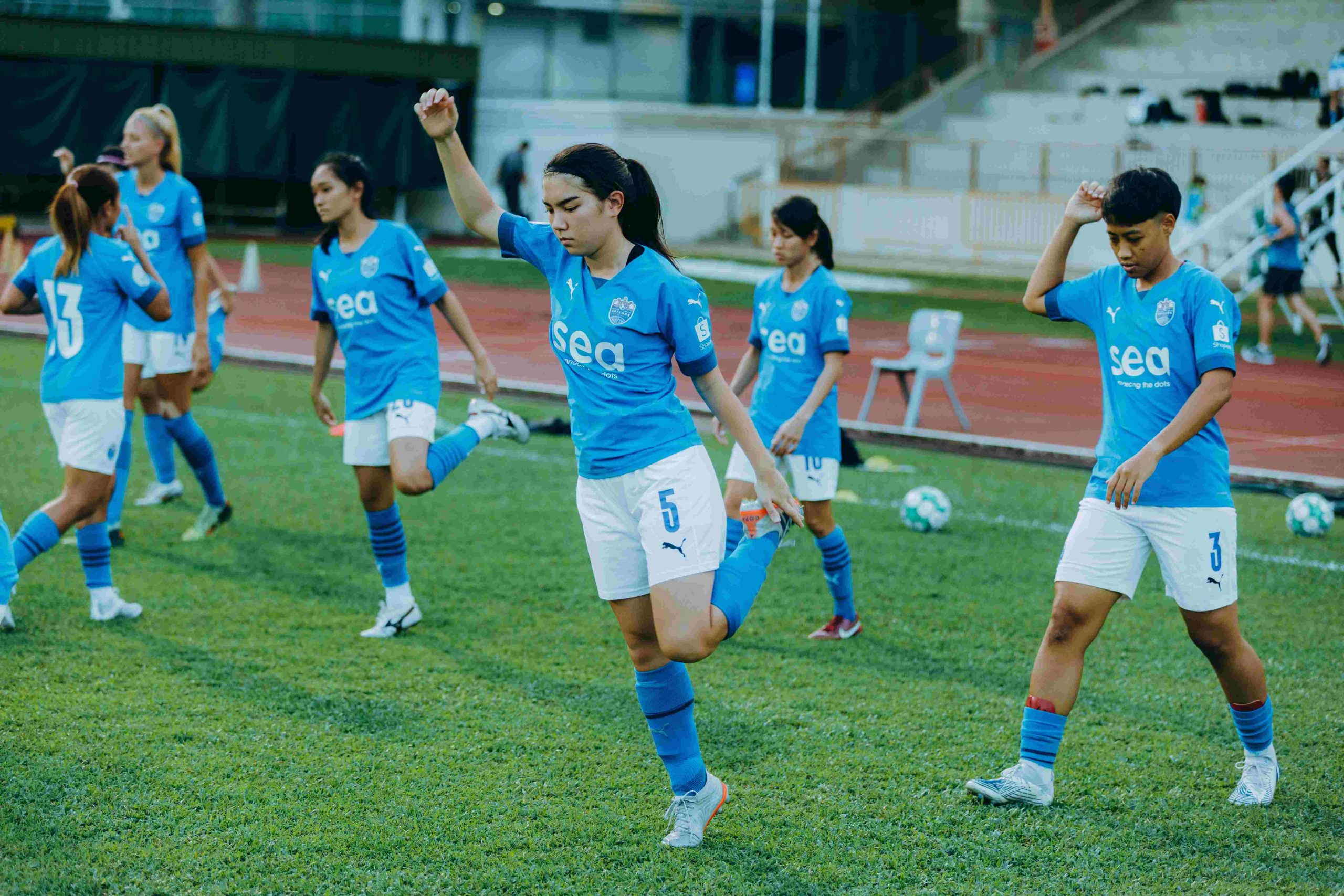 "With the personnel we have in the team, we are very rightly gunning to be champions," Danelle declared. "I think in the past few games, we have set the standard and dominated. There are definitely areas we can improve on, but I think the team has come out with very strong performances so far.
"We should definitely set a high bar for ourselves. This Sailors team is filled with quality and we will strive towards keeping our perfect record for the entire season."
That perfect record, however, could come under serious threat when the Sailors take on Tiong Bahru on Saturday (23 July) evening at the Yishun Stadium.
Tiong Bahru are currently hot on the heels of the Sailors, third in the WPL, having won twice, drawn once, and lost once so far.
And Danelle is well aware that the Sailors will have to prepare themselves for yet another tough encounter, as she said: "Tiong Bahru will be a challenging side. Winette Lim, whom I used to play with at Home United, has a powerful left foot and could prove a threat. 
"However, I think we are well equipped to deal with anything they throw at us. We will try to play beautiful football and be clinical in front of goal. As always, we will aim to get the three points, and I believe that we are definitely capable of doing so."
As part of the club's ongoing drive to do its part for the community it lives in and serves, the Lion City Sailors have joined hands with the Dyslexia Association of Singapore (DAS) to dedicate an entire matchday to promote awareness of the cause.
The Sailors have pledged all ticket proceeds from their next Singapore Premier League (SPL) home match against Tampines Rovers on Sunday, 24 July to the DAS Bursary Fund to support more children with dyslexia from low-income families to gain access to the specialist intervention that they require.
This special matchday that comes as DAS celebrates its 30th anniversary will also see selected DAS students escorting the Sailors players out onto the pitch at Jalan Besar Stadium and serving as ushers at the venue as well.
Fans who attend the match to show their support for the cause can enjoy fringe activities including display stations featuring art pieces created by DAS students, games and other merchandise booths curated by DAS to amplify fundraising and promote awareness of dyslexia.
Individuals with dyslexia will have difficulty with reading, writing and spelling due to problems identifying speech sounds and learning how they relate to letters and words. Dyslexia affects areas of the brain that process language, however, it does not mean they cannot learn. Individuals with dyslexia just learn differently.
Renowned personalities such as F1 racing driver Lewis Hamilton, physicist Albert Einstein as well as Singapore's founding Prime Minister Mr Lee Kuan Yew are known to have dyslexia.
Today an estimated 23,000 local students from pre-schools to secondary schools in Singapore have dyslexia severe enough to warrant intervention.
Studies have shown half of these children also face co-occurring challenges such as attention deficit hyperactivity disorder (ADHD), dyspraxia, dyscalculia and Asperger's Syndrome. As such, DAS needs to raise over S$2 million each year to provide bursaries for its lower-income students to gain access to the specialist support they need to be successful in learning.
Funds raised by the Sailors will be channelled to the broader DAS efforts as part of its 30th Anniversary celebrations that will culminate in its 2022 Charity Gala Dinner to be held on 7 September 2022 that will be graced by President Halimah Yacob – who will attend as the event's guest-of-honour.
Delighted to be partnering DAS to help raise awareness on dyslexia and do their part for a greater cause, Sailors CEO Chew Chun-Liang said: "We're grateful for DAS' trust as we work together to do our bit for what is a learning difference that can be a cause for real life-long struggles for individuals and their families.
"This is DAS' 30th anniversary, and we're honoured to be a part of their efforts to commemorate all those decades of good work helping Singaporeans with dyslexia achieve more despite this learning difference."
Sailors captain Hariss Harun was honoured for the Sailors to be able to lend their weight to what is a worthy cause.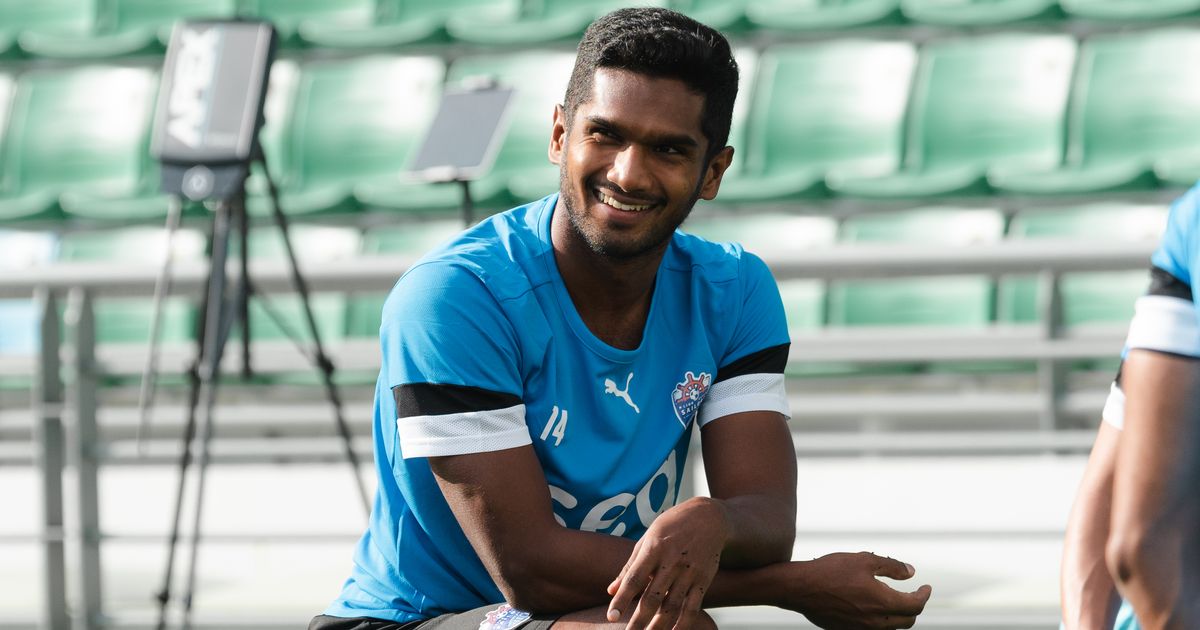 He said: "It's important for Singapore to have an inclusive society. We all must do our part and help the less privileged in our community.
"Kids with dyslexia have certain struggles and need all our help, so we're absolutely delighted to be able to support this great initiative."
DAS' Assistant Director of Publicity and Publications, Deborah Hewes, is someone who can speak from personal experience. She grew up with dyslexia and all three of her children have similar learning differences.
"Learning with dyslexia is challenging and school can be really tough, but with perseverance and hard work learning becomes easier over time – just like playing sport, putting in the training and practice makes for a winning team! All students benefit from inspired teachers and coaches, and with the right support they can have the confidence to be successful in their life endeavours.
"Our DAS students can shine in many areas and sports can help to level the playing field where they can shine. Supported by their team and coaches, sports is a great way for a child to experience success," she said.
Grateful for the support that the Sailors are giving to DAS students, she added: "The excitement of being on the pitch with some of their sporting idols and being part of this special event helps to raise awareness that learning differently is a challenge to embrace."
Through the commitment of an entire matchday to the DAS cause, the Sailors hope to help raise funds for those affected by dyslexia and also foster greater understanding in the community through the Beautiful Game.
"Football can be a fantastic vehicle for worthy causes, and at the Sailors, we are firmly committed to doing our part for the communities that we live in and serve," said Chun-Liang.
"We want to take this chance to rally the Sailors fans and the football fraternity to get behind the cause – come down, enjoy the game and perhaps learn something that also affected our founding Prime Minister, the late Mr Lee Kuan Yew."
Tickets to the Sailors vs Tampines match are available on SISTIC. Tickets can also be purchased at the Jalan Besar Stadium's ticketing counter at the North Gate on matchday.
See you Sailors fans on matchday as we look to come together and Score for Dyslexia!
Three games, three wins, 14 goals scored, and just a solitary goal conceded.
It has been close to a perfect start to the season for the Lion City Sailors' Women team, who find themselves top of the Deloitte Women's Premier League (WPL) following their 4-0 win over Still Aerion FC on Saturday night (16 July).
Laser-focused on their target of winning the WPL this season, the Sailors have thus far gone about their business in ruthless fashion, and have arguably established themselves as the team to beat in the league.
However, head coach Yeong Sheau Shyan is keenly aware that the season is still young, and that her team has not achieved anything yet. As such, she was quick to emphasise the need for them to focus on their long-term targets, and to focus on the process rather than the results.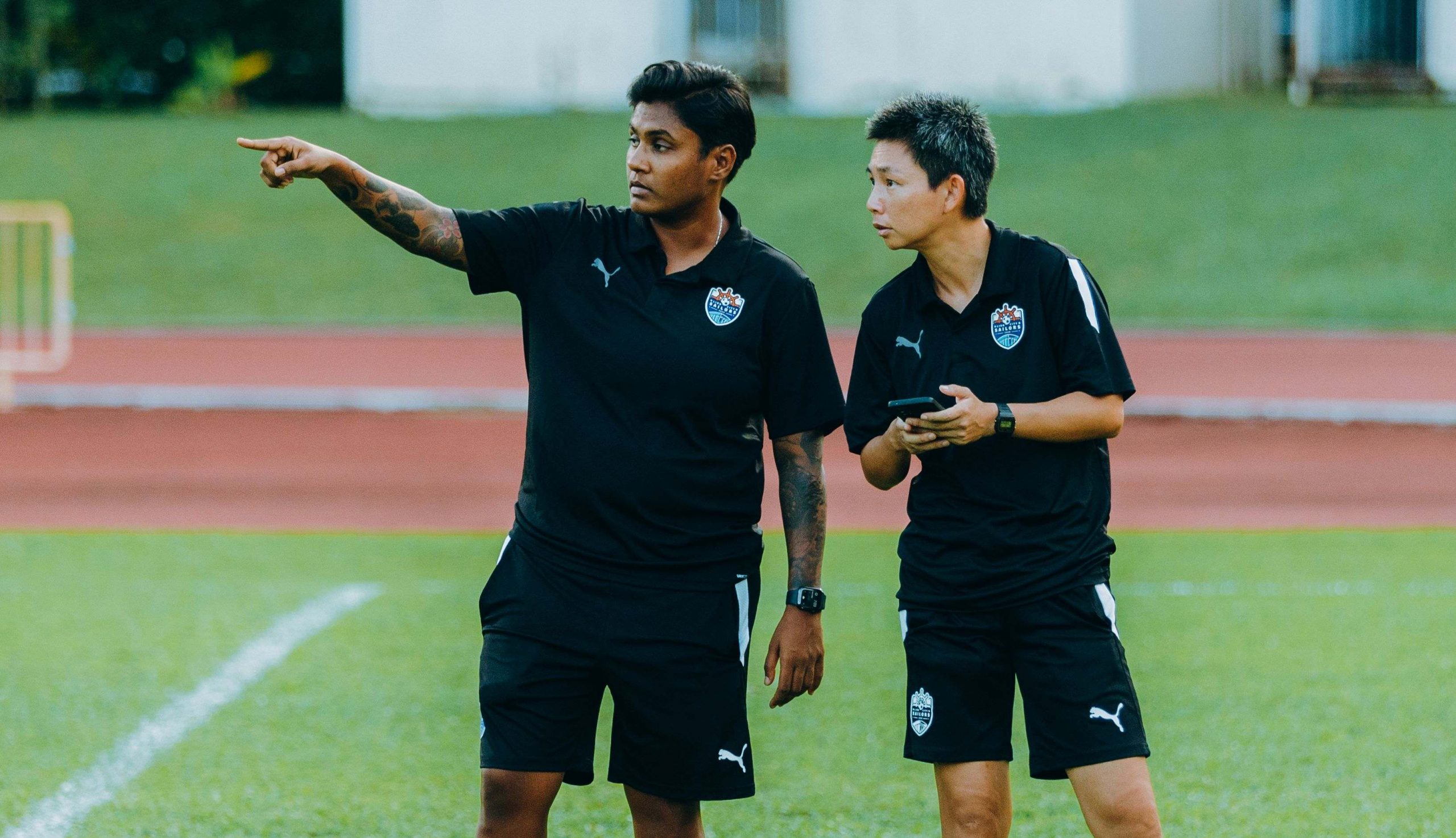 "People may see us as the favourites because we carry the Sailors name, but they probably don't know how hard the team is working to try and get to where we want to be," said Sheau Shyan.
"I just hope the fans and football lovers will judge us by the football we are trying to play, and not just the result at the end.
"If we can keep our squad together and stay focused on our long-term targets, I'm confident we should be able to reach our goals."
Indeed, despite the comprehensive margin of victory over Aerion, Sheau Shyan admitted that the scoreline did not fully reflect how challenging the match actually was.
The first-half, in particular, proved to be a cagey affair, although in-form midfielder Nur Izzati Rosni opened the scoring for the Sailors in the 29th minute.
But it was only after the break, when forward Danelle Tan struck in the 47th minute, that the Sailors really began to take control of the game.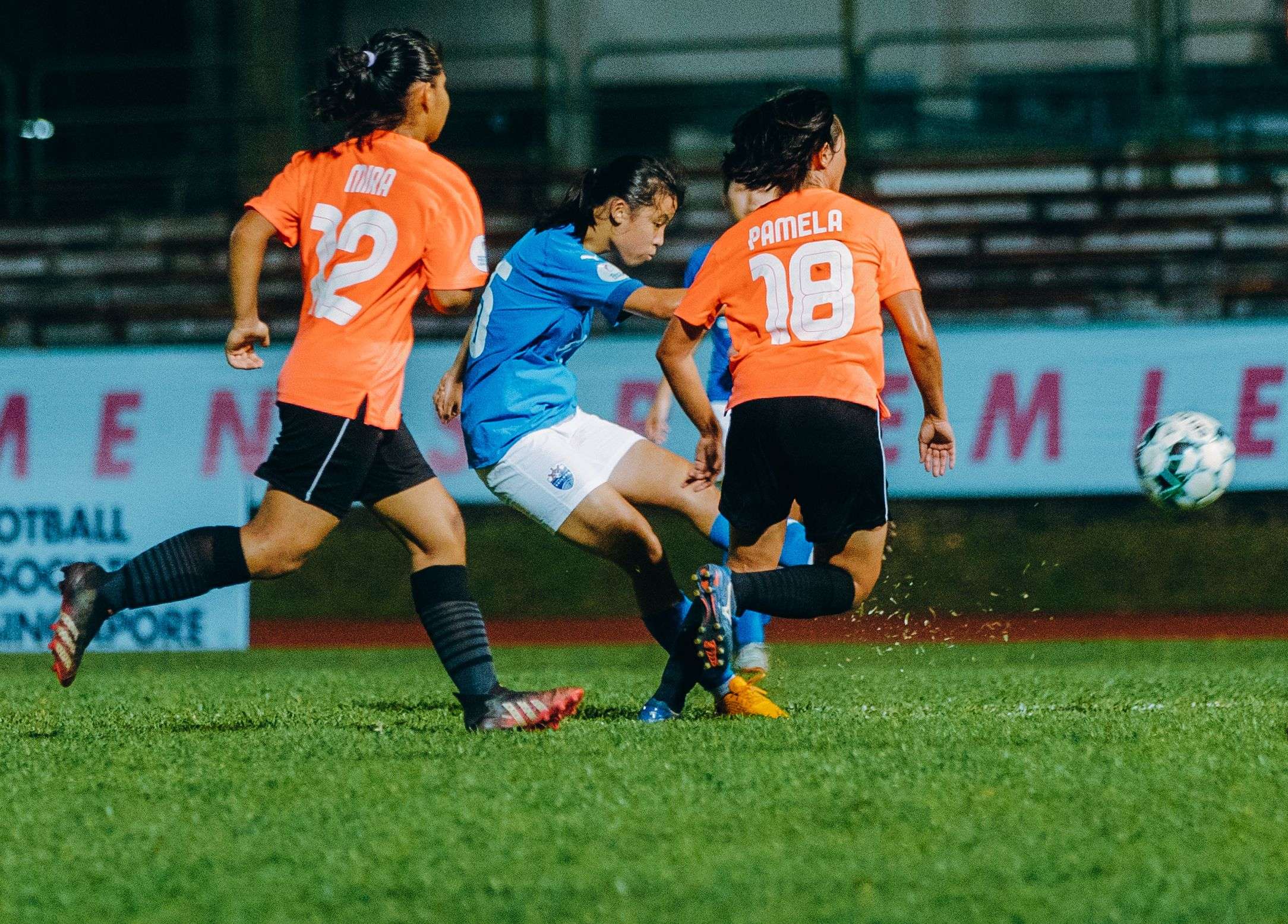 Both Izzati and Danelle then scored in quick succession in the 60th and 61st minute respectively to seal all three points for the Sailors.
Reflecting on the victory, Sheau Shyan said: "It was a very tight match in the first half. Aerion pressed us well and denied us space and time to play our usual style. We came back in the second half with some tactical changes and got the goals early. 
"That helped with our confidence, and we were then able to put into play the things that we've been working on. Overall, I was very pleased that the team stuck to our game plan and met our training objectives."
But there remain issues that require improvement. 
"We are not defending as a team the way we want to. That's what we will have to improve before the next fixture," she said.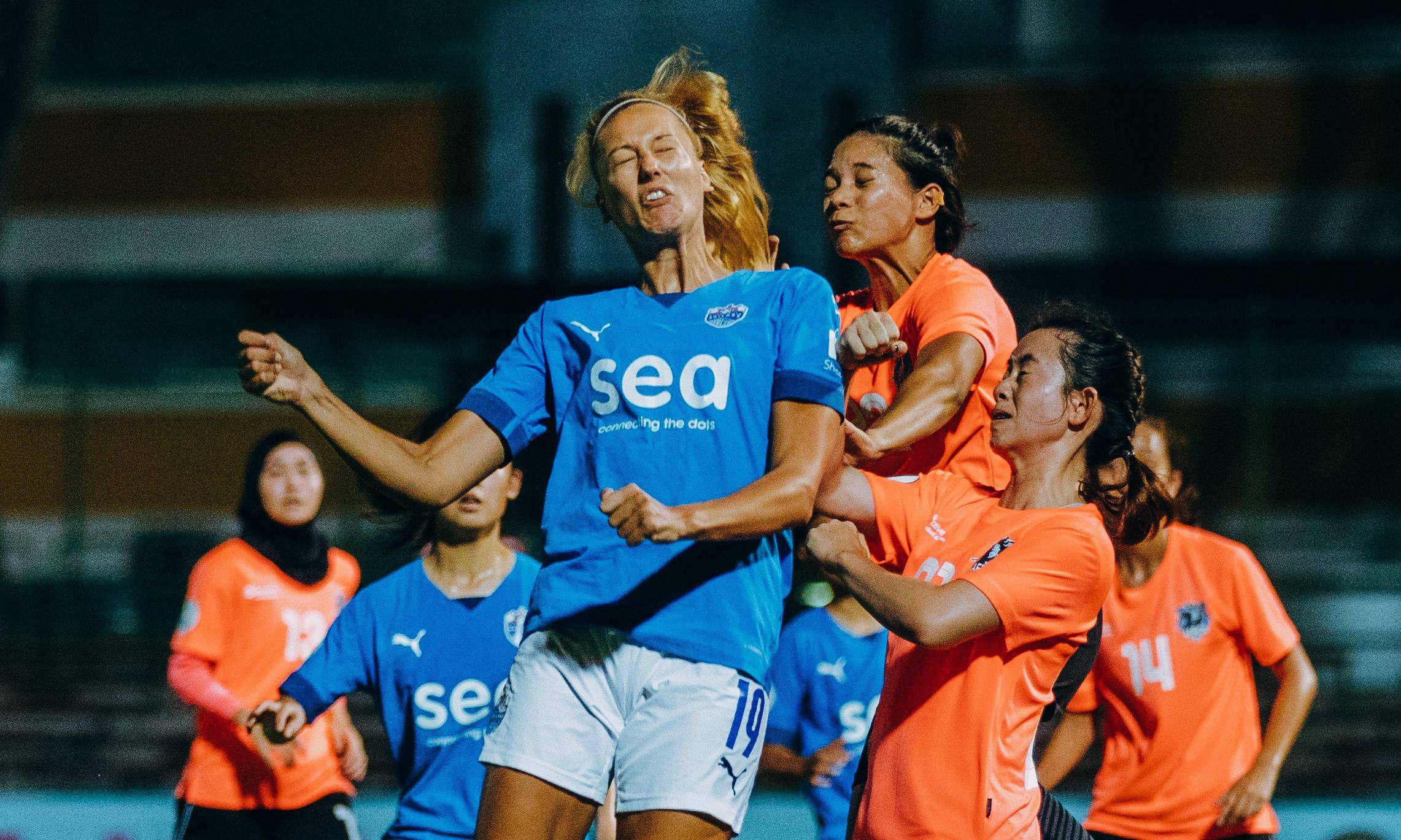 Sheau Shyan's insistence on continuous improvement stems from her belief that the second round of WPL fixtures will likely pose new challenges for the Sailors women, with the rest of the teams set to bolster their squads.
"The transfer window will open soon, and some clubs will add to their squad. Albirex Niigata (S), for example, have already done so," explained Sheau Shyan, pointing to the White Swans' signing of former Japan international Kana Kitahara. 
"It will be different in the second round of fixtures, especially now that all the clubs are back training and playing regularly, so we have to improve and be ready."