The Lion City Sailors are gradually settling into life under Risto Vidaković and it is in no small part down to his two trusty lieutenants – Pablo Muñiz from Spain and 39-year-old Bosnian Dževad Šarić – who have joined him onboard at the club. 
Alongside Risto, the pair have bedded into life at 8 Mattar Road, pulling the Sailors players, technical and auxiliary teams together for the battles that lie ahead on the upcoming Singapore Premier League (SPL) season.
The 45-year-old Pablo – who holds a UEFA A Coaching License – is the Sailors' assistant coach and Risto's right-hand man, key to ensuring the team grows into the new football philosophy laid out for the Sailors' Class of 2023. 
Doubling up as the club's Head of Video Analytics, Pablo is relishing the opportunity to play a key role in what he believes is an ambitious Sailors project. 
"There's a lot of excitement here because the club is still quite new and wants to achieve big things in the future," said Pablo.
He played similar dual roles at various clubs: in Thailand with BG Pathum United, Suphanburi FC and Bangkok Glass between 2017 to 2022, as well as for the El Salvador national team from 2015 to 2016.
"I can already sense a good synergy between everyone at the club in these few weeks that I've been here and we have a great training centre too – so we have all the right elements here to be a successful club. I just want to play a part in helping the club fulfil our ambitions," added Pablo, who is working alongside Risto in a club setting for the first time.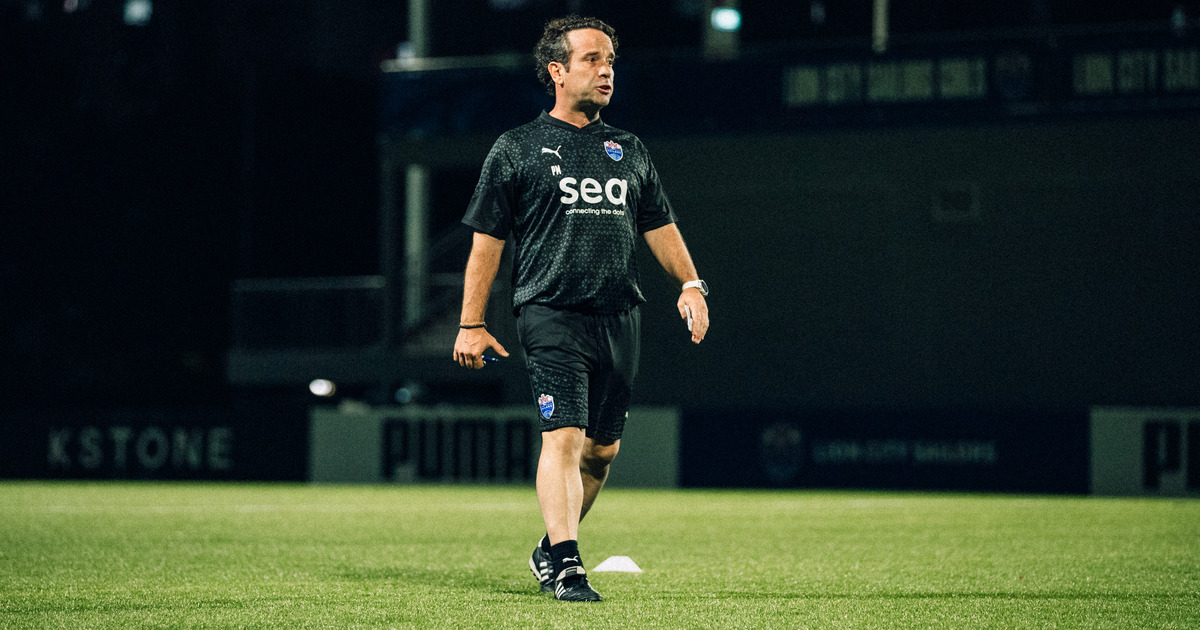 "Risto needed some help with information about Southeast Asian teams playing in the Asian Football Confederation Champions League (ACL), that's how we first connected. We clicked well because he also has a Spanish background and understood football in the same way I do, so I was happy to come to the Sailors when he called me," he added. 
Pablo started out as a fitness coach in the youth teams of Sporting de Gijón in the early 2000s, but was inspired by Rui Faria, José Mourinho's well-known right hand man, to venture into the tactical analysis side of football, and soon went on to head the Tactical Analysis department for the club's first team in the Spanish second division between 2012 to 2013. 
"In football, every aspect is connected – from tactical periodisation to contextual analysis on football moments. When you have the capacity for video analysis, you can really connect with the players on virtually all aspects of the training," he explained. 
"I always say that curiosity is the mother of knowledge. I was hungry to learn and understand the game more to be able to help the head coach, so I took up qualifications to try to be savvier with video analysis tools. That helped me when I went to El Salvador and also afterwards in Thailand." 
In Thailand, Pablo worked with several notable Thai internationals including Teerasil Danga and Sarach Yooyen, as well as the Singaporean duo of Irfan and Ikhsan Fandi. He was assistant to Aurelio Vidmar at BG Pathum for part of the 2021-22 Thai League 1 season and it was that friendship with the former Sailors Head Coach that nudged him to join the Sailors' journey.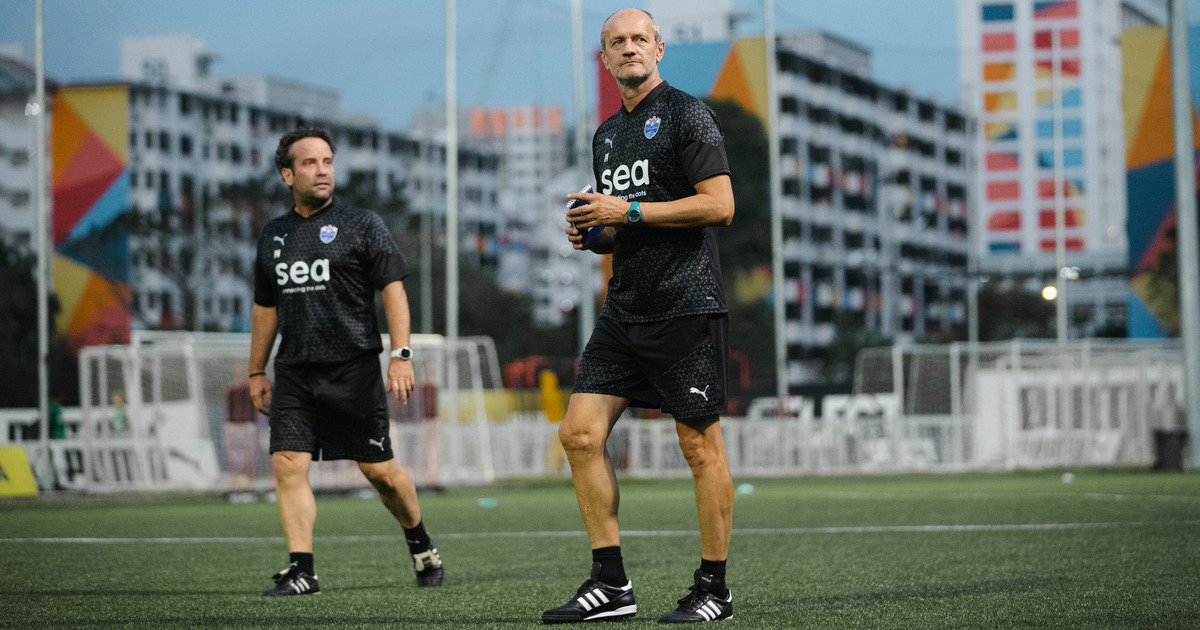 "I obviously spoke to "Viddie" when I got this offer, and he always has very good things to say about his time with the Sailors, so he told me to go for it," revealed Pablo. "I see some parallels between what the Sailors and BG are trying to achieve, so there was no doubt that I must take this step."
Dževad was similarly convinced by the Sailors' long-term vision and blueprint to get here.
He is the Sailors' new Head Strength & Conditioning (S&C) Coach, tasked to ensure players get in tip-top shape for the season ahead. 
Having worked under Risto at Indonesia's Borneo and Melaka United in Malaysia between 2021 to 2022, Pablo had no hesitation in joining Risto at a third club in Southeast Asia when the Serbian came calling. 
"We have so many things in common such as the way we view football and football tactics, so obviously I'm very happy when he called me to join him here and I had just finished my contract with my previous club," said Dževad, who spent the second half of 2022 back home with FK Tuzla City after leaving Melaka last April. 
"I did some research before coming, so I knew there's good infrastructure and an excellent academy system here. I'm very happy to be here and I hope to help the club improve step by step," added Dževad, who holds a UEFA Pro License.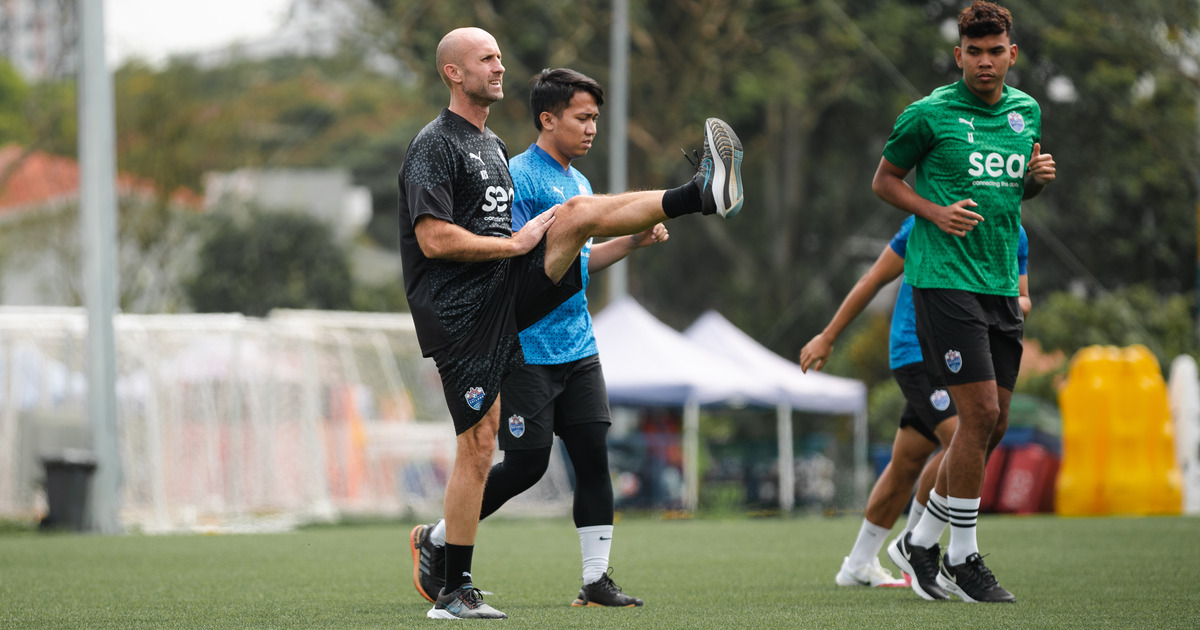 The well-travelled Dževad comes with a wealth of experience, having worked across the globe in Europe, Asia, Africa, and the Middle East. 
He was technical director at Myanmar's Shan United between 2014 to 2015. That was followed by spells as assistant coach at Oman's Al-Nasr SCSC, Angola's CD 1º de Agosto and China's Meizhou Hakka between 2016 to 2018, before working as a fitness coach at Egypt's Ismaily SC in 2021. 
Dževad hopes to tap on his regional experience to put in place building blocks for the Sailors to succeed in the coming season. 
"I don't have a lot of demands for our players – I just want them to build good habits and to be responsible for their behaviour. We have many young players at this club, so I'm excited to help them grow," he said matter-of-factly. 
"My main job is to help the head coach develop the team, so everything I do is connected to his ideas. I'm here to help improve the area of team communication and make an impact on the physical aspects of the players. 
"So far, I've seen a lot of positive things in this team and I strongly believe that we can grow even further."
Dževad, alongside Pablo and Risto, have all lauded the support they have received from their comrades in the trenches at the Sailors – the technical, auxiliary, and even administrative teams at the club. 
Pablo and Sailors Under-21 Head Coach Daan van Oudheusden have joined hands with Head of Individual Training, Rodrigo Costa, to assist Risto with the broad targets of the team, as well as the nuanced requirements of every role across the length of the pitch.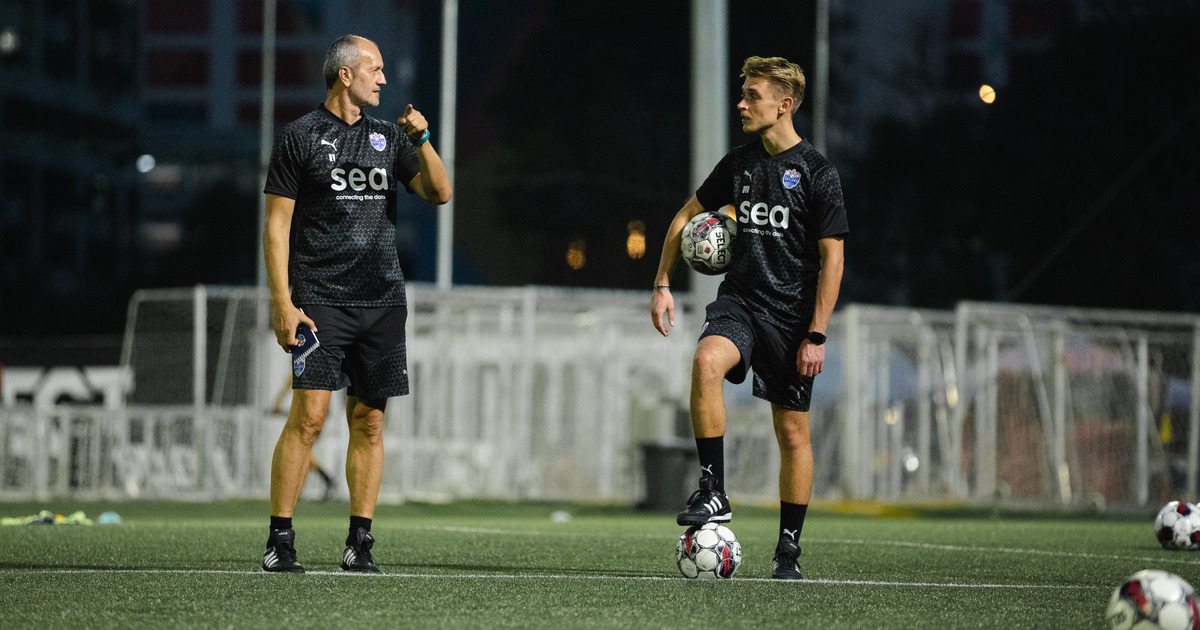 The long-serving Chua Lye Heng supports Kris Stergulc – who comes with experience working with Slovenia's Under-17s – in the goalkeeping department, while Mike Kerklaan heads the rehabilitation department which comes under the purview of Head of Performance, Mark Onderwater, who oversees the aspects of analytics, S&C, rehab and nutrition.

"We've a good structure here and everyone is doing their part to ensure the team goes into the season fully prepared for the challenges ahead. There's a very good atmosphere within the team now, we've some very hungry players here and they're beginning to understand my game philosophy. 
"I can feel this team is really pulling in the same direction and that's key to us achieving our objectives for 2023," said Risto.
He made his mark with 24 goals in 35 appearances in a Lion City Sailors shirt in 2022, and now Kim Shin-wook is off to write the next chapter of his football career. 
Shin-wook reached a mutual agreement to part ways with the Sailors, and will depart the club with good memories of the club and of Singapore football. 
With more than 100 goals in K League 1 and two Asian Football Confederation (AFC) Champions League titles – with Ulsan Hyundai and Jeonbuk Hyundai Motors – the 1.98m Shin-wook was the fourth-highest scorer in the Singapore Premier League (SPL) last season with 21 goals – including four hat-tricks. 
"Wookie" memorably struck a stunning acrobatic volley on his Sailors debut in a 2-1 win over Albirex Niigata (S) in the 2022 AIA Community Shield, inspiring the Sailors to its first Community Shield win in its history.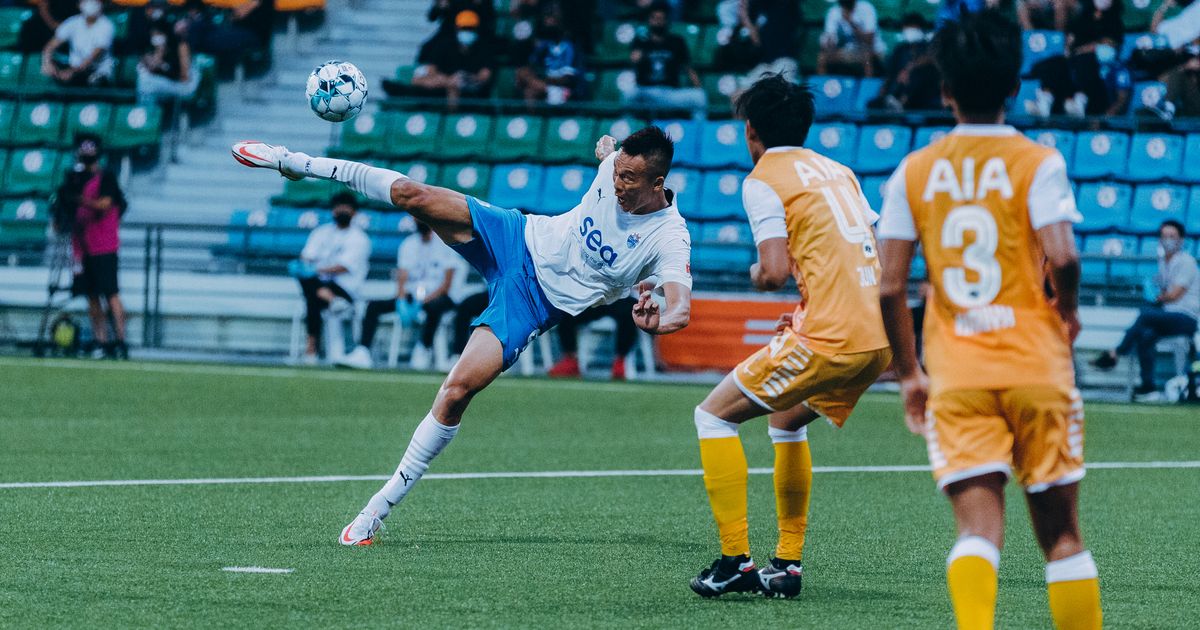 Having played for some of Asia's biggest teams, the 34-year-old was grateful for the opportunity to play for the ambitious Sailors and will look back with fond memories, especially of the strong backing he received from the Sailors' fervent fans. 
The Crew had dedicated a song – sung to the tune of all-time classic Que Sera Sera – to him, and there was a special moment in last August's 9-4 win over Hougang United when Shin-wook obliged the fans with his trademark celebration on the sidelines after being subbed off following one of his four 2022 hat-tricks. 
"I'm grateful to all of you for your fantastic support in the stadiums, and to my teammates, and staff at the club for all their help during my time with the Sailors.
"It has been an honour to play for all of you this past year as a Sailor. I feel it is the right time for me to explore new opportunities to continue challenging myself," he elaborated.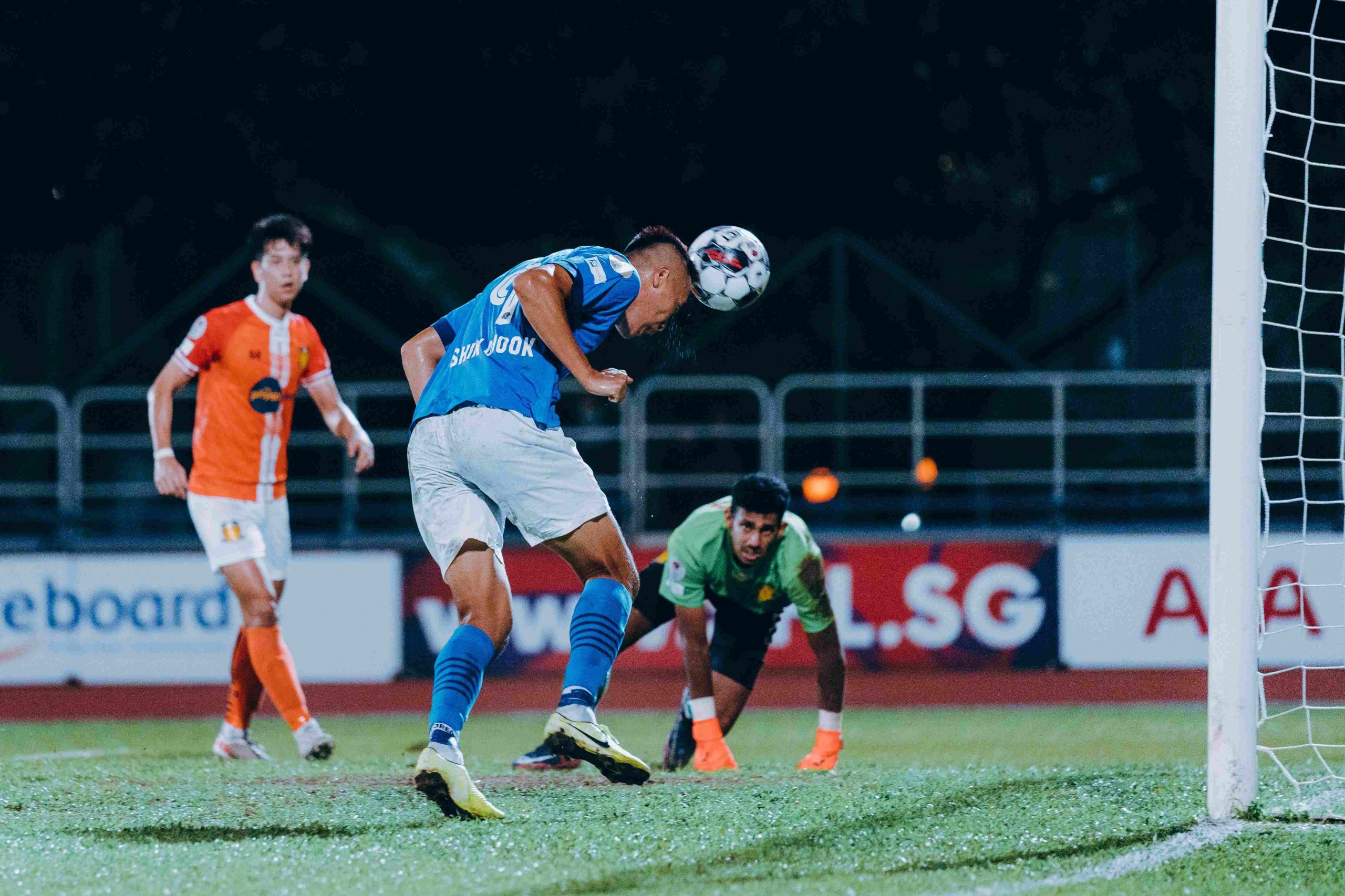 The former South Korean international was keen to reiterate that the Sailors will have one more supporter as it embarks on the 2023 season.  
"I have enjoyed my time as a Sailor and I wish the team nothing but the best in the season ahead," said Shin-wook. 
"I will be continuing to support Sailors as always."
Hariss Harun lauded the positive effect Shin-wook had on the Sailors across the 2022 season.
"He was a consummate professional, a good presence in the dressing room, and a fighter out on the pitch," said the Sailors and Singapore captain.
"We wish him the best in the next chapter of his career, and we'll be following him closely too."
Gamsahamnida and all the best, Wookie!
Mark your calendars. 
After two seasons away, the Lion City Sailors finally return to their Bishan Stadium home in 2023, and will kickstart the Singapore Premier League (SPL) campaign hosting Tanjong Pagar United on Friday, 24 February. 
Risto Vidaković's men will look to bank on home comforts for what is a fast and furious start to the season, with four out of their opening five fixtures to be played at the venue. 
The fixture list for the 2023 SPL season was officially announced by the Football Association of Singapore on Friday evening (27 January).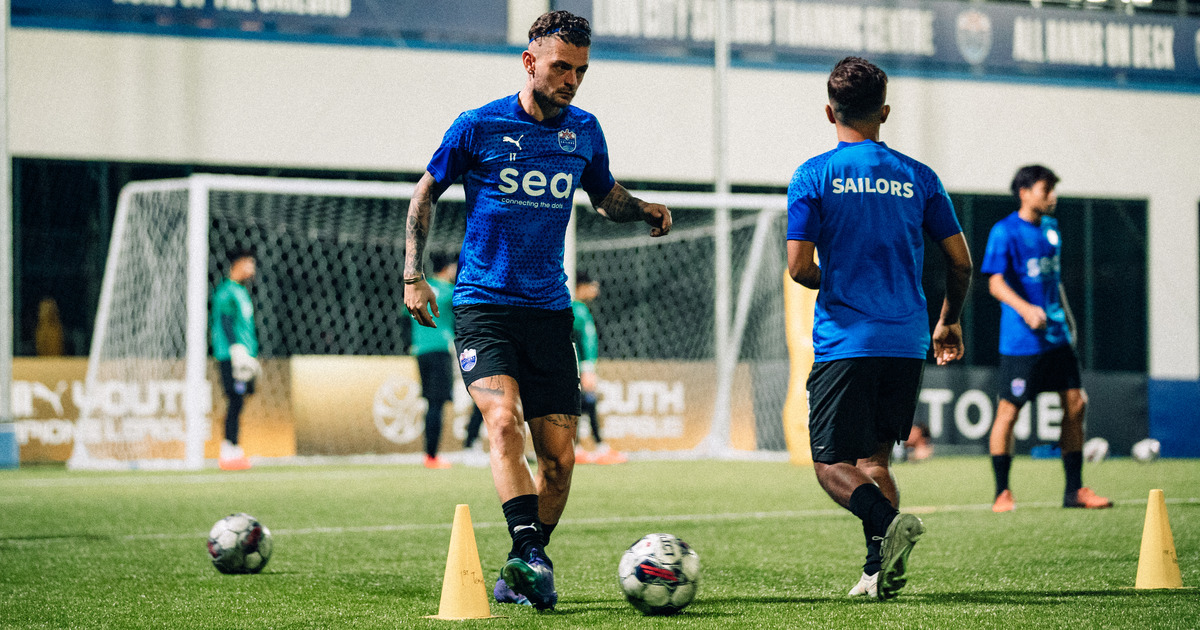 The Sailors won four times and drew twice at Bishan in their inaugural SPL season in 2020, before upgrading works meant taking up temporary residence at Jalan Besar Stadium in the following two years. 
Fans can also look forward to Sailors' first visit to Brunei in Round 2 when they play Brunei DPMM at the Hassanal Bolkiah Stadium at Bandar Seri Begawan on Saturday, 13 May.
Shortened from four rounds in 2022 to three, the 2023 SPL season will conclude on Sunday, 27 August with the Sailors facing Geylang International in their last league fixture of the year.
The Sailors' full SPL fixtures list for the new season can be accessed here.
Under the watchful eyes of new Head Coach Risto Vidaković, the Lion City Sailors have been hard at work for the past month as they look to gear up for the upcoming 2023 Singapore Premier League (SPL) season which is expected to kick off in late February. 
The six players which were involved in Singapore's recent AFF Mitsubishi Electric Cup campaign have returned to training with the puzzle slowly coming together for Risto, who wants to set his team out to entertain with possession-based attacking football. 
Captain Hariss Harun, Hafiz Nor, M. Anumanthan and Hami Syahin are joined by new signings Shawal Anuar and Christopher van Huizen as the Sailors' Lions representatives returned to the fold this week to ramp up preparations for an important campaign ahead. 
The latter duo is part of the group of eight new arrivals – the other six are below the age of 26 – in a refreshing 2023 roster for the Sailors, which sports a much youthful outlook – one that is hungry and determined to charge ahead to usher in a new era of success for the club.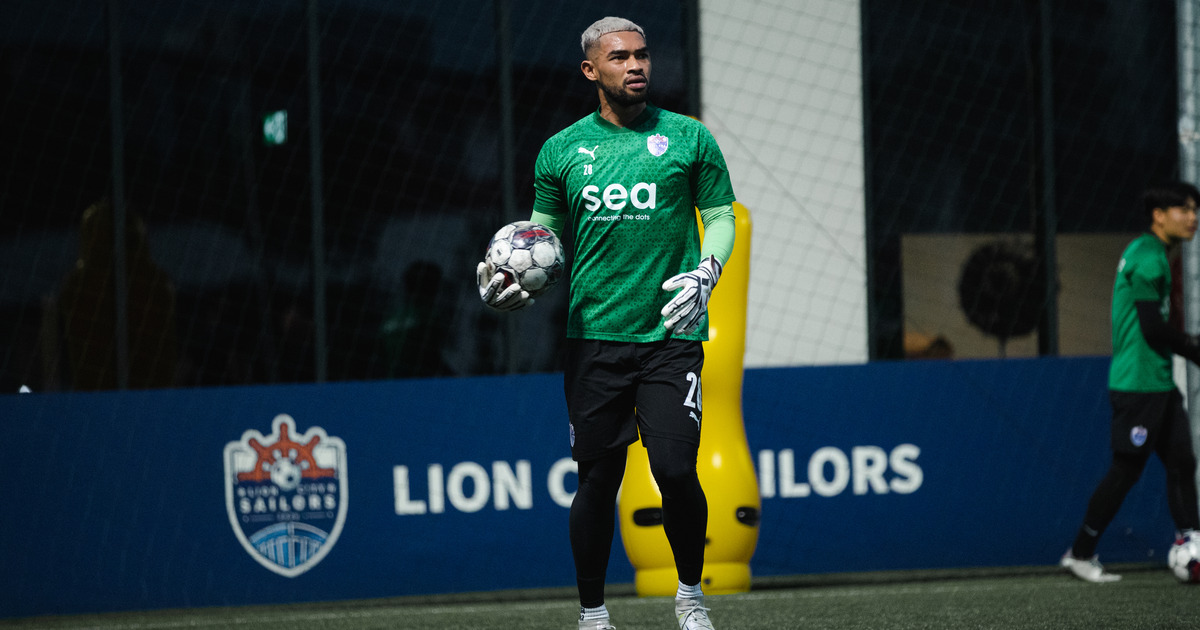 Zharfan Rohaizad – who made the highest numbers of saves across the SPL last season for Tanjong Pagar United – adds depth to the Sailors goalkeeping department. He will compete with Rudy Khairullah and Adib Azahari for a starting spot, while Izwan Mahbud continues his recovery from an anterior cruciate ligament (ACL) injury. 
One of the country's top defensive talents, Lionel Tan, provides defensive steel and stability to the Sailors, alongside the likes of Hariss, Pedro Henrique and Bill Mamadou. 
The signing of Rusyaidi Salime gives the Sailors some much-needed bite in midfield beside Hami, Adam Swandi, and the versatile Anu. 
Chris and Danish Qayyum joining the club means there are now options aplenty on the Sailors flanks, with Nur Adam Abdullah, Haiqal Pashia, Arshad Shamim and Zulqarnaen Suzliman all also champing at the bit to be starters for the team.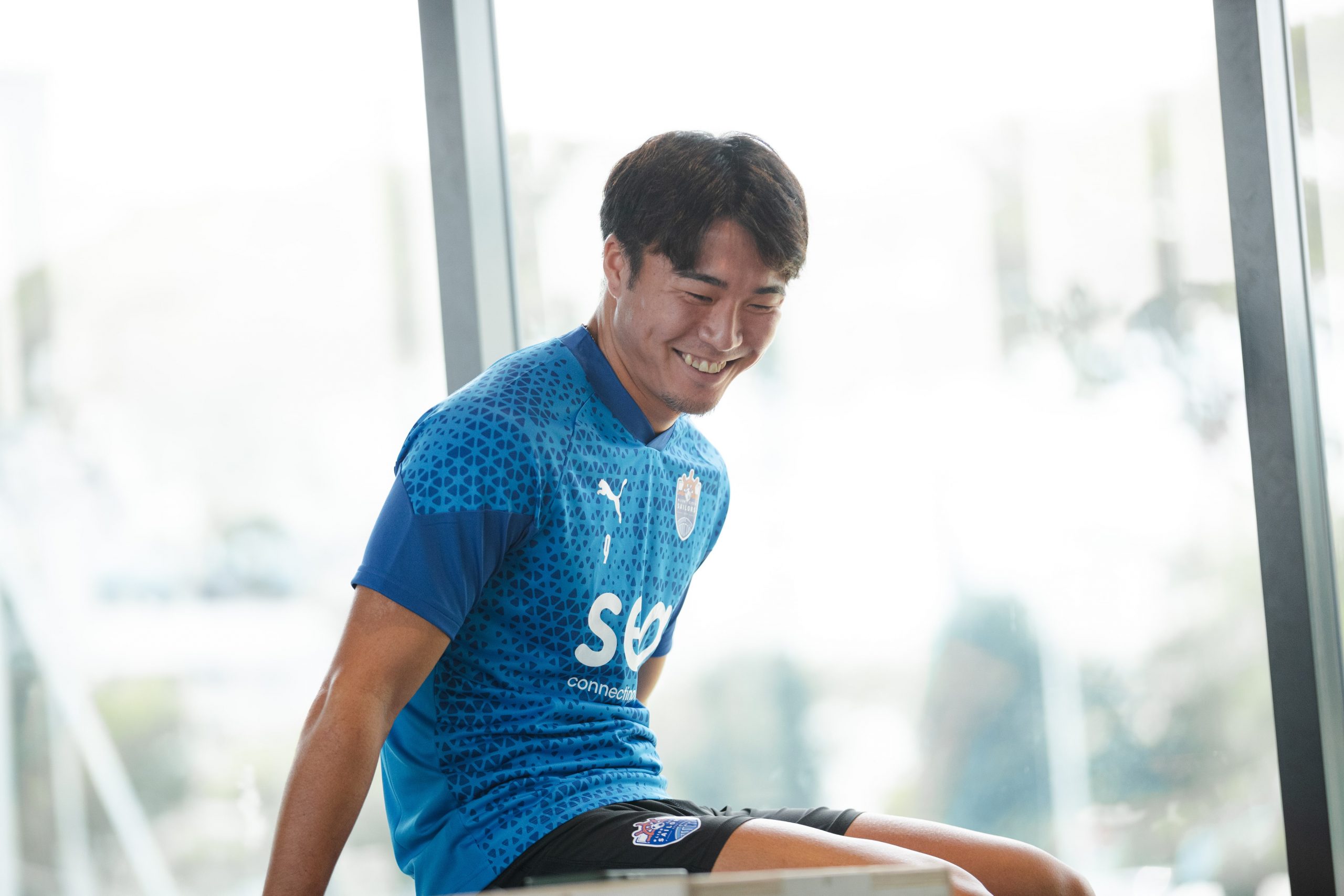 The Sailors look set to pose a serious threat to opposition defences with the presence of Kodai Tanaka, Shawal and rising talent Abdul Rasaq Akeem – more so with the effervescent Diego Lopes and last season's top assist-provider Maxime Lestienne now more familiar with local football. 
With a matter of weeks to the start of the new season, training intensity is steadily increasing but the Sailors class of 2023 is undaunted and has already begun to get to grips with the demands of Risto's philosophy. 
"Coach Risto wants us to play attacking football and keep the ball more often, that's something which we're working on and I've to say the progress has been good so far. Everyone has been very welcoming and we have already started to build good bonds within the squad," said Rasaq. 

"We have to keep going and continue to improve our chemistry so that we can be successful in the season ahead."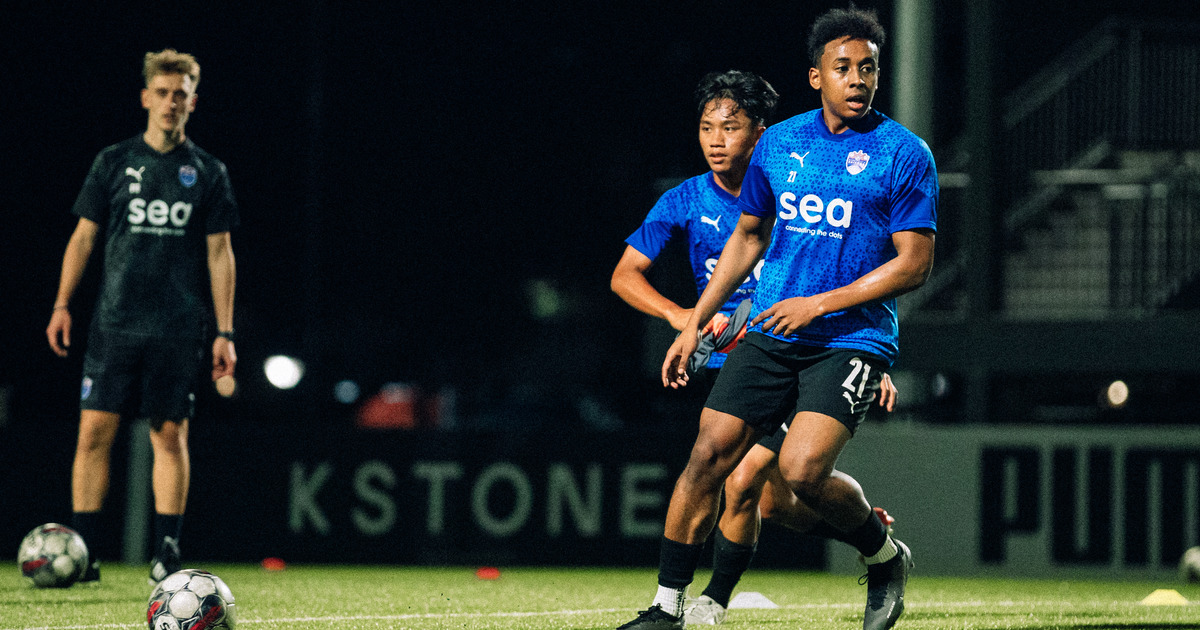 Fellow new recruit Lionel, who is enjoying the start of his life with the Sailors, sang from the same hymn book. 
"It's been an eye-opener for me. Over here, we have a very structured program on how we're building up to the season. Coach Risto is very direct and detailed on how we're supposed to train and play – he has made it very clear what he wants the team to do," said the former Singapore Under-23 international. 
"The mood in the camp is really good, training has been fun and we're all enjoying ourselves. This should always be what football is all about – we want to train hard, while having fun and looking forward to coming into work every single day." 
Nur Adam is already feeling the zest Lionel and the new boys bring to the dressing room, and the 21-year-old has no doubt that the positive vibe will provide an ideal platform for the team to launch a campaign to reclaim the SPL title in 2023.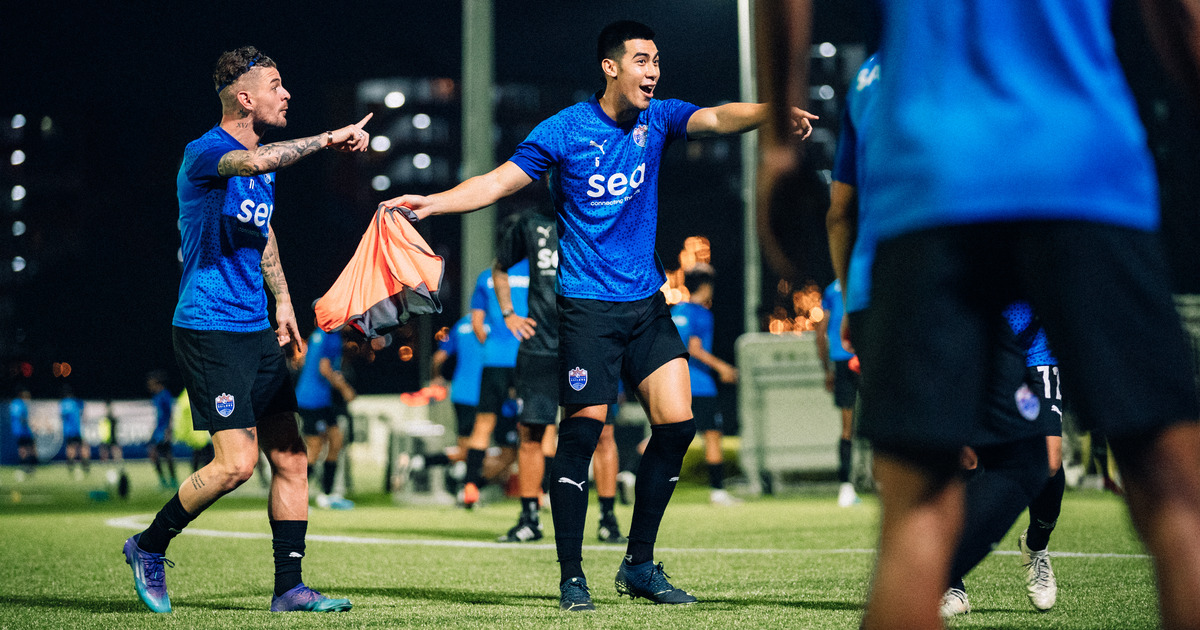 "With new players coming in, it usually takes quite a while at the start of the season to come together as a unit but even at this point we've really bonded well. There are no egos and everyone is training hard and working towards the same end goal – to entertain the fans and deliver success for the club," he said. 
"The atmosphere is great and we're adapting well to what Coach Risto has envisioned for us. It's important we keep working on our fitness levels and improve our touches even more to be prepared for the season ahead."
There will be an infusion of youth in the Sailors first team this year, with several talented boys from the Sailors' Under-21 squad joining pre-season training and gunning for SPL debuts this season, if they continue to grow. 
Despite his relative youth, Nur Adam is already into his third year at the club and relishing the added responsibility of being a leader. He has taken it upon himself to help those even younger than himself assimilate.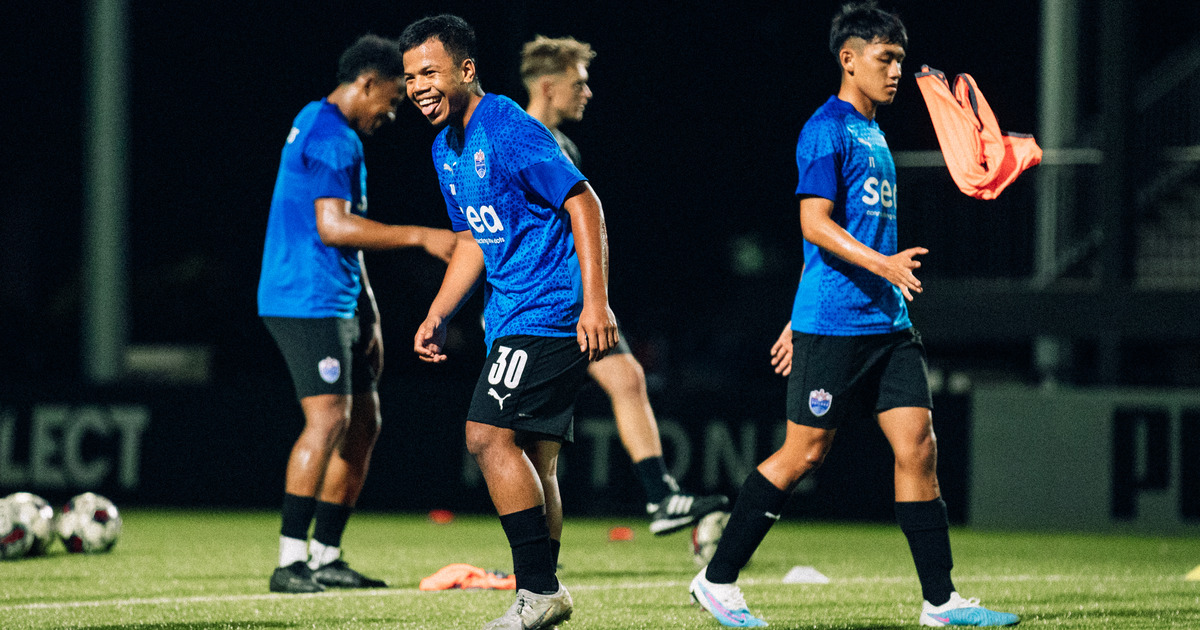 "I'm someone who likes to guide younger players, motivate them, and help them reach their maximum potential," explained the 2021 SPL Young Player of the Year. 
"I know there are high expectations for players here because we're expected to win every match, but at the same time it's important for youngsters to come through for the long-term future of the club. I see a lot of potential in our players here and we are definitely going on the right path."

There was little doubt that Christopher van Huizen was one of Singapore's best performers at the recent ASEAN Football Federation (AFF) Mitsubishi Electric Cup. He stood out with his ability to cross with both feet and his commitment to the cause came to the fore with several full-blooded defensive challenges that saw him put his body on the line. 
The 30-year-old, who can play at full-back as well as on the wings, has joined the Lion City Sailors and will showcase his talents at the Bishan Stadium in the season ahead. 
Chris enjoyed a good 2022 with Tampines Rovers, making himself a national team regular with his consistent performances, but the opportunity of being embedded in a top-class setup that is looking to make a mark at the Asian Football Confederation Champions League (ACL) was too much of a lure. 
"This is going to be the biggest challenge in my whole career, on top of being in the national team and fighting for a spot in the AFF squad," said Chris, who represented Home United – the previous iteration of the Sailors – between 2017 to 2018.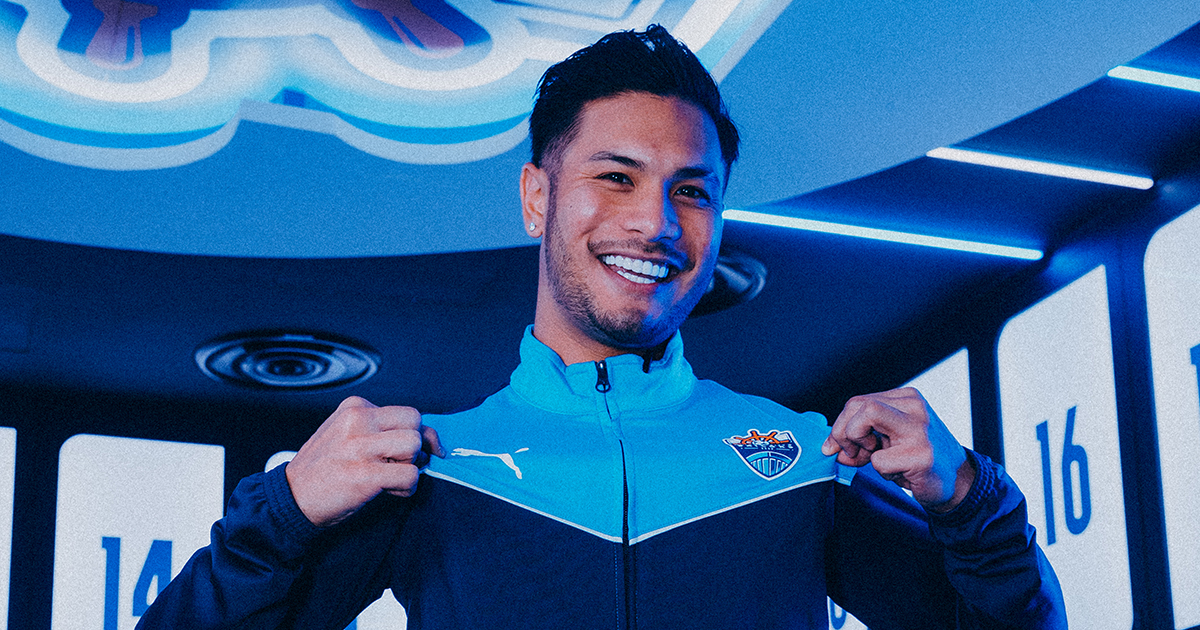 "It took me quite a while to decide on my next club and the Sailors have always been on my mind since the club started in 2020. There are massive ambitions to go to the next level, so it's one of my biggest dreams to come true to now call myself a Lion City Sailor.  
"I've spoken to (Sailors captain) Hariss (Harun) and he basically endorsed whatever I've been thinking about coming here. This is undoubtedly the biggest club in Singapore with good facilities and very talented players, so I really can't wait to don the Sailors jersey and get onto the pitch with my new teammates."
A self-professed late bloomer, Chris has truly come into his own and established himself in the past year. Now at the peak of his powers and going into his 30s, he is relishing the opportunity to impart his know-how to younger teammates and is determined to play out his best years at the highest level. 
"I'm very happy that I'm going through my peak right now and I don't want to stop here – I want to keep pushing myself and see how far I can go," said the wide player, who earned nine of his 13 Singapore caps in 2022 and 2023. 
"It's going to be pretty much the same situation that I had at Tampines – there are several young players. I hope I'll be able to pass down whatever I've learned over my professional career to them, because it will give me great happiness to see them fulfilling their potential at this club."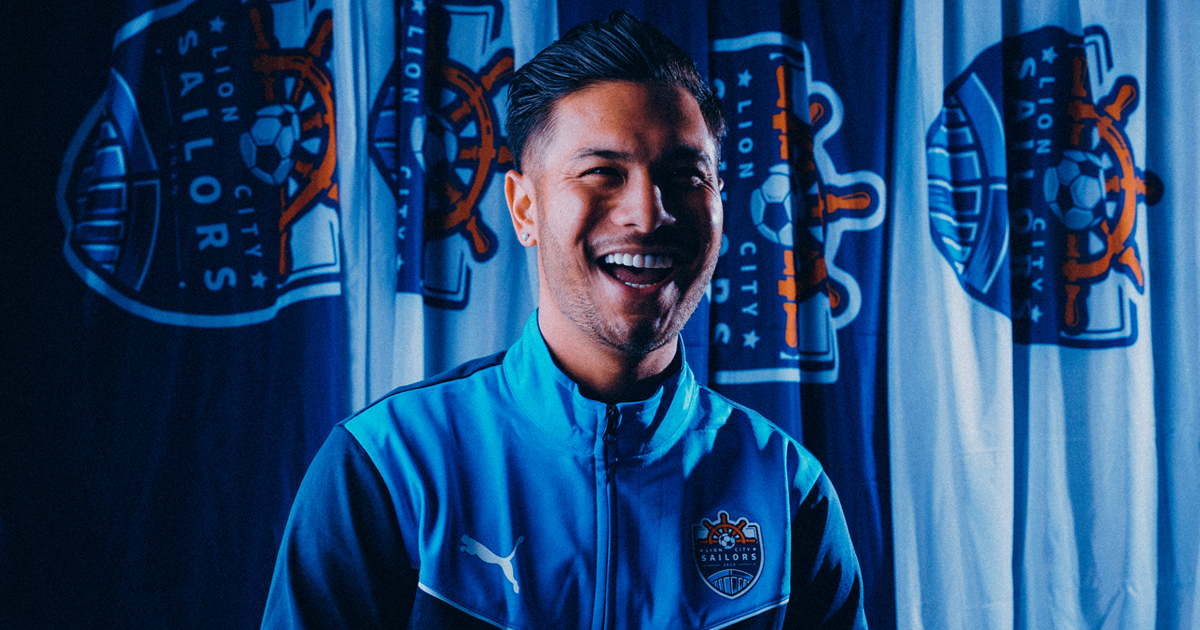 With familiar faces at the Sailors, including the likes of Hariss, M. Anumanthan and Adam Swandi, players which he has played alongside at the international level, Chris should bed in easily, and he is already looking forward to supplying ammunition for Sailors attackers to score. 
"We've got a very good crosser of the ball in Max (Maxime Lestienne), so I hope I'll be able to work really well with him and Diego (Lopes) to provide assists for the team. I will try my best and work on putting in good crosses like players like Kodai (Tanaka) and Shawal (Anuar) to score. 
"My goal for this year is simple – to go all out in every game for the club and help the club deliver on all fronts."
Lionel Tan knew exactly what would be in store for him the moment he put pen to paper to sign for the Lion City Sailors. 
Making the leap over from Hougang United, the 25-year-old defender is acutely aware he is now entering an environment steeped with higher expectations – a club that is expected to challenge for all honours in the domestic game. 
"I knew by signing for the club, I'm going to get out of my comfort zone. Making this decision required a leap of faith, but I am sure that I've made the right call. 
"I know the pressure that will be on us to perform well and win trophies, but that's normal – there's pressure and expectations in every job. It's about adapting to the culture of this club and I'm sure I can do so very quickly with the help of my new teammates," said Lionel.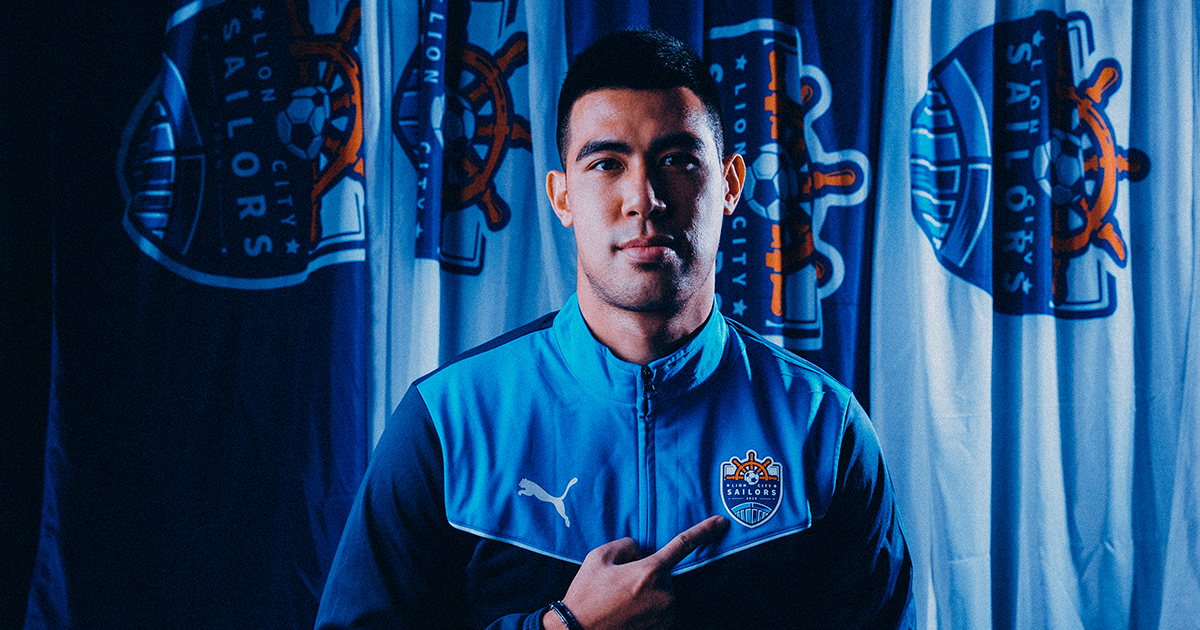 Having spent four years with Hougang across two separate spells and developing into one of the country's finest young defenders there, Lionel acknowledged it was not an easy decision to leave the Cheetahs but knew this was a step he ought to take to bring his career to the next level.  
"I enjoyed a great affinity with everyone at Hougang including the fans, so I'm very glad to end 2022 on a high note by winning the Singapore Cup with the club. 
"But I don't want to remain stagnant and it's important at this stage of my football chapter to test my abilities and develop myself further – both as a person and as a player," said the 1.84m tall Lionel, who has represented Singapore at various age-group levels and captained the nation's Under-22s on several occasions. 
This is a return to Bishan Stadium of sorts for Lionel, who made his professional debut for the Sailors' predecessor, Home United, in 2016 in a League Cup fixture against Albirex Niigata (S).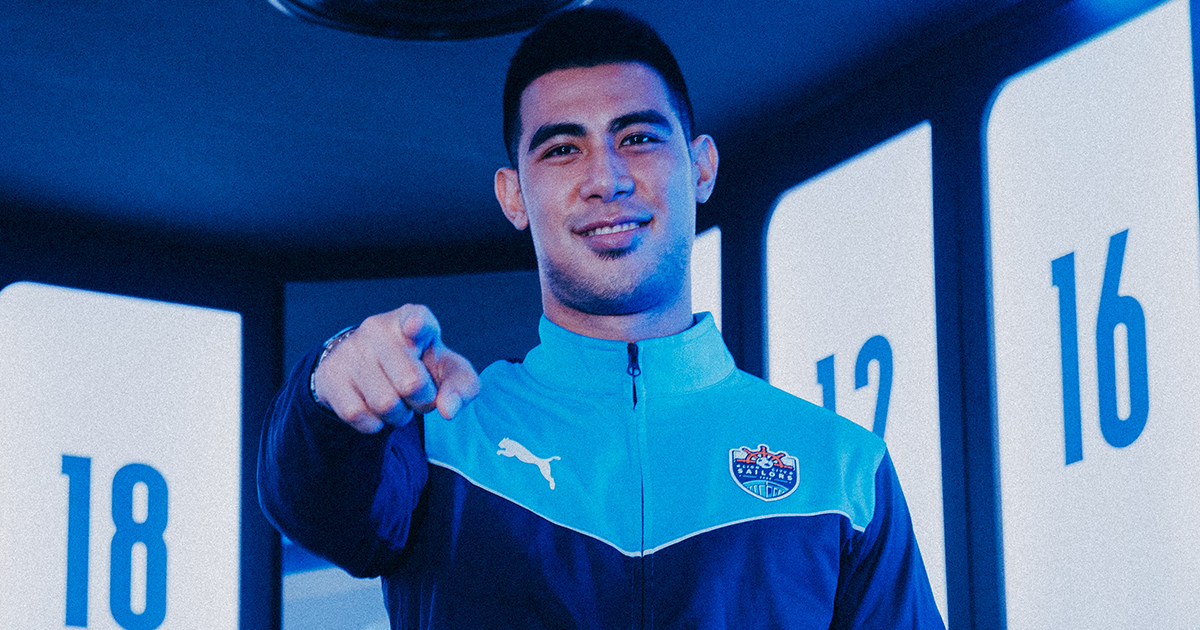 He knows that doing well here will boost his chances of realising his childhood dream of representing the Lions, but the new Sailors no. 5 is first putting the club's objectives as his top priority. 
"What's most important is that I do my best and be consistent in my performances to help the club be successful. Of course, I will love to start every game, but there's very healthy competition for places here and that can only be good for the team. 
"Hopefully I can make my debut for Singapore in the near future, but my main focus now is to give my 100 percent commitment to the club and let's see how things go from there."
As the ball hung in the Buriram sky following Maxime Lestienne's cross, Song Ui-young leaped like a salmon and connected superbly with a looping header that nestled in the back of the net.  
That goal back in April 2022 set the Lion City Sailors on their way to a stunning 3-0 win over K-League side Daegu FC in Group F of the Asian Football Confederation Champions League (ACL). 
With that, Song wrote himself firmly into the club's history books and it was a moment that he holds dearly in his heart – even as he sealed a move to Thai League 1 side Nongbua Pitchaya on Sunday (15 January). 
"That was my first ACL goal and we took the three points against a Korean team – no Singapore team has done it before so it was a very special moment for me. it was definitely one of my best memories with the Sailors," said the 29-year-old attacker in his farewell interview with the club.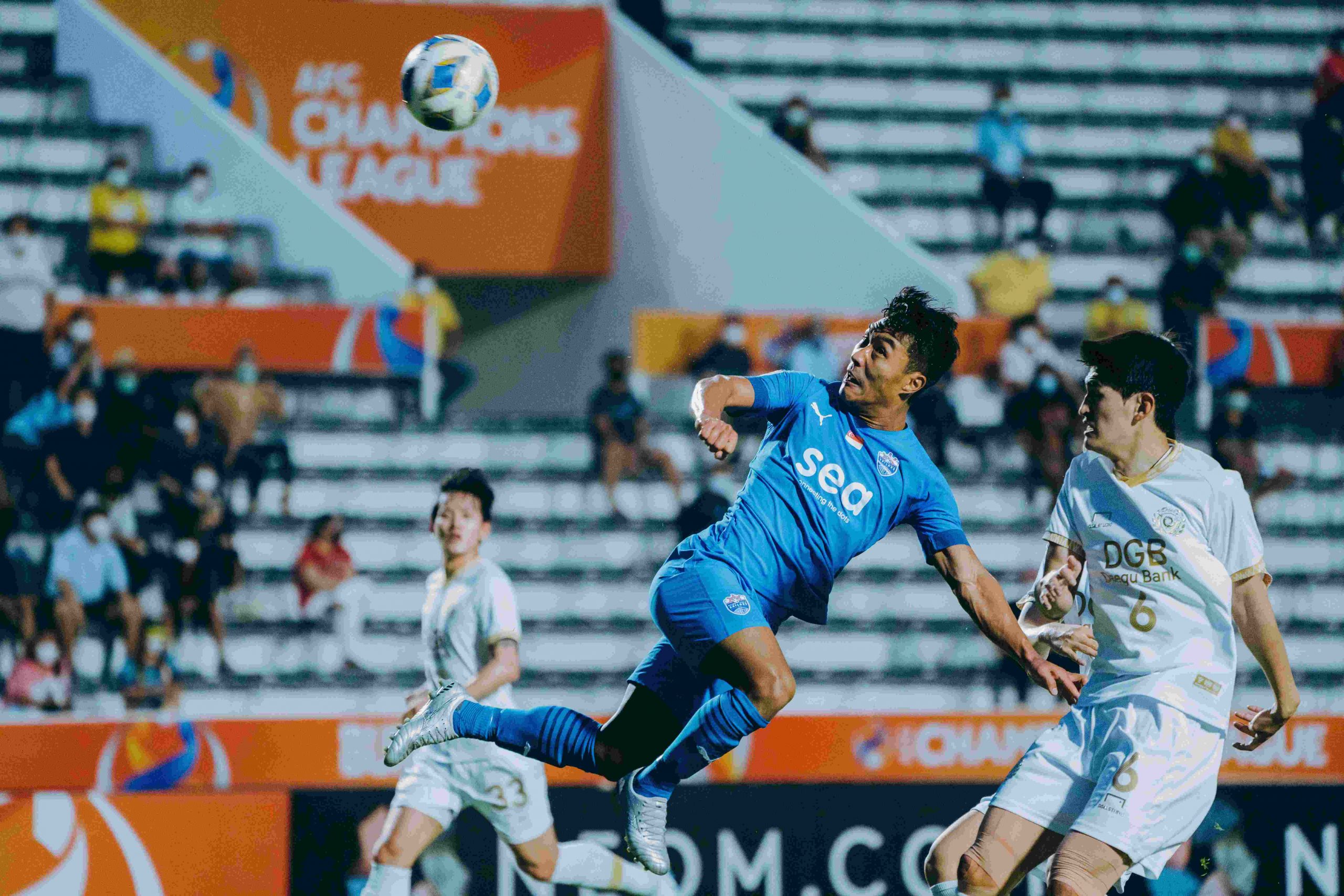 "I had big motivation to play in the ACL because I really wanted to compete against the strongest teams in Asia. I'm very happy and thankful to my teammates and coaches – we did and achieved everything together. 
"I was so proud to see our fans coming to Buriram (where the ACL group stage campaign was hosted) to support and cheer for us – they even brought the Singapore flag, and that was a big motivation for us to put in extra effort."
In his three years with the Sailors, Song was often looked upon as a player who would stand up to be counted when it mattered. And he underlined this by scoring at critical moments, including bagging the opening strike against Balestier Khalsa in a 4-1 win that secured the Sailors their first-ever Singapore Premier League (SPL) title in 2021. 
He signs off as the current all-time leading scorer for the Sailors with 32 goals in all competitions, including three in the ACL which makes Song the Singaporean with the most number of goals in the top-tier continental competition. 
"I'm just very happy that I helped the team achieve our targets then (two years ago). A Singapore team had not won the SPL title for seven years at that time, and I had also never won a domestic league title before that, so it was an amazing feeling to finally get our hands on the trophy.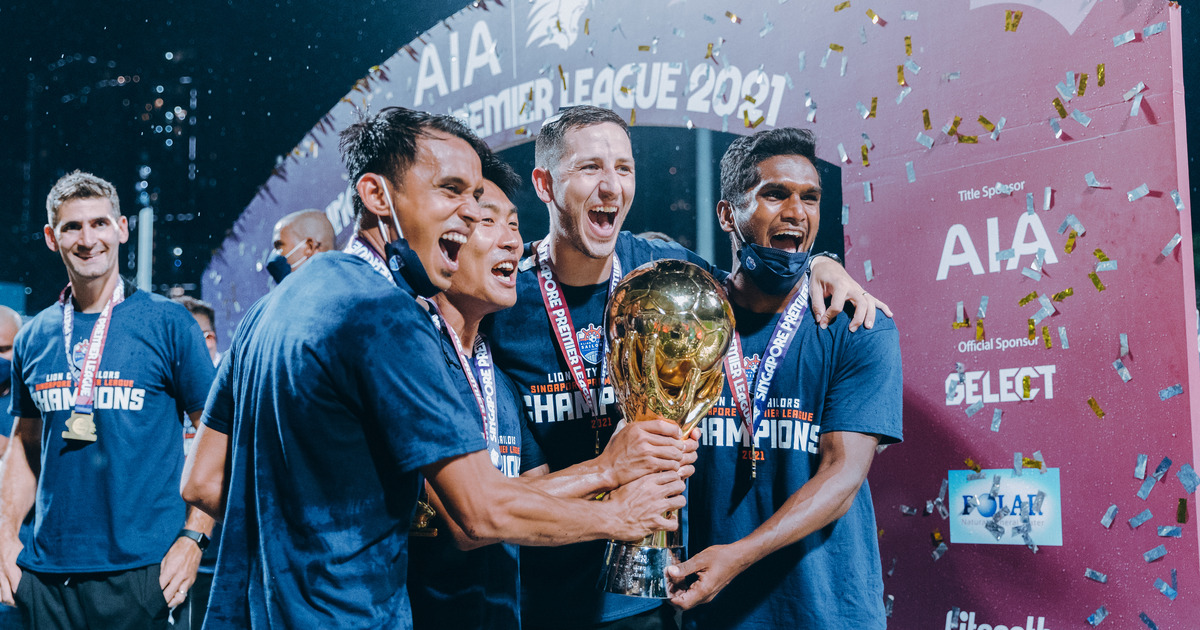 "We were very proud to be able to achieve that as a team," reflected Song. 
Song's unwavering commitment on the pitch stood out in the eyes of local football fans, but it was perhaps his love for Singapore and burning desire to represent the Republic's Lions that won their hearts. 
It took him three attempts to secure permanent residency in 2020, before finally becoming a citizen the following August with strong support from the Sailors management and local authorities.
And he remains eternally grateful. 
"That moment I received the Singapore passport, I couldn't describe my exact feelings but I was very happy because I really feel at home in Singapore after so many years here and I really wanted to play for the Singapore national team," recalled the Incheon native, who first came to the Lion City at the end of 2011 as an 18-year-old.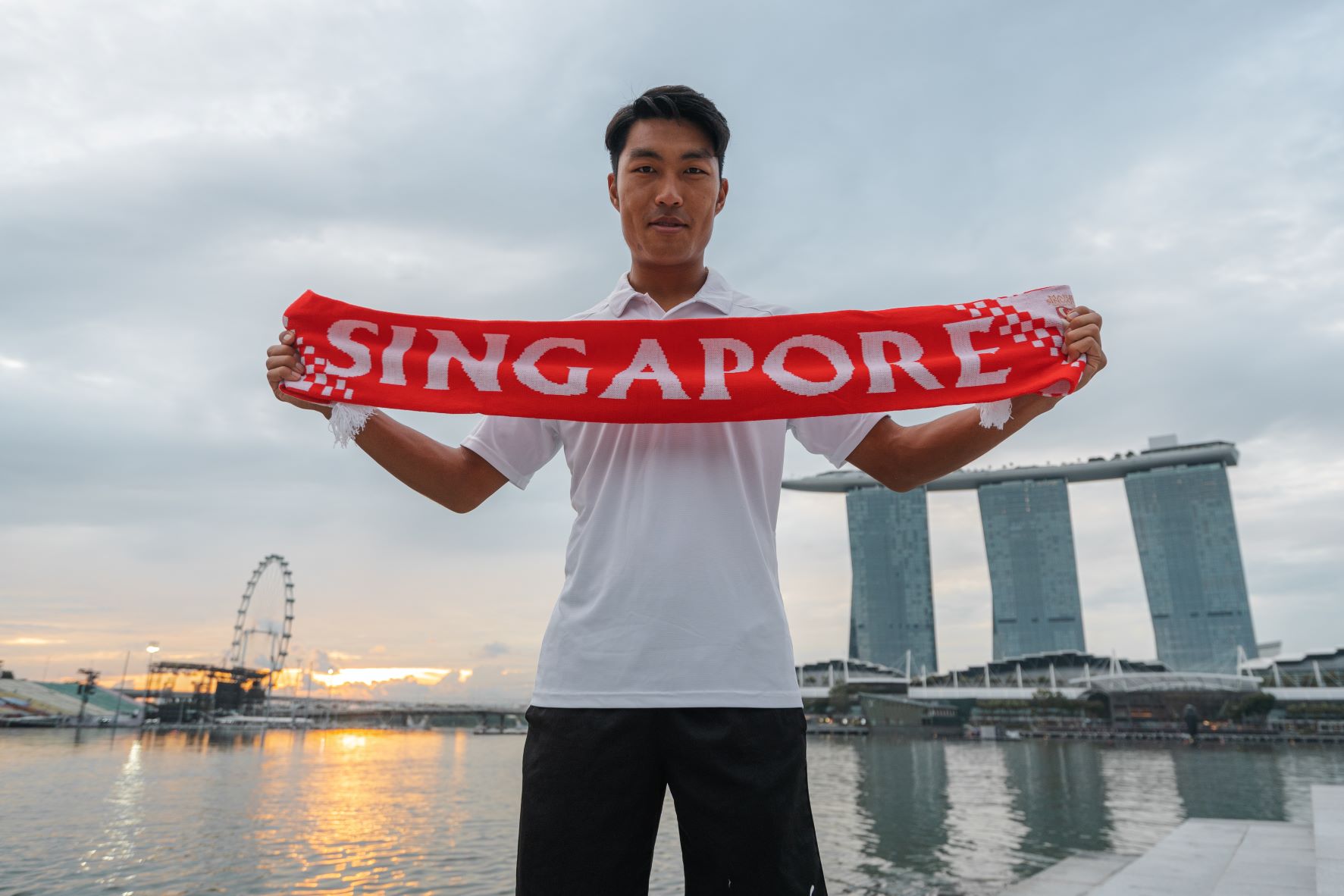 "I know behind the scenes, many people helped me in this process so deep in my heart I really appreciate all the help and support. Without everyone, this would not have happened and I won't be able to achieve this dream." 
Song played a total of 11 seasons – more than one-third of his life – in Singapore and witnessed the transformation of the club from Home United to the wildly ambitious Lion City Sailors. 
Even as he departs the club to embark on the next chapter of his career, Song looks back fondly on the opportunity to be involved in the exciting project.  
"There have been ups and downs of course, but I'm glad to have grown together with this club – both as a footballer and as a man. There's obviously a big difference since the club became the Sailors and it's great what the club has built up so far from the facilities to the personnel. 
"As a player, I could really focus on my football here so you can tell there's a great deal of professionalism in how we do things here," he said.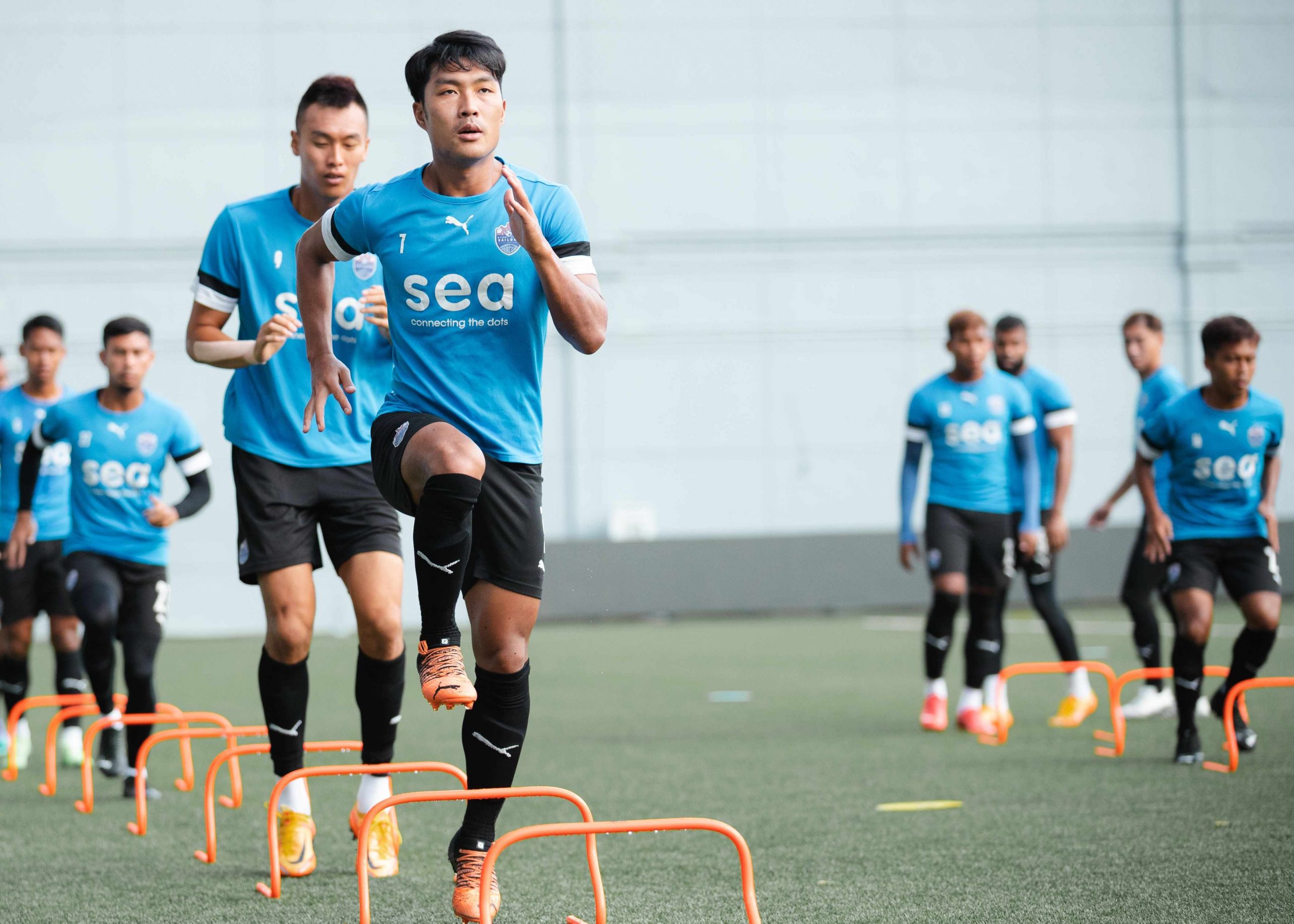 Song came to Singapore as a hungry young footballer looking to carve out a career, and now leaves as a man – and an established Singapore international. It is very much a mission accomplished for Song, who said the decision to leave the Sailors was difficult but one that had to be taken. 
"Honestly, I'm quite sad to be leaving this club but after competing in the AFC Cup, ACL, winning the SPL and being here for so long, I feel I need to get out of my comfort zone and go abroad to become a better player." revealed the forward, who will turn 30 this November. 
"I cannot just continue being relaxed and being comfortable at where I am right now if I want to develop further. I need to find a new platform to improve, develop and continue to show good performances as a football player." 
It is safe to say the Sailors will always have a special place in Song's heart, for the friendships and bonds forged over the years and he hinted that the Sailors fans may not have seen the last of him just yet.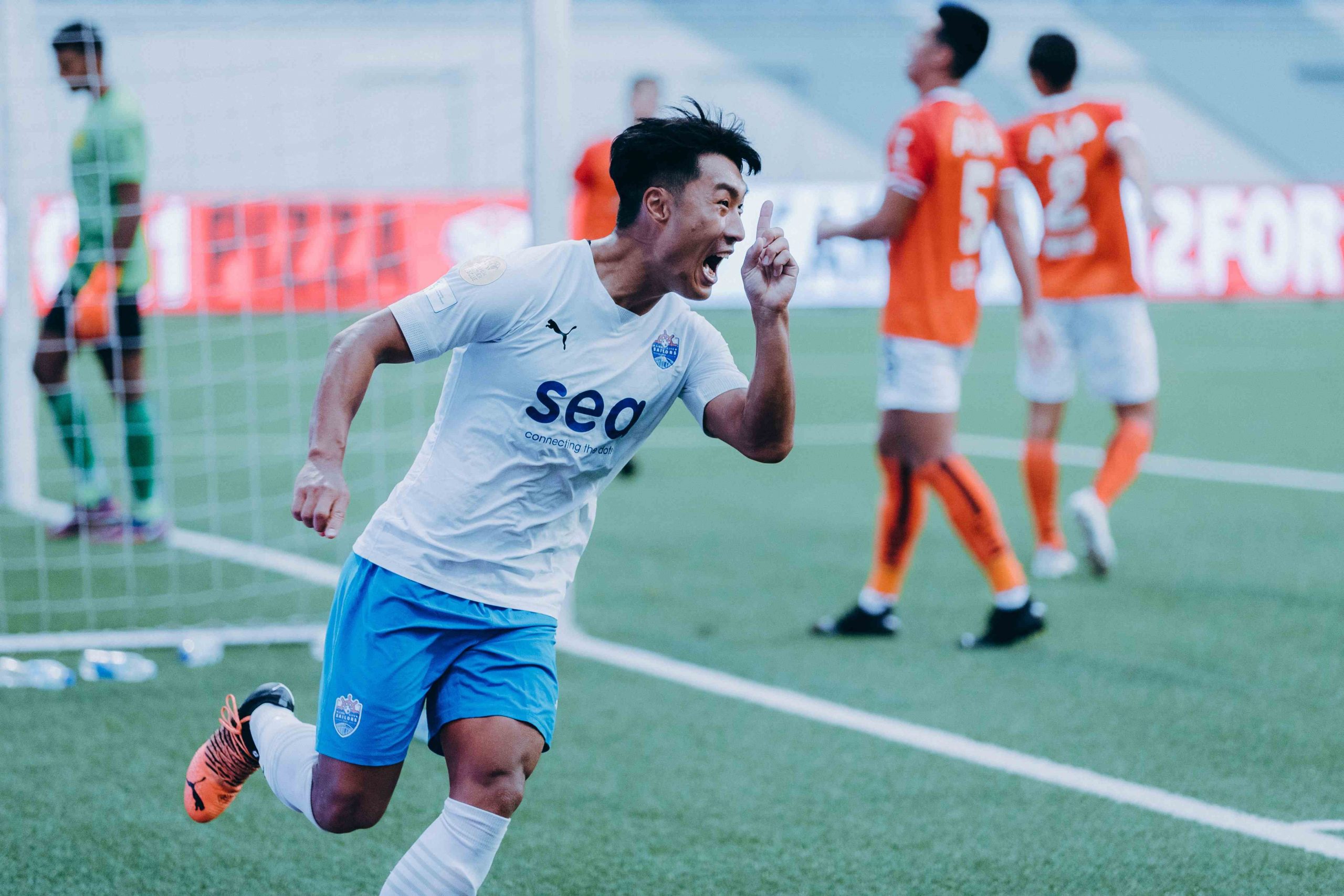 "I want to thank all my teammates, coaches and the management for taking really good care of me and making so many good memories together. I also want to tell the fans that I really appreciate all their support over the years. 
"One day, I hope I'll be back to play for them and the club again."
A bright prospect who came to the fore and displayed plenty of promise in 2022, Danish Qayyum is determined to fulfil his potential with the Lion City Sailors in the upcoming Singapore Premier League (SPL) season. 
The versatile left-footed player featured 25 times across two competitions for the Young Lions last season, playing in a variety of positions – from full-back to winger and even as an auxiliary striker – en route to ending 2022 with two goals to his name. 
Qayyum adds depth to the Sailors' flanks and is keen to make his mark. 
"It's indeed a very exciting move for me and my family. Ever since the Sailors project began, most young players in Singapore have looked at this as a dream place to be – we've the best players, best coaches and best facilities at the club.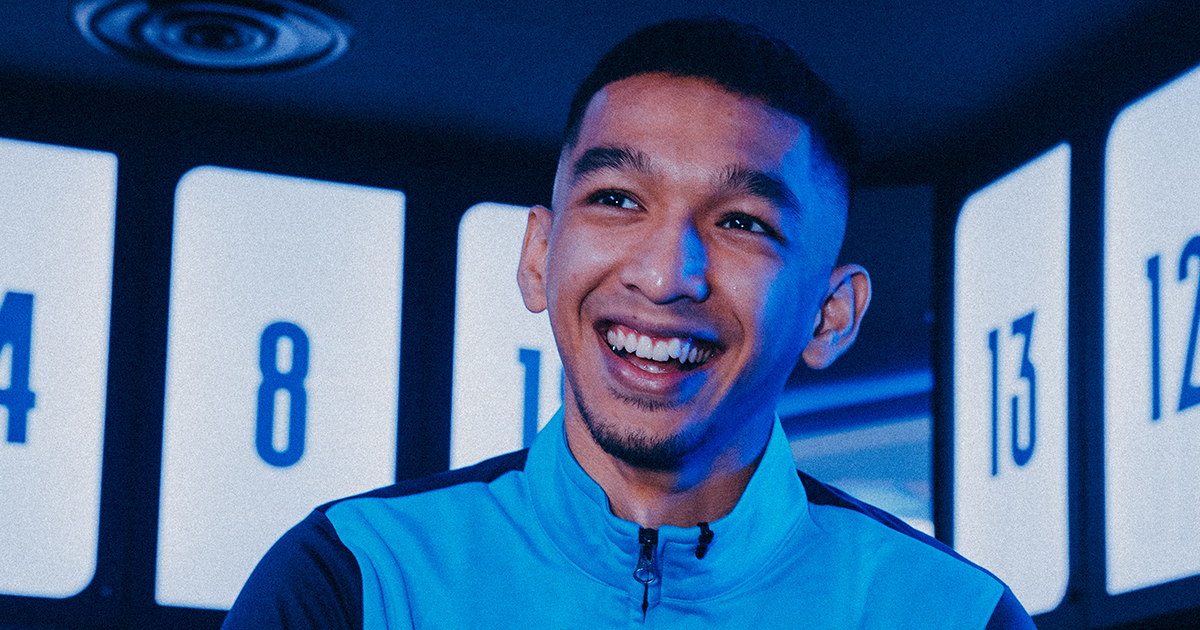 "I'm very hungry to improve myself as a person and as a player here. It's on me to work hard, showcase what I'm capable of, and outdo myself," said the 20-year-old, who made his professional debut in 2019 with Geylang International. 
While acknowledging that this is a huge step up for his career, Qayyum is inspired to follow in the footsteps of others who have realised their potential at the Sailors. 
"Nur Adam (Abdullah) is the most prominent example and the role model for all young players in Singapore. It was a brave decision for him to come to this club (in 2021), but he showed it was the right move, and he has grown from strength to strength, even becoming a national player now. 
"He has paved the way for us. If he can do it, young players like me shouldn't be afraid to take this step and try to go to the next level. The key is to have a strong mentality and work hard every day in training," said the former Home United – the former iteration of the Sailors – Under-16 player, who played alongside the likes of Ilhan Fandi, Marc Ryan Tan and Iman Hakim at national age-group levels.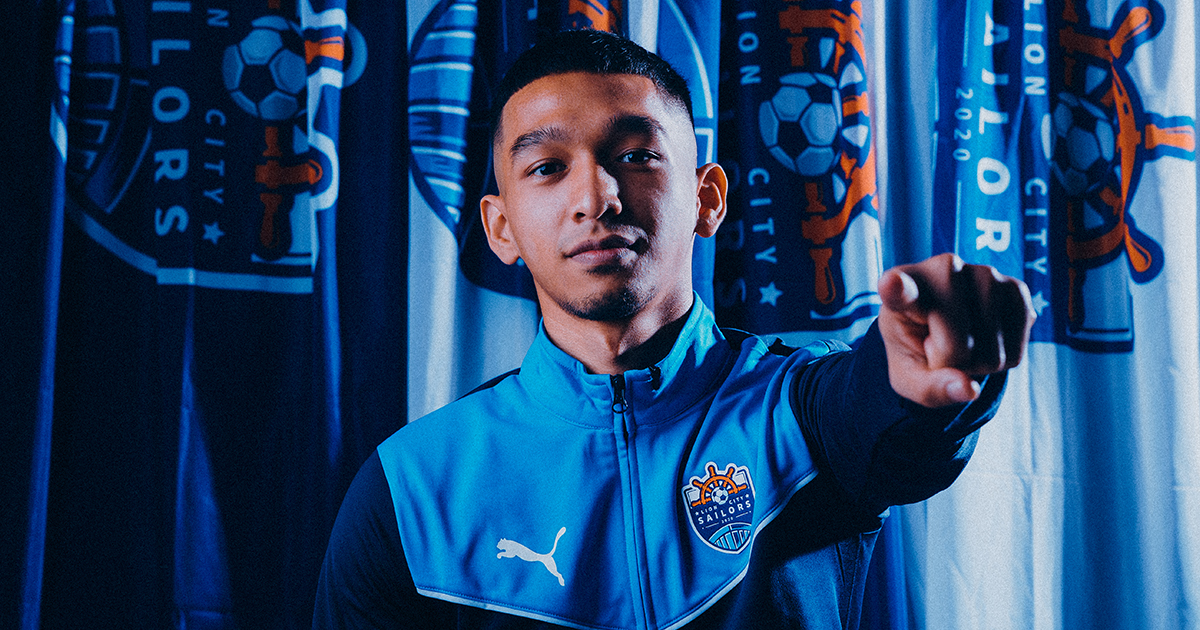 Qayyum is eyeing a call-up to the senior Singapore national team in the near future and knows that having good performances for the Sailors will go a long way to propelling him onto the international stage. 
"Obviously the dream is to play for the Lions one day, but for now I'm focusing on improving myself to be an asset to the Sailors. I want to help us win games, while trying to be a more productive player with goals and assists to my name – that's the goal."
After completing his National Service obligations in a year that demonstrated his potential to become a reliable goal-getter, Abdul Rasaq Akeem will take his career to the next level with the Lion City Sailors in 2023. 
The stocky 21-year-old particularly sparkled towards the end of last season, scoring five across two competitions – the Singapore Premier League (SPL) and the Singapore Cup – for the Young Lions in addition to being a threat to opposition defences with his tireless energy. 
Rasaq adds to the Sailors' burgeoning options in attack and is determined to rise to the challenge of earning a starting spot in a team that is vying for every domestic honour. 
"I know how tough it will be to compete with the very good players at the club, but I love challenges. When this opportunity came, I didn't have to think twice about it, and now that I'm here, I want to make full use of this opportunity," he said.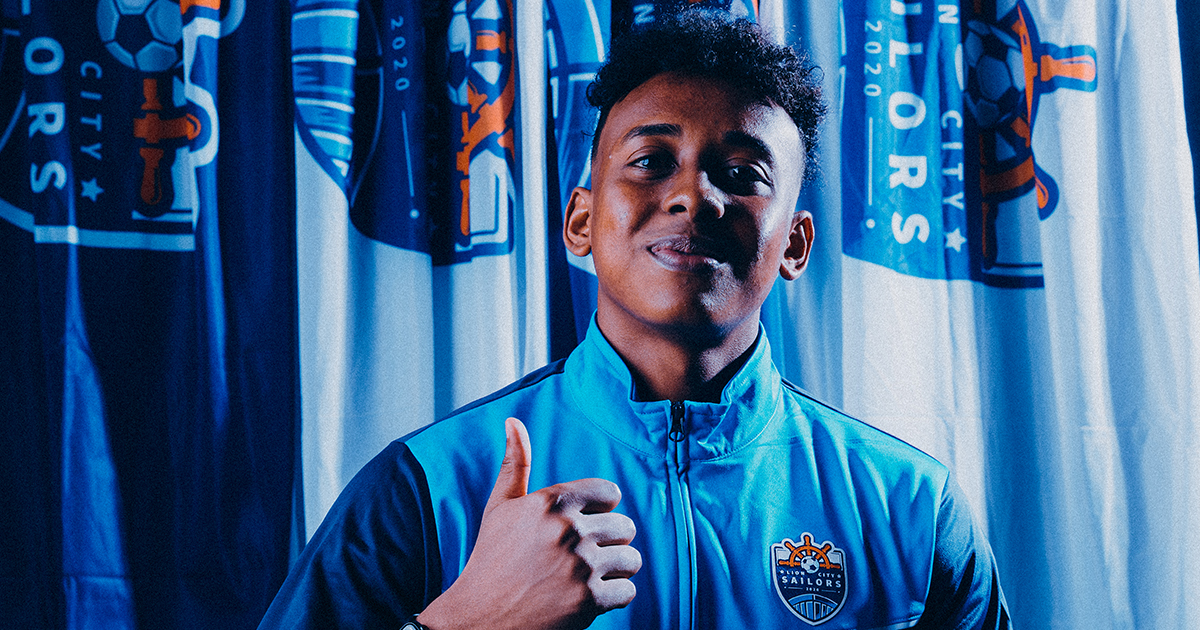 Rasaq has shown potential to succeed from a young age, representing Singapore at various youth levels, was a nominee for the 2018 TNP Dollah Kassim Award, and scored in his first year as a professional in the SPL in 2019. 
Serving the nation as a policeman limited his football involvement, but Rasaq returned strongly since his August 2022 operationally-ready date and is excited for the opportunity to exponentially develop his game.  
"I'm happy now that I can fully focus on my journey of being a successful professional and I'm certain that this is the right place to improve myself.
 "I really enjoy creating chances and scoring goals and I hope I can rack up good numbers in both areas while helping the team to win," said the versatile attacker who can play anywhere across the front line.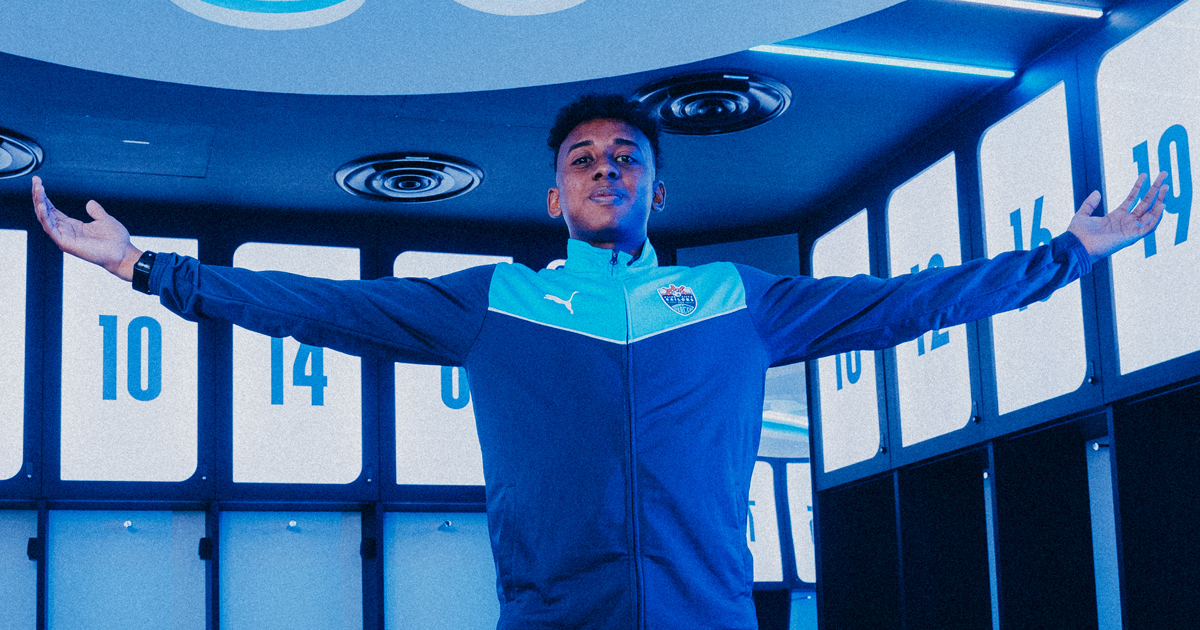 Proud to now call himself a Sailor, Rasaq is out to glean much from being embedded in a professional setup and is already looking forward to a successful 2023 with the club. 
"I'm very close to Nur Adam (Abdullah) and Bill (Mamadou) and they both have only good things to share about the club and how being here has helped them grow as players.
"To have a top-class training facility and be surrounded by so many good players is something that I've always dreamed of. There are so many great players here I can learn from, it's about picking up their good habits on how they train on the pitch and also how they take care of themselves off it," said Rasaq. 
"The only way for me is up. I just can't wait to get out there and enjoy the season with my new teammates."
He is under no illusions about the task that lies ahead in the 2023 Singapore Premier League (SPL) season, but newly-minted Lion City Sailors Head Coach, Risto Vidaković, is confident that his charges will be well-equipped by the time the first ball is kicked – especially when working off the platform the Lion City Sailors Training Centre provides. 
Risto and his Sailors' Class of 2023 assembled at Mattar Road for the first time on Friday (6 January), with the players undergoing a medical screening by Cove Orthopaedic Clinic, before the start of pre-season training proper. 
Club Chairman Forrest Li welcomed the team – including staff and Sailors' Technical Director Luka Lalić – as the team took their first steps towards the 2023 season.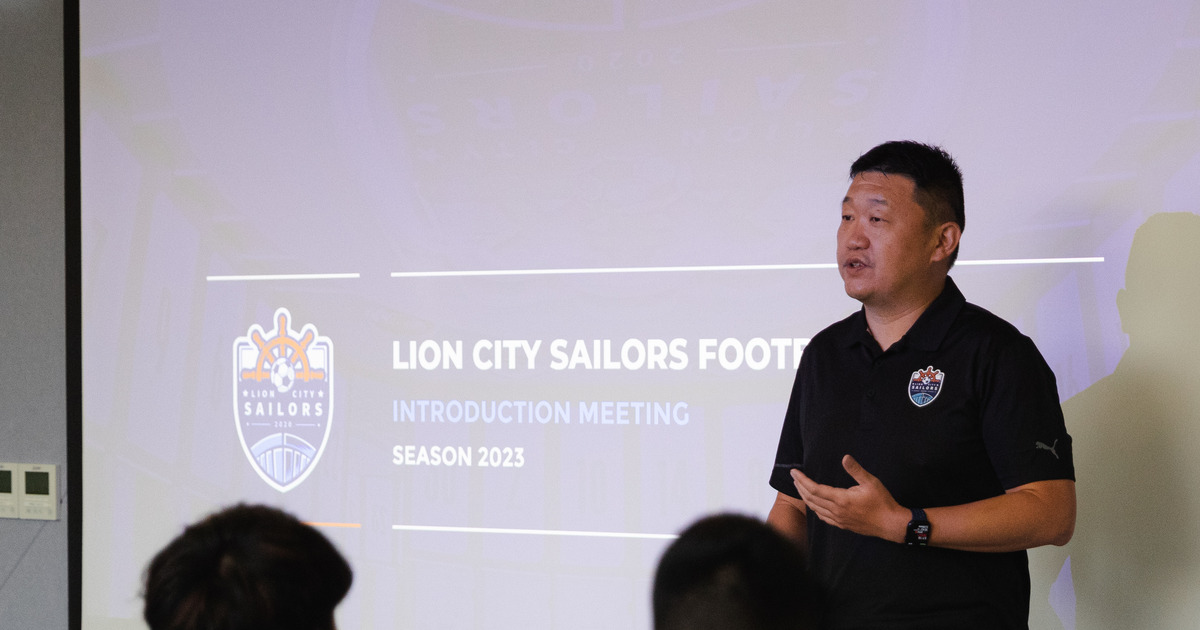 "I'm looking forward to being part of this ambitious project, to build something new and important for the club, but it's not going to be easy because we have many new components," said the 54-year-old Serb. 
"We'll have to put in the pieces together and involve everyone to push for the club's ambitions together. Having good facilities and a conducive environment is very important, because this Training Centre is the base and starting point of everything. 
"We have everything here at Mattar, and I'm confident that the players will feel that this is their home and be motivated to come in for work every day – it's a fantastic platform. " 
Risto's approach to pre-season training – a bright optimism underlined by a healthy dose of reality –  is shared by Luka, who helmed the Sailors first team as its Interim Head Coach from August 2022 to the end of the domestic football season. 
"There have been several changes at the club, but there is also a lot of positivity. New people bring a different level of energy and there's clearly a new optimism and energy here. What we have to do is move forward with this optimistic energy," said Luka, who was acutely aware that this renewed vigour has already been helpful.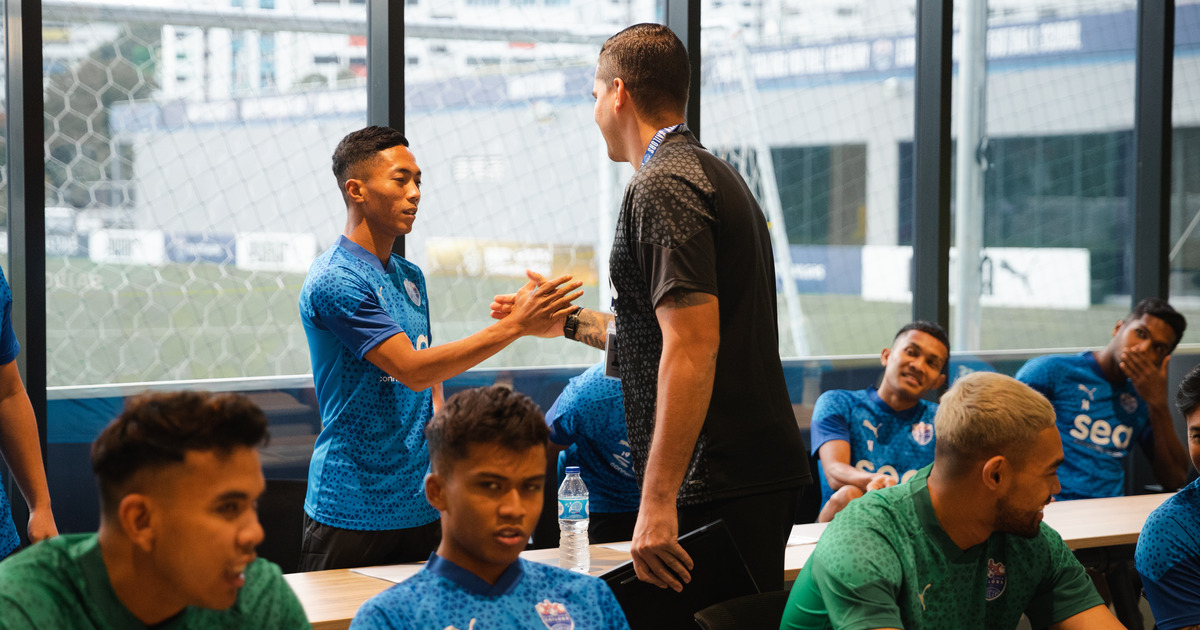 "A club like the Sailors is expected to win titles, but in 2022 we didn't, and I have to take a lot of the responsibility for what happened over the last four months. 
"This season, we have to collectively step up as a team and turn the page. We're changing how we're approaching training sessions and matches – we want to fully utilise the facility on what we can do with the team, and we'll also have more individualised programs to help the players to perform to their maximum potential," added the 35-year-old.
Hariss Harun and his teammates will undergo focused individualised training programmes – that include technical sessions, strength and conditioning and even injury prevention and recovery – based on the needs of each player, this over and above tactical sessions with the team. 
"I know the high expectations here, but we have a good team with many good people so with proper work, we can reach our goals," said Risto, who is setting his Sailors out to dominate games with possession-based attacking football. 
"The key is that in every moment we know what we're doing, everyone has to know what they're representing. Players have to know that they're in a special club and it's not easy to play for the biggest club in the country because opposing teams will be very motivated to play against us. 
"In every game we must give 100 percent – there is no other way."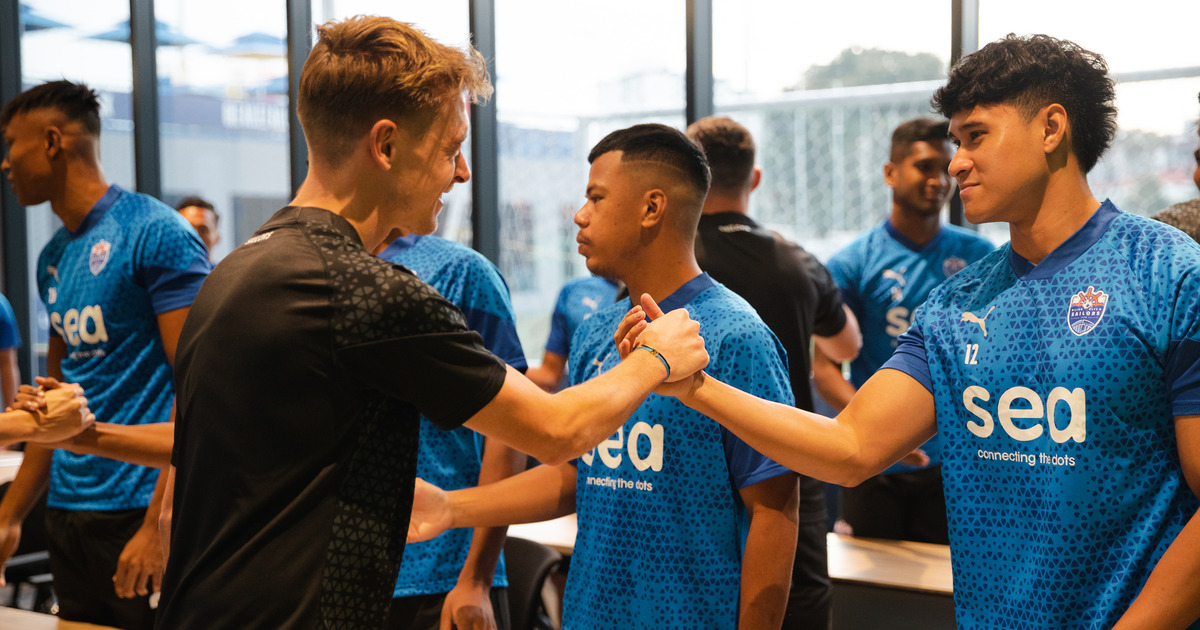 Risto's call for commitment and motivation will be helped by the infusion of youth into the Sailors' first team. 
Said Luka: "Most of our new signings are younger players, and this is because it's important that a generational shift starts, not just for the club, but also for the bigger picture of football development in Singapore. 
"We have recruited players who have demonstrated the most potential, and this is supported by the fact that we will have players from the first batch of our Early Enlistment Program (for National Service (NS)) starting to join the squad." 
Sailors fans have already got an early indication of the potential coming through the club's Academy, with two youngsters – 17-year-old midfielders, Yasir Nizamudin and Danie Hafiy – providing an assist each when the Sailors fell 7-2 to German giants Borussia Dortmund at the Jalan Besar Stadium in November.
"We'll have to see how these players can fit into the team and hopefully we can see some of these Under-21s making their senior debuts this year," added an optimistic Luka.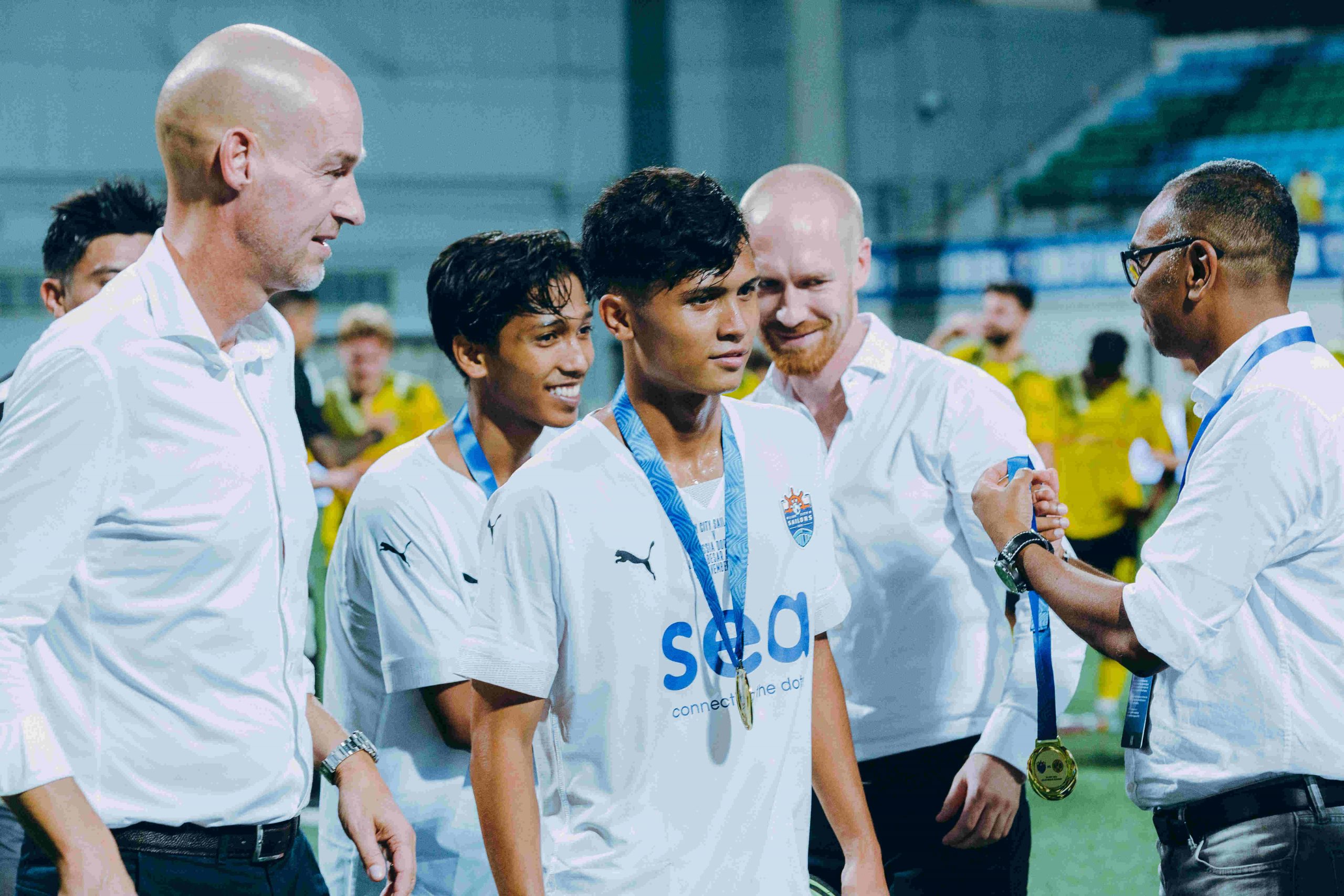 With all the pieces in place, a buoyant Risto called for all at the club to put in the hard work as they prepare to put on a show for the Sailors' faithful.
He said: "All projects have ups and downs, and we have to be able to stop and learn to change things along the way. There will be several lessons on the journey and we're going to work very hard to reach our goals, but we also need patience.
"If we can play the way we want to play, implement the game model that we envision, I will consider it to be a success – but that's still only a part of what we want to do for this ambitious project."