Just like in the AIA Community Shield victory over Albirex Niigata (S) on 19 February, the Lion City Sailors fell behind to an early goal in their 2022 Singapore Premier League (SPL) season-opener against Hougang United on Sunday (27 Feb). 
But the defending SPL champions showed spirit and resolve to come through a difficult game at the Jalan Besar Stadium to prevail 3-1, and that Sailors' fire out on the pitch was what brought on a big smile to the face of Head Coach Kim Do-hoon.
"From Hassan Sunny at the back all the way up to our forwards, the boys gave more than 100 percent. By conceding the first goal, we made it difficult for ourselves and it clearly took more effort to come from behind against a quality team like Hougang. But what impressed me about my boys was that they stayed cool and continued to play our brand of football, instead of feeling nervous or rushing things because of the score line," said the 51-year-old.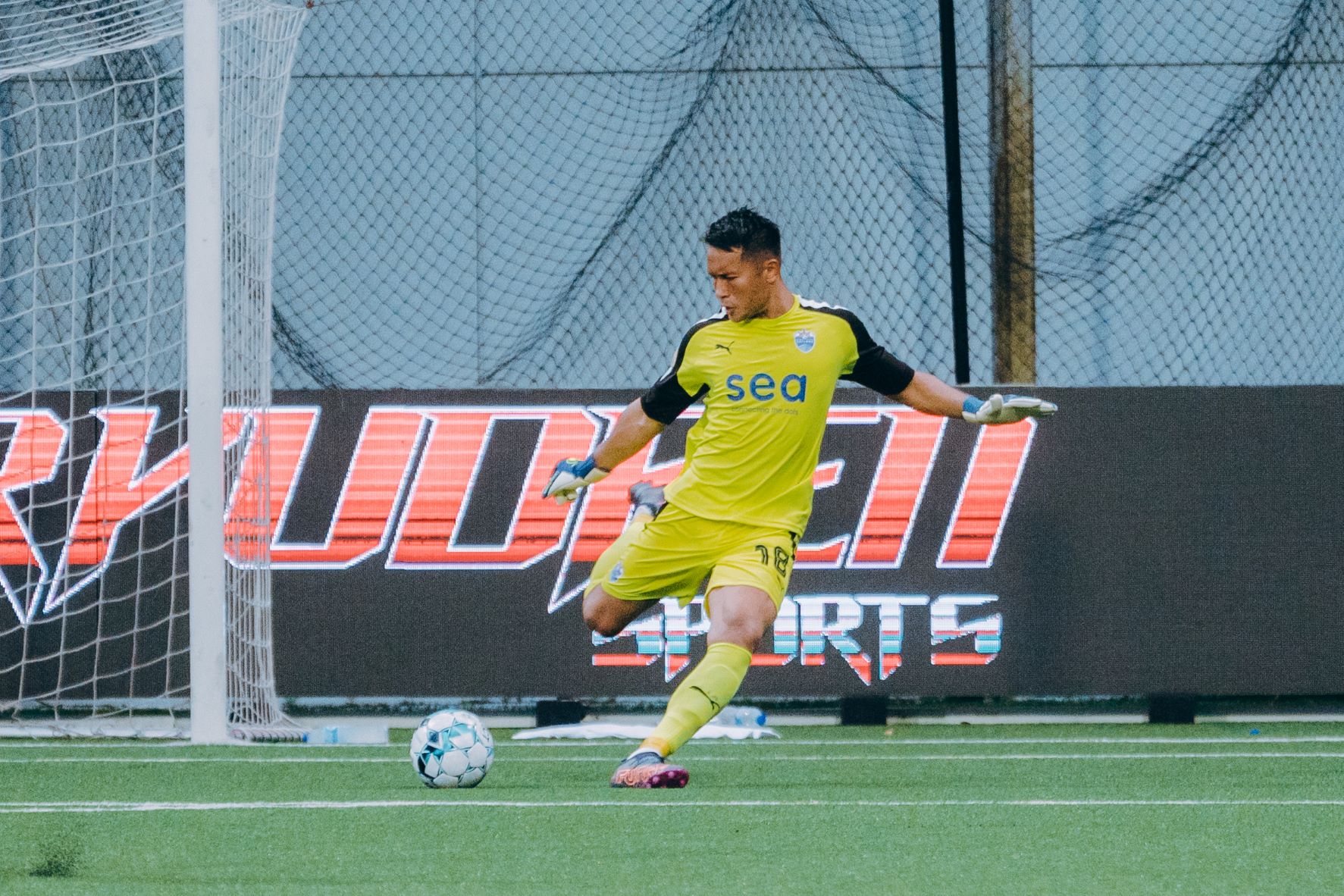 This victory is another milestone in the Sailors' history books – this was the first time they began a league season with three points after unsuccessful attempts in 2020 and 2021. 
But things did not look too good at the start of the game. 
Trailing just seven minutes into the game, with Cheetahs debutant Pedro Bortoluzo finding space just outside the box to drill home an accurate shot, the Sailors were stung into action and carved out a few opportunities before restoring parity in the 24th minute.
Shahdan Sulaiman picked out Kim Shin-wook with a pinpoint free kick and the latter did the rest with a precise close-range header for his third goal in two Sailors matches.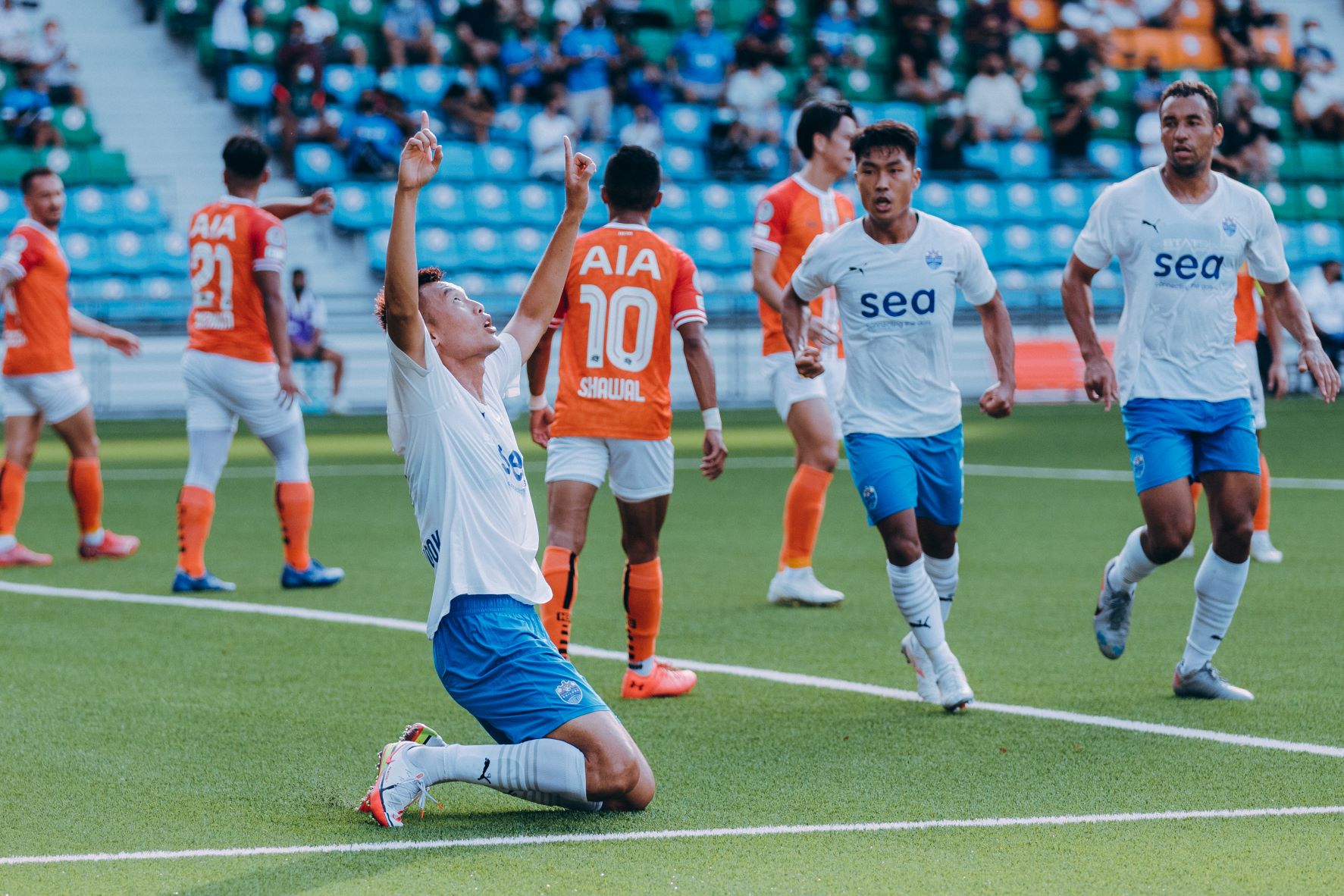 Hougang were determined not to concede a second goal, slowing the game down and refusing to allow the Sailors to dictate the tempo – a key facet that Coach Kim had called for in the build-up to this game. 
The Sailors had to rejig to find new solutions to unlock the Cheetahs backline. Hafiz Nor and Diego Lopes came on for Hami Syahin – who suffered a hand injury – and Saifullah Akbar on either side of the break. And it was the pair of substitutes who combined to great effect for the Sailors' second goal.
Released by Diego's crafty outside-of-the-foot pass, Hafiz looked set to square it across the six-yard box but surprised everyone by cutting it back for Iqram Rifqi to slam a first-time effort beyond Ridhuan Barudin to put the Sailors ahead on 67 minutes.
"The players were tactically flexible and that's something we needed when we made changes from the bench. They knew how to press, where to press and reacted immediately to what we asked of them," he explained.  
"Now we have different options on the football we want to play and we have to keep developing in this way."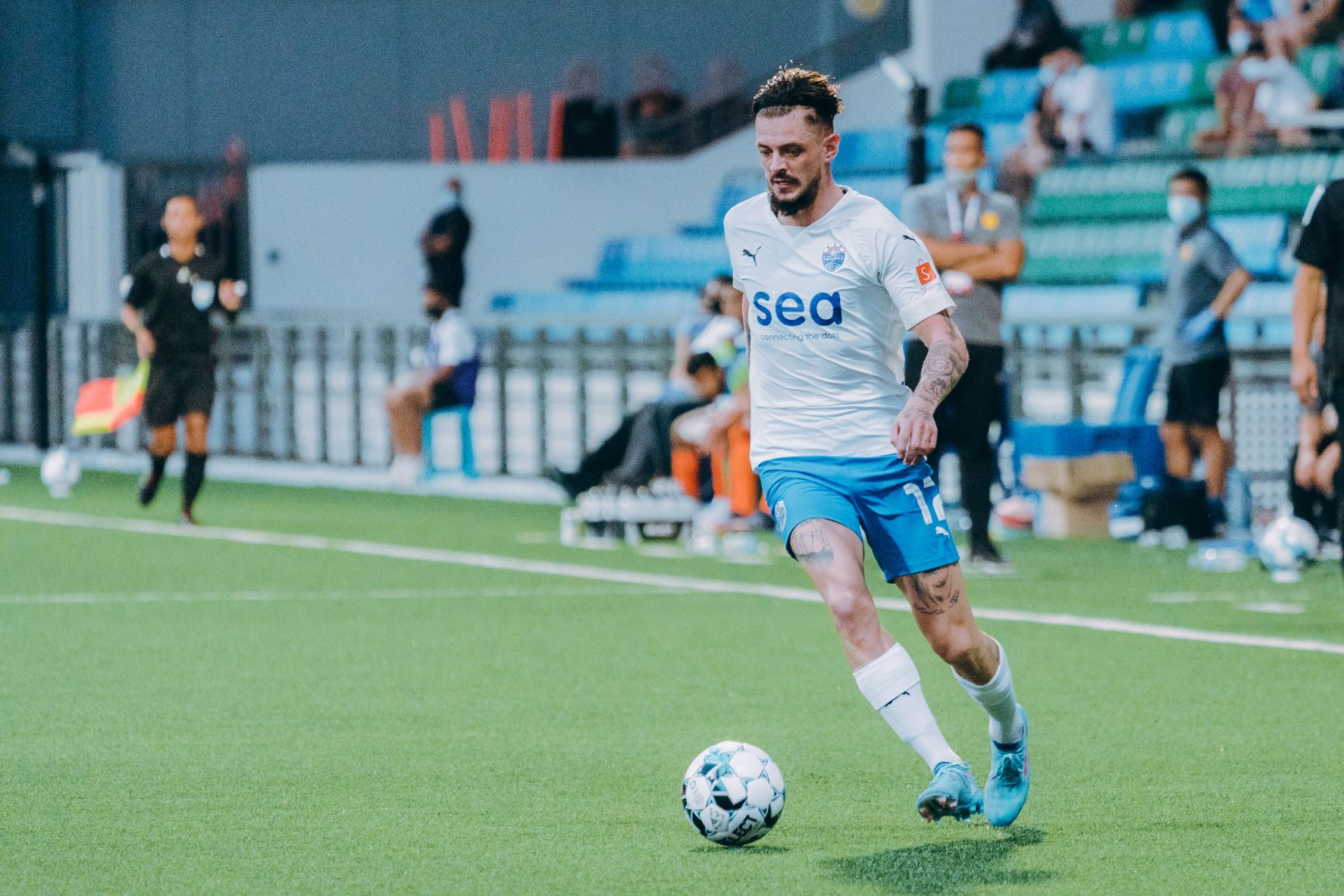 Kim made a triple change in the dying stages of the game, including throwing on Maxime Lestienne whose warm-up routine stirred the Jalan Besar crowd. The former PSV Eindhoven winger came on to sensational effect, chalking up an assist within six minutes of his Sailors debut. He squared the ball across goal for Diego to finish off a devastating counter-attack and round up a 3-1 win. 
But the explosive Belgian talent believes he will only get better as the season goes on, when he gets into prime physical shape. 
"I definitely need more games because I've gone one and a half months without a match before this. I felt good out there to be able to play my first minutes of Singapore football, and I could have gotten two assists and maybe even one goal, but what's most important is that the team gets the victory," said the 29-year-old.  
"It's good to win our first game, but tomorrow is another day and we'll have to go again." 
While admitting the Sailors class of 2022 is still a work in progress, Kim believes the team's burning desire for excellence will drive the Sailors forward as the season progresses.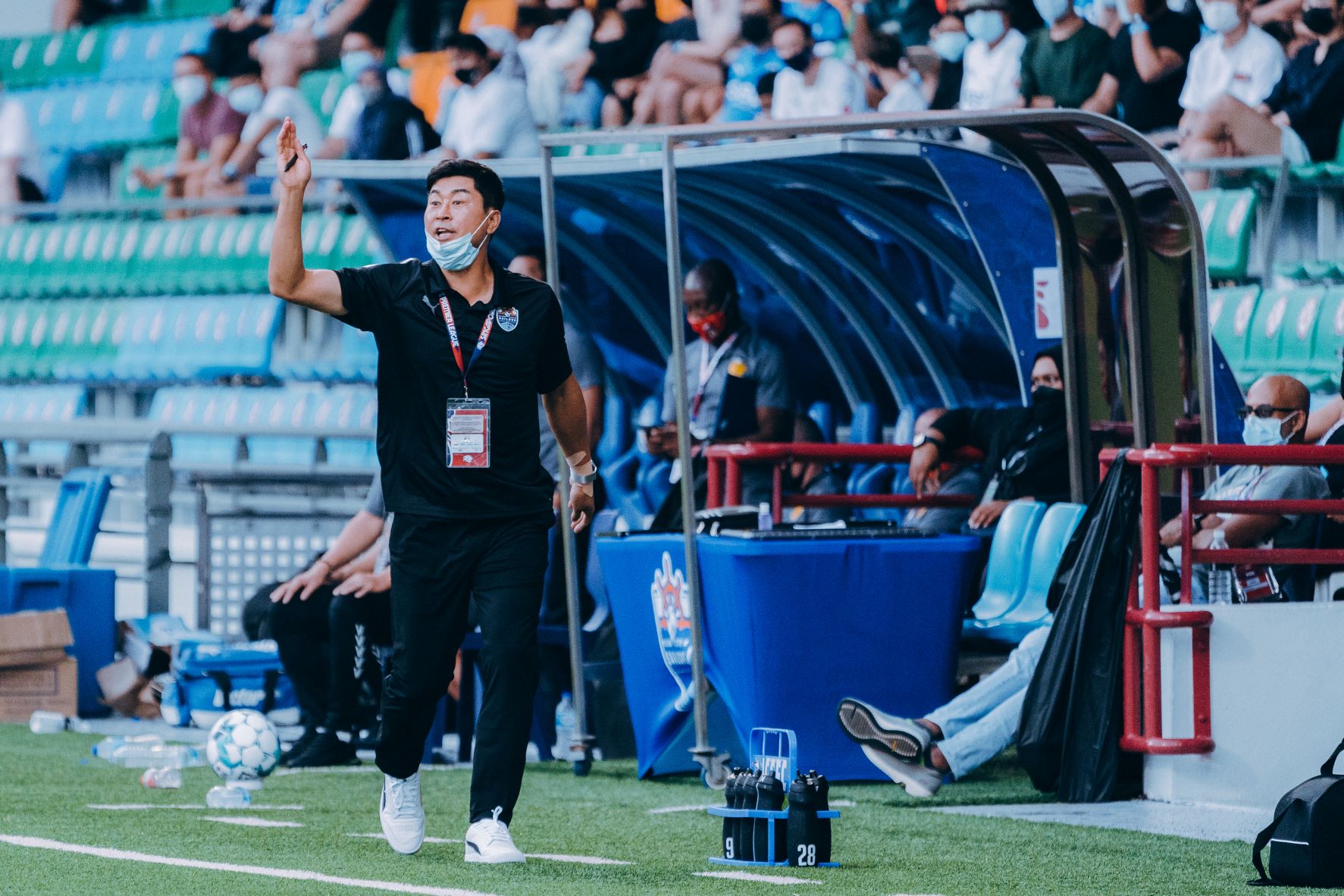 "You can clearly see, from the physicality and attitude of the players, how much they want to win every game – they just don't give up. Hassan's energy at the back seeps through to the whole team and we also have senior players like Hariss Harun and Shahdan to keep the team together in difficult situations like the first half (on Sunday)," said the former Ulsan Hyundai coach. 
"We're on the right track, but there's still big room for improvement. We've to be more precise and aggressive in our attacking patterns and combinations to score more goals. 
"It's early in the season, and I believe the title race will be wide open this year, so we have to keep improving."
Kim Do-hoon was not happy with his Lion City Sailors after last Saturday's 2-1 victory over Albirex Niigata (S) in the AIA Community Shield. He gathered the Sailors before the trophy presentation last Saturday (19 Feb), and told them exactly what he expected of them at the Jalan Besar Stadium. 
But they did not deliver. 
"One message I threw to the boys before celebrations was that I want to see them enjoy more, because they deserved to enjoy that night. But maybe it was to show more respect for our opponent, or maybe it's the hunger from this very positive group of players," said the Sailors' Head Coach. 
The Sailors had given their all to get up to speed in the lead-up to the 2022 season of the Singapore Premier League (SPL) and just seen off a stiff challenge from Kazuaki Yoshinaga's new-look White Swans, but after the confetti drifted down and customary celebratory photos were taken, the Sailors trod off into the dressing room to cool down, receive medical treatment and wash up. 
There was no wild afterparty.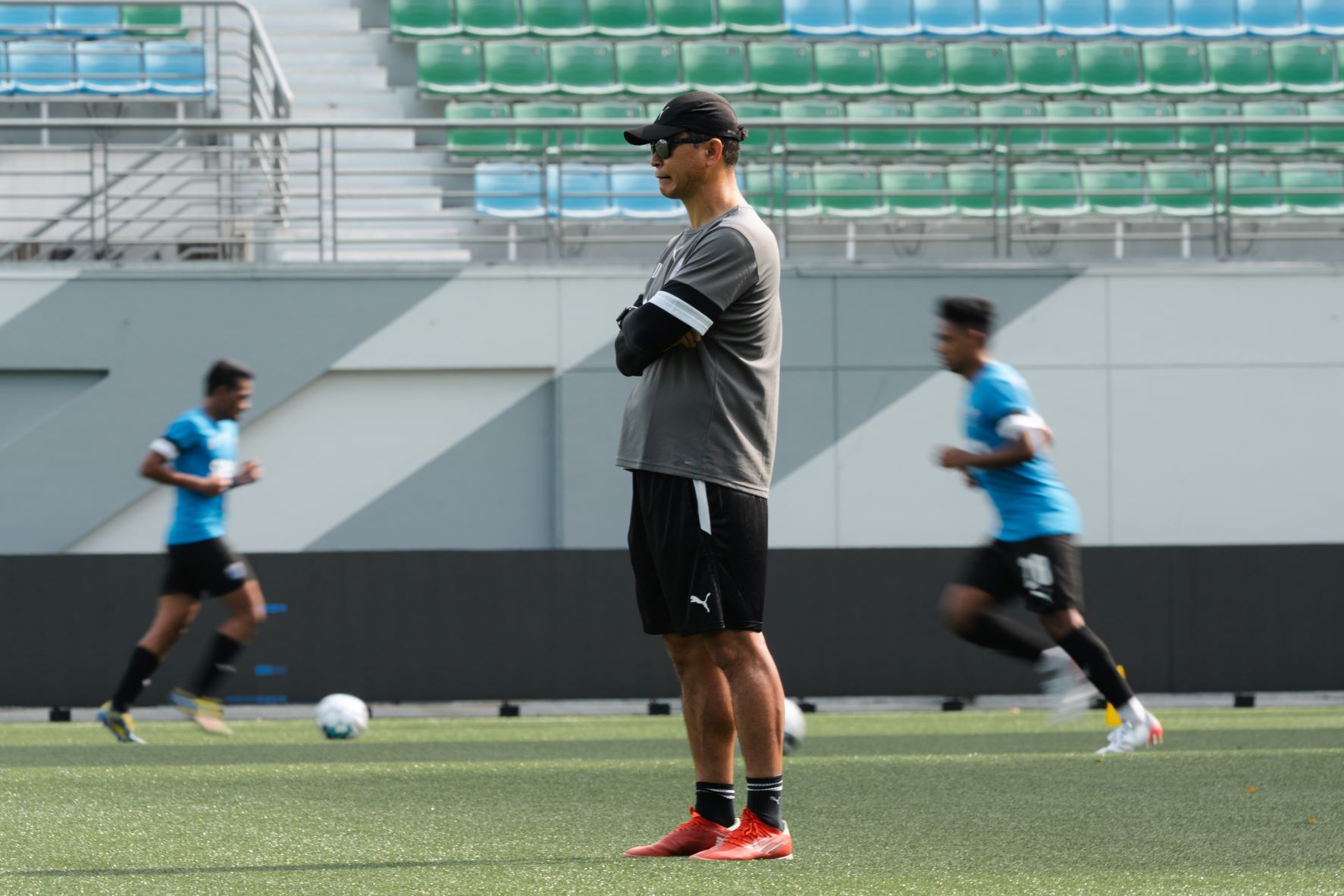 "I didn't see even one player who got carried away after we won the SPL title last season, and that attitude has been the same this (past) week. No one in this team walks onto the pitch thinking we're the champions. In training their attitude has been amazing,  and there's this wonderful team spirit.
"It's clear that the team is still hungry," said Kim, who will lead the Sailors out against Hougang United at Jalan Besar this Sunday (27 Feb), the first match in defence of their SPL title.
"The boys have empty stomachs and we've to continue to fill it with more trophies – and we will get more trophies with this attitude."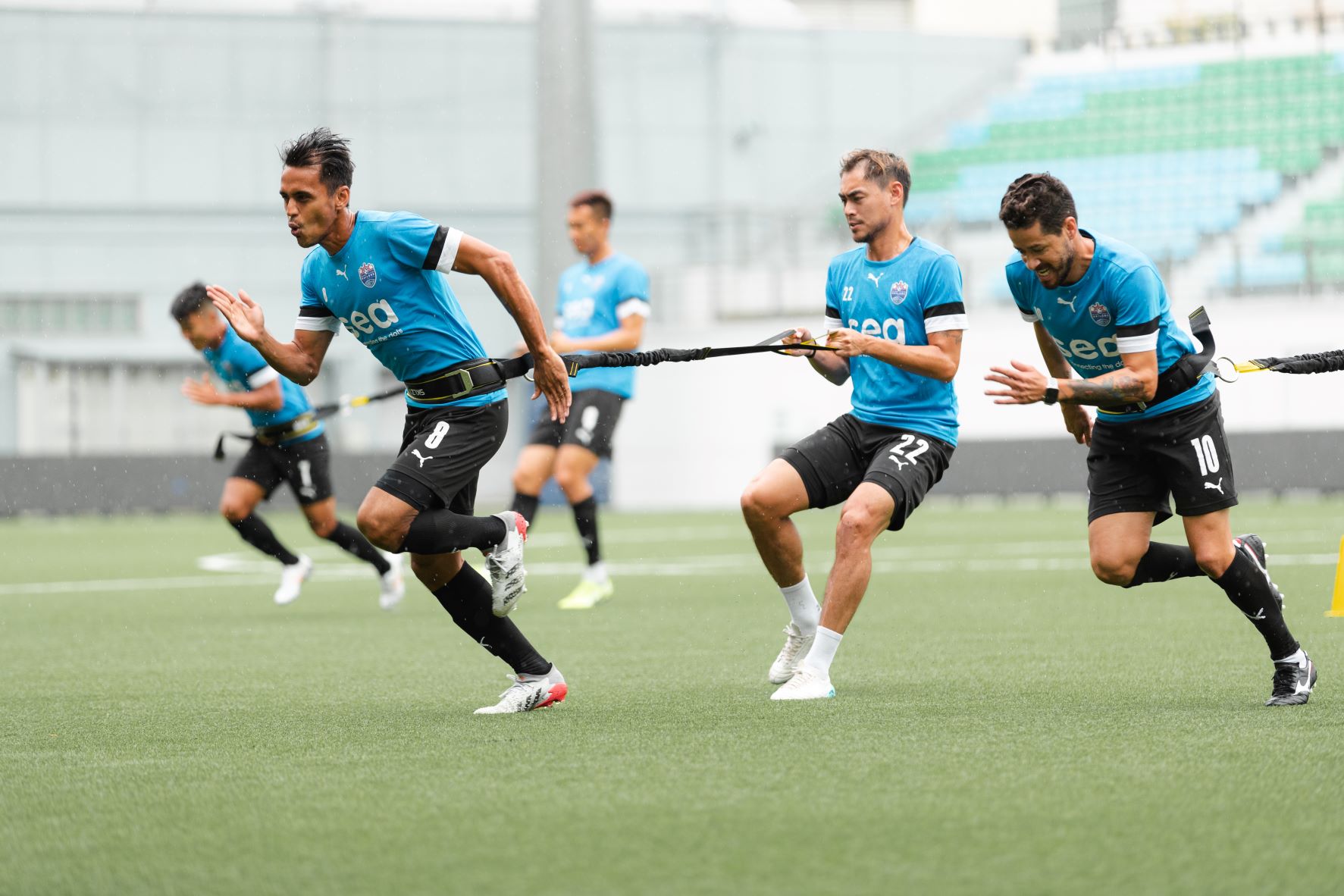 Hougang finished third last season to equal their best-ever finish and the Cheetahs recruited well with signings like former Crystal Palace midfielder André Moritz and 2021 second-highest local scorer Amy Recha. 
The Cheetahs are certainly no easy fodder. They were the only team to beat the Sailors in 2021, taking a total of four points off the Sailors across three games.  
Kim is adamant that his side must dominate Sunday's match to get all three points. 
"We don't want to be playing football at the pace that Hougang wants to play – we have to take control and manage the game at our pace. We want to play offensive football – not just build up to keep possession in our own half, but build up to score," he emphasised. 
"Hougang have really strengthened their squad and they now know how we play our football based on the Community Shield fixture. We just have to concentrate on getting better at how we want to play and fix our weaknesses on the pitch to bring home the three points for the fans."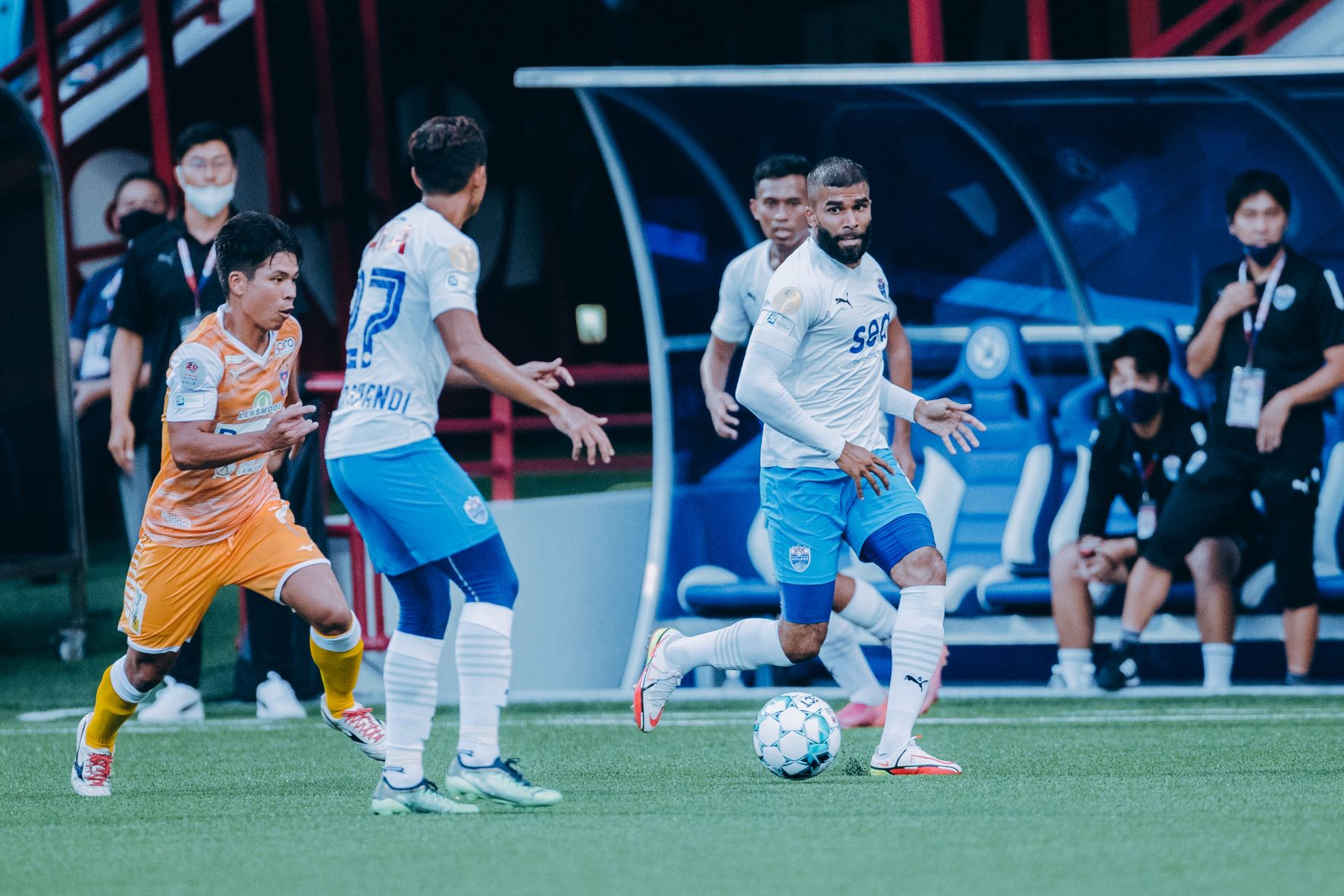 The Shield win not only gave the Sailors a good foundation to build on, but also provided specific indicators on areas which Kim is looking to improve – the speed in offensive and defensive transitions – ahead of a gruelling four-round SPL season. 
"We've had a team meeting and went over the Albirex match to figure out what we did well and didn't. It wasn't the best football that we could play, so there's plenty of room for improvement," said the former Ulsan Hyundai coach. 
"There are always questions before the start of a season – not just amongst coaches, but also players. The 90 minutes last Saturday did give us more confidence and showed us that we're on the right track. 
"But we have to stay grounded and humble because that was only just one game, even though it came with a trophy."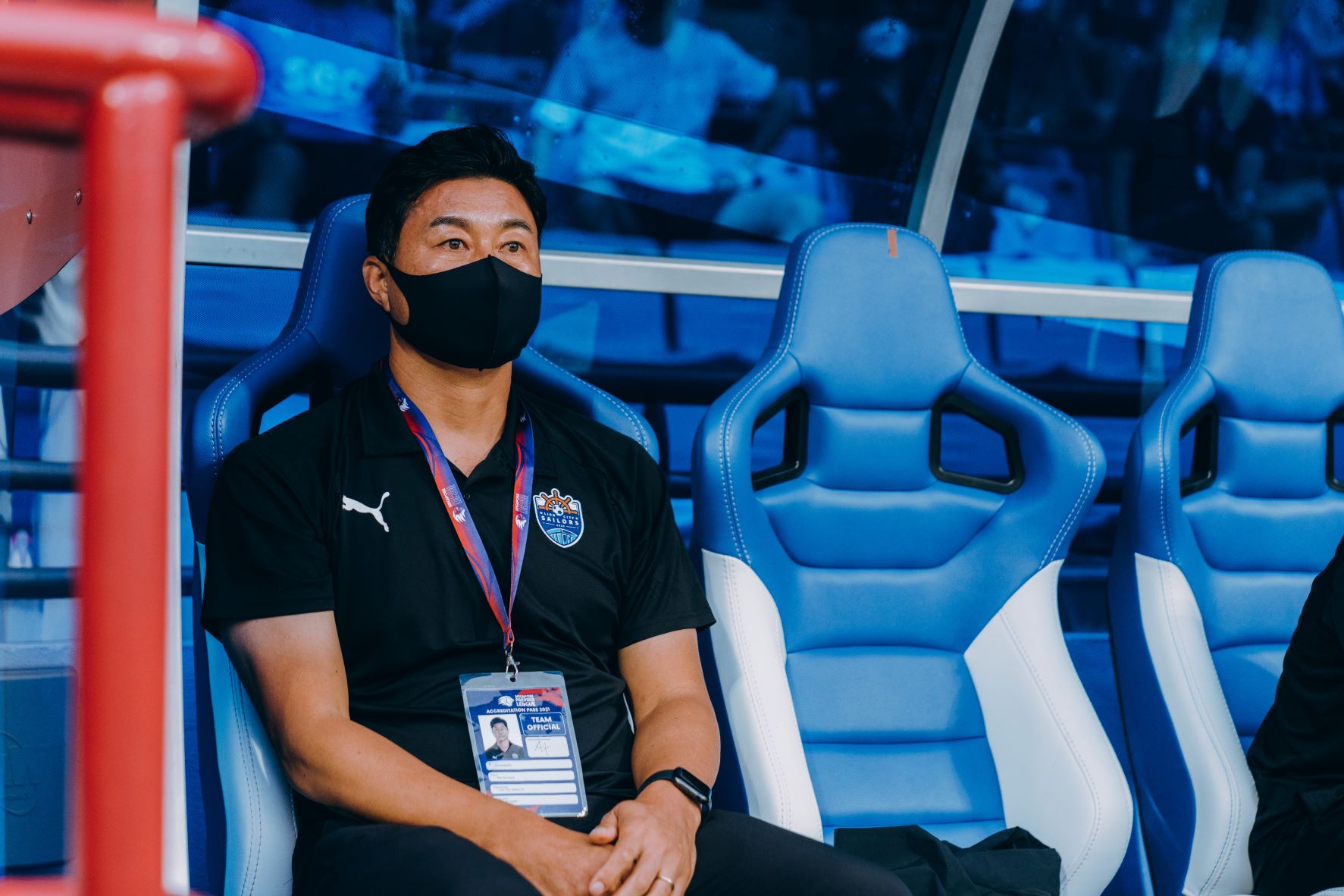 Local sporting headlines were stolen by Kim Shin-wook after his two-goal salvo against Albirex. While the 1.98m giant is widely expected to take the bulk of the goalscoring responsibilities, Coach Kim is keen to stress that the Sailors have other weapons in their arsenal. 
"Shin-wook creates a lot of synergy within the team and he gives us a different option too, but we're not just a Shin-wook team. It's not just about passing him the ball to score," he said. 
"We have a squad that is all working hard and we've been preparing different tactics; different ways of attacking and different offensive patterns."
The Sailors are unbeaten in 11 games since Kim took the helm last July, and they have set their sights on defending the Singapore football crown, with the 51-year-old optimistic about the challenges that lie in wait. 
"The Sailors' history book is still being written, and we want to keep writing memorable stories," he said. 
"This is the start of a new season, and the start of a new beginning for us."
Every new year brings with it new challenges, and there will be plenty of those ahead of the Lion City Sailors in 2022.
The club's maiden Singapore Premier League (SPL) title will not be forgotten anytime soon, but Kim Do-hoon's men will firmly set their sights on breaking more barriers this season as the club charges into not just the league, but two other competitions that the Sailors will compete in for the first time: the Asian Football Confederation (AFC) Champions League (ACL) and the Singapore Cup.
A winning start was made over the weekend with a triumph in the AIA Community Shield – the first time the Sailors have defeated Albirex in six encounters since the club's inception in 2020 – and excitement levels are building up.
The Sailors are chomping at the bit to get the SPL season underway against Hougang United in the club's first league match this Sunday. 
And below are eight reasons we should all get hyped too!
Drawing from the bright lights of Europe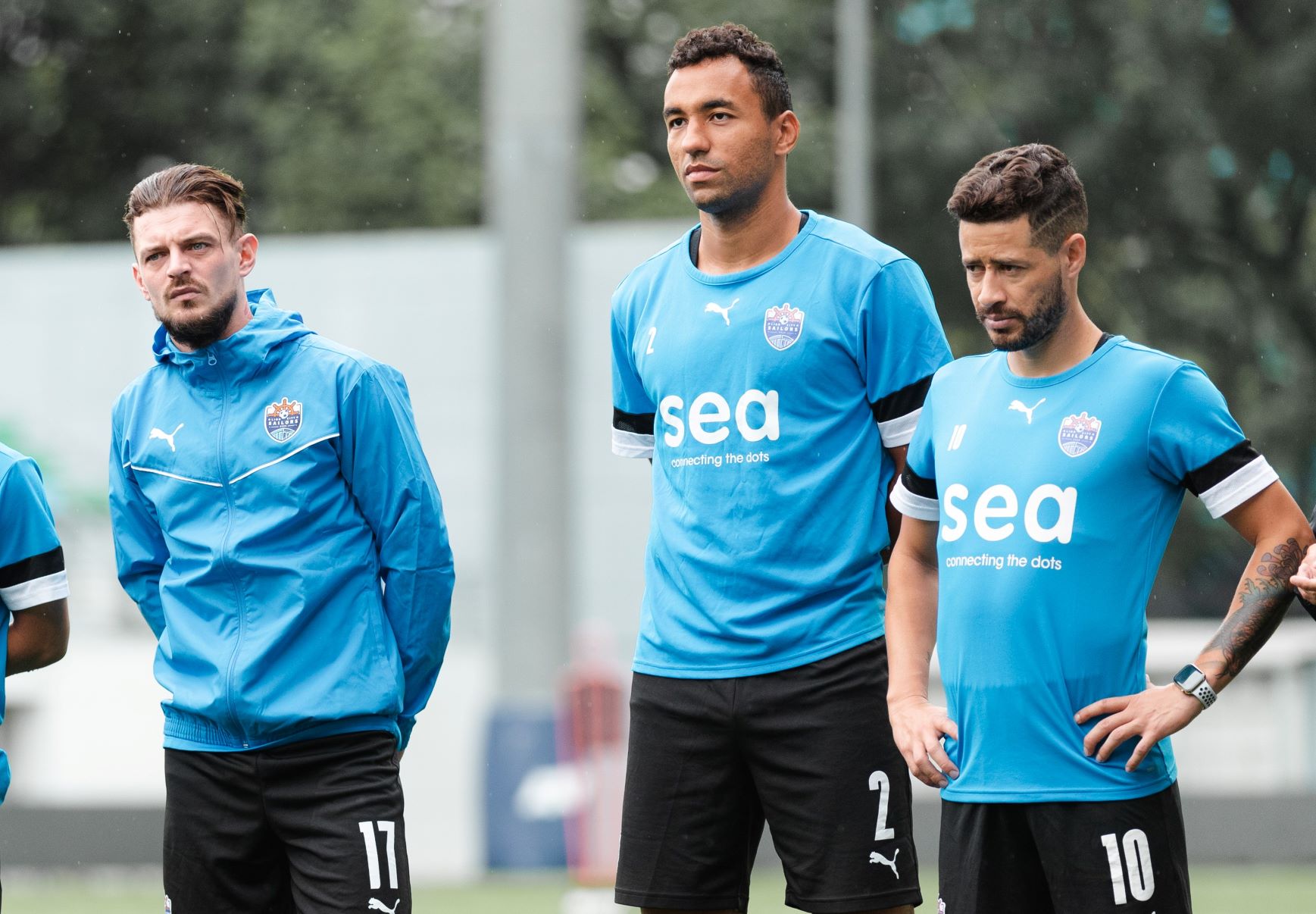 Diego Lopes will not be the only Sailor with European pedigree in the squad this season, thanks to the arrivals of Maxime Lestienne and Pedro Henrique.
Set to become the first Belgian to play in the SPL, Lestienne has spent the entirety of his career in Europe's top leagues. The 29-year-old started off at hometown side Royal Excelsior Mouscron and went on to play for Club Brugge, before moving out to Genoa (Italy), PSV Eindhoven (Netherlands) and Malaga (Spain). The skilful winger joins from Standard Liège, and having represented Belgium at every age-group from the Under-15s through to the Under-21s, as well as possessing UEFA Champions League and Europa League experience under his belt, Lestienne's quality is undoubted. 
Pedro, also 29, began his career in his native Brazil but is no stranger to top-flight football in Europe. The commanding centre-back spent five seasons in Portugal's Primeira Liga with Vitória Guimarães from 2015 to 2020, amassing 155 appearances and becoming a fan favourite. Like Lestienne, Pedro has played in the Europa League and his experience is sure to benefit the Sailors backline.
Anu and Izwan bring depth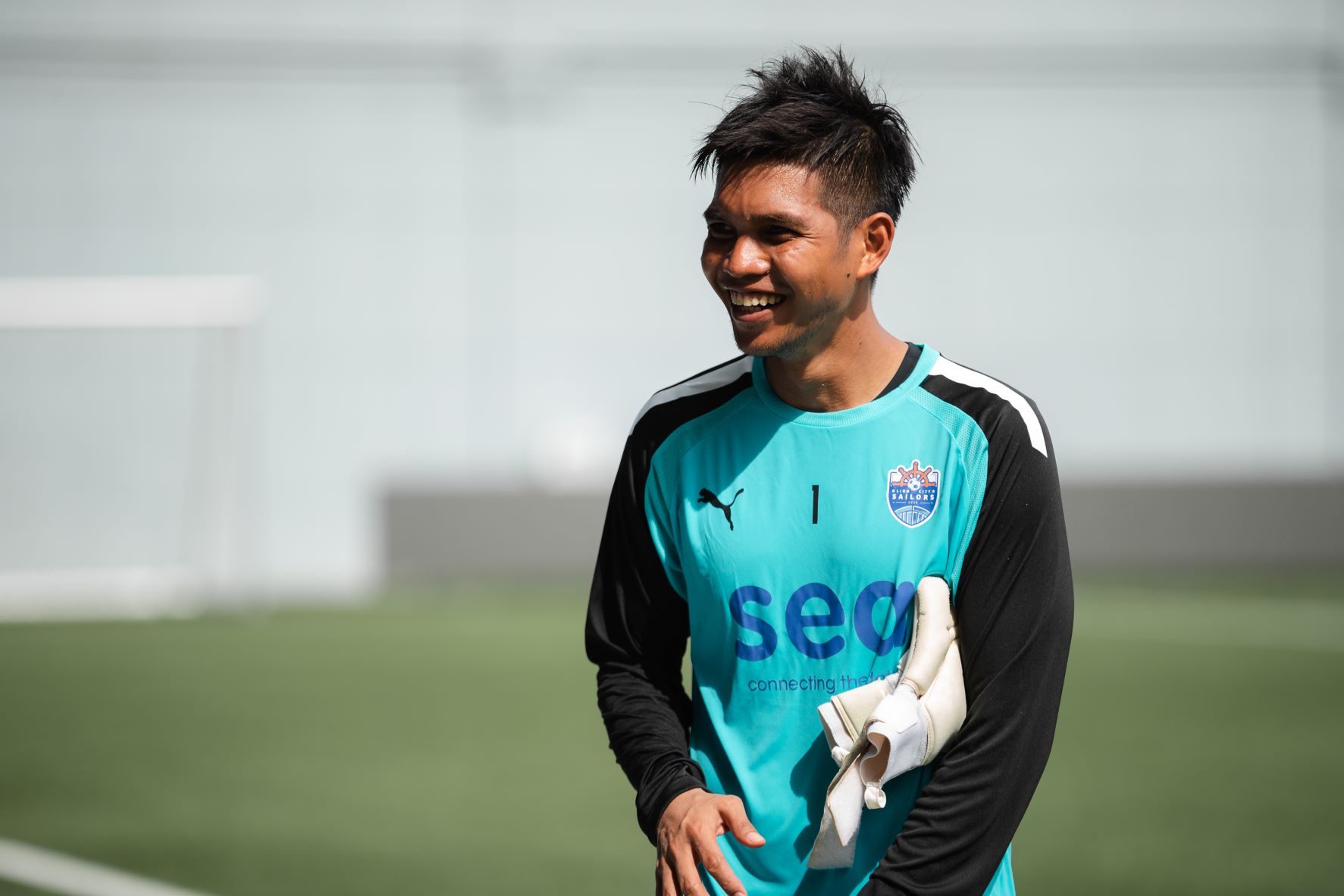 It is not often that a team possesses two top-class goalkeepers but that is exactly the situation at the Sailors this year. The recruitment of Izwan Mahbud, regarded as Singapore's best between the sticks alongside Hassan Sunny, means that the Sailors will be in extremely safe hands regardless of who wears the gloves. 
Further ahead in midfield, the arrival of M Anumanthan adds never-before-seen depth to the engine room. Fresh off a stellar season with Kedah, the combative midfielder's homecoming means that the Sailors will possess extra steel and panache in the centre of the park to complement the talents of Shahdan Sulaiman, Saifullah Akbar, Diego Lopes and Adam Swandi.
Both established Singapore internationals who know what it takes to win, Anu and Izwan will play important roles this season.
Double (K)im-pact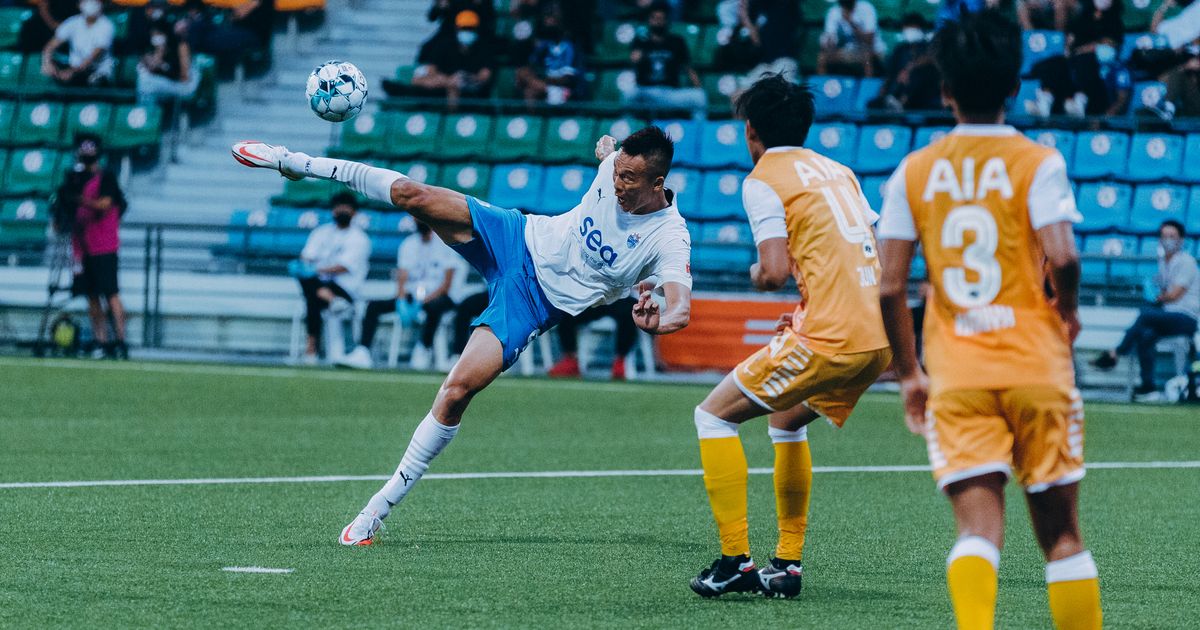 Kim Shin-wook's move to the Sailors made huge waves – and it looks like the connection between the striker and Head Coach Kim Do-hoon has instantly blossomed.
Wookie, as he is affectionately known, produced a clinical display against Albirex to help the Sailors come from behind to win the Community Shield on his first outing in Singapore. Coach Kim has previously spoken about how the South Korea international's characteristics suit the Sailors, while the opportunity for Shin-wook to work with Coach Kim was a huge factor in his decision to come to Singapore.
Like Shin-wook, Coach Kim is also an ACL winner and a striker during his playing days – there is no one better-placed to fully draw out the former's potential as Shin-wook looks to spearhead the Sailors to hunt for glory.
Back and raring to go 
Amid all the excitement about the new boys, it should not be forgotten that there are a handful of returning players who are raring to go.
Hami Syahin, Iqram Rifqi, Zulqarnaen Suzliman and Anaqi Ismit all spent time away at other clubs in 2021 but are poised to be part of the Sailors this season. With the sheer number of matches the team is set to play, particularly with the new quadruple round-robin league format in force this year, there will be opportunities to impress for the quartet.
Hami and Zulqarnaen both featured fairly regularly for the Young Lions and also tasted Asean Football Federation (AFF) Suzuki Cup action last December along with Iqram, who is on the way back to his best after a lengthy injury lay-off that sidelined him for most of his time at Geylang International. Meanwhile, Anaqi will be hoping to get a chance to prove himself after impressing at Tanjong Pagar United, where he scored four times. 
Defending the crown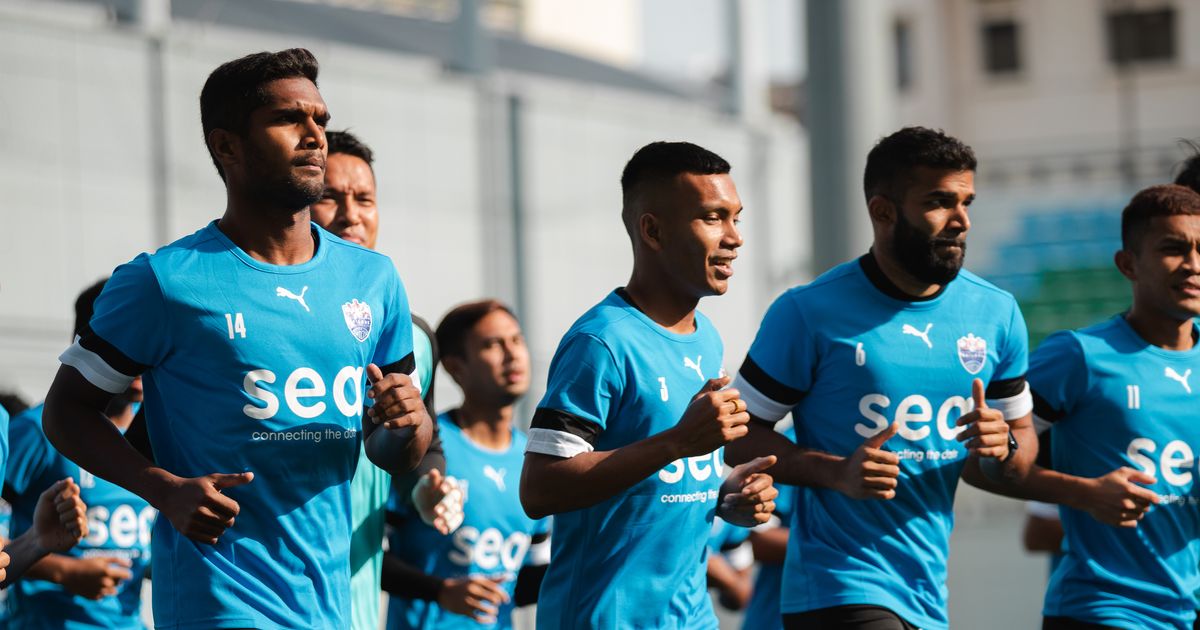 Common knowledge suggests that winning a title is tough, but defending that title is even harder. The Sailors will be put to the test this season, especially with teams around the SPL strengthening and eyeing the very crown the team will wear in 2022.
But Hariss Harun and company are raring to go. A rigorous pre-season regime has prepared the Sailors well for battle in what will be a long campaign, and while many opponents will take aim, it is clear that there is determination throughout the entire squad to savour the feeling of being champions again. The comeback victory in the Community Shield was a prime example of how the team has the ability to dig deep when the chips are down – this never-say-die spirit outs the Sailors Class of 2022 in good stead to retain the league.
A shot at the Singapore Cup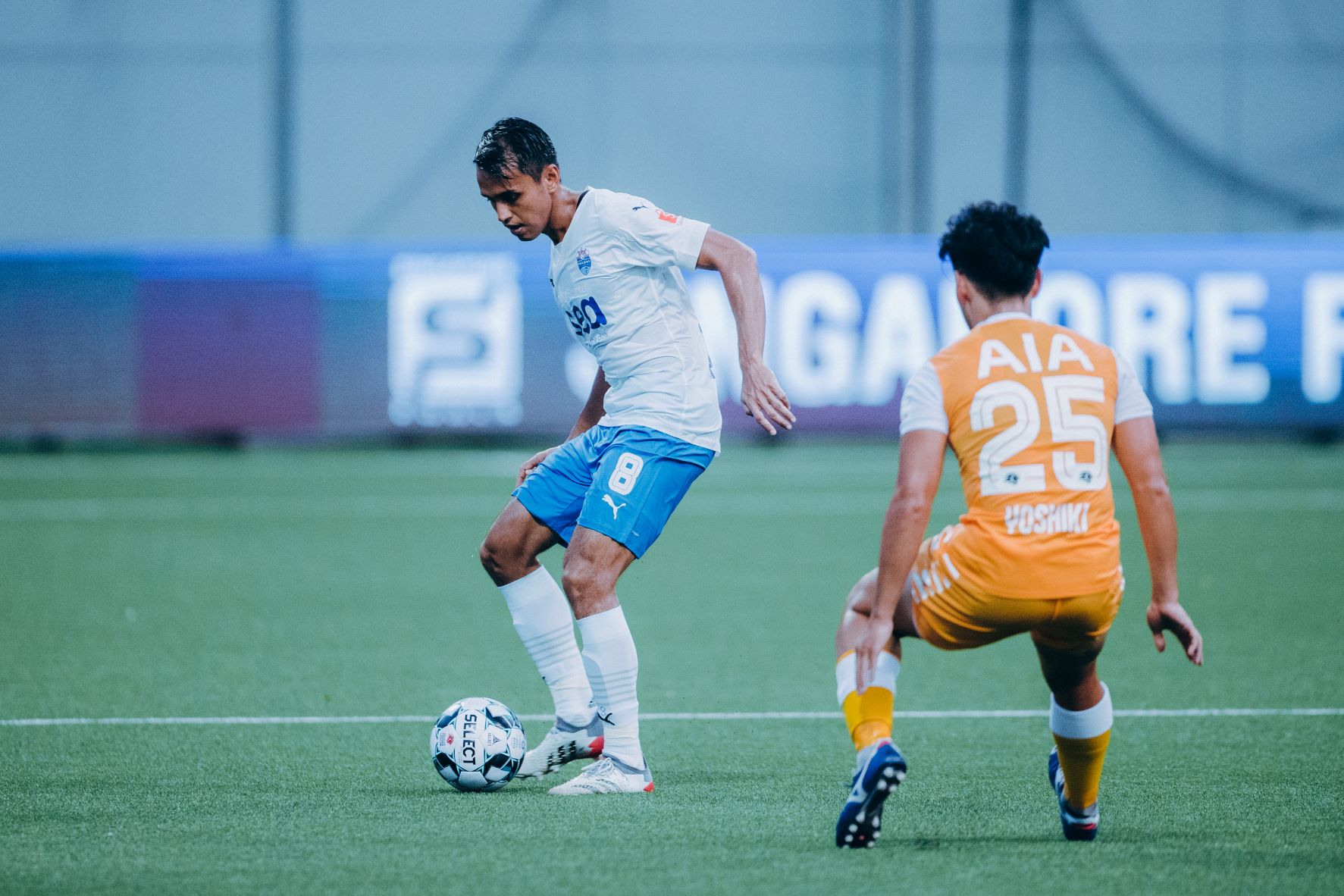 The return of the Singapore Cup – the tournament was called off in each of the past two seasons due to the pandemic – offers the Sailors the chance to taste even more domestic success this season. The likes of Shahdan, Song Ui-young and Adam Swandi will relish the opportunity to win this competition again as the Sailors take a crack at winning the Cup for the first time.
A seat at Asia's top table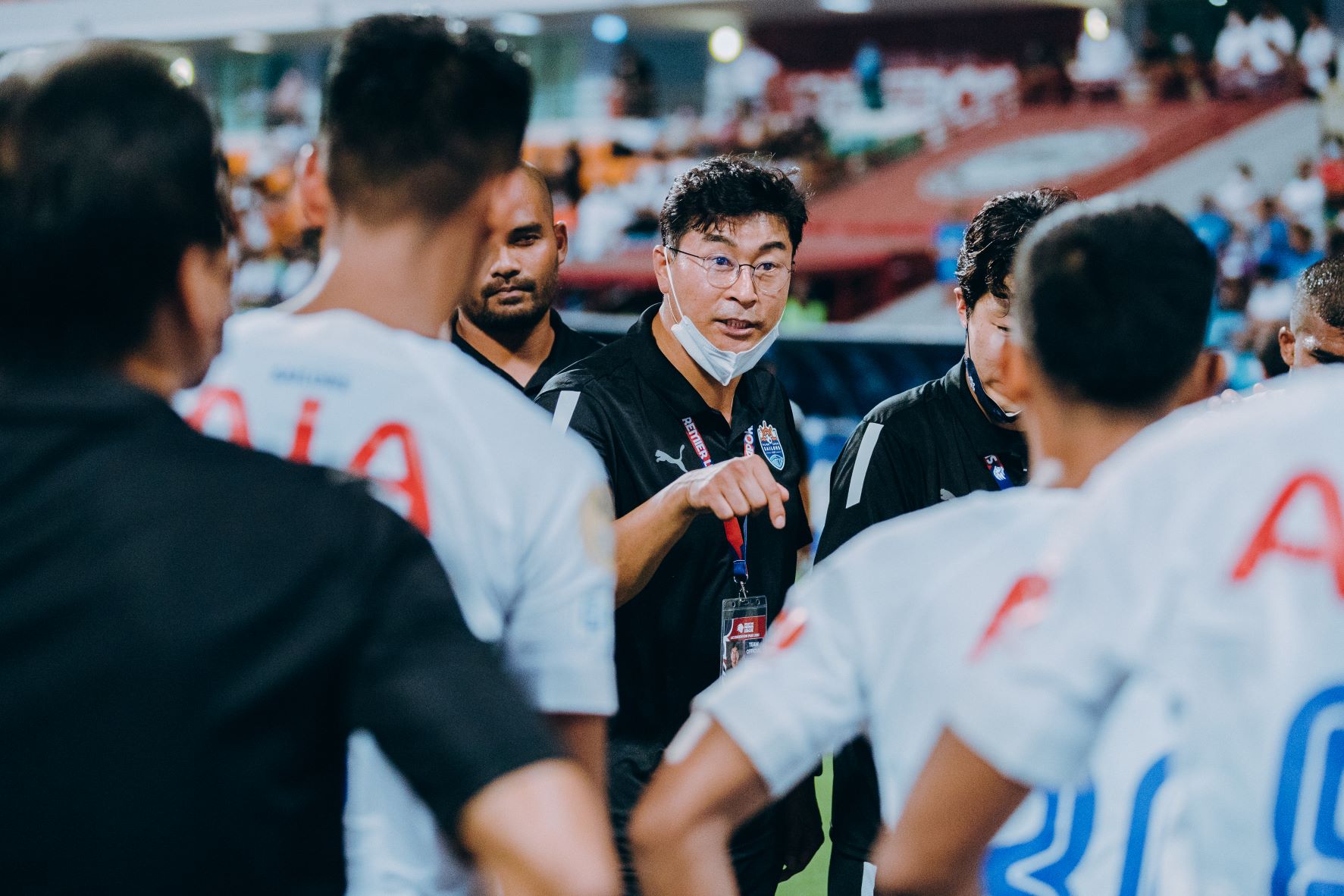 Every footballer dreams of competing against the best – and the ACL is the perfect platform for the Sailors to do just that. The cancellation of the AFC Cup last season robbed the club of the opportunity to taste continental football for the first time, so 2022's debut at the pinnacle of Asian club football will be even sweeter when the competition kicks off in April.
This will take place in Buriram, Thailand, the centralised venue for Group F with the Sailors facing China's Shandong Taishan, two-time ACL winners, Urawa Red Diamonds of Japan, and the winners of the playoff stage fixture between South Korea's Daegu FC and Buriram United. 
There is little doubt that these first steps in the ACL will prove a stern test, but it is a tantalising prospect to be able to face Asia's elite. It is in the Sailors DNA to strive for excellence and stand up against the best in the business – and there is palpable excitement around the upcoming ACL debut.
More for fans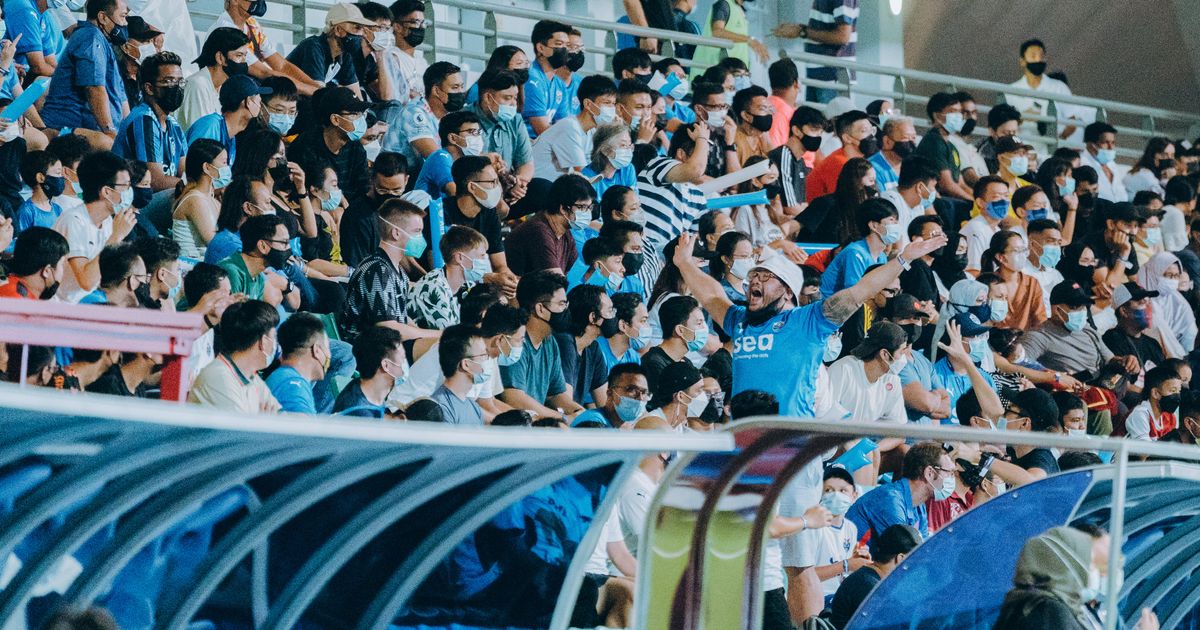 The sensational support from the stands drove the Sailors across the finish line last year, and there is unanimous agreement within the club that you – the fan – will continue to be vital if the Sailors are to go even further in 2022. 
Last year, the club moved to amp up the matchday experience at Jalan Besar Stadium to match the quality on the pitch. The Crew membership initiative was launched last year, and it has proved to be a hit with all of you. It has now been revamped to bring more value to all members with exclusive discounts and perks in 2022.
On top of that, online ticketing has also been introduced to make attending Sailors' matches a breeze, while plans are also in the pipeline to further enhance the match-going experience at all home games.
Stay tuned to the Sailors' online channels too – there will be plenty of exclusive and innovative content to get you up close and personal with your favourite players, and a better look below the deck of the Lion City Sailors.
Get your tickets here!
Lion City Sailors have partnered SISTIC to leverage best in class ticketing tech solutions for football fans in Singapore, as the club embarks on the 2022 domestic football season as defending champions of the Singapore Premier League (SPL). 
Football fans came out in force to back the Sailors' drive to the SPL title last season, with queues seen snaking around the Jalan Besar Stadium. In a bid to improve the fan experience the Sailors continue to improve off-the-pitch aspects of the club, in tandem with progress already witnessed in Head Coach Kim Do-hoon's team. 
It is a drive for progress shared by SISTIC.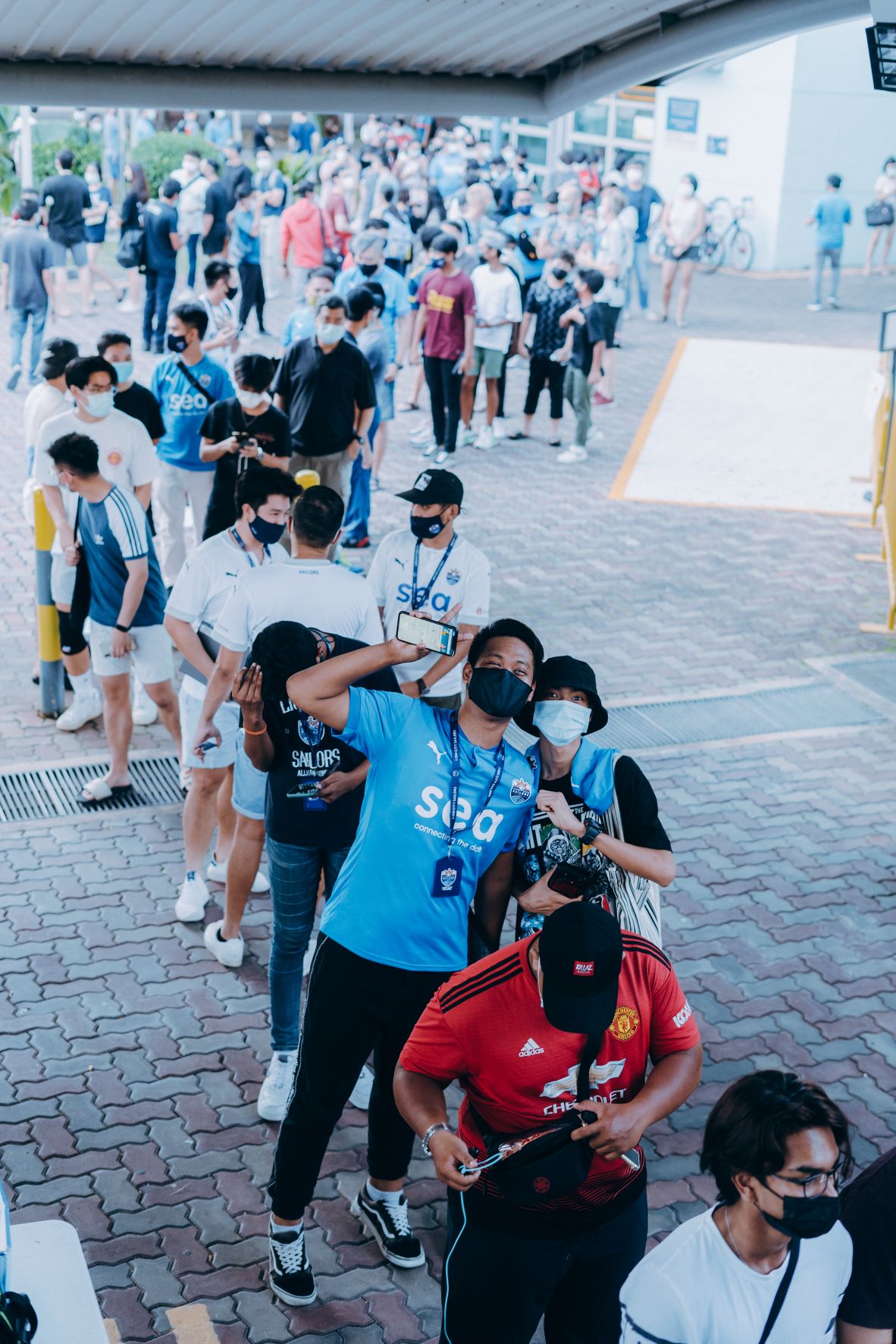 SISTIC has in the past year pivoted to a technology company, having introduced new Covid-ready features with a slew of new key initiatives and products slated for launch this year.
Through this new partnership, SISTIC will provide state-of-the-art ticketing software and technology – focusing on delivering innovation while streamlining and enhancing the experience across the season for Sailors' fans and deliver a reliable, consistent journey from sale to seat for every single game.
SISTIC will also offer the Sailors expanded marketing services, including season-wide fan insights designed to strengthen digital marketing efforts and engage fans on both a national and global level. In addition, the partnership with SISTIC also allows the Sailors to tap into SISTIC's extensive global network of API partners to connect with both local and regional fans. 
Sailors' Chief Executive Officer, Chew Chun-Liang said: "We look forward to delivering a fan-friendly ticketing experience and providing our fans with a trusted place to buy tickets and merchandise. We are confident this partnership will be successful for both organisations and we look forward to a successful collaboration." 
Joe Ow, Chief Executive Officer, SISTIC, added, "We are committed to support the region's sporting scene through technology and are delighted to partner the Sailors for their upcoming 2022 season with insights and technology that allows them to better serve their fans. The Lion City Sailors have been a positive force for the football scene and we are looking forward to supporting their vision in taking Singapore football to the next level."
In From the Bridge, we step away from celebrating the anniversary of the founding of the Lion City Sailors to glance in the rear view mirror, to see how far the club has come in the previous year, before turning our eyes to the path ahead. 
The last of this series is extra special. We turn the camera onto those at the centre of all our efforts – you, the football fan – and you get your own title in this series: From the Stands. In this piece, Jonathan Lee speaks on his journey from watching on the periphery of Singapore football, to personally driving fandom of the Lion City Sailors. 
The Lion City Sailors (LCS) were unable to build on the huge buzz following the launch of the club in February 2020, with the global pandemic sending the majority of that year's matches behind closed doors. 
But as Covid-19 restrictions began to loosen in 2021, fans from all walks of life started to flock to stadiums across the island, especially the Jalan Besar Stadium, the Sailors' home for 2021. 
One of those was Jonathan Lee, who had been watching Singapore Premier League (SPL) games on the periphery, through online streaming,  but the Sailors project – and performances – piqued his interest. 
The 4-1 win over Tampines Rovers where the Sailors displayed some swashbuckling football to dispatch a team that participated in the Asian Football Confederation (AFC) Champions League (ACL) two months prior made a huge impression on Jonathan, and he had to see things for himself – and ended up coming back for more.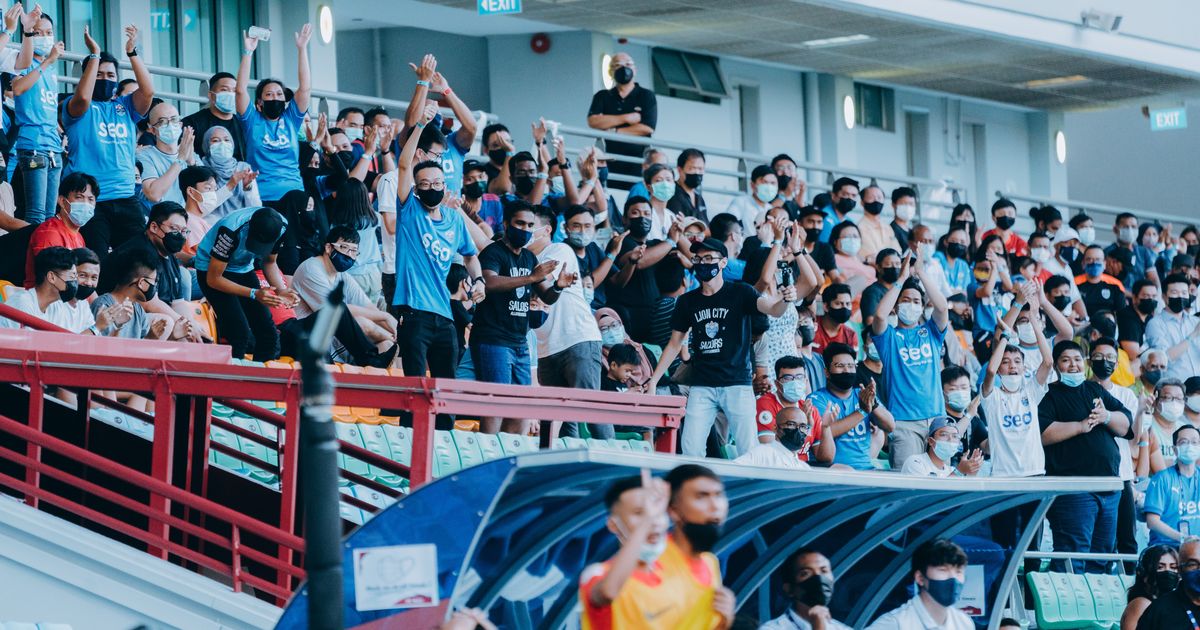 "On matchdays, you can always see club CEO Chew Chun-Liang being there near the stadium entrance to greet and interact with the fans. You can even see him carrying boxes up and down at times," said the 25-year-old. 
"There's a very good vibe at the matches and you can see families coming down – there's a good mixture of the young and old in the stands. Nur Adam Abdullah's family is always there, even his grandmother is always up there in the stands to support him," added Jonathan, who picked up on various non-football aspects of the Sailors' spirit that resonated with him.
"When you bought the Sailors jersey, it came along with a season pass, a Crew t-shirt, a lanyard and a facemask. No other club provides such an attractive package. On the club side, I've spoken to The Lion City Boy (Sailors' Creative Director, Kevin Lester) and Ravi Maan (Sailors' Head of Marketing) and I'm looking forward to having more conversations with them. 
"It's quite rare to have a club that has people who are ever so willing to interact and engage the fans – to know them on a personal level. The club has really done a great job to attract fans and bring back the support."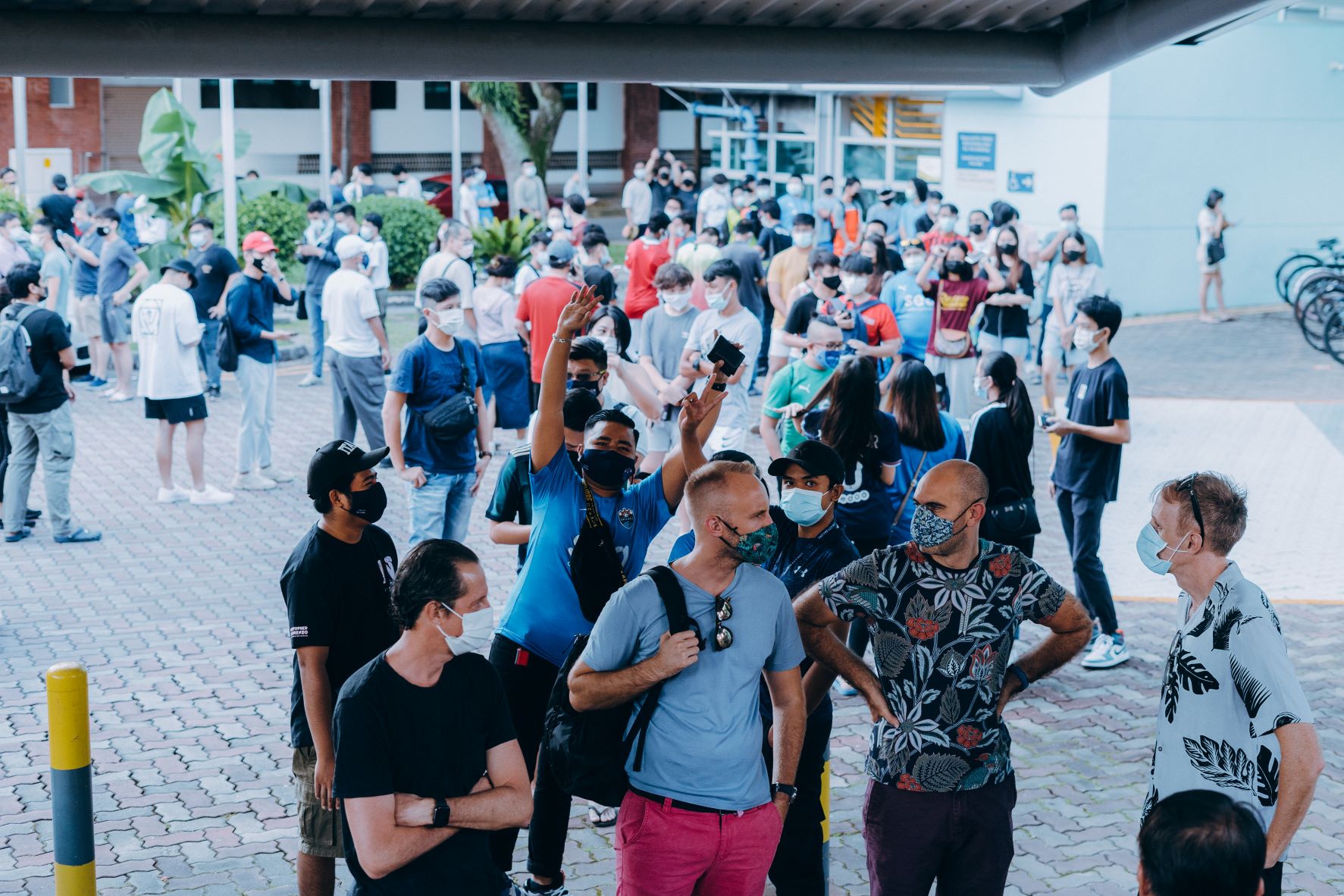 Jonathan has long been a supporter of Singapore football. He was in fact a Warriors FC supporter since his youth, until the club sat out of the SPL from 2020, and did not adopt any club until the lure of the Sailors convinced him to come onboard
"I know there are people out there saying the Sailors are only about money and buying glory, but I don't think it's right to go down those lines. The club clearly wants to bring back the thriving state of Singapore football and push the level of football up another level," he explained. 
"As such, there's a need to invest resources to bring in the best and become the best. If not, Singapore football will always be stuck in this bubble and not be able to challenge in the region."
Soon after becoming a Sailors fan, Jonathan created LCS Family with the aim of creating a platform to further promote the players, and building a community where people from all walks of life can come together to support the club.
 A full-time content creator and designer, he makes full use of his expertise in graphic design to create statistical posts and graphics to help boost the profile of Sailors' players. 
Purely doing this out of passion, the avid fan often puts in hours of hard work – waking up early and sleeping late – but he feels it is all worth it.
"Sometimes after my work, I will rush home just to do more research and work on the ideas that I've for LCS Family," admitted Jonathan, whose inspiration comes from the social media posts of neighbouring Johor Darul Ta'zim and top European clubs like Manchester United and Manchester City. 
Jonathan's LCS Family's Instagram account now has almost 600 followers.
"It's really tiring at times, but I'm really motivated when players start to take notice. Gabriel Quak and (former Sailors' forward) Stipe Plazibat have reposted my photos on their accounts… Aqhari Abdullah and Tajeli Salamat – these two have no airs about them and are very easy to talk to. It's great to have them appreciating what I do and that's exactly the aim – for the club to be one big family, including players, staff and fans."
One memory carved onto Jonathan's mind is sitting in the stands and witnessing the Sailors' first-ever title win last October.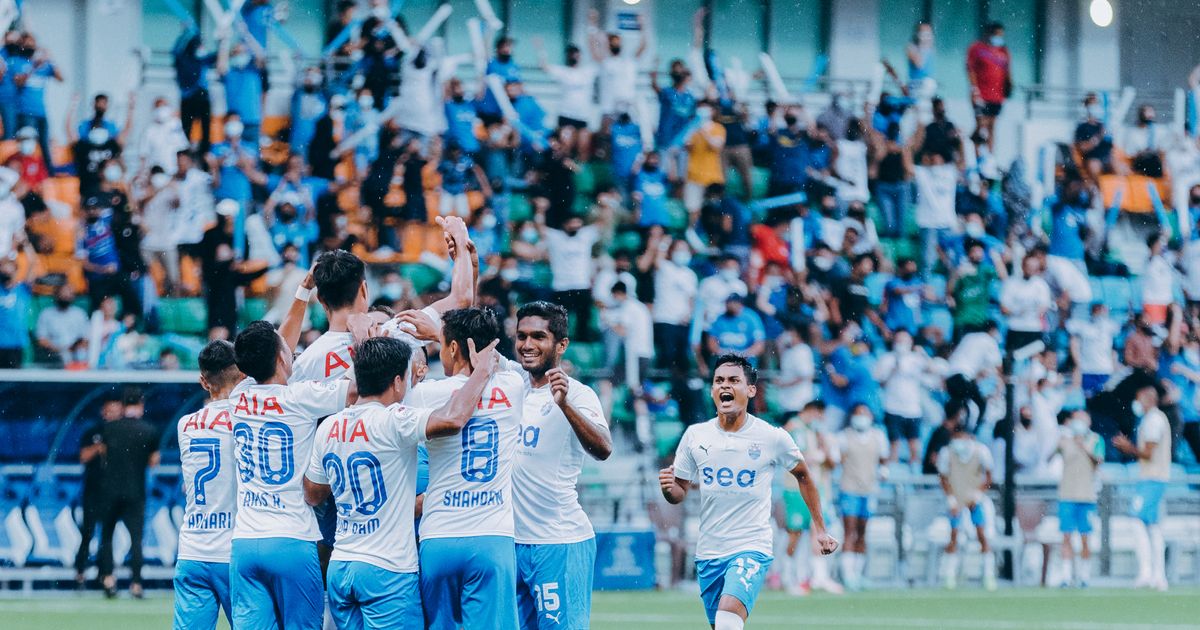 "I went to queue around 1pm on matchday because I was worried that I wouldn't be able to get tickets and I'm lucky to be one of the first few," he recalled fondly. "There were several ups and downs… I was streaming the Albirex Niigata (S) vs Tanjong Pagar United game on my phone while also watching the Sailors' game. Balestier (Khalsa) equalised against us while Albirex were leading by a few goals in the first half. 
"Some fans including me were quite worried, but when Tanjong Pagar started to come back into the game, we shouted to give an indication to our players, and everyone started to be more motivated. And when Gabriel scored that fourth goal, we just knew we're going to win the trophy.
"Everyone was just celebrating together."
Jonathan's love for the club seems set to grow stronger in 2022 – he has received his season pass and his ultimate dream is to do a ACL-winning poster for the club.
"One thing's for sure, I'll be there for every Sailors match – rain or shine. We've signed quality players like Kim Shin-wook and Maxime Lestienne this season," said a bullish Jonathan.  
"I have every confidence in our boys, I will continue to support them and I'm sure we'll make Singapore proud in the ACL."
In From the Bridge, we step away from celebrating the anniversary of the founding of the Lion City Sailors to glance in the rear view mirror, to see how far the club has come in the previous year, before turning our eyes to the path ahead. 
In this piece, Sailors' Head Physiotherapist Nurhafizah Abu Sujad reflects on the speedy growth of her department, and the exciting times ahead when the Sailors move to their Mattar Road home later this year. 
In July 2021, the Lion City Sailors roped in a familiar face from the Singapore football industry –  as the Head of Physiotherapy to support the club's drive for football excellence through building a robust sports medicine structure. 
In a short space of time, Nurhafizah Abu Sujad has already seen the club lift its first-ever Singapore Premier League (SPL) title and AIA Community Shield,  and she will continue to be an important figure as the club embarks on its historic Asian Football Confederation (AFC) Champions League (ACL) campaign alongside the region's best in April 2022 –  this just two short months after the club celebrated its second birthday on 14 February.  
Despite the trophies, it has not exactly been a walk in the park. 
Working with a demanding coach like Kim Do-hoon who emphasises a higher level of intensity at training and 100 percent commitment from the players, there is pressure on the medical department to help ensure that players continue to stay fit and fresh, but it is a pressure that Fizah has embraced.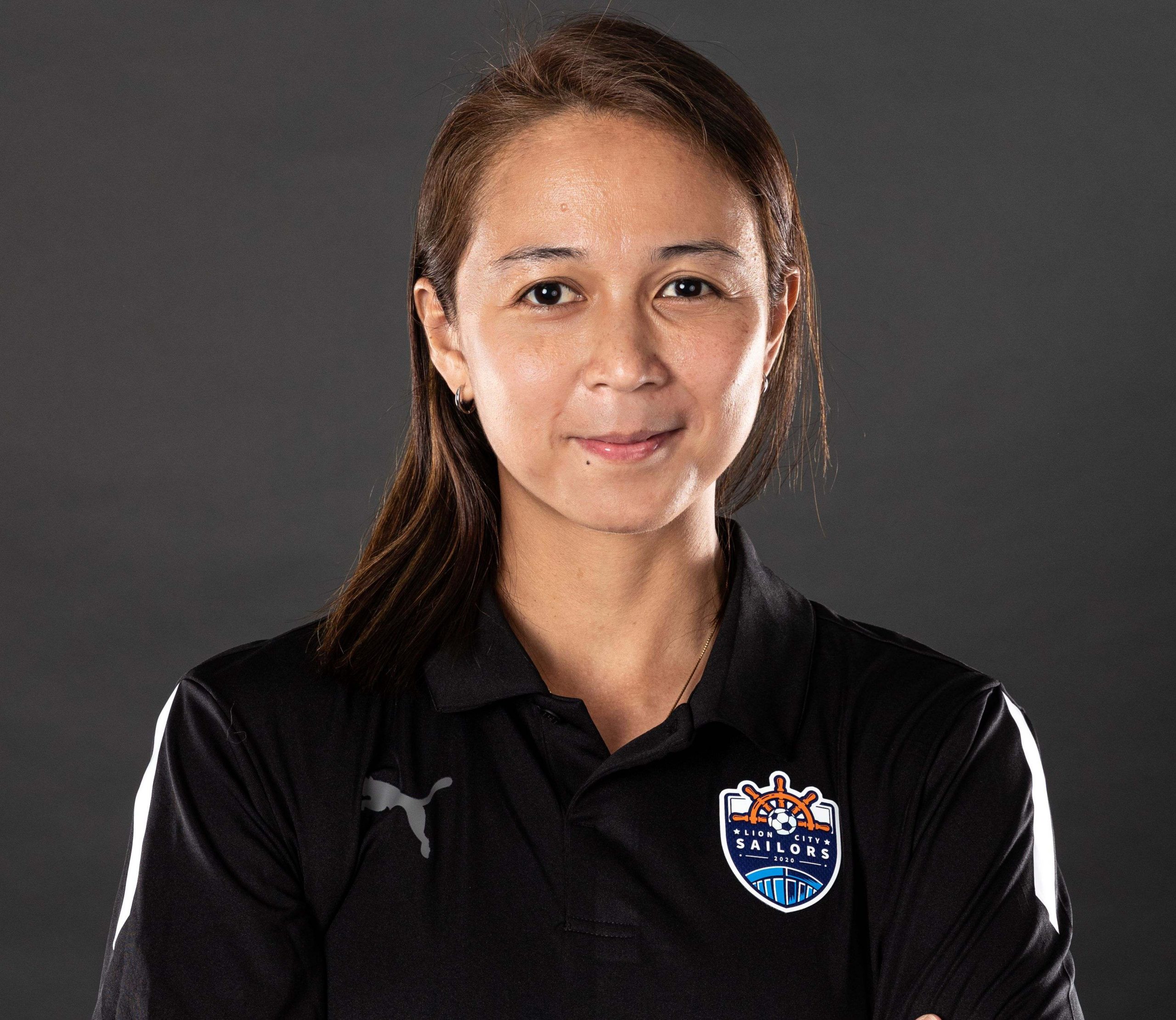 "Expectations are higher this year, not just on the players but also on our department to deal with issues that may arise, so I have to say it's been quite stressful in the lead-up to the season," she said.  
"But it's good that we have stress – it pushes us to be better. The good team that we've assembled helps all of us cope –  in times of stress, we help each other and become even stronger as a unit."
Players are critical assets for any team looking to raise levels and mix with the best in the business, and it is also important to have a robust medical department working behind the scenes to ensure that those at the front and centre of achieving results for the club remain in the best condition to continue to do exactly that.
Most of the work takes place below the deck, far from the public eye, but there are precious few who would contest the assertion that the club's medical team is critical to its overall vision. 
There has been much progress
After eight months or so on the job, Fizah, as she is affectionately known as in football circles, is pleased with progress, after having laid out a good framework and firming up processes to make things "more effective and efficient" in the areas of injury prevention and management. 
Fizah's Sailors team includes sports trainer Fazly Hasan, sports therapist Fathul Nur Hakim and performance coach Shazaly Ayob, with each working well in their own areas, although she admits the club can always make do with more hands on deck. 
"We've certainly beefed up our structure. There is increased manpower for recovery of our players, including providing massages and treatment. We try to ensure it's a seamless process for any injured player – from identifying the issue to managing them well and returning them to training and playing as safely as possible," said Fizah.  
"We now have a strong medical team, but we're always looking for more people who can join us – especially because 2022 is going to be a big, tough year for us with the (ACL) coming up. We need to ensure the players are always in top condition and top form. Having extra manpower will surely help us in terms of managing player recovery."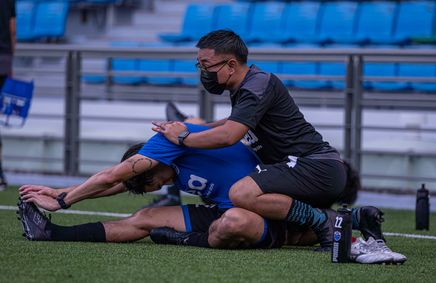 Going beyond the first team 
Fizah's responsibilities are not just focused on the first team. In the months and years ahead, she aims to have firm and consistent sports medicine processes that extend beyond the senior squad through to the club Academy's age-group teams.
"The key is that when a player is promoted from the Academy into the first team, the medical processes remain the same as those they are already comfortable with. We are in regular discussions with the Academy – people like Mark Onderwater (Academy's Head of Performance) and Mike Kerklaan (Academy's Head of Physiology) to ensure this becomes a seamless process –  that is our common goal," she shared. 
"We're going to be sharing the same facilities at Mattar Road later this year, and processes will probably be smoother by then. In addition to beefing up our medical departments, we'll also conduct workshops and knowledge sharing between both sides."
But with the Mattar training facility poised to be operational only in the second half of this year, players and medical staff continue to shuttle between Bishan Stadium and the gym at Jalan Besar Stadium for rehabilitation work.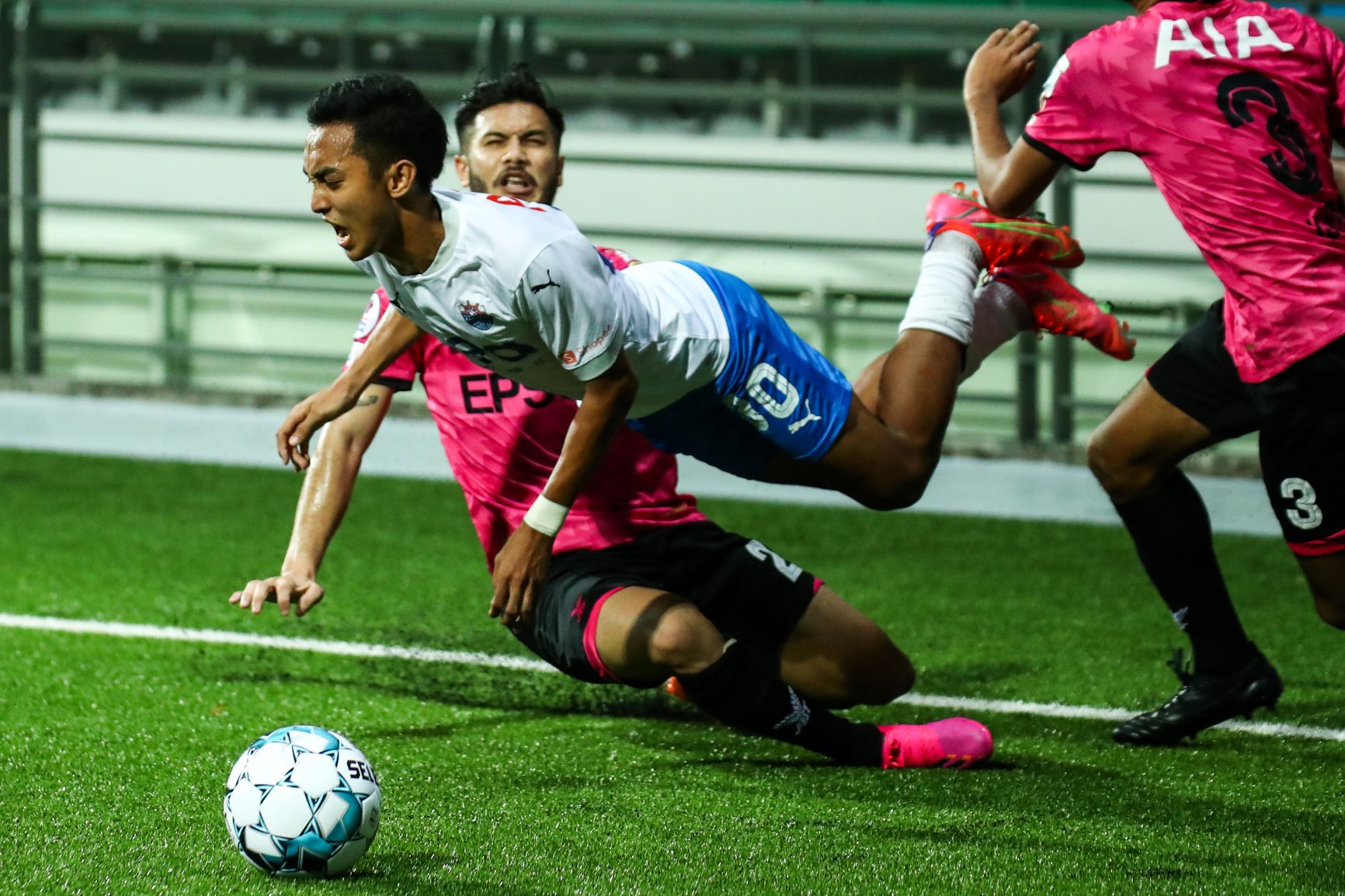 A challenging, but rewarding path ahead 
Fizah and company have to put in longer hours, reporting at least four hours before kick off on match day to make sure medical equipment is properly set up, and staying behind as long as three hours after training sessions to make sure the players get the treatment they need. 
Up there amongst the biggest and trickiest issues to tackle, is managing expectations of not just players, but also coaches. Fizah recalls the heat being turned up at the end of 2021, when now-departed forward Stipe Plazibat suffered an unfortunate ankle injury and missed the last four games of the season. 
"Whenever a key player gets injured, there is always pressure on the medical team. We assess, diagnose, and provide an estimated timeline for him to recover, but sometimes the player wants to rush and return earlier because they want to fight for their place in the first 11," she said. "Sometimes it's the coaches who may want him to return faster and are wondering why this player isn't back in training yet. 
"So we have to sit down with everyone to discuss what's best for the team and we try to find a balance and it's never easy. The most important thing is that the player returns to action – safely – that's always the ultimate goal."
Improved communication and clarity, not just within Fizah's burgeoning sports medicine department, but across the whole club is an area which gives her the most satisfaction in her short tenure thus far. 
"It was quite overwhelming when I first came in," she admitted. "But we sat down, re-organised, and we now know our individual roles. Of course there will be some overlaps, but we have clarity on what each of us contributes. 
"Things are now getting across more smoothly, now that we're communicating well with the technical staff and members of the management as well. Any issues that arise, we talk, trial and sort things out as one team. 
"For example, for the new signings, our department and Head of Sport Science, Mario Jovanovic, actually sat down with Badri (Ghent, Sporting Director), and he shared with us the type of players the club is looking to sign and we give our inputs in terms of the issues that we have to look out for and the things that we need to work on when they join us."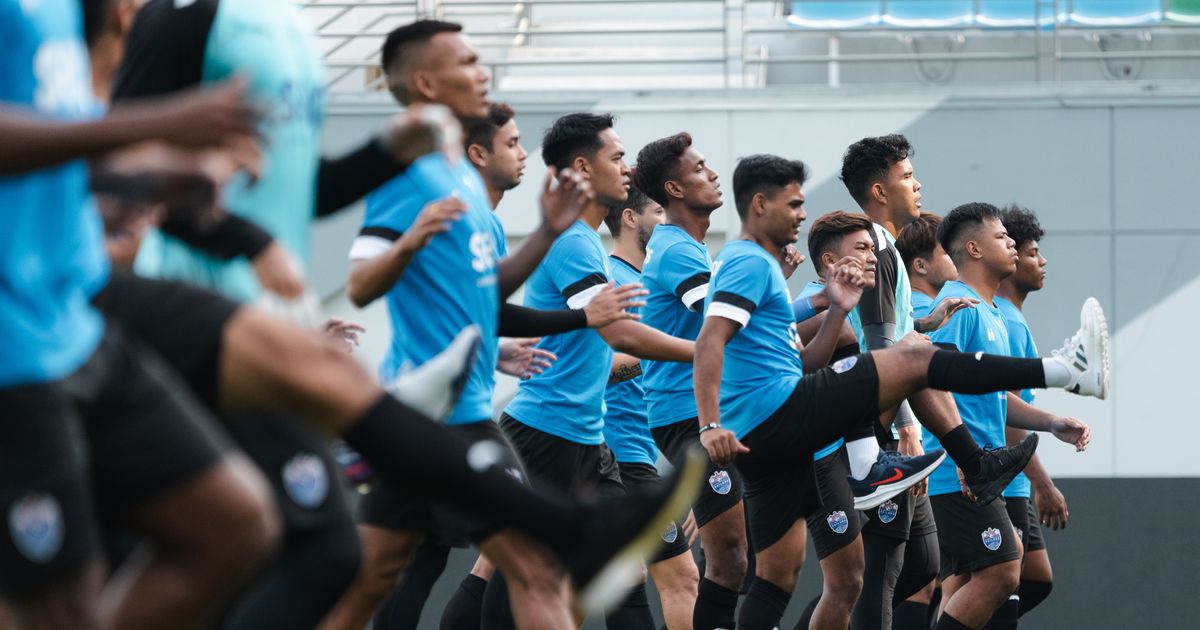 Players are already helping the collective cause 
Fizah counts herself fortunate that she does not need to do much to educate players, and that is largely because a large number of players are experienced, consummate professionals. 
"Players have evolved in recent times… Especially in the Sailors, they know they've to take good care of themselves to perform their best. They actually have good knowledge and they always ask questions," she said. 
"Of course there are the younger ones, and we need to educate them more, but they want to emulate senior players like Hariss (Harun) and Hassan (Sunny). These seniors will also give the medical team advice, knowing what's best for themselves and that helps us." 
The pre-season is always the busiest period for the medical department that has to monitor players' physical conditions and key indicators like body fat percentage after returning from weeks of inactivity, as well as conducting a series of tests on new arrivals to have a clear picture on injuries and make sure they are ready for the gruelling season ahead. 
Fizah has been impressed by the Sailors' new foreign signings, Pedro Henrique and Kim Shin-wook, and is eagerly anticipating the opportunity to work with a player like Maxime Lestienne who comes with experience at the very highest level. 
"Physical attributes-wise, they're great… They know how to take care of themselves and they will approach the medical team themselves, in terms of injury prevention. They're also sharing their knowledge – having played in top leagues – and that makes our job so much easier," she said.  
"They're physically and mentally ready, and they just want to win things here. I'm already looking forward to working with Maxime, who has immense experience in top European leagues."
With the squad witnessing no major injuries in pre-season and the Community Shield fixture, Fizah is feeling optimistic about the year ahead. She hopes to see the team retain the SPL title and put up respectable performances in the ACL, but over and above that, Fizah wants her sport medicine department to continue to evolve and sustain best practices like the best in the business. 
"We have to keep upgrading ourselves, continually learning and studying so that we can be better medical professionals."
It was just one clean swing of his right boot, but in that technique, timing, and temerity, Kim Shin-wook has started to demonstrate why he is worth all the hype surrounding his high-profile arrival at the Lion City Sailors. 
The score was locked at 1-1 and with just three minutes left on the clock, the 2022 AIA Community Shield between the Sailors and Albirex Niigata (S) on 19 February looked poised for a penalty shootout.
But "Wookie" was having none of that. 
As the ball hung in the Jalan Besar air after an excellent Diego Lopes cross, the South Korean – who had scored over 100 goals in K League 1 – spotted the opportunity and moved into position, a predator poised to strike. He connected with a sweet acrobatic volley with an athleticism not often associated with a 1.98m giant, and sent the ball flying past Takahiro Koga to make it 2-1 and win the Sailors the Shield – the club's second trophy after being crowned SPL champions last October.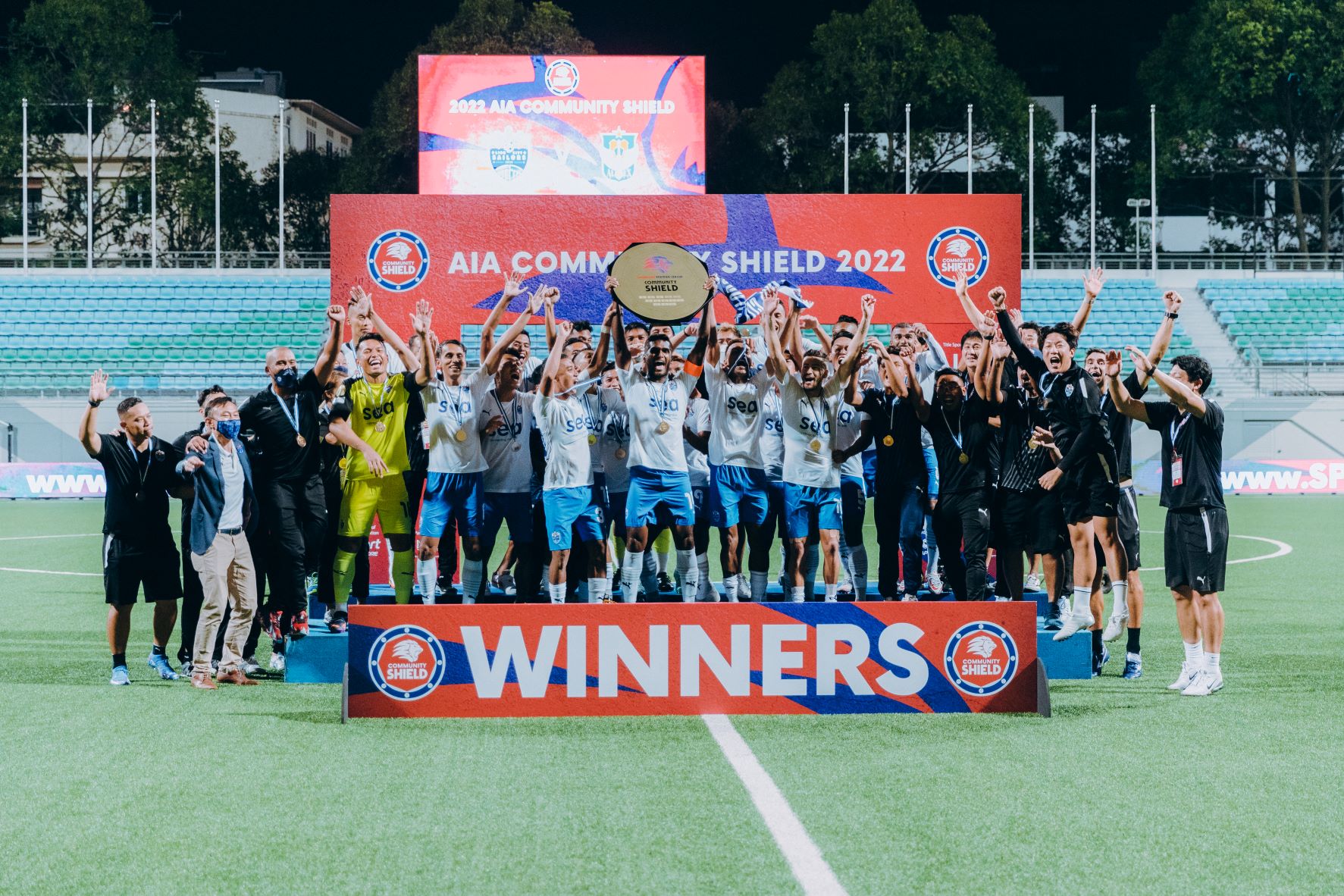 It was an incredible strike which probably will be replayed over and over again in the season ahead – a strike that clearly signalled Wookie's arrival in the Singapore Premier League (SPL). 
Earlier that evening, Shin-wook had already introduced himself to the local public by showcasing his trademark aerial prowess to get in between the Albirex centre-backs and nod home Tajeli Salamat's teasing right-wing cross for the equaliser.
It was all in an evening's work for the 33-year-old, his clinical brace helping to overturn an early deficit against the White Swans, who had drawn first blood through Tadanari Lee's penalty conversion. 
Shin-wook was undoubtedly the star of the show, but he was happy to stay out of the limelight in the ensuing trophy celebrations as he stood with a face of calmness in the back row. As the Sailors' players and staff lifted the Shield, he clapped briefly for a few seconds before exiting the podium first to do some stretching on his own. 
There was a whiff of the dedication that fuels Shin-wook's winning mentality – one that perhaps showed that the two-time Asian Football Confederation (AFC) Champions League (ACL) winner has his eye set to achieve even more with the Sailors. 
When asked about how he rated his performance, he laughed as he said: "I felt that the team had one man less in the first half because I didn't do too well. In the second half, it was better, but I cannot do it alone of course. I need my teammates to give me good balls and I'm happy I'm at the end of two brilliant assists.
"I would give myself a 7/10."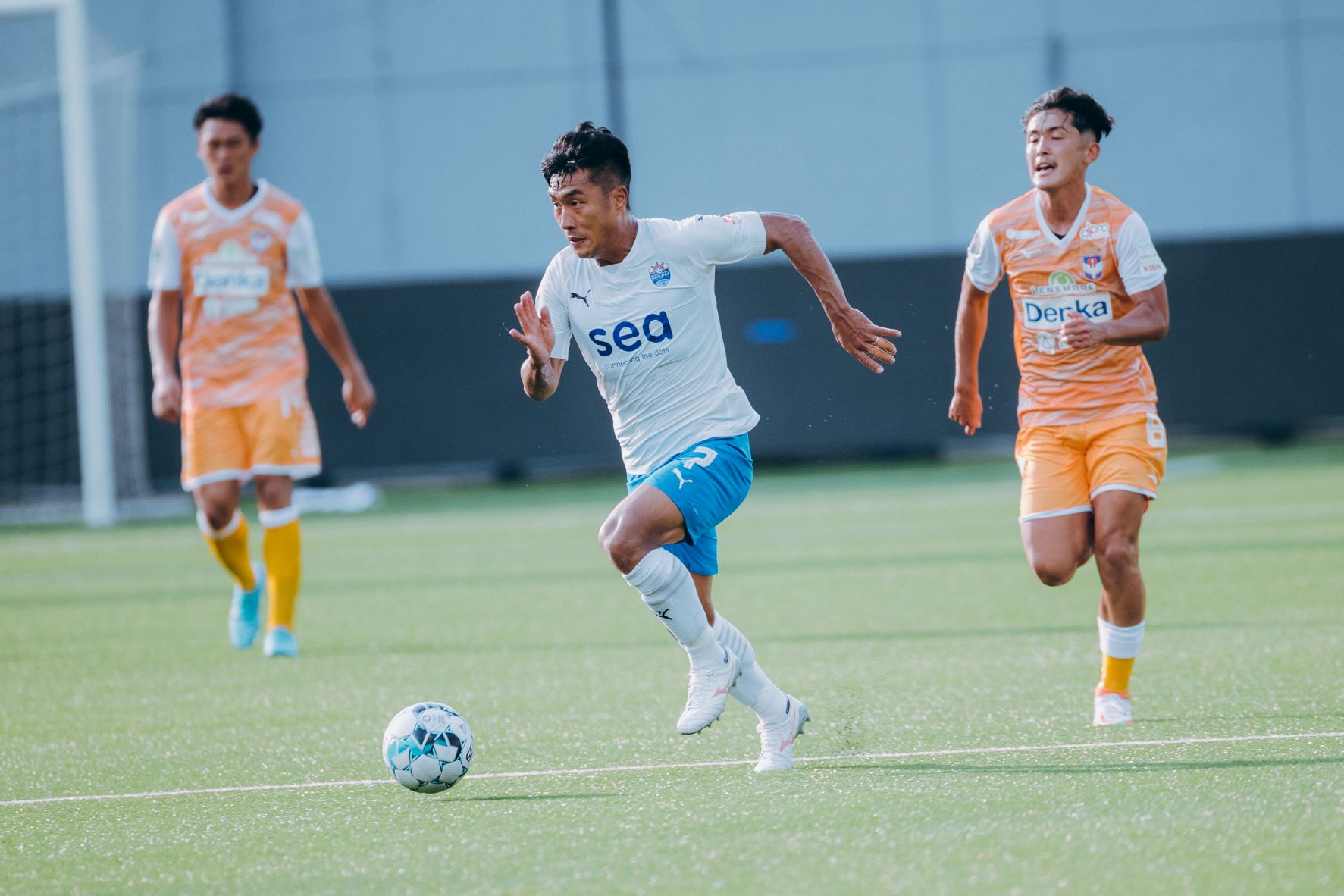 On a sweltering Saturday afternoon, the Sailors did not have it all their way in the season's curtain-raiser. Albirex – back under two-time league winner Kazuaki Yoshinaga – proved to be a real handful with their swift and neat passing. 
Lee made the most of a soft foul from Shahdan Sulaiman in the penalty area to put the White Swans ahead from the spot on 14 minutes, before centre-back Keito Hariya saw his header denied by the woodwork six minutes later. 
Shin-wook's equaliser four minutes before half-time altered the momentum of the game as the Sailors began to play with more verve and intensity in the second half. 
Debutant Pedro Henrique showed his class at the heart of defence alongside new skipper Hariss Harun, with the former Vitoria Guimaraes captain showing poise on the ball and aggression in winning it back to limit the Albirex attackers. 
Behind him was the evergreen Hassan Sunny who pulled off two superb saves – one of those a superb reaction save to deny Lee from point-blank range – to keep the score level. 
Coach Kim Do-hoon drew on the strength of his bench, with M. Anumanthan coming on at half-time to inject steel in midfield on his Sailors bow, before calling upon Hafiz Nor and Diego for more attacking impetus in the final stages of the game.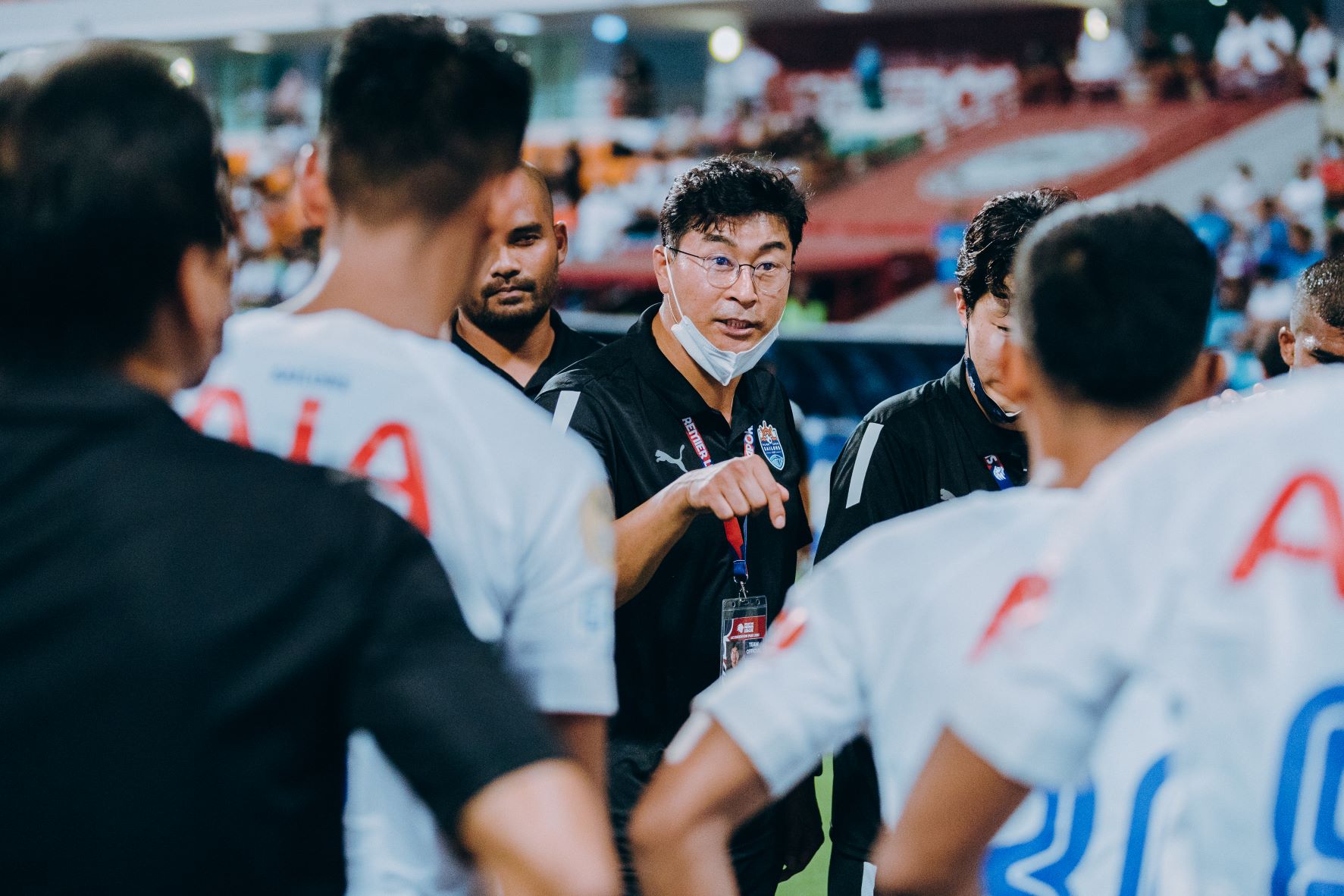 In the end, it was the latter two who combined to great effect down the right leading up to Shin-wook's brilliant late winner as the Sailors began a big 2022 season on a positive note – a first win over Albirex in six competitive meetings and another piece of silverware for the trophy cabinet. 
Speaking at the post-match press conference, Kim expressed his pleasure of seeing his Sailors turn the tide to win a game in which they were admittedly not at their fluent best. 
"Football is a 90-minute game, not 45. Our transitions – both defensive and offensive – didn't quite work for us in the first half," said the 51-year-old. "Of course there was some pressure in the dressing room coming into this important match against a strong opponent. 
"And what impressed me was the boys' will and spirit to give everything on the pitch and bring the Shield back home. If we can keep up the quality football and pressing that we showed in the second half, I believe they can bring many more good matches for the fans to enjoy. 
"I'm happy we've finally managed to beat Albirex and this will help to give us a good start to the league."
The Sailors will begin their SPL defence with a home match against last season's second runners-up Hougang United next Sunday (27 Feb). 
After a tough couple of weeks pushing physical boundaries in pre-season training, Hariss Harun and the Lion City Sailors stand on the threshold of the 2022 Singapore Premier League (SPL) season, and will face Albirex Niigata (S) in Saturday's AIA Community Shield, its traditional curtain raiser.
The Sailors' skipper is determined for the team to start the domestic football season on the right foot – against a White Swans side that pushed the title race down to the wire in 2021 – and he believes that the Sailors must win the mental side of the game if they are to retain their SPL crown. 
"We are acutely aware that it is going to be a challenging season ahead, because teams always have extra motivation when playing against the defending champions, and every SPL team has already made moves to strengthen their squads," said the 31-year-old. 
"To handle everything that will come at us this year, we will need to win the mental battle in our own heads from the start."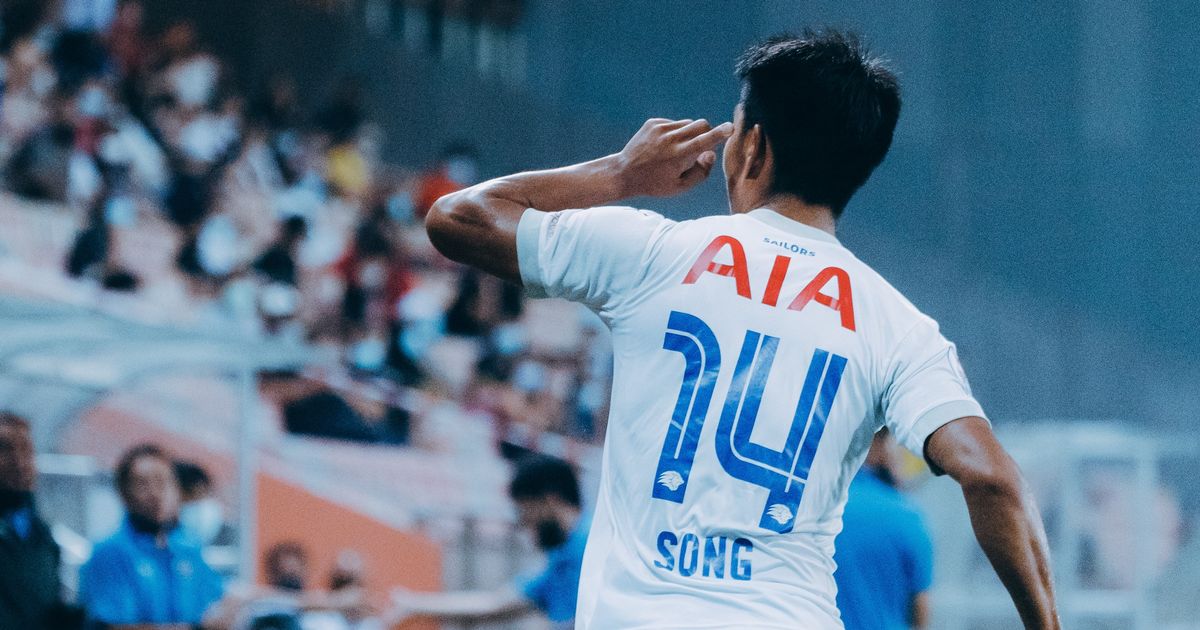 The Sailors have the opportunity to win the club's second trophy – the Community Shield – just some four months after their first SPL title, and Hariss was clear that the target for 2022 must be to try and win every domestic title on offer. 
"We're aiming for excellence and to raise the bar for ourselves and Singapore football, to do that we have to go out and win matches consistently," said the captain of Singapore's Lions. 
"We have expectations of ourselves, and there will of course be external pressures placed on us as well – and we haven't even started talking about the football side of things yet. 
"We'll need level heads if we do find that games are not going our way, and we will also need to keep our heads even when we're winning, to make sure that we can close out games. So simply put, every Sailor will need to have the right mentality from the get go." 
The signs are positive.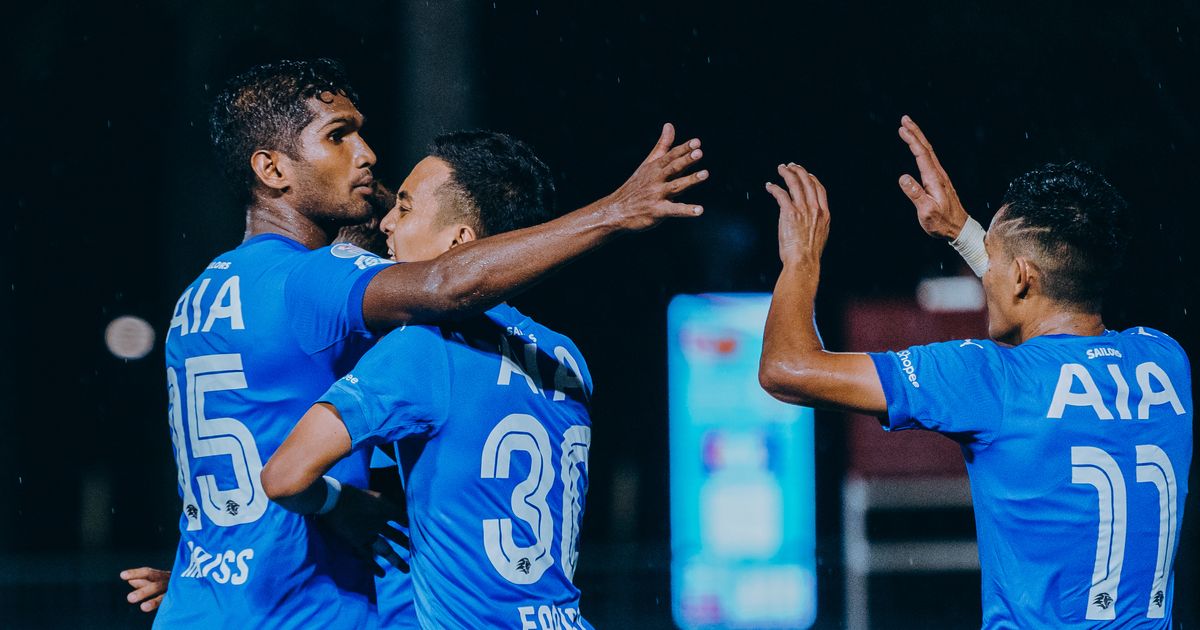 In 2021, the Sailors were made to dig deep – chasing down then league leaders Albirex with three games to go at the business end of the season –  and found cool heads and steely nerves.
Hariss and company won three games on the trot, convincingly beating Tampines Rovers 6-1, overcoming Geylang International at Our Tampines Hub, then sealed the title with a 4-1 victory over Balestier Khalsa on the final day of the season. 
It is that same resilience and calm that Hariss believes will put the Sailors in good stead for another successful domestic football season. 
"We've shown that we have what it takes, and from how the team is shaping up in pre-season, I'm feeling positive about the new season. The new signings have settled in well, and we're all pushing each other at training sessions," said Hariss. 
"With the work that we've put in, I think we'll be able to play at a higher intensity, with more speed and sharpness too. And with the added aerial threat that (Kim) Shin-wook brings with him, there are various dimensions to our game."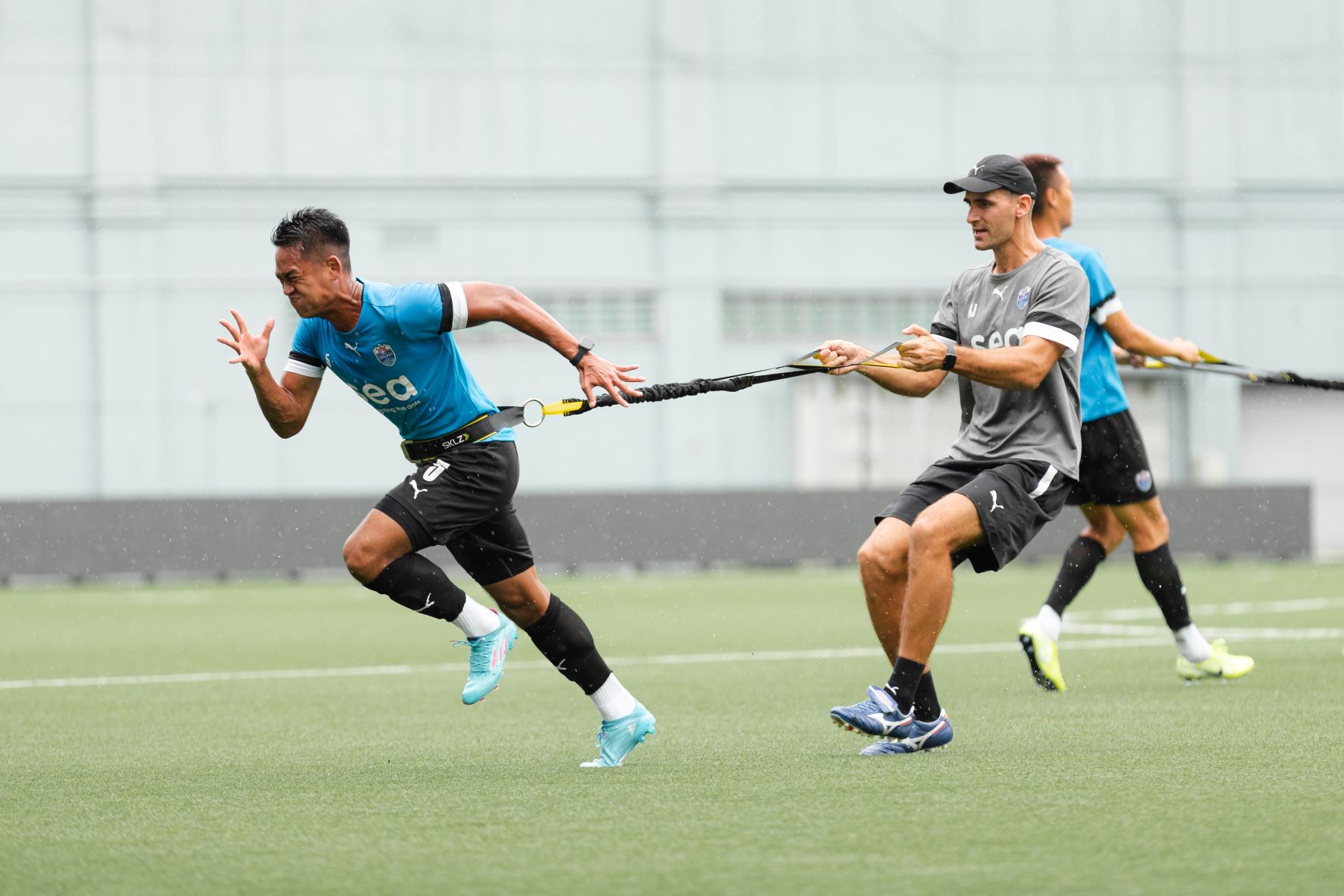 Alongside South Korean international forward Kim, the Sailors have signed Brazilian defender Pedro Henrique and Belgium's Maxime Lestienne, adding European top-fight pedigree to the squad. 
Singapore internationals Izwan Mahbud and M Anumanthan are the Sailors' two other major signings ahead of a season that will see the club make its maiden appearance in the Asian Football Confederation Champions League (ACL). 
"We want to give a good account of ourselves at the ACL, test ourselves to see where we stand against the region's best, and just what we need to do to play at that level," said Hariss. 
"It's clear to me that we have the right ingredients in place for both the SPL and the ACL, and we'll just need to put everything together consistently – and the first step to that is to approach it all with the right mentality."
Standing on the pitch at the Jalan Besar Stadium, hands behind his back, Kim Do-hoon watched as his Lion City Sailors warmed up on the sidelines. This training session would be one of the last few before his charges raise the curtain on the 2022 domestic football season – as defending champions of the Singapore Premier League (SPL) – but there was no tension in his shoulders, or his eyes. 
It was only his words that hinted at that winning mindset and relentless drive for excellence. 
"There's always tension and pressure on match days and that should only help our players to bring up their concentration for the game. In order for the Sailors to become a strong and great team, we need to overcome this and it's also the job of our coaching team to prepare them to go into every game full of confidence," said the man who led Ulsan Hyundai to the Asian Football Confederation Champions League (ACL) title in 2020.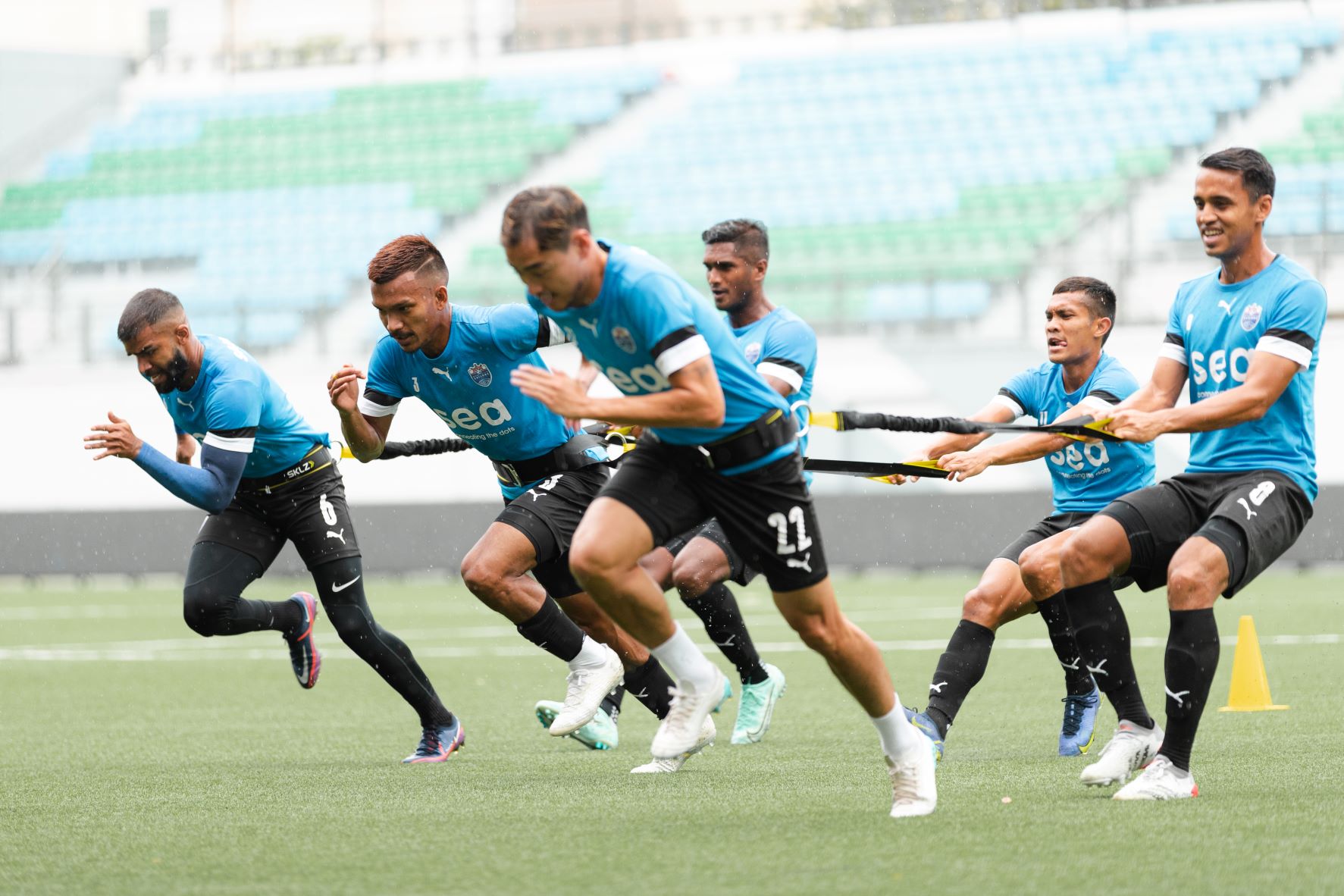 Expectations are understandably sky-high this season, with many expecting the Sailors to run away with the title and sweep all three domestic trophies – including this weekend's (19 February) AIA Community Shield and Singapore Cup. 
Kim acknowledged that pressure is something the Sailors have to learn to live with, but stressed that there are other barometers of success he is looking for in 2022, indicators that go beyond just winning silverware. 
"We hope to improve endlessly and provide joyful and touching moments for the fans – not only through victories but also by showing our persistence in putting in our very best efforts till the last minute of every game. Only through that then more fans will gradually grow their love and affection over football," he emphasised. 
But the fiery drive to win clearly remains. 
The first order of the season is the Community Shield clash against Albirex Niigata (S) and Kim wants his team to lay down the marker ahead of what could be another tough race to the SPL title. 
"Winning the first game is a very important first step to the season," he said matter-of-factly. "Albirex will obviously be up there again, but looking at the recruitments of the other teams we're also expecting them to put up serious challenges. 
"That can only lead to excitement, interest and development of the league – which can only be good for Singapore football in the long run."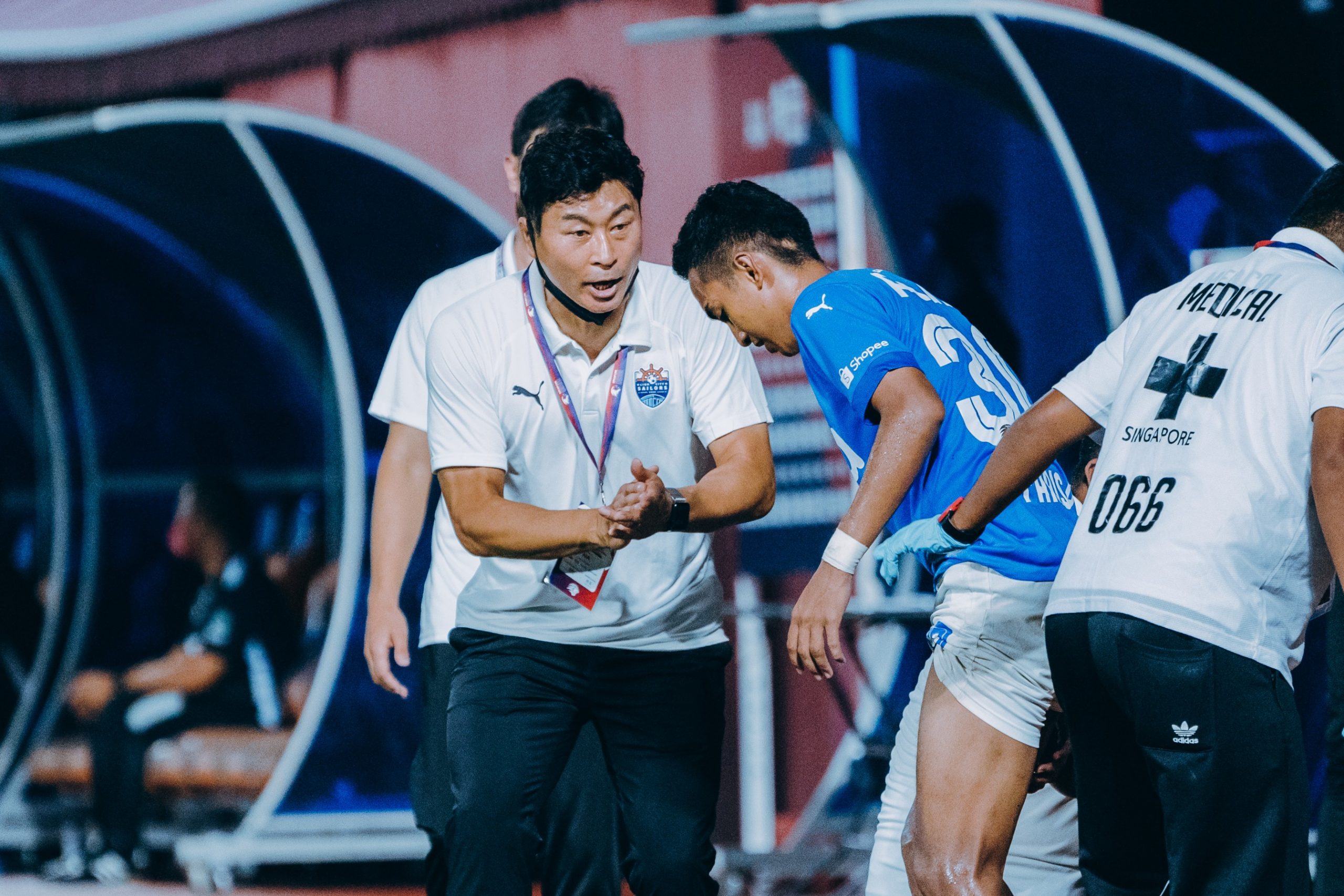 Behind the scenes, much work has gone into ensuring the team is well prepared to battle and win, this despite the fact that a large number of players only had a two-week break following the Singapore national team's semi-final exit in December's AFF Suzuki Cup. 
"The preparations are not entirely smooth of course, but I've to say everyone is displaying the right attitude and effort in training to keep improving and developing physically to a standard that we need to be at," he said.  
At the very least, having a pre-season where there is more time to try and instil his philosophy and get his ideas across to the players ahead of his first full year at the club is something that has given Kim satisfaction, and he is delighted that he has –  in the Sailors' backroom staff – an excellent, committed team. 
"Pre-season's crucial for us to share the upcoming season's directions and preparations through effective communication and meetings with the players. It's not just the physical aspects, we also have to make improvements on players' tactical and positional understanding," explained Kim. 
"I've happy that we've a strong technical team behind us – there's Myung Jae Yong, Kim Young Kwang, Noh Rahman, Mario Jovanovic, Firdaus Maasar, Chua Lye Heng and many others who have put in many sacrifices to fulfil their specific roles and convey their experience to the players."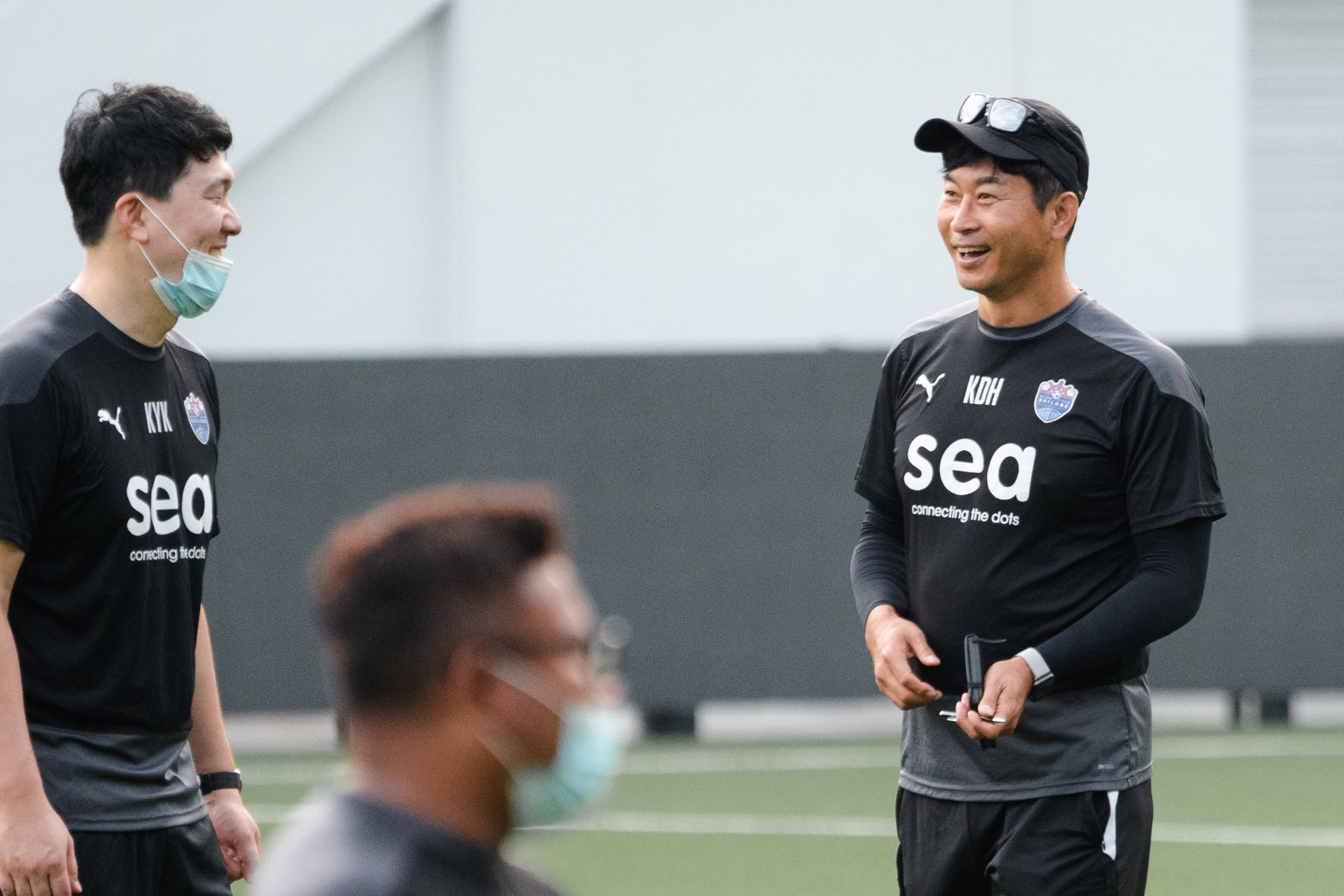 To prepare for a proper assault on all fronts – including a first-ever ACL campaign coming in April – the Sailors have brought in credible foreign signings in the form of Maxime Lestienne, Pedro Henrique and Kim Shin-wook. 
While Lestienne has yet to train with the team, the latter two have already "assimilated well", with Coach Kim eagerly anticipating the impact that his fellow countryman Shin-wook – a scorer of over 100 goals in Korea – could make. 
"I'm very thankful for the club's support and assistance to recruit these great players. Shin-wook is a player that any manager would have the desire to work with. I'm sure his performances and level of professionalism is something that will rub off on the players and bring excitement to the fans," he shared. 
Having also recruited national team players Izwan Mahbud and M. Anumanthan, the Sailors now have a handy squad with good depth to call upon throughout the season. 
"Healthy competition is necessary. We are planning to utilise the players based on the game strategy and their conditions," he said. 
Kim's philosophy has been largely focused on having a strong defence and being compact as a team – indeed the Sailors have not conceded more than one goal in each of his 10 matches in charge. 
While that will not change this season, the South Korean has hinted that the team could adopt a more front-foot attacking style with the number of quality attackers at his disposal.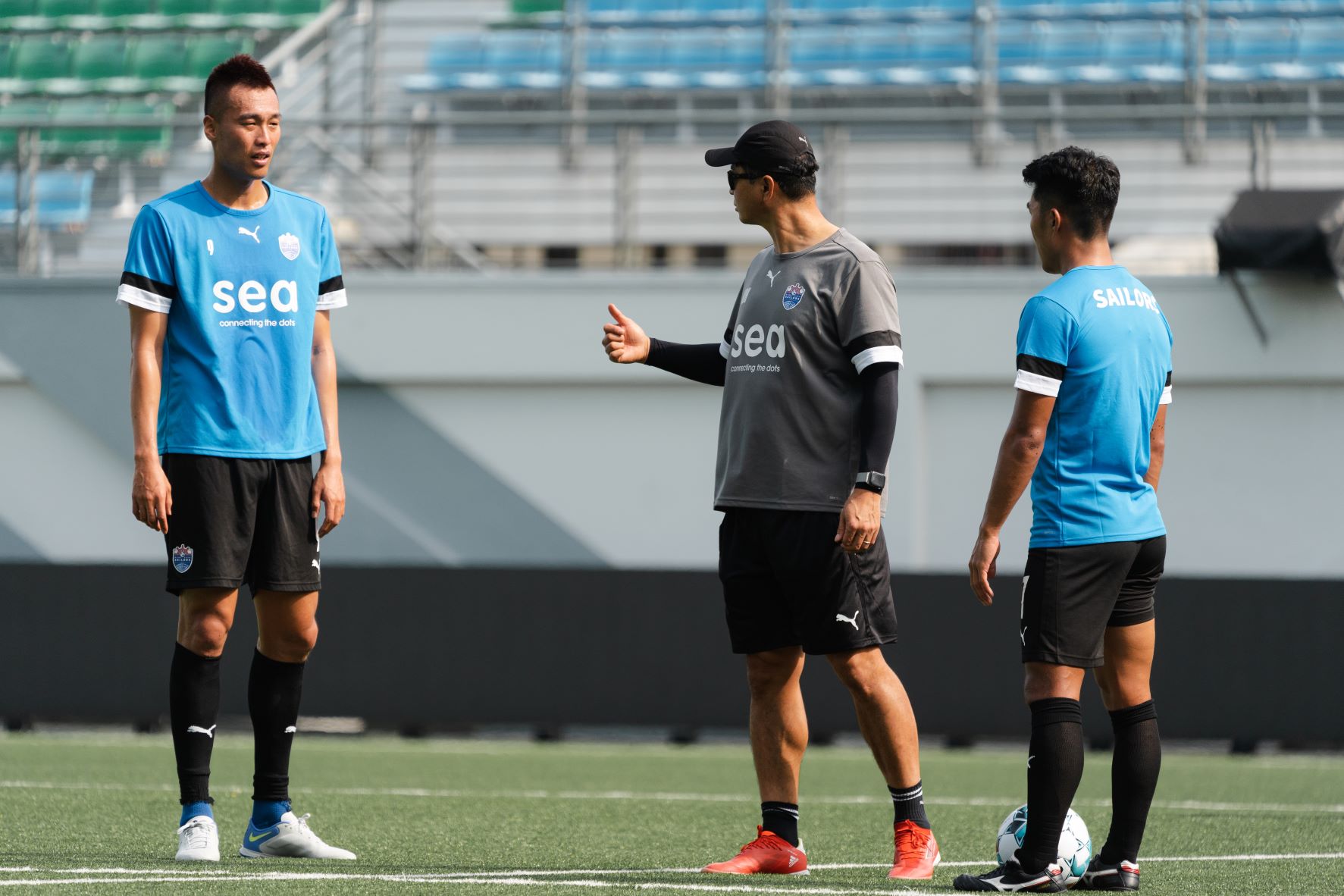 "We've been focused on improving the speed of our game including on transitions… we're working on scoring through various attacking combinations by creating space, changing and controlling the pace of the game in the attacking area, as well as our build-up and taking aerial advantages," he revealed. 
Kim is ready for a charge after a restful post-season, that included a family trip to his hometown in Korea – Tongyeong, Gyeongnam – before returning to Singapore to explore his newly adopted country. 
But football was never far from his mind. The 51-year-old set aside time to watch his charges at the Suzuki Cup. 
"This is the first time I have cheered for a country other than South Korea," he said. "Hassan Sunny and Shahdan Sulaiman proved their worth with their performances, but the performance and persistence of the other players until the very last minute of the final game (against Indonesia) also touched the hearts of many fans."
That, and the fresh memory of being crowned SPL champions – Kim's first league title victory as a coach, that came just three months after taking the reins at the Sailors – seemed to have redoubled his resolve for excellence as the 2022 season looms.  
"That was a very memorable moment for myself and the club," said Kim. 
"It was a title that allowed us to remind ourselves with a lesson that persistence without giving up will lead to great results."
There is a new captain at the helm this year for the Lion City Sailors.
Hariss Harun will succeed Hassan Sunny, who held the role last season as the Sailors won their first Singapore Premier League (SPL) title, while Amirul Adli and Nur Adam Abdullah have been named co vice-captains.
Hariss is no stranger to the job, having skippered the Singapore national team in recent times in addition to various age-group levels and his previous club Johor Darul Ta'zim. A well-respected figure on the pitch and in the dressing room, the midfielder has always led by example and is looking forward to donning the armband for 2022.
"It is always an immense honour to be captain," said Hariss, who has made 10 appearances for the club since signing last May. "This was discussed within the team and management, and I am happy to take the role. As a player, it does not change anything for me personally as I will continue to give my all.
"I have had a taste of the Asian Football Confederation (AFC) Champions League – something that will be new to most of the team – and will use my experience there to help the players as we aim to give a good account of ourselves."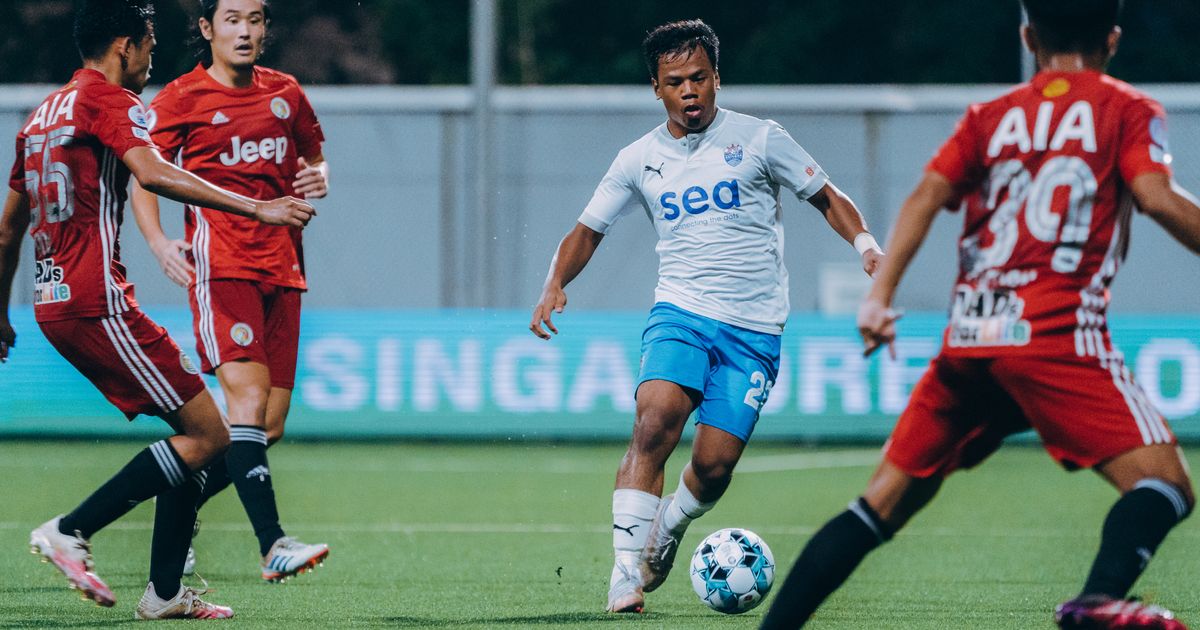 The 30-year-old will work closely with Hassan and Shahdan Sulaiman, who remain key leadership figures in the team. The trio's experience and guidance will serve as exemplary reference for Adli, 26, and Nur Adam, 21, whose appointments as vice-captains ensure that the younger age-groups in the squad will be represented in the leadership hierarchy as well.
"Hassan has been a wonderful captain for the past two years and I am pleased that I have good heads around me like him and Shahdan," Hariss added. "For Adam and Adli, their new roles put a bit more responsibility on them and they are aware of that, but they are strong characters. It is important that we have a succession plan for the future and there is no better time for them to step up."
Sailors Sporting Director Badri Ghent noted that the entire team is on board with the changes and is confident that the captains will set the right tone for the new season as the Sailors gear up for a big year.
"Hariss' ability as a player is known to everyone but more importantly, he is a model professional and the way he conducts himself makes him an excellent role model for the Sailors," he said. "Of course, we value Hassan's contributions last season and together with Shahdan, the three of them will be superb leading figures to inspire and drive the entire team.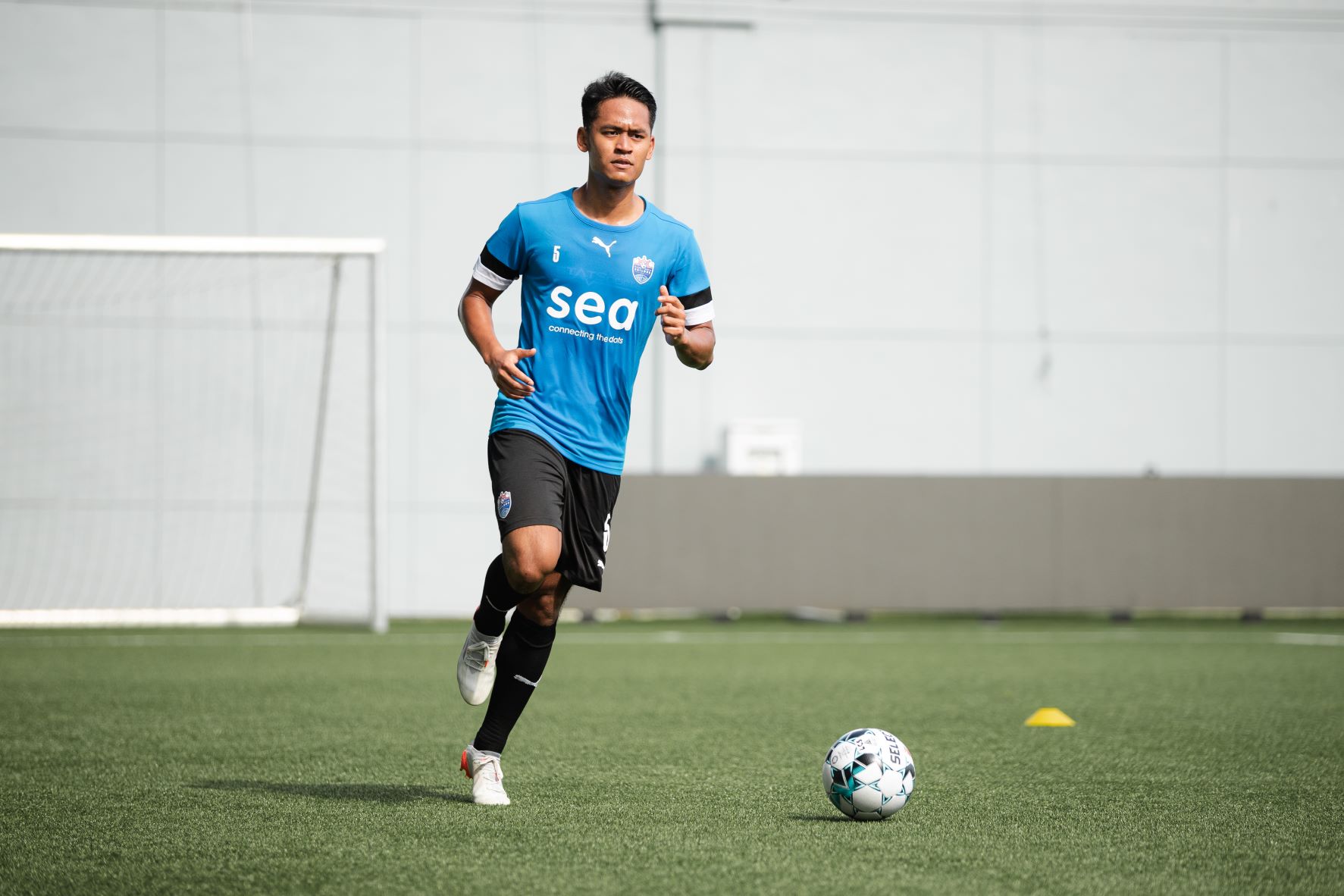 "With the Sailors competing on multiple fronts this season in the league, Singapore Cup and of course our maiden AFC Champions League campaign, we felt that it was also imperative that the younger players get the opportunity to step up – hence, the vice-captaincy choices of Adli and Nur Adam. 
"Both are established and well-regarded in their own right in their age-groups and will work together with Hariss to form a robust leadership structure."
This Saturday, Hariss will lead the Sailors out for the first time in 2022 as the Sailors face Albirex Niigata (S) in the AIA Community Shield to kick off the domestic season, in a Jalan Besar Stadium fixture that is already sold out.  
"Pre-season has been tough and we have pushed ourselves to the limit, and we are ready to go," he said. "We will come out strongly from the first whistle, all guns blazing and aim to get off to a winning start."