Eight-time German champions Borussia Dortmund (BVB) will play a friendly match against defending Singapore Premier League (SPL) champions, Lion City Sailors, at Singapore's Jalan Besar Stadium on Thursday, 24 November. 
The match is the crown jewel of the first leg of BVB's Southeast Asia Tour that kicks off in Singapore (22-26 Nov) before seeing the 1997 UEFA Champions League winners travel to Vietnam and Indonesia. The Singapore leg of the tour comes in the wake of several joint initiatives since the Sailors and BVB penned a two and a half-year partnership in July 2021. 
Tickets for the match go on sale today on SISTIC, and will cost between S$25 (Adult, Gallery) and $35 (Adult, Grandstand). Early bird discounts are available from 30 September to 24 October, with Lion City Sailors members able to purchase tickets at preferential rates.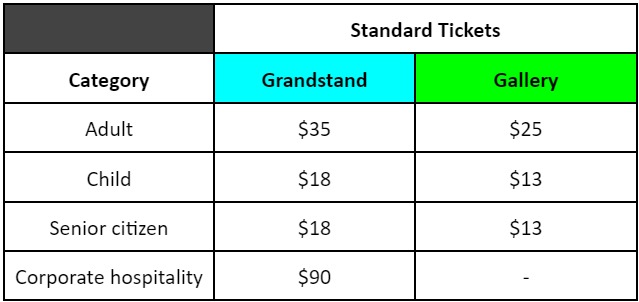 The clubs have lined up a series of off-the-field professional activities over the five days of the tour that will further underscore their deep partnership. Staff of BVB and their Sailors counterparts will engage in knowledge sharing sessions, with fan activations and even community activities in the pipeline. 
"It has been a fantastic year or so working with the Sailors who have helped us get closer to Singapore's football fraternity and its communities. And while the match will be the main highlight, we're looking forward to working together on even more initiatives on this tour," said BVB  Managing Director, Carsten Cramer. 
"I'm personally delighted to be able to bring our first team to play in Singapore, and I'm confident that football fans will be treated to attractive football and meaningful initiatives as we solidify our partnership with the Sailors."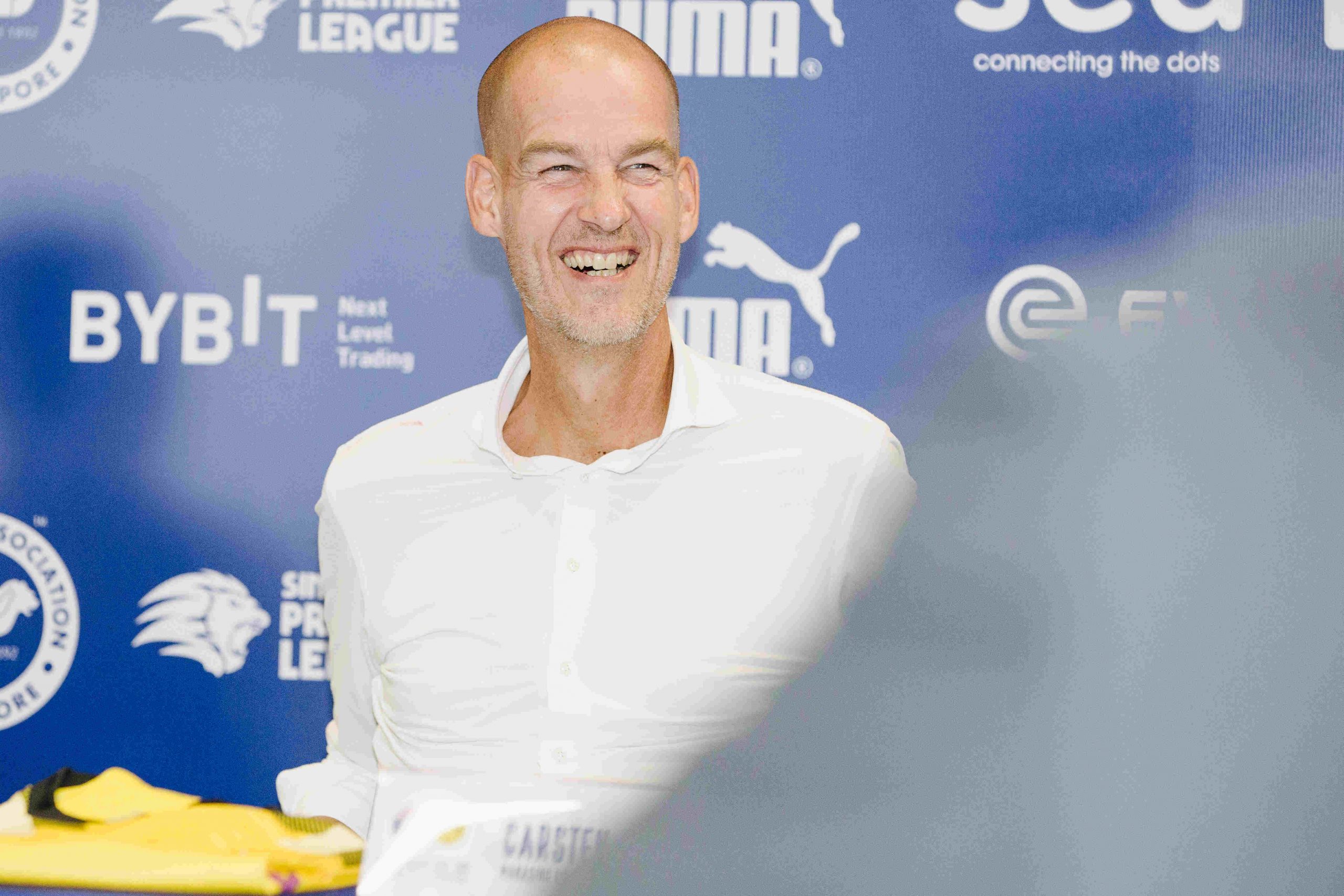 The partnership has already witnessed Sailors Academy teams compete against their BVB counterparts as part of a six-week Europe training tour in December 2021. The club's technical and corporate office staff concurrently visited Dortmund for a study trip which included attending the famed Der Klassiker – the highly-anticipated clash between Dortmund and Bayern Munich.
"Visiting Dortmund last year was an eye-opening experience for both our Academy players and staff. The entire club is already abuzz, looking forward to a BVB tour that will exclude the usual bells and whistles associated with such visits, but instead be fully focused on football activities," said Sailors Chief Executive Chew Chun-Liang. 
"Our players will get first-hand experience playing against a big European club, our staff will have the opportunity for deeper engagement with their counterparts to learn and grow, and we're hoping to involve fans – both Sailors' and BVB's –  and our community partners in this tour as well.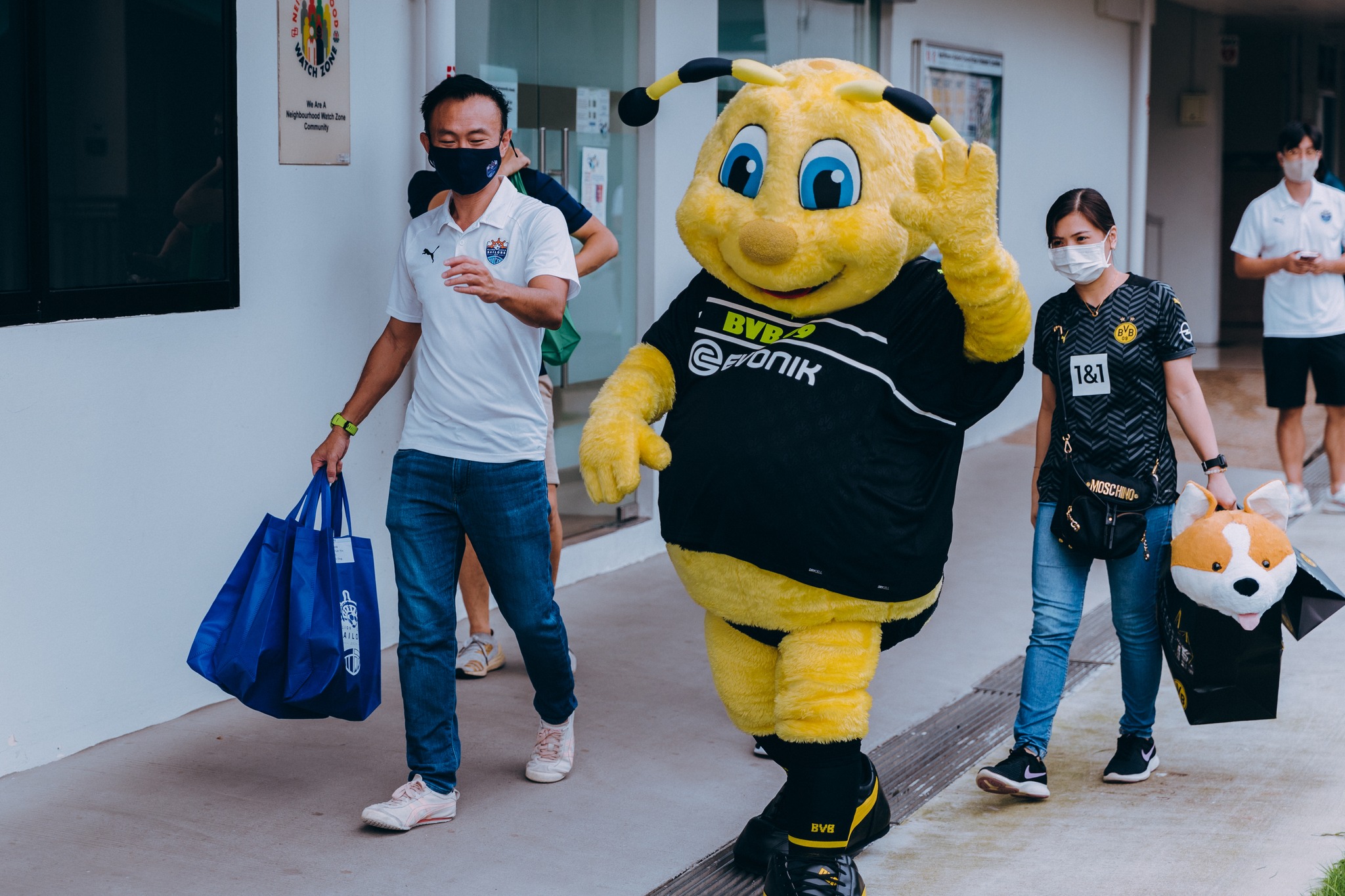 "We've ensured that ticket prices are kept affordable for our fans so they can grab the opportunity of watching our very own Sailors go up against some of the best in Europe in what will be a milestone for the club," he added.
The friendly match will take place three days after the FIFA World Cup kicks off in Qatar on 21 November, and will not feature some of Dortmund's stars who will be on international duty with their national teams. 
But that has not dampened the enthusiasm of Sailors' skipper Hariss Harun who revealed that there is electricity in the Sailors' dressing room.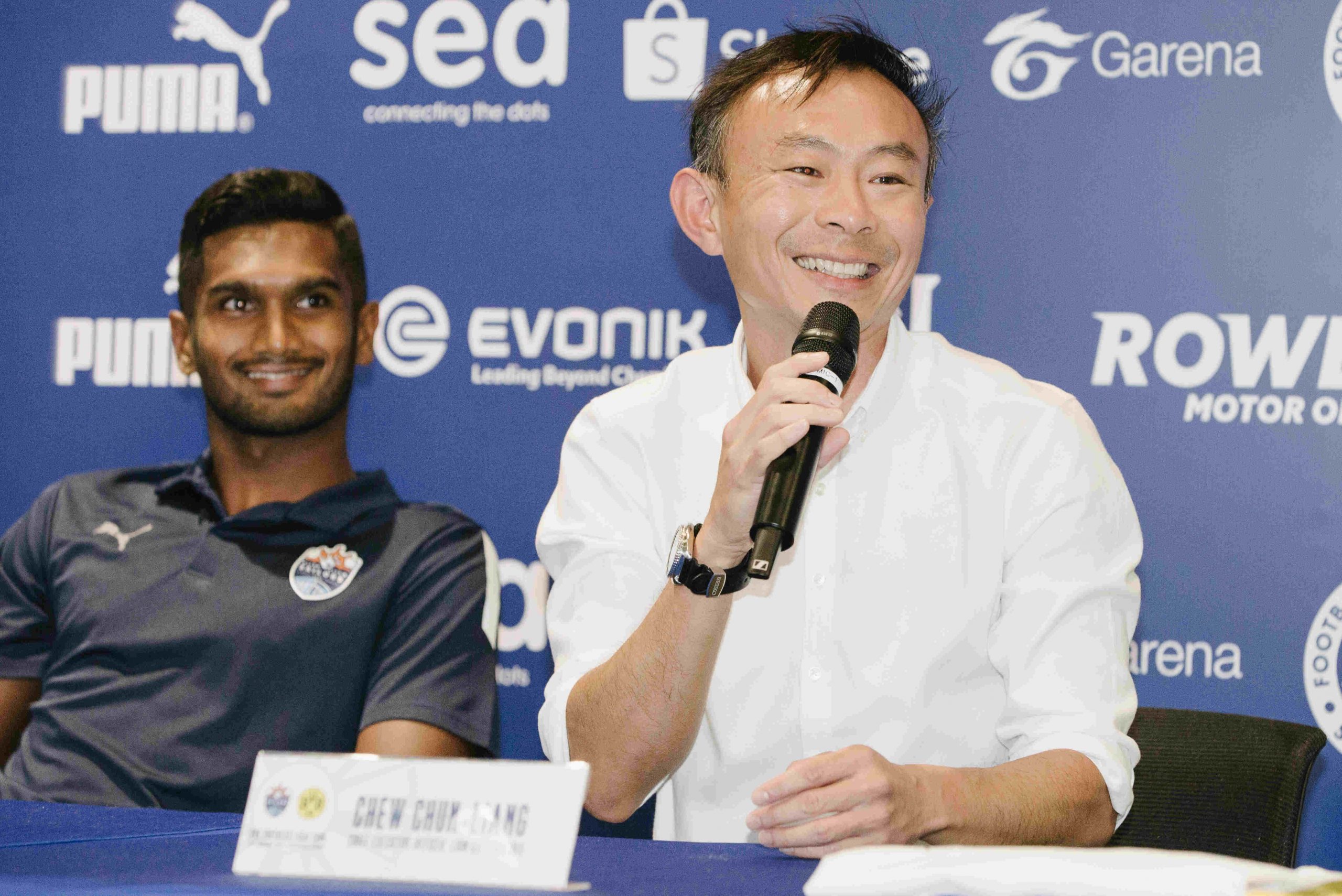 "We've played against some of Asia's best at the AFC Champions League earlier this year, and this match will be a bit of a step up – against one of the best teams in Europe with some of the best young players too," said Hariss, who is also the captain of the Singapore national team. 
"It's going to be a fantastic test for us, and the younger boys in the team are especially geared up for the match, and we're all looking to put on a good show for our fans."
Suresh Letchmanan, Managing Director of BVB Asia Pacific looked back on a fruitful year in partnership with the Sailors, and is confident that Singapore will see more during the tour and in the year ahead.  
"Both clubs are dynamic and progressive brands with a commitment to developing talented young players, and we have leveraged these common values to great effect this past year," said Suresh.
"We'll put together some creative and innovative football-focused initiatives for Singapore fans this November, and build on that momentum for 2023."
Tickets can be purchased from SISTIC here.
The Lion City Sailors Women will be gunning to finish their Deloitte Women's Premier League (WPL) campaign unbeaten when they face Tanjong Pagar United on Saturday (1 October) night.
With nine wins and two draws so far, Yeong Sheau Shyan's charges are eager to bounce back from a goalless stalemate against Tiong Bahru last time out. 
Defender Khairunnisa Khairol Anwar believes that result has only served as motivation for them to do better against a well-drilled Tanjong Pagar led by former Singapore international Samawira Basri. 
The Jaguars are just one point ahead of Albirex in second and will look for a result to cement their runners-up spot whilst spoiling the party for the Sailors, who will finally lift the WPL trophy at Yishun Stadium.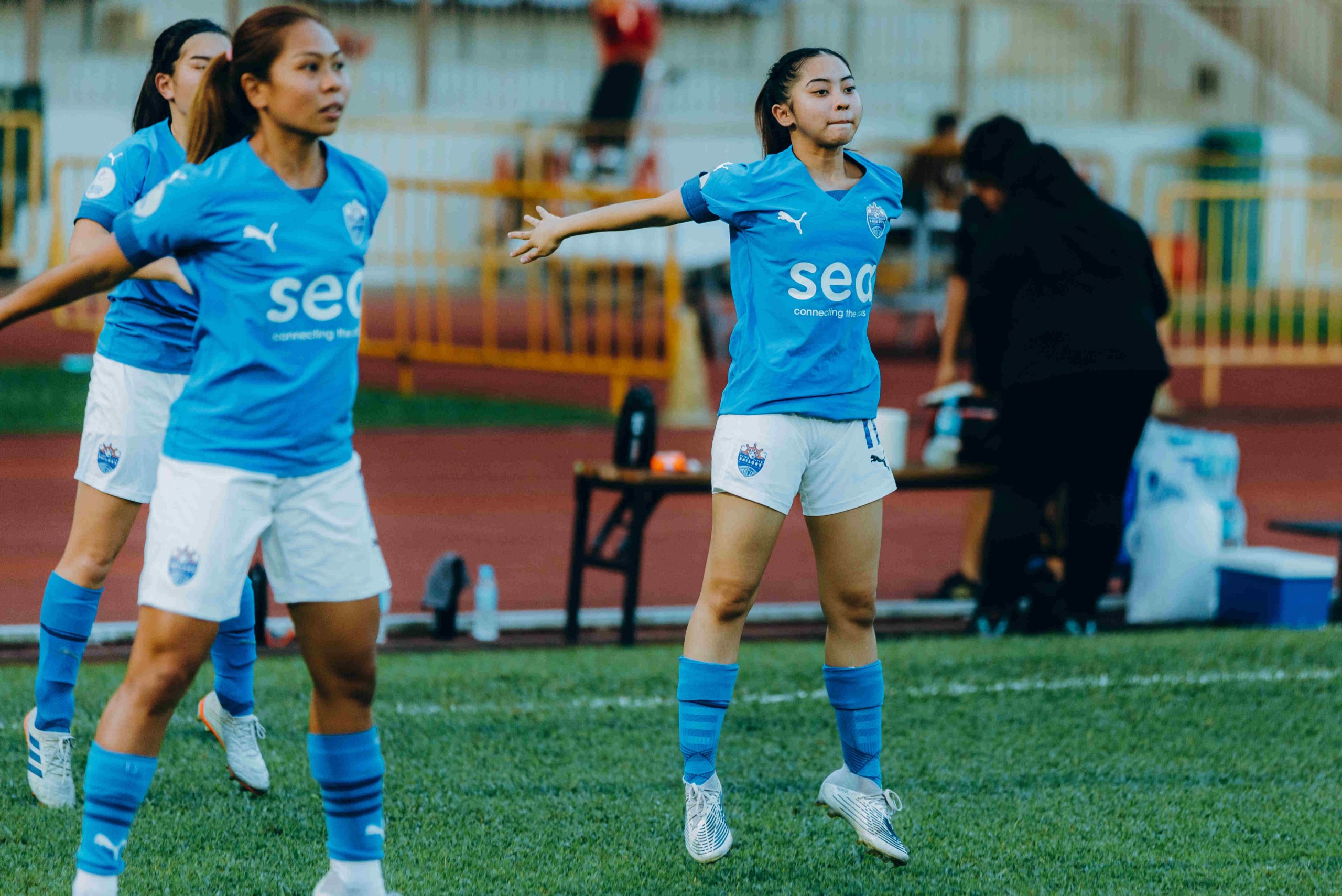 "All of us were disappointed we failed to beat Tiong Bahru. We want to approach the last game strongly and hopefully finish the season with a win," said the soft-spoken 19-year-old. 
"Tanjong Pagar are a strong team and we know the threat that they can pose. We will look to fix our errors from our last game and hope this translates into an improved performance.
"More importantly, we want to go into this with the right mentality and enjoy ourselves since it's our last league game together."  
One who does not shirk from challenges despite her relatively small frame, Khairunnisa has surprised many with her aggression and confidence in the tackle.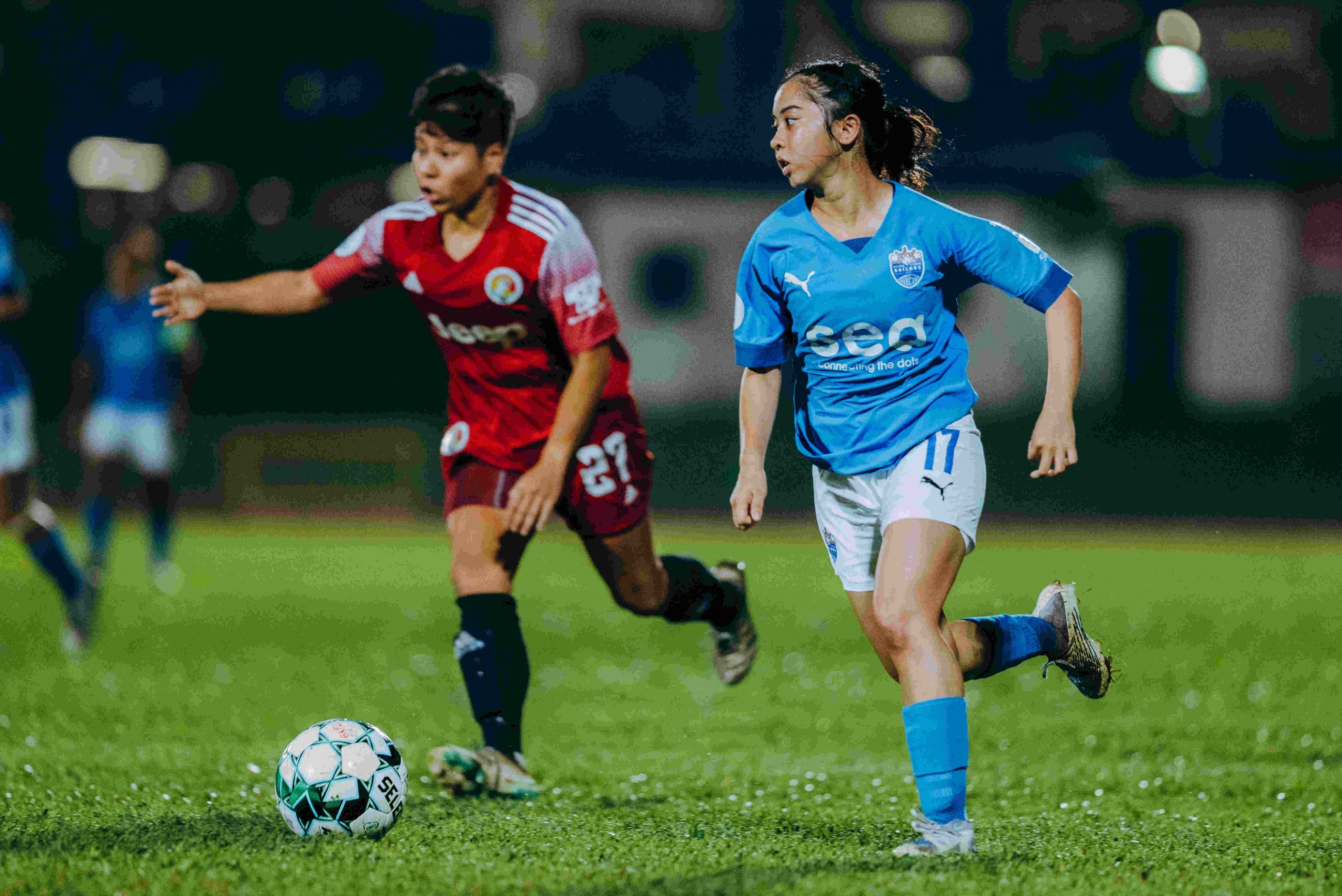 She also hits the gym regularly to build on her strength so as to be able to compete with stronger opponents. 
"I'm aware that I'm probably one of the smaller players in the team and I will likely lose out physically," she mused. 
"That's why I feel that it's important to put in the extra effort to go to the gym as much as possible, working on things that cannot be done in our usual trainings as a team. 
"On the pitch, it's also about being tactically smart by being patient and waiting for the right time to go for the tackle instead of just going for every challenge." 
Reflecting on the Sailors Women's WPL season, Nisa is simply thankful for every opportunity that she gets, even as she has had to play as a right winger against Tiong Bahru.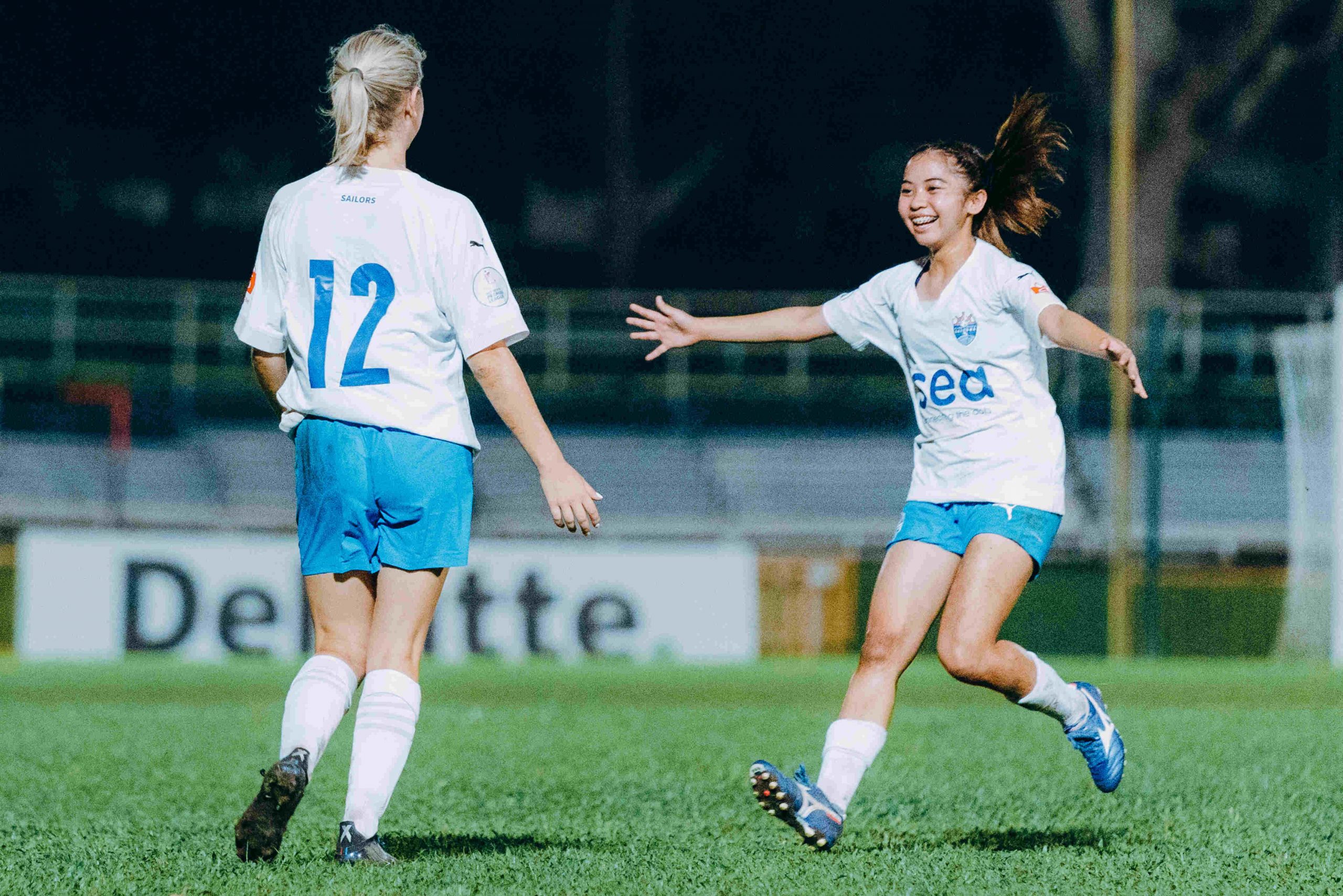 "Actually I'm not really one of the core members of the team, but I try to play and do my best no matter which position I'm being put in," said Nisa, whose first brush with domestic league football came with Women's National League side Tampines Changkat in 2019. 
"I feel that my performances this season has been decent, but there is always room for improvement. I always tell myself to go in every game with an open mind and just go for it.
"Overall, the team had a good run and it wasn't an easy journey due to various commitments but we made the best out of it. We carried out Coach's plans and while we could have done better in certain aspects, I still had fun and I'm happy we won the title this season," she added.
"The job isn't done yet, we are out to do well in this last game to reward the fans who have been coming down regularly to support us."
The Lion City Sailors will make their Singapore Cup debut in late October as their group opponents were revealed in a virtual draw ceremony held at Jalan Besar Stadium earlier this afternoon (27 September).

The 2021 Singapore Premier League (SPL) champions were drawn in Group A alongside four-time champions Albirex Niigata (S), 2014 winners Balestier Khalsa and the Young Lions. 
Group B will see Tampines Rovers, Tanjong Pagar United, Hougang United and Geylang International battle for the other semi-final spots.  
Group stage matches will be played from 27 October to 6 November, with fixtures being announced at a later date. 
The top two sides of each group will progress into the semi-finals, played over two legs on 11 and 15 November. The grand final is scheduled for 19 November at the Jalan Besar Stadium.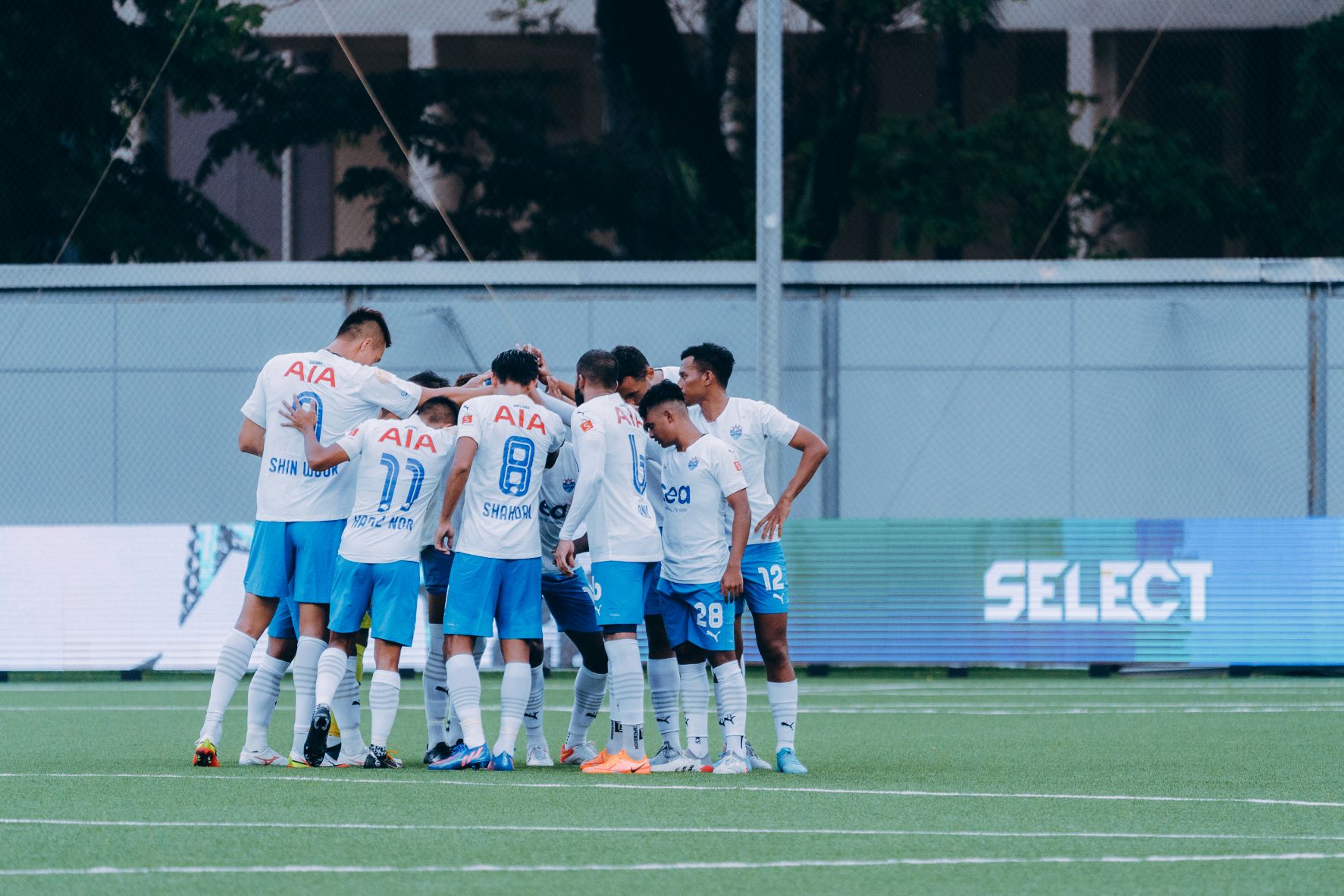 This will be the Sailors' maiden voyage in the Singapore Cup with the domestic cup competition marking its return after a two-year absence due to the Covid-19 pandemic. 
Tampines won the last edition played in 2019, emerging 4-3 winners over Warriors FC to win the competition for a fourth time. 
Reflecting on the draw, Sailors interim head coach Luka Lalić is relishing the challenge to lead the club into unchartered waters but insists that the Singapore Cup campaign will be a task that will only come into focus later, at the end of October. 
"We're all excited as a club to be playing in our first Singapore Cup campaign. The format of the competition means it'll be an exciting one for the local football fans.
"It won't be easy for us as everyone knows Albirex have won four out of the last five editions and Balestier always enjoy a good cup run, so we have to take each game seriously to qualify for the semis and the ultimate aim is always to win the competition," said the 35-year-old. 
"But our focus now remains on our league campaign – we have to win our remaining four games and hopefully do enough to retain the SPL title. Once we've achieved that objective, then we'll turn our focus to the Singapore Cup." 
They huffed and puffed, but just could not blow the house down. 
In their penultimate match of the Deloitte Women's Premier League (WPL) season, the Lion City Sailors Women could only muster a goalless draw with a plucky Tiong Bahru United at Yishun Stadium on Saturday (24 September) evening. 
It was only the second time the Sailors have failed to win this season, with the result putting them six points clear of second-placed Tanjong Pagar United, the team they face in their final WPL fixture next Saturday (1 October). 
The Sailors women dominated proceedings and could have gotten off to a flying start after just eight minutes. 
Slaloming past a number of Tiong Bahru challenges, Canadian teenager Madison Telmer saw her powerful shot beat the goalkeeper but not the crossbar.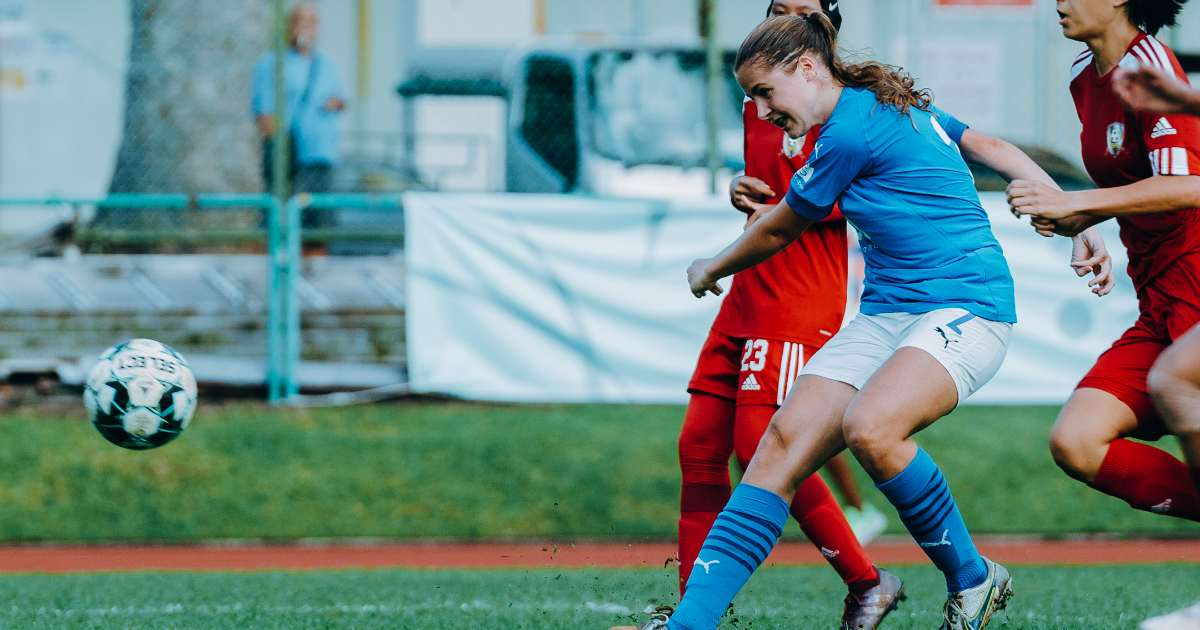 The Sailors continued in the same vein for the rest of the half and came close to breaking the deadlock, but efforts from Nur Izzati Rosni and Dorcas Chu came to nought.
At the other end, skipper Ernie Sulastri had to intervene when a defensive lapse presented Tiong Bahru with a goalscoring opportunity inside the penalty area.  
Chances were however, at a premium after the break as the Sailors were frustrated by resolute defending.
Izzati blazed over from close range with nine minutes left, before Dorcas failed to get a decisive touch on substitute Miray Altun's deflected shot as the Sailors had to contend with a point.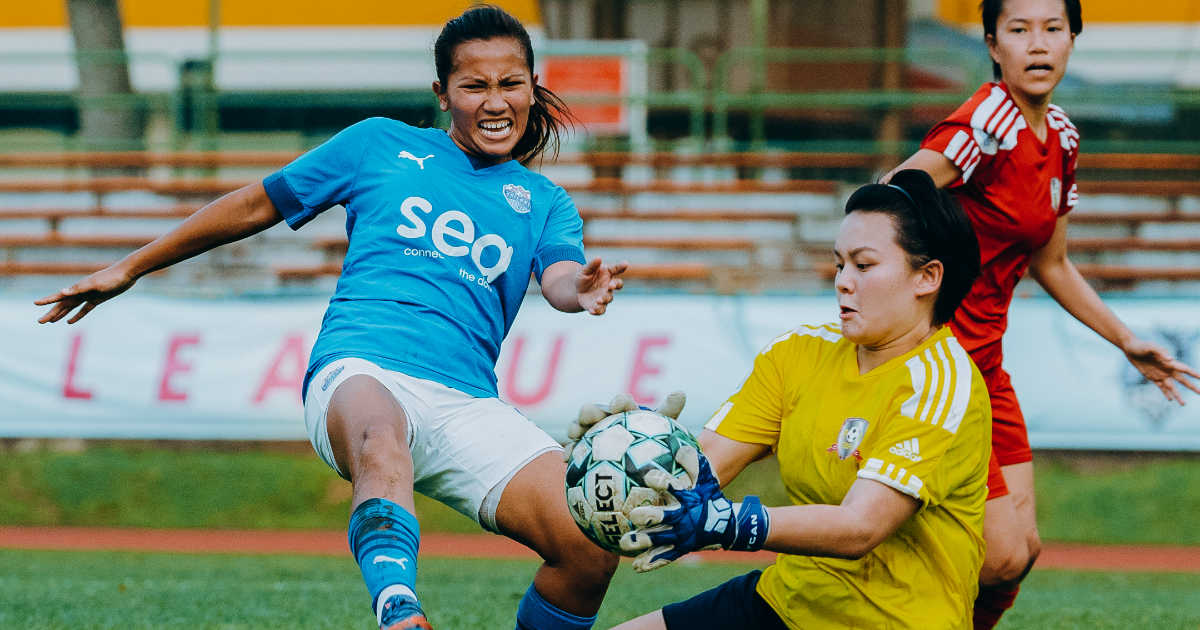 Head coach Yeong Sheau Shyan was pleased with what she saw despite the result and gave credit to their opponents on the night.  
"They made things difficult for us by pressing very aggressively. All of us were equally frustrated, including those on the bench who were even making jokes to try to calm ourselves down," said the 44-year-old.
"But we still kept to what we wanted to do, which was good to see. We really tried to keep everything on the ground and play those passes today, compared to our last match where we played several long balls.  
"The players now realise that it doesn't help if we rush and play in a way that we didn't train for. At the end of the day, the ball is round and we unfortunately failed to get the goal we needed." 
Looking ahead, Sheau Shyan has called for calm as they look to end their season unbeaten.
"This is the kind of frustration that we will face when we come up against sides like Tiong Bahru," she admitted. 
"We are expecting the same for the next game against Tanjong Pagar but the girls just have to be cool-headed. We will try to overcome the challenge of breaking the low block set up by some teams and find that finishing touch." 
With a swing of her left boot, midfielder Ho Hui Xin's long-range effort beat the Still Aerion goalkeeper and bulged the net in stunning fashion. 
It was her first goal for the Lion City Sailors Women and also capped off a comprehensive 4-0 victory to seal their first-ever Deloitte Women's Premier League (WPL) title on 10 September. 
"I honestly don't remember the last time I scored… All I know it was my first goal for the Sailors," the 30-year-old quipped.
"It was a good feeling when I struck the ball and saw it go in from the left. I was like 'I did it!' I remember the ball coming from Dorcas (Chu) who had done all the work, but I was glad to have scored in an important game like this."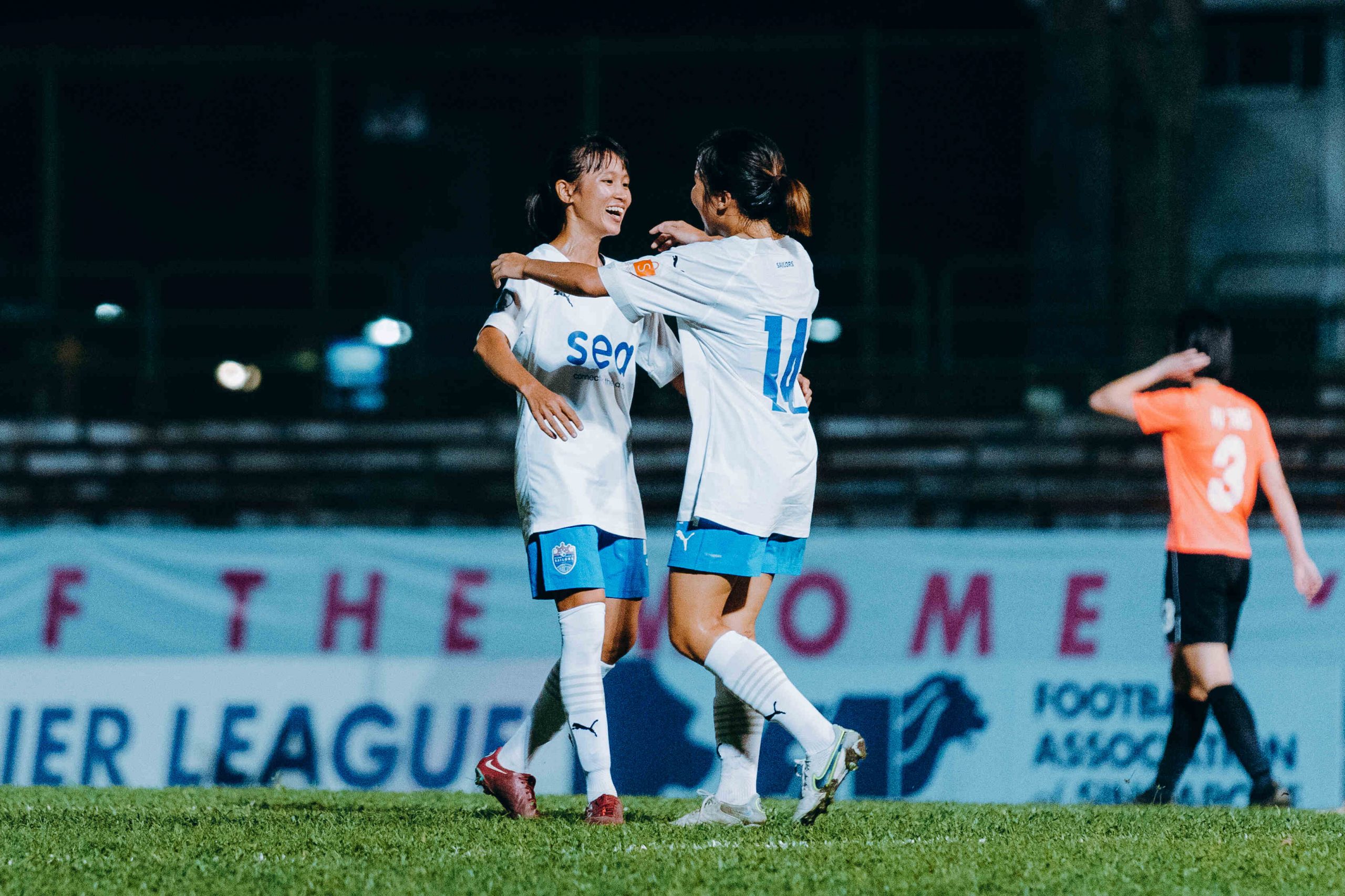 Next up for the Sailors, an encounter against Tiong Bahru in their penultimate WPL clash at Yishun Stadium on Saturday (25 September) evening. 
A Danelle Tan brace settled a tight contest in the reverse fixture in July and Hui Xin is wary of the threat Tiong Bahru – who are fourth in the seven-team WPL standings – may pose. 
"They are a relatively fit side who can give us a run for our money," said Hui Xin, who is a full-time physical education teacher. 
"They came at us in the first half when we last played and it took a while for us to break them down. Hopefully we can break them down and do better this time around.
"I know some of the longer-serving players there too, such as defenders Angie (Pang) and Deborah (Chin) during my time with Woodlands Wellington – the previous iteration of Tiong Bahru."
Hui Xin believes the Sailors can do more and fulfil the expectations set for them from the get-go. 
"We started the season with high expectations and knew that the pressure was going to be on us. On top of that, we want to play according to the style that (Head Coach) Yeong Sheau Shyan demands from the team," said the Singapore international. 
"While we have managed to do that, we have not done it very well. We have struggled against teams who sit back, as well as those who really come at us. We also need to learn how to make better use of the ball whenever we have possession."
Despite the fact the WPL crown has been secured, Hui Xin insists there is no room for complacency.
"We might have clinched the title but there are still two games to go and we want to finish the season strongly," she added.
"This is our first season and the feeling (of winning the title) hasn't really sunk in yet. I think the feeling will really sink in when we lift the trophy after our final game against Tanjong Pagar United."  
As a mark of respect following the passing of Football Association of Singapore (FAS) President Mr Lim Kia Tong, all Singapore Premier League (SPL) fixtures scheduled for this weekend have been postponed. 
The Lion City Sailors match against Young Lions that was originally scheduled for Friday, 16 September, at the Jalan Besar Stadium will now be played on 22 October at the same venue. 
The 15 October match against Tanjong Pagar United at the Jurong East Stadium will now take place a day earlier, on Friday, 14 Oct at the same venue, with kickoff scheduled for 7.45pm.
The Sailors are shocked and saddened by the sudden loss of a dedicated member of the Singapore football fraternity. Our thoughts and prayers go out to the family of the late Mr Lim at this time of sorrow.
Nine Lion City Sailors players will help fly the Singapore flag as the Lions play Vietnam and India in a Tri-Nation series during the upcoming FIFA international window. 
Lions' captain Hariss Harun, along with eight others – Hassan Sunny, Amirul Adli, Adam Swandi, Hafiz Nor, M. Anumanthan, Shahdan Sulaiman, Faris Ramli and Song Ui-young – have got the nod from national team head coach Takayuki Nishigaya in what is only his second Lions selection. 
Anu has been handed his first national call-up under the 49-year-old Japanese as he returns to the Lions fold for the first time since featuring in the pandemic-delayed AFF Suzuki Cup 2020 last December. 
The 28-year-old defensive midfielder has made 20 appearances for the Sailors since signing for the club in the off-season, with one goal to his name. 
The 23-strong squad will travel to Ho Chi Minh City, Vietnam where they will play the 97th-ranked hosts on 21 September. The Lions will then play world no. 104 India – 55 places above them in the FIFA rankings – three days later. 
The two matches serve as preparations for the year-end ASEAN Football Federation (AFF) Mitsubishi Electric Cup 2022, in which Singapore will line up in Group B against Vietnam, Malaysia, Myanmar and Laos.
The Lions leave for Ho Chi Minh City on Monday (19 September). 
Sailors' Lions representatives for September's Tri-Nation series against Vietnam and India: 
Hassan Sunny, Amirul Adli, Adam Swandi, Hafiz Nor, Hariss Harun, M. Anumanthan, Shahdan Sulaiman, Faris Ramli, Song Ui-young
There was a contender for goal of the season, robust challenges and a spirited battle till the final whistle. But all that was still not enough for the Lion City Sailors who fell 2-1 to Tampines Rovers on Saturday (10 September). 
The Singapore Premier League (SPL) match at Our Tampines Hub (OTH) was the Sailors' second loss on the trot – following the previous week's 3-1 defeat to Geylang International – overshadowing what was a fantastic August for the Sailors. 
The Sailors scored 30 goals en route to four wins last month, but last night's loss saw interim Head Coach Luka Lalić call for his charges to take a long hard look in the mirror. 
"Similar to the loss to Geylang, we made easy, silly mistakes, lost the ball and let them score twice. If we make such mistakes, and also when you miss opportunities of your own, you cannot expect to win," he said.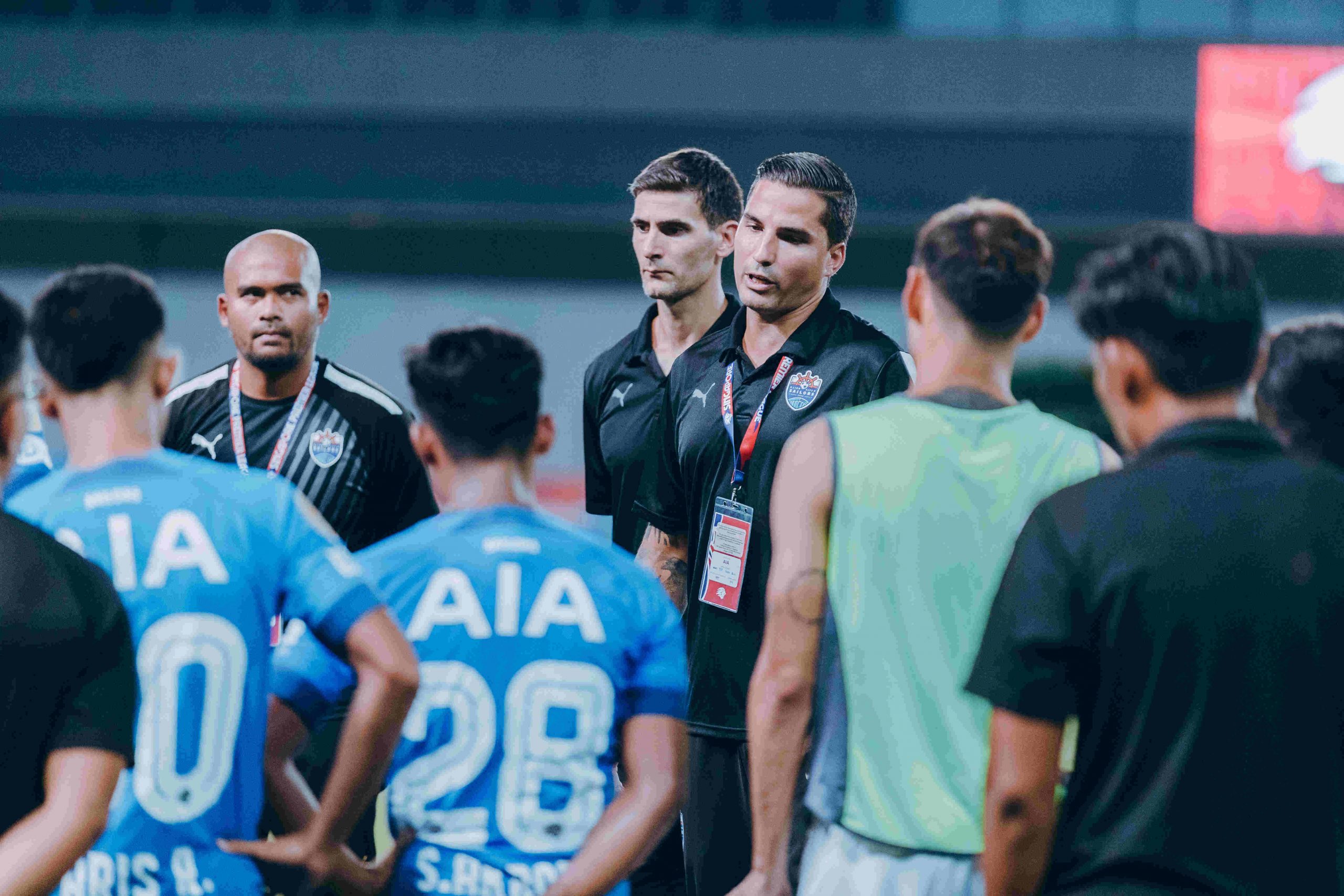 The result saw Albirex Niigata (S) knock the Sailors off the top of the eight-team SPL standings after the Japanese side overcame an early scare to come from behind and beat Young Lions 2-1 on the same night. 
Albirex are on 54 points – three ahead of the second-placed Sailors – with just four games left to play, including a crucial six-pointer between the two title-chasing sides at the Jalan Besar Stadium on 7 October. 
"I asked the boys to take two days off for self-reflection, and we go back to work on Tuesday."
It was an unfamiliar Sailors lineup that walked out at OTH. Captain Hariss Harun and Hafiz Nor were suspended, and with Pedro Henrique and Kim Shin-wook out injured, the Sailors were forced to improvise.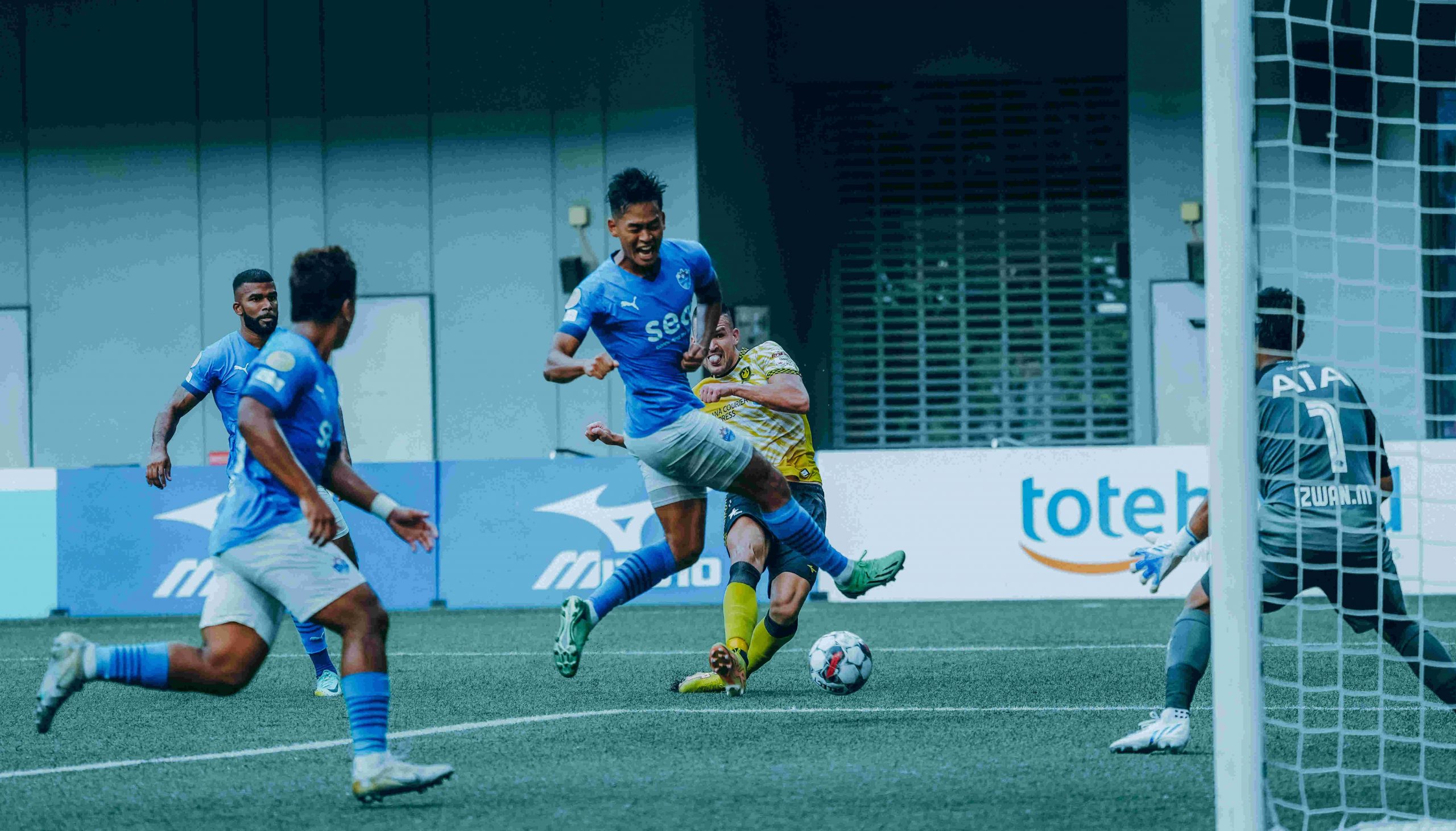 Midfielder M Anumanthan and left-back Nur Adam Abdullah were deployed as part of a three-man central defence alongside vice-captain Amirul Adli.
Tampines took the lead in the 55th minute of play, with Taufik Suparno nicking the ball off Anu in the Sailors' box and laying it on a plate for Boris Kopitovic to prod home.
The lead lasted for just one minute, with substitute Maxime Lestienne scoring a goal that drew gasps from the OTH stands. The Belgian swung his left foot as Adam Swandi's pass reached him at the top of the Tampines box, and as if tapped by a magic wand, the ball swerved in the Tampines sky, pinged the crossbar then kissed the post before nestling in the bottom of Syazwan Buhari's goal.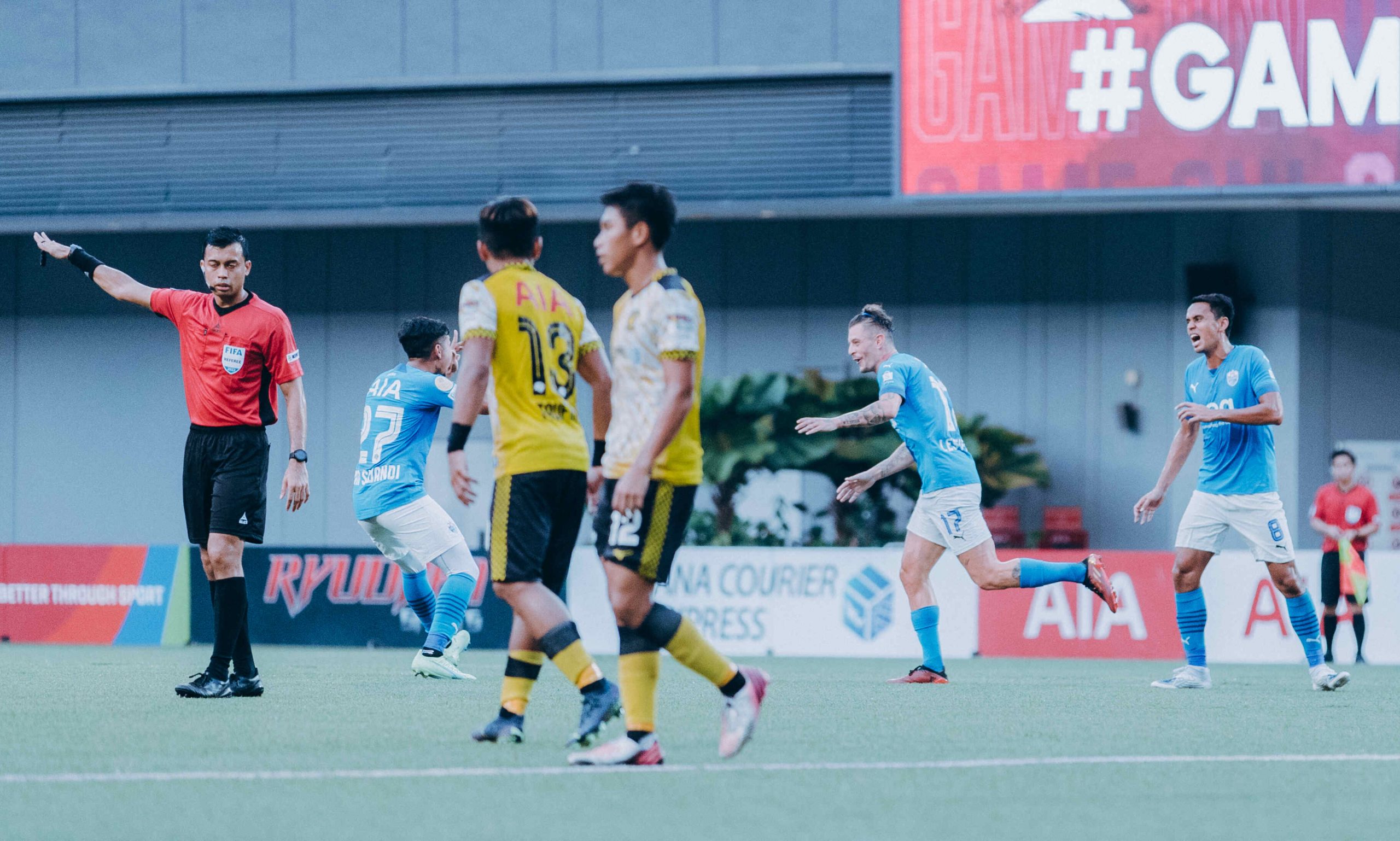 Zehrudin Mehmedovic capped off a frenetic four minutes at OTH with a curling freekick that went in off the bar in the 58th minute, to help Tampines regain a lead they held onto despite the Sailors throwing everything at the Stags in the remainder of the match. 
"The pressure has been on us for some time, and now it will switch to Albirex, and it is up to us to chase them," said Luka, whose charges will face Young Lions, Balestier Khalsa, Albirex then Tanjong Pagar United in their final four SPL fixtures. 
"The title race is not over – for me that match against Albirex will decide where the title goes." 
As the final whistle sounded, players on the bench ran onto the pitch to celebrate with their teammates while fans on the stands broke out in chants of "Campeones". 
Water from the mineral water bottles was doused over heads, with head coach Yeong Sheau Shyan and team manager Shuhadah Sinwan amongst those not spared as the entire team, including the coaches and officials, were drenched by the time the lights were turned off at the Yishun Stadium. 
These jubilant post-match scenes on Saturday (10 September) night came after the Lion City Sailors Women swept Still Aerion FC aside 4-0 to seal their first-ever Deloitte Women's Premier League (WPL) title with two games to spare. 
Specially-designed "Champions" T-shirts were also donned as the team and the fans celebrated in unison on a stellar achievement by the club.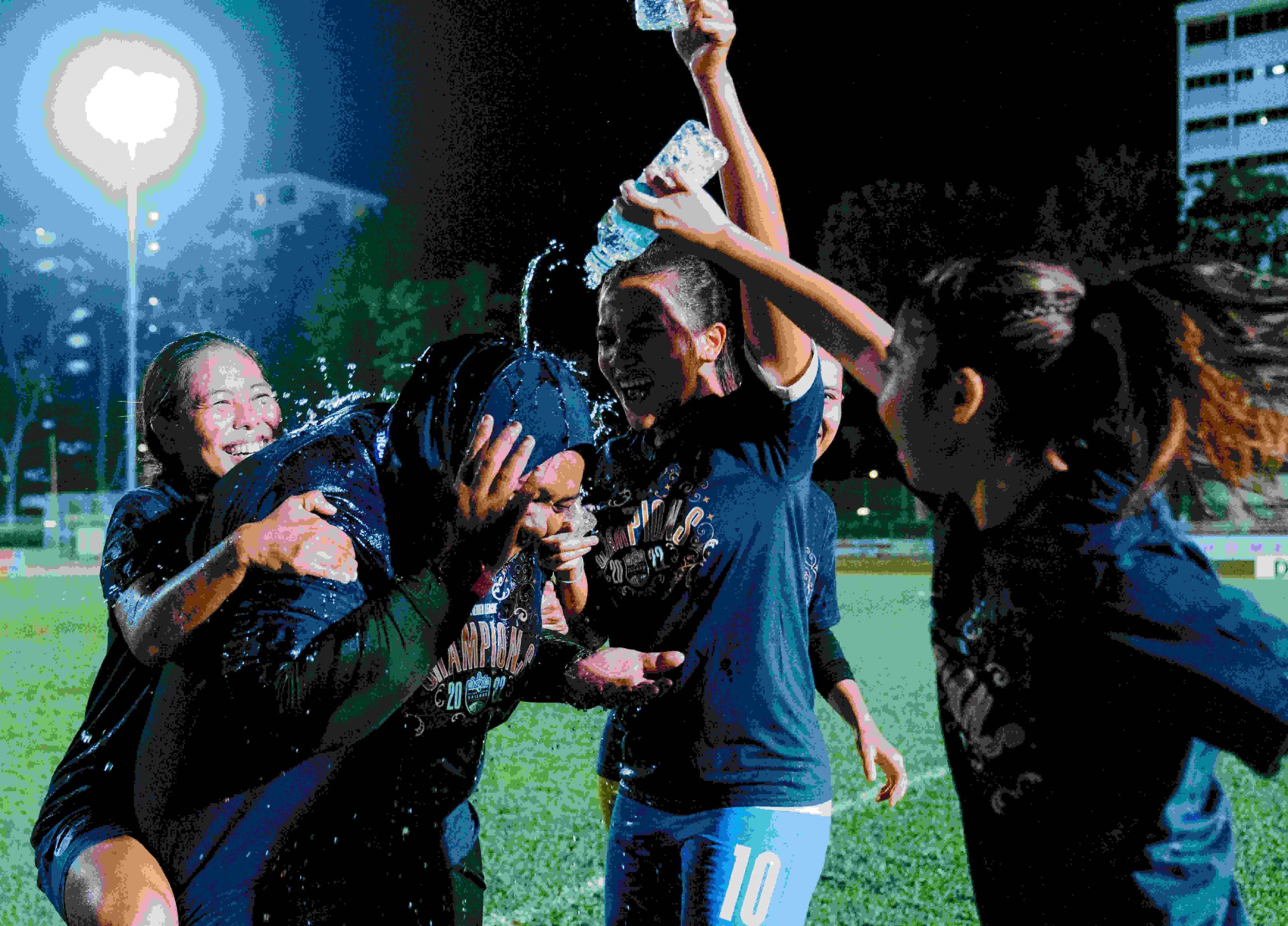 Madison Telmer struck the opener on the stroke of half time, before second-half goals from Paula Druschke, Dorcas Chu and Ho Hui Xin wrapped up the victory – which meant they moved eight points clear at the top and would not be caught by second-placed Tanjong Pagar United. 
With that, the Sailors became the 14th different winner of the WPL in 21 seasons, ending the four-year reign of Warriors FC between 2016 to 2019. The WPL was not played in the Covid-19 pandemic years of 2020 and 2021.
Sheau Shyan was pleased with how her charges recovered from a sluggish first-half display to turn on the style after the break and officially confirm their status as 2022 WPL champions.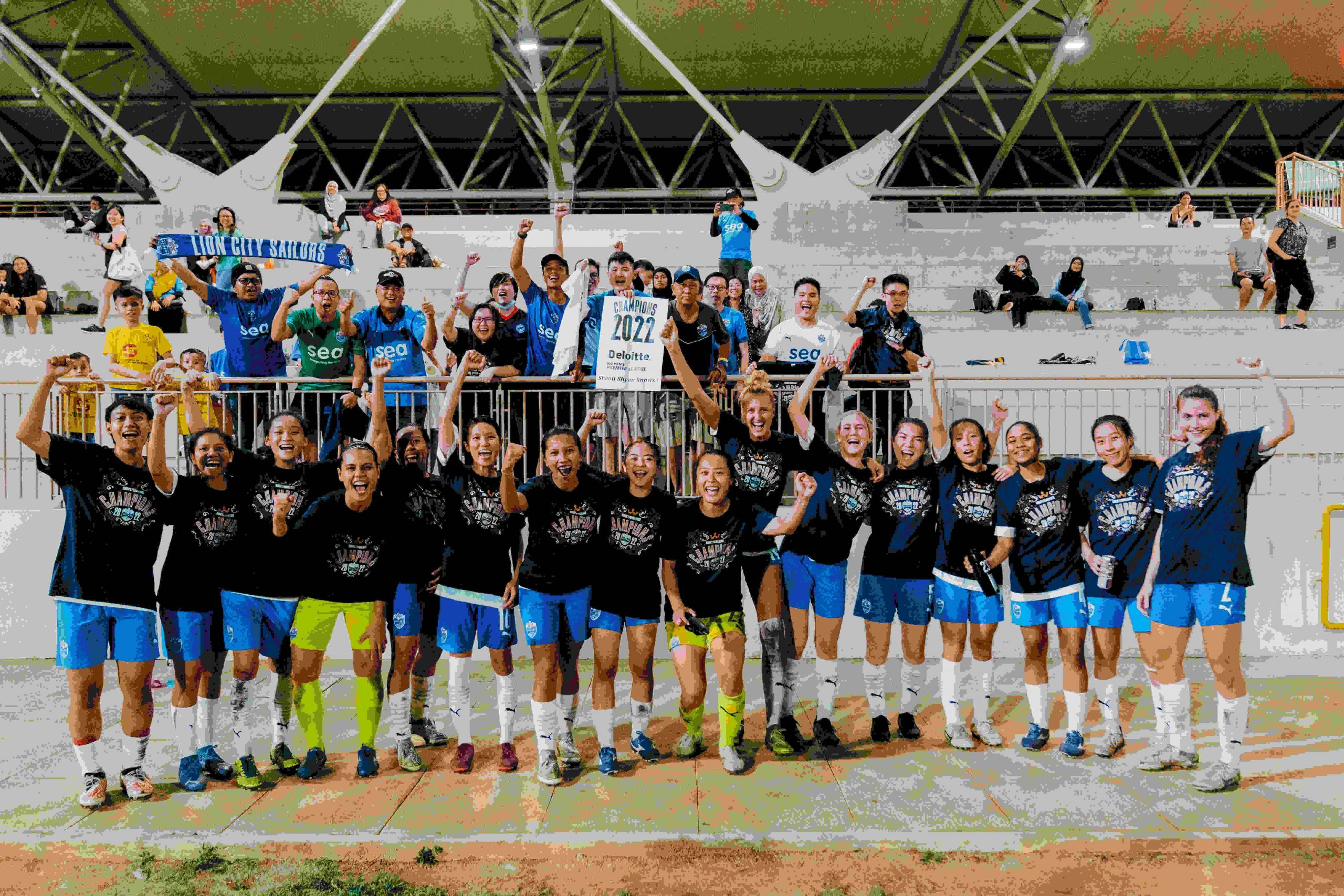 "In the first half, we didn't execute the game plan the way we wanted to. There was a gap between the backline and the frontline – the connection wasn't there and we resorted to a lot of long balls, which isn't our style," analysed the 44-year-old. 
"I felt our defence wasn't taking it seriously enough and our opponents could have scored a couple of goals on the breakaway. I had to tell them off a bit and remind them not to be complacent at the back, so I'm definitely happy that the second-half performance was way better than the first."
With the team having only one training session together in the lead-up to this match due to the FIFA international window, the Sailors looked a pale shadow of their usual selves in the beginning and were unable to produce their usual slick passing football. 
It was only until the latter stages of the first half with a band of Sailors fans started streaming in – they travelled from Our Tampines Hub where the Singapore Premier League game was played – when the women started to get their act together, as Madison surged through the middle to fire the Sailors into the lead.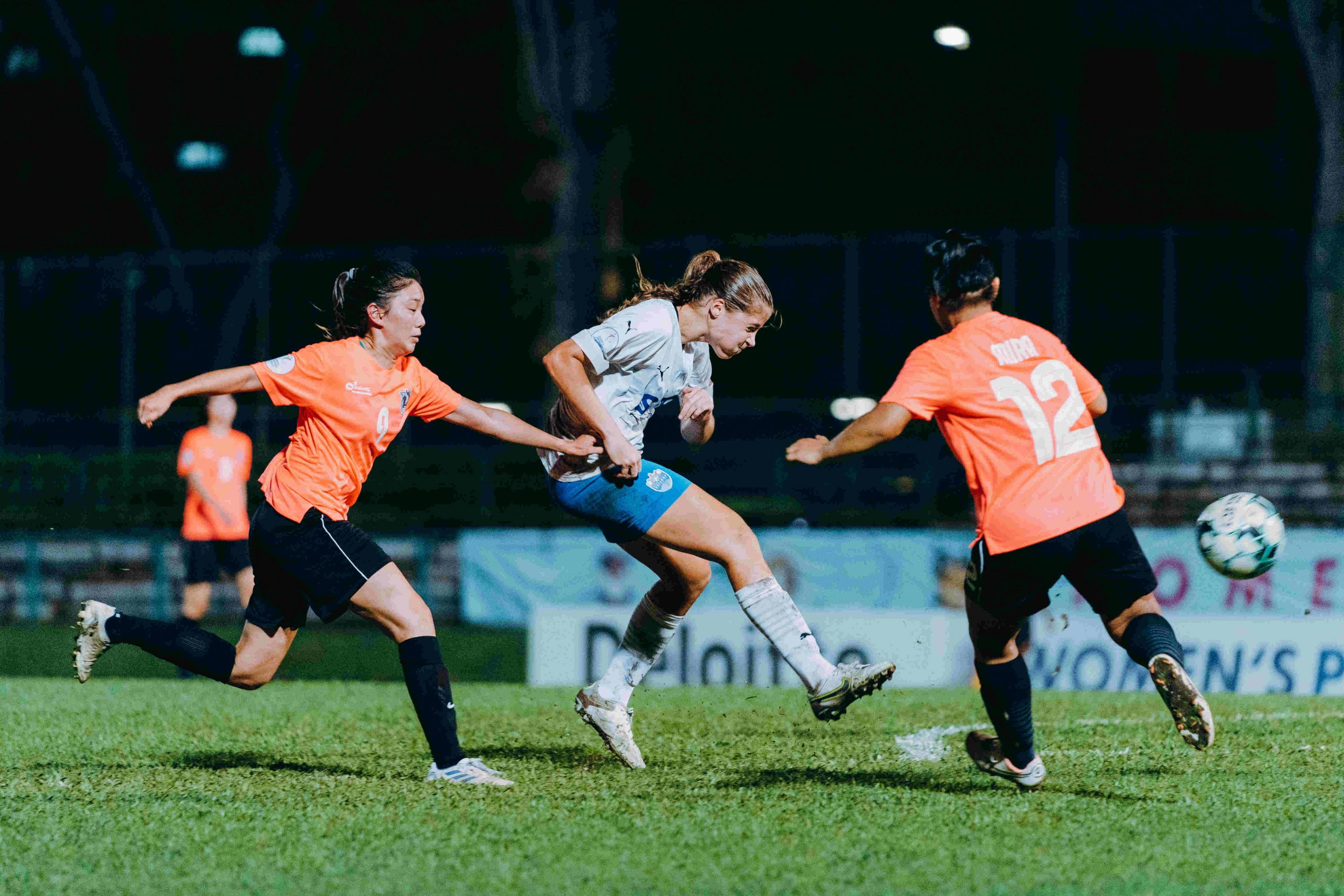 "It was as if we waited for the fans to come in with the cheers to pick up our performance," chuckled Sheau Shyan. "But I've to say the support from them helped to bring us to a different level and they are really our 12th player."
Things started to flow in the second half, with Paula whipping a stupendous free kick into the top left corner on 54 minutes to double the Sailors' advantage. 
The substitutes then stole the show towards the end, with Dorcas heading home Paula's outswinging corner in the 79th minute before Hui Xin netted a gorgeous strike from range to complete the rout. 
Reflecting on the title triumph, Sailors captain Ernie Sulastri paid tribute to the dedication and hard work put in by the team. 
"This team deserves to win the title because we put 100 percent into every training. It's not easy for most of us who have been managing both club and international duties, but everyone has been willing to sacrifice time for the cause. 
"Credit also goes to the coaches and officials, who have been very patient with us and trying to get everyone to gel. For us it's not just about winning the title, it's about how we got together as a team to execute the coach's game plan," elaborated the 33-year-old.
The Sailors' final two matches are against Tiong Bahru on 24 September and Tanjong Pagar on 2 October, with Coach Sheau Shyan already looking forward to the latter game to correct some previous wrongs.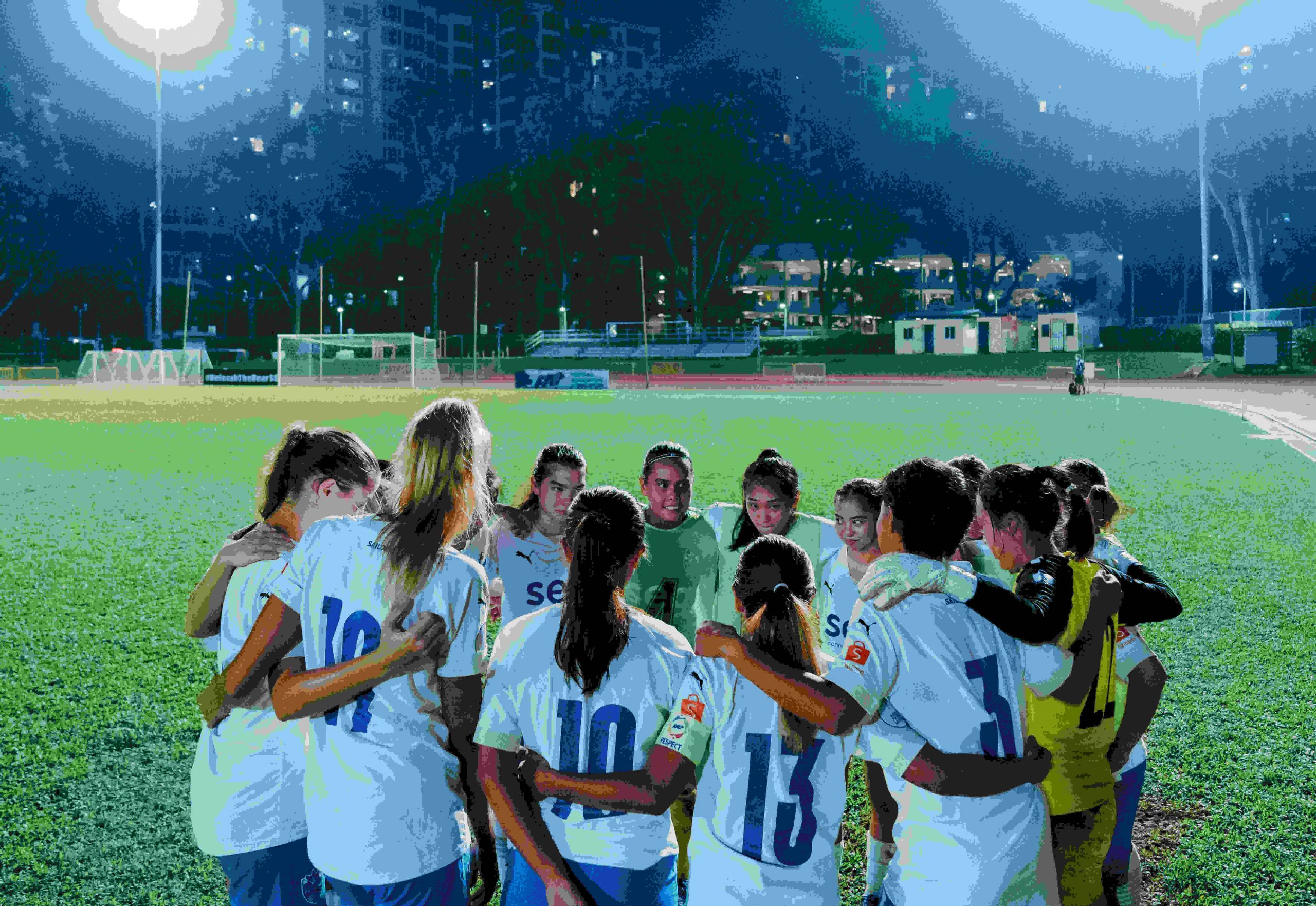 "We didn't get a goal against Tanjong Pagar the last time (in a 0-0 draw which was the only occasion that the Sailors dropped points this season) so we definitely want to get that win," she said.
"As a team, we still have things to work on including trying to break the low block. Once the season is finished, then we can properly celebrate as a team."
Singing from the same hymn book, Ernie said, "We cannot stay stagnant and be comfortable even if we've already won the league. We need to work hard to further improve our team chemistry and see how we progress as a team. 
"It's not just about scoring goals; we want to be more composed on the ball, know how to release the ball quicker, circulate the ball and most importantly play beautiful football for our fans to enjoy." 
After a disappointing 3-1 defeat to Geylang International the last time out, the Lion City Sailors will be looking to rebound when they go on the road to face another Eastern side, Tampines Rovers, at Our Tampines Hub (OTH) on Saturday (10 September) evening. 
Spearheaded by 28-goal league-leading scorer Boris Kopitović, third-placed Stags have been in good form of late – winning five out of their last six matches. Acutely aware of the challenge against Gavin Lee's men, goalkeeper Hassan Sunny has urged his side to put in a much-improved display to return to winning ways. 
"Tampines are obviously a quality team and they'll be playing with the backing of their fans at OTH. So it'll be tough for sure, but we have quality players in our ranks especially in our attacking front who can hurt anyone.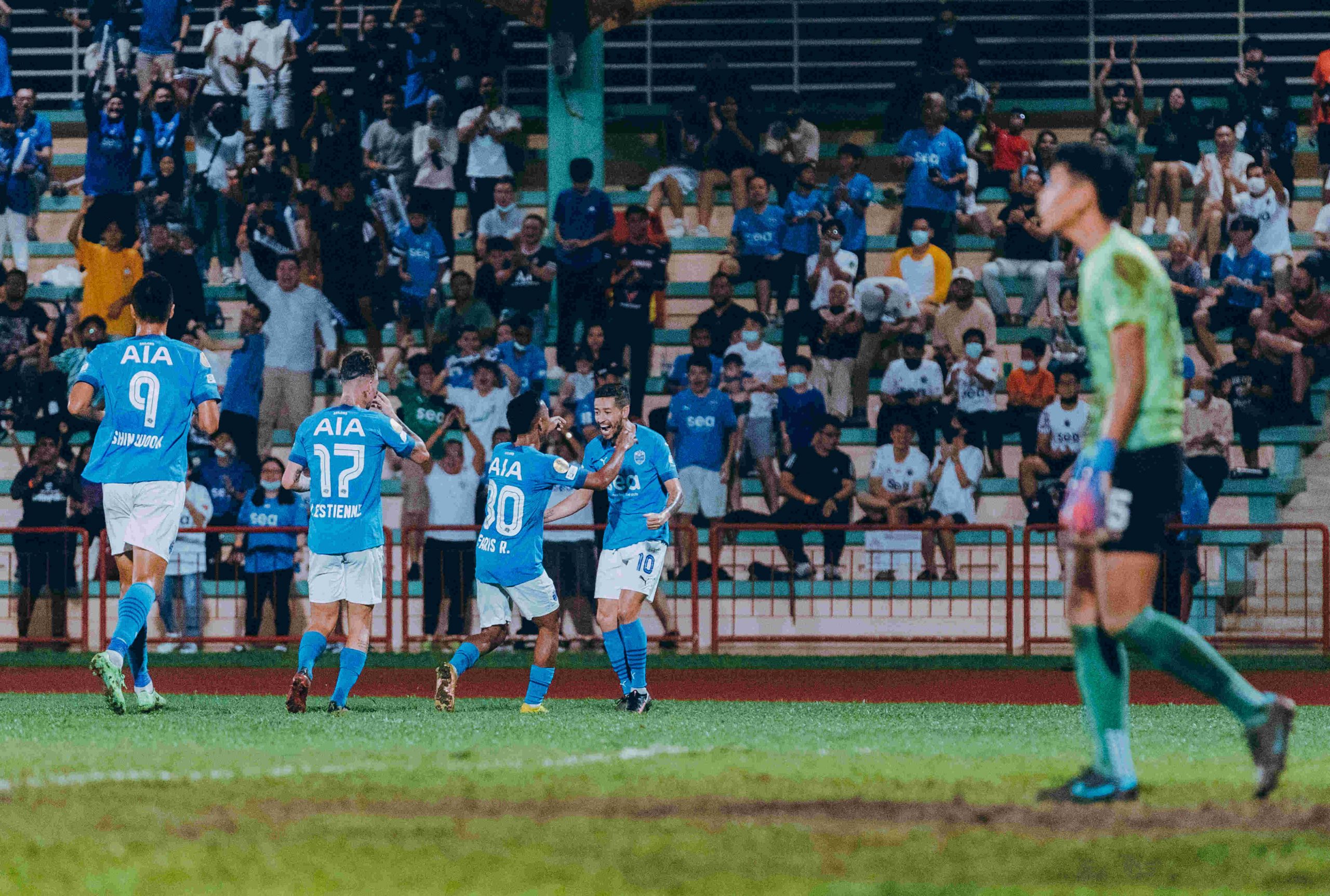 "First things first, we have to play as a unit and everyone has to turn up in order for us to get the victory," said the 38-year-old. 
Not one to mince his words, Hassan acknowledged the team didn't "turn up" against the Eagles last Sunday as they fell to their first defeat in four matches under interim Head Coach Luka Lalić. 
"We have to admit Geylang wanted it more than us and they fully deserved the win. We were punished rightly for our poor performance. Having said that, we've been hard at work this week trying to get everything right for this upcoming match."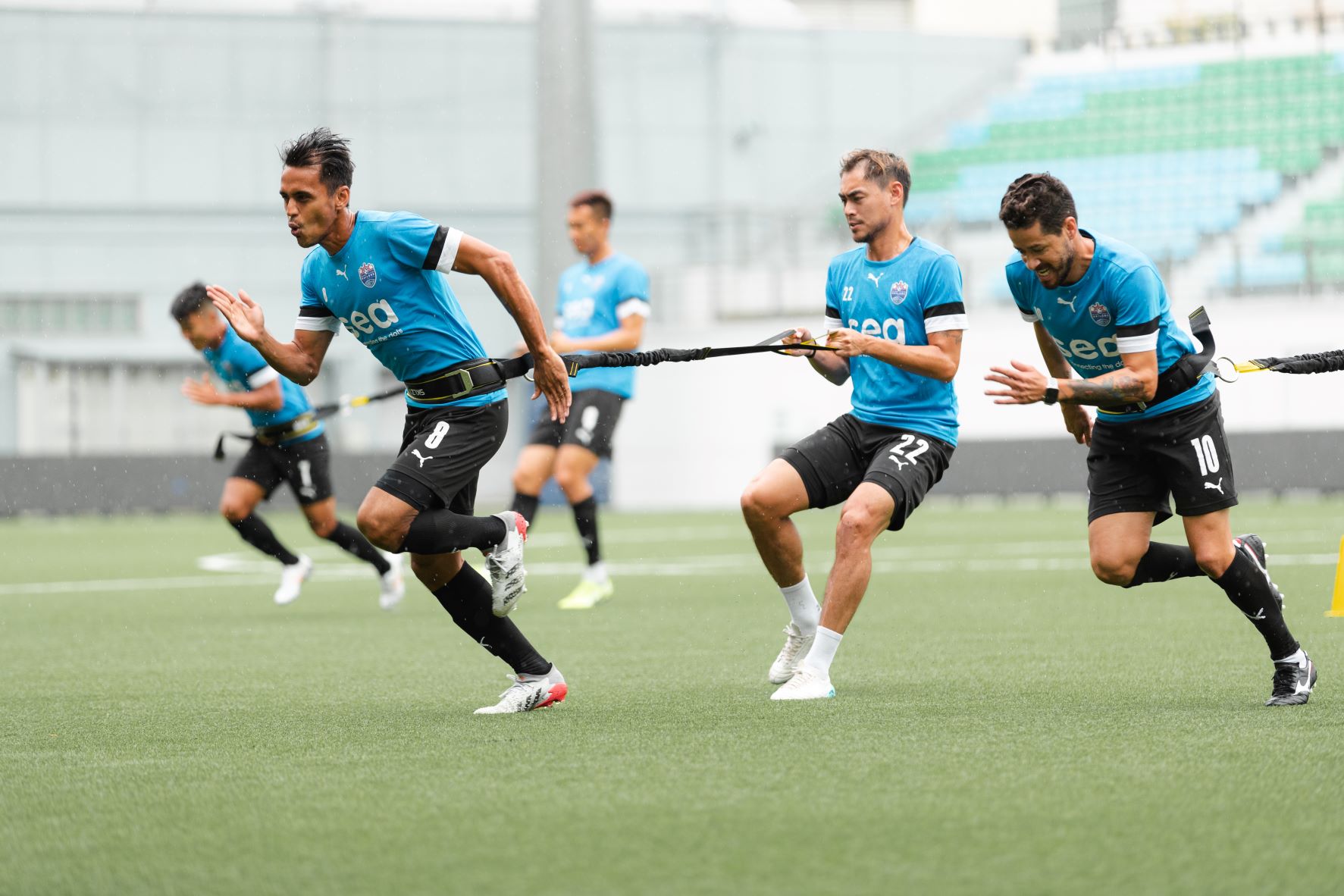 The Sailors can take confidence from winning all three encounters against Tampines in 2022, but will have to cope without the suspended duo of Hariss Harun and Hafiz Nor, while Brazilian centre-back Pedro Henrique is unlikely to be fit due to injury.
Hassan believes this is where the squad depth and players' versatility comes in to play a crucial part for the team. 
"This is not something new – we have had players out before and had to rely on some of us playing in unaccustomed positions. So we definitely have the depth as well as the flexibility to cope," said the veteran custodian. 
The title race is now finely poised going into the final five matches of the season, with the Sailors level on 51 points with Albirex Niigata (S) but holding the advantage courtesy of a better goal difference by +10.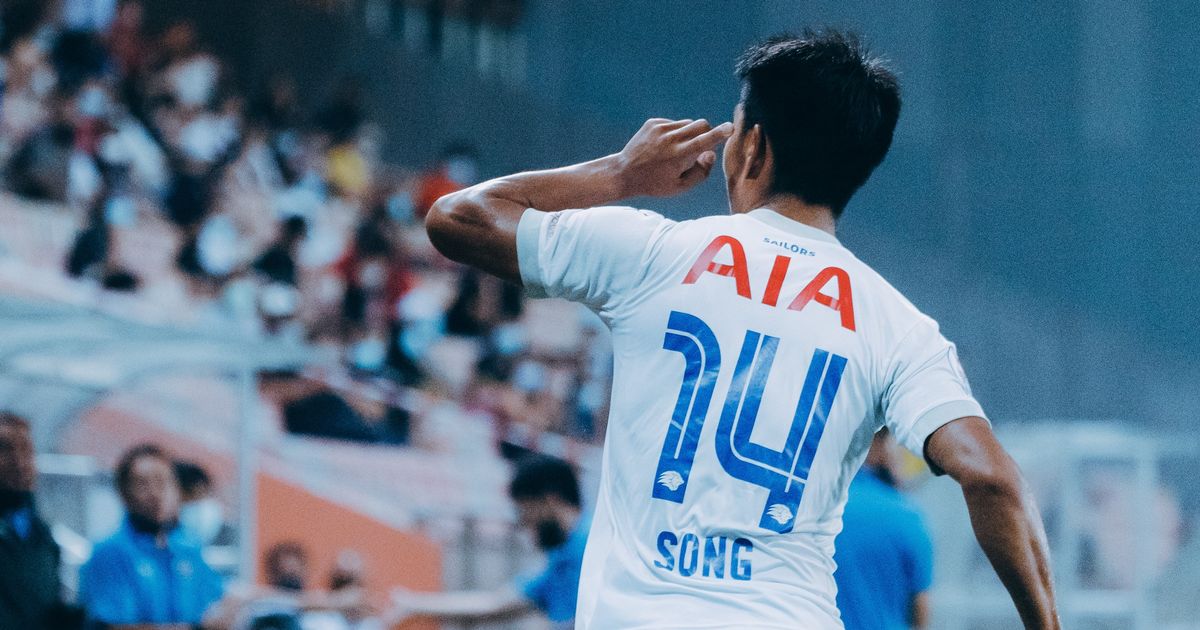 In a situation not dissimilar to last season when the Sailors held their nerve to win their first-ever SPL title on the final day, Hassan is calling for calm heads to see the team through and eventually retain their domestic crown. 
"Last year we also had players missing and a change of coach, but we pulled through so I don't see why it won't happen this year. Yes, there is pressure for sure, but only with pressure will you be able to see the difference between good and average players," said Hassan, who was also part of the Warriors FC side that clinched the title on the final day of the season back in 2014. 
"These last five games won't be easy and even Young Lions will try to make it difficult for us in our following match. But we've been in this situation before so it's not new to us. 
"The coaches and backroom staff have done their part to prepare us, now it's up to us players to perform on the pitch and do justice to their efforts."