He was called up to the Belgium national team at the age of 21, scored in the Italian Serie A as Genoa famously beat Inter Milan 3-2 and even played a starring role in PSV Eindhoven's upset of English powerhouse Manchester United in the UEFA Champions League (UCL). 
There is little doubt, Maxime Lestienne has stood under the bright lights of big-time European football – and shone. 
Speaking under the orange glow of lights at our makeshift studio – a repurposed briefing room – at the Lion City Sailors Training Centre on Mattar Road, it was clear that the fire in his belly that helped him hit those heady heights still burns strong.
Maxime is now 31 and well into his second Asian Football Confederation Champions League (ACL) campaign with the Sailors but there is a real drive to push boundaries, and this time, pull the Sailors along his football adventure. 
"It's very important not just for me, but also the supporters. In football, we always need to have a big objective and that's the one we have as a team," said Maxime, of helping the Sailors become the first Singapore side to qualify for the ACL Round of 16. 
"I believe we can still do it – and it'll be a big moment for us."
Maxime inspired PSV to victory over Louis van Gaal's Man United Class of 2015, and also scored a brace in the Dutch side's 3-2 defeat to CSKA Moscow in that UCL season. The opportunity to now make his mark in the ACL, Asia's equivalent elite club competition, remains a big motivation. 
"The ambition of the club is why I decided to come and there are no regrets, I'm very happy here. Last year, not a lot of people know of the Lion City Sailors and we made something in the ACL although we didn't qualify," he said of his debut campaign last year. 
The Sailors beat Korean side Daegu FC 3-0 en route to a seven-point finish. 
The Belgian has not looked back and is relishing the challenge of guiding the Sailors into the Asian football spotlight.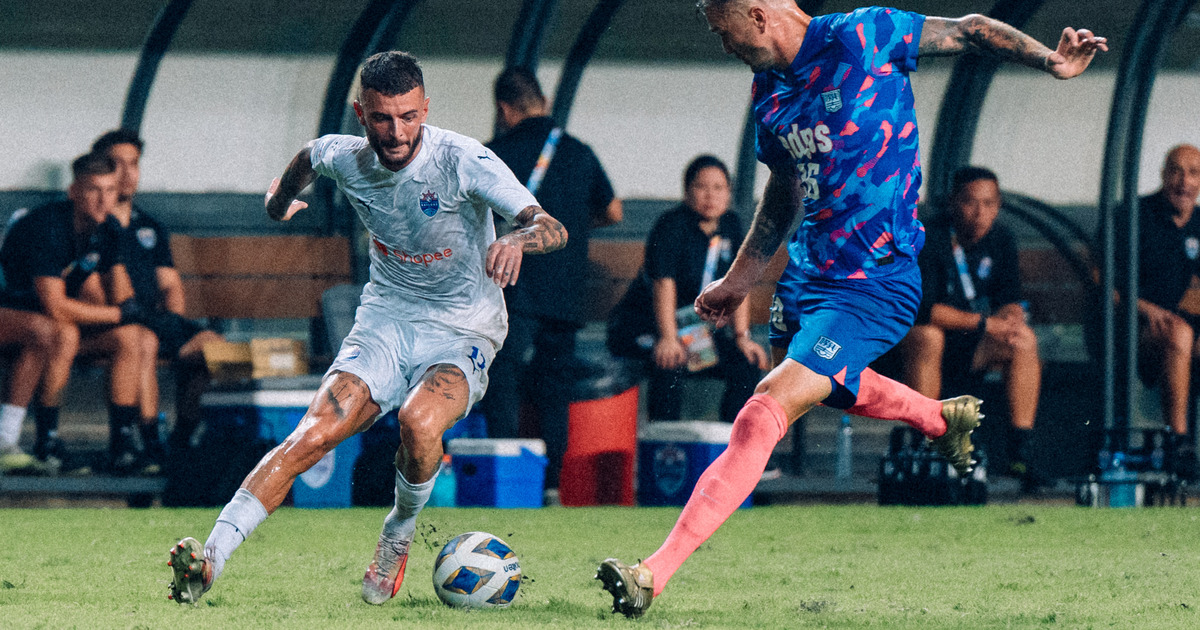 "This year, we're not a surprise package anymore, so we have to work and show why we deserve to be here. We're not here just for Sailors' fans, we also want to make Singapore proud," he added.
Having experienced last year's pandemic-enforced centralised tournament format ACL, Maxime is loving this season's home-and-away format that brings out the best elements – and colourful fan culture – of Asian football. 
He said: "Last year, we stayed almost a month together in Thailand and couldn't see our families. Now it's better, we can play in front of our fans: I have to say the atmosphere was amazing when we played Bangkok United at Jalan Besar. 
"And it's also nice for us as a team to experience playing against an away crowd when we played against Kitchee SC. We were also touched to see the support from our fans who travelled to Hong Kong. When you're on the pitch, you do want to give a bit more for them and those watching on TV."
To Maxime, the 2023/24 ACL campaign is bringing the best out of the Sailors as he lauds the raised levels that come with competitions like these. 
"I can feel and even see that we're more focused and motivated before games, because we know the importance of this competition to the club. We must give more than what we give normally; we have to be very organised on the pitch and be compact as a team," noted Maxime.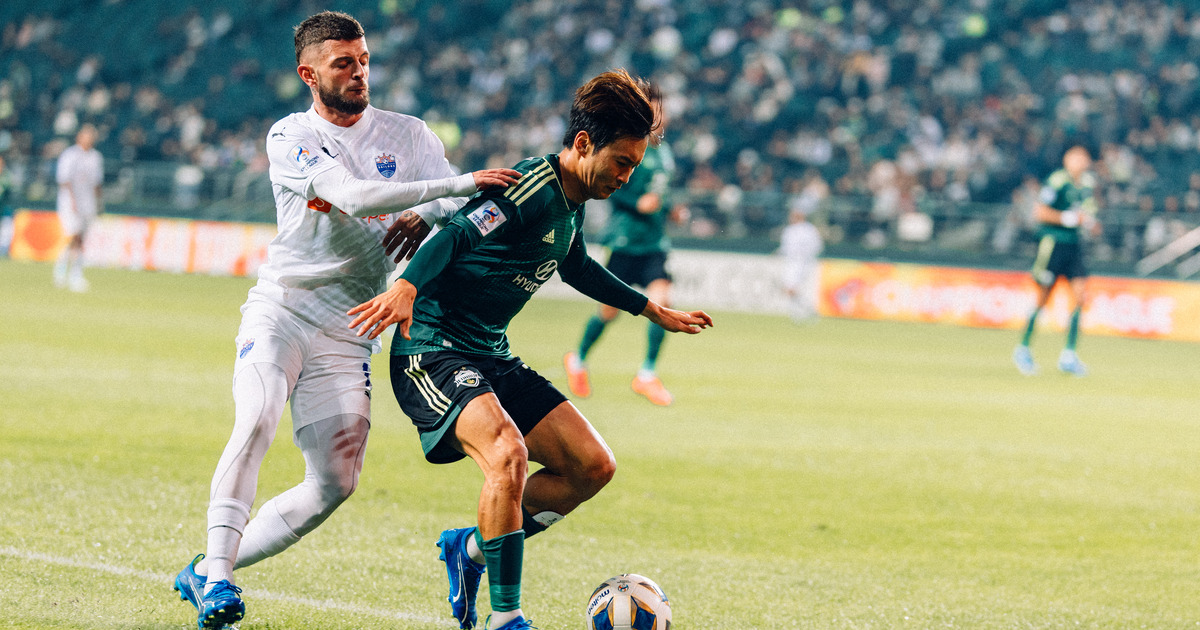 "For myself, I have to defend more even if I don't like it. Obviously the intensity in the European competition is a bit faster, but there are good teams and good players in Asia – Urawa Red Diamonds is an example," said Maxime of the defending ACL champions the Sailors faced in the 2022 campaign. 
"And it's nice to see how we're all stepping up as a team for the higher levels we face in the ACL." 
Maxime may be stealing the headlines with sensational performances in his second year as a Sailor, chalking up the most goals (25) and assists (21) in the Singapore Premier League (SPL), but he is adamant that it is the spirit of the Class of 2023 that is most important facet of the Sailors. 
"I'm not the leader of the team," he insisted. "This team works in a way where everybody can speak; you can say something and everyone will listen to you. We've got some fantastic young players here, and they are not afraid to step up and take responsibility to lead the team.  
"We even have players as young as 15, 16 joining our squad this season and making their debuts – they've worked really hard to get to be here. I remember being in the first team in Belgium (with Mouscron) at 16 and it's the same – I worked very hard to achieve my dream and every young player should be doing this."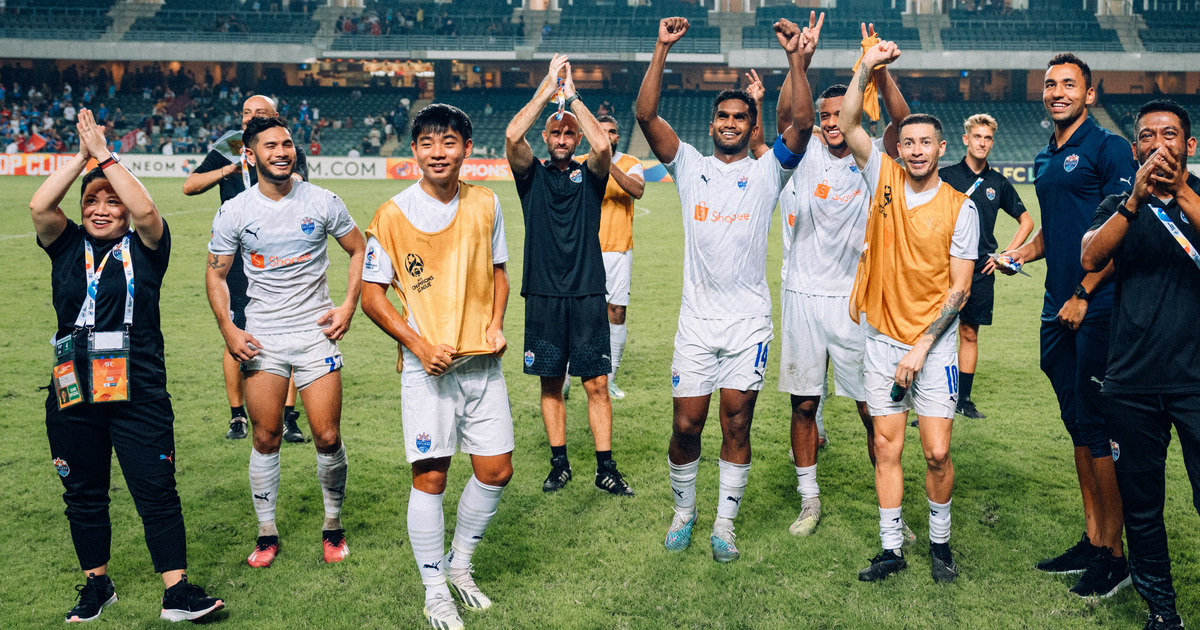 Under the tutelage of Aleksandar Ranković and his blend of promising youngsters and experienced campaigners, the Sailors squad has been in pretty good form the last couple of months, from the SPL then into the Singapore Cup, and also getting a gritty away win against Kitchee in the ACL earlier in October. 
It is a fact that delights Maxime. 
"It's so fun to be in this team, with the foreign players offering not only different qualities but a different experience from where we used to play at. All of us try to give something to the team and have blended very well with the locals – now I feel that I'm already a local!" he joked.
"Coach Ranko's technically a very good coach; he tries to apply what he learnt in Europe to give to us – how to build up, how to be tactical. Maybe in the first two weeks (when he first took over), it was a bit difficult to understand. But now everyone understands what he wants from us and we're enjoying every single day in training." 
At the halfway mark of the Sailors' Group F campaign with three points and a battling chance of still making it into the knockout stages, Maxime insists there is no inferior complexity when the Sailors compete in the ACL and is determined to push all the way.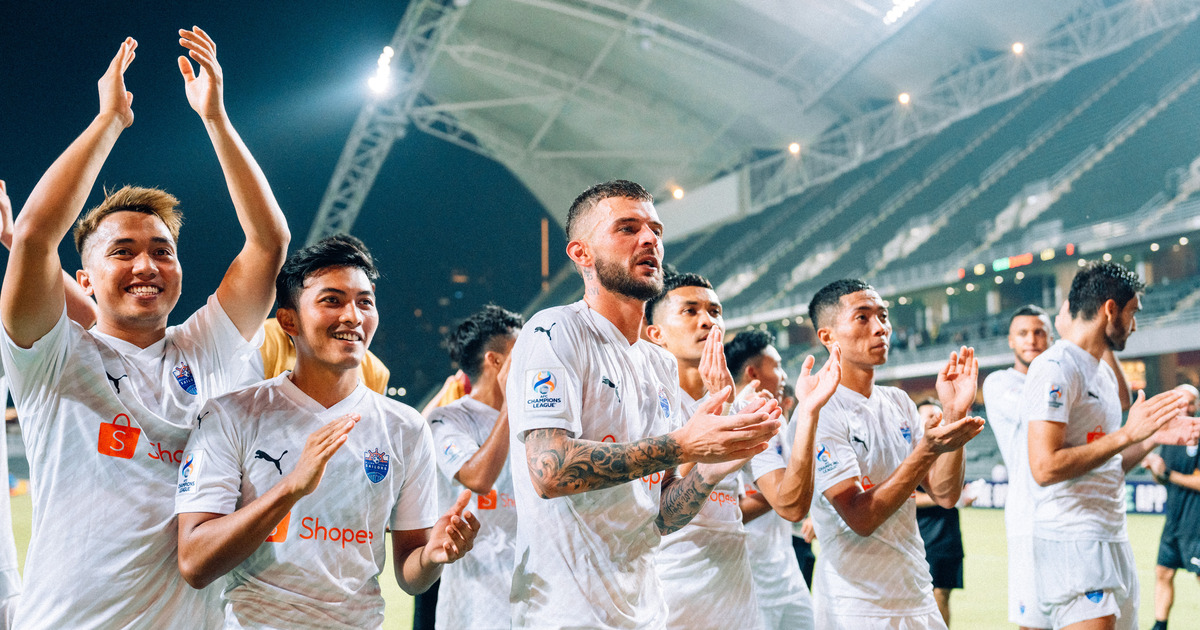 "We have no reason to fear anyone and second place is still up for grabs. We have to play with confidence – not scared, not stressed about losing – we must enjoy the game and work hard as a team. It's important that after the game, when we reflect,  we know we gave everything.
"We know we have enough quality to beat teams in front of us, we just have to go out there to play," said Maxime.  
"If we can consistently play like we did in the first half against Kitchee, I think we can qualify."
The Lion City Sailors Women's Team channelled nerves into a rousing 3-0 victory over Deloitte Women's Premier League (WPL) title rivals Albirex Niigata (S) at Clementi Stadium on Sunday night (29 October), opening up a seven-point gap between them and the second-placed White Swans. 
The result means Sailors can potentially clinch back-to-back WPL titles next Sunday (5 November) against Geylang International, with the women needing just another three points to open an unassailable lead at the top of the 10-team standings.
"Everyone was nervous and it was stressful because we knew we had to win," said Head Coach Yeong Sheau Shyan. "Our objective was to be efficient in attack today, to go around the midfield and play down the flanks."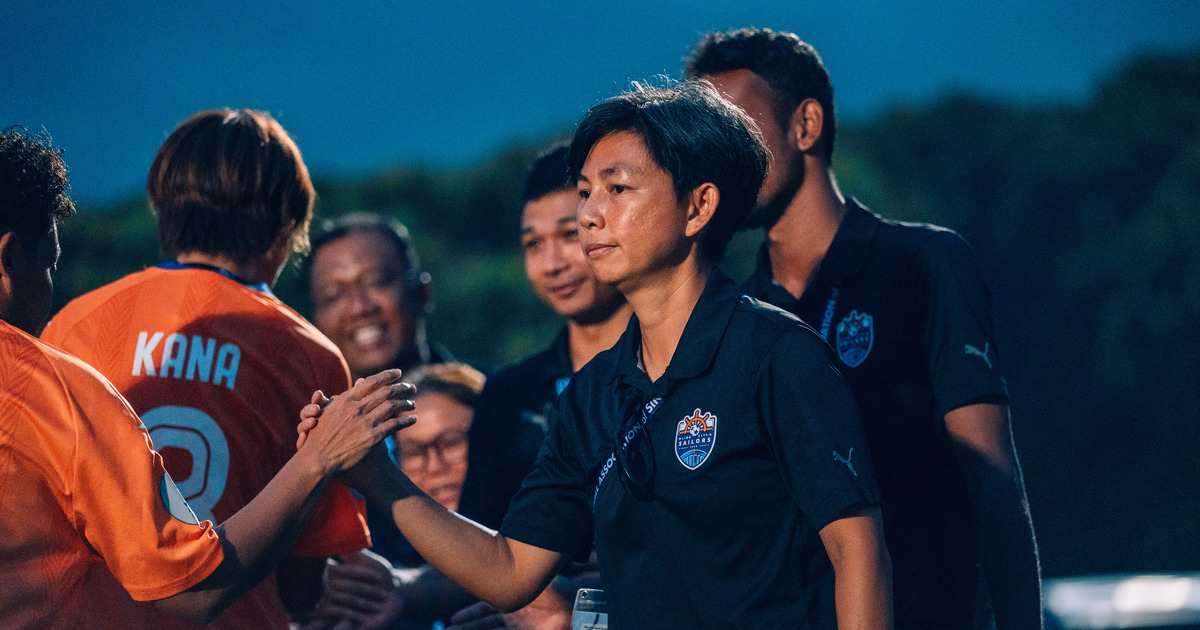 With teenager Madelin Lock signalling the Sailors' attacking intent with a shot from distance in the second minute of the game, the stage looked set, but the White Swans responded strongly. 
Albirex were hot on the charge in the following ten minutes, forcing the Sailors to work together and fend off the Japanese side's quick attacking play, even managing to produce convincing counter-attacking opportunities in response. 
"We knew that Albirex was stronger than us in the air so we had to make sure we challenged every ball," said Sheau Shyan. "Beatrice did very well to claim a few."  
Sheau Shyan and the Sailors had Beatrice Tan to thank, the goalkeeper pulling off a string of fine saves to keep her team in the game, especially with Albirex's 2015 FIFA World Cup silver medallist, Kana Kitahara, looking threatening in front of goal.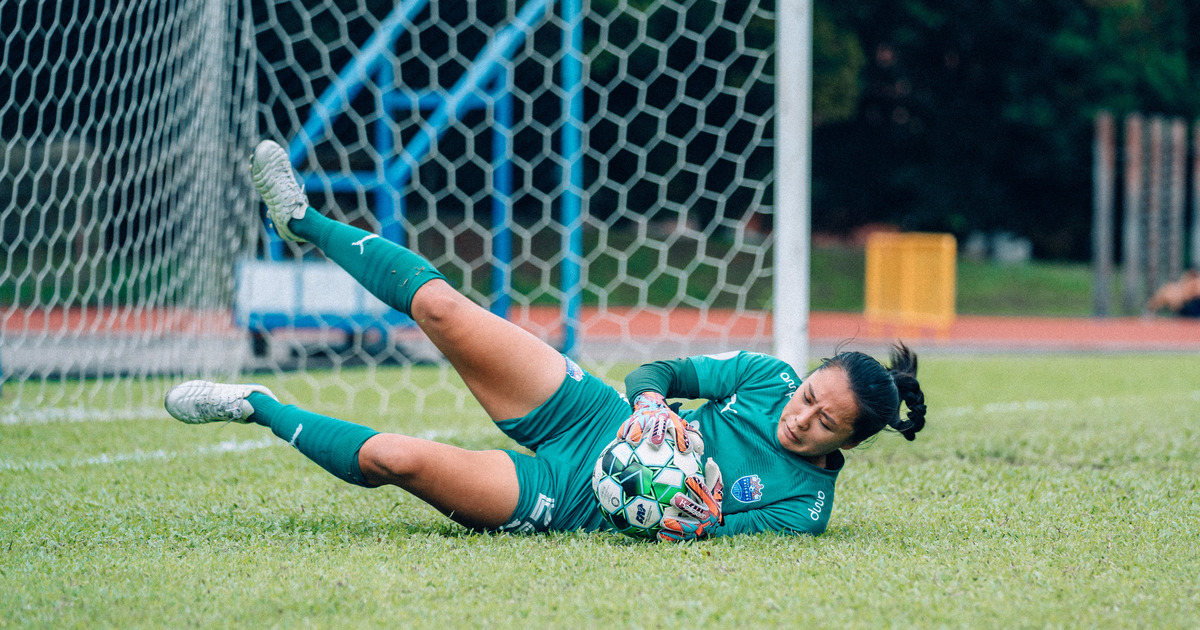 Even with a spectacular point-blank save off a Kana header in the 15th minute, Beatrice was quick to give credit to her teammates for their defensive work. 
"I think it was Izzati (Rosni) who covered the gap," Beatrice said. "The Albirex player didn't get a clean header and therefore I was able to make the save. Without that, it would have been a different story."
That save provided the Sailors a sturdy platform to go forward in search of goals to secure the three points, and that all-important first goal came in the 19th minute. 
Mid-season signing Cara Chang took a cheeky free kick — smashing the ball under the wall of jumping defenders — for the Sailors' first goal on the night and that was already the 14-year-old's fifth goal in a promising start to her WPL career.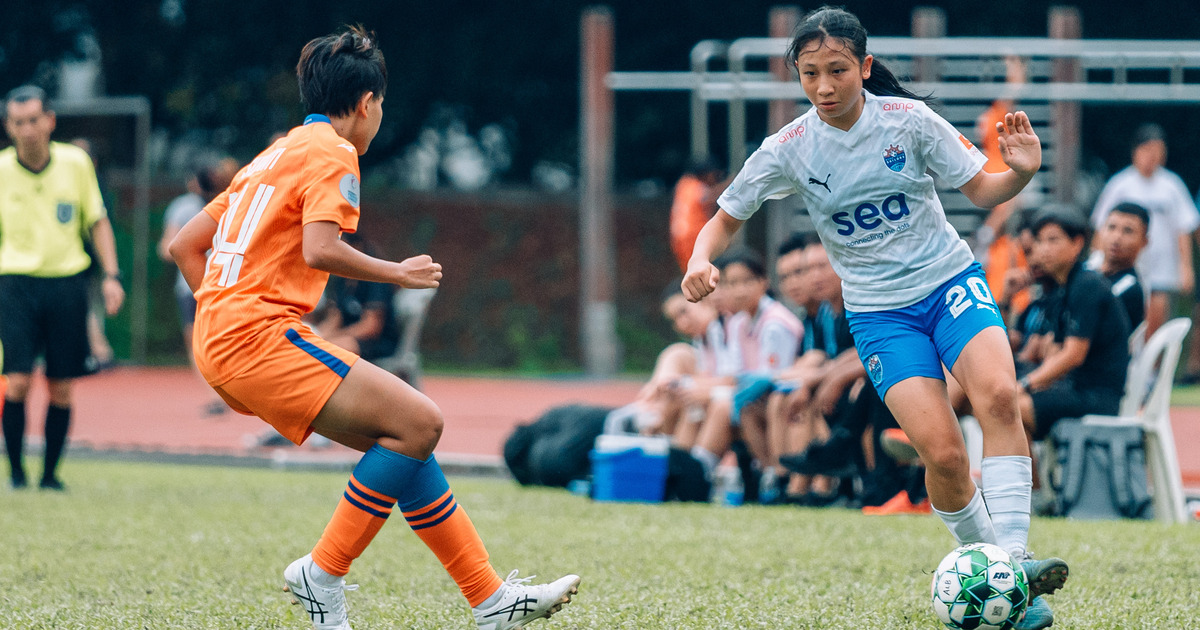 A few minutes later, an incisive through-ball from Sailors' top-scorer Izzati set Miray Altun free on the right flank. Miray then calmly lobbed the ball over the Albirex keeper for her sixth goal of the campaign to double the Sailors' lead. 
In the 40th minute, Madelin rounded off a clinical first half from the Sailors with a goal of her own to put the Sailors firmly in the driver's seat at the Clementi Stadium.
"It's great that all three goals came from three different players, as it shows the versatility of the team," Beatrice said. "We don't rely on a single player. We work together as a team."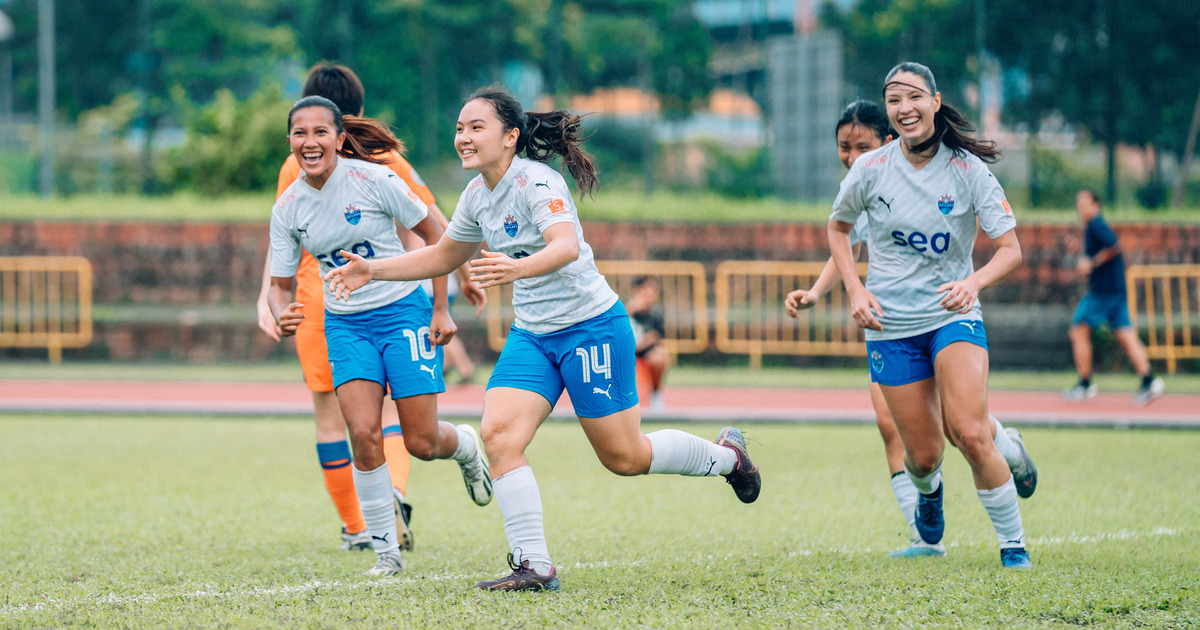 The Sailors switched gears in the second half, with Sheau Shyan directing the team to play a more controlled game to preserve the three-goal lead. 
"For the second half, we were keeping our advantage and not over-committing in attack. We had to hold back because we are usually very attacking-minded," said Sheau Shyan. 
"In the end, the team did what was needed — the boring job that was necessary."
Central defender Sara Hayduchok put in a gutsy performance in the heart of the Sailors' defence, shutting down several probing Albirex attacks, especially in the second period, but for Beatrice it was the team ethic and commitment to the game plan that were key to victory.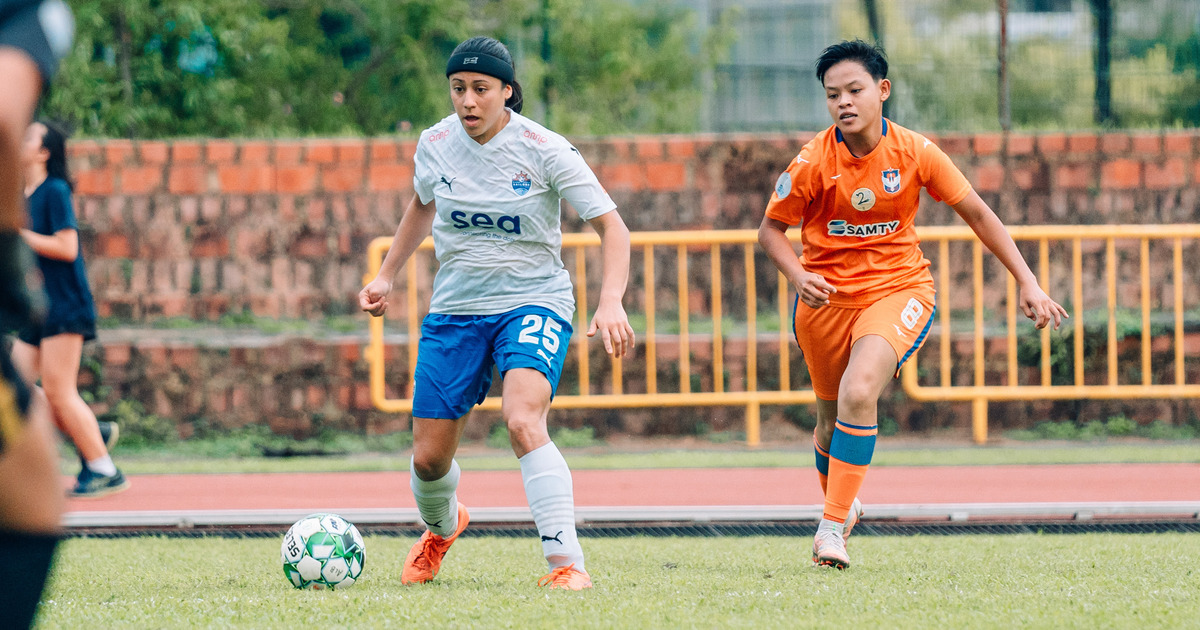 "Everybody always says the same thing about how we stick to the game plan, but it's really, really true," said the 31-year-old, who has still conceded just one goal all season. "Coach gave us a plan and everybody stuck to every detail of it, from the corners to the opponents' goal kick."
The clean sheet against Albirex is an important personal milestone for Beatrice. Over the last few weeks, the Sailors' custodian was in recovery mode, nursing a back injury that she had picked up during the national team's loss to North Korea at the recent Hangzhou Asian Games. 
"It feels good to be back, fully fit. I'm really thankful for the support system at the club, including sports trainers Vincent Teo and Lucas Tay for helping me get back on track."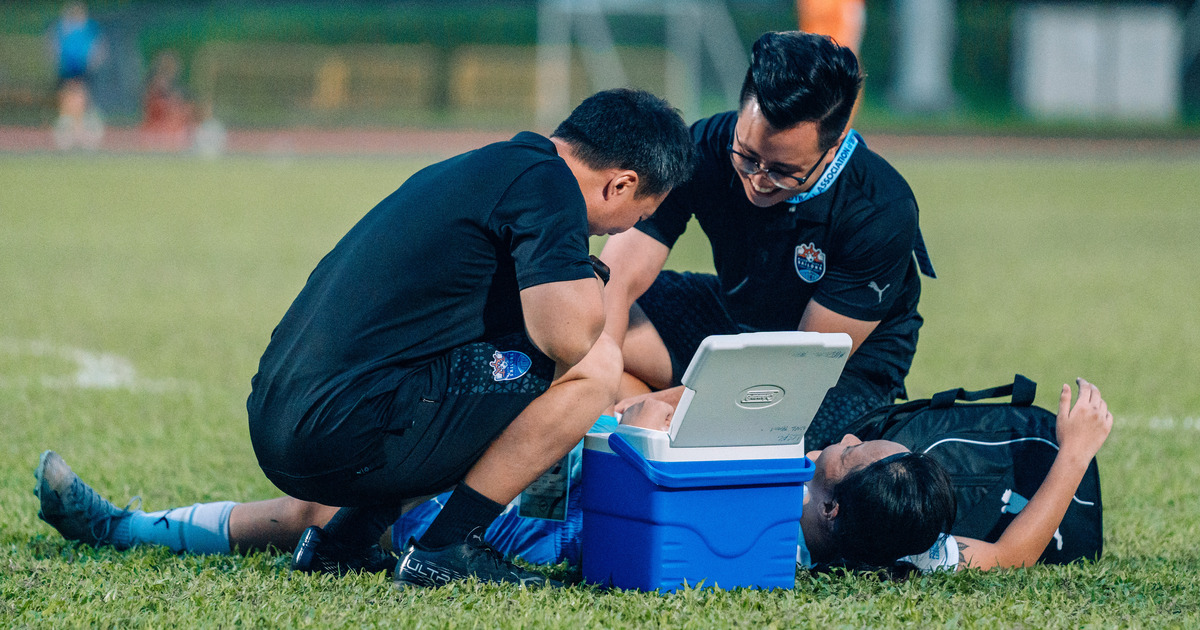 Beatrice and her Sailors will be looking for the win next week against Geylang to defend the WPL title they won — as Invincibles — in 2022. And even if the Sailors do secure the WPL title next week, Sheau Shyan has set her team's sights on repeating that feat. 
"We have one more target on top of the title," said Sheau Shyan.
"We want to be unbeaten — again."
The chase has been on all season. The Lion City Sailors Women's Team and their counterparts from Albirex Niigata (S) have both tasted the air at the summit of the 2023 Deloitte Women's Premier League table, but it is the Sailors who have stood their ground at the top since late July. 
This Sunday (29 October) at Clementi Stadium, the Sailors and second-placed Albirex – separated by four points in the table – will vie for the three points that will alter the complexion of the WPL title race. 
Should the Sailors win, they will put one hand in the trophy, with a seven-point lead and just three games left to play. However, a loss means Albirex will be breathing down their necks being just a point behind. 
Yeong Sheau Shyan's side have been soldiering on despite recent issues with injuries and player unavailability, and defender Nur Syazwani Ruzi believes the team's strong mentality is a key asset that will pull them through another tough obstacle.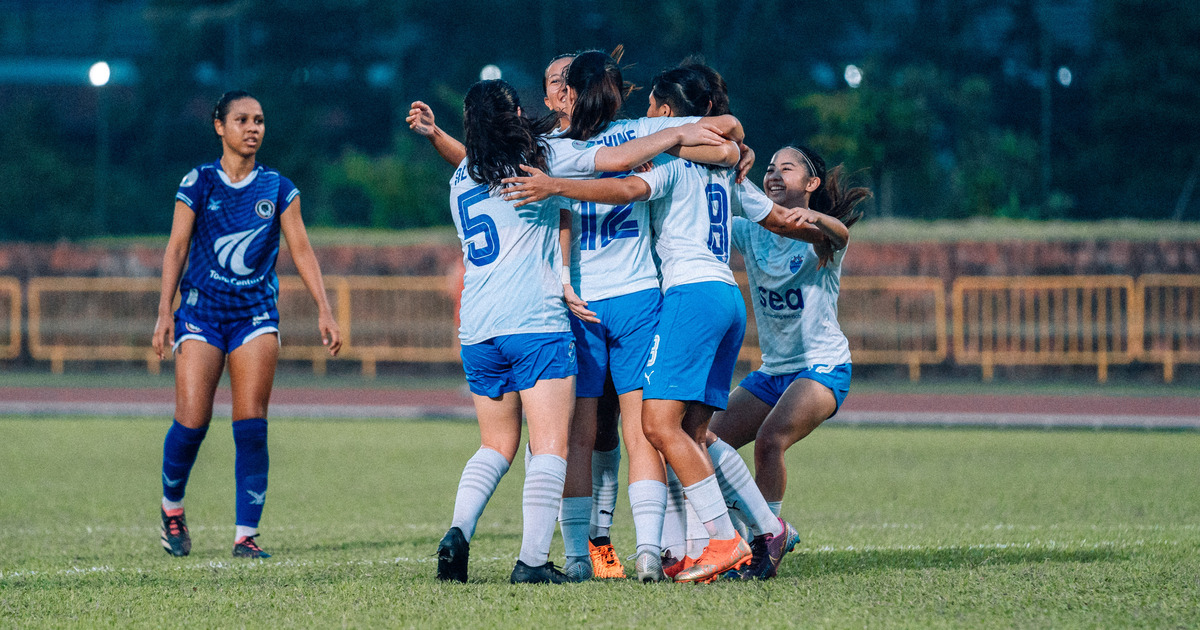 "It's mind over matter at this point. No matter the numbers, we will still play and everything will fall into place," said the right-back.
"We make do with the players we have and the backroom staff have worked very hard to ensure we recover properly after every match so that we go into the next one in the best condition."
The 22-year-old finds herself as the team's top-scoring defender. She has already bagged three goals this season. 
"It felt good as I told myself I want to score more this season, since I only scored one in our title-winning season in 2022," she said, referring to her clutch injury-time penalty conversion to lead the team to a 1-0 win over Tanjong Pagar United two weeks ago.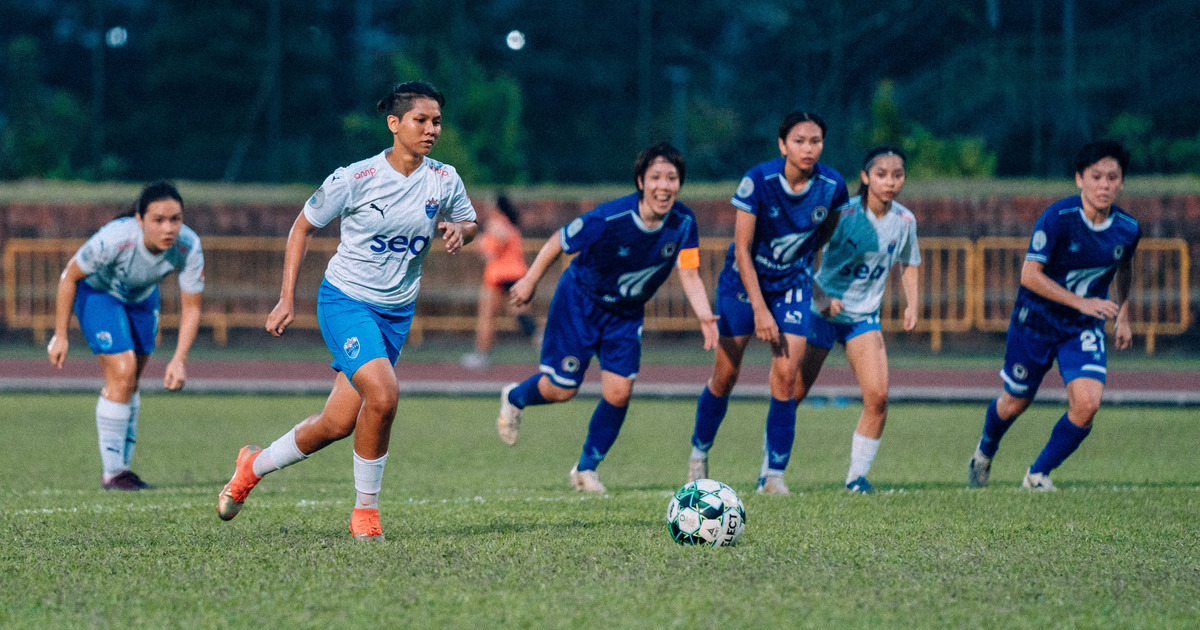 The Sailors have largely brought their dominance of last season forward into 2023, with 13 wins and one draw in 14 matches this campaign. 
That blot in what would have been a perfect record stings.
The White Swans was the only team that were able to take points off the Sailors when both sides last met in June – an injury-time equaliser by Tina Afrida helped Albirex collect a valuable 1-1 draw.
"It (that game) does really bother me, but we do make mistakes and we can only learn from them. It's going be a crucial game this weekend and we will give 110% to win," said Wani.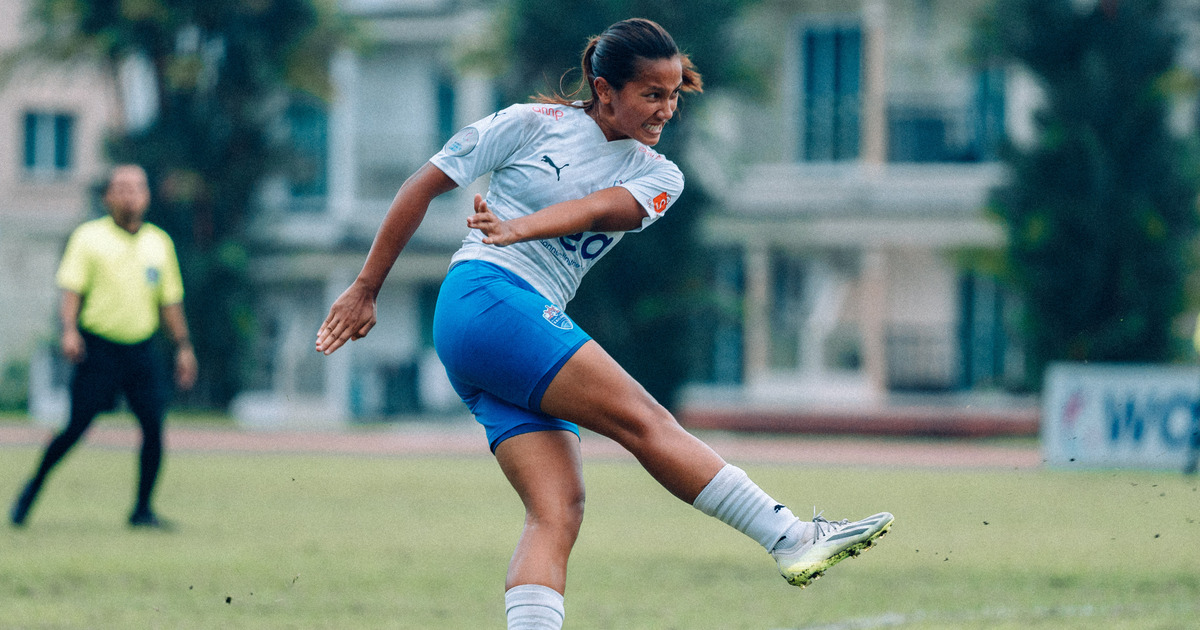 Sailors' top-scorer, Nur Izzati Rosni, echoes her teammate's thoughts. 
"It certainly dissatisfies me to think about it, especially because we played very well and had numerous scoring opportunities. We should have won that game," said the striker, who has 12 goals this season. 
"But we didn't, so we simply need to move on, concentrate on playing better and convert chances into goals in the next game. I want to beat them, and we must approach the game with discipline and focus in order to do that." 
With the experience of playing against numerous countries and clubs throughout her career, Izzati knows all too well the importance of adapting to an opponent's style of play.
Albirex have strengthened much in the mid-season transfer window, with the addition of players like Marina Asada and Sierra Castles to complement league-leading scorer Kana Kitahara (17 goals) in the attacking third.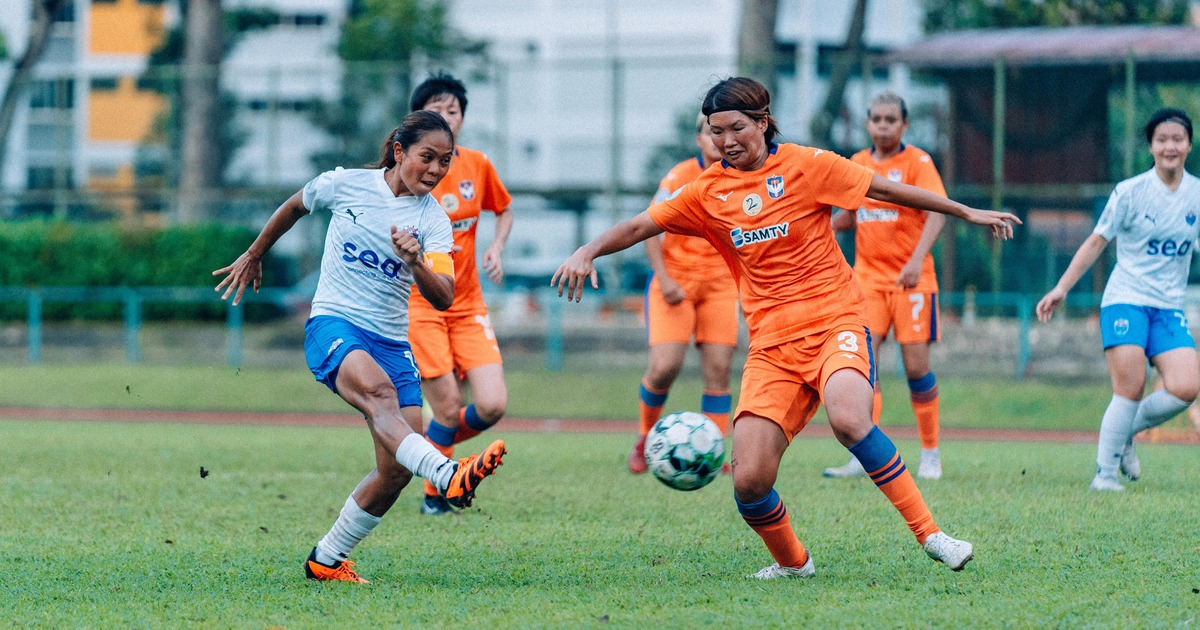 "Albirex has talented players, but their style of play differs from our preferred possession-based football. It will therefore be difficult for us. We have been working hard to get better at both our own style and how we handle opponents on the field," she explained.
"At this point, everything depends on our ability to take this to the field and carry out our game plan. We are ready, and I have no doubt that we can get the job done."
Last April, the Lion City Sailors beat K League 1 side Daegu FC 3-0 for a historic first win in the Asian Football Confederation Champions League (ACL). 
But there was no repeat of those heroics on Wednesday night (24 October) as the Sailors fell to a 3-0 loss to Jeonbuk Hyundai Motors in their ACL 2023/24 Group F clash at the Jeonju World Cup Stadium. 
A disappointed Sailors Head Coach Aleksandar Ranković admitted his charges were beaten by a better team in their second ACL defeat of the season.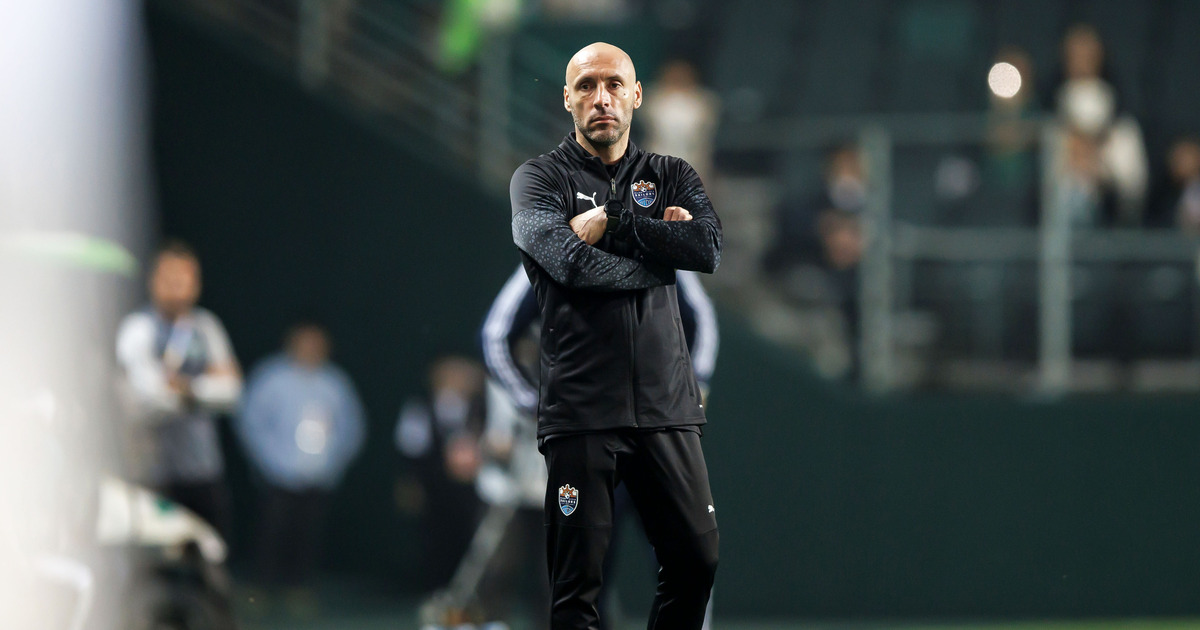 "Congratulations to Jeonbuk, they deserved this victory tonight. The result was a tough pill to swallow, even though we knew even before the game they had quality in their ranks," said the Serbian, who acknowledged the gulf between the two teams.
"It was a difficult game and we were struggling especially in the first half. When you concede two very easy goals early on, you know it's going to be a long evening ahead." 
It was indeed a long evening for the Sailors' faithful, some of whom were present in the away section at Jeonju. In front of a boisterous partisan crowd of more than 4,800 fans, Jeonbuk took the lead after five minutes.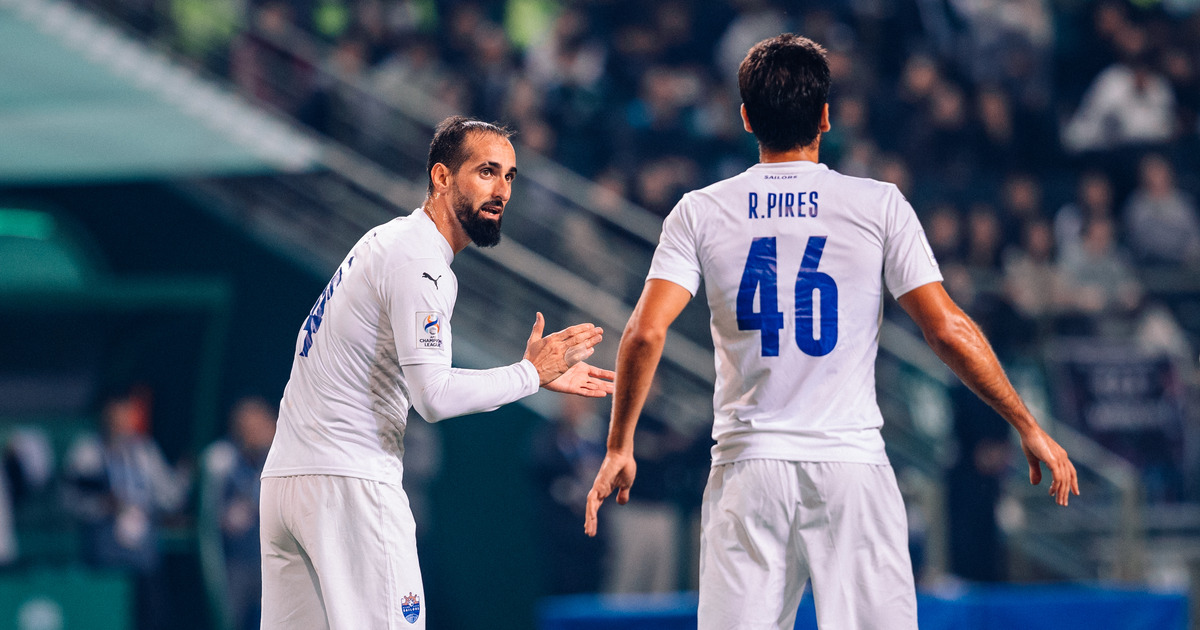 Japanese midfielder Jun Amano – who was the only foreign player to start for Jeonbuk on the night – curled an accurate left-footed shot from range into Zharfan Rohaizad's bottom corner to stun the Sailors. 
Up against a defence marshalled by Jeong Tae-uk and Hong Jeong-Ho, the likes of Maxime Lestienne and Richairo Živković found it tough to get a sniff of the ball as the Sailors struggled to get their engine into gear.  
The Sailors would find themselves two goals down on 33 minutes, with defender Lionel Tan inadvertently turning home Lee Dong-jun's cross into his own net.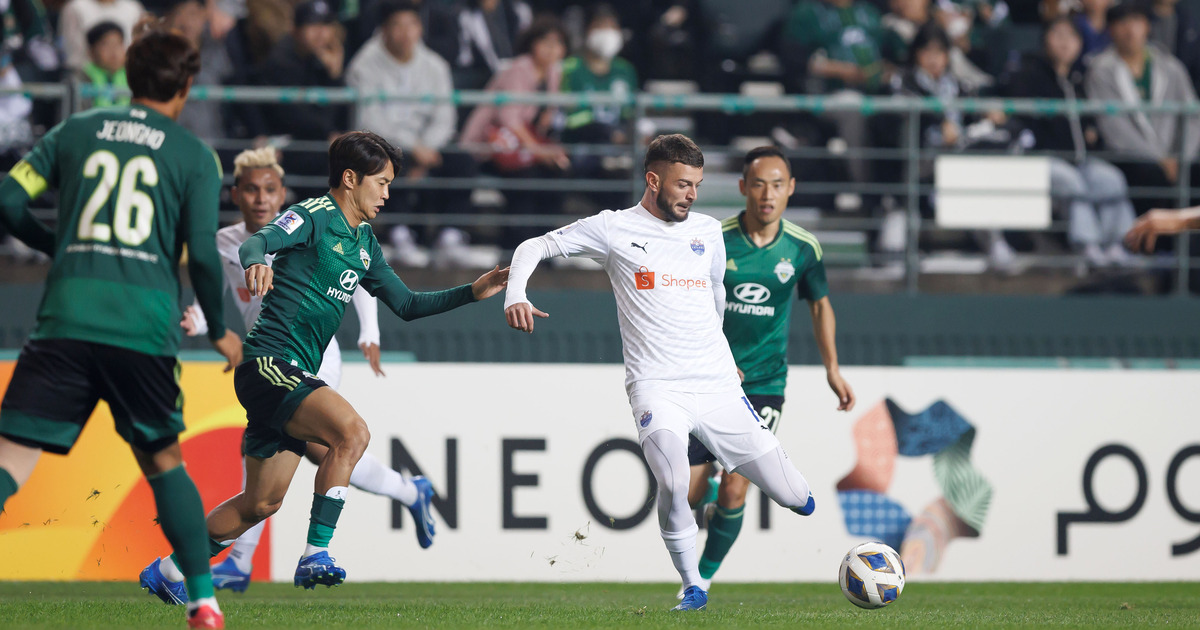 Just before the interval, the visitors mustered their only shot on target all night, with Maxime's near-post effort kept out by Jeonbuk custodian Kim Jeong-Hoon. 
In a bid to add firepower upfront, forward Shawal Anuar came on in place of Lionel at the break, but the move did not manage to spark life into the Sailors. 
Instead, it was South Korean international Moon Seon-min who would go on to seal the three points for two-time ACL winners Jeonbuk in the 57th minute. 
The former Djurgårdens IF man capitalised on a Zharfan spilled cross, to tap the loose ball into an empty net to make it 3-0, a scoreline that remained until the final whistle.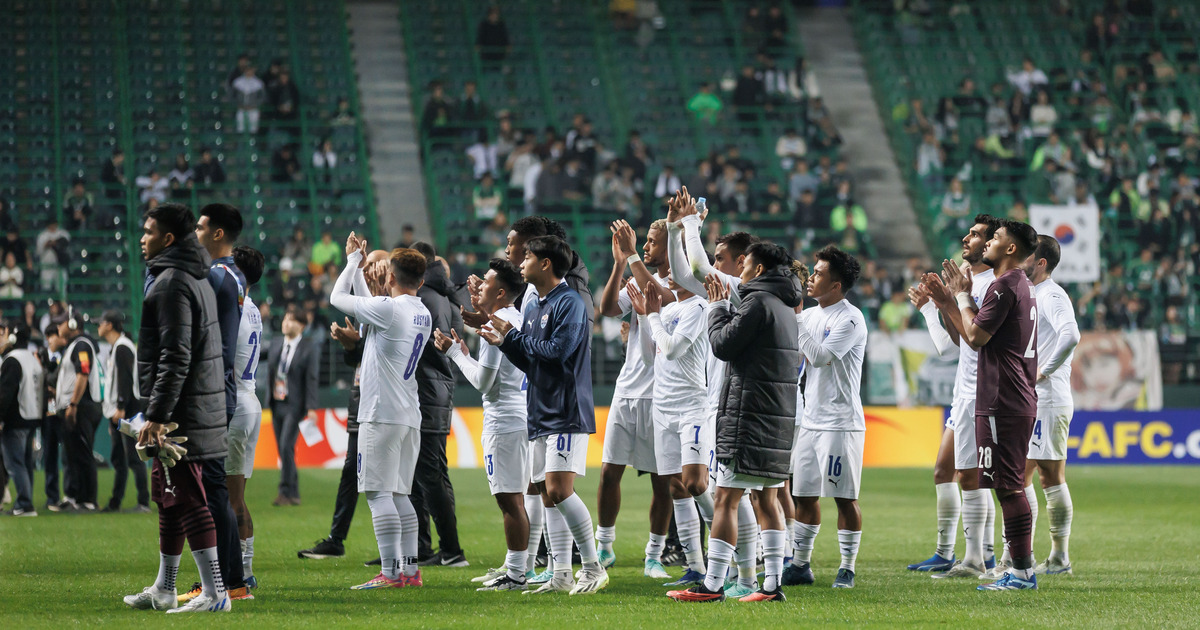 The result means the Sailors remain third in Group F with three points in as many games. Jeonbuk move into second, three points behind leaders Bangkok United who ran out 2-1 winners over Kitchee SC in the night's other Group F fixture.  
Both sides set to face off again at Singapore's Jalan Besar Stadium in two weeks' time on November 8. 
Despite the defeat, Ranko is certain his charges can only grow from this experience.  
"I told my players in the dressing room: they can get better by playing in games like these. We can learn a lot from today, especially when it comes to the intensity of the game," he pointed out. 
"We might have lost today, but we still have one more game and it will be a different game playing at home with the artificial turf and weather. If there was one positive from today, it would be that we didn't pick up any new injuries or red cards."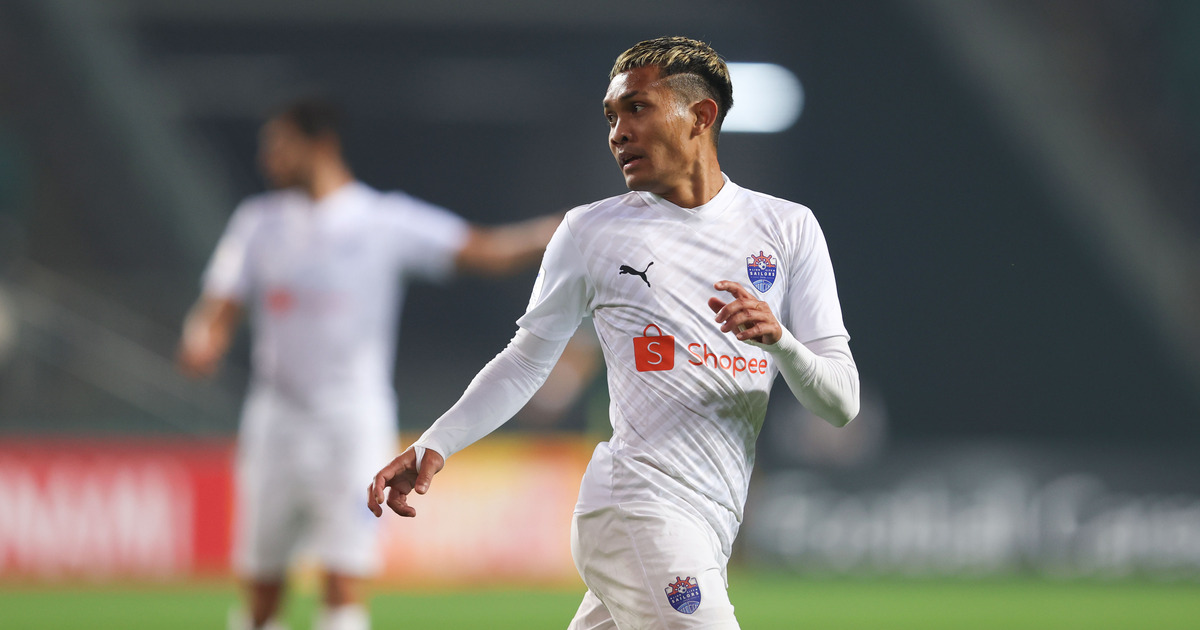 Wide man Hafiz Nor agreed. 
"It was a disappointing result for us tonight, but I'm hopeful that we can get a positive result with the home advantage in our next game," said the 35-year-old, who came on as a 67th-minute substitute. 
"We are thankful to the fans who showed up in Korea. They cheered us on regardless of the result and they will be crucial again when we face Jeonbuk back in Singapore."
On paper, the odds are stacked against the Lion City Sailors. 
The Singapore side are making just their second foray into the Asian Football Confederation Champions League (ACL), and will stand across two-time ACL champions Jeonbuk Hyundai Motors at the South Korean outfit's own Jeonju World Cup Stadium. 
But the stoic Sailors are unfazed.  
"Jeonbuk is undoubtedly one of the strongest teams in Asia, but we came here to compete and show what Singapore football can do. We believe we're capable of playing good football, even against the best in the region," said defender Zulqarnaen Suzliman, who started in the Sailors' first two Group F ACL games. 
Head Coach Aleksandar Ranković sang from the same hymn book.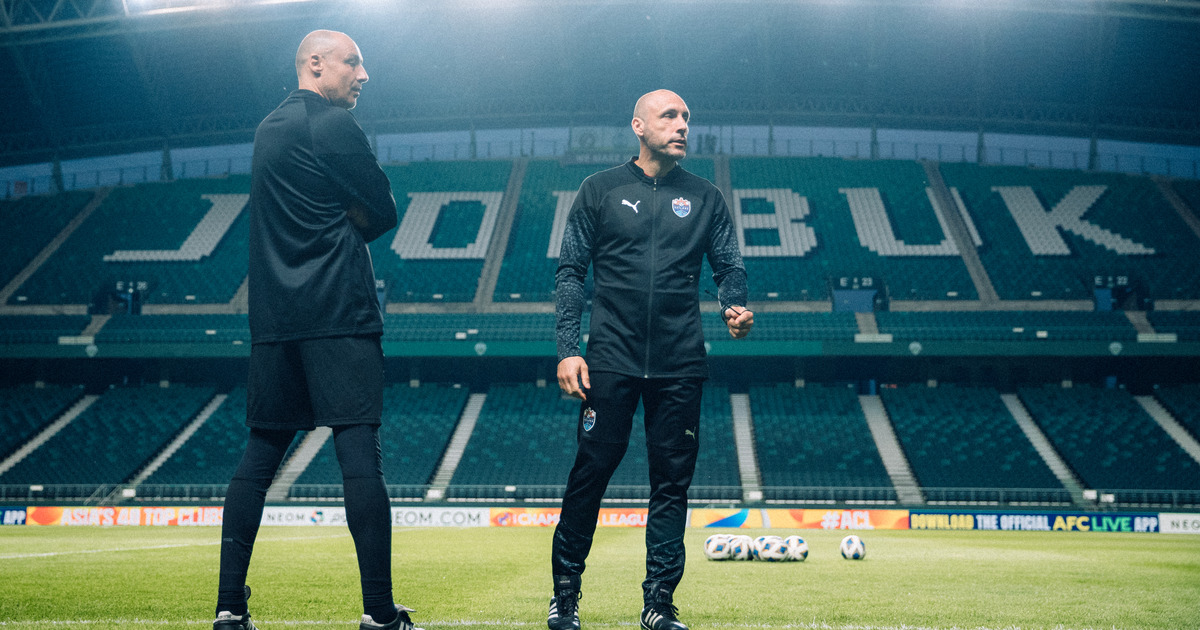 "Jeonbuk is a big club with a lot of tradition in the AFC Champions League, with physically very strong players, local players who are playing at the highest level for South Korea and a very experienced coach as well. We're here as a new club trying to represent the best of Singapore football," said the 45-year-old. 
"But we're ready to come here and compete – my players are ready for this challenge and we're not intimidated."
A tough trek into Jeonju
Barely 12 hours after Saturday's (21 October) 4-1 win over Tanjong Pagar United to put one foot into the Singapore Cup semi-finals, Ranko's men hopped on a six-and-a-half hour flight to Incheon and then had to travel another four hours by bus before settling into Jeonju-si late on Sunday night. 
Issues with training grounds on Monday saw the Sailors improvise, training on the artificial surface at Deokjin Sports Park, a public football facility owned by the Jeonju City Sports Council, and even had to clear the pitch due to prior bookings made by a local amateur group.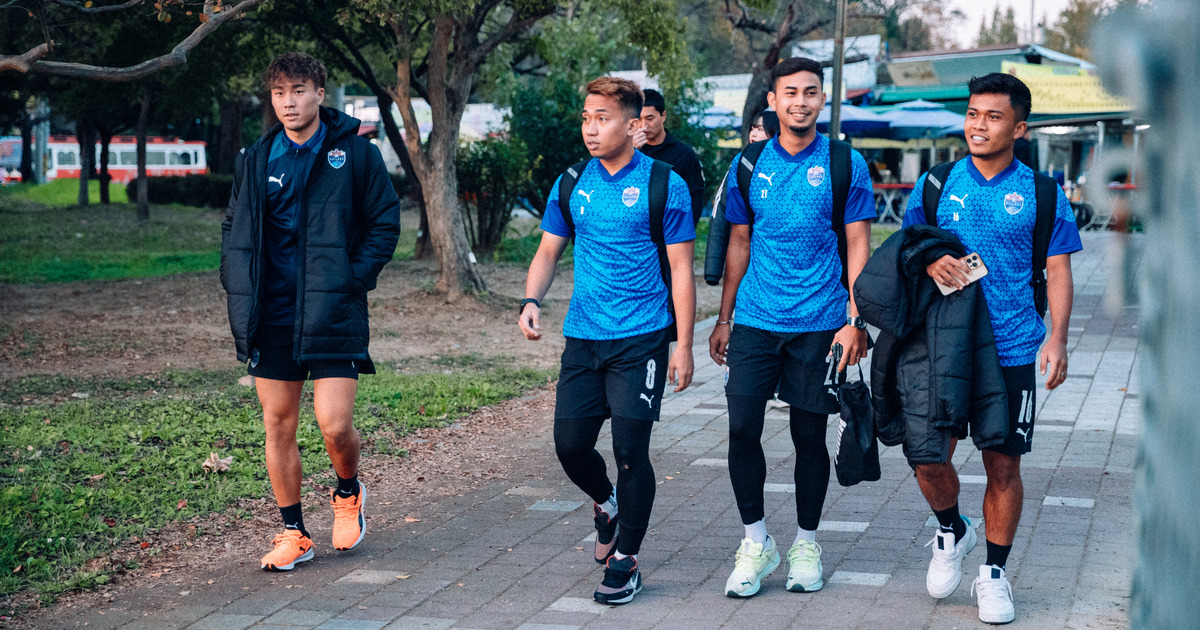 The Korean autumn has not helped. 
Average temperatures hovers between 18°C and 7°C with the Sailors backroom staff hard at preparation before the trip to make sure the players are acclimatised. Thermal innerwear and winter jackets have been provided for each player, with this the first time most of the Sailors' local footballers are playing under such conditions. 
But Zulqarnaen (Mamat) is adamant the unfamiliar climate will not deter their drive to put on a good performance.
"After a few days here, we're getting used to things. This weather is actually perfect for football – it's not too cold and we don't sweat as much compared to when we're playing in Singapore," he said.
"We're just focused on what we want to achieve as a team. This is a big game – a tough test – for us and we're going in with everything we've got to make our fans proud."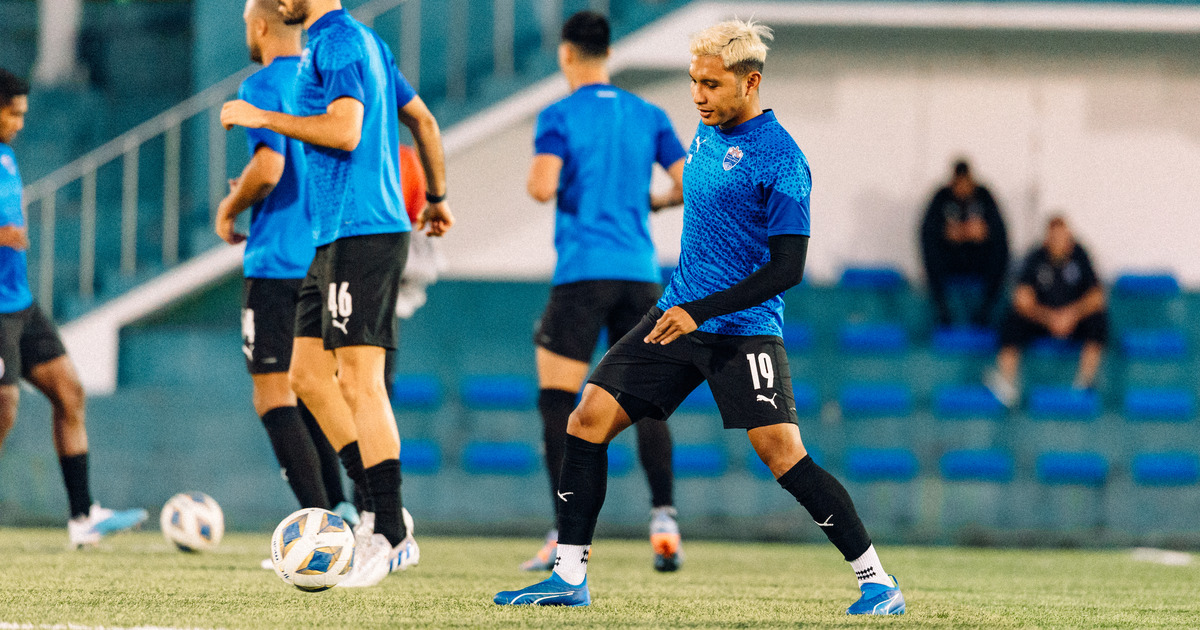 To say that it is a tough test is no understatement. 
Up against an Asian giant
Jeonbuk – semi-finalists at last season's ACL – are Asian football royalty.
Saudi Arabia's Al-Hilal have the most ACL titles winning the tournament four times. Pohang Steelers (South Korea) and Urawa Red Diamonds (Japan) have three each, while Jeonbuk have won Asia's flagship club competition twice – in 2006 and 2016 – while finishing runners-up in 2011. 
They are amongst the most successful teams in K League 1 and have been champions a total of nine times – including a string of five consecutive titles from 2017 to 2021. 
Players who have suited up for them in the past includes the legendary Lee Dong-gook, current Bayern Munich star Kim Min-jae and forward Cho Gue-sung who featured at the 2022 FIFA World Cup for South Korea. 
Jeonbuk's current squad features much talent as well. Current South Korea internationals include the likes of Kim Jin-su, Moon Seon-min (pictured below) as well as Paik Seung-ho who scored a long-range screamer against Brazil at the Qatar World Cup.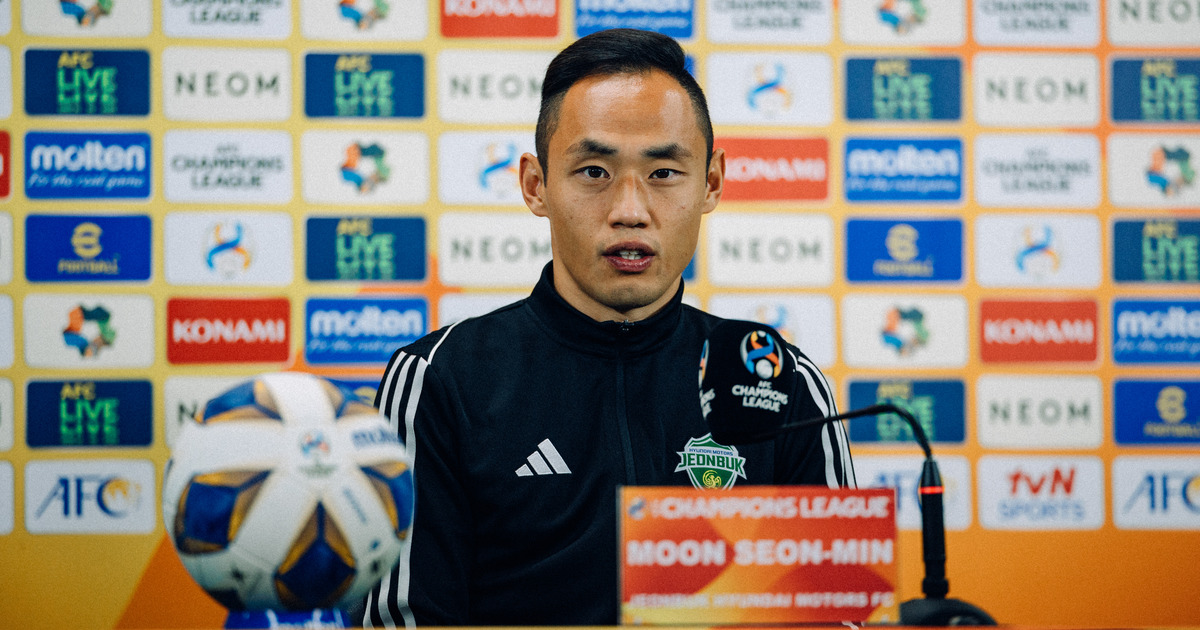 But they have wobbled a little this season, seeing former coach Kim Sang-sik stepping down in May, and languishing in mid-table for portions of the 2023 K League 1 season. 
A surprise 3-2 defeat to Thailand's Bangkok United on the last ACL matchday meant the Thai side currently lead Group F with six points, with Jeonbuk level on three points with the Sailors. 
Jeonbuk's upturn in form
However, they have been on a mini-renaissance since then. Jeonbuk defeated FC Seoul 2-0 on the final day of the 33-round Regular K League 1 season, finishing within the top six to clinch a spot in Final A – where they will play another five matches within the group to determine their final position. 
In their first match in Final A last week, they struck a last-gasp winner to down Daegu FC 2-1 to go into this game brimming with confidence. 
Their bid for the three points against the Sailors are boosted by the return of five players who missed the first two matchdays due to their Asian Games participation with South Korea's Under-23 side. 
Paik captained the young Taegeuk Warriors to a 2-1 victory over Japan in the final, alongside the likes of goalkeeper Kim Jeong-hoon, defender Park Jin-seop, midfielder Song Min-kyu and forward Park Jae-yong.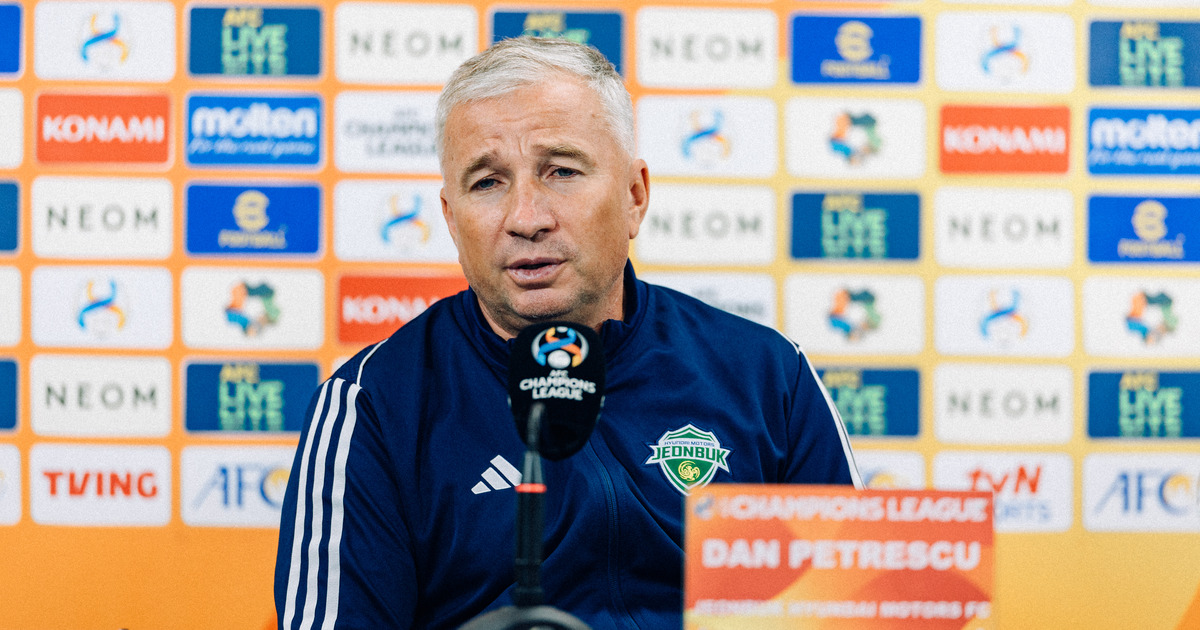 Head Coach Dan Petrescu is adamant that they put on a strong display at home after failing to win all four (two draws and two losses) of their last home games in domestic football. 
"Tomorrow is a really important game for Jeonbuk because of the loss in Thailand. I want to see a very good reaction from the players. While I want my team to be offensive, I want them to control the game and have balance," said Petrescu. 
"We've shown in our last two games that if we concentrate, other teams will find it hard to score against us," added the Chelsea legend, who was appointed only on 9 June. 
"But it won't be an easy game, the Sailors have top national players who play for Singapore and some very good foreigners. So we definitely have to play good in defence to win the game."
In Battlegrounds Asia, we look into the history and lore of the stadiums that will host the Lion City Sailors' second foray into the AFC Champions League (ACL), Asia's top-tier club competition. 
In the second part of this series, we dive headfirst into the Jeonju World Cup Stadium where the Sailors will line up against two-time ACL champions Jeonbuk Hyundai Motors.
In the picturesque South Korean city of Jeonju – a four-hour bus journey from Seoul – sits a physical manifestation of the city's rich sporting heritage and its love for football – the Jeonju World Cup Stadium, one of the 10 stadiums constructed for the 2002 FIFA World Cup co-hosted by South Korea and Japan. 
Real local flavour
The Stadium – which cost 133.1 billion Korean won (approximately SGD$135.3 million) to construct – was built with tradition in mind: the design of its roof and stands were inspired by the Hapjukseon, the traditional Korean fan. 
The pillars of the Stadium's fan-shaped roof are a metaphor for Sotdae, in Korean tradition, a pole erected as a talisman for well-being, protection, and a good harvest; while its 12 tensile cables embody the 12 strings of Korean musical instrument, the Gayageum.
The stadium can host some 43,000 spectators.
And this is perhaps where the city's love for sports and its physical manifestation of that spirit come together in a simple, but beautiful intersection: from the stadium's rooftop park, visitors can enjoy breathtaking panoramic views of Jeonju city and its surroundings.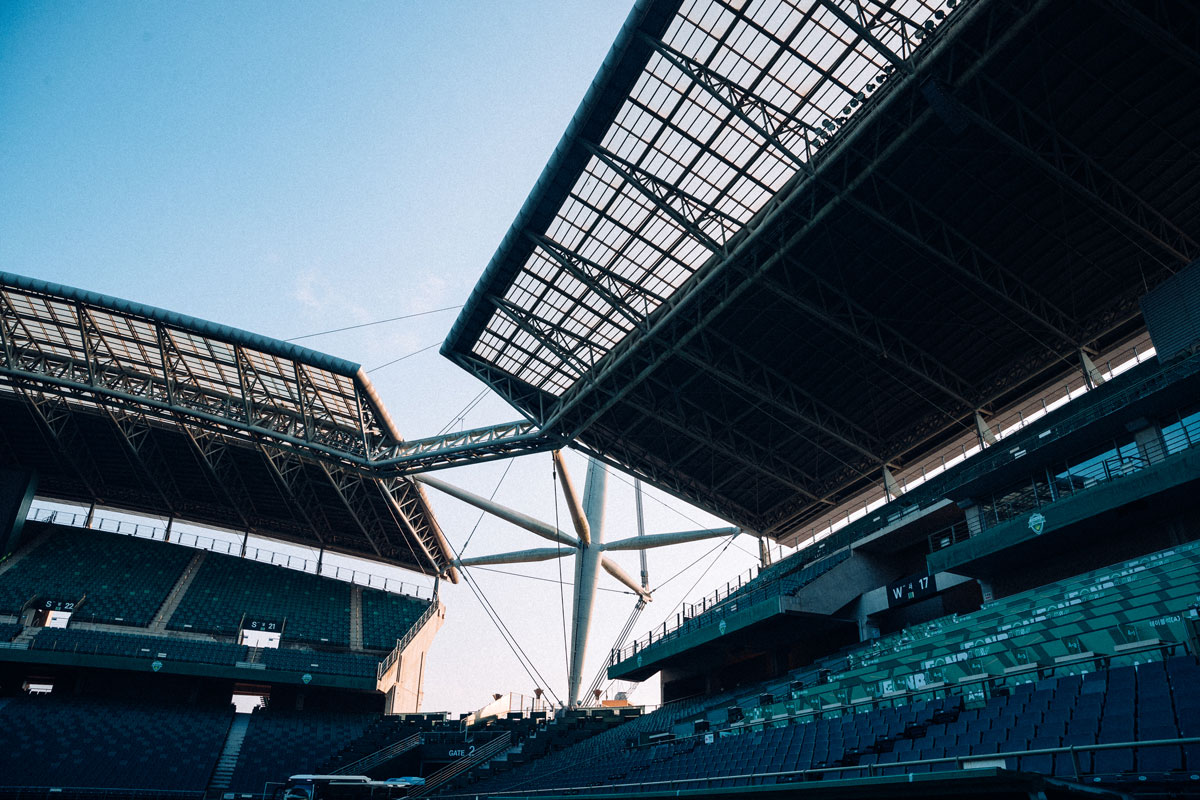 World Cup and ACL heritage
Officially opened on 8th November 2001, the Stadium hosted three FIFA World Cup matches – two group-stage games that saw Spain defeat Paraguay 3-1 and Portugal beat Poland 4-0, before a Round-of-16 match welcoming 36,380 fans who watched the United States defeat Mexico 2-0. 
The Jeonju World Cup Stadium has been home to Jeonbuk Hyundai Motors since its official opening, witnessing several football moments over the years. 
But strangely – despite winning the Asian Football Confederation Champions League (ACL) twice – Jeonbuk have never lifted the continental trophy in front of their own fans. In 2006 and 2016, they beat Syria's Al-Karamah and UAE's Al-Ain in the first leg of the respective finals at home before sealing the triumph in the away legs. 
In 2011, when the final was held as a one-off affair to be hosted by one of the finalists, decided by draw, Jeonbuk were heavy favourites to win in front of a passionate 41,805-strong home crowd. But opponents, Qatar's Al-Sadd, stunned the hosts by winning on penalties after an enthralling 2-2 extra-time draw.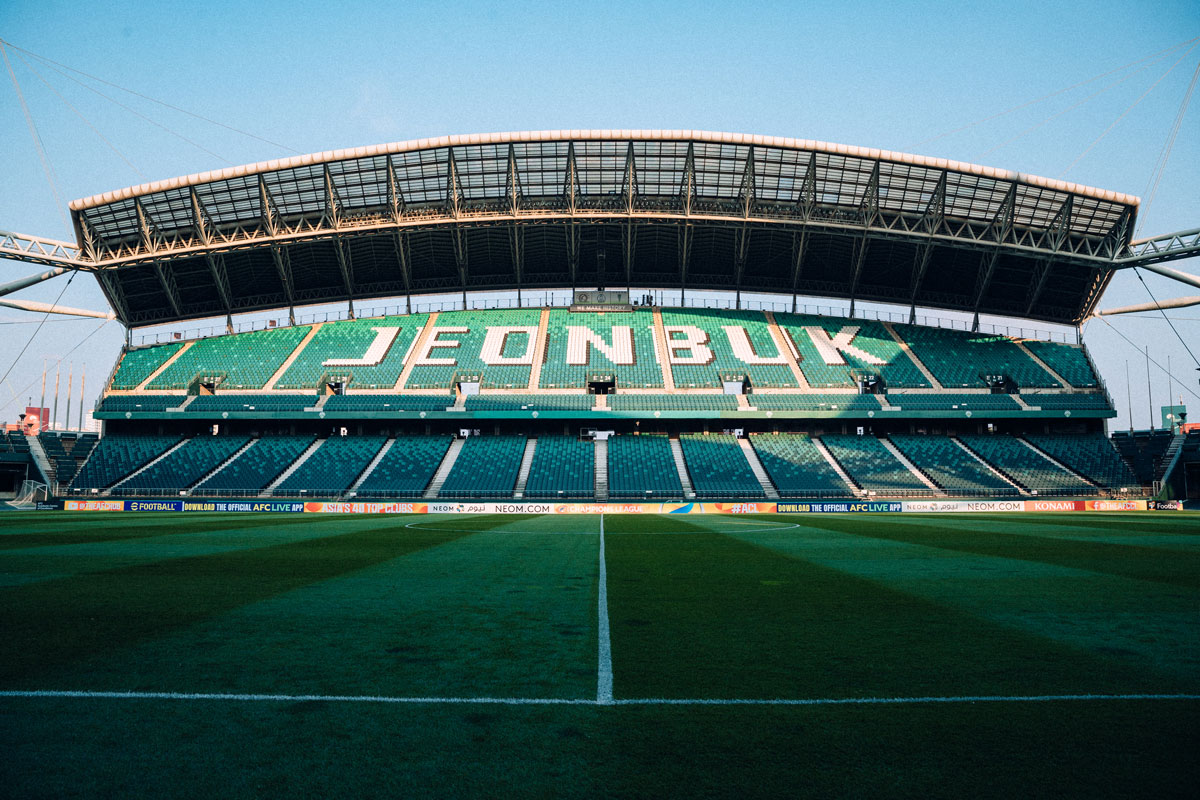 International focus
The Jeonju World Cup Stadium has been the scene of football dreams of young upstarts as well. 
In 2017, the venue hosted 2017 FIFA Under-20 World Cup matches – including a memorable match that saw the Taegeuk Warriors claim a 2-1 group-stage win over an Argentina side that featured Juan Foyth and Gonzalo Montiel who went on to win the 2022 World Cup alongside Lionel Messi.  
The football world's attention again turned to Jeonju in May 2020 when the K League 1 became the first major competition to resume following the global Covid-19 shutdown, with the legendary Lee Dong-gook scored a late winner against Suwon Samsung Bluewings.
A year later, the Stadium hosted the quarter-finals and semi-finals of the 2021 ACL. 
The knockout stages of the tourney were hosted in a single location, with Pohang Steelers beating Nagoya Grampus 3-0 while Ulsan Hyundai got the better of Jeonbuk 3-2 to advance to the ACL semi-finals. Pohang then emerged victorious over Ulsan at the venue to reach the final.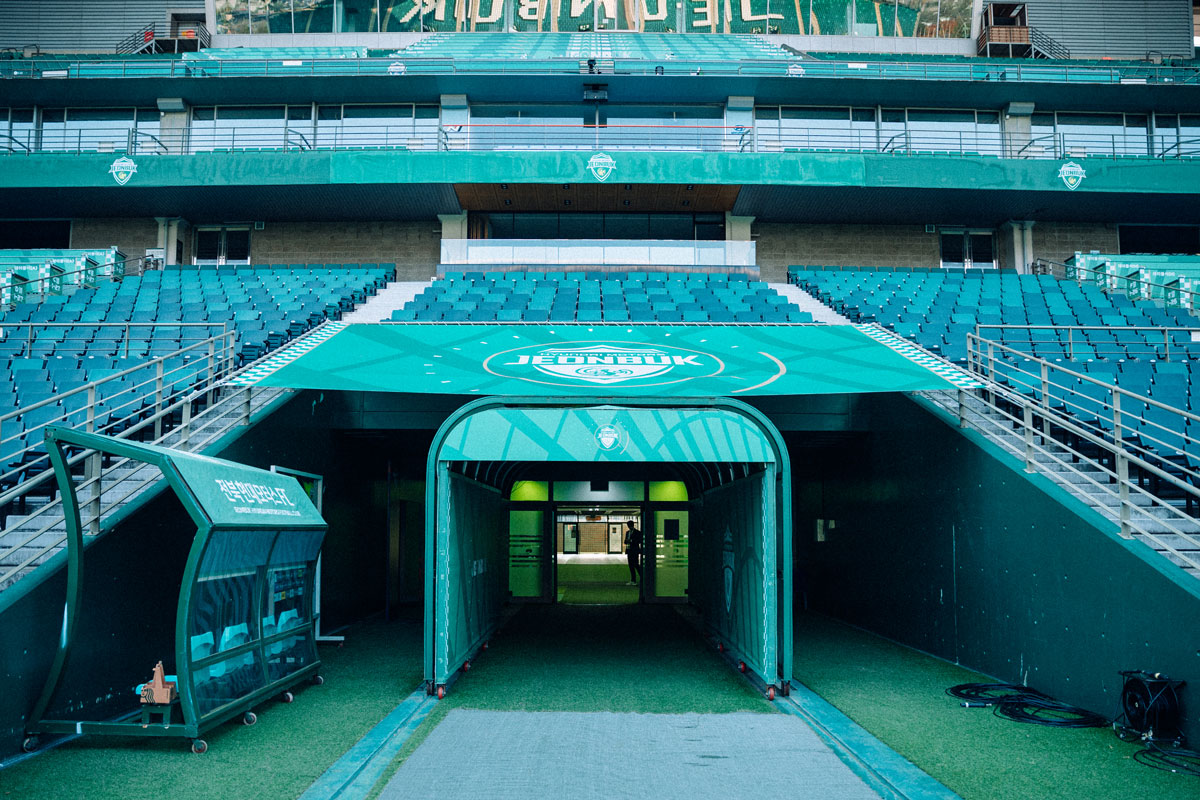 The Jeonju World Cup Stadium has also served as a venue for Korean cultural events, concerts, and festivals. And it hosted the opening ceremony of the Asia-Pacific Masters Games earlier this year in May, a unique sports-for-all festival aimed at driving sports participation across abilities and ages. 
The Stadium was scheduled to host a K-pop concert in August as part of the World Scout Jamboree cultural programme, but concerns over Typhoon Khanun saw the event going elsewhere. 
But football remains at the heart of the Jeonju World Cup Stadium, perhaps fuelled by the Mad Green Boys of the Jeonbuk Motors Supporters' Club who are known to generate an electric atmosphere at the North Stand of the Stadium that feature safe-standing areas.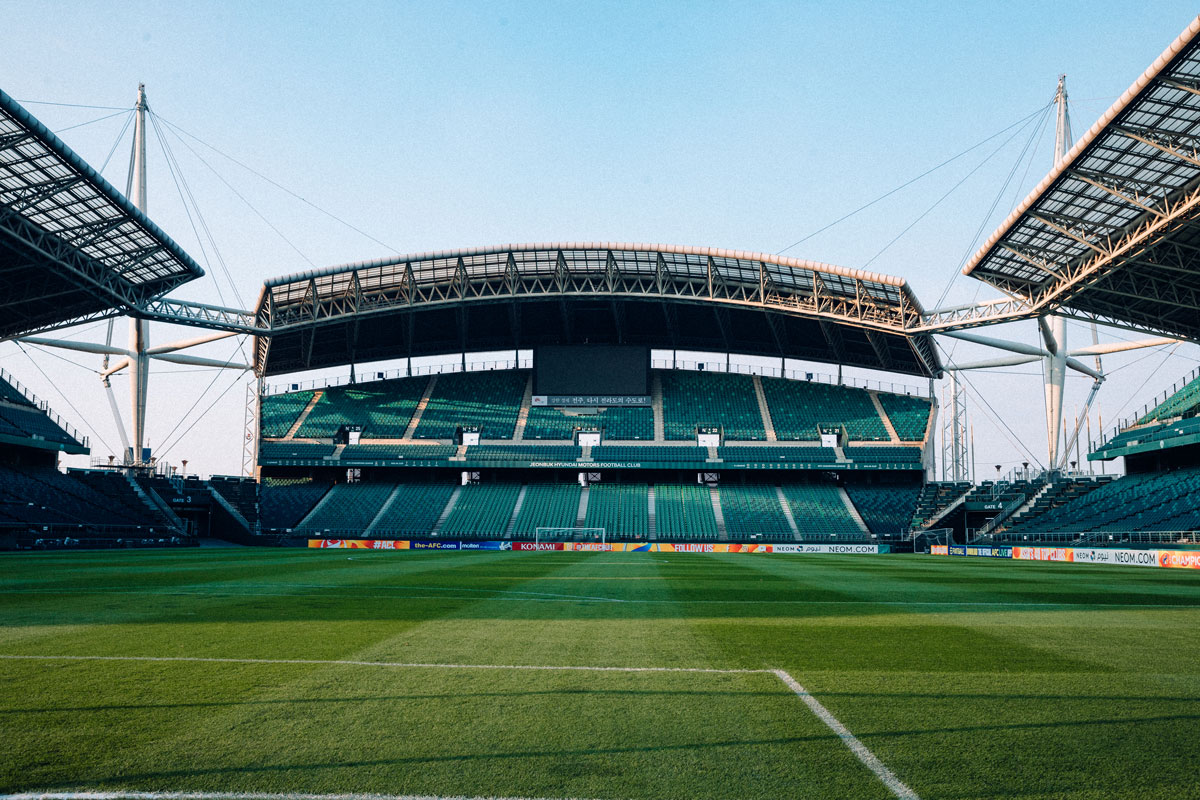 In Jeonju on Wednesday, Hariss Harun and the Sailors Class of 2023 will, for the first time, play at a venue that has hosted a historic FIFA World Cup match, with The Crew's Special Operations Team screaming from the Stadium's South stand as our Sailors look to write history of our own.
The Lion City Sailors Women came away with a routine 6-0 win against Balestier Khalsa in the Deloitte Women's Premier League (WPL) on Sunday (22 October).
The result at Choa Chu Kang Stadium meant Yeong Sheau Shyan's Sailors remained top of the WPL standings with 40 points, four ahead of second-placed Albirex Niigata (36), the Sailors' opponents next Sunday (29 Oct).
Against Balestier, the defending WPL champions got off to a lacklustre start but recovered well to dispatch their opponents comfortably. 16-year-old Madelin Lock also got on a WPL scoresheet for the first time with two goals to her name.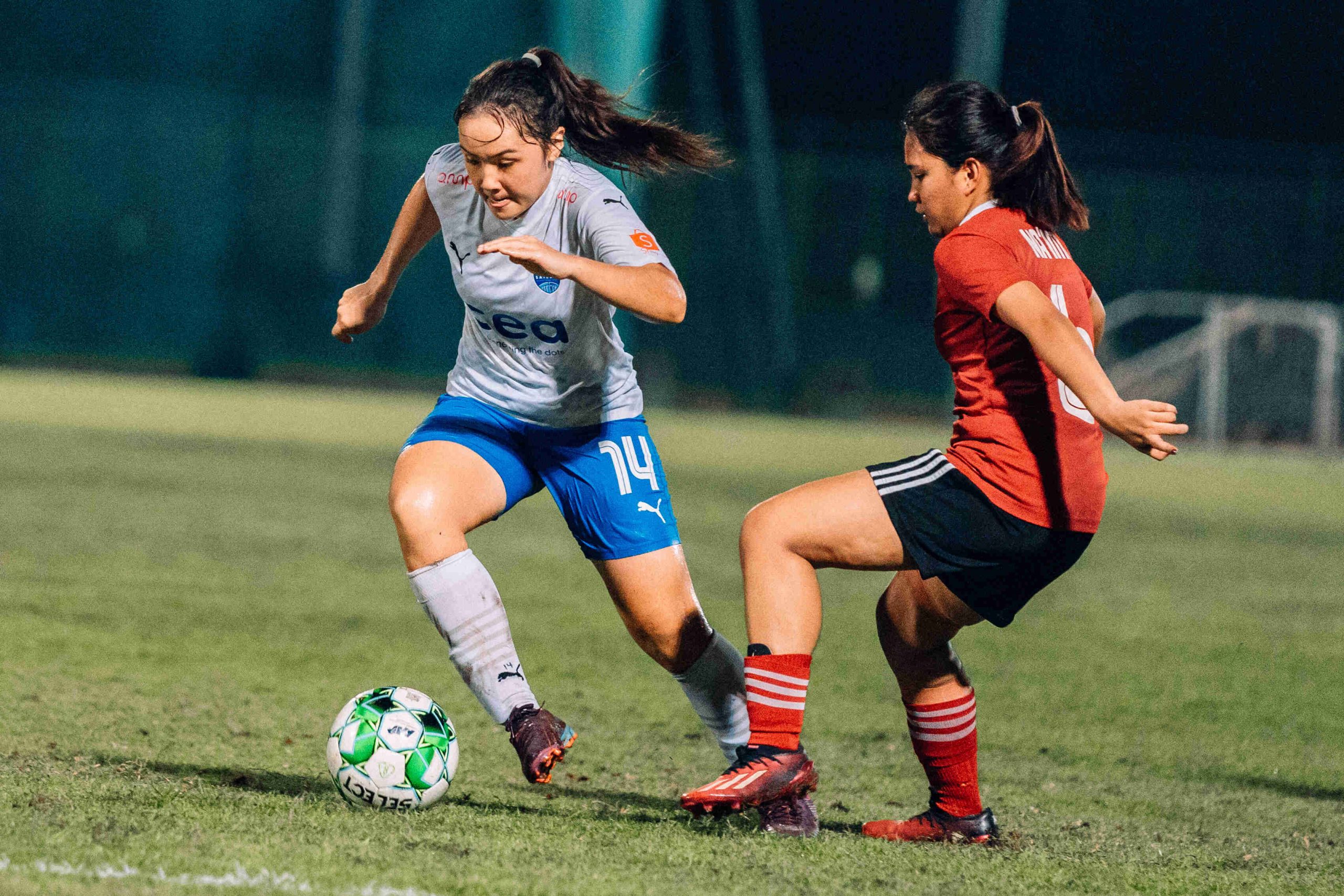 Sheau Shyan was delighted with a win that will provide a much needed confidence boost ahead of the Albirex clash.
"We needed this result today, we were a bit slow in the beginning but the second half was a much better performance and we're happy with that," the 45-year-old said.
"We saw the younger players being able to keep the ball well, especially in the middle of the park. I didn't expect them to adapt as quickly as they've done, but technically and tactically, they're as good as the older players."
Four players promoted from the academy this season featured for the Sailors on Sunday: Tia Foong, Madelin included in the first eleven, while Cara Chang and Josephine Ang came off the bench.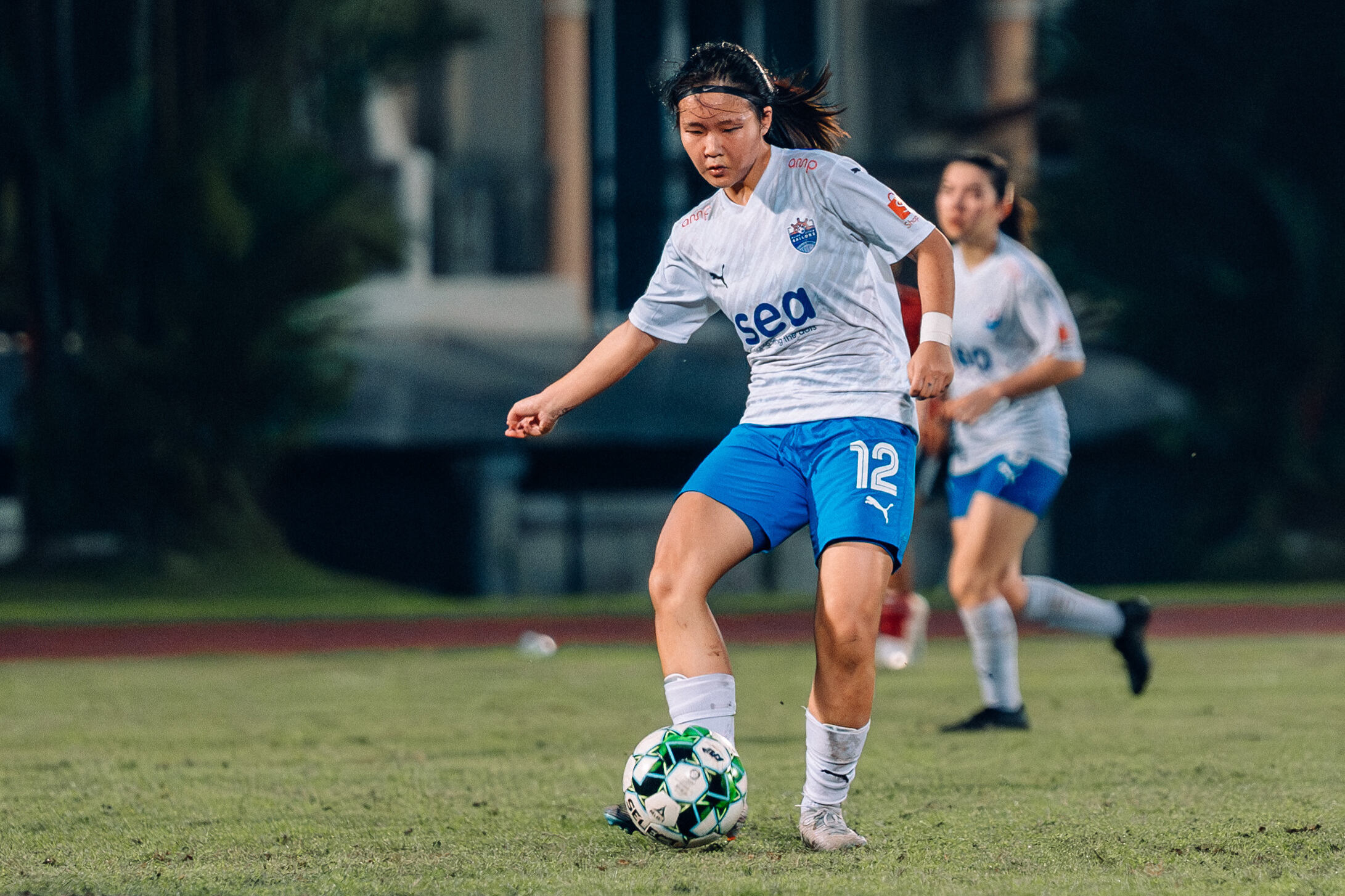 Balestier enjoyed early possession, but the Sailors grew into the game, and took the lead in the 28th minute. 
Miray Altun received a pass down the right flank and her cutback was diverted by Izzati Rosni into Madelin's path. The midfielder sent a looping shot over Balestier goalkeeper Tan Eng Chiu, becoming the Sailors' 17th different goalscorer for this WPL season.
Eight minutes later, the Sailors doubled their advantage after Izzati received the ball inside the box, took a touch and slotted it into the bottom corner for her 12th goal of the season. 
The team started the second half with more control, and dominated proceedings even though they only opened the floodgates in the 71st minute.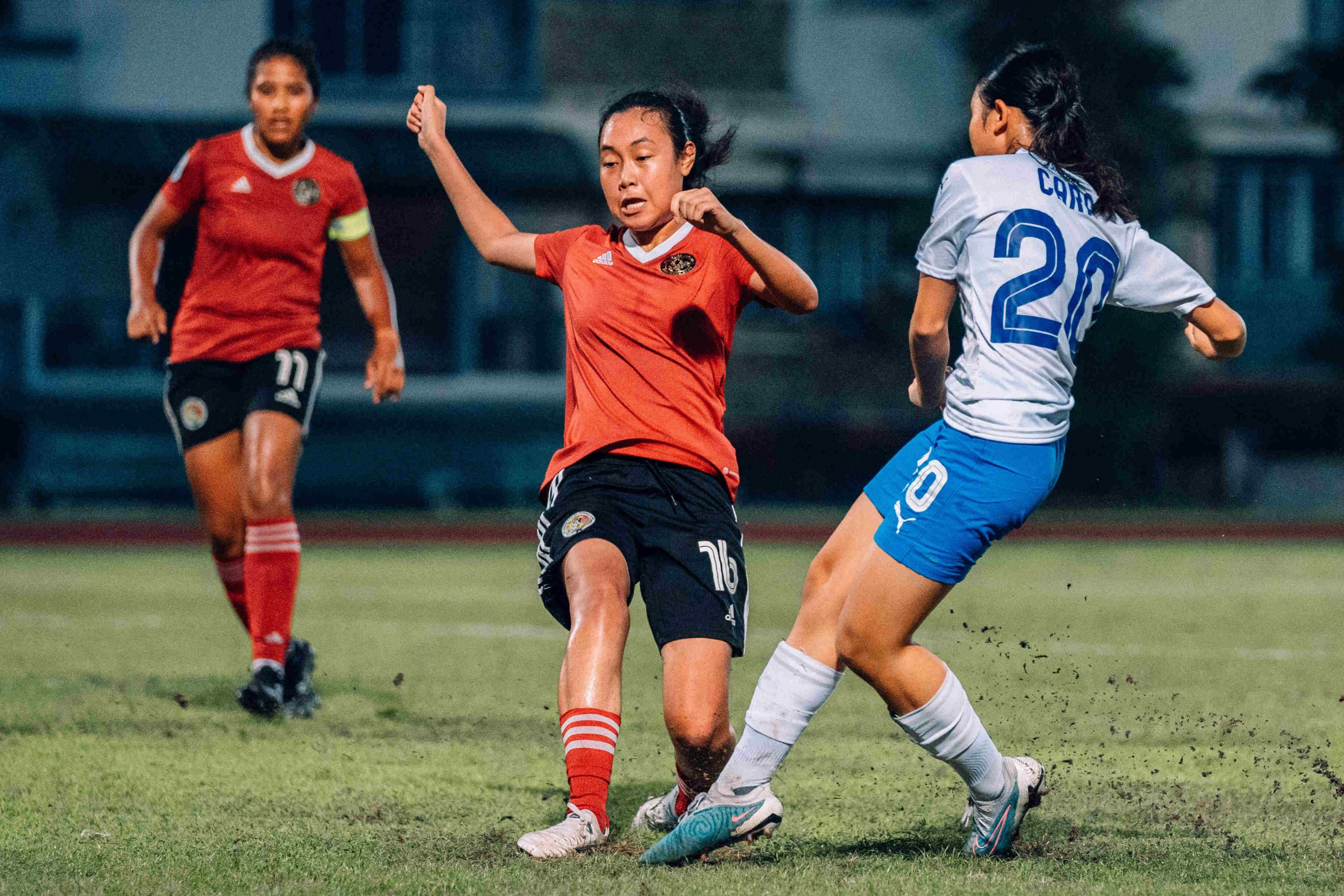 14-year-old Cara, who had only been on the pitch for 10 minutes, curled the ball into the top corner for her fourth goal of the season, this after being played through by fellow substitute, Josephine.
Another three goals in the space of eight minutes then put the game to bed. Balestier's Seri Nurhidayah turned the ball into her own net in the 77th minute, before Madelin netted her second of the night four minutes later. 
Miray then finished off a counter-attacking move in the 85th minute for her fifth goal of the campaign to seal an emphatic Sailors' win.
For Madelin, the goals provided an added boost, the match is only her second since returning from an injury sustained on 5 August.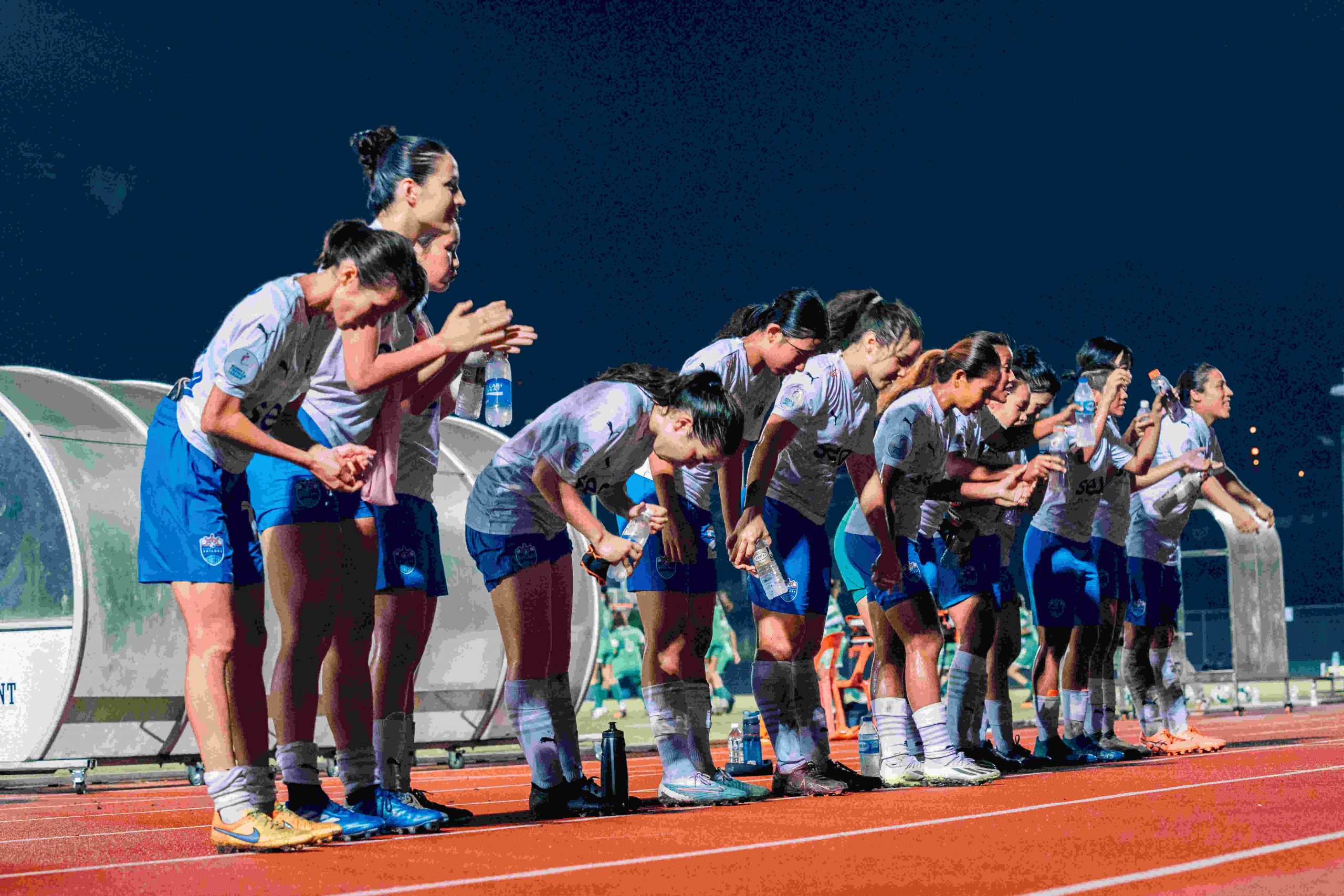 "I am exhilarated, it's amazing to score, especially because I'm more used to assisting my teammates," she said.
"I'm thankful to my physios, for helping me get me back to full fitness, and my teammates for being patient with me throughout my rehabilitation."
Despite the big win, Sheau Shyan was acutely aware that there is still everything to play for in the WPL, with a top of the table clash against Albirex around the corner.
"Sunday's match will probably be the deciding match of the season, and we're going all out to try and win," she said. 
"We know what we've set out to do and we want to win every match left this season."
He can recall the moment in vivid detail as if he was watching a video playing right in front of his eyes. 
"I didn't think the cross would reach me, but I knew I needed to be sharp and react. And when the ball left my foot, I knew I was going to score," said Richairo Živković.  
With that swing of his left boot, the 27-year-old scored his 10th, and perhaps the most significant goal of his four-month old Lion City Sailors career. Richi's 14th-minute strike set the platform for a crucial 2-1 Asian Football Confederation (AFC) Champions League (ACL) victory over Hong Kong champions Kitchee SC on 4 October, a victory that kept the Sailors in the hunt to qualify for the Round of 16.
"It was an amazing feeling and gave us confidence as a team to score that early," said the former Ajax Amsterdam man.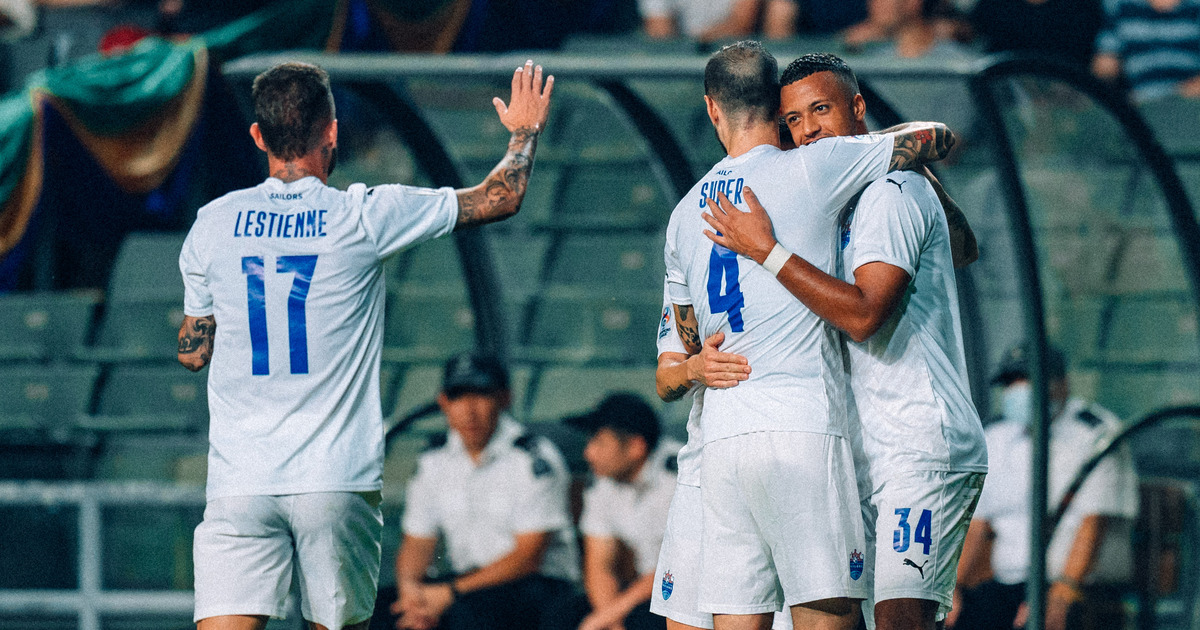 "We played a very good first half and should have been three or four goals up instead of just two. Overall, it was a great night in Hong Kong and everyone left the stadium very happy."
The result, coupled with Bangkok United's 3-2 upset of Jeonbuk Hyundai Motors, have thrown Group F wide open after two matchdays.
Bangkok lead the table with six points, while the Sailors are level with Jeonbuk on three points – with both teams set to face off in Jeonju in Matchday Three on Wednesday (25 October) before reconvening at Singapore's Jalan Besar Stadium two weeks later. 
After a couple of creditable performances and a win in the bag, Richi is bullish about the Sailors' chances against an Asian powerhouse with two ACL trophies in their cabinet. 
"For sure, it won't be easy but the ball is round, no?" mulled Richi. "And we've shown so far that we can level up to perform in this competition.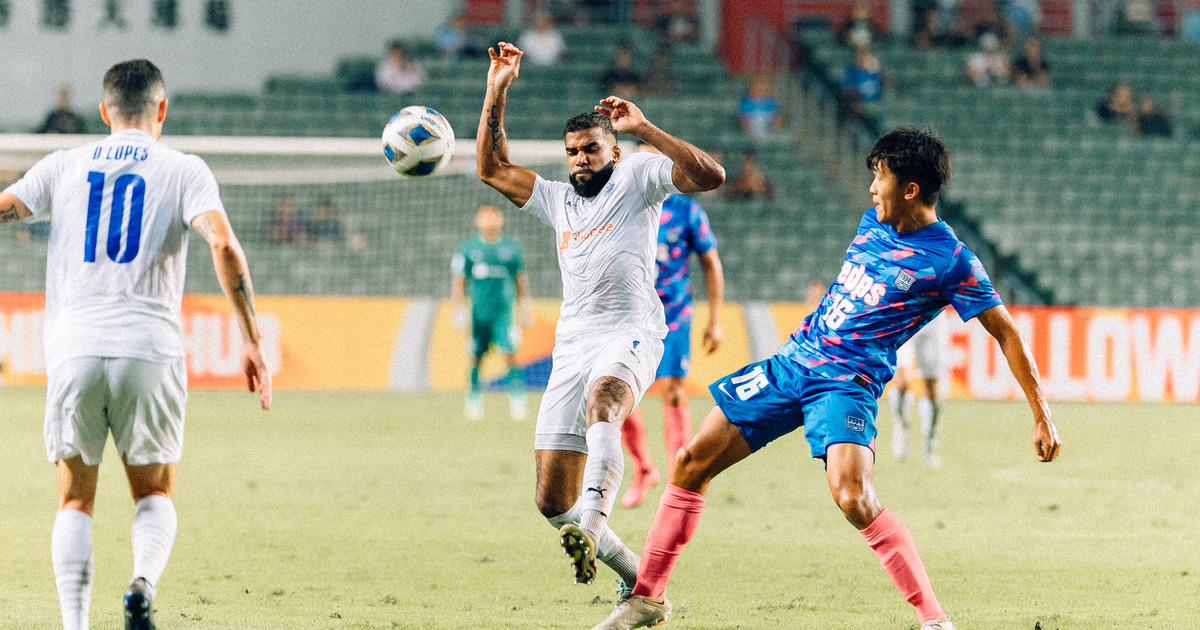 "We'll need to work together as a team and try to take advantage whenever we get some space upfront. At the same time, football is also about luck and we'll probably need to get through a phase of the game where the other side is constantly attacking," he added. 
"Our mentality as a team is to go for the three points and that doesn't change, even if we're playing against a top side."
While Richi and the Sailors' attacking crew will be looking to exploit the spaces upfront, Aleksandar Ranković's men will also need to replicate the resolute defensive display they put up against Kitchee. 
With Zharfan Rohaizad putting up an inspired performance in between the sticks that earned him a spot in the ACL Team of the Round for Matchweek 2 and a solid back three of Manuel Herrera López (Súper), Hariss Harun and Lionel Tan, the Sailors stood firm in Hong Kong. 
"It was a pleasant surprise and an honour to be selected, but at the end of the day, I was just happy to help the team and that's what it's all about really," said Zharfan.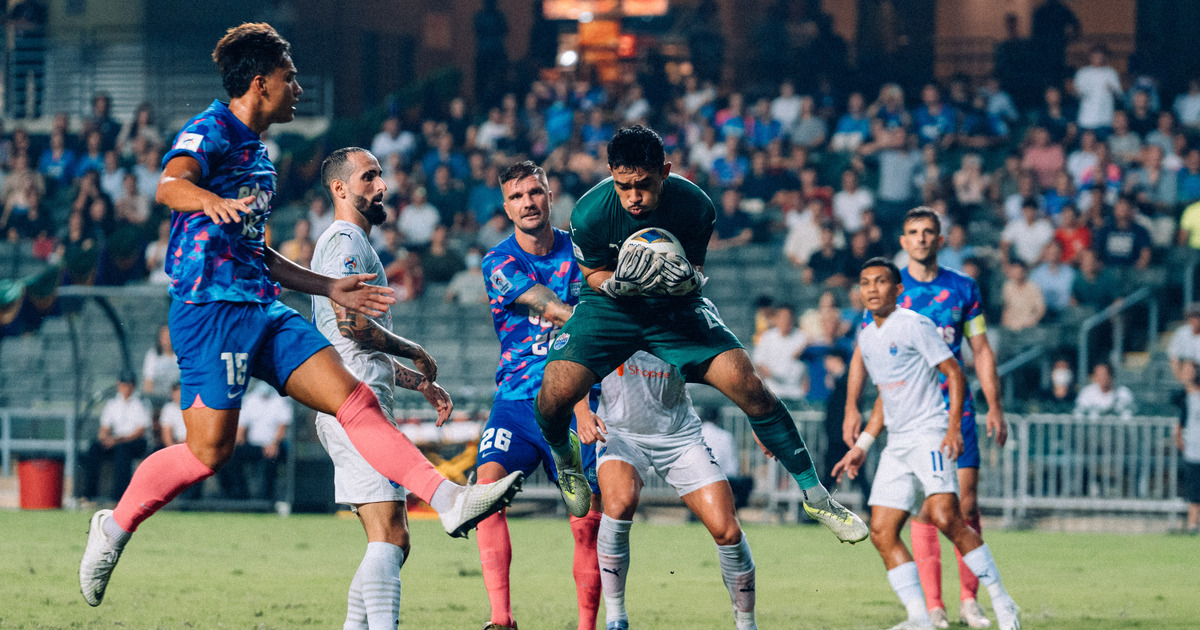 "The defenders in front of me did a splendid job – they swept everything up and had full concentration till the final minute of the game. We were very motivated to get a result and that's how we should always perform in the ACL."
Against Korean giants Jeonbuk, the odds are stacked against the Sailors, but the 26-year-old stands defiant. 
"If it's not tough, then it won't be the ACL. We're in this competition for a reason – to show that Singapore football has a place in Asia," said Zharfan.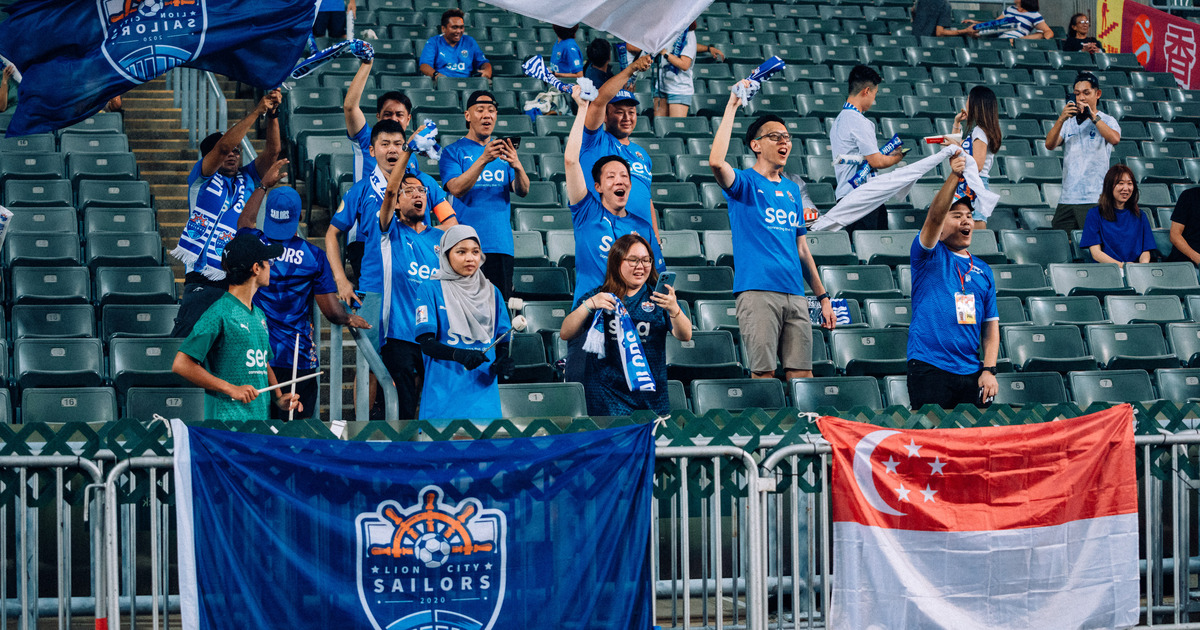 "We're here not only to represent the club, but also our country: to play top teams from Korea or Japan is always the aim – and we're not fearful, we're relishing this challenge."
The Lion City Sailors defeated nine-man Tanjong Pagar United 4-1 in a tightly-contested encounter at the Bishan Stadium on Saturday (21 October) to maintain their perfect start in the Singapore Cup.
The team remained top in Group B with six points, three more than second-placed Hougang United, who the Sailors will face in the third and final group stage match on 25 November.  
Aleksandar Ranković's charges put in a much-improved second-half performance to secure the three points, with second-half substitute Shawal Anuar putting the finishing touches with a hat-trick, the first of his professional career. 
Ranko credited his team for upping their intensity in the second half.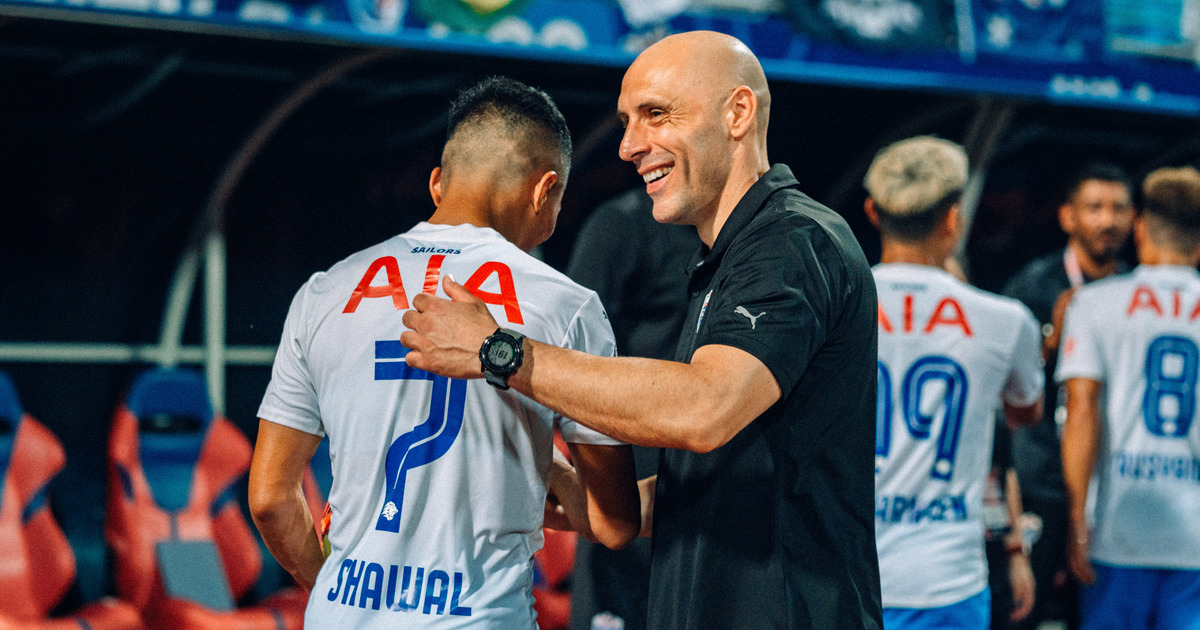 "In the second half, we were refreshed and when we moved the ball fast, then we could defeat them by creating a lot of chances," he said.
"Shawal's impact was really big, he did what he came on to do, and he's been in great form in the last week too, also scoring for the national team."
The 32-year-old Shawal had returned from the latest international break with a goal in Singapore's 1-0 victory over Guam in the second leg of their first-round 2026 World Cup qualifiers just four days earlier.
The Sailors were handed a perfect start when, just 10 minutes in, Jaguars defender Shakir Hamzah caught Richairo Živković inside the box.
After a three-minute delay which included a video assistant referee (VAR) check, Brazilian midfielder Diego Lopes sent Tanjong Pagar keeper Kenji Rusydi the wrong way from the spot to put the Sailors 1-0 up.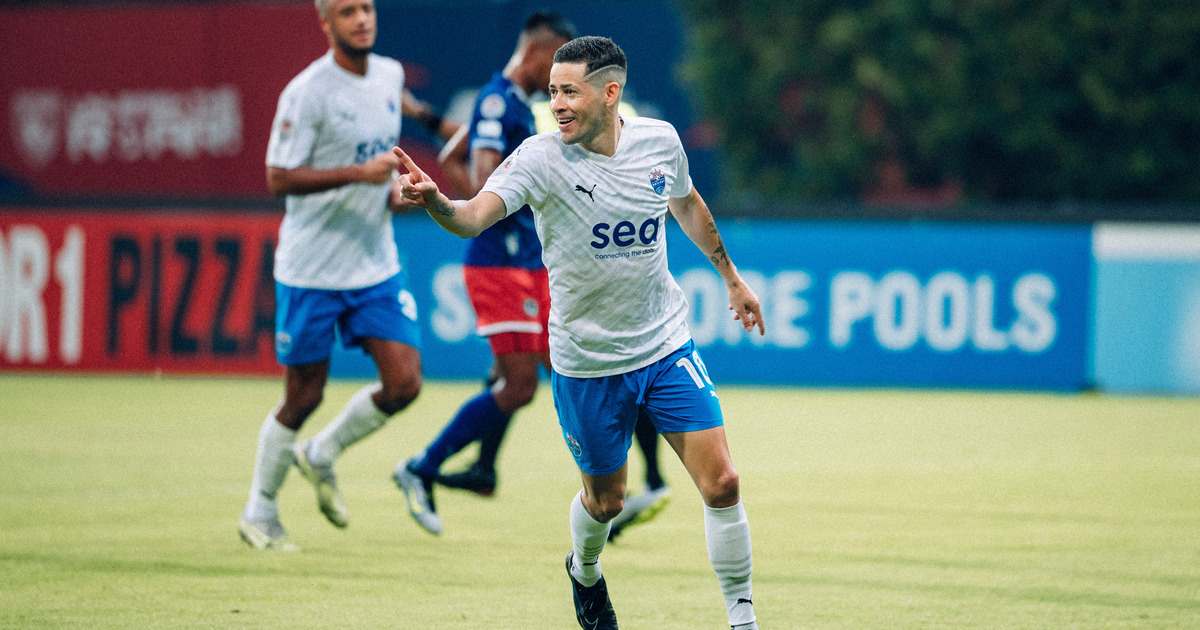 In the 27th minute, Tanjong Pagar made it 1-1 after a long throw from Akram Azman was not cleared and Sailors old boy Naqiuddin Eunos slotted the ball into the bottom corner.
The Sailors were unable to find a breakthrough in the rest of the first half, with efforts from Diego and Maxime Lestienne going wide.
Tanjong Pagar was then reduced to ten men with Blake Ricciuto being sent off for a second bookable offence in the 48th minute after a late challenge on Diego, before Naqiuddin fluffed his lines in front of goal three minutes later.
The Sailors finally found a way through the stubborn Tanjong Pagar backline in the 68th minute, when Maxime found substitute Adam Swandi on the right, whose cross was converted by Shawal.
With the team's renewed confidence, Shawal then scored his second 10 minutes later when Richi played an early ball across goal, and Maxime unselfishly laid it off for the no. 7 to finish the move.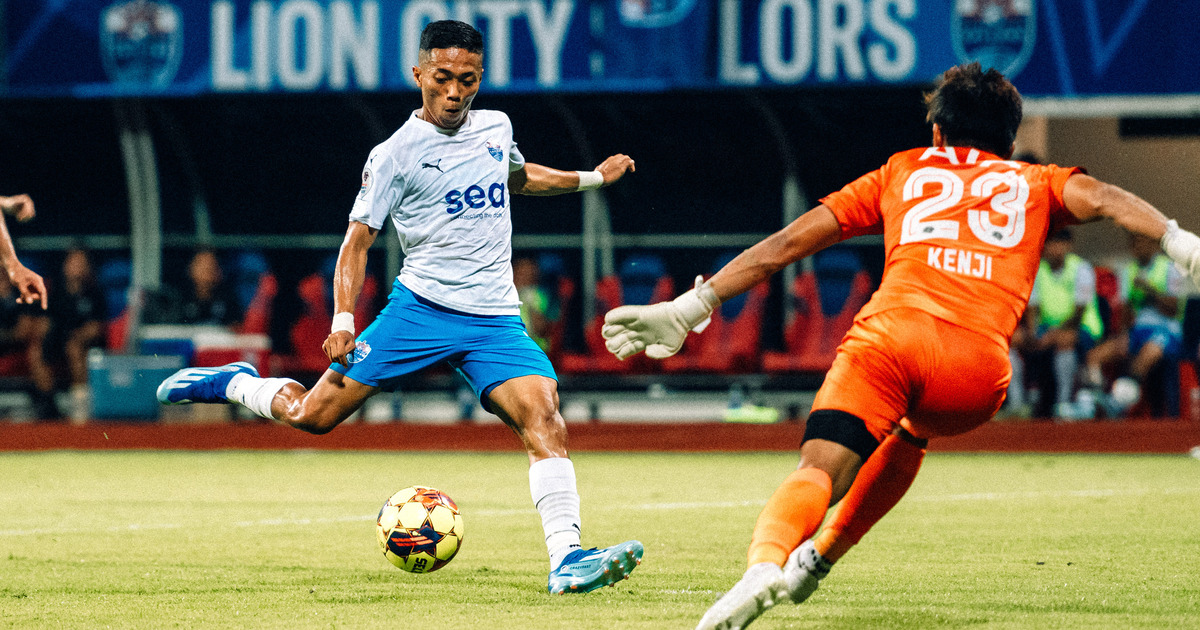 Tanjong Pagar then finished the night with nine men with Tajeli Salamat getting a straight red for a cynical challenge on Richi, before Shawal took home the match ball by rolling the ball into an empty net after Kenji spilled Adam's shot four minutes into stoppage time.
"I'm happy with my performance today, it was my responsibility to put the ball into the net and I had to do my job," said the hat-trick hero, who has now netted 13 goals in all competitions for the Sailors. 
The Sailors will look to carry their winning momentum to South Korea as they take on Jeonbuk Hyundai Motors in their Asian Football Confederation Champions League (ACL) 2023/24 Group F clash on Wednesday.
And Ranko made it clear that there will be no time to celebrate Saturday's win.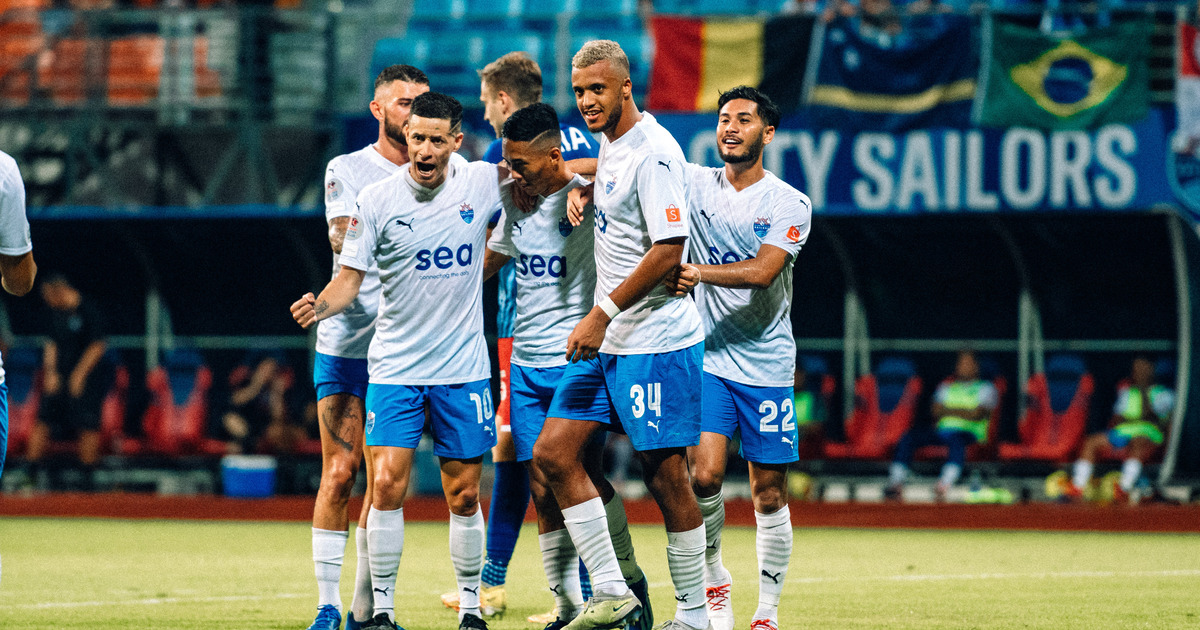 "We're going on a long trip there on Sunday (22 October) morning, then we'll see how the boys recover. Thankfully we have two days for that," Ranko said.
"And I hope this post-match interview isn't going to be long, because I have to go home and pack!"
Watching her on the pitch, it is easy to assume that the assured Tia Foong is a seasoned footballer. Her maturity and know-how belies her age, and the fact that this is the 16-year-old's debut season in the Lion City Sailors Women Team.
One of seven players promoted from the Sailors' Girls Academy, Tia is beginning to get regular game time in the Deloitte Women's Premier League (WPL) for the Sailors who currently top the 10-team WPL table, four points ahead of Albirex Niigata (S) with five games left to play. 
Tia credits her teammates and Head Coach, Yeong Sheau Shyan for shaping her into the player she has become, and hopes to continue in her rich vein of form when the Sailors take on Balestier Khalsa on Sunday (22 October) at Choa Chu Kang Stadium.
"This season I've gained much more insight and valuable experiences through these WPL matches. Through analysis of the game with Coach Sheau Shyan's help, we are able to identify our shortcomings and work on it as a team," said the right-back.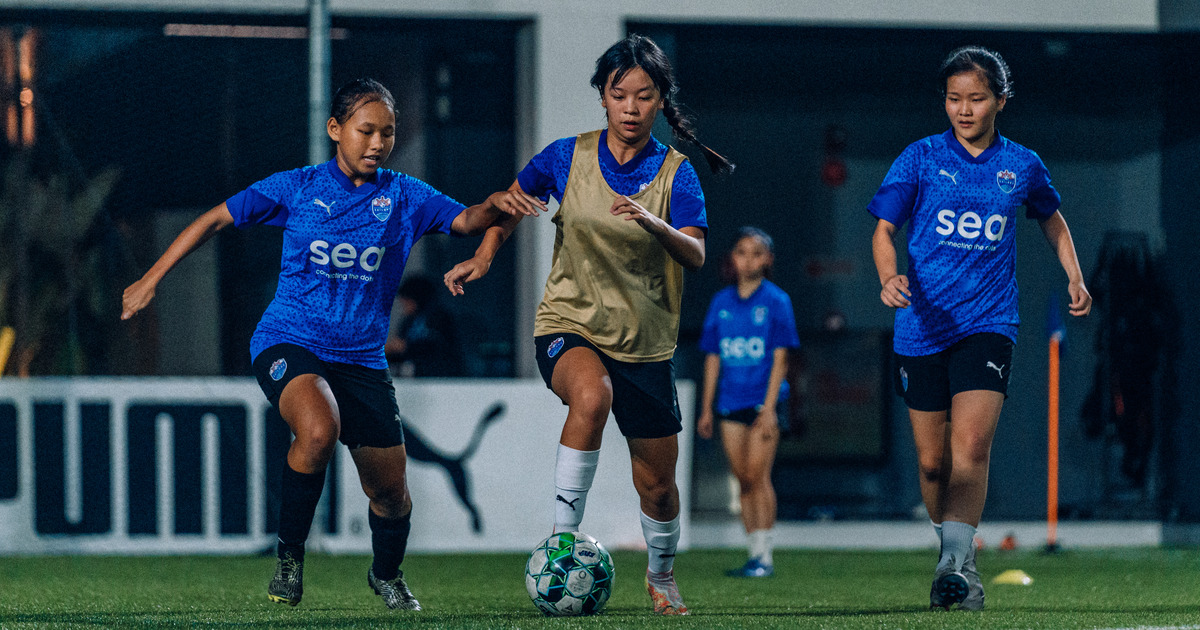 In the Sailors' 1-0 win against Tanjong Pagar last weekend, Tia impressed in her role as a defensive midfielder alongside fellow teenager Madelin Lock. It was the first time she was moved further up the pitch, from her usual position in defence. 
"Although I wasn't very familiar with the new position, everyone gave me the support I needed," she said. "They guided me, telling me what I needed to do, and that was very comforting as I sometimes got quite lost during the match."
Tia describes the experience of jumping from the Women's National League (WNL) to the WPL as a surreal one. 
"It has been an honour to play alongside the people I've always looked up to. They've helped me push my limits and have helped make me a better player as a whole, and I'm really grateful to be in this team," she gushed.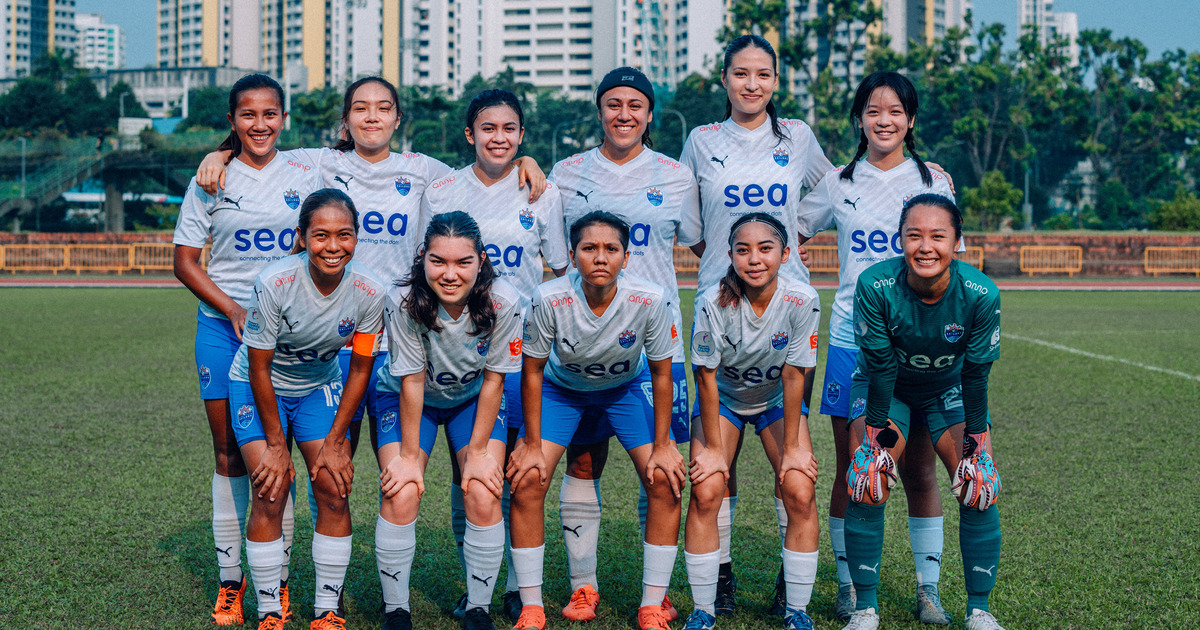 It has not only been a momentous year for Tia in football, but also at school where the Secondary Four student is currently in the midst of her 'O' Level examinations.
"It has definitely not been easy for me. It's been quite stressful at times, but with proper time management and a realistic daily to-do list, it's quite manageable," she said.
Goalkeeper, Beatrice Tan paid tribute to the Sailors' team spirit, attributing wins and clean sheets – including the one against Tanjong Pagar United last weekend – to the strong camaraderie in the dressing room. 
"I'm grateful to my teammates for covering and protecting me, that definitely boosted my confidence. Even though we were very lean, everyone played their hearts out, covered one another, stuck to the game plan and delivered," said Beatrice, paying tribute to her team for coming out tops despite injuries forcing the team to manage with only two substitutes on the bench.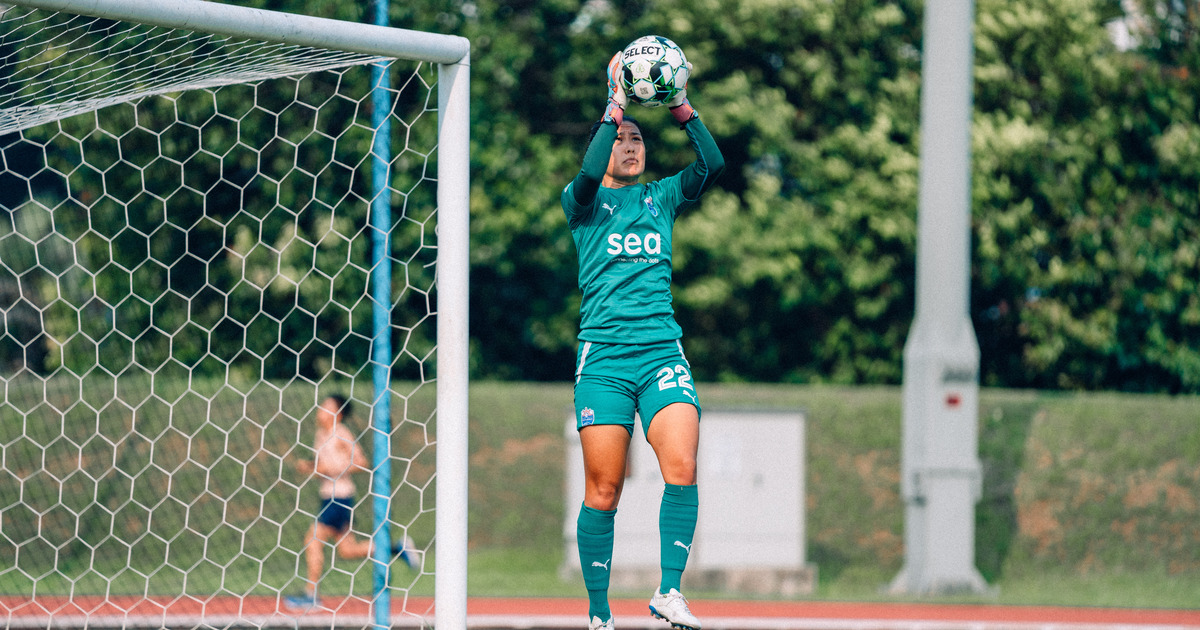 Despite the string of wins, Beatrice is adamant that the team is not getting ahead of themselves in what is the final stretch of the WPL season. 
"Like what we always say and do, we take things one game at a time. We treat every opponent with respect and will not be complacent," she noted.
"We will focus on the game plan for every match, keep ourselves fit, healthy and ready for every match. That's the key."