The Lion City Sailors will no longer play their upcoming Asian Football Confederation (AFC) Cup matches in Singapore.
This comes after the Football Association of Singapore (FAS) announced on Thursday (May 27) that it will withdraw as host for Groups H & I of the AFC Cup Asean Zone Group Stage.
The Sailors, who are in Group H, were initially scheduled to take on Vietnamese outfit Saigon FC, Indonesia's Persipura Jayapura, as well as Malaysian side Kedah Darul Aman in Singapore from June 29 to July 5. 
Explaining the reasons for their withdrawal as hosts, the FAS said in a statement: "The FAS has been working with all parties to provide a safe environment for all participants of the tournament.
"However, the erratic COVID-19 situation regionally has made the inbound travel challenging for the overseas participating teams. In the interest of all the players, the officials and the local community, the FAS has decided not to host the AFC Cup 2021 Group Stage matches."
Sailors chief executive Chew Chun-Liang said: "While we look forward to competing in this regional tournament, we fully understand and respect the FAS' decision to withdraw as hosts for the AFC Cup games. We remain confident that the team will still be able to achieve their goals in the competition."
A new venue for the Sailors' AFC Cup games has yet to be confirmed.
Despite the departure of Aurelio Vidmar, the Lion City Sailors continued their superb form in the Singapore Premier League (SPL) under the tutelage of interim head coach Robin Chitrakar, registering three wins in as many outings in May.
The Sailors started out with a hard fought 2-1 win over Geylang International. They then came from behind to beat Tanjong Pagar United 3-1, before closing out the month with a 1-0 victory over the Young Lions.
Here, we round up the major talking points from the Sailors' three successful outings…
The ability to grind out wins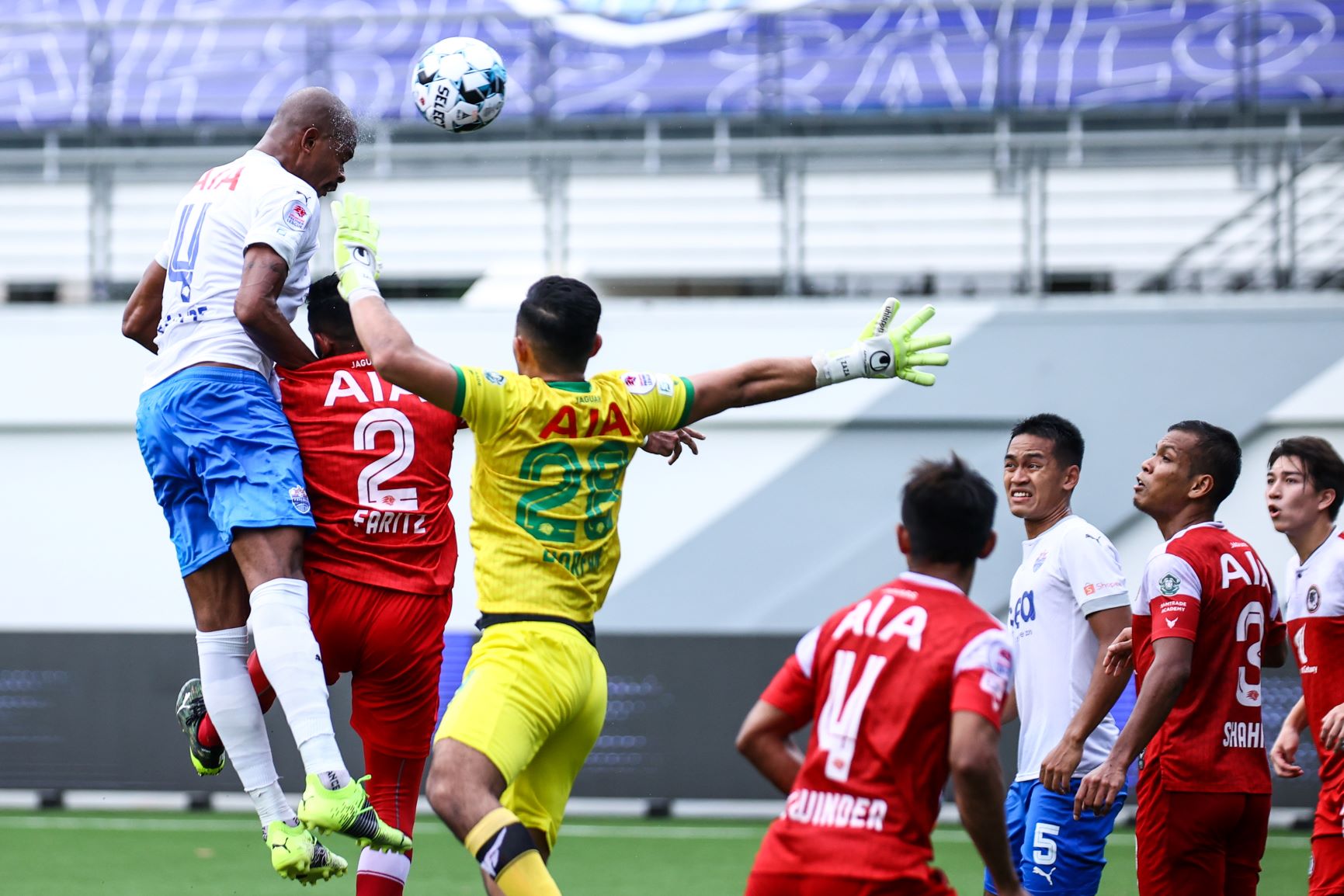 With the sheer amount of quality at their disposal, there are naturally huge expectations placed upon the Sailors. However, to expect them to show up and steamroll their opponents in every game is simply unrealistic.
To nullify the Sailors' attacking flair, Geylang, Tanjong Pagar and Young Lions all opted to adopt a defensive approach – sit back, stay compact, and hit on the counter.
Facing such a low-block can be frustrating. But the Sailors remained calm and patient as they searched for a way to break down their opponents.
And ultimately, the talent within the Sailors' ranks proved decisive.
Against Geylang, the Sailors found themselves being denied time and again by solid defending and an exceptionally good performance by debutant keeper Sanders Saurajen, but eventually came good via Saifullah Akbar's wonderfully-struck shot from outside the area.
The Jaguars adopted a similar soak-and-strike approach to great effect, and even managed to grab a shock lead against the Sailors. Instead of pressing the panic button, however, Robin's charges simply upped the tempo of their game.
It took eight minutes for the Sailors to find the equaliser through Jorge Fellipe's header, and another four more minutes before Gabriel Quak gave his team the lead with a long-range strike. Diego Lopes wrapped up the victory for the Sailors 10 minutes from time with a header from five yards out.
And while the Sailors were also unable to find their rhythm against a gritty Young Lions side, they did create enough chances to win the game by a bigger margin, but were denied by a combination of the woodwork and some excellent goalkeeping.
In the end, it took a sublime free-kick from Shahdan to decide the game and secure all three points for the Sailors – yet another example of how talent can prove decisive in tight games.
The ability to break down stubborn teams and secure crucial points is a quality that will serve the Sailors well in what is proving to be yet another tight race for the title in the SPL.
Shahdan serving up a reminder of his influence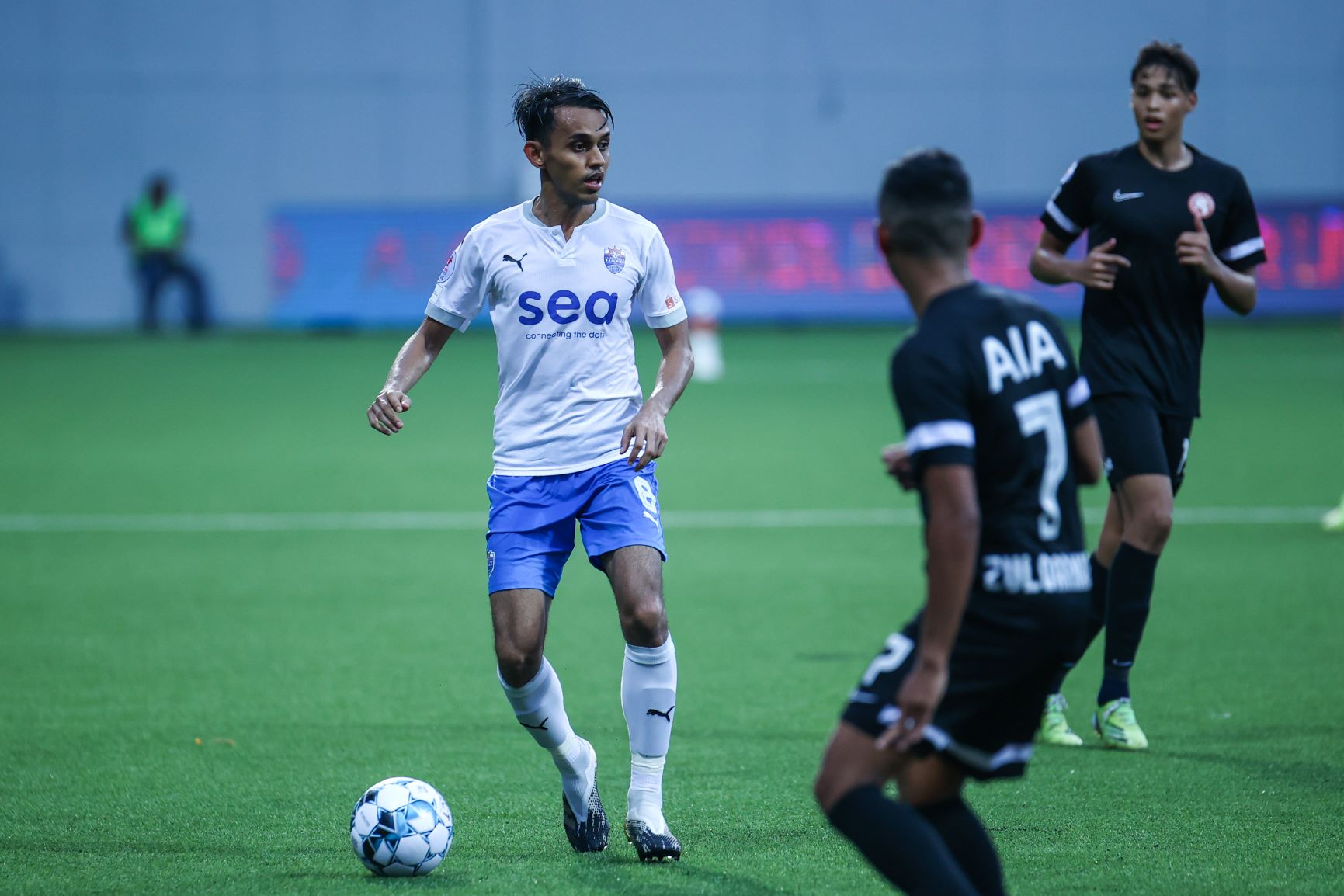 Given the wide array of attacking stars that the Sailors boast, there is perhaps a tendency for fans to overlook the contributions of those who deployed in the more defensive roles.
Shahdan, who usually plays at the base of the Sailors midfield, is one such player.
An accomplished trequartista, Shahdan not only provides creativity for the Sailors from deep, but is also often the player tasked with dictating the tempo of the game. It helps as well that the 33-year-old has a well-honed knack for picking out the right pass at the right moment.
Take Saifullah's goal against Geylang for example. When the ball fell to Shahdan some 30 yards from goal, he could have easily attempted a shot, and no one would have faulted him. Instead, after assessing his options, he laid the ball off for Saifullah who was in a better position to take aim.
Saifullah duly obliged, and scored what proved to be the winning goal against the Eagles.
But the most obvious strength of Shahdan lies in his well-renowned set-piece deliveries. Apart from the aforementioned free-kick goal against the Young Lions, Shahdan also provided an assist for Jorge with a pinpoint corner kick in the Sailors' win over Tanjong Pagar.
In all, Shahdan recorded one goal and two assists in the month of May – an especially timely reminder of his value to the team with national teammate Hariss Harun set to join Sailors in June.
Familiarity leads to greater understanding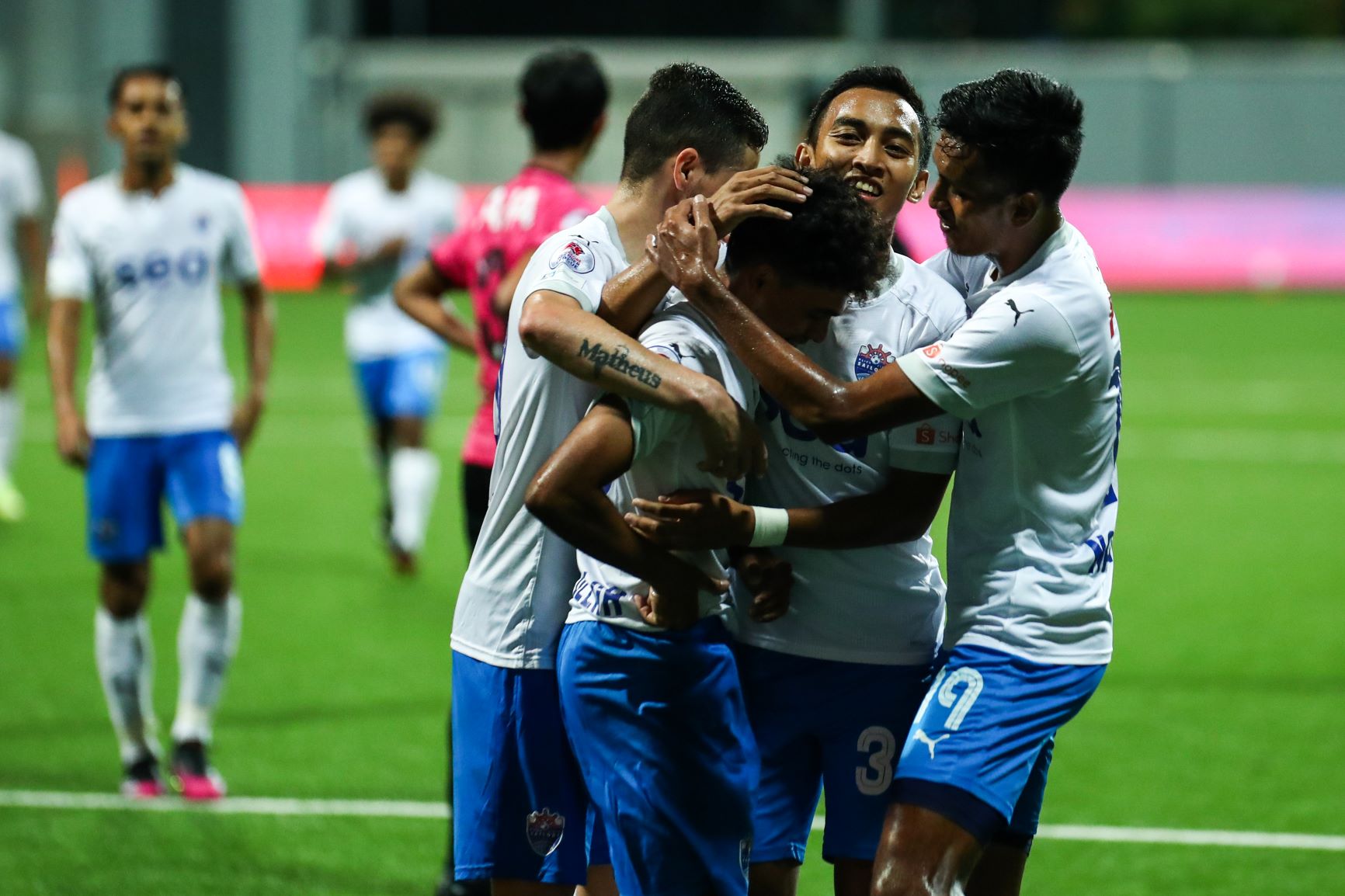 After a mixed start to the season, the Sailors have steadied the ship and are enjoying their best run of form with six straight wins – it is the longest run of wins the Sailors have recorded since their official inception last year.
This is largely because the Sailors have been able to field a settled starting XI. Jorge and Amirul Adli have formed a sturdy centre-back partnership, while Saifullah and Shahdan have worked well in tandem supporting each other in the middle of the park.
In the attacking third, Gabriel Quak and Diego Lopes appear to enjoy playing alongside each other. Both of them have also developed a good understanding with chief striker Stipe Plazibat.
And should the Sailors need an injection of inspiration, they have plenty of game-changing options on the bench, including the likes of Faris Ramli, Adam Swandi and Song Ui-Young – experienced players who can seamlessly slot into the team whenever needed.
Coach Robin has also managed to ensure that the key values and playing principles from Coach Aurelio's tenure remain in place, which means the players are all fully aware of what is expected of them. The impending arrival of Asian Football Confederation (AFC) Champions League winner Kim Do-hoon as the Sailors new head coach in June will only serve to provide a boost to the entire squad.
These factors set the Sailors up nicely for their next assignment – the AFC Cup Group H matches, which are scheduled from June 29 to July 5. The Sailors are due to face Vietnamese outfit Saigon FC, Indonesia's Persipura Jayapura, as well as Malaysian side Kedah Darul Aman at the Singapore National Stadium.
With one game set to be played every three days, the Sailors' winning mentality and mental fortitude will have to come to the fore to secure qualification from the group stage.
But if the Sailors' recent performances are anything to go by, there is every chance of them progressing to the next stage.
Till then, ahoy Sailors!
The Lion City Sailors will head into the upcoming international break boasting an eight-match unbeaten run, after they overcame the Young Lions 1-0 in the Singapore Premier League (SPL) at the Jalan Besar Stadium on Saturday evening (May 22).
But the in-form Sailors were made to work hard to beat Philippe Aw's men who put up an organised and resolute display to keep their more illustrious opponents at bay.
Indeed, it took a sublime free-kick from set-piece specialist Shahdan Sulaiman in the 44th minute to breach the Young Lions defence.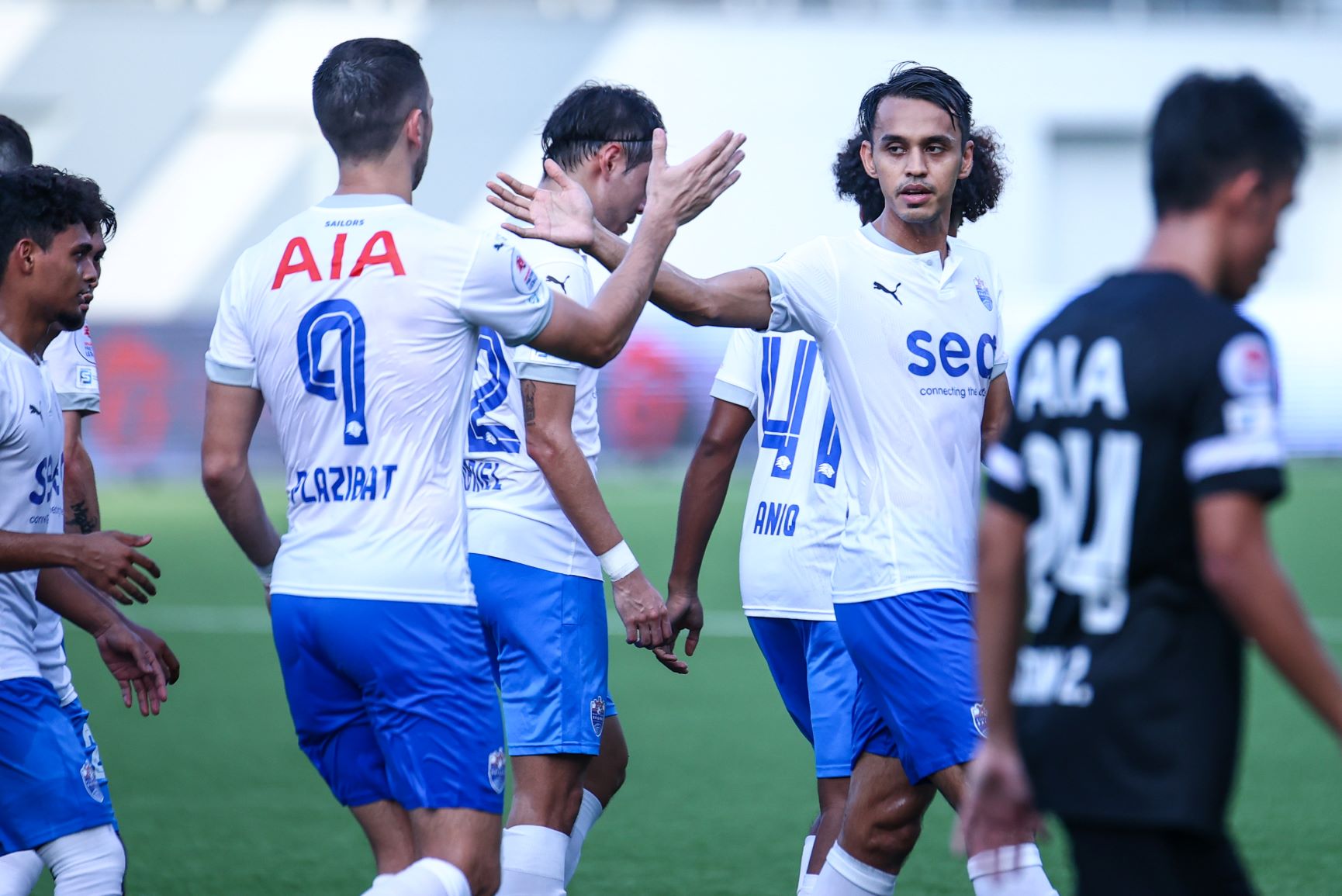 Despite dominating possession against a Young Lions side that went down to 10 men after defender Syahrul Sazali had been sent off in the incident that led to Shadan's free-kick, the Sailors were just unable to find a second goal.
Nonetheless, the solitary goal from Shahdan was all that was needed for the Sailors to secure the three points and leapfrog Albirex Niigata (S) to the top of the table, if only for a day. Albirex face Geylang International on Sunday (23 May). 
While eyebrows were raised over the Sailors' inability to beat the Young Lions – who are winless this season and rooted to the bottom of the SPL table – by a bigger margin, centre-back Amirul Adli insists there is nothing to be overly concerned about.
Reflecting on his team being unable to hit their usual attacking stride on the day, Adli said: "It was just one of those days where the team just found it hard to get the momentum to attack as fluidly as we usually do.
"But that's football – there will be some days where things just don't seem to go the way you want. The Young Lions were also well organised too, making life difficult for us.
"But we never gave up and kept working hard as a team to get the win. I'm really proud of the team's mentality, because we kept to the plan and tried playing positively even though it was a difficult day. And ultimately, what matters the most is that we got the three points."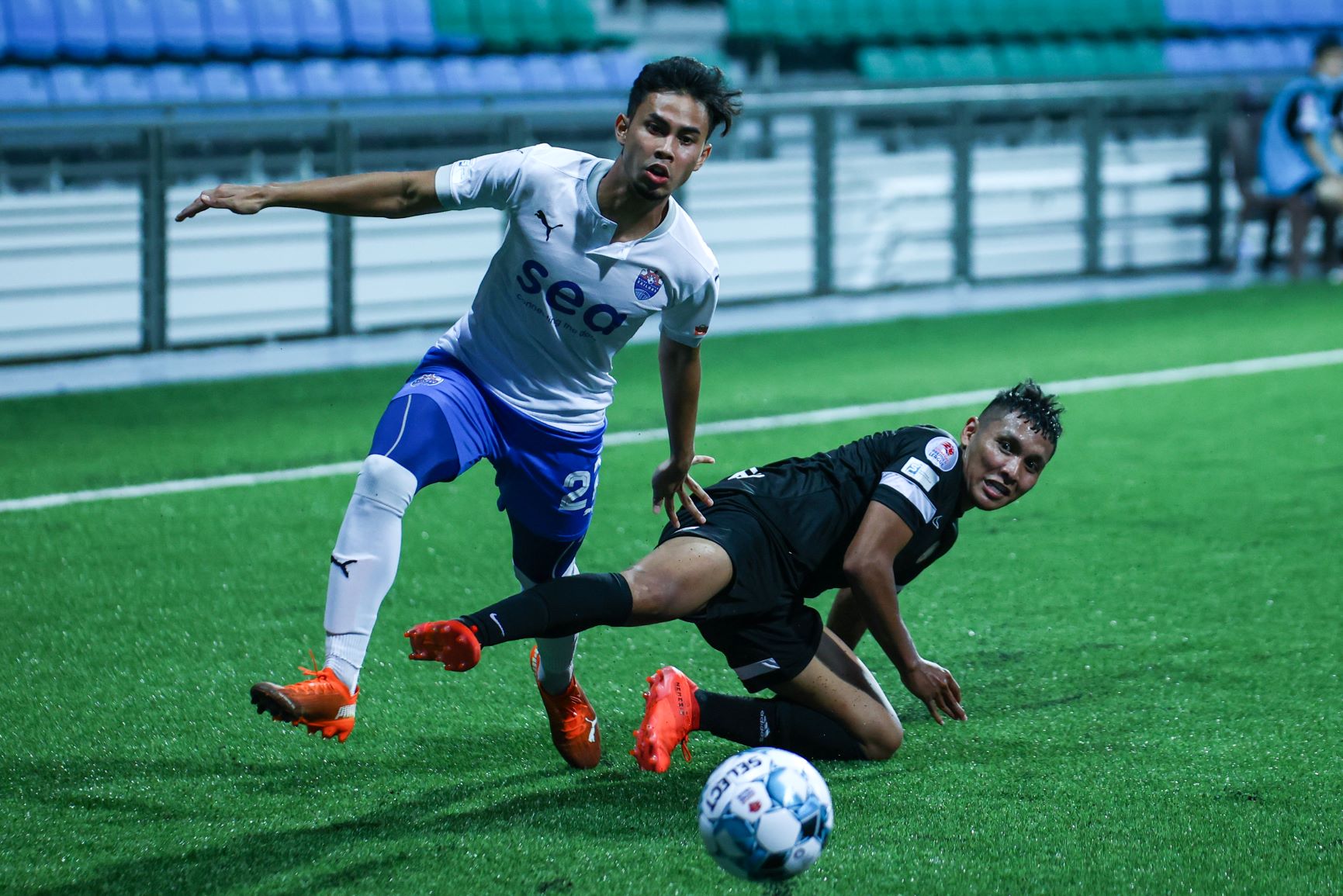 While the Sailors did not find their usual fluency in attack, they remained solid at the back to keep out the Young Lions and claim their fourth clean sheet of the season.
This, says Adli, is down to the players in the team developing a better understanding with one another, having now played together for nearly half a season.
"It's great to see that we defended very well, and stayed compact as a unit throughout the game," Adli explained.
"I definitely feel that the team understands one another better as the season goes by, and the solid defensive performances we've shown in the past few games is due to the team defending as a unit.
"We have been working hard in training to be more organised from top to bottom, and thanks to that, it has made the job of the backline much easier."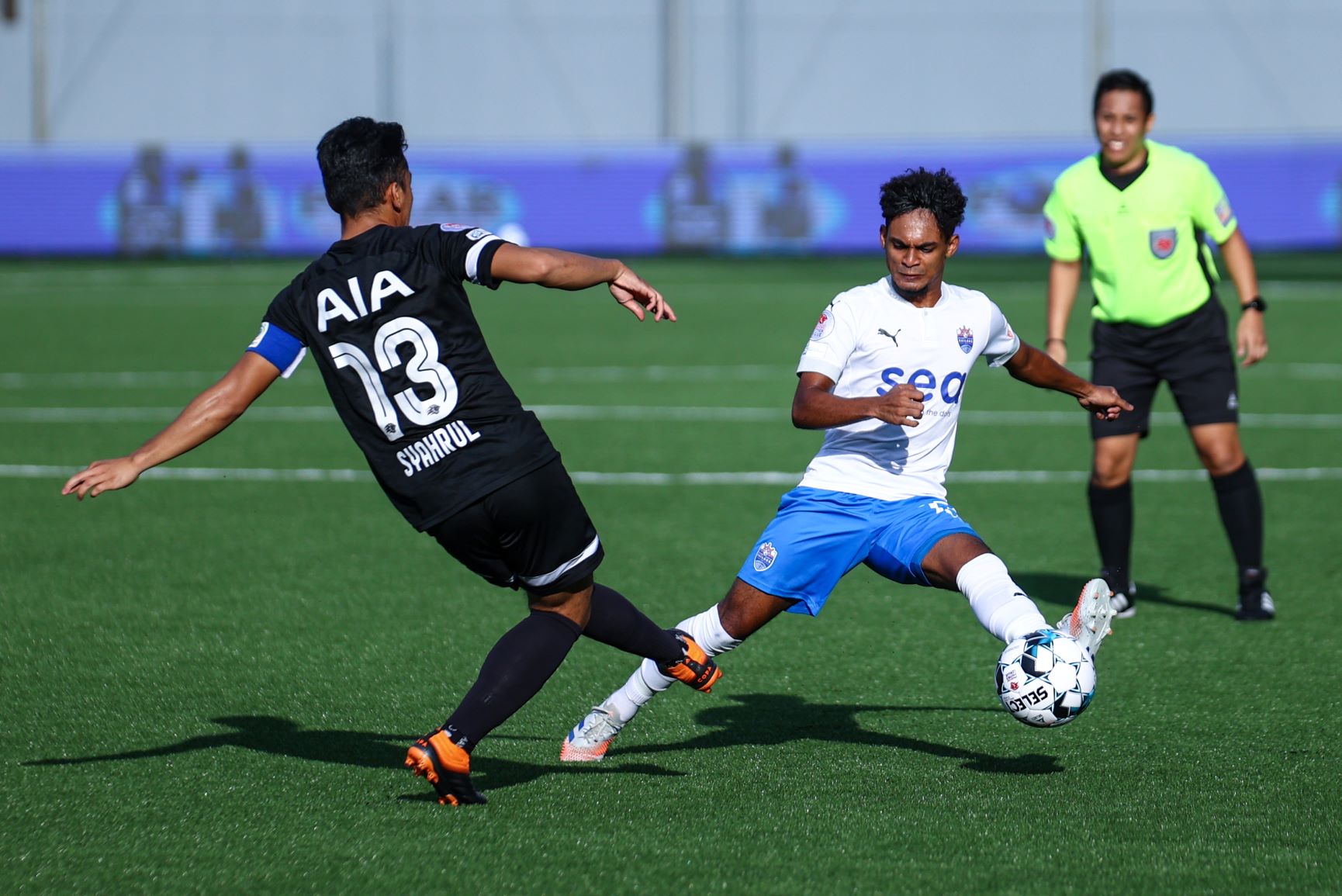 The team will now break for the upcoming internationals – in which eight Sailors, including Adli, will be involved in Singapore's World Cup qualifying campaign – before regrouping in the middle of June for their Asian Football Confederation  Cup (AFC Cup) group stage matches.
This means the Sailors' next SPL match will take place more than a month later, on July 3, against reigning champions Albirex.
And Adli believes it was vital that the Sailors headed into the international break on a high.
"The win (against Young Lions) was very important as we know how consistent Albirex can be," Adli declared. "Finishing positively before the internationals is exactly what we need, as it puts us in a great position when we face them after the break."
Adli also expressed his appreciation for interim head coach Robin Chitrakar, who took over the reins of the team after Aurelio Vidmar left the club at the end of April.
Coach Robin, who has guided the Sailors to victory in all three of the matches he was in charge, will return to his primary role as the club's Head of Youth Development once new head coach Kim Do-hoon links up with the team next month.
Said Adli: "It has definitely not been easy for coach Robin to take on this responsibility, but he has done a great job. He has guided the team to maximum points in these past three matches, and everyone appreciates the work he has done for the team."
Kim Do-hoon may have been confirmed as the new head honcho of Lion City Sailors earlier this week, but Robin Chitrakar's job as the club's interim head coach is not done just yet.
With coach Kim only officially linking up with the team in June, Robin will still be in charge for the Sailors' Singapore Premier League (SPL) clash against Young Lions on Saturday (May 22). He will hand over the reins to the AFC Champions League winner during the ensuing international break.
But while the 44-year-old's time at the helm may have been short, there is no doubt he has done well to build on the foundations laid by former head coach Aurelio Vidmar.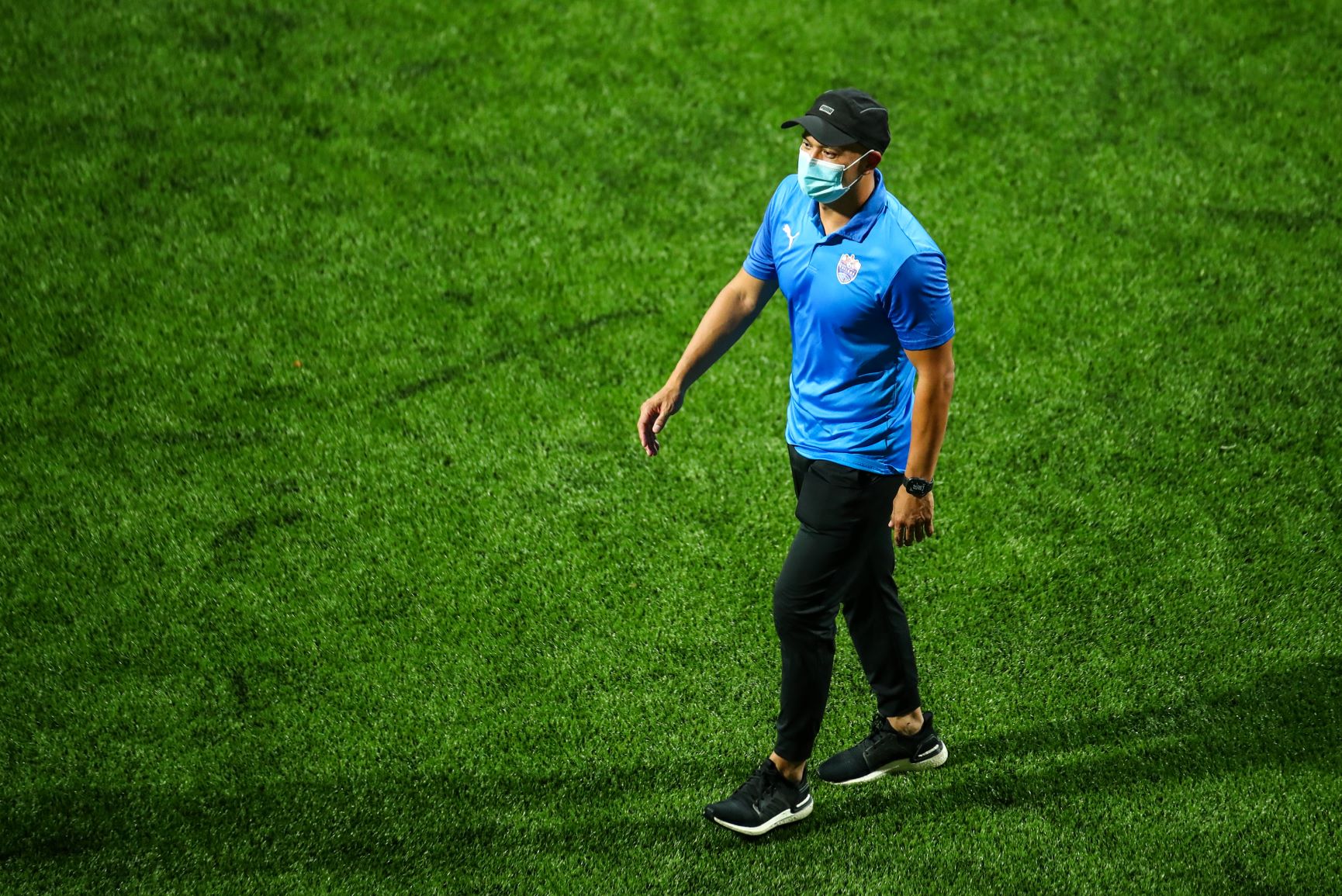 Under Robin, the Sailors have continued to play an attacking, possession-based style of football that is pleasing to the eye. But they also displayed an ability to dig deep and play gritty when needed, as shown in their narrow wins over Geylang International and Tanjong Pagar United.
Reflecting on the Sailors' last two games against the Eagles and Jaguars, Robin said: "We knew how difficult it would be – teams are now becoming more aggressive and tighter at the back against us.
"But I'm proud that we've managed to overcome those challenges to win. It just shows that this team has leaders and a lot of character, and is determined to win every game."
The Sailors have now won five straight matches, and are unbeaten in their last seven. More importantly, they remain hot on the heels of current league leaders Albirex Niigata (S) – the Sailors are currently second in the table on 23 points, just one behind the reigning SPL champions.
Despite what has been an 'amazing' experience with the senior squad so far, Robin is focused on ensuring a smooth handover to Kim, and returning to his primary role as Head of Youth Development at the Sailors.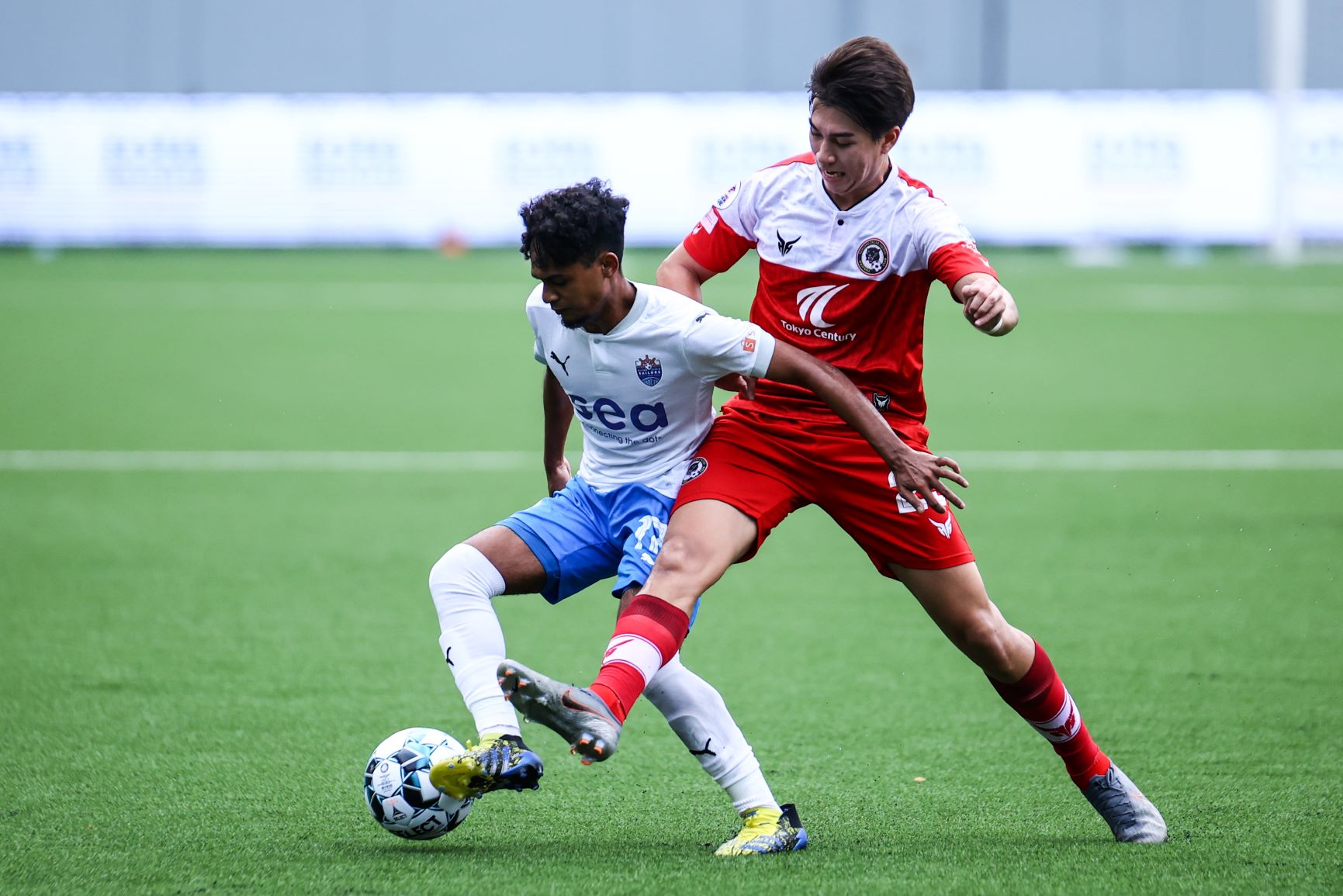 "I'm grateful to the club for giving me this opportunity (to be interim head coach). It's been great to manage these consummate professionals who are always respectful, and are willing to put in the hard work," said Robin. "But my main role at the club is to take care of young players , and that isn't going to change.
"For me, the most important thing is to keep the things in place for coach Kim to take over. He's a coach whose achievements speak for themselves, and I'm sure he'll take the club to a whole new level."
For now, though, Robin's attention is firmly fixed on the game against his former side, Young Lions, this weekend, as he seeks to end his interim head coach stint on a high.
While the Young Lions are still winless this season, they have proven themselves tough to beat on their day, having held title-chasing Hougang United to a 1-1 draw previously, and only just falling to a narrow 2-1 defeat to Albirex last Saturday.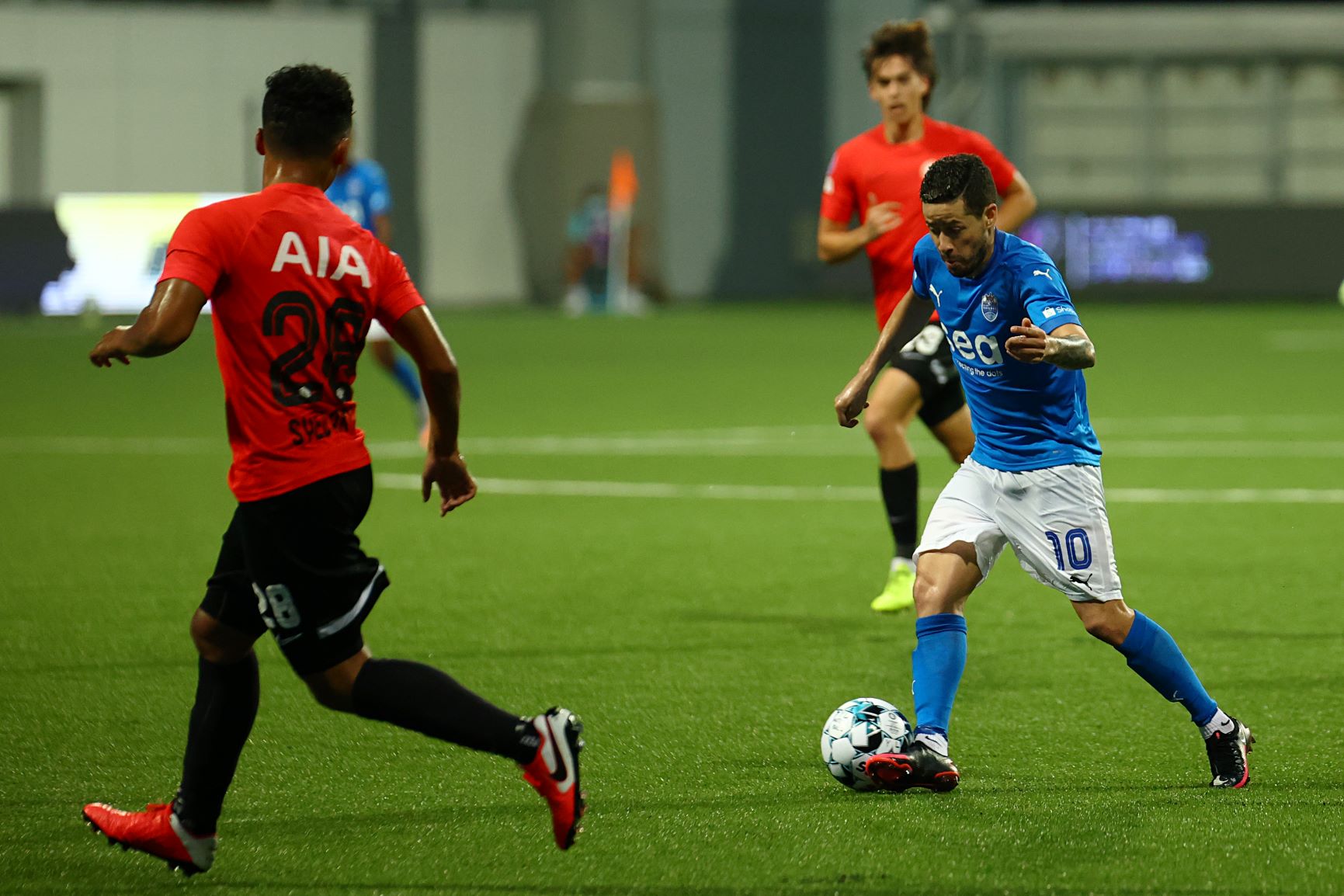 And Robin insists the Sailors cannot afford to be complacent against Philippe Aw's young charges.
"Obviously we want to continue the winning momentum to close the gap on Albirex, but a victory will not be so straightforward," Robin declared.
"I've watched them play this season – they were leading against Hougang before conceding an equaliser in the last minute, and they could easily have forced Albirex to a draw. Coach Phillipe has got them pretty organised, so we definitely need to dig deep again to get the three points."
Lion City Sailors are pleased to announce Kim Do-hoon as the club's new head coach.
Kim, who led South Korean outfit Ulsan Hyundai to victory in the Asian Football Confederation's AFC Champions League (ACL) last year, joins the Sailors on a two-and-a-half year deal. He is expected to officially link up with the team in June.
The former South Korean international will step into the role vacated by Aurelio Vidmar, who left the Sailors in April.
"I am delighted to be joining the Lion City Sailors. It's hugely exciting to be part of such an ambitious project – the club has aspirations of becoming one of the top teams in the region, and I'm confident of delivering that success to the Sailors," said Kim.
"Before anything, however, I would like to thank Aurelio for the solid groundwork that he has put in place. The Sailors boast a very talented squad, and the team has been playing exciting attacking football over the past year or so. I intend to build on that, and bring this team to the next level."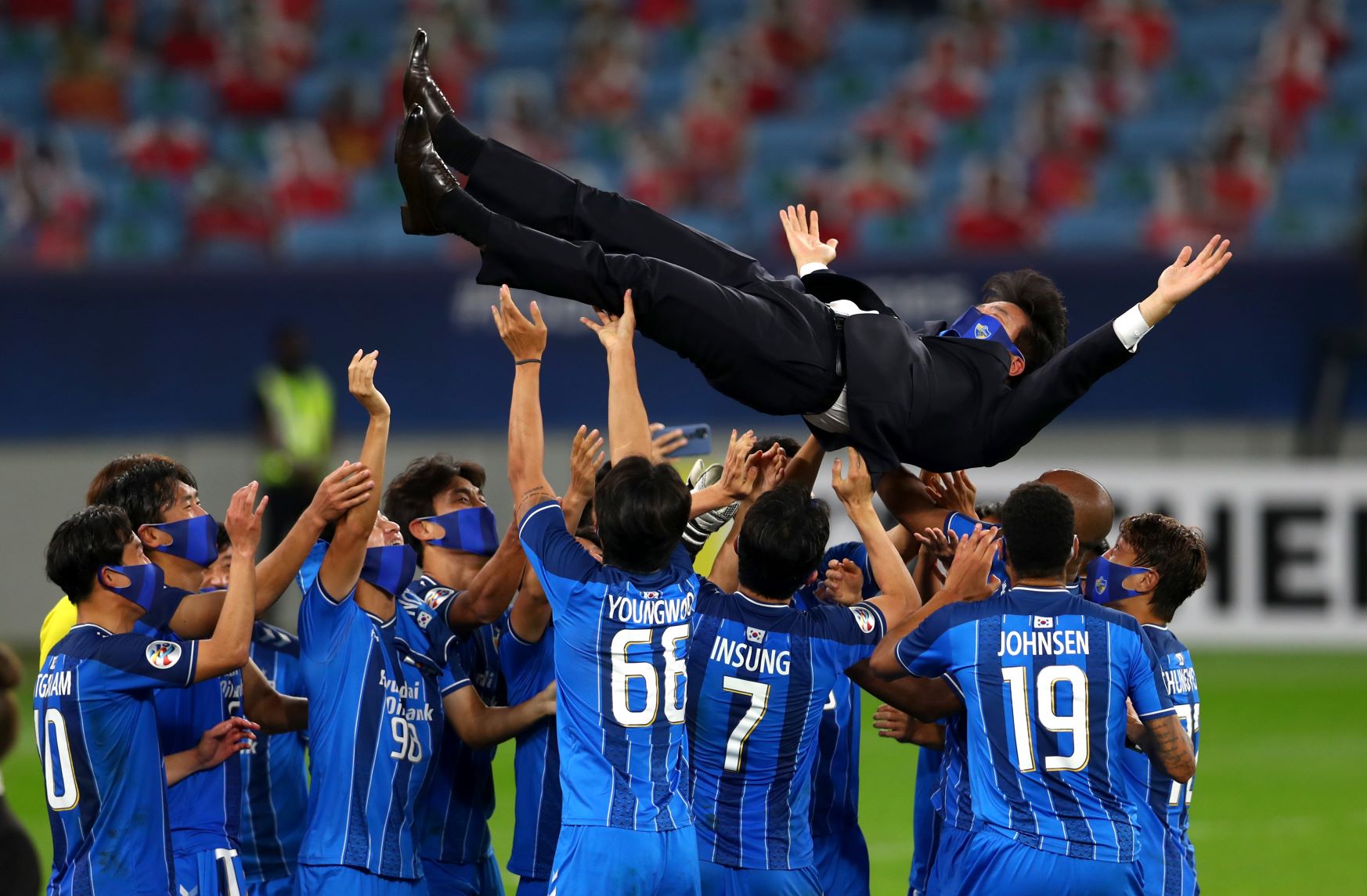 Kim left Ulsan last December after four years in charge of the club. While there, he was known for playing a possession-based style of football that focused on ball retention and attacking at pace. 
The 50-year-old – who previously managed Incheon United from 2015 to 2016 before joining Ulsan – was also instrumental in bringing out the best in his players, with the likes of striker Júnior Negrão, winger Kim In-Seong, and midfielder Lee Dong Kyung thriving under his stewardship. Under Kim, Ulsan won their first-ever Korean FA Cup in 2017, and also consistently challenged for the league title – they finished second in both the 2019 and 2020 season. 
Sailors Chief Executive Chew Chun-Liang said: "We conducted an exhaustive search for the right candidate to take the club forward. There were several top-class candidates, but Do-hoon stood out as the ideal person to take over as head coach because of his professionalism, consistency, and propensity to play an eye-catching style of football.
"Do-hoon also has a good record of helping players fulfil their potential. This was something that we considered strongly, given the number of young talents that we have at the club.
"More importantly, Do-hoon is a proven winner who has both played and managed at the highest level of Asian football. We would also like to thank Do-hoon's representatives, Rookbook Sports, for helping to facilitate this move. We are certain that with Do-hoon at the helm, the Sailors will be able to accelerate our progress in our ongoing quest for success."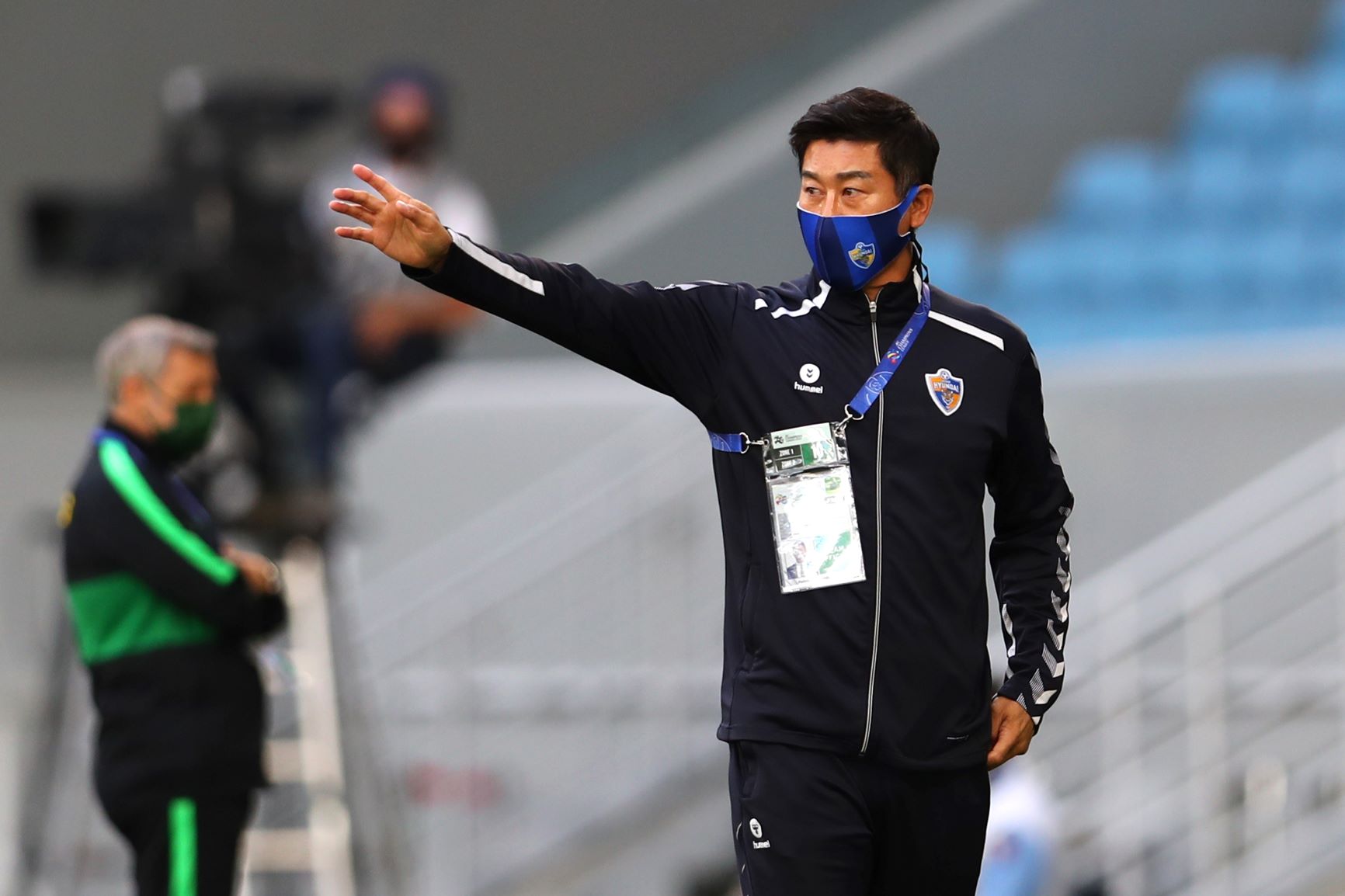 Sailors winger Gabriel Quak welcomed the appointment of Kim, and expressed his excitement at the prospect of working under such an esteemed coach.
"It's always great to be working under someone as knowledgeable and experienced as coach Kim," said Quak. "He has achieved great success with Ulsan, and we are all excited for him to help us develop individually and as a team."
Faced with a raft of Tanjong Pagar players sitting deep in their own half, Lion City Sailors initially found it tough to make any real headway in the attacking third against the Jaguars in their Singapore Premier League (SPL) fixture at the Jalan Besar Stadium last evening (May 16).
Tanjong Pagar's deep defensive shape was similar to the one put out by the Sailors' previous opponent Geylang International last weekend – a match which saw the Sailors secure a narrow 2-1 victory, courtesy of a long-range winner from Saifullah Akbar.
Sunday's encounter against Tanjong Pagar was equally tight, with neither team able to break the deadlock in a cagey first-half.
The visitors, however, took the lead against the run of play just two minutes into the second-half, through Shodai Nishikawa.
But the Sailors responded in the 55th minute, with Jorge Fellipe's towering header finding the bottom corner of the Tanjong Pagar net. Four minutes later, the Sailors took the lead courtesy of winger Gabriel Quak's precise finish, before Diego Lopes ensured the home team would take all three points with a third Sailors goal in the 80th minute.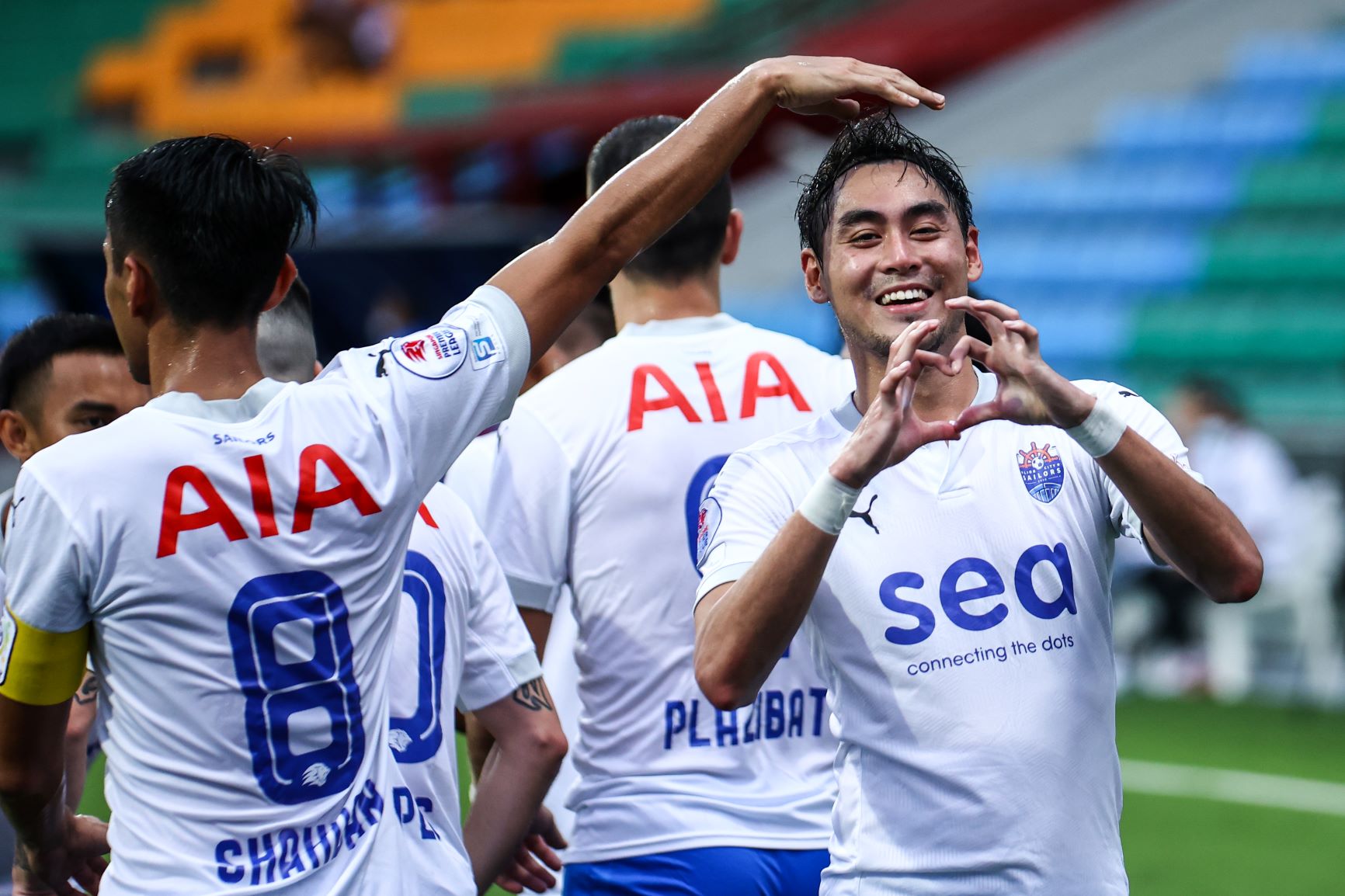 It was far from the sort of vintage attacking display that many have come to associate with the Sailors. But Gabriel believes it is only natural that it is harder to craft out goal scoring opportunities, as more opposing teams choose to sit deeper and play more defensively against them.
"As a team, we tend to play a more possession-based game, and I think most of the (opposing) teams recognise that and are happy to allow us time on the ball," Gabriel explained.
"I think most of our opponents now tend to sit back and keep things tight. We cannot show up and expect to score four, five goals every match.
"There's no fault in teams playing defensively. Every coach has their own game plan tailored to each fixture. For me, I believe teams are sitting deeper against us because they respect us, so the onus is on us to find different ways to attack them and breach their defences."
Indeed, Tanjong Pagar's game plan looked to have worked when they took a shock lead early in the second half. Gabriel, however, believes the Sailors' maturity and winning mentality helped them overcome the initial setback.
Reflecting on the game, the 30-year-old said: "They (Tanjong Pagar) didn't make it easy for us. In the first-half you could see they were so deep and defensive…that was part of their game plan, and they executed it well.
"We conceded a goal early in the second-half, which is always a bad time to concede. But what was really pleasing to see was that there was no panicking and finger-pointing within the team. We simply picked the ball up and got on with the game.
"I think that is a sign of how this team has matured, and of our desire to win. We kept pushing on and got rewarded quite soon after through goals from Jorge and myself at a crucial time of the game, before Diego sealed the three points later on. It was overall a fantastic team effort from everyone against a tough opponent."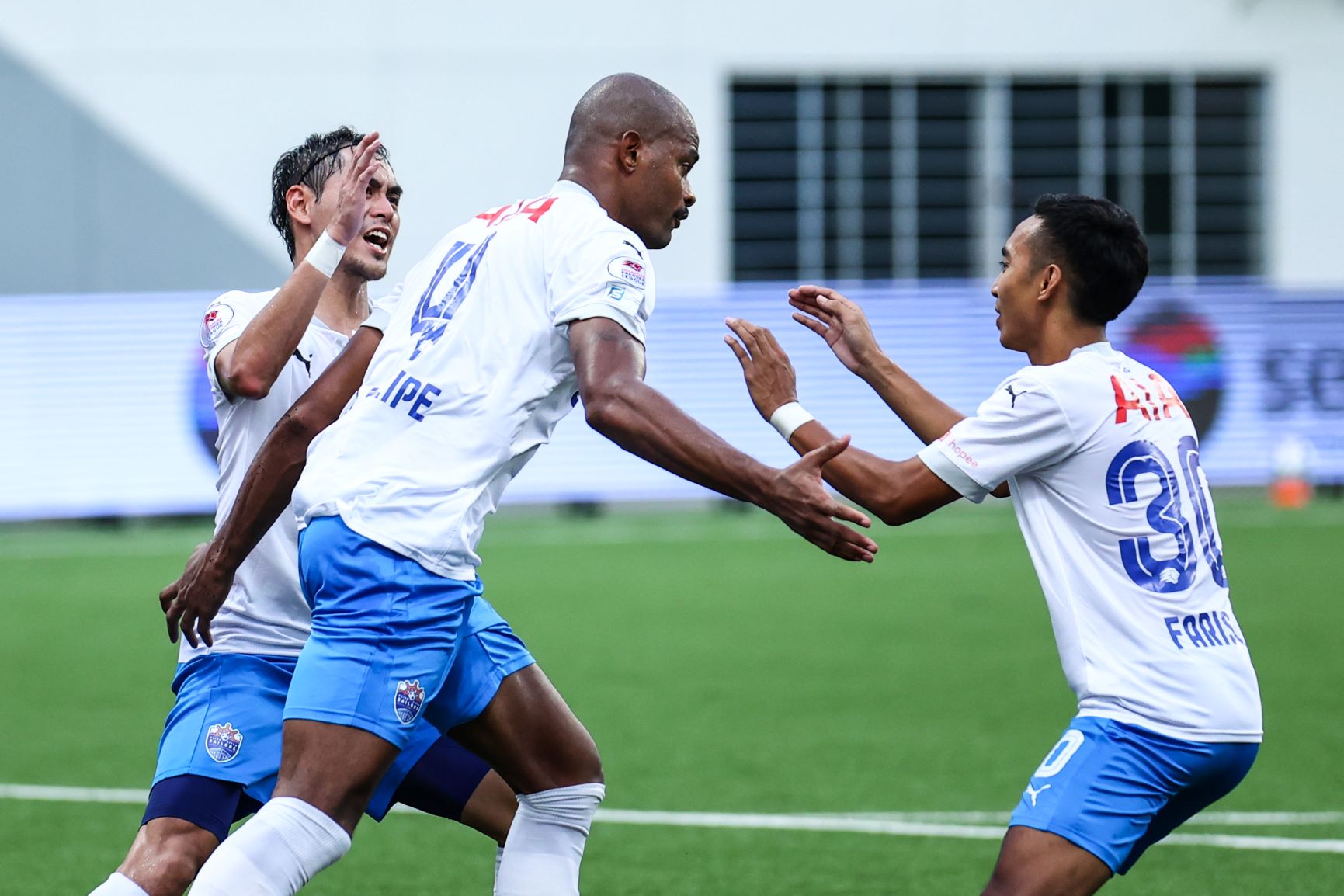 Gabriel's goal brings him up to eight for the campaign – just one shy of his career-best return in a league season.
When asked what he attributed his good goalscoring form this season to, the Singapore international replied: "It definitely helps to play alongside smart and talented players, who make playing football more enjoyable. Over the past few seasons, I've also been trying to make scoring goals more of a habit, and it's paying dividends now.
"But I think that while we as attackers are often judged on how many goals we score, it's also important that people recognise our overall contribution to the team. When we run to create space for others, or assist a teammate…these are things that are equally important to the team."
Gabriel also hailed the blossoming partnership between him and Diego Lopes in the attacking third, with the two of them assisting the other for their respective goals against Tanjong Pagar.
"It's been fun playing and training with Diego," said Gabriel. "We have a strong mutual respect for each other, and because we both operate mostly in the attacking third, we have struck up a good understanding on the pitch.
"He knows the kind of passes I like to receive, and vice versa. Today was evident of that (partnership) – we made a lot of passes to each other throughout the game, and our good understanding comes from the hard work we put on the training ground. I'm definitely happy to be playing with him."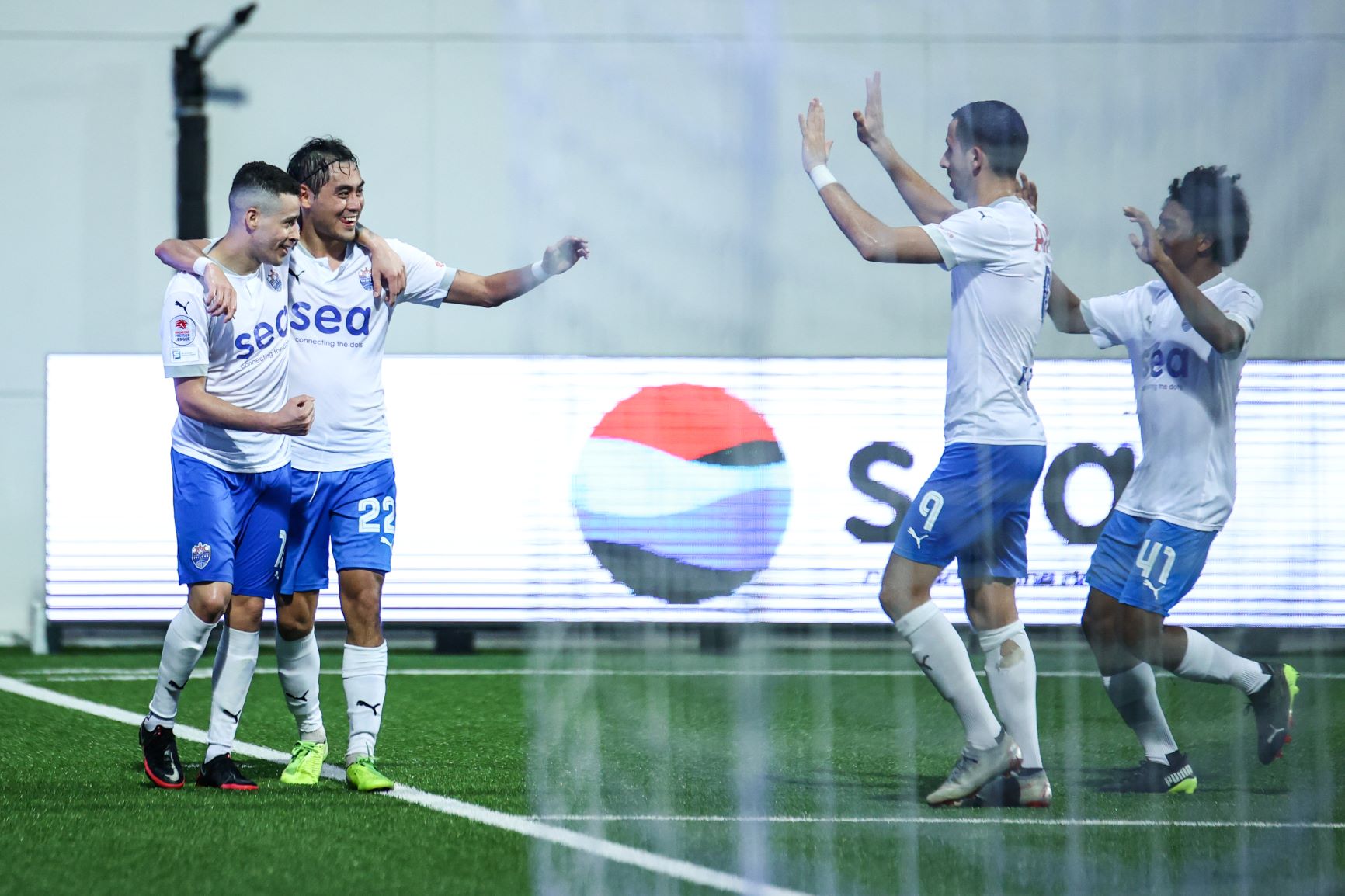 Now unbeaten in seven matches, the Sailors remain second in the table on 23 points, just one behind league leaders Albirex Niigata (S).
With just about half of the season left to go, Gabriel knows the Sailors can ill-afford to slip up in their quest to wrest the SPL title from champions Albirex.
"It's very tight in the league, so every game feels as crucial as a six-pointer," Gabriel said. "Just one win can propel you up the table, and a loss can bump you down a few places as well.
"Right now, we are on a good run of results, and we're just focused on keeping it going. We have confidence in our abilities, but we're also just going to take it one game at a time, because every opponent is different.
"As you can see from the last two games, it's getting tougher, so we have to remain on the ball if we want to finish the season as SPL champions."
The Sailors will next take on the Young Lions this Saturday (May 22), 5.30pm at the Jalan Besar Stadium.
The Singapore Lions have called up eight Lion City Sailors players for their upcoming World Cup and Asian Cup qualifying campaign in June.
Among the Sailors called up include new signing and National Team captain Hariss Harun, goalkeeper Hassan Sunny, as well as reigning Singapore Premier League (SPL) Player of the Year Gabriel Quak.
Sailors assistant head coach Noh Rahman, as well as senior fitness coach Nasruldin Baharuddin, have also been drafted into The Lions' technical team.
Singapore are scheduled to play a training match against Afghanistan in Saudi Arabia on May 29. They will then take on Palestine (June 3), Uzbekistan (June 7), and Saudi Arabia (June 11) in their Asian qualifiers for the 2022 World Cup in Qatar.
The Lions are currently third in Group D with seven points, four behind leaders Saudi Arabia, and two behind second-placed Uzbekistan. Yemen (five points) and Palestine (four) are the other two nations in the group.
Sailors interim head coach Robin Chitrakar said he was confident that the players called-up will represent the club and Singapore with pride.
He said: "It is always an honour to be called up for the Singapore National Team, and I'm sure the Sailors involved in the upcoming World Cup qualifiers will do their country proud."
Singapore Sailors
Hassan Sunny, Amirul Adli, Hariss Harun, Shahdan Sulaiman, Saifullah Akbar, Hafiz Nor, Gabriel Quak, Faris Ramli, Noh Rahman (assistant coach), Nasruldin Baharuddin (fitness coach)
Just five minutes into the start of the 2021 Singapore Premier League (SPL) season, and Lion City Sailors' Haiqal Pashia had already registered an assist – the 22-year-old's smart run and cross was turned home by his teammate Song Ui-Young for the Sailors' opening goal in a 3-3 draw with Tampines Rovers.
Pashia was handed another start in the Sailors' next game – a 5-0 win over Tanjong Pagar – where he put on yet another encouraging and industrious display on the wing.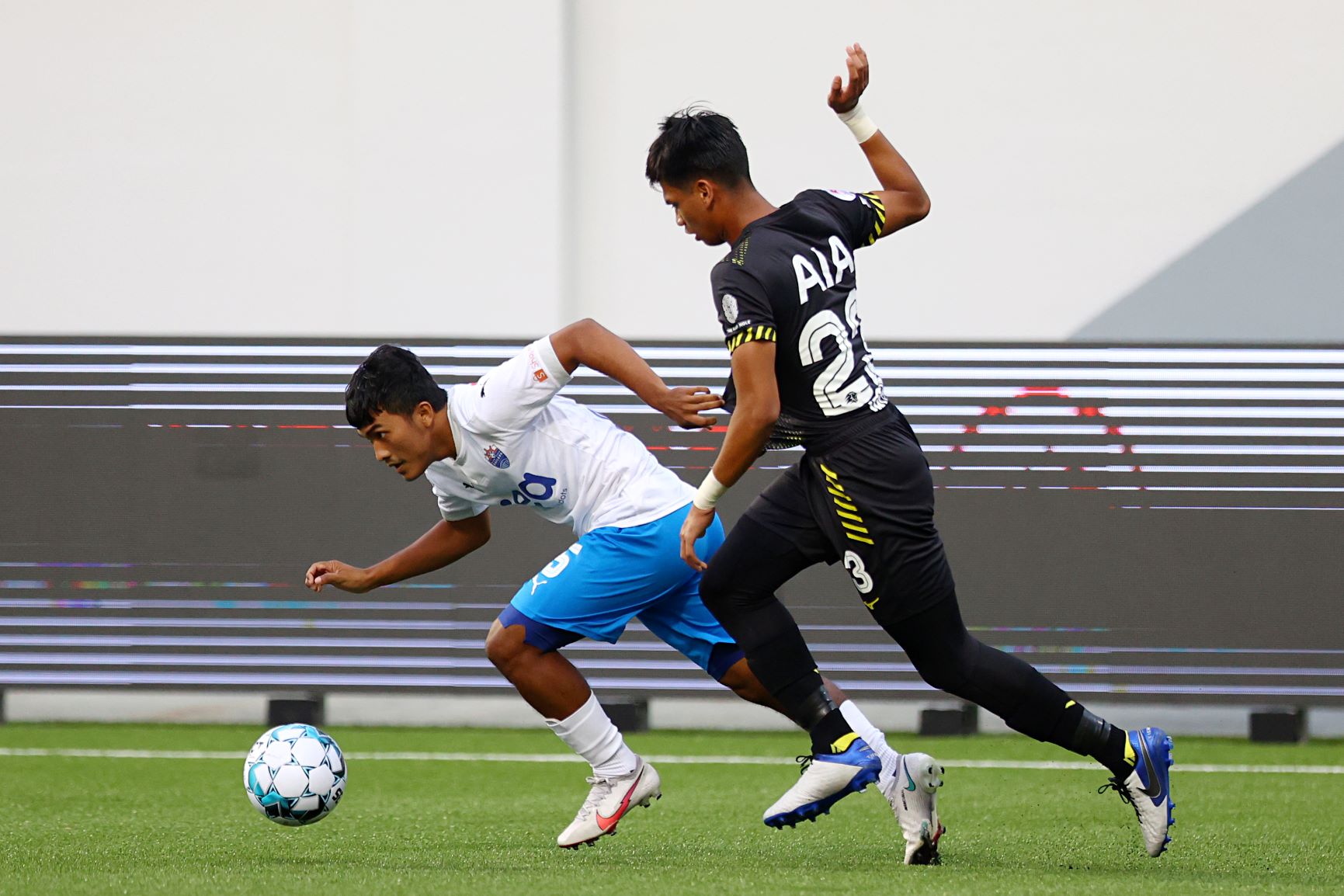 It was a good start to the campaign, but, before the winger could build on the momentum, he suffered an unfortunate injury to his achilles tendon during training.
"I was feeling good and had momentum at that moment. I was starting to perform and I felt I was able to produce my best, but then the injury happened in training," said Pashia.
"I knew from the moment I got the injury that I'll be out for a while. I would feel pain whenever I tried to walk. The injury left me feeling really down, and it affected me a lot, both mentally and physically."
But Pashia remained determined to bounce back from this setback, and worked hard to recover from his injury.
"Having an injury is not the end of the world – it's important to have lots of confidence to overcome it, and for sure you'll eventually recover," Pashia said.
After a six-match absence due to the injury, Pashia finally made his return to competitive action last Sunday (May 2), as he was handed a starting berth in the Sailors' 2-1 win over Geylang International.
While the 22-year-old admitted that he could have "done more" in the 53 minutes that he played, it was nonetheless a joy to be back out on the pitch doing what he loved.
"I felt really great to be back on the pitch, and the key now is to get my match fitness back," he said.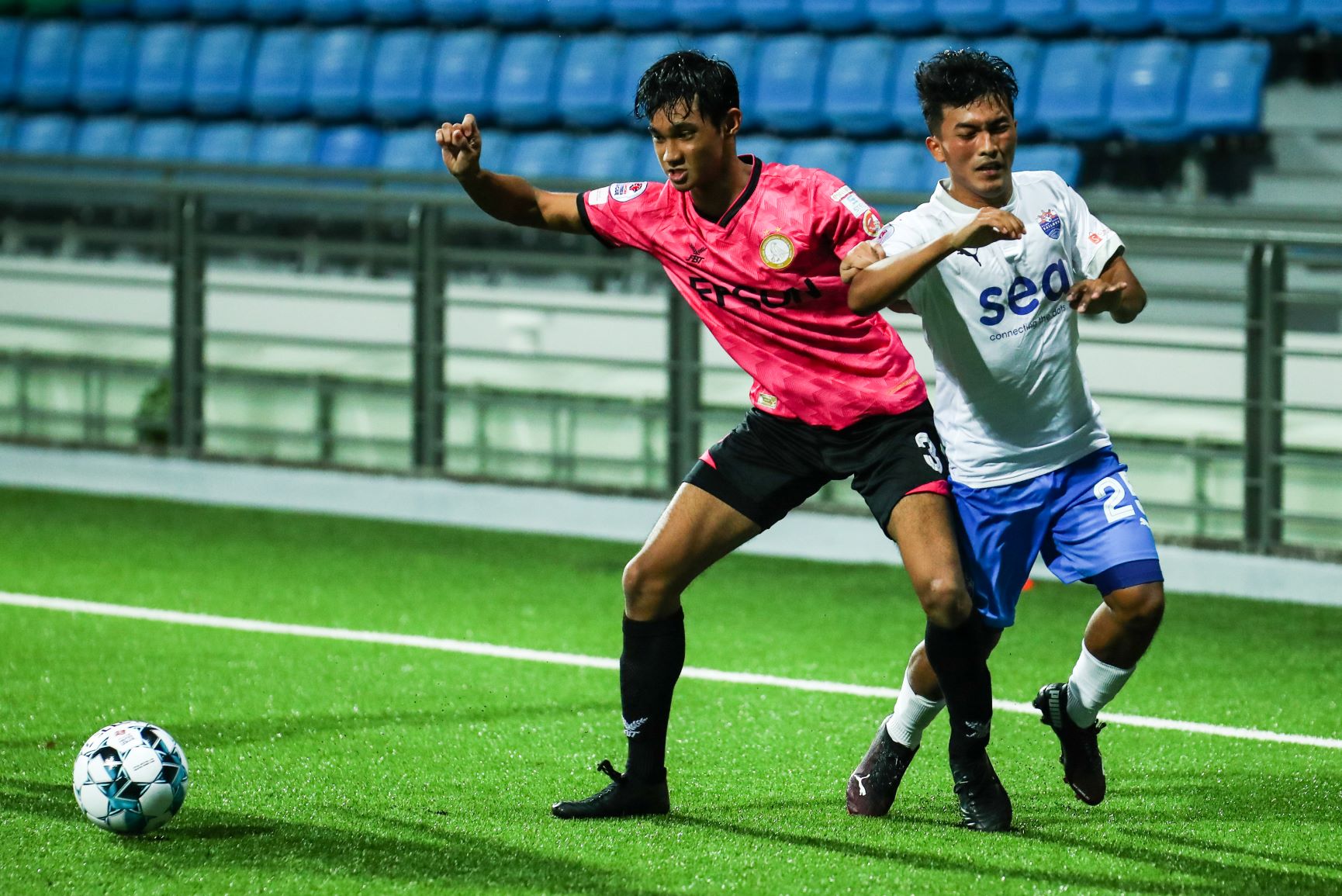 Pashia has come a long way since making his professional debut with the Young Lions in 2017. One of the few truly two-footed players in Singapore, his natural talent saw him called up to play for Singapore in two Southeast Asian (SEA) Games campaigns (2017 and 2019), before being snapped up by the Sailors in 2020.
Turning 23 this November, the versatile attacker aims to add 'numbers' to his game, so as to strengthen his credentials as a first-team regular at the Sailors.
"I know that as an attacker, I will be judged based on goals and assists, so definitely I'm going to try to get more on the board to prove my qualities," Pashia explained.  
"It's definitely not easy here with so many talented players, so I've to really fight for my spot. But I know my potential and what I can do – the important thing is for me to push and perform at an even higher level than I've done before."
Pashia has the perfect role model to learn from at the Sailors in the form of his childhood idol, Faris Ramli.
"I've watched him since his LionsXII days and I'm not shy to say that I've always tried to portray my playing style like him," he revealed. "It's great that he's now my teammate, and he's been guiding me on how to improve my game and also motivating me during the time I was out injured."
While the Sailors continue their search for a new head coach to replace Aurelio Vidmar, Pashia is pleased to be reunited with current interim coach Robin Chitrakar, who had managed him at the national under-17 level.
"He's a coach who communicates very well with his players," shared Pashia. "He knows what is needed specifically to bring the best out of each player, and it's great to have him in charge for now."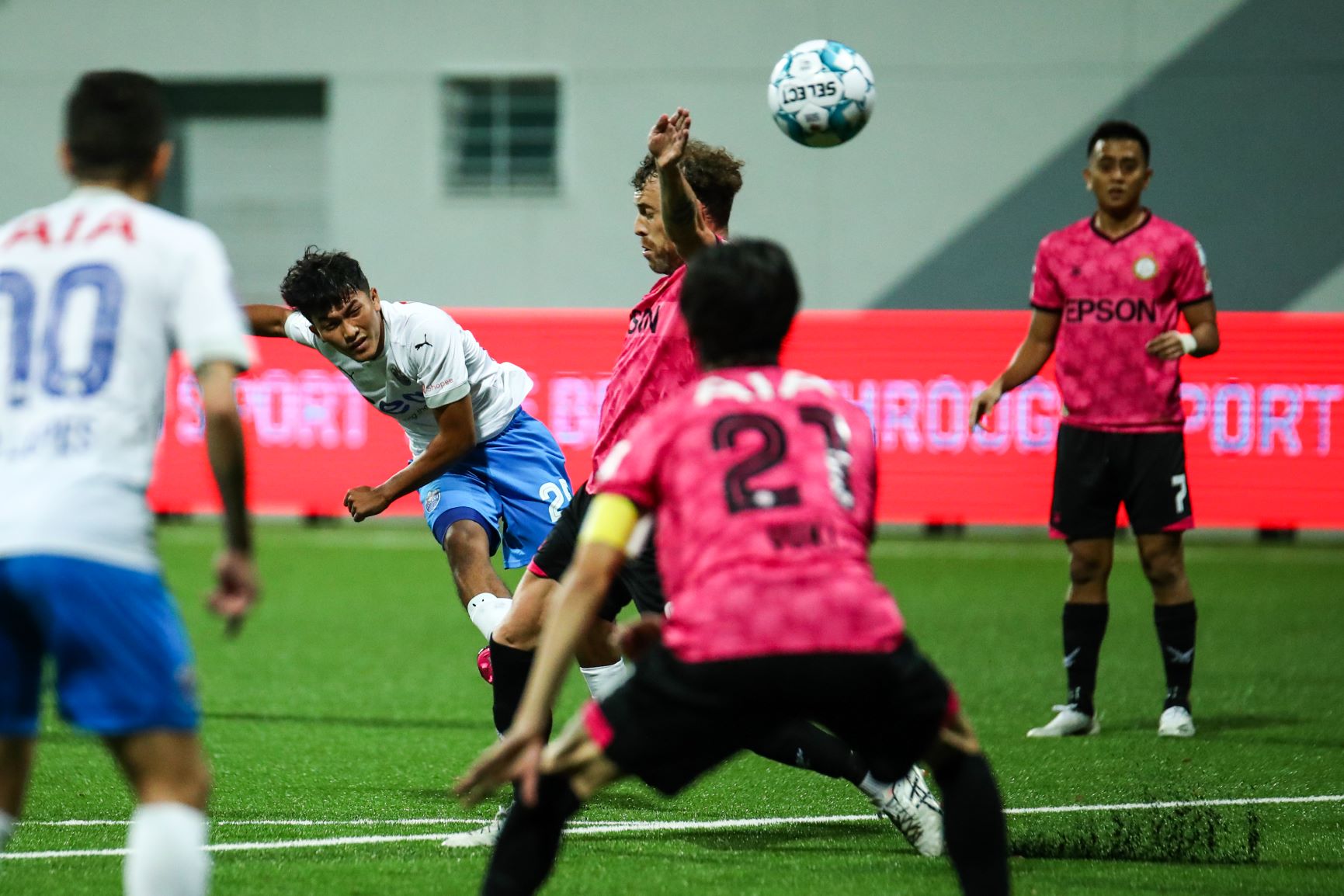 With the Sailors in a rich vein of form and now just a point behind league leaders Albirex Niigata (S), the mood in the dressing room is understandably high as they gear towards their objective of becoming the first local SPL champions since 2014.
Their next task is to take down a much-improved Tanjong Pagar side at Jalan Besar Stadium on Sunday evening. While the Jaguars may be second-from-bottom in the standings, they have already shown their capabilities this season by taking points off the Sailors' title rivals Hougang United and Tampines Rovers.
And Pashia is looking forward to the prospect of helping the Sailors register their fifth straight win, as well as doing battle with his friend Rusyaidi Salime.
"Tanjong Pagar are usually quite defensive-minded and often play with a back five, so we need to move quicker, think faster and be ready to capitalise on any errors," Pashia said. "Personally, I'm looking forward to playing against Rusyaidi. He's been a key player for them and we have to stop his influence in the middle of the park."
Lion City Sailors will continue to play their Singapore Premier League (SPL) matches as scheduled, after the Football Association of Singapore (FAS) confirmed that the league will be allowed to carry on behind closed doors.
In light of a recent spike in Covid-19 infections in the community, the Singapore government announced tighter safe management measures that will come into force on May 16.
However, as all SPL players and officials undergo mandatory swab testing, the new measures will not affect the status of the league.
"Strict protocols will continue to be in place, including zonal demarcation before and after matches to ensure the safety and health of all stakeholders are of top priority," said the FAS on Friday (May 14).
Sailors fans can still catch the team in action LIVE via SPL's Facebook page and Youtube channel, as well as the Facebook page of 1 Play Sports.
The Sailors will next take on Tanjong Pagar United this Sunday (May 16), 5.30pm, at the Jalan Besar Stadium.
Lion City Sailors are delighted to announce the signing of Singapore national team captain Hariss Harun.
The 30-year-old midfielder joins the Sailors on a three-and-a-half-year deal for an undisclosed fee from Malaysia Super League (MSL) side Johor Darul Ta'zim (JDT). Hariss enjoyed an eight-year history-making spell with the Southern Tigers, who have had an iron grip on the MSL title since 2014, and became the first Malaysian side to win a continental title when they lifted the Asian Football Confederation Cup (AFC Cup) in 2015.
Hariss spent the 2017 season on loan at Home United, the previous iteration of the Sailors, in a season that saw the team score 97 goals in all competitions, finishing third in the Singapore Premier League (SPL) – then titled the S.League – and second runners-up in the Singapore Cup. Hariss will be reunited with both Stipe Plazibat and Faris Ramli, who were also members of the team of 2017.
"I'm thrilled to return home. The SPL is where I started to build my career, and it's wildly exciting to now be a part of the Lion City Sailors' vision of building up a club that can act as a catalyst for the SPL and Singapore football," said Hariss.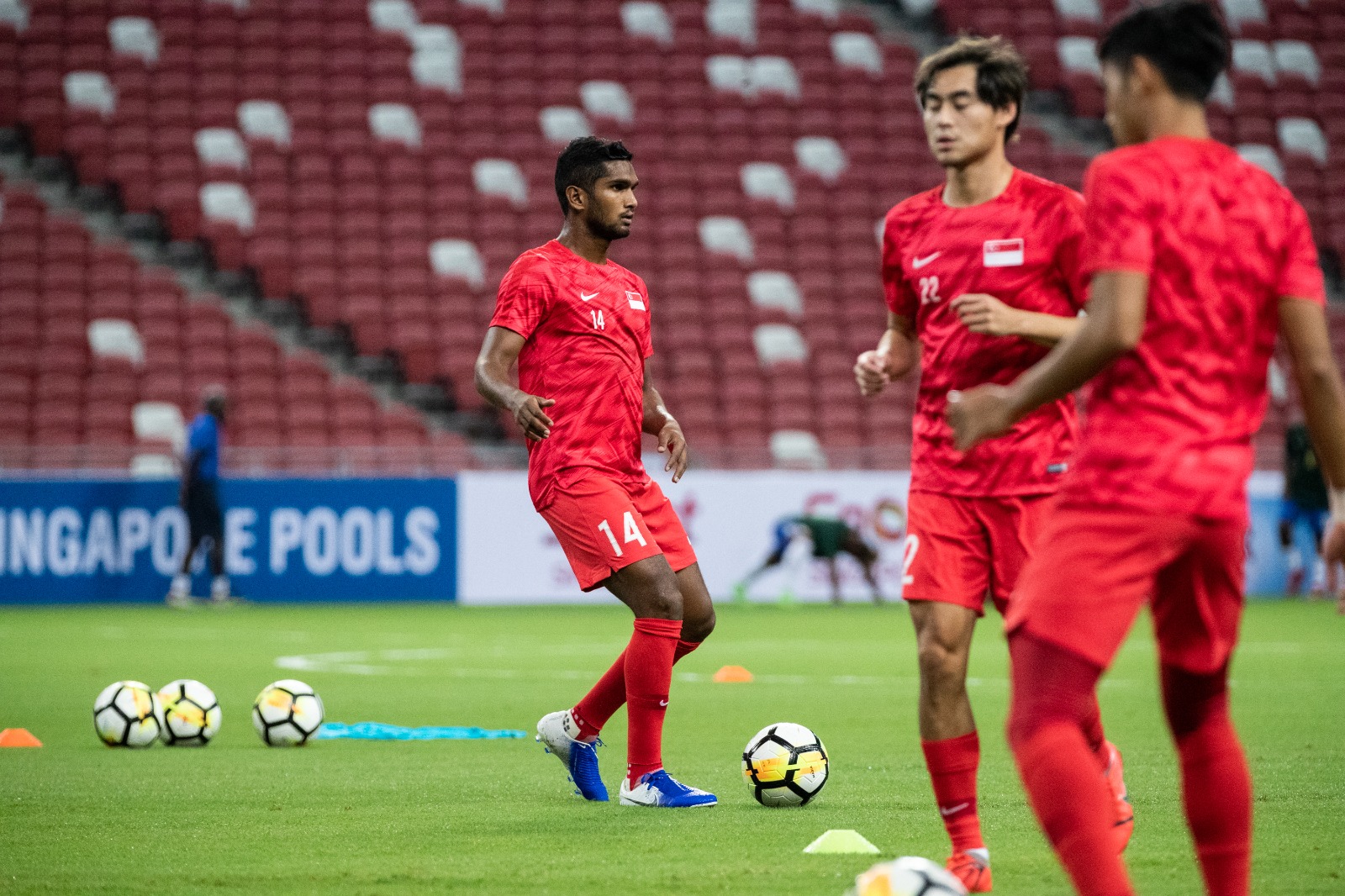 "I've thoroughly enjoyed my time with JDT, and it was an honour to have worn the armband for a team that enjoyed tremendous success on the pitch while also making amazing improvements off the field too. I'd like to express my gratitude to Tunku Ismail for his leadership and trust in me, and I'd also like to thank the JDT team, staff and the people of Johor for welcoming me as one of their own.
"I can't wait to get started on my next chapter with the Sailors, and I look forward to years of Sailors' on-field success and off the pitch progress."
Sailors Chief Executive Chew Chun-Liang said he was excited at the prospect of adding a Singapore football luminary to the club's bullpen.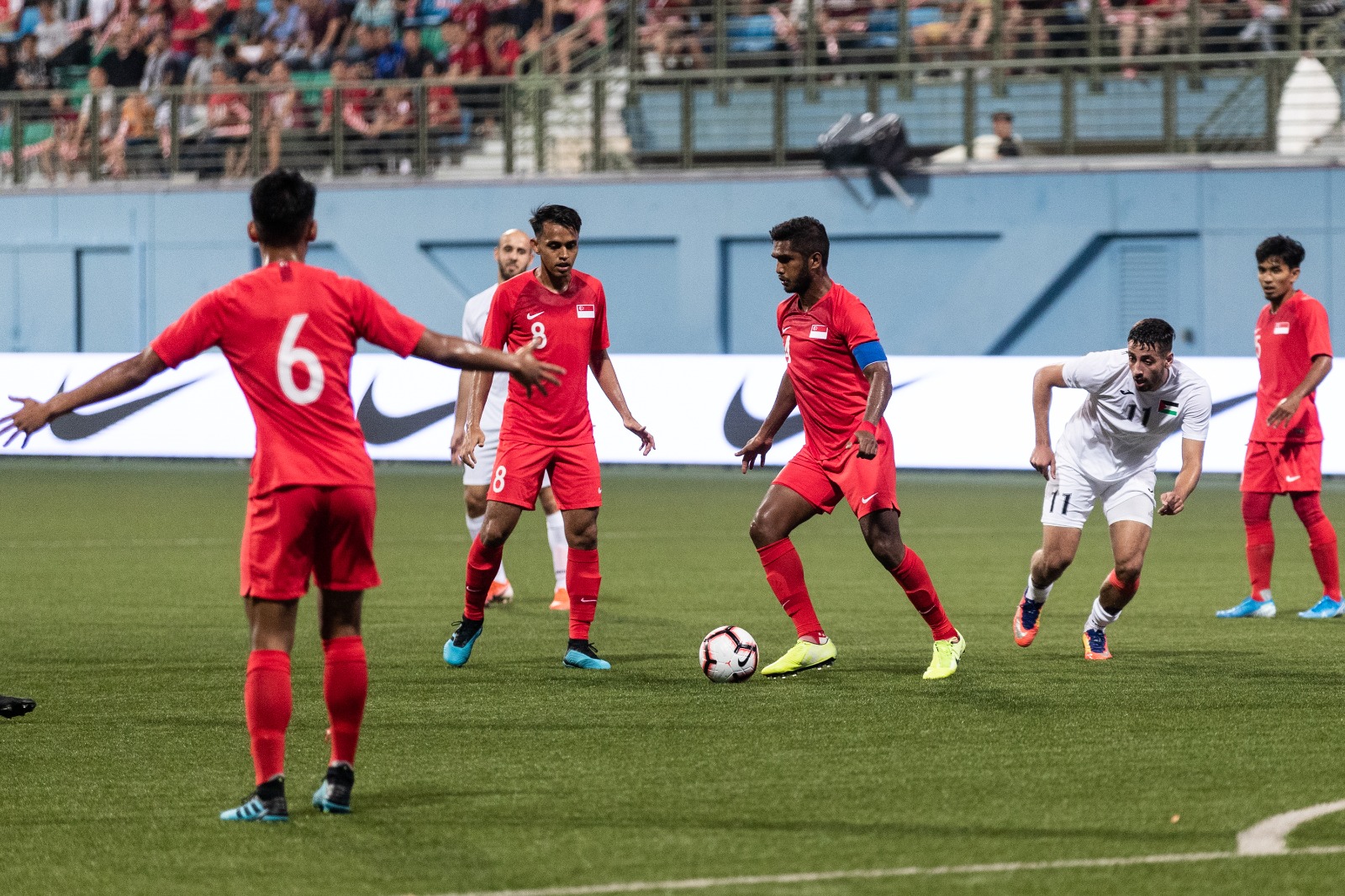 "Hariss is a model professional who has shown that he is a leader in the dressing room as well as on the pitch, and we're looking forward to him contributing to all the various facets of the Lion City Sailors project," said Chew.
"It was a pleasure working with our JDT counterparts to iron out this deal that will bring Singapore's national team captain to the Sailors, and competing in domestic competitions.
"Hariss has all the qualities that will not only strengthen the Sailors, but make our fans proud of what we're aiming to build at the club. We're delighted to welcome Hariss back to Singapore."
Hariss will officially link up with the Sailors in June after the next international break.