The Lion City Sailors were ruthless and single-minded, thumping Hougang United 6-0 at the Yishun Stadium on Saturday (27 August) night to go within touching distance of clinching the 2022 Deloitte Women's Premier League (WPL) title. 
A terrific Madison Telmer hat-trick and a goal apiece from Nur Izzati Rosni, Miray Hokotate Altan and Sara Merican – all inside the first 45 minutes – meant they easily swept aside the bottom-placed Cheetahs. 
Five points ahead of nearest challengers Tanjong Pagar United and with a game in hand, the Sailors Women could seal the title with two games to go if they defeat Still Aerion FC in their next fixture on 10 September. 
Head Coach Yeong Sheau Shyan was pleased with the professional display from her charges despite them not being able to find further goals in the second half. 
"It's good in terms of our objectives and how we followed the game plan in the beginning, we're happy to get the six goals. Second half, it would naturally get harder because Hougang don't want to concede more goals. They sat deeper and deeper, so it was difficult to lure them out," said the 44-year-old. 
"We did well as a team. Madison has been playing really well but her goal tally doesn't quite match up – so it's good for her confidence to get a hat-trick."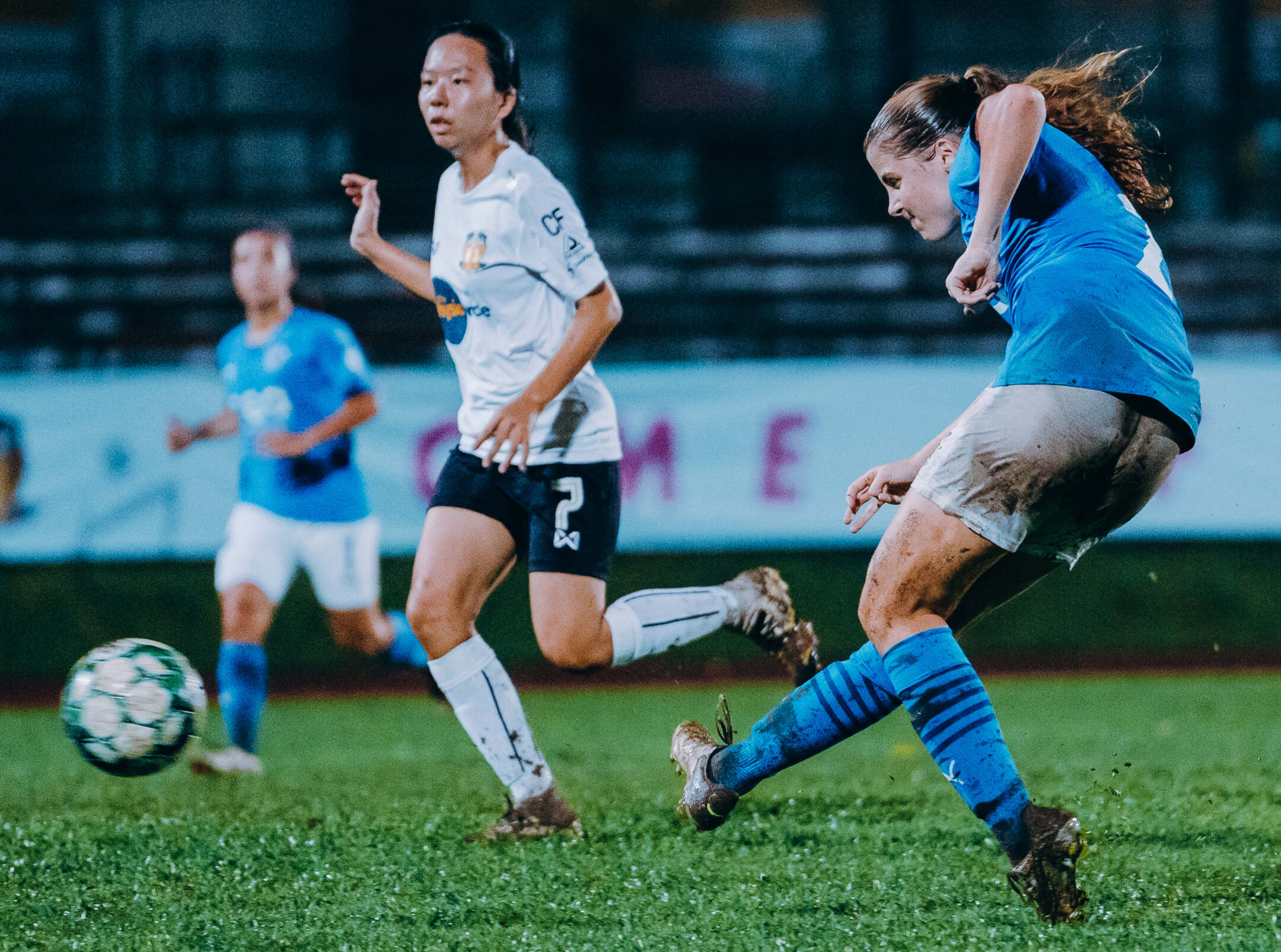 On a rain-soaked evening, top scorer Izzati put the Sailors ahead with her 10th strike of the season just five minutes in before Miray doubled their advantage in the 10th minute.  
Canadian teenager Madison then struck two minutes later to make it 3-0, before further strikes in the 32nd and 39th minute helped her to a memorable first WPL hat-trick. 
Sara rounded off the scoring two minutes before half time and in turn, rounded off her WPL campaign with her first-ever league goal. 
The 26-year-old will fly off to the UK in September to pursue a one-year Master's Degree in Film and Screen Studies at the University of Cambridge, and will miss the Sailors' final three games of the season.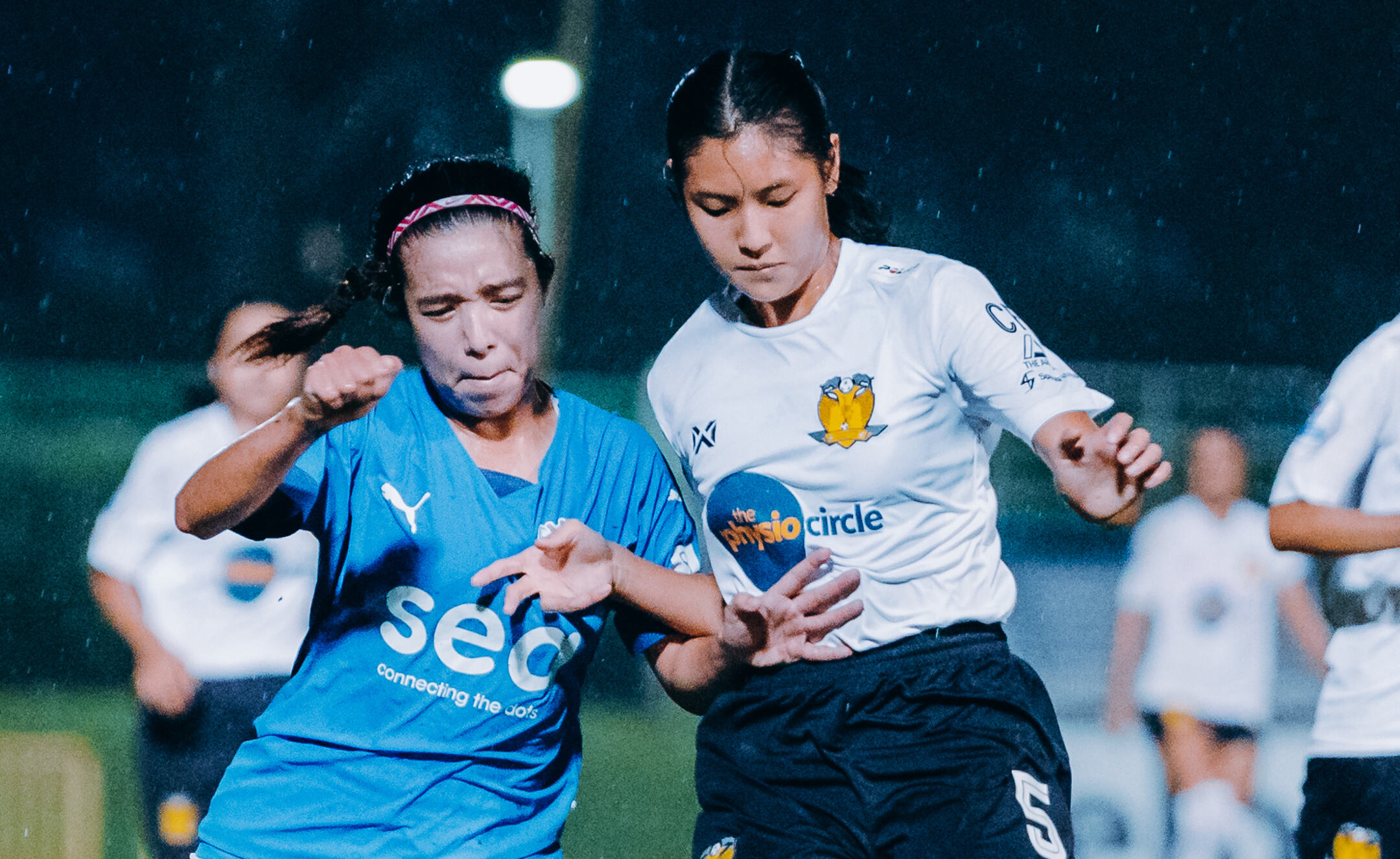 "Finally, the weight is off my shoulders," said a relieved Sara. "I felt a bit of pressure to have to score because I'm playing in a forward role. I came close a few times before and was disappointed not to convert. 
"It feels good to finally score, but I feel the whole process was equally as important. I'm glad that we managed to play some nice and exciting football as a team. No matter who our opponents were, we tried to play according to Coach Sheau Shyan's philosophy and that's a positive," added Sara. 
"To develop and adapt to different tactics was great for me as a player. I'll be going away, but rest assured I'll be back soon!"
And there will be a guaranteed spectator from afar, should the Sailors go on to lift the trophy. 
"I was asking everyone when we could mathematically win the title and it happens to be the next game. It'll be sad that I won't be able to celebrate with the team in person, but I'll be cheering all of them from overseas and hopefully be able to catch the live stream from where I'll be at."
The Lion City Sailors continued to thrill under the tutelage of interim Head Coach Luka Lalić as they swept aside Hougang United 9-4 in an incredible game at Hougang Stadium on Friday (26 August) night.
This was the third straight big-margin win following 10-1 and 7-0 victories over Young Lions and Tanjong Pagar respectively. 
The game went down in the Singapore Premier League (SPL) record books, with the total of 13 goals the most ever scored in a single match in the league's 27-year history. The previous record of 12 took place on four previous occasions, most recently in May 2017 when Home United beat Brunei DPMM 9-3. 
Despite the team chalking up 26 goals in three outings and going six points clear at the top of the table – albeit temporarily, before Albirex Niigata (S) take on Tanjong Pagar United on Saturday evening (27 Aug) – there were still issues that irked Luka.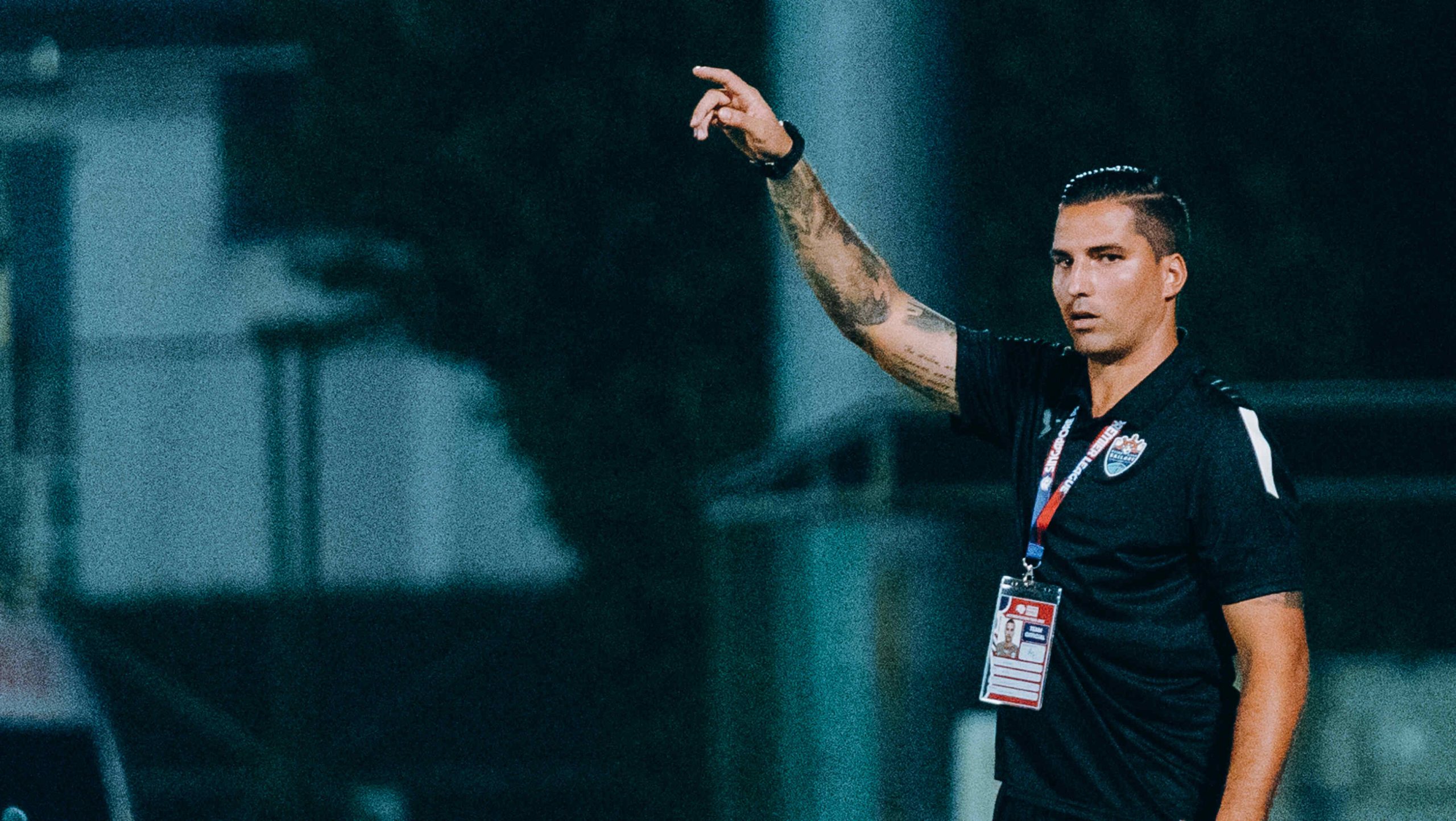 "We created a lot of chances and scored a lot of goals, sure. But we also made several silly mistakes. Hougang had a really good plan; they exposed us a few times, which we cannot and shouldn't allow. There are several lessons to take from this game," said the 35-year-old. 
"And we cannot speak about this game without talking about Hougang's goalkeeper – he's really young and a super talented boy. He shouldn't be that disappointed after tonight; without him, the score could have been much more," said Luka, who along with Sailors captain Hariss Harun, walked to Aizil Yazid immediately after the final whistle, put their arms around him, and offered consoling words. 
"So, commiserations to him and I'm sure he'll bounce back from this."
The Cheetahs' 17-year-old custodian was making just his fifth professional appearance.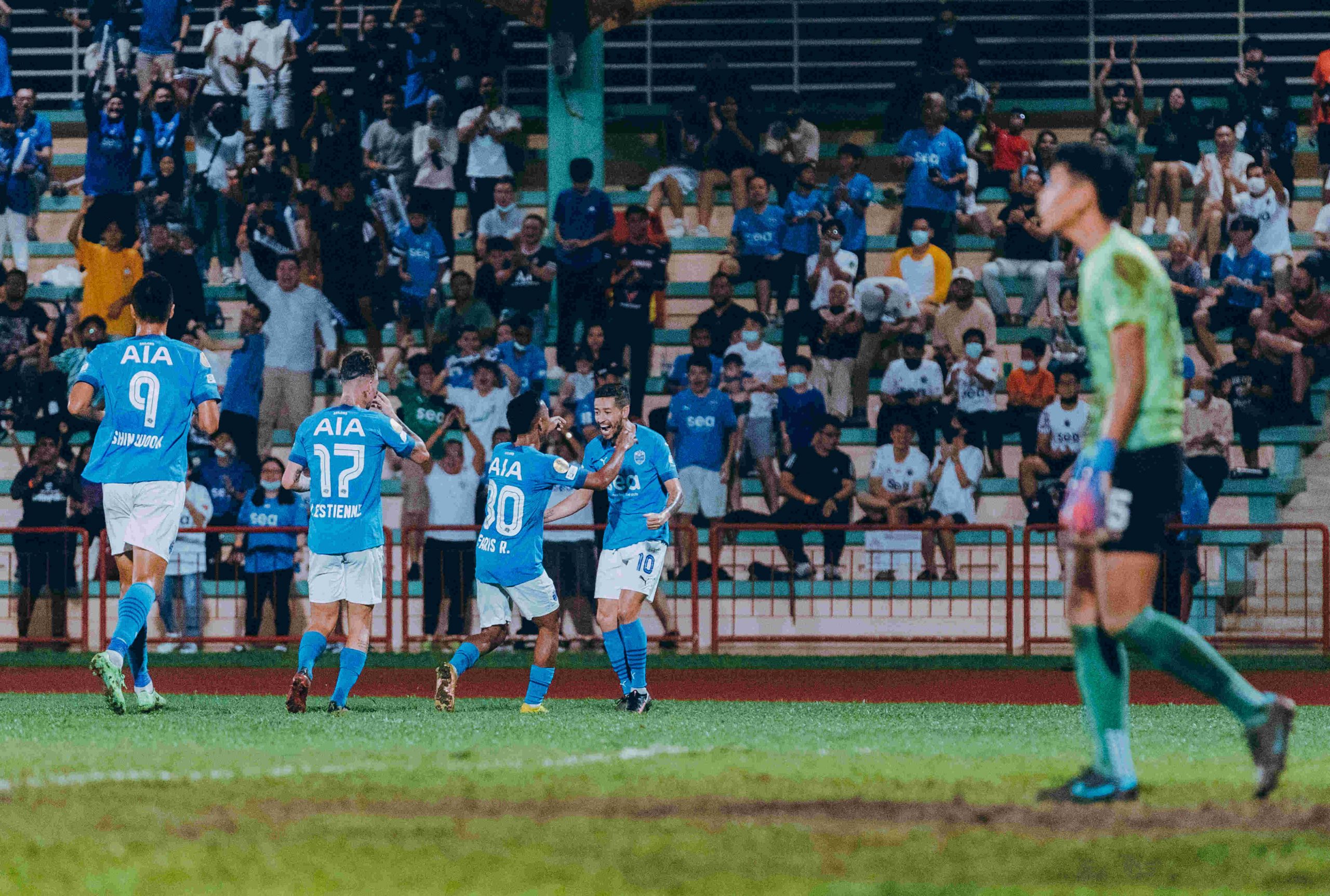 The night did not get off to the smoothest of starts for the Sailors as they went behind for the first time under Luka's reign, with Shawal Anuar hooking in Kristijan Krajček's free-kick after just nine minutes.
That stung the champions into action, with Pedro Henrique prodding home a rebound and Diego Lopes meeting Hafiz Nor's cross with a firm header in the 11th and 13rd minute respectively for a quick turnaround. 
Faris Ramli then benefitted from Maxime Lestienne's low cross to sweep home a third on 28 minutes, before Kim Shin-wook – who has been in fine form lately – got onto the act with goals in the 33rd and 44th minute to net for a fifth straight game. 
The Sailors led 5-1 at the break and scored a sixth through an emphatic Maxime drive that evaded Aizil at his near post on 51 minutes, before Hougang rallied and pulled two goals back through Amy Recha in the 54th and 58th minute to narrow the deficit to 3-6. 
Luka's charges kept piling forward, with Maxime setting up Shin-wook for the latter to score his fourth hat-trick – and 20th goal – of the campaign on 67 minutes. The Belgian then made it a hat-trick of assists for himself, laying the ball on a plate for Faris to convert his second of the night just a minute later. 
Song Ui-young then came off the bench to net a terrific piledriver from the edge of the box in the 80th minute to make it 9-3, before Pedro Bortoluzo scored Hougang's fourth deep into injury time to round off a goal-packed evening at Hougang. 
With three convincing wins in as many games, Luka has gotten off to a good start as Sailors interim Head Coach but he is already looking ahead to their next task – a home game against Geylang International next Sunday (4 September). 
"I mentioned before that we're going to play attacking football, so it's going to be more of the same. It's obvious that we have individual quality in the team and we need to take full advantage of that," said Luka. 
"It's nice to see them enjoying and expressing themselves on the pitch, but we're not going to stop here. There are several things to improve on and we need to keep improving. There are six more games to go and our minds are firmly set on retaining the title for the club."
The elite trainees of the Lion City Sailors Football Academy will now have the opportunity to match their football progress with equally robust academic development at St Joseph's Institution (SJI) International.  
The SJI International-Lion City Sailors Elite Development Scholarship was announced at St Joseph's Institution International's 15th Anniversary Dinner held on Friday evening (26 August), with SJI International Chairman Mr Roy Quek outlining details of the programme to guests that include Senior Minister and Coordinating Minister for National Security Mr Teo Chee Hean, Minister for Culture, Community and Youth and Second Minister for Law Mr Edwin Tong, and Sailors' Chairman Mr Forrest Li. 
The scholarship programme, aimed at providing Singapore's top footballing talents with the opportunity to pursue both academic and sporting excellence, is made possible by a donation from Sea.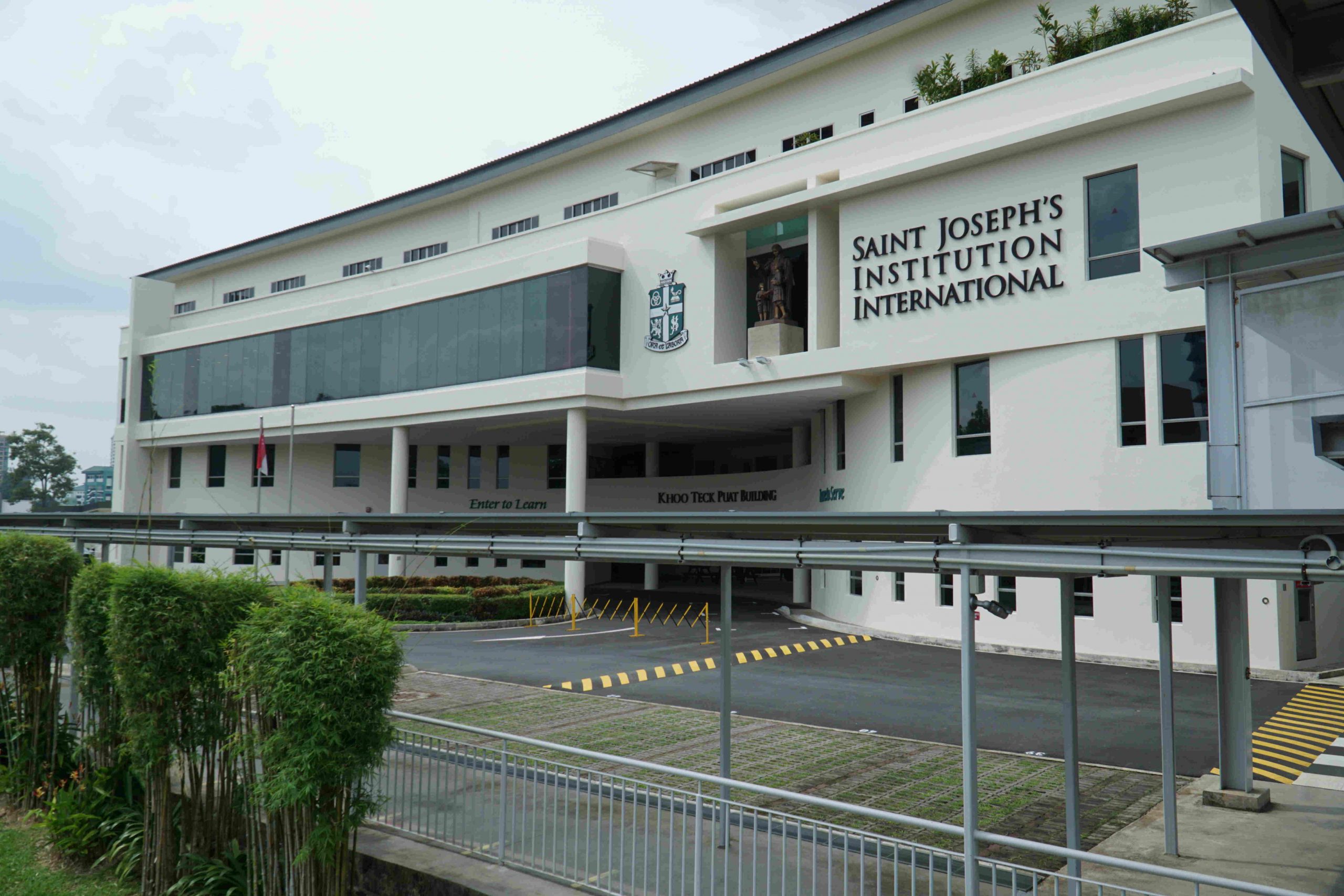 The Elite Development Scholarship 
The SJI International-Lion City Sailors Elite Development Scholarship that will witness its first batch of scholars enrol in January 2023, is a full scholarship that covers all associated school costs incurred during the course of the scholarship programme either leading up to the International General Certificate of Secondary Education (IGCSE) – equivalent to the Singapore-Cambridge General Certificate of Education Ordinary Level (GCE O-Level) that will allow its holder entry into local polytechnics and junior colleges – or for some scholars, the International Baccalaureate (IB) Diploma. 
The Scholarship Programme will see students receive football and academic education in two best-in-class institutions: SJI International and the Lion City Sailors Football Academy, and aimed at nurturing the future of Singapore football while ensuring that scholars develop academically in a conducive and supportive environment.
The Programme includes the added flexibility for selected scholars to take up early enlistment for National Service (NS) after completing the IGCSE under the Lion City Sailors Early Enlistment Bond that is aimed at equipping scholars for a career in professional football.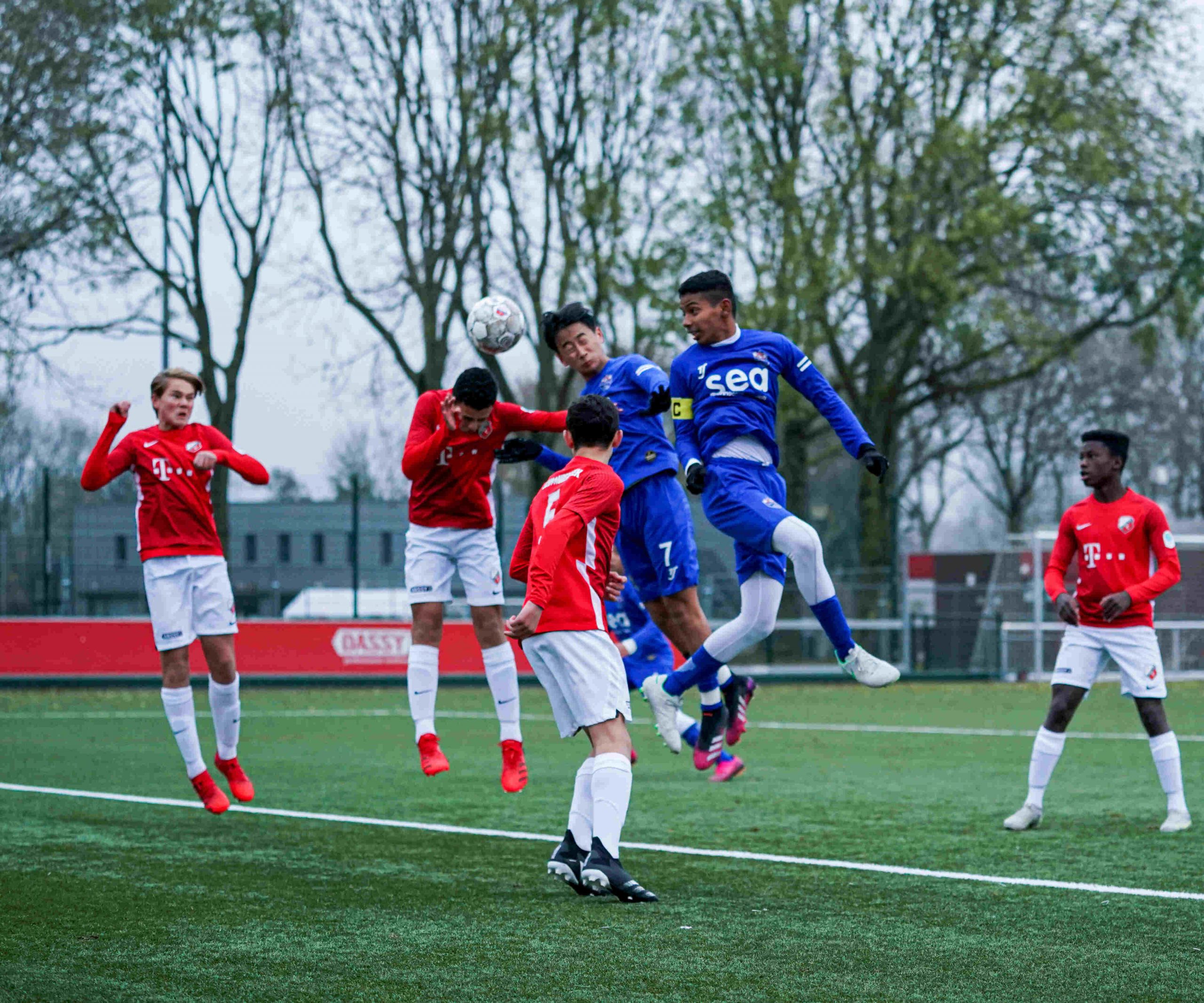 A meeting of minds and values 
"We are heartened and awed by the generosity of Sea, especially Mr Forrest Li, in partnering with SJI International to enable us to launch this Scholarship. This will add scale and diversity to our existing scholarship programmes as we seek to provide deserving students the opportunity to be part of the SJI International community of learning, service and excellence," said Mr Quek.
"As a former athlete and lifelong sports fan, I fully appreciate the challenges that young athletes face as they juggle demands of schoolwork and sporting achievement. In our short 15-year history, SJI International has supported many top-class athletes who have done the school and nation proud by combining learning with achievement, success with humility and leadership with service."
SJI International has an established history of producing national athletes as well as notable young practitioners in other sectors, including race car driver Andrew Tang. 
Andrew was Asia's top junior racer before he was picked up by British F1 team McLaren to join their young driver development programme. He moved to Guildford, England to join the programme, completing his IB education with SJI International via an online plan designed by the school.
He returned to enlist for National Service before being selected by Porsche to race at Porsche Carrera Cup Asia (PCCA) on Singapore's very own Marina Bay Street Circuit in the lead up to the Singapore Grand Prix in 2016.  
"As a not-for-profit school, we rely heavily on like-minded donors and benefactors who share our beliefs and values to fund our various programmes. I am grateful to Forrest and his team for choosing to support and work with SJI International for the Elite Development Scholarship," added Mr Quek.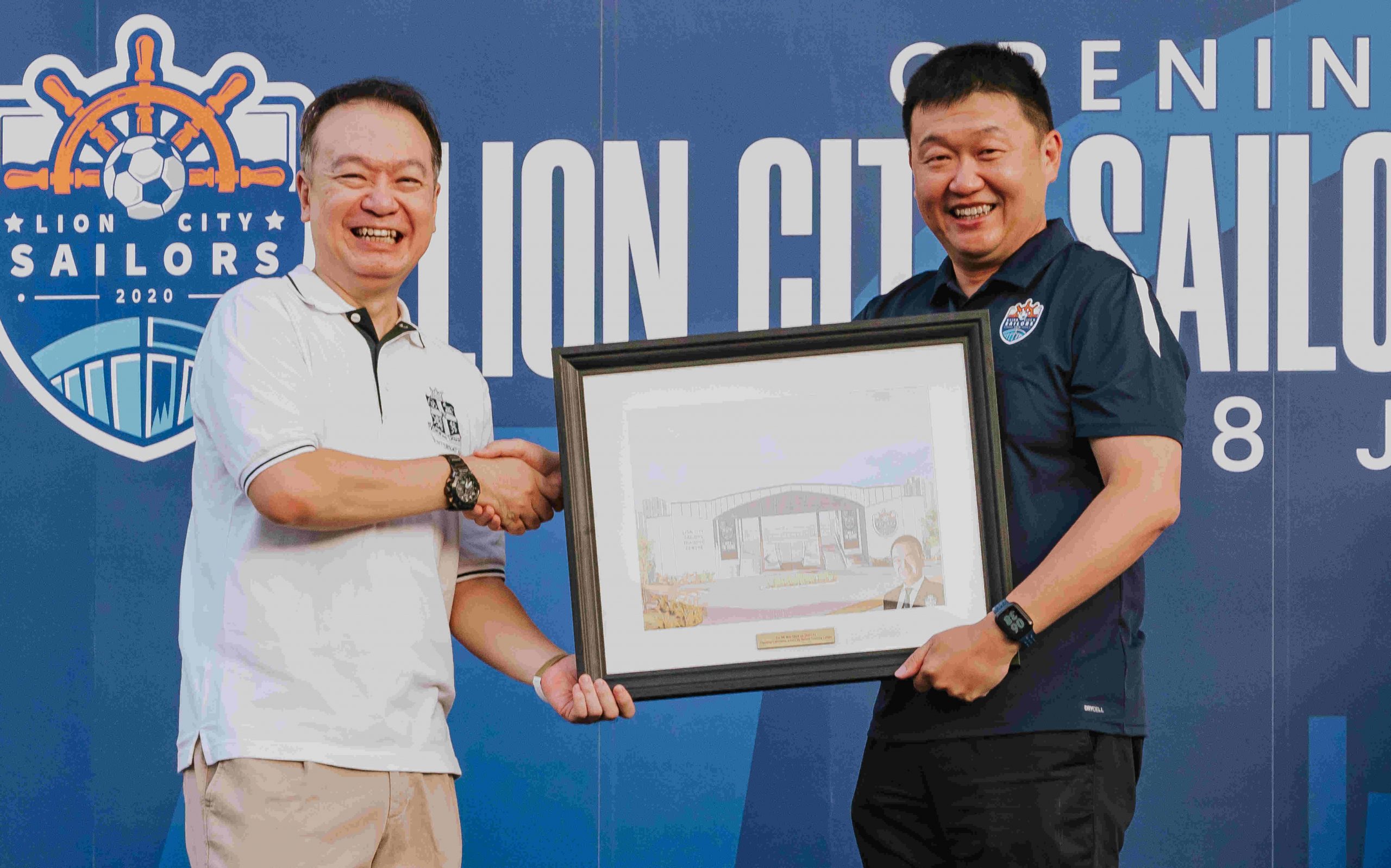 Sailors' Chairman Mr Forrest Li was equally elated at the prospect of the holistic school life that lies ahead of Sailors trainees who will enter the Programme.
"SJI International shares our belief that sporting endeavour can go hand in hand with academic success, and we are honoured to partner with them on this initiative," said Mr Li. 
Optimism for the future
The Sailors have among their ranks student-athletes who have already demonstrated the ability to match their counterparts in top football academies in Europe. The club's elite squads have had two European training stints – in November 2022 and again in June this year – with the teams overcoming various challenges to secure wins in matches against the likes of Borussia Dortmund, Atletico Madrid and FC Utrecht. 
"We expect to see the Scholars demonstrate the same courage and determination that they have shown on the football  pitch in search of sporting success, in the classrooms of SJI International in the pursuit of academic excellence and service to the community. It is our hope that they will be models for other young budding athletes in Singapore," said Mr Quek.
Said Mr Li: "It is our hope that in the near future, we – the Sailors and SJI International – will be able to see more national footballers nurtured through our collective efforts."
It may be their maiden season in the Deloitte Women's Premier League (WPL), but the Lion City Sailors have already established a reputation for themselves as a team that plays an attacking, exciting brand of football. 
Indeed, despite the constant chopping and changing of personnel within the Sailors squad, the team has consistently managed to produce the same playing style and quality on the pitch. 
With the Sailors currently top of the seven-team WPL – just two wins away from securing the league title – head coach Yeong Sheau Shyan believes that the consistency in adhering to a playing philosophy has evidently paid dividends.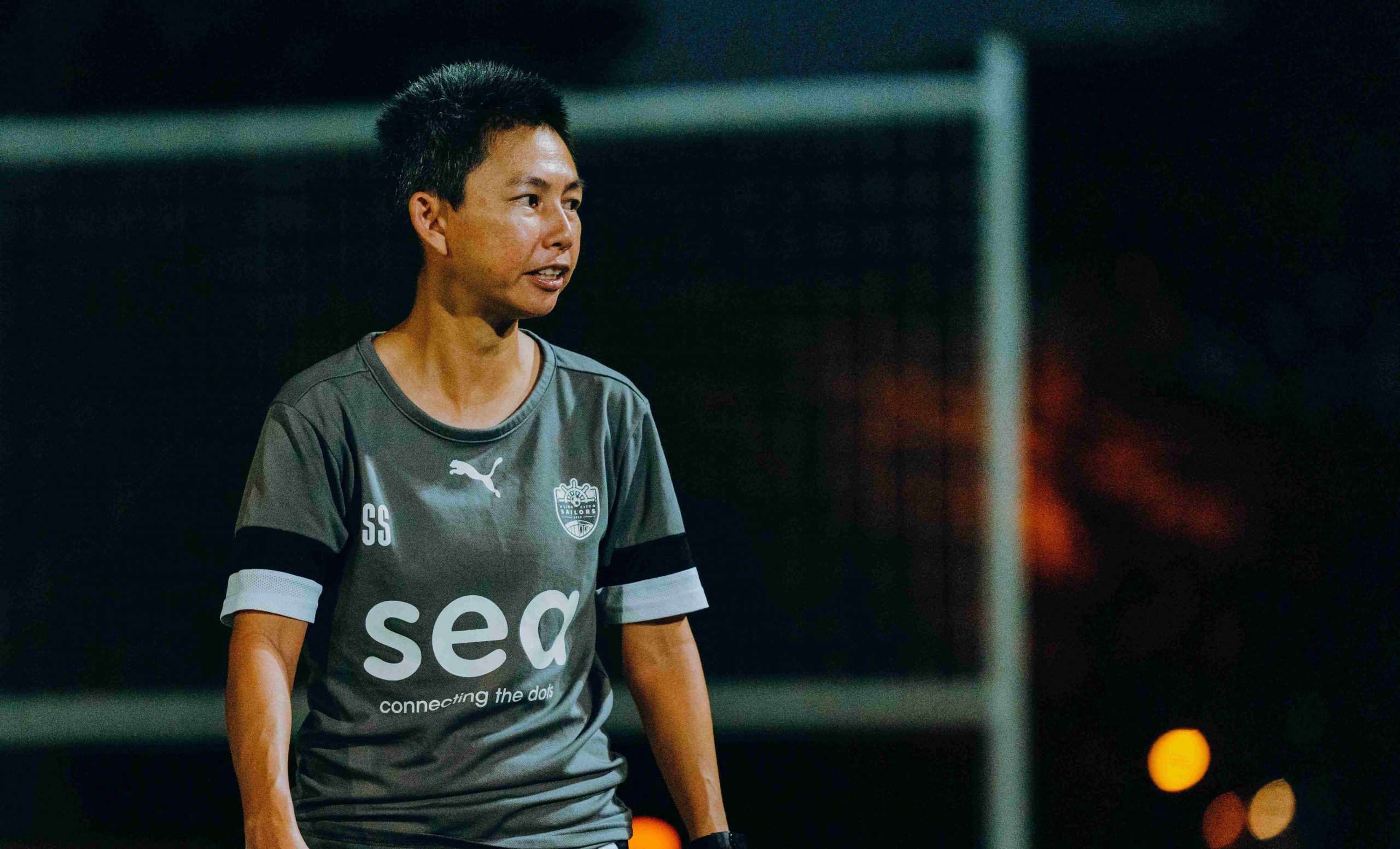 "It was important for us as a new team to be clear with our playing philosophy and style. We don't have a huge squad, as many of our players are moving in and out of the country for studies," Sheau Shyan mused.
"But I'm happy that our playing style is noticeable. We've been able to take huge strides this season, but the biggest progress I see so far is in the players' willingness to play with quick exchanges, and their movement off the ball to be available for their teammates. The players' understanding of when and where their teammates will move to has improved a lot."
Apart from winning the WPL title, the Sailors will also have a chance of writing themselves into the history books by going the entire season unbeaten.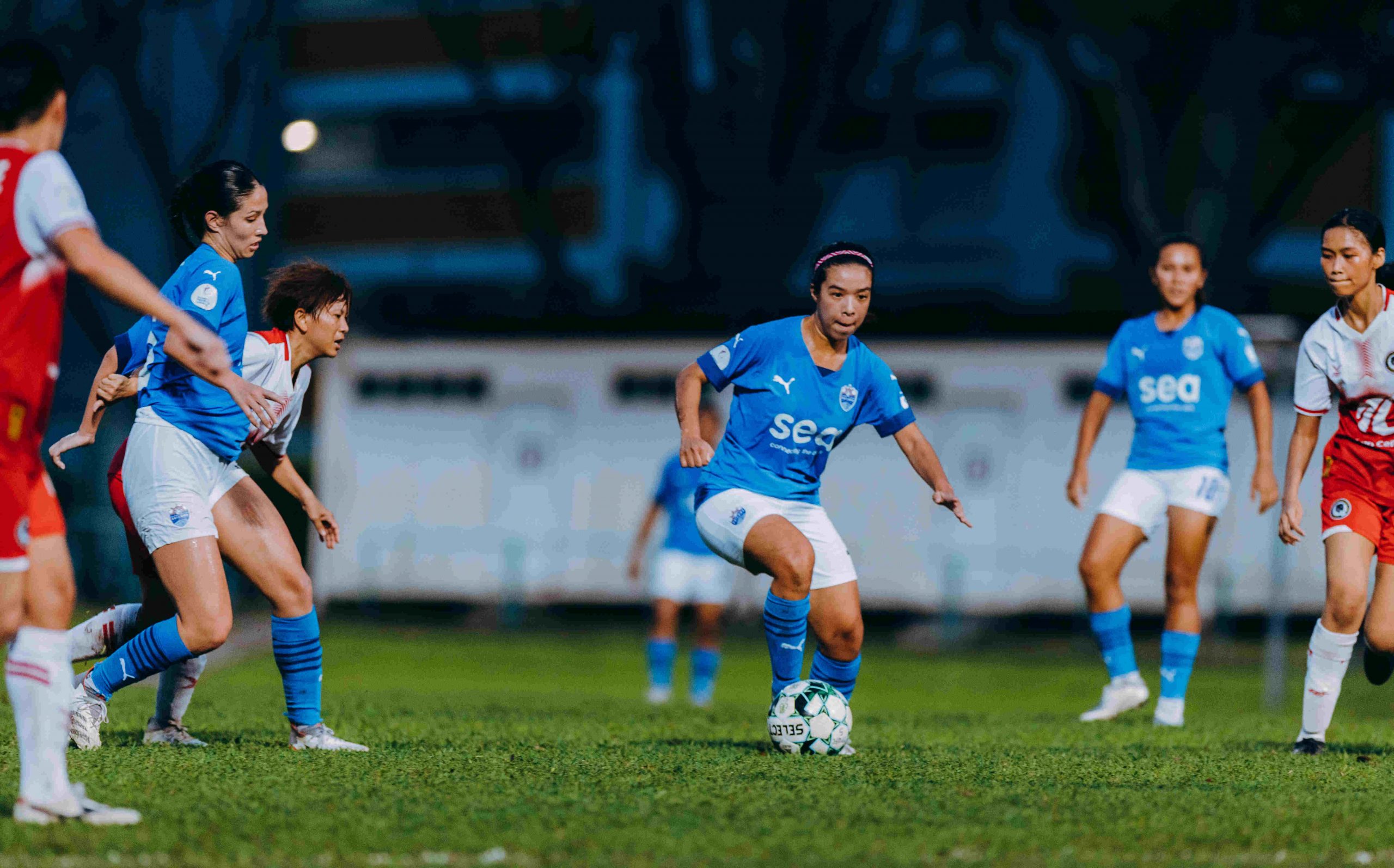 At the opposite end of the spectrum, their upcoming opponents, cellar-dwellers Hougang United, have yet to win a single match this campaign, and have a total of two points to their name to date.
Despite the Sailors being overwhelming favourites to secure a comfortable victory against Hougang at the Yishun Stadium this Saturday (27 August), Sheau Shyan insists her team will not take the three points for granted.
"I'm not worried about the team being complacent at all. We have clear objectives every week and the players know what they have to focus on," said Sheau Shyan. "This uninterrupted run of games that we've had has also been very helpful for us, and we are determined to keep building on this momentum."
Sheau Shyan also warned that Hougang could potentially spring an upset if the Sailors were not focused, as she explained: "They (Hougang) are a new team with daring young players. They've got nothing to lose and sometimes these are the teams that may come out and surprise you. So we must be switched on right from the start, and treat this game like any other by working hard for the win."
These days, Adam Swandi is playing with a swagger that has not been seen for quite some time and it is not hard to see why. 
Entrusted to play in midfield for the last three matches, the silky playmaker has been one of the standout performers for the Lion City Sailors. And he is set for a fourth straight start as the Sailors take on Hougang United at Hougang Stadium in the Singapore Premier League (SPL) on Friday (26 August) night. 
After a difficult period of injuries and non-selection, Adam is delighted that he is seeing light at the end of the tunnel and has rediscovered the form that has reminded the football fraternity why he was previously touted as Singapore football's next big thing.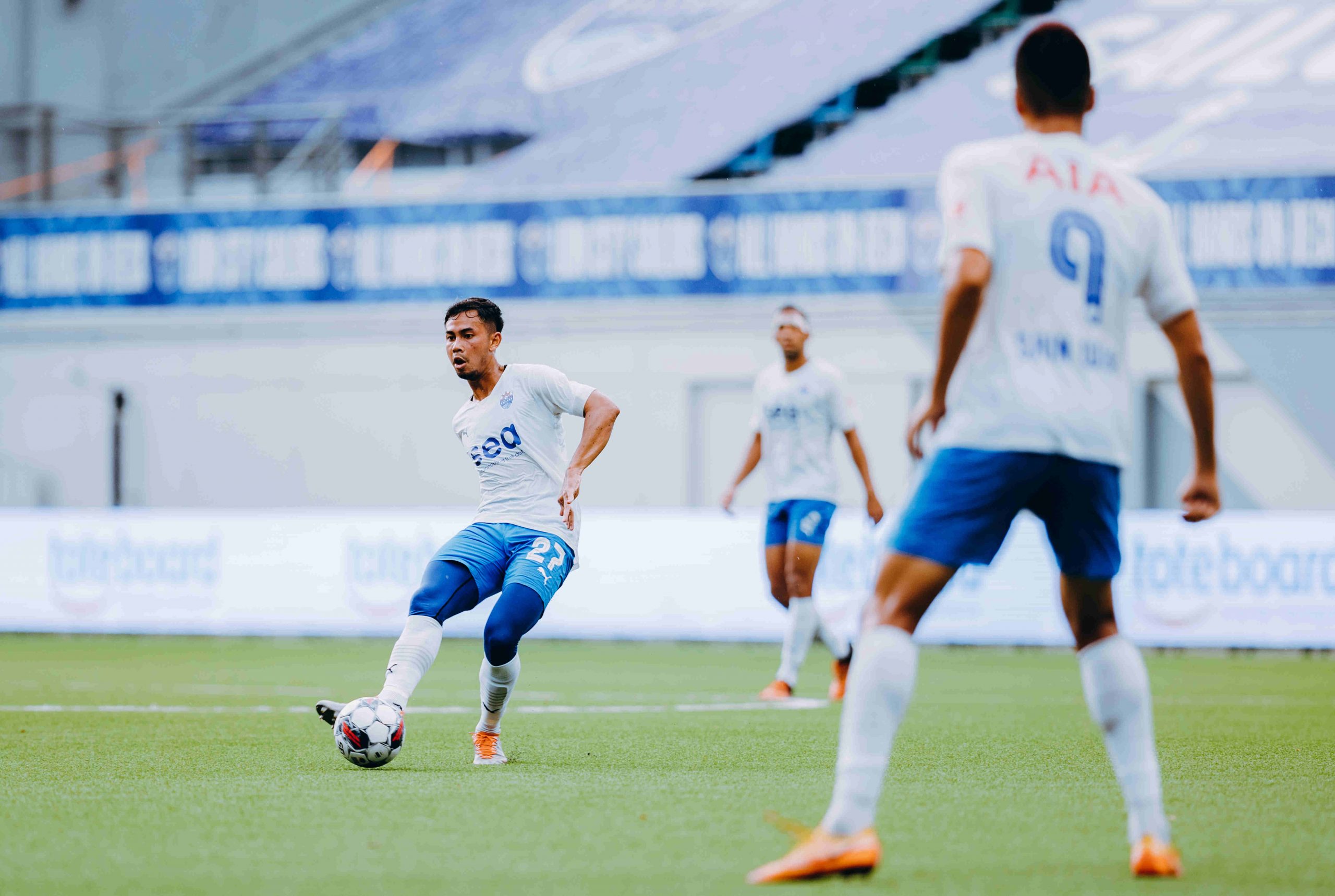 "Of course, for every player, the main thing is to play and directly contribute to the team. Nothing can beat the feeling of performing on the pitch and being there to cover for your teammates," said the 26-year-old.  
"It was frustrating and I felt I can contribute more, but at the same time I do understand we have a huge pool of players so I just have to work hard and wait for the right timing."
The right timing did come in early August as he took advantage of the injury-enforced absence of Shahdan Sulaiman and M. Anumanthan, starting at the heart of the Sailors' midfield against Balestier Khalsa and acquitted himself well enough in the 4-0 win – completing his first 90 minutes since rupturing his anterior cruciate ligament (ACL) in July 2019. 
Adam was then kept in the lineup for the subsequent two matches – 10-1 and 7-0 victories over Young Lions and Tanjong Pagar United respectively – marking the first time he started in a extended run of games since that horrific injury.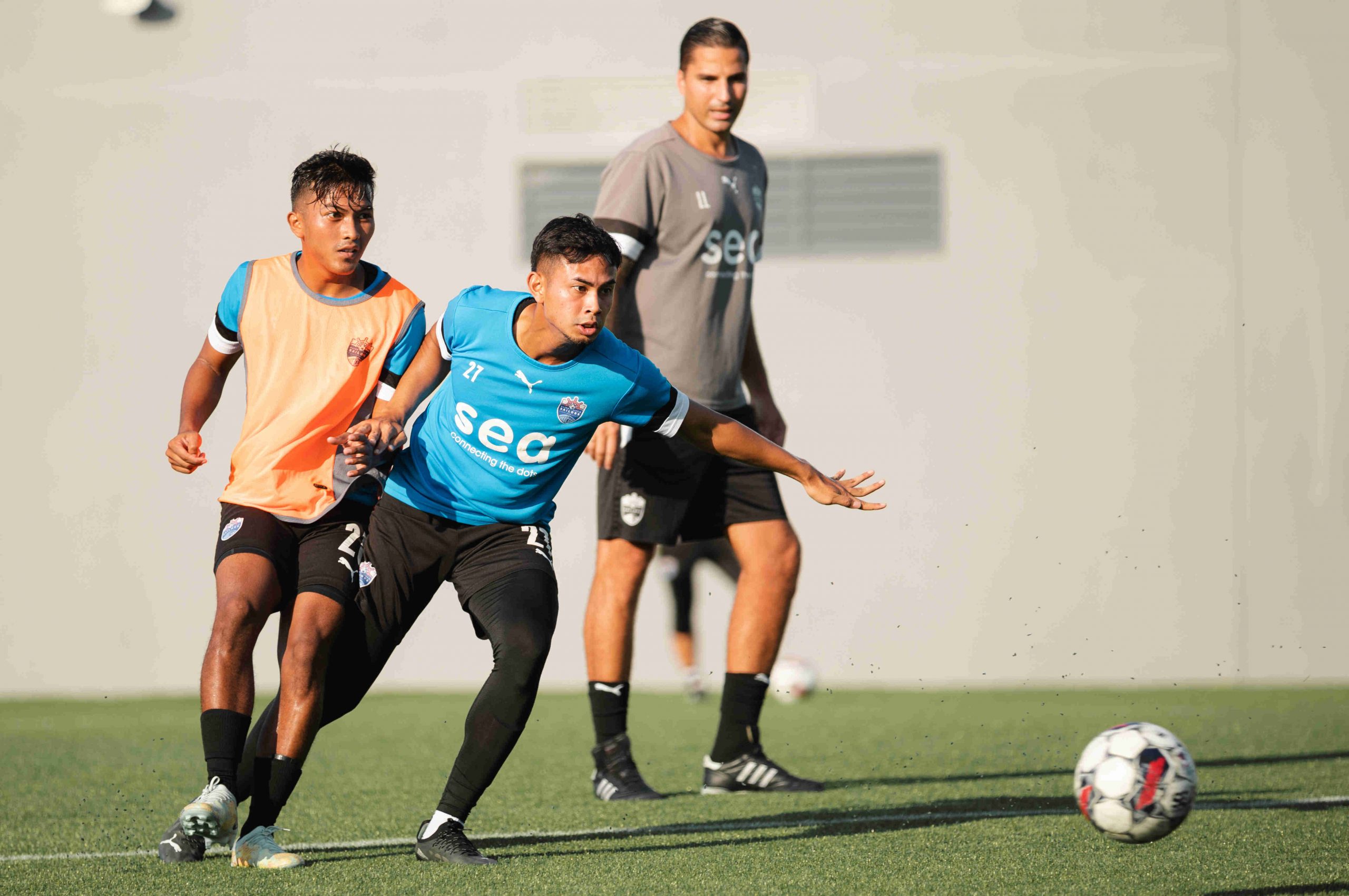 And he is now hungry for more. 
"I was nervous at that time because I haven't played a full 90 minutes for a while and I wasn't certain of my match fitness. But with the help of my teammates and the coaching staff, I managed to play a decent game (against Balestier) and stake my claim in the team. 
"That really was a confidence booster, and I'm happy that I've been starting and contributing to the team directly. Hopefully this is just the start – I want to keep going in this manner till the end of the season," he asserted. 
Usually deployed as a no. 10 or a winger earlier in his career, Adam acknowledged it has been "odd" to be deployed in a deeper midfield role of late, but he is relishing the experience and enjoying the responsibilities that come with it.  
"As players, we learn to adapt and I knew I just had to do my best for the team, regardless of what position I play. At the end of the day, it's a team game," he said.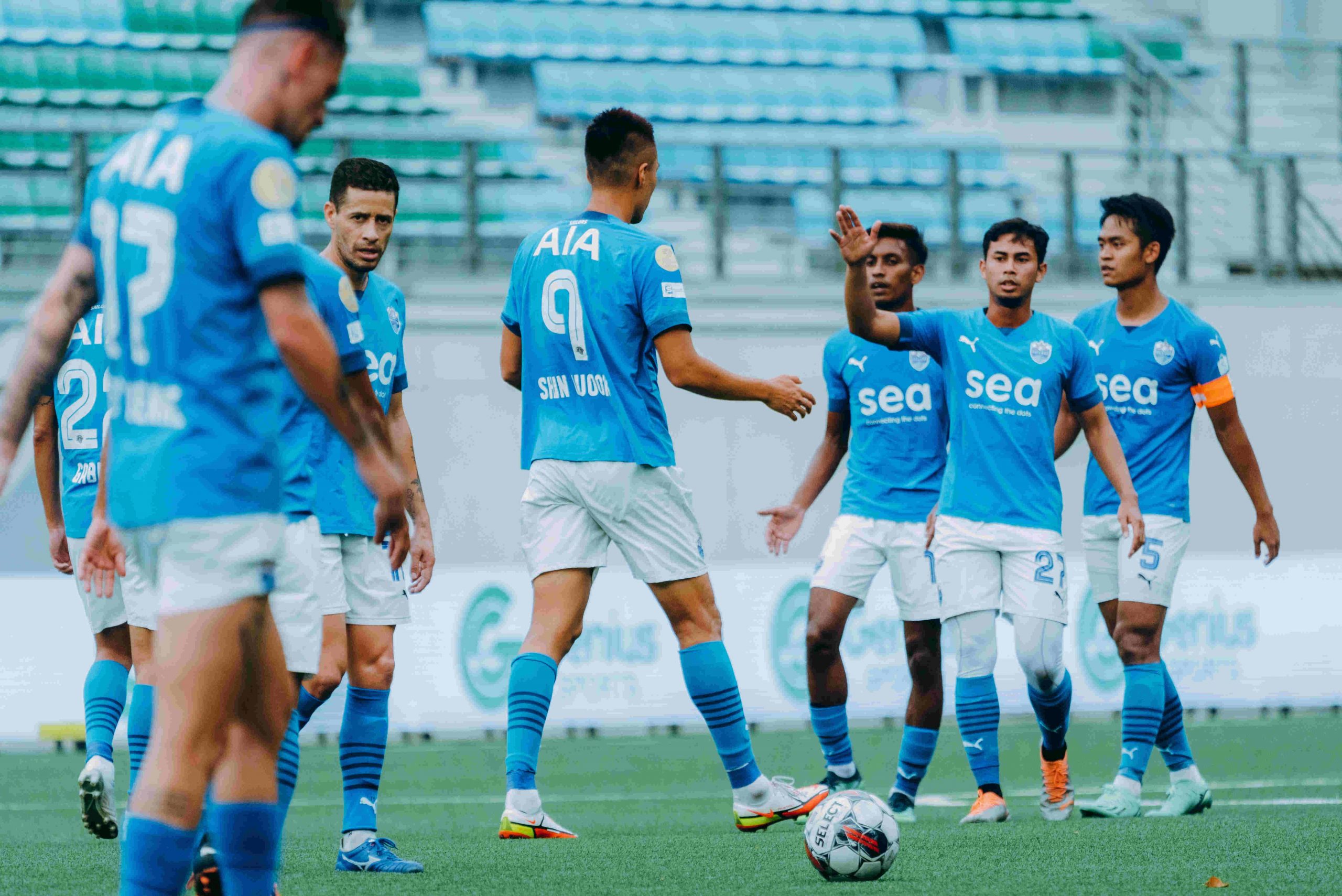 "Now it's a different ball game – I'm deeper into our own half. It's not so much the assists or goals, but more of the passes that lead to the final passes. I'm starting to love it and it makes my job a lot easier when I turn, look up and see the top-quality players we have in the attacking third – guys who can make even a simple pass look good."
It is still early days under the interim charge of Luka Lalić, but the Sailors have looked slick on the pitch and against Hougang they are targeting a third straight win under the Serbian. 
"It's been a positive start under Coach Luka, we're adapting well to a new system under him and everyone's been trying hard to prove their worth going towards this stage of the season (with eight games left)," said Adam.
"Hougang is a pretty good team with quality national players and fast attackers. But whatever it is, we're going to give our all to get the three points. We're on a quest to defend our title and earn the right to compete in the ACL (Asian Football Confederation Champions League) again next year." 
The Lion City Sailors took another step in their quest for the Deloitte Women's Premier League (WPL) title, as they overcame Balestier Khalsa 3-0 at the Yishun Stadium on Saturday evening (20 August).
The previous time the two teams met, the Sailors were made to wait till the last 30 minutes of the game to break the deadlock, with the Tigers proving themselves a tough nut to crack with their deep, defensive line.
This time it took only 13 minutes for defender Umairah Hamdan to give the Sailors the lead. Five minutes later, in-form midfielder Izzati Rosni doubled the Sailors' advantage, before Dorcas Chu wrapped up the three points with a third Sailors' goal in the 76th minute.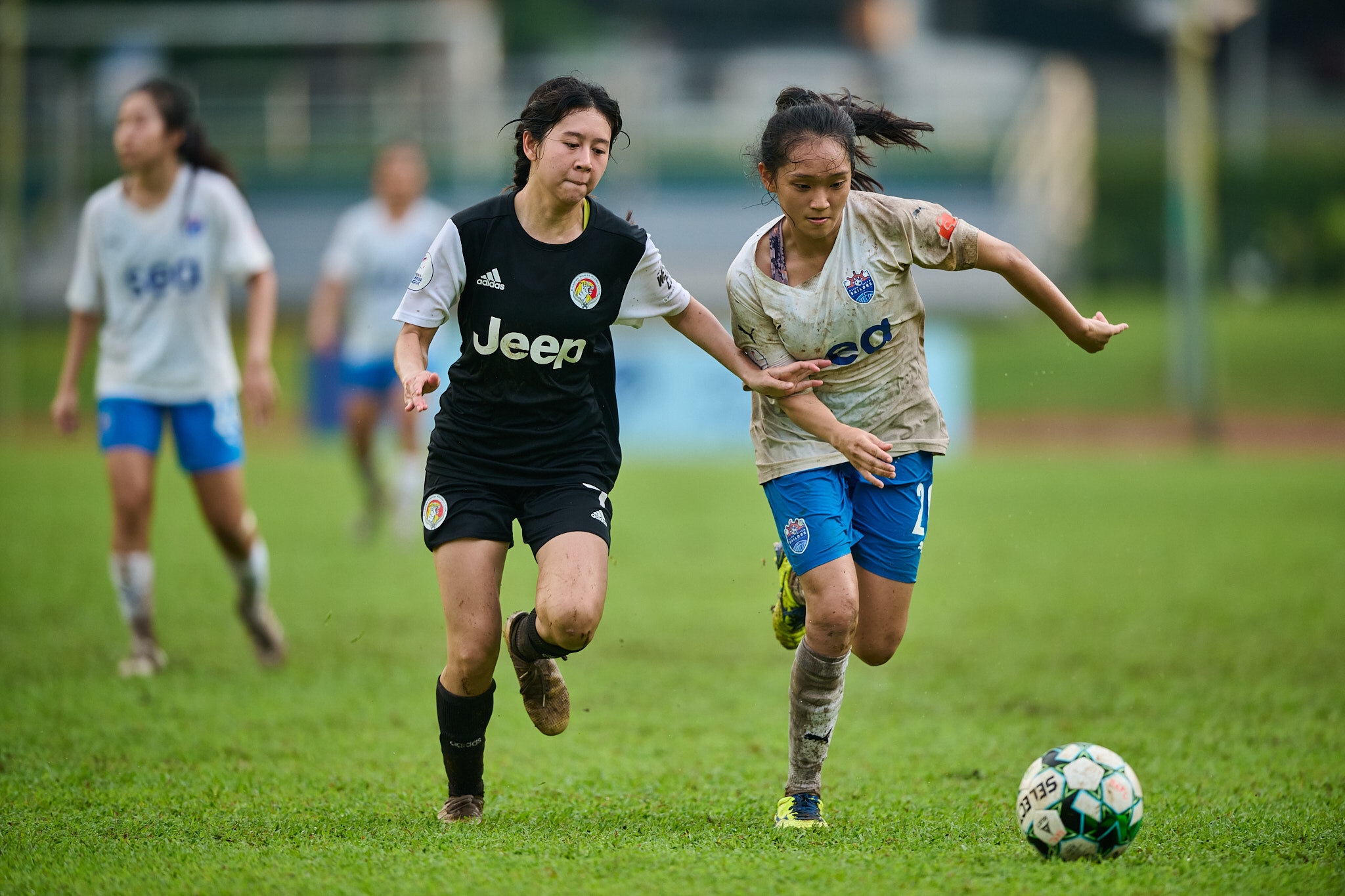 Sailors Head Coach Yeong Sheau Shyan believes that the first goal was crucial, forcing Balestier to play a more expansive game.
"Getting a goal early is one of the ways to force our opponents to come out and play. To be fair to Balestier, they were quite positive in the match. They were still tight in defence, but didn't just sit back," said Sheau Shyan.
"We have been working hard on our attacking combinations and finishing in the attacking third, so as to create more opportunities, and help us score under pressure. From the early goals that we scored today, it's clear that our hard work has paid off."
Sheau Shyan, however, admitted that the Sailors were unable to impose themselves in the second half, although she praised her charges for remaining professional to keep a clean sheet and prevent Balestier from getting back into the game.
"We started the game strongly and moved the ball with much needed urgency in the first half. I was very pleased with the work they put in off the ball, making options for passes and also counter-pressing the opponents quickly to win the ball back during transition," she reflected.
"Although the pace was much slower in the second half, and some of our passes were sloppy, we did what was needed to get the three points and another clean sheet."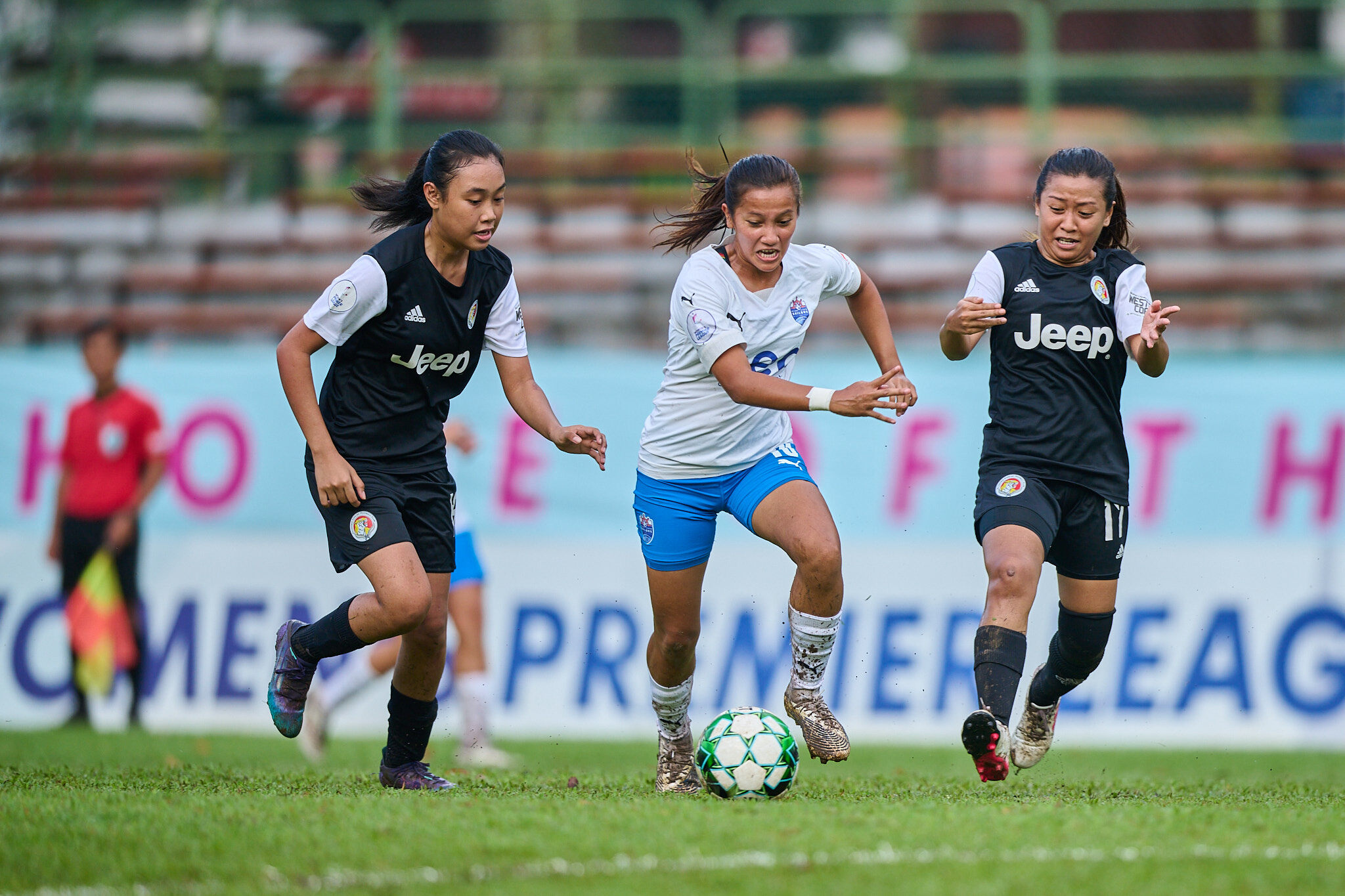 With the win, the Sailors remain five points clear at the top of the WPL table, with one game in hand over their closest title rivals, Tanjong Pagar United.
The Sailors can effectively secure the league title with three more wins. 
While revealing that the team was "excited" at the prospect of becoming WPL champions, Sheau Shyan drew positives from the Sailors' progress throughout the season.
"The team is very excited, not just about the possibility of winning the title in our first year, but also how we've progressed in our football," Sheau Shyan mused. "The unity and chemistry is starting to show, and it can only get better from here. We are all looking forward to seeing what more we can achieve."
The Sailors will next take on Hougang United this Saturday (27 Aug) at the Yishun Stadium, with kickoff scheduled for 7.30pm. 
The Lion City Sailors picked up exactly where they left off, thumping Tanjong Pagar United 7-0 at the Jalan Besar Stadium on Saturday (13 August) for their second big-margin win – following the 10-1 demolition of Young Lions  – in the first two games under the charge of interim Head Coach Luka Lalić. 
Up by two goals at the break, the defending Singapore Premier League (SPL) champions ran riot in the second half and plundered another five goals in a free-flowing display. The result meant the Sailors restored their three-point lead over nearest challengers Albirex Niigata (S) at the summit of the SPL standings, holding a significant advantage in the goal difference count (10) over the White Swans. 
While satisfied with how his team has applied what was practised over the past week and turned in a fluent display of football, Luka is not getting carried away.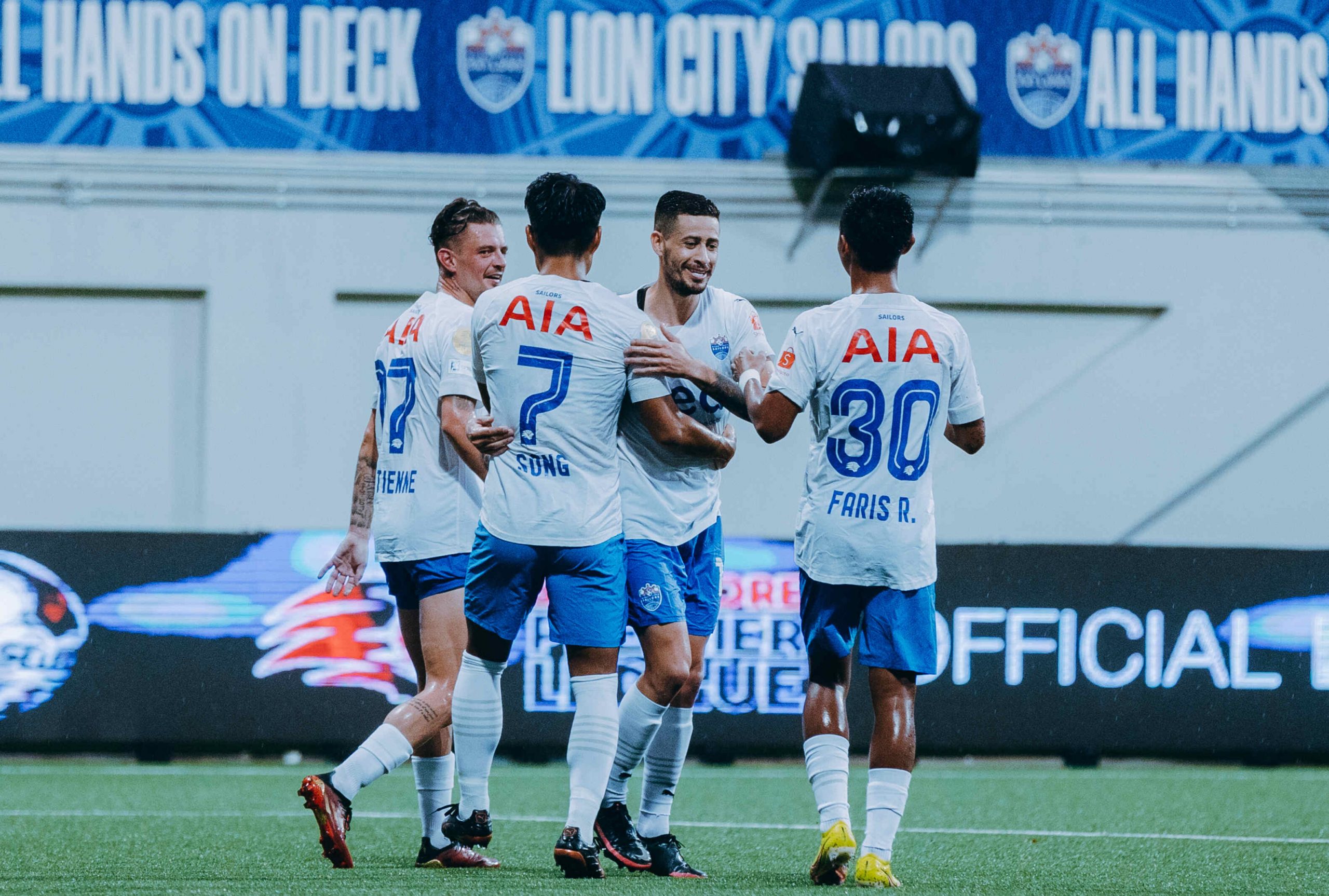 "There were a lot of good things for sure. We spent the week building a new way of how we want to play and I'm happy that they applied some of the principles tonight, so credit goes to the players for that," said the 35-year-old. 
"But not everything went according to plan and we still have a lot of things to build on. I've worked in football long enough to know that it's never all sunshine and rainbows; I stand firmly with both feet on the ground and I'm not fooled by the team scoring 17 goals in two games."
Luka switched it up for this one, with five changes from the lineup that started in the Young Lions win, as the likes of captain Hariss Harun, Shahdan Sulaiman and goalkeeper Hassan Sunny all returned to the first eleven. 
The reshuffled team started brightly with Gabriel Quak and Saifullah Akbar rocking the woodwork before the Sailors finally opened the scoring in the 10th minute. After a delightful exchange with Diego Lopes, Maxime Lestienne showed impeccable technique to cushion a side-foot volley past Fashah Iskandar for his ninth league goal.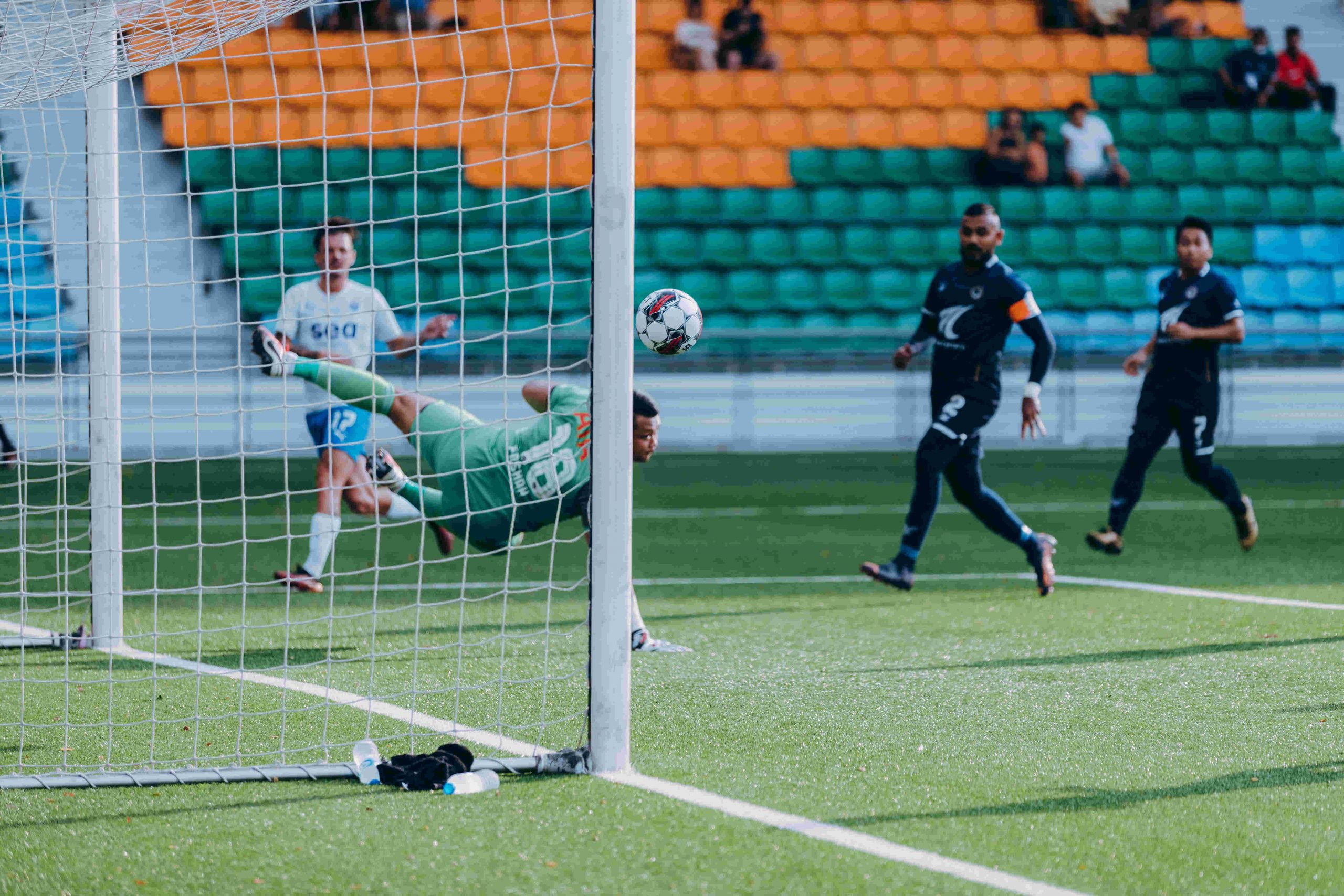 Saifullah, in particular, was excelling in an unfamiliar left-back role in place of the suspended Nur Adam Abdullah and coped well with the threat of Aqhari Abdullah down his flank. 
Meanwhile on his third straight start, Adam Swandi was dictating the tempo and pulling all the strings in the middle of the park alongside Shahdan – thus it was no surprise he began the move that led to the second goal a minute into first-half injury time. The 26-year-old released Kim Shin-wook, who in turn put Hafiz Nor through to slip the ball beyond the onrushing Fashah. 
The Sailors kept up the same white-hot intensity after the break, with "Wookie" picking up his second assist of the match as he teed up Gabriel for a trademark daisy-cutter in the 53rd minute. The former South Korean international got on the scoresheet himself just five minutes later, hooking the rebound in off the bar after his initial header off Maxime's cross was kept out at point-blank range by Fashah for his 17th goal of the season.
The scoreboard read 4-0 and there was more to come from the Sailors as Luka rang the changes to freshen things up.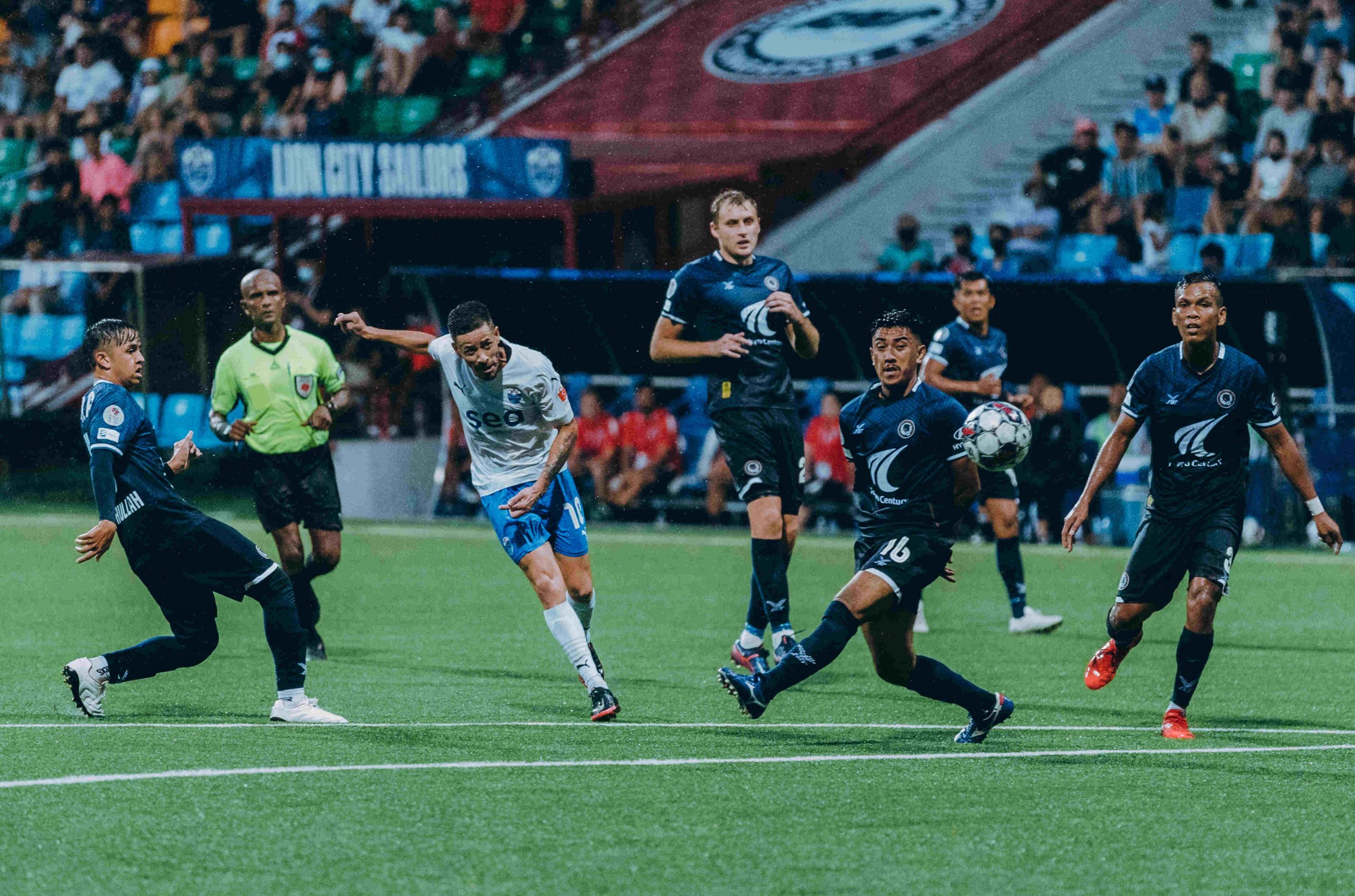 Just minutes after coming on, Faris Ramli made his mark, earning a penalty after he was sent sprawling by Fashah while challenging for a header. Diego slammed home the resulting spot-kick on 69 minutes to make it 5-0 on the night. 
Faris then recovered well from the collision to whip in an inch-perfect cross for Song to convert the Sailors' sixth goal five minutes later, before the convincing win was rounded off by Man-of-the-Match Diego – who netted his second of the night from the edge of the area. 
Bill Mamadou – another substitute – also did his part with a superb intervention to deny Khairul Nizam from going clean through, helping Hassan to keep his seventh clean sheet of the season. 
Despite a 7-0 win over the SPL's third-placed side and a second straight victory in charge, Luka was adamant that there should be no letting up from the title-chasing Sailors. 
"I always look at things from a negative standpoint first – the only thing I'm focusing on is how we can improve further. We're now starting to create a style of play that people can recognise and we're going to keep building on that till the end of the season. 
"For me, the number one thing is the intensity of play – and that requires good fitness levels. We'll keep working on that while being careful with the players' conditions so that we can last the distance."
With five games to go in the Deloitte Women's Premier League (WPL), the Lion City Sailors Women find themselves in pole position to secure the league title in their debut season.
The Sailors currently sit atop the WPL standings on 19 points, five clear of their nearest rivals, Tanjong Pagar United, who have played a game more. Next up for the Sailors women is a clash against Balestier Khalsa on Saturday (20 August) at the Yishun Stadium.
The Sailors – who have won all of their games so far, bar one – are now widely expected to become WPL champions this season.
But the women are not taking anything for granted.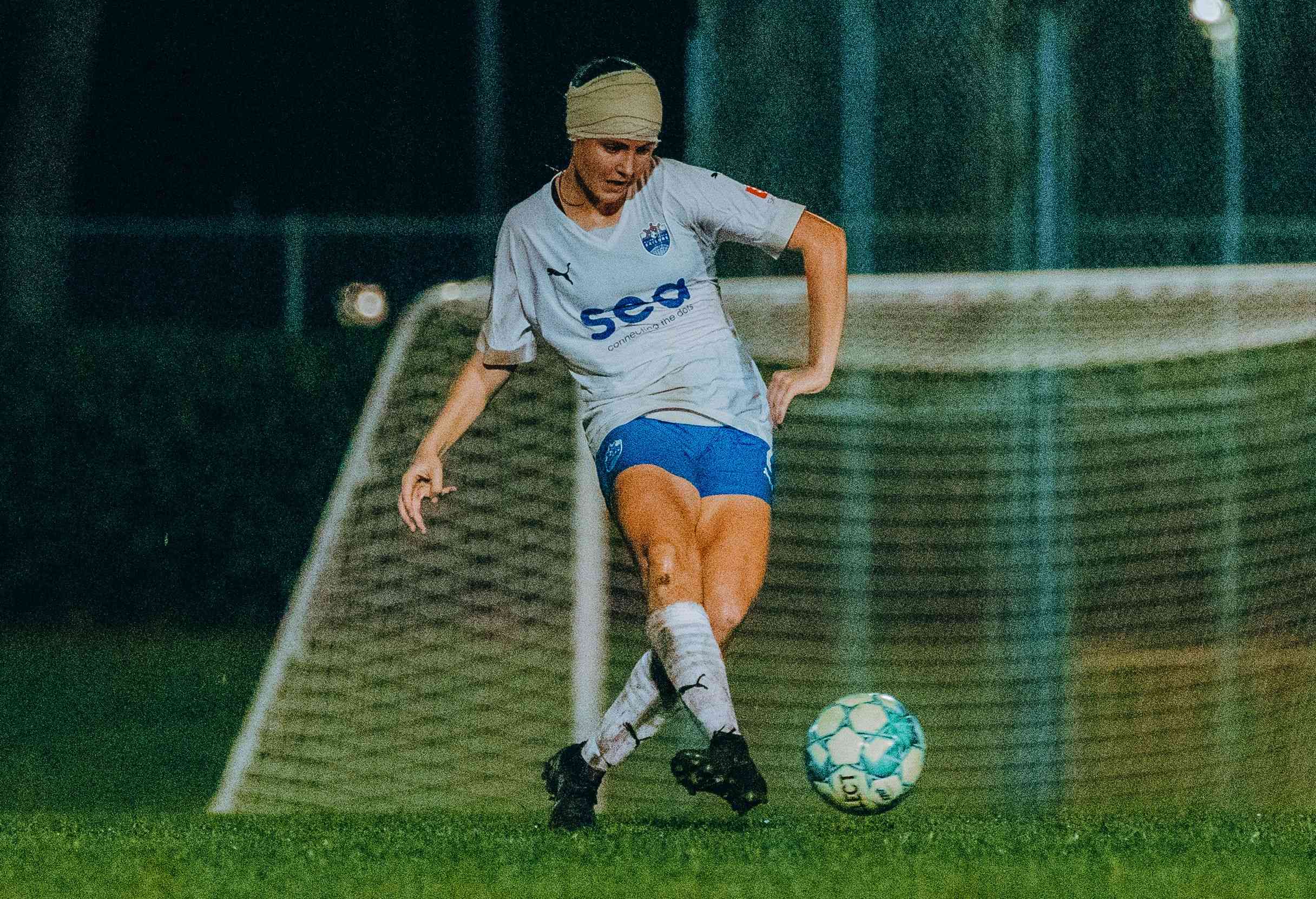 Indeed, midfielder Madison Telmer insists that the Sailors will continue to head into each of their remaining five games with the same sort of must-win mentality that they displayed in the first half of the season.
"Complacency is always a worry when a team is doing very well," Madison mused. "To avoid this, we focus on winning each game at hand individually, rather than focusing on the full picture. As a team, we go into every match expecting it to be a challenge.
"In addition, I think that there is a lot more pressure on us as a team in the second round of the WPL, especially because many teams have improved over the course of the season. However, there is a mutual trust in our team that every player is giving their 100% in training and games. We all believe that our coaches will lead us to victory, which helps deal with the pressure."
Despite the approach, Madison admits that everyone in the team is excited at being within touching distance of becoming WPL champions.
"It feels amazing to be in such a strong position to win the title, especially since we're closing in towards the end of the season," said Madison. "Winning the WPL title has been our goal from the very start and we have worked very hard in training to be where we are at now."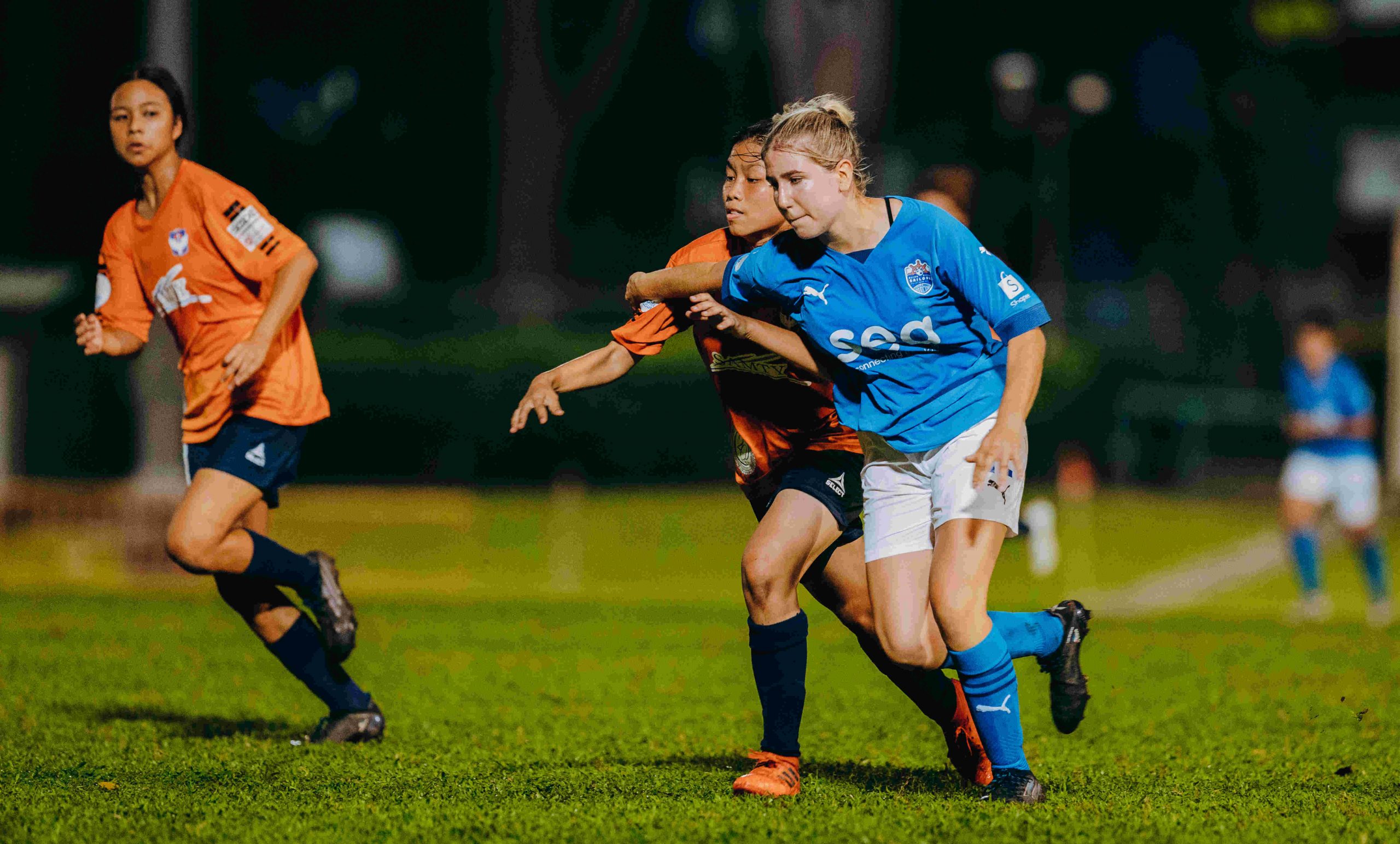 The Sailors strengthened during the recent transfer window with the addition of German winger Paula Druschke, who made her debut for the club in their 4-0 win over Albirex Niigata (S) last weekend.
Madison is confident that her new teammate will be a success at the Sailors, saying: "I thought Paula did very well on her debut, I was impressed by her work rate on the pitch, especially in winning possession. I think she brings a new aspect to our game as a left-footed winger so I'm definitely excited to see what more she can bring to the team in future matches."
The last time they met Balestier, the Sailors ran out 4-0 winners – the scoreline, however, did not accurately reflect how tight the game was, with Tigers' defensive low-block frustrating the Sailors for large parts of the game.
And Madison fully expects Balestier, who are currently second from bottom in the WPL, to employ similar tactics this weekend.
"I think it's likely that they will sit deep and defend again for our upcoming match because many of the teams in the league have learnt that the compact block is the best strategy for playing against us," Madison mused. "It is definitely frustrating to play against a team that focuses only on defending, but it's our job now to strategise and figure out how to overcome this."
The Lion City Sailors host Tanjong Pagar United at Jalan Besar Stadium on Saturday (20 August) evening, looking to make it two wins out of two under interim Head Coach Luka Lalić. 
With the Sailors holding a three-point lead over closest challengers Albirex Niigata (S) at the top of the Singapore Premier League (SPL) table – and a five-goal advantage in the goal difference count – Amirul Adli wants his side to keep their eyes on the prize in the final eight games of the season.  
"We know what's at stake right now at this crucial juncture. It doesn't matter who we're playing really – ultimately we have to focus on ourselves and instead of what the other teams or Albirex do," said the Sailors' vice-captain.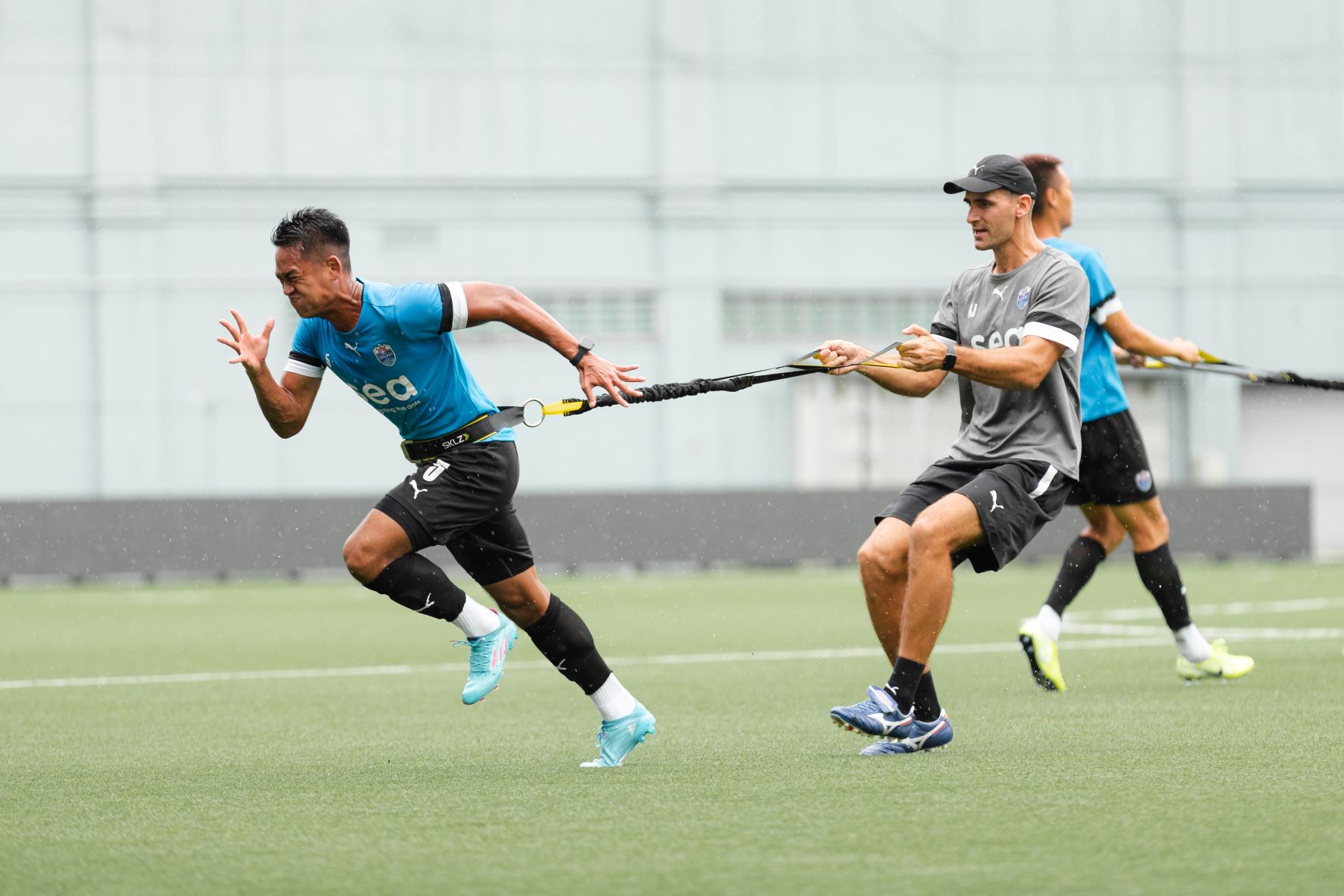 "That's the only way to help us sharpen our qualities and get to the level required to last the distance. As a team, we're well aware of the end goal – to retain the league title and earn the right to represent Singapore in the ACL (Asian Football Confederation Champions League) again."
The Sailors got off to a sensational start under Luka as they sailed to a record-breaking 10-1 win over Young Lions last weekend, but the champions are no longer basking in the euphoria of the result and are out to replicate the same level of desire and intensity in the matches ahead. 
"That result just shows that apart from the quality in our squad that has been often mentioned, our players are all hungry and working hard in our own way for the benefit of the team. No one is satisfied with where we're right now, we're all pushing hard to become better each day. 
"Once we step onto the pitch, we go in with a hungry mindset to show our abilities and play a good game of football for our fans to enjoy," said the 26-year-old, who wore the armband in the Young Lions fixture and the 4-0 win over Balestier Khalsa a fortnight ago.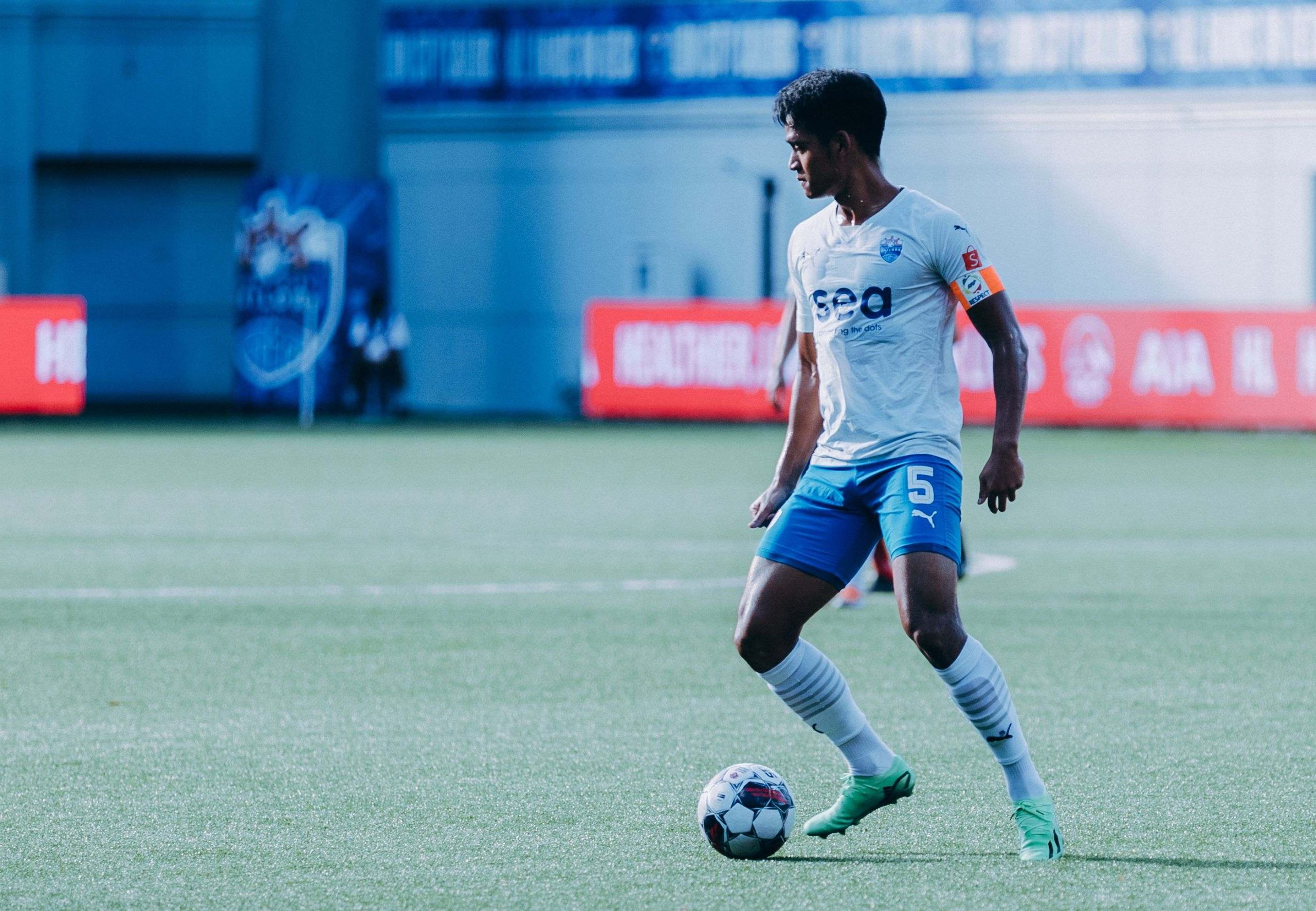 With a full week's worth of training under his belt, Luka – also the Technical Director of the Sailors' Academy – is starting to implement his training philosophy. Adli noted the challenges of adapting to a different coaching style with just a quarter of the season to go, but the defender asserts that the team is embracing the challenge. 
"Luka's a very direct and straightforward coach – he'll say exactly what he wants from us players so it's not difficult to understand what he wants from the team. Obviously, it's a new style of play under him and the intensity is high. 
"He expects a lot of us but that's also because he thinks highly of us. It's been a short period of time, but we're starting to understand what he wants and it's getting easier for us each day," added the Singapore international. 
"Everyone has been very positive in training and working hard to get up to where he envisioned us to be."
The Lion City Sailors today officially launched the PUMA Youth Champions League (YCL), a football competition aimed at raising youth football standards in Singapore by providing a platform for the best youth teams to consistently test themselves against each other in a professional environment. 
The tournament is backed by leading global sports brand, PUMA, that has signed a two-year title sponsorship deal with the Sailors worth S$280,000. 
The PUMA Youth Champions League 
The inaugural tournament will run from September 2022 through to May 2023 and will feature the nation's top teams across six age-group categories from Under-10 through to Under-16. With six teams featuring in each age-group category, the YCL will see a total of 360 games over the year that is split into two seasons – September to December and February to May – with a champion of each age-group category crowned at the end of every season. 
The tournament is an affirmation of the Sailors' commitment to youth development that is aligned with the club's vision of professionalism, excellence and fuelling dreams of the next generation in its Academy that aims to be an elite youth hub.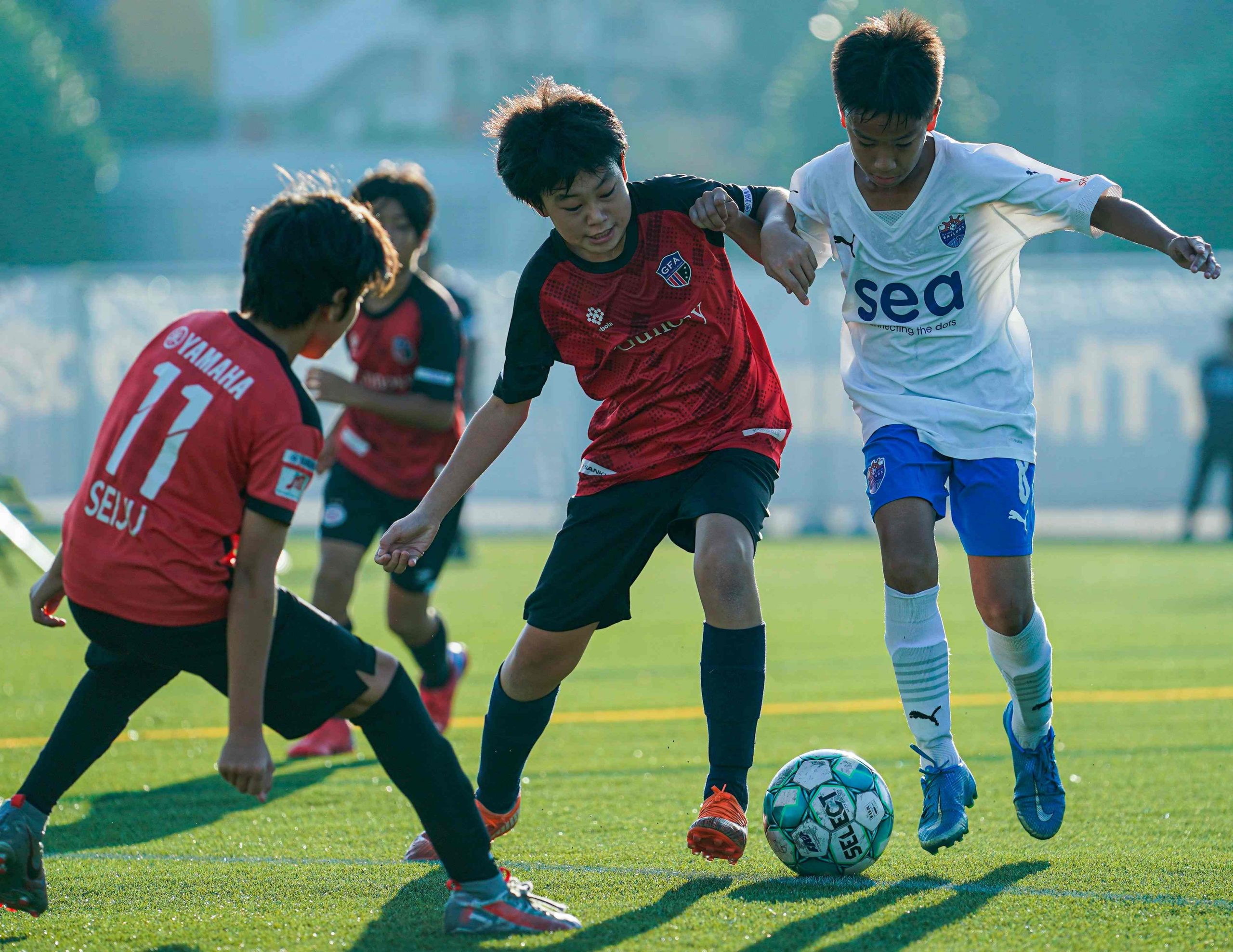 "Creating a youth-centric competition such as the Youth Champions League offers the opportunity for the best-of-the-best youth teams to compete through a developmental football setting. Together with the Lion City Sailors, we have similar sentiments of being inspired to harness that fearless belief of youth, providing unbridled excitement, and the right spirit for the game through experiencing and participating in the matches through this partnership," said Sanjay Roy, PUMA General Manager for Southeast Asia. 
"PUMA is committed to nurturing and providing youth development in sports and we are proud to be a title sponsor for the YCL."
A game changer for youth football in Singapore 
The PUMA title sponsorship empowers tournament organisers, the Sailors, to fill a gap in the local youth development scene by implementing ideal competition regulations for each age-group – including group size (7-a-side up to 11-a-side), pitch size and game duration – in accordance with best practices adopted by the broader football world. 
"Through our partnership, we provided the Sailors insight into the structure of the Feyenoord Academy and the Dutch youth football system. They combined this information with other best practices from top academies in Europe to create their own privately-run league. We are convinced that this new league structure, which is quite similar to the Dutch model, will contribute to the development of youth players in Singapore and at Lion City Sailors specifically," said Feyenoord Rotterdam's Head of Academy, Rini Coolen. 
Earlier this year in February, the Sailors signed a three-year partnership – focused on youth development and education – with Feyenoord. The partnership has already witnessed the Sailors Academy's Elite squad travel to the Netherlands for a training camp in June. 
"Our partner club Lion City Sailors is deeply committed to the development of youth football in Singapore. We are therefore delighted to see them playing an important role in establishing a new youth football structure in the country, which will support the development of the game," added Coolen.
John Morris, the Sailors' Head, Commercial, is the Tournament Director of the PUMA YCL, and he is certain that the YCL will drive further development not just within the club, but across the football fraternity here.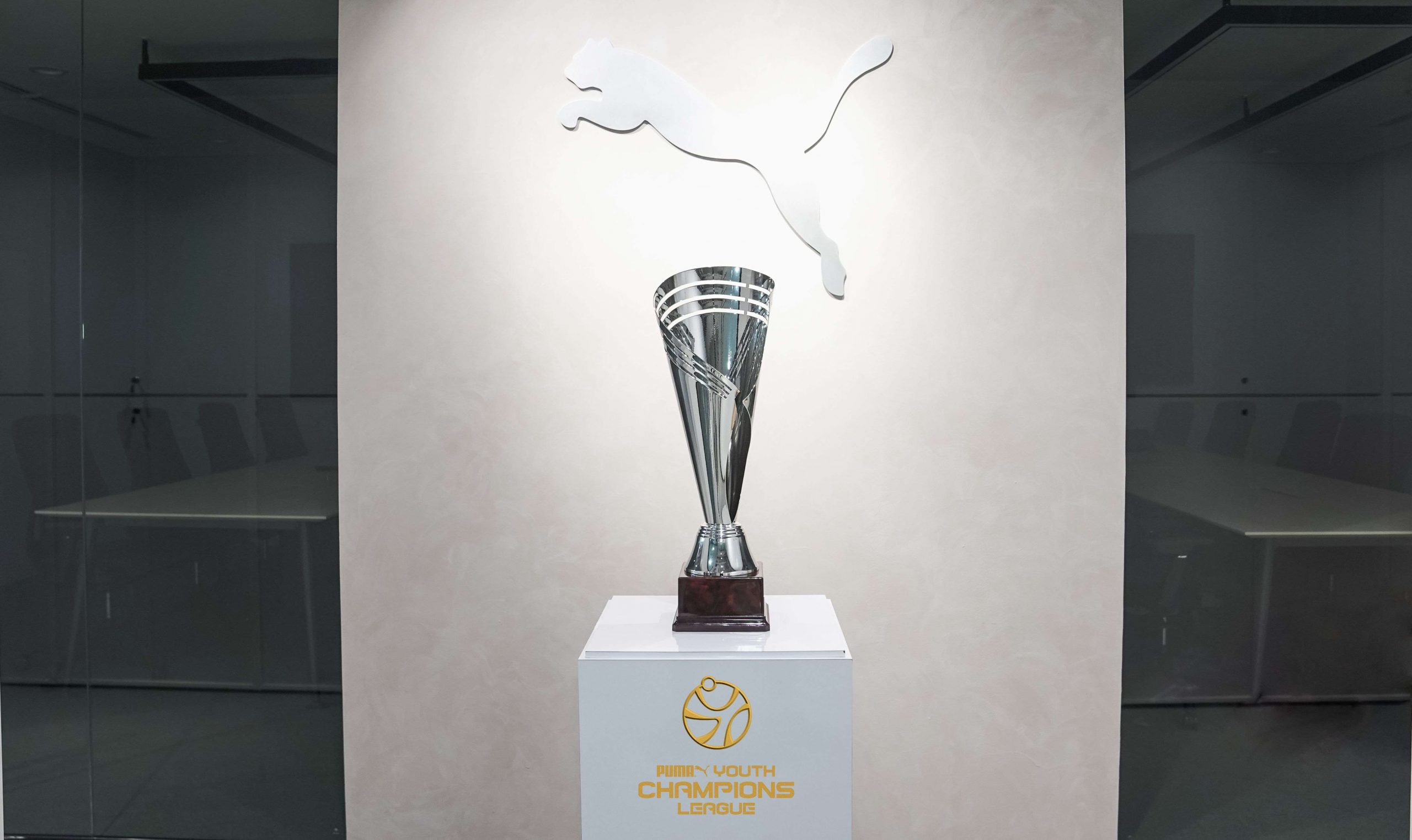 "The club's new training facility will allow us to more efficiently implement our holistic training programme, but it is equally important that we provide our trainees with age-group appropriate high-level competition regularly so they have the best possible conditions to develop their game," he said. 
"Such tournaments are not available in Singapore, and we're delighted that with support from our partners and sponsors we're able to create the YCL that will bring together Singapore's best youth footballers and in regular high-level competition, to test themselves."
The PUMA YCL will have a consistent media presence, with the tournament owning its own social media assets that will be populated with content across the year. This will include match highlights of all 360 matches packaged weekly according to age category, team features and even player interviews.
"We're looking to take the implementation of best practices beyond the pitch as well, with a media plan that will spotlight the development of players who will go on to represent the country in the future. We're delighted that we've received fantastic support from the local football community for the YCL and all it stands for," added Morris.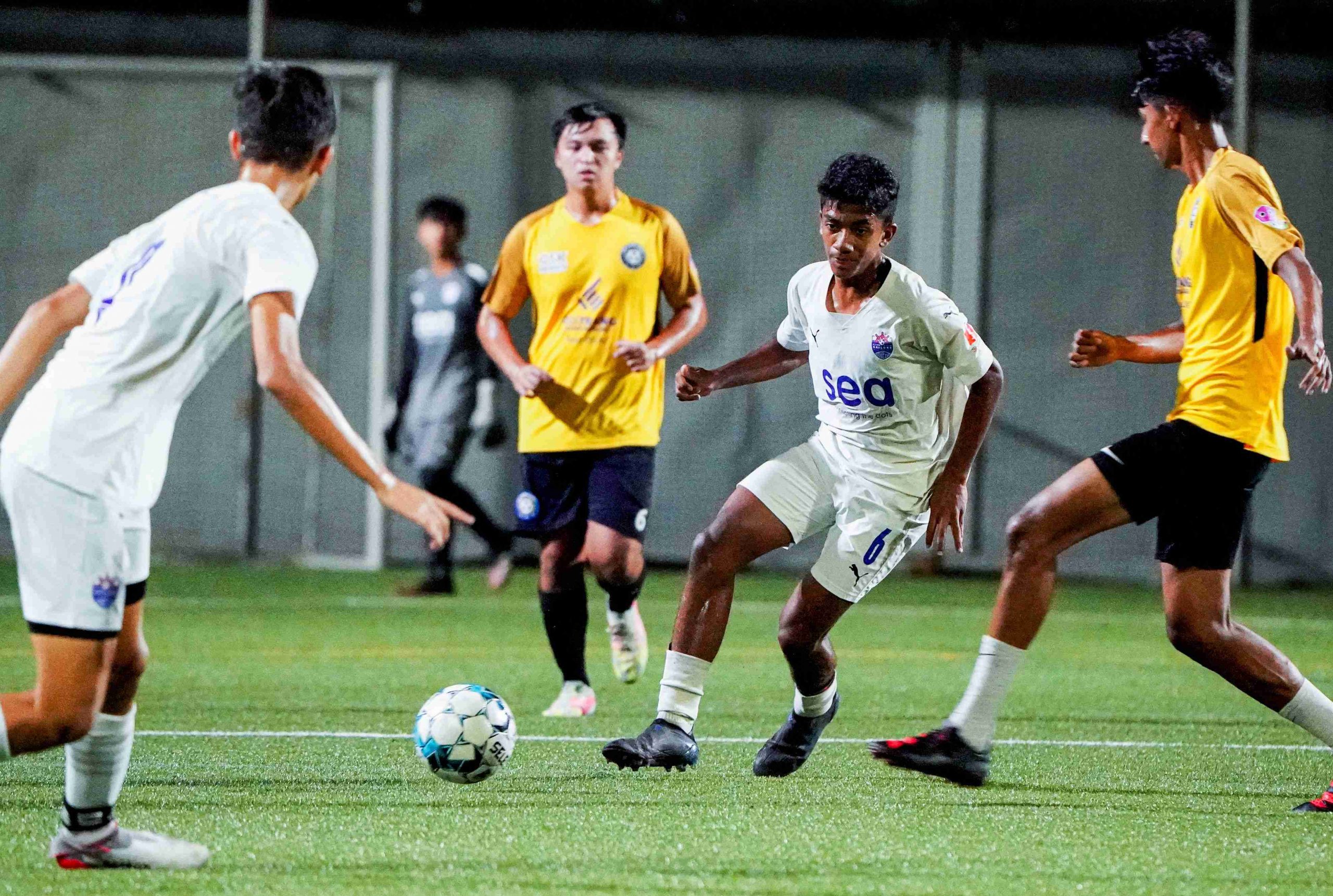 A youth football fraternity abuzz with optimism
"Having a high-level competition where the best youth teams can face off against each other is a good opportunity for development. This is also a great platform not only for players to perform, but coaches and referees to test and progress in their craft," said Razali Saad, Programme Director of Unleash The Roar!'s (UTR!) School Football Academies (SFA).
"If the teams and competition standards remain high, it can have an impact on youth football in the long term and hopefully contribute to the UTR! project," added the former Singapore Captain.
The Euro Soccer Academy (ESA) is poised to field two teams, in the U11 and U12 categories, when the YCL kicks off in September, and ESA Director Ismail Hussin believes that the tournament will change things for his academy trainees. 
"A key aspect of this tournament is that it's going to be very competitive, and it'll be a level which will bring the players to the elite standard. Usually, the tournaments which we participate in revolve around the fun factor, but this is different, we have to be really ready. This will help my kids to prepare more than before for real competition," he said.
"With a big sponsor like PUMA coming in and the world-class facilities that LCS provide, these boys are going to be well taken care of and will get proper guidance. With no tournament fee needed, the entry barrier is lower and we'll be able to get more good local boys to participate and help them get to the elite level that we aspire them to get to."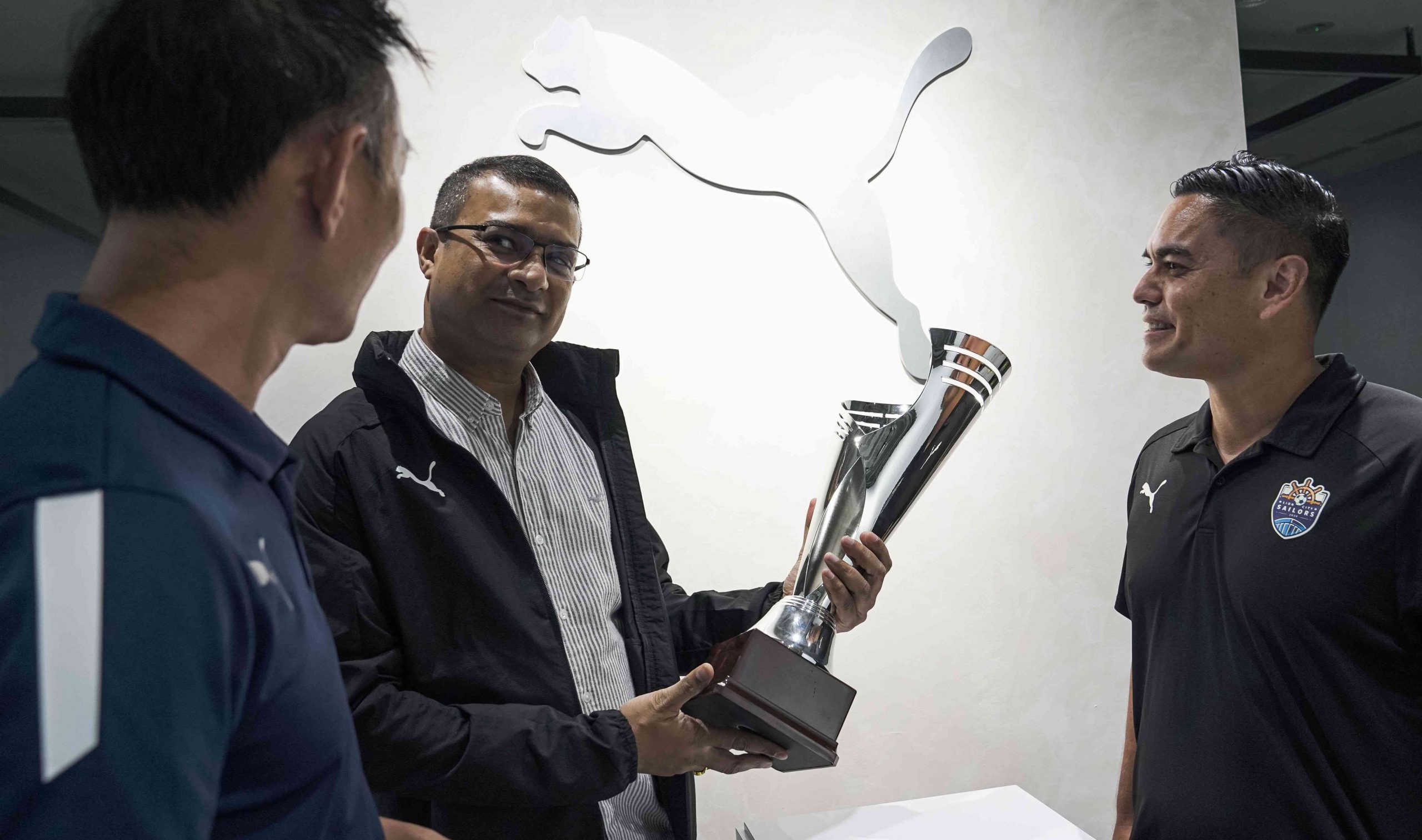 The sentiment is shared by Global Football Academy (GFA) Japan's Head Coach, Osamu Akao.
"It is important for Singapore's elite youth football players to gain experience playing against more diverse and higher-level players. A player's daily life changes by experiencing highly competitive league matches: I believe that developing good habits as a football player from when they are young will only help the player grow in the future," he said. 
"It's great that Singapore has that passion for youth league competition." 
Feyenoord's Coolen is optimistic that the PUMA YCL will help growth of the game in Singapore. He said: "Once again, we are proud of the development of our partner club and we respect their commitment to achieve the best possible youth football structure in their own country."