As Lion City Sailors' interim Head Coach, Robin Chitrakar knows he has an important role to play from now to when a permanent replacement for the outgoing Aurelio Vidmar is appointed.
With the Sailors on a good run of form – they are unbeaten in their last five games, having won four of them and drawn one – Robin has the huge responsibility of ensuring that the team continues to pick up the wins as they work towards their goal of finishing as champions of the Singapore Premier League (SPL) this season.
While Aurelio will only officially part ways with the Sailors tomorrow (April 30), Robin has already been heavily involved in leading the training sessions for the senior team.
And the 44-year-old, who holds an AFC Professional Coaching Diploma, revealed that his main focus at the moment is on continuing the good work that Aurelio has done with the Sailors.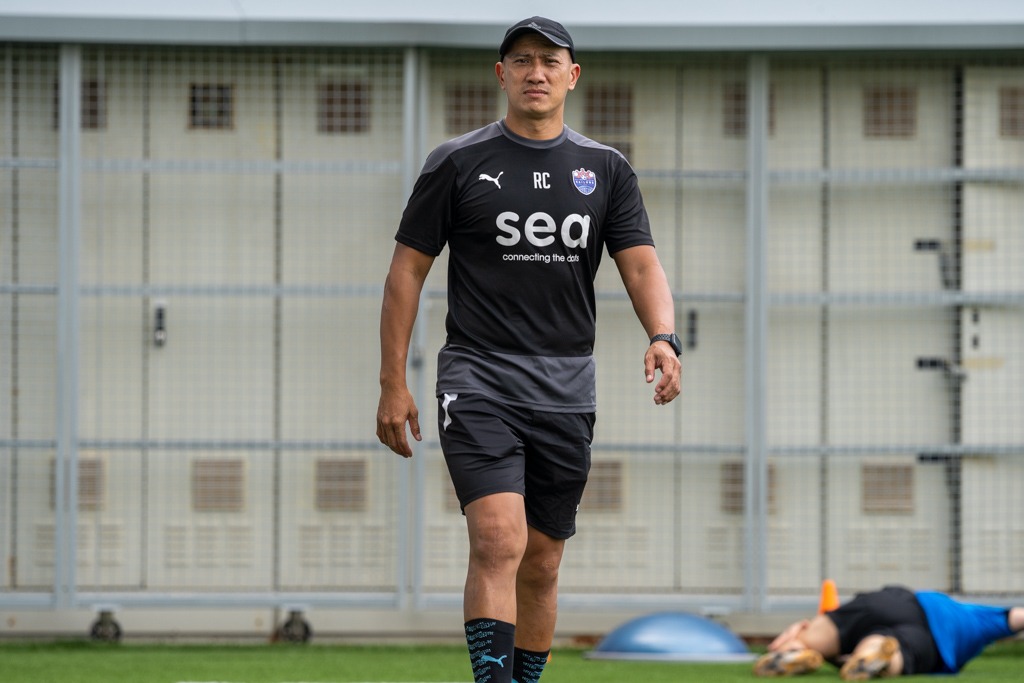 "I'm not here to make huge changes. Coach Aurelio has done very well with the team…he has laid a solid foundation, so my role now is to simply carry on from where he left off," Robin explained.
"Under coach Aurelio, the team's philosophy was to attack, and that is what we'll stick to because it's proven to be effective. But of course, we'll reflect and make some tweaks according to who our next opponent is."
This is not the first time that Robin, who is also the head coach of the Sailors' Under-21 side, has managed a senior team in the SPL.
About a decade ago, when the SPL was still known as the S.League, Robin was the head coach of the Young Lions. During that stint, which lasted from 2011 to 2012, he worked with and helped develop several of the current stars in the Sailors squad, including Faris Ramli, Gabriel Quak, Shahdan Sulaiman, Aqhari Abdullah and Tajeli Salamat.
While acknowledging that it has been "quite long ago" since he led a senior team, Robin is confident that, together with the rest of the technical team, they will be able to stabilise the ship in the absence of a permanent head coach.
"On the player front, everybody knows that we have top quality in our ranks. But we also have a very strong technical team and dedicated backroom staff who all work hard to help the team perform at their optimum on match days," said Robin.
"So, I don't have any concerns about taking on this role because the support is there. I'll be working closely with everyone, especially assistant head coach Noh (Rahman) and Head of Sports Science Mario (Jovanovic) to keep the Sailors going until a permanent head coach is found."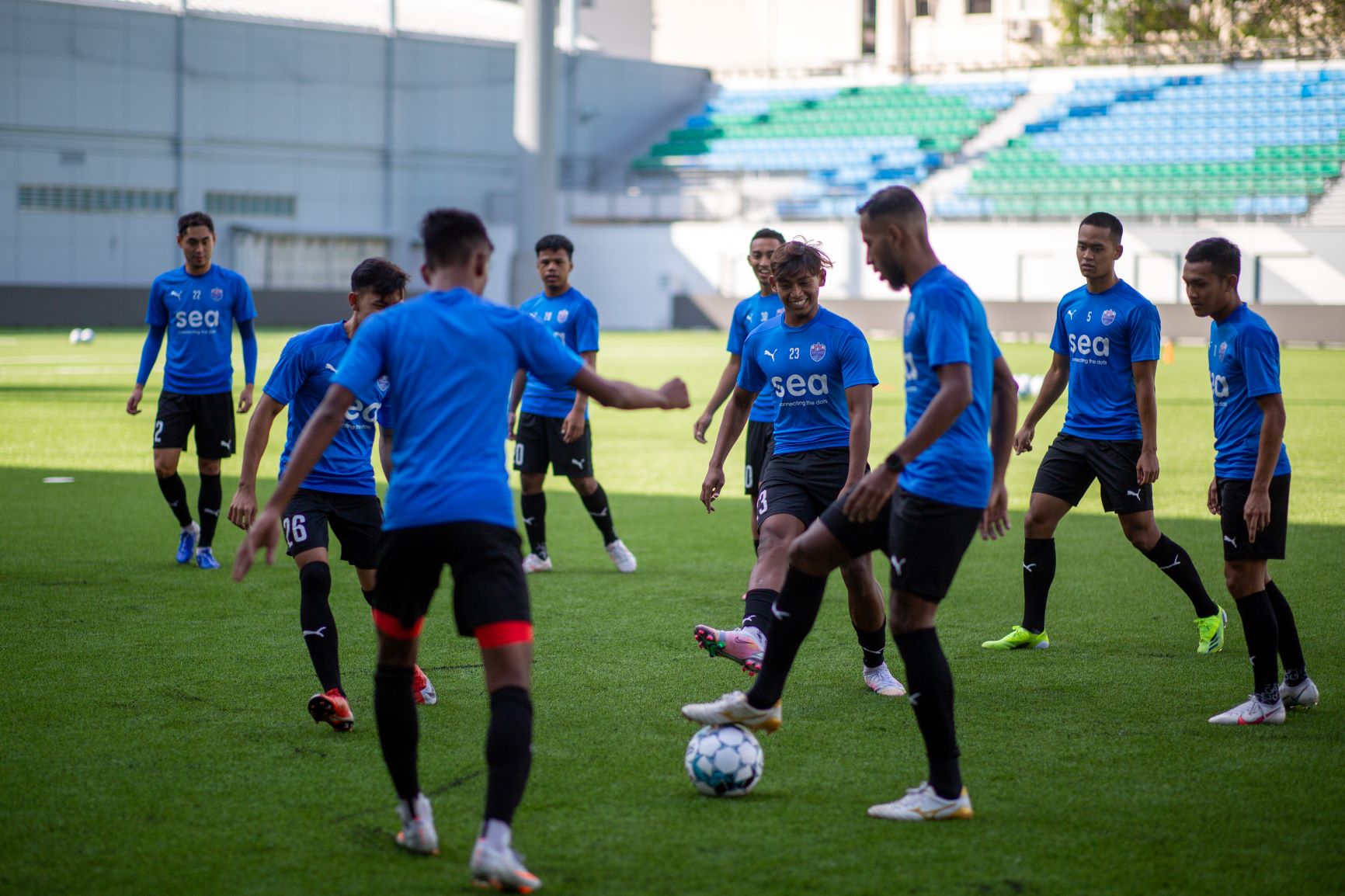 The Sailors are currently second in the SPL, just three points behind league leaders Albirex Niigata (S). They will next take on Geylang International at the Jalan Besar Stadium next Sunday (May 9), at 8.30pm.
Robin believes the two-week break in between the Sailors' last game against Hougang United (a 1-0 win over the Cheetahs) and their next fixture against the Eagles will be beneficial for the players.
"The boys are all going to miss Aurelio, so it's good that we have two weeks before the next match, because then it'll give them more time to adapt to life without him," Robin elaborated.
"It's important that everyone is ready for the visit of Geylang. They're a very good side that retains possession very well. They were unfortunate with injuries early in the season and failed to make their chances count, but they are a very dangerous team overall. We've got to be wary especially of their attacking set-pieces, so we'll have to prepare for that."
And while Robin may not be in the Sailors dugout as the team's head coach for long, he has promised the club's fans that he will do all he can to make them happy.
"Like everyone else here at the club, I'm only focused on helping the Sailors win the SPL this season," Robin declared. "It's an honour to be given this responsibility, and my promise to the Sailors fans is that I will work my hardest to tide the team through this period of transition.
"Ultimately, we want to make our fans happy by playing entertaining football while getting the right results. That is what I intend to achieve with the Sailors, and I hope you'll continue to give me and the team your utmost support."
Lion City Sailors announce today that the club will part ways with our head coach, Aurelio Vidmar, who has decided to pursue other opportunities, with effect from 30th of April 2021. 
"We sincerely thank Aurelio for his work in getting the Lion City Sailors project off the ground in our first season, and for implementing a mindset of professionalism and excellence in the club," said Sailors CEO, Chew Chun-Liang.
"We wish Aurelio nothing but the best in his future endeavours."
 Vidmar led the Sailors to third spot in the Singapore Premier League (SPL) in the club's first season since its February 2020 founding, a truncated season hit by the Covid-19 pandemic. But the team lit up the league with scintillating attacking football that saw three Sailors receive personal accolades at the year-end SPL Awards night – Gabriel Quak was named Player of the Year, with Saifullah Akbar picked as the SPL's Young Player of the year and Stipe Plazibat's 14 goals in 14 matches saw him end 2020 as the league's top scorer.
"I'm grateful for the opportunity to have been a part of the Lion City Sailors project and I thoroughly enjoyed my time here with the team and management. I'm sure Singapore football fans were entertained by some of the football we continue to dish out, and I look forward to hearing about the future successes of the club," said Vidmar.
"Thank you, Sailors, and thank you Singapore for your hospitality and kindness during my time here."
Robin Chitrakar, the head coach of the Sailors' Under-21 side will take charge of the first team on an interim basis.
The club will make an announcement on the appointment of a new head coach in due course. 
The Lion City Sailors' Asian Football Confederation (AFC) Cup Asean Zone Group Stage matches have been rescheduled.
Originally slated to be played from June 22 to 28, the Sailors' Group H fixtures will now be held from June 29 to July 5.
The exact date of the Group H matches, which will see the Sailors take on Vietnam's Saigon FC, Malaysia outfit Kedah Darul Aman, and the winner of the Asean Zone play-offs 3.2, has yet to be fixed.
In a statement posted on the AFC website, the continental body said: "The decision to reschedule the ASEAN Zone was taken after the confirmation of the new match schedule for the AFC Champions League (East) Playoff matches, which are now planned for June 22, 2021 and, depending on the outcome of the Preliminary Stage matches, may include the participation of teams from the ASEAN Zone."
The Sailors' Group H games are still scheduled to be played in Singapore.
Unbeaten in five straight Singapore Premier League (SPL) matches, the Lion City Sailors' recent run of good form has seen them move up to second in the table, just three points behind league leaders Albirex Niigata (S).
In their last two matches, Aurelio Vidmar's men not only thrilled fans with their exciting style of football – as seen in their 4-1 win over Balestier Khalsa – but also showed they were capable of grinding out results, like they did in their 1-0 win over title rivals Hougang United.
Here, we round up the major talking points from those two matches…
Resilience, and an ability to win in more ways than one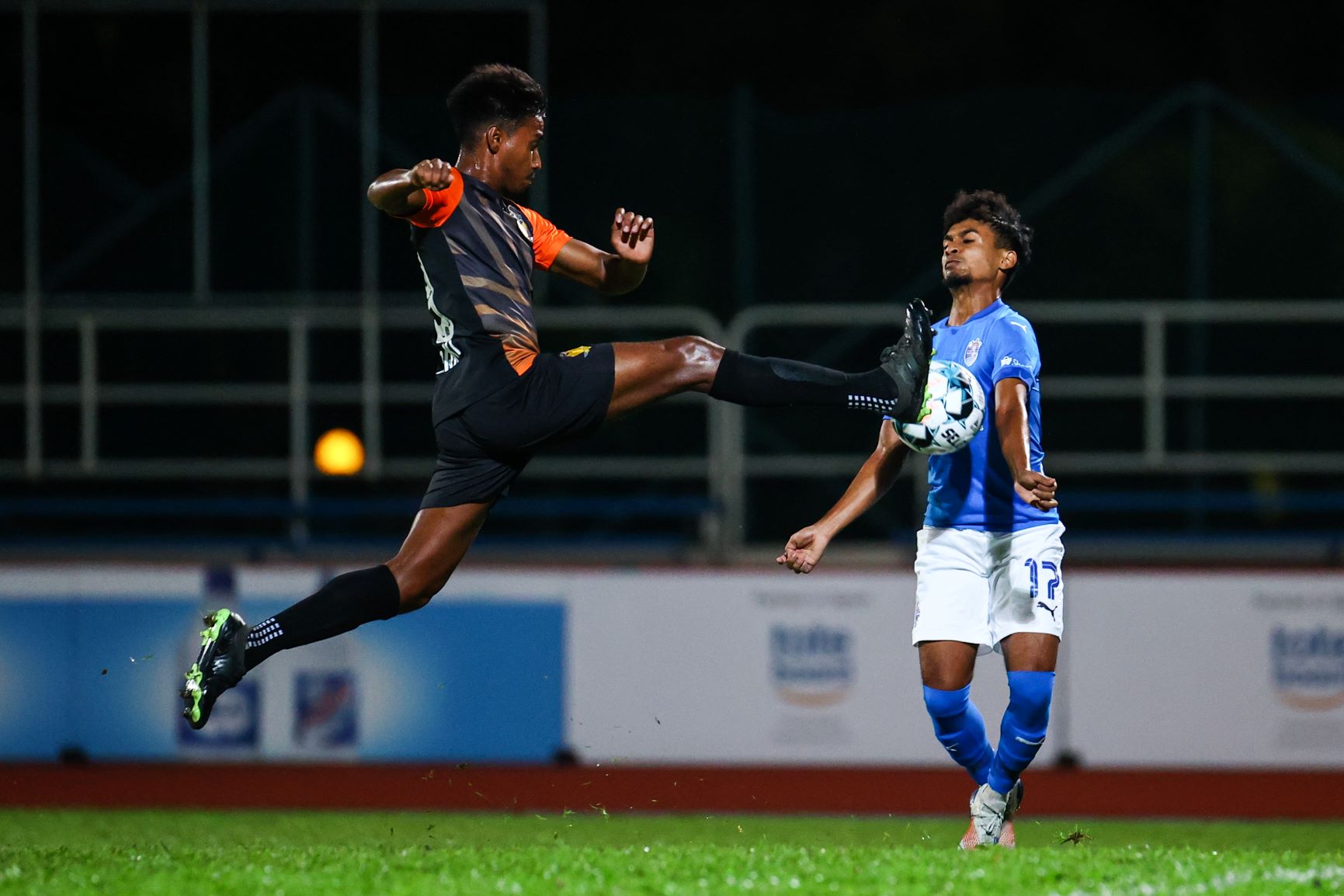 Think of the most successful teams in the world. Apart from having a squad replete with top-level talent and a first-rate coaching set-up, one of the things they all have in common is a winning mentality.
No matter the opponents or circumstances, these teams somehow manage to adapt and find a way to win – and they do this regularly. 
On that basis, the Sailors have shown – especially in their last two matches – that they have what it takes to be a title-winning team.
Against Balestier, the Sailors flew out of the blocks and raced to a two-goal lead within 20 minutes. Although the Tigers pulled one back shortly after, the Sailors remained calm and continued to play their typical brand of attacking, possession-based football. And the Sailors were duly rewarded, as they scored two quick goals in the second half to pull further ahead and effectively kill off the game as a contest.
The game against Hougang, however, was completely different. Boasting a talented squad capable of going toe-to-toe with any SPL side this year, Clement Teo's men had already beaten the Sailors once before – a 3-1 victory at Jalan Besar Stadium – earlier in the season.
But this time at the Hougang Stadium, the Sailors put on a battling and gritty display as they relentlessly pummeled a disciplined and compact Cheetahs side. In the end, it was a moment of magic from Diego Lopes that unlocked the Hougang defence and helped secure the three points for the Sailors.
It wasn't pretty, but the Sailors dug deep and found a way to win – and that's all that really matters.
Quality of goals an indication of team's technical ability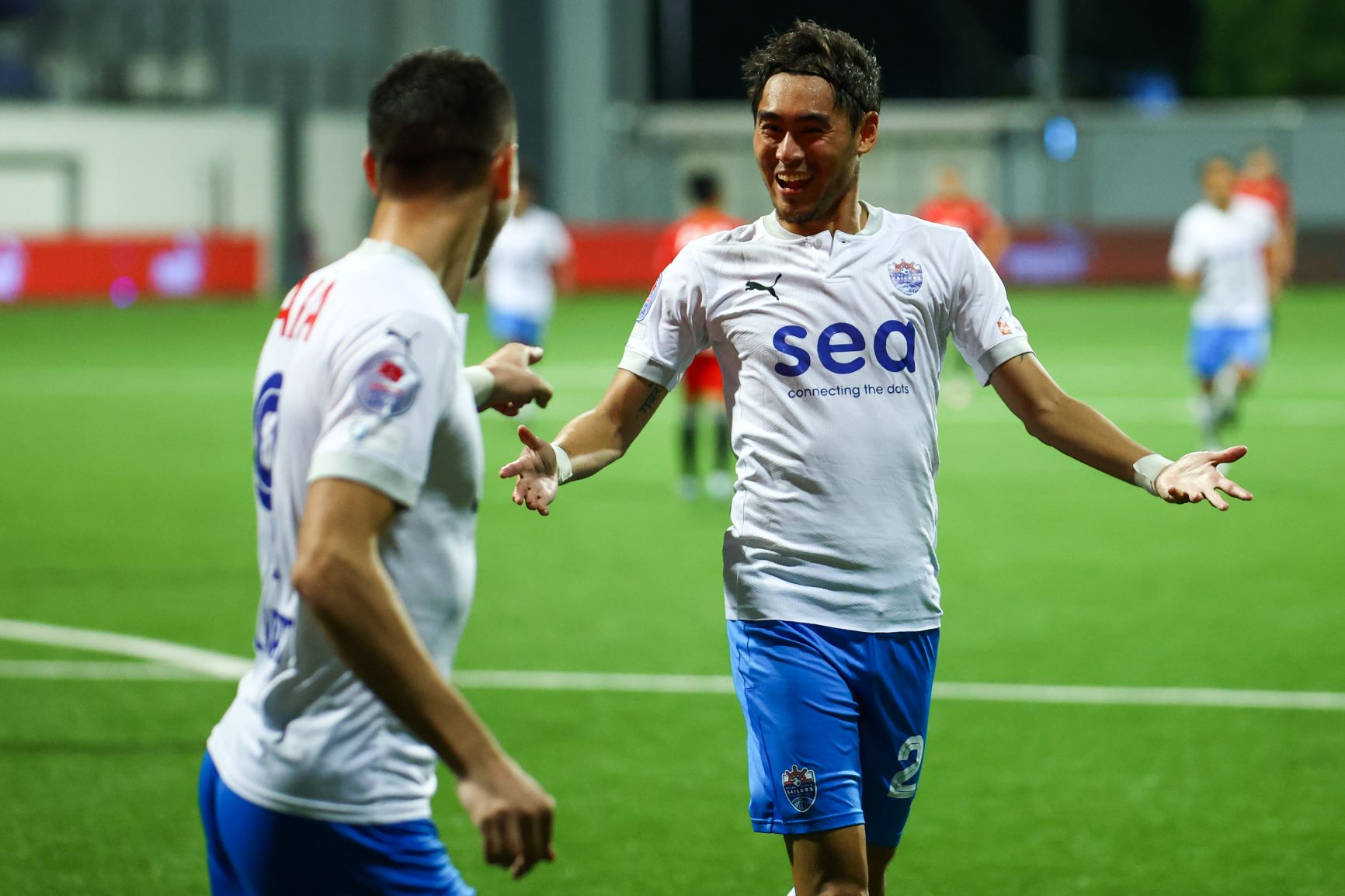 Having spared no expense to improve the quality of their squad over the past two seasons, the Sailors are now reaping the rewards on the pitch with some outstanding performances.
In particular, some of the goals scored by the Sailors this year have lit up the SPL and gone viral on social media.
Take for example Gabriel Quak's stunning first-time volley against Balestier. The goal has been doing the rounds on social media over the past week, and even caught the attention of FIFA after it was touted as a possible contender for the Puskas award.
A week later, it was Diego's turn to capture the imagination with his physics-defying effort against Hougang. To have the audacity to attempt that strike is one thing, but then to execute it to perfection the way he did, was nothing short of world class.
But let's not forget the other three Sailors goals against Balestier– they were all efforts that also required top technical quality to execute, and should be equally appreciated in their own right.
Shahdan's inch-perfect free kick, which arched into the top left corner, was – dare we say it – Beckham-esque.
And while Stipe Plazibat's tap-in off Gabriel's pass may seem like a straightforward goal, it came about as a result of a lethal counter-attacking move that has become a Sailors trademark over the past couple of seasons. The drive and tenacity Stipe showed to sprint more than half the length of the pitch, just so he could be at the right place at the right time to finish off the move, should not be overlooked either.
Last but not least, reigning Young Player of the Year Saifullah Akbar's goal against Balestier – where he cut inside his marker before firing a crisp shot into the bottom corner – showcased just how much the previously goal-shy midfielder has progressed, especially in the final third, over the past two years.
That we are seeing the Sailors score goals of such high quality is testament to the technical capabilities of their players. But it is not just the individuals who have shone – as a team, the Sailors have also impressed with their lightning-fast build up from back to front. As long as the team continues to play at such a high level, Sailors fans can look forward to seeing more of such top-drawer goals in the future.
The kids are alright
When Aniq Raushan and Glenn Ong were named on the Sailors' teamsheet against Balestier, the majority of fans and local football observers probably asked themselves: Who?
If they didn't know the two players back then, they definitely do now.
Thrown into the deep end against the Tigers, the pair of 17-year-olds proved that they were on the pitch that night not simply to make up the numbers, but because they were good enough. While nominally a centre-back, Aniq was deployed in a somewhat unfamiliar position as a right-back, but still managed to hold his own as he roved up and down the flank to provide support at both ends of the pitch. He was subsequently rewarded with his first full 90 minutes against Hougang, where he once again acquitted himself well with a stable, all-rounded performance.
A hardworking central midfielder, Glenn was an enterprising presence in the middle of the pitch and looked right at home alongside the experienced Shahdan Sulaiman. His confidence on the pitch was evident right from the start, as his first significant action at this level was to put in a no-holds barred challenge to win the ball off Šime Žužul. Earning himself another start against Hougang, Glenn displayed his ability to retain possession, and made several intelligent passes before being replaced by Song Uiyoung after the break.
It will come as little surprise if Aniq and Glenn continue their run in the first-team in the coming matches. What is clear, however, is that the Sailors are firm believers of youth development, and are unafraid of blooding youngsters if the coaching team deems them ready.
It remains to be seen if more youngsters will get a chance to make their debuts for the Sailors this season, but for now, with the likes of Aniq, Glenn, Saifullah, Haiqal Pashia and Justin Hui in the team, the Sailors' future looks bright.
Barely a week after witnessing Gabriel Quak score a goal that was deemed worthy of being nominated for the Puskas award, Lion City Sailors midfielder Diego Lopes submitted an entry of his own with an equally stunning strike against Hougang United last evening.
Receiving the ball at the edge of the box from a Faris Ramli throw-in, Diego swivelled and volleyed a shot with his right foot that seemingly defied the laws of physics, as it curled outwards and dipped into the top corner of the net.
🤯 𝗗𝗜𝗘𝙂𝙊-𝙇𝘼𝙕𝙊 ‼️

What have you done, Diego Lopes?! 💣 A 𝒓𝒊𝒅𝒊𝒄𝒖𝒍𝒐𝒖𝒔 hit from the @lioncitysailors star last night! #SPL #GameOn

cc: @FIFAcom Puskas Award panel pic.twitter.com/F4IqKzd3gg

— Singapore Premier League (@SGPremierLeague) April 25, 2021
It was a goal that left the crowd at the Hougang Stadium in stunned silence for a moment. But a collective gasp of wonderment soon followed once fans finally processed the moment of magic they had just witnessed.
The 69th minute goal, which was reminiscent of Papiss Cisse's wonder strike for Newcastle United against Chelsea in 2012, was enough for the Sailors to clinch all three points as Aurelio Vidmar's men ran out 1-0 winners over the Cheetahs.
That such a magnificent goal proved to be the winner was apt – against a tight and compact Hougang side, the Sailors had struggled to create clear-cut chances against the home team all throughout the game.
It needed something special to break down the stubborn Hougang defence. And Diego was more than happy to provide it.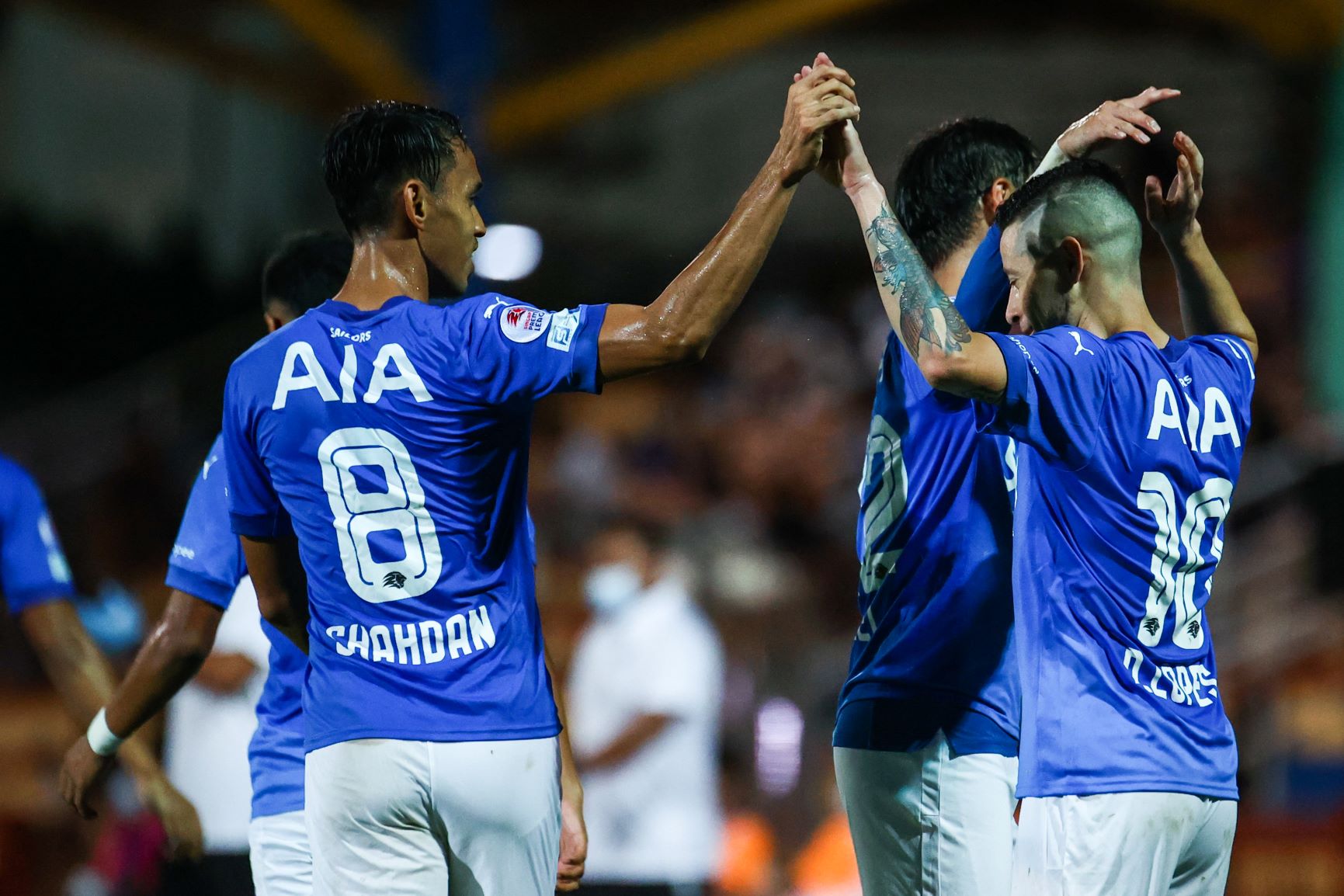 Reflecting on Diego's wonder goal, Sailors captain Hassan Sunny praised the Brazilian for stepping up to the plate when it mattered.
Said Hassan: "It was a very good goal. With the quality that he has, he is always capable of scoring these kinds of goals, so you know it's not a fluke.
"The whole team knows how important it is that Diego plays at his best, because he can win games for the team. This goal against Hougang showed us just why he is worth so much."
Last night's victory over Hougang was especially significant for the Sailors, given that they had lost 1-3 to the same opponents at the Jalan Besar Stadium a month ago.
While underlining the importance of getting one over Hougang – who had started the match level on points with the Sailors – Hassan also highlighted that defensive solidity played a huge role in the victory.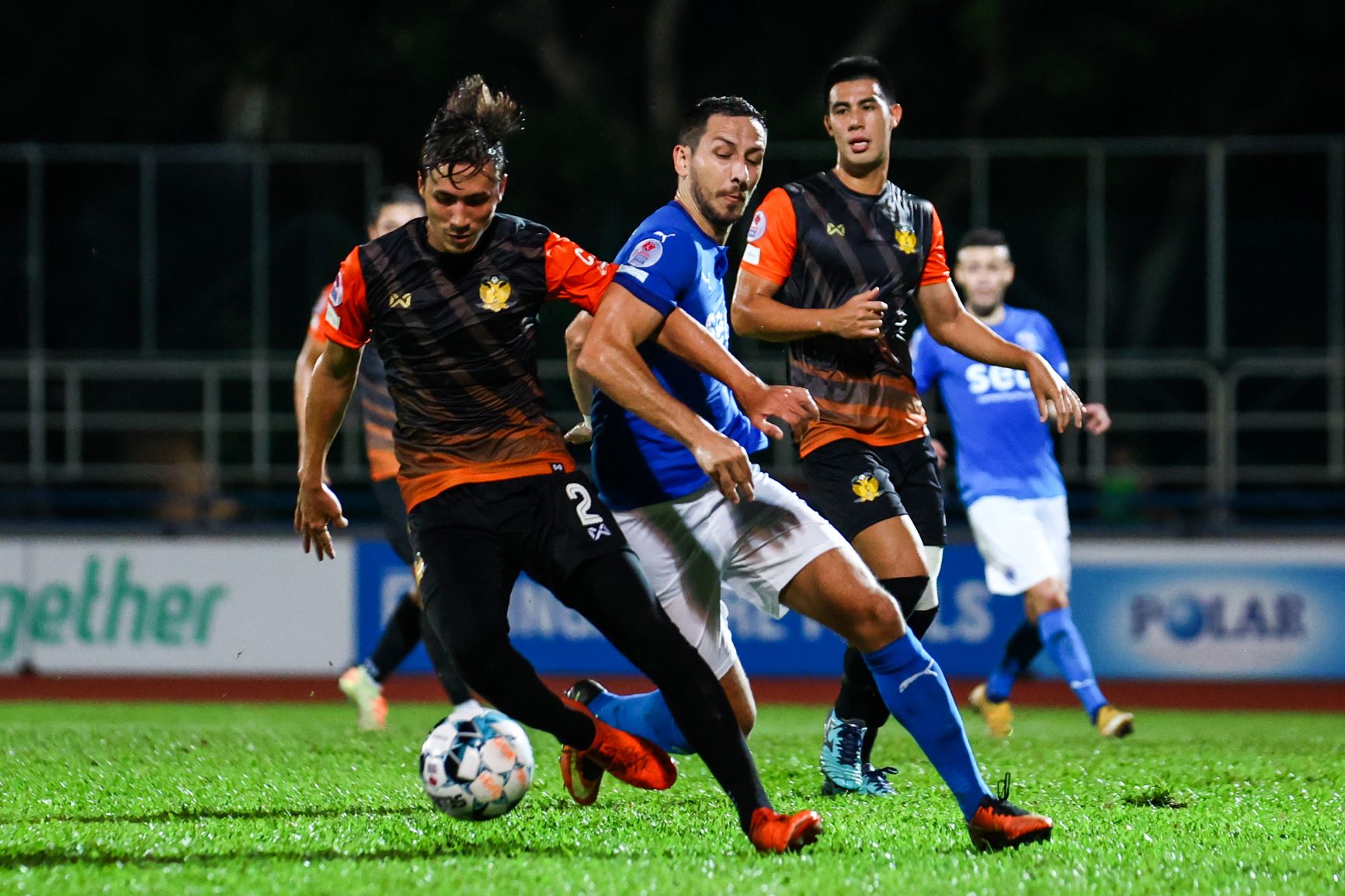 "It's a massive three points," Hassan, who made several fine stops to keep a clean sheet last evening, declared. "And it is always tough to play Hougang at their home ground. They were very compact and defensively solid, so we had to be very patient with our attacks.
"We have also improved defensively in the last few games. But it's not just the backline that deserves praise. The entire team did their part to defend last night, starting from Stipe (Plazibat) and Diego, so it was hard for Hougang to break us down too.
"So, while we lost to Hougang back in the first round when we were not at our best, I'm very happy that we managed to get the win over them this time."
With the victory, the Sailors moved to the top of the table for at least 24 hours – Albirex Niigata who are also on 17 points, but with a game in hand, take on Balestier Khalsa on Sunday evening. The Sailors' next match, in two weeks' time on May 9, at the Jalan Besar Stadium, will see them take on Geylang International.
While the Sailors could be bumped back down to second by the time they face Geylang, Hassan believes the team can draw confidence from the fact that they had reached the summit.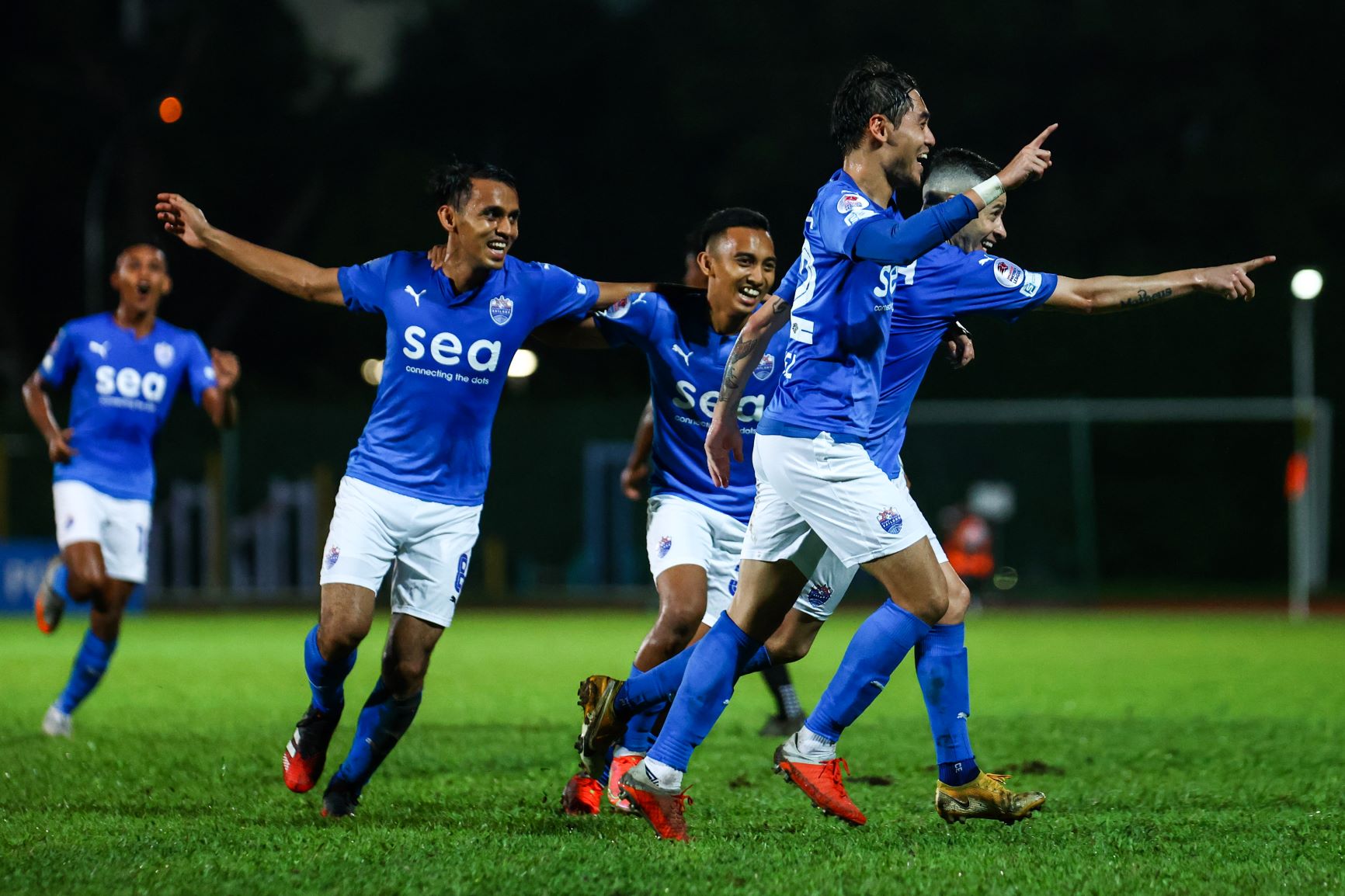 "I think we deserve to be at the top with the way we have been playing, and the form we are in," Hassan explained. "Having reached the top will definitely give us more confidence going into our next game.
"For now, though, it's a good break for us, so we can continue to work more in training on the areas that we need to improve on."
Up to 250 fans will be able to watch Singapore Premier League (SPL) matches live from April 24 without the need for any Covid-19 test, in accordance with guidelines set out by Singapore's multi-ministry taskforce.
The Lion City Sailors are set to visit Hougang United on the day these measures come into force, and Sailors CEO Chew Chun-Liang is excited at the prospect of playing in front of fans once again saying, "Football is about fans and we cannot say enough about how excited we are to be able to play in front of our fans once more. We cannot wait for Saturday and we must commend the Football Association of Singapore and Sport Singapore for their hard work to allow this to happen."
A total of 50 complimentary tickets will be available for Sailors fans on a first-come, first-served basis, with priority given to 2020 and 2021 LCS season pass holders. Holders of the 2020 and 2021 season pass can redeem one ticket per pass from the Lion City Sailors representative at the ticket counter of Hougang Stadium from 6.30pm on matchday.
Should there be unredeemed tickets, non-season pass holding Sailors fans may obtain their tickets from 8pm onwards, subject to availability.
Fans will also be subject to safe distancing measures at all match venues, and are encouraged to arrive early to avoid congestion. They will also have to adhere to guidelines set out in the advisory by Sport Singapore on Safe Resumption of Sport & Physical Exercise For Phase Three.
All SPL matches will still be live streamed on the league's official Facebook page and YouTube channel, as well as on 1 Play Sports' Facebook page.
Ticketing details for the Sailors' home game against Geylang International on May 9 will be released soon.
Stay up to date with all the news via our Facebook, Twitter and Instagram!
It is a goal that will undoubtedly be replayed time and again – the quality of Gabriel Quak's volleyed strike in the Lion City Sailors' 4-1 win over Balestier Khalsa last Sunday evening was such that many are already touting it as possibly one of the best-ever goals scored in the Singapore Premier League (SPL).
The technique, finesse and goalscoring instinct Gabriel displayed for the goal has been widely praised, and rightly so.
But somewhat lost in the adulation for Gabriel's strike was how crucial a role Naqiuddin Eunos played in the goal.
After all, the 24-year-old was the one who sent in the pinpoint cross – with his weaker left foot, no less – for Gabriel to score.
But Naqiuddin's superb cross for Gabriel was no fluke. The full-back, who now has two assists to his name this year, revealed that the move leading up to the goal was something the team had worked on during training.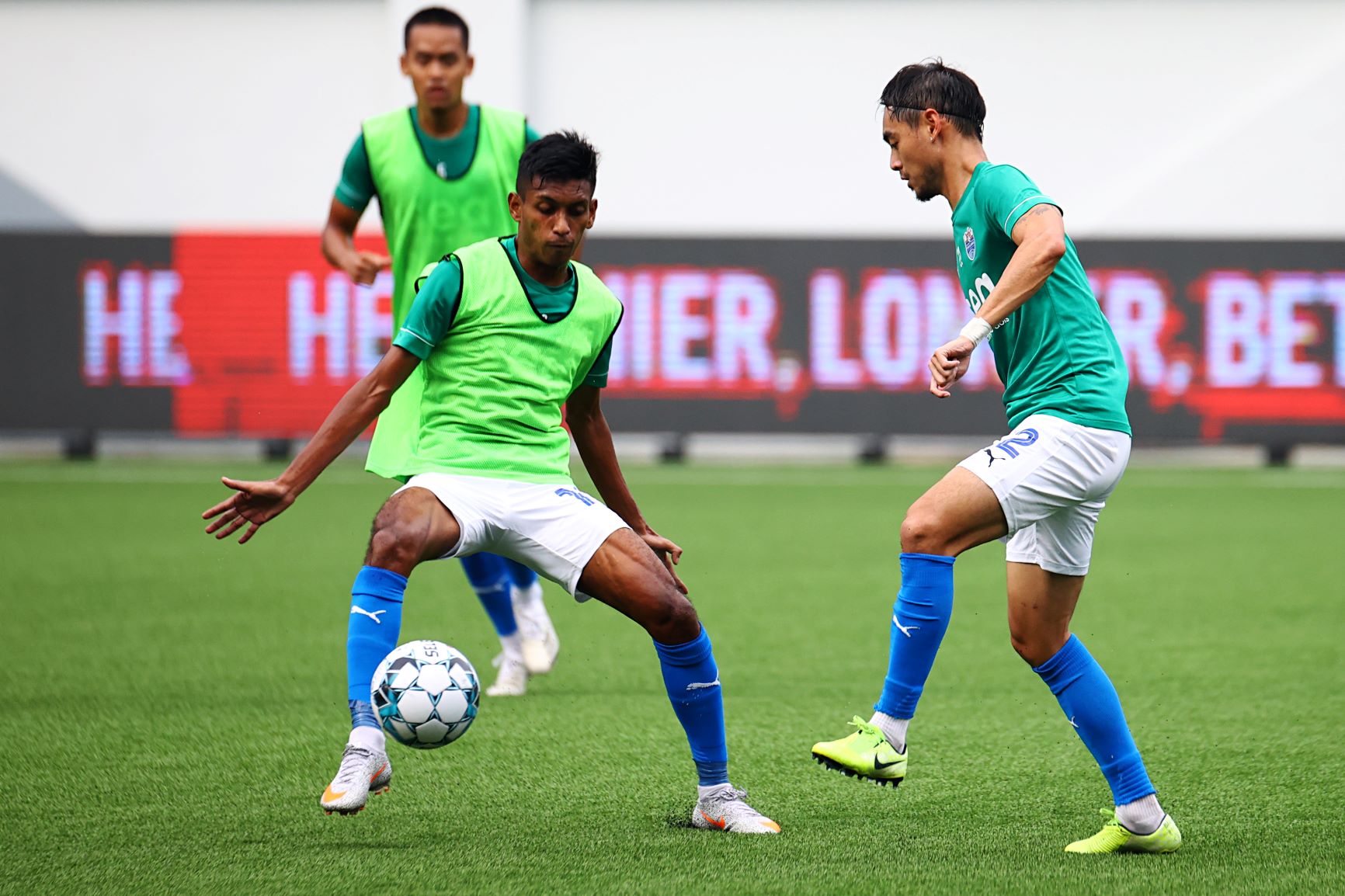 "I was so happy to see the ball go in because we work a lot on these crossing moves in training," Naqiuddin said.
"When I was going down the line, I knew for sure that someone would be around the box (to receive the ball) so I just whipped it in.
"That was a very nice way for me to get my second assist of the season, and hopefully I can do more to contribute to the team, attacking-wise, in the coming games."
Previously deployed as a roving winger, Naqiuddin was converted into a full-back by Coach Aurelio Vidmar when he joined the Sailors in 2020. While Naqiuddin admits there were some teething issues with the change of roles at the start, he has since developed into a consistently reliable full-back for the Sailors. 
And he says he now absolutely relishes the defensive side of the game.
"I've definitely grown to love defending over the course of these two seasons," Naqiuddin declared. "Of course, when I first played in defence, I was a bit shaky. But Coach Aurelio and Coach Noh Rahman gave me a lot of tips on how to position myself with and without the ball.
"They showed me videos of how to play as a full-back, and also taught me how to cope with certain situations – it's all very specific. At home, I also watch video clips on how full-backs defend and try to learn from there. That's how I managed to improve my game."
Naqiuddin, the only player to start in each of the Sailors' 14 games last year, hailed his 2020 season as a "good start" to his career at the club.
This year, however, brought about new challenges for Naqiuddin – in particular, he had to adapt to a relatively new position in the team. Where he previously played only on the left, he was now being deployed on the right side of defence.
Nonetheless, Naqiuddin – who has started five games so far this season – remains unfazed by the change in position, and is determined to continue impressing in whatever role he is deployed in.
"Last year was a good year for me, but the second season will always pose new challenges and I knew it was going to be tougher," Naqiuddin mused. "So, I made sure to work even harder in training to prove to Coach that I deserve to be a starter.
"I had a chat with the management during the off-season and they told me I will be playing mainly as a right-back this year. It's a new challenge, but I believe it's one I can live up to because I am right-footed anyway.
"Of course, the body positions that I've to adopt while defending are different (as compared to playing at left-back). But the coaches, as well as (fellow right-back) Aqhari (Abdullah) have taught me a lot.
"I also try to study the way Aqhari plays, especially in terms of his positioning and aggressive style. Now, I can safely say that I'm very comfortable at right-back, and I feel I've improved a lot both defensively and in attack."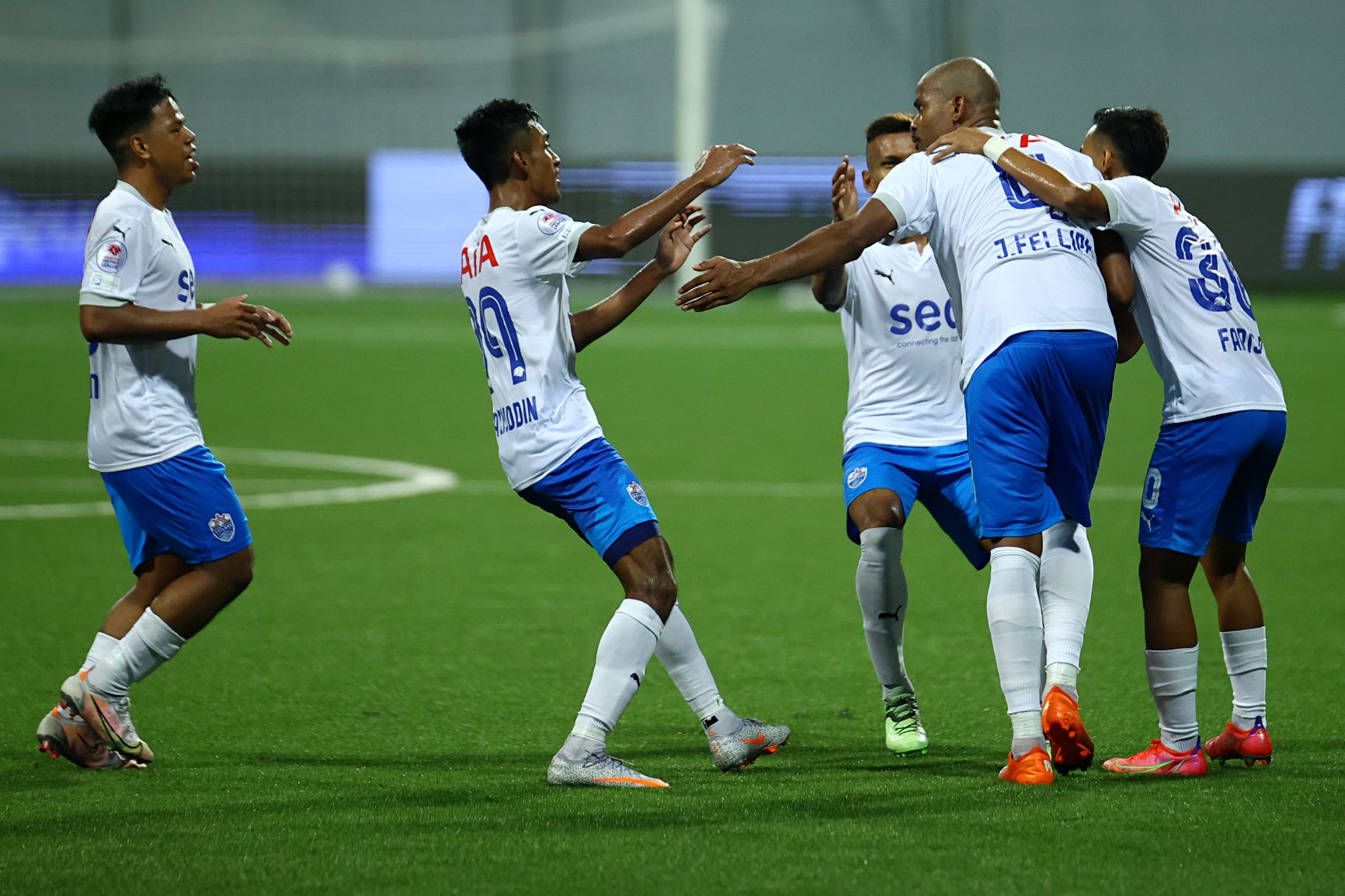 Playing alongside the settled centre-back partnership of Jorge Fellipe and Amirul Adli has also helped, Naqiuddin added.
"For me, both of them have been really excellent in defence. Jorge is very comfortable on the ball while Adli is very aggressive," he explained. "Both of them are also experienced lads. They talk to me a lot during the game, and I've to say the chemistry between the back-four is very good."
While Naqiuddin has impressed on the right flank this season, he will likely have to revert to his familiar left-back role for the next few games, with Nur Adam Abdullah currently sidelined with a ligament injury.
Up next for Naqiuddin and the Sailors is an away game against Hougang United tomorrow evening at 8.30pm.
The Sailors were beaten 1-3 by the Cheetahs the last time both sides met in March, but Aurelio's men have since picked up form and are on a four-match unbeaten run. The Sailors are currently second in the table, level on points with Clement Teo's charges, but with a better goal difference.
With 12 goals from just their last two outings alone, it is clear the Sailors have found their groove in attack, especially with star signing Diego Lopes developing a good understanding with the likes of Saifullah Akbar, Gabriel Quak and Stipe Plazibat in the final third.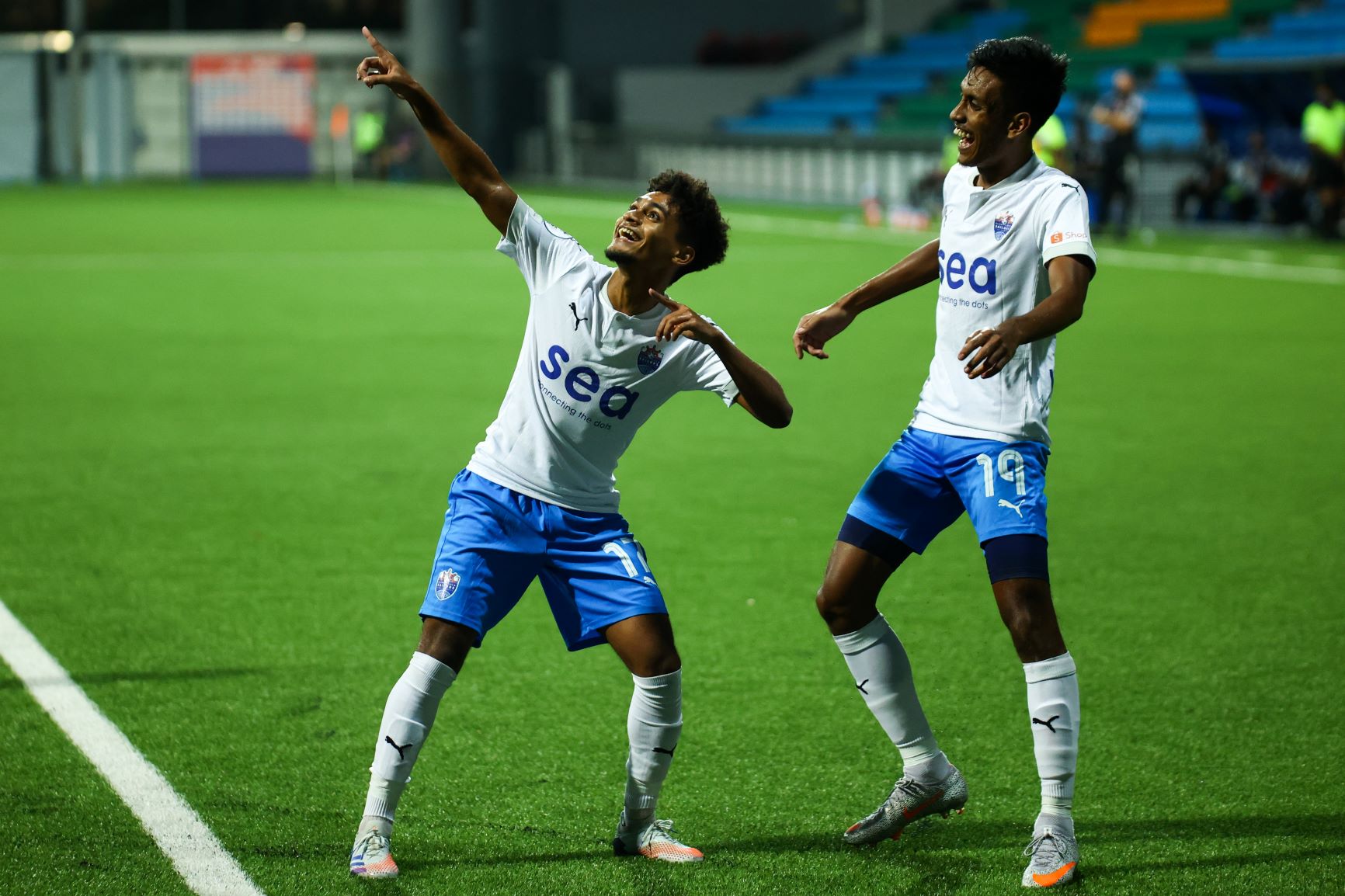 Naqiuddin believes his team are now better equipped to face Hougang, as they look to put the disappointing defeat at Jalan Besar Stadium behind them.
"No one felt good after that game against Hougang and I guess they surprised us with a different tactical plan," said Naqiuddin, who was an unused sub that evening. "We made some mistakes, but we created a lot of chances to score and we didn't manage to put them away.
"For this Saturday's game, we have to show that we're better than what we were then. The team is ready and prepared to take home the three points, and nothing less than that will suffice. It'll be a tough game, but if everyone gives their 110 percent and sticks to their roles, I don't see why we can't win."
They have yet to turn 18, but yesterday evening at the Jalan Besar Stadium, both Aniq Raushan and Glenn Ong were thrown into the deep end against a tough Balestier Khalsa side for their Lion City Sailors debuts.
It was, in effect, a sink or swim situation for the pair – would they be able to handle the demands of top-level football at such a young age?
By the time Glenn and Aniq walked off the pitch after being substituted in the 69th and 77th minute respectively, the answer was clear: yes, they can.
Confident, energetic and tactically disciplined, the duo looked right at home with their senior teammates as the Sailors romped to a 4-1 win over the Tigers.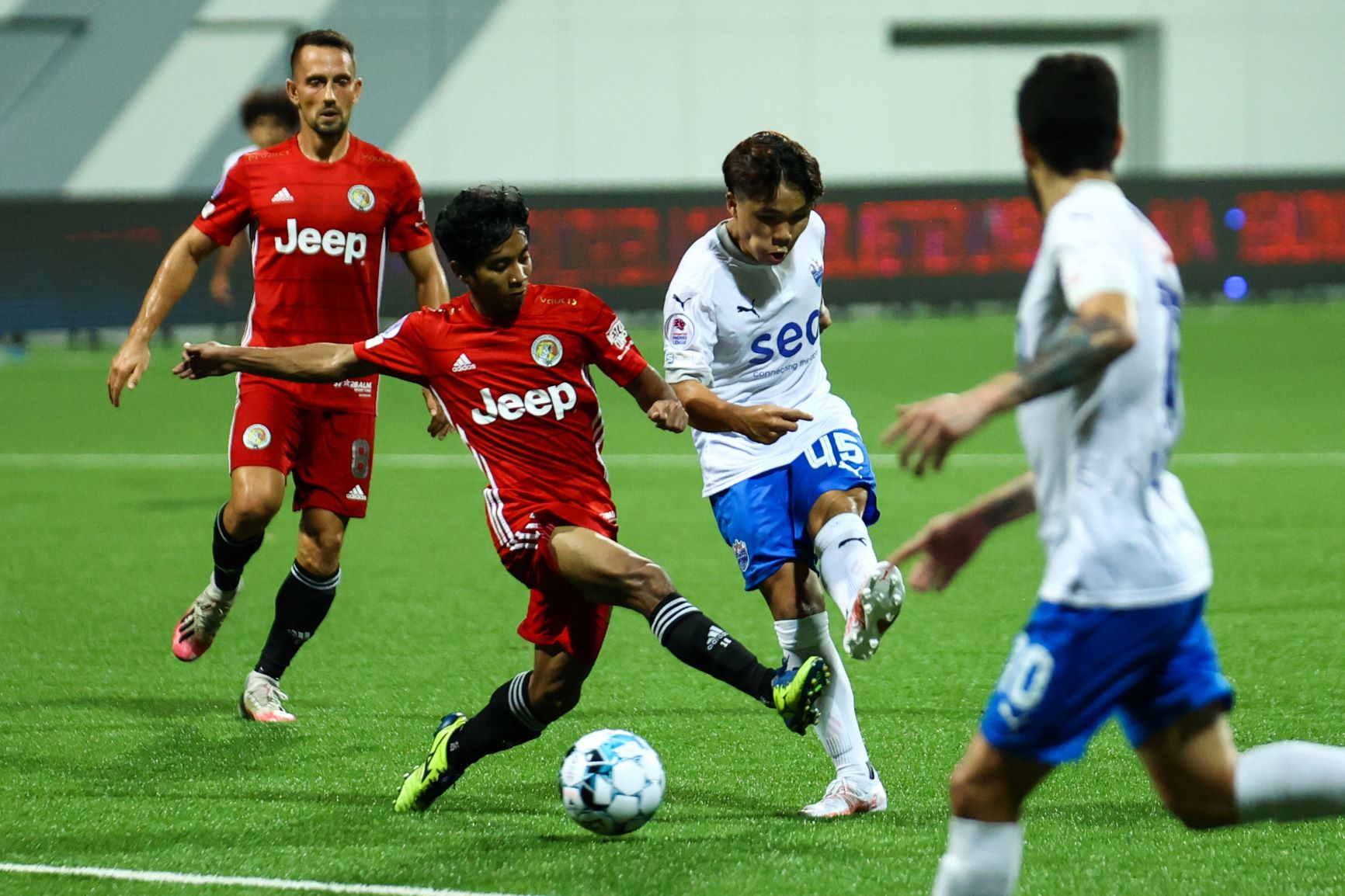 "I thought they performed very well," said Sailors head coach Aurelio Vidmar. 
"Both Aniq and Glenn trained with the senior team for most of the pre-season, so they fit in seamlessly today. We were always pretty confident with them (in the team), and I thought they had solid debuts."
The level of maturity Aniq and Glenn showed was remarkable, especially considering neither had played many 11-aside games in a year hit by the Covid-19 pandemic.
In addition, the two players were only drafted back into first-team training towards the end of last week, and Aniq – a centre-back by trade – was deployed in a somewhat unfamiliar position at right-back.
"I told them early on that they were going to play, and overall, I think they both handled it very well," said Aurelio. "Aniq has a lot of athletic attributes and did a very serviceable job there at right-back, while Glenn, a central midfielder, is a good passer of the ball. 
"They both are obviously inexperienced, and they hadn't played too many competitive games this past year due to Covid-19, so it was quite normal they were going to get fatigued at some stage in the second half."
When asked whether Aniq and Glenn were in line for more first-team outings this season, Aurelio simply replied with an emphatic: "Yes, that would be an affirmative."
While both Aniq and Glenn impressed in their debuts, it was left to the senior players to lead the way against Balestier, as goals from Gabriel Quak (6'), Shahdan Sulaiman (18'), Stipe Plazibat (47') and Saifullah Akbar (51') set the home side on their way to a crucial three points.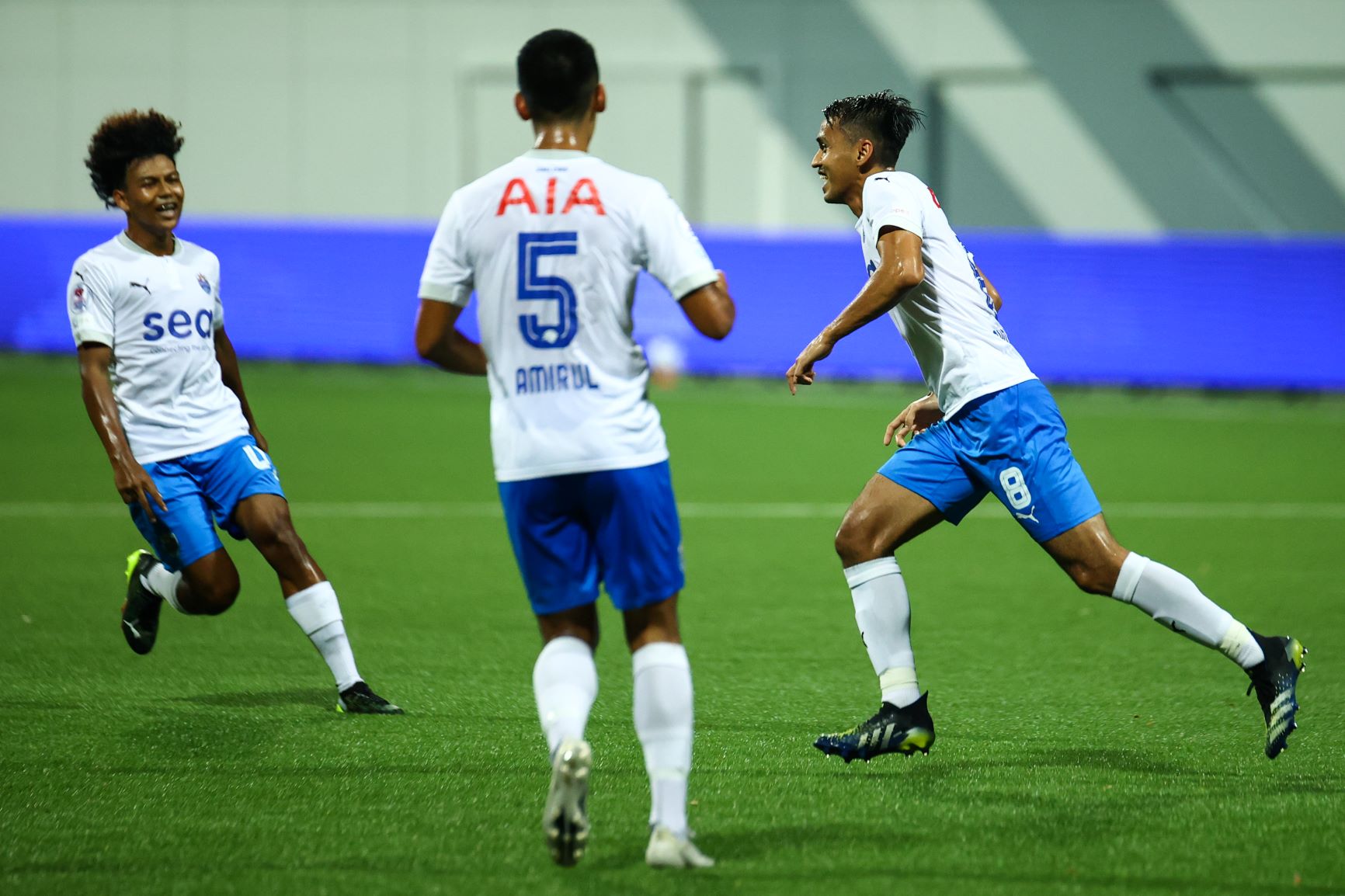 It was yet another imposing performance from the Sailors, who restricted Balestier to just two shots on target while they managed 10 of their own. 
"We focused on making sure that we controlled the game and the tempo. We did that for the first 24 minutes, and then they got a goal against the run of play. "But we kept our heads, kept cool, and continued the same in the second half and scored some fantastic goals, some great team goals, so that was very pleasing," said Aurelio reflecting on the Sailors' approach to the match. 
"It was always going to be a tricky game against Balestier. They're a tough opponent and relatively different to most of the other teams. They've got some very handy players, but I think we managed the game well."
With the win, the Sailors move up to second in the table on 14 points, just three behind current league leaders Albirex Niigata (S).
The Sailors are unbeaten in four matches – including a memorable 8-0 victory over Geylang International last weekend – since the international break in March.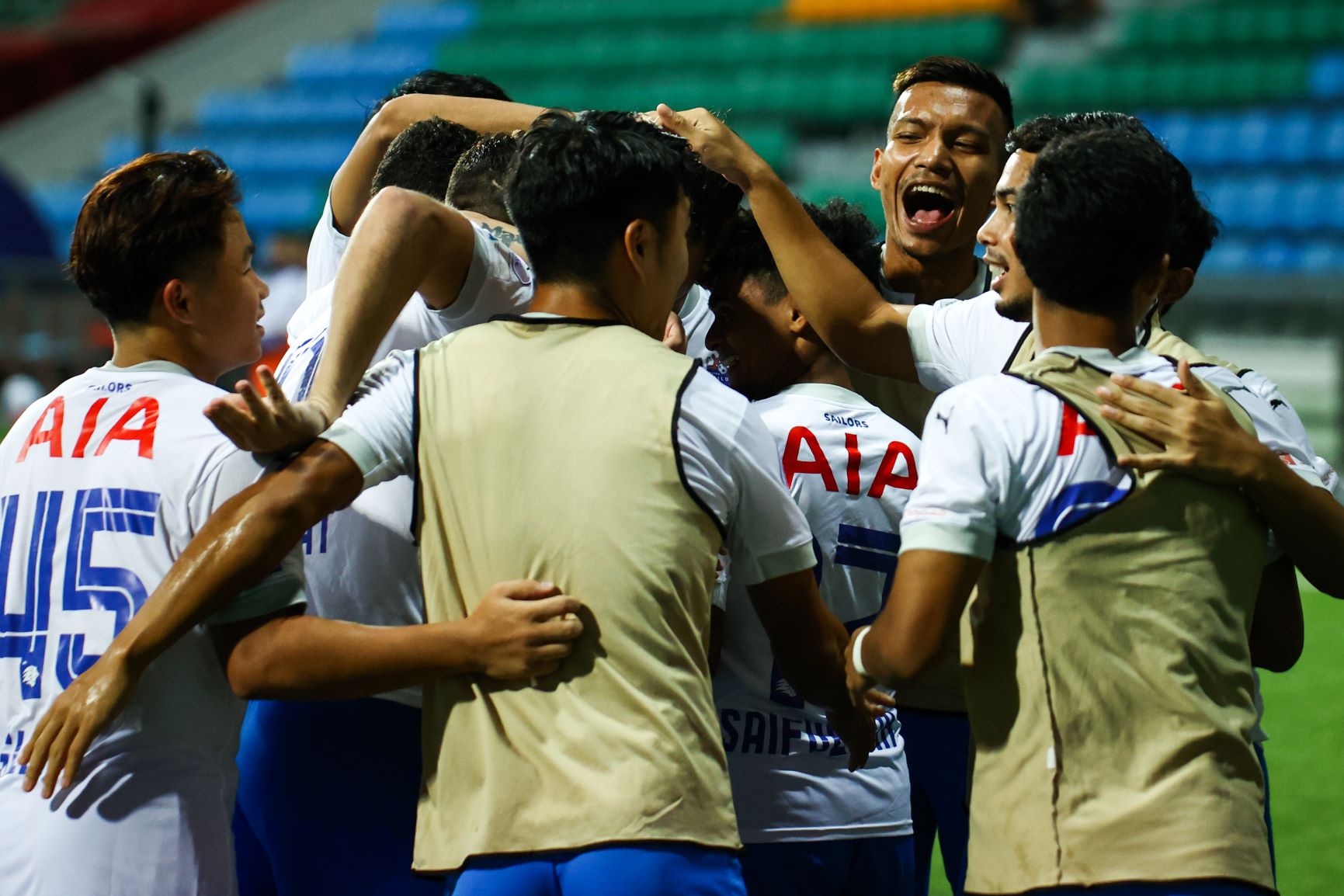 This is in stark contrast to the Sailors' first three matches of the season, which saw them win once, draw once, and lose once – a 3-1 defeat to Hougang United. 
But the Sailors will get a chance to make amends for that result when they face the Cheetahs this Saturday, 8.30pm, at the Hougang Stadium. 
"They've (Hougang) had a very strong season to start and we had a difficult time against them last month," Aurelio mused. "You can talk about revenge but for me, it's not that. We're going to go out there and treat it like just any other fixture where all we want is to try and get maximum points."
The ball had found the back of the net after a huge deflection, but Lion City Sailors midfielder Diego Lopes couldn't care less.
After all, the goal sealed his first-ever career hat-trick on what was a perfect night for the Sailors last Sunday – they thumped Geylang International 8-0 in the Singapore Premier League (SPL) at Our Tampines Hub.
In addition to his hat-trick, Diego also notched two delightful assists for Saifullah Akbar and Stipe Plazibat. The assist for the former in particular showcased Diego's ingenuity, as the Brazilian used his chest to lay off a cross into the path of Saifullah, who made no mistake from close range.
It was a stunning individual display by Diego, and one that indicated that he had finally found his feet in Singapore football.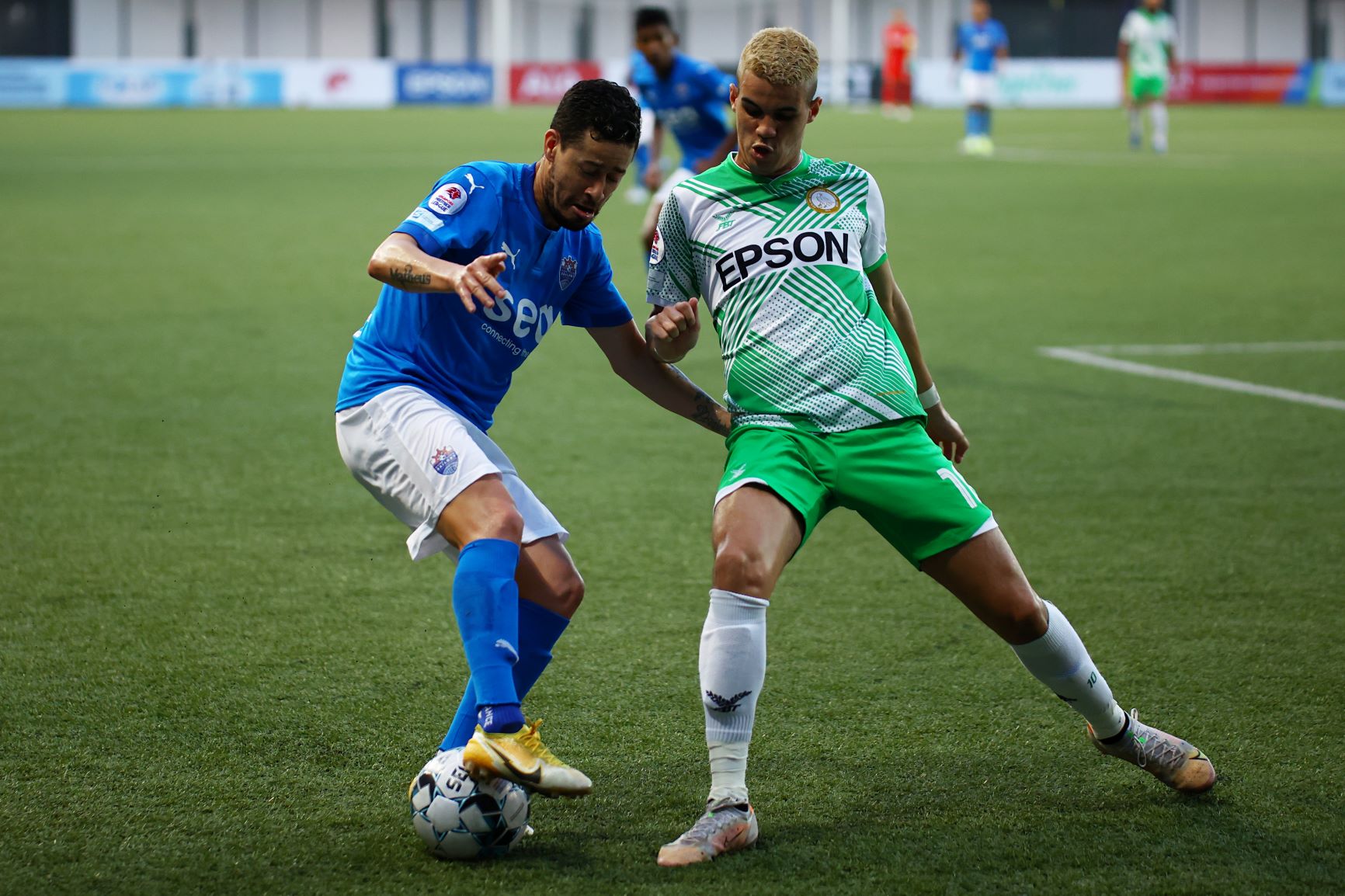 With five appearances for the Sailors so far this season – including three as a starter – Diego says he is pleased with how things have gone for him at his new club.
And while the former Rio Ave star admits he was pleased to have recorded his first career hat-trick, he insists that getting a good result for the team will always be more important than any individual accolade he achieves.
"It's a great feeling to score a hat-trick for the first time, but the most important thing is that it helped the team to get three points," Diego said through a translator. "The whole team did what we were supposed to do and played very well, which is the most pleasing aspect.
"This is the third straight game in which I'm in the first 11 and that gives me a good feeling. It also helps that I've already adapted to the team's style of play, which makes things so much easier.
"My main job here is to help the team play well and get the victory. It doesn't matter which position Coach Aurelio (Vidmar) plays me in – wherever I play, I will give my 100 percent for the team. I will continue to work hard to help the team to achieve our objectives."
Thankfully for Diego, who arrived in Singapore only in early February, life off the pitch is going well for him too.
While this is his first foray into Southeast Asia, the 26-year-old says he already feels very much at home in the Lion City.
"Singapore is a very different city from where I've lived and been before," said Diego, who had played in Portugal, Turkey, Greece as well as in his native Brazil. "It's a very clean place and things are very safe. The most important thing is that the people here are very polite and show a lot of empathy to a foreigner like me.
"It's not just people at the club, but also the people outside the scope of football. For example, when I'm out on the streets and I'm not feeling very sure about something, or I'm trying to find my way to somewhere, there are always people who will try to help me out. I've met many good people in this wonderful city so far, and I really want to spend a long time here."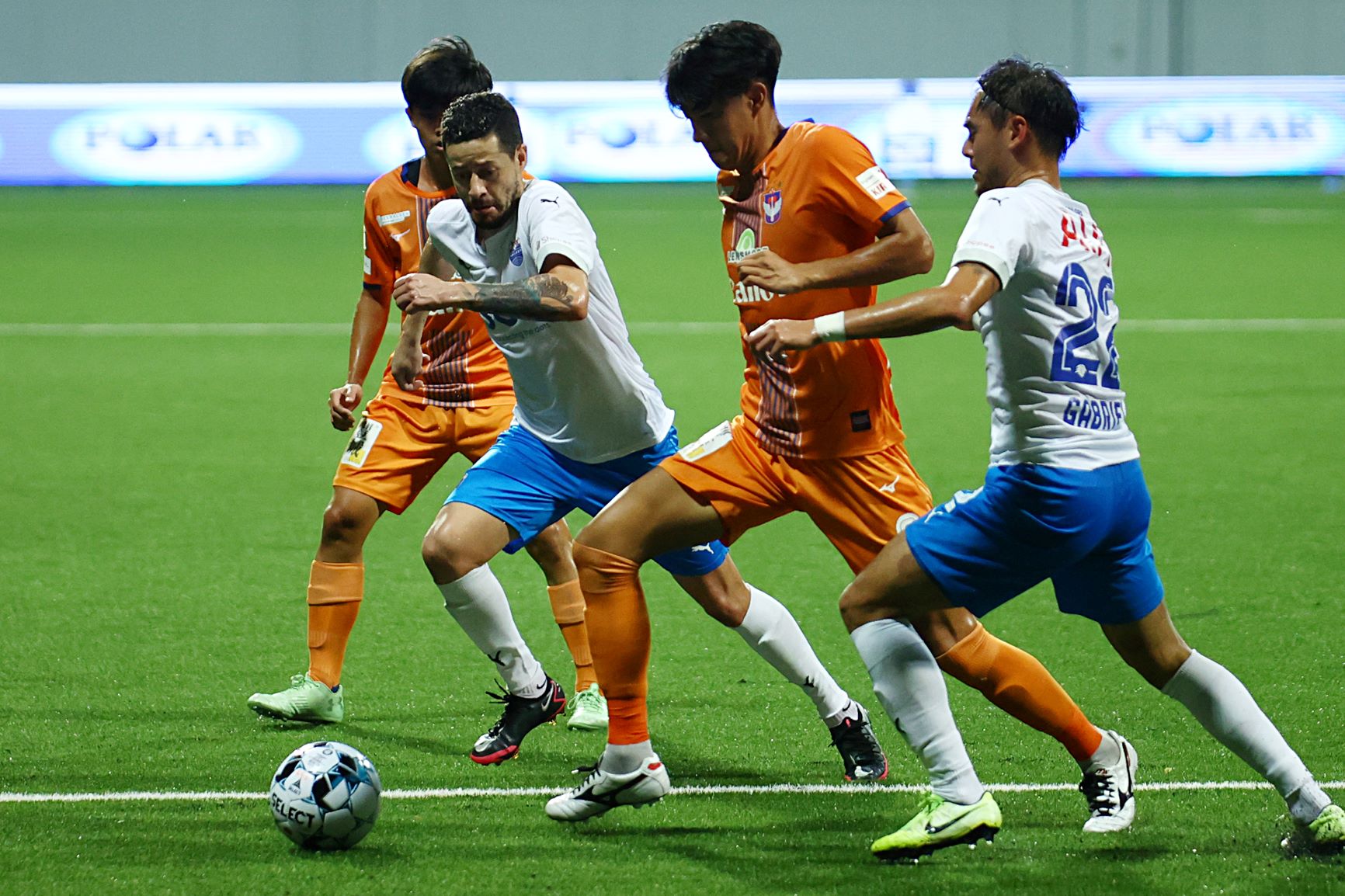 Diego also revealed that he has been adapting well to local food, and even cites the iconic chicken rice as his favourite Singaporean dish.
While waiting for the relevant logistics to be sorted so his wife and son can come over from Brazil, Diego says that he generally leads a simple life away from football at the moment.
"I'm a very homebound person. So, whenever I'm not training, I tend to be resting at home," said Diego. "Maybe when my family is here, I'll bring them to a few places.
"Once in a while, I will just go to some restaurants to eat with (compatriot) Jorge (Fellipe). Those are the only places that I've been to in Singapore, outside of football."
While he is unable to speak in fluent English just yet, it has not stopped Diego from building an excellent relationship with his Sailors teammates.
"Once my family comes here, we're going to take formal English lessons together. Hopefully, that'll be soon!" he shared. "Although I can't really speak English yet and my teammates barely understand me, we still try to talk anyway, and we manage to communicate in certain ways.
"Most of the time, I make mistakes in my pronunciation. But they're always there to correct me and teach me some new words at the same time. I'm very grateful for their help, both on and off the pitch."
Diego also says that he enjoys playing alongside the likes of Saifullah, Shahdan Sulaiman and Gabriel Quak in the attacking third, and claims that they are not in any way inferior to his previous teammates.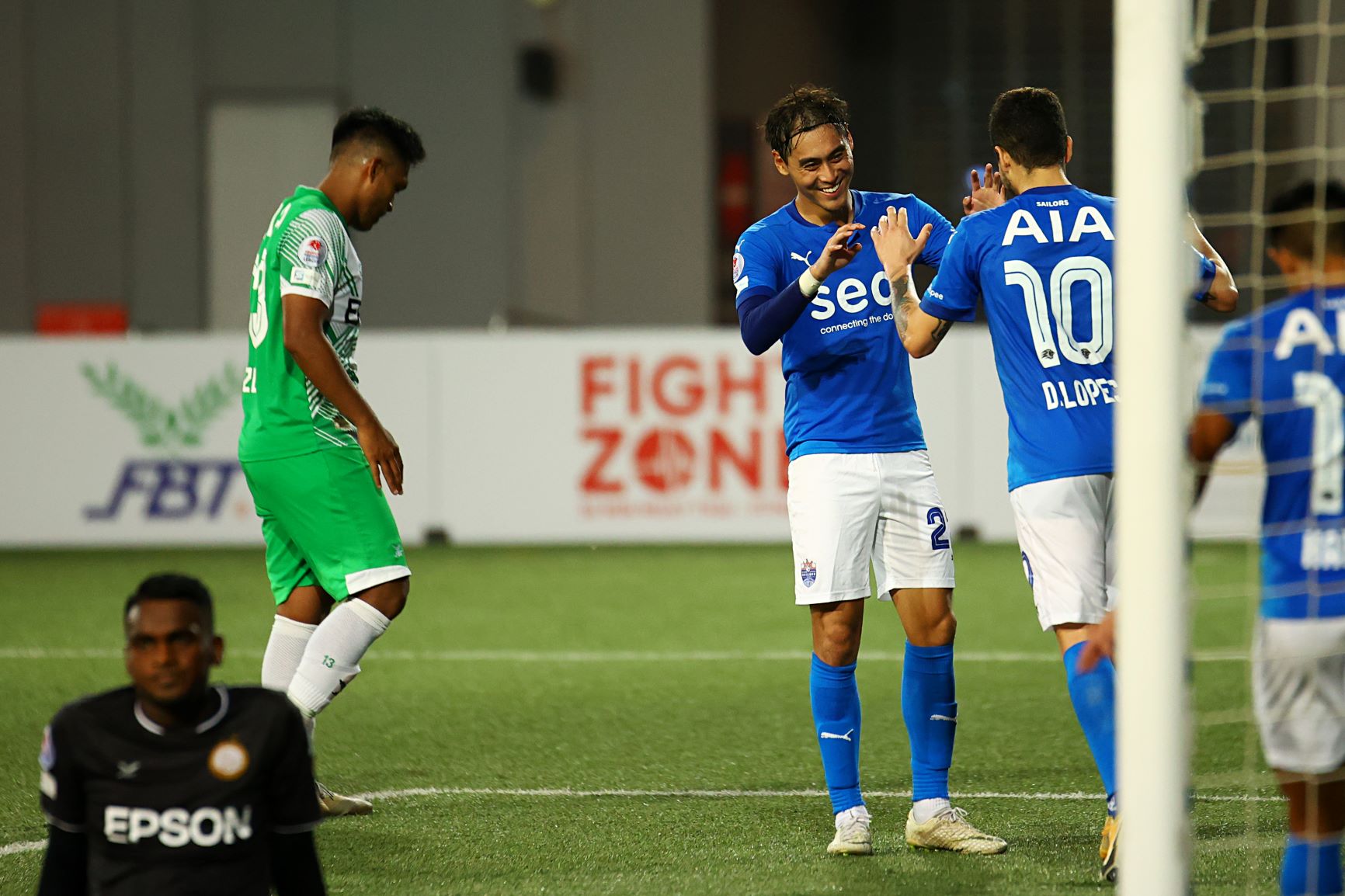 "Not just the three of them, but also quite a few more in our team are talented individuals who can definitely play in Europe," Diego emphasised.
"Their abilities are not in question at all. The only thing is how they adapt themselves in another league and environment. There are several factors outside of football that can affect a player's career."
Having signed a three-year contract that will take him to the end of the 2023 season, Diego is determined to stamp his mark on this ambitious Sailors project, as the club seeks to dominate Singapore football and compete in the region.
"We've set very high goals for ourselves. That's a key reason why I decided to come and represent this club, because I want to be a winner," he explained. "We're aiming to become champions not just in the league, but also in the Asian competition (the AFC Cup). We want to make it to the AFC Champions League next season.
"The club is doing a lot of things off the pitch to give the players the right conditions, so they can fulfil their potential. The club is very supportive and takes good care of everyone, so it's important that we (the players) all do our jobs on the pitch to repay them."
In the short-term, the Sailors are looking to continue their recent run of fine form in the league when they take on a gritty Balestier Khalsa side at the Jalan Besar Stadium tomorrow night.
A win will help them keep pace with current league leaders Albirex Niigata (S), but it will not come easy against a Tigers outfit which has developed a reputation for being tough to break down under Croatian tactician Marko Kraljevic.
Marshalled by towering Serbian centre-back Ensar Brunčević, Balestier boast the second-best defensive record this season with just seven goals conceded in six outings.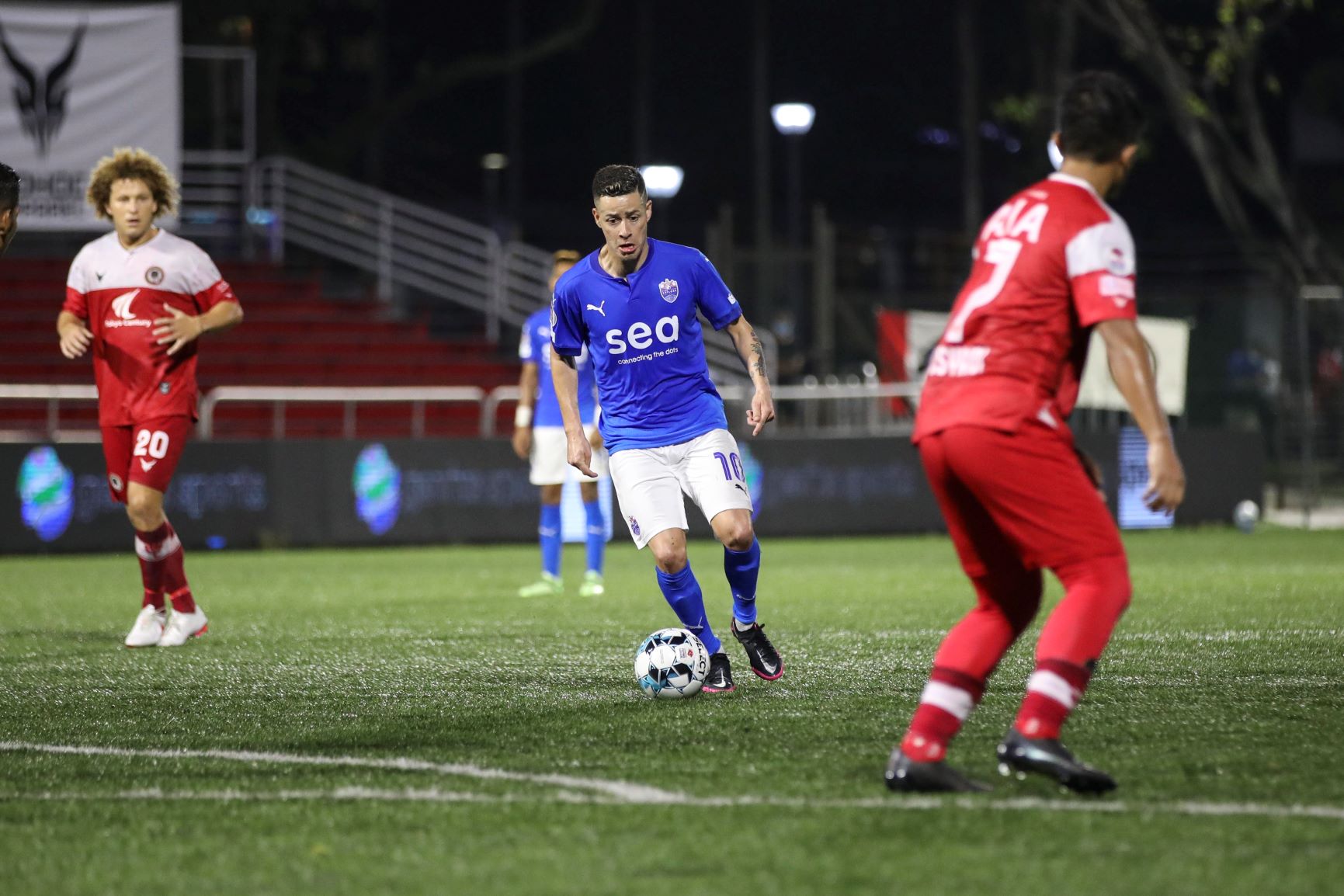 Diego believes the key to prevailing in this clash is to be patient, and to stick to the team's usual pass-and-move philosophy.
"We've many talented players who're capable of scoring from any position, so definitely we can expect teams to be more defensive and try to hit us on the counter," Diego elaborated.
"What we've got to do is to play smart, move the ball around as fast as we can with one or two touches and wait for the best opportunity to find an opening to score. With the quality and our team's philosophy, I'm sure we can do just that."
He counts the likes of Chelsea midfielder Mateo Kovacic, AC Milan star Ante Rebic, Inter Milan's Marcelo Brozovic, Juventus Marko Pjaca and Bayer Leverkusen defender Tin Jedvaj as among some of the talents that he has worked with in his career.
In fact, no less than 9 players from the 23-man Croatian squad that finished second in the 2018 World Cup in Russia have, at one point of time in their careers, been trained by Mario Jovanovic.
Even so, Mario believes his current undertaking – as the Lion City Sailors' Head of Sports Science – could be his most rewarding yet.
Hailing from Croatia, Mario joined the Sailors in February this year after a four-and-a-half year stint at Qatar's renowned Aspire Academy.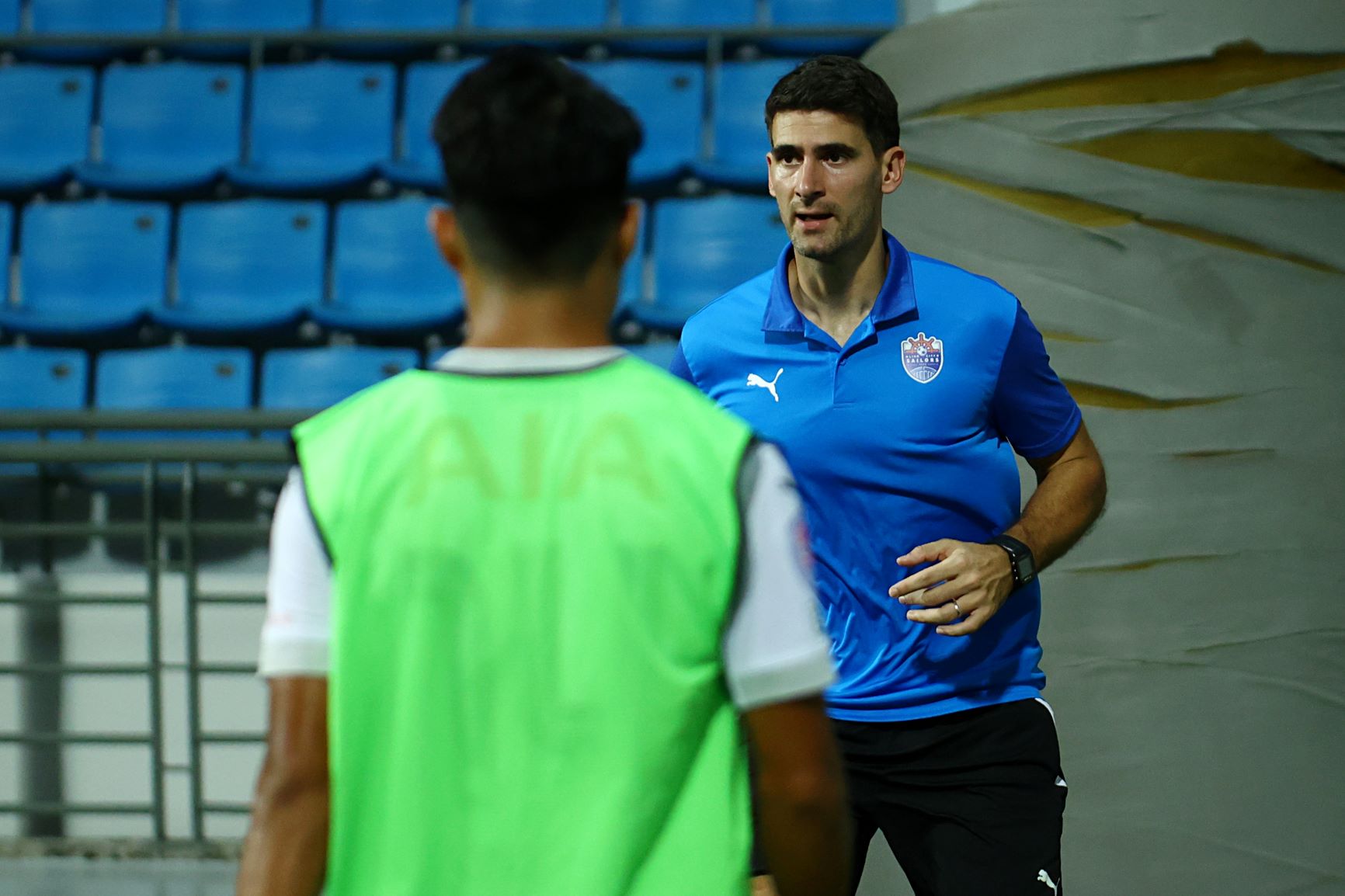 His appointment comes as part of the Sailors' ongoing efforts to strengthen their expertise off-the-pitch, with Mario set to oversee a specialist team that currently comprises strength and conditioning coaches, as well as sports trainers.
With such an impressive CV, Mario's appointment can be considered something of a coup for the Sailors, but the 36-year-old revealed that he was equally excited to join the Sailors, having been impressed by the vision and ambitions of the club.
"From my conversations with the Sailors management, I understood that they were serious about growing the club," said Mario. "They're investing a lot in the academy, they're building the team, and their ambition is to improve the players and to be a catalyst for changing the mindset about football in Singapore.
"I also really liked that (Sailors chairman) Forrest Li was very clear with his objectives regarding the Sailors. And it's not just talk – I can see clearly the steps being taken to drive the club towards the direction they want to go.
"I was sold on the Sailors story. The prospect of being part of something new, and building something big really appealed to me. This was a good opportunity for me to roll up my sleeves and deliver in a new country."
However, Mario's journey into the field of sports science actually started in somewhat unfortunate circumstances.
A former player with top-tier Croatian side HNK Rijeka, Mario's playing career was cut short after he ruptured his anterior cruciate ligament at the age of 21.
But that proved to be a blessing in disguise, as it allowed him to focus on getting his Sports Science degree at the University of Zagreb. He excelled in his studies, and was offered a position at the University to do a Phd. in Sports and Exercise, but this time, with a specific focus on football.
"It's probably a good thing I focused on my studies because I probably was not good enough to continue playing professionally," Mario admitted, laughing. "I had a decent level, but was not at an international level, so I just decided to stick to studying.
"That was a key moment in my life because it really helped to kick off my career in sports science."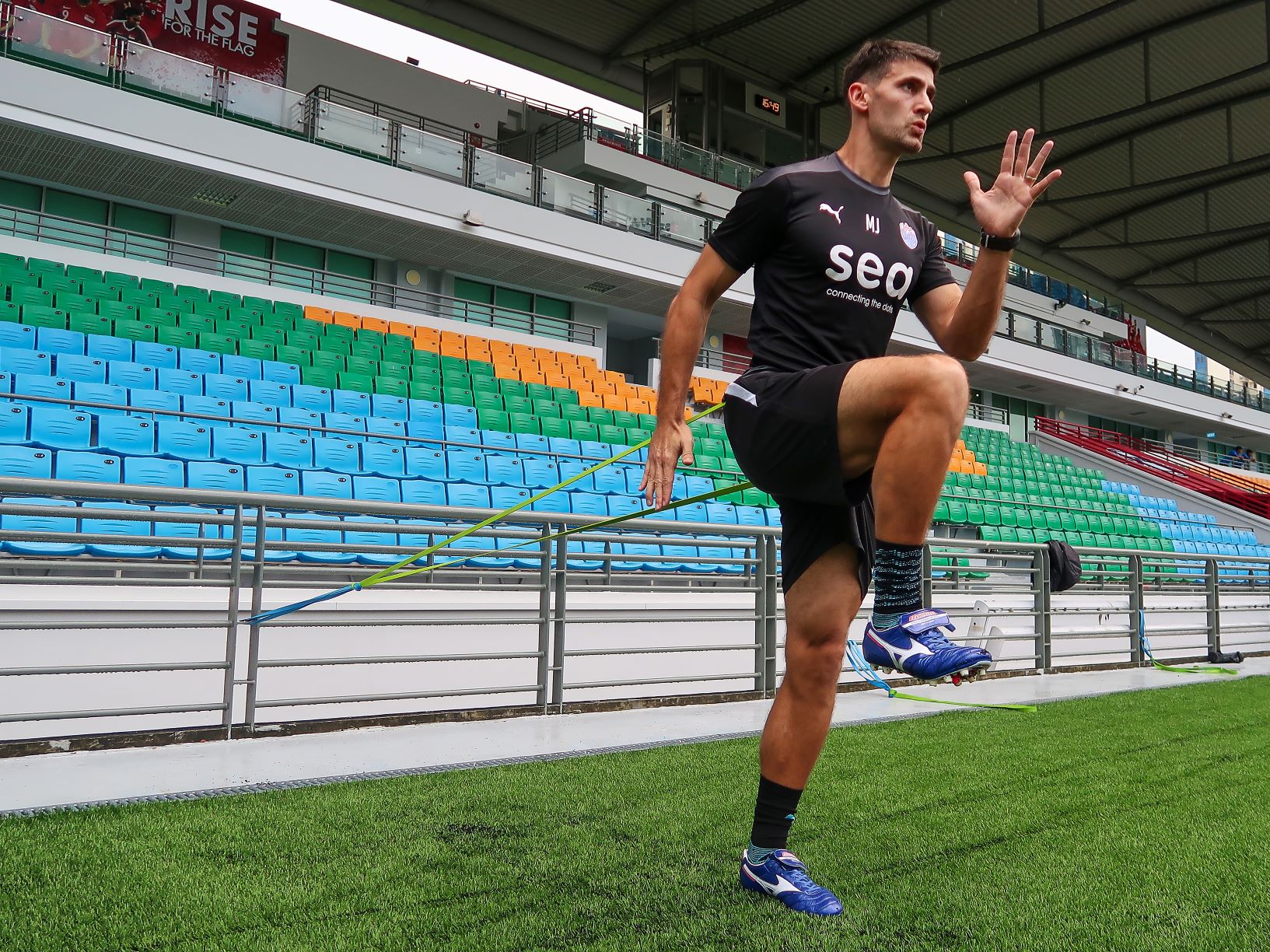 Thereafter, Mario re-joined his old club as the Strength and Conditioning coach managing the Under-21 team and overseeing academy work at the Rijeka academy. It wasn't long before his talents were noticed by the Croatian Football Federation, who offered him a job with the National Youth squads as a Strength and Conditioning coach.
It was there that he played a role with the Under-21 team in helping many of the current stars of the Croatian National Team become the players they are today.
And now, Mario is hoping to do the same for the Sailors.
"The players here have already reached a certain level, but my aim is to help them go beyond that," Mario declared. "The long-term objective is to optimise the training process, to bring it to a level that is necessary for the club's ambition, and to maximise the potential that we have with the players."
Further explaining his process, Mario added: "I always say that half of the coin in football is the physical performance side, but never forgetting that he needs to be a talented footballer as well. When you talk about modern footballers, for me, before he is a player, he has to be an athlete.
"We're looking at how training will impact a player over a period of time, because that's the nature of our physiology – things don't happen overnight. Ultimately, our aim is to build all-rounded, holistic athletes who will help the head coach and the team deliver results on the pitch."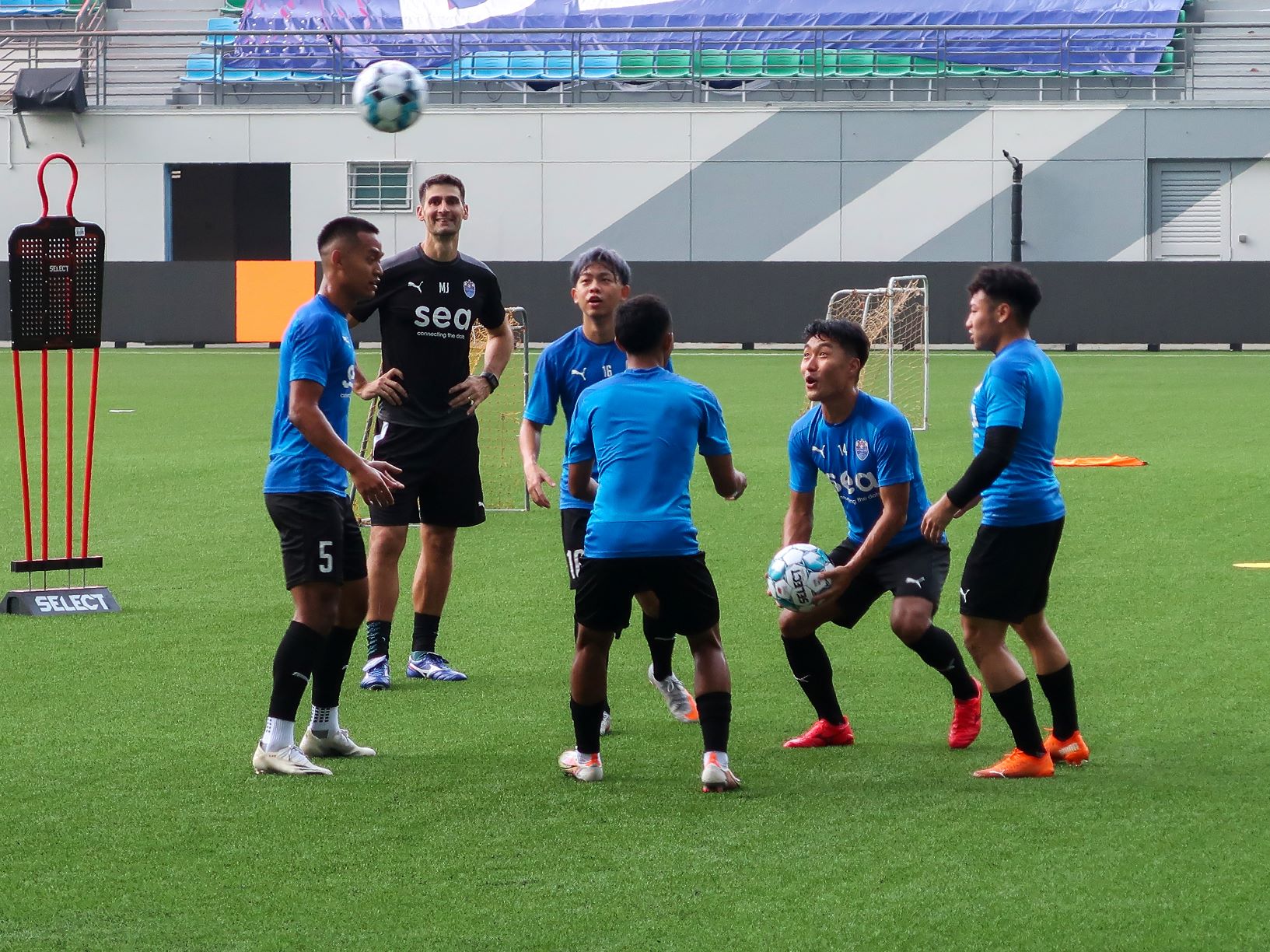 Having joined the Sailors just a week before the season started, Mario concedes that his main task now is to, together with the help of the backroom staff, optimise player conditioning so they are match-fit and ready to give their 100 percent on the pitch.
"At this moment, we are in season, which means we are focused on match day performance," said Mario. "So, we're not pushing them to the limit from the training side of things, because that can produce negative results.
"A big part of our work is also to try and help players mitigate the risk of injury, and to help them recover. So, we try to monitor their load, do injury prevention work before the sessions, as well as some strength and power work in season – whatever it takes to keep the players we have on the pitch.
"But this process for the first-team is always driven by the head coach, because he has a certain style of play, a certain mindset regarding the training session and how it's going to look. What we need to do is tailor our approach for that perspective – we're just a small piece of the puzzle that needs to fit into that big picture."
While Mario has been with the Sailors for barely two months, he says he already feels comfortable at the club.
"The first few weeks was about getting to know the squad and rest of the staff, building relationships, and getting the buy-in from the players," said Mario. "These are first team players, so they already have their own routines, which means that whatever I am doing has to be tailored for their needs.
"But the whole squad really tries to push themselves out of their comfort zone and are always seeking ways to improve. So far, everyone has been great in welcoming me into the team. The integration has been very smooth, and I couldn't be happier."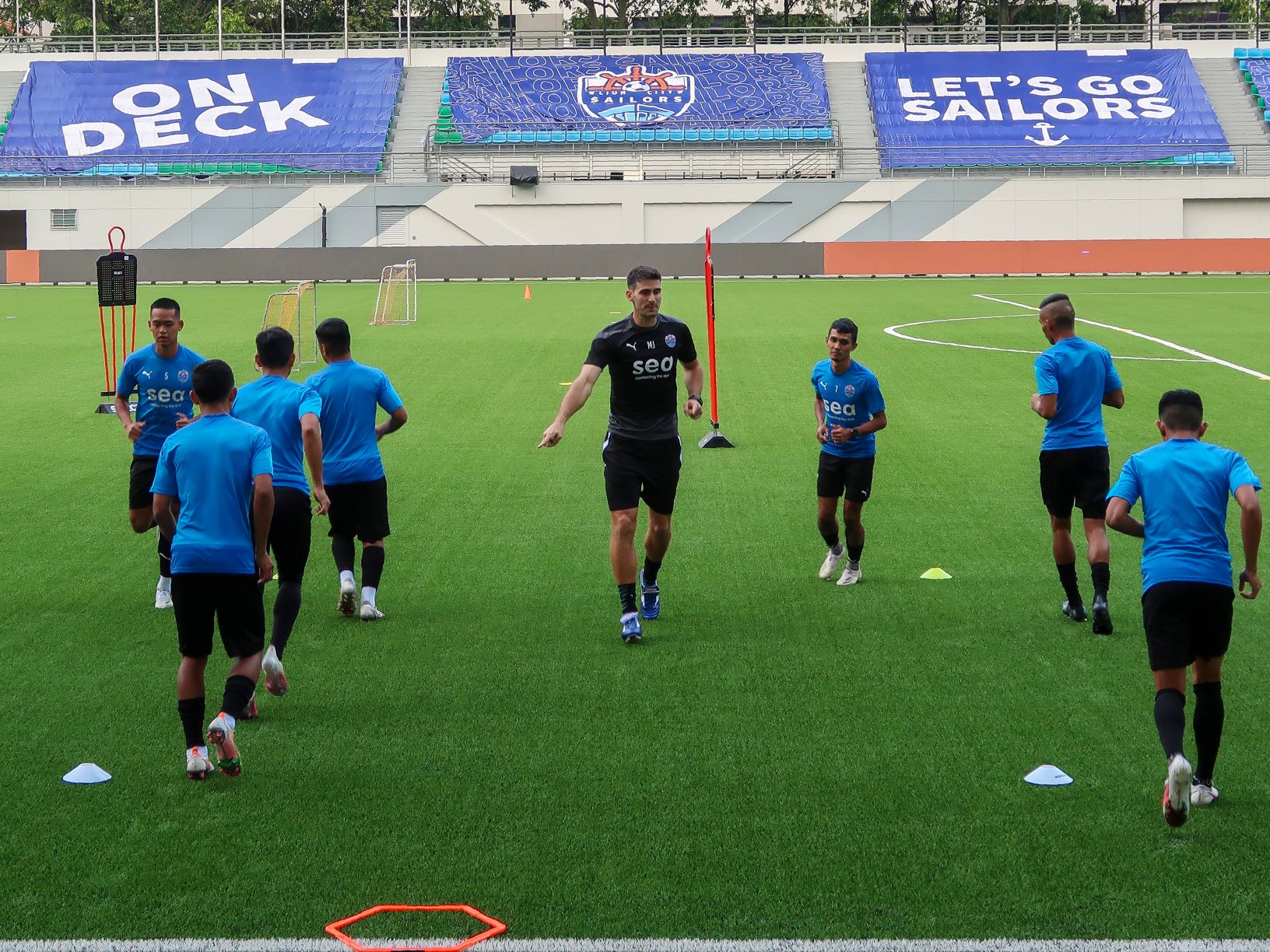 And Mario claims that the competitiveness of the Singapore Premier League (SPL) will go a long way to helping the players improve.
"To be honest, the SPL is much more competitive than I thought," Mario mused. "The difference between the teams is not that big, and everyone is able to compete at a high level. I've been following the league closely and I'm very impressed with what I've seen.
"This competitiveness is good for the league and for the players as well, because that's how you develop – in high-performance, high-intensity competition. Hopefully, though, we will be able to emerge as the best team this season and win the title."