Three players from the Lion City Sailors have been called up to represent the Singapore Under-22s at the 32nd Southeast Asian (SEA) Games, from 5 to 17 May 2023, in the Cambodian capital of Phnom Penh.
The football competition at the biennial competition kicks off a week earlier.
Defenders Nur Adam Abdullah, Bill Mamadou and forward Abdul Rasaq Akeem make up part of Philippe Aw's 20-strong final squad which was confirmed by the Football Association of Singapore (FAS) on Wednesday (26 April) evening. 
The latter two are set to make their bow in the biennial regional competition after impressing for the Sailors in the first round of the 2023 Singapore Premier League (SPL) season.
Bill has started four of the Sailors' eight matches this year, demonstrating the versatility to slot into both full-back and centre-back positions.
Meanwhile Rasaq has displayed his ever-sharpening predatory instincts up front, with five goals in six appearances – equalling his career-best tally achieved last season over 19 games in all competitions with the Young Lions.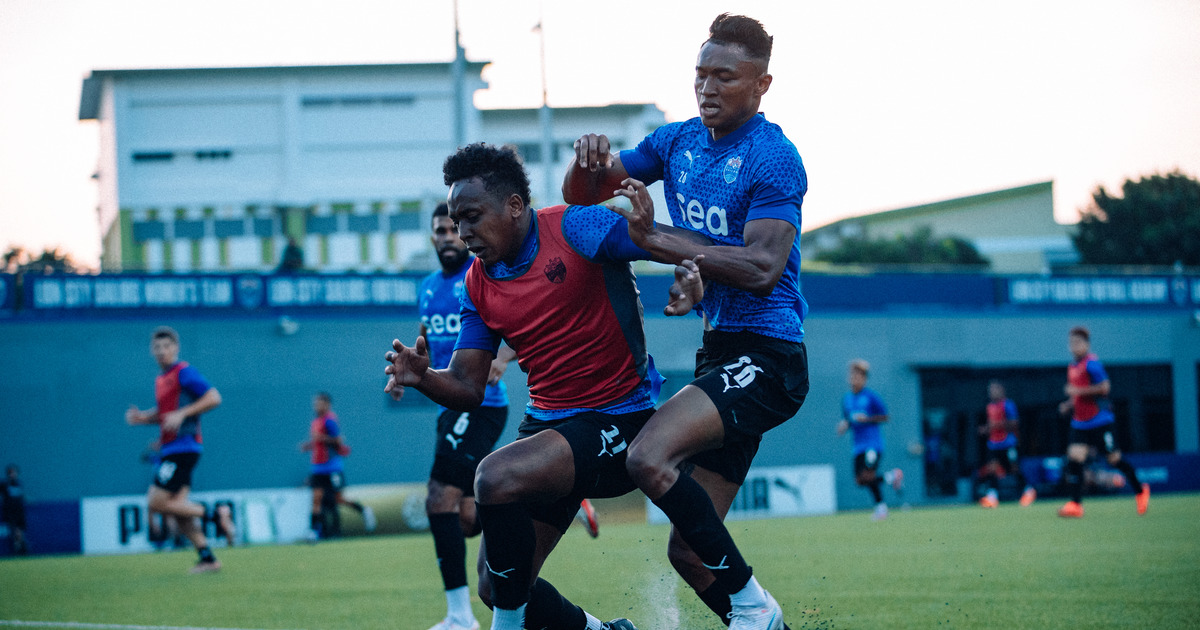 This will be Nur Adam's second SEA Games campaign after making his debut in last year's delayed edition in Hanoi, Vietnam – playing in all four games, including a feisty 2-2 draw with Malaysia.  
The effervescent left-back will be a key figure for the U22 setup, with his experience playing in regional competitions like the Asian Football Confederation (AFC) U23 Asian Cup qualifiers and the AFC Champions League over the past couple of years.
Aw's boys face a tough challenge to qualify from Group B as they will jostle with the likes of record 16-time champions Thailand, regional powerhouses Vietnam and Malaysia, as well as an ever-improving Laos over 12 days between 30 April to 11 May.
Nur Adam – who recovered from a shoulder injury in time for this tournament – is determined to do all he can to help the national U22s put up a respectable showing.
"I know I'm one of the more experienced ones in the squad, so the responsibility is on me to lead and guide the younger players here. Also, it's going to be my last SEA Games so I'm going to give my all to do the country proud," said the 22-year-old.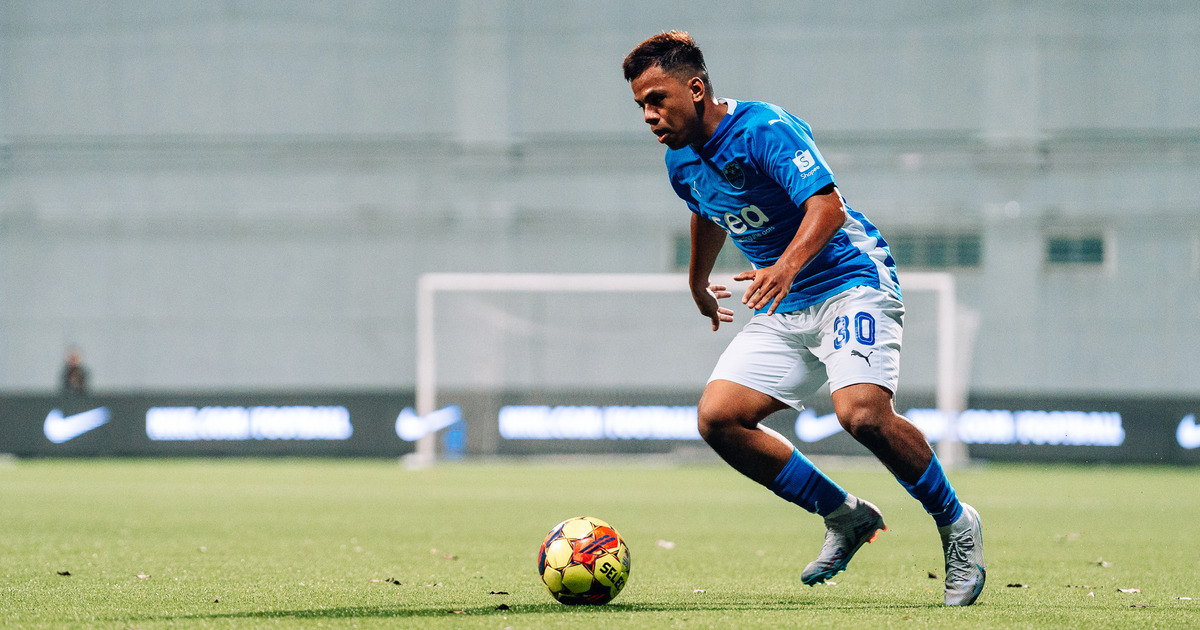 "We all know how tough it will be, but nothing is going to stop us from trying. We've been gelling well as a group, and we're all prepared to go out there to show what we can do."
Membership to The Crew opens doors to everything you'll need for a front row seat to back your Sailors in the 2023 Season.
From discounted Home match tickets to attractive deals at partner establishments, vouchers for the Lion City Sailors Football Club Official Store on Shopee and exclusive invites to unique experiences that will bring you closer to the players and club that you love.
Come onboard The Crew for just $48 (incl GST) and make bold new memories on your journey with the Sailors!
Memberships come with these exciting benefits:
A Crew Pack comprising a Membership Card to The Crew, Scarf, Stickers and a Sailors Lanyard
20% off all HOME match tickets (subject to availability on a first-come-first-served basis)
5 x Shopee vouchers for use on the Official Lion City Sailors Shopee store
Eligibility to apply to purchase a 2023 Season Pass (subject to availability on a first-come-first-served basis)
A strong continent from the Lion City Sailors Women's Team have been selected to represent Lionesses at the 32nd Southeast Asian (SEA) Games, from 5 to 17 May 2023, in the Cambodian capital of Phnom Penh. 
The football competition at the biennial competition kicks off a week earlier. 
Singapore Women's National Team and Sailors skipper Ernie Sulastri Sontaril, along with ten others – goalkeepers Noor Kusumawati and Beatrice Tan, defenders Khairunnisa Khairol Anwar, Fatin Aqillah, Syazwani Ruzi, Umairah Hamdan, midfielders Ho Hui Xin and Venetia Lim and forwards Nur Izzati Rosni and Lila Tan – make up part of the 20-strong squad that was confirmed by the Football Association of Singapore (FAS) on Monday (24 April) evening. 
Hui Xin earns a recall to the team after missing the cut for the recent Women's Olympic Tournament 2024 Asian Qualifiers – where the Lionesses lost 6-0 to Thailand and were held to a 2-2 draw by Mongolia – while Lila is set to make her SEA Games debut after missing last year's delayed edition due to school examinations.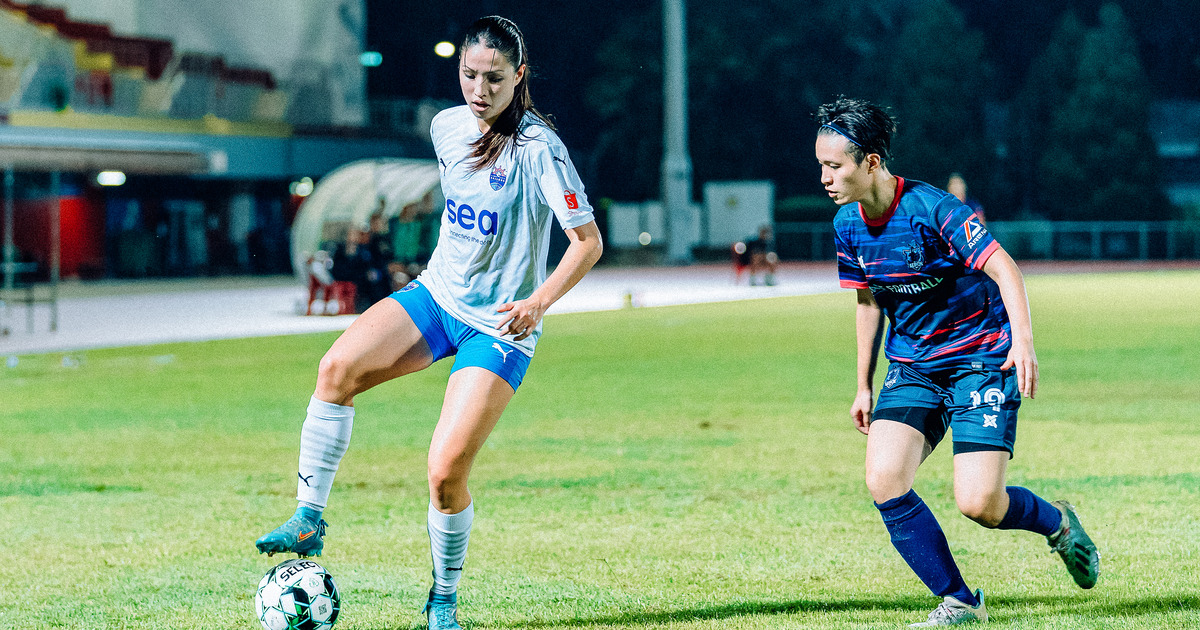 Placed in Group B, the Lionesses will kick off their 2023 SEA Games campaign against five-time champions Thailand on Wednesday 3 May before facing Cambodia three days later. They will close their group stage campaign against Laos on 9 May. 
With Moroccan Karim Bencherifa at the helm of the Lionesses, Ernie is looking forward to building on last year's encouraging campaign that saw the Singapore women beating Laos for their first SEA Games win in 37 years. 
"We feel very honoured to represent Singapore at the SEA Games for a second time. We have a good mix of experienced and young players, our team spirit is excellent, and we've been adapting well to our new coach's tactical plans.
"There has been a lot of improvement in terms of our transition from defence to attack, and we've been working a lot on our fitness as well. We're going into this year's competition with a good mindset and we believe we can give a good account of ourselves again," said the 34-year-old, who is Singapore's most capped woman with 56 caps.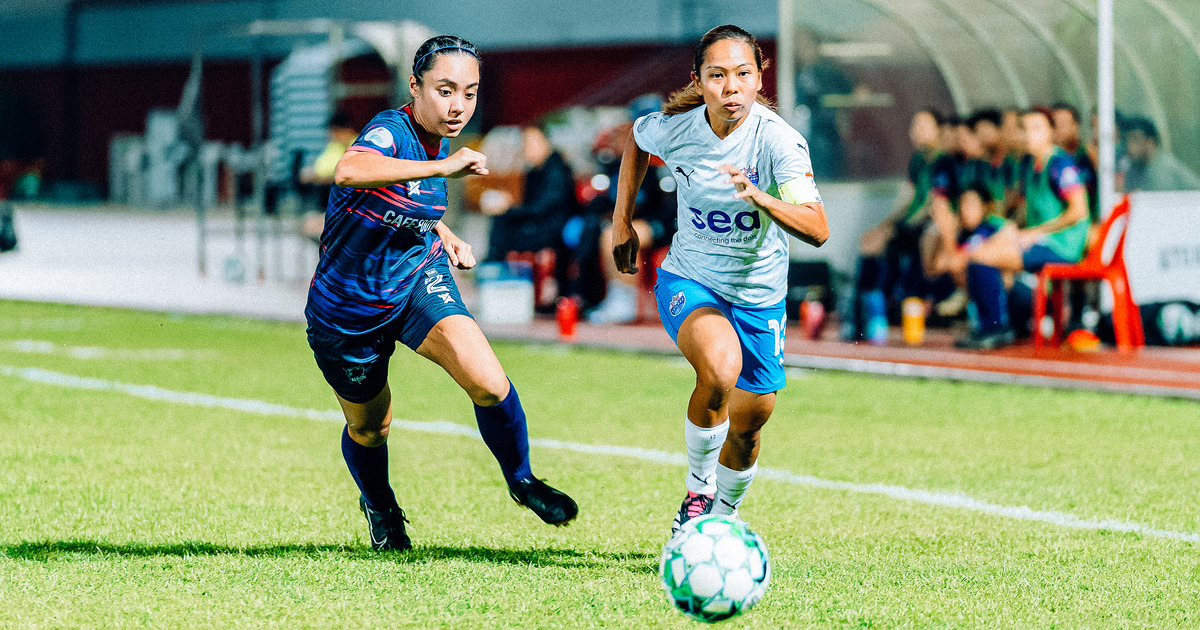 "Our target is to reach the top four. Hopefully with this more favourable grouping, we can get out of our group and win a medal for Singapore."
The next generation of the Lion City Sailors will have an opportunity to hone their craft and showcase their talents when they kick off their 2023 Centre of Excellence (COE) Under-21 League campaign earlier next month. 
Led by Head Coach Daan van Oudheusden who is also the assistant coach for the Sailors first team, the Sailors U21s will look to start the season on a good note against Balestier Khalsa on Tuesday, 9 May.
The first two fixtures against Young Lions B on 25 April and against SAFSA on 28 April will be rescheduled to a later date.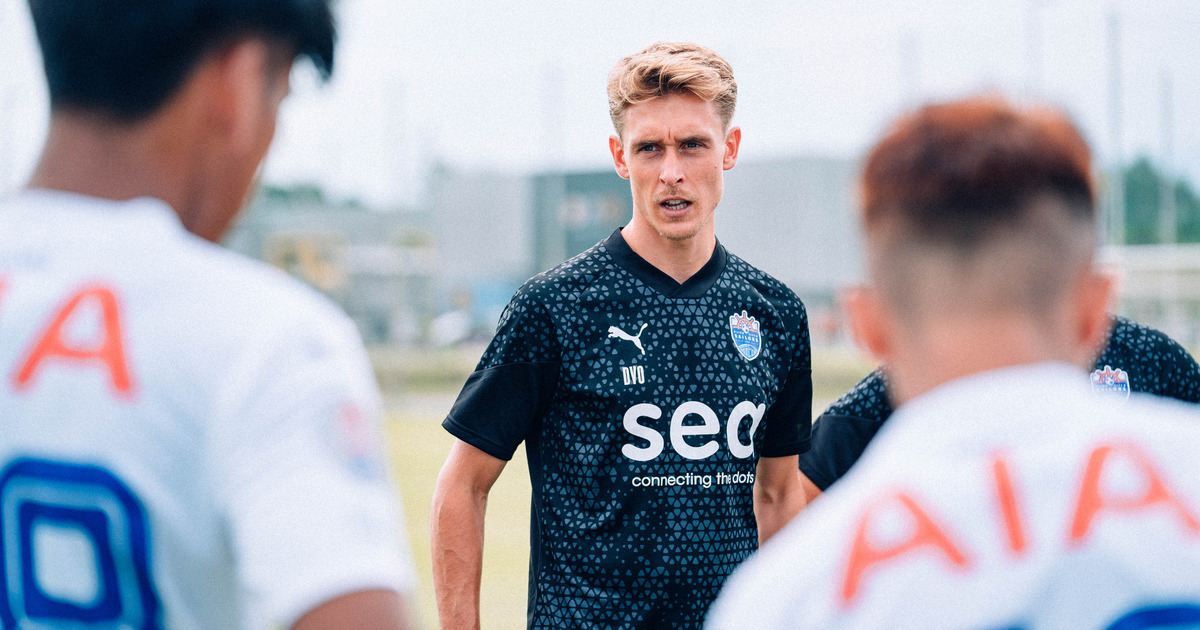 Played in a double round-robin format, the fledging Sailors will play a total of 16 games in the nine-team COE U21 league. 
The Sailors Under-21s will feature some of the brightest talents who have already featured for the club's first team – including forward Nathan Mao, who made history by becoming the youngest ever player to play in the Singapore Premier League (SPL) at 15 years and 5 days old when he came on against Tampines Rovers on 31 March 2023.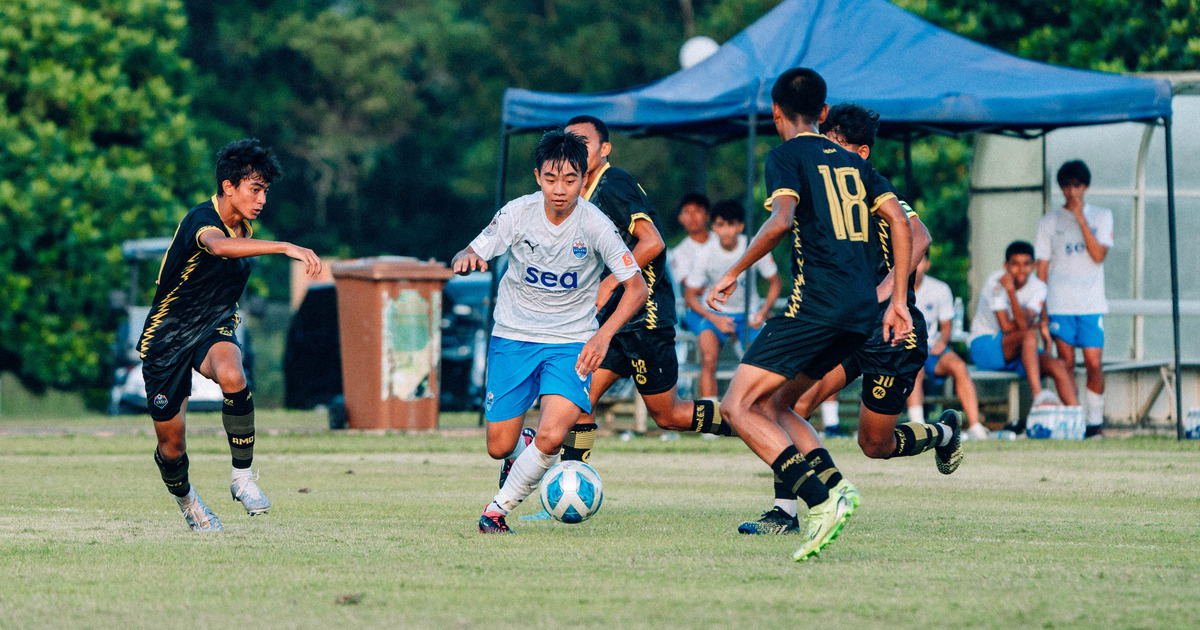 Attacking midfielder Jonan Tan and centre-back Idzham Eszuan Shah are another two who have already tasted top-flight professional action in the 2023 SPL season. 
Yasir Nizamudin and Danie Hafiy, who shone by assisting the Sailors' two goals in the 7-2 friendly defeat to German giants Borussia Dortmund last November, are also part of the squad.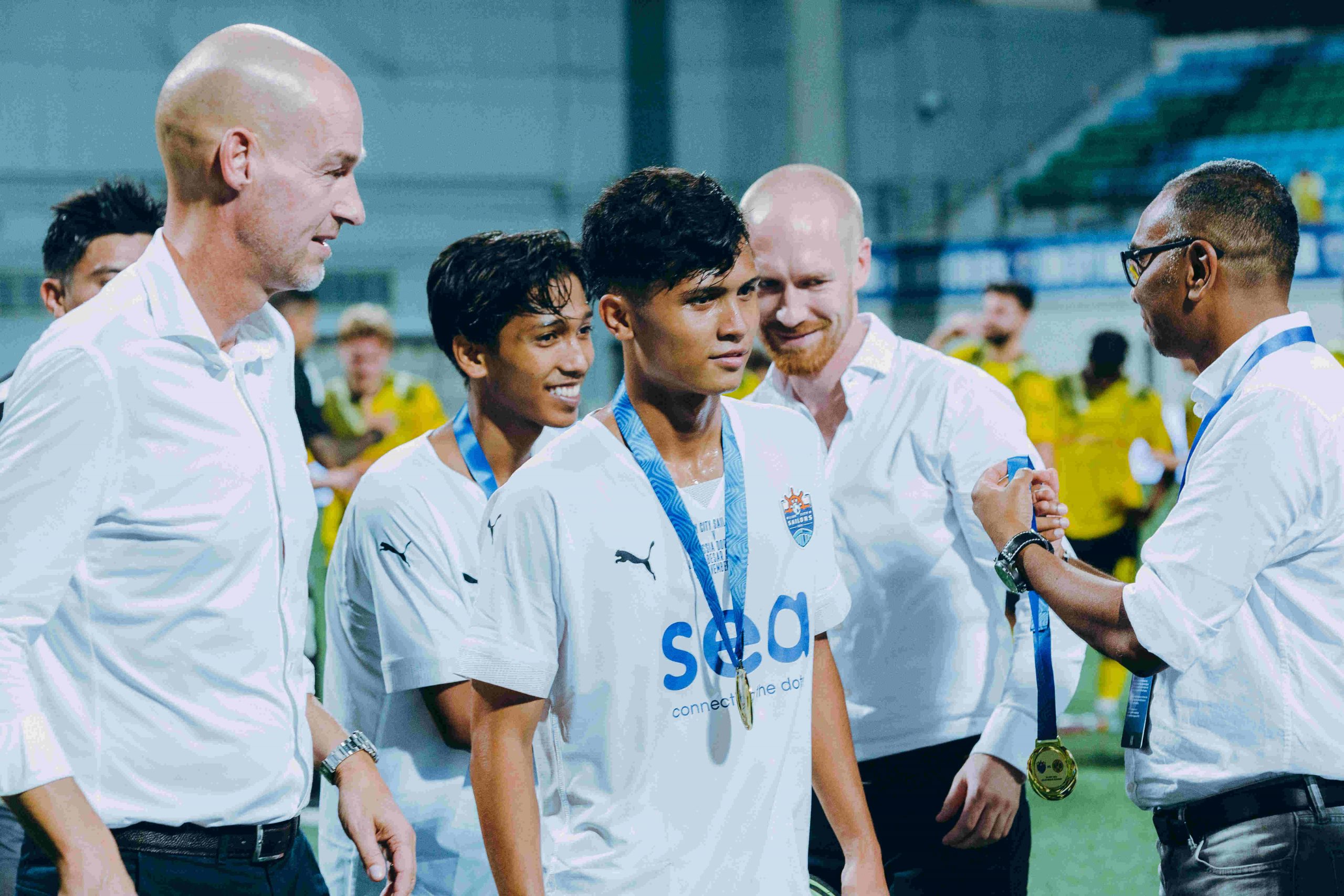 Daan's boys will wrap up their campaign against the Albirex Niigata (S) U19s on Tuesday, 3 October. 
The Sailors U21s' full COE U21 fixtures list for the 2023 season can be accessed here.
The Lion City Sailors paid the penalty for their profligacy against the Young Lions on Saturday (15 April) night, as they were held to a 1-1 draw in the Singapore Premier League (SPL) by Philippe Aw's men at the Jalan Besar Stadium.
Despite taking an early lead through Maxime Lestienne, the Sailors just could not find the crucial second goal to put the game to bed, despite having more of the ball and fashioning the better chances.
They were eventually made to rue their failure to capitalise on their dominance late on, when Sailors centre-back Lionel Tan was adjudged to have impeded Jordan Emaviwe in the penalty box – with the latter then converting from the spot to equalise with what was the last kick of the game.
Labelling the late equaliser as "unlucky", Sailors head coach Risto Vidaković admitted that it was a momentary loss of focus that cost them the three points on the night.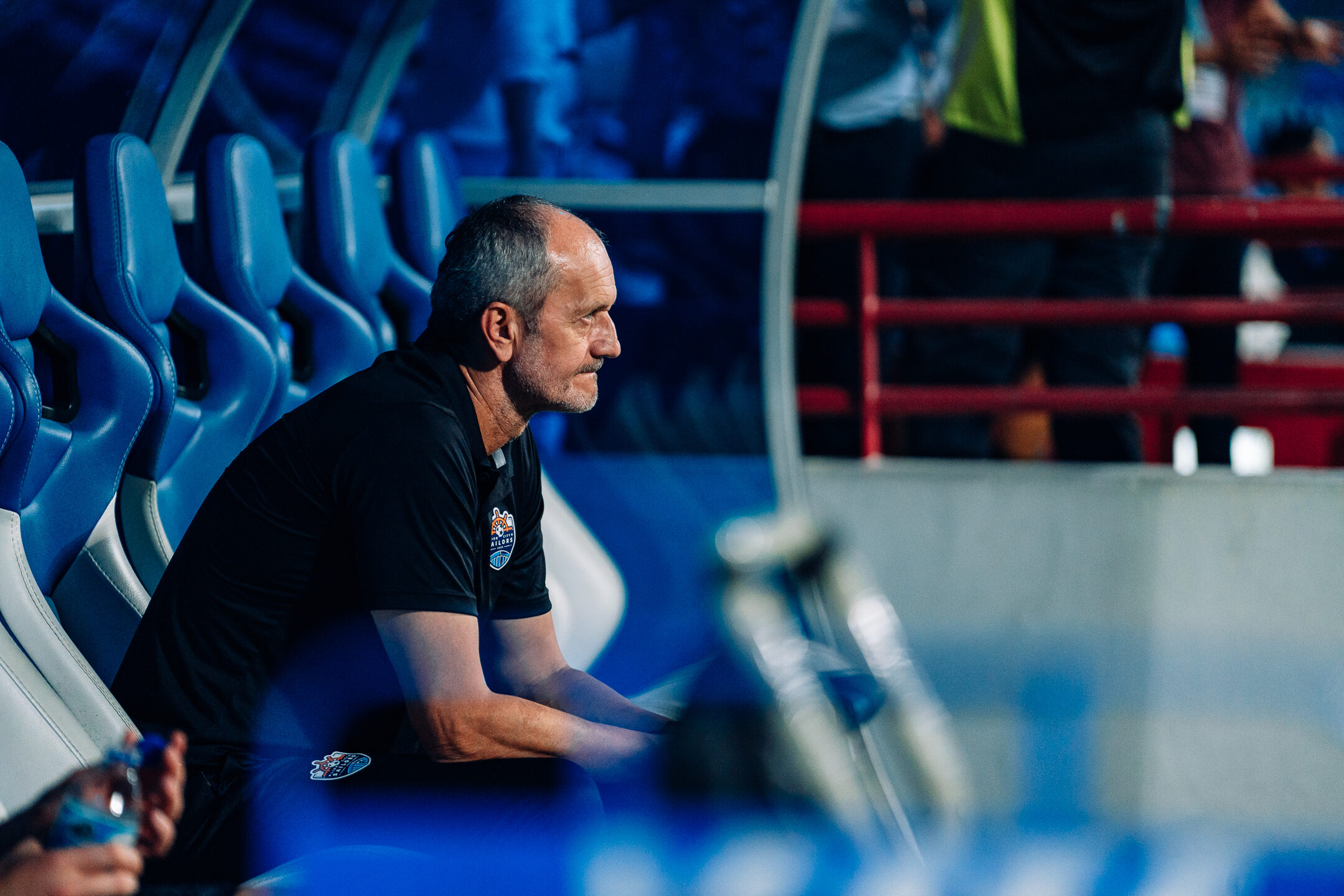 "In the end, we were unlucky in the last minute with the penalty, which I think came at a very bad moment for us," Risto reflected. "But in football, this can happen – you lose concentration at the last minute and commit a foul. It's something that can happen, and we just have to improve."
The night, however, started on a brilliant note for Risto's side as it took only six minutes for the in-form Maxime to open the scoring, with the Belgian meeting Diego Lopes' cutback and placing an unerring shot into the bottom corner for his sixth goal of the season. 
The Sailors continued to put pressure on the home side, and very nearly doubled their lead in the 29th minute when striker Abdul Rasaq Akeem uncharacteristically put his close-range effort off-target after being found in the box by stand-in captain Hafiz Nor.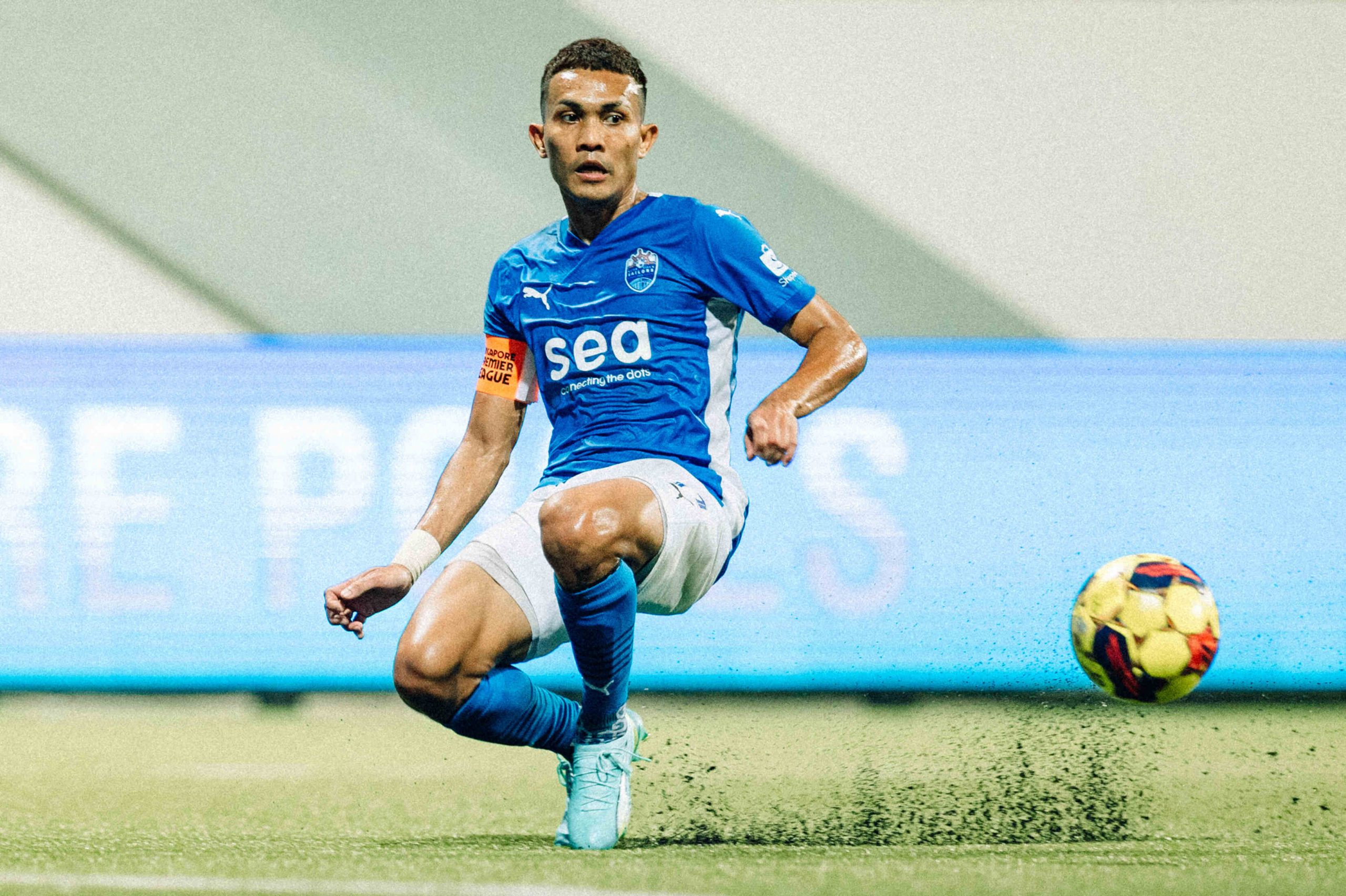 Hafiz wore the armband – in place of Hariss Harun who was sidelined by illness – in what was his 60th SPL appearance for the Sailors. 
The 34-year-old is now the top SPL appearance maker for the club, superseding Gabriel Quak who played 59 times between 2020 to 2022. 
While the Young Lions came out of the second half determined to put up more of a fight, the Sailors were still able to fashion several decent chances in front of goal, including substitute Shawal Anuar's first-time volley in the 71st minute that went just wide.
Maxime found himself through on goal, 15 minutes later, but his shot from a tight angle was denied by Young Lions custodian Aizil Yazid at the near post.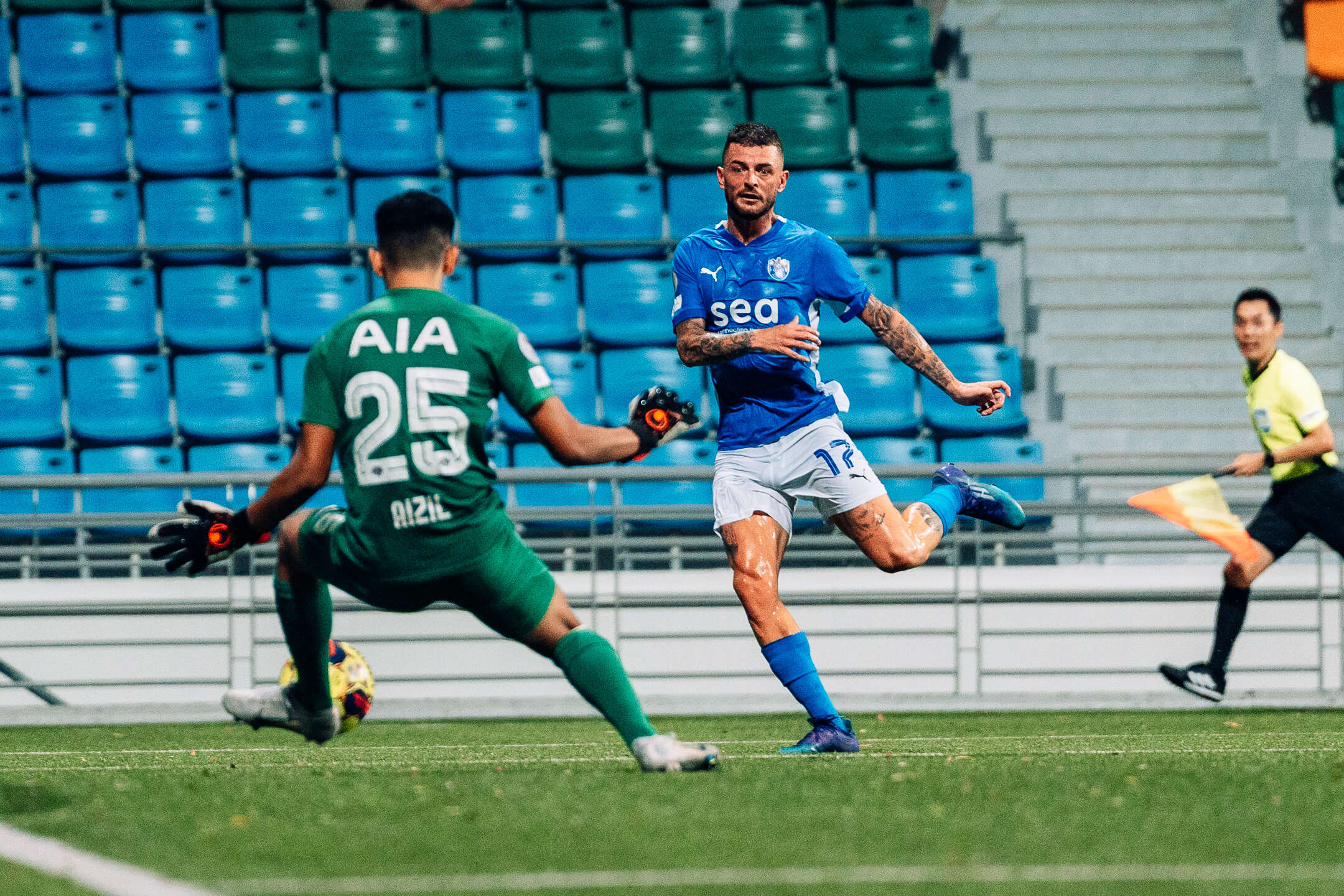 Those missed opportunities came back to haunt the Sailors as the Young Lions stole a share of the spoils from the spot nine minutes into injury time. 
Reflecting on the match as a whole, Risto said: "I expected a game like this. It was very competitive, they defended well, sat deep, kept compact, and gave us a physical battle. So it didn't surprise me that the Young Lions put up a fight, especially in the second half.
"However, we tried our best, but missed a lot of chances in the first half. Now, we have to rest and forget what happened in this game. We'll recover from this and try to play better in the next part of the season."
Sailors defender Súper (Manuel Herrera López), who was named Man of the Match, added: "We are very disappointed with the result today because we got one point, but we were looking for all three points.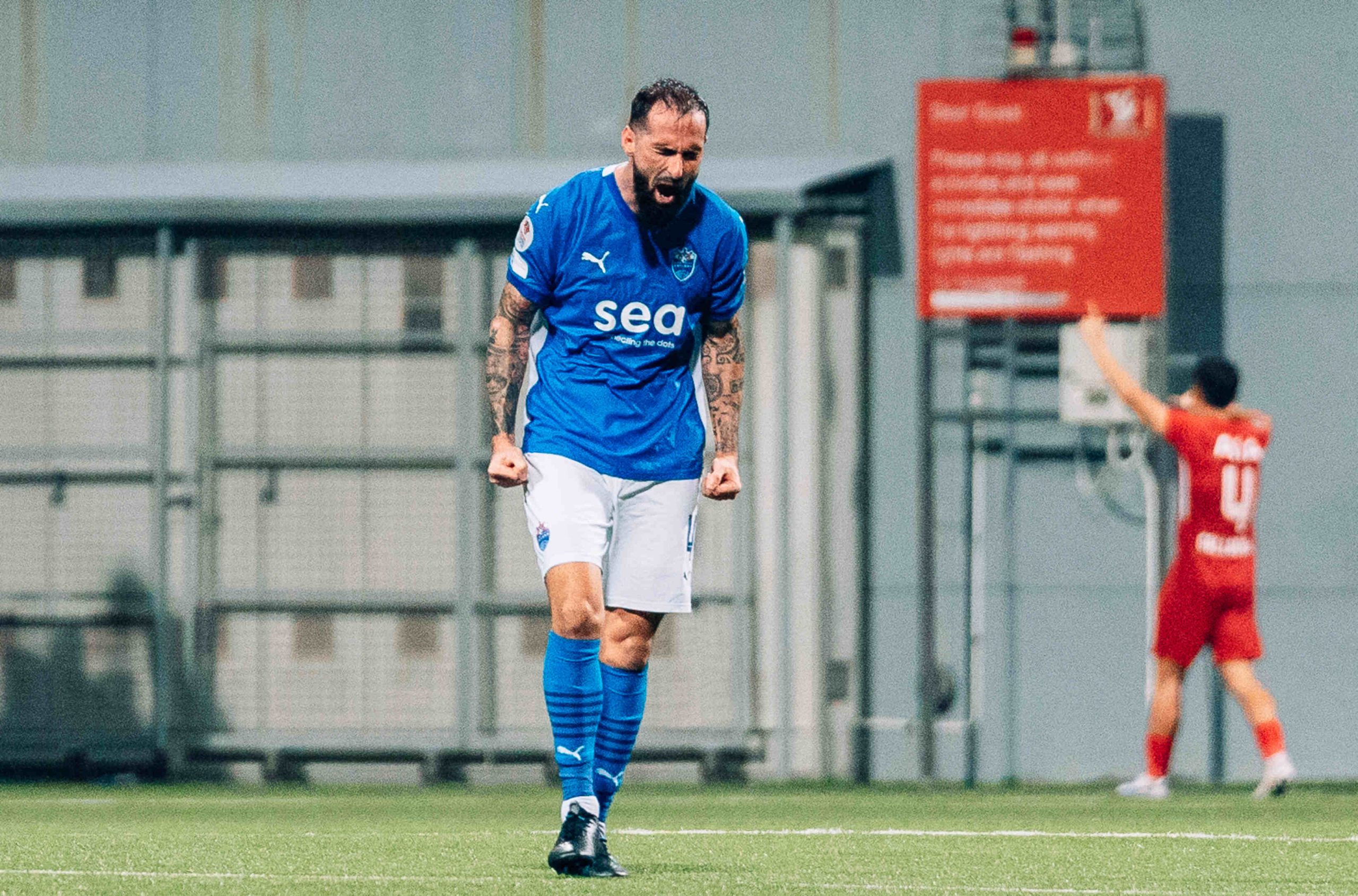 "Our promise to the fans is that we will keep working hard to improve in every department – from the defence to the midfield, to the strikers, and come back stronger."
The result leaves the Sailors second in the SPL, five points behind league leaders Albirex Niigata (S). The Sailors will next be in action on Sunday 7 May, when they go away to face Geylang International.
A Maxime Lestienne-inspired 5-0 rout of Hougang United put Lion City Sailors back on the winning trail in the Singapore Premier League (SPL), and they will be looking to continue in the same vein when they return to Jalan Besar Stadium to face the Young Lions on Saturday (15 April) night. 
Young Lions have a spring in their step after coming from two goals down to hold Brunei DPMM in a gritty 2-2 draw on Tuesday (11 April) and could pose some problems, but Sailors goalkeeper Zharfan Rohaizad is confident that the Sailors can power home to a sixth victory in eight matches. 
"Of course Young Lions will be brimming with confidence after their last result, but we're ready for this test. We showed what we can do against Hougang, so our focus is largely on how we can best use our abilities to exploit our opponents' weaknesses. 
"Hopefully we can get a few goals with the likes of (Abdul) Rasaq (Akeem) and Bernie (Ibini-Isei). Most importantly, we're out to keep another clean sheet," said the 26-year-old, who has three shutouts in his last four outings.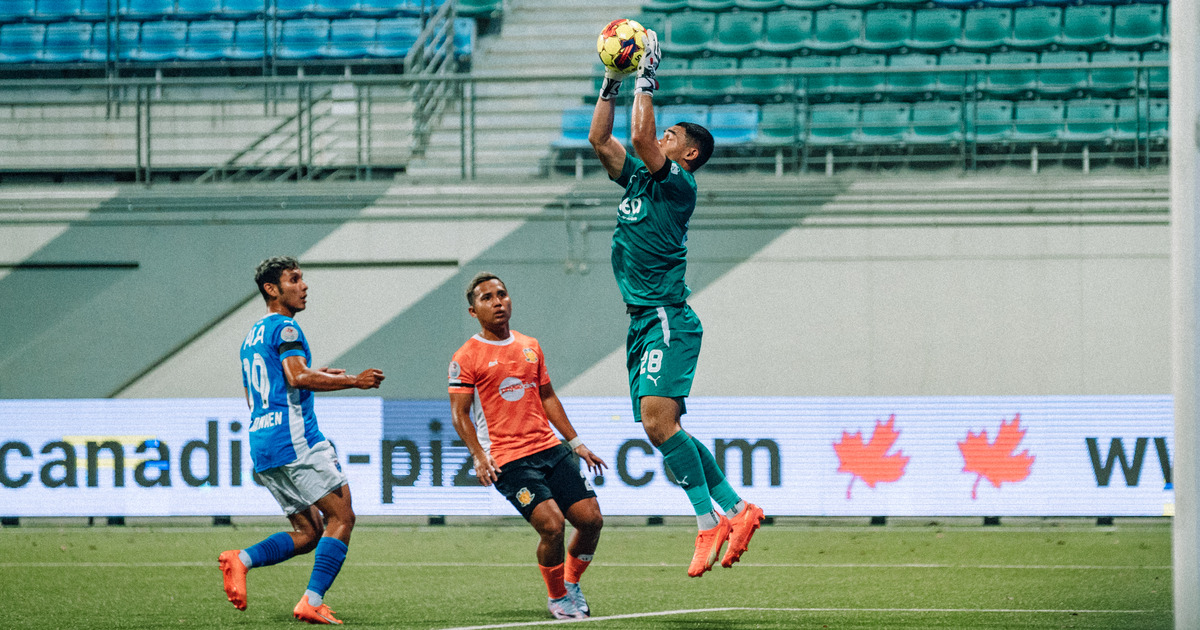 This is shaping up to be one of the finest seasons for the fast-maturing Zharfan who has the joint-second most number of clean sheets in the league this season, along with Tampines Rovers' Syazwan Buhari. 
Zharfan added six saves to his tally in the Hougang victory, totalling 38 for the season – a league-leading statistic, 12 more than Geylang International's Hafiz Ahmad. 
A double save to deny Sahil Suhaimi and Gabriel Quak when the Sailors were only 2-0 up was a highlight from that game as he paid tribute to the training and support he has received since joining the club. 
"I can see a huge difference in my game now. Our goalkeeper coaches Kris (Stergulc) and Chua (Lye Heng) have been working tirelessly to help me improve so credit goes to them – I take their instructions seriously and I always view every game as a chance for me to do even better than before. 
"Obviously coming to a club like the Sailors, I know I have to up my game. I'm happy with how it's going so far but there's always room for more improvement," said Zharfan, who has started all seven Sailors' games in 2023.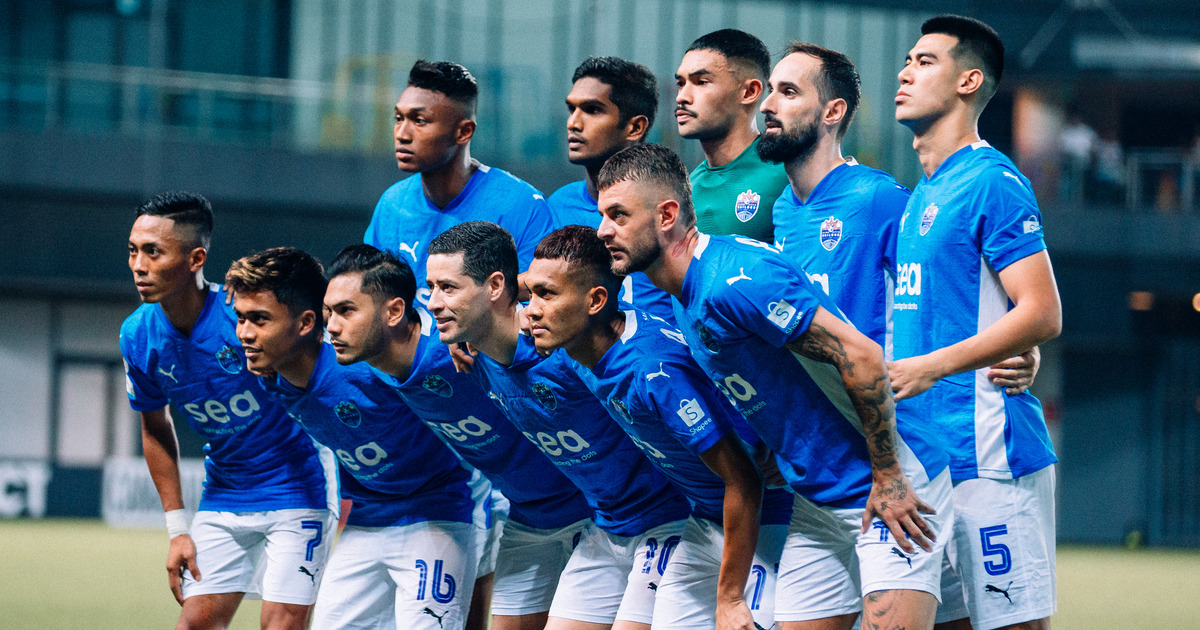 "We're still very much a work in progress with new and young players in defence. It's still early days and we will definitely understand each other better and gel even more with more games. I'm already seeing a good partnership forming between Lionel Tan and Súper (Manuel Herrera López) and I'm excited to see what more they can do. 
"It's definitely a collective effort from front to back. I never doubted my teammates one bit and I trust them to protect my goal – together with me," said the former Tanjong Pagar United and Young Lions custodian. 
Zharfan's long-term goal is to be the Singapore national team's number one in the near future, but he is now firmly focused on pushing the Sailors towards reclaiming the SPL title this season.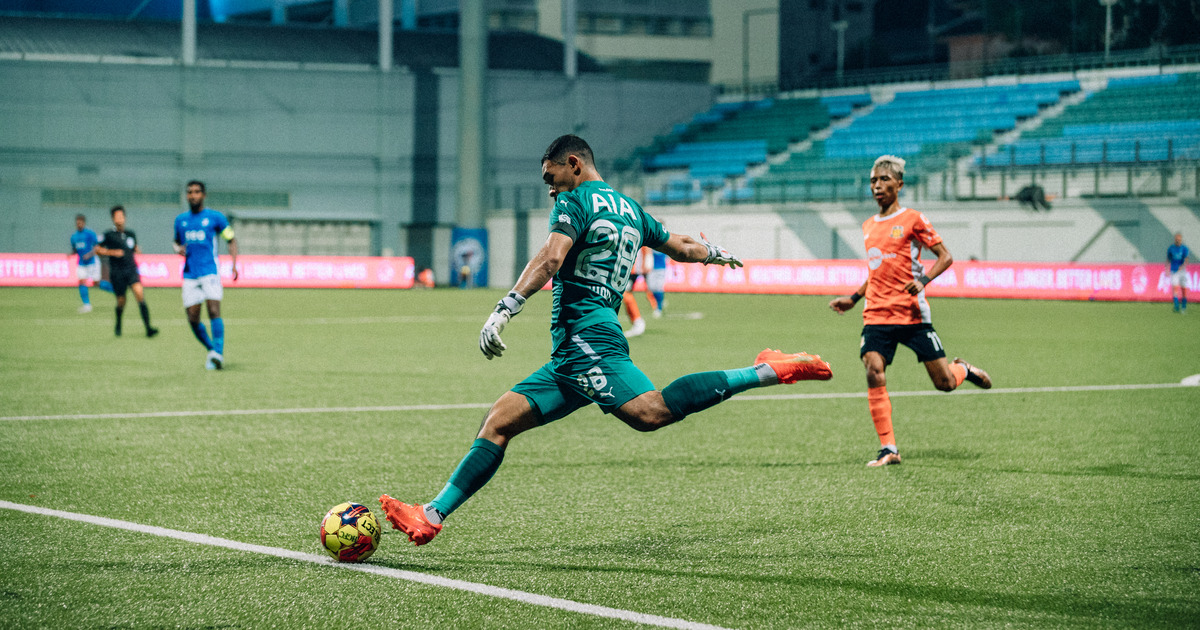 "I'm not too upset or disappointed at not being named in the national squad for the recent March friendlies against Macau and Hong Kong, there will always be other opportunities," he said.
"Obviously I want to be there and make my first Lions appearance one day, but right now I'm just focusing on the Sailors. Our aim is to be SPL champions this season and we're striving very hard as a team to achieve that."
Last night (10 March) the Lion City Sailors returned to Jalan Besar Stadium for the first time since the club moved out of the venue for Bishan at the end of the 2022 Singapore Premier League (SPL) season. But the Sailors looked like they never left.
With Maxime Lestienne as conductor extraordinaire on Jalan Besar's artificial green stage, the Sailors waltzed around Hougang United, comfortably dispatching the Cheetahs 5-0. 
Magnificent Max scored two goals and set up another two for his teammates on the night, but he was quick to turn attention back to the team and the title race. 
"I'm very happy with what I was able to do today, but it was a team performance, especially from Diego (Lopes) and (Abdul) Rasaq (Akeem) who scored," said the Belgian, whose goal and assist tally for 2023 stands at five and eight respectively.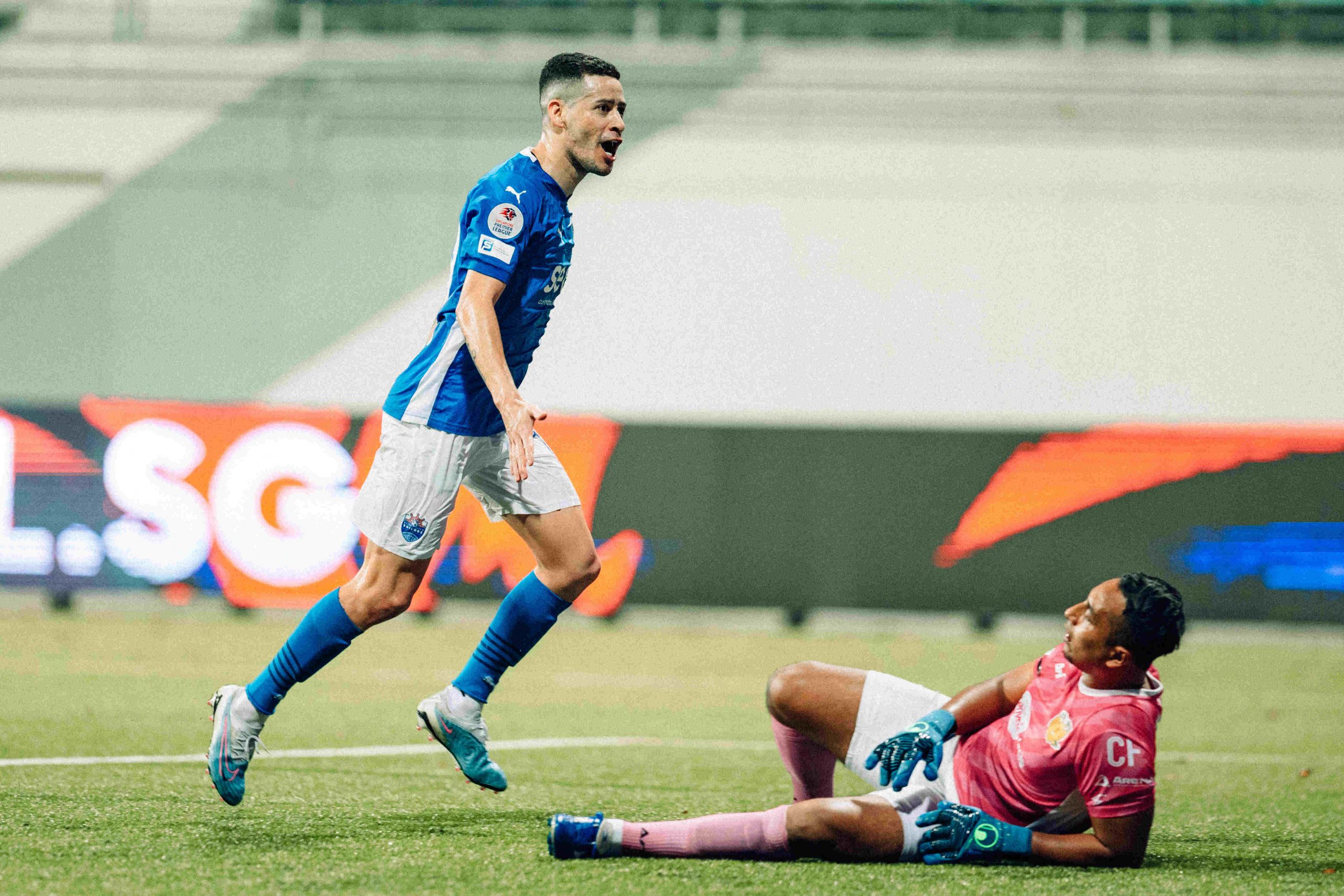 "I hate to lose, and I was really upset about our loss to Tampines so I'm happy that we got the three points. We were able to show glimpses of what we are capable of and what our coach expects of us – something we failed to do last time out," added Maxime.
"I'm happy with my performance so far this season, just try to do my best every day. I don't really care if I score – that's a bonus, of course – but the most important thing for me is that we win games and push to win the league title." 
The result was the perfect response that Head Coach Risto Vidaković had called for, following the 4-3 reverse to Tampines on 31 March. 
Having made three changes to the starting line-up, Risto's Sailors took just five minutes to open the scoring.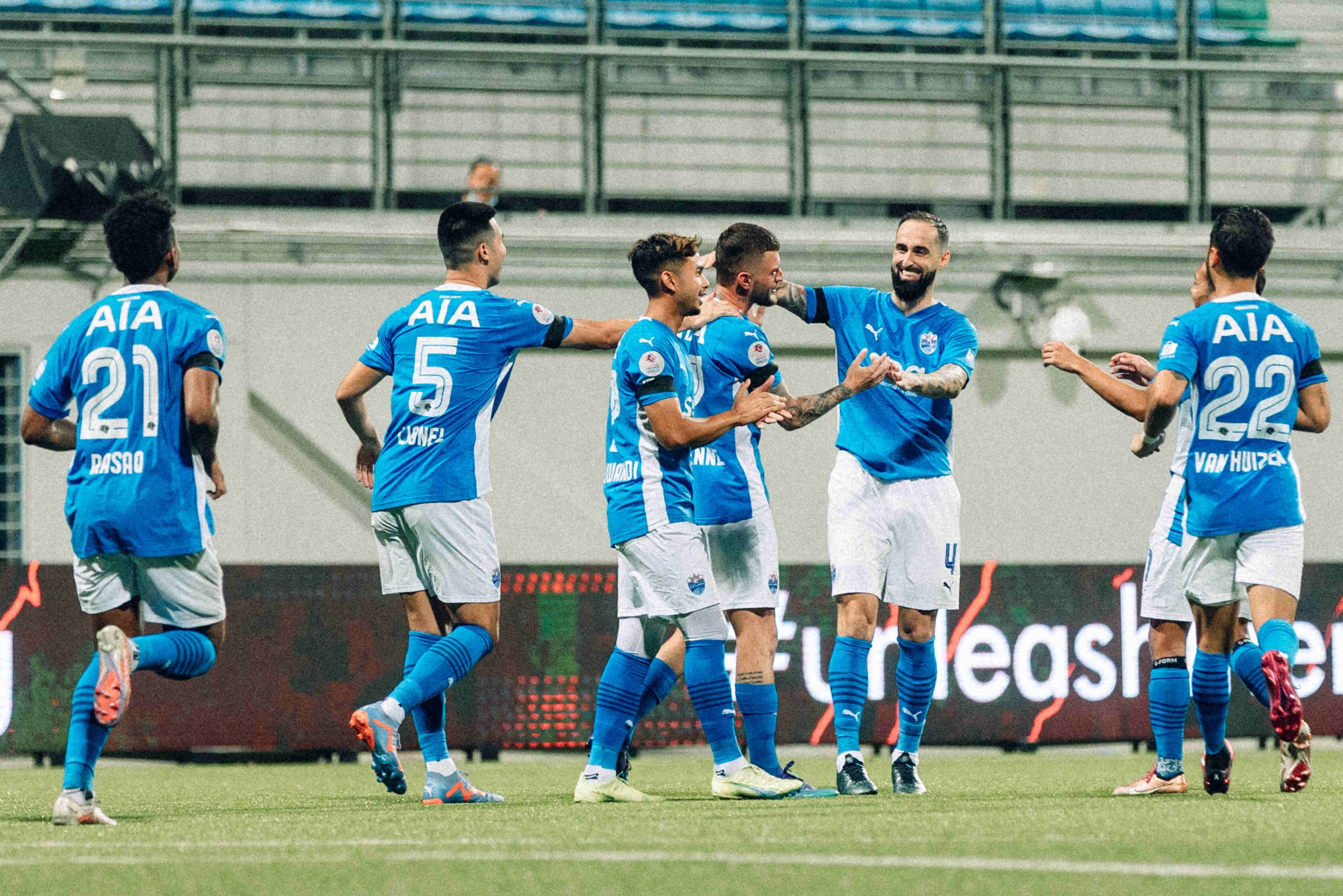 After Rasaq – who returned to the starting line-up after missing the Tampines match – was fouled on the edge of the area by Kristijan Krajček in the fifth minute, Maxime proceeded to curl a sumptuous free-kick past a Zaiful Nizam at full stretch. 
The game turned in Hougang's favour thereafter, Sailors custodian Zharfan Rohaizad being kept busy with Hougang even putting the ball in the back of his net through Krajček on 38 minutes, but it was ruled out for offside, much to the relief of the Sailors defence. 
The Sailors would go two up just before half-time when the unmarked Rasaq clinically swept home Maxime's cutback from inside the area.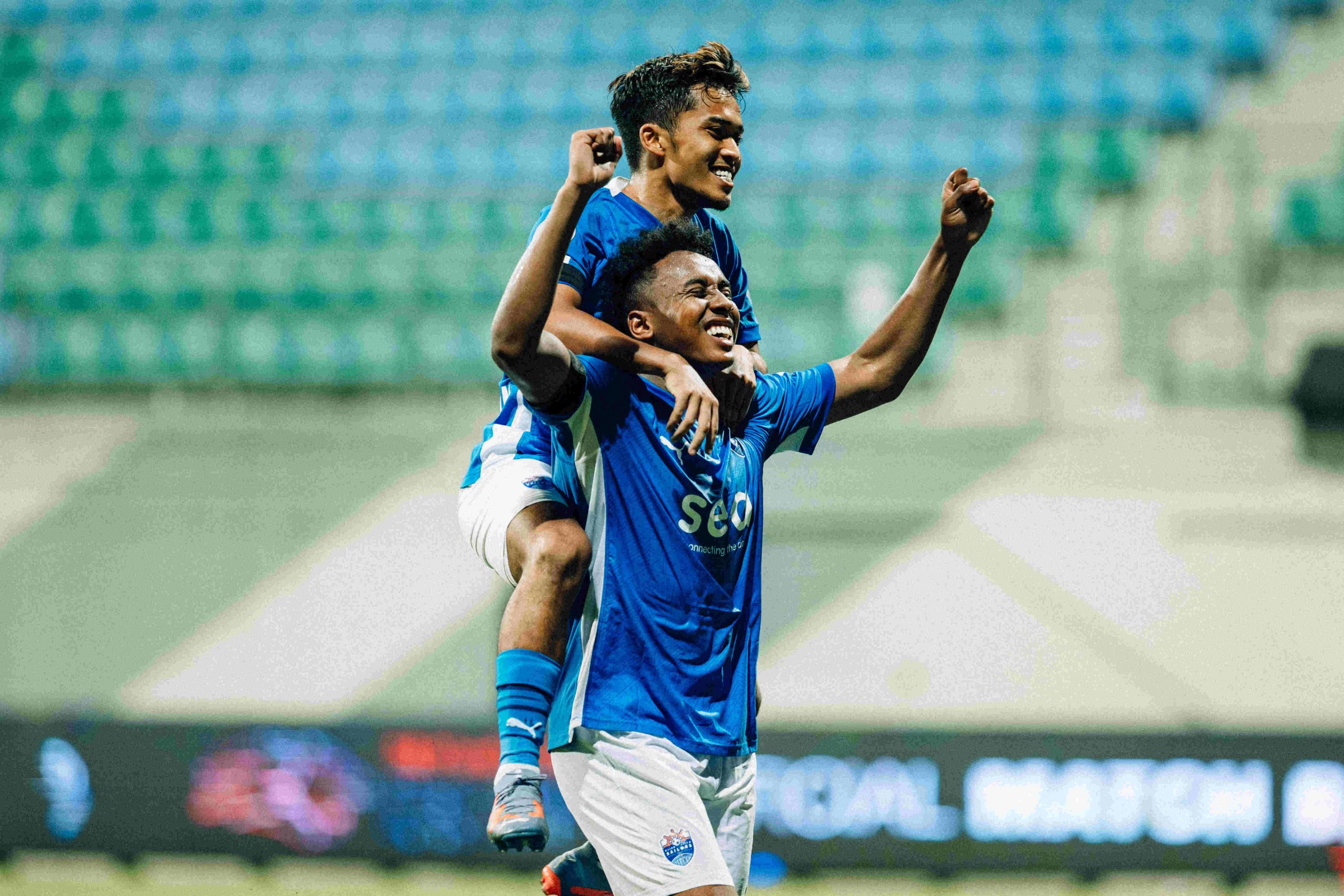 Rasaq then netted his second of the evening in the 72nd minute with an unerring finish after being teed up by Hami Syahin. It was the forward's fifth league goal of the season, surpassing the four he netted with the Young Lions in 2022.
"He's a young player who needs time, but for now he is giving more than expected so it's a good thing," Risto said of the 21-year-old.
Rasaq was soon replaced by new signing Bernie Ibini-Isei for his Sailors debut, and the goals kept coming.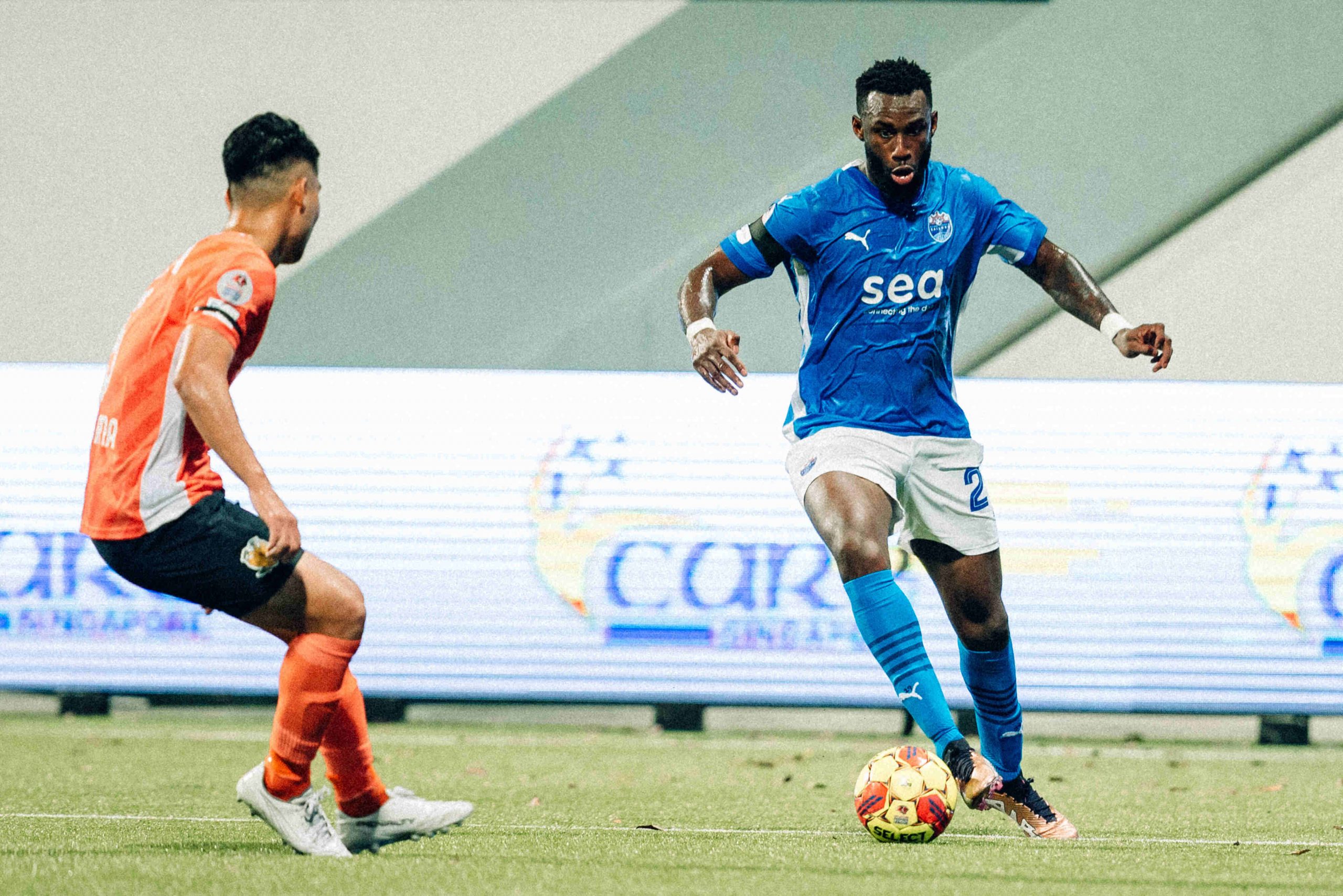 Diego – who took over the armband after Hariss Harun was replaced by M Anumanthan – got his name on the scoresheet two minutes from time, poking home following a stunning team move – with Maxime again the creator – for his second goal of the season. 
The Belgian rounded off the scoring in stoppage time with a tidy finish into the far corner as the Sailors returned to winning ways.
Risto said after the match: "We struggled a lot in the first half where we couldn't really keep the ball and play the way we wanted, but things got better after the third goal and we showed what we can do.
"I understand that it wasn't easy on the players, it's normal for the younger members of the team, especially those who may not have been in this situation of challenging for the title. Hopefully this win will give them the necessary confidence for the upcoming games."
The Sailors will be in action in the SPL again this Saturday, 15 April, when they face the Young Lions at the same venue. 
It started promisingly for the Lion City Sailors last Friday night (31 March) as they dominated early proceedings and took an early lead against Tampines Rovers, but Risto Vidaković's charges eventually fell to a 4-3 loss in what was a thrilling see-saw match. 
As they regroup to face Hougang United away at Jalan Besar Stadium on Monday (10 April) night, the Sailors look to take onboard lessons from that defeat as they seek their first win on the road in 2023. 
"We need to have a better control of the game – we must dictate the tempo and be more compact in our midfield lines. Tampines had quality players and managed to outnumber us in that area, so that's where we need to improve," analysed forward Shawal Anuar. 
Singing a similar tune, but perhaps with harsher drums and cymbals, defender Zulqarnaen Suzliman said: "We were quite passive off the ball. We lost all the second balls and duels. To put it simply, Tampines were hungrier than us and we cannot allow that to happen again."
Despite the defeat, there were still positives for the Sailors, including Shawal netting his first goal for the club on his first start.
The 31-year-old reflected on the 'special' moment and is champing at the bit to contribute even more to the team.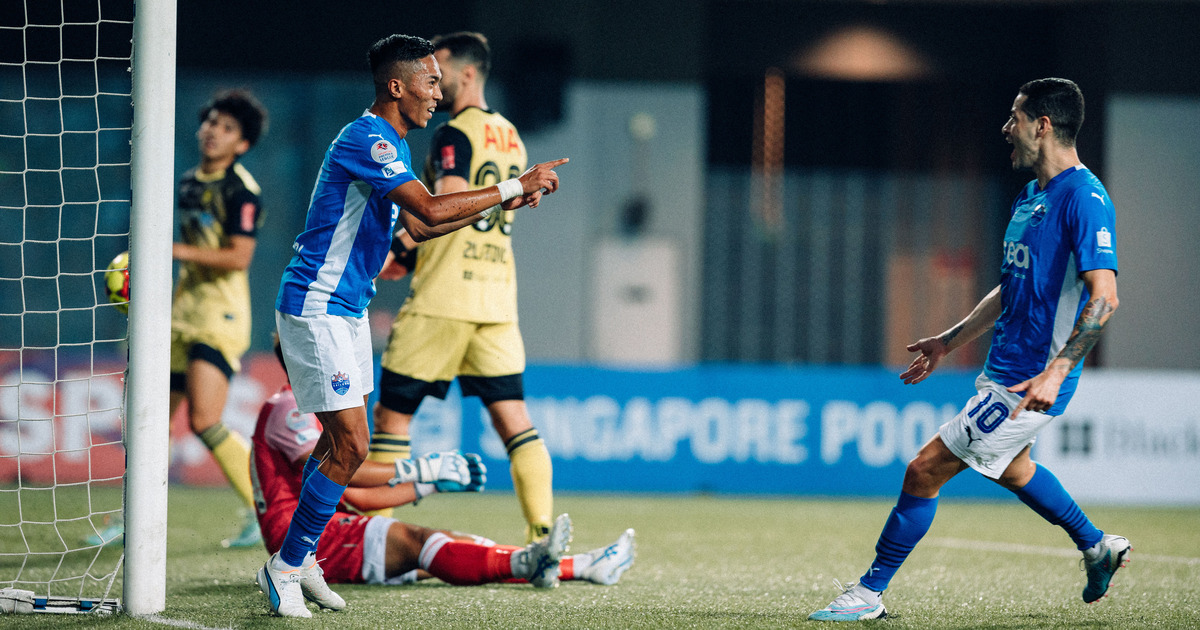 "While we were lining up in the tunnel, Max (Maxime Lestienne) told me 'Shawal, when I get the ball, you just go inside (the box) and I will pass it to you' and that was exactly what happened. 
"So I ran straight to him after scoring and he said to me 'I already told you I will give you the ball!" I'm happy to score and I hope I can get more opportunities to be in the starting lineup," said Shawal, who made four substitute appearances for the Sailors prior to the Tampines game. 
Zulqarnaen's lively cameo at right-back in the final 34 minutes was perhaps another bright spark for the Sailors. This was the 25-year-old's third appearance in consecutive games as he continued his strong comeback from an injury that kept him out of action for eight months. 
"It feels great now that I'm getting some fitness and confidence back – this is what I've been working towards for many months. Whenever I get an opportunity, my aim is to just go out there and show what I can do.
"I'm still just getting started. I'm going to keep training hard and I believe I'm only going to get better and better in the coming matches," he said.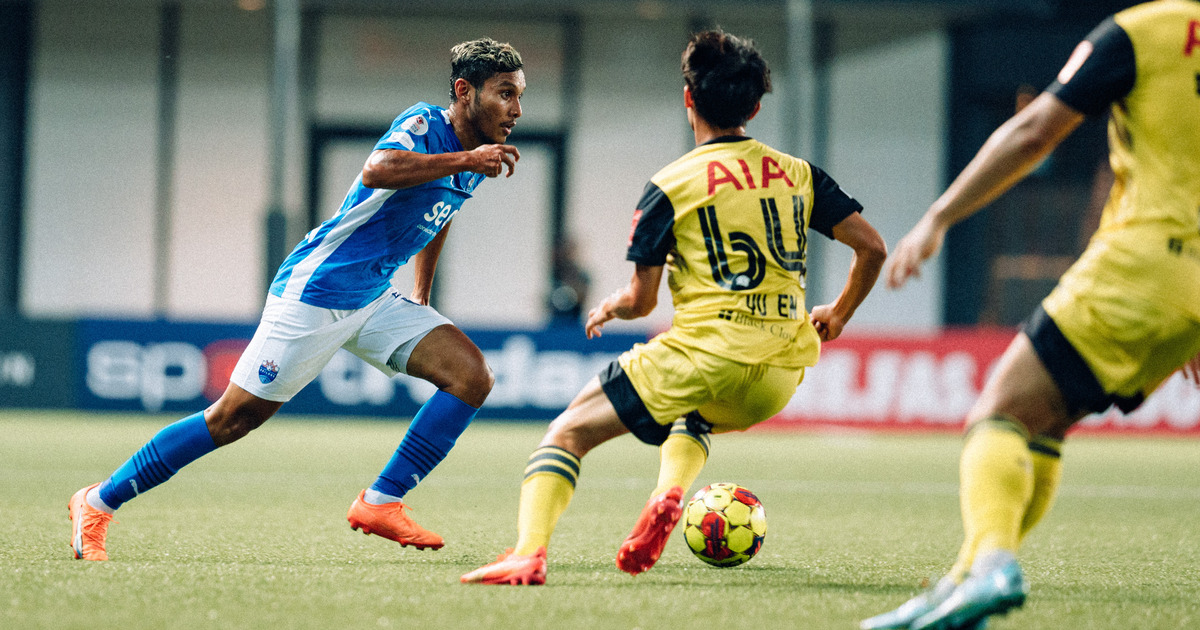 There was a worrying moment for Sailors fans when Shawal went down with a head injury late on in the Tampines defeat, but the forward is keen to allay any concerns as he aims to lead the line again against his former employers. 
"It wasn't so serious, but I needed to go to the hospital for a scan and take the necessary precautions," he said. 
"It's not easy playing in the main forward role, but I'm ready to help the team and play anywhere the coach needs me. It'll be nice for me to see some of my old Hougang teammates and I'm still on good terms with them, but the battle is on. 
We're friends off the pitch, but on it – I'm going to fight and give my all against them to help the club get back to winning ways," added a Shawal determined to repay the Sailors' faithful for their unwavering support.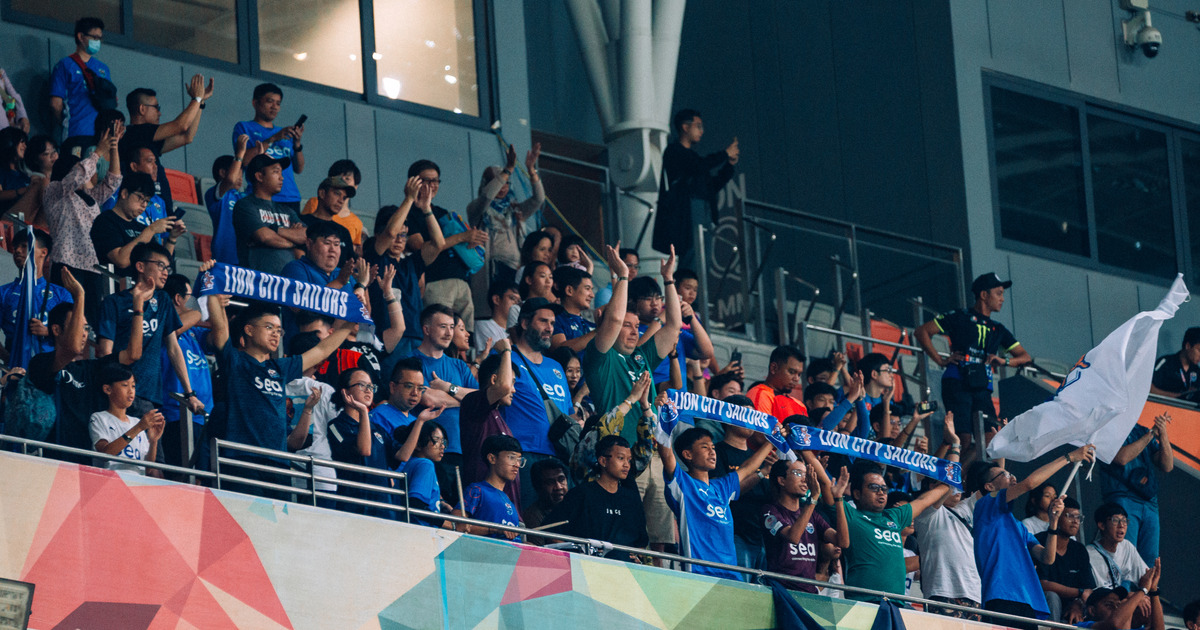 "The support from our fans is simply amazing. Even though they were all the way up on Level 4 at Our Tampines Hub that night, we could clearly hear them singing and cheering for us while we were chasing the game," said Shawal. 
"Some of them even waited for us outside the stadium after the game to give us words of encouragement. We can't thank them enough and we need to deliver a win against Hougang to repay them."
He walked into the room at Mattar Road with boots in hand and a question, asked as a matter of fact: "This won't take the whole three hours, will it? I'm easy in front of cameras."
Bernie Ibini-Isei was on assignment at the Lion City Sailors Training Centre, for photoshoots and video interviews ahead of being unveiled as the club's newly-signed striker-in-chief, and it quickly became evident that he has a firm grasp on the art of taking things head-on and in his stride. 
That should perhaps have come as no surprise. The 1.87m Bernie made his professional debut aged just 17, traversed four continents plying his trade, faced injuries, and even took on in-your-face racism sans fear and anger – as simply "something that needed to be dealt with." 
The former Australian international was signed and registered ahead of the Singapore Premier League's (SPL) 19 March Transfer Deadline in place of the injured Kodai Tanaka, and he is raring to go. 
"It all happened super quick – a bit of a whirlwind, really. I was excited at the start of the process, and I'm still excited now, looking forward to getting to know everyone – it's going to be fun," said Bernie. 
"The facilities are great, and the way I've been taken care of at the club has been just fantastic. I can't wait to properly join the team."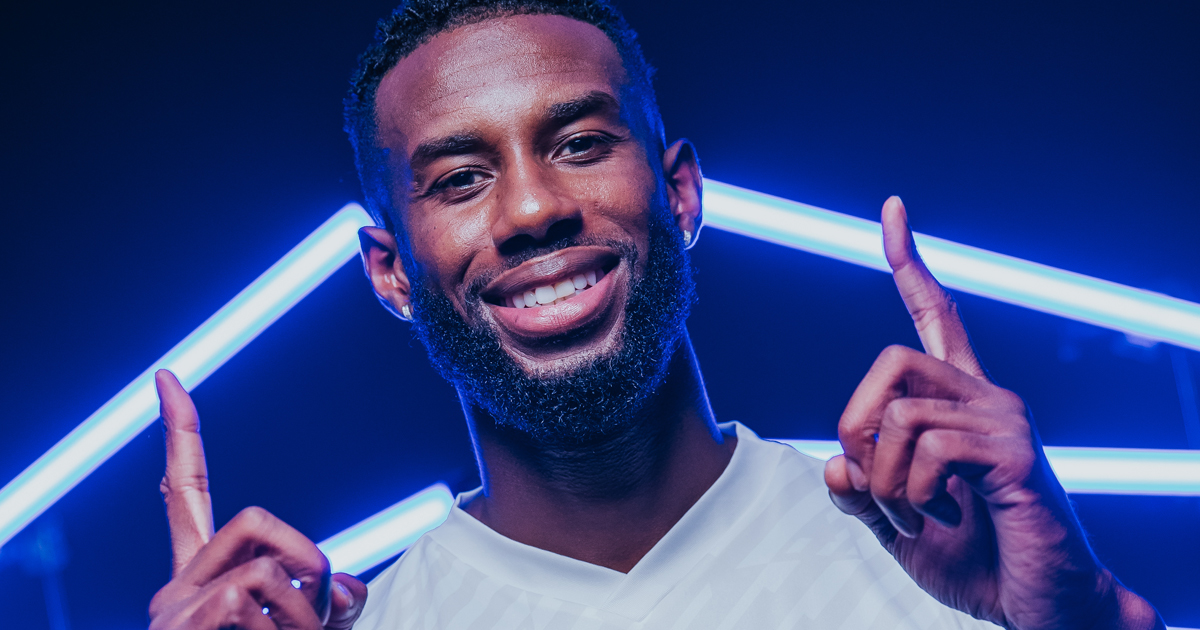 Describing himself as a type of player who enjoys running at defenders and putting the ball in the back of the net, Bernie is looking forward to what will be a new start for himself. 
"I feel sad that Kodai has suffered such a serious injury – no one wishes that upon any player – but I don't see this as me replacing someone, more like me having the opportunity to sign here," said the 30-year-old. 
"For me it's a new beginning, a clean slate and I'm ready to take it on."
Bernie has endured a tough period in his well-travelled career this past year, after leaving A-League side Western Sydney Wanderers last year, but as he is evidently wont to do, he has taken it in his stride. 
"I have not been playing as much as I would like, but I guess this comes as part and parcel of football," he said, unflinching. 
"I've been through plenty of ups and downs throughout my career and all you can really do is control yourself and how hard you train, and make sure when you get an opportunity to play you give your best – your all – then walk off the pitch and be happy with how you did."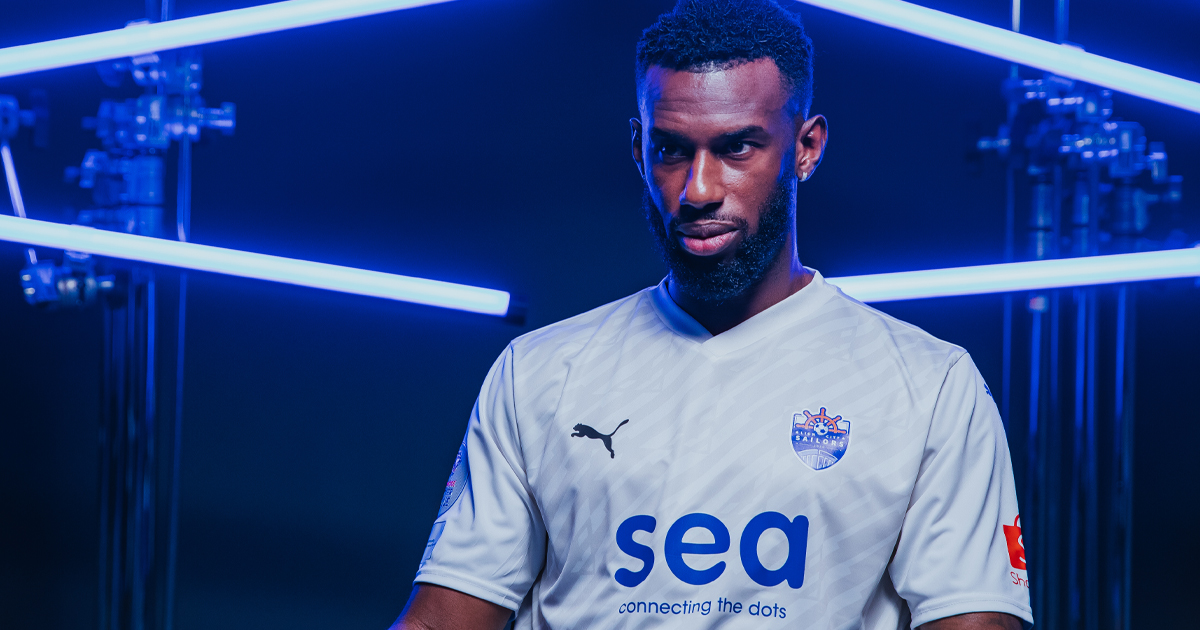 Bernie's deadpan style seems to extend far beyond the football pitch and training ground. 
"I'm a winner and I hate losing, and I think playing and training is very draining within itself, so when I'm away from the pitch I try to be more calm and more chill," said Bernie. "I'd say I'm pretty relaxed, on PlayStation, on Call of Duty and stuff like that, listening to music." 
The popular EA Sports FIFA game on Playstation is not Bernie's go-to – not at the moment at least – like it is for several players and football fans, but he pricked up at the possibility of a virtual challenge. 
"I'd rather play Call of Duty at the moment, yeah, but don't get me wrong, I'm still good with FIFA," he said, breaking into a chuckle that seemed to pull up the competitive streak lurking just a sliver beneath the surface. 
It appears prudent to take Bernie at his word. He is easy in front of cameras, both of the photo and video kind – and he walked out of that room in 90 minutes flat.
In a battle between the Singapore Premier League (SPL) title challengers on Friday (31 March) night, the Lion City Sailors were edged out 4-3 by Tampines Rovers at Our Tampines Hub. 
The result saw Risto Vidaković's side fall to their second defeat of the 2023 SPL season, but the Serbian was nevertheless encouraged by the display of his charges. 
"The players did very well and I cannot fault their effort today. We managed to fight up until the final whistle and while we made mistakes, I cannot be more proud of them," Risto said after the thrilling contest. 
"The good thing is we still have more games to play and we can only get better from here."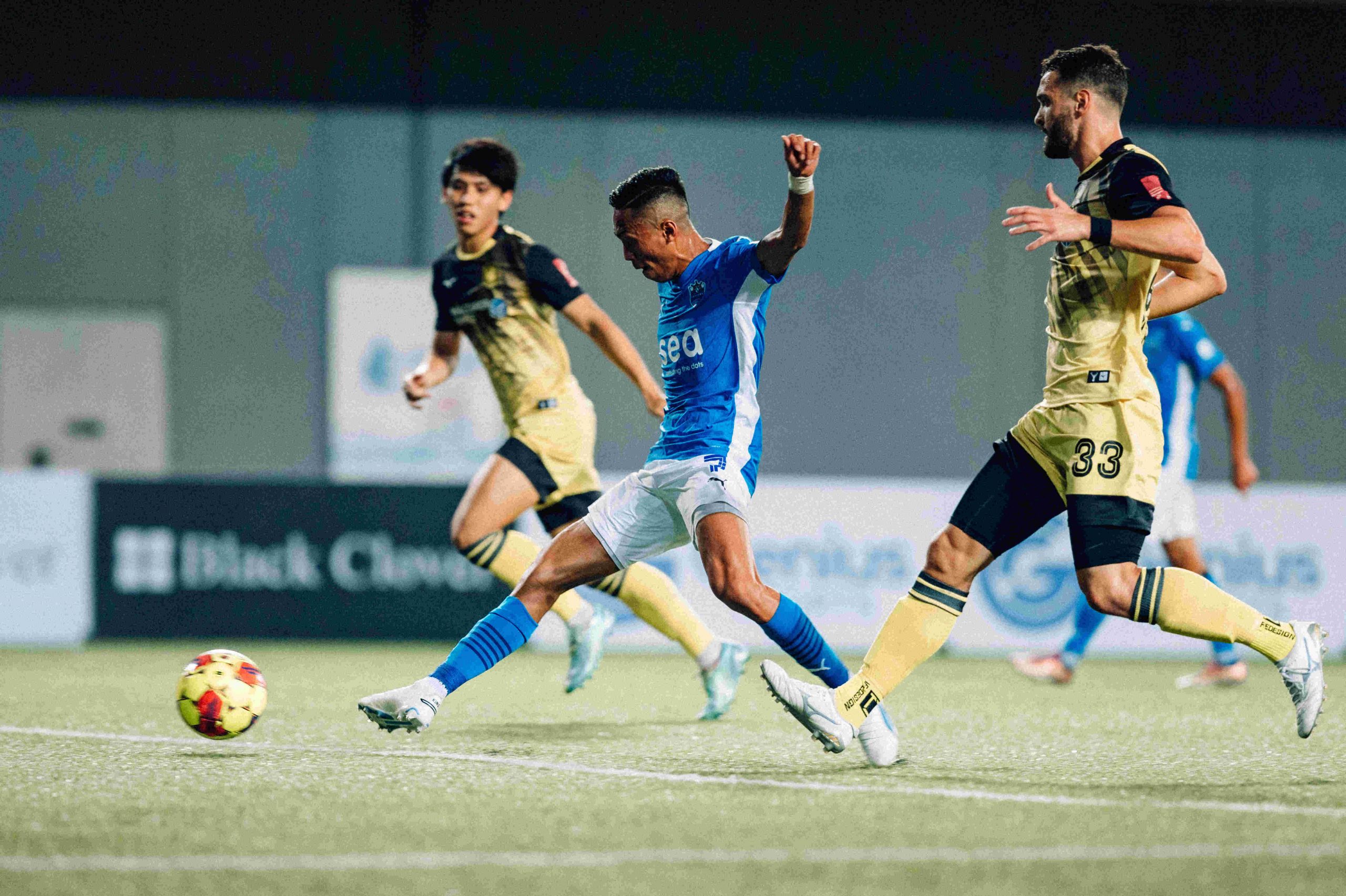 The Sailors got off to a dream start through Shawal Anuar's first Sailors goal just eight minutes in. Getting onto the end of a well-weighted Maxime Lestienne cross, the new signing who was making his first start of the season, calmly diverted the ball past Syazwan Buhari.
But the game would turn in the favour of the hosts after Yasir Hanapi and Kyoga Nakamura struck one each in the space of 10 first-half minutes. 
Former Sailor Faris Ramli further extended Tampines' lead with an emphatic finish on 50 minutes, before the deficit was reduced briefly six minutes later when Glenn Kweh put the ball into his own net. 
There was still time for more goals, with a header from substitute Taufik Suparno restoring Tampines' two-goal cushion in the 72nd minute.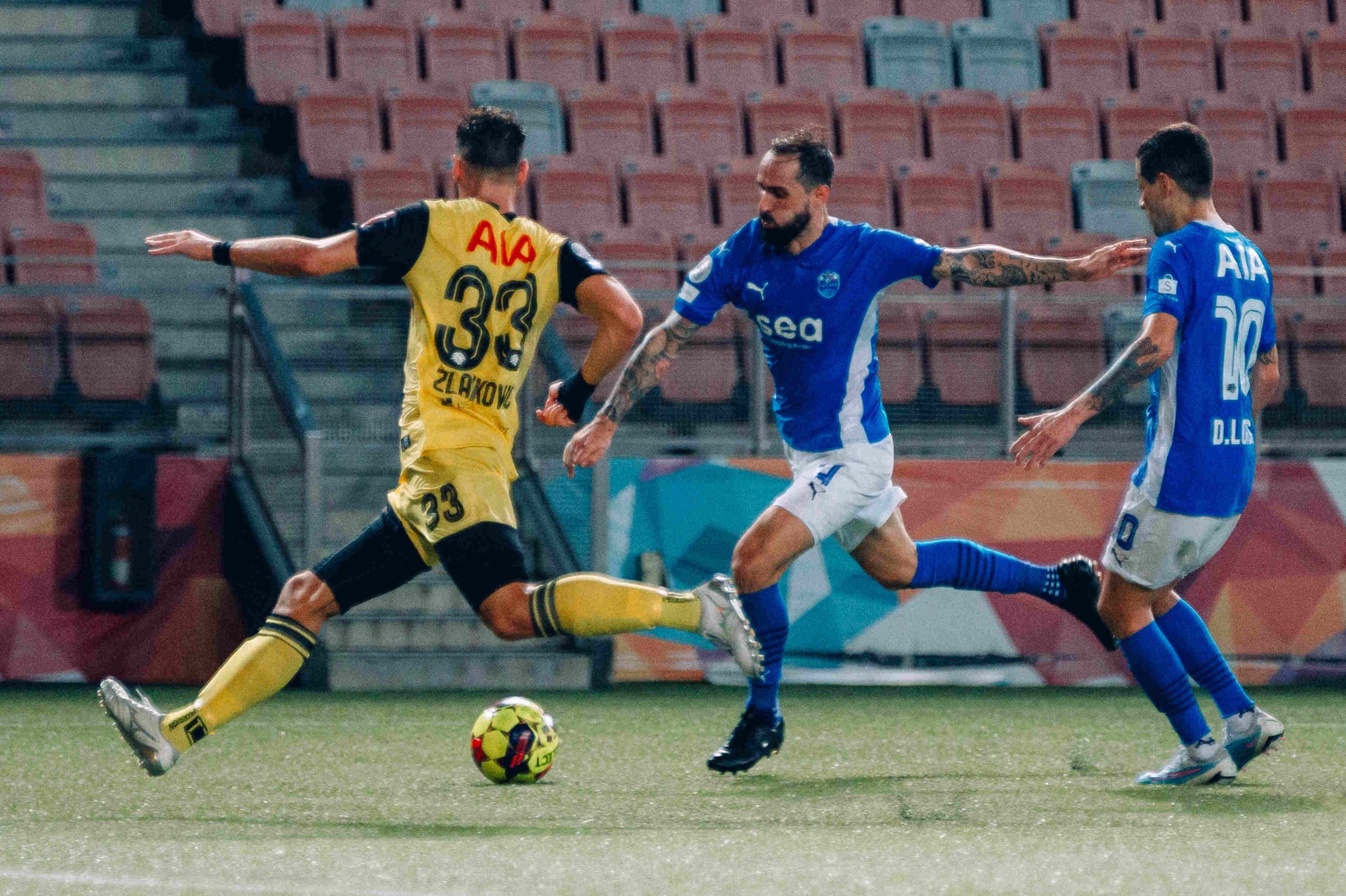 Defender Manuel 'Supér' Herrera then pulled one back deep into injury time by netting his first goal since joining in mid-March, but it was not to be as Tampines hung on for the three points. 
Said Risto: "We started well and tried to make Tampines uncomfortable by pressing them high up the pitch. However, the difference between the two sides was that while the Tampines team have been playing together for a number of years and showed understanding on the pitch, we are a new team still trying to gel.
"There are areas where we need to improve on and there is certainly a lot of work ahead of us." 
There was some optimism for the future, with Sailors fans getting another glimpse into the pipeline of talent coming through the club's Academy as forward Nathan Mao came on for Shawal in the 90th minute.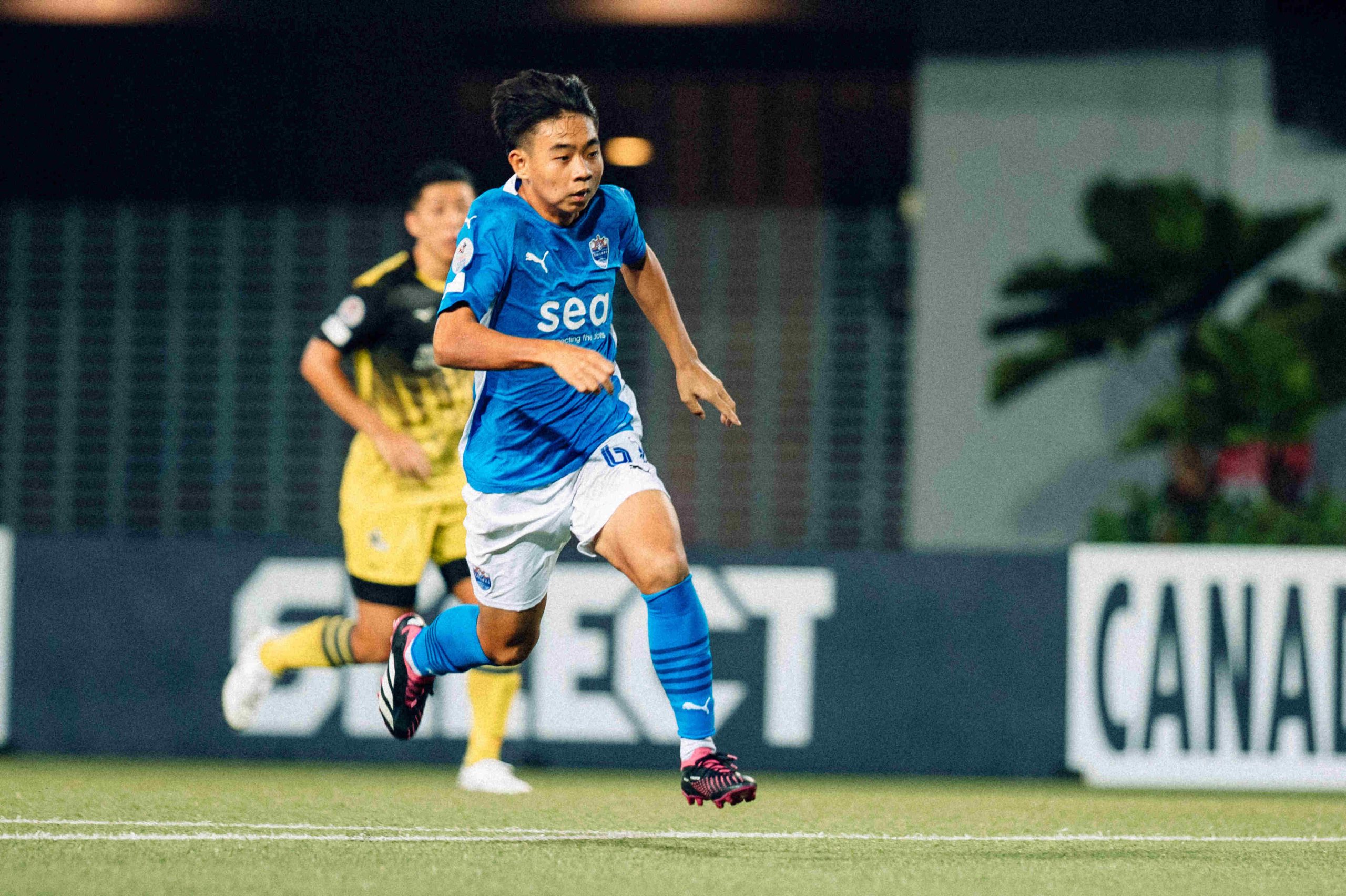 Nathan became the SPL's youngest ever debutant at 15 years and 5 days old – surpassing the previous record (15 years and 239 days) held by Young Lions defender Raoul Suhaimi. 
While Risto was pleased with the prospect of a steady stream of talent flowing from the Academy and into the first team at Mattar Road, he turned his attention to the more pressing matter at hand. He called for his charges to bounce back stronger as they prepare to face Hougang United in their next SPL fixture at Jalan Besar Stadium on 10 April.
"We need to reflect on what happened during the match and look at ourselves in the mirror," he said. 
"We have to stick together as a team, rest and regroup, then push forward and think about what we need to do against Hougang in our next game."