The Lion City Sailors' hopes of qualifying for next season's Asian Champions League (ACL) suffered a blow last evening (Nov 29), despite a 4-0 win over the Young Lions in the Singapore Premier League (SPL).
With Tampines Rovers beating Albirex Niigata (S) 4-1 in last night's other SPL match, the Sailors are now third in the eight-team standings, on 23 points, four behind league leaders, Tampines Rovers, with just two games to play. 
The Sailors will now not only have to beat Tampines on Wednesday (Dec 2), but also hope that the Stags drop points against Geylang International in their last match of the campaign on Saturday (Dec 5) in order to qualify for next season's ACL. And that is also provided the Sailors win their final SPL game against Balestier Khalsa.
In short, the Sailors' ACL dream hangs by a thread at the moment, but head coach Aurelio Vidmar is not giving up the fight just yet.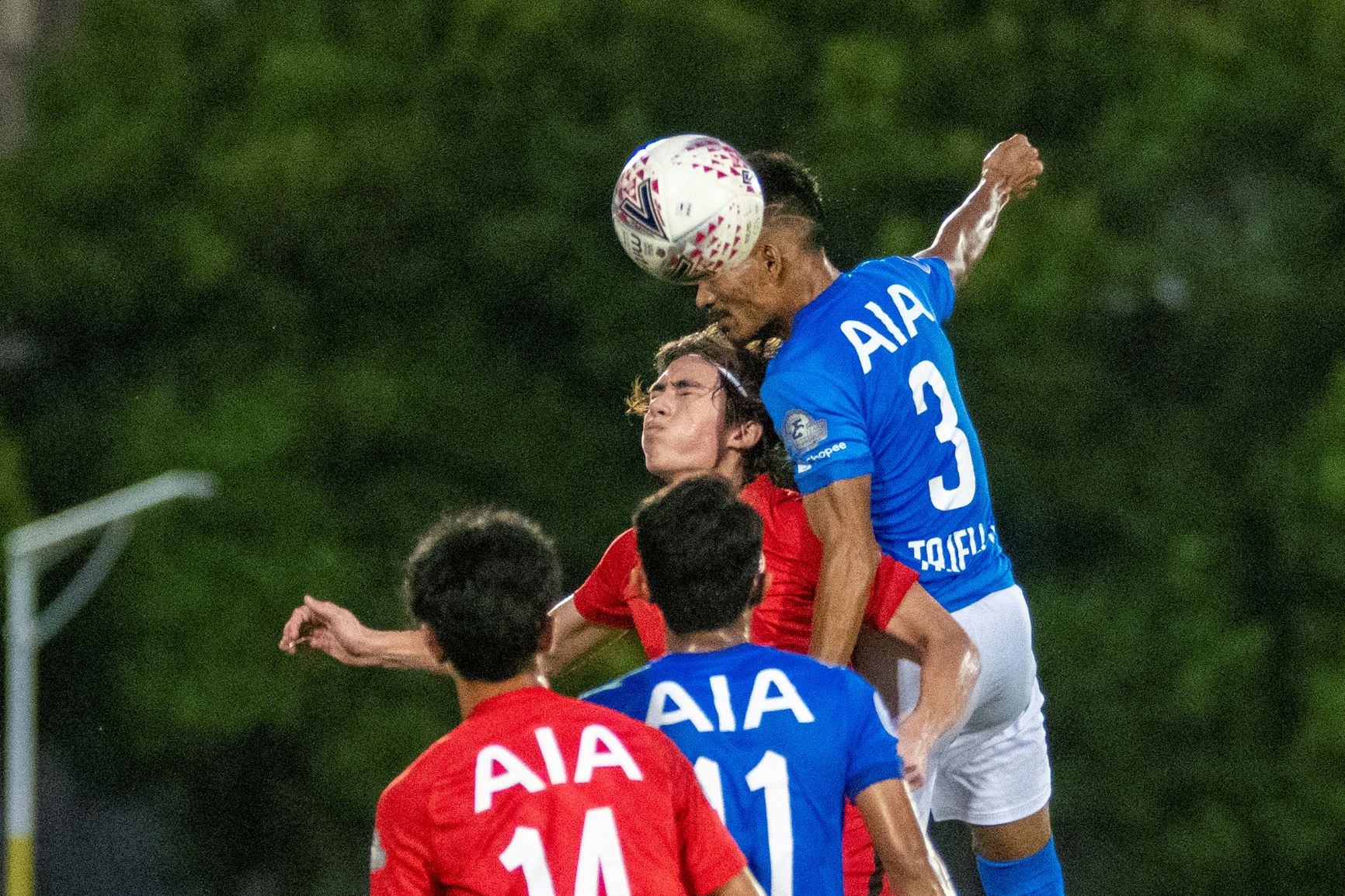 "The (Albirex vs Tampines) result didn't go our way," Aurelio admitted. "But we have to fight to the very last game – that's my message to the players. We have a big match against Tampines coming up that we absolutely have to win, because you don't know what's going to happen after that.
"Football is funny and anything can happen, so we can't give up. Right now, we'll just have to get ready for what I think will probably be one of the games of the season on Wednesday. We've done a very good job up to this point, and we'll have to keep fighting and doing our very best till the end of the season."
While the result of the game between Albirex and Tampines may not have been beneficial for the Sailors, Aurelio's charges held up their end of the bargain at the Jurong West Stadium, running out 4-0 winners over the Young Lions.
Two goals from Arshad Shamim, along with a penalty from Song Ui-Young and Gabriel Quak's second-half strike, helped the Sailors get all three points against a spirited Young Lions side.
Indeed, the Young Lions nearly took the lead several times in the first-half, but they were just unable to find a way past Sailors goalkeeper Hassan Sunny. The one time they did, through Ilhan Fandi's effort from the edge of the box, the woodwork came to the Sailors' rescue.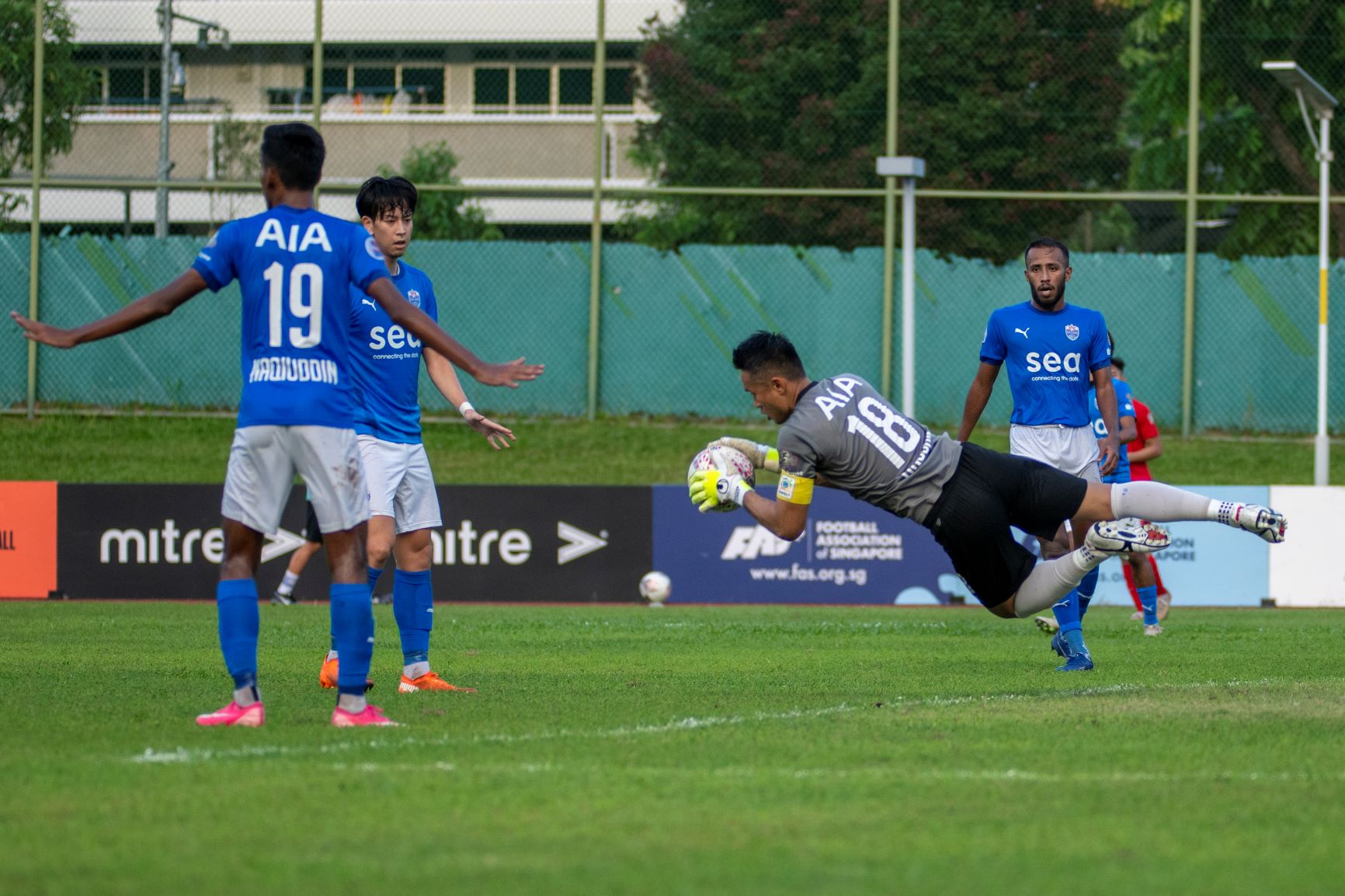 Acknowledging the Sailors' slow start to the game, Aurelio said: "The first half was very difficult for us because they (Young Lions) were organised reasonably well, nice and compact, and didn't give us too much space. But our intensity also wasn't at the level where it has been in the past. So, we suffered quite a bit in those first 20, 25 minutes."
Midfielder Arshad, however, then stepped up for the Sailors with a poacher's goal in the 34th minute, as he instinctively got a touch on Shahril Ishak's header to redirect the ball past Young Lions custodian Ridhwan Fikri.
The 21-year-old then got in behind the Young Lions' defence again in the 40th minute, forcing Ridhwan into conceding a penalty that Song confidently dispatched.
Arshad got his second on the night in the 55th minute as he timed his run perfectly to meet Gabriel's right wing cross. That proved to be his last meaningful contribution in the game, as he was brought off two minutes later for Adam Swandi. 
The in-form Gabriel then put the icing on the cake for the Sailors in the 73rd minute with a composed finish from Hafiz Nor's cutback.
Arshad's mature performance drew praise from Aurelio, who hailed the youngster's innate ability to get into threatening positions in the final third.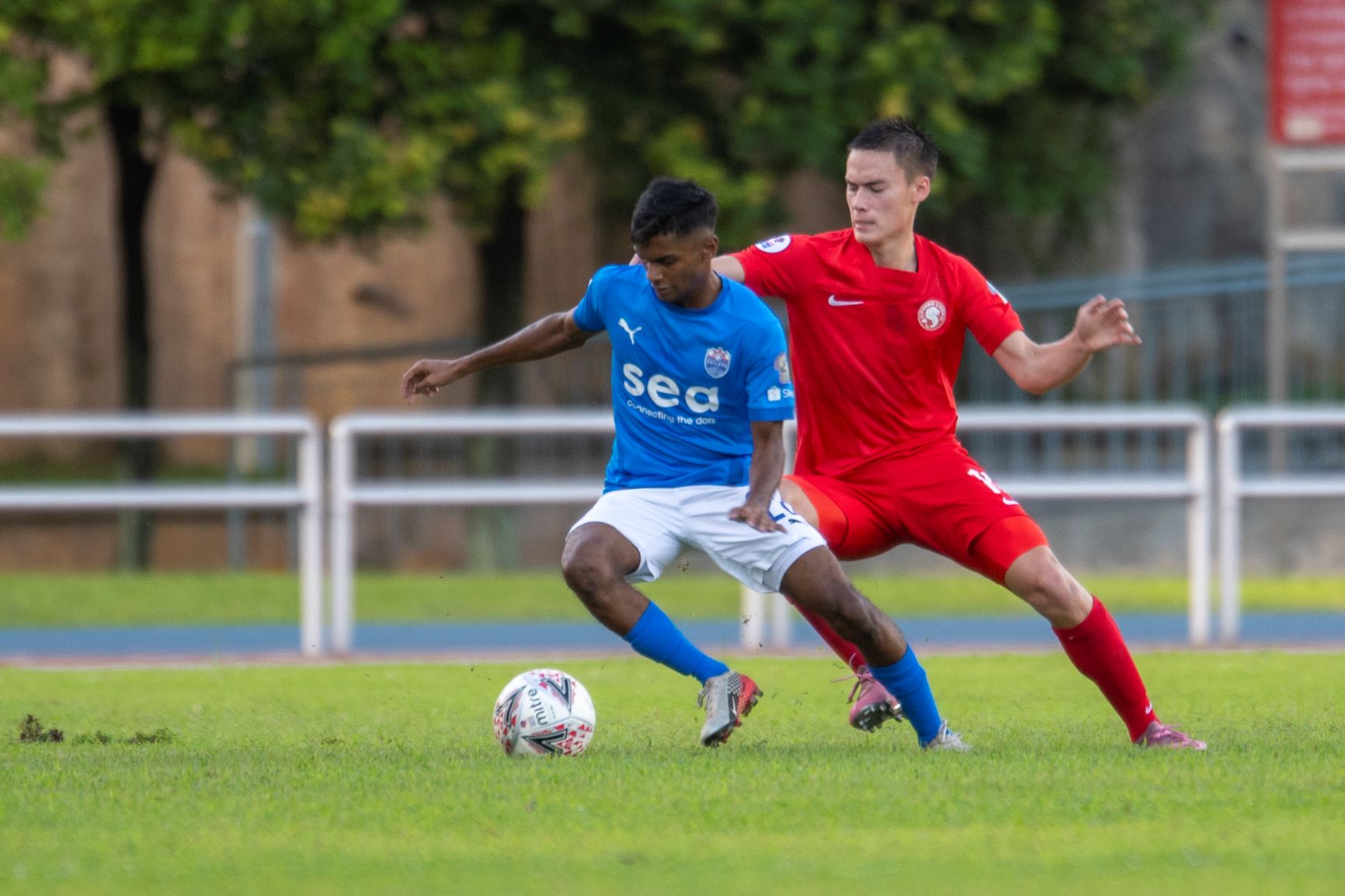 "Arshad was very good for us tonight. He was always a threat being on the last line of defenders and making some great runs in behind the defence," said Aurelio. "A lot of the times the ball didn't get to him in those positions, but he was always in the box at the important moments, and that's how he got his goals and won the penalty."
Trudging off the pitch at the Bishan Stadium last Sunday (Nov 22), Saifullah Akbar was a picture of despondence, and for good reason.
The 21-year-old had given everything to help the Lion City Sailors get the three points that night, but still suffered a narrow 2-3 defeat to Albirex Niigata (S) in the Singapore Premier League (SPL). The home side had arguably played better football throughout, and had done enough to get the win, so to eventually come away with a defeat at the end of 90 minutes was a huge disappointment for the Singapore Under-22 international.
Nonetheless, Saifullah's display for the Sailors was certainly encouraging – he was one of the standout performers against Albirex, covering every blade of grass and racking up the joint-highest number of shots in the team alongside Song Ui-Young.
Saifullah even went close to scoring in the 18th minute with his close-range snapshot looking destined to nestle in the bottom left corner of the net, but Albirex keeper Kei Okawa somehow managed to keep the ball out with a flying save.
To put it simply, Saifullah did almost everything right, apart from finding the back of the net. To compound matters, he received a yellow card late in the game – his fourth booking of the season – which meant he was suspended for the Sailors' following fixture – a 3-0 win over Geylang International.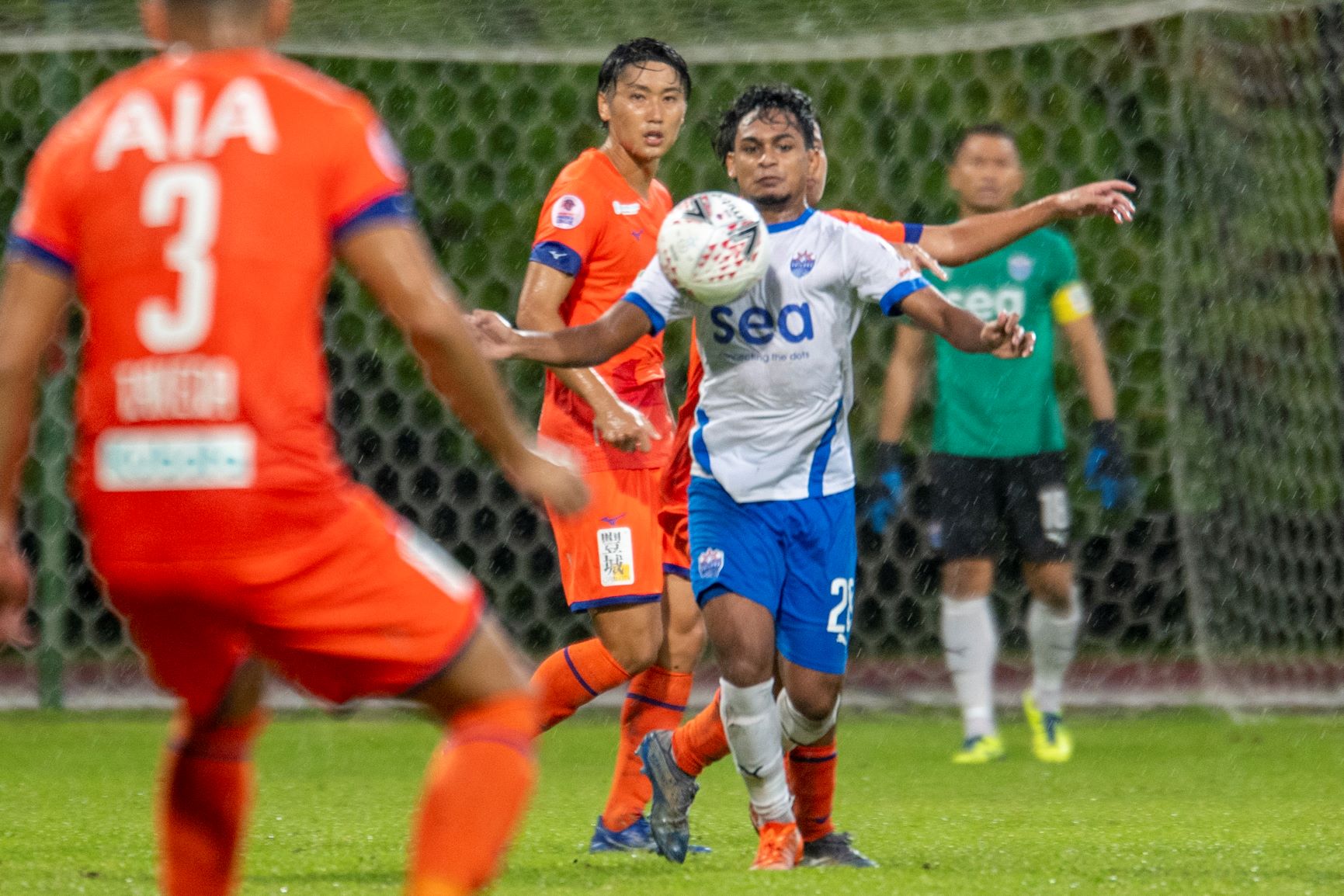 Reflecting on the Albirex result, Saifullah lamented: "Obviously that was such a frustrating night. Coach Aurelio (Vidmar) told us to bring our A-game and we did – from Hassan (Sunny) in goal to Shahril (Ishak) up front, we put up a good show and gave nothing less than 100 percent. But the result just didn't go our way.
"Personally, for myself, I felt I played one of the best 90 minutes of my career. The intensity and pace of the game was on another level – it's always like that against Albirex. I'm glad I was able to adapt and thrive in that game. I got to run all over the park, get shots on goal and contribute both in defence and attack. 
"However, not getting the three points meant the good performance did not matter at all and I would not like to experience that again."
Thankfully, such disappointments have not been a frequent occurrence for Saifullah since he joined the Sailors in the off-season. Having started in eight of the ten SPL games before his suspension against Geylang, the skilful playmaker has been a lynchpin in the centre of the park for the team, with his performances getting better with each passing week.
And Saifullah credits coach Aurelio's advice, as well as being around quality players, for his rapid improvement.
"The areas that I feel I've improved the most in are getting shots and running into the box more," said Saifullah, who has one goal and one assist so far this campaign. "Before the start of the season, Coach said that for me to take the step up to another level as a midfielder, I've to get into the box more; to get more shots away, and to capitalise from any rebounds that fall my way.
"So, after I make forward passes, I have to continue my runs into the box – like how I scored (in the 7-1 win) against Balestier. That is what Coach demands from me so that I can develop into an all-round midfielder. I'm really enjoying it so far, and I hope to get more goals and assists – that's the target," he said. 
"Being at the Sailors is similar to what I experienced in my first professional season with Tampines (Rovers) in 2016. There are experienced national players as well as quality foreign players within the team.
"As a youngster, it's a blessing for me to learn from seasoned pros like Song, Shahdan (Sulaiman) and Gabriel (Quak) every single day about what true professionalism is, on and off the pitch, and what it takes to succeed at the highest level. Being around so many good players also means that I've to be on top form in every training session to show that I deserve to be in the starting 11."
The ambitious Saifullah has also set his sights high on making the breakthrough with the Singapore national team, although he is fully focused on his current mission with the Sailors.
"Of course, like any other player, I dream of playing for the Singapore national team. But first things first, I have to put in more consistent performances to convince the national coach (Tatsuma Yoshida) to call me up," he said.
"Right now, though, my main focus is to help the Sailors win trophies, and I really want to help us qualify for the AFC Champions League (ACL) next season."
Up next for Saifullah and the Sailors is a clash against his former club Young Lions at the Jurong West Stadium. It is a must-win game for the Sailors if they are to stay in the hunt for ACL qualification although they may well have to cope without top scorer Stipe Plazibat, who is still recovering from a niggling hamstring problem. 
The Sailors are currently third in the table, four points off Tampines and a further two behind Albirex.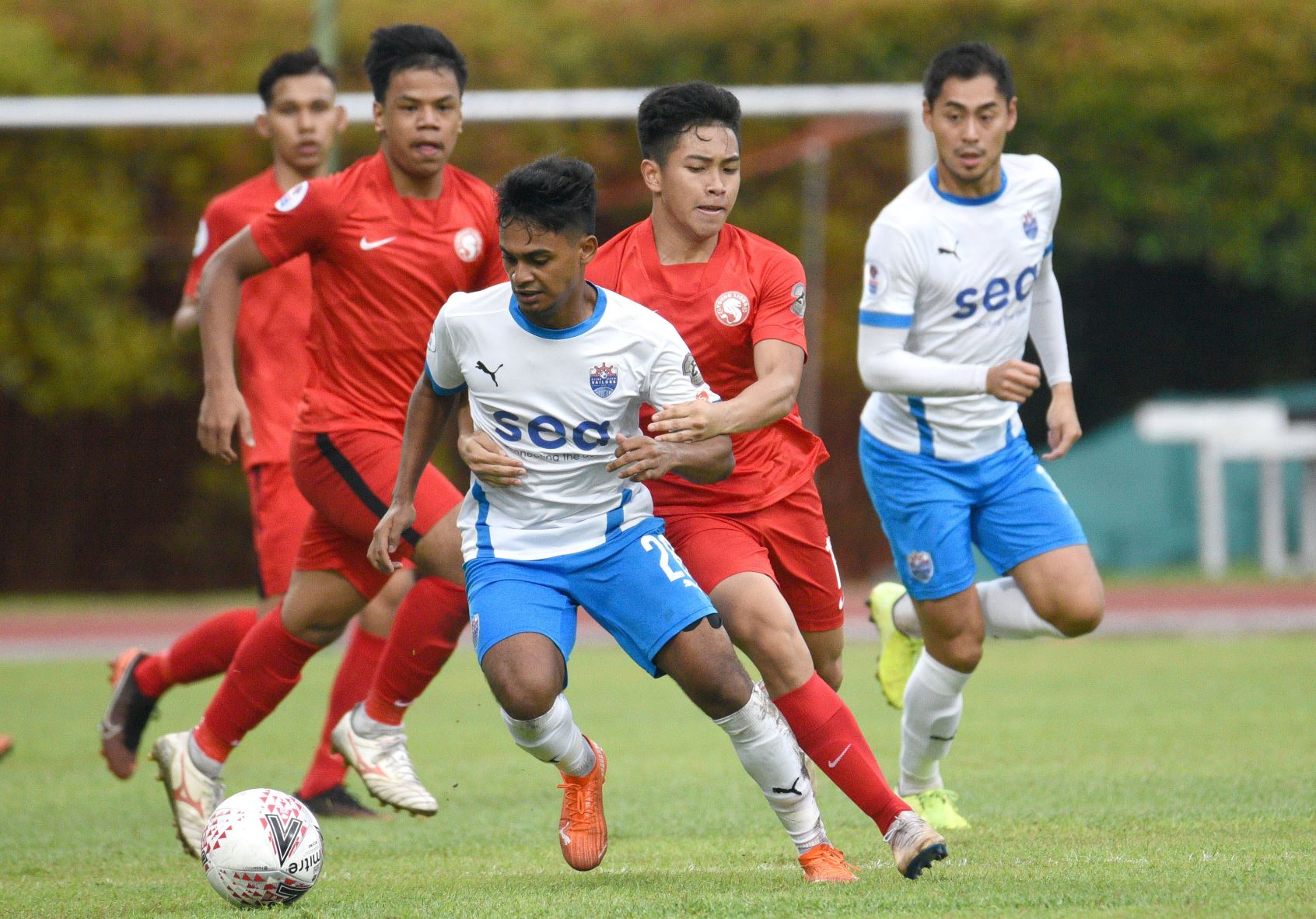 "Yes, Stipe could be a big loss for us (if he doesn't play), but we have Shahril who has the experience to help us in the attacking third," insisted Saifullah.
"From my time with the Young Lions, I know they can really put up a good fight on their day. They always play their hearts out with something to prove, and coach Nazri (Nasir) always pumps in a lot of energy into the team, so it may be a tricky game for us. Moreover, they've got Hami (Syahin) and Ilhan (Fandi) now back with the team, so they are a very different side from the one we beat (5-0 at the start of November).
"We're not too worried about the top two (Albirex and Tampines) for now. We just have to focus on getting the full nine points from the remaining three games and see where that brings us. Football's an interesting game and many things can change over a week."
It was a mixed bag of results for the Sailors over the past week as they fell to a heartbreaking 3-2 defeat to Albirex Niigata (S) before bouncing back with an emphatic 3-0 victory over Geylang International in the Singapore Premier League (SPL).
Here, we round up the three major talking points from the two matches, as Aurelio Vidmar's charges gear up for the final three games of the season.
Sailors keep their heads up in the face of adversity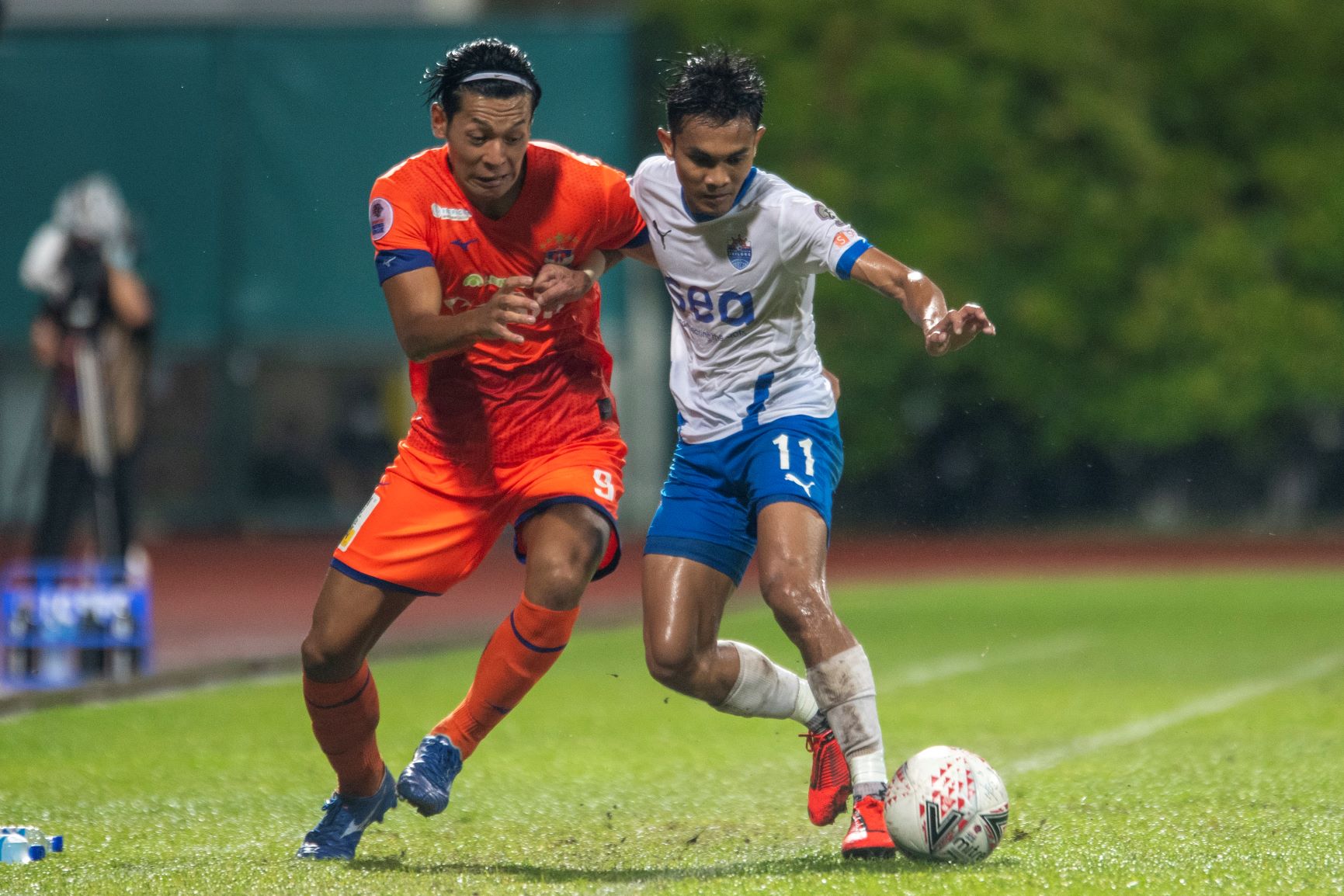 As the saying goes: when the going gets tough, the tough get going. A hallmark of a great team is their ability to rise after falling, and that was certainly on display in the Sailors' performances in their last two matches.
Against Albirex, they fell behind twice in the first-half, but fought back well to level the score within 10-odd minutes on each occasion. The White Swans would take the lead for a third time late into the game, and although the Sailors were ultimately unable to find a reply to that goal, they kept pushing forward until the final whistle, and can perhaps count themselves unlucky not to finish the game with at least a point.
Then, against Geylang, Aurelio Vidmar's men found themselves continually frustrated by a disciplined Geylang backline and an inspired Hairul Syirhan, who kept the Sailors out with a series of fine saves.
It would have been easy for the Sailors to get frustrated, especially with the score still locked at 0-0 by the 70-minute mark.
Other teams might have thrown their game plan out the window and resorted to route one football then. But not the Sailors. Instead, they stayed patient and stuck to Aurelio's philosophy of possession-based football.
And they were duly rewarded, breaking the deadlock through a stunning counter-attacking move that started all the way from goalkeeper Hassan Sunny and ended in Song Ui-Young's neat finish from close range.
Not content to sit on their one-goal advantage, the Sailors kept pushing forward, with both Gabriel Quak and Kaishu Yamazaki eventually also finding the back of the net before the final whistle.
The unwavering fighting spirit and dogged persistence from the boys when things were not going their way bodes well for the Sailors as they look to finish the season strongly.
Gabriel Quak – a possible Player of the Year contender?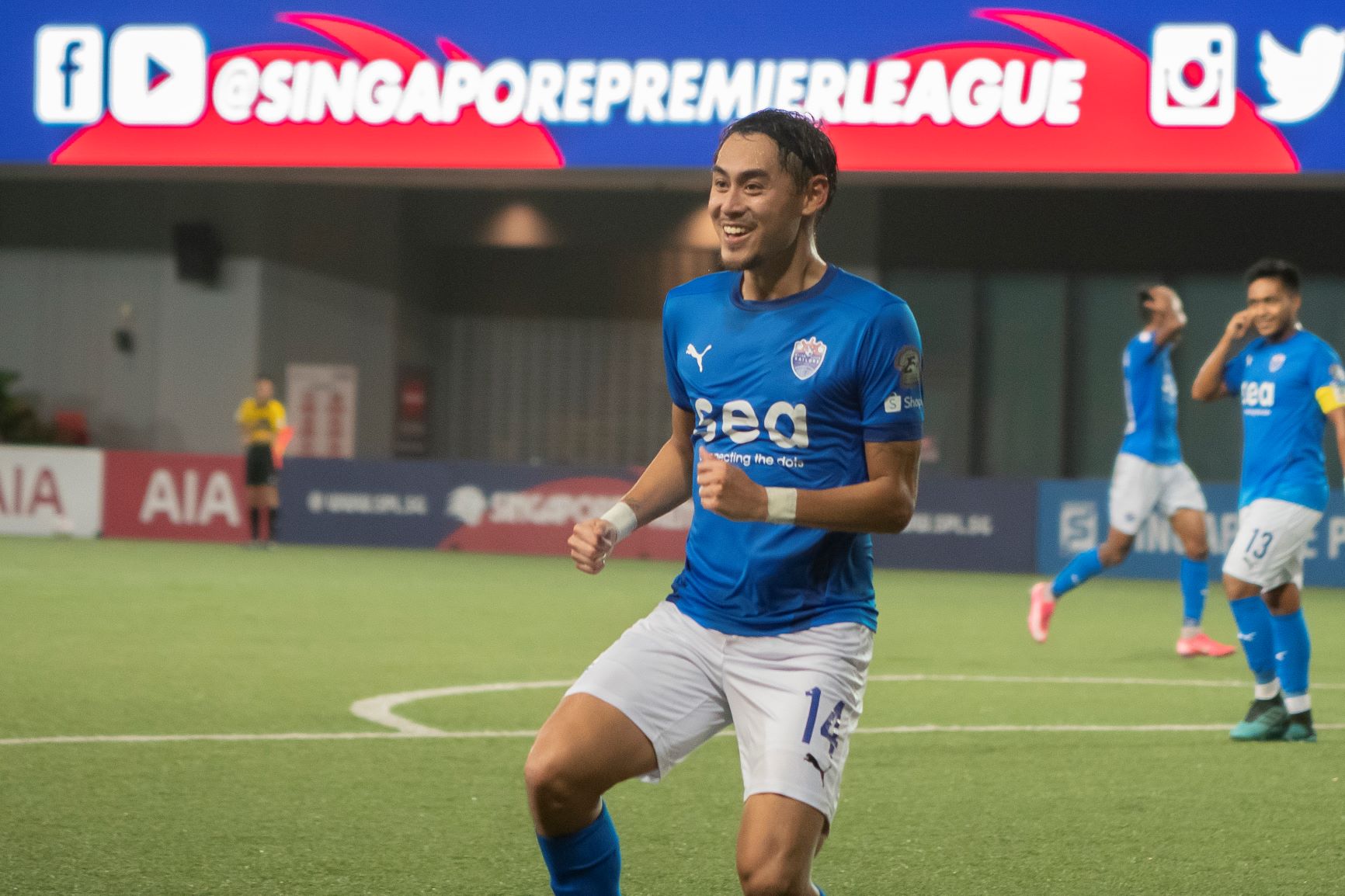 Who has been the standout performer for the Sailors this season? It's a tough question to answer, given that a number of players have shone since the league restarted in mid-October.
Among them is Gabriel Quak, who has undoubtedly been one of the Sailors' brightest sparks.
While the Sailors had to cope without striker-in-chief Stipe Plazibat for the past two matches due to injury, the Croatian's absence has thankfully not been felt too keenly, and that is largely down to Gabriel's performances.
Often deployed in a central role – either as an attacking midfielder behind striker Shahril Ishak, or as a False 9 up top – Gabriel has been a revelation for the Sailors this season, and his influential performance against Geylang was a perfect showcase of the qualities that he brings to the team.
The 29-year-old's nifty footwork helped him bamboozle past two Geylang defenders to score the Sailors' second, before he showed great awareness to tee Kaishu up for the team's third and final goal in stoppage time.
Currently with a league-leading six assists to his name, Gabriel appears to be going from strength to strength with each passing game. At this rate, no one will bet against the Singapore international from being nominated, and even winning, the Player of the Year gong at the SPL's year-end awards.
Strength in depth the key in hectic run-in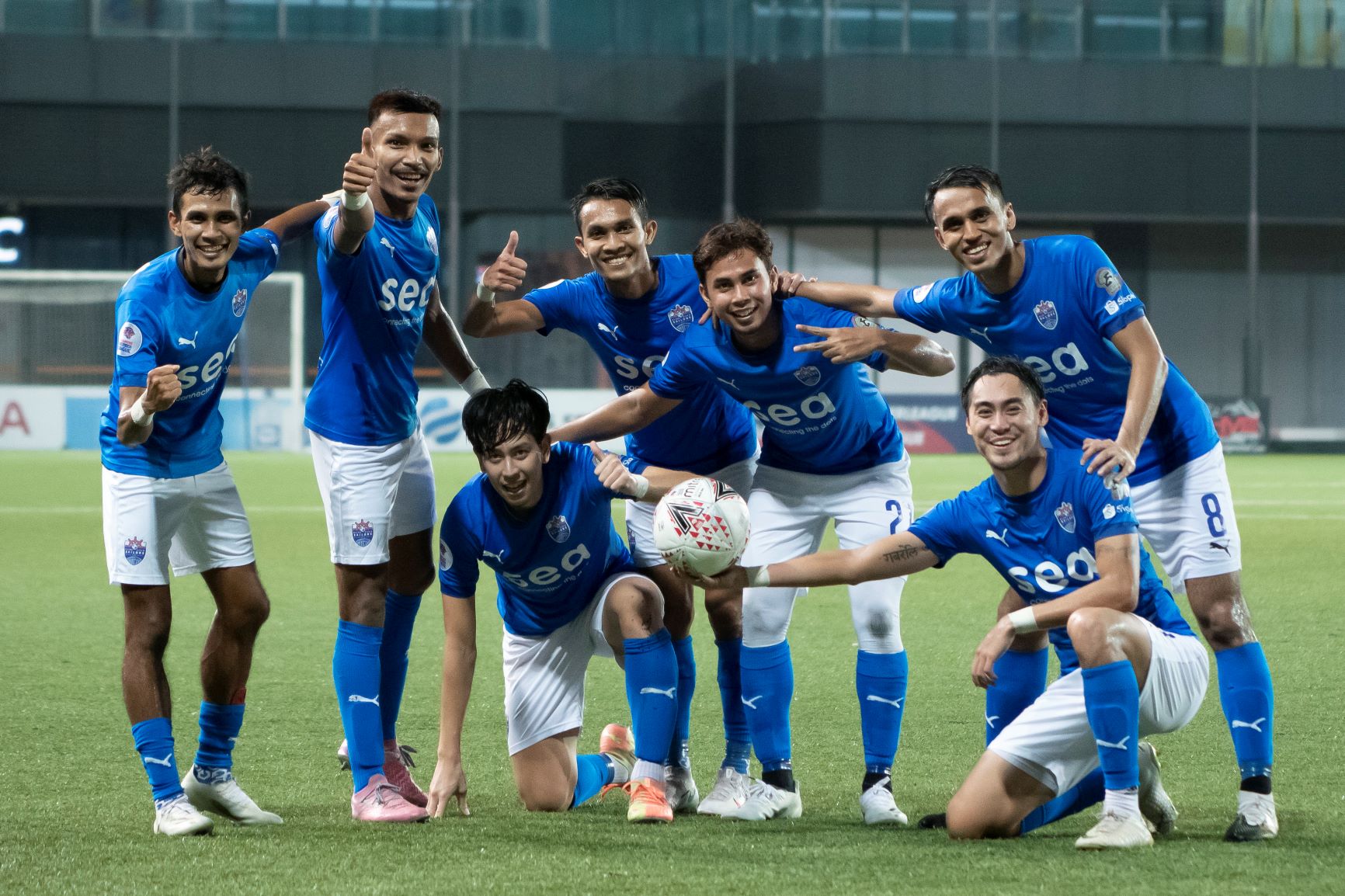 The hectic run of fixtures in a truncated SPL season has taken a toll on most teams, with several players throughout the league suffering muscular and ligament injuries. The Sailors have likewise been affected by injuries, with Stipe unable to significantly feature in the last two matches after pulling his hamstring in the 3-1 win over Hougang United last Tuesday (Nov 17).
The hectic schedule leaves coaches with a conundrum – should they practice squad rotation to keep their top stars fresh, and risk having the team's performances suffer as a result of their absence? Or should they keep playing their key players throughout, and hope they do not suffer a lengthy injury?
This is where the importance of squad depth comes into play. With the final three games of the campaign set to be played over seven gruelling days – on top of what has already been a frenetic season so far – the chances of injury are heightened, and how coaches utilise their squad for this final stretch will be crucial in determining the final league standings.
Thankfully for the Sailors, they have arguably the strongest bench in the league, with Aurelio previously remarking that "every player in the team can play in the starting-11".
And their upcoming game against the Young Lions this Sunday (Nov 29), 5.30pm, at the Jurong West Stadium, might provide Aurelio the chance to rest some of his big names for the crunch match against title-chasing Tampines Rovers next Wednesday (Dec 2).
This could see the likes of Abdil Qaiyyim, Faizal Roslan, club captain Izzdin Shafiq and even Adam Swandi be handed a start against the Young Lions – all dependable players who could easily be regular starters for the Sailors, who will undoubtedly give their 100 per cent to prove that they deserve an extended run in the starting 11.
Now, that is what you call squad depth.
For close to 70 minutes last evening (Nov 25), the Lion City Sailors battered the Geylang International goal at Our Tampines Hub to no avail.
In footballing parlance, it was starting to look like 'one of those days', where the Sailors were doing everything right, except putting the ball in the net.
Then, in the 71st minute, with Geylang committing numbers up top for a corner, the Sailors launched a devastating counter-attack – starting all the way from goalkeeper Hassan Sunny – which ended in Adam Swandi delivering a peach of a cross for Song Ui-Young to tap home from close range.
It was just rewards for the Sailors' tenacity, who went on to seal the victory through Gabriel Quak's superb solo goal in the 86th minute, before defender Kaishu Yamazaki put the icing on the cake in stoppage time with an outstanding long-range strike.
The Sailors may have ended up 3-0 winners on the night, but the scoreline belied just how difficult it was to break down a determined Geylang side.
Speaking after the game, Sailors head coach Aurelio Vidmar praised his players for their "persistence", which he believes was vital in helping them eventually break the deadlock.
"It should have been over in the first-half, because we had two to three very good chances that we should have put away," said Aurelio. "I was still very confident (that we would get the goal), although the longer it went, the harder it was getting.
"But I think we showed a lot of persistence tonight, and that was definitely the key. We were a little bit more dogged in making sure that we found the winner, so that was very pleasing for me."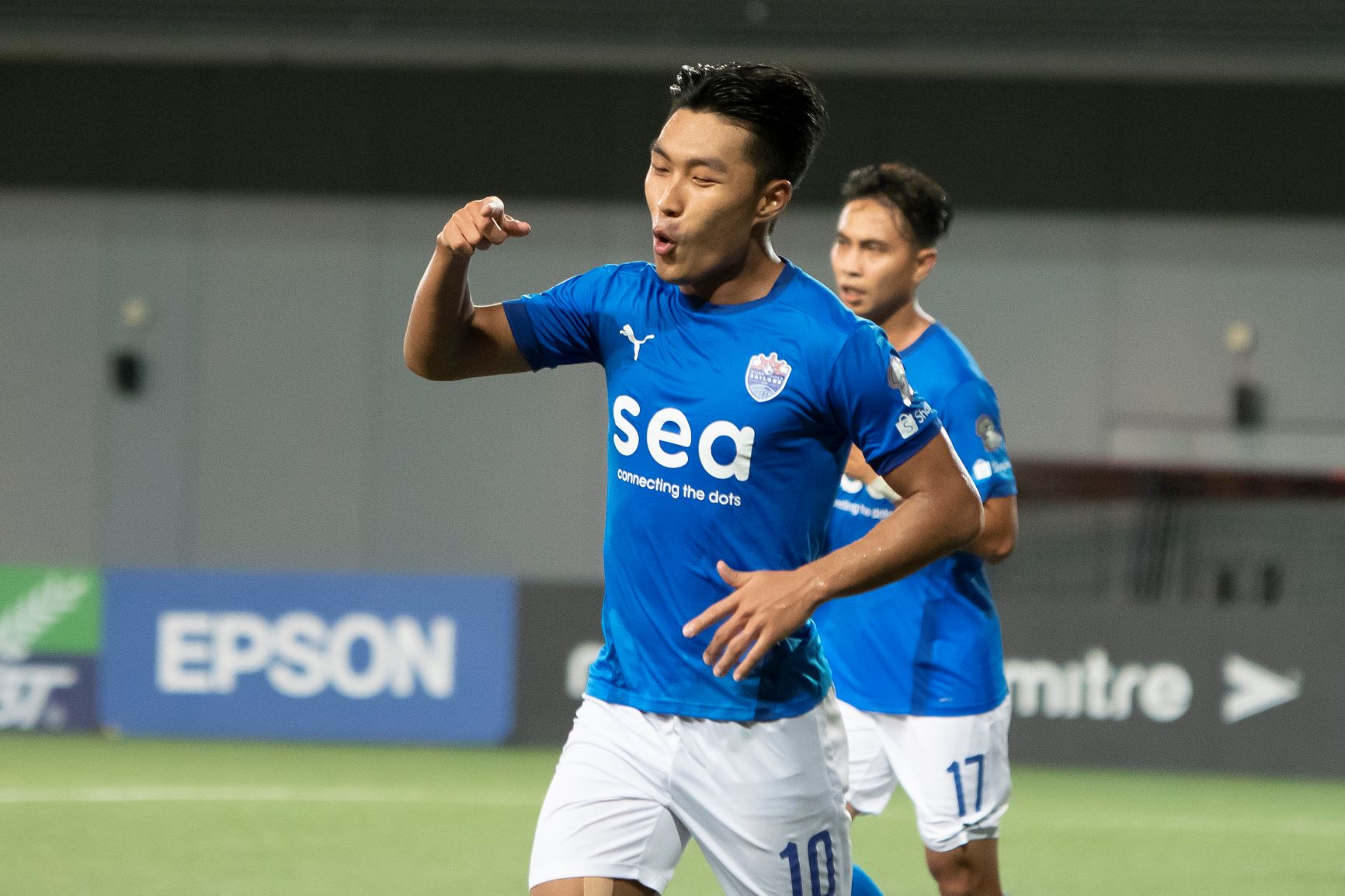 Sailors midfielder Song Ui-Young highlighted how important it was for the team to secure the victory over Geylang, especially with the season coming to an end.
The 27-year-old said: "We're treating every single match like a final. We had to win today, and we did, so we're really happy with the three points. But now, we'll need to focus and prepare for the next game (against the Young Lions).
"Fortunately, the team is going into every game with plenty of confidence at the moment. We've got good guidance from Coach Aurelio, and all the players are on the same page with a good understanding with one another. That's why we are able to work so well together on the pitch."
Unfortunately, the Sailors' win was marred by what appeared to be a recurrence of the hamstring injury that striker Stipe Plazibat picked up in the 3-1 win over Hougang United last week.
The Croatian hotshot came on as a substitute in the 73rd minute for Shahril Ishak, but had to be replaced barely five minutes later by captain Izzdin Shafiq.
Explaining the decision to play Stipe, Aurelio said: "Look, we took a little bit of a risk to try and give him a bit of game time. But obviously he's still not quite ready, so that (injury) might put him back another four, five days, so we'll have to wait and see."
Aurelio, however, is confident that the rest of the team will be able to cope in the absence of Stipe for the remaining three games of the season.
"We have plenty of players in the squad, and I think everyone is capable of playing in the first team. But of course, we can only choose 11 at the end of the day," said Aurelio.
"We've won without Song before, we've won without Gabriel, and we won without Stipe tonight. And to be honest, we should have also beaten Albirex in the last game without him (Stipe).
"So, what we're building here is a team that doesn't just rely on the main guys, but is resilient across the board."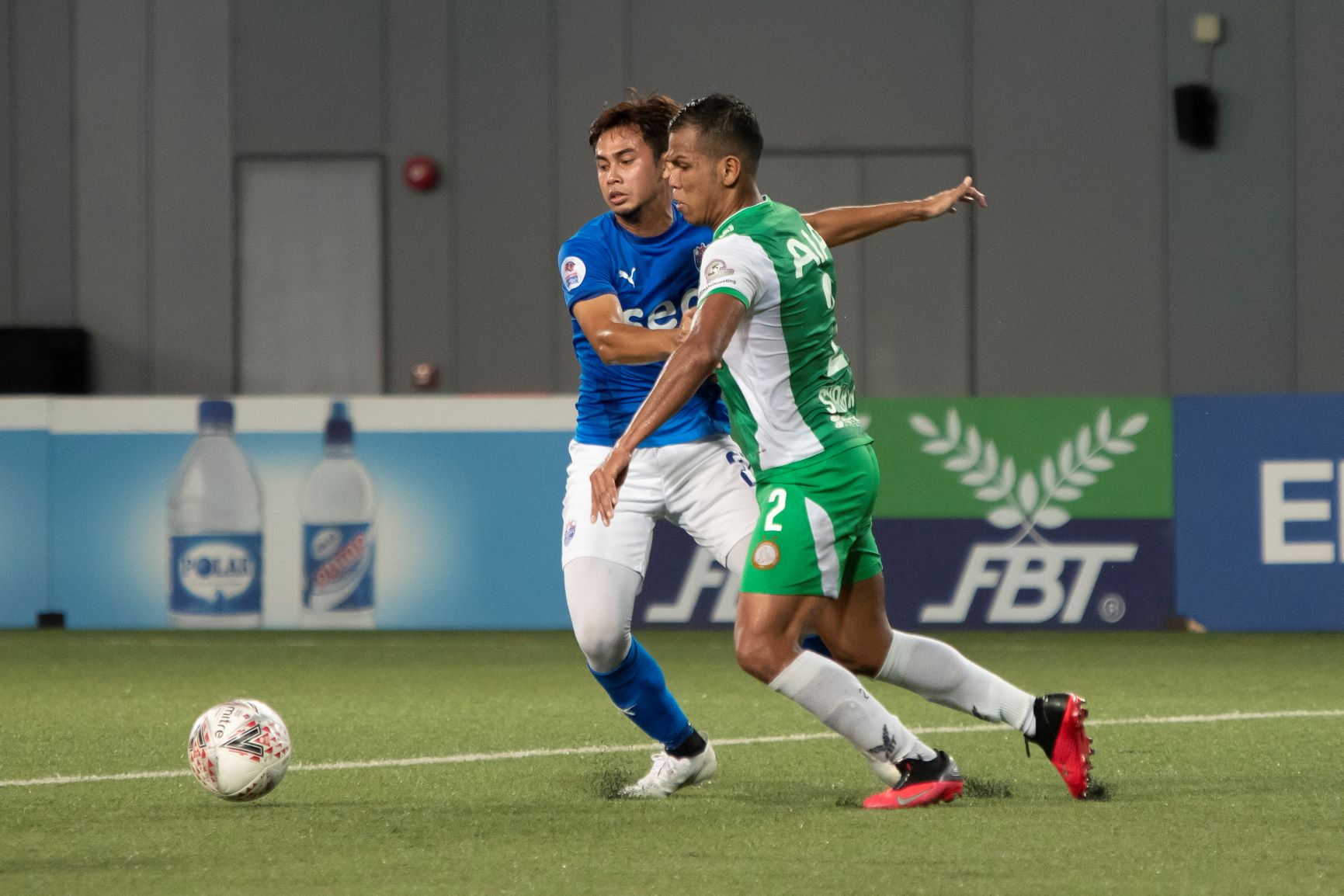 The Sailors are set to play their remaining three games in the span of one week, starting with a clash against the Young Lions this Sunday (Nov 29), 5.30pm, at the Jurong West Stadium.
Aurelio, however, was coy when asked about whether he would rotate for the match against the Young Lions to keep his players fresh for the season run-in.
"It's getting harder but as I said, we're a fit team, and we recover really well," said Aurelio. "The medical staff are doing an enormous job in getting the players ready for the following games, so we'll just have to wait and see over the next couple of days what we'll do (for the Young Lions game)."
The Lion City Sailors' 2-3 defeat to Albirex Niigata (S) on Sunday night was undoubtedly a painful one to endure, but the Sailors can ill-afford to cry over spilt milk. 
They will now have to turn their attention to their remaining four Singapore Premier League (SPL) fixtures that will be coming up in the short span of 11 days.
First up is a tricky away game against fourth-placed Geylang International – who are just one point off the Sailors in the table – on Wednesday night (Nov 25). The Sailors will be missing Saifullah Akbar due to suspension, but could welcome striker Stipe Plazibat back into the fold after the Croatian missed the Albirex game as a precautionary measure after hurting his hamstring in the previous match against Hougang United.
In order to get all three points against Geylang, Sailors midfielder Shahdan Sulaiman believes all the players will need to work hard and show their mettle again.
"The Albirex defeat was such a disappointing night for us. We really wanted to win that game and we showed that in our performance," reflected Shahdan, who had set up Tajeli Salamat to nod home the Sailors' second equaliser on the night.
"We created many chances and felt a draw is a fairer result, but this is football and there's no time to brood over what's over."
"We've another game coming up so shortly, so this is a chance for all of us to prove ourselves and show our desire again. We've to get back to what we do best to win the remaining matches."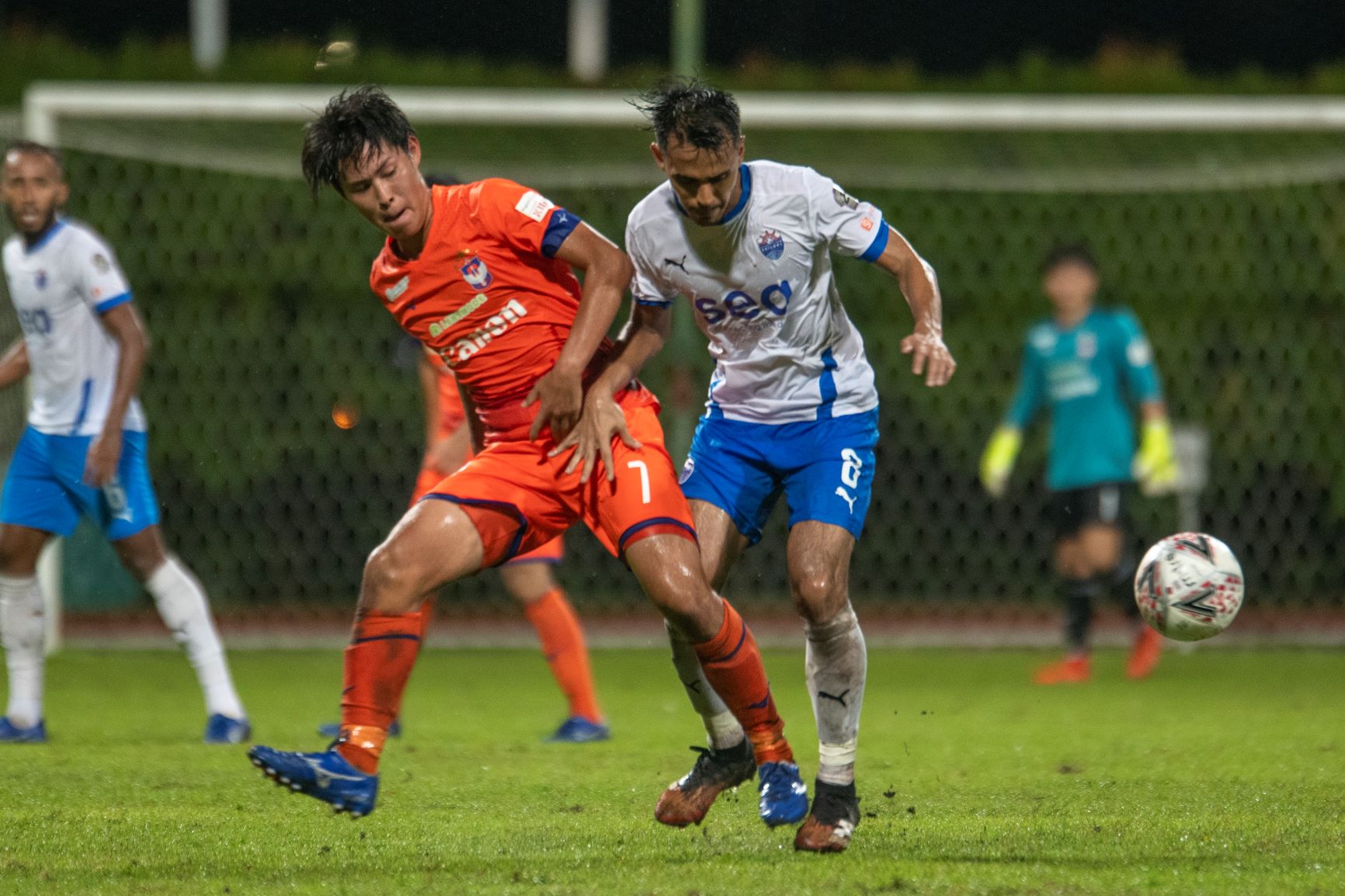 The Albirex loss may have put a stop to the Sailors' five-match unbeaten run which yielded four wins, but the Sailors have improved spectacularly after a slow start, having scored 30 goals in eight matches since the league restarted in mid-October.
Young players like Saifullah, Haiqal Pashia and Naqiuddin Eunos have dovetailed well with their more senior teammates, and that has resulted in the Sailors playing some superb football at times.
And Shahdan is pleased to witness the team's growth under renowned Australian coach Aurelio Vidmar.
"As you can see, we're growing with every match together," said the 32-year-old, who joined the Sailors in the off-season after spending a total of 10 years with Tampines Rovers across four different spells.
"Every individual has improved in some way under Coach Aurelio and that speaks a lot about him as a coach. His positivity rubs off not just on us players, but also on the whole club. He's very approachable and is open to having any discussions or listening to whatever worries the players might have."
As one of the most experienced players in the squad, Shahdan revealed he has taken on the responsibility of trying to help the younger Sailors in any way he can.
"I try to impart my knowledge and whatever experience I had over the years to them," said Shahdan, who is now into his 15th professional season after debuting in the SPL (then known as the S.League) back in 2006.
"I've learned from many classy midfielders in the past and now that I'm older, it's my responsibility to help the young ones reach their potential. For example, we can see Saifullah maturing into a strong attacking midfielder, and I believe he can be a regular in the national team in the near future."
A key part of the younger players' developmental pathway is to test themselves against stronger teams. To that end, Shahdan has set a target for the Sailors to qualify for the 2021 AFC Champions League (ACL) group stages – something that they will be able to achieve if they either win the SPL title or finish as the best-ranked local team this season.
The Sailors, currently third in the table, trail behind Tampines and Albirex by four and six points respectively.
"Like any other player, I dream of playing in the ACL and we really want to achieve this target as a team," said Shahdan, who has numerous appearances for Tampines in the second-tier AFC Cup under his belt.
"Playing in the AFC Cup has been great for me personally and the level's been competitive, but as players we can only get better by playing in Asia's biggest club competition.
"I know people's been saying it's hard for us to win the title now, but there's still plenty to play for till the end of the season. We just have to do our job for these final few games and hope other results go our way for us to finish second or first."
The Sailors' match against Geylang is set to take place this Wednesday (Nov 25), 7.45pm, at Our Tampines Hub.
The look on the faces of our Lion City Sailors players when the final whistle blew at the Bishan Stadium last evening (Nov 22) to confirm their 2-3 loss to Albirex Niigata (S) in the Singapore Premier League (SPL) said it all.
This defeat hurt. Badly.
After all, each and every of our Sailors had given their all on the pitch, and had probably done more than enough to secure all three points against Albirex.
Twice Albirex took the lead last night – first, through Tomoyuki Doi (13'), then through Fairoz Hasan (34') – but each time, our Sailors fought back to level the score, with both Song Ui-Young (22') and Tajeli Salamat (45') getting on the scoresheet.
But the visitors took the lead for the third time in the 77th minute courtesy of Yasuhiro Hanada's strike. And that, unfortunately, proved just a bridge too far for our Sailors – who had arguably played the better football on the night. Not that we did not try, with the likes of the impressive Saifullah Akbar and Song Ui-Young both coming close to drawing us level in the final stages of the game.
Speaking after the match, head coach Aurelio Vidmar said he was still pleased with the commitment shown by his charges despite the defeat.
"I thought we had a very good first-half, and certainly in the first 15 minutes of that second half, we had a lot of control, and played some really good football," Aurelio reflected. "But conceding too easily put us on the back foot, so we had to chase (for the win). We've chased a couple of times already this year, and we've shown that we can do that, but it makes it harder.
"What I saw from the players was their courage and belief. Yes, the result didn't go our way today, but they showed a lot of commitment, as they always do. We played some nice little combinations in the midfield, and we continued to play our style. It's just one of those games today.
"Now, we just have to review the game and see where we can continue to work on our weaknesses and strengths. But it's very hard when the next game is in three days' time."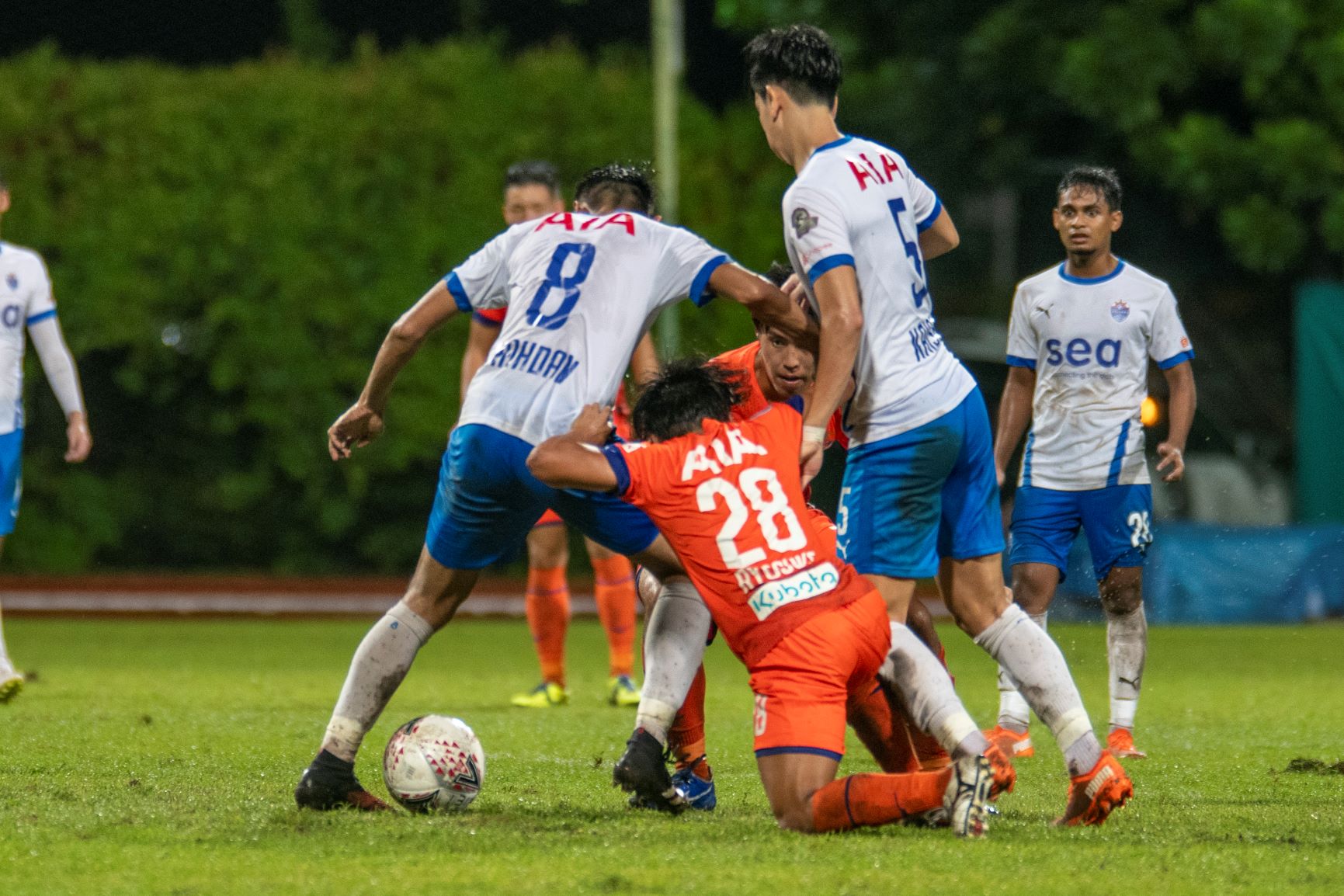 More than the defeat itself, the result was particularly galling because it saw the Sailors' SPL title hopes dwindle further – we are currently six points behind league leaders Albirex with just four more games to go this season, and while we are mathematically still able to win the SPL, our fate in the title race is no longer in our hands.
While Aurelio was just as upset with the defeat as any, he wants his players to recover from this disappointment quickly, and instead focus on ending the season on a high.
"They'd have to pick themselves up… and as hard as that pill is to swallow tonight, it is one of those things we'll have to do," said Aurelio. "This result makes it difficult for (us to win the title) in the last four games, but I still believe there's a lot to play for, you never know what could happen.
"We can't all of a sudden think about throwing the towel in, just because of this defeat. We've done so many good things over the last couple of months, so we need to be fired up for the last four games and finish (the season) strongly."
Our Sailors will be in action again in the SPL this Wednesday (Nov 25), 7.45pm, when they take on Geylang International at Our Tampines Hub.
It was in the 56th minute of the Lion City Sailors' Singapore Premier League (SPL) match at Hougang United last Wednesday (Nov 17), when Gabriel Quak received a loose ball just outside the penalty area.
Almost instinctively, Aqhari Abdullah raced into the box from the right in anticipation of a through pass from Gabriel, who did not disappoint with an inch-perfect ball for the Sailors right-back.
Aqhari knew exactly what he had to do once the ball reached his feet – whip in a dangerous first-time cross across the six-yard box, where he was confident one of his team-mates would pop up to divert the ball towards goal.
As it turns out, that team-mate was Hafiz Nor, who simply tapped the ball into the back of the net for his first goal of the season – his team's second goal of the night – as the Sailors went on to win the match 3-1.
That assist by Aqhari was an exact replica of what he did to set up Shahril Ishak for the final goal in the Sailors' 4-0 victory over Geylang International a month ago.
Those two moments encapsulated the evolution of Aqhari into a modern-day full-back who is not just strong defensively, but also adept in the attacking third.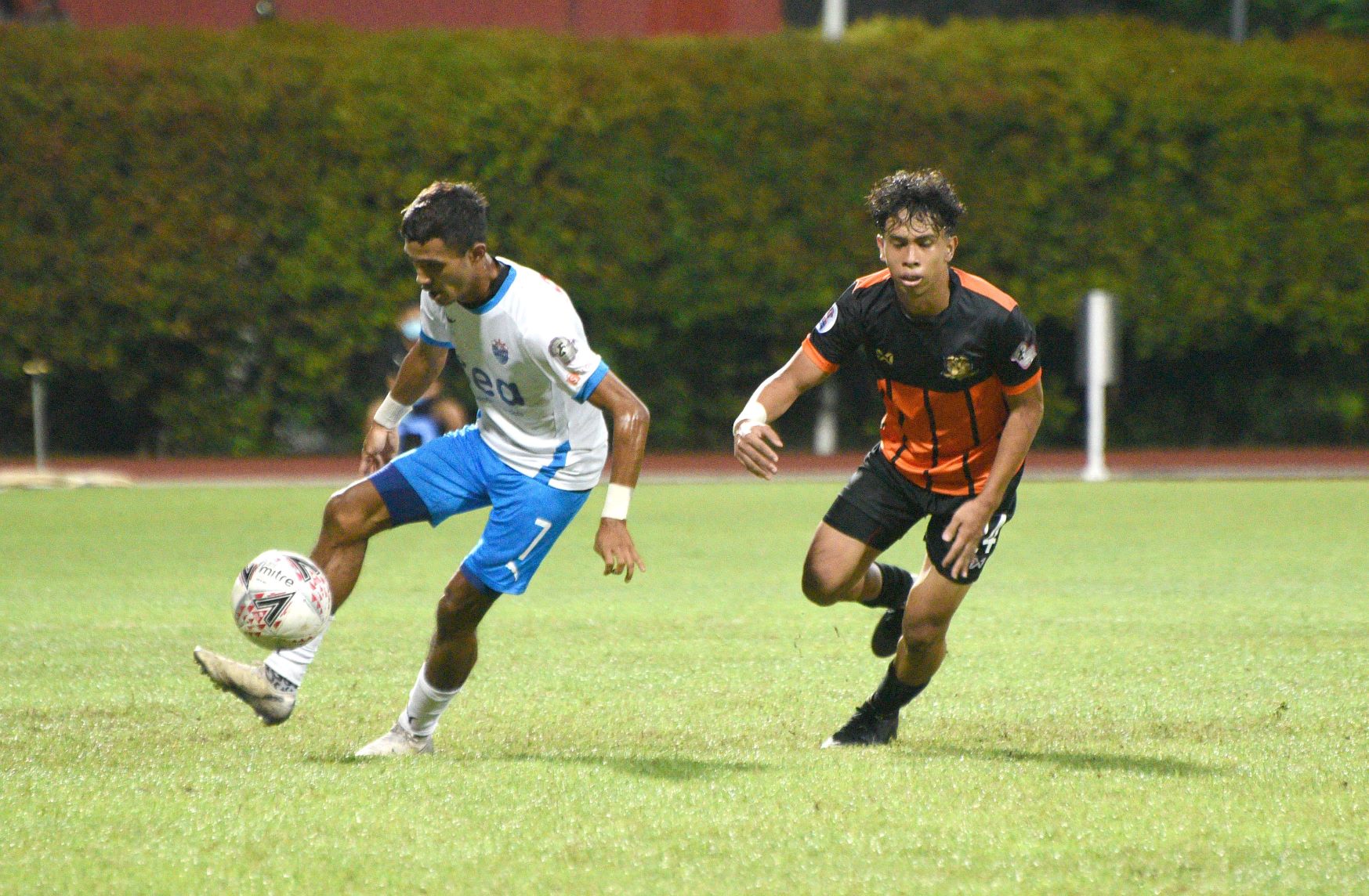 While widely regarded as one of the most committed right-backs in the league over the past few years, the 29-year-old's attacking qualities have never been as evident as this season under Coach Aurelio Vidmar.
In fact, Aqhari has already equaled his 2019 tally of two assists. And with five more matches to go, there is every chance that he will be able to add to that count before the season ends.
"My role in this team is a bit different (as compared to last time) – defending is still my priority, but I'm now expected to contribute a lot more in attacking," explained Aqhari. "For this, I really have to thank Coach Aurelio because he has taught me how to attack from another perspective, and how to see the game from another angle.
"My game has changed a lot and I've improved immensely under him. Hopefully I can continue to develop further and get more assists to help the team."
This year has been quite the ride for Aqhari, who reclaimed his spot in the starting-11 through sheer hard work after not being selected in the squad for the Sailors' first two outings back in March. He has since started in six of the seven matches since the SPL restarted in mid-October, missing only the 5-0 win over the Young Lions as he was rested on the bench.
"It's normal for any player who is not selected amongst the matchday 18 to be disappointed – and the same goes for me," he admitted. "The (COVID-19) pandemic then came and everyone was unsure whether the league is going to restart, but I just kept myself positive.
"I had a chat with Coach and he told me I really have to work hard to get my position back. So, I did just that once training resumed (in mid-June) to convince him – whatever he wants me to execute, I'll do it. And once I got the position in the first-team back, I just played my best in every game, and gave my 100 per cent without holding back."
Aqhari's professionalism and unwavering commitment are attributes which the club clearly values. It explains why he has stayed on at the Bishan Stadium since joining the club – then known as Home United – in 2016. From the current group of players, only Abdil Qaiyyim, who signed for the club a year earlier, has stayed on longer.
Having been an integral part of the Home United teams that reached the AFC Cup zonal final in 2017 and 2018, he is now seen as a senior figure in the Lion City Sailors – a role which he clearly relishes.
"It has been an enjoyable five seasons, four with Home United and this year in this new journey with the Sailors," said Aqhari, who has made 73 league appearances (114 in all competitions) with the club across both entities. "The management takes care of me on and off the field, and as a professional player, I make sure I don't give them any problems.
"Now that I'm one of the older players in the team, it's important for me to share my knowledge and experience to help the younger players – especially when they come to me personally for advice."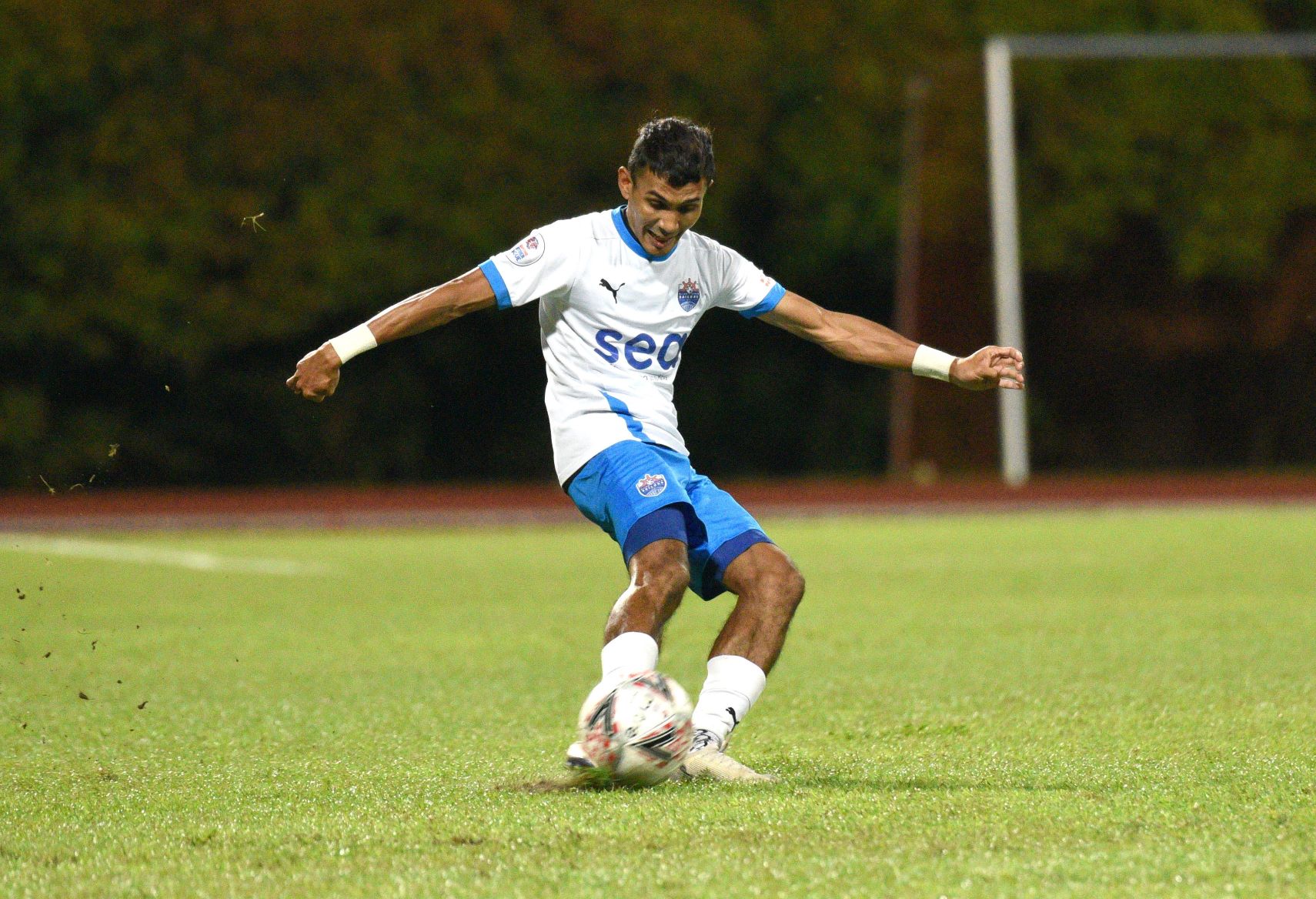 After an uncertain start to the campaign, the Sailors appear to be finally hitting top gear, having recorded three straight victories – while scoring an impressive 16 goals in total – over the past two weeks.
"It's been enjoyable to see this team showing the progress that we've made," commented Aqhari. "The team has gelled together really well because we worked really hard in training and we tried everything that Coach wants us to do in every game."
The Sailors' recent results set them up nicely for a rematch against current league leaders Albirex Niigata (S) on Sunday (Nov 22) in a crucial six-pointer that could potentially decide the winners of the SPL title. Aurelio's side are now just three points off the White Swans and Tampines Rovers in the table.
The Sailors went down to a contentious 3-2 defeat when both sides met at Jurong East nearly a month ago, with Albirex's 94th-minute winner allowed to stand despite a handball in the build-up.
"That was quite a tough one to take because from what I saw, it was a definite handball," Aqhari lamented.
"If that game had ended in a draw, that one point would have meant a lot to us (in the title challenge). But it's over now and we just have to focus on each game as it comes. Now that we're chasing Albirex, it's good that we get to play them, because then we can do something about it."
Albirex are in similarly good form, having also won three matches in a row, with Aqhari emphasising that the Sailors will likely have to toil to claim the three points on Sunday.
"They're technically very good, disciplined and work very hard. So, the key is to work harder than them and overpower them," he said.
"Usually the game is lost from our own errors, so we have to cut down on as many mistakes as we can and try to capitalise with the experienced players on our side."
It was a good week for the Lion City Sailors. Aurelio Vidmar's charges followed up on their 6-1 thrashing of Tanjong Pagar United last Friday (Nov 13) with a 3-1 victory over Hougang United on Tuesday (Nov 17) to make it three successive wins in the Singapore Premier League (SPL).
Here we round up the three major talking points from the two matches that kept the Sailors firmly in the hunt for the SPL title, with just five matches left to play.
Sailors hit the ground running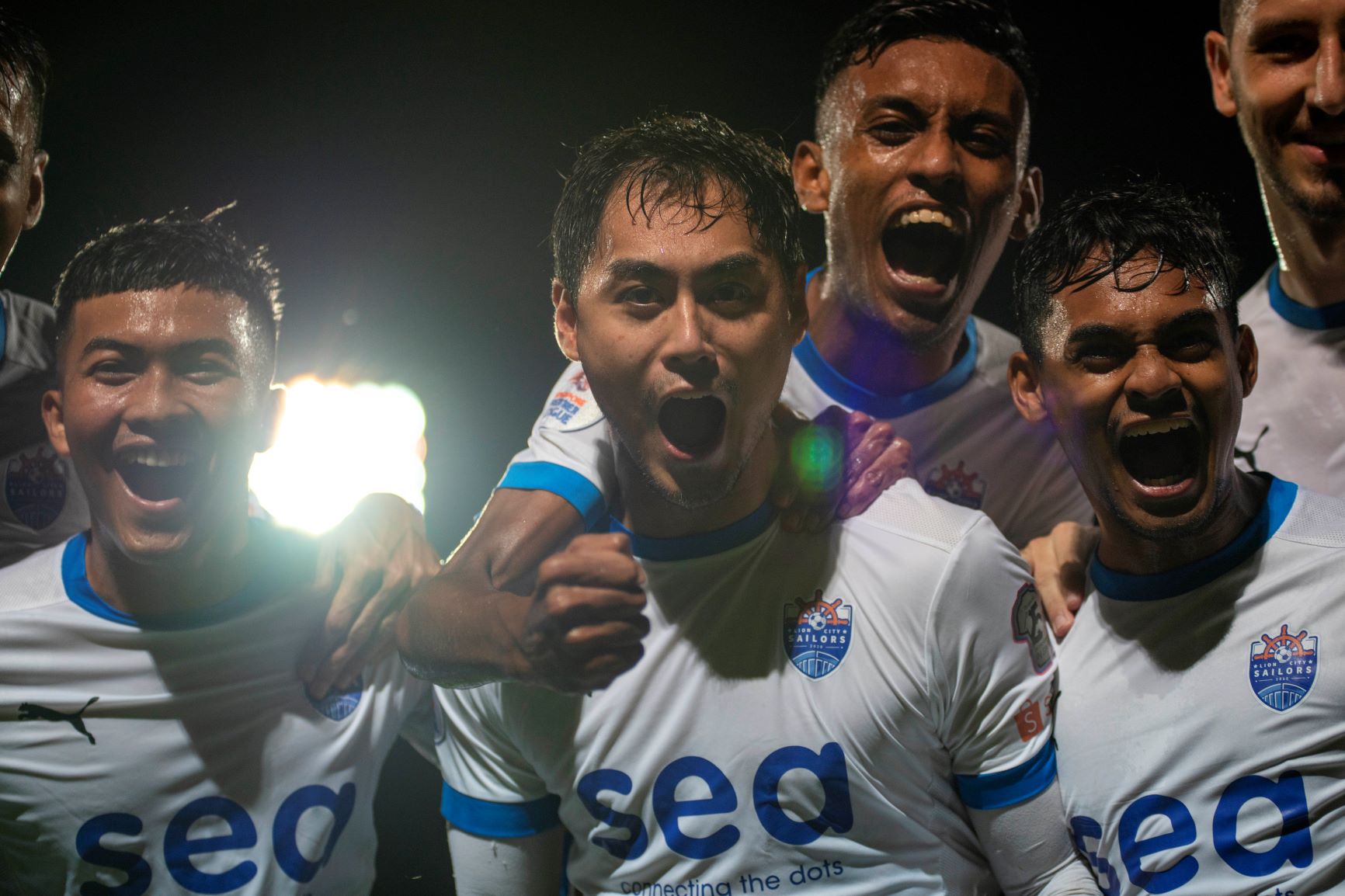 How things can change in a short span of time in football. Just a couple of weeks ago, the Sailors would struggle to find their rhythm in the first half, before turning on the style in the latter stages of the game. That issue has since been put to bed, with the Sailors scoring within the first 15 minutes for the past three matches – including the 7-1 thrashing of Balestier Khalsa that kick-started the winning streak.
In the past two outings, Aurelio's men looked purposeful on the ball and knew exactly what they had to do to get into the groove early on and execute what was worked on in the training ground the past week.
Against Tanjong Pagar, the team smelled blood after Kaishu Yamazaki opened the scoring with a header off Shahdan Sulaiman's corner, and kept going for more to seal the three points by half-time with an almost unassailable 4-0 lead. Against Hougang, they found the breakthrough via Gabriel Quak's sublime free-kick in the 12th minute and came close to scoring on several other occasions in the first-half. While they were only able to take a one-goal lead into the break, the work they did in the first-half helped set the tone for what was to come in the second period.
Scoring and wrapping up the three points early on also meant Coach Aurelio had the luxury to rest some key players for the last half-hour to keep them fresh for the title run-in, especially given that the five remaining matches of the SPL will be played in the span of just two weeks.
Possession-based identity getting clearer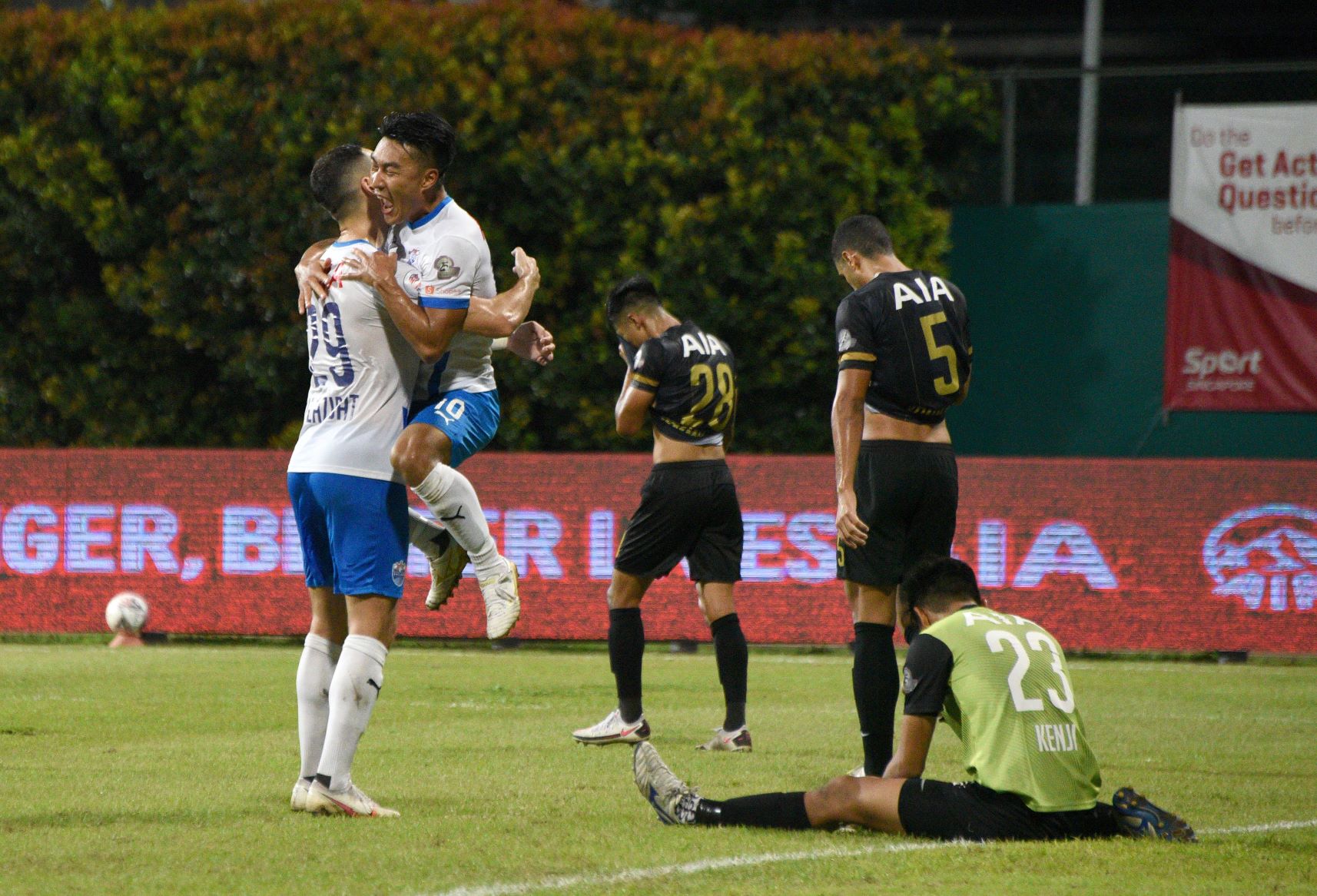 After the first two matches of the season, in which the Sailors attained just one point, the team came in for much criticism, and many wondered what exactly Coach Aurelio's philosophy was.
Well, his ideas are now taking flight, and the Sailors' identity is getting clearer with each passing match. For Coach Aurelio, it is all about dominating opponents and playing as much in the attacking half as possible to unlock opposition defences. While the team tried to implement this philosophy in the first few matches as well, the Sailors often ended up with little to show for back then, perhaps due to a breakdown of play in the final third.
However, with more training sessions and matches under their belt, the players now have a better understanding of each other's style, and are hitting all the right notes in attack. The flow of their play has improved in recent games, as evident in the quick interchange of passes and near-telepathic movement between the attackers.
The best example was perhaps Song's goal in the win against the Jaguars – the Incheon native exchanged a couple of quick passes with Stipe Plazibat, before breaking into the penalty box and firing home from close range.
It was a move that took all of five seconds to execute, and perfectly encapsulated the sort of attacking play that Aurelio's Sailors have been drilled in.
There was also Adam Swandi's second goal in that same game, which saw him instinctively run into space to meet Gabriel's neat backheel pass with a first-time finish.
Another example of a slick Sailors attacking move came in the game against Hougang, with Gabriel smartly releasing full-back Aqhari Abdullah, who then squared across goal for Hafiz Nor to convert from close range. These well-worked goals are no coincidence – it is all down to the hard work on the training ground by the players and coaching staff alike, to execute Aurelio's vision of a possession-based game that relies on quick passes in the final third to break down defences.
We've got the firepower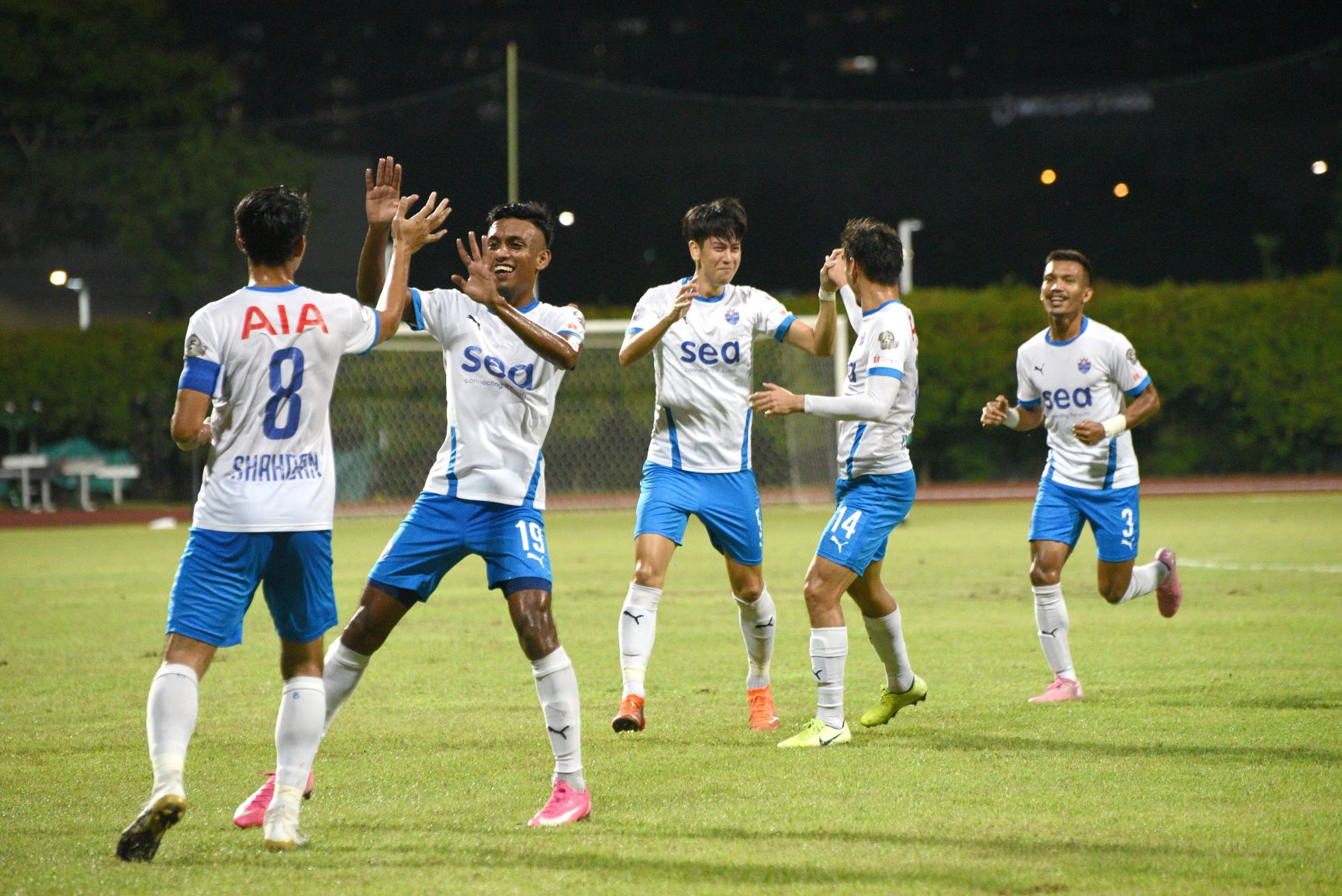 It was a worrying sign for the Sailors when Stipe went off early against Hougang due to a hamstring problem, and understandably so – the 31-year-old has been in stellar form since his arrival in September, contributing to an incredible nine goals and five assists in just seven matches.
But even if he were to be unavailable for the next couple of matches, the Sailors will still have enough firepower at their disposal to cope. The past couple of matches have shown that the team is not solely reliant on Stipe for goals, with the rest of the players proving capable of picking up the slack in terms of scoring as well – in fact, the Sailors currently have the most number of scorers in the league, with 11 different players having already found the back of the net so far this season.
The Sailors have also become more lethal from set-pieces, with Shahdan often wreaking havoc with his wicked deliveries, and Gabriel getting in on the act as well with his first professional free-kick goal against Hougang.
Confidence is also growing amongst the other attackers, with Hafiz netting his first goal of the season against the Cheetahs, while Adam, who has found the net four times already this season, looks stronger with each substitute appearance. Experienced forward Shahril Ishak is also back with the team after a five-game absence, and looked lively in his cameo appearance against Hougang. And while Song missed the game against Hougang due to injury, he should be back for this weekend's clash against Albirex to bolster our attacking options.
Of course, the Sailors look a more complete side with Stipe. But, in the unfortunate event that he misses a game or two, the names mentioned above can definitely still form a fluid strike force on their own, and carry out Coach Aurelio's philosophy to break down stubborn defences.
Just two weeks ago at the Bishan Stadium, the Lion City Sailors were held to a frustrating 1-1 draw in the Singapore Premier League (SPL) by a resolute Hougang United side.
But the Sailors made amends for that last evening (Nov 17), overcoming the Cheetahs 3-1 in a battling display at the Hougang Stadium.
Similar to the reverse fixture at Bishan, the Sailors were once again the dominant team in possession yesterday, while Hougang set themselves up in a deep block and looked to hit back on the break.
This time, though, we were able to take the lead early, with Gabriel Quak breaking the deadlock in the 12th minute with a sublime free-kick.
Speedy winger Hafiz Nor then doubled our lead in the 57th minute with his first goal of the season, before Shahdan Sulaiman put the result beyond any doubt four minutes from time with our third goal of the night.
Hougang scored a consolation in the third minute of added time through a Charlie Machell penalty, but that did little to mar an otherwise splendid performance and win for the Sailors.
Indeed, head coach Aurelio Vidmar was effusive in his praise for the players after the game, as he labelled the victory as one of the 'most impressive' since he took over the club earlier this year.
"I thought it was a super performance tonight, we showed a lot of toughness and character in difficult circumstances – I think this was one of our most impressive wins of the season," gushed Aurelio.
"We didn't do much differently from the previous game. We played very similar, as they did, but I think we executed our shots on target a lot better than we did previously. We've been building on that (aspect) the last couple of weeks."
The only downside from last evening's game was an injury to our in-form Croatian striker Stipe Plazibat, who had to come off the pitch in the 40th minute due to a hamstring problem.
While the extent of Stipe's injury is still unknown, the prospect of losing him at this crucial stage of the season – with just five more SPL games to go – would be a huge blow.
Nonetheless, Aurelio is confident that the rest of his players, including a refreshed and recharged Shahril Ishak, has the ability to fill in capably for Stipe if needed.
"It's going to be a loss if he (Stipe) doesn't play," Aurelio admitted. "But I think we showed tonight that we've got some flexibility in that (striker) position as well. We have Shahril back…Gabriel's played there as well, we can put Adam or Hafiz there too, so we have a number of options.
"But let's just wait and see because it's still too early to say (how long Stipe could be out for). He'll see a physio, get a scan and we'll assess it from there."
The Sailors' win over Hougang means we have now won three consecutive SPL games, and are unbeaten in our last five overall. This good run of form has seen us jump up to third in the table, just three points behind joint-league leaders Albirex Niigata (S) and Tampines Rovers.
Up next for the Sailors will arguably be one of our toughest and most important matches of the season – a potential title-deciding clash against Albirex on Sunday (Nov 22), 5.30pm, at the Bishan Stadium.
And although Albirex were able to beat the Sailors 3-2 somewhat controversially the last time we met them at the Jurong East Stadium, Aurelio is confident that the momentum generated from the past few games will help see the team through this time around.
"Obviously, there's a big game on Sunday…Albirex have been very consistent and very strong this year, it's certainly a defining moment in the season for both clubs," said Aurelio. "But the boys have been fantastic the last few weeks, and have really worked extremely hard to get the results that they have.
"I'm very happy with the three wins on the trot, so let's see (what happens on Sunday). I can't think too much ahead because we're just coming off the win tonight, so we'll just enjoy that now, because the players deserve that," added Aurelio.
"We'll take the next couple of days to recover and relax, and then get ourselves prepared for Albirex."
Receiving the ball from Stipe Plazibat, Song Ui-Young instantly laid the ball back to the Croatian striker and made a darting run into the box in expectation of a through pass.
Song's faith was repaid – Stipe sent a delightful ball into the path of Song, who finished the move off with remarkable precision to score the Sailors' third goal in their 6-1 win over Tanjong Pagar United last Friday (Nov 13).
That goal was the talk on social media over the weekend, with netizens praising the quick interchange of passes between Song and Stipe, four touches over the course of just five seconds. More importantly, the goal is a great example of how scintillating the Sailors have been in attack in their last few Singapore Premier League (SPL) matches.
It is also a showcase of the improved chemistry and telepathy between the attackers – something that Song puts down to his excellent off-the-pitch relationship with Stipe, who only joined the club in September.
"I don't know how to explain about this goal… It just happened!" recounted Song, who also linked up with Stipe to score in the Sailors' previous match – a 7-1 thrashing of Balestier Khalsa. "The relationship between me and Stipe is really good. It is not only about football; off the field we are good friends as well. We talk a lot, and we share many things about life.
"We played together before (at Home United in 2017) and we kept in contact even after he left the team. We understand each other very well (outside football), and that's why the situation on the field is probably the same.
"It's not only this goal. I believe more goals are going to come as a result of our relationship."
Since making his debut in Singapore football with Home United in 2012, Song has played alongside quality forwards such as Frederic Mendy, Indra Sahdan and Ken Ilso. But the South Korean still ranks Stipe amongst the very best forwards – if not the best one – that he has had the opportunity to play with.
"They all have different styles – Mendy is tall and is always a physical presence. Ilso is a bit more technical, while Stipe is usually an out-and-out finisher, although sometimes, he plays like a playmaker," Song mused. "Stipe has been scoring a lot each year, to the point I've stopped counting his goals! I think he has more than 50 goals in the SPL now and he's definitely one of the best strikers we have in this league.
"When I worked with Mendy, Indra and Ilso, I was in my early 20s and quite young so I was more on the field as a support to them. Now, I have a main role in the team with Stipe, so I have more responsibility to make a difference for the team. But it really makes my job easier with his (Stipe) presence upfront."
After a disappointing 2019 season in which Home finished sixth out of nine teams and failed to qualify for continental football for the first time in four seasons, the club is now showing shoots of promise, after being rebranded as the Lion City Sailors, and coming under the stewardship of renowned Australian coach Aurelio Vidmar.
Song has only good things to say about the gaffer, who previously led A-League side Adelaide United to become the first Australian team to qualify for the AFC Champions League (ACL) final in 2008.
"Last year, our head coach kept changing (from Saswadimata Dasuki to Noh Rahman to Raddy Avramovic and back to Noh Rahman). The tactical system kept changing, so naturally the team took some time to adjust. That's why our results were not so good," the 27-year-old reflected.
"This year, we have stability with Coach Aurelio – he has huge experience as a player and as a head coach. He's getting respect and trust from the players and the coaching staff for the ideas that he has brought in. So far, everything's going well and I think everyone can see our improvement this season, so that's very positive for us."
Under Coach Aurelio, Song's role with the team may have altered a little as he is required to sit slightly deeper, but he is relishing it nonetheless.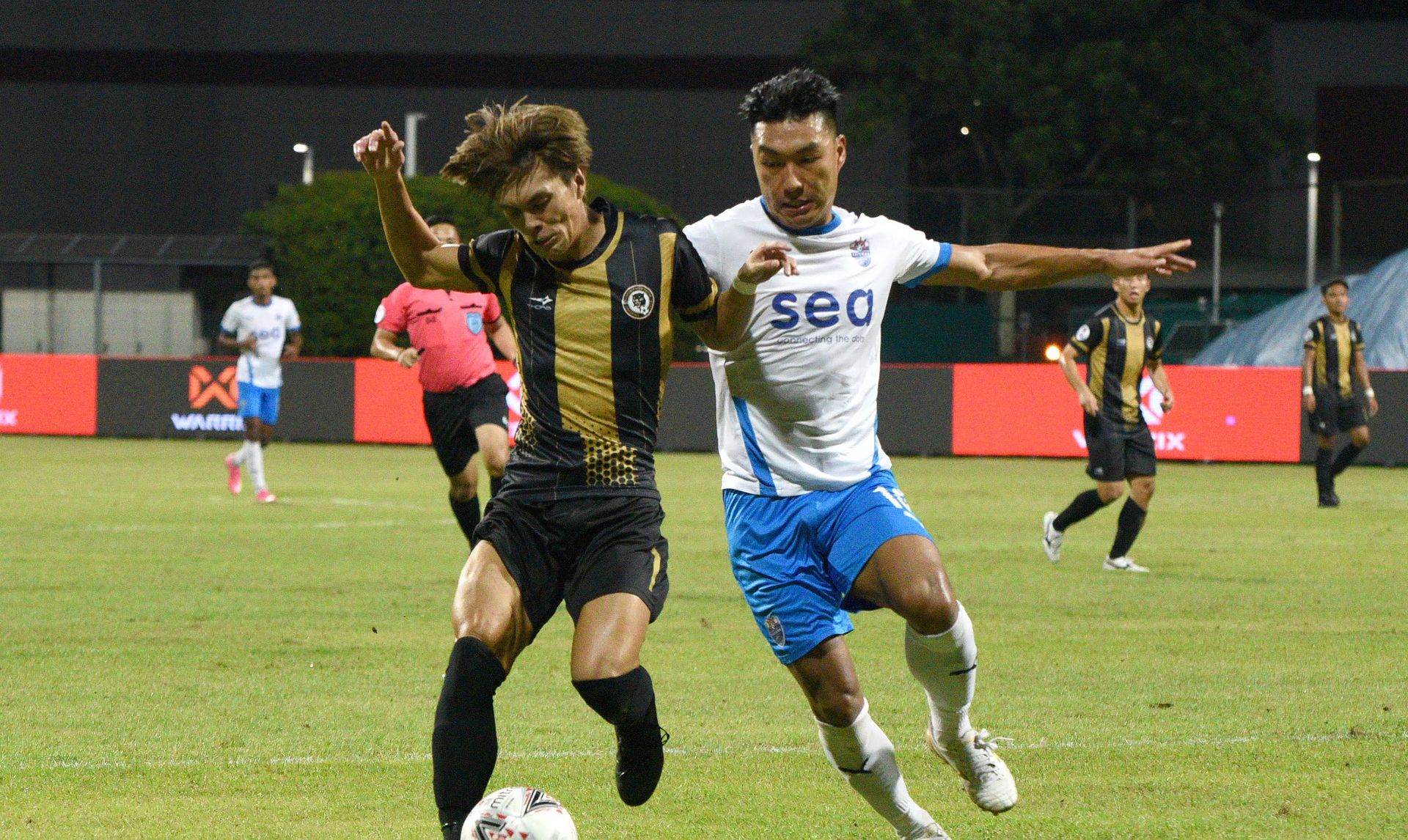 "My role this year is a new one. Last year it was just like a pure no. 10, in a free role where I could focus a bit more on attack," he revealed. "This time I'm playing not just as no. 10, but also as no. 8. I've to adjust according to the game's situation, but there's no big issue for me because I've been playing in both positions over the years.
"The combination between the midfielders is really good. Shahdan (Sulaiman) sits a bit deeper and I will support Saifullah (Akbar) or Gabriel (Quak) more in the attack. I'm really enjoying this new role with this group of good players."
After thrilling with 13 goals in their last two outings, the Sailors are now gunning for a third straight league victory.
But it will not come easy. The Sailors have an away fixture against a disciplined Hougang United side on Tuesday night (Nov 17). The Cheetahs managed to frustrate the Sailors two weeks ago in a 1-1 draw at Bishan which Song missed through injury, and he is now ready to make up for that missed opportunity.
"Hougang is a difficult team to break down. When we played against them, they were really focused on the defensive areas – with five defenders and four midfielders all in their own half," he pointed out.
"It wasn't an easy game with so many of their players back there. But if they set up like that again, we have no choice but to break them and score to get the three points. I believe the winning mentality is much stronger than before after our last two performances, and now we've to prove our quality in this match."
Currently three points off the top with six games still to be played, Song believes the team is poised for the title challenge as he set his sights on playing in the Asian Football Confederation (AFC) Champions League.
This year's SPL champions will earn an automatic berth in the group stages of Asia's elite club competition.
"I'm really eager to win the league because I've never won it in my nine years here," said the Incheon native. "We're now in a good flow to make this happen, and I'm going to do my best to help the team achieve our dream.
"I've been dreaming of playing in the AFC Champions League since we finished as zonal champions in the 2018 AFC Cup. I remember scoring against (Indonesia's) Persija Jakarta (in front of 62,198 fans at Gelora Bung Karno Stadium) and that was a really special memory," said Song of Home United's exploits in the AFC's second-tier regional club competition.
"I want to have that feeling again – playing against a strong team in front of a big crowd. To be in this competition playing against Asia's biggest teams will help not just the club, but also Singapore football as a whole, to improve."