The Lion City Sailors put last week's 2-1 defeat to Albirex Niigata (S) behind them in emphatic style as they eased past Young Lions 5-1 at the Jalan Besar Stadium on Wednesday night (29 June) to return to winning ways in the Singapore Premier League (SPL). 
Goals from Song Ui-young, Shahdan Sulaiman and Hafiz Nor put the defending champions 3-0 up at the break, before Kim Shin-wook and Maxime Lestienne joined in the act in the second half. 
Although the Young Lions did pull one back through Glenn Kweh late on, there was no stopping the Sailors from extending their lead at the top of the eight-team SPL standings.  The win restored the Sailors' six-point lead over second-placed Albirex – although the White Swans have a game in hand.
The assured display was one that pleased Head Coach Kim Do-hoon.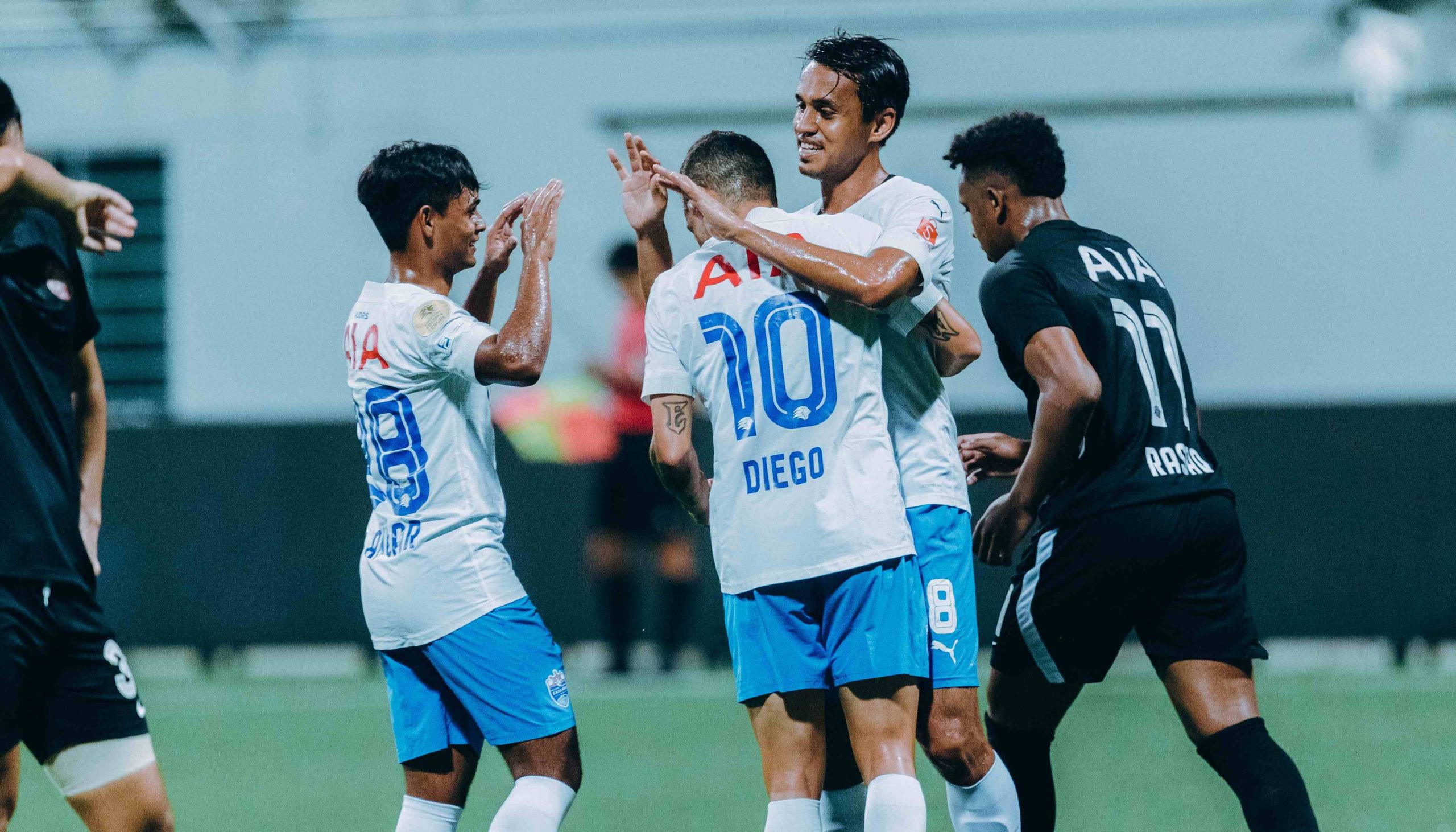 "I told the boys before we came out (onto the pitch) that the only way we can shake the last result off – a painful defeat – is to turn it around by winning this match. And that's exactly what we did tonight.
"I'm happy that we got several goals, but what's more important was that we brought everything we wanted to – we were in control and playing the football that we want to play. 
"I also want to thank the fans who were behind us and out here till even after the final whistle when they could have easily stayed home after the last defeat," said the 51-year-old. 
While Young Lions started off in enterprising fashion, it was the Sailors who settled in well and scored the opening goal after just 11 minutes. Shin-wook's presence in the box caused the initial chaos in the box following Maxime's inswinging corner, before Song prodded in from unmissable range to put the defending SPL champions ahead. 
Wookie continued to make an impact upfront as he was fouled by Syed Akmal just outside the Young Lions' box in the 14th minute. Shahdan curled home the resultant free-kick with class to put the champions two goals up. 
After wasting a few chances, the Sailors found a third just before half time in fortuitous circumstances. Hafiz lashed into an empty net from 25 yards out after Young Lions goalkeeper Ridhwan Fikri had stayed down after an aerial challenge against Shin-wook. 
Wookie finally got the goal he craved for 11 minutes into the second half. He converted from the spot for his 11th of the season to put the Sailors 4-0 up after Saifullah Akbar was brought down by Syahrul Sazali in the area.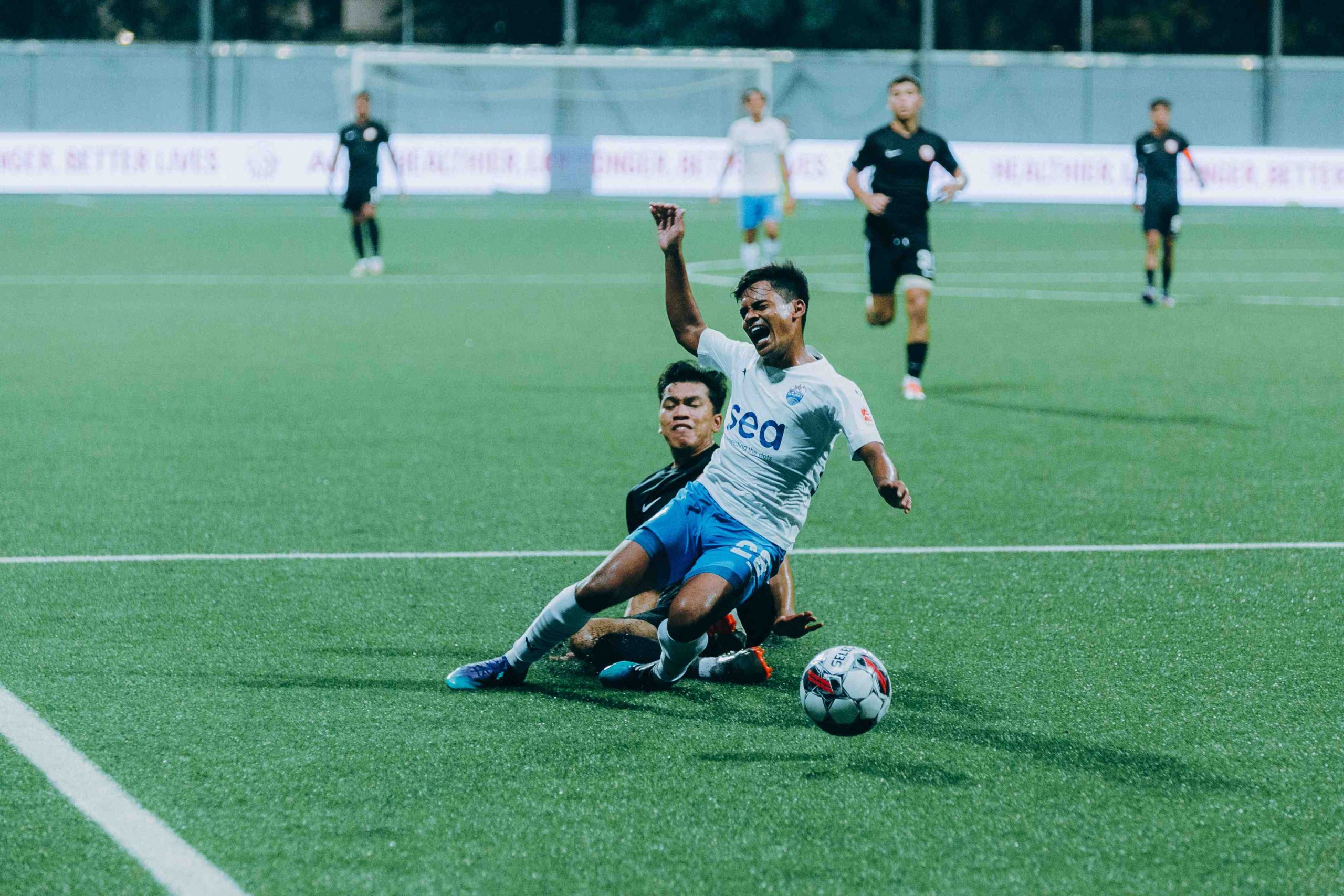 The Sailors' fifth and final goal came via Maxime, whose tireless work in the attacking third paid off as he pounced on Joel Chew's loose pass in the 66th minute, before proceeding to fire a crisp low shot in between Ridhwan's legs. 
Maxime was then brought off along with Shahdan and Diego Lopes for the final 20 minutes as coach Kim made the decision to rest tired legs. The Young Lions regained some control as the Sailors substitutes settled into the match, and they found a consolation on 78 minutes with Glenn squeezing a grounder past Hassan Sunny to deny the latter his sixth clean sheet of the season. 
Letting in that goal was something that dismayed coach Kim and he has demanded improvement in both the attacking and defensive areas in the next match – a tough away clash against Tanjong Pagar United at Jurong East Stadium on Sunday evening (3 July).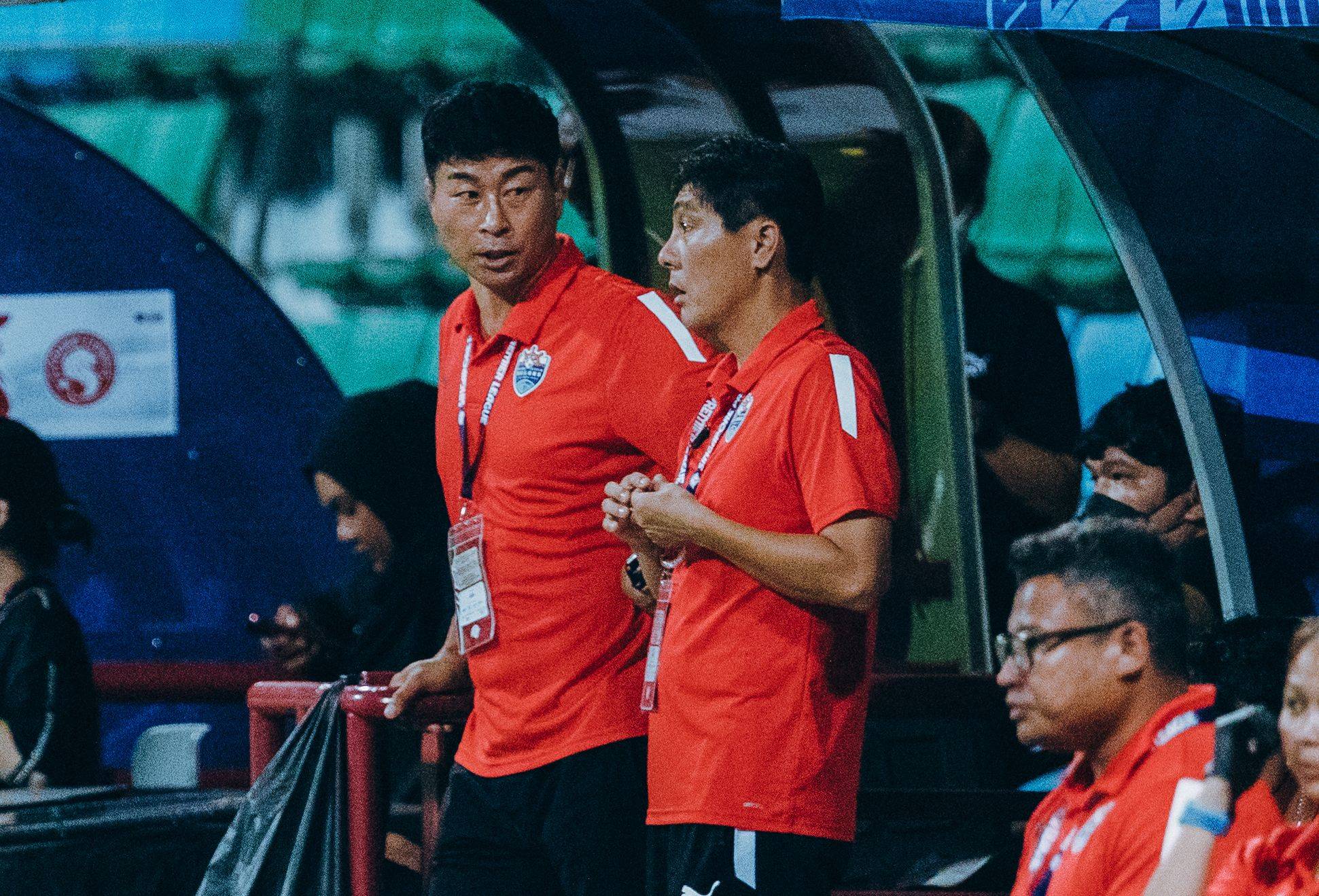 "Again we conceded a goal – that's something that we still need to work on. And while we got the goals, we still need to be more clinical in front of goal," said the South Korean. 
"We need to continuously work in training to become better. Of course we can never be perfect, but we aspire to play football that is as close to perfect as possible."
The disappointment was clear after last Friday's (24 June) narrow 2-1 defeat to Albirex Niigata (S) ended a club-record run of seven consecutive wins and a nine-game unbeaten league streak for the Lion City Sailors. 
However, Kim Do-hoon's men returned to training this week with a stronger resolve and are determined to get back on the winning track as they host bottom side Young Lions in their next Singapore Premier League (SPL) match at the Jalan Besar Stadium on Wednesday night (29 June). 
"It was a fair fight against Albirex, but they took their chances and we didn't – that's the difference. Of course it's frustrating to lose, but there's plenty of games coming up and we shouldn't dwell on the defeat," said defender Zulqarnaen Suzliman. 
"Young Lions will provide us with a different type of test, so we have to get our heads right and focus on playing our brand of offensive football to get the three points."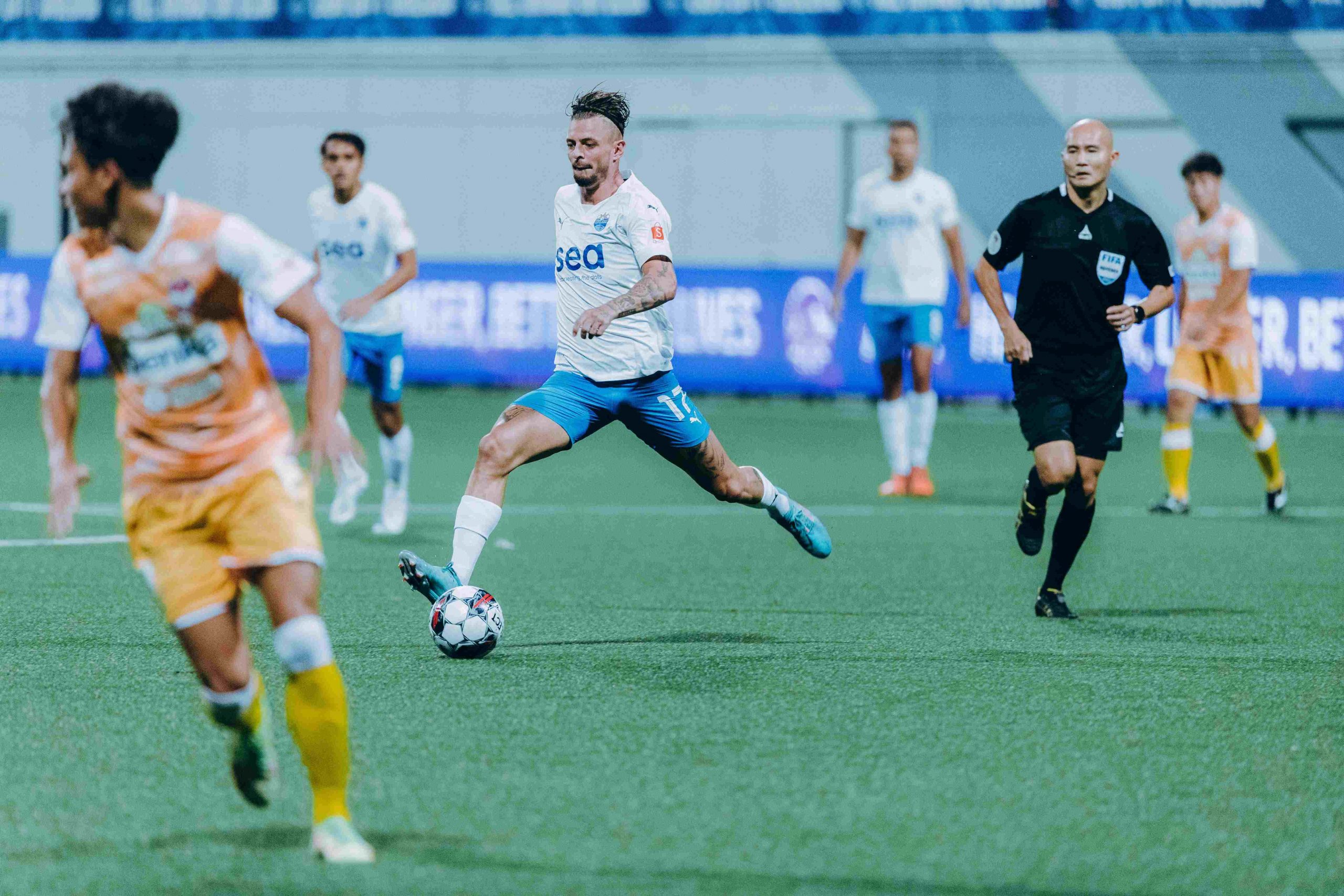 A victory will see the SPL champions restore their six-point lead at the top, before closest challengers Albirex entertain Tampines Rovers next Monday (4 July).
Returning to the club in the mid-season transfer window, Zulqarnaen is hopeful of getting the nod from Kim to feature after missing both of the club's fixtures in June. A hamstring tear in his last SPL appearance on April 2 with Young Lions meant he sat out for almost three months, only returning to full training the day following the Albirex defeat.
"It's tough. I've been doing a lot of recovery work to get fit and I'm really eager to play again, but at the same time I've to take things slow and not rush as this injury might occur again. Fingers crossed I will get a chance to contribute to the team soon," said the 24-year-old. 
Having represented the Young Lions for six seasons – including 2021 and the first half of 2022 while serving National Service (NS) – Zulqarnaen has gratitude for his former employers but he will be professional once he crosses the white line. 
"Young Lions gave me and several other youngsters the opportunity to play regular first-team football and helped us gain the experience that we need. I'm really thankful for all the support they've given me throughout my time there. 
"After the game is the chance to chat and catch up with the staff and my friends there. But during the game I will give my 100 percent focus and commitment to help the Sailors get the result," he declared.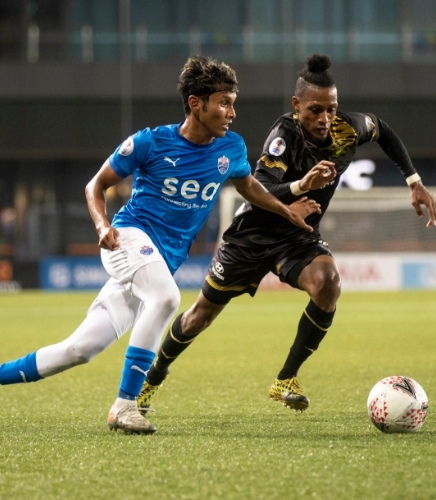 Much has changed at the club since Zulqarnaen last pulled on a Sailors jersey – he played the first two matches of the Sailors' inaugural season in 2020 before enlisting for NS in June of the same year. 
Expectations have rocketed sky-high ever since winning the 2021 SPL title, and Zulqarnaen knows any shortfall in standards or attitude will not be accepted by the demanding Kim. 
"I only trained a few weeks under him, but I already know how much he demands from the team – he's not satisfied even after we've won a game. Coach Kim focuses a lot on fitness work and that's important for us to overpower our opponents. 
"The team is clearly much better than the one I played with in 2020 with players like Hariss Harun, Maxime Lestienne and Kim Shin-wook. We're gelling well together and there's certainly more to come from this team," he said.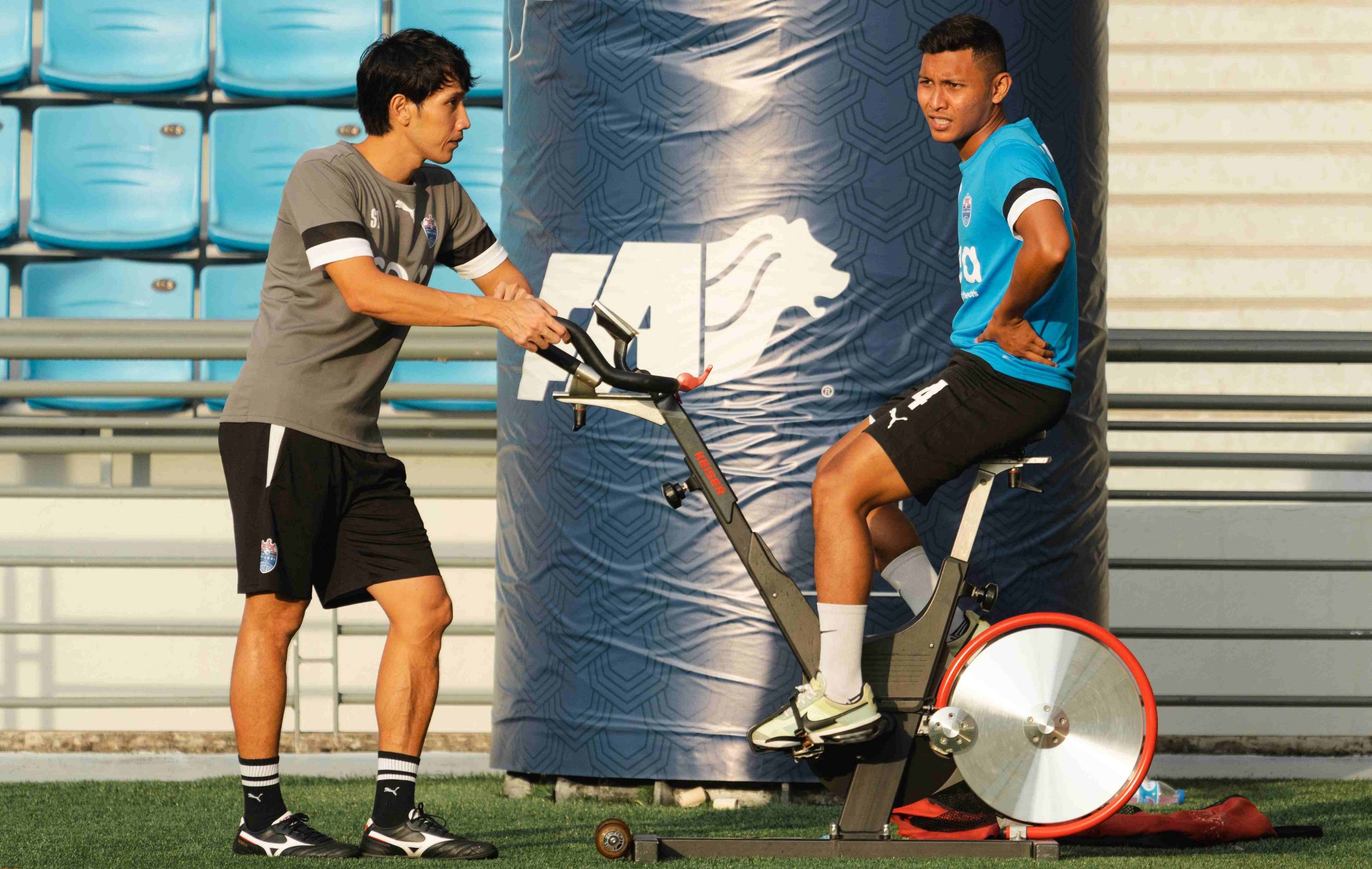 Having completed his NS obligations recently, Zulqarnaen is most looking forward to resuming football full-time and be part of a successful Sailors side, despite acknowledging that he has an uphill task battling for a spot in the starting eleven.
"I'll usually be in camp from 8am to 5pm, then I'll head down to training and that cycle repeats every day. It's quite tiring, so I'm happy I can now fully focus on my football career," he said. 
"It felt great to have everyone in the team welcoming me back. (Sailors' Head of Physiotherapy) Kak-Fizah (Nurhafizah Abu Sujad) and performance coach, Shay (Shazaly Ayob), have helped me a lot to get back fit. 
"I don't just want to play for the Sailors, I want to excel – I want to win the SPL, Singapore Cup and help the team qualify for the ACL (Asian Football Confederation Champions League) again next season."
The Lion City Sailors' seven-match win streak came to an end after a pulsating 94 minutes at the Jalan Besar Stadium on Friday (24 June) evening, with the defending Singapore Premier League (SPL) champions falling 2-1 to Albirex Niigata (S).
The top of the table clash drew 1,821 fans to Jalan Besar, and they were treated to quality football from both sides, with Maxime Lestienne a constant threat down the Sailors' left flank, and the Japanese side looking equally threatening on the counter-attack. 
Kim Do-hoon's men took the lead in the 41st minute, but conceded the equaliser on the stroke of half-time, then fell behind just eight minutes after the restart. And despite throwing everything at Albirex in remaining minutes of the second half, could not drag themselves back into the game.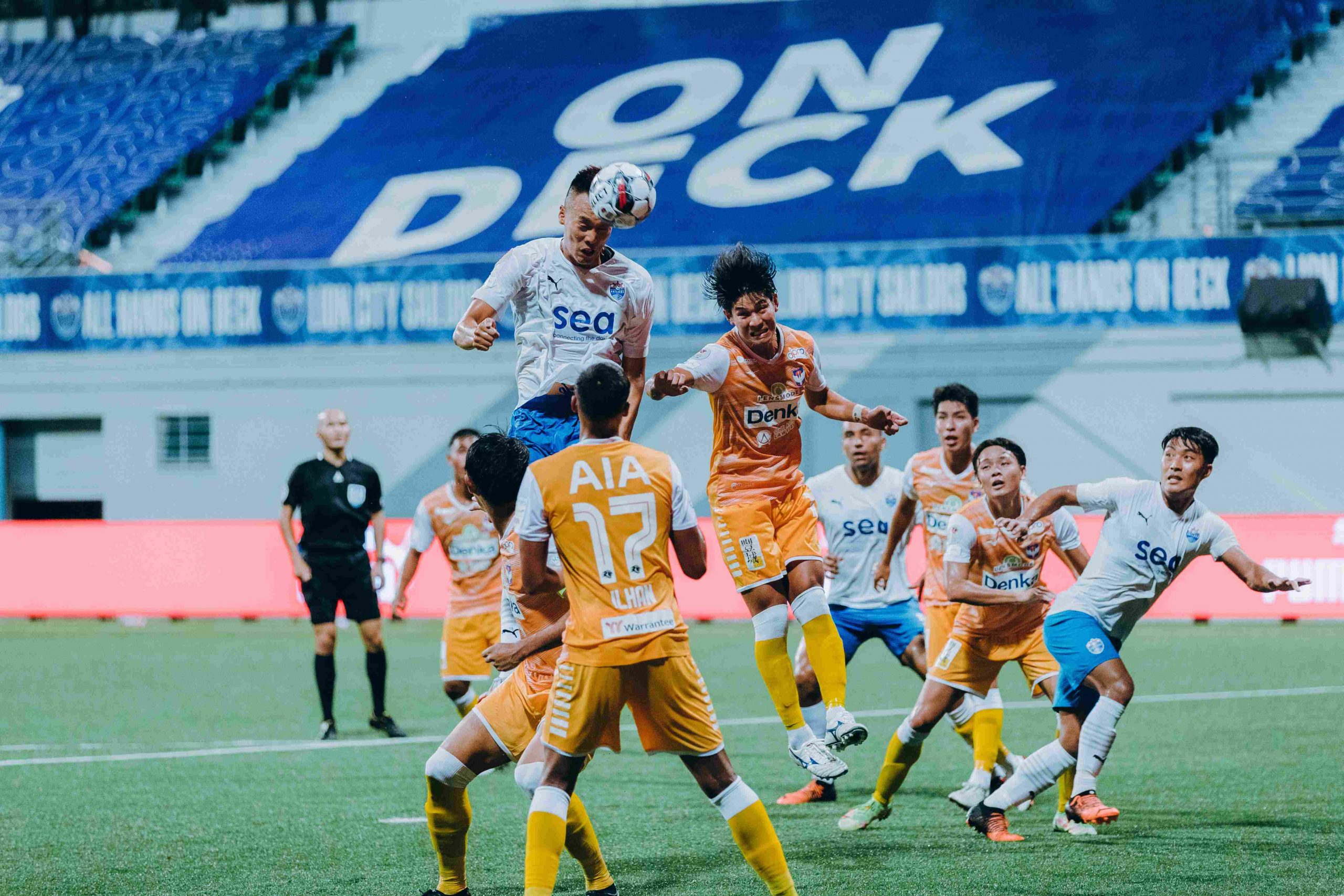 "It's my fault – as a coach, I take full responsibility for tonight," said a disappointed Kim. 
"Big apologies to our fans. They were magnificent: they supported us until the final whistle, and that gave us that extra energy to push till the end, and they deserved a better performance."  
The Sailors dominated possession in the opening half, and took the lead in the 41st minute, with Kim Shin-wook heading in a Shahdan Sulaiman corner.
But it took just four minutes for Albirex to draw level. Masaya Idetsu's swerving freekick whipped in from wide left evaded everyone in the box and bounced past Hassan Sunny and into the far corner.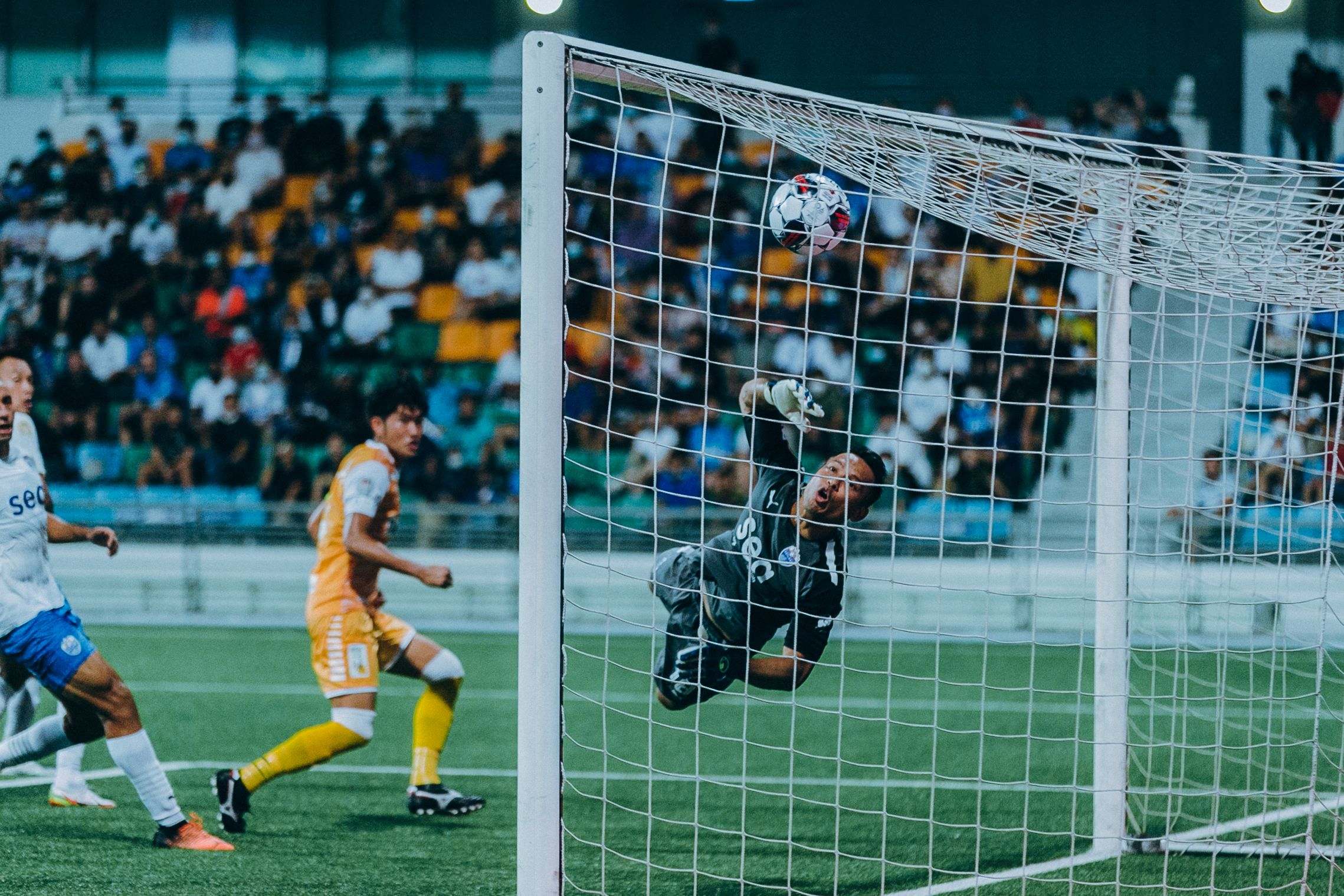 The Japanese side carried that momentum into the second half and took the lead just nine minutes after the restart. A Kan Kobayashi diagonal ball caught out the Sailor's defence, releasing Kodai Tanaka who blasted a left-foot shot past Hassan. 
Sailors fashioned enough opportunities to draw level and even retake the lead. First, Maxime broke into the Albirex box after exchanging passes with Diego Lopes, but his near-post shot was turned behind by the outstretched foot of Albirex goalkeeper Takahiro Koga. 
Then after a slew of corners bore no fruit, substitute Faris Ramli found himself facing Koga in a one-on-one situation, but dragged his left-foot shot agonisingly wide of the far post, in what was effectively the last kick of the game.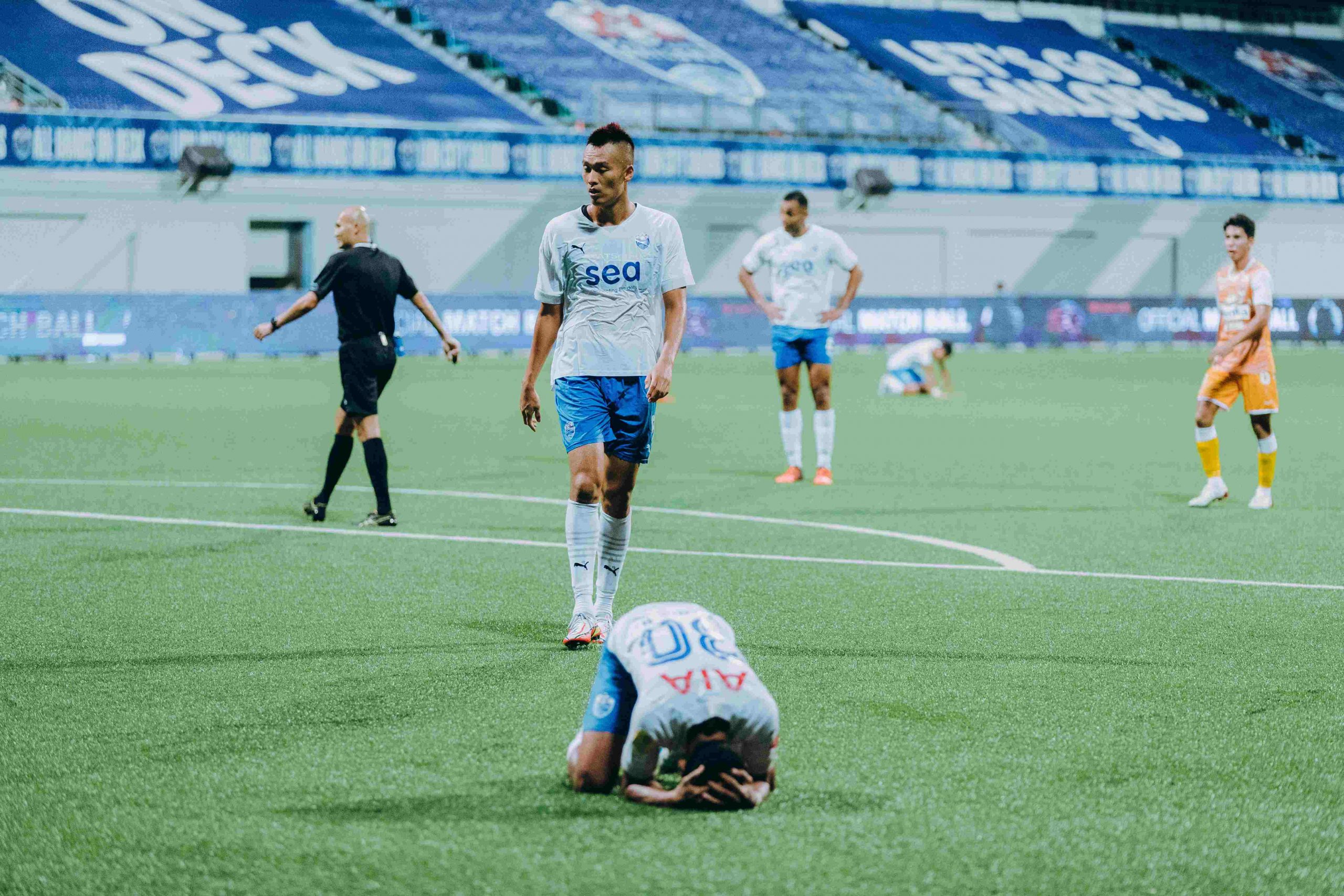 "We lacked focus in front of goal tonight. We needed to be more aggressive and clinical, and that's an area we have to work on," said the 51-year-old. "We'll continue to play our football, but fix things that we didn't do well." 
Despite the loss, the Sailors remain atop the eight-team SPL standings with 28 points, just three points ahead of second-placed Albirex. 
The Sailors' Head Coach will not have much time on the training ground to fix things before the Sailors play again. They next host Young Lions at Jalan Besar on Wednesday (29 June).
"We play Young Lions on Wednesday and it's my job now to help the team shake off this defeat, prepare better, and ensure this result doesn't happen again," he said.
"Now it's my job to study the next opponent and I'm going to work hard on that, but this loss is on me, and I want to apologise to our fans again."
They may have scored six goals in a resounding victory last Saturday (19 June) to achieve a club-record seven consecutive wins, but it is back to the usual grind at the Lion City Sailors' training  sessions. 
The defending Singapore Premier League (SPL) champions will face Albirex Niigata (S), their closest challengers for the league crown at the Jalan Besar Stadium on Friday (24 June), and skipper Hariss Harun has called for his team to keep their feet firmly on the ground. 
"We played really well in the last game, scored several goals too, but we must put that behind us," he said of the Sailors' winning return to SPL action after a month's hiatus due to the international break.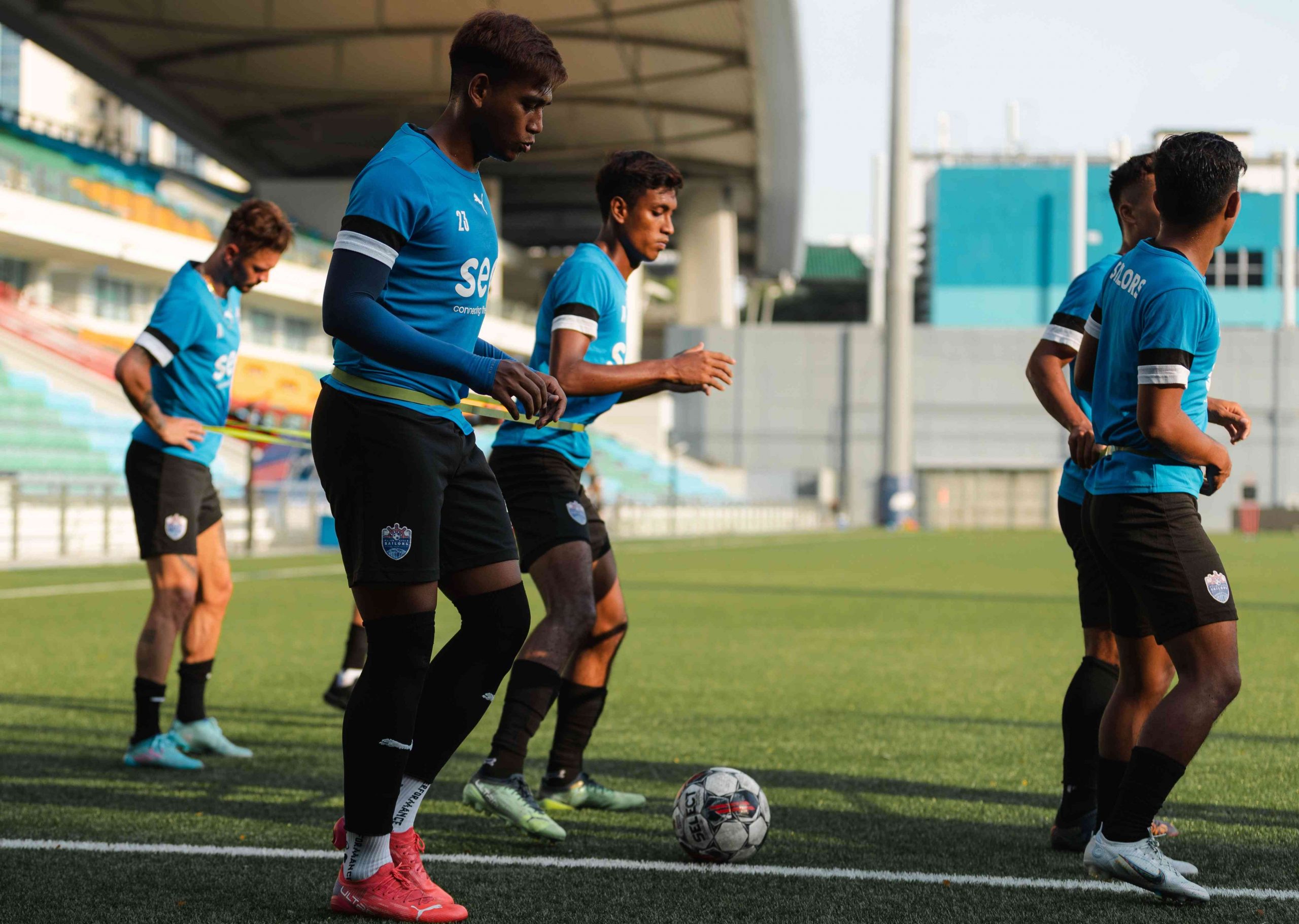 Hariss revealed that the National Team players in the Sailors' squad had to cope with a tiring travel schedule that took the Lions from Abu Dhabi to the Kyrgyz Republic capital of Bishkek, and while the team is managing fatigue well, he believes the mental aspect of the game will be important against their Japanese opponents.
"We can't take anything for granted, especially against our title rivals, Albirex. This is a different game, on a different surface, and we must be on our toes if we want to get all three points," he said.
"The mental side of the game will be very important, and we have to be absolutely focused on matchday, because we know what Albirex can do." 
Last week's 6-1 win on the natural surface of the Toa Payoh Stadium came with some scintillating attacking play but the Sailors will have to turn their minds to a high-pressing Albirex side, and the artificial surface of Jalan Besar. 
The Sailors and Albirex have played each other twice, the first clash saw the Sailors run out 2-1 winners in the season-opening AIA Community Shield, with the March SPL fixture ending in a 1-1 draw.
Albirex are second in the eight-team SPL standings on 22 points, trailing the league-leading Sailors by six. 
"We're playing at home, so we need to go out there, get the job done and take all three points like we aim to do in every game, but we know we can't take it easy," said the 31-year-old, who pointed to the two close encounters against the White Swans this year. 
"We know they will press us with speed – something they do well – so we have to be careful. We have to be compact, score goals and be in control of the game for the entire match, because if they don't have the ball, it'll be difficult for them to hurt us," said Hariss. 
"Both teams have quality, so the difference will be in the mental side of the game – we must stay sharply focused if we want all three points." 
Any doubts over whether the Lion City Sailors could pick up where they left off prior to the international break were empathically dispelled on Sunday night (June 19).
On their return to AIA Singapore Premier League (SPL) action after a month's hiatus, the leaders cruised to a club-record seventh consecutive league win by beating Balestier Khalsa 6-1 at Toa Payoh Stadium.
Kim Do-hoon had admitted before the match that some tweaks could be made for battle at a venue where two points were dropped in their last visit, and it perhaps helped that the Sailors were given an early wake-up call when Daniel Goh smashed an opportunistic 30-yard effort off the bar after just three minutes.
But the Sailors' response was swift and glorious. As a loose, bouncing ball came his way some 35 yards out from goal, Shahdan Sulaiman stunned everyone by meeting it first-time with a half-volley that swerved into the bottom left corner.
The midfield maestro would go on to curl another unstoppable 30-yard strike into the top right corner on 41 minutes as he put on a long-range shooting masterclass, and was unfortunate not to complete a hat-trick when a 35-yard volley came off the bar in the second half. "I think it was a good performance, not only from me, but from the whole team," the 34-year-old modestly reflected. "Coming back from the break, it is a good win to restart our systems."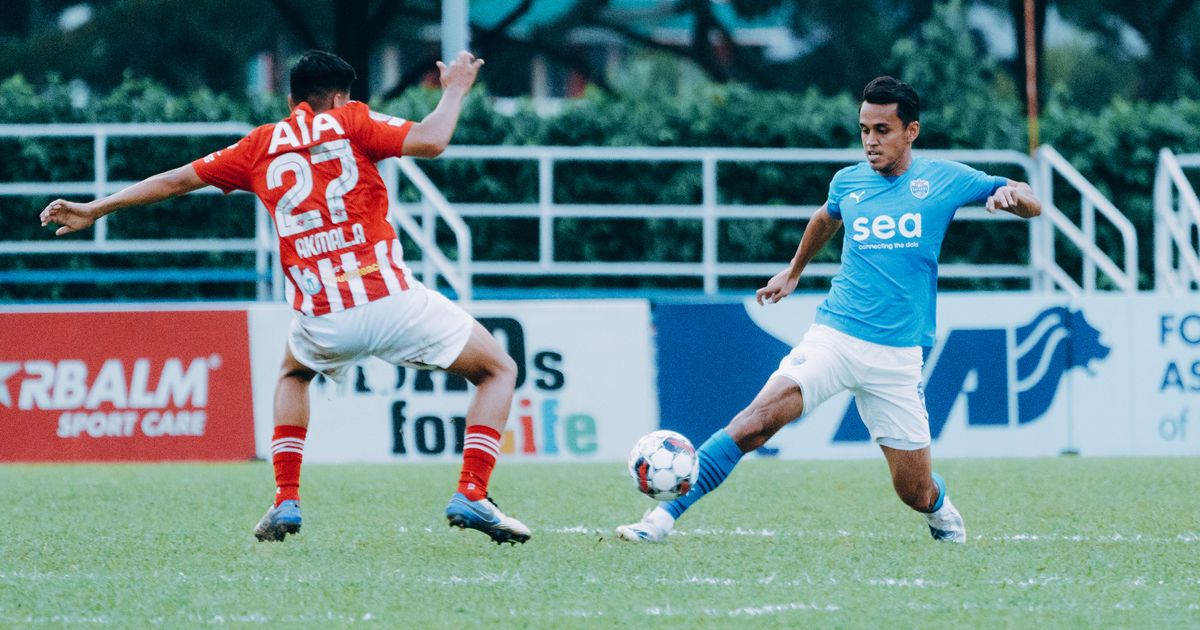 Shahdan also played a key role in the Sailors' second goal on 19 minutes by releasing Diego Lopes with a trademark through ball, allowing the Brazilian to set up Song Uiyoung for a tap-in. Captain Hariss Harun got the third in the 26th minute, controlling Pedro Henrique's headed flick off Maxime Lestienne's corner with his chest before firing in from close range to open his Sailors account.
If the hosts had no answer to Shahdan, they certainly did not have a handle on Lopes. The Sailors' number 10 was constantly picking apart the Balestier defence, and was unfortunate to see a deft lob cleared off the line in the first half. A goal would have perfectly complemented his hat-trick of assists, with the latter two coming after the half-time break.
First, a perfectly-weighted pass sent substitute Gabriel Quak racing clear into the box on 74 minutes to slot in a left-footed effort for his 40th SPL goal. Seven minutes later, Lopes played a one-two with Kim Shin-wook before crossing for Faris Ramli to head in his first of the season barely two minutes after coming on. The goal made Faris the 11th different player to score for the Sailors – a league-best tally this year.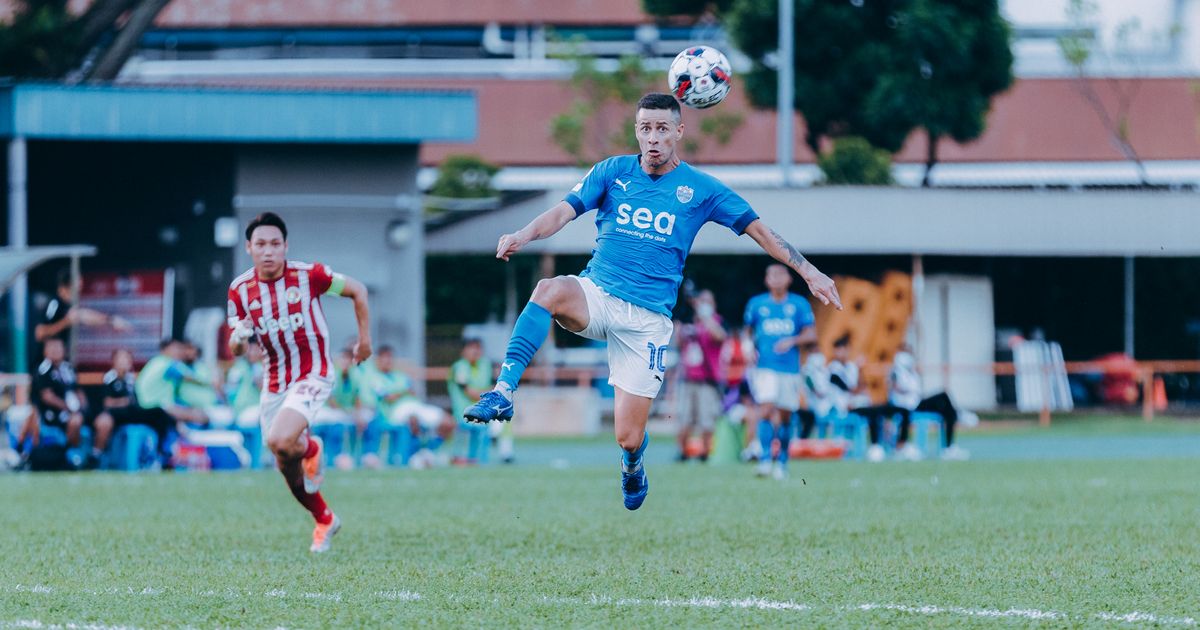 Kim himself saw a first-half header rattle the woodwork in an encounter where the margin of victory could have been larger, with Faris also firing over from a decent position, and Balestier goalkeeper Hairul Syirhan doing well to tip over a fierce strike from Lestienne.
At the other end, Hassan Sunny was rarely troubled, but would not have been pleased with the loss of a clean sheet – he was powerless to stop Goh's well-struck penalty in the third minute of added time.
Indeed, such are the high standards of Coach Kim that he said: "I wouldn't call it (the win) perfect (as) we conceded a goal. But, I give full credit to my boys because they were trying to stay focused to make a perfect game until the last moment, so full credit to them and congratulations to my players tonight. We will try our best to continue with the good momentum in the next game."
The Korean knows that the Sailors have to keep up the hard work for their next match on Friday (24 June) against Albirex Niigata (S), who remain six points behind in second after crushing Hougang United 5-0 on Sunday.
The Lion City Sailors laid down a serious marker in their quest to win the Deloitte Women's Premier League (WPL) title this season, as they overcame Hougang United 6-0 last evening (June 18) at the Yishun Stadium.
Forwards Lila Tan and Dorcas Chu both snagged themselves a brace, while Khairunnisa Anwar and Madison Telmer also got on the scoresheet for the Sailors.
The margin of victory is the largest in the WPL so far this season, with four rounds of matches having already been played.
Sailors assistant coach Adelina Gomez – standing in for head coach Yeong Sheau Shyan, who is currently overseeing the Singapore Women's Under-16 national side's training camp in Thailand – hailed her charges for putting in such a dominant performance.
She said: "The game wasn't easy considering the condition of the pitch but the girls made it look plain sailing. Our combinations and support plays were fantastic. It was a superb game, and they should be so proud of their performance.
"We met our objectives and stuck to the game plan. I think getting the three points and a clean sheet is already a display of how well they've performed."
Two-goal hero Lila added: "It was a huge challenge to play on the field after it rained. At times, it felt like playing beach football, as the field was all muddy and wet. Nonetheless, I believe we tried our very best despite the slips and falls."
Lila, who was among the 12 Sailors called up the Lionesses' provisional 29-player squad ahead of the upcoming ASEAN Football Federation (AFF) Women's Championship, was also pleased to have got off the mark in her debut for the club.
"Its a thrilling feeling to be able to score on my debut! I am just happy I gave it my all on the field and played with no regrets," said Lila. "It's important to be able to consistently perform on the field and fully demonstrate your potential as an athlete, especially leading up to the upcoming AFF championship."
Adelina was particularly pleased with her side's movement and penetration in the final third.
"We were really comfortable in playing those crucial balls into space and it caused a lot of issues for the opponent," Adelina elaborated. "We also worked well together in combining passes and runs for goal scoring opportunities."
While Lila and Dorcas both garnered plaudits for their goalscoring exploits, it was the performance of midfielder Venetia Lim – making her debut for the Sailors – who caught the eye of Adelina.
"I'd say every player played their heart out last night. But Venetia was the one who stood out for me," Adelina mused.
"Her football intelligence is phenomenal, and she read the game superbly. She was so composed and calm on the ball, her decision making was spot on, and she played brilliantly despite returning from an injury."
With the win, the Sailors, who beat Albirex Niigata (S) 4-1 in their first match of the season two weeks ago, find themselves third in the table on six points – three points behind current league leaders Tanjong Pagar United, who have played two games more.
The Sailors will next take on Still Aerion FC at the Yishun Stadium on July 16.
After a four-week break, the Lion City Sailors will get back to league action when they travel to Balestier Khalsa this Sunday (19 June) evening.
Kim Do-hoon's men will do so on the back of a six-match winning streak in the AIA Singapore Premier League (SPL), and another victory at the Toa Payoh Stadium will see them set a new club record.
However, the Korean is more focused on continuing the momentum that was being built before the international break as the Sailors hunt a second straight SPL title.
"Such statistics are not in my head," he said. "It is more about how we can sustain good performances on the pitch after coming back from the Asian Football Confederation Champions League (ACL) and show continuous improvement. Of course, we will fight for the three points and put on a good show."
The Sailors were far from their best in their first match upon their return from the ACL back in May – a 4-3 win against Hougang United – and Kim knows that they have to put in a much-improved performance against the Tigers, who, despite having lost their last four games, will certainly pose their own threat.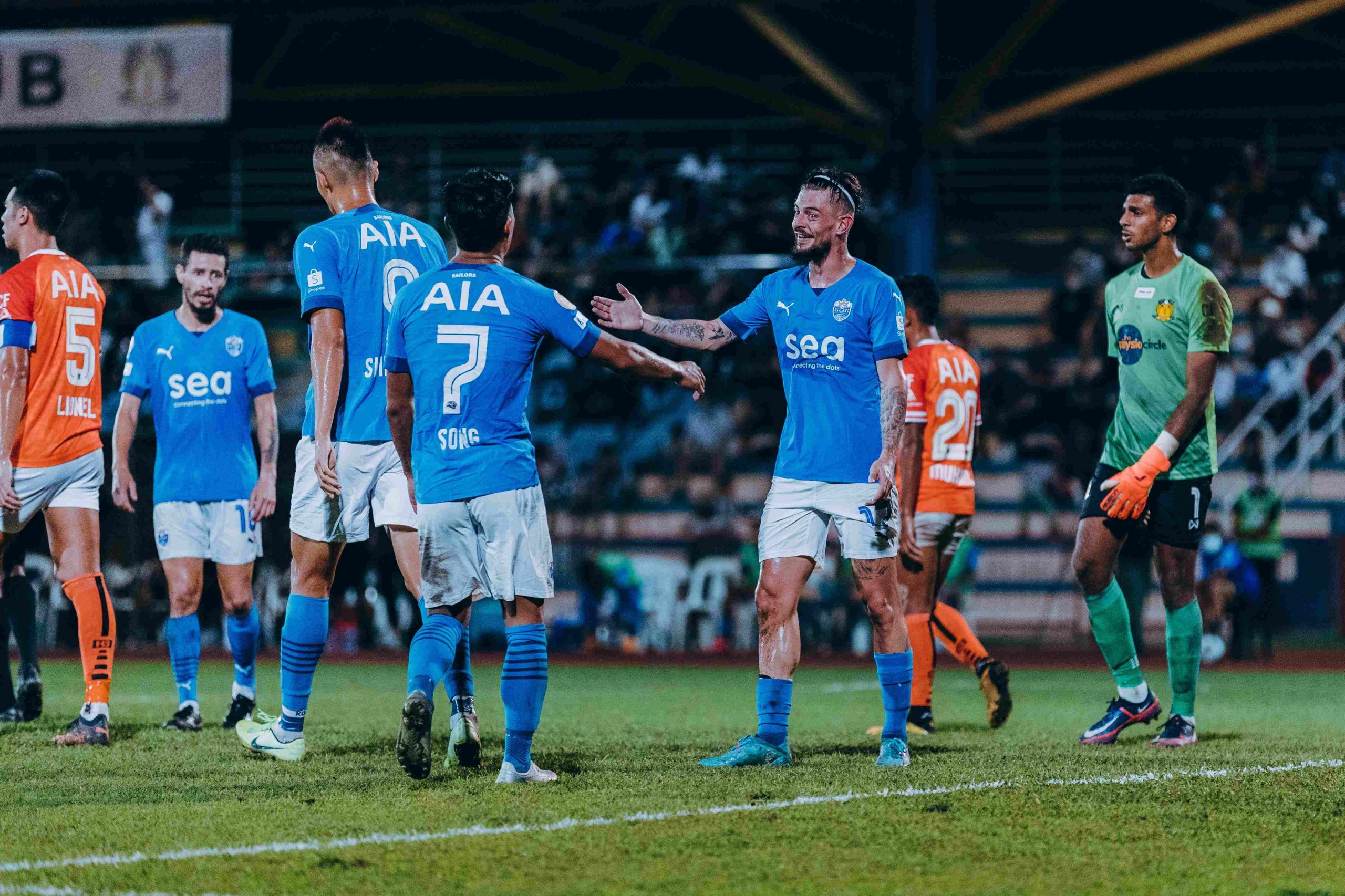 While the Sailors have won five of their six encounters in history, the one time they dropped points was at Toa Payoh Stadium. Then, Stipe Plazibat's 95th minute penalty salvaged a 1-1 draw, and Kim admitted that the venue might see him make some specific tweaks to his game plan.
"To be honest, it will have an effect on the match but at the end of the day, both teams will be playing under the same conditions and we will have to overcome any difficulties," he said. "I think that Balestier have been showing good performances in spite of the results; they added quite a few new players for this season and it always takes time to gel in a situation like that. But credit goes to their head coach (Akbar Nawas) for getting them to play some good football.
"It was not easy playing them in our last meeting (a 4-0 win in April) and I believe it will be the same this week… They are a team who likes to play offensive football and they are very aggressive at running behind their opponents' defensive line."
Kim revealed that the international break was a "good" one for those who were not on duty as they worked on fitness and individual aspects for improvement. However, the 12 Lions who were part of the Singapore National Team will still need to be assessed for match fitness.
Hassan Sunny and Shahdan Sulaiman completed all four matches during the window while Hariss Harun, Faris Ramli and Song Uiyoung played the majority of the minutes; Amirul Adli, Hafiz Nor, Nur Adam Abdullah, Iqram Rifqi, Adam Swandi and Gabriel Quak all saw action as well. Young midfielder Saifullah Akbar, however, is a doubt for the game after picking up a knock. "Whoever is ready will get to play," Kim said.
Nonetheless, the Sailors will welcome Zulqarnaen Suzliman back from the Young Lions after the 24-year-old completed his National Service, and Kim noted: "I am very happy to have him back and he has been welcomed back by everyone. He is an offensive full-back with speed and that threat is an asset for us."
It is clear that the spirit and confidence is high in the Sailors camp, and Kim wants it to stay that way by getting all three points at the weekend.
"It is important that we play the football that we know we can, after good preparations," he said. "If we can show that on the field, I am sure we will have a good result."
A day before the Lion City Sailors were due to take on Balestier Khalsa in the Deloitte Women's Premier League (WPL) last weekend, it was announced that the match would be rescheduled due to several Balestier players testing positive for Covid-19.
While the Sailors would have liked to ride the momentum from their 4-1 win over Albirex Niigata (S) the week before, the unexpected postponement did come with its own advantages.
For one, it meant that the Sailors – who had just two weeks of full team training before the start of the season – now had an extra week to train together, allowing the players to work on their cohesion and understanding on the pitch.
Sailors assistant coach Adelina Gomez said: "We pencilled in a training session to replace the postponed game, so that we could prepare for our next game. Of course, the additional week of training was helpful, and I think the extra sessions we had gave us time to work on our game plan."
The Sailors' next challenge in the WPL will see them take on Hougang United, who have lost all three of their games played so far.
Despite Hougang's poor run of form, Adelina cautioned against underestimating the Cheetahs, as she said: "They're (Hougang) very speedy off the ball and that could potentially cause issues for us if we don't read it quick. They've got a pretty solid back line as well, so we need to be creative with our movement to create chances.
"Moving the ball around, as well as staying calm and patient is something we're aiming to do. If we can do that, we will be able to create opportunities in their box.
"We want to play fun, entertaining and attacking football. We're going to seize the opportunity right from the beginning. I think if we start on the right foot, it'll give us an advantage."
The Sailors, however, will have to try and get all three points against Hougang without captain Ernie Sulastri, as well as head coach Yeong Sheau Shyan. The duo is part of the technical team of the Singapore Women's Under-16 national side, who are currently in Thailand for a training camp.
Nonetheless, Adelina, who will be standing in as head coach this weekend, is confident that her charges will be able to get the job done, even without Sheau Shyan and Ernie.
"The training sessions have been going well so far, so I'm confident we'll do fine on Saturday. Adaptation is key because situations like this happen all the time, but our girls work very well together," Adelina declared.
"I don't want to be complacent but I have utmost faith in our girls. Ultimately the end goal is to fight for the three points and keep a clean sheet this weekend. They've been looking sharp and focused at trainings so I'm optimistic we can get all three points."
The Singapore National Women's Team has called up 12 Lion City players for their upcoming 'A' international friendlies against Hong Kong, which will take place on June 23 and 26 at the Jalan Besar Stadium.
Among the Sailors called up to Stephen Ng's provisional 29-player squad include captain Ernie Sulastri Binte Sontaril, goalkeeper Beatrice Tan, as well as up-and-coming forward Danelle Tan.
The Lionesses will be hoping to build upon an encouraging SEA Games campaign in Vietnam last month, which saw them make history with a 1-0 win over Laos.
Then, it was the Sailors very own Nur Izzati Rosni who scored the only goal of the match to secure the Lionesses' first win at the Games since 1985.
Following the friendlies against Hong Kong, the Lionesses – who are currently ranked 135th in the FIFA world rankings – will look towards the ASEAN Football Federation (AFF) Women's Championship 2022, which is set to take place in the Philippines from July 1 to July 14.
Singapore have been drawn into Group A for that competition, alongside Thailand, the Philippines, Indonesia, Malaysia, and invited nation Australia.
Singapore Sailors
Dorcas Chu, Ernie Sulastri, Fatin Aqilah, Lila Tan, Nicole Lim, Venetia Lim, Noor Kusumawati, Nur Izzati, Nur Syazwani, Nur Umairah, Beatrice Tan, Danelle Tan
The Lion City Sailors women's Deloitte Women's Premier League (WPL) clash against Balestier Khalsa, which was initially scheduled to take place on Saturday (June 11) at Yishun Stadium, will be rescheduled to a later date.
This postponement comes in the wake of several Balestier players testing positive for Covid-19. The rescheduled date for this match will be announced in due time.
The Sailors, who beat Albirex Niigata (S) 4-1 in their opening WPL match last weekend, will now turn their attentions to the game against Hougang United at the Yishun Stadium on June 18.