As the final whistle sounded at the Jalan Besar Stadium on Friday night (27 August), shoulders sagged, and hands immediately went onto hips, as eyes looked down at the turf. 
The Lion City Sailors endured a frustrating evening in a 1-1 draw with Hougang United in the Singapore Premier League (SPL), and while they rescued a point late on, the draw seemed to have the feel of a defeat. 
The result handed the title initiative back to league leaders Albirex Niigata (S). The Sailors are now five points behind the reigning champions, with a game in hand and just five matches left to play. 
On Friday, the Sailors peppered the Hougang goal, chalking a total of 25 shots, but in a lapse of concentration, went behind to a 51st minute Anders Aplin header – Hougang's only shot on target on the night. 
"After the game, the coach told us that if we want to be champions, we have to overcome this tendency of giving away soft goals," said Faris Ramli. "I cannot say we didn't defend well during the game – we did – but that one moment, that one lapse, cost us the three points. 
"We really cannot afford to keep conceding cheap goals and we know that. We just need to get back on the training ground, work even harder and try to defend better as a team," added the 29-year-old.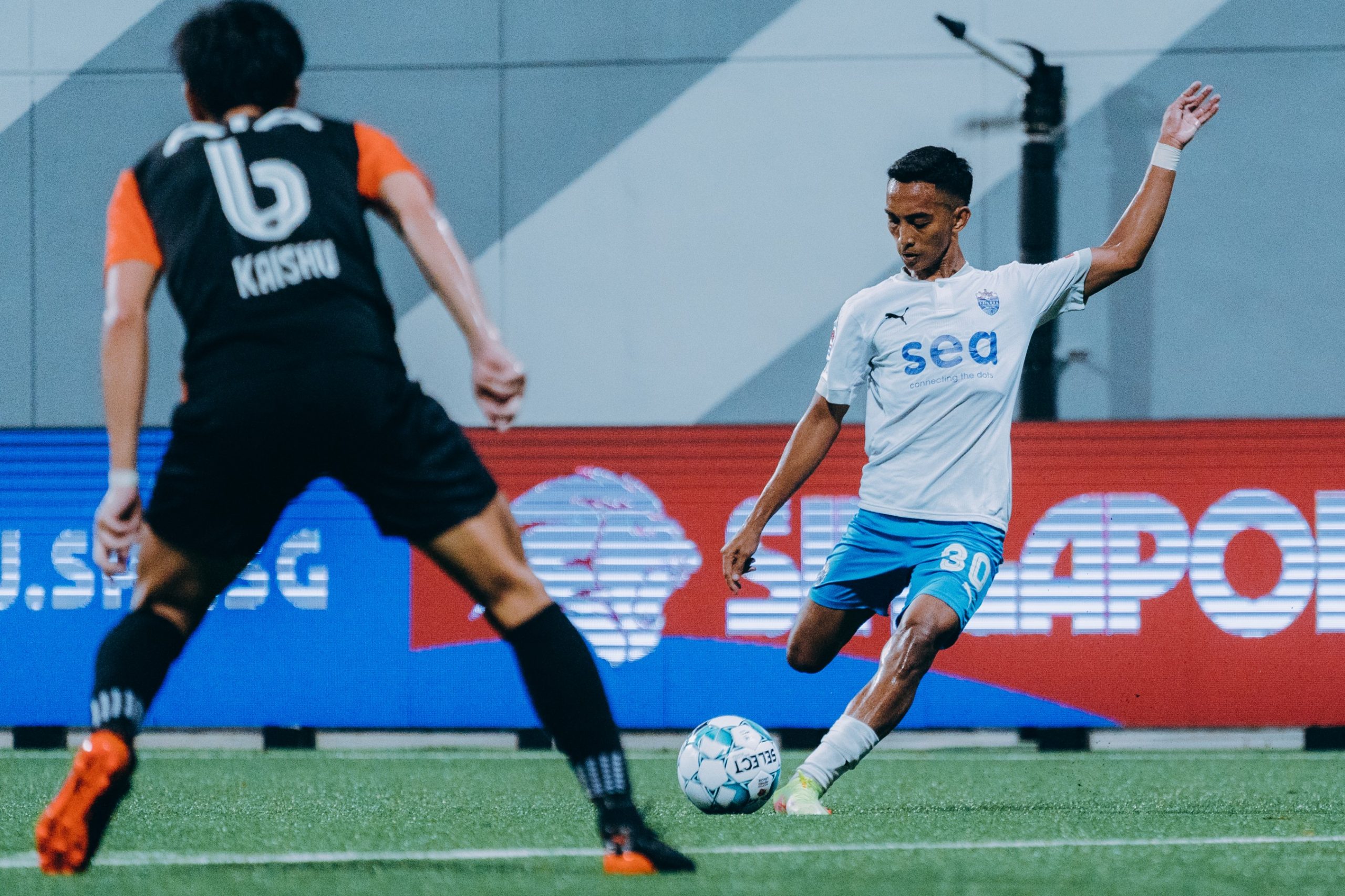 Hougang clearly set up shop to pack their backline and limit the space, and the Sailors were unable to find clear inroads with Croatian hot shot Stipe Plazibat often tightly marked whenever he entered the Cheetahs' box.
Early into the second half, Kim Do-hoon's men were hit with a Hougang sucker punch. Kaishu Yamazaki's deep free-kick into the area found Aplin, who jumped uncontested to nod the visitors ahead. 
The Sailors rallied after going behind, with the introduction of Hafiz Nor – who replaced Saifullah Akbar – proving to be an inspired move, with the winger making an impact just four minutes after coming on. 
Charging down the right flank, the 33-year-old gave Yamazaki the slip, then bamboozled Aplin before putting in a tantalizing cross for Stipe to head home the equaliser.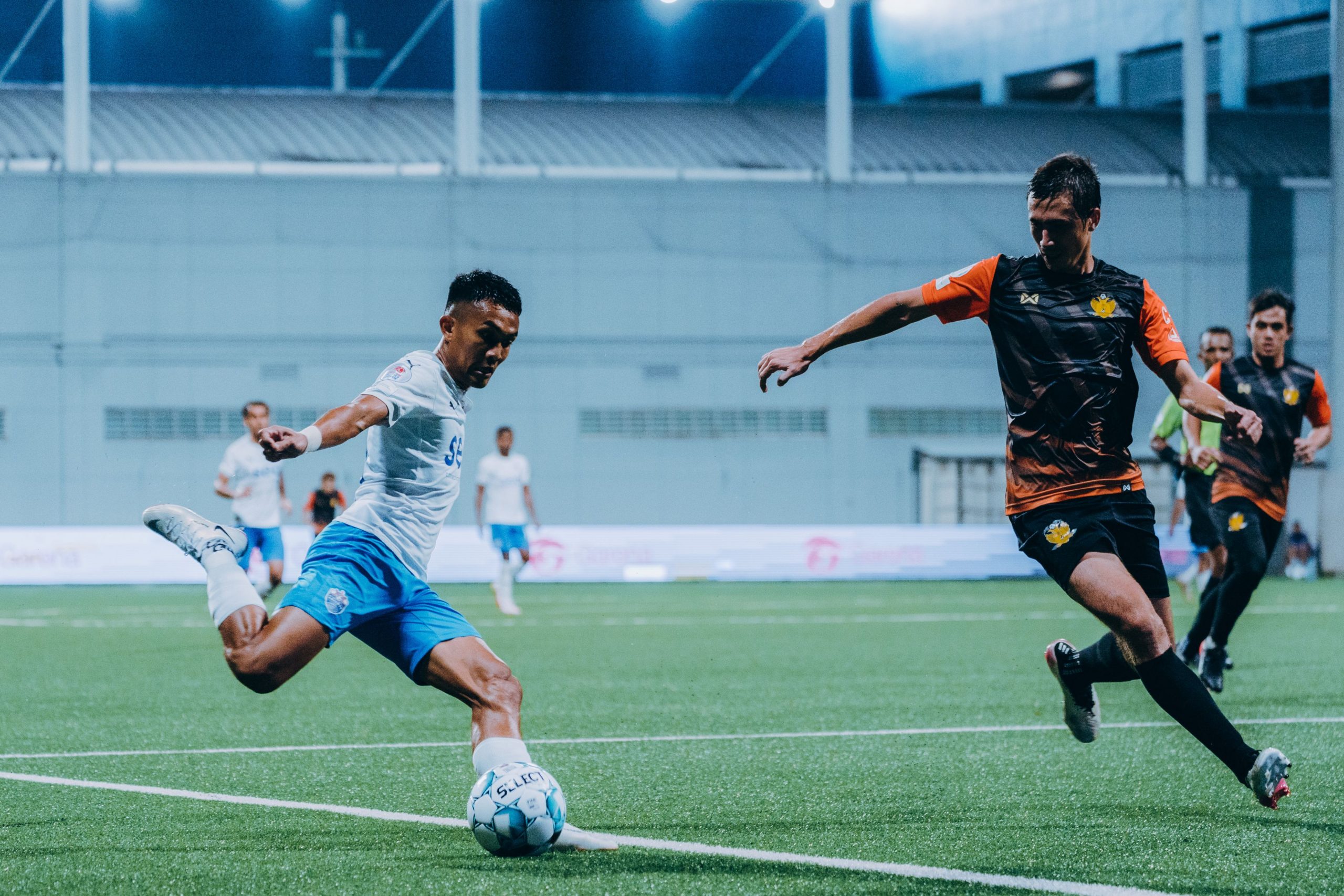 But like Faris, Hafiz was gutted that the Sailors did not get the victory they were gunning for. 
"Watching the game from the bench, I couldn't wait to come on, I knew I could do something," said the Singapore international. "I gave it my all and followed the coach's instructions to just attack defenders head-on. 
"I'm happy that my efforts paid off with an assist, but it's really frustrating to not get a win."
The Sailors piled on the pressure late in the game, and Kim's charges almost found a way past the resolute Hougang defence deep into injury time. First, Jorge Fellipe's goal bound header was denied by a top-drawer save by Izwan Mahbud. 
Then seconds later, Faris was denied what could have been a winner against his old employers. His low drive looked set to nestle in the bottom left corner, but ex-teammate Nazrul Nazari appeared from nowhere to clear off the line.  
"It was nice to see familiar faces and old friends again, but once we stepped onto the pitch we understood the need to maintain a distance during the game – it's work," said Faris. "Also it was such an important game for my team that I didn't focus on the fact that I was playing against my old club. I just wanted to get the victory for us, but it didn't happen. 
"I guess Nazrul is someone who quite understands my play, and he probably knew where I was going to shoot," rued the 2019 SPL Player of the Year. We tried everything and gave our all, but sometimes things just don't go our way and the ball just doesn't go in."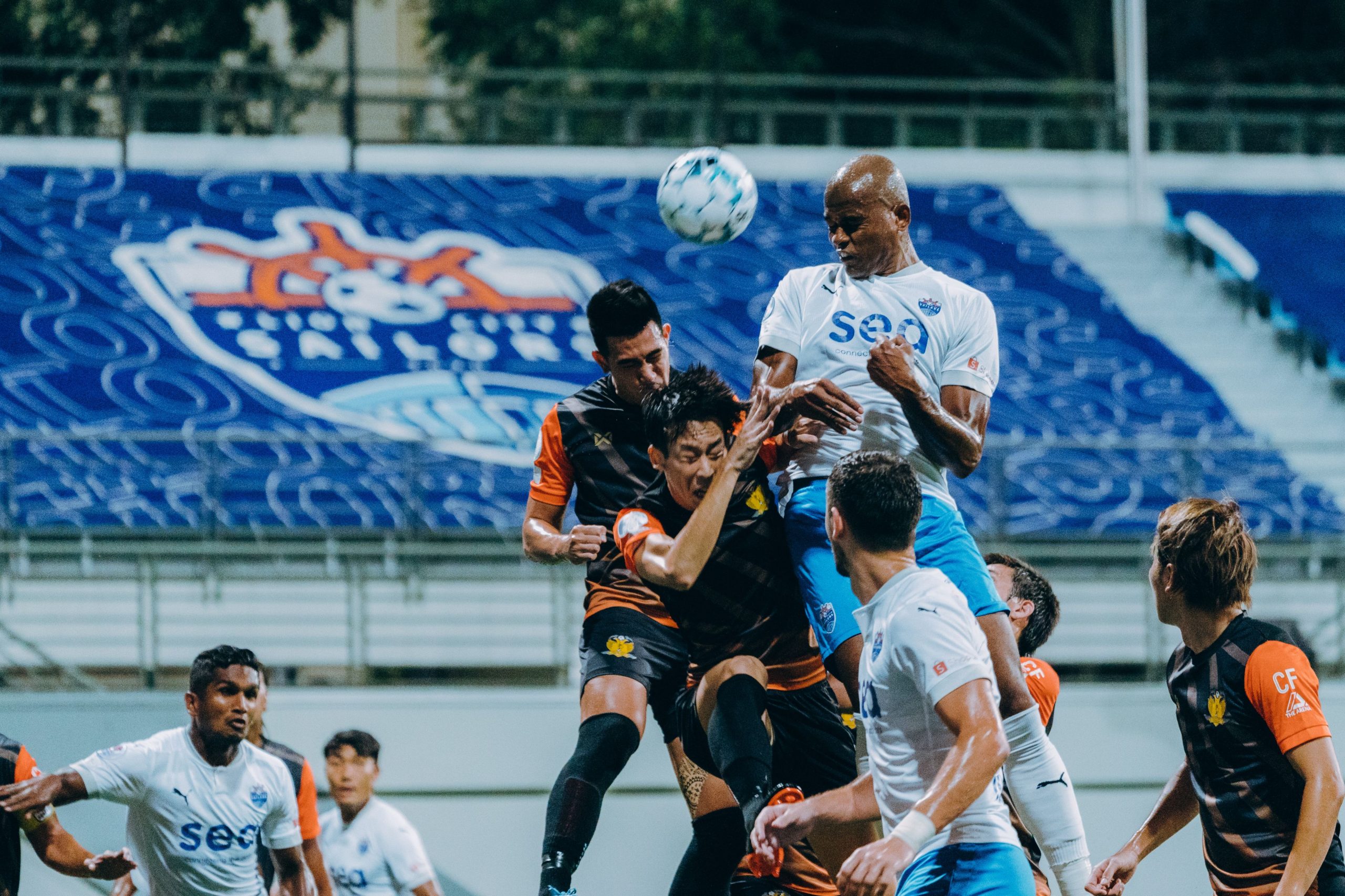 Despite the disappointing result, the fate of the SPL trophy still lies in Sailors' hands. The equation remains the same: if the Sailors can win their final five games – which includes a crunch clash against Albirex on September 17 – they will be crowned league champions. 
Faris has seen enough positives from the team to believe that the Sailors will be able to last the distance. 
"We've been improving our understanding as a team. You can see from the way we move together and cover each other during games," he explained. "As long as we continue in this manner and listen to Coach's instructions, there will be good things for us at the end of the season."
As for Hafiz, the return of fans – up to 1,000 fans are now allowed at SPL matches –  is something he believes will give players an extra push going into the business end of the season, and perhaps even spur the Sailors on to break the six-year SPL dominance of foreign teams, Albirex and Brunei's DPMM FC.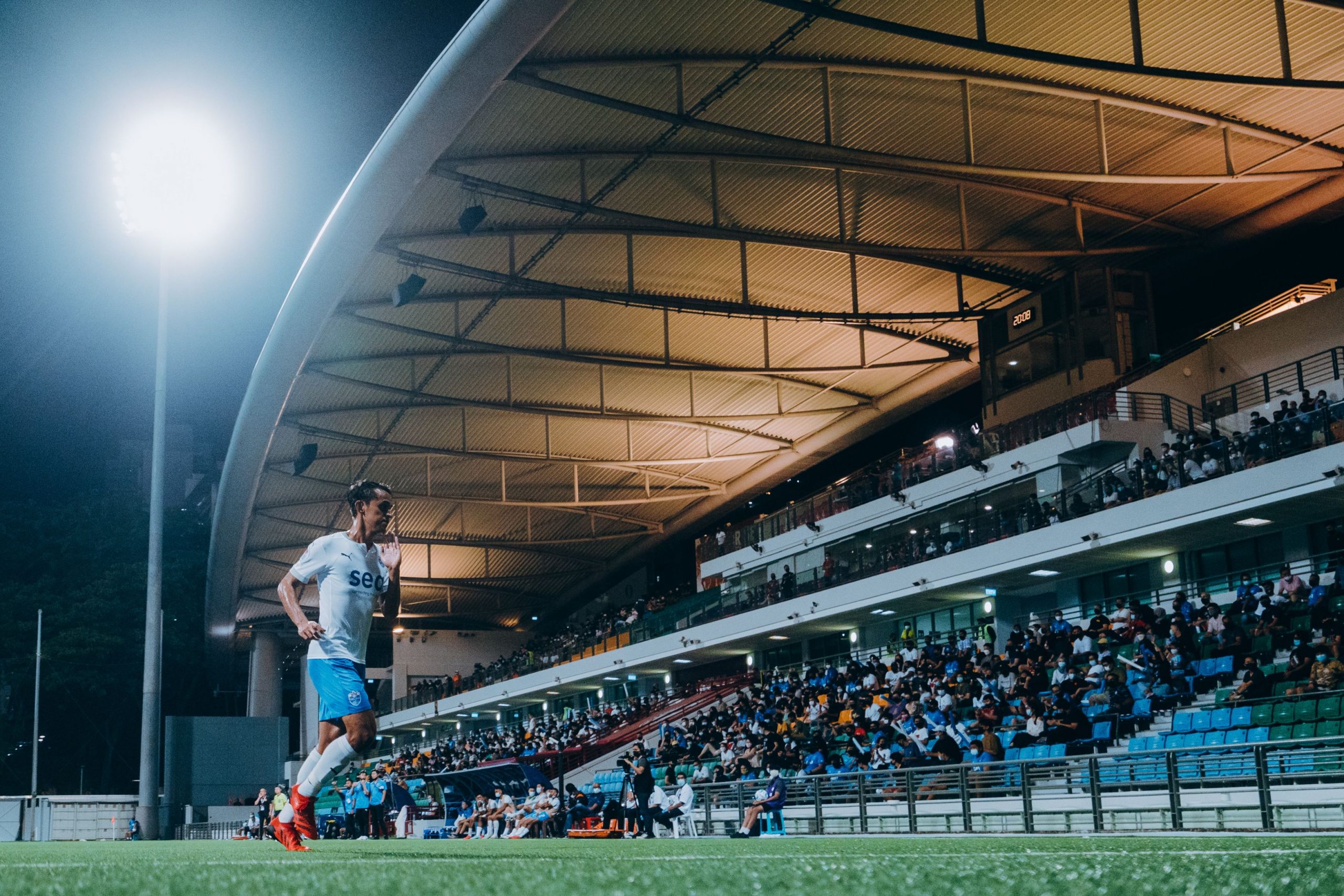 "There was a fantastic atmosphere at Jalan Besar tonight and it's so nice to see all the fans coming down to support us," he said. "They gave us that extra boost, especially when we have to chase a game.
"Hopefully we continue to see such healthy attendances at games to give us further motivation. We really want to be the first local team to win the SPL after so many years."
Lions' boss Tatsuma Yoshida has called up a total of 22 players – with 11 from the Lion City Sailors' squad – for a series of training sessions during the upcoming FIFA international window starting on 31 August.
This includes a first call-up for Song Ui-young, who last week announced his successful application for Singapore citizenship.
"We are fully supportive of our national cause, and take immense pride in having our own Sailors represent Singapore," said Sailors' Chief Executive, Chew Chun-Liang.
"It makes it extra special that Song has also received a call-up to follow up on his Singapore citizenship and take his first step towards becoming a full-fledged Lion. I'm glad he will have his Sailors' family to rely on at his first Lions' training sessions."

Singapore Sailors
Hassan Sunny, Amirul Adli, Nur Adam Abdullah, Tajeli Salamat, Hariss Harun, Shahdan Sulaiman, Saifullah Akbar, Hafiz Nor, Gabriel Quak, Faris Ramli, Song Ui-young
Hougang United was his first club when he first arrived in Singapore in 2016, and it was also his first port of call three years later when he returned to the Singapore Premier League (SPL) after an unproductive spell in Thailand.
He is still on very good terms with the club's management and of his ex-teammates, but ahead of the Lion City Sailors' clash with the Cheetahs at the Jalan Besar Stadium on Friday night, Stipe Plazibat was adamant that there will be no room for sentiment.
"I'm very grateful for what Hougang has done for me and there'll always be mutual respect," said the 31-year-old. "I'm still very good with everyone at Hougang from coach Clement (Teo), general manager Matthew (Tay) and my old teammates," said Stipe.
He left Hougang for Bishan twice – the most recent instance was in the 2020 mid-season transfer window – and he is now leading the Sailors' charge for what would be the club's first-ever league title.
"It's nice to see your friends, but there's no discount for anyone. I'm sure they'll be tough on me on the pitch and I'll be tough on them as well."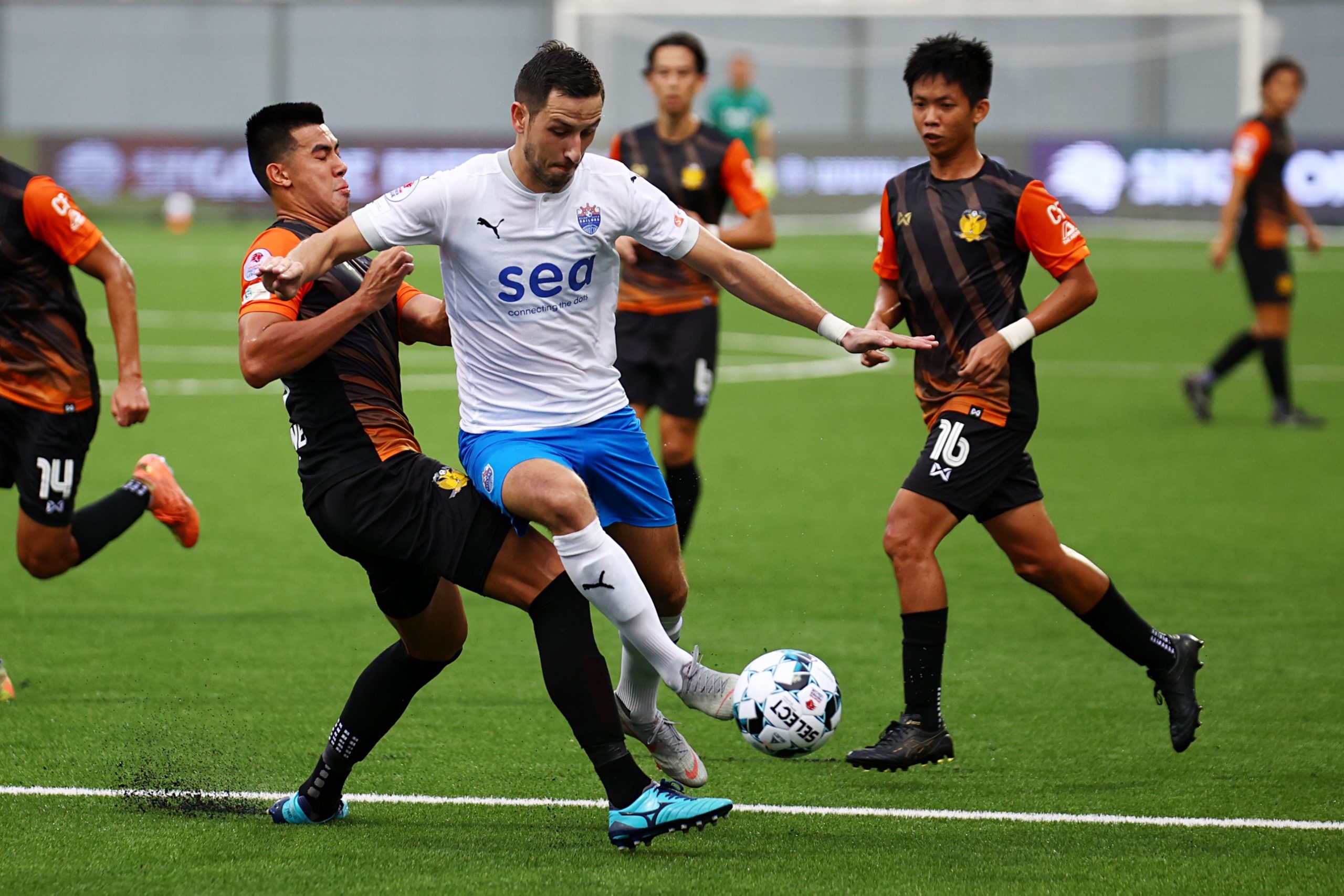 And there is good reason for the aggressive Hougang approach that Stipe expects.
The Cheetahs are still in with a fighting chance to win the league. They are five points behind second-placed Sailors – and eight behind league leaders Albirex Niigata (S) – but have played a game more.
The Sailors did not enjoy the best of starts to the 2021 season, collecting just four points from a possible nine, languishing fourth in the eight-team standings after the first three rounds.
The 3-1 loss to Hougang that came during that period in March proved to be the Sailors' only defeat this term. Since then, they have gone on a club record 12-game unbeaten run – amassing 30 points from a possible 36.
A change of coach and playing system did little to hinder the Sailors' championship quest, as they picked up successive victories over Tampines Rovers (4-1) and Tanjong Pagar United (2-1) after kick-starting Kim Do-hoon's reign with 1-1 draws against Albirex and Balestier Khalsa.
Now three points behind leaders Albirex with a game in hand and with a better goal difference, the Sailors know they have fate in their own hands. As long as they win their final six games – including a match against Albirex on 17 Sep – the Sailors will land their hands on the coveted trophy.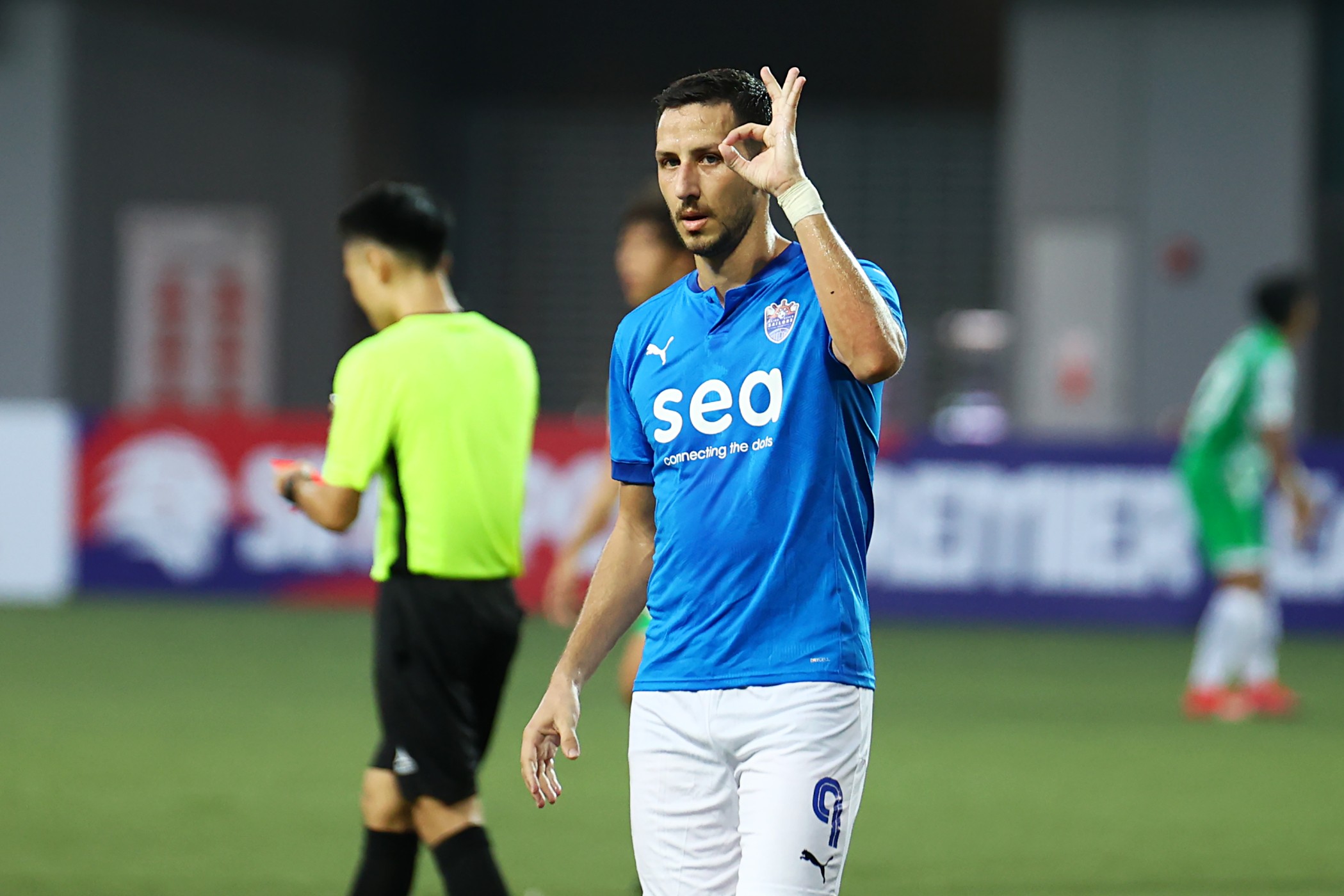 "In the beginning we were still trying to find our feet as a new team and we needed some time to adjust to each other, but we slowly progressed and you can see the improvement now," explained Stipe.
"Under Coach Kim, training sessions are longer, tougher and more physically demanding. The football style is more industrial than before, but we're gradually adapting to his philosophy and it's good that we are winning again after two draws," he added.
"We have six cup finals left and we just have to take each game as it comes to achieve our target."
After a good debut year with the Sailors – he netted nine goals and chalked up five assists in seven starts – Stipe has carried that form into his first full season with the club with 13 goals and seven assists in 15 starts.
The 2020 SPL Golden Boot winner is now three goals behind Hougang's frontrunner Tomoyuki Doi and has every chance to finish top scorer again this year, but is not fixated on that target. Instead, it is the team's ultimate goal that is foremost on Stipe's mind.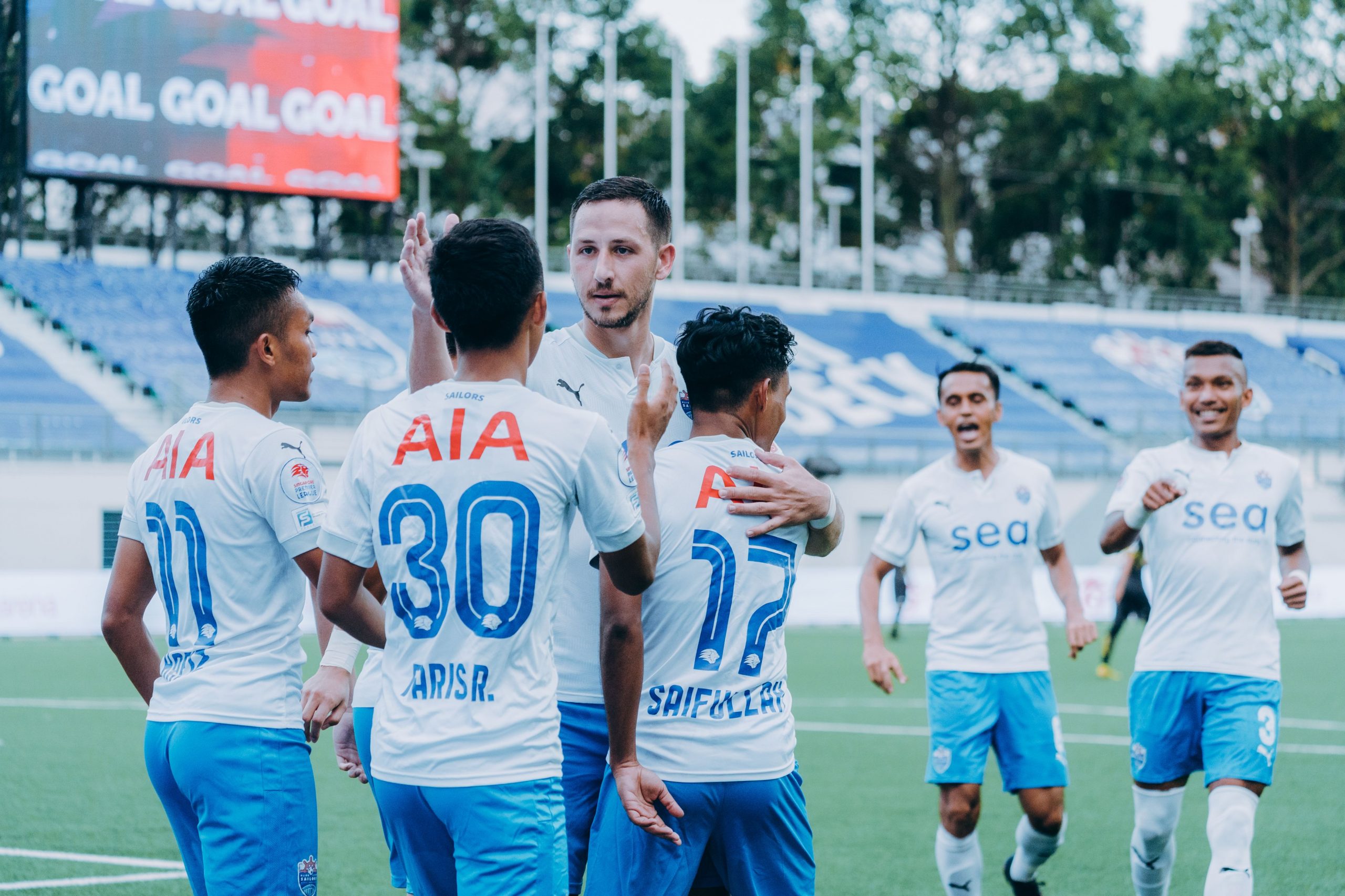 "Honestly the most important thing is that we win the league. If my goals help us to achieve that and also help me to win the Golden Boot, that will be great, but my priority is the league title," he insisted.
And Stipe is hoping that he will be the third time lucky, this after some wretched luck saw his teams fall short of the title in the past two years, as he missed crucial games at business end of those seasons.
In 2019, Stipe was absent for the final two games for Hougang due to injury as the Cheetahs agonisingly missed out on their first-ever league title. Then last year, a hamstring injury meant he only played a bit part role – just 6 minutes – in the Sailors' final five games as they eventually finished third behind Albirex and Tampines.
"Hopefully this year I will stay healthy all the way till the end of the season to help my team," said the hotshot, who has a grand total of 76 SPL goals in 93 appearances. "I have a good feeling this year might be the year that I finally win the league."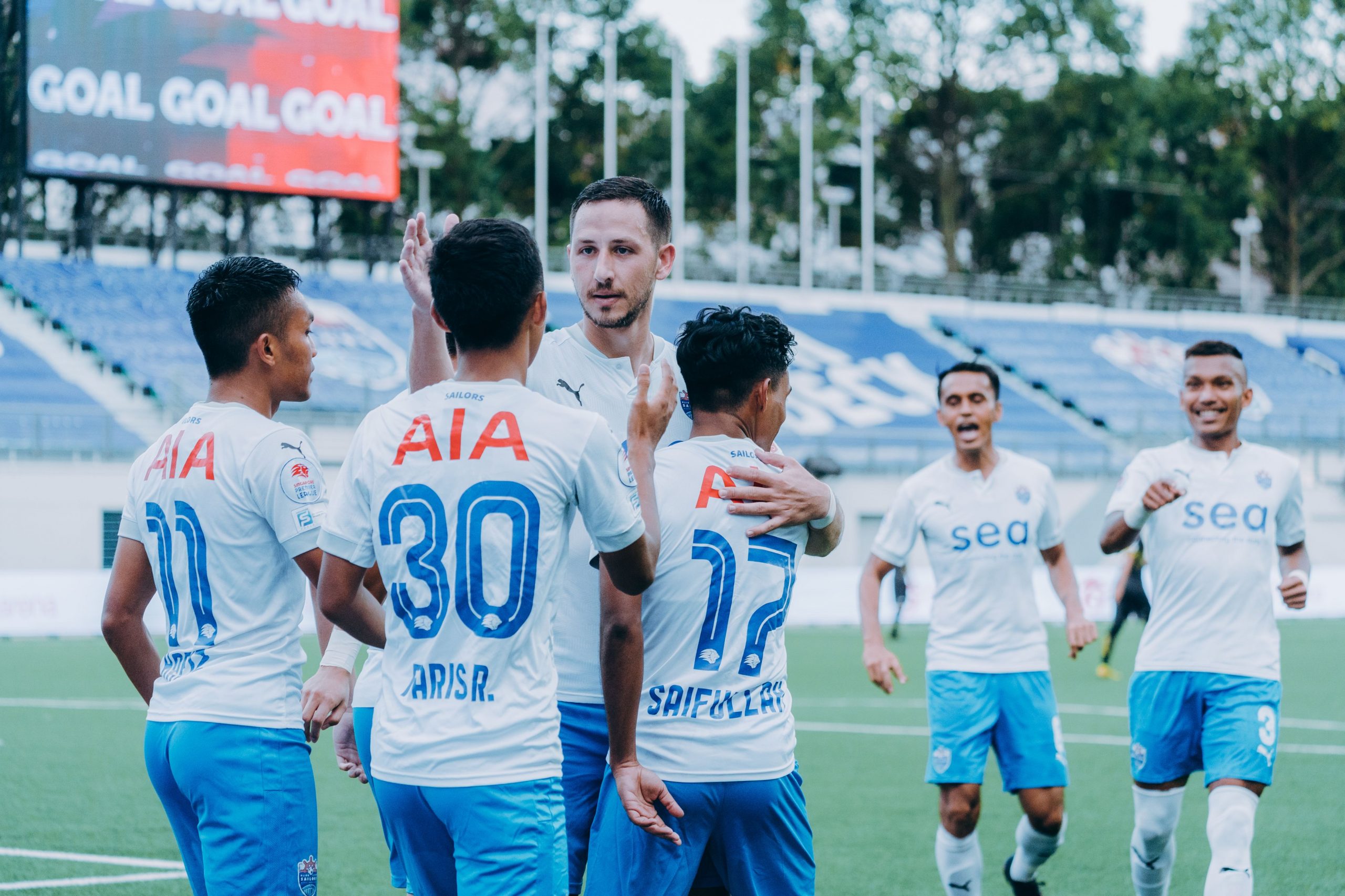 Should the Sailors lift the SPL trophy on the final day of the season on 2 October, it will be double happiness for Stipe – who is set to welcome the birth of his first child, a son, later that month.
Now living alone in his Bishan apartment because his wife Marija had flown back to Split in July to prepare for the delivery, he is hoping to make it back to his native Croatia in time to witness the life-changing moment.
"She was with me in Singapore from July 2019 until last month," revealed Stipe. "Right now, there's nothing much I do every day – sometimes I will go cycling with (Sailors Head of Performance) Mario Jovanovic, and maybe go to the supermarket to top up whatever I need at home. If not, it's only between Bishan and Jalan Besar for training and matches.
"Hopefully the team can achieve our target of winning the title. Then I can happily go home to my wife and son."
Stipe is also looking further to the future, after seeing teammate Song Uiyoung secure his Singapore citizenship last week.
Stipe – who is now into his fifth season in Singapore across two spells – is also hoping to sink roots in the Lion City.
"I'm so happy for Song – he's been trying so hard for 10 years, and he's finally become a Singaporean," said Stipe.
"I've also always said I want to set up my family here, and hopefully if all goes well, I will try to apply to be a Singapore PR (permanent resident) next year."
They stood firm on the frontlines of Singapore's battle against the Covid-19 pandemic, and continue to serve the nation even as Singapore starts to loosen restrictions. 
The Lion City Sailors stand with Singapore in saluting the healthcare workers of our country. 
The Sailors invite Singapore's healthcare heroes to this Friday's Singapore Premier League (SPL) fixture against Hougang United at the Jalan Besar Stadium to catch the action – for free. 
And in the spirit of going the extra mile as several of our healthcare workers do, the Sailors would also like to go a little further and offer free 15-minute shoulder massages to our healthcare heroes in the stadium.
"We are wildy appreciative of our healthcare workers' service to the nation and all the sacrifices that they have made in keeping Singapore safe," said Sailors Chief Executive Officer, Chew Chun-Liang. 
"Even though it is just a small gesture, we felt that the Sailors must try and serve our healthcare heroes just as they've served us – hence our offer of shoulder massages in the stadium, as a token of our gratitude to the people who shouldered a key facet of the work in keeping Singapore safe," added Chun-Liang.
"To our healthcare heroes: please come and enjoy the match – on us. The Sailors thank you for your service." 
To redeem match tickets, healthcare workers simply have to show ticketing staff any form of work identification, such as a staff pass. Healthcare workers can then register their interest for massages with staff on the ground who provide more details. Conditions for entry as stipulated by the Football Association of Singapore, in accordance with Sport Singapore guidelines must be met. 
This Friday (27 August) the Lion City Sailors will allow up to 1,000 fans to the Jalan Besar Stadium to watch the Singapore Premier League (SPL) match against Hougang United. While the previous venue limit was 500, the increase in numbers took effect from 19 Aug, in accordance with Sport Singapore (SportSG) guidelines. 
Ticketing Information
1000 Tickets Available
Ticket Categories
Season Pass 2020 & 2021 – Complimentary
Adult – $15
Concession – $5
Each Season Pass is entitled to redeem 2 tickets.
*Concession tickets are applicable to the following, with Concession Cards and a recent Photo ID requested upon entry for verification purposes.
– Students aged 16 and below with a valid Student Concession Card,
– Senior Citizens aged 60 and above with a valid Senior Citizen Concession Card.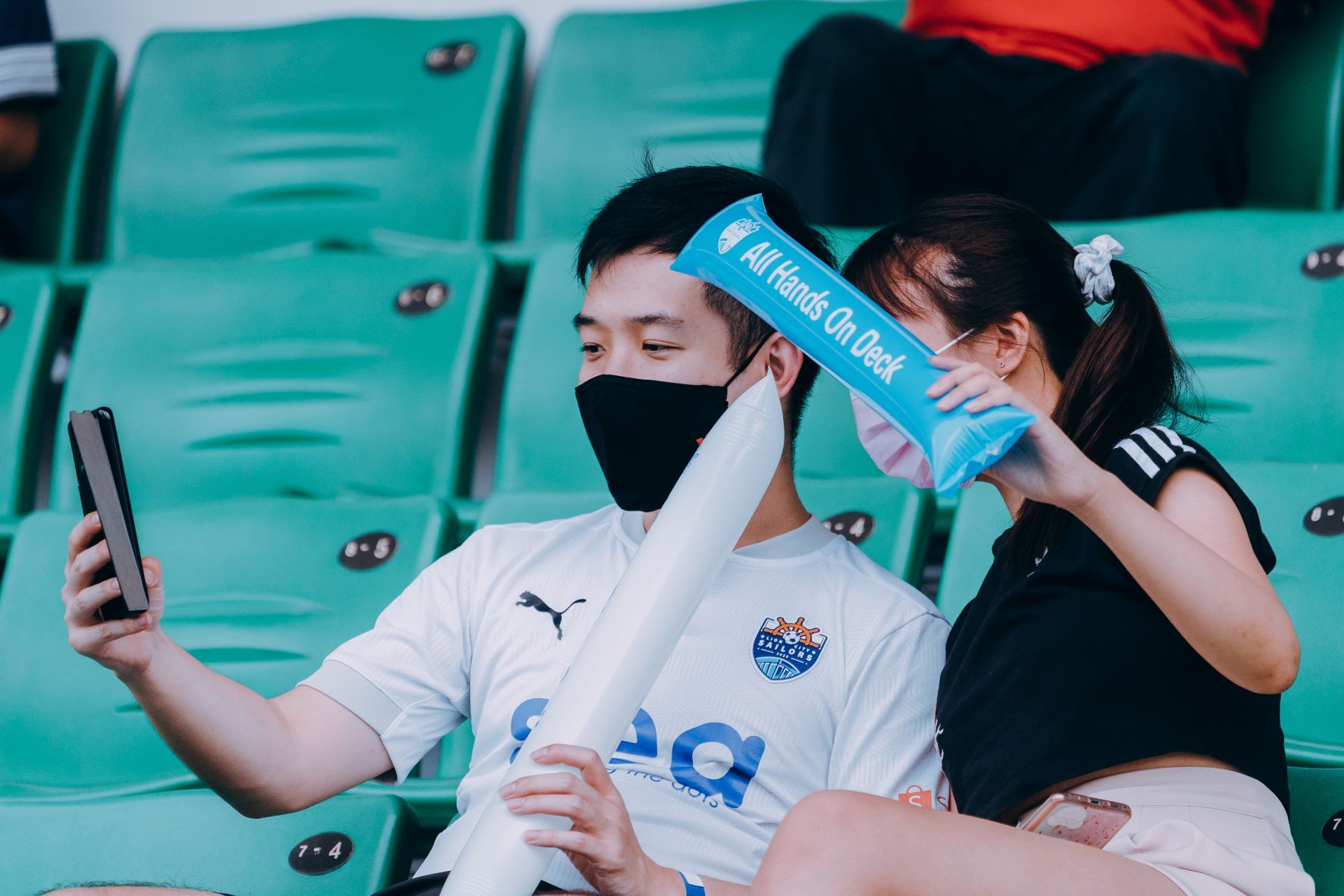 Ticket Sales
North Entrance of Jalan Besar Stadium
1745hrs-1815hrs: Exclusive for 2020 and 2021 Season Pass Holders
1815hrs-1945hrs: General Sale and Season Pass Holders
*First 100 Season Pass holders who redeem tickets will get an exclusive Lion City Sailors towel.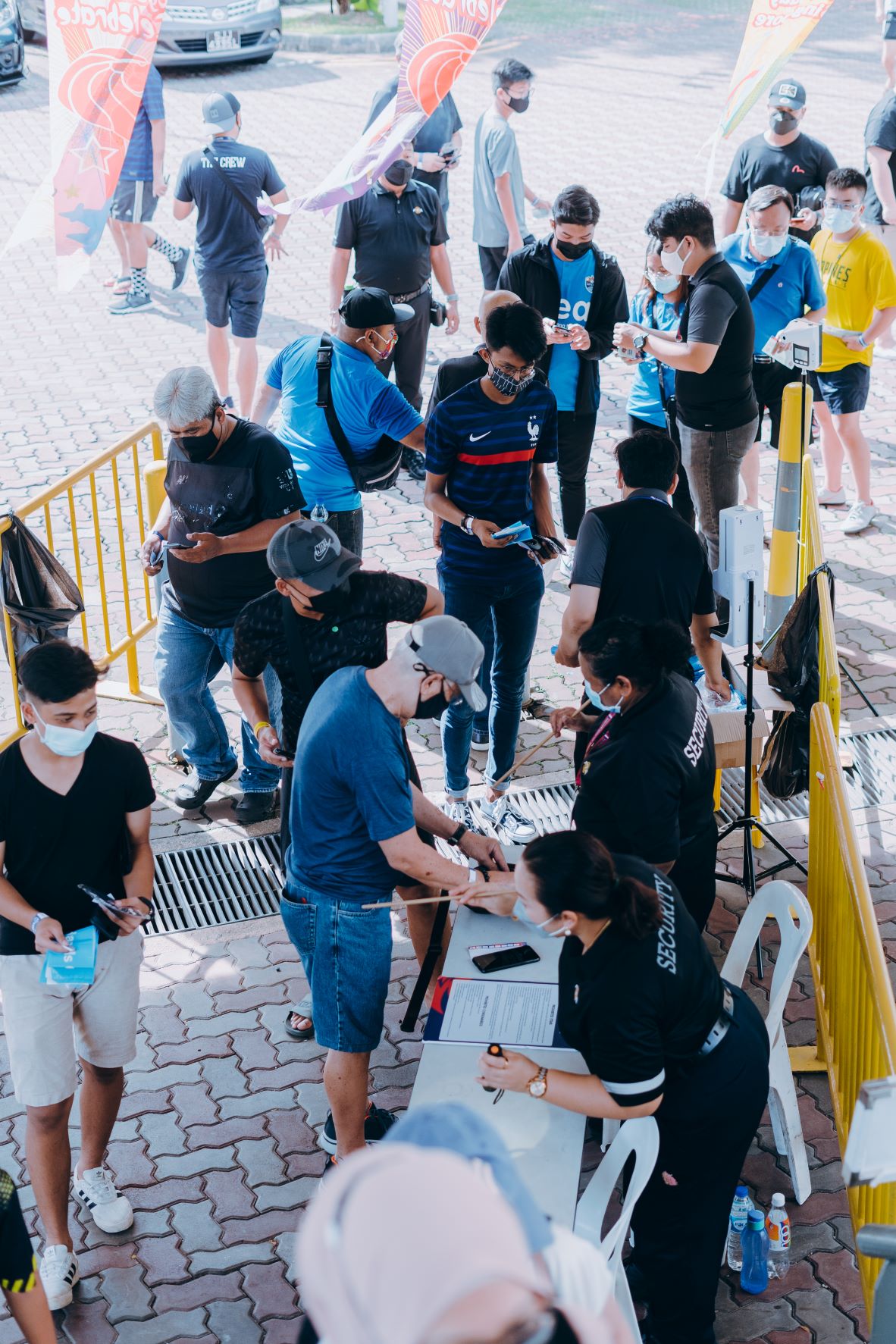 Conditions of Entry
The following conditions must be met for entry to SPL matches:
Individuals must have completed the full vaccination regimen including the two-week (14 days) period after the second dose for the vaccination to take effect. Eligible vaccines include the Pfizer-BioNTech/Comirnaty or Moderna COVID-19 vaccine, or any other vaccine in the World Health Organisation's Emergency Use Listing (WHO EUL), including Sinovac-CoronaVac, Sinopharm, and AstraZeneca.

Fans who produce proof of a negative Antigen Rapid Test (ART) result, will also be allowed entry. The ART must be valid until the end of the event and must be taken at a Ministry of Health-certified ART practitioner; self-test kit results will not be valid for use of entry.

Individuals who have recovered from COVID-19 will be exempted from having to produce a negative ART result, but will need to present a Pre-Event Test Exemption Notice from any clinic offering ART or PCR testing services.

Fans are required to produce proof of their completed vaccination status via the TraceTogether or the HealthHub app on their mobile phone, proof of negative ART test or Pre-Event Test Exemption Notice along with a valid form of identification such as NRIC or driver's licence for verification purposes.

Individuals aged 12 years and below are allowed entry for SPL capped at 20% of the actual event size.
He placed his hand at the centre of his chest, then pulled it down to his gut, making a tight fist as he did so. 
"It felt really strange, like something deep inside here was changing. I knew that I was nervous before going into the room, but I was still surprised by the strong emotion," said Song Ui-young. 
"My voice was shaky, and my hands too. I still can't quite describe it, but I felt my identity was changing, like I was becoming a different person." 
The Lion City Sailors midfielder was indeed going through a metamorphosis – reciting the Oath of Renunciation, Allegiance and Loyalty (ORAL) – to become a Singapore citizen. 
Recounting the moments on Friday (20 August) as he uttered the words that would confirm his Singaporean status at the Immigration and Checkpoints Authority Building on Kallang Road, Song still struggled to verbalise his emotions. 
"Before I went into the room, the officer said to me: "From now on, you are a Singaporean". And hearing that somehow made all this real," he said. "And it was really emotional." 
Song knew precious little of the Lion City when he first arrived as a teenager to join Home United – the previous iteration of the Sailors – in 2012, and recalled being terribly uncomfortable here. 
But a few short years after picking up English and being able to assimilate with teammates and friends, Singapore very quickly found a place in the heart of the 28-year-old who has spent his entire adult life in Singapore.  
"I spoke to the club management at the end of 2015, asking them for advice on how I can apply for citizenship. I knew I wanted to sink my roots here, because whenever I returned to Singapore after visiting my family in South Korea – it felt like I was coming back to the place I was most comfortable," he said.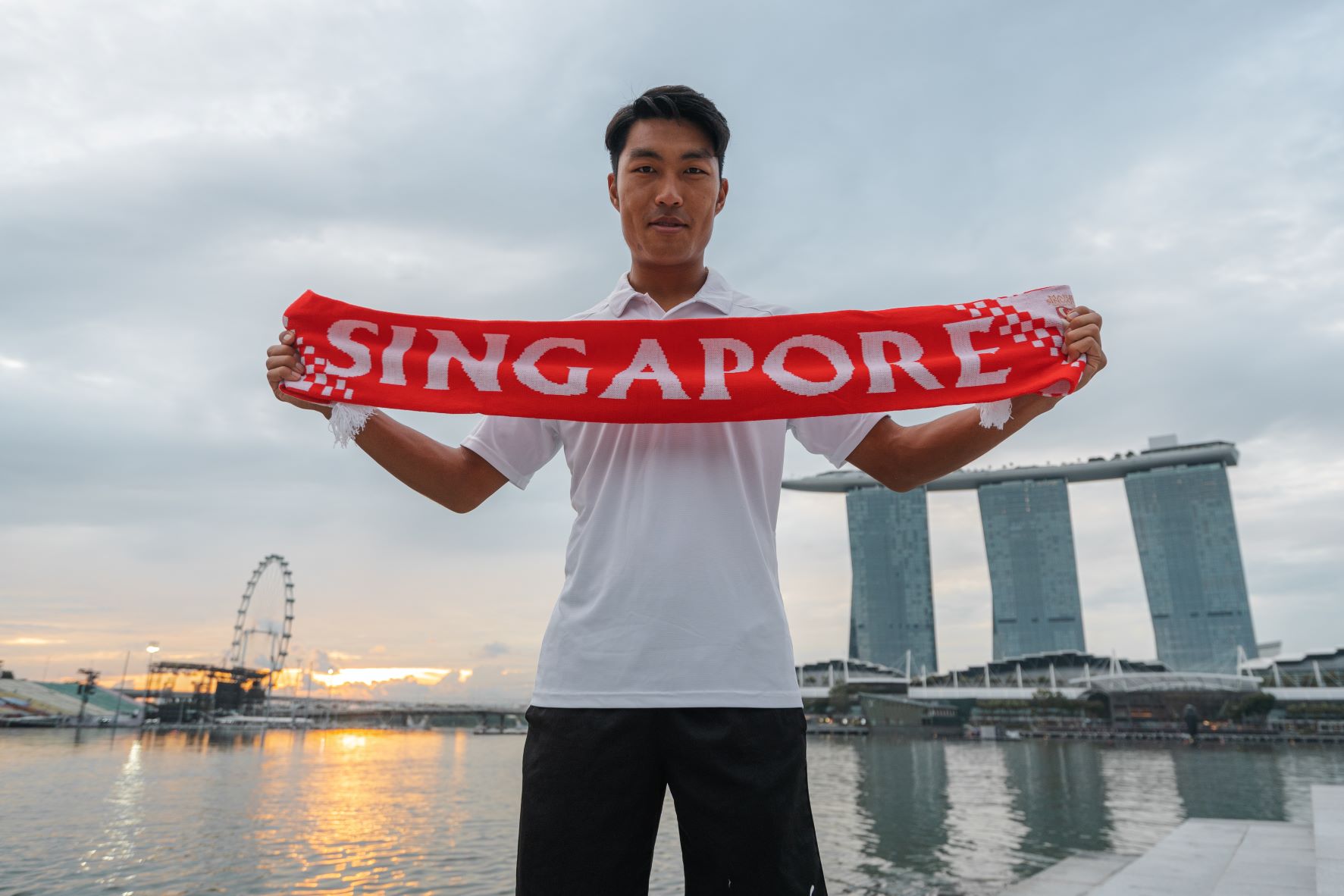 And having finally succeeded in making Singapore his home, Song had several to thank for the support on his journey to citizenship. He pointed to the Football Association of Singapore (FAS), Sport Singapore (SportSG), the Sailors, and the Yio Chu Kang Grassroots Organisation as key supporters. 
"They helped me with strong letters of support, and for that I'm grateful. I'm also humbled by the support I've received from my teammates, Singapore football fans, and even the local media," said Song. 
 "It felt like I was already being supported – and welcomed – by so many Singaporeans."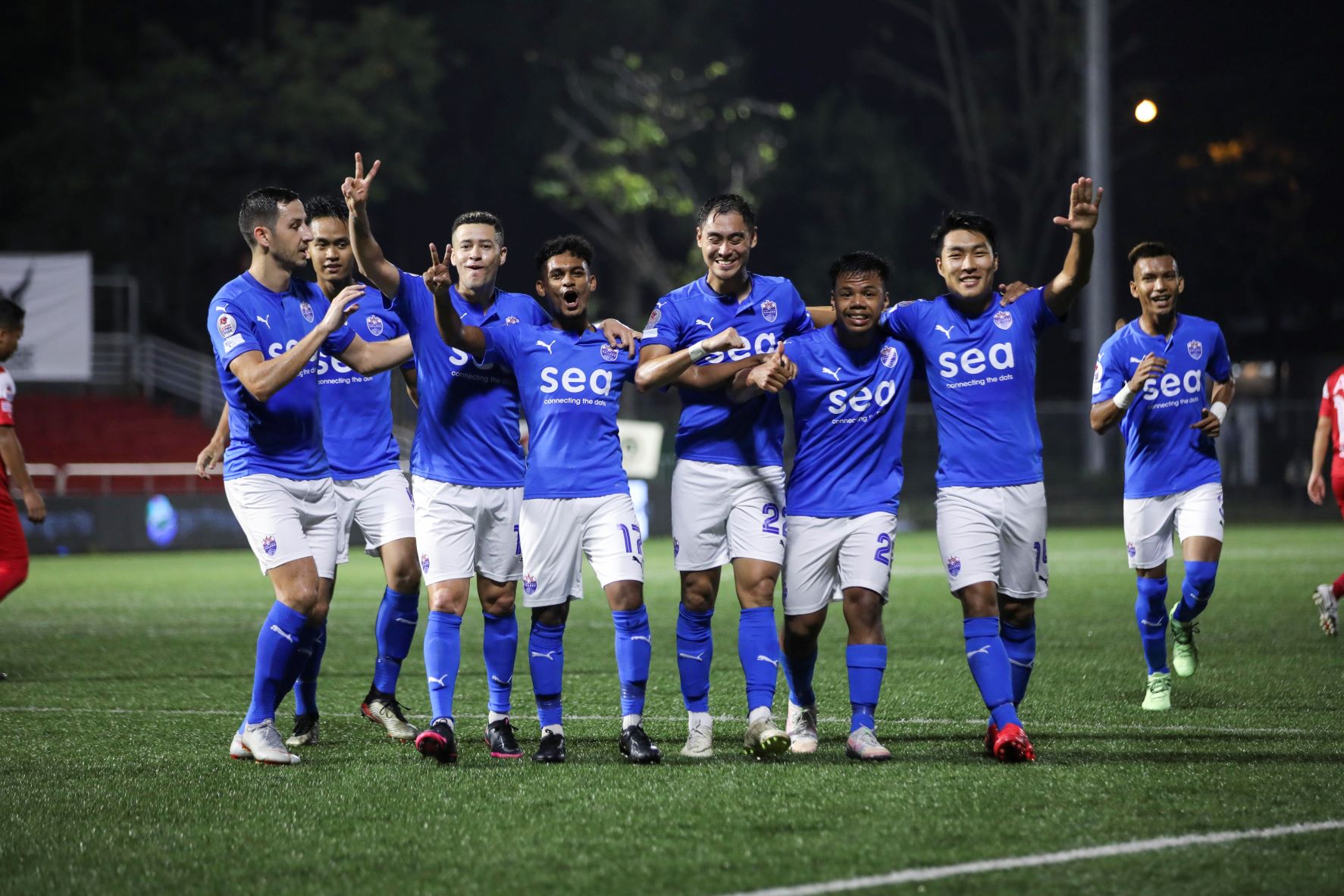 This support that Singaporeans have shown for its own, and loyalty to the nation, was a facet of the country that still inspires Song, who recalled the outpouring of emotion – and unity – as Singapore mourned the death of Founding Prime Minister Lee Kuan Yew in 2015. 
"Watching people come out onto the streets in the rain, saying thank you, even crying was unbelievable for me – there was so much feeling for the Prime Minister and for the country. I have never seen that before." he said. 
"Now I'm proud to call myself Singaporean, and of course I want to play for the national team, he said, with a broad smile. "I want to do something for my country."
In the decade he has plied his trade in Singapore football, Song has proven to be an asset across the pitch. First as a lungless defensive midfielder protecting the backline, then flourishing in a more attacking role. 
He scored 20 goals in 27 games in 2018 – a prolific return for an attacking midfielder – then followed that up with 11 goals in 25 games the year later. His stats in the Sailors' inaugural year in the Singapore Premier League (SPL) was no less impressive – nine goals in 11 games, and even while struggling for game time in a 2021 squad that now includes $2.9 million signing Diego Lopes, Song started the year as the club's top scorer with three goals in the opening three games.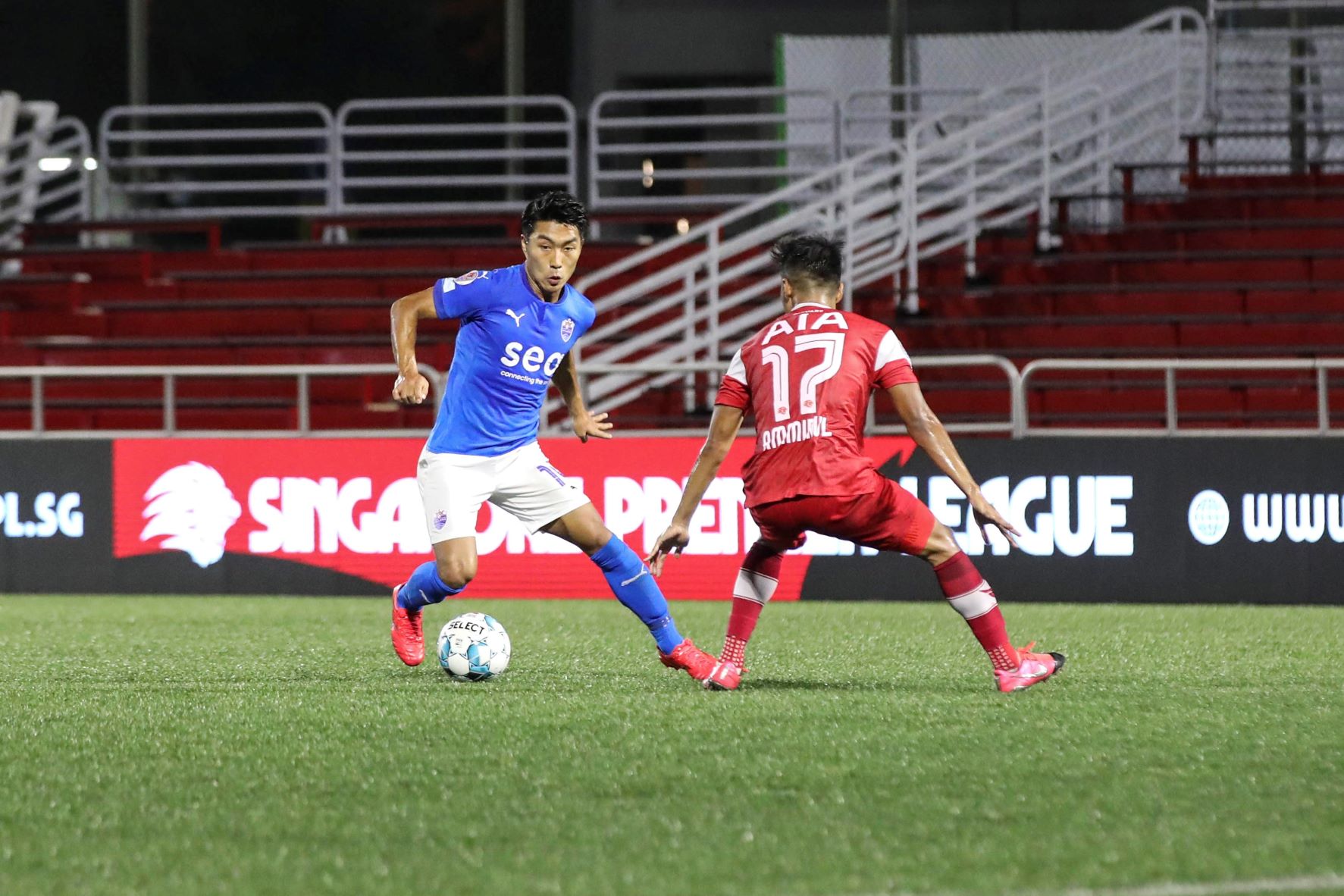 "I know I have to prove myself to the national coach, and show that I deserve a place in the Lions. After all, I was not part of any naturalisation programme," said Song. 
"But I fought to get citizenship because I want to make Singapore my home. I have grown up as a person and a footballer in Singapore – I've spent my entire 20s here – and it will be a great honour to contribute to Singapore." 
China-born forward Qiu Li was the last footballer to be naturalised and eligible to play for the Lions in 2010.
Song candidly admitted that there will always be some Korean-ness about him, but there is much of the Singaporean way that has already seeped into his psyche and sunk roots.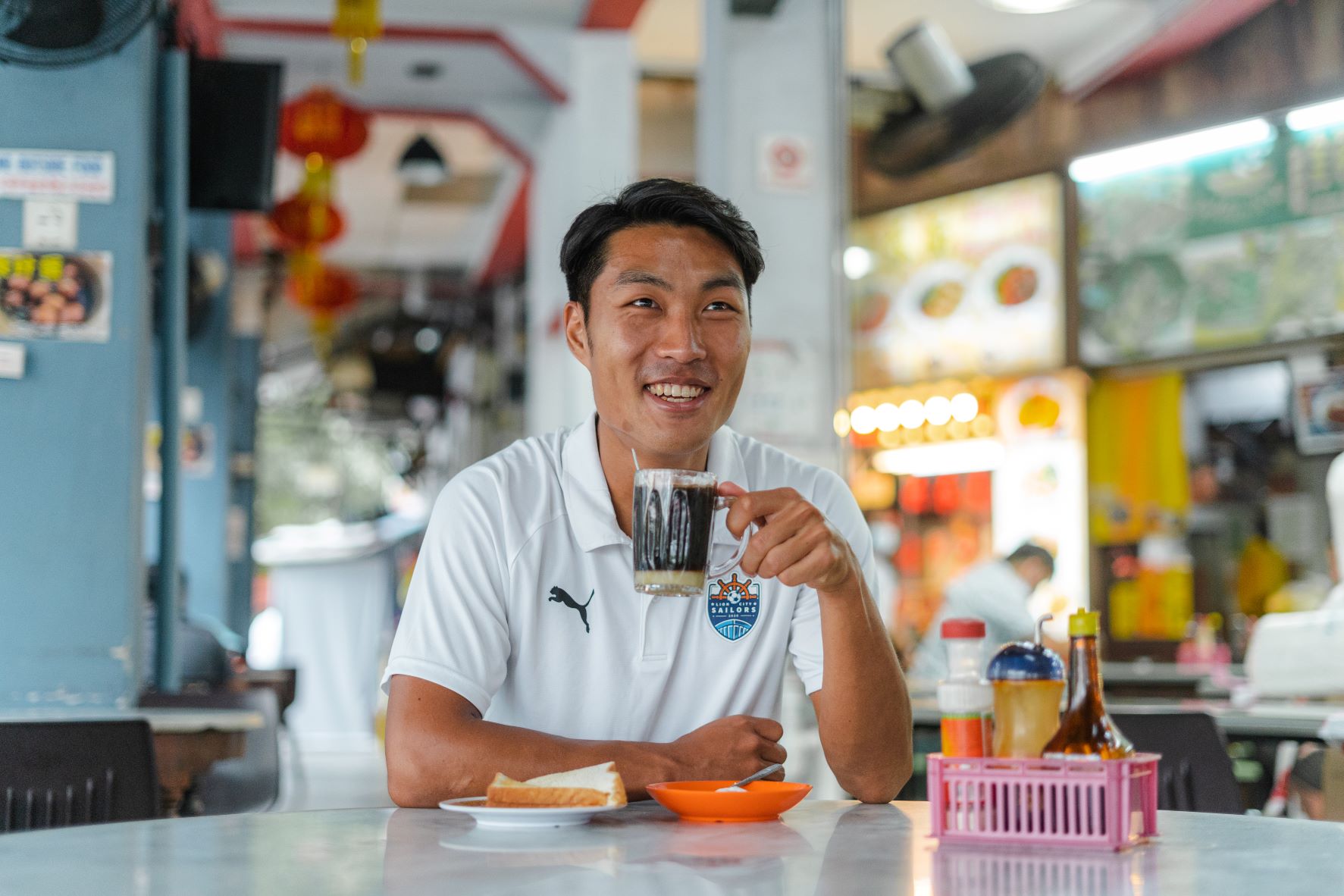 "I will always like kimchi, but my usual breakfast is kopi or kopi-o kosong and kaya toast at the kopitiam," he said. 
"When I told my friend that I'm now scared of doing something wrong or breaking the law because I'm Singaporean, he laughed at me," said Song, who immediately burst out laughing. 
He struggled to stifle a few hearty guffaws before finishing his sentence: "He told me that if I'm kiasi, I'm definitely Singaporean." 
They were made to sweat towards the end, but the Lion City Sailors hung on to clinch a crucial 2-1 victory over Tanjong Pagar United in the Singapore Premier League (SPL) on Friday night (20 August).
The three points earned at the Jurong East Stadium meant the Sailors leapfrogged Albirex Niigata (S) to go top of the league on virtue of a better goal difference, although the White Swans could reclaim the summit when they visit Young Lions on Sunday.
Tanjong Pagar were a potential banana skin for the title-chasing Sailors, with the Jaguars picking up the most points (10 from a possible 15) amongst the eight SPL sides since the league restarted in mid-July.
And true to form, victory did not come easy for Kim Do-hoon's men.
With the Jaguars deploying a strong three-man backline of Shakir Hamzah, Delwinder Singh and Faritz Hameed, the Sailors were unable to find real inroads into the penalty area for the majority of the first half.
It took something special to break the deadlock and it was Haiqal Pashia who came up with a moment of magic two minutes before half time.
With Faritz's stray header off Faris Ramli's cross falling nicely into his path, Pashia needed no second invitations as he bent a gorgeous effort into the top corner from 25 yards out, for his first-ever Sailors goal.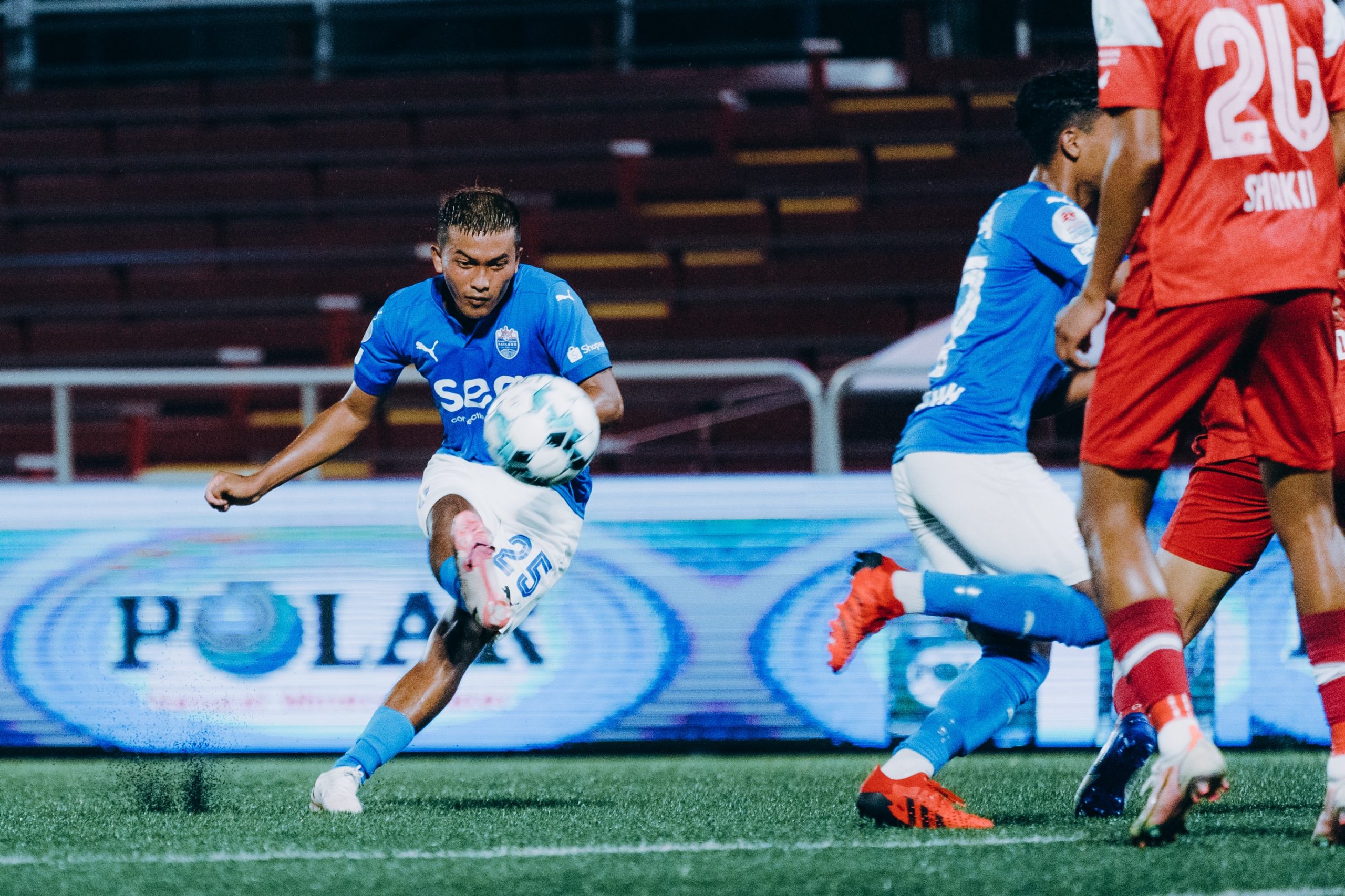 Pashia revealed that goal was the fruit of hard work on the training ground.
"I've been practicing a lot with Coach Kim during training and he always emphasises shooting well with the correct technique to bend the ball," said the 22-year-old. "He was an experienced national player who played for South Korea at the World Cup and he still has a great shot in him (at age 51) and it's great to be able to learn from him."
The goal was Pashia's first since April 2019, when he was a Young Lions player.
"It feels so good to score after so long and I really needed that – in the past few months, I've struggled a lot in terms of scoring and being composed in front of goal," said a candid Pashia. "So this goal definitely gives me the morale booster for me to get on the scoresheet more often."
He acknowledged he "didn't do too well" in the first half of the season, but Pashia is now rediscovering his confidence and credits Kim for bringing the best out of him.
"I was afraid to make mistakes during games and my confidence was really down," recalled the National Under-22 player. "But Coach Kim is a very understanding coach. He talks to each and every one of us individually to understand our issues and make sure we're good – he's always helping us and pushing us to develop into better players.
"Now I feel I can express myself more on the pitch and I'm happy to contribute to the team by scoring."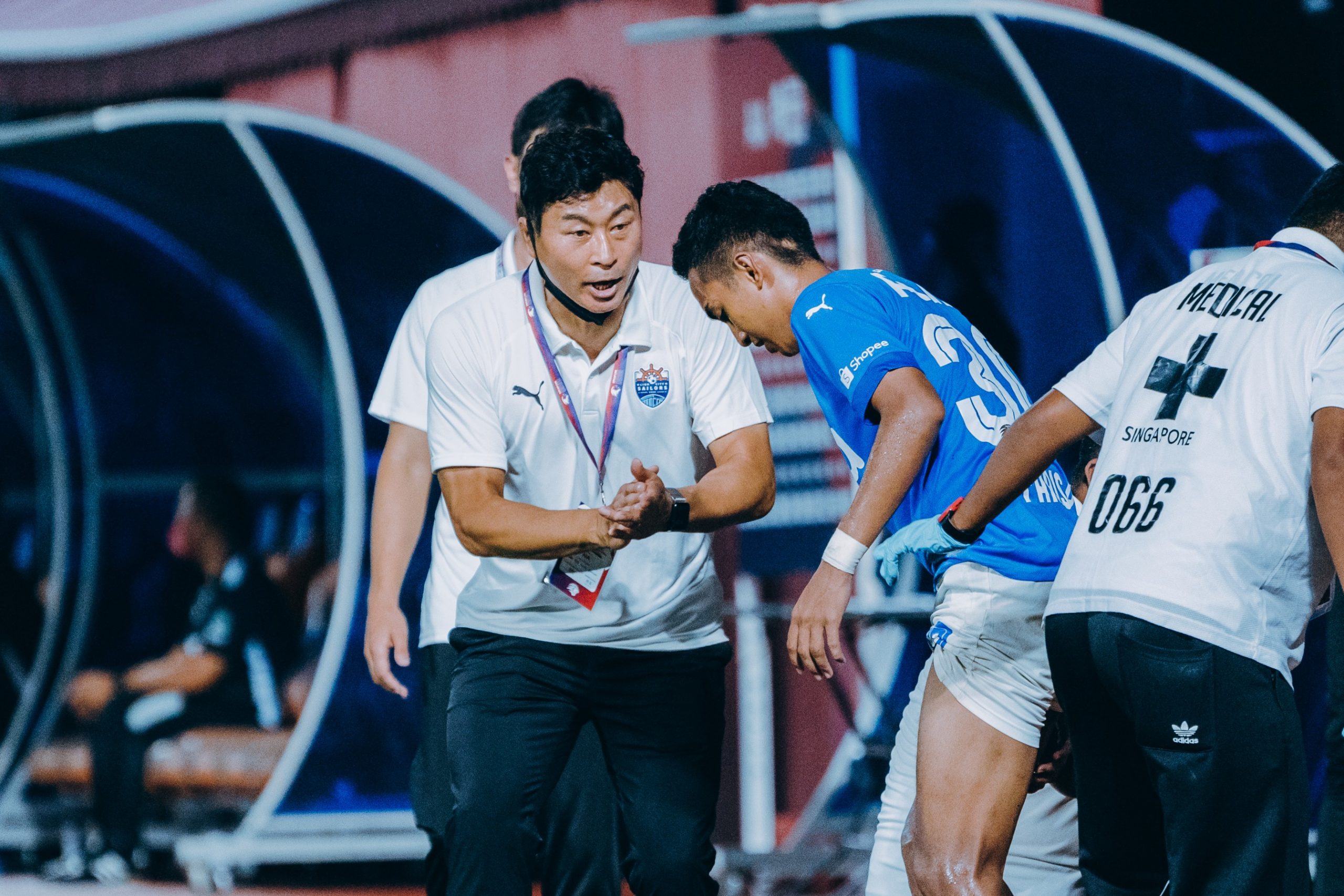 Pashia's goal set the platform for a second straight Sailors victory as they doubled their advantage just 10 minutes into the second half. Brazilian centre-back Jorge Fellipe marked his return from suspension with a poacher's goal from six yards out, this after Stipe Plazibat had knocked on a Shahdan Sulaiman free kick into his path.
Jorge was just as effective in defence, dominating the aerial exchanges with his 1.9 meter frame. Lining up alongside Hariss Harun at the heart of defence, he was part of an aggressive back four that also featured combative full-backs Nur Adam Abdullah and Aqhari Abdullah.
The tactical move by Kim to combat the Jaguars' powerful frontline was one that worked a treat according to Nur Adam.
"We all know Tanjong Pagar has really big and dangerous players upfront like Luiz Junior and Reo Nishiguchi, with Blake Ricciuto supporting them from deep," said the 20-year-old, who put up yet another buccaneering display on the left side of defence.
"They tried to play the long ball in behind us a few times, but we did very well to control those situations. It really helps to have the height and aggression at the back against a team who plays in this manner."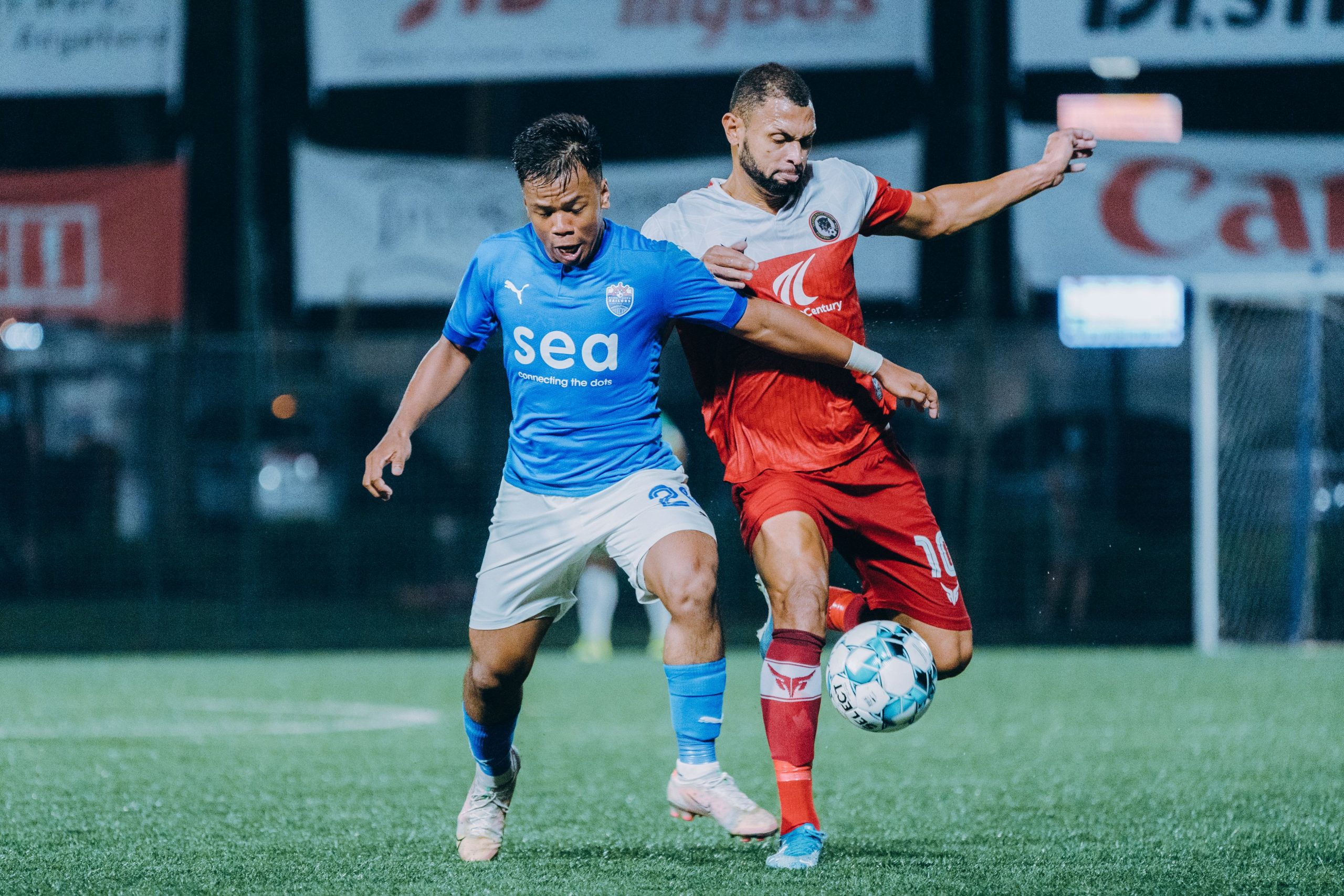 The Sailors backline would ultimately be breached 14 minutes from time through a stunning Junior free-kick, as Kim's charges had to hold off a late barrage from the Jaguars.
Nur Adam admitted there were some jangling nerves towards the end, but the Sailors came through with the three points to take another significant step to their first SPL title.
"It was annoying to concede that goal and it put us under a bit of pressure," he explained. "But the whole team rallied together to complete the job. The attackers dropped back to help the defence and that's how we managed to hold on."
The young full-back acknowledged that this was not the prettiest display by the Sailors' own high standards, but he kept his eyes trained on the bigger picture.
"Yes, we were not able to make good counter-attacks like in the previous game against Tampines Rovers, but the most important thing is the three points, and we got that," said Nur Adam.
If the Sailors win their final six games – that includes a clash against Albirex on 17 September – they will be crowned SPL champions for the first time.
"We're now top of the table now, but that doesn't matter. What we want is to finish first at the end of the season," said Nur Adam.
"We're in control of our own destiny, so we just need to keep this momentum going and win every game from now on."
As team lineups for last Sunday's big Singapore Premier League (SPL) clash between Lion City Sailors and Tampines Rovers were revealed an hour before kick off, many fans were surprised to see Hassan Sunny's name in the starting eleven.
The 37-year-old was not expected to feature at all. He came off worse in an unfortunate collision with towering Brazilian centre-back Jorge Fellipe in the 1-1 draw with Balestier Khalsa just seven days prior.
While Jorge suffered some soreness in his jaw area, Hassan sustained considerably more damage with a huge cut in his mouth due to Jorge's flailing arm and bumps on the back of his head after what was a hard landing.
"I didn't train close to five days and literally only trained for one day before playing in this game," said Hassan, matter-of-factly. "On matchday itself, I just told myself to forget whatever happened and just focus. Fortunately everything went alright for me and the team.
The match went better than just "alright", the Sailors turned in arguably their best performance of the season to convincingly beat fellow title challengers Tampines 4-1.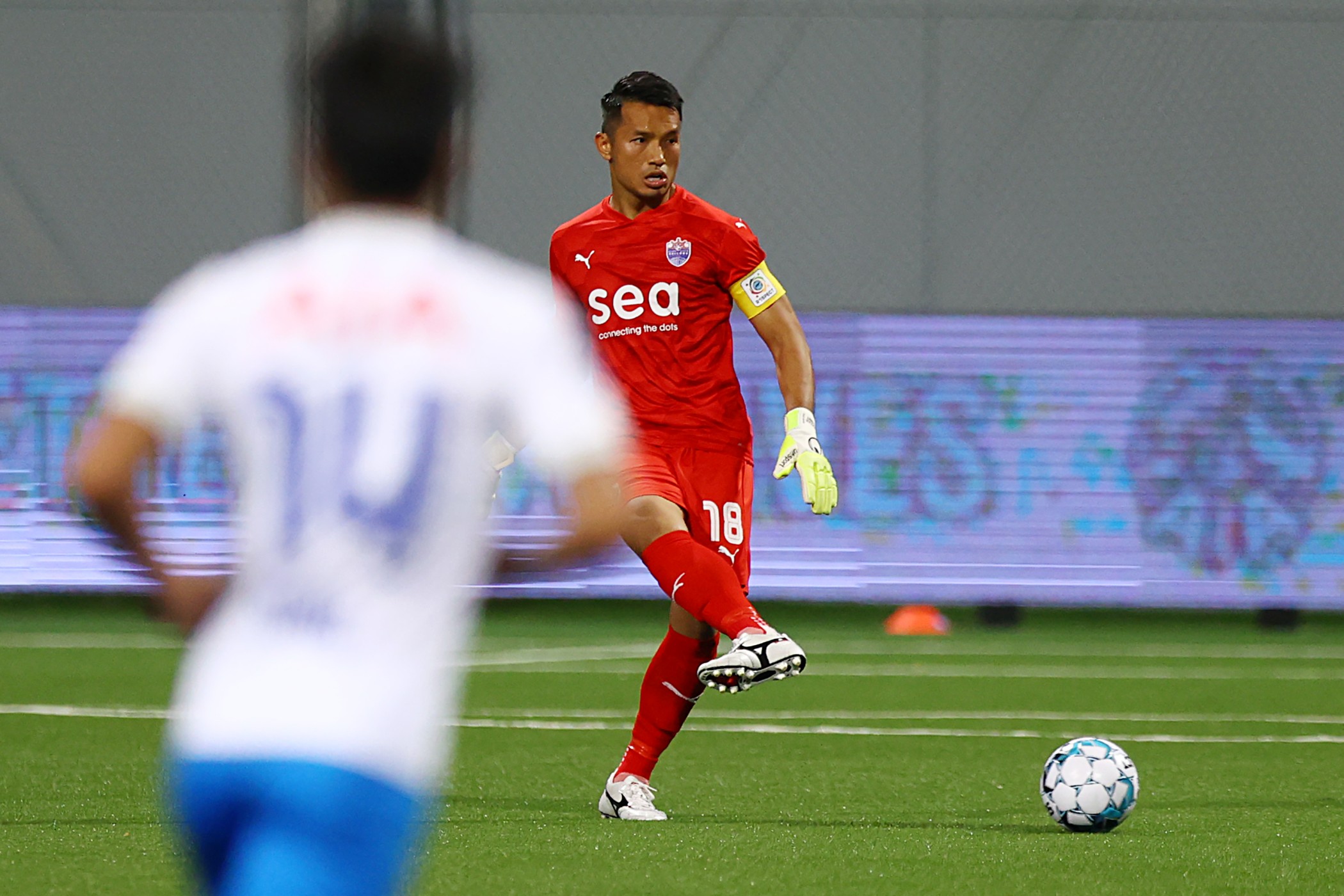 The victory – coach Kim Do-hoon's first win in charge – gives the Sailors a solid platform to build on as they turn their attentions to a tough away clash against a much improved Tanjong Pagar United side on Friday (20 August) night.
Hassan has shrugged off the injury, and is already looking to keep the momentum going and Sailors' feet firmly on the ground in what is a possible banana skin on the Sailors' bid for the SPL title.
Since losing 3-1 to the Sailors in May, the Jaguars have lost just once in the following six matches. Hasrin Jailani's side have also picked up the most points amongst the eight SPL sides since the league restarted in mid-July, with 10 from a possible 15.
Hassan's current and former national teammates Khairul Amri and Shakir Hamzah have been in inspirational form for the Jaguars, who lie fifth in the eight-team standings with 16 points after languishing in the bottom two for the first half of the season.
"Obviously they have improved as a unit. Tanjong Pagar are physically and mentally strong, and it's also good to see Amri and Shakir enjoying their football again," said Hassan. "We have all the respect for them, but after a great performance against Tampines, we need to shift our mentality to face a totally different type of team next and that will prove the mettle of this Sailors team.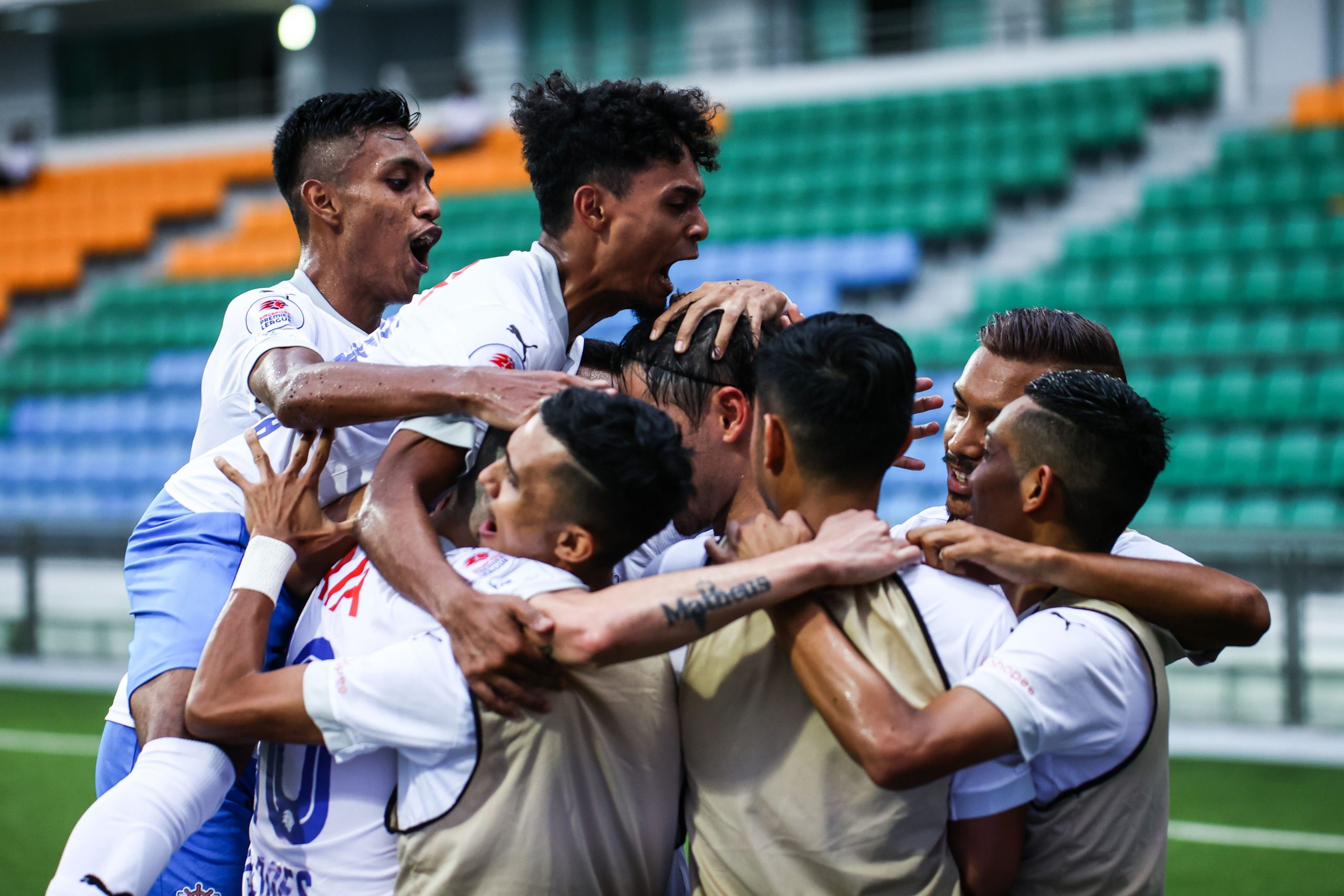 "At this stage of the season (with seven games left), we must keep winning to make sure we give ourselves the best chance to win the league."
The Sailors are currently three points behind leaders Albirex Niigata (S) with a game in hand and a better goal difference, and have a chance to temporarily go top with a win before the White Swans face Young Lions on Sunday.
But watching Hassan carried off on a stretcher against Balestier, things could have been so different for the Singapore international and his team. And Hassan paid tribute to the Sailors' medical staff for a speedy recovery that he deemed a "minor miracle".
The impact of the clash left the Sailors first-choice custodian requiring lengthy medical attention as he lay virtually motionless on the Toa Payoh Stadium ground. After being fitted on with an oxygen mask and carried off the pitch on a stretcher in a worrying scene for all watching, he was then rushed to Raffles Hospital.
Even after being discharged following a two-night stay, Hassan continued to be bothered by after effects.
"There was giddiness and sharp pain and I was still taking several painkillers when I got home on Tuesday. I just slept the rest of the day."
Hassan would only link up with the team again on Friday as he joined the morning training session, albeit doing some light individual work on the sidelines, under close supervision by the Sailors' medical department.
"Usually the upper shoulder area will be quite tight after such a head collision, so the first thing (head physiotherapist) Fizah (Nurhafizah Abu Sujad) did was to focus on mobilization on the neck area," revealed Hassan.
"(Performance coaches) Nas (Nasruldin Baharudin) and Shay (Shazaly Ayob) also monitored my movements and made sure I was physically fine. I'm really thankful that we've such a good medical team that did a lot in supporting my comeback."
And all the support paid off.
Later that day, the Raffles Hospital neurosurgeon cleared Hassan to resume full training. It was a development that pleasantly surprised both parties with Hassan calling it a "minor miracle".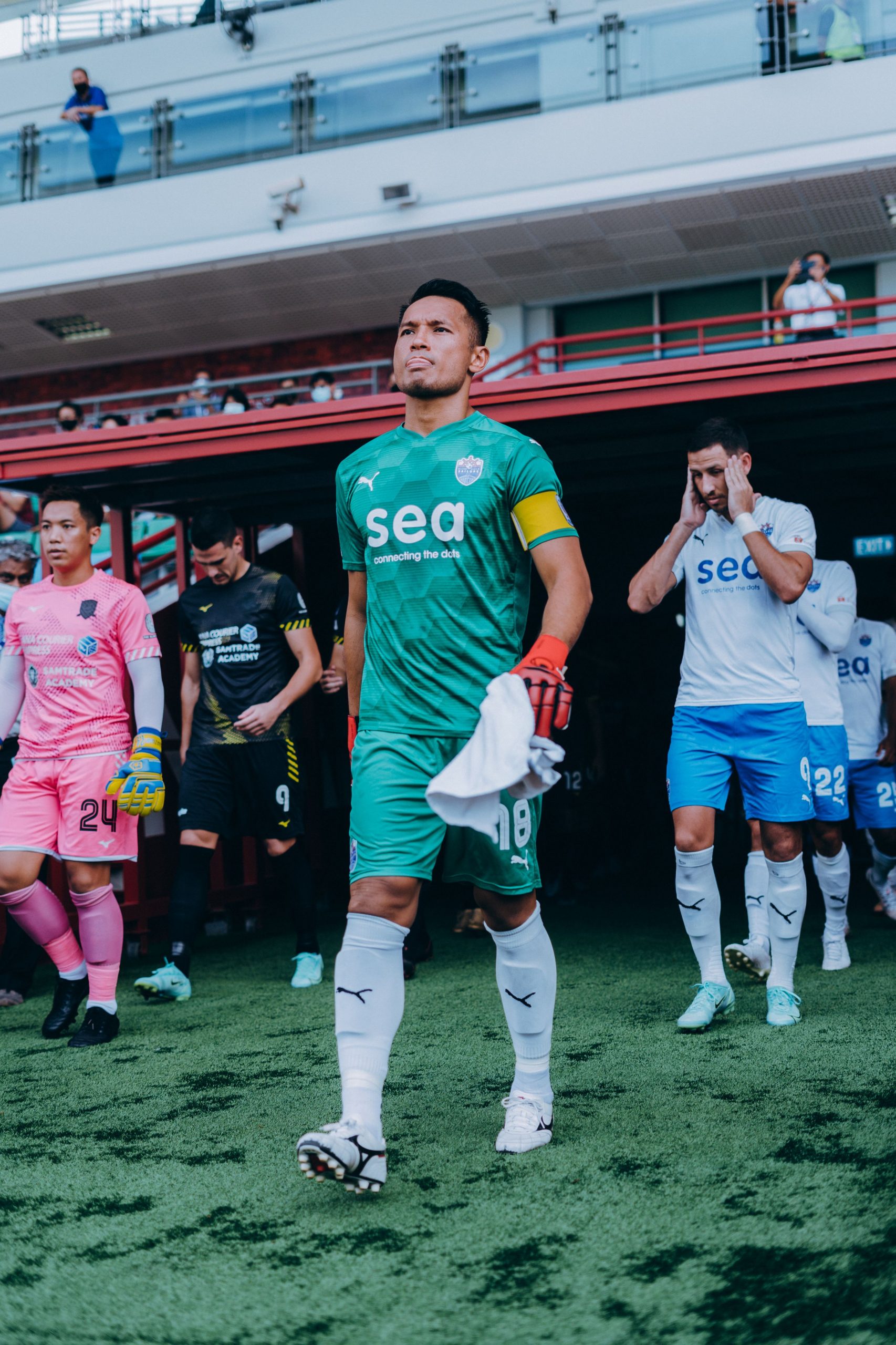 "Even the doctor was taken aback. He said normally a person who suffered a similar situation would probably take about two weeks to fully recover, but I took just four days," said Hassan who tapped on previous injury experiences to push through trauma that often accompanies collision injuries.
Hassan suffered heavy head trauma, a broken nose and a dislocated right shoulder after a midair collision in 2017.
"That was a really bad one. When I opened my eyes again, I was already in the hospital. But maybe because I've gone through so many injuries that overcoming fear is something I've got used to.
Hassan was duly given the nod to start in goal for the huge clash against Tampines and the rest was history. Showing no effects from what happened a week ago, he was his usual assured self in goal, playing his part in an emphatic victory that has set the Sailors up to charge towards their first SPL title.
"We were definitely the much hungrier side and I was really impressed by how my teammates ran and fought for every ball. They made my job a lot easier," said Hassan.
"And if we can all pull together the same way – from the medical staff who helped me to the players who executed Coach Kim's plan perfectly – I believe we can continue to win matches, and the title."
A new coach, a new philosophy and a lot of hard work to learn the ropes, but the Lion City Sailors continue to cut through choppy waters, extending their unbeaten run in the Singapore Premier League (SPL) to 11 matches.
Ushering in the Kim Do-hoon era with a hard-fought 1-1 draw with defending champions Albirex Niigata (S), the Sailors were next made to dig deep to secure another 1-1 draw with Balestier Khalsa. The first win under the renowned South Korean coach would finally come in a convincing 4-1 triumph over title rivals Tampines Rovers, a result – and performance – that made the football fraternity stand up and take notice.
Here, we round up the major talking points from the Sailors' first three games under the former Ulsan Hyundai man.
Kim's Sailors revolution is starting to take shape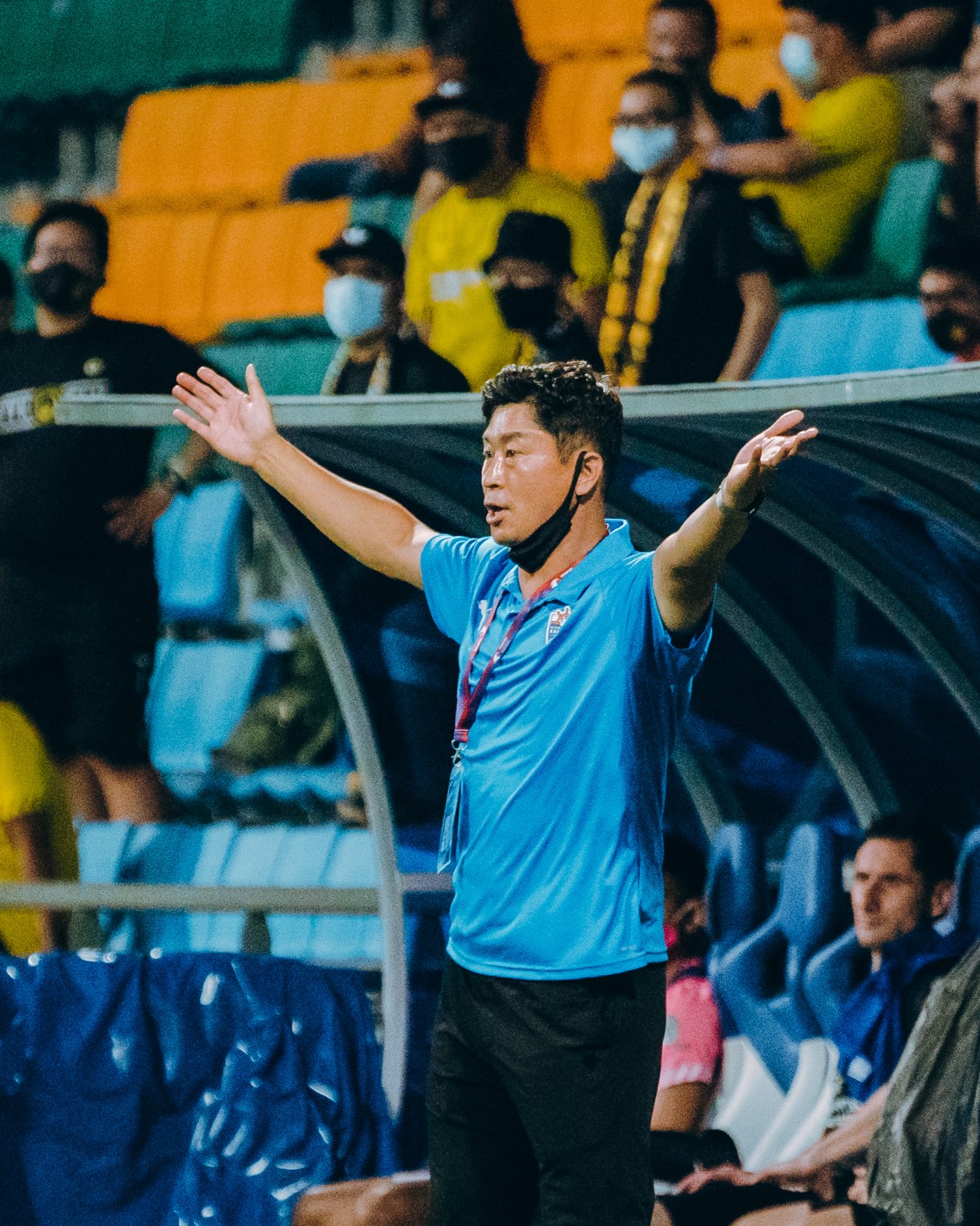 The arrival of AFC Champions League (ACL)-winning coach Kim Do-hoon signalled the Sailors' real ambitions of becoming one of the best clubs in Asia. There can be no doubts about his credentials, but there were segments in the fraternity who wondered what exactly he would bring to the table.
Three games in, and Singapore has gotten a glimpse of what is in store for the rest of the campaign and beyond.
The 51-year-old has placed a strong emphasis on a solid team structure in view of building a side that is not just defensively sound but also effective going forward. And things started to take shape in his first outing against Albirex. The Sailors appeared more tactically savvy at the back than before, limiting space for their opponents to run in behind and capitalise on.
A demanding trainer who focuses a lot on discipline and fitness, the effects of his approach could already be seen in the Sailors' following game against Balestier. The team were able to find an extra gear in the latter stages of the game, they out-ran and out-fought the Tigers before finally breaking down the door with a 95th-minute equaliser.
His fluid attacking approach that taps on the tactical awareness and game intelligence of individual players, is perhaps the most interesting. There are big responsibilities placed on players who are expected to take up different positions to capitalise on opportunities and space when presented in the game.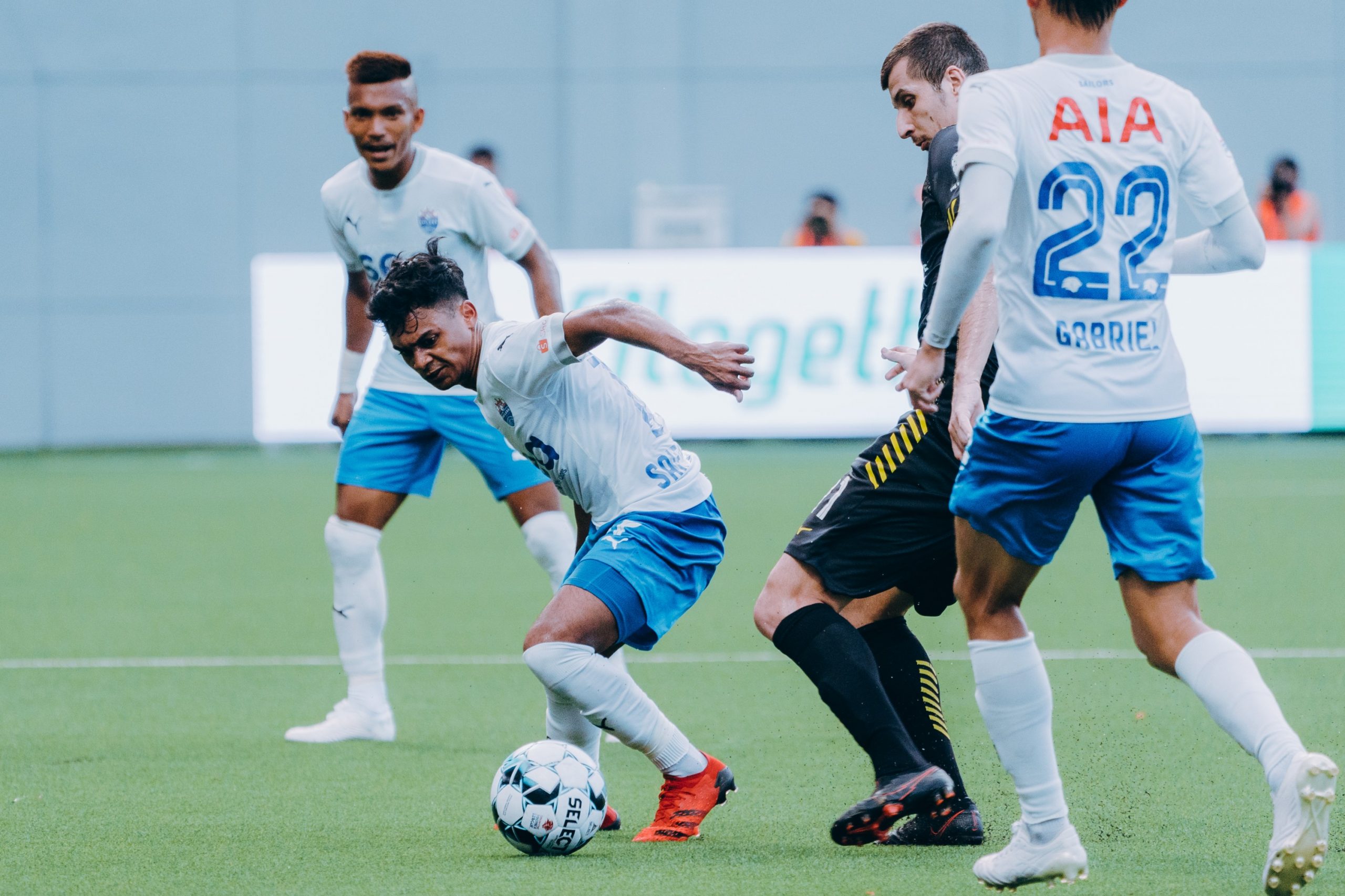 It all came to fruition against Tampines, with the game's first goal perfectly encapsulating the new Sailors way.
With Stipe Plazibat dropping deep in midfield to hold up the ball, Gabriel Quak instinctively moved into the space the Croatian front man had vacated. The 2020 SPL Player of the Year was presented with an open path to goal and scored with a classy lob.
Kim's high-pressing game plan was also on show, with the Stags unable to handle the Sailors' rapid transition from defence to attack. Case in point: the Sailors' second goal. It was just 10 seconds between Shahdan Sulaiman winning the ball in midfield to Stipe slamming the ball into the back of the net. The final two goals also came in a similar fashion.
With the team now starting to play Kim's way – and effectively executing his plan on the pitch – fans can look forward to some exciting football in the remainder of the season.
The real Faris Ramli is back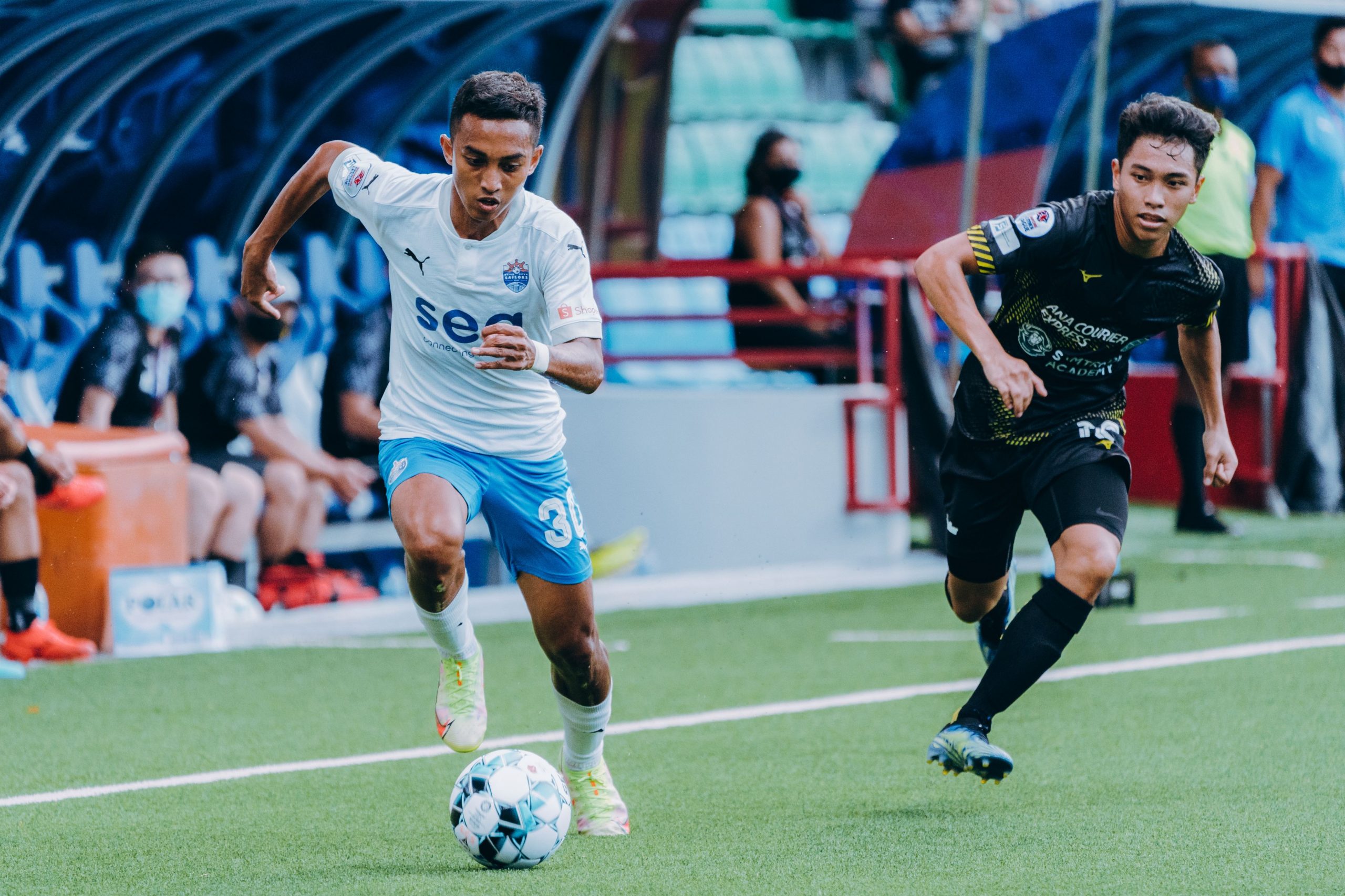 Faris Ramli was unable to break into the Sailors' first eleven in the first half of the season, he started just once and was introduced as an impact substitute on numerous occasions. It was understandably not a role he expected when he joined the Sailors after a season with Malaysia's Terengganu FC.
But things are looking up for the 2019 SPL Player of the Year.
He has been largely involved in Kim's first three games, playing the full 90 minutes in the big games against Albirex and Tampines, and was also the first substitute to be called upon to change the team's fortunes in the first half of the 1-1 draw with Balestier.
Faris has not hid his frustrations at playing a bit-part role and has acknowledged that he had to stay the "most patient" in all his career, but he kept plugging away and is now seeing the fruits of his labour. The free-spirited 28-year-old played his best game of the season in the handsome win over the Stags, contributing three assists for the four Sailors' goals.
Faris also put in a solid defensive shift, showing plenty of industry to win possession in crucial areas, even tracking back to perform his defensive duties in the dying moments of the game.
Having a Faris who is firing on all cylinders can only be a good thing for the Sailors who go into the business end of the season looking to come out on top of the league.
Missing key players? No problem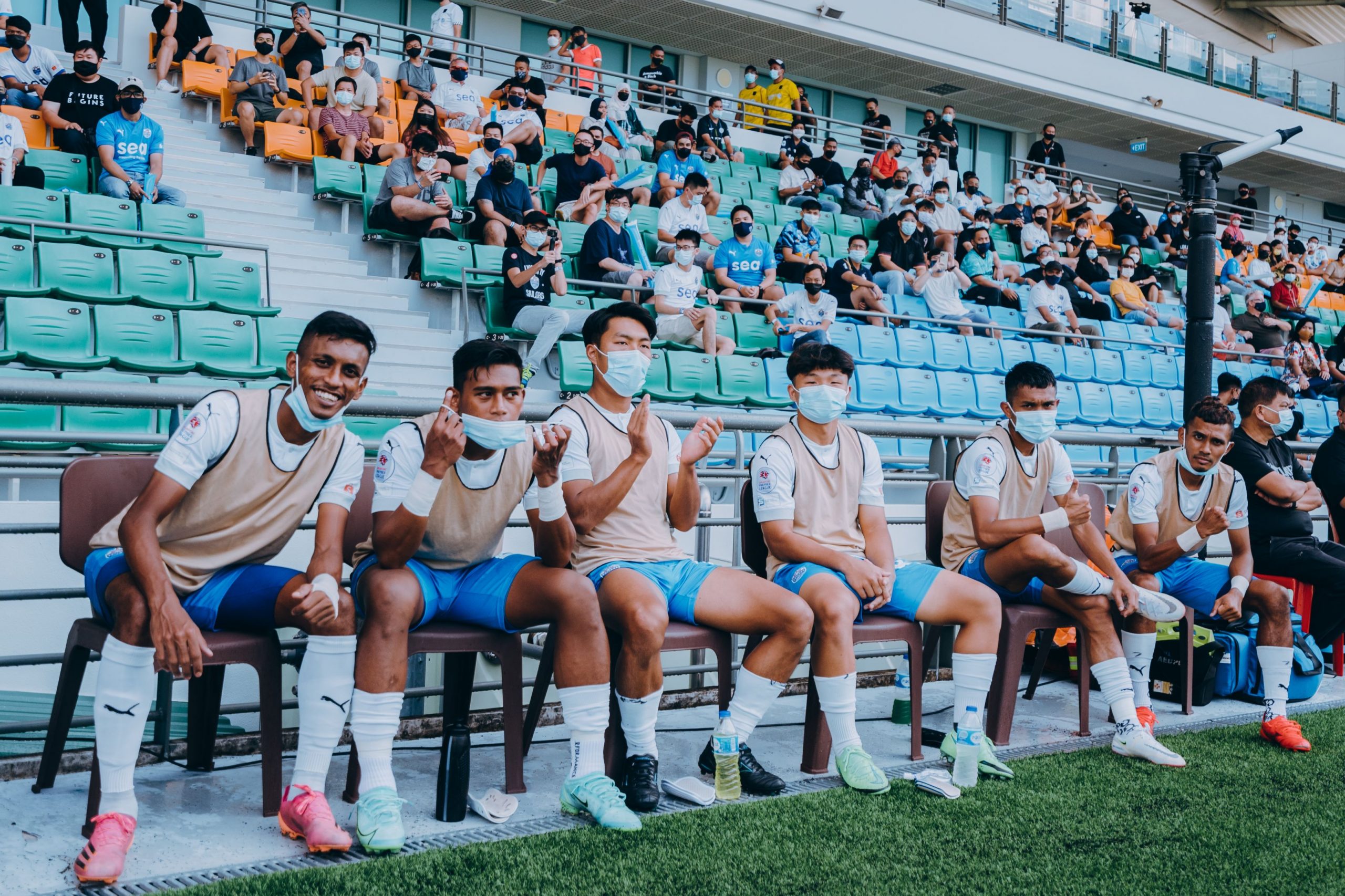 It is no secret that the Sailors have a quality squad at their disposal, with solid options on the bench ready to be called upon into action when needed. And the strength in depth is paying off.
Kim had to cope with the absence of the midfield trio of Saifullah Akbar, Shahdan and Song Ui-young through suspension against reigning champions Albirex.
Then against another title rival in the form of Tampines, the Sailors have to contend without the Brazilian duo Jorge Fellipe and Diego due to suspension and injury respectively. Many teams would have struggled without their leader at the back and star signing in such a big game, but the Sailors managed to plug those gaps with minimal fuss.
Kim is unbeaten in his first three matches as Sailors coach, and his ability to shape a team that can cope without key players can only breed confidence in the Sailors ranks as they battle for their first-ever SPL title.
Fourth time's the charm for the Lion City Sailors as they finally managed to defeat Singapore Premier League (SPL) title rivals Tampines Rovers after three unsuccessful tries since their inception in 2020. 
The 4-1 victory at Jalan Besar Stadium on Sunday night (15 August) was as convincing as it got, with the Sailors largely dominant at both ends of the pitch even with the absence of the Brazilian duo of Jorge Fellipe (suspension) and Diego Lopes (injury). 
The victory puts the Sailors just three points behind league leaders Albirex Niigata (S) with a game in hand – and with better goal difference – the Sailors are determined to carry the momentum from this victory forward in their quest for the league title. 
"For sure, the atmosphere and vibe in the team is very good now," said Gabriel Quak, who opened the scoring on the evening with a  classy 34th minute lob. "We've to continue working hard to put further pressure on Albirex. The title race is still quite open now and we're not ruling out Tampines and Hougang United. The good thing is we're in control of our own destiny now and that's a positive."
There also were several positives in the Sailors' performance on an evening the league were able to welcome up to 500 fans to each match.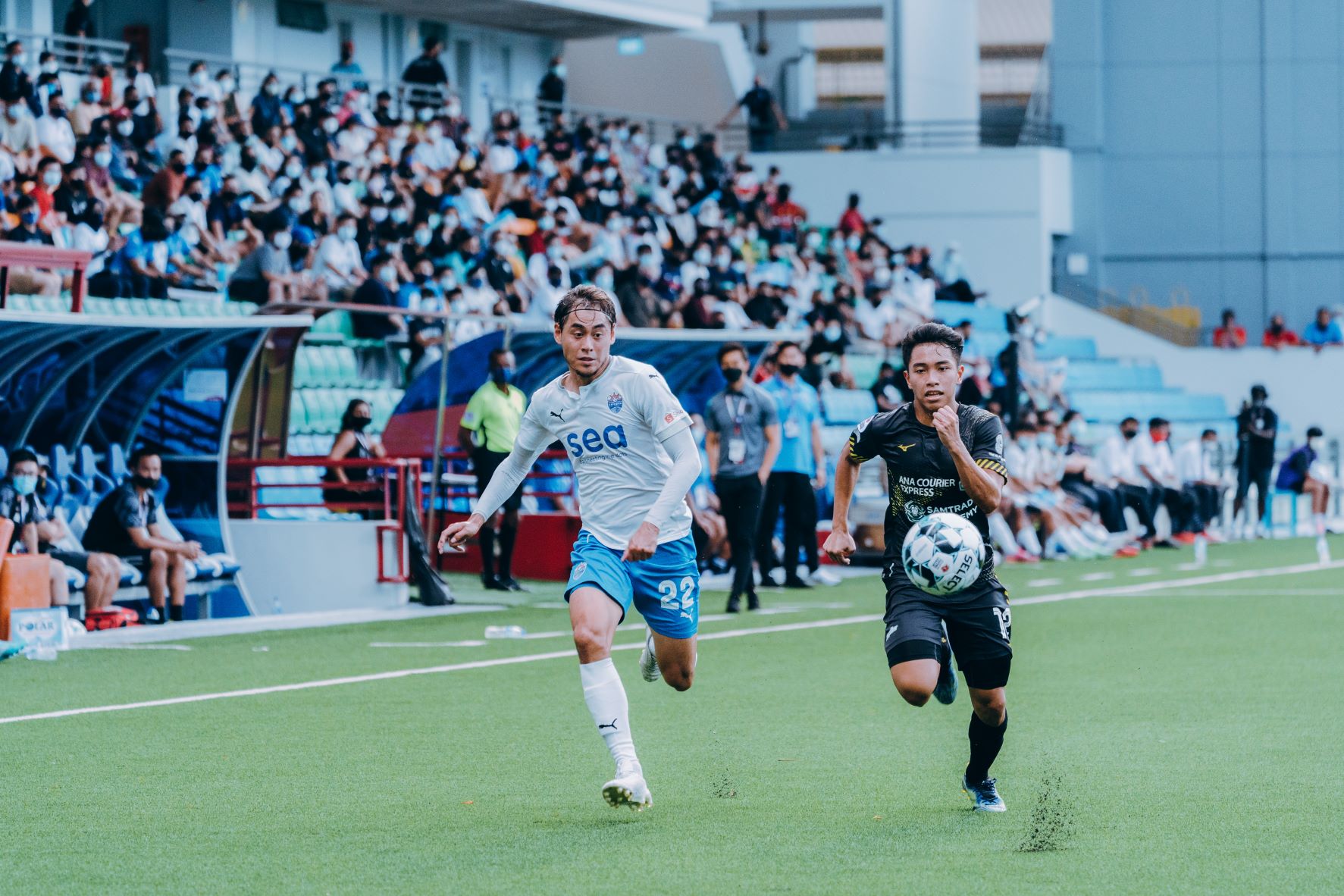 Leading 2-0 at the break after quick-fire goals late into the first half (34th minute and 36th min), Kim Do-hoon's men picked up where they left off in the second period, with another brace in rapid succession (46th and 48th min) to effectively end the game as a contest. 
Tampines did pull one back through Boris Kopitović just before the hour mark, but the Sailors would see out the game comfortably, delivering Kim's first victory since taking charge in late June. 
The slick football and dominant display that came from a masterful execution of Kim's tactical plan gave the most satisfaction to the Sailors. 
"The performance showed exactly what we've been working on in training for the past few weeks under Coach Kim," said Faris Ramli, who played a starring role, with three assists for the four Sailors' goals.  
"It was pleasing to see the whole team working well together – that is why we managed to execute whatever we've trained to. We worked our socks off to the extent that almost everyone was talking about cramps after the game – that was the level of commitment we put in."
Echoing his sentiments was Gabriel, who believes the victory is a culmination of the hard work of all in the Sailors' camp. 
"It's definitely a comprehensive win for us and credit goes to everyone involved with the club," said the 30-year-old.
"From the head coach to the backroom staff, everyone did their part this past week – that's why we managed to produce such a convincing performance."  
Gabriel's opening goal came as a result of some intelligent play by Croatian frontman Stipe Plazibat, who dropped deep into midfield before producing a measured pass that split the Tampines defence wide open. It looked like a well-worked move right off the training ground – except that it was not.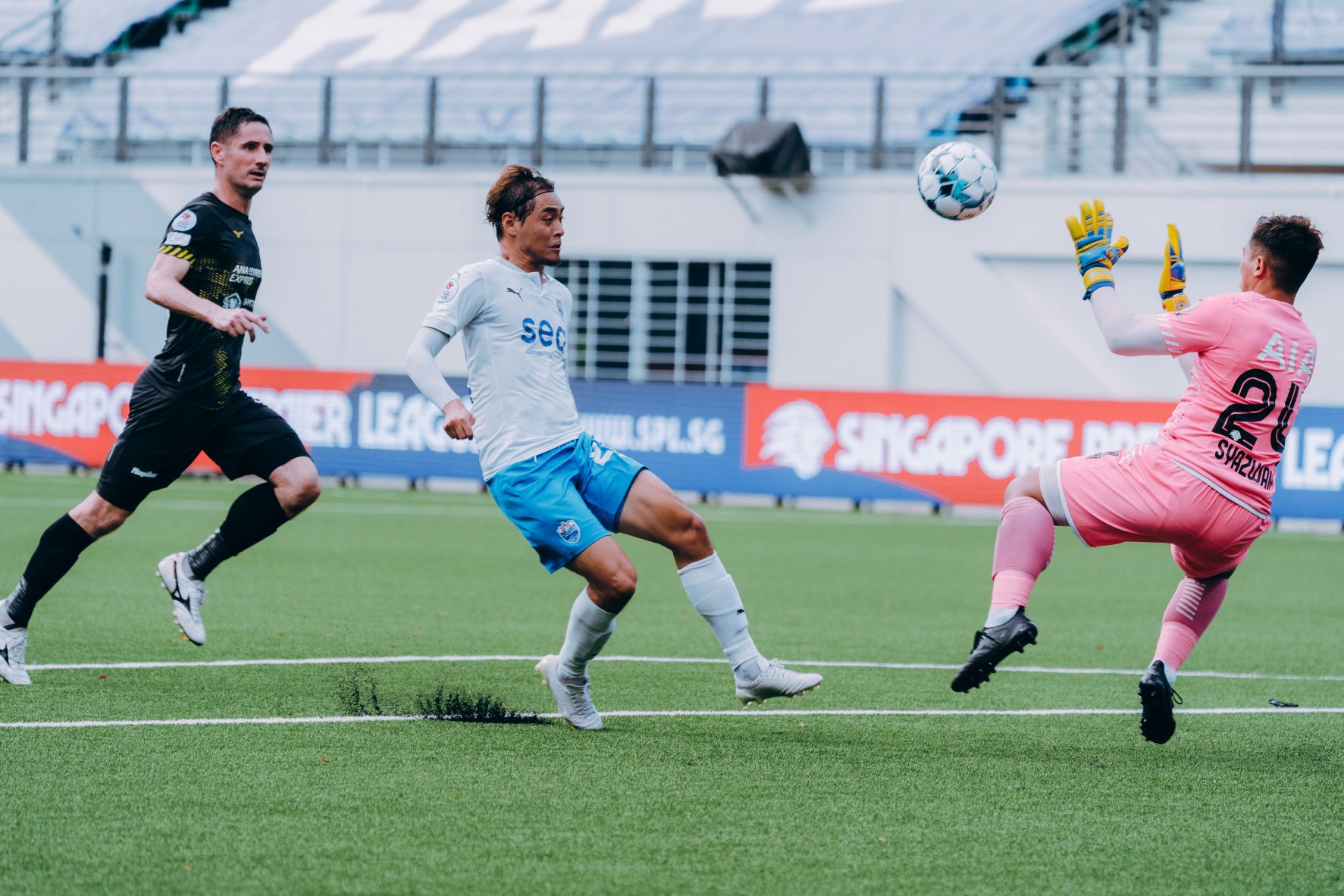 "The lead up to that goal was down to how our game has been evolving," explained the 2020 SPL Player of the Year. "There were a couple of goals I've scored in this manner and it's down to the understanding that we've built over time. I've to thank Stipe for that lovely pass to set us on the way to victory."
Gabriel's goal set the stage for the Sailors' win, with Faris then taking centrestage, his execution of defensive duties as well as creativity driving the team to what was an emphatic victory over fellow title challengers. 
After two perfectly-weighted passes for Stipe and Saifullah Akbar to score on either side of the break, it was his anticipation and industry that enable him to steal the ball off Kyoga Nakamura before teeing up Stipe for the Croatian's second of the night and the Sailors' fourth. 
With that, Faris became the second player after Tampines' Armin Bošnjak to chalk up three assists in a single game this season and it was a feat that did not dawn upon him until the dust had settled.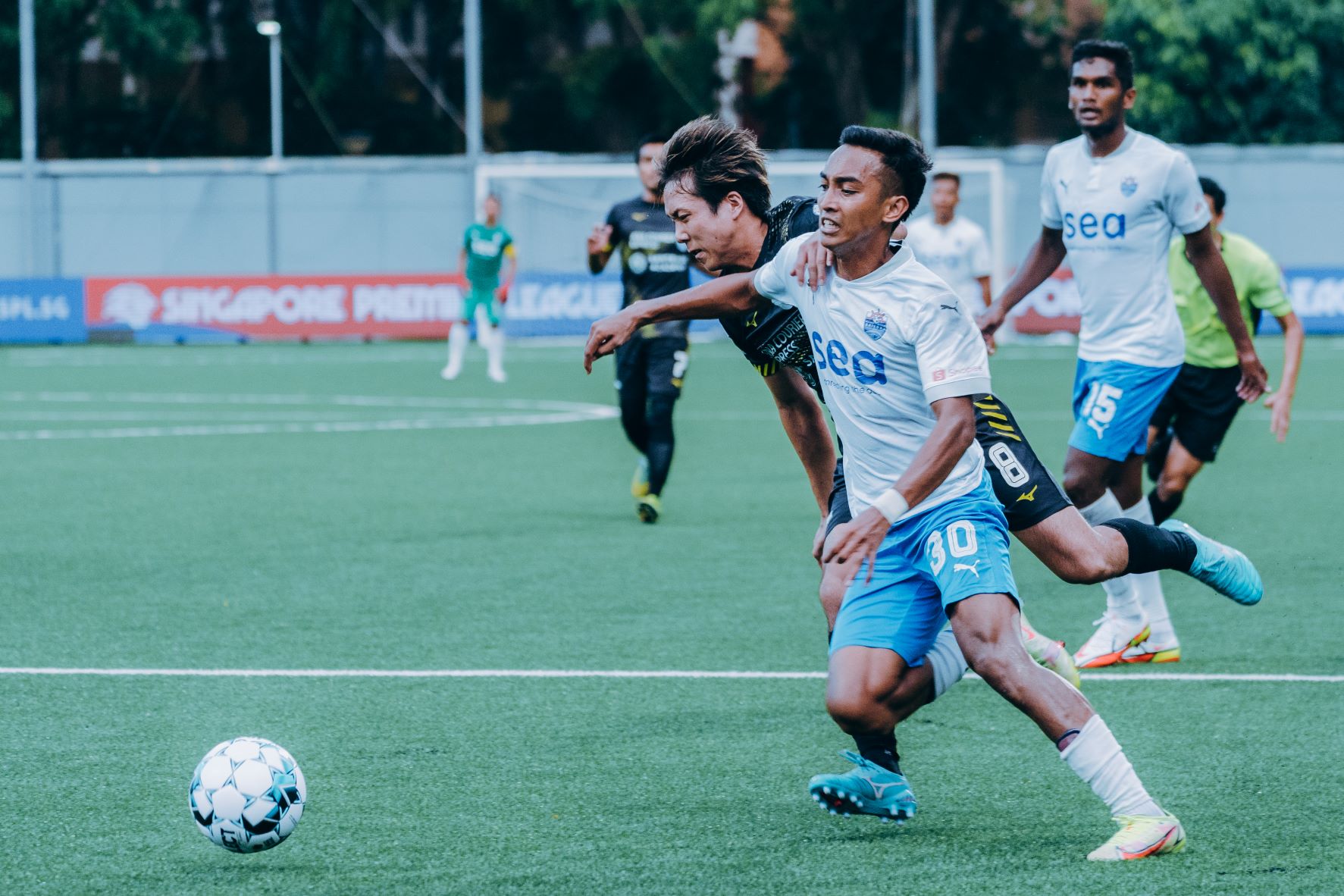 "I didn't even think of the assists during the game because the most important thing was to get us the three points," said the 2019 SPL Player of the Year. "It was only after the game when my teammates were telling me about it when I realised." 
A huge part of this victory must be attributed to Kim, who identified the loopholes and weaknesses of a strong Stags side for the Sailors to take full advantage. 
Gabriel said the South Korean's game plan was "executed to perfection", while Faris enjoyed the opportunity to play a roving role in a fluid tactical system. 
"He wanted me to harass them in the middle and win balls in that area, and as a result, I was not always in the same position," revealed Faris. "We all had to do that, so everyone needed to be really in sync with each other. 
"When I'm not in a certain position, someone else needs to take up the space I left behind, and I need to do the same as well, filling a position when my teammate is not there. Our roles and responsibilities can change during a game, and that's part of the beauty about what we're learning under Coach Kim – this tactical flexibility that can bring us to another level."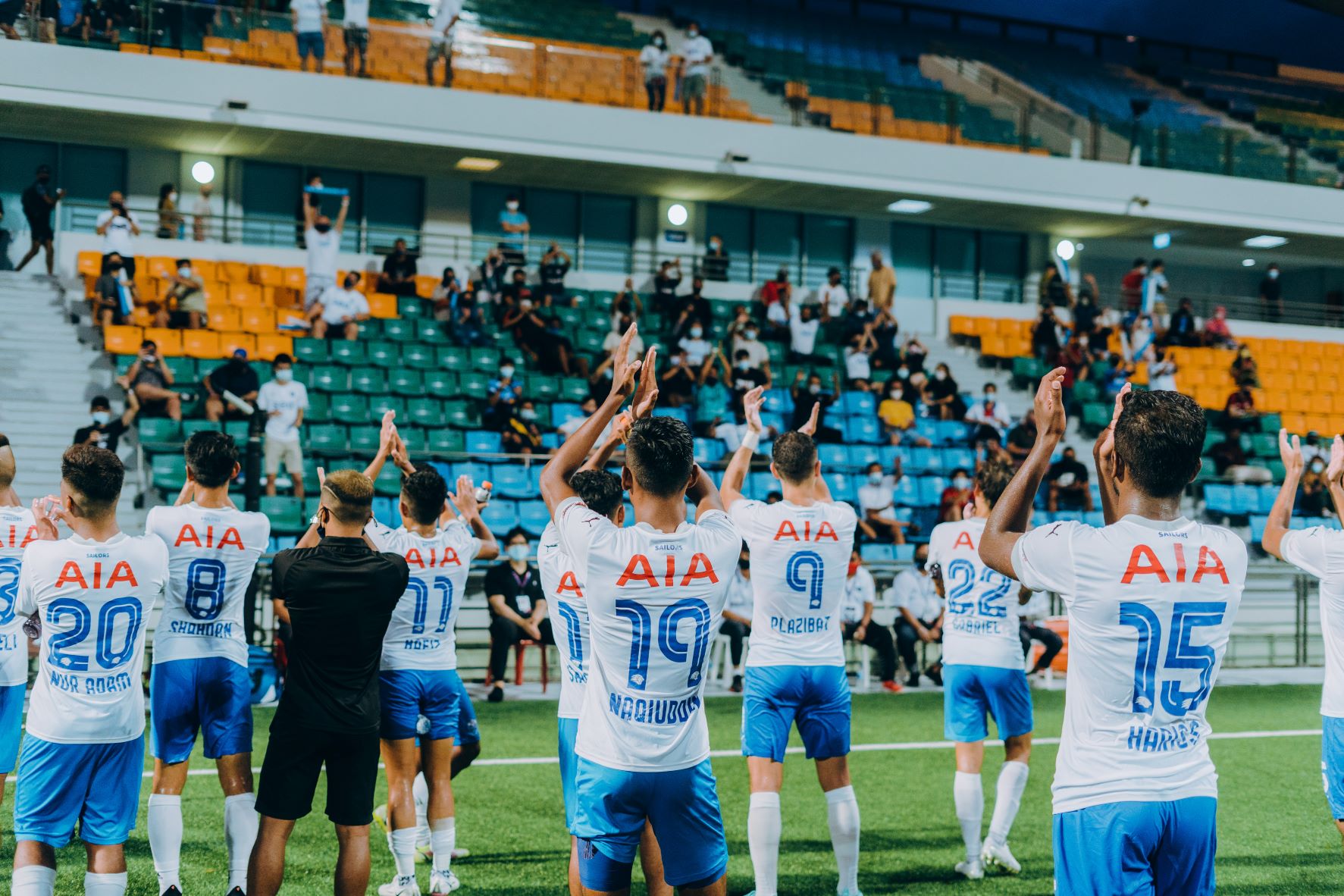 On an individual level, the performances of both Faris and Gabriel last night were also a testament to their mental fortitude and ability to rise above challenges. 
Gabriel was hauled off before half time in last week's disappointing 1-1 draw with Balestier Khalsa, with the Singapore international admitting it was "not a good feeling". 
"When something like that happens, you either crack and crumble or you get going and fight again," he said. "I didn't like what happened that day, but it was all good after I had a talk with the Coach. 
"I can't go into details about the conversation. All I can say is I took a slightly different approach for this game and it has helped me."
Faris is also beginning to blossom again after a difficult first half of the season where he was unable to break into the first team. 
"As I said before, this has been the most challenging year for me. But now I feel really good under Coach Kim," he shared. "Today I'm needed as a second striker and maybe in another game I'll be needed on the wings. Wherever he wants me to play, I'll do it for the team."
And the Sailors are acutely aware that their performance levels must continue to rise if they are to meet the target of winning the league. 
"Teams are observing how we play, so it's definitely going to be harder in the coming games and we cannot expect to win easily," warned Faris. "But we're feeling confident under Coach Kim. It's not always going to be the same formation against every team and if we continue to execute his tactical plans like we did against Tampines, I believe we can achieve our target." 
The Sailors next face Tanjong Pagar United at the Jurong East Stadium on Friday night (20 Aug), and could rise to the SPL summit before Albirex take on Young Lions on Sunday (22 Aug) evening.