It is perhaps that photo of him with Liverpool's Egyptian star Mohamed Salah that he is most recognised for, but for the three-and-a-half years Firdaus Maasar was tasked to provide sports science support to English Premier League titans Liverpool, he kept a cheeky little secret close to his heart. 
Instead of Jurgen Klopp's and Sadio Mane's Reds, it is the Red Devils of Manchester United that are the protagonists in Firdaus' theatre of dreams.  
But fandom did not stand in the way of grabbing the chance to work with some of the best teams in the world.
The unique opportunity came as part of a collaboration between the Reds and Liverpool John Moores University, where Firdaus was studying for his PhD.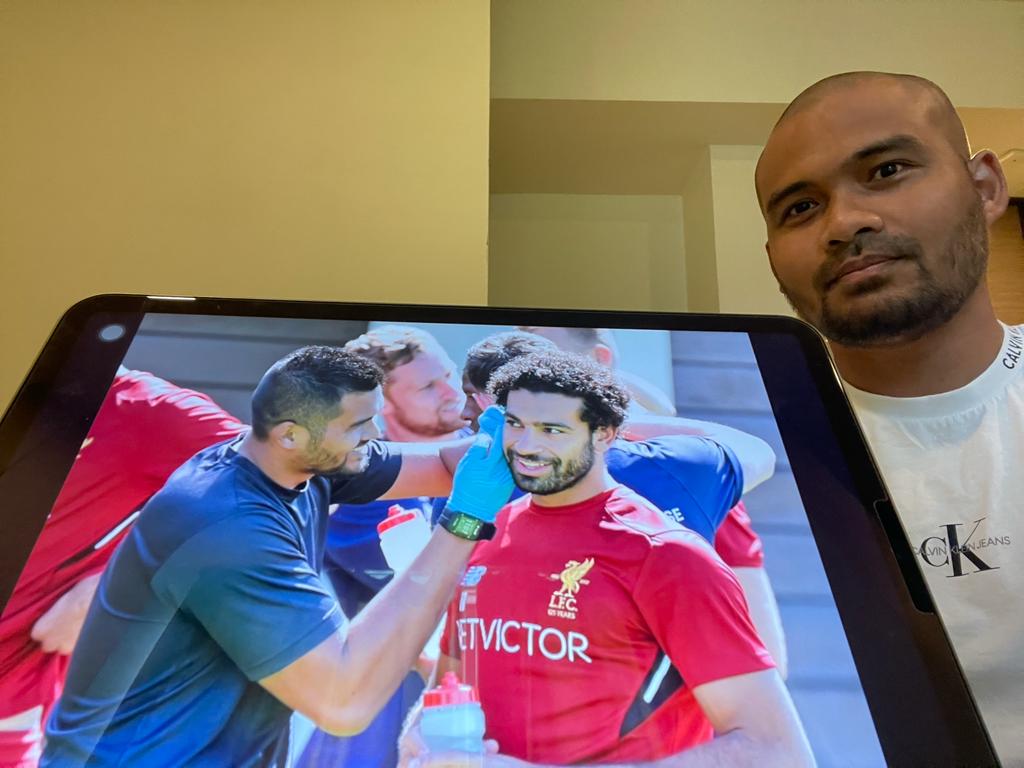 Having provided sports science support to Liverpool for as long as he did, Firdaus admits he has grown attached to the club, and continues to root for them even though he is no longer involved with the Anfield outfit.
"But of course, when we work for a club, we have to be professional, and we will always want the club to win, even though they may be my favourite team's arch-rival," said Firdaus.
"Now, whenever United play Liverpool, I just take a neutral stance and watch the match without supporting anyone!"
During Firdaus' six-odd years of study in England, which saw him also provide sports science support to Huddersfield Town and Wolverhampton Wanderers, he was able to see first-hand how some of the best players in the world came to be – through their professionalism, their discipline, and their humility.
It was an eye-opening experience for the 35-year-old, who had then only been involved with football in Southeast Asia, having previously played for Malaysia's Negeri Sembilan Under-19 side.
"The professionalism of the players is amazing. They take really good care of their bodies, they train at an extremely high-level, and many of them are very open to learning new things to improve themselves," Firdaus observed.
"During the off-season, for example, they may go off on holiday, but they still pay close attention to their nutrition, and continue training on their own to keep fit.
"But that also stems from the competitiveness within the team. It's so hard to break into the starting-11, and they know they cannot afford to fall behind. Now, when the players come back for pre-season, a lot of them are already at a certain level of fitness, so it's easier for them to catch up to where they need to be."
It is exactly this sort of standard of excellence that Firdaus hopes to inculcate within the Lion City Sailors.
Having officially joined the Sailors as their senior physiologist barely a month ago, Firdaus' main goal is to improve the performance and overall fitness levels of the players at the club.
He elaborates: "One of my roles at the moment is to monitor the training and match load for the players. At the same time, I monitor how they react and adapt to the different types of training, both in the short-term as well as in the long-term."
Firdaus, who will work closely with Sailors' Head of Sports Science, Mario Jovanovic, added: "We will analyse the data that we get from the players during training, which will then give us a better idea of what sort of physical targets we should set for each individual player.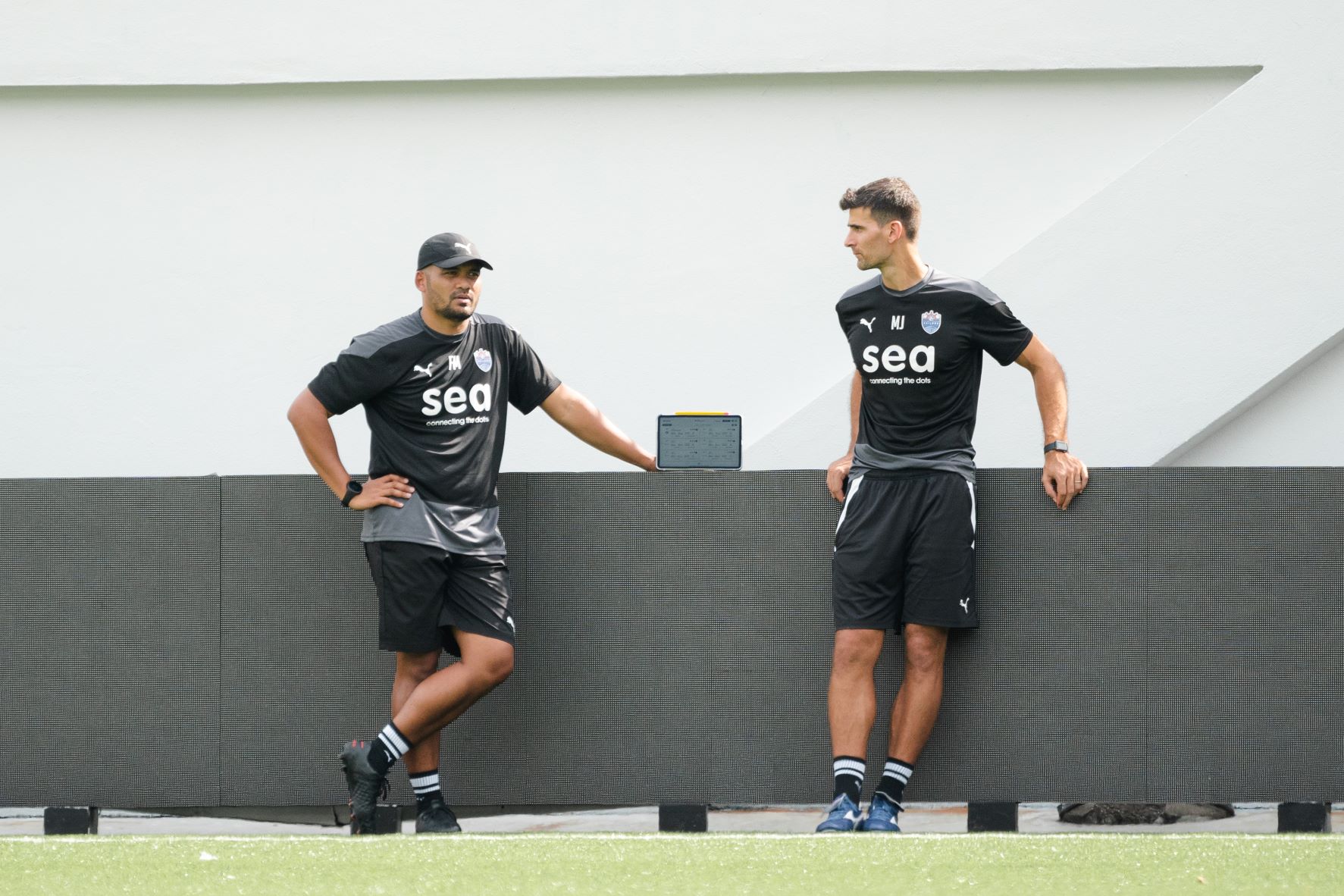 "Mario and I will then communicate that target to the coach (Kim Do-Hoon), so that he can tailor his session such that the player doesn't under-train, or over-train.
"All of this is done so as to maximise the efficiency of each training session, and to get the optimal training output and responses from the players."
Firdaus, however, concedes that it will take some time to bring the sports science capabilities of the Sailors up to the same level as that of those in Europe and England.
Nonetheless, the father of three is determined to do what he can to improve not only the Sailors, but Singapore football in general.
"I know exactly how far behind we are in this part of the world as compared to European football in terms of sports science," said Firdaus.
"So that's one of my targets here with the Sailors – to help Singapore football…by sharing my expertise and experience with the sports science community in the country."
Firdaus, however, was primarily attracted to the Sailors project as he felt it was "interesting and challenging", while also recognising the club's ambition and immense potential.
In particular, the Johor-born Malaysian believes the Sailors' focus on youth development – with their Lion City Sailors Football Academy – shows that they are serious about becoming a powerhouse in Southeast Asia, if not Asia itself.
Firdaus, who joined the Sailors from the renowned Aspire Academy in Qatar, explained: "In my initial discussion with the club management, I could see that the goal was to have the first-team excel, but at the same time, also have a robust youth programme.
"That, to me, is one of the most important things for a football club. In order to progress, you need to be able to develop young talents.
"The Sailors are currently working to put in place a well-structured sports science department, and have improved their backend and technical capabilities immensely, which is a clear sign that they are serious about becoming one of the best teams in the region."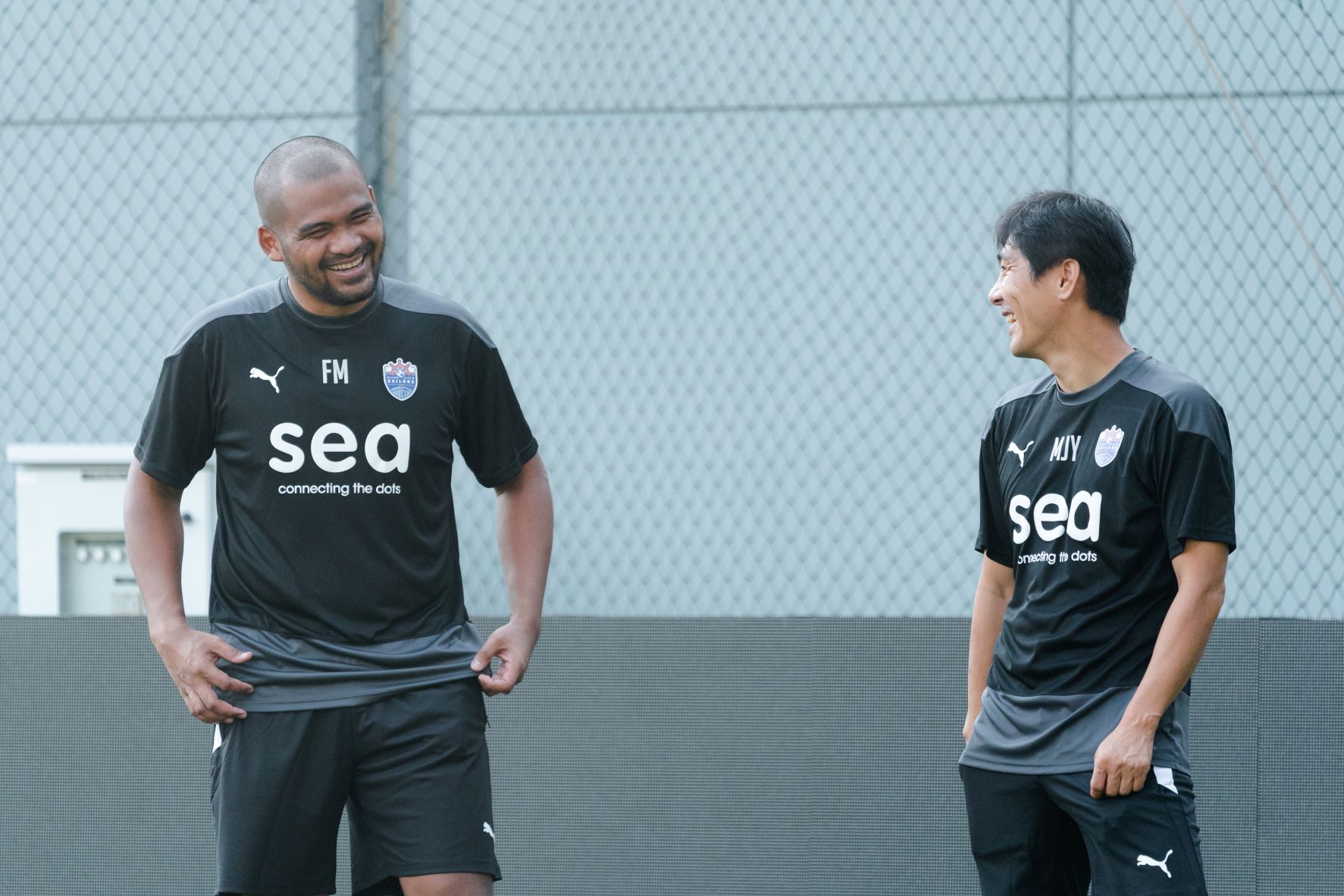 He added that it was encouraging to see the Sailors' coaching team and management being so "open…and supportive" in the area of sports science.
With the current season coming to a close, Firdaus is already looking towards next year, where the Sailors will compete in the Asian Football Confederation Champions League for the first time.
While Firdaus is confident that the Sailors will eventually achieve their goal of being a "regional powerhouse", he cautioned fans against expecting too much, too quickly from the team.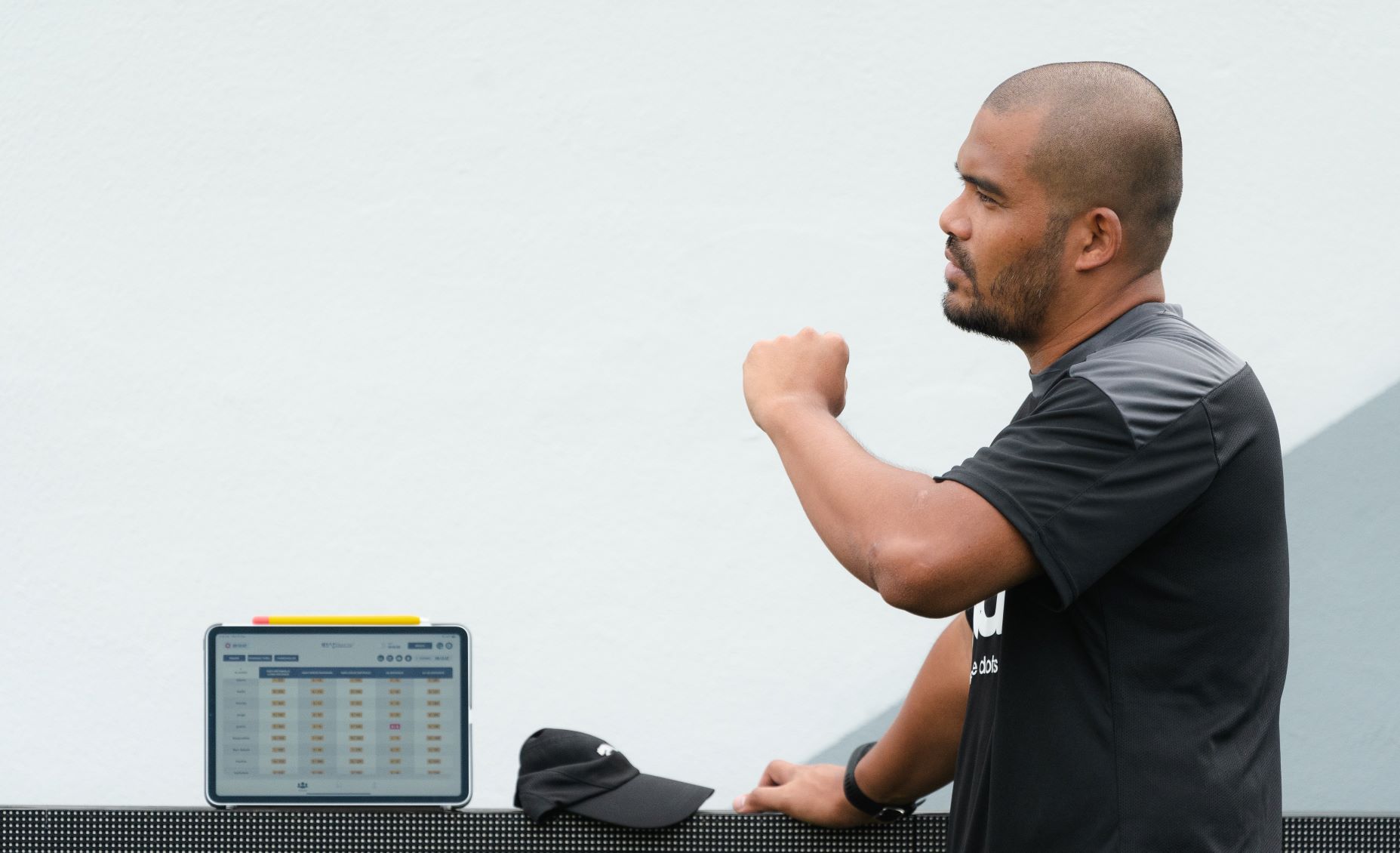 "We are in a good place to reach a high level of football, especially when we move to the integrated training facility next season," Firdaus mused.
"I strongly believe this project can be amazing in the near future, but it won't happen overnight. We have short, medium, and long-term plans for the project…first, though, we need to be domestic champions on a consistent basis.
"We have to do things right, and at the right pace. Personally, I will be looking at helping the players improve incrementally. But in the coming years, I have no doubt the Sailors can improve the quality of football by regularly competing at the Asian level." 
As the final whistle sounded at Our Tampines Hub on Sunday night (26 September), Lion City Sailors fans jumped off seats and threw their hands into the Tampines sky. 
But their wild jubilation was not matched out on the pitch – there were no big celebrations by the Sailors players, even after turning in an accomplished performance to beat Geylang International 3-0 in the Singapore Premier League (SPL). 
It was such a significant result in the SPL title race, but amongst the Sailors there were only simple congratulatory handshakes and hugs between each other.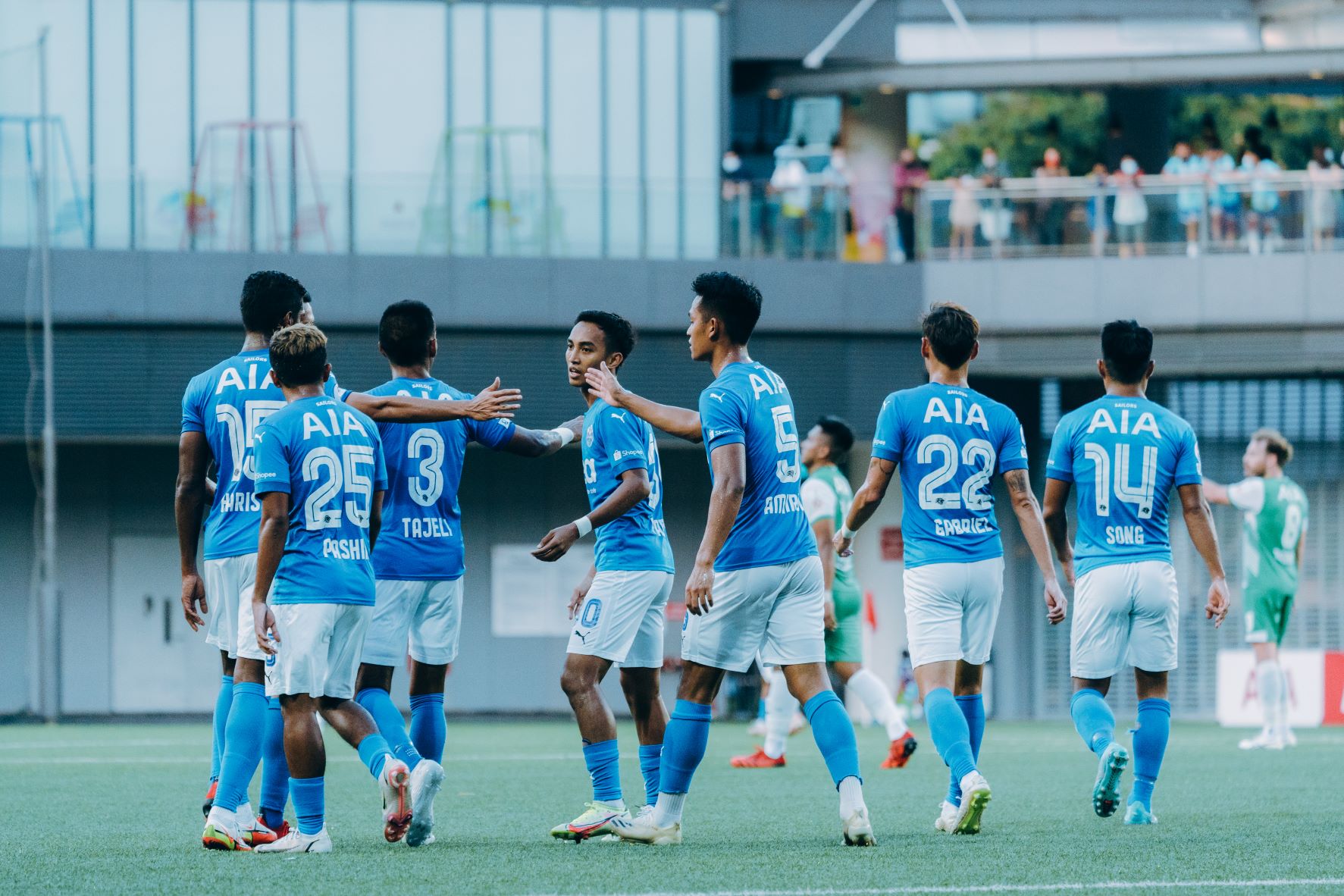 The result meant the Sailors leapfrogged Albirex Niigata (S) to go on top of their eight-team standings, based on a superior goal difference (+35 as compared to the White Swans' +31), with both sides level on 45 points. 
Having played catch-up all year, Kim Do-hoon's men will now go into the final round of fixtures on 10 October on the top of the table and hold destiny in their own hands.
"There's one more game to go in two weeks' time, and we have to stay focused," explained forward Stipe Plazibat, who was watching from the stands for the third straight game due to an ankle injury. 
"We must make sure we prepare very well for this last match of the season and hopefully we can celebrate after that – no problem."
The Geylang result was a huge step towards winning a first-ever league trophy, but the Sailors have one final obstacle that stands between them and a proper celebration – Balestier Khalsa, their opponents in their final league match. 
"We're now top of the table because of all the hard work that we put in throughout the season, but nothing's done yet," emphasised Stipe. 
The Sailors have beaten Geylang in every encounter since their 2020 inception, but this latest victory was not as straightforward as the scoreline suggests.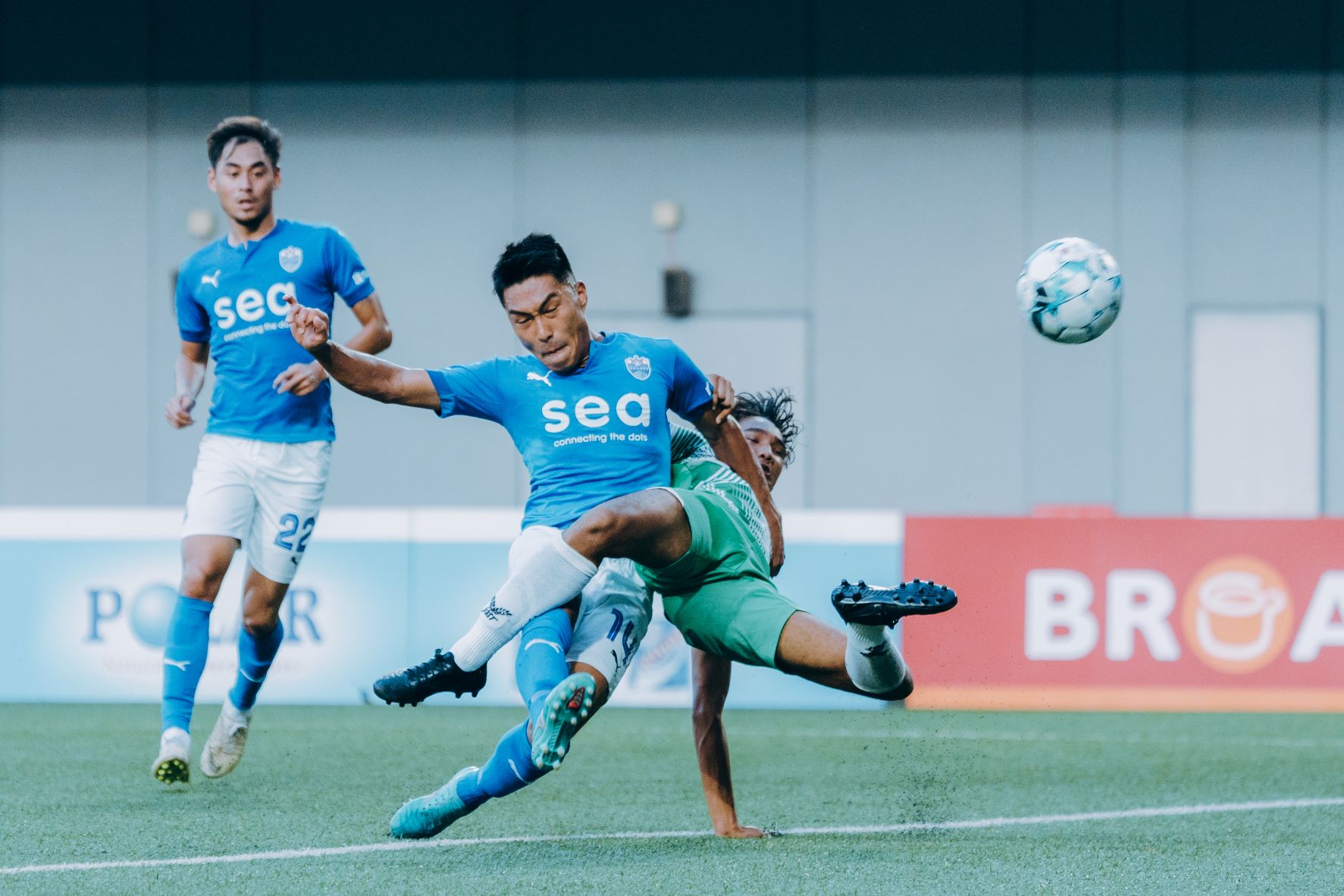 The Eagles put up a battling display in front of a boisterous home crowd in the first half-hour of the match, and gave the Sailors some food for thought. This despite having to self-isolate for 10 days due to a positive COVID-19 case in the squad and losing four out of their last five fixtures. 
That sturdy battling display only started to come apart at the seams when Faris Ramli capitalised on an Afiq Yunos error to sweep the Sailors ahead in the 32nd minute. 
Watching from the stands, Stipe felt the occasion got to the team a little. 
"After Albirex dropped points on Friday (in a 0-0 draw with Tampines Rovers), there was certainly that extra pressure of getting a result, and that maybe resulted in our slow start," said the Croatian. 
"After the first goal, you can see the boys were much more relaxed and confident. We began to play our usual brand of attacking football and everything was quite smooth after that."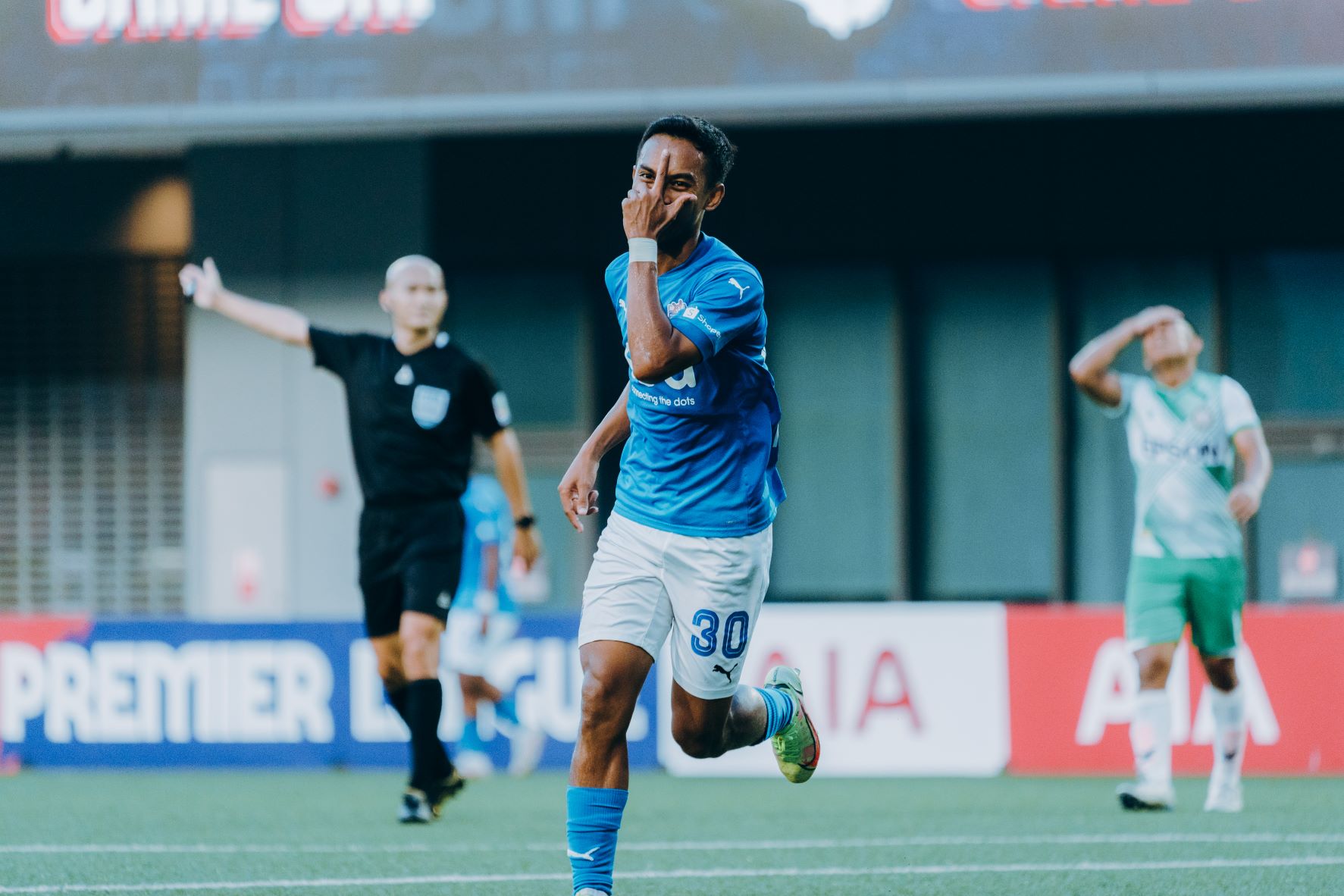 Seven minutes after the deadlock was broken, the Sailors made it 2-0, with Song stabbing home from six yards out after great work by Tajeli Salamat down the right. 
That was the Singaporean's third goal in two games – following a brace in last Tuesday's 6-1 win over Tampines – as he continued to impress in Stipe's absence. 
"It's sad for me not to be fit to play, but I'm happy to see Song filling in very well as a striker," said Stipe, who has scored 14 goals and chalked up seven assists in 17 appearances this season, before picking up the ankle injury against Young Lions earlier this month. 
"He had to make the jump up from midfield to play as a striker which is not his natural position. But he's such a dedicated player who is willing to do everything for the team – he's a fantastic guy who can adapt very well. We talk a lot and I try to help him as much as I can."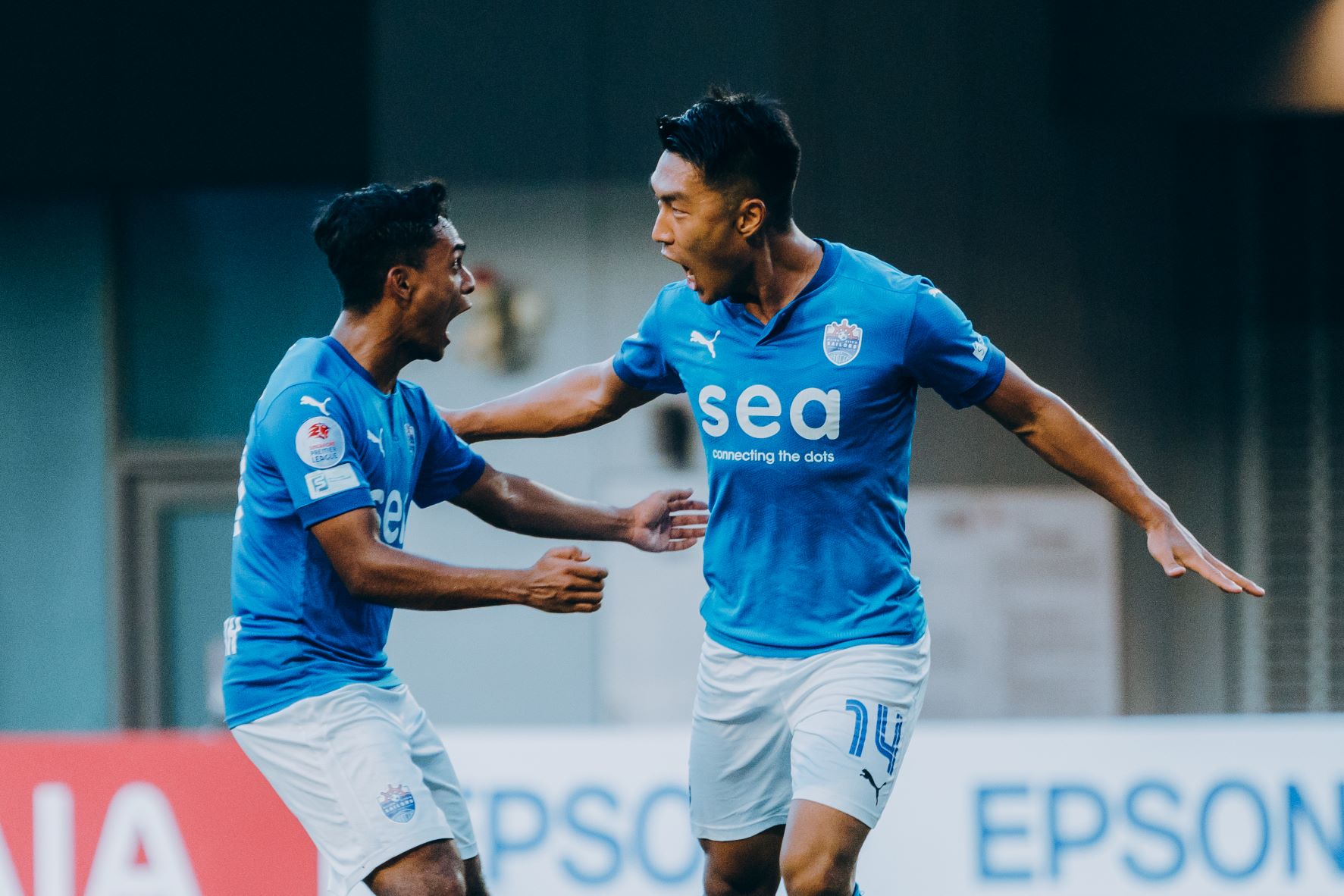 Barring a couple of nervy moments, the Sailors were generally in control throughout the game with the all-Singaporean centre-back pairing of Hariss Harun and Amirul Adli barely giving a yard to the Geylang strike duo of Matheus Moresche and Amy Recha. 
Four minutes from time, the victory was sealed with substitute Hafiz Nor capitalising on yet another Geylang defensive error to fire past Zaiful Nizam. 
The 3-0 win also meant the Sailors picked up their first clean sheet after nine matches under Kim – another satisfying takeaway for the team.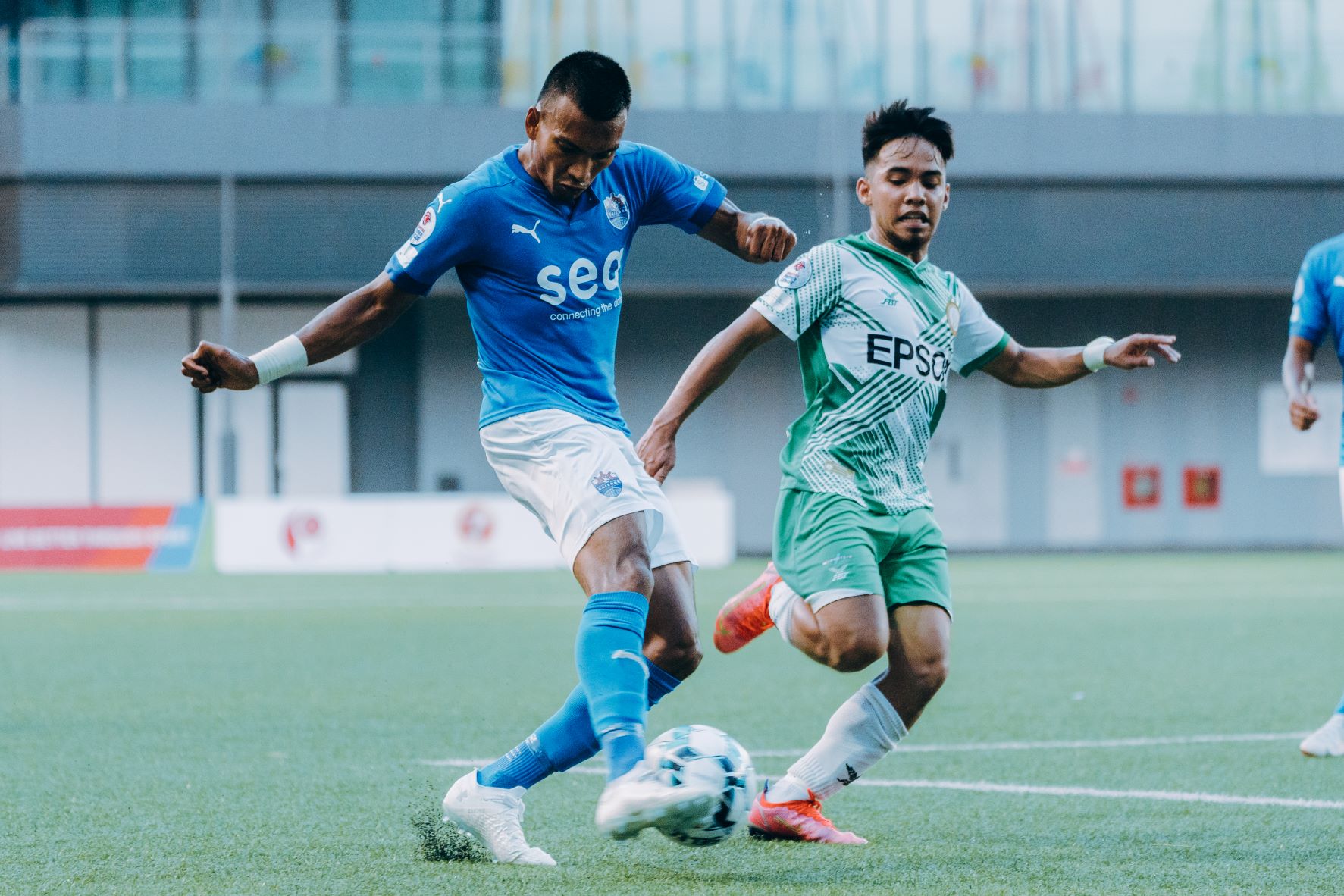 "Defensively we were very solid as a team – not just Hariss and Adli, but also Nur Adam (Abdullah) and Taj (Tajeli). So we definitely deserved this clean sheet," said Stipe. 
"And three mistakes from Geylang, three goals. It's nice to see us being so clinical in front of goal."
It will all come down to the final matchday on 10 October as the Sailors entertain Balestier at home while Albirex face Tanjong Pagar United. And simple mathematics will come into play: Albirex will have to better the Sailors' result on the day to nick the SPL title, and if the Sailors beat Balestier, Albirex must also win – but by a margin of five more goals.   
For example, if the Sailors win 1-0, Albirex must beat the Jaguars at least 6-0.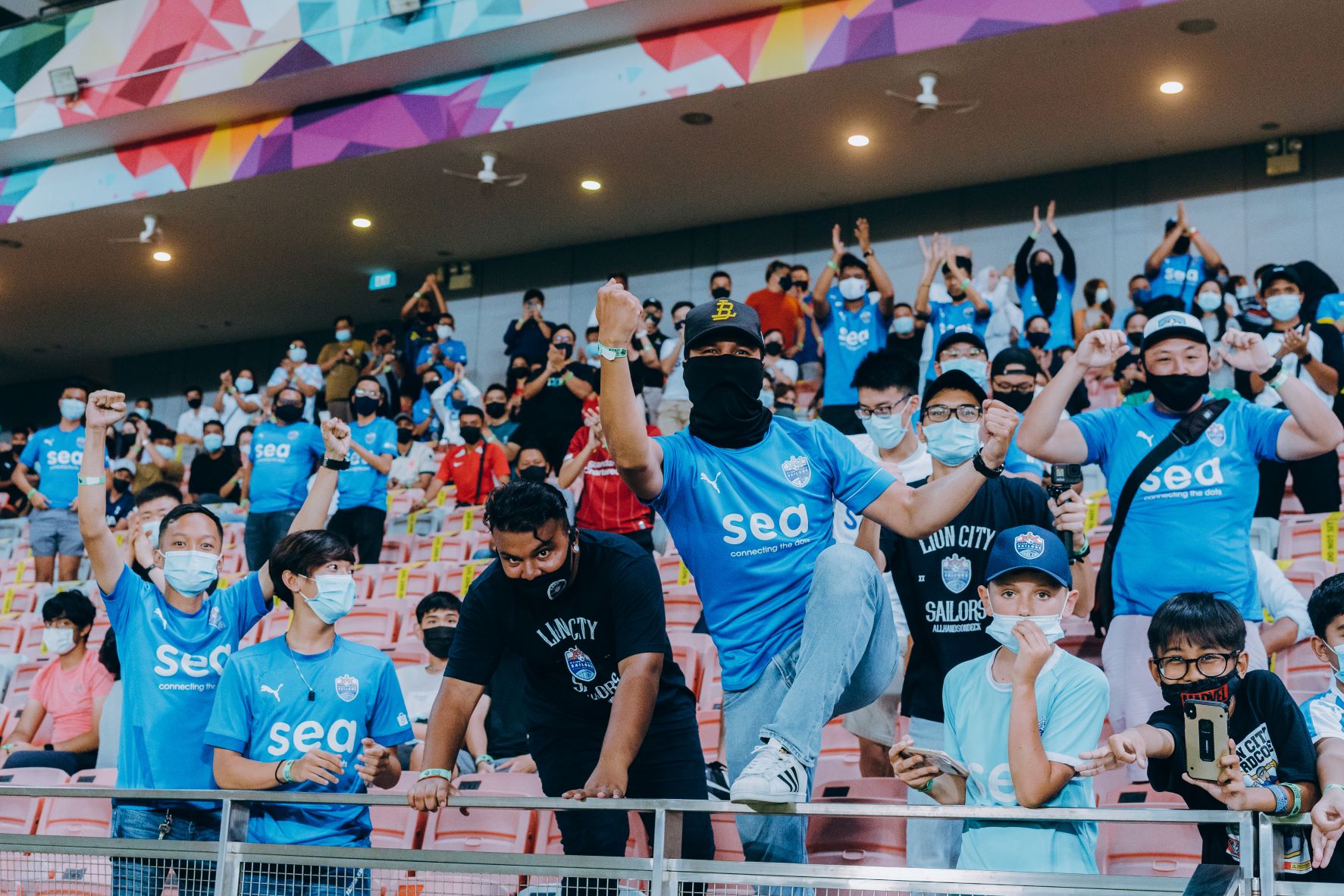 Stipe is looking forward to a strong crowd turning up at the Jalan Besar Stadium on that day to help push the Sailors over the line. 
"We saw the reception and noise the fans gave us at our home matches recently – football's nothing without fans really," he said. 
"I really hope all of them turn up in full force again on 10 October. That will give the team all the energy from the stands and hopefully we can have a big celebration to repay their support at the end of everything."
The hotly-contested Singapore Premier League (SPL) title race has been blown wide open with just two games left to play, and the ball is back in the court of the Lion City Sailors. 
With leaders Albirex Niigata (S) being held to a shock 0-0 draw by Tampines Rovers on Friday (24 September), Kim Do-hoon's men could take full advantage come Sunday night (26 September) when they visit Geylang International at Our Tampines Hub. 
Trailing Albirex by three points, a victory against the Eagles will see the Sailors leapfrog the defending champions –  on goal difference – and take the initiative going into the final round of matches on 10 October. 
Tampines' sturdy defensive showing on Friday provided yet another twist in the title race, this time presenting the Sailors with a golden opportunity – their destiny is now back in their own hands. 
A week ago, the Sailors had a similar chance, holding a 1-0 lead over the White Swans for some 70 minutes, but that was scuppered when they conceded a 94th-minute equaliser. 
"We were so disappointed after that game against Albirex, but we never gave up the fight for the title," said centre-back Amirul Adli. "We went out there and did our job to beat Tampines (6-1) on Tuesday and now this (Albirex's draw with Tampines) is an opportunity that is calling out for us.
"And we must grab it with both hands."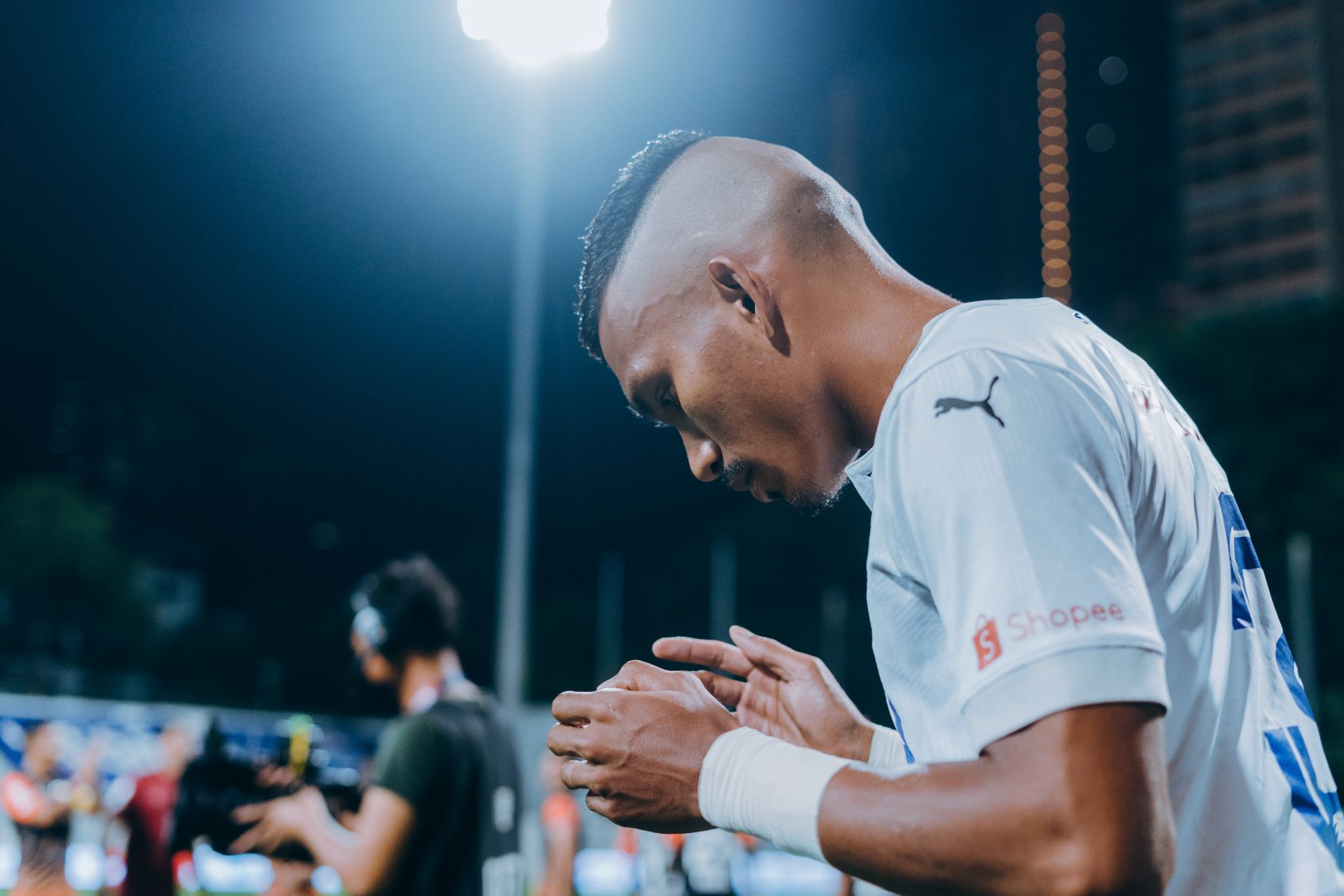 Geylang has not enjoyed the best of seasons, languishing second-from-bottom in the eight-team table after losing four of their last five matches.  
Noor Ali's side have not had the most ideal of preparations for this game, only resuming training earlier in the week after having to self-isolate for 10 days due to a positive COVID-19 case that was detected amongst the squad. 
History also favours the Sailors who have won both encounters this season – including a handsome 8-0 win in their last visit to OTH back in April. 
But the Sailors are not taking anything for granted.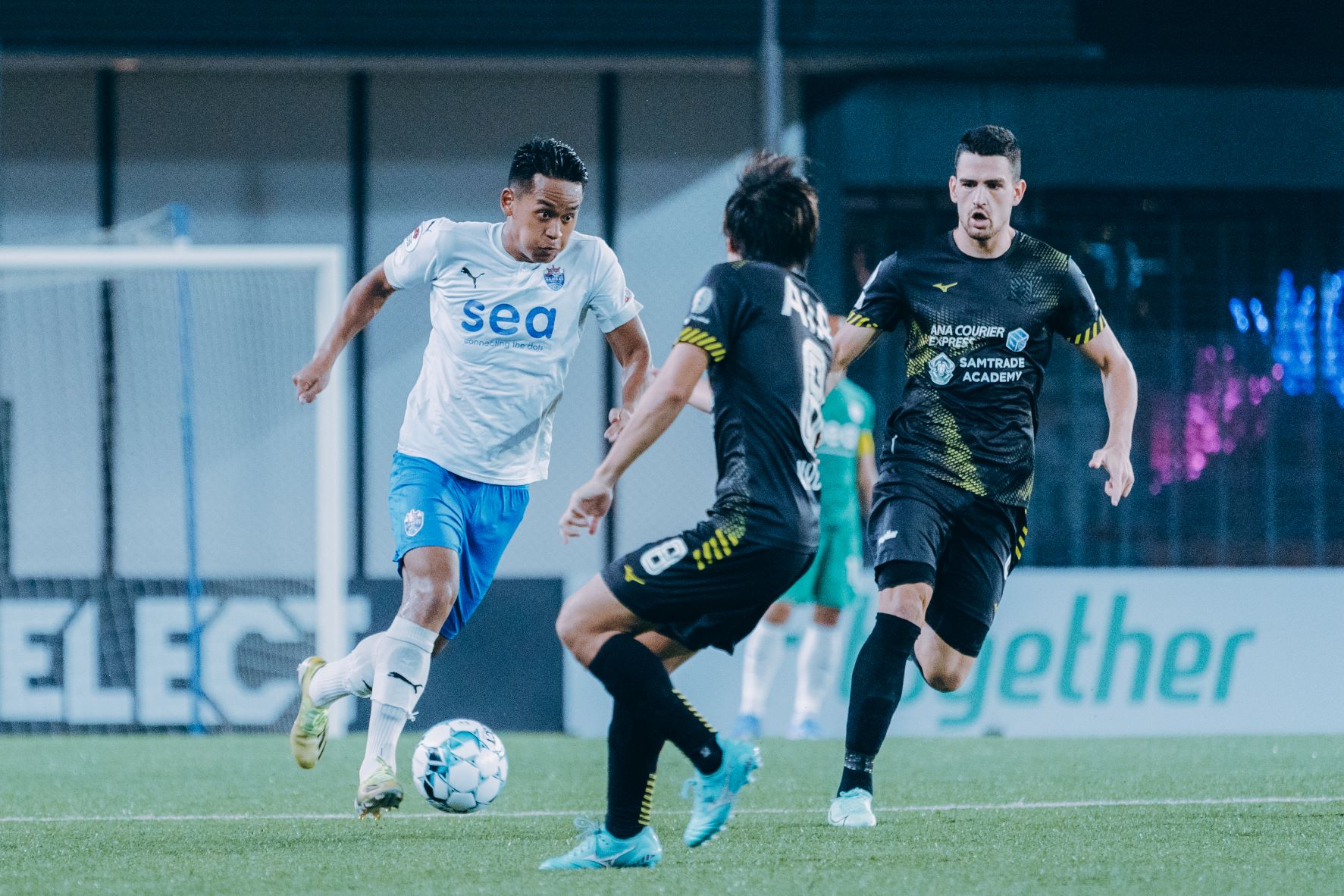 "We may be the favourites to win this game, but no one is writing off Geylang – they're definitely not an easy team to play against and they'll be doing their best out there against us," said Sailors' versatile defender, Tajeli Salamat. 
"Geylang will want to put up a strong performance for their fans, and we have to be ready to fight, give our 100 percent and make sure we leave everything we have on the pitch." 
The Sailors have had to adjust to a demanding style and philosophy under Asian Football Confederation (AFC) Champions League-winning coach Kim who came on board in June, and have excelled and remained hot on the heels of Albirex – who have been top since Matchweek 1. 
Now on a club-record 16-game unbeaten run, the Sailors are reaping the rewards of their hard work as they are poised to claim pole position at this crucial juncture of the season. 
Tajeli believes the arrival of Kim has played a huge role in the Sailors' sustained title challenge – not least transforming the culture of the team in little details.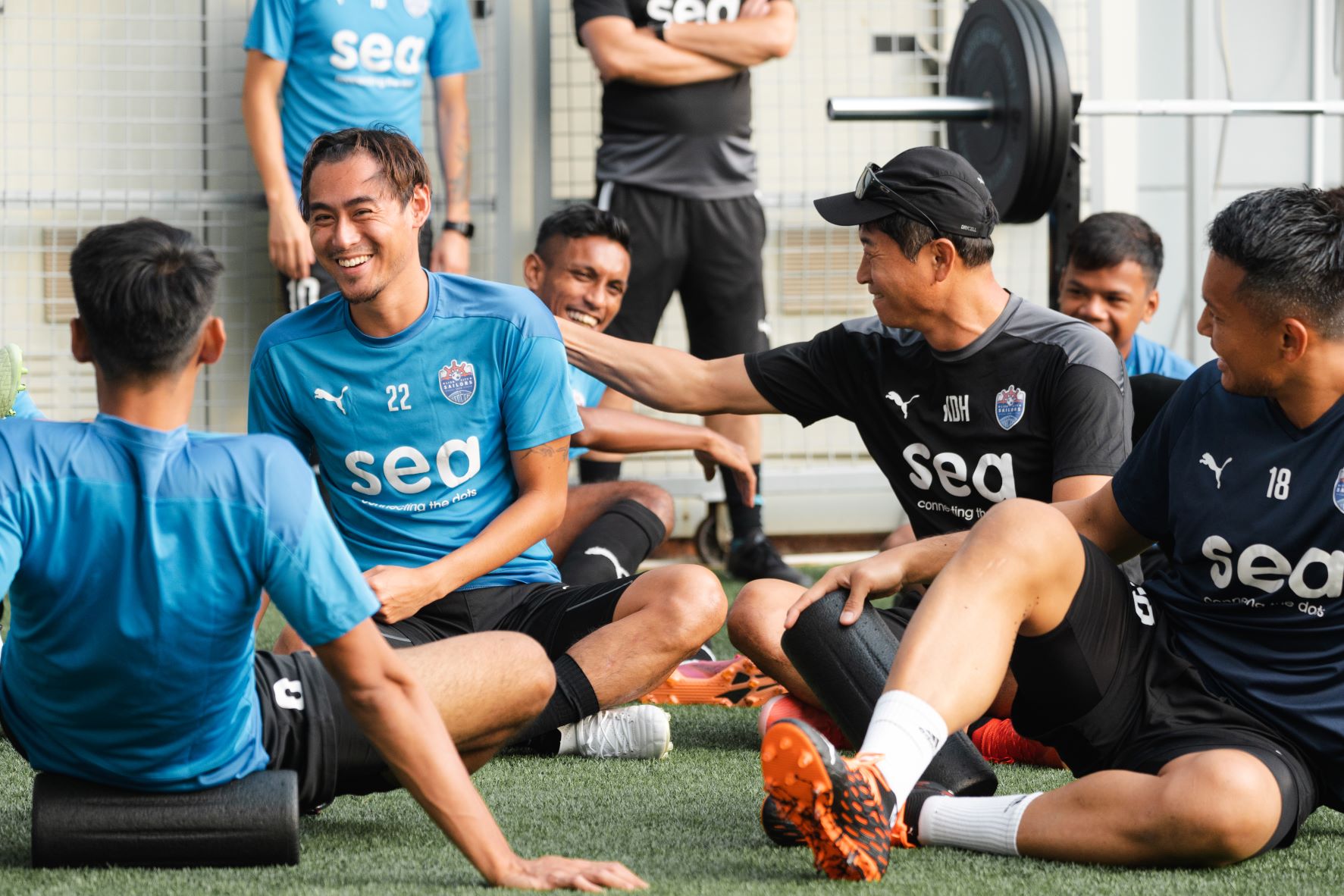 "There have been some changes under him – the most distinct is everyone having to form a circle before morning training where each player and official give high-fives to one another. Then after the session ends, he will gather us together and get us to clap three times before we go off," revealed the 27-year-old.  
"These are little things that may not seem significant, but it has done a lot to improve the morale and vibe within the team. From day one, he instilled a hunger and winning mentality in us. I must say everything has been going according to plan under him."
Kim has also demonstrated an uncanny ability to get the best out of players who were not playing regularly before his arrival.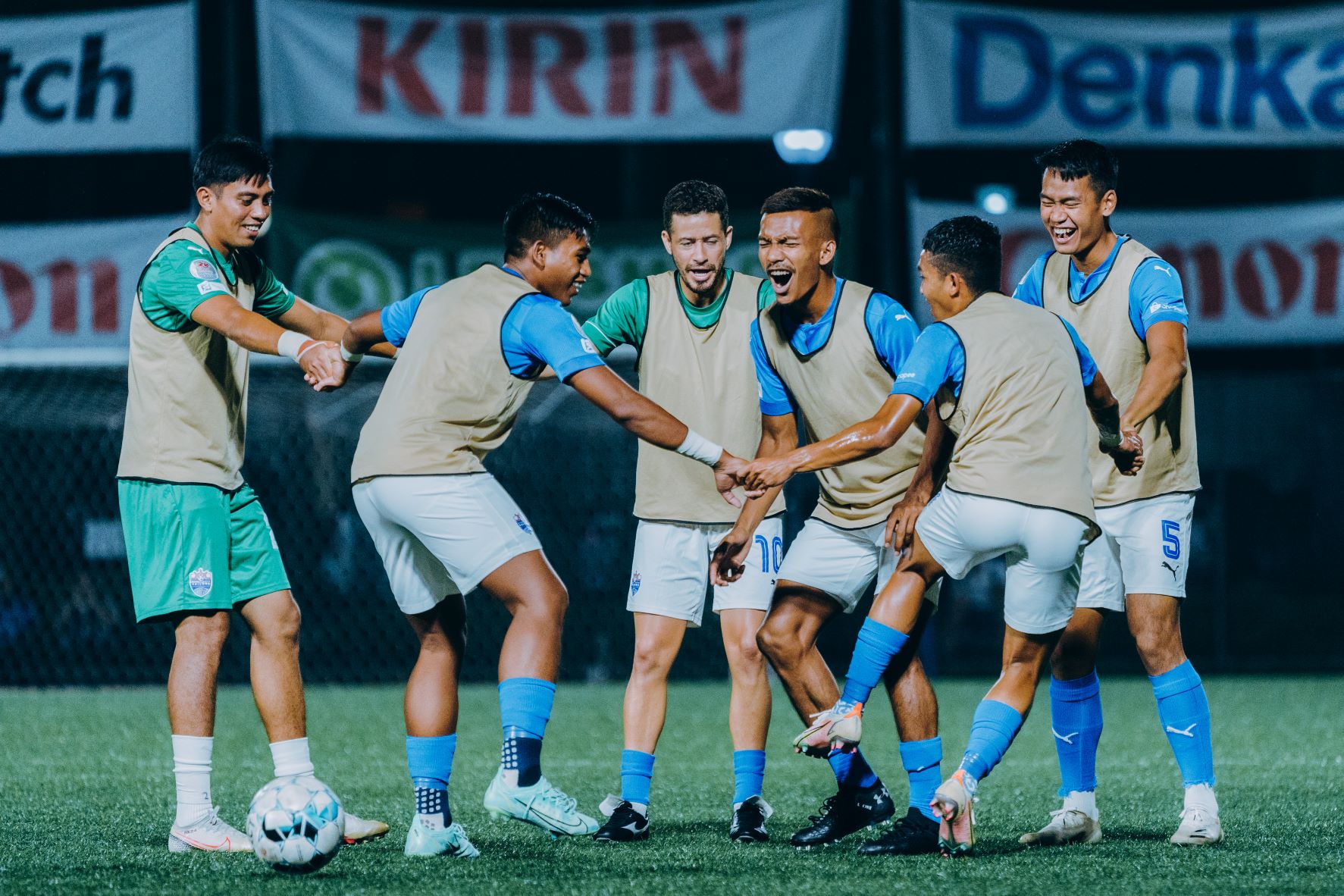 Along with the likes of Faris Ramli, Hafiz Nor and Adam Swandi, Tajeli has been one of the biggest beneficiaries. He has started five of the last six matches at right-back, this after an eight-game spell midway through the season where he did not get a single minute of game time. 
"Of course it was really frustrating not to be playing. It's never easy being at a big club, but I guess patience is a virtue," said the defender, who was part of the 2020 SPL Team of the Year. "I fought really hard every single day in training to be back in the team and I'm happy that Coach Kim can see that. 
"It's great having a coach like him who's willing to take risks and rotate players. He gives us freedom to show our abilities in every single training and game, and that has kept me going. Now that I've been given this opportunity to play, I don't ever want to lose it."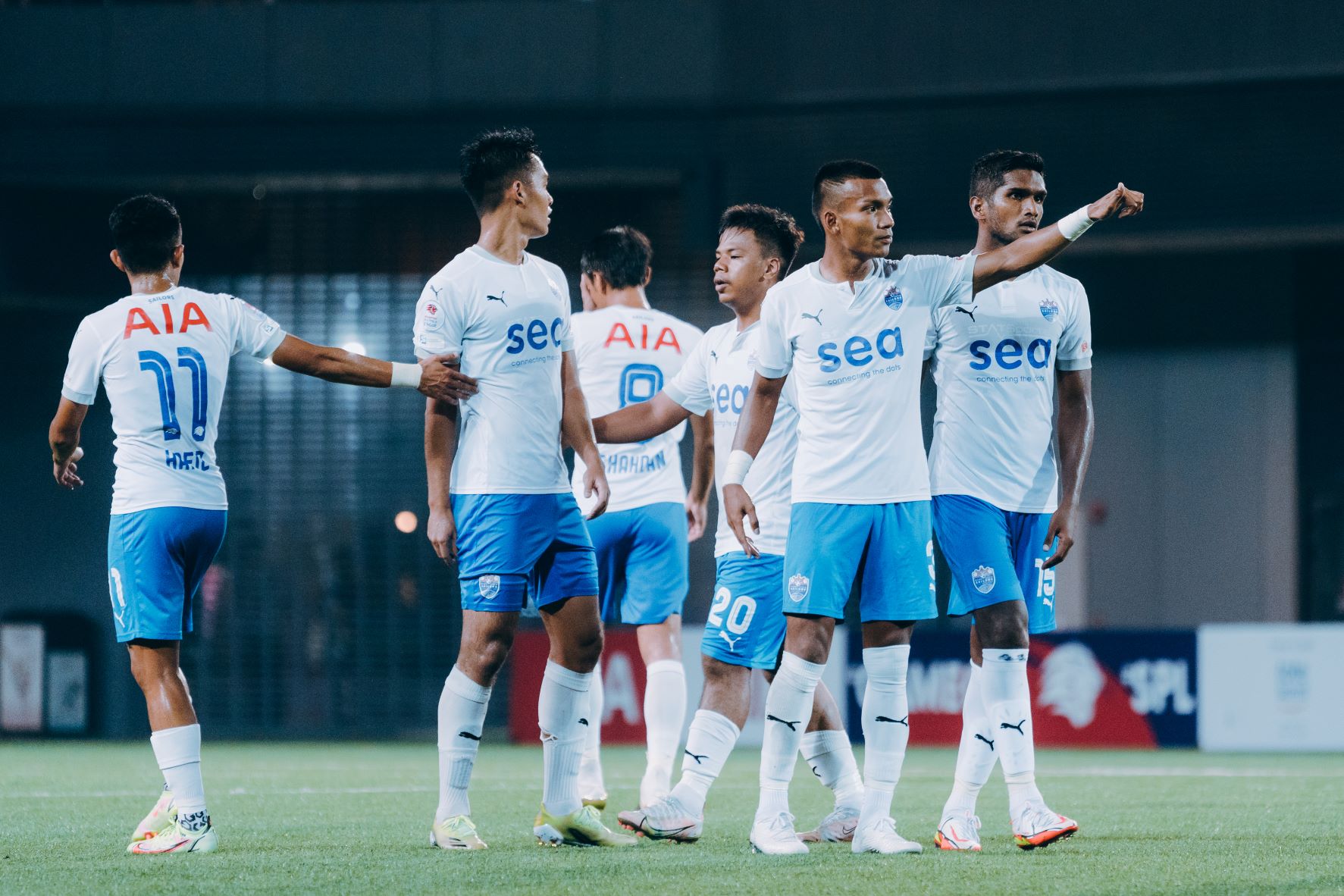 Now Tajeli and Adli are both looking forward to the prospect of getting their hands on the coveted SPL trophy, in what will be a first-ever league title in their respective careers. 
"It will be the first trophy for the club and I really want to be part of that history," said Adli. "I've won the (2019) Singapore Cup and (2020) Charity Shield (with Tampines), so a league title would complete the whole set for me nicely." 
"It's not done yet, so we have to take our final two matches seriously and cross the finish line strongly," he added. 
"It would mean the world to me because I've been dreaming to win the local league since the day I started my football career," added Tajeli, who is into his second season with the Sailors. 
"It would be an unbelievable feeling to see all the hard work and sweat paying off at the end of the season."
Kim Do-hoon's men came away from Our Tampines Hub (OTH) on Tuesday night (21 September) with a thumping 6-1 win over Tampines Rovers, sending a clear statement of intent – the Lion City Sailors' Singapore Premier League (SPL) title challenge is not over just yet. 
The handsome victory narrowed the gap between them and leaders Albirex Niigata (S) to just two points going into the final two rounds of games. 
Sailors' attacker Song Ui-young was pleased with the team's professional display against the Stags and he urged his comrades to keep their heads in the game in what is the final stretch of the SPL season. 
"Yes, it was such an important win to keep us in the race for the title. You can see how much desire the team has to become champions," said the 27-year-old. "Now we must keep our focus to win our last two games and see whether that's enough for us to win the trophy."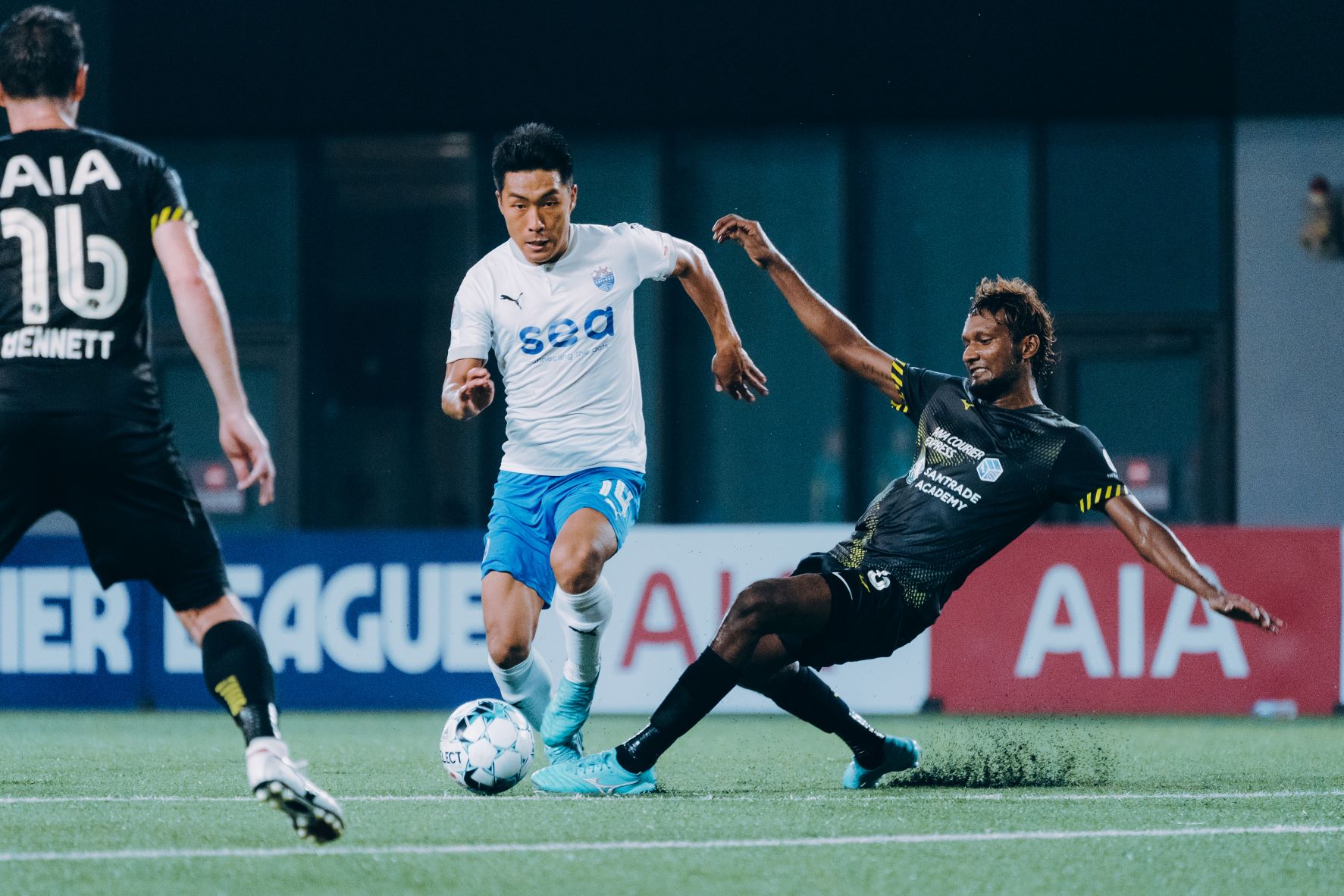 Just four days ago, the Sailors were gutted by a last-gasp Albirex equaliser in a 1-1 draw between the two sides that swung the title pendulum the White Swans' way. In Hariss Harun's words, that setback "took a lot out of the team physically and psychologically". 
The Sailors had to recover fast for another tough battle against last season's runner-ups Tampines and at OTH, they did exactly that. 
The match could have gone either way after Haiqal Pashia's close-range finish just before half time was cancelled out by Hariss's unfortunate own goal in the 51st minute. But instead of freezing, the Sailors rose to the challenge and blew the Stags out of the water with a five-goal blitz – in just 23 minutes. 
Gabriel Quak's thumping volley in the 56th minute put the Sailors back in front and gave them the belief to go for the kill. Pushing forward in numbers, Song and Faris Ramli reaped the dividends as they benefited from Tampines defensive lapses to put their side 4-1 up by the 73rd minute.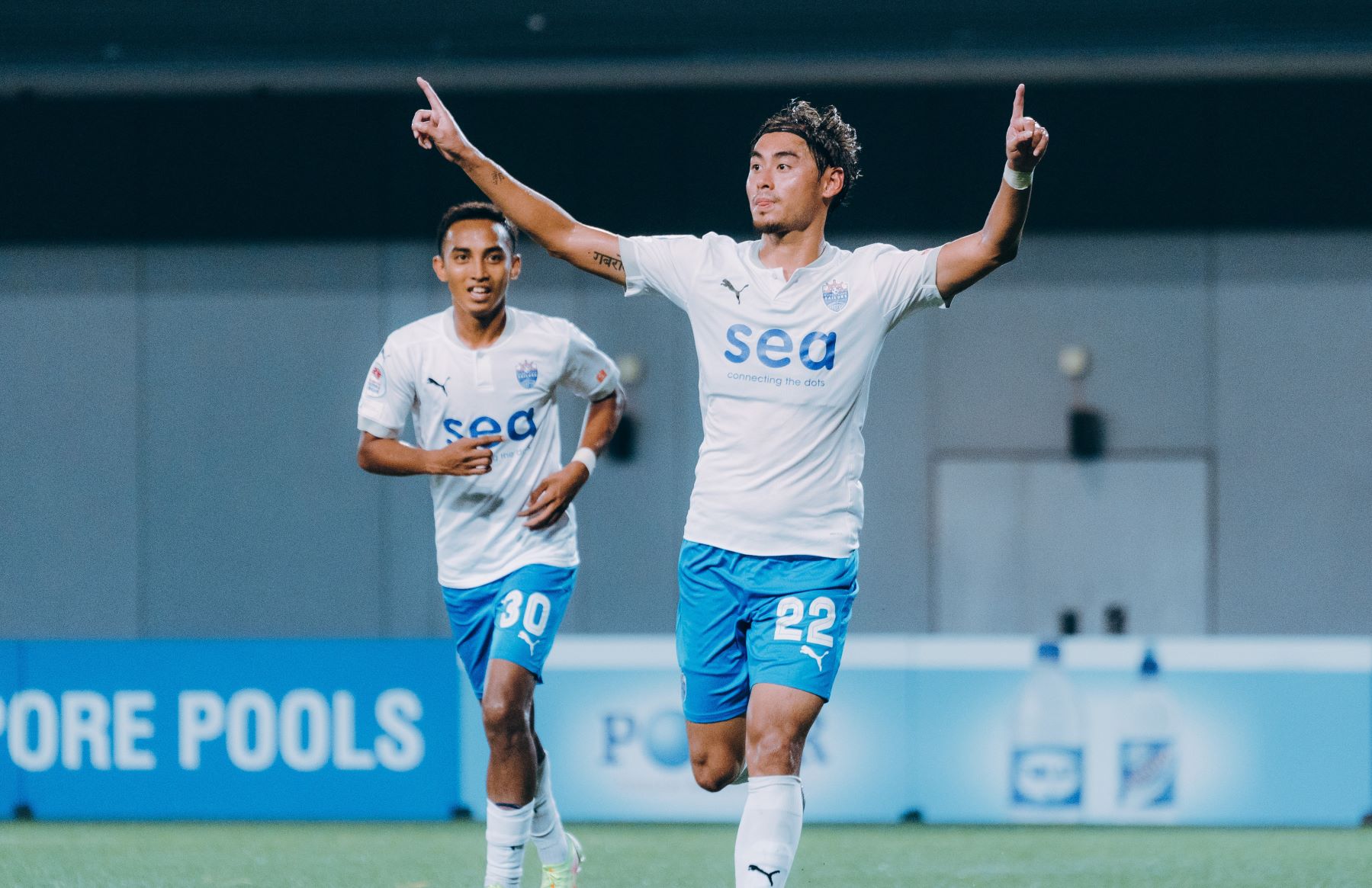 Nur Adam Abdullah's cross was then scuffed into his own net by Tampines captain Daniel Bennett before Song applied the finishing touch to a lethal counter-attacking move to complete the rout with 11 minutes to go. 
The avalanche of goals meant the Sailors now hold a better goal difference than Albirex (32 as compared to the White Swans' 31) and that could well prove to be the deciding factor for the title – should both teams finish level on points after 21 matches. 
Reflecting on the team's ruthless second-half display, Song said that this is the least they could do for their faithful supporters who made the trip to the East on a weekday night. 
"Even though we were winning, we cannot stop running and fighting. We've to do our best and score as many as we can until the final whistle," elaborated the newly-minted Singaporean. 
"That's what Coach Kim ordered us to do… These goals are for the fans who always give us their strongest support and make the effort to travel to watch us wherever we play."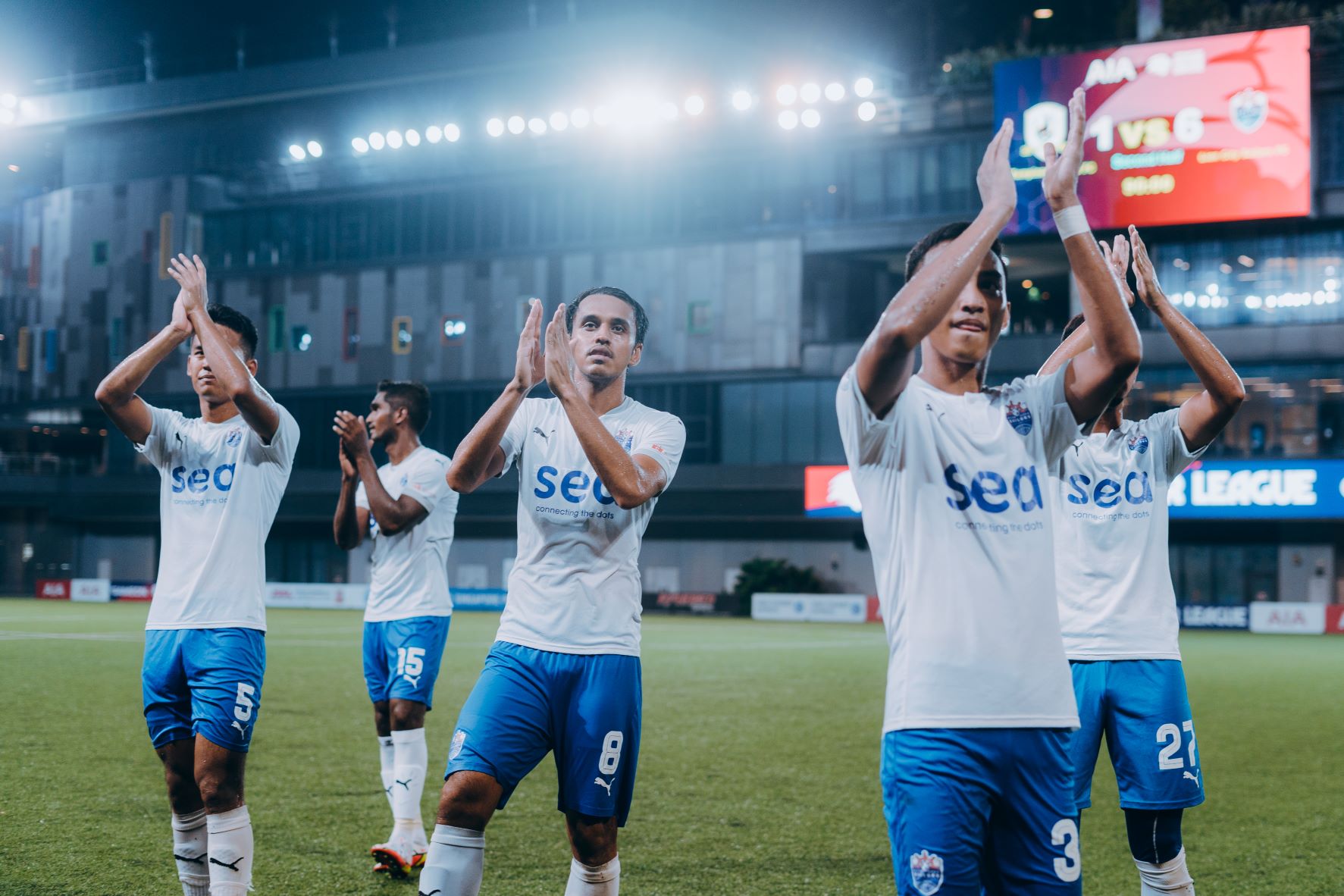 Song's brace against Tampines meant he is finally back on the goal trail after he last netted a brace in a 5-0 win over Tanjong Pagar United back in March. It also brought extra significance as those were his first goals as a Singaporean since he was granted citizenship on 20 August. 
Song is well-respected by the fans for his dedication and willingness to sacrifice for the cause. Those qualities have enabled him to shine in the Sailors' last couple of matches, as he filled the void left by the injured Stipe Plazibat with minimal fuss and maximum efficiency. 
"I played many games as a false nine in the 2018 season for Home United, but as an out-and-out no. 9 I cannot remember when was the last time!" he said, chuckling. 
"Of course it's different as compared to playing in midfield, so I have to prepare and focus more, but I'll always do my job in whatever role the coach gives me because I love this team. 
"It's very meaningful for me to score as a Singaporean now and I want to continue to enjoy this feeling – to score and help my team to victory."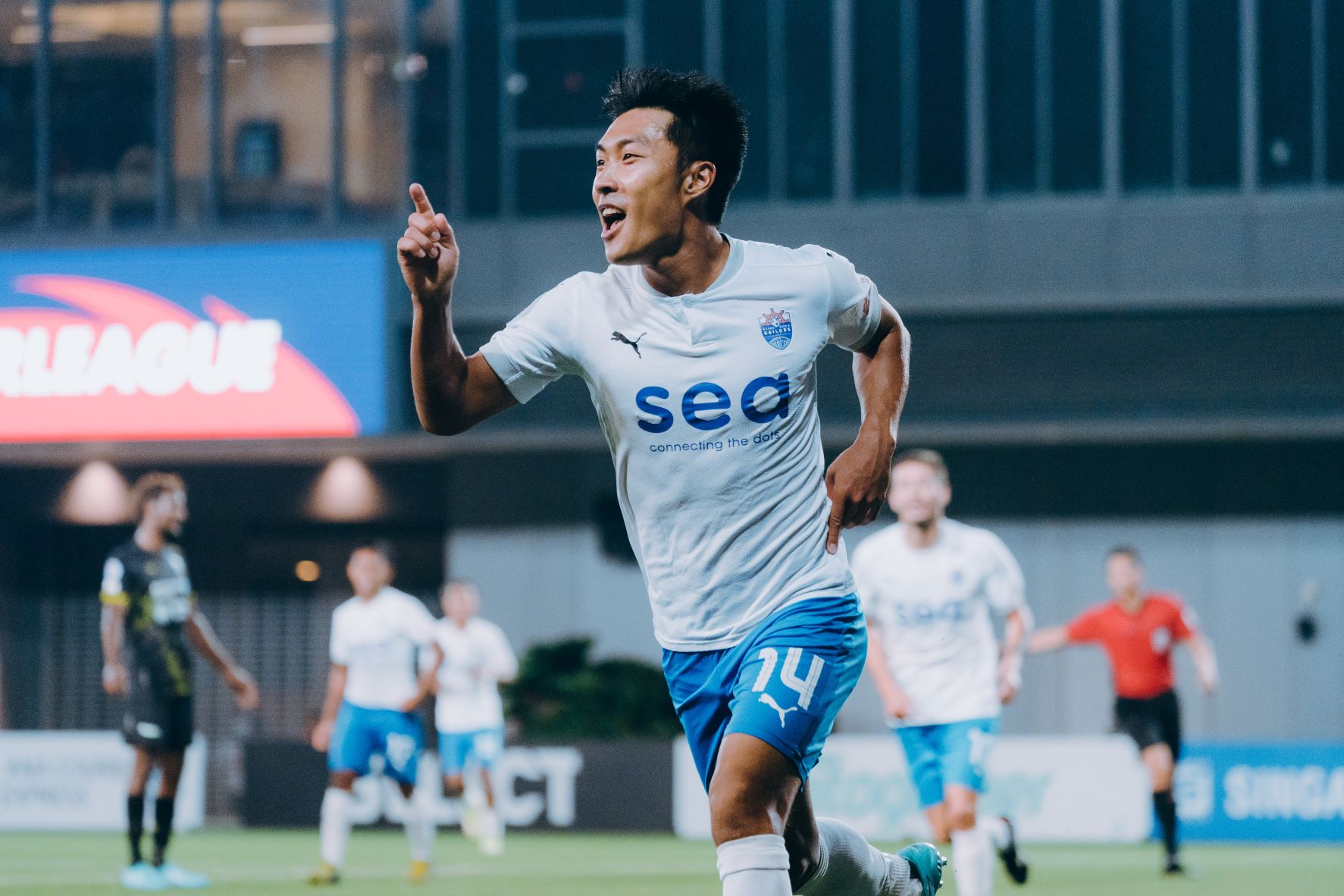 The victory over the Stags meant the Sailors have sealed qualification to the 2022 AFC Champions League (ACL) group stages by virtue of finishing as this season's best-placed local team. 
The prospect of testing their wits against some of Asia's best is one that Song is looking forward to, but he is keeping his gaze on the more immediate task at hand – to help the Sailors win their first-ever SPL title. 
The Sailors will return to OTH on Sunday (26 Sep) to face Geylang International in their penultimate game of the season – two days after Albirex host Tampines at the Jurong East Stadium. 
"It's a big motivation for us to be competing at the highest level next season. We've got to be stronger, faster physically and mentally to get good results in this competition," said Song.
"While we've achieved our target to reach the ACL, we will not give up on this chase for the title. We've been working so hard all season for this objective and it's not over until it's over. Even if Albirex wins on Friday, we'll still have to go all out to beat Geylang."
The Lion City Sailors final fixture of the 2021 Singapore Premier League (SPL) season – against Balestier Khalsa at the Jalan Besar Stadium –  has been moved to Sunday, 10 October.
Initially scheduled to face the Tigers on the preceding Saturday (2 Oct), the postponement comes in the wake of a Balestier player testing positive for Covid-19. 
After facing Tampines Rovers this evening (21 Sep) and Geylang International on Sunday (26 Sep), the Sailors will have almost a two-week lull to prepare for the season finale that will see all eight teams in action on 10 Oct, with kickoff scheduled for 5.30pm. 
Title rivals Albirex Niigata (S) will face Tanjong Pagar United at the Jurong East Stadium, while Hougang United, the closest local club in the chase for Asian Football Confederation (AFC) Champions League (ACL) spot, face the Young Lions.
Last Friday night (17 September), Kim Do-hoon's men left it all out on the pitch. The Lion City Sailors ran their socks off and held the fort admirably for the majority of the match after Haiqal Pashia's 23rd-minute goal.
They were looking good value for three points, before a late Albirex equaliser with seconds left to play saw the match end 1-1, completely altering the complexion of the Singapore Premier League (SPL) title race. 
From possibly seizing control of their own fate to now having the destination of the SPL trophy out of their own hands, that Ryoya Taniguchi goal was a huge body blow for the Sailors.  
But the Lion City Sailors have little time to brood – their next task is already at hand. On Tuesday night (21 September) the Sailors line up against a rejuvenated Tampines Rovers at Our Tampines Hub. 
Admitting that the result "took a lot out of the team physically and psychologically", Hariss Harun knows the boys have to recover fast with still everything to play for. 
"We lost focus and concentration in the final minute – that's a huge and expensive lesson for us – and now we have to pick ourselves up to navigate these last three games," said the 30-year-old.  
"It's not over yet, so we have to make sure if Albirex do drop points, that we're still there to capitalise." 
Still five points behind Albirex with a game in hand, the Sailors have to win their final three matches and hope the champions drop points in either of their last two games. 
"After the game we did the customary ice baths. Then on Saturday and Sunday, it was a lot about active recovery – stretches and massages – to keep it light and easy to free the players' minds after what happened," said Hariss. "It's just important to get that out of our systems and focus on what's ahead."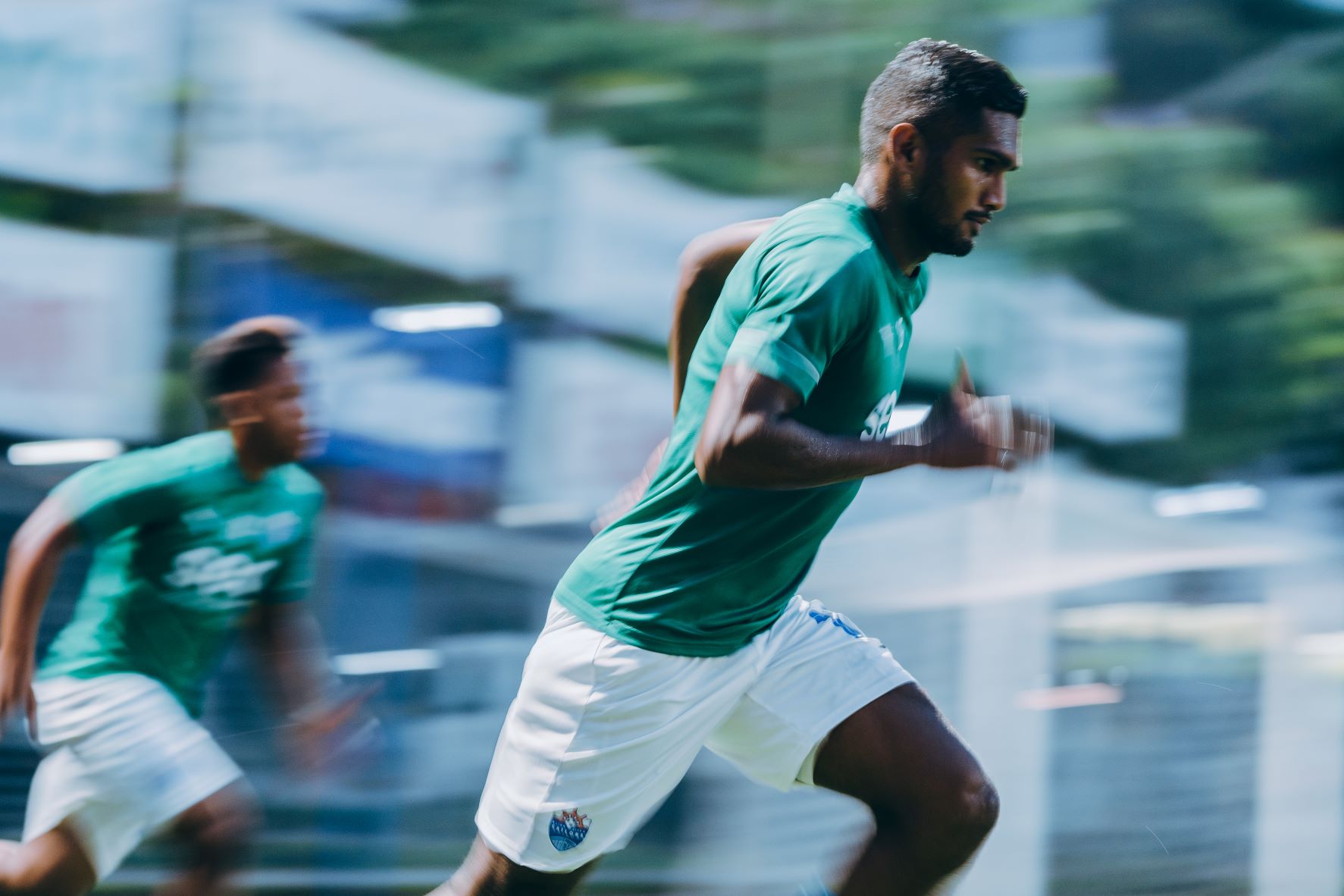 Having been a part of a dominant Johor Darul Ta'zim (JDT) side that have dominated football north of the Causeway for the past decade, the six-time Malaysia Super League (MSL) winner sees some parallels between the Sailors and his former team. 
And he urged the Sailors to live up to that potential and stay the course under a proven head honcho in Kim – one that won the Asian Football Confederation (AFC) Champions League just last December with Ulsan Hyundai, no less. 
"Technically, we have some of the best players in the league. Character and mentality-wise, maybe we still have to grow a bit more," said Hariss, who played the full 90 minutes in six out of seven matches since joining the club in the mid-season transfer window. 
"We have to learn to keep pushing and not give up in moments like this. At JDT, we had to overcome many things to win our first title in 2014 before the run of success came. So at the Sailors now, we have to keep going under Coach Kim. 
"It's not easy for him to come in during the middle of the season to lay down his philosophy. It's a different philosophy under him, but we've done quite well to adapt as quickly as possible and we've been doing what he demands from us. We just have to keep faith with him and keep learning what he has for us – as long as we do that, the success will naturally follow."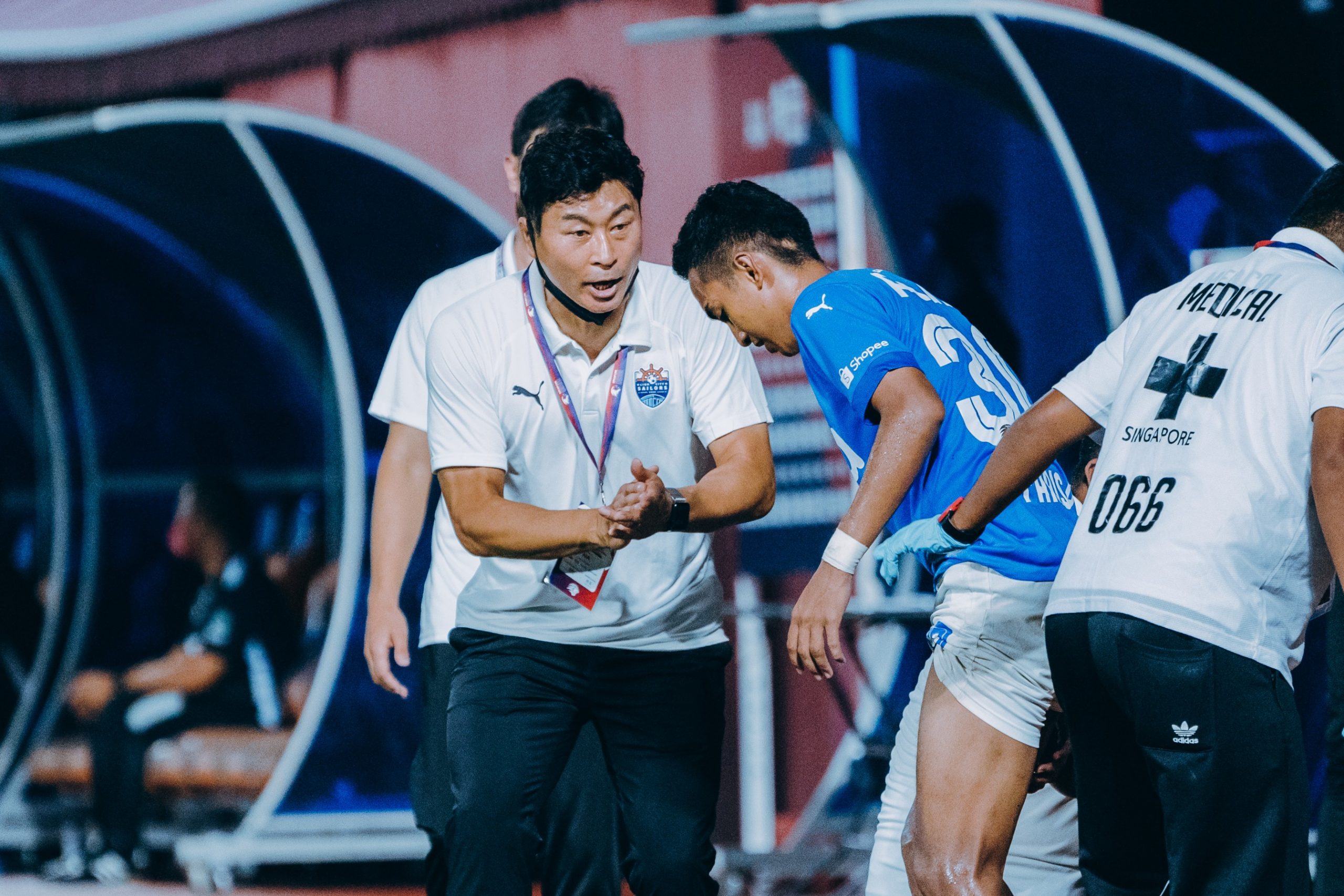 There is still much at stake on Tuesday – a win against the Stags will secure the Sailors' spot in the 2022 ACL group stages as the SPL's best-placed local team.  
No stranger to the continental club competition, Hariss wants his side to aim high and go toe-to-toe with some of the best sides in Asia. 
"It's huge to be involved in the ACL and I know how excited the boys will be if we make it there next season. Already some of them have come to me asking how it was like playing against (Vissel Kobe's) Andrés Iniesta," said the Singapore national team captain, who represented JDT in the 2019 and 2020 ACL. 
But right now, the focus must turn to beating Tampines, and Hariss believes Gavin Lee's men should not be written off despite the Stags' recent torrid run of form.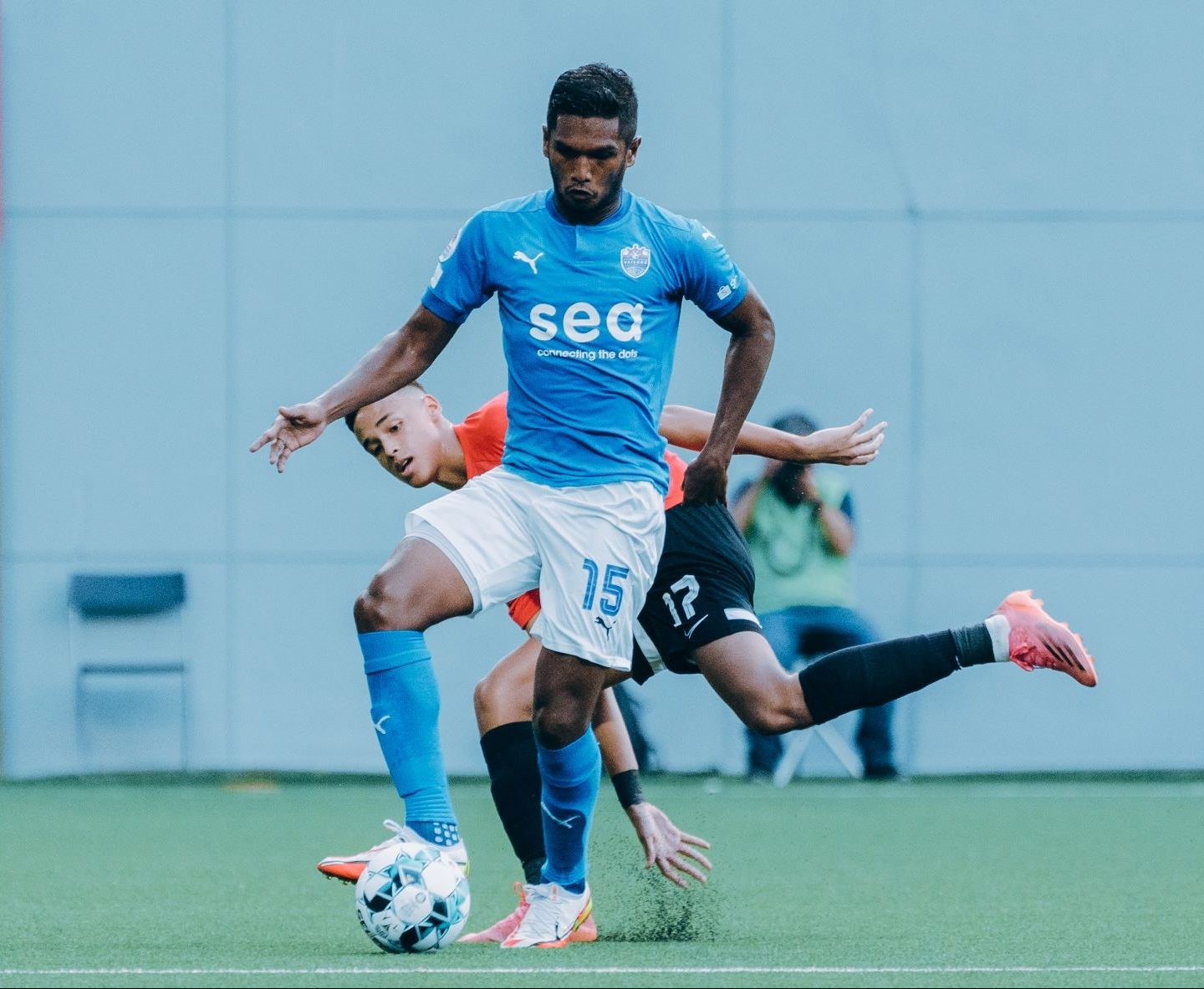 Edging out the Young Lions 2-1 over the weekend for their first win in seven league matches, fourth-placed Tampines have not enjoyed the best of seasons, but still have quality players like Zehrudin Mehmedović, Boris Kopitović and Kyoga Nakamura in their ranks. 
Hariss drew inspiration from the commitment and desire that the Sailors demonstrated against Albirex last week, and he called for the same drive from his teammates. 
"Tampines are not an easy team to beat. Don't forget they competed in the ACL only recently," reflected Hariss. "We've got to go out there with a high-level performance to be able to get a victory."
As the final whistle sounded at the Jalan Besar Stadium on Friday night, a number of heads hung low while some in the Lion City Sailors ranks sank into the ground – and understandably so. 
Kim Do-hoon's men held a 1-0 lead over Singapore Premier League (SPL) title rivals Albirex Niigata (S) for 70-odd minutes after Haiqal Pashia's goal midway through the first half (23rd minute) and managed to keep the White Swans at bay with an outstanding rearguard display. 
The Sailors looked like they had done enough to see out a victory, but with just seconds left to play, the Sailors failed to pick up the run of Ryoya Taniguchi, whose header trickled over the line. 
That last-gasp goal saw the game end 1-1 and ensured that Albirex remain five points ahead of the Sailors – albeit having played a game more – and with the Sailors having just three games left to play, the title pendulum has swung back in favour of Albirex. 
"It's surely not over and mathematically it's still on. We just have to focus on ourselves to get the remaining nine points and hope Albirex drop points somewhere," said Sailors captain Hassan Sunny, refusing to throw in the towel.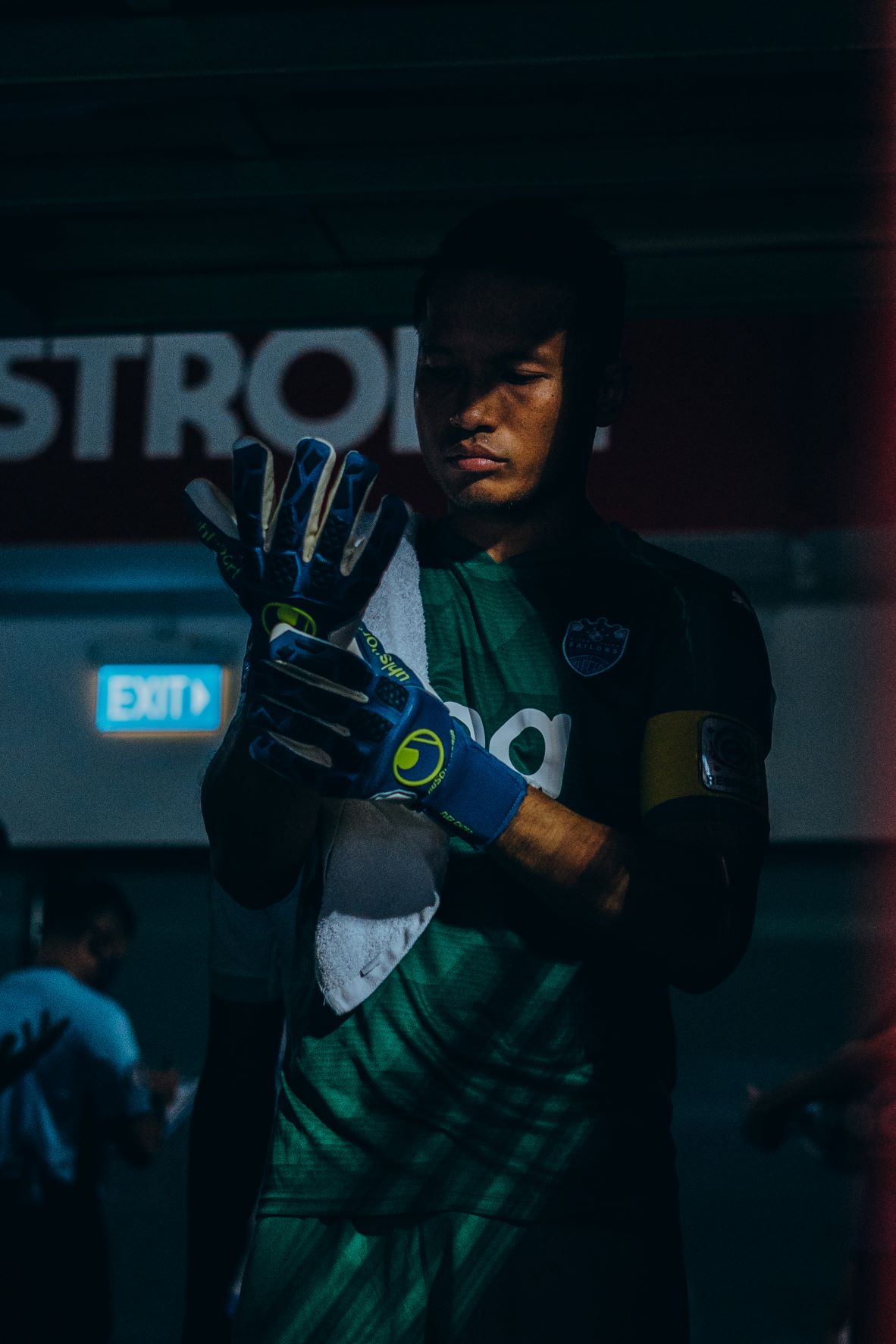 The Sailors will now have to win their final three respective matches against Tampines Rovers, Geylang International and Balestier Khalsa, while hoping Albirex drop points against either Tampines or Tanjong Pagar United in their final two outings to get their hands on the coveted SPL trophy. 
"It's not impossible – Tampines are still a very good team and Tanjong Pagar managed to beat Albirex only recently. So stranger things have happened," added the Singapore international.
Reflecting on the Albirex equaliser, Hassan admitted his side "only have themselves to blame" for not dealing better with that situation. 
"We should have done better to cut out their long ball and be smarter in terms of killing the game," said the 37-year-old. "This just goes to show that football is truly about the 90 to 95 minutes – just one lapse of concentration cost us the three points and we must learn from this."
Those who watched the game could not help but wonder if the goal could be prevented if Jorge Fellipe was still on the pitch.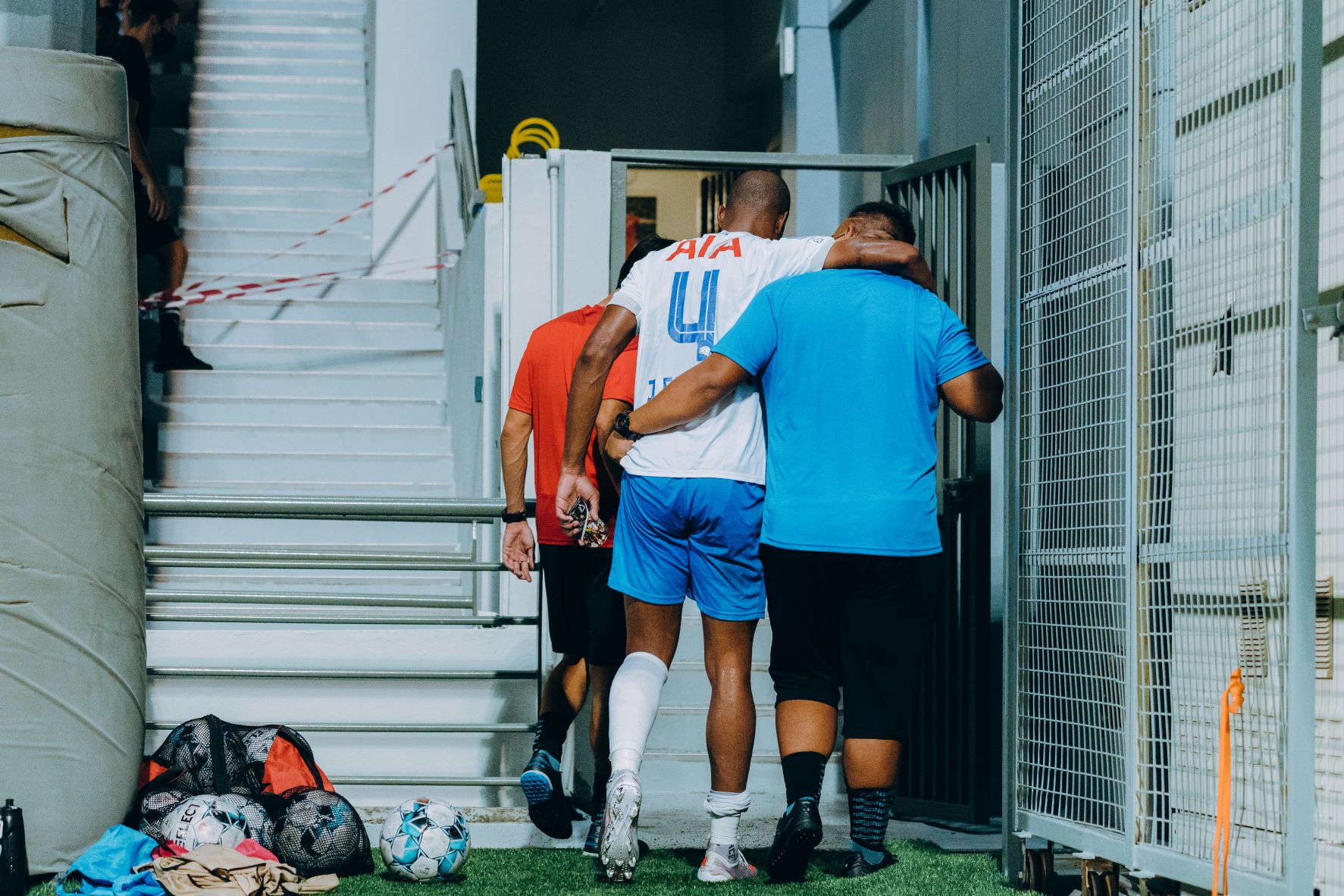 The 32-year-old – who was the Sailors' two-goal hero the last time out – had to be replaced by Amirul Adli in the 55th minute after going down with an ankle injury. Up until that point, the towering 1.9m Brazilian defender had been immense at the heart of the Sailors defence and winning almost every aerial duel. 
"We definitely missed his presence at the back," reflected Hassan. "With him around, we didn't need to worry that much about those aerial balls. When he went out, we simply didn't have someone of his stature and abilities to fill in for him. Hopefully he recovers fast enough for the next game."
The Sailors would surely look back on this game as two points lost after putting up a creditable display for the majority of the match to stifle a well-drilled White Swans side in front of a partisan 1000-strong Jalan Besar crowd.
Song Ui-Young did an admirable job to fill the void of the injured Stipe Plazibat upfront with his industry and willingness to press the Albirex defenders whenever they were in possession. It was the newly-minted Singaporean who started the lovely move for the Sailors goal. 
Playing a simple pass to Gabriel Quak, the latter then released Faris Ramli – who raced down the right before whipping in an inch-perfect low cross for Pashia to fire past Takahiro Koga from close range.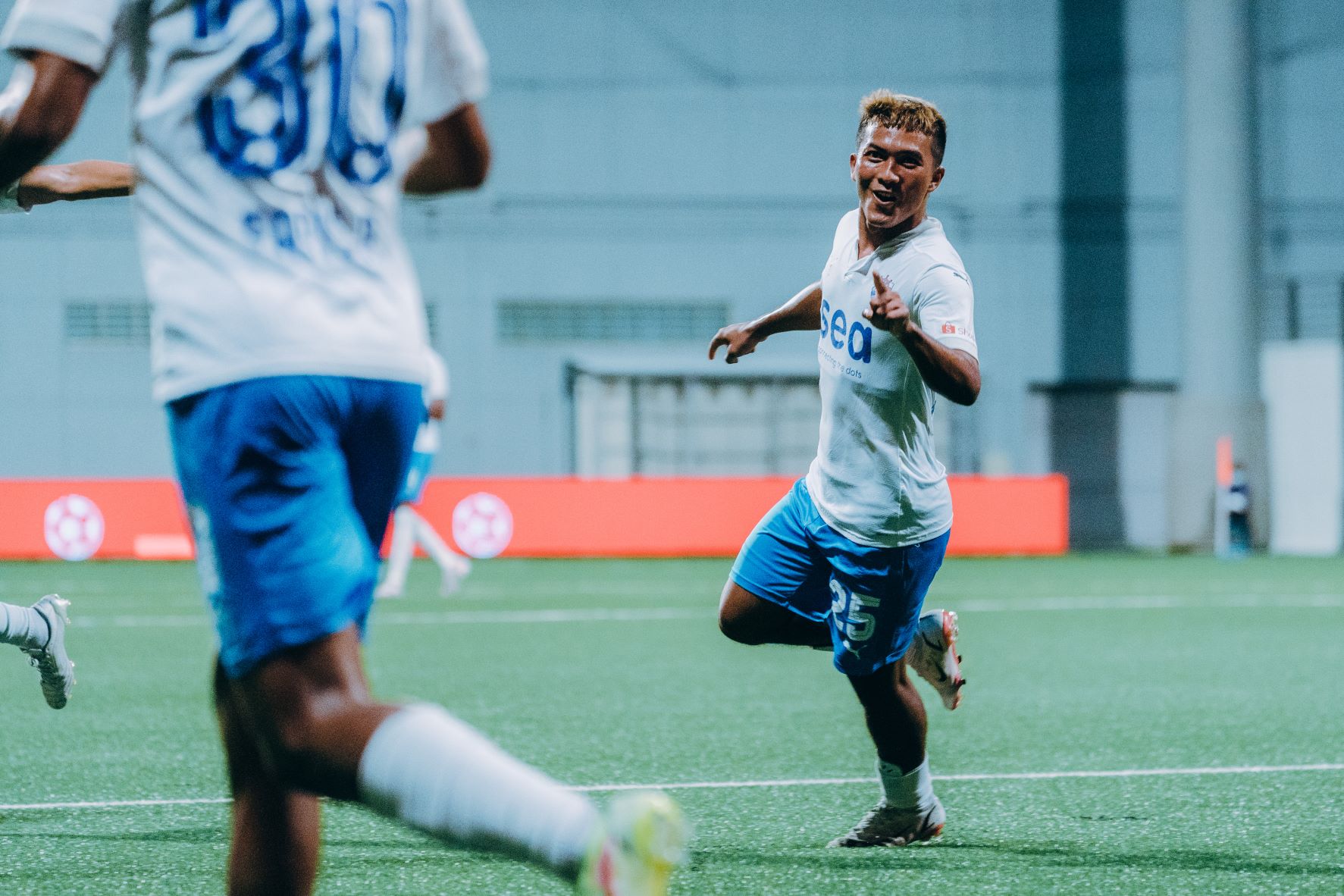 Pashia could have made it 2-0 just before half time following a similar passage of play on the right wing, but from six yards out, he somehow fired wide of the gaping Albirex goal. 
Gabriel then struck the bar from a tight angle just minutes after the restart, while substitute Hafiz Nor also had a shot from outside the box turned around the post by Koga. 
For the last half-hour, the Sailors worked incredibly hard to keep Albirex at bay. Adli did reasonably well to deputise for Jorge alongside Hariss in defence, with full-backs Tajeli Salamat and Nur Adam Abdullah also putting their bodies on the line. 
Nur Adam did well to cope with the double threat of Kazuki Hashioka and Kuraba Kondo down the Sailors' left flank, while Hassan was assured in the Sailors goal, pulling off a wonder save to deny Taniguchi late on, but was powerless to stop the latter from converting the equaliser thereafter. 
Despite the huge body blow to the Sailors, Hassan called for the Sailors to focus on the next task at hand – an away game against fourth-placed Tampines on Tuesday (21 Sep) night. 
"I think everyone can see we played well and the boys really ran their lungs out," said the custodian who has 85 Singapore caps to his name. "Now the game's over and we need to move on. There's no point pointing fingers at anyone. We have to stick together as a team. 
"I told the boys that this is just one of those games where we gave everything but things didn't go our way. We've to fight in our last three games like how we did against Albirex," he added. 
"I can assure you that everyone in this team is mentally strong and we cannot wait to redeem ourselves against Tampines." 
The Lion City Sailors gear up for Friday night's (17 September) top-of-the-table Singapore Premier League (SPL) clash against league leaders Albirex Niigata (S), knowing exactly what needs to be done, and what is at stake.
Beat the White Swans and they will seize the initiative in the title race – they will still need maximum points in the remaining three matches to become league champions for the first time – but at least the Sailors will remain in control of their destiny.
Anything less than three points on Friday means the fate of the SPL trophy will be out of their own hands, and the Sailors will have to hope for favours from Tampines Rovers and Tanjong Pagar United, Albirex's last two opponents before the 2021 season comes to a close. 
Knowing the magnitude of this fixture, midfielder Adam Swandi described this as a 'do-or-die' mission against his former club – with whom he won the 2018 SPL title. 
"We ought to have the mindset that if we slip up once more, we're done for the title," said the 25-year-old. "Being an ex-Albirex player, I know that their players are not going to pull back."
"In 2018 even when we were already champions with a few matches left to play, we still went out in those games to go for the win and to score as many goals as possible," said Adam. "That's the mindset of Albirex Singapore – we, the Sailors, need to match that desire to win."
The stakes are high, but Shahdan Sulaiman called for a calm, assured approach.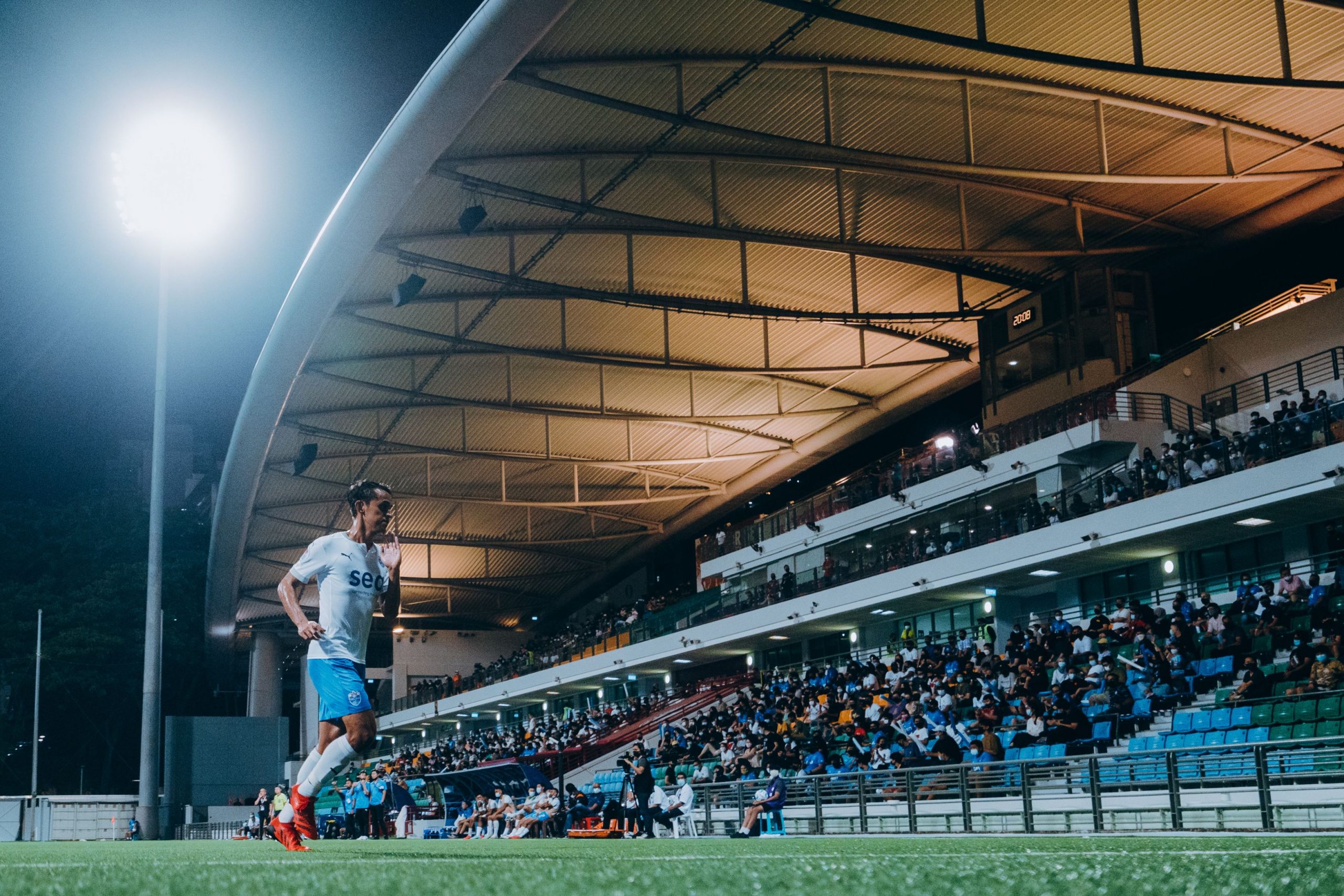 "Everyone knows how important this game is so there isn't a need to put extra pressure on ourselves," said the 33-year-old. "We don't have to overthink about our opponent – that's only going to give us more stress and be afraid to make mistakes. 
"We just have to take this as any other game, follow the coaches' instructions for us and I'm sure we can get three points from this – we know we have the ability to."
In a season where they have been under three different head coaches, the Sailors have done well to stay on course and navigate through choppy waters. 
With Aurelio Vidmar leaving to pursue other opportunities in late April, Sailors Under-21 coach Robin Chitrakar took charge of the first team for three matches before the highly-acclaimed Kim Do-hoon came on board in late June. 
The Sailors have managed to quickly adjust to off-field changes and are now getting to grips with Kim's philosophy and tactical system.
The South Korean's emphasis on physical training has also paid off, with the Sailors demonstrating that they have enough in the tank to come from behind to claim points –  they have managed that in four out of six outings under the former Ulsan Hyundai man. 
"It always takes some time to adjust whenever a new coach comes in, but we've been coping well and you can now see the effects of Coach Kim's training," noted Shahdan. 
"In the past few matches, we have finished very strongly. We managed to equalise late (in 1-1 draws) against Balestier (Khalsa) and Hougang (United), and we also pushed all the way till the end against Young Lions (in last Sunday's 3-1 win) to get the win. That shows the amount of hard work we've put in during training."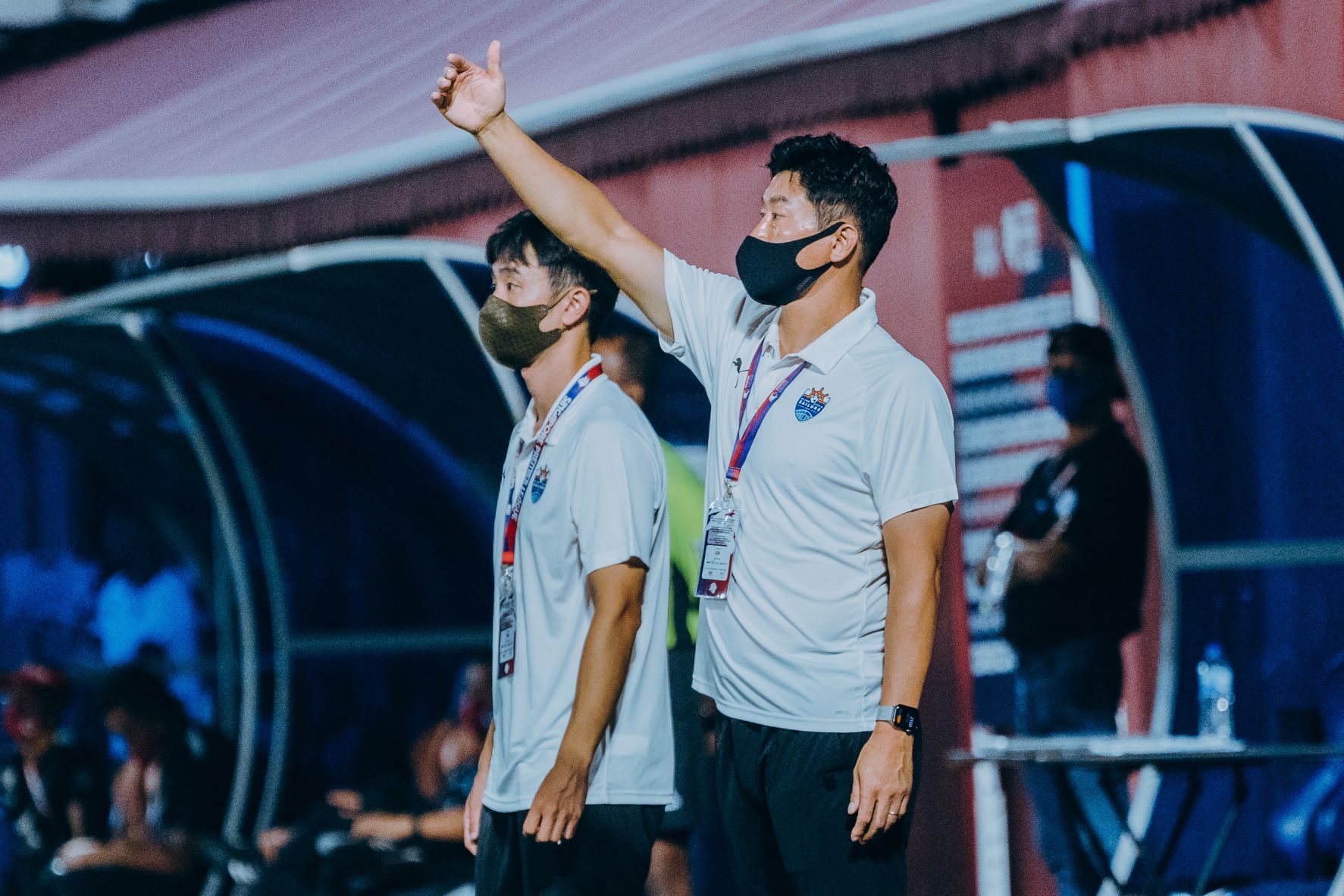 Kim has also displayed shrewd player management to get the best out of a squad overflowing with talent. Players like Hafiz Nor, Faris Ramli, Tajeli Salamat and Adam – who have played peripheral roles previously – are now getting more regular minutes, and delivering on the pitch. 
"He's a pretty fair coach in the sense that if you perform in training and are willing to work hard, he will play you," said Adam. "That's the biggest apparent change under Coach Kim. 
"Hafiz doesn't usually start, but he was chosen to be in the eleven for the last game because he impressed in training. It's a very positive thing that the coaching staff recognise the work you put in."
Adam is now looking forward to a more positive outing against Albirex than the last one (a 1-1 draw at Jurong East) in July. He got his first professional start in more than two years in that match, which was also Kim's first game in charge, but lasted just 10 minutes before limping off due to a grade-two hamstring tear.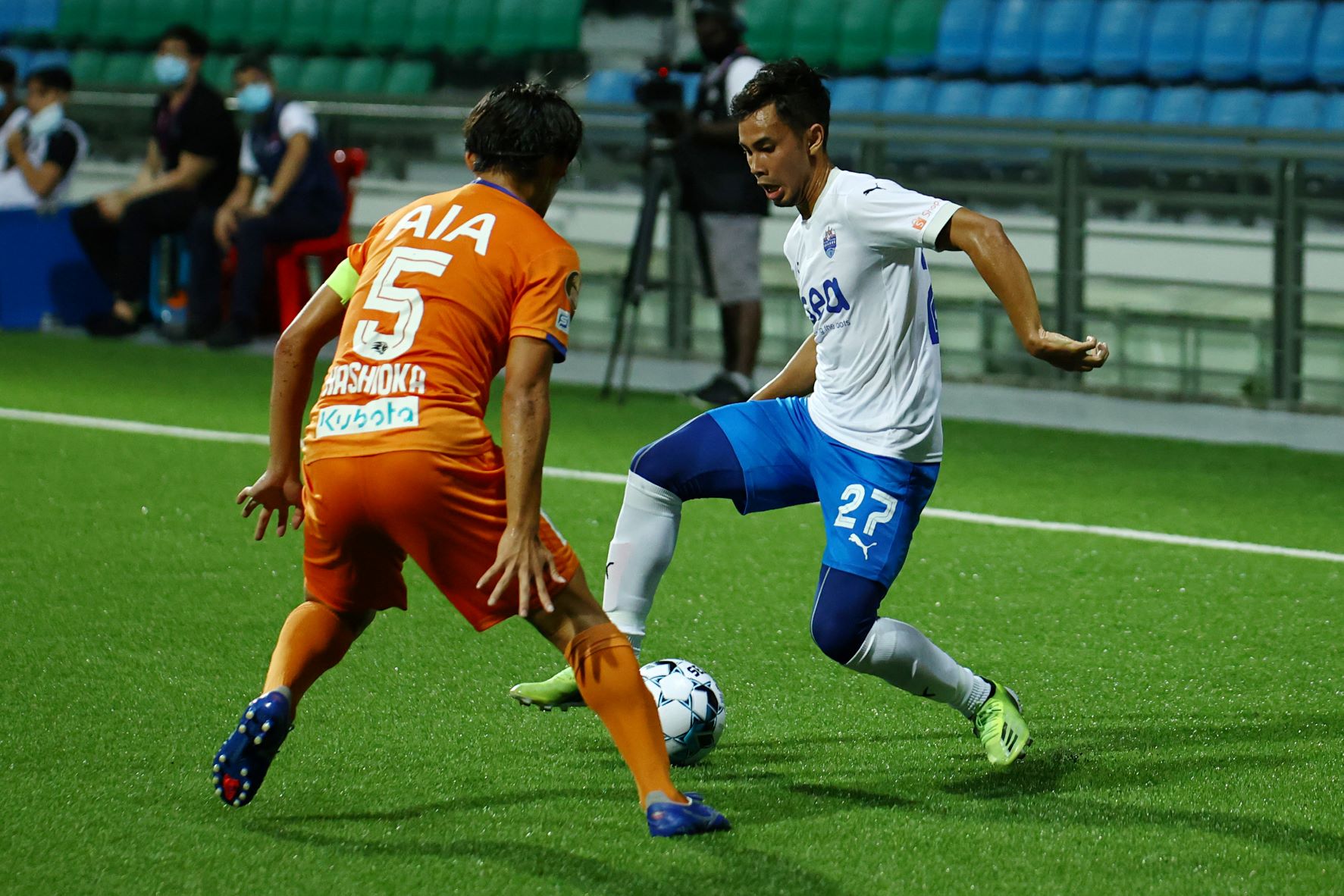 Having returned to full fitness, the 2018 Young Player of the Year looked lively when he came on in the 56th minute against Young Lions and is hoping for a starting spot on Friday, even if he still has a soft spot for Albirex.
It was there that Adam truly matured as a player – but he is not about to hold back against his former employers. 
"I'm still very good with the general manager, Koh Mui Tee and (kit man) Roy Krishnan. I always enjoy a good conversation whenever I see them, and I also chat with my former head coach (now technical director) Kazuaki Yoshinaga," said Adam. 
"I had a good season with them in 2018 and they really took care of me. Albirex has such a good environment for youngsters – I can see how players like Ong Yu En and Nicky Melvin Singh are doing well and maturing there. I still have my utmost respect for them, but now I'm a Sailors player and I've to do my job to help my team win the title."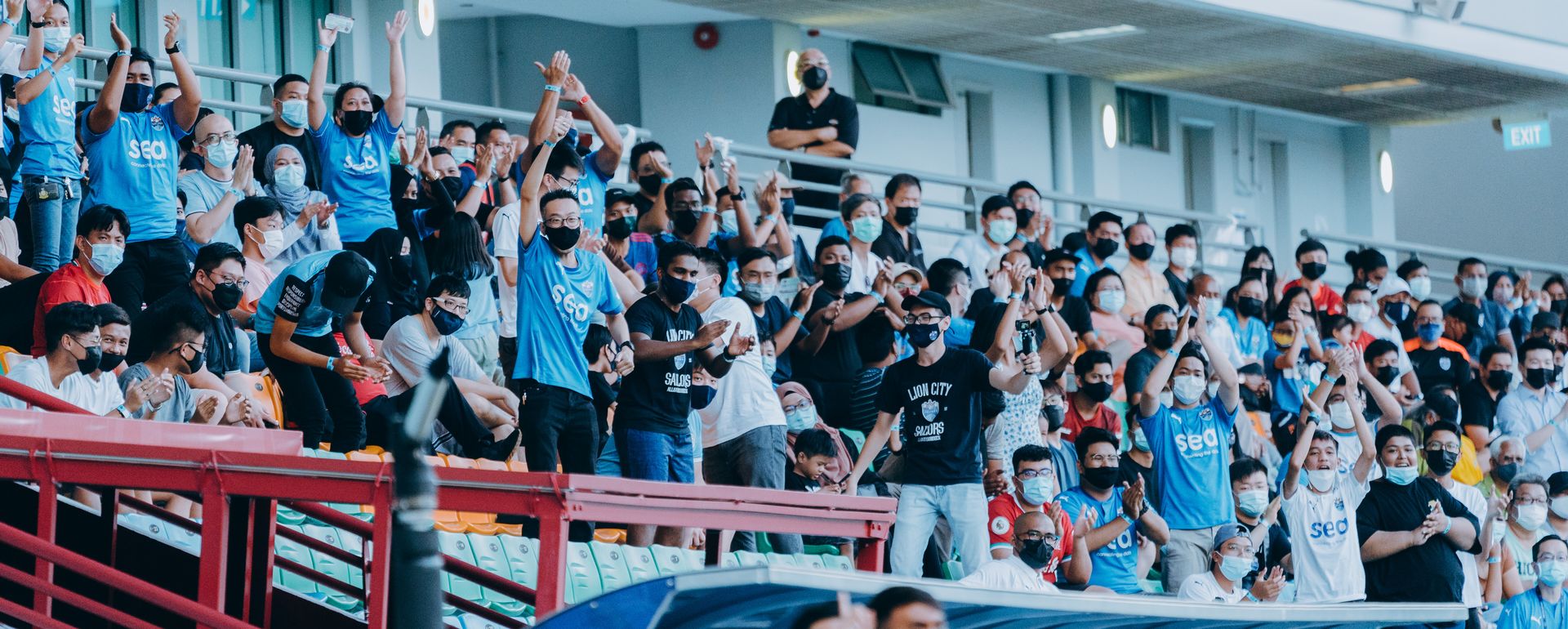 And Shahdan is delighted that Sailors fans have come out in force in recent weeks, and he believes the proverbial 12th man will play a big part on Friday.
"It's really good to have the fans back and you can just see the celebrations when Jorge (Fellipe) scored the second goal against Young Lions on Sunday night," he said. 
"I'm sure their support and noise from the stands will spur us on to win the match – and win it for them."
This Friday, 17 September, the Lion City Sailors will take on Albirex Niigata (S) at the Jalan Besar Stadium, in a match that could well decide the destination of the Singapore Premier League title. 
The Sailors are honoured to have had fantastic support from Singapore football fans since restrictions were loosened to allow for 1,000 into stadiums, and we look forward to your continued support. 
The club will continue to extend our open-door policy to Singapore's Healthcare Heroes, who will receive free entry for this match. All our Healthcare Heroes will simply have to show ticketing staff any form of work identification, such as a staff pass, to gain entry if they meet conditions for entry as listed below.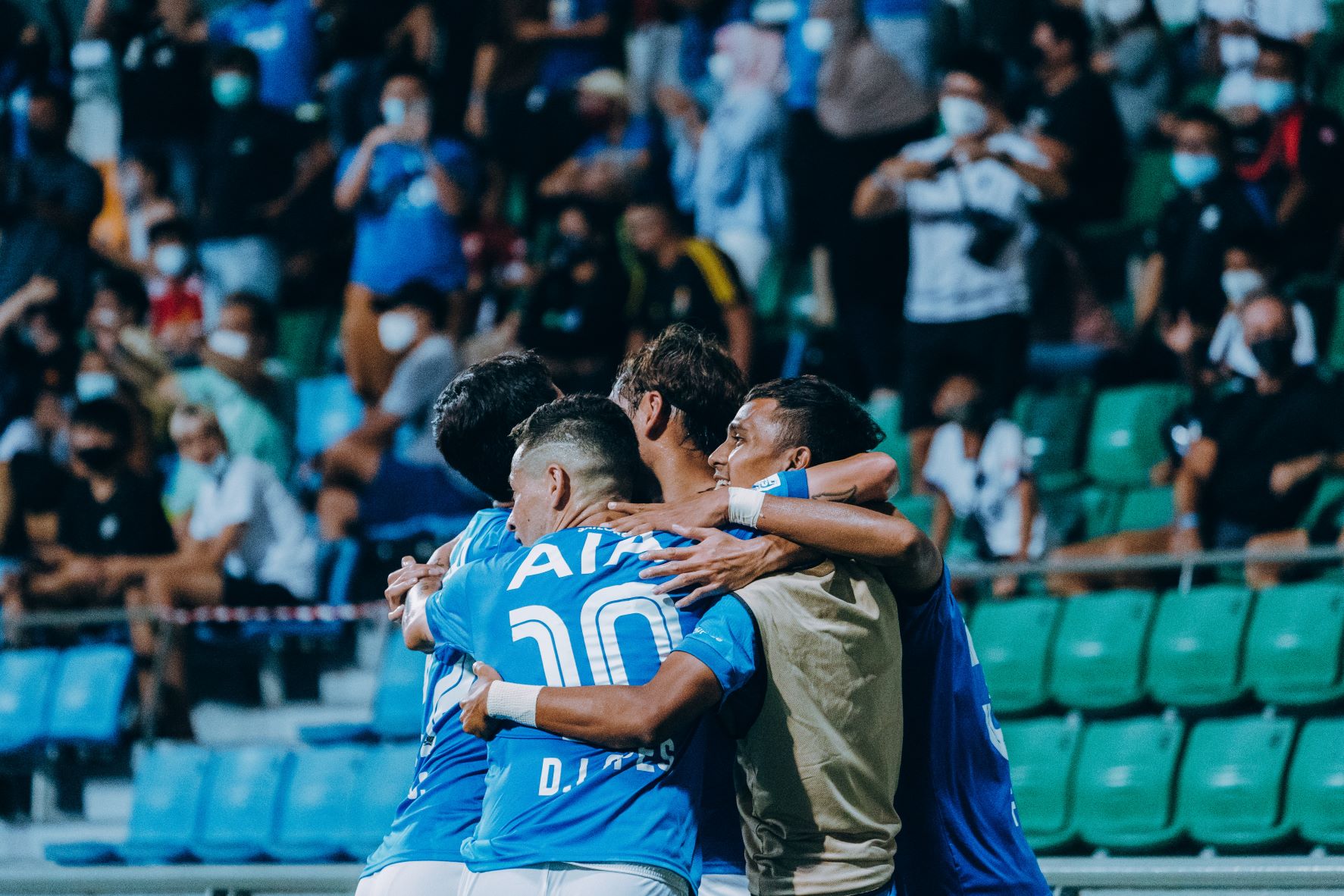 Ticketing Information
1000 Tickets Available
Ticket Categories
Season Pass 2020 & 2021 – Complimentary
Adult – $15
Concession – $5
Each Season Pass is entitled to redeem 2 tickets.
Non-season pass holders may purchase up to 5 tickets 
*Concession tickets are applicable to the following, with Concession Cards and a recent Photo ID requested upon entry for verification purposes:
– Students aged 16 and below with a valid Student Concession Card, 
– Senior Citizens aged 60 and above with a valid Senior Citizen Concession Card. 
Ticket Sales
North Entrance of Jalan Besar Stadium
1745hrs-1945hrs: Season Pass Redemption and General Sale
*First 50 Season Pass holders who redeem tickets will get an exclusive Lion City Sailors towel.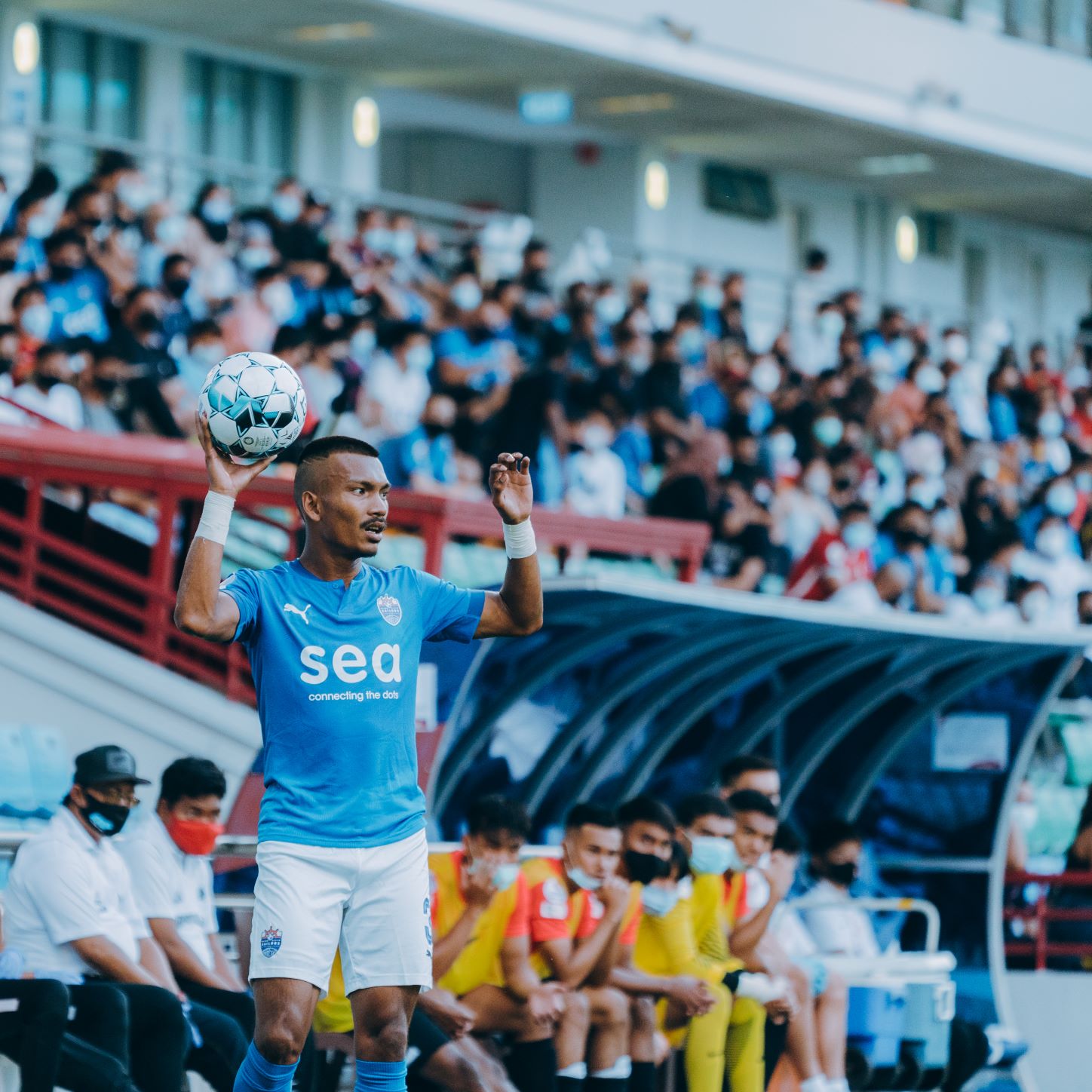 Conditions of Entry
The following conditions must be met for entry to SPL matches:
Individuals must have completed the full vaccination regimen including the two-week (14 days) period after the second dose for the vaccination to take effect. Eligible vaccines include the Pfizer-BioNTech/Comirnaty or Moderna COVID-19 vaccine, or any other vaccine in the World Health Organisation's Emergency Use Listing (WHO EUL), including Sinovac-CoronaVac, Sinopharm, and AstraZeneca.

Fans who produce proof of a negative Antigen Rapid Test (ART) result, will also be allowed entry. The ART must be valid until the end of the event and must be taken at a Ministry of Health-certified ART practitioner; self-test kit results will not be valid for use of entry.

Individuals who have recovered from COVID-19 will be exempted from having to produce a negative ART result, but will need to present a Pre-Event Test Exemption Notice from any clinic offering ART or PCR testing services.

Fans are required to produce proof of their completed vaccination status via the TraceTogether or the HealthHub app on their mobile phone, proof of negative ART test or Pre-Event Test Exemption Notice along with a valid form of identification such as NRIC or driver's licence for verification purposes.

Individuals aged 12 years and below are allowed entry for SPL capped at 20% of the actual event size.
The Lion City Sailors were not at their best on Sunday night, having to dig deep to come from behind and overcome a spirited Young Lions side 3-1 at the Jalan Besar Stadium.
With that, the Sailors extended their unbeaten run to 14 matches and whittled the gap between them and leaders Albirex Niigata (S) down to five points, with one game in hand. 
Perhaps more importantly, the result means they will go into this Friday's big game against the White Swans with the destination of the Singapore Premier League (SPL) title still in their own hands. 
Win that, and the other remaining three games, and the Sailors will be crowned league champions for the first time. 
The significance of the Young Lions win was not lost on Sailors attacker Gabriel Quak, who scored the team's third goal a minute into injury time to seal a hard-fought victory. 
"We knew that if we could not win this one, we'd be going into the Albirex game too far behind them, and they would have the upper hand," reflected the 30-year-old. "This was a really tough one to negotiate, with the Young Lions playing exceptionally well in the first half. 
"But ultimately football is a 90-minute game and I'm very proud of how our team fought in the second half – sometimes you just have to win ugly. Destiny's still in our own hands and we have to keep it this way."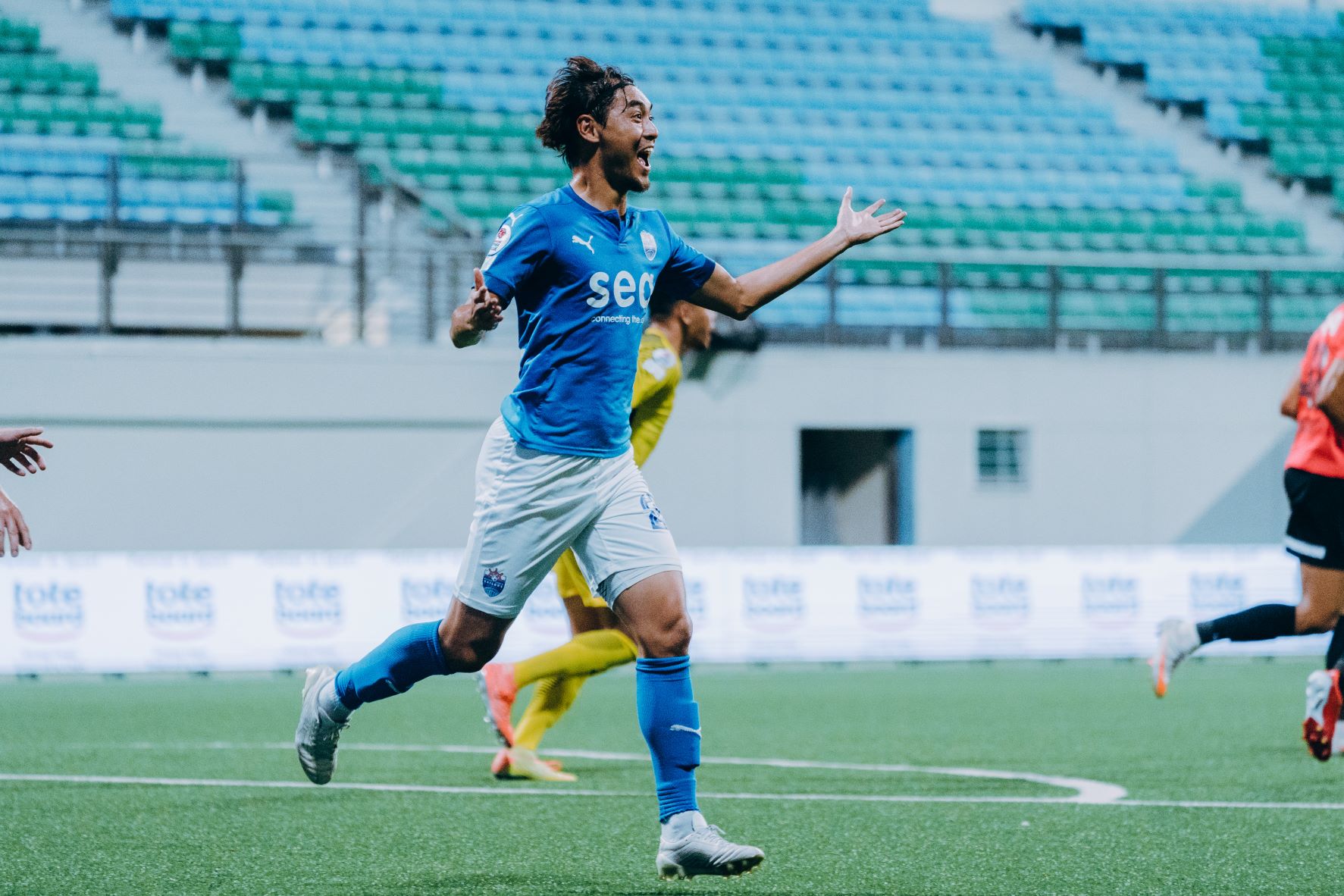 The Sailors have Jorge Fellipe to thank after a poor first half that saw the Young Lions go 1-0 up, courtesy of Ilhan Fandi's 11th-minute header. The towering 1.9m Brazilian defender first netted the equaliser five minutes after the break, nodding home Shahdan Sulaiman's pinpoint corner.  
The Sailors then huffed and puffed but simply could not bring the roof down the second time, despite peppering the Young Lions' goal with one shot after another. Stipe Plazibat did put the ball into the back of the net in the 65th minute when he headed in Diego Lopes's cross, but it was ruled out for offside. 
Stipe then had to be stretchered off following a crude Syahrul Sazali challenge on his left ankle, leaving the Sailors to navigate the final 10 minutes with a man less although the Young Lions were also down to 10 after Raoul Suhaimi's 68th-minute dismissal. 
Kim Do-hoon's men looked like they would drop points for a second matchweek running, before big Jorge altered the complexion of the title race in the 85th minute, with one magical swing of his left boot. 
Deployed upfront for the majority of the second half, the 32-year-old was sprawled on the ground after seeing his goalbound header parried away by Ridhwan Fikri. But he was quickly back up on his feet to meet Tajeli Salamat's delicious right-wing cross with an equally sweet first-time volley into the bottom left corner to put the Sailors 2-1 up. 
Tearing off his shirt in celebration as the Sailors fans went delirious in the stands, Jorge described it as "the most important goal" of his career.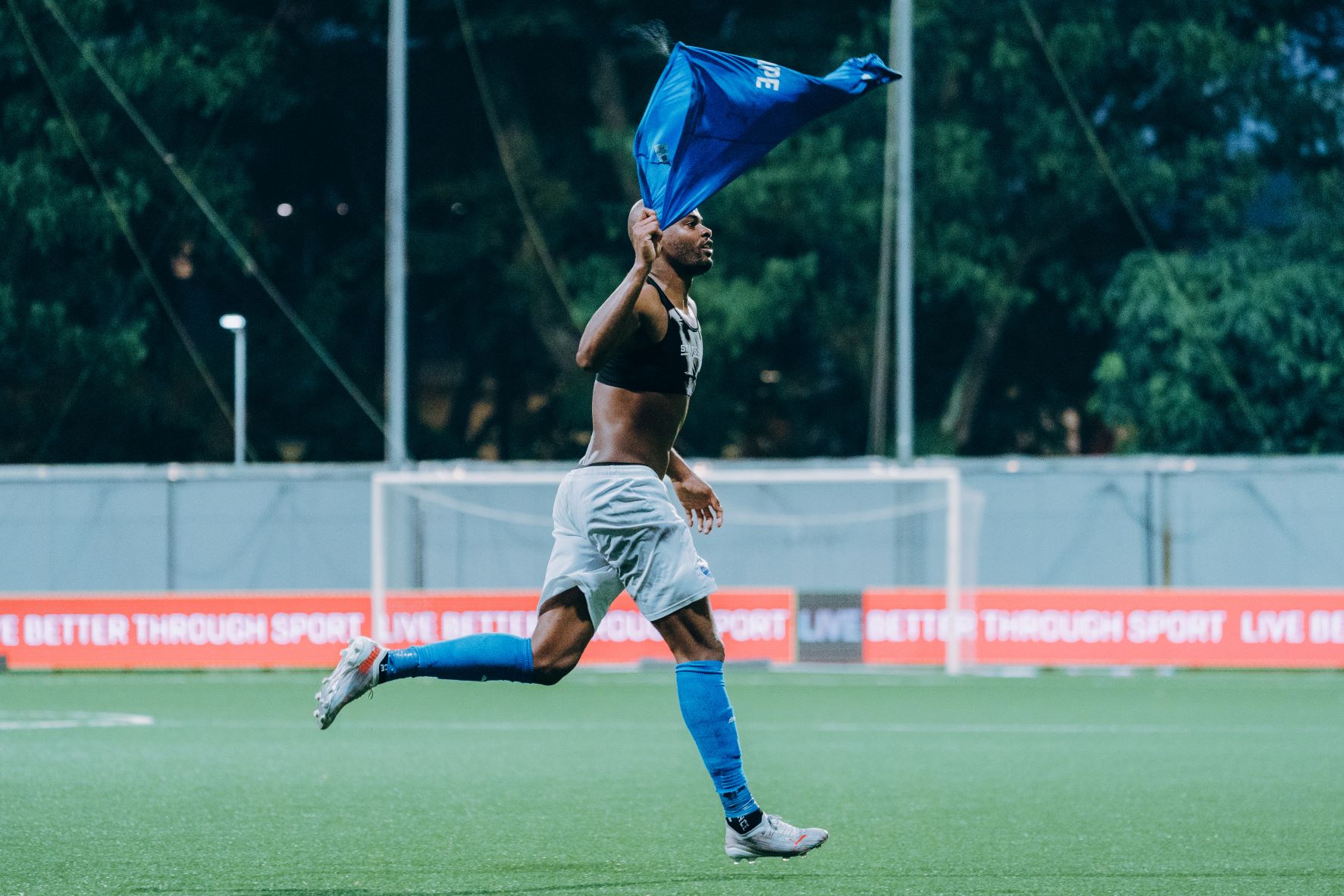 "I'm very happy to be able to directly contribute to the team. I'm a team player so it's very important for me to do something to help the team win a difficult game," said the defender who scored two goals in a game for the first time in his career.  
While many were surprised to see Jorge finding space at the far post to score with his feet – not his head –  the man himself revealed it was something that he and the team had worked on during training. 
"During the week, I was training for this kind of situation and I managed to score a couple of goals like that in training," he shared. 
"When I realised Taj was in the same position as we practiced, I signaled to him that I wanted the ball and I positioned myself to receive it as I did in training. Once the ball came towards me, I was very confident I was going to score."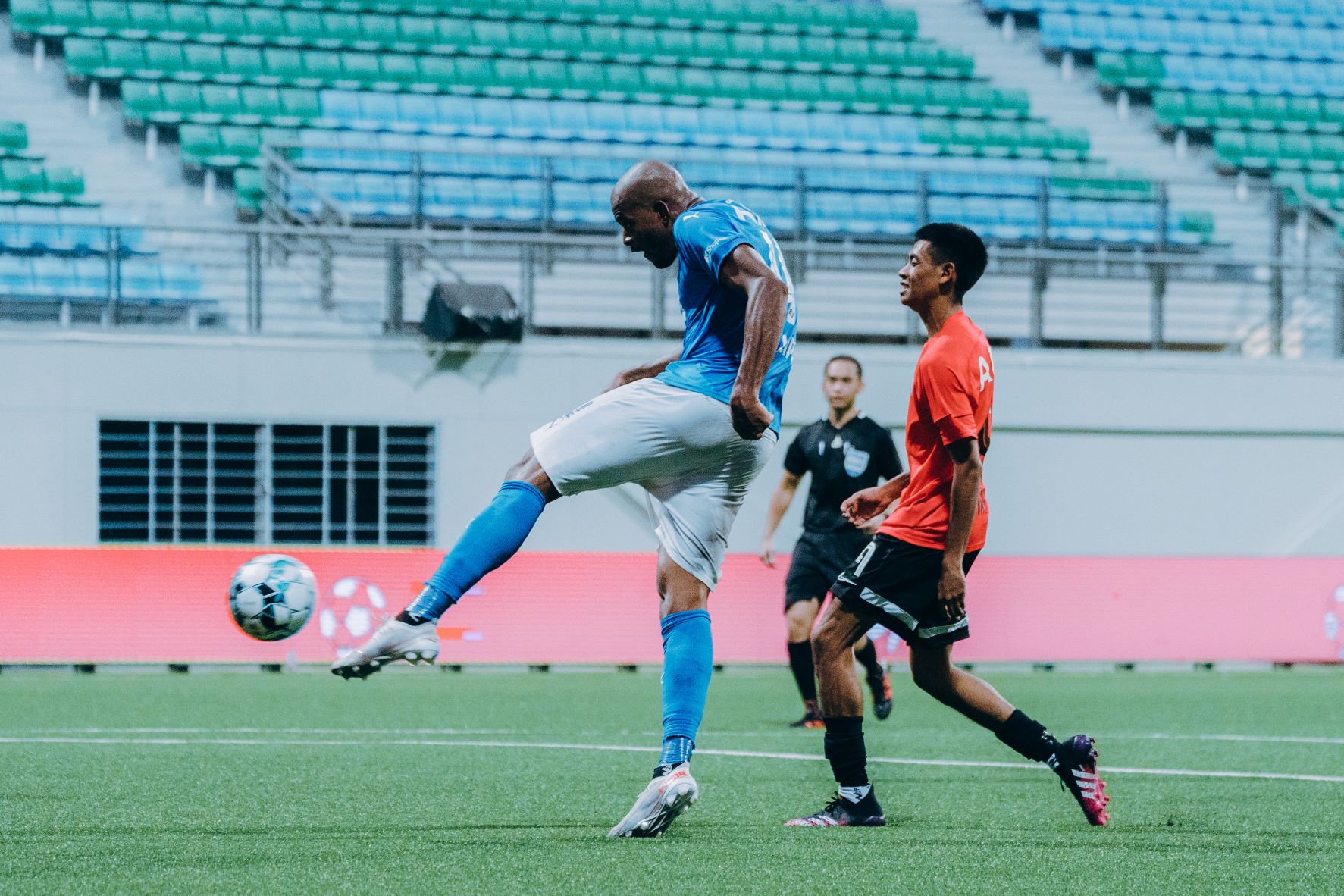 Gabriel then put the result beyond doubt late on as he calmly finished beyond Ridhwan after some quick thinking from fellow substitute Faris Ramli who played a quick free-kick to put him through on goal. 
That was Gabriel's 10th goal of the season, the first time that the 2020 SPL Player of the Year has hit double digits in a league campaign. While happy to have achieved the personal target that he set for himself, Gabriel is focused on the bigger picture. 
"Huge credit to Faris – the moment he won the free-kick, we made eye contact and we knew at that moment what we wanted to do," said the Singapore international, who also has three assists to his name. 
"I'm definitely pleased to hit double digits as I've always said attackers are always judged based on goals, but I also hope people can recognise not just the numbers, but also my overall play and contribution to the team," he said. "The most important thing is that what I do helps the team cross the finish line to win the championship."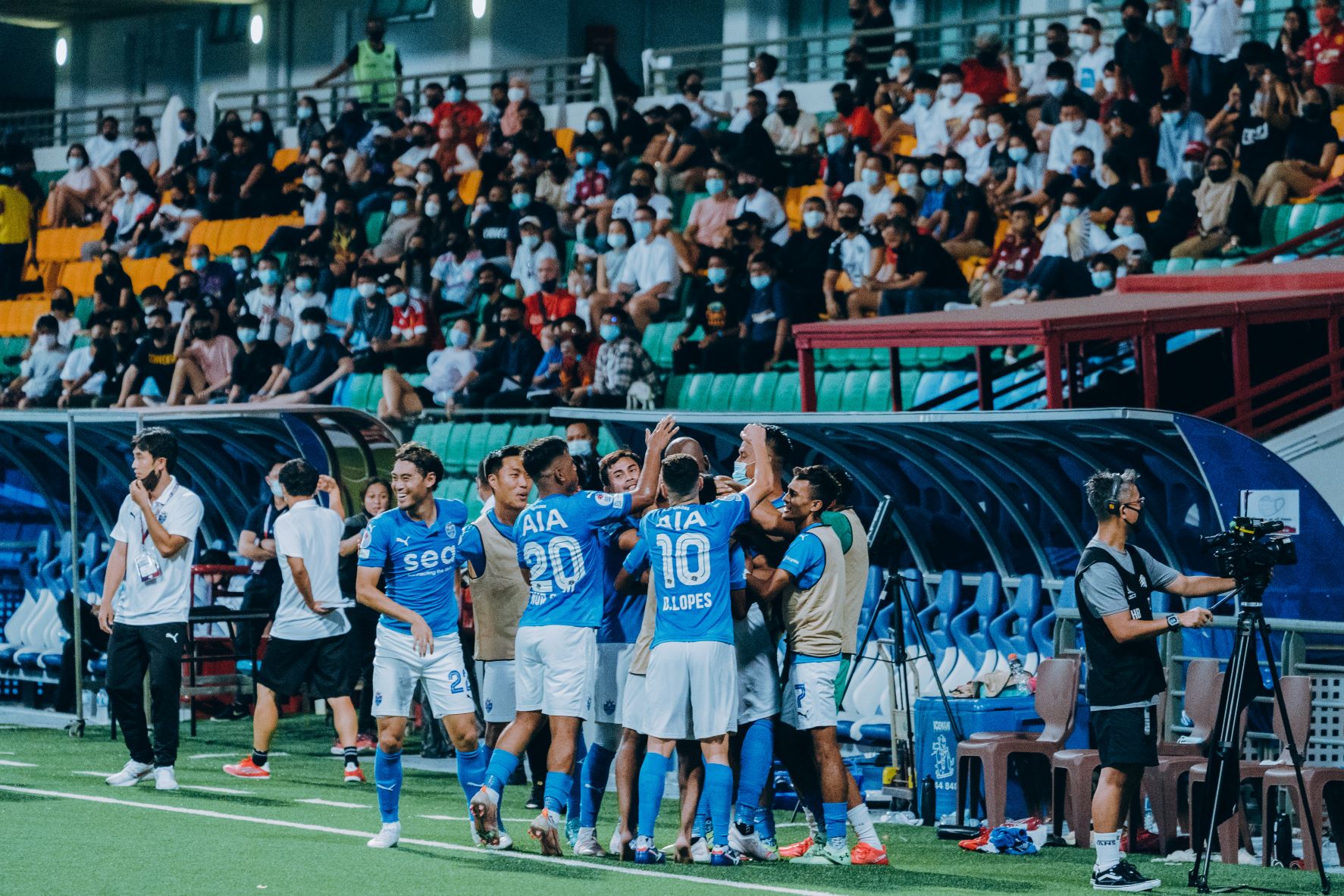 The Sailors have displayed an ability to come from behind to claim points in recent games – they have done so in four out of the six outings under Kim – illustrating the team's indomitable fighting spirit, but Gabriel believes it is something that should not continue to happen. 
"It's always enjoyable to come from behind to win, but if you look at the bigger picture we're always trailing and that's not good, is it? How many times do we want to go through this before we get punished?" he questioned candidly. 
"We have to learn from this. Hopefully this result against Young Lions is the turning point and can give us the spring going into our final four games."
The victory was slightly dampened by Stipe's ankle injury, which looked bad despite him hobbling back onto the pitch in the final few minutes to complete the match, and it remains to be seen if he will be passed fit in time for Friday's big game against Albirex.
"I just hope it's not as serious as we thought and everyone in the team wishes him a speedy recovery," said Gabriel. "He's a very important player for us so we hope he comes back into action soon."