In celebration of Mother's Day, we take a deeper look beyond on-field heroics and into the stories of the unsung heroes who shaped our Sailors – their mothers. In this two-part special series, we delve into the childhood lives and experiences of our Sailors, told through the loving eyes of their mothers. 
In the second part of our series, we look deeper into the multi-faceted roles that mothers play in the lives of players across the Sailors' stable. 
A big tear rolled down her cheeks as she choked up. It looked like the floodgates were going to burst open, but Mdm Roziah Abdul Aziz recovered her poise – just for a moment – before a second tear pulled a steady stream from her watery eyes.
 "I'm very grateful for the way you brought us up, even though it was a very strict upbringing.  I know me and my siblings often say 'Why did you never let us go out? Why did you never let us do this, or that?' But for me, it was very useful because it made me the person I am today.

"It was actually a blessing for us because now we're more responsible, more disciplined, all thanks to you," said her son and Sailors wide man, Danish Qayyum.
Those words gave Mdm Roziah – a stay-home mum – both vindication and gratification. And what is more, perhaps encapsulated the sheer impact a mother can have on the person – and athlete – her child grows up to become. 
"Yes, I'm a tigress – like what Qayyum described me as. Every mum wants the best for their child and sometimes our good intentions are misunderstood. So, I want to thank him for understanding me," she added, cheeks still damp.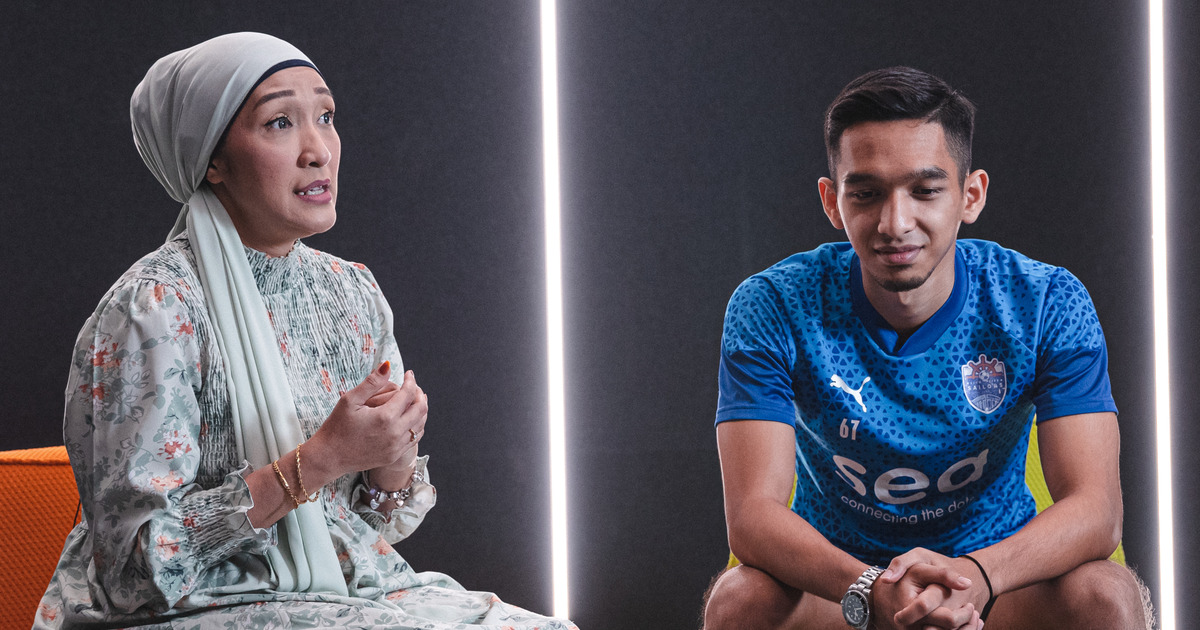 While house rules and lessons can provide a setting for the development of young athletes – a clearly observable setting – young ones often fail to recognise the platform on which they stand to launch into the future.
Mom, the provider
Mdm Rohaini Hassan, a single parent, knew that she had to work doubly hard to raise Hami Syahin, ensuring she earned enough to fuel her young son's dreams. His first love was football, and at her core, she knew she needed to do all she could to empower him to flourish.
And that she did, sending him for football lessons at Fandi Ahmad's now-defunct Team-17 Soccer Connection academy from age five, and subsequently to the Singapore Sports School. 
"The fees were quite expensive, and I was already paying for his older brother, so I didn't want to send him there initially. But coach Fandi kindly gave us a discount, so I decided to let him go. It wasn't easy, every Sunday we had to take a taxi to and from Bukit Panjang to Yio Chu Kang," she said.
"At age 12, he was chosen to go Sports School and that cost $500 monthly – quite expensive to me – but because he loves football so much, I tried my best to support him and get the help of his uncles and aunties to chip in a bit to buy him boots and jerseys."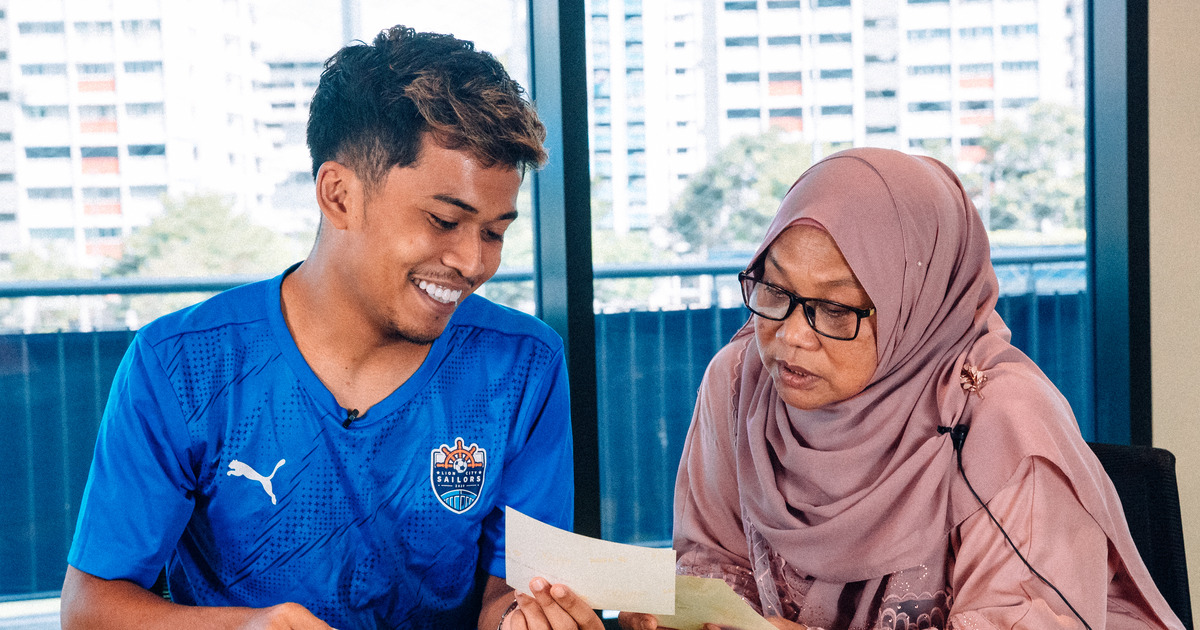 Sacrifice, par for the course
Mdm Jenny Tan –  a single mother of 13-year-old Celine and 16-year-old Chloe Koh who are part of the Lion City Sailors Girls Programme and Women's Premier League (WPL) team respectively – wears different hats.
She has to, to make ends meet and to support her daughters and their football dreams. 
On top of being the team manager of the Sailors WPL team and doing administrative work for the Sailors Girls Programme, she also crochets for extra income. 
"My day starts at 5.30am and we'll leave the house around 6 plus am. I'll drop Chloe at Bugis MRT where she takes a direct train to school, before dropping Celine directly at her school. I then go home to do my crochets – I try to do as many as I can before reporting to the Training Centre for work. 
"On weekends, there are matches for the WPL team so basically all my days are very packed. Income-wise, I'm still struggling a bit, but it's all worth it for the girls," she said.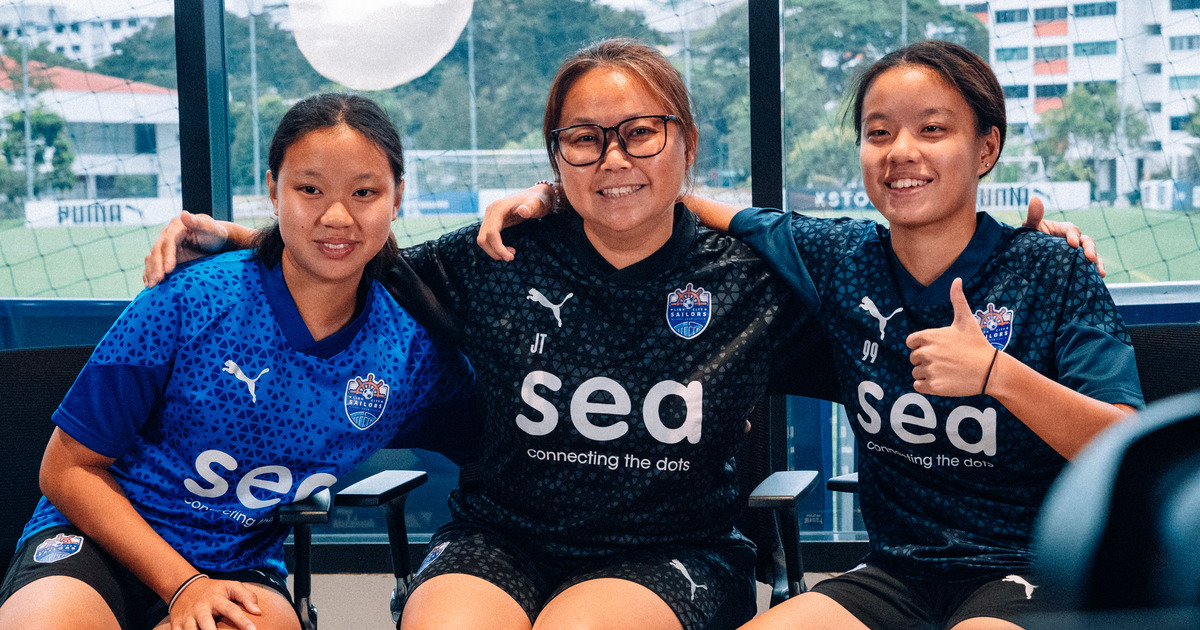 "Usually when I'm sending them home after training, they will share with me how their day went and I'll be encouraging them if they're feeling a bit down. 
The work has already started to pay off for Jenny who felt an immense sense of pride watching Chloe score two goals in her competitive debut for the Singapore Under-16s in the AFC Under-17 qualifiers at Jalan Besar Stadium last month.
A cheerleader, especially in tough times
Mdm Rafeah Awang is well familiar with having footballers in the household – three of her sons pursued football as a career with two of them, including Sailors full-back Zulqarnaen Suzliman, now playing professionally.
She was the biggest supporter and confidante when Zulqarnaen was out injured for a long period in 2022. 
"Last year, he went through an op and was feeling really down. He was concerned about his recovery and kept telling me things like 'I cannot tiptoe, Mummy', 'I'm useless, Mummy'," she recalled, her heart clearly breaking all over again.
"I had to be there to encourage him, telling him that he's still young, so just focus on rehab and doing physiotherapy. I wanted him to believe that he can get back to his best."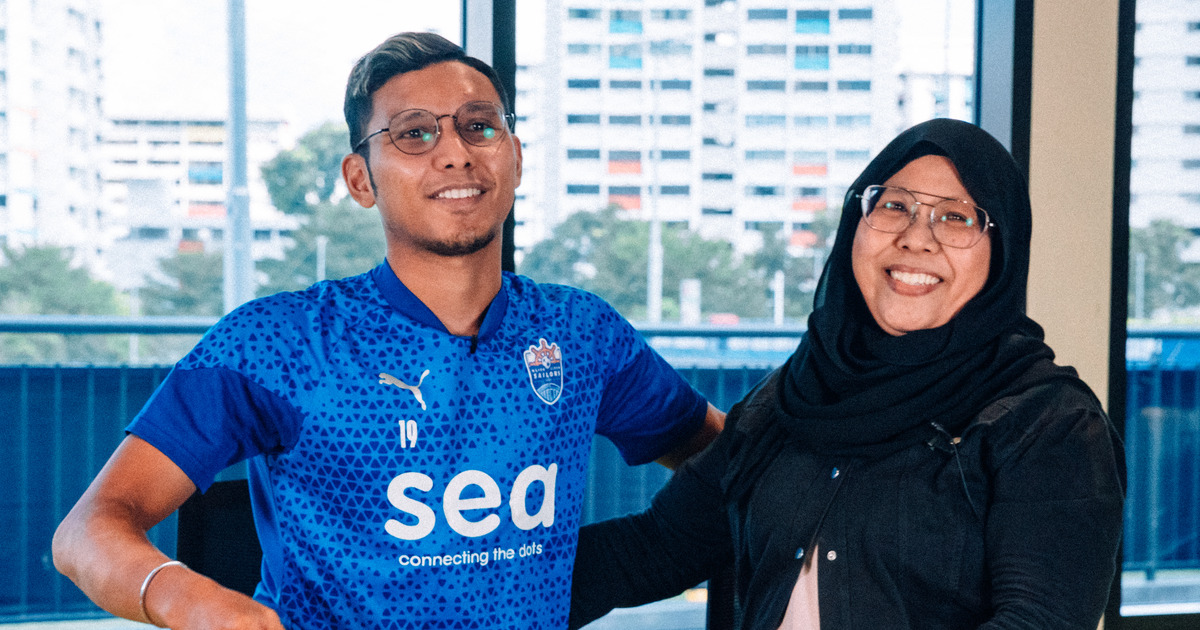 And he has since returned strongly with several good performances in 2023, including a stirring display against Geylang International in which he produced three critical defensive challenges to help the team to a 2-1 victory.
A mother undoubtedly plays multifaceted roles in the life of her child – from discipline master to cheerleader and chefs, even nurse. 
Dreamer, believer, constant
Perhaps most importantly, a mother is a young athlete's first coach, shaping their worldview as they embark on their chosen sporting path. 
In Jenny, Chloe and Celine have an enabler who believes studies and sports can come hand in glove, and that football – still somewhat of an out-of-the-norm dream for Singapore girls – is a sport they can and should commit to.
"I used to be a Combined School softballer, so I know how sports can really help kids develop resilience, time management and learn about teamwork. I believe that sports participation will definitely help my girls in school group projects or even when they go out to the corporate world to work," she said. 
"As long as they try their best in school and can be promoted every year, I'm okay – I don't need them to be top A-star students. I want them to be all-rounded people who can excel in a few areas in life."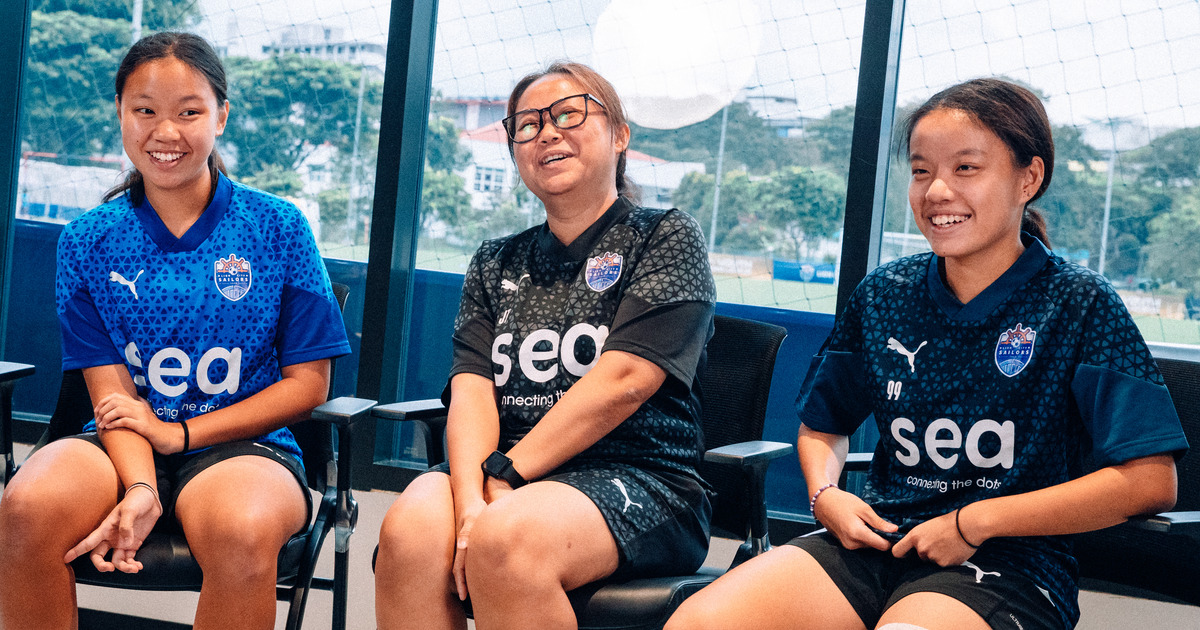 It is clear that even as sportsmen are at the age that they are fully able to take care of themselves, mothers still play a big role in their lives. 
From setting the stage and providing a platform for their young to grow, one thing is clear. Mothers never stop, even – in the eyes of their children – at the expense of being embarrassingly naggy.
"Sometimes she will still give advice in front of my friends and that makes me very malu!" said a sheepish Hami.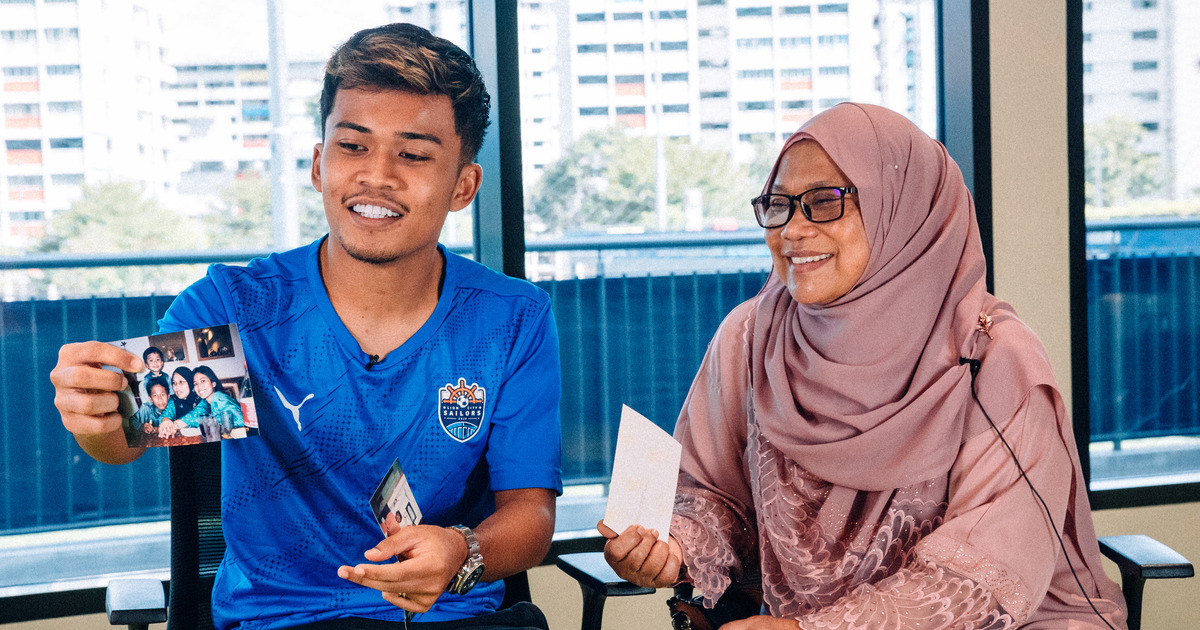 "But I guess that's what mums are and will always do. They'll always be there to be our guiding hand, ensuring we stay on the right path in life and be a righteous human being."
In celebration of Mother's Day, we take a deeper look beyond on-field heroics and into the stories of the unsung heroes who shaped our Sailors – their mothers. In this two-part special series, we delve into the childhood lives and experiences of our Sailors, told through the loving eyes of their mothers. 
In the first part of our series, we turn the spotlight on goalkeeper Zharfan Rohaizad and his mother, school teacher, Madam Nailul Azmi Ismail.
Brows furrowed as he steps onto the pitch, Zharfan Rohaizad walks to his spot in the Lion City Sailors starting lineup, then stops. Lips turned downwards, dragging both moustache and beard to complete the picture of focused aggression, his eyes squint as they scan the stands for his target: mommy dearest, Madam Nailul Azmi Ismail.
With a simple wave of his right hand to his mother, the 26-year-old goalkeeper completes his pre-match ritual, before walking into his castle, the Sailors' penalty box.
"She comes for every game, rain or shine," said Zharfan. "Sometimes when my dad can't take her, she will make her way herself to matches and make it a point to be there when we walk out of the tunnel. It's my ritual to see her sitting there and to wave at her."
Despite Zharfan's machoman persona, Mom's influence extends far beyond his pre-match ritual, and it runs deep.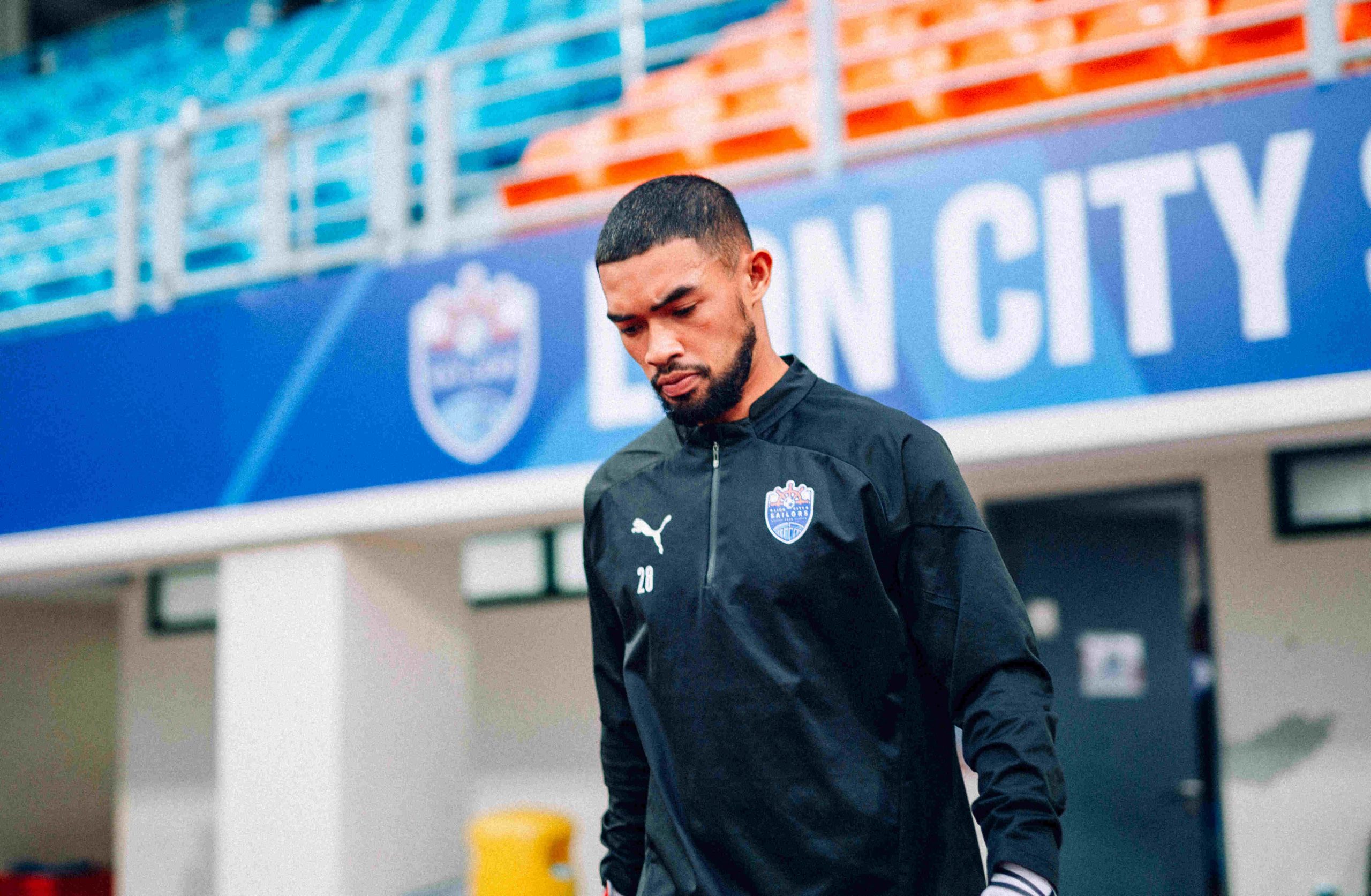 "There's never a day that I don't hear her voice inside my head saying: "you can't do this" or "you shouldn't do that"," he said, of Mdm Nailul, his most ardent supporter. 
She insists that Zharfan's grizzly exterior is merely a front, one that falls to the ground when they speak.
"He's such a darling lah – every now and then, he will do something that will touch my heart. He looks like a very tough boy on the outside, but he's actually very gentle and thoughtful on the inside," she said, eyes glistening.
"Every time I'm going out on my own, he will check on me 'Mum, are you sure you can manage or go on your own?
"We talk a lot too, and he shares with me what's up with him every day. Every morning, I will text him to say "I love you"– just to motivate him because I know a professional footballer's journey is not easy," she said.
It has indeed been quite a journey, for both Zharfan and his school teacher mom, Mdm Nailul.
After a bout of fever, 7-year-old Zharfan was diagnosed with mitral valve prolapse (MVP), a rare heart condition that occurs in around two per cent of the population. In sufferers, the mitral valve of the heart does not close smoothly, allowing a small amount of blood to leak backward when the heart contracts.
While it is harmless in most cases, this shook Mdm Nailul. 
Her brows furrowed as she recalled: "I couldn't take it then – I remembered speaking to my husband, "how come of all people, it's him?"
She was constantly in vigilant-mother mode, looking out for her child. From monitoring his food intake to dishing out daily advice, while a happy-go-lucky Zharfan merely dropped football for a "less vigorous sport".
"When the doctor finally discharged him, it was like our world instantly became so much brighter!" she said, recalling the conversation with 11-year-old Zharfan's heart surgeon.
Mdm Nailul had to juggle the role of protective-mom with that of bad cop – the multi-role facet of life that most mothers are well-familiar with – because health condition or not,  rambunctious boys often continue to be just that.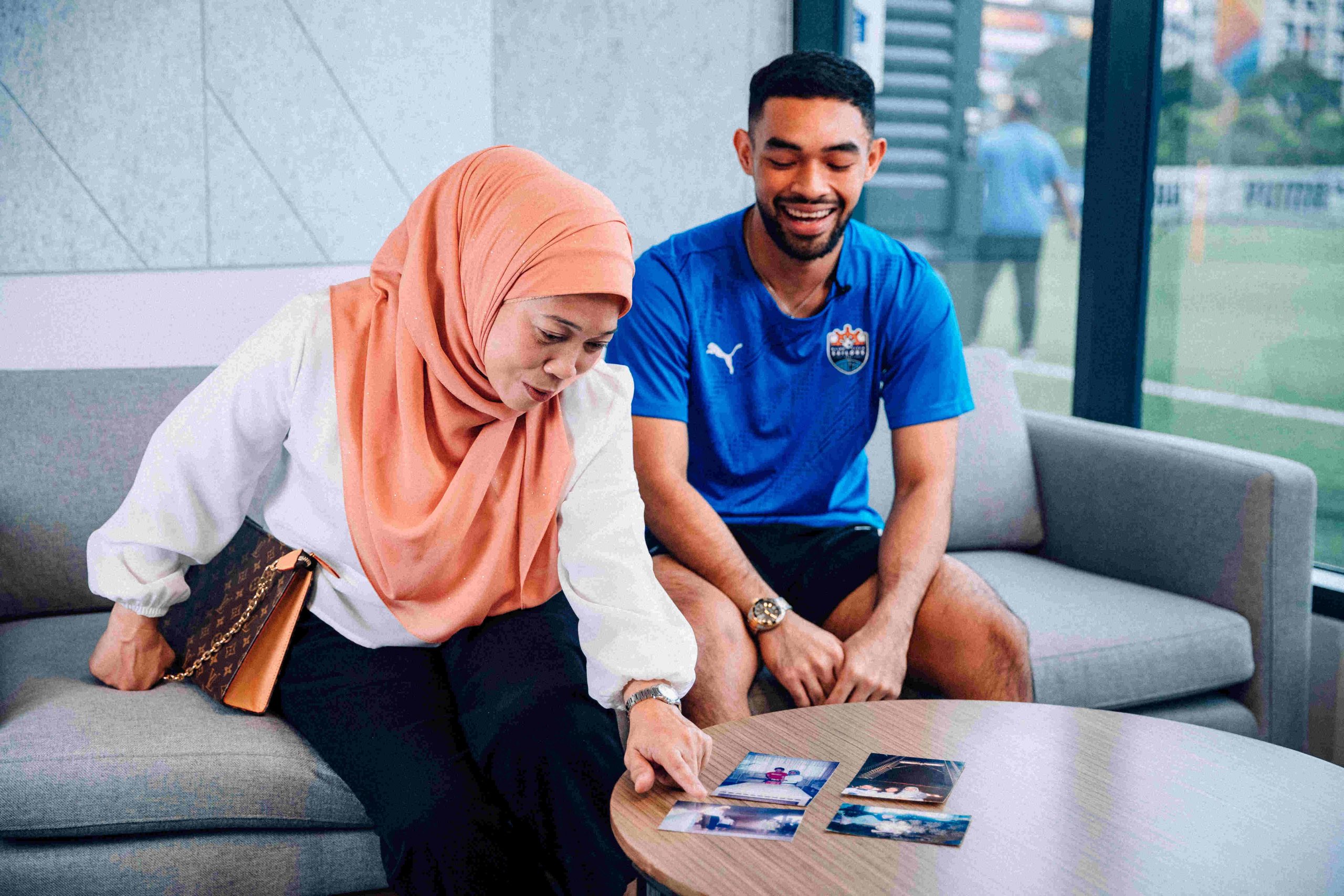 She smiled as she recounted various incidents in the life of a young and playful Zharfan.
"I remember once he called me "Ibu (mother in Malay), are you free tomorrow?" so I asked him what had happened, and he simply told me I had to meet his discipline master. The moment I stepped out of the taxi, he was already waiting at the school's lobby looking sheepishly at me. 
"Evidently he let his friend copy his test, and as a result his friend passed, and he got a zero as a punishment!" she exclaimed, chuckling. 
"I was very fierce and firm as a mother. I once told him in primary school, the moment there is one mistake or one complaint about you, I will step into your class and give you one slap in front of your friends!"
Zharfan has clearly taken these childhood lessons on board.
"Her advice is always firmly inked in my mind and has helped me grow to become a responsible adult. The most important thing she taught me was to be respectful to my peers and whoever I'm talking to. To earn respect from others, you first need to give respect.
"It has taught me to have a clearer vision around me and to be a better version of myself," said Zharfan, who admitted he was on the hunt for a nice gift for Mdm Nailul's 54th birthday – which coincidentally falls on Mother's Day this year.
"Throughout my 26 years of living, she has been there for me – telling me what's good, what's not, advising me what to expect in life," said Zharfan, his voice quivering.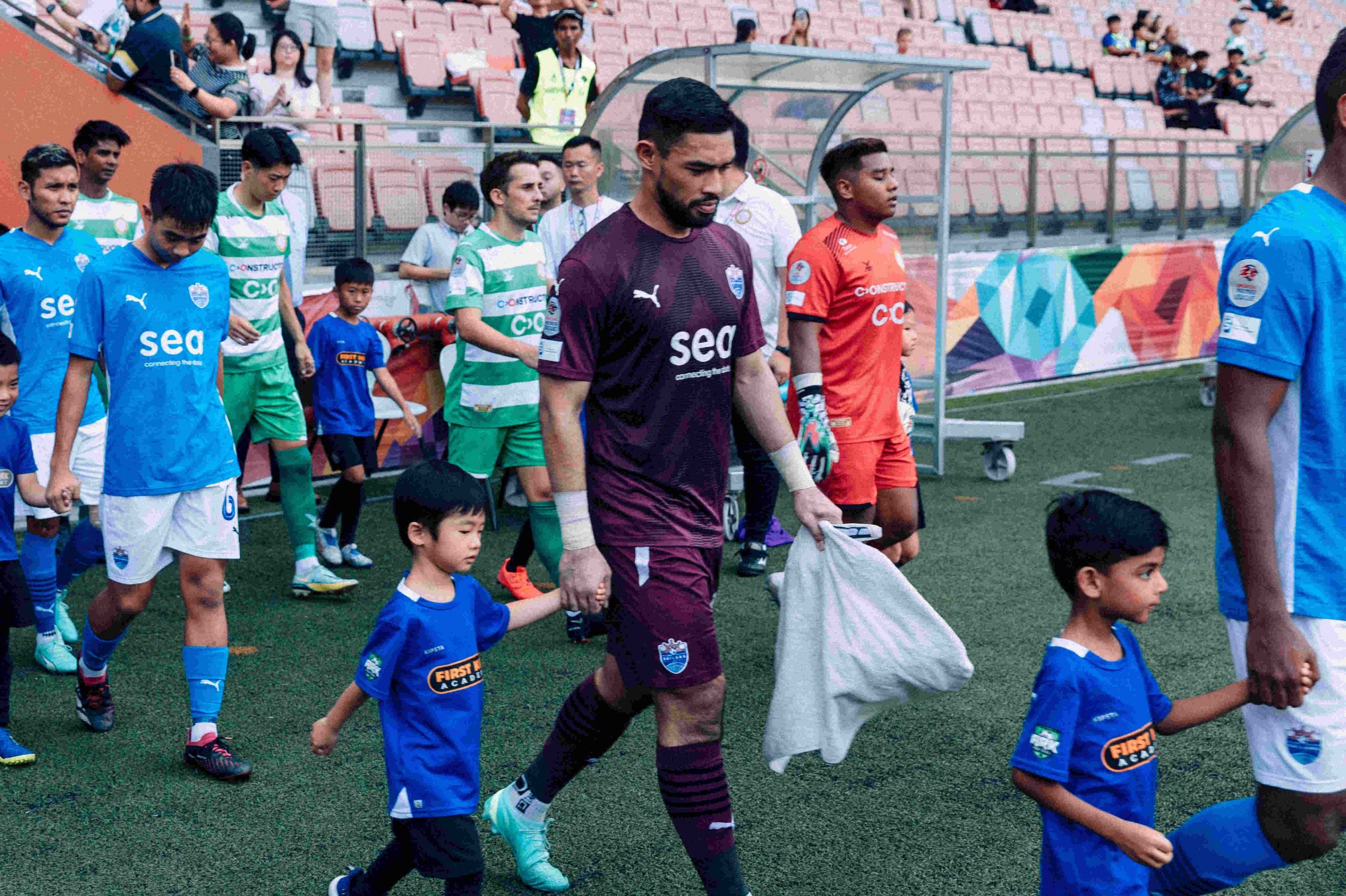 "She has gone great distances just to see me being happy and to succeed, so I just want to tell her "l love you". And I'll never stop making you happy and proud."
Mom has one wish for Zharfan, to become the no. 1 custodian for the Singapore national team. And she has one more target for her grizzly son too, one that comes with a clear deadline.
"I hope I can have a daughter-in-law soon, maybe in two years' time?" she said, laughing as her voice trailed off in hope.
Zharfan laughed too, squirming uncomfortably in his seat, as his tough exterior lay in a dismantled heap at the foot of Mdm Nailul who may soon have a companion in the stadium when Zharfan lines up on the pitch and waves at the stands.
In the spirit of International Women's Day (IWD) that is celebrated annually across the globe on 8 March, we delve into the lives and experiences of our Sailors Women to better understand their struggles, challenges and inspirations as they make their mark in what is a male-dominated Singapore football industry.
In this, the third and final instalment of our IWD special, we turn the spotlight on Lion City Sailors Women's team goalkeeper Beatrice Tan and Yingying Seah, Business Development Manager of the Lion City Sailors Football School.  
She is standing under the Esplanade Bridge with Diego Lopes on one side, Umairah Hamdan on the other, and a wince drawing awkward lines on her face. 
The photographer calls for a pose with street attitude, and suddenly the game is on: her elbow rises to rest on neighbour, head tilts groundwards and hand follows, sliding over thigh. When her eyes rise off the floor, the gawky discomfort seems to have melted away and it is a completely different Beatrice Tan who meets the camera lens.  
This was a photoshoot to launch the Sailors 2023 jerseys, and the 30-year-old Beatrice is not a runway model. But it is no surprise that the Lion City Sailors Women's Team goalkeeper can turn it on on demand. 
She is also the National Women's Team custodian, an elite athlete, and a role model for aspiring female footballers, including those she oversees in the Lion City Sailors Girls Football Academy.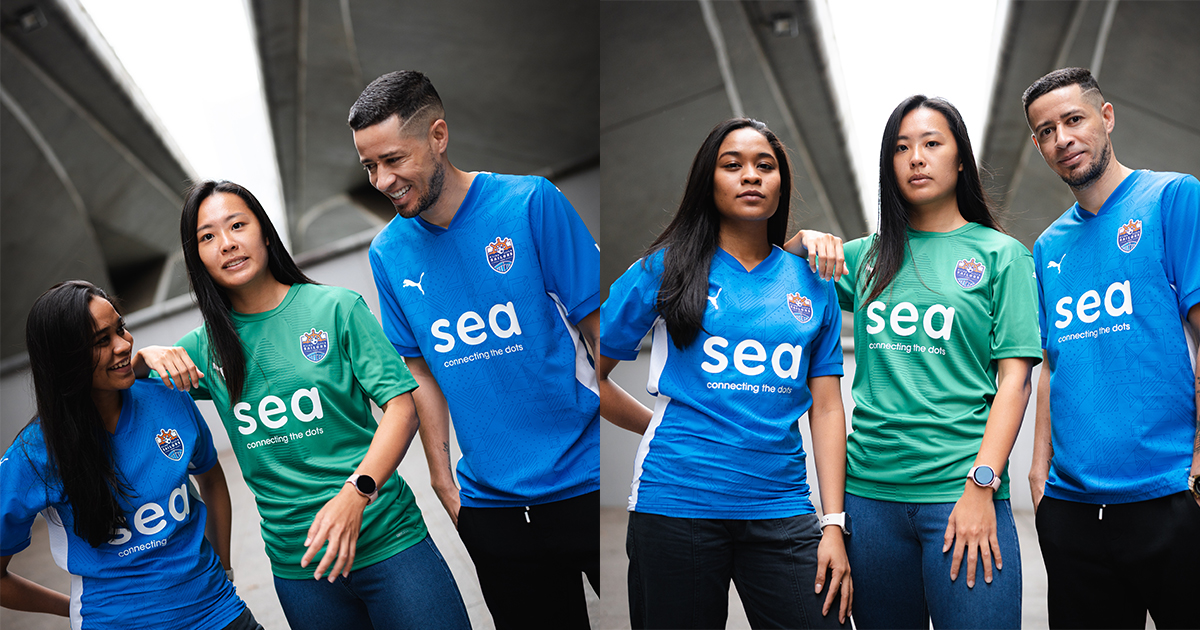 "Yeah, I absolutely love it that I'm contributing to the future of the women's game in Singapore, and not just as a player. And I can't begin to say how heartwarming it is that the girls actually remember my name and greet me when we run into each other at the training sessions," said Beatrice, who by day, serves as the Academy's Special Projects person.
The former Singapore Sports Hub venue manager oversees a range of unique projects at Mattar Road including the Academy scholars' academic progress and the development of the Academy's all-girls programme – that she sees as her real calling. 
"I definitely feel more affinity for the girls' football role, largely because the boys' game tends to grow organically, but there needs to be a push if we want to help the girls – and the girls' game –  grow."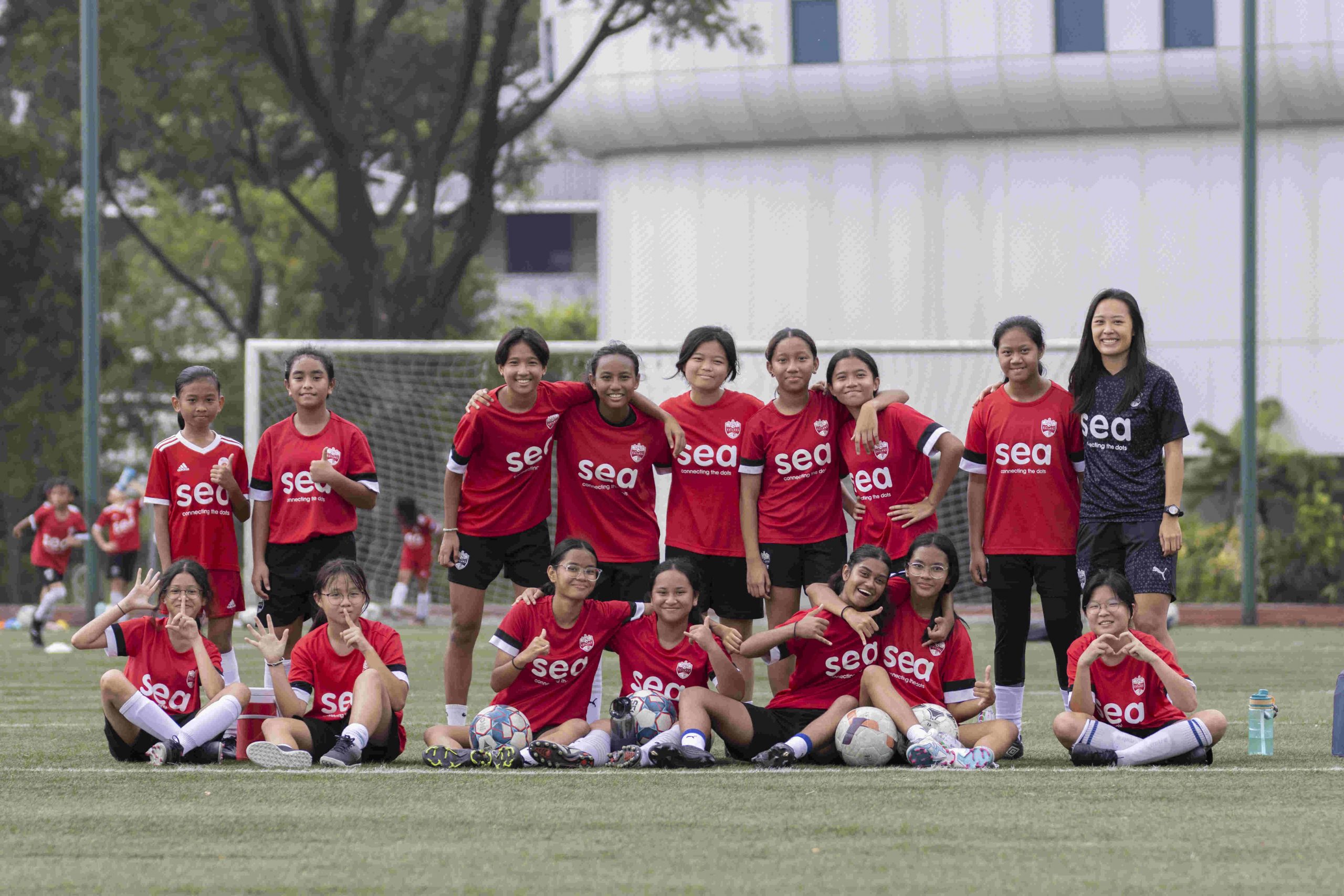 At the frontlines of that, Beatrice has a comrade in arms in what has become a bit of a personal mission for both women. 
"I'm certain that there are many young Singaporean girls who love football, like I did when I was a child, and it's fantastic to see more and more young girls play – and with parents who are supportive of their efforts too," said Yingying Seah, the Lion City Sailors Football School's Business Development Manager. 
The Football School is the revenue generating arm of the Sailors Academy.
"The perception that football is only for boys is changing – perhaps slower here in Singapore than it is across the globe – and I'm delighted to be able to contribute to that in my own little way." 
Even before she finished that last sentence, Yingying's eyes lit up, as a young trainee walked by and waved hello. She knows his name, of course, and chirped a greeting of her own as he trotted off towards the pitch at Mattar Road.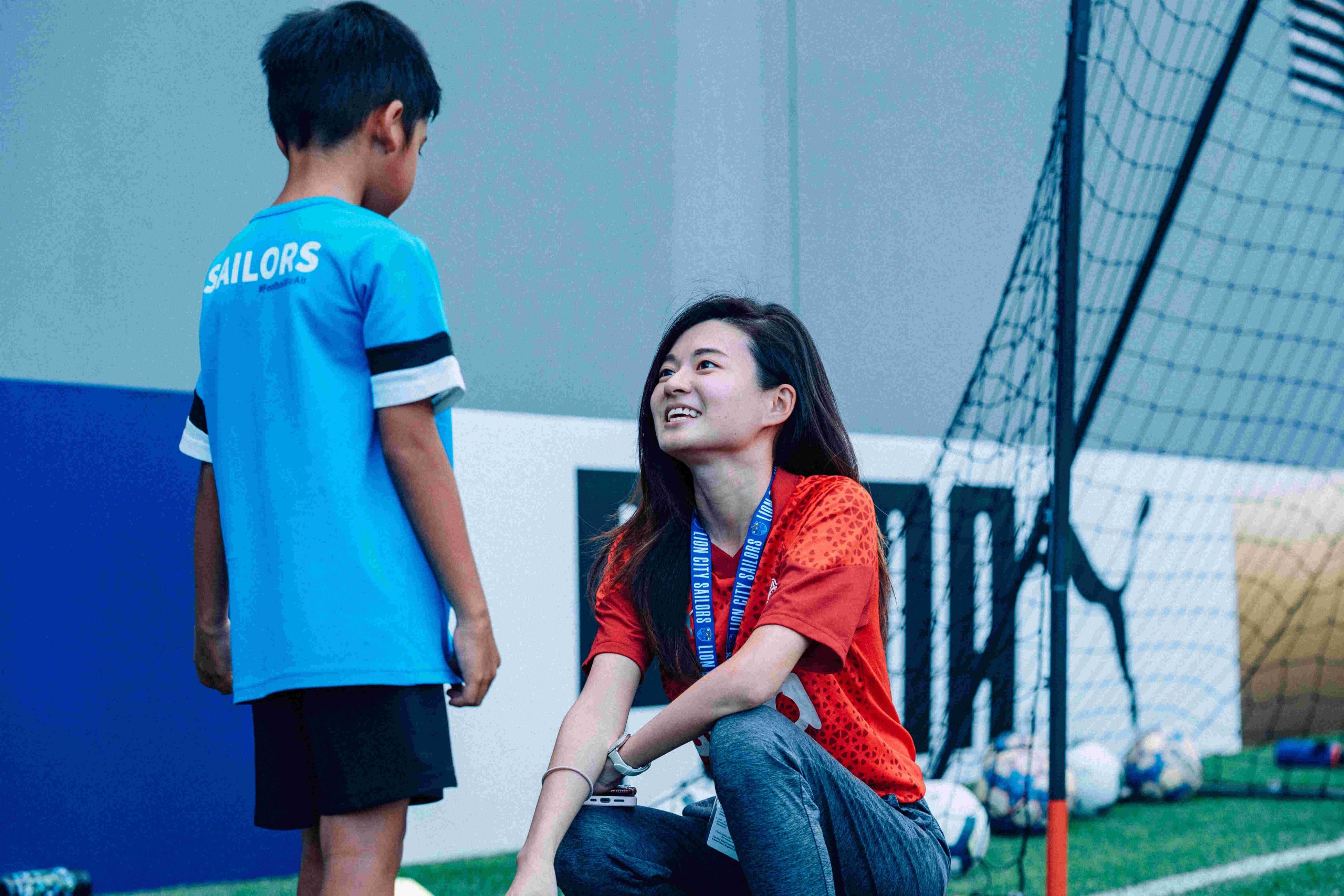 Her high pitched voice immediately dropped an octave as she finished her interrupted thought:"It's also important that for football lovers like me who can't play or coach that we have options in the sport too, and that we have someone to look up to," said Yingying who only had one female colleague – current Sailors Women's Head Coach, Yeong Sheau Shyan – when she joined the Sailors in 2020. 
Yingying is a Psychology and Marketing Double Major graduate from the Singapore Management University, and she is adamant that skills beyond the football pitch are very much in demand at football clubs, and women need not fear embracing the sport. 
"It was challenging at the start because it was a male-dominated environment, and I felt it was a bit harder to be taken seriously, and I had to adjust – like step up in conversations – and I think in the end, like in football, performance will speak for itself," she said, revealing that trainee numbers more than doubled in her three years at the Football School, with the girls' programme also seeing some 50 girls train and play every weekend. 
Female trainee numbers are a source of pride for both Beatrice and Yingying, but it has not exactly been an easy journey working to grow figures.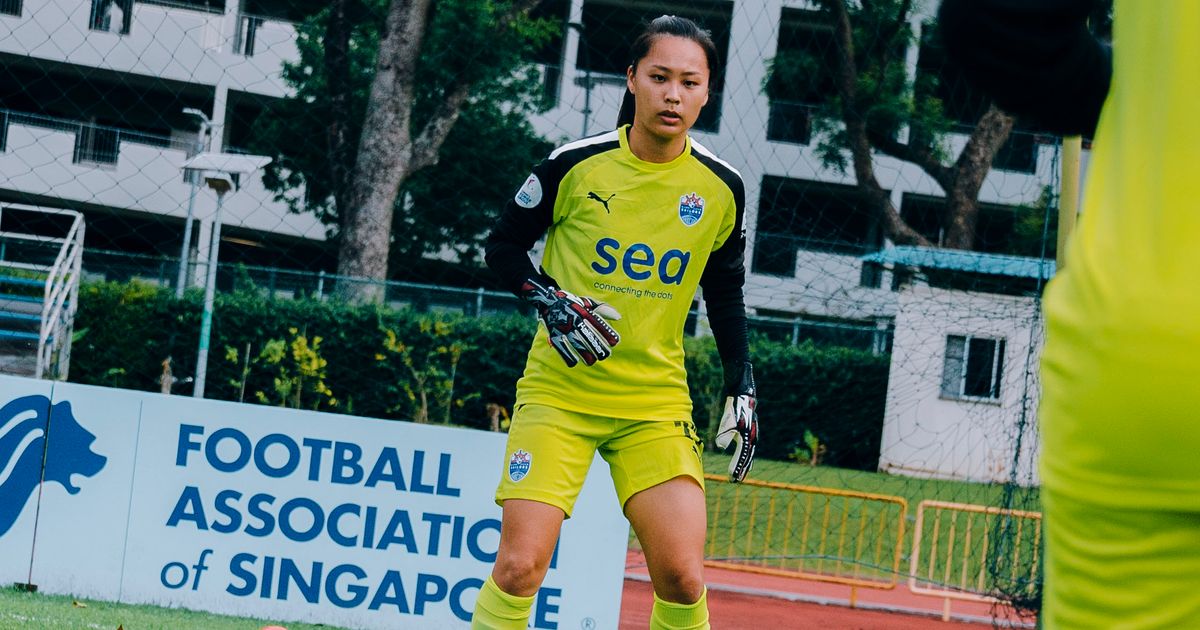 "It was clear that to see regular participation, we need to understand what issues the girls were facing – and engage their parents in the conversation as well," said Beatrice. "Some girls feel bad that they can't keep up with the boys they train with, others are just more comfortable in the social environment that comes with playing in an all-girls team.
"I see our role as helping to remove barriers and make it easier for girls to enjoy and embrace football," added the 2022 Deloitte Women's Premier League (WPL) Golden Glove winner. 
While she only played for six months as a teenager and stopped because she was a self-confessed "terrible player", Yingying shares the same drive to encourage female participation in the game, with the Football School perhaps best equipped to jump start moves towards all-girls football environments that encourage more to stay in the sport. 
"Our Football School is still a business, and if it's all men making decisions, there is a danger of losing alternative perspectives that can make impactful change. Talking to children is one example where having a softer touch helps, even talking to parents, to understand the needs of families," said the 29-year-old Yingying. 
"Then it's just about being assertive enough to drive those changes internally, and follow through with making sure we implement what we set out to do."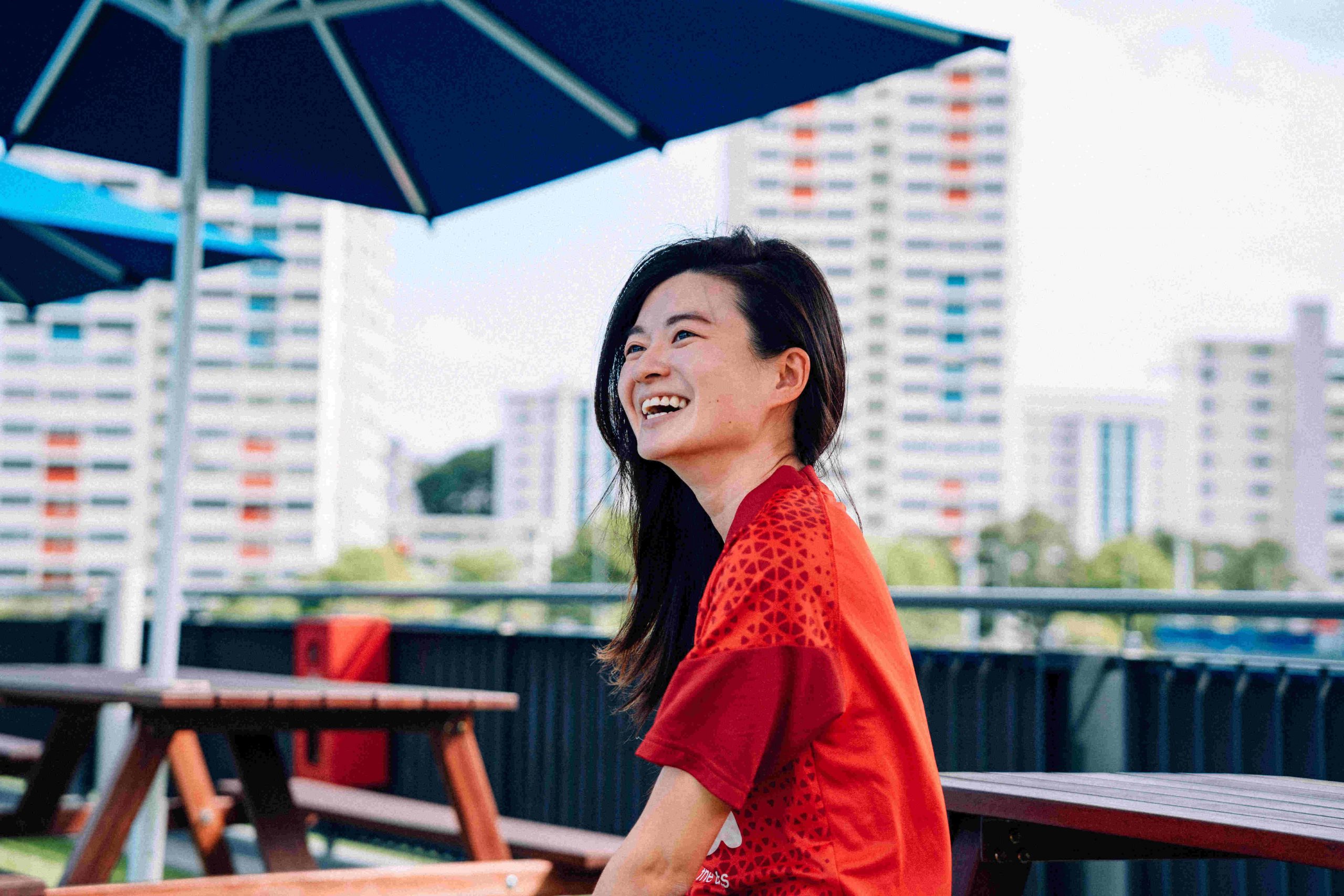 It is perhaps this need to manage different needs between a male-dominated office and family-focused training environment that has honed the ability of both women to code-switch at will, but Yingying would not have it any other way. 
"My colleagues would never leave me out of anything, even the guy-talk," she said eyebrows furrowing before her eyes lit up once more, and the same chirpy voice returned, as her thoughts floated to the Academy's trainees like Nur Ain Salleh and the other Sailors' women the likes of First Team manager Huong Tran and Operations Manager Carolyn Chia. 
"But it has been rewarding and enriching: I love kids, I love football and I love what I'm doing. I hope I never leave football, and maybe even encourage more to join us – the women and girls like Ain, Huong, Beatrice, Carolyn, and me – in the sport." 
In the spirit of International Women's Day (IWD) which is celebrated annually across the globe on 8 March, we delve into the lives and experiences of our Sailors Women to better understand their struggles, challenges and inspirations as they make their mark in what is a male-dominated Singapore football industry.
In the second of a special three-part IWD series, we turn the spotlight on Huong Tran and Carolyn Chia – the team manager and operations manager in charge of the Lion City Sailors first team.
It is some three hours away from kick-off on a Singapore Premier League matchday, and Bishan Stadium is bustling. 
The emcee's voice booms over the speakers as flag-bearers line up in the tunnel, running over the very steps they would take later, when Hariss Harun and his Lion City Sailors would line up behind them, game faces on. 
But even this far away from kick-off, game faces are already on everywhere across the stadium. 
Out on the track, with one finger on the ear-piece plugged into her left ear and a clipboard in her right arm, Carolyn Chia stands with her back straight, eyes trained upwards towards the stands that are hive of activity.
She doesn't realise it, but her game face only breaks – into a broad smile – when her arm is touched by a petite figure whose ponytail was still swinging to a stop. 
The ponytailed Huong Tran, the team manager in charge of day-to-day administration and logistics for staff and players of the Sailors first team, had just arrived at Bishan. The synergy between the Huong and Carolyn is all too evident, and decked in the similar simple dark uniforms of Sailors staff, the pair look like every other cog in the club machinery at Bishan.
But they are hardly mere cogs. Simply put, both Carolyn, the Club Operations Manager, and Huong are integral to the operations of the Sailors – the heartbeat of the club – and in what is a male dominated Singapore football industry, the two have had to make some adjustments, including putting up with raised eyebrows every now and then.
"I believe women can inject new and fresh elements into football and we all have a part to play. Things have changed so much that it is not so gender-oriented now, so women don't need to be afraid to step into this industry," said Carolyn.
One key facet of Carolyn's responsibilities is ensuring that Sailors' home games run smoothly: from VIP registration to fan posters and banners, even broadcast matters, she is essentially on the frontline of the overall match-experience at Bishan. This also includes safeguarding the club from falling foul of SPL competition regulations. 
With almost 20 years of experience in events management and sports development, Carolyn has been an asset to the Sailors since coming onboard in February 2022, this despite the fact that the Sailors is her first football-centric role in her field. 
Huong on the other hand, is firmly entrenched in football, but continues to apply the same fearless approach Carolyn alluded to, to firmly establish herself in the sport, and indeed, at the Sailors. 
"You have to feel comfortable in a dressing room setting with all the strong characters and not feel shy just because they're changing in front of you. The players have started to observe more decorum when I'm around, and now they are very comfortable with me because they treat me like a sister or a mother," said Huong. 
"I know there aren't many women in Asia taking on the team manager role, but it's really all about how you talk to the players and earn their trust. I always say that to do such a job, you need to embrace the manly characteristics within yourself," added the 39-year-old. 
"The most important thing is that players feel your sincerity. Whenever they need help, I always try to see things from their viewpoint and try to help. Of course all these things take time – for them to warm up to you and share their real issues."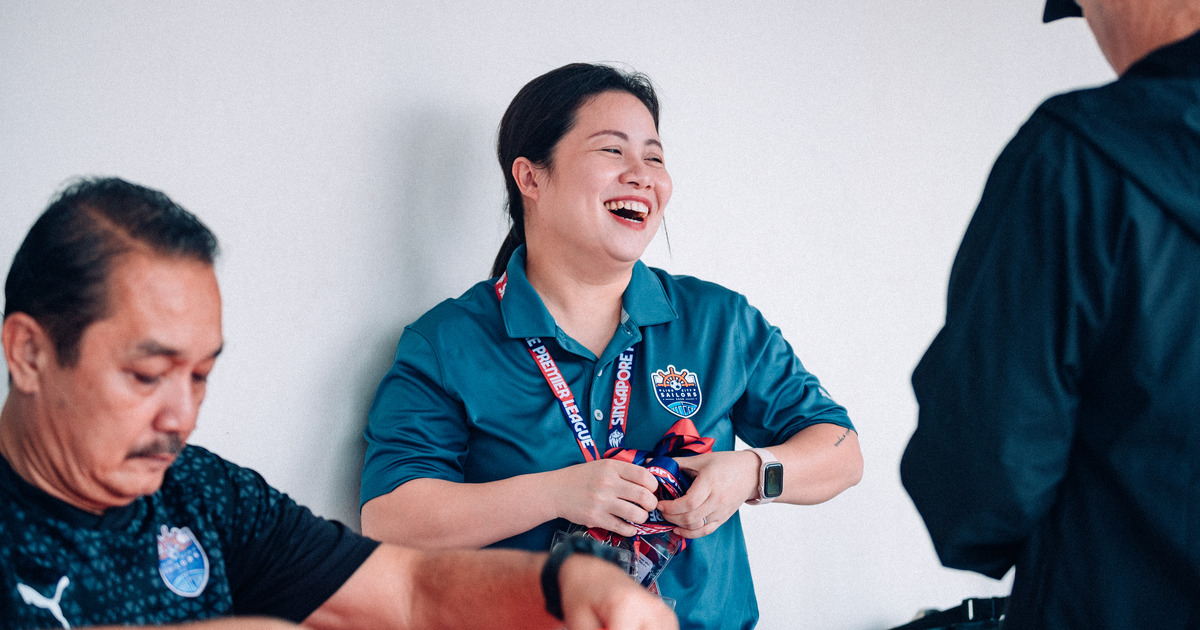 This is Huong's first time working at a football club, but she has been in and around the sport for 18 years, wearing different hats, and even then, she believes she continues to learn more every day.  
Her journey into the sport started in 2005, as a bright-eyed, bushy-tailed 21-year-old who volunteered to be the Liaison Officer (LO) for the Singapore women's football team who were participating in the Asian Football Confederation (AFC) Women's Championship in her native Vietnam. 
Huong later served as a competitions officer for the Vietnam Football Federation (VFF) for three years and worked her way up to become a Match Commissioner for AFC regional competitions and SPL matches for several years before eventually joining the Sailors in November 2021. 
A Match Commissioner ensures that all matches are organised strictly according to rules and regulations of the AFC and SPL.

While both Carolyn and Huong come with bags of experience in their respective fields, it is perhaps their alternative approach – best described as a balance of affability, grit, and that je ne sais quoi magic of feminine energy – to managing personalities in a testosterone-fuelled football industry that sets them apart. 
This is perhaps especially manifested when they take command of situations in the course of work.  
"Maybe at the start, there'll be some people who think you can't carry out tougher tasks or menial work just because you are female. But after working with me for a while, most of them know I have no problems with getting my hands dirty and am very used to the flow of operational work," said Carolyn, whose previous experiences in the Beautiful Game came when she represented her school at tertiary level.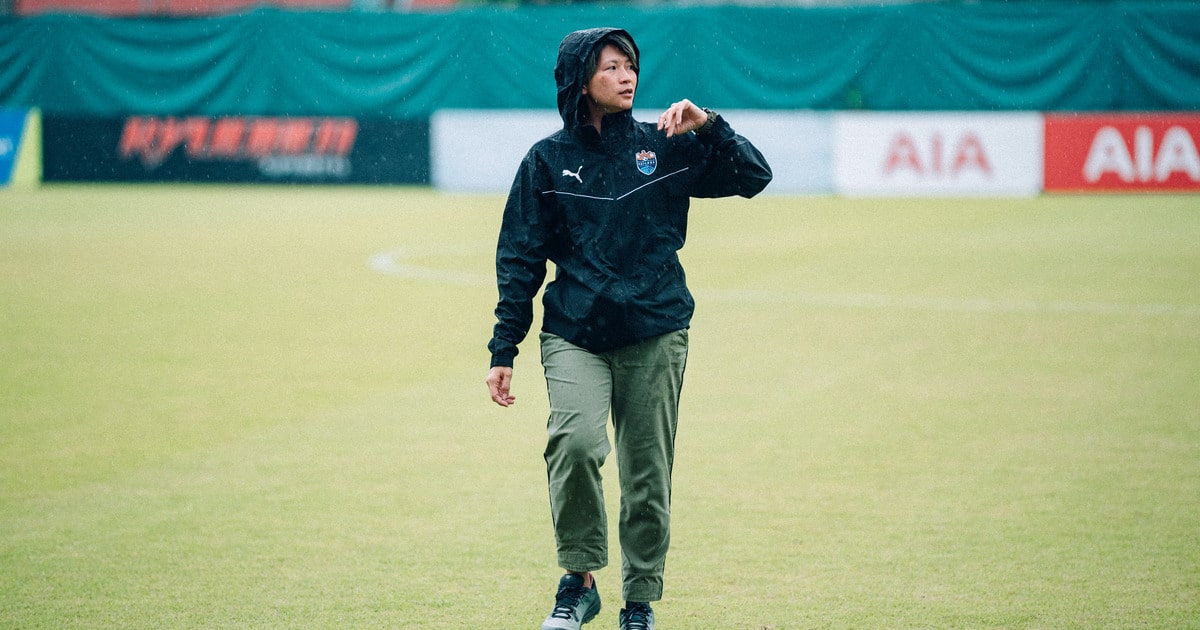 Huong is also well-familiar with gender-based flash judgements, and like Carolyn, she has embraced the approach of getting stuck in, especially in challenging situations. 
Huong recalled travelling to destinations like Bangladesh, Lebanon and even Palestine when she was an AFC match commissioner, gigs that most tend to avoid.
"There are certain countries that many people don't want to go to because of the associated danger, the thinking that facilities are not the best, and less than conducive environments to work in. But I always went wherever my bosses assigned me –  I still don't mind taking up challenges because I want to keep learning and improving," she said.
Huong has also had to learn to strike that fine balance between work and family life, a considerable challenge for a mother of two young girls, a one-year-old and a nine-year-old.
"I have to arrange the daily schedule at home for my two daughters and our helper before reporting to work. My family time really depends on the football calendar and team training schedule – and those can change at any time so it's quite difficult to plan for family holidays or time off in advance," she said, with the wry smile of a person who is accustomed to rolling with the punches.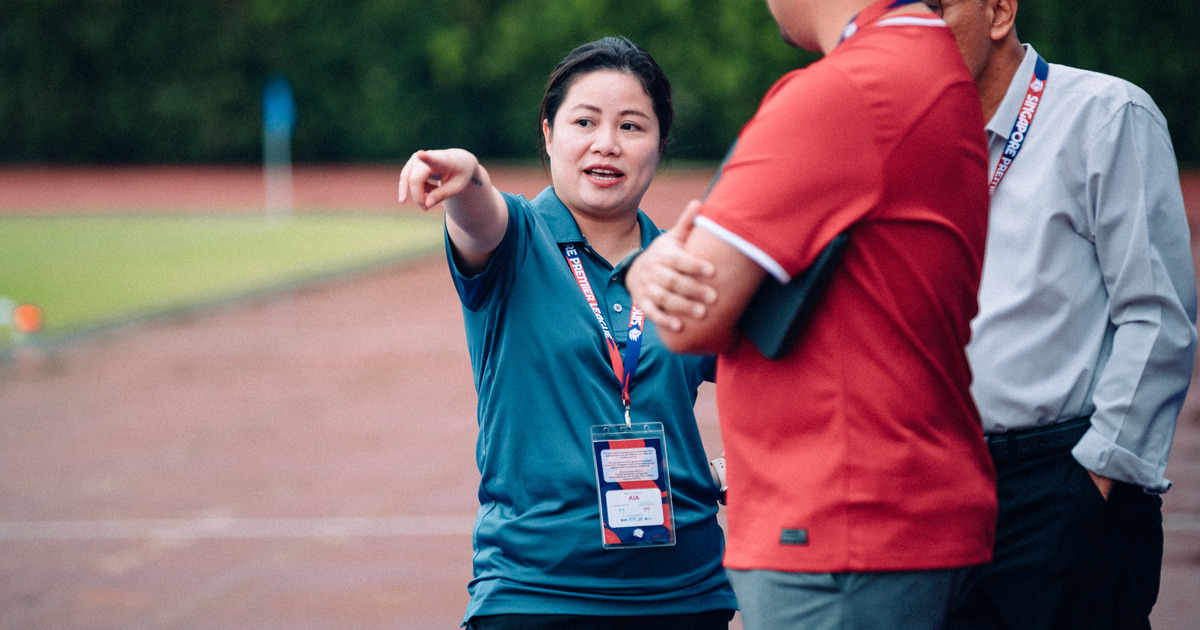 Family is similarly a source of strength for Carolyn, who looks towards her 82-year-old grandmother – someone who raised five children single-handedly in a different and much more difficult Singapore environment through sheer tenacity of spirit – for inspiration.
"She didn't have the privilege of attending school hence had to take up multiple odd jobs to provide for the children. Can you imagine how tough life was back then with everyone living under one roof in a space that's roughly about 15 square meters?
" Learning about her younger days often got me reflecting on how much more comfortable life and living conditions are now, but she is still looking out for everyone at age 82 this year. Her resilience and perseverance are constant reminders to myself that everyone should strive to be at their best and take on challenges in their stride," said Carolyn. 
And the essence of grandma's approach continues to be manifested when Carolyn puts on her Sailors Operations Manager hat.
"I simply like putting things together whatever the challenges, then seeing the event, our matchday operations and experience, turn out successful," she said. "That's a feeling that always gives me the most satisfaction and I hope to be able to continue to run things as smoothly for the club, as we continue to drive towards higher standards of professionalism."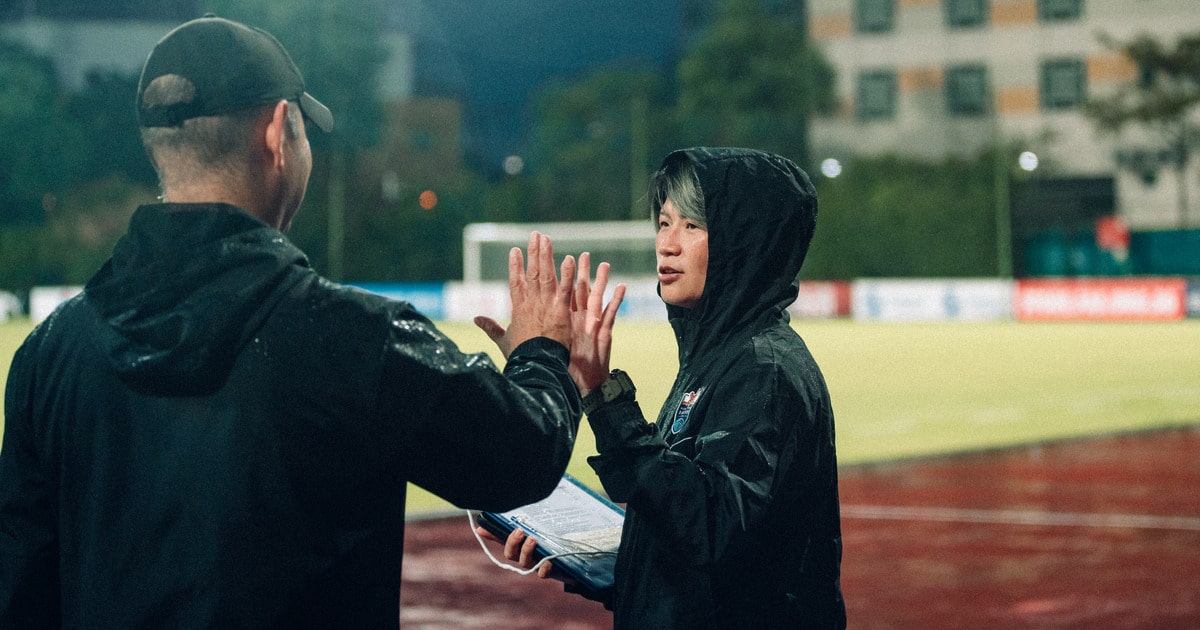 At the Sailors, Huong and Carolyn have colleagues they can rely on in that united push towards excellence, and in what is a quaint little side effect of the club's own efforts to #EmbraceEquity, the women have started to find inspiration in the boys and men who have embraced their feminine energy.
"Every day when I wake up or when I'm on my way to Mattar, I'll always think of the players – they have become my motivation to come to work. They are the core of the club and I would do anything for them," said Huong. 
With a motherly tenderness washing over her face, she added: "But what I really enjoy is this process of helping them and seeing them grow as sportspersons in the arena, and into fine adults for their families off the field."
In the spirit of International Women's Day (IWD) which is celebrated annually across the globe on 8 March, we delve into the lives and experiences of our Sailors Women to better understand their struggles, challenges and inspirations as they make their mark in what is a male-dominated Singapore football industry.  
In the first of a special three-part IWD series, we turn the spotlight on Nur Ain Salleh – who plays for the Sailors Under-12 Elite Boys' Team and is the first female Scholar of the Lion City Sailors Football Academy.
He raced through on goal, eyes moving from ball to goalkeeper, poised to pull the trigger.  However, he did not notice the petite figure racing up behind him, and in a split second, it was too late, the chance was gone. He was barged off the ball, lost possession and turned around only to notice his opponent's plaits splaying as she sprinted away to start an attack of her own – you read that right: her. 
That was no typo.   
Nur Ain Salleh is a rarity, the only girl who plays for the Sailors Under-12 Elite Boys' Team, but there is little doubt that the technical ability, steely determination – and aggression – she displays on the pitch see raised eyebrows quickly drop, and heads nod in recognition of talent.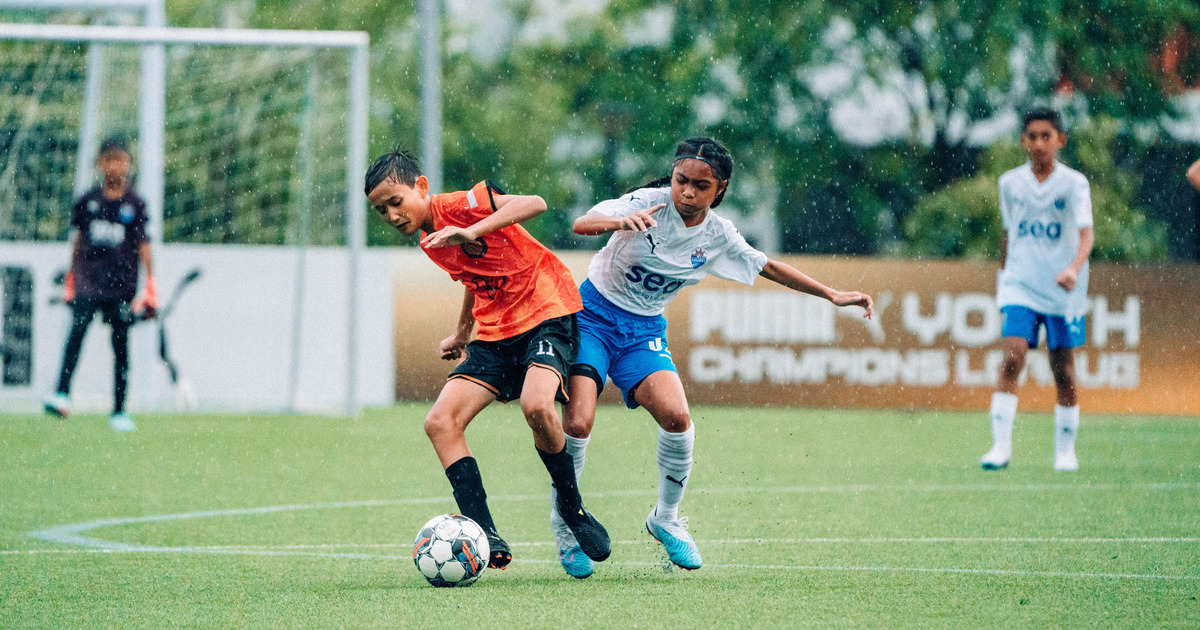 Ain ( pronounced as ah-yin) is the first female scholar in the Lion City Sailors Football Academy Elite Development Programme (EDP) and you should read her name once more:  this young woman is poised to take the Women's game in Singapore by storm in the years ahead. 
A right winger with an excellent first touch and uncanny defensive aptitude, the 13-year-old has continued to demonstrate her football potential on a daily basis at the Sailors' Training Centre on Mattar Road, and her story finds its roots in family. 
Growing up in a football-obsessed home, and influenced by her elder sister Nur Atikah Ardini who was a former national youth footballer, Ain took up the sport in her growing up years and was already playing with boys a few years older than her at the age of six.  
It was then when her precarious talent got spotted and her journey into organised football began.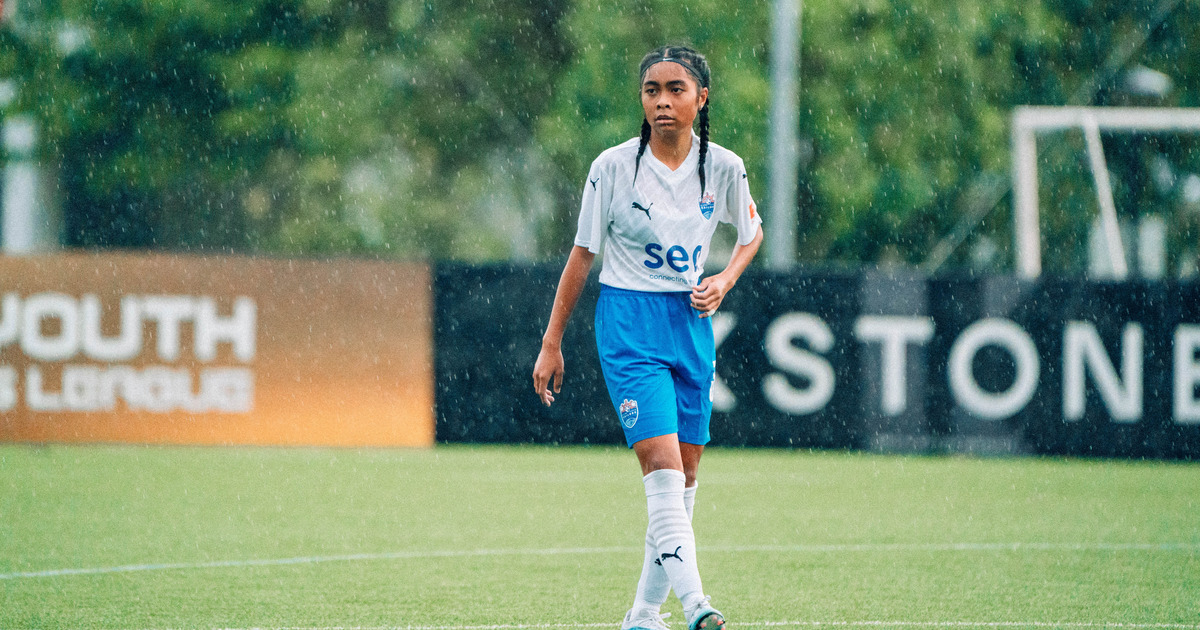 "I often followed my sister to her national training sessions and was doing some simple juggling with the ball at the side. That was when Coach (Yeong) Sheau Shyan and Coach Angeline (Chua) noticed me and asked me to join the FAS (Football Association of Singapore) Girls programme," said Ain who is the youngest behind two sisters and a brother.
She was then scouted by Coach Jasni Hatta to join the LFA Protectors in 2017 and was playing with girls few years older than her, until in 2019 when her coaches evidently had little choice but to push her into the boys' Under-10 team. 
"My coach then – Coach Achap (Ashraf Ariffin) – thinks that I don't fit in with the girls and believes that I should be playing with the boys, so that's a challenge that I had to take up," she said. 
Naturally the sight of a girl playing in a boys' team drew much attention and earned Ain sceptical looks, but she soon won the respect of both opponents and other observers. 
"I do get the vibe that some of my opponents judge me, maybe thinking I won't be as good as them, but I try not to think about that and focus on the game instead. I honestly don't feel that I am out of place playing amongst the boys," she said. 
Becoming a part of the Lion City Sailors Football Academy in June 2020 put Ain on a platform with a more professional set-up, and she grabbed the opportunity with both hands. Living in Bukit Batok, in the west of Singapore, Ain diligently makes the trek to Mattar for training sessions four times each week in part to ensure that she will more than hold her own in competitions when she pulls on the Sailors shirt. 

She competes in the PUMA Youth Champions League, against some of the best youth teams in Singapore and the region, a tournament in which she continues to prove her worth on the pitch, performances that earned Ain a two-week stint at Spain's Atletico Madrid in December 2022, training with the club's Under-14 girls' team.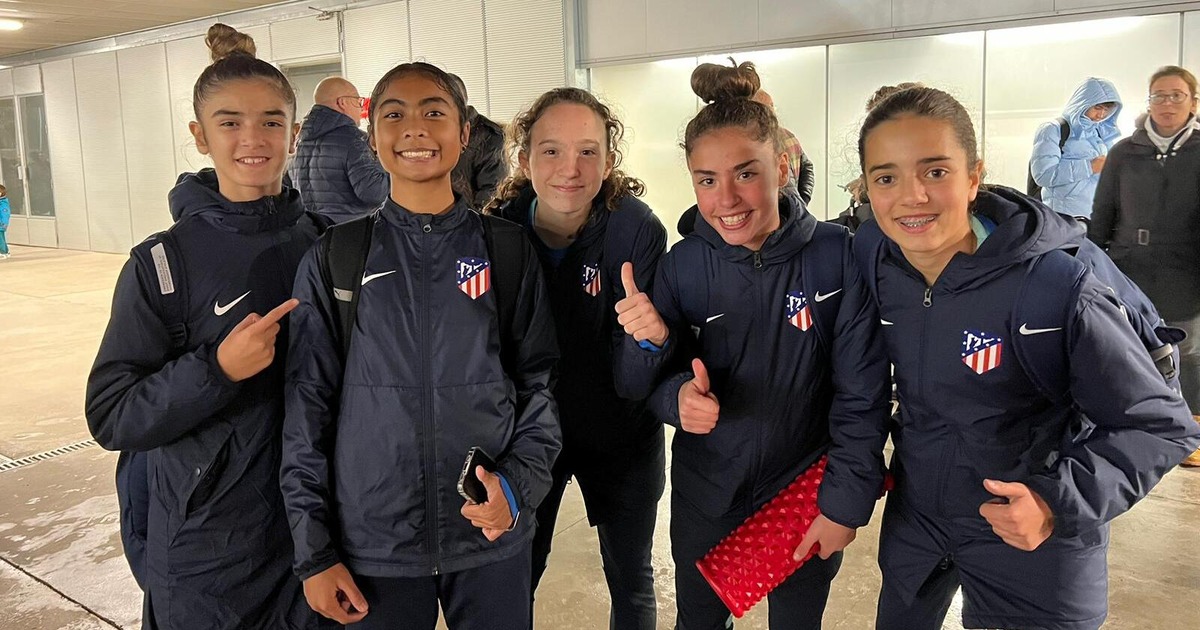 The theme for the 2023 IWD is #EmbraceEquity and Ain embodies Singapore football's movement towards equity – talent is recognised and nurtured regardless of gender.
And Ain has received much support from her coaches – and peers. 
"The coach of my team, Coach Sevki (Sha'ban) and (Academy Technical Director) Coach Luka Lalić want me to keep improving and are always trying to find ways for me to progress in my game and I'm very thankful for their support," she said. 
One of Ain's biggest motivations is her family and she desperately wants to make her family proud – especially her late father who died following a heart attack last October.
"My biggest inspiration is my sister and I know my family really wants me to continue in her footsteps – even do better than her. I'm working very hard for them because they've supported me since I was a child. Our father is no longer around and we've gone through some hard times in the last few months, but I'm trying my best to continue my journey with him in my heart."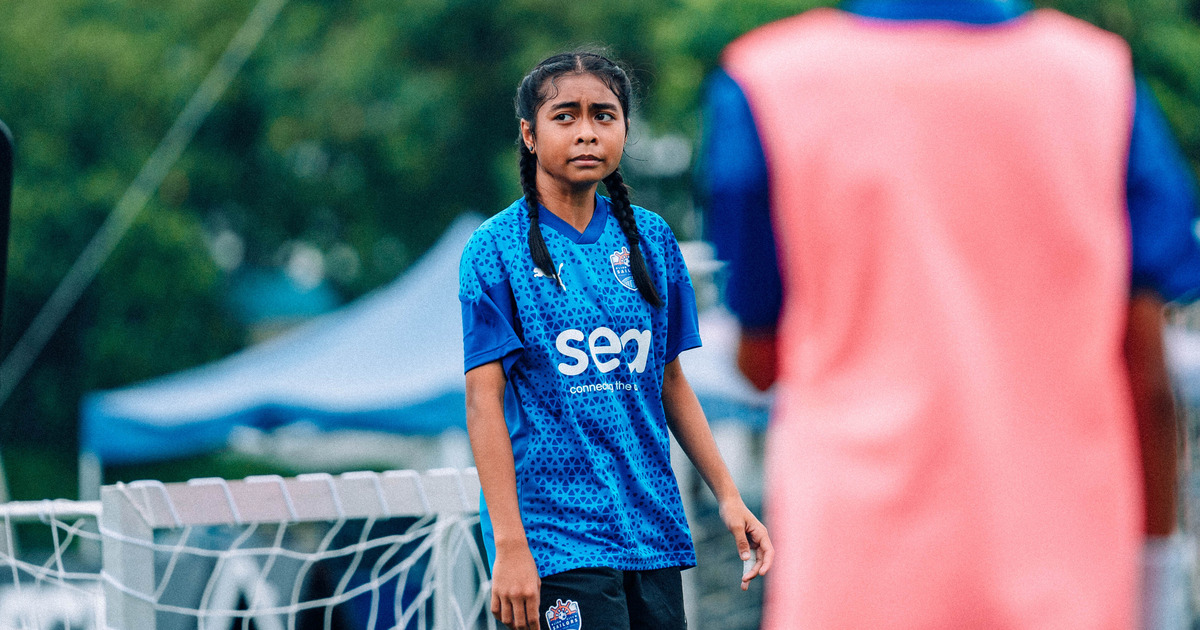 Ain has support and recognition coming in from all angles now: she is a sports leader in her school, Swiss Cottage Secondary School, and was one of a few Sailors Academy players whose likeness adorned the doors at the Mattar MRT as part of a Sailors' marketing campaign advertisement. 
Perhaps most importantly, her journey has inspired others to embrace their own football journeys. 
"I was really shocked that the club chose me, and my mum was so excited to see me in the ad. There were times when people would recognise me when I was waiting for the train at Mattar. 
"I'm always playing football on the field with boys during recess time and they actually recognise me from the Academy's social media posts. Most of the girls in my class are very athletic and they got inspired by me to play football more, and that's something I feel very proud and surprised by," said Ain whose long-term target is clear: to be the second Singaporean player after former Sailors' forward Danelle Tan to play in Europe, and she is well poised to reach that target with her hunger, desire and ambition.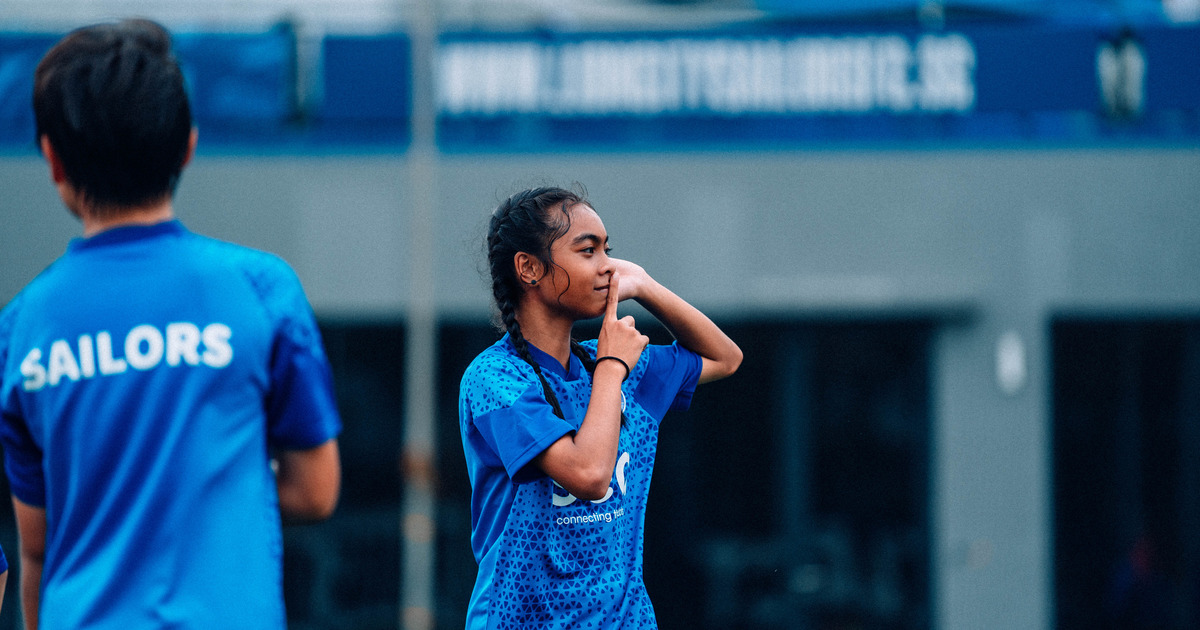 She continued with the same fire in the belly calling for the world to #EmbraceEquity: "I want to continue to be a good role model and show that we girls can be as good as the boys when it comes to football." 
The 2023 Singapore Premier League season (SPL) kicks off on Friday for the Lion City Sailors as they host Tanjong Pagar United on Friday (24 February) night. 
A new year brings with it renewed aspirations and a fresh new energy,  and ahead of the 2023 season, the traditional positivity appears to have blended perfectly with the same old Sailors' drive to aim for the very top. 
These are five reasons why you should be especially pumped up ahead of the fourth year since the club's 2020 inception:
1. A renewed spirit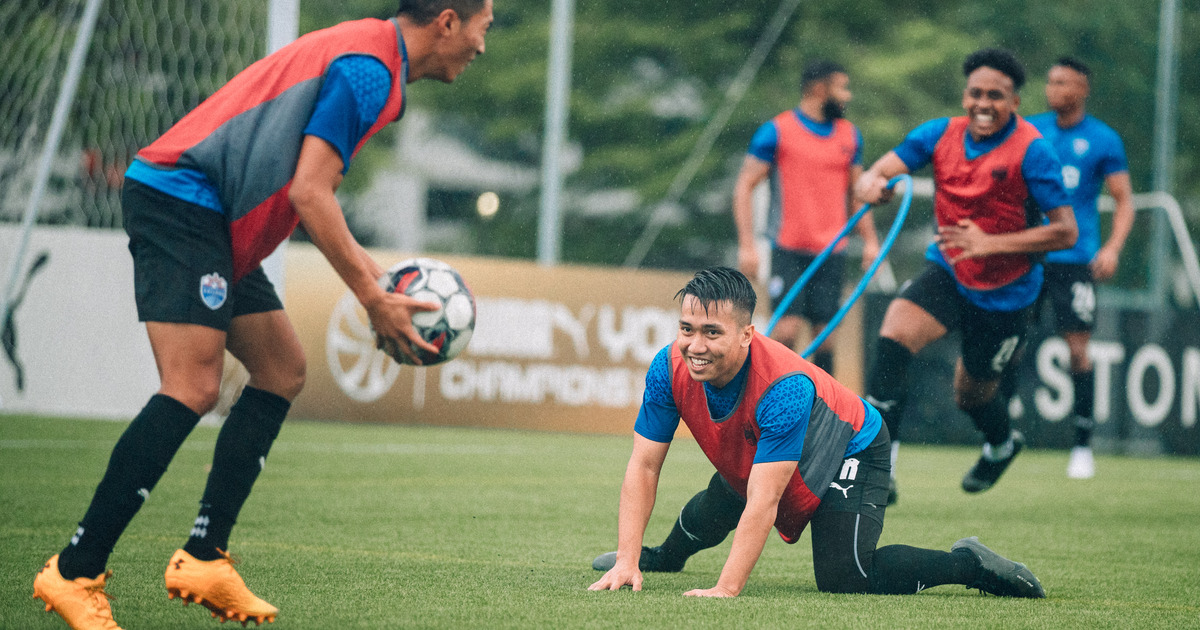 The Sailors Class of 2023 sports a refreshing new look with a total of eight new arrivals – who bring with them an outlook that has reinvigorated the Sailors dressing room.
The 23-year-old Kodai Tanaka may be the standout name among the new recruits as he looks to replicate the form that landed him the 2022 SPL Player of the Year gong, but he isn't the only one looking to reinforce a reputation. 
There are five other young and hungry boys who have shown promise and are looking to launch their careers to become stalwarts for the Sailors and the Singapore national team in the future. 
Zharfan Rohaizad is one of Singapore football's rising custodians who will be a strong contender for the spot in between the sticks for the Sailors, while Lionel Tan and Rusyaidi Salime add that bit of stability and steel to key areas. 
With aspirations of representing the nation at the Southeast Asian (SEA) Games and Asian Games this year, the duo of Danish Qayyum and Abdul Rasaq Akeem are also determined to kick on from promising displays at Young Lions in 2022. 
Collectively, they have lit a fire in the belly of a Sailors side looking to 2023 and the future with a renewed vigour. 
2. Experienced heads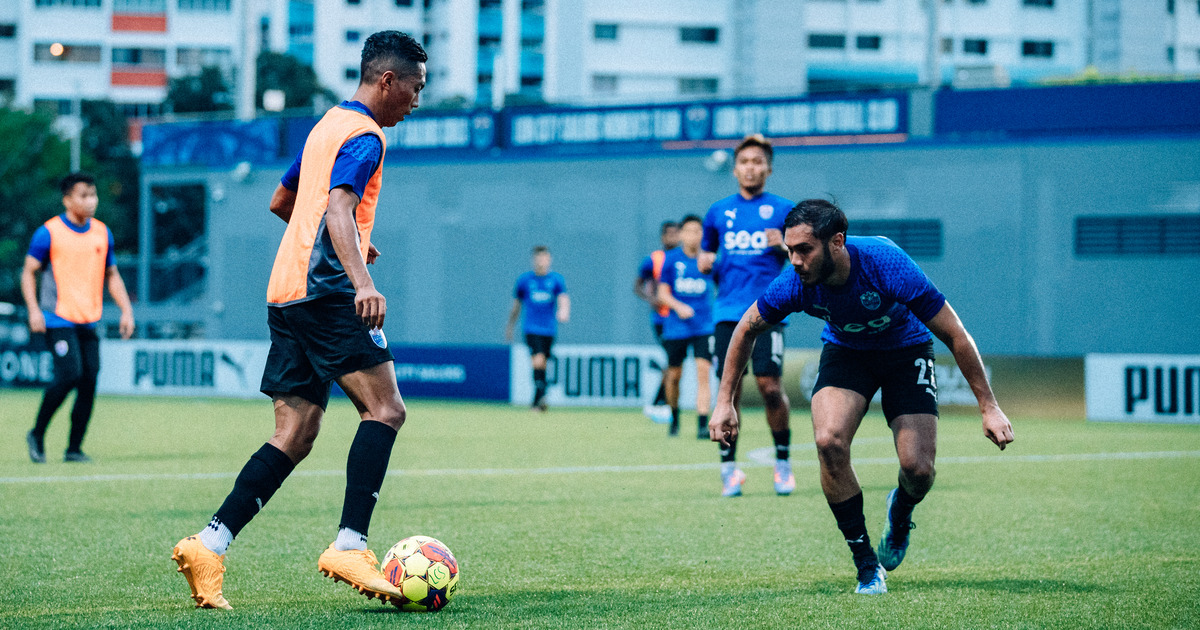 There are several new faces in the Sailors Class of 2023 – mostly young ones among those – but the Sailors retain a trusted core of players with know-how and bags of experience. The new duo of Shawal Anuar and Christopher van Huizen are hitting their prime and were standout performers for the Lions in the recent AFF Mitsubishi Electric Cup.
Among the incumbents, Hariss Harun continues to lead the pack with his assured leadership and is ably supported by Hafiz Nor who is now into his fourth season with the club and showing no signs of slowing down.
Anumanthan is also growing to become an influential figure in the team, while Nur Adam Abdullah continues to take it upon himself to show the new young boys the ropes, this belying the fact that he is only turning 22 this April.
3. Prospects waiting in the wings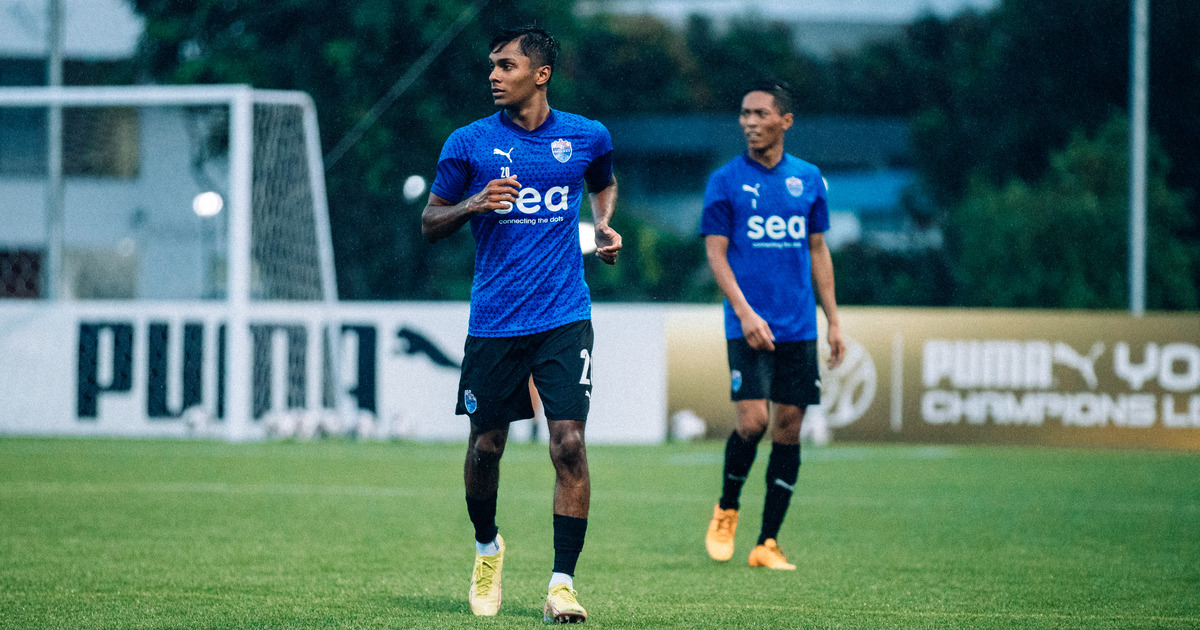 This may just be the year where the young prospects at the club get proper game time, mature and truly blossom – and there are several of them. 
A raw diamond who returned to the club at the end of 2022, Arshad Shamim is one exciting wing option who is determined to kick on after a strong pre-season. Zulqarnaen Suzliman and Haiqal Pashia are another two electric and sizzling talents who provide great width and they will be keen to push themselves into the first-team reckoning much more as they work their way back from injuries. 
Bill Mamadou has showed signs of developing into a fine and robust defender towards of the end of last season, while Hami Syahin will relish the opportunity to be the fulcrum of the Sailors' midfield and no one needs any reminder of his abilities to pull the strings and play the killer pass to the forwards. 
4. Plethora of attacking options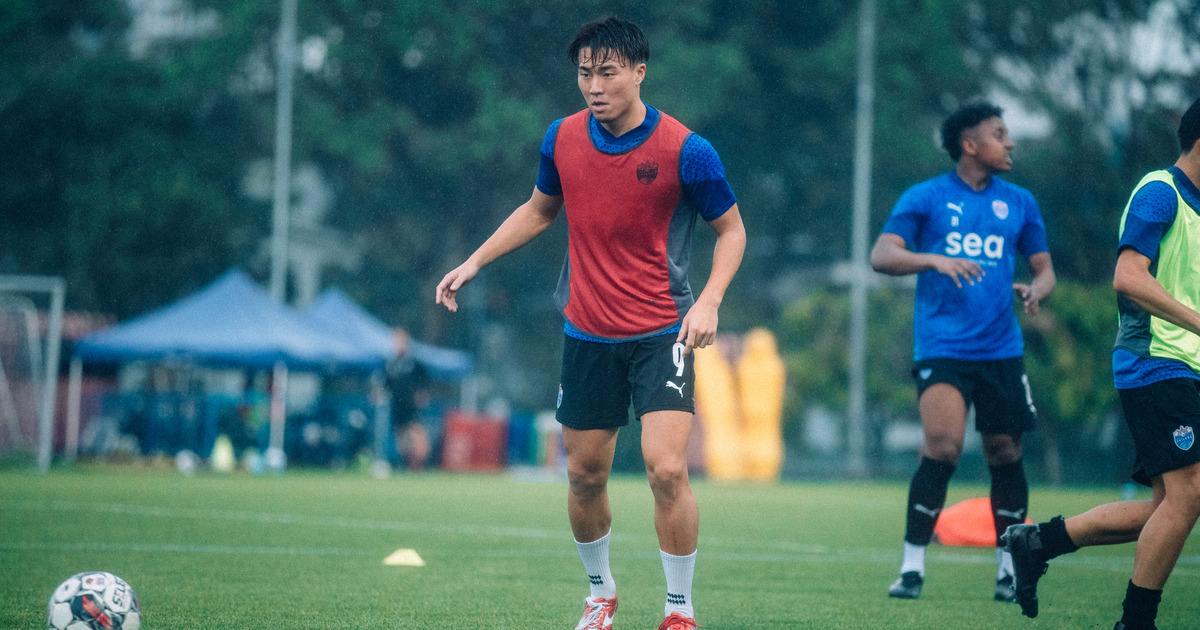 The signings of Kodai and Shawal add a new dimension to the Sailors attack, with the pair looking to form a fearsome triumvirate with Maxime Lestienne who starred last year with a league-high 23 assists. With a combined total of 69 goals throughout 2022, it is clear that the goalscoring responsibilities will be shared – and well-shouldered – between the three, all of whom have the ability to play anywhere across the attack. 
With the capable Rasaq waiting in the wings and several good crossers the likes of Hafiz, Chris and Arshad, Risto's Sailors are poised to dish out some entertaining football this term.  
5. Magic of the Sailors' rightful Bishan home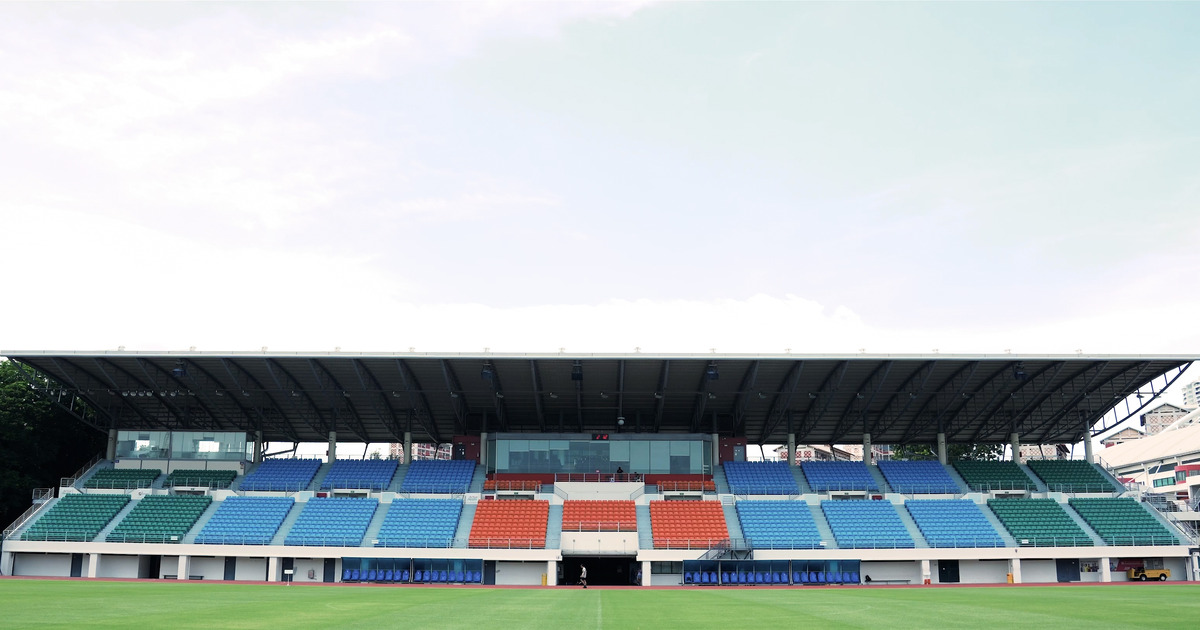 It was lovely to have Jalan Besar Stadium as a temporary residence for the past two years, perhaps especially because it was there that history was made when the club won its first-ever SPL title in 2021. 
But there is palpable delight in returning to the Bishan Stadium. The natural pitch at Bishan now looks impeccable, with both players and staff looking forward to putting on a display of slick passing football on its lush surface.  
Off the pitch, the Sailors are working their socks off to put a quality matchday experience together for fans, and there is welcome support from club partners in the vicinity – Halal restaurant, GoodBites, and Prime Auto Care for all your vehicular needs, are based just a stone's throw from the stadium – who are poised to serve all fans. 
It will be brilliant, and we can't wait to open our doors to Singapore football fans!
As the Sailors celebrate the third anniversary of the club, Sporting Director Badri Ghent looks with optimism to the new domestic football season ahead. 
Today the Lion City Sailors celebrate the third anniversary of the founding of our club and I am personally proud of how far the club has come since we were first formed on 14 February, 2020. 
It brings me great pride to see our Lion City Sailors Training Centre on Mattar Road now bustling with activities, eight months on after our official opening in July 2022. This first-of-its-kind facility in Singapore has provided us with the perfect platform for our first team, Women's team and youth development pathways to take root and grow.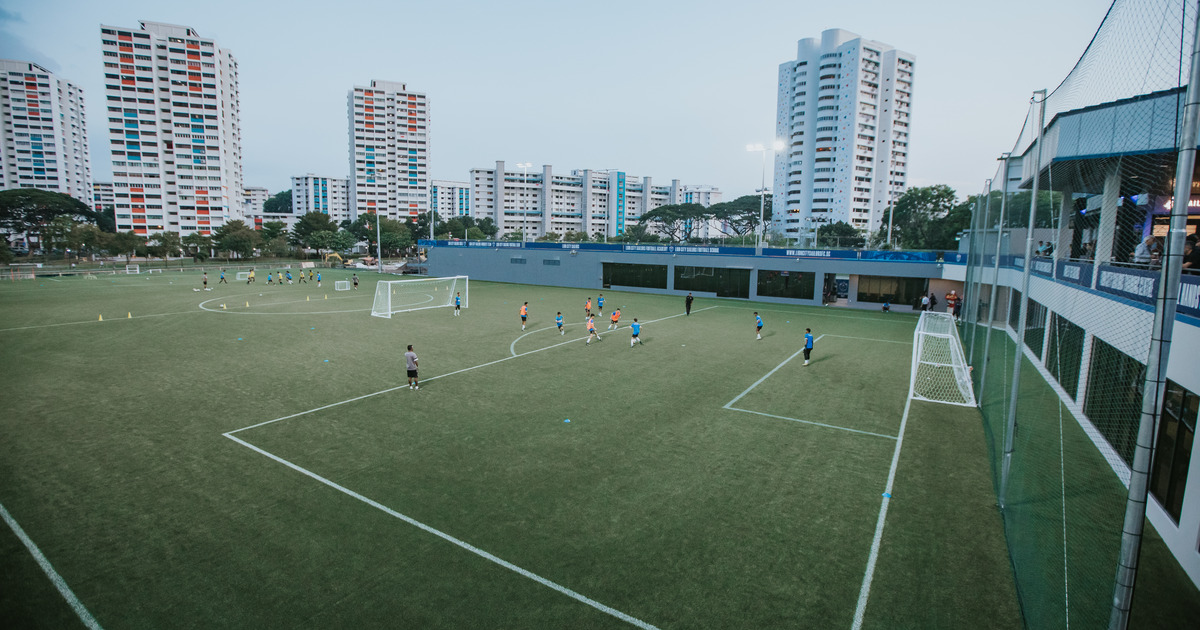 The Training Centre is now equipped with the capability for our players to undergo focused individualised training programmes – that include technical sessions, strength and conditioning and even injury prevention and recovery – based on the needs of each player, this over and above tactical sessions with their respective teams.
A glance in the rear view 
Our Women's Team did incredibly well in their inaugural Deloitte Women's Premier League (WPL) season last year, winning the league in a memorable unbeaten campaign under the tutelage of Yeong Sheau Shyan.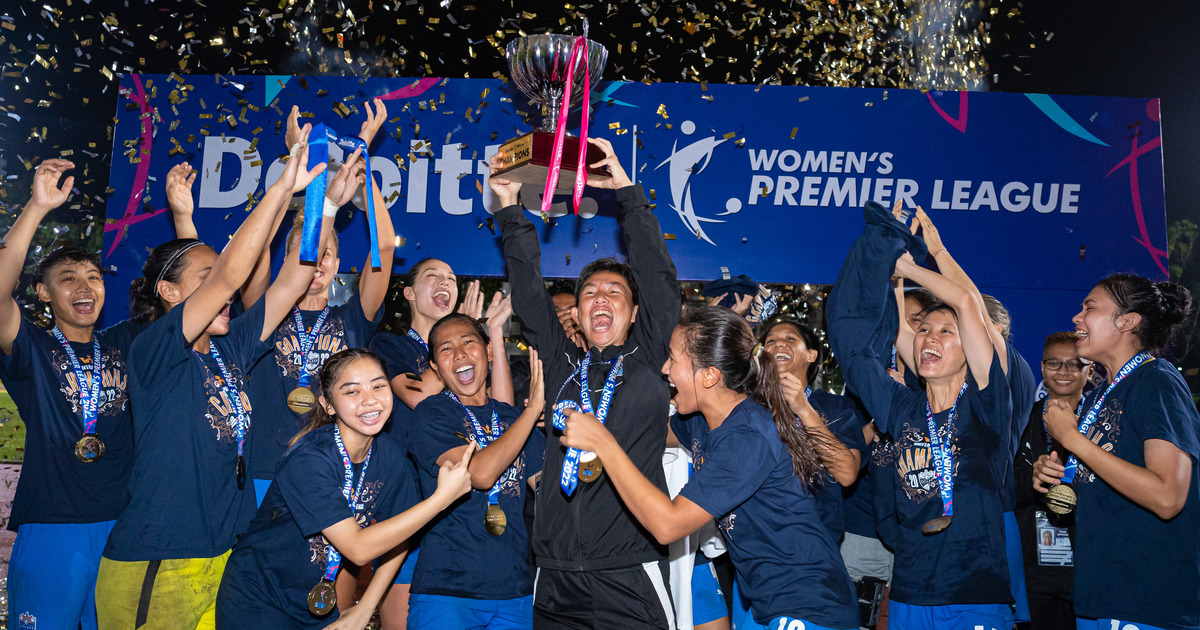 The First Team won our first-ever Community Shield and made a decent impression in the Asian Football Confederation (ACL). 
There were of course disappointments across the season as well.  
The way we ended the 2022 domestic football season hurt, for sure. We hold ourselves to high standards and we have to acknowledge that the past campaign was just not good enough for what the club wants to achieve. 
We have taken a long hard look in the mirror and it is clear that building a culture of winning requires more than just having the best players and staff. We need to have a group of people who are hungry – and on the same page of achieving things together.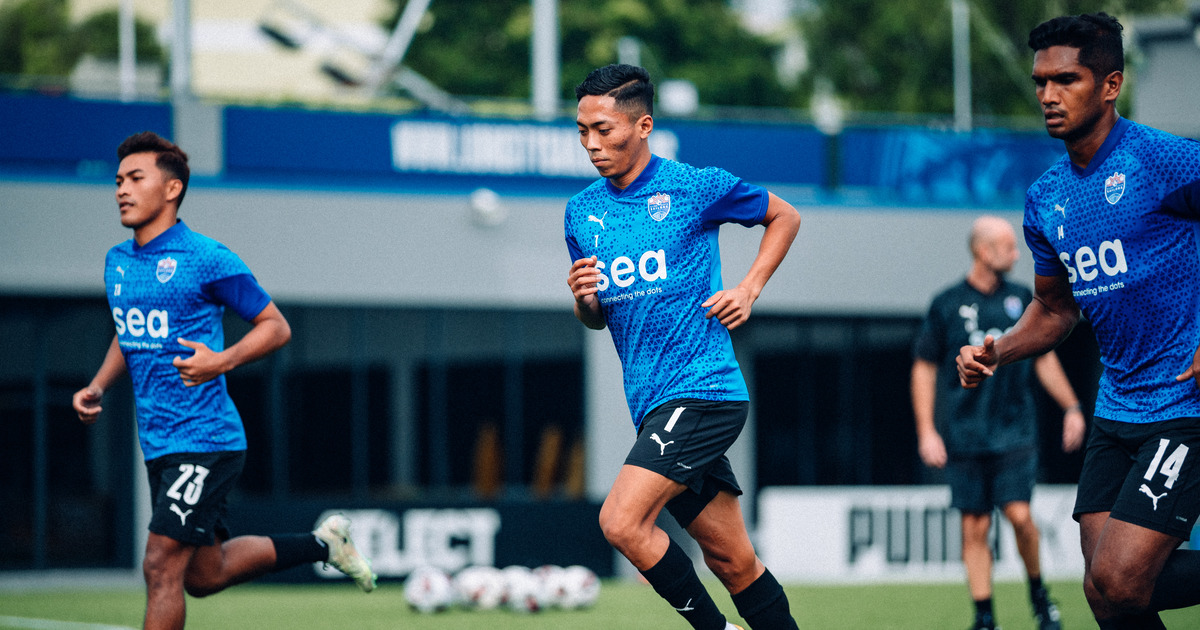 In football, there are always lessons to be taken from every season and we are now going into a new season shaped by those experiences. We have analysed and identified the areas which we were lacking in last year to improve for this year. 
One thing is for sure: we are learning, adapting and improving as we go into our fourth year. 
Eyes fixed on the horizon
It is important we now look ahead, and there are plenty of reasons to be positive. We have brought in Risto Vidaković, an experienced coach with a proven regional track record, and his teams have always displayed his philosophy of possession-based attacking football. 
I am an admirer of his football philosophy and I have enjoyed insightful football conversations with him when our teams – Home United, the previous iteration of the Sailors, and Ceres-Negros – met in the 2017 and 2018 AFC Cup zonal finals. It was clear to me then that he had made Ceres one of the most competitive sides in the Southeast Asia. 
I am confident he will rally the troops and we will have a successful season together in 2023.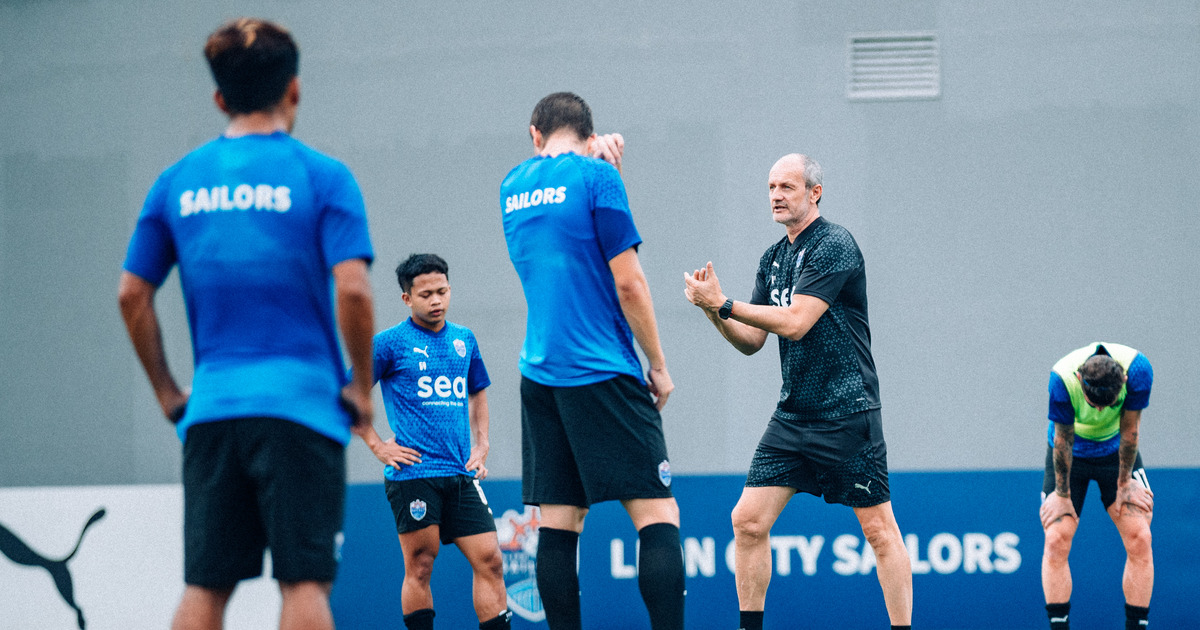 The Sailors Class of 2023 is a rather young one – a team that has hunger and raw talent, and I'm confident we will excite our fans. 
Zharfan Rohaizad is one of Singapore's rising custodians and is bound to feature strongly for the Lions, and the likes of Christopher van Huizen, Lionel Tan and Shawal Anuar have proved their pedigree in the league for the past few campaigns. 
The fans are understandably excited about the arrival of Kodai Tanaka and I am equally excited too – obviously we are happy to have him wearing our white and blue.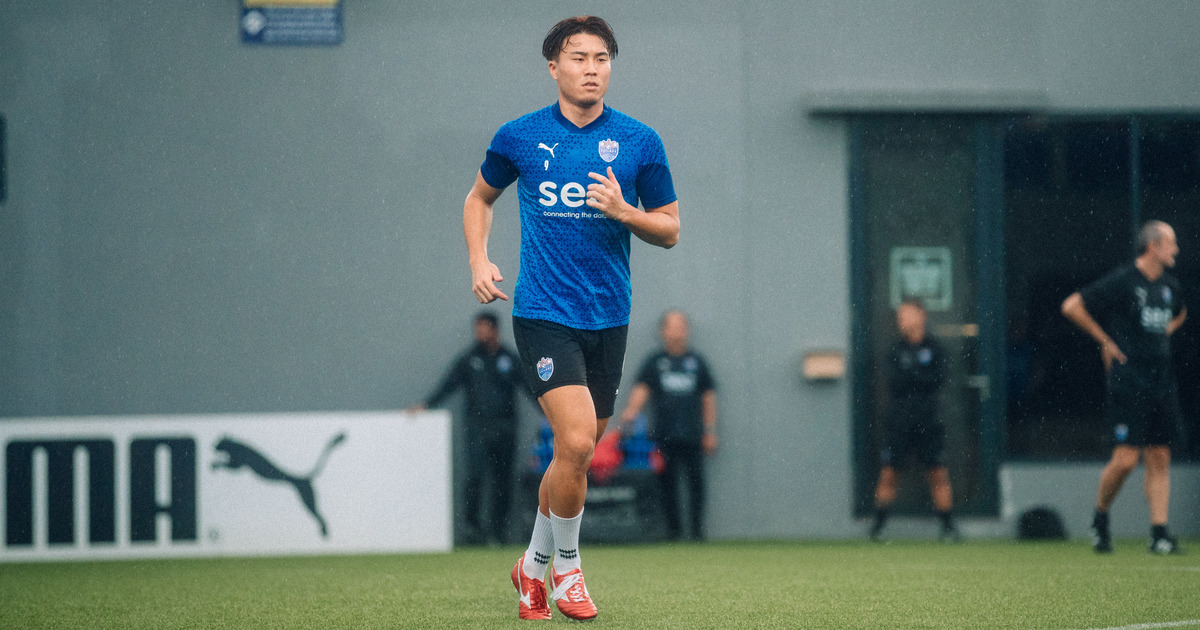 With his presence and under Risto's tutelage, we will see dynamic attacking play at the Bishan Stadium – especially when you consider the fact that we have Maxime Lestienne and Diego Lopes providing ammunition – and you guys deserve to see that, for all the support you have given us. 
And yes, we're returning to our rightful Bishan home and the team behind the team is working their socks off to deliver a quality matchday experience for you. Our hope is that you continue to support us like you did in droves at Jalan Besar. 
An infusion of youthful vigour
Our academy trainees are starting to come through our system at Mattar and there is starting to be an infusion of youthful vigour in the first team. The club is more than just about our professional team, we want our youth footballers to grow and I think it will soon be clear that for them to be embedded in this world class facility is the way to go, even as we do our part to help Singapore football as a whole to improve. 
The training centre is now a solid base where auxiliary industries – sports science, nutrition, data analytics – all come together, with Kodai even mentioning that in his opinion, it is better than the standards seen in the Japanese second-tier.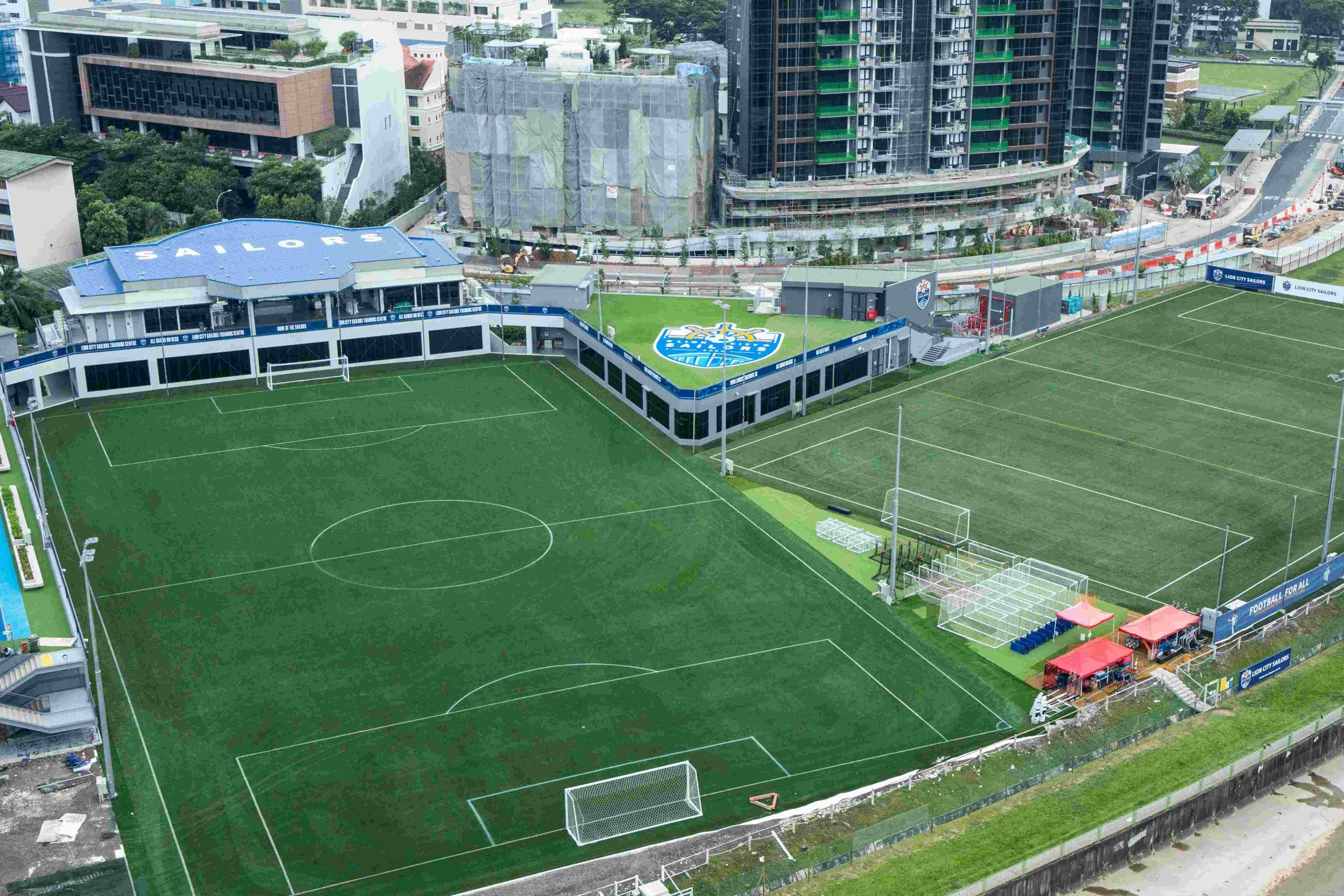 It is important that our players work hard, deepening the professional mindset and improving the way we train. 
We have two functional artificial pitches, with the hybrid pitch set to be operational later this year, and we cannot wait to train on that. 
The long-term target is to become one of Asia's top clubs and we have never lost sight of that, even with the challenges we have faced. We want to continue to forge a new path that is beneficial to Singapore football and inspire the future.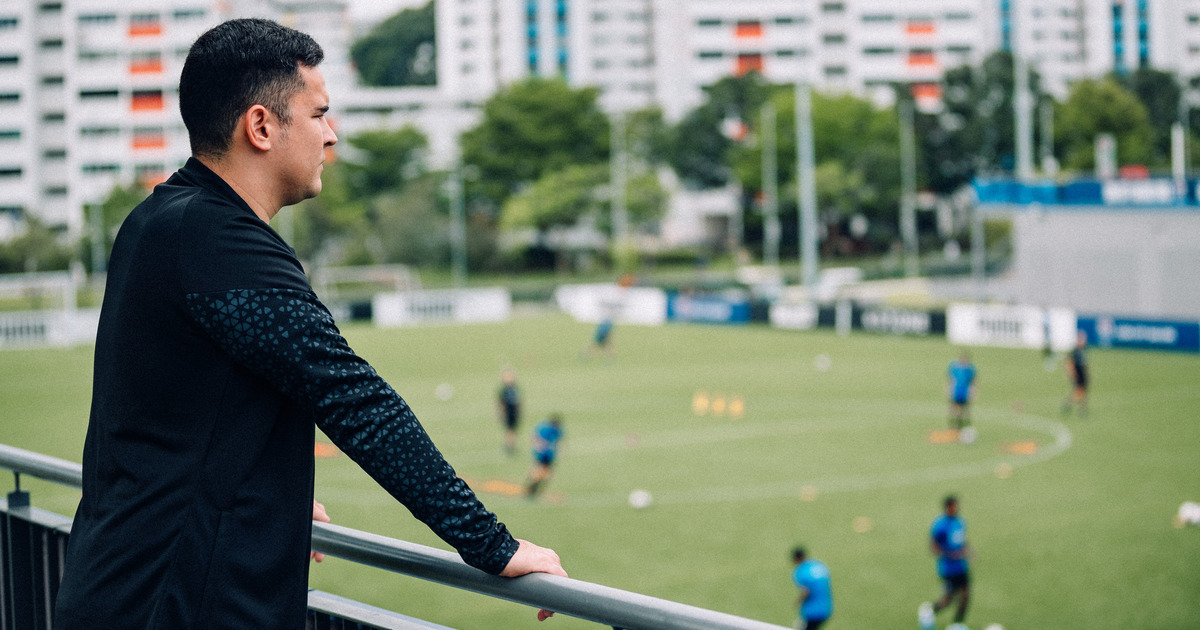 We are looking forward to kick off our 2023 adventure, and we hope you will be alongside us in the stands at Bishan Stadium.

Happy birthday, Sailors!
Badri
The Lion City Sailors are gradually settling into life under Risto Vidaković and it is in no small part down to his two trusty lieutenants – Pablo Muñiz from Spain and 39-year-old Bosnian Dževad Šarić – who have joined him onboard at the club. 
Alongside Risto, the pair have bedded into life at 8 Mattar Road, pulling the Sailors players, technical and auxiliary teams together for the battles that lie ahead on the upcoming Singapore Premier League (SPL) season.
The 45-year-old Pablo – who holds a UEFA A Coaching License – is the Sailors' assistant coach and Risto's right-hand man, key to ensuring the team grows into the new football philosophy laid out for the Sailors' Class of 2023. 
Doubling up as the club's Head of Video Analytics, Pablo is relishing the opportunity to play a key role in what he believes is an ambitious Sailors project. 
"There's a lot of excitement here because the club is still quite new and wants to achieve big things in the future," said Pablo.
He played similar dual roles at various clubs: in Thailand with BG Pathum United, Suphanburi FC and Bangkok Glass between 2017 to 2022, as well as for the El Salvador national team from 2015 to 2016.
"I can already sense a good synergy between everyone at the club in these few weeks that I've been here and we have a great training centre too – so we have all the right elements here to be a successful club. I just want to play a part in helping the club fulfil our ambitions," added Pablo, who is working alongside Risto in a club setting for the first time.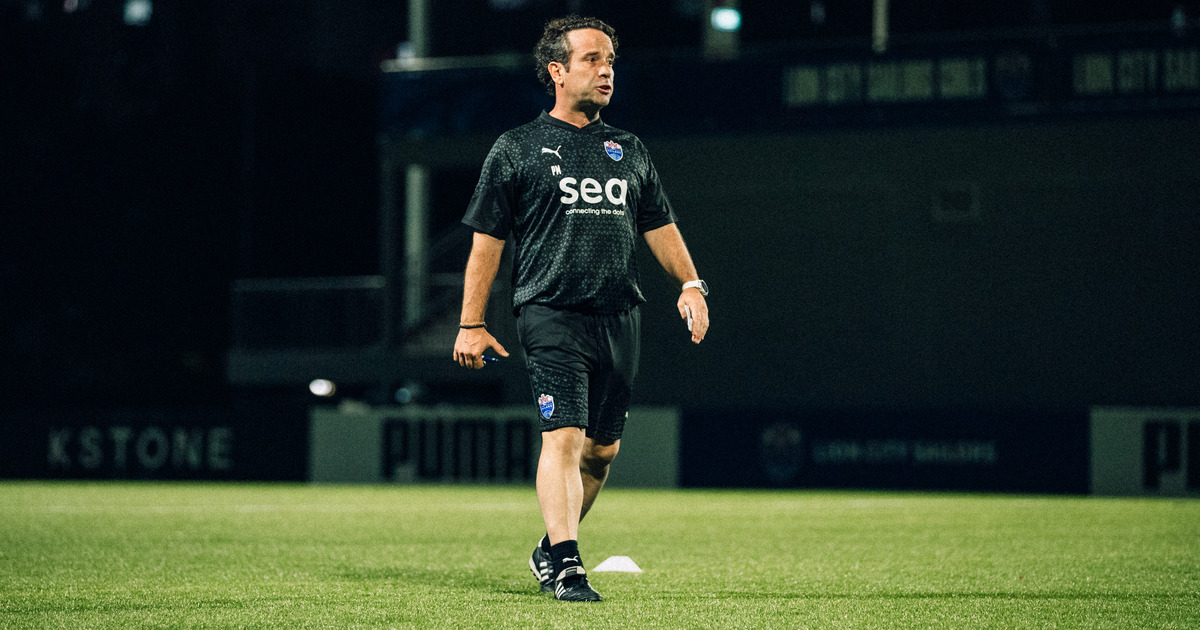 "Risto needed some help with information about Southeast Asian teams playing in the Asian Football Confederation Champions League (ACL), that's how we first connected. We clicked well because he also has a Spanish background and understood football in the same way I do, so I was happy to come to the Sailors when he called me," he added. 
Pablo started out as a fitness coach in the youth teams of Sporting de Gijón in the early 2000s, but was inspired by Rui Faria, José Mourinho's well-known right hand man, to venture into the tactical analysis side of football, and soon went on to head the Tactical Analysis department for the club's first team in the Spanish second division between 2012 to 2013. 
"In football, every aspect is connected – from tactical periodisation to contextual analysis on football moments. When you have the capacity for video analysis, you can really connect with the players on virtually all aspects of the training," he explained. 
"I always say that curiosity is the mother of knowledge. I was hungry to learn and understand the game more to be able to help the head coach, so I took up qualifications to try to be savvier with video analysis tools. That helped me when I went to El Salvador and also afterwards in Thailand." 
In Thailand, Pablo worked with several notable Thai internationals including Teerasil Danga and Sarach Yooyen, as well as the Singaporean duo of Irfan and Ikhsan Fandi. He was assistant to Aurelio Vidmar at BG Pathum for part of the 2021-22 Thai League 1 season and it was that friendship with the former Sailors Head Coach that nudged him to join the Sailors' journey.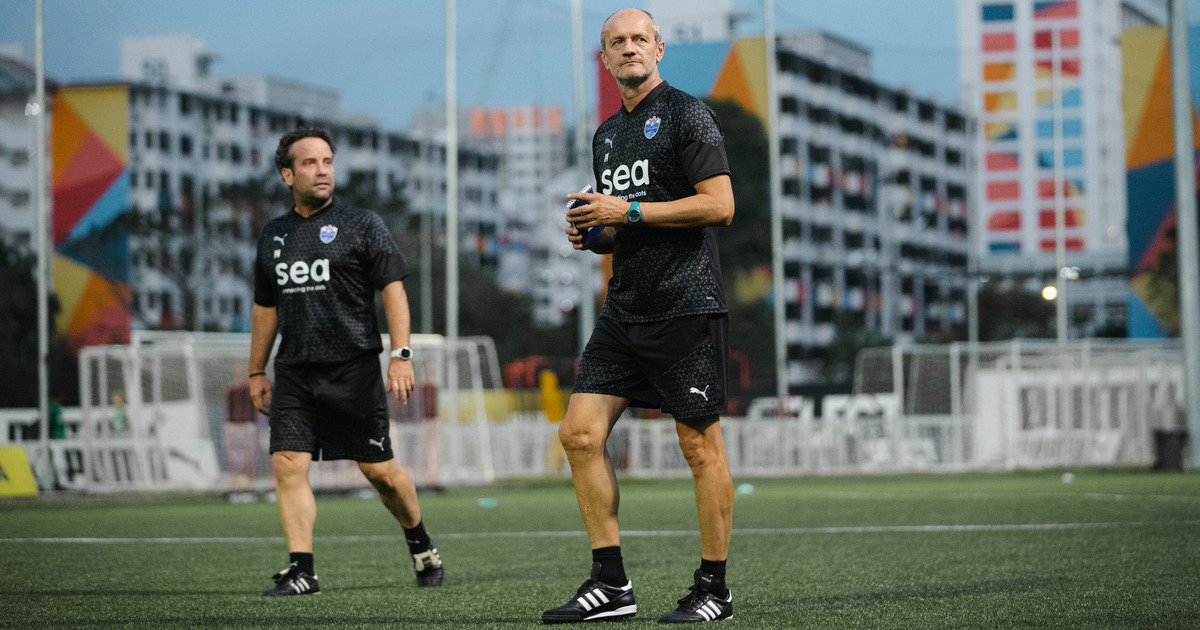 "I obviously spoke to "Viddie" when I got this offer, and he always has very good things to say about his time with the Sailors, so he told me to go for it," revealed Pablo. "I see some parallels between what the Sailors and BG are trying to achieve, so there was no doubt that I must take this step."
Dževad was similarly convinced by the Sailors' long-term vision and blueprint to get here.
He is the Sailors' new Head Strength & Conditioning (S&C) Coach, tasked to ensure players get in tip-top shape for the season ahead. 
Having worked under Risto at Indonesia's Borneo and Melaka United in Malaysia between 2021 to 2022, Pablo had no hesitation in joining Risto at a third club in Southeast Asia when the Serbian came calling. 
"We have so many things in common such as the way we view football and football tactics, so obviously I'm very happy when he called me to join him here and I had just finished my contract with my previous club," said Dževad, who spent the second half of 2022 back home with FK Tuzla City after leaving Melaka last April. 
"I did some research before coming, so I knew there's good infrastructure and an excellent academy system here. I'm very happy to be here and I hope to help the club improve step by step," added Dževad, who holds a UEFA Pro License.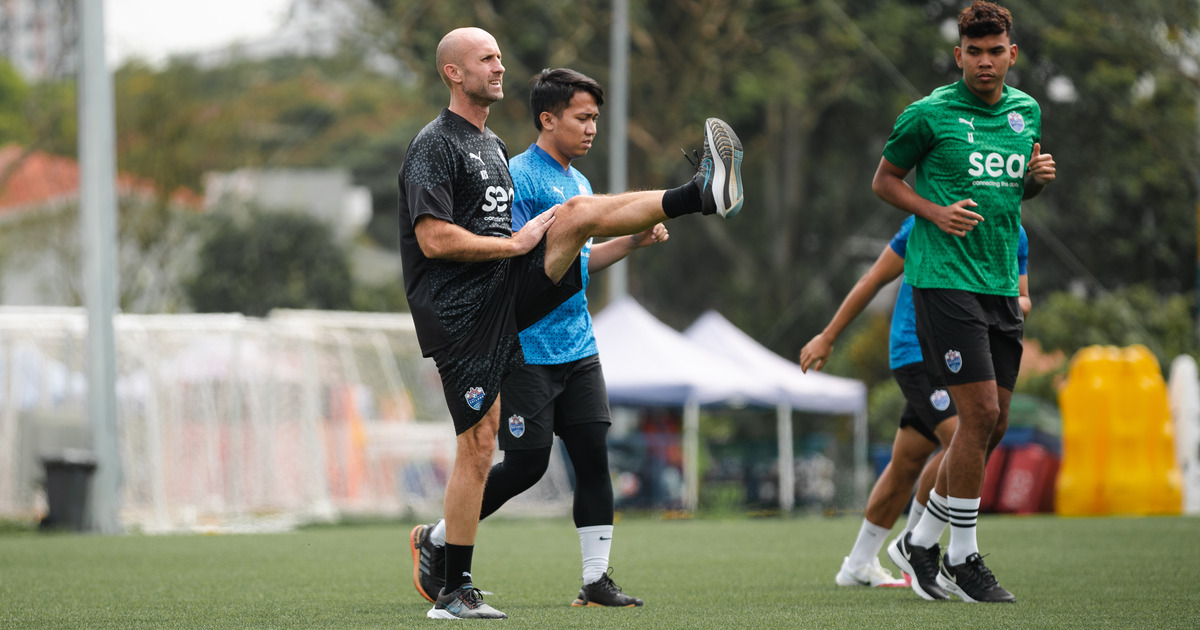 The well-travelled Dževad comes with a wealth of experience, having worked across the globe in Europe, Asia, Africa, and the Middle East. 
He was technical director at Myanmar's Shan United between 2014 to 2015. That was followed by spells as assistant coach at Oman's Al-Nasr SCSC, Angola's CD 1º de Agosto and China's Meizhou Hakka between 2016 to 2018, before working as a fitness coach at Egypt's Ismaily SC in 2021. 
Dževad hopes to tap on his regional experience to put in place building blocks for the Sailors to succeed in the coming season. 
"I don't have a lot of demands for our players – I just want them to build good habits and to be responsible for their behaviour. We have many young players at this club, so I'm excited to help them grow," he said matter-of-factly. 
"My main job is to help the head coach develop the team, so everything I do is connected to his ideas. I'm here to help improve the area of team communication and make an impact on the physical aspects of the players. 
"So far, I've seen a lot of positive things in this team and I strongly believe that we can grow even further."
Dževad, alongside Pablo and Risto, have all lauded the support they have received from their comrades in the trenches at the Sailors – the technical, auxiliary, and even administrative teams at the club. 
Pablo and Sailors Under-21 Head Coach Daan van Oudheusden have joined hands with Head of Individual Training, Rodrigo Costa, to assist Risto with the broad targets of the team, as well as the nuanced requirements of every role across the length of the pitch.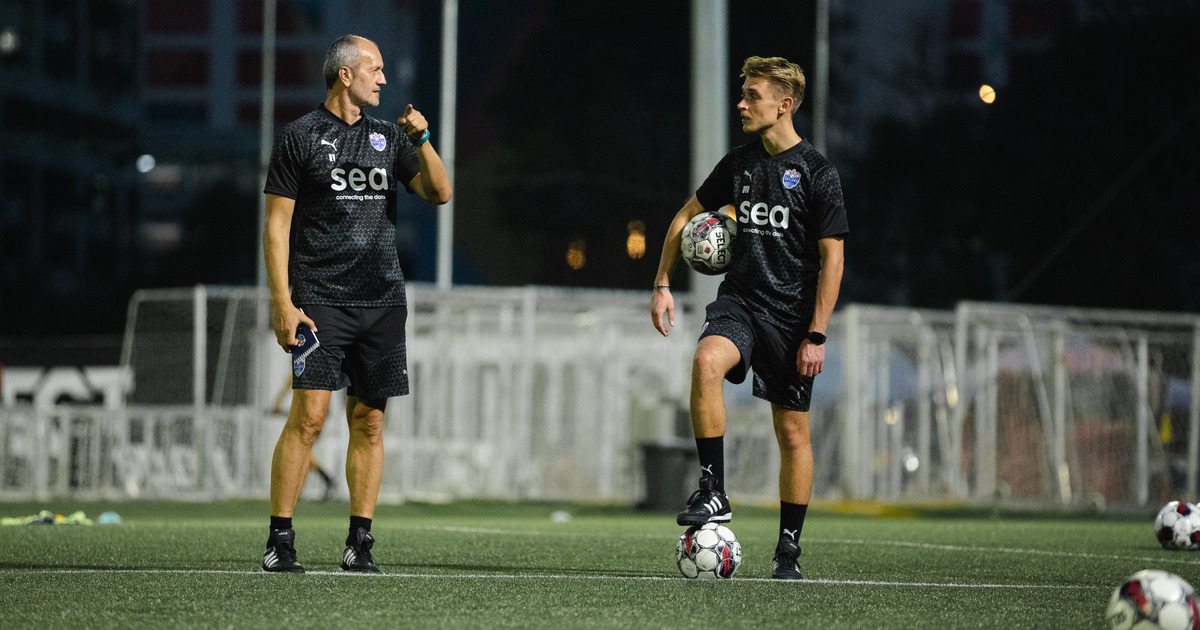 The long-serving Chua Lye Heng supports Kris Stergulc – who comes with experience working with Slovenia's Under-17s – in the goalkeeping department, while Mike Kerklaan heads the rehabilitation department which comes under the purview of Head of Performance, Mark Onderwater, who oversees the aspects of analytics, S&C, rehab and nutrition.

"We've a good structure here and everyone is doing their part to ensure the team goes into the season fully prepared for the challenges ahead. There's a very good atmosphere within the team now, we've some very hungry players here and they're beginning to understand my game philosophy. 
"I can feel this team is really pulling in the same direction and that's key to us achieving our objectives for 2023," said Risto.
As the ball hung in the Buriram sky following Maxime Lestienne's cross, Song Ui-young leaped like a salmon and connected superbly with a looping header that nestled in the back of the net.  
That goal back in April 2022 set the Lion City Sailors on their way to a stunning 3-0 win over K-League side Daegu FC in Group F of the Asian Football Confederation Champions League (ACL). 
With that, Song wrote himself firmly into the club's history books and it was a moment that he holds dearly in his heart – even as he sealed a move to Thai League 1 side Nongbua Pitchaya on Sunday (15 January). 
"That was my first ACL goal and we took the three points against a Korean team – no Singapore team has done it before so it was a very special moment for me. it was definitely one of my best memories with the Sailors," said the 29-year-old attacker in his farewell interview with the club.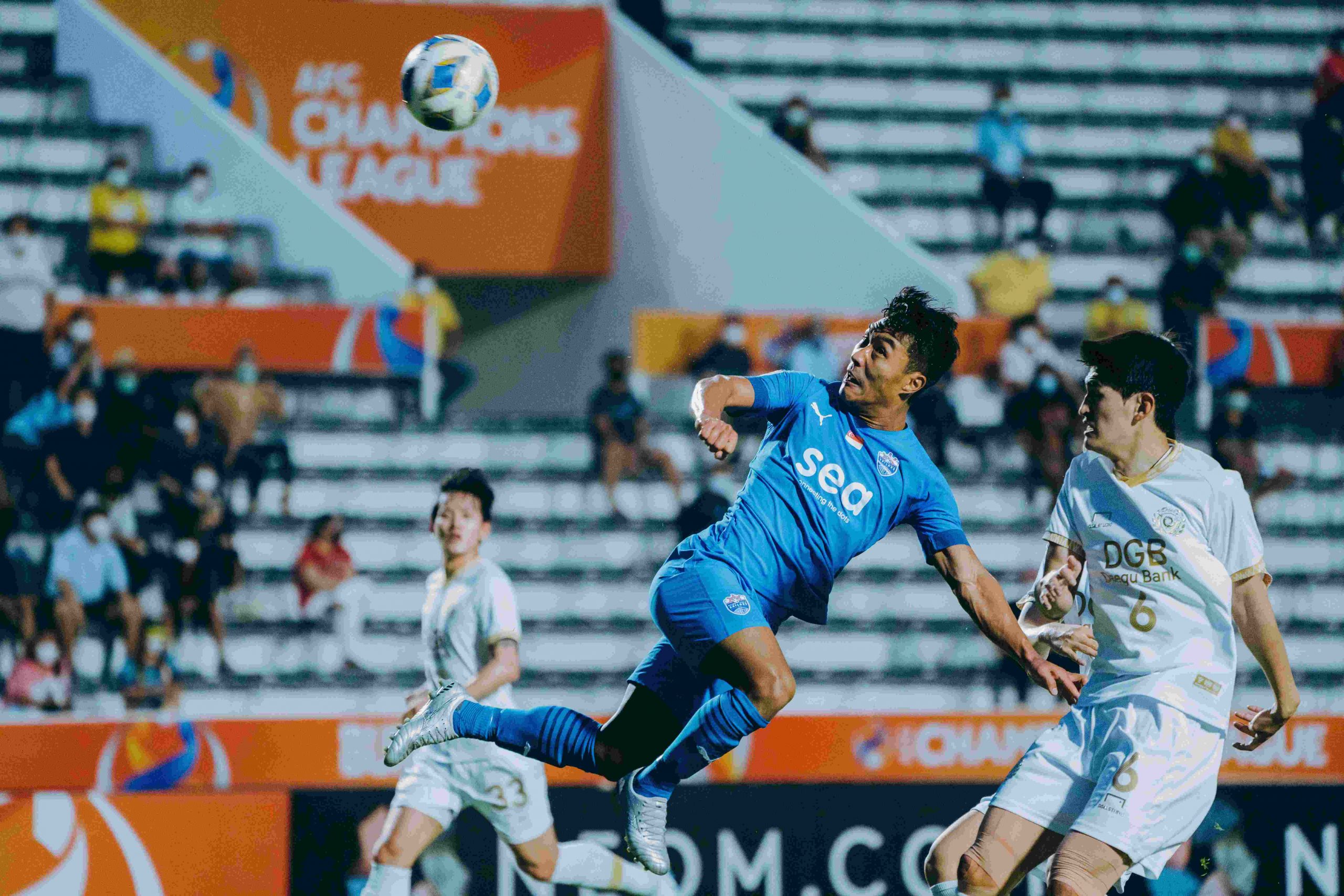 "I had big motivation to play in the ACL because I really wanted to compete against the strongest teams in Asia. I'm very happy and thankful to my teammates and coaches – we did and achieved everything together. 
"I was so proud to see our fans coming to Buriram (where the ACL group stage campaign was hosted) to support and cheer for us – they even brought the Singapore flag, and that was a big motivation for us to put in extra effort."
In his three years with the Sailors, Song was often looked upon as a player who would stand up to be counted when it mattered. And he underlined this by scoring at critical moments, including bagging the opening strike against Balestier Khalsa in a 4-1 win that secured the Sailors their first-ever Singapore Premier League (SPL) title in 2021. 
He signs off as the current all-time leading scorer for the Sailors with 32 goals in all competitions, including three in the ACL which makes Song the Singaporean with the most number of goals in the top-tier continental competition. 
"I'm just very happy that I helped the team achieve our targets then (two years ago). A Singapore team had not won the SPL title for seven years at that time, and I had also never won a domestic league title before that, so it was an amazing feeling to finally get our hands on the trophy.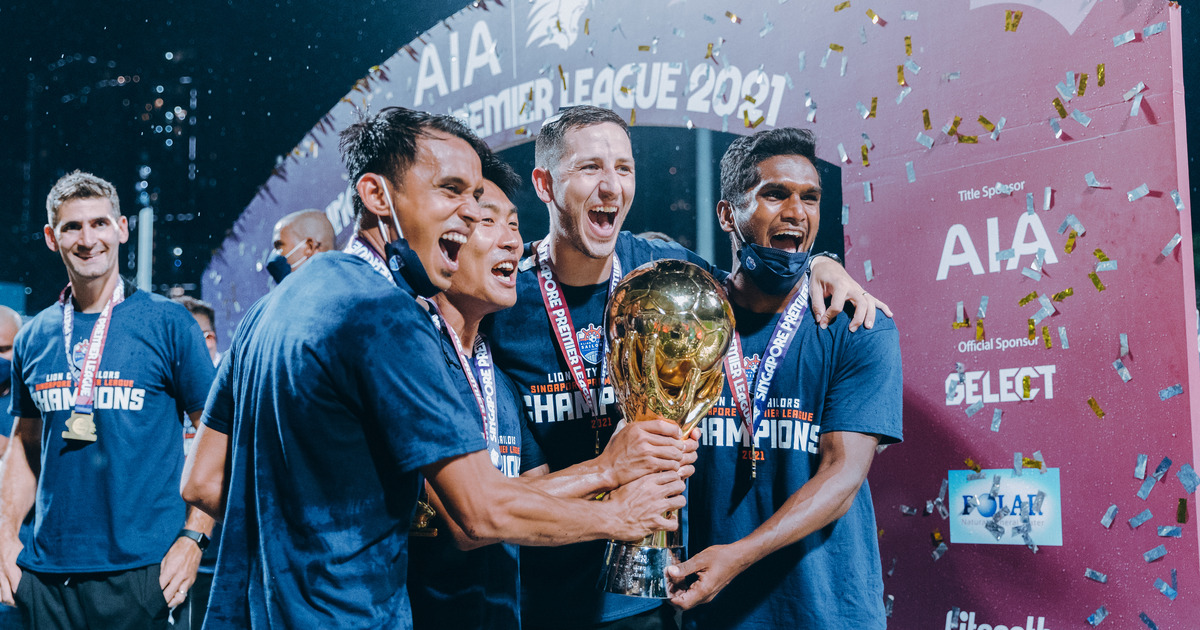 "We were very proud to be able to achieve that as a team," reflected Song. 
Song's unwavering commitment on the pitch stood out in the eyes of local football fans, but it was perhaps his love for Singapore and burning desire to represent the Republic's Lions that won their hearts. 
It took him three attempts to secure permanent residency in 2020, before finally becoming a citizen the following August with strong support from the Sailors management and local authorities.
And he remains eternally grateful. 
"That moment I received the Singapore passport, I couldn't describe my exact feelings but I was very happy because I really feel at home in Singapore after so many years here and I really wanted to play for the Singapore national team," recalled the Incheon native, who first came to the Lion City at the end of 2011 as an 18-year-old.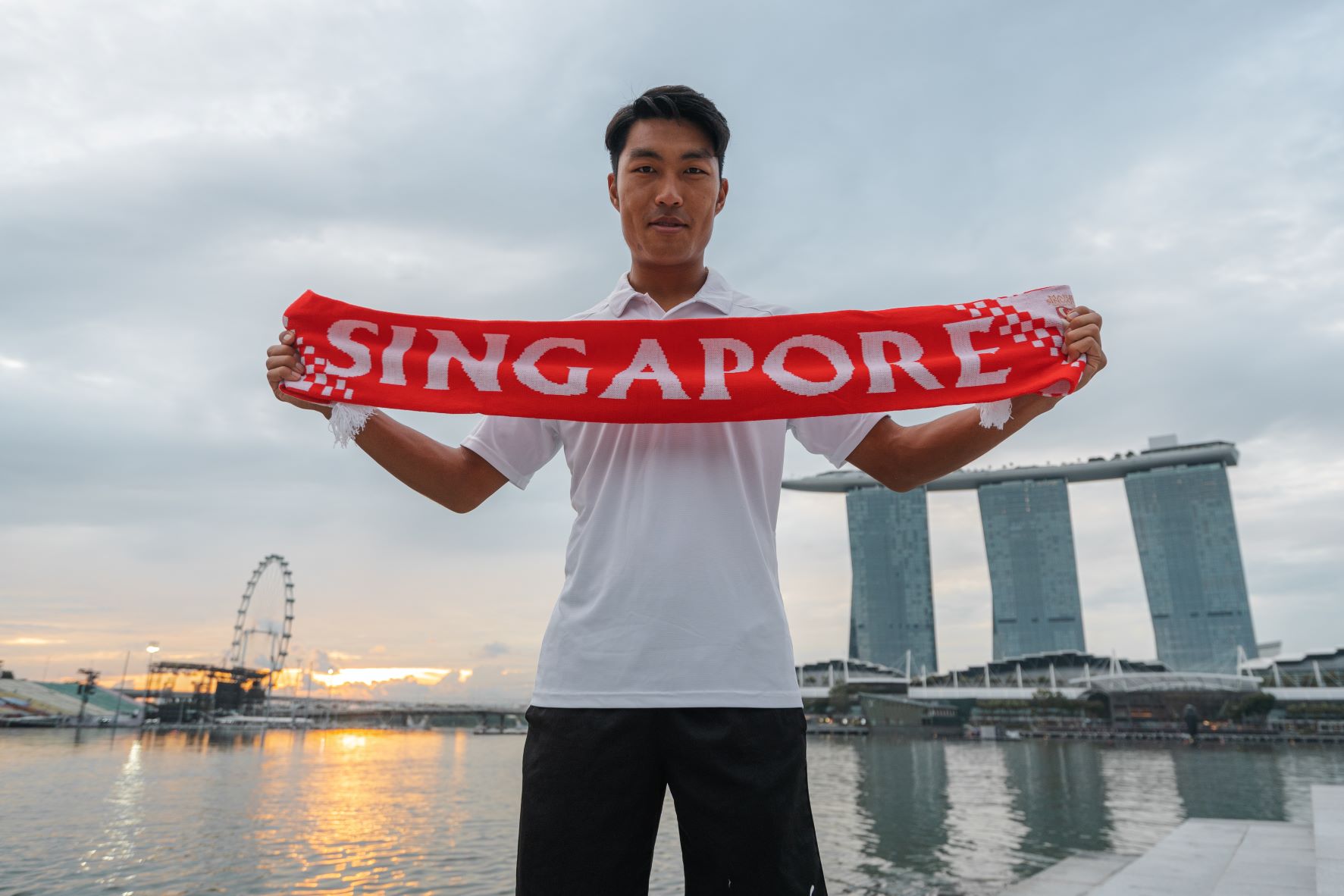 "I know behind the scenes, many people helped me in this process so deep in my heart I really appreciate all the help and support. Without everyone, this would not have happened and I won't be able to achieve this dream." 
Song played a total of 11 seasons – more than one-third of his life – in Singapore and witnessed the transformation of the club from Home United to the wildly ambitious Lion City Sailors. 
Even as he departs the club to embark on the next chapter of his career, Song looks back fondly on the opportunity to be involved in the exciting project.  
"There have been ups and downs of course, but I'm glad to have grown together with this club – both as a footballer and as a man. There's obviously a big difference since the club became the Sailors and it's great what the club has built up so far from the facilities to the personnel. 
"As a player, I could really focus on my football here so you can tell there's a great deal of professionalism in how we do things here," he said.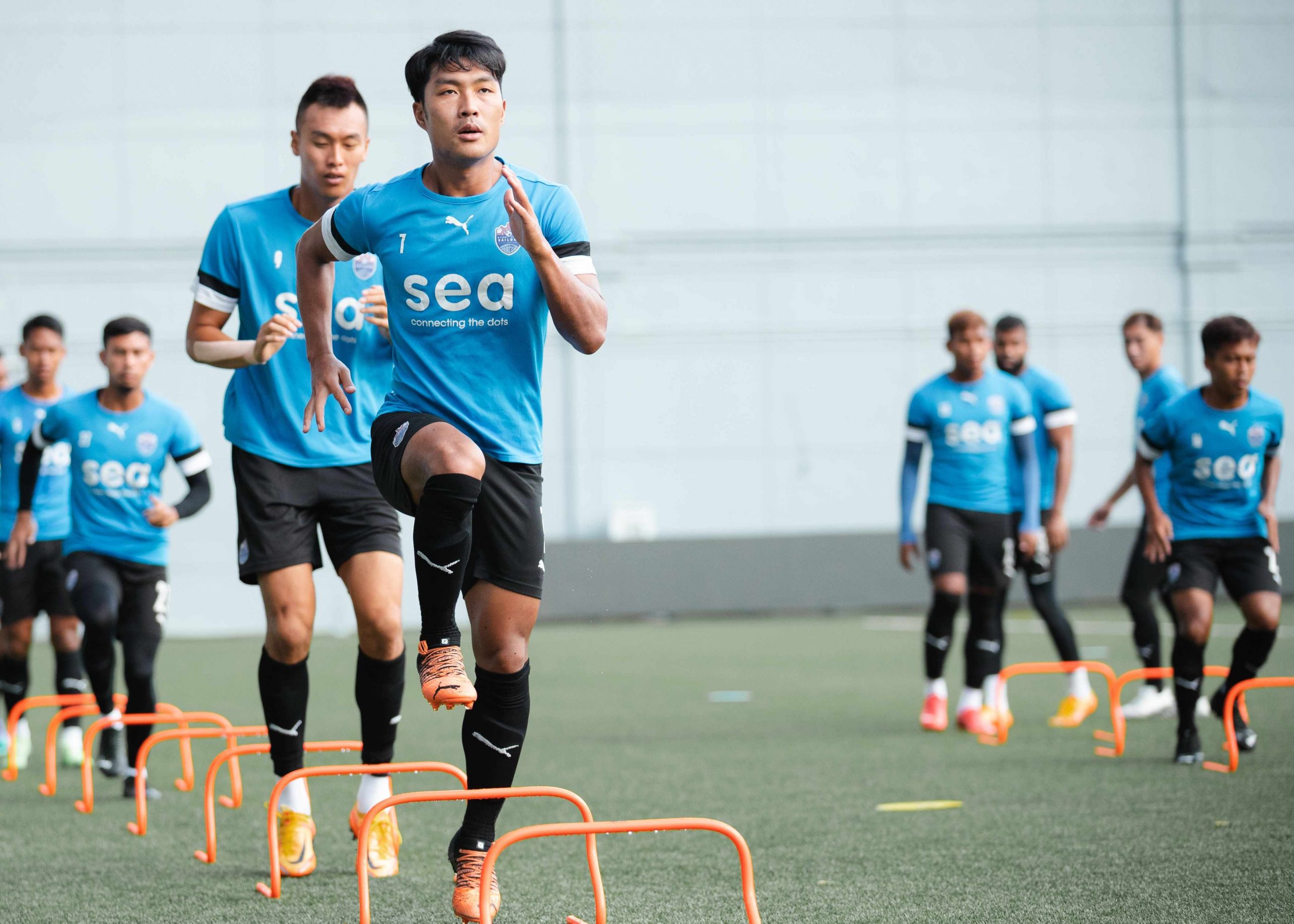 Song came to Singapore as a hungry young footballer looking to carve out a career, and now leaves as a man – and an established Singapore international. It is very much a mission accomplished for Song, who said the decision to leave the Sailors was difficult but one that had to be taken. 
"Honestly, I'm quite sad to be leaving this club but after competing in the AFC Cup, ACL, winning the SPL and being here for so long, I feel I need to get out of my comfort zone and go abroad to become a better player." revealed the forward, who will turn 30 this November. 
"I cannot just continue being relaxed and being comfortable at where I am right now if I want to develop further. I need to find a new platform to improve, develop and continue to show good performances as a football player." 
It is safe to say the Sailors will always have a special place in Song's heart, for the friendships and bonds forged over the years and he hinted that the Sailors fans may not have seen the last of him just yet.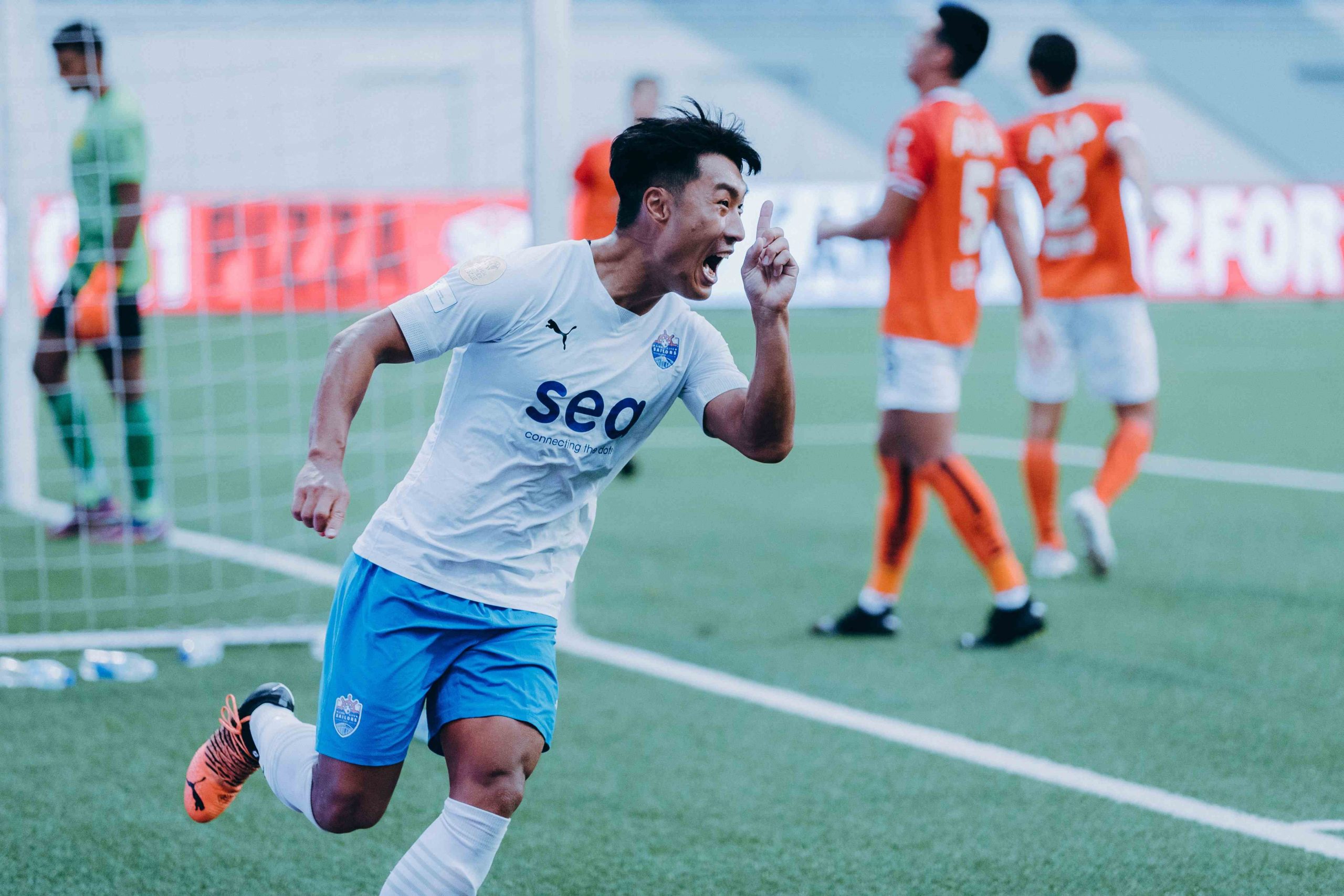 "I want to thank all my teammates, coaches and the management for taking really good care of me and making so many good memories together. I also want to tell the fans that I really appreciate all their support over the years. 
"One day, I hope I'll be back to play for them and the club again."
He is under no illusions about the task that lies ahead in the 2023 Singapore Premier League (SPL) season, but newly-minted Lion City Sailors Head Coach, Risto Vidaković, is confident that his charges will be well-equipped by the time the first ball is kicked – especially when working off the platform the Lion City Sailors Training Centre provides. 
Risto and his Sailors' Class of 2023 assembled at Mattar Road for the first time on Friday (6 January), with the players undergoing a medical screening by Cove Orthopaedic Clinic, before the start of pre-season training proper. 
Club Chairman Forrest Li welcomed the team – including staff and Sailors' Technical Director Luka Lalić – as the team took their first steps towards the 2023 season.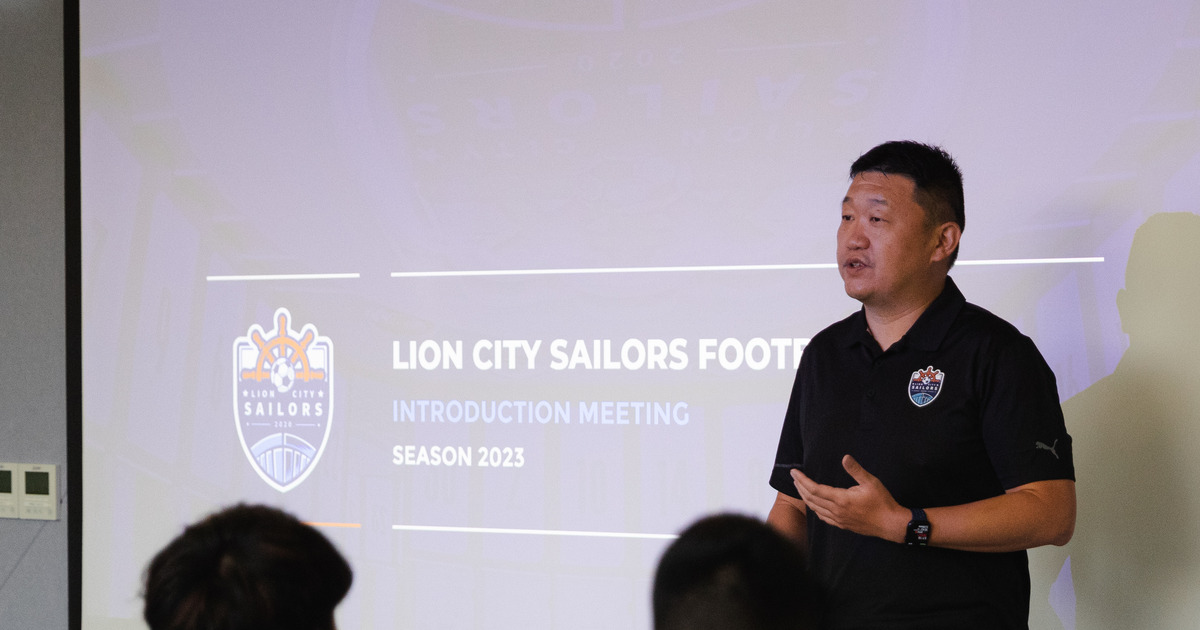 "I'm looking forward to being part of this ambitious project, to build something new and important for the club, but it's not going to be easy because we have many new components," said the 54-year-old Serb. 
"We'll have to put in the pieces together and involve everyone to push for the club's ambitions together. Having good facilities and a conducive environment is very important, because this Training Centre is the base and starting point of everything. 
"We have everything here at Mattar, and I'm confident that the players will feel that this is their home and be motivated to come in for work every day – it's a fantastic platform. " 
Risto's approach to pre-season training – a bright optimism underlined by a healthy dose of reality –  is shared by Luka, who helmed the Sailors first team as its Interim Head Coach from August 2022 to the end of the domestic football season. 
"There have been several changes at the club, but there is also a lot of positivity. New people bring a different level of energy and there's clearly a new optimism and energy here. What we have to do is move forward with this optimistic energy," said Luka, who was acutely aware that this renewed vigour has already been helpful.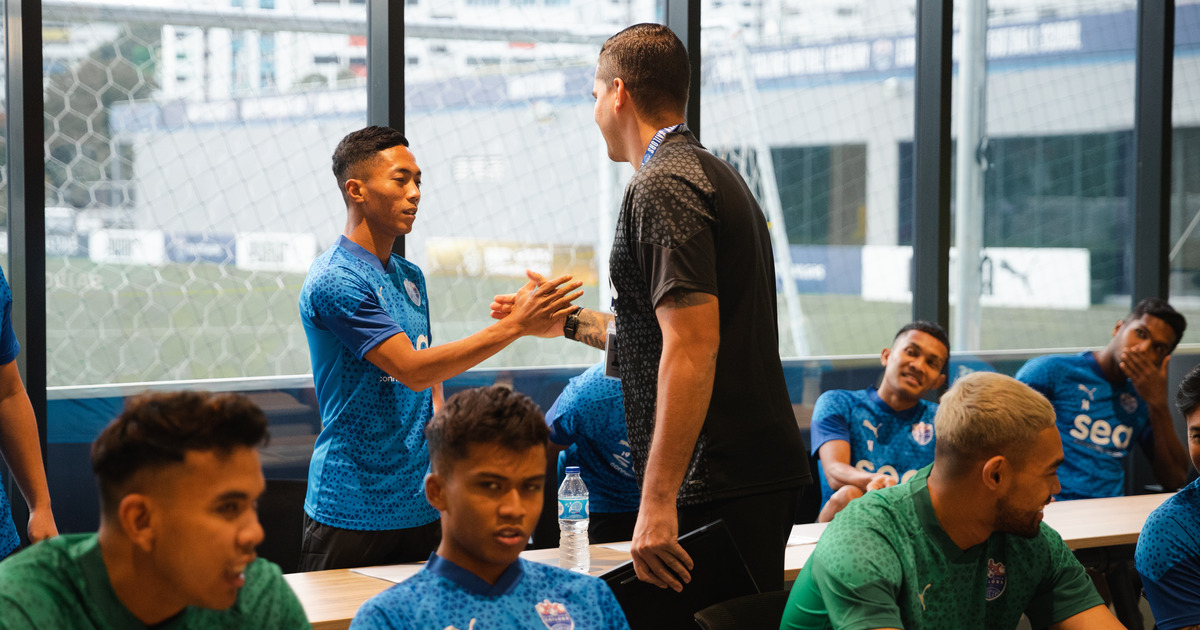 "A club like the Sailors is expected to win titles, but in 2022 we didn't, and I have to take a lot of the responsibility for what happened over the last four months. 
"This season, we have to collectively step up as a team and turn the page. We're changing how we're approaching training sessions and matches – we want to fully utilise the facility on what we can do with the team, and we'll also have more individualised programs to help the players to perform to their maximum potential," added the 35-year-old.
Hariss Harun and his teammates will undergo focused individualised training programmes – that include technical sessions, strength and conditioning and even injury prevention and recovery – based on the needs of each player, this over and above tactical sessions with the team. 
"I know the high expectations here, but we have a good team with many good people so with proper work, we can reach our goals," said Risto, who is setting his Sailors out to dominate games with possession-based attacking football. 
"The key is that in every moment we know what we're doing, everyone has to know what they're representing. Players have to know that they're in a special club and it's not easy to play for the biggest club in the country because opposing teams will be very motivated to play against us. 
"In every game we must give 100 percent – there is no other way."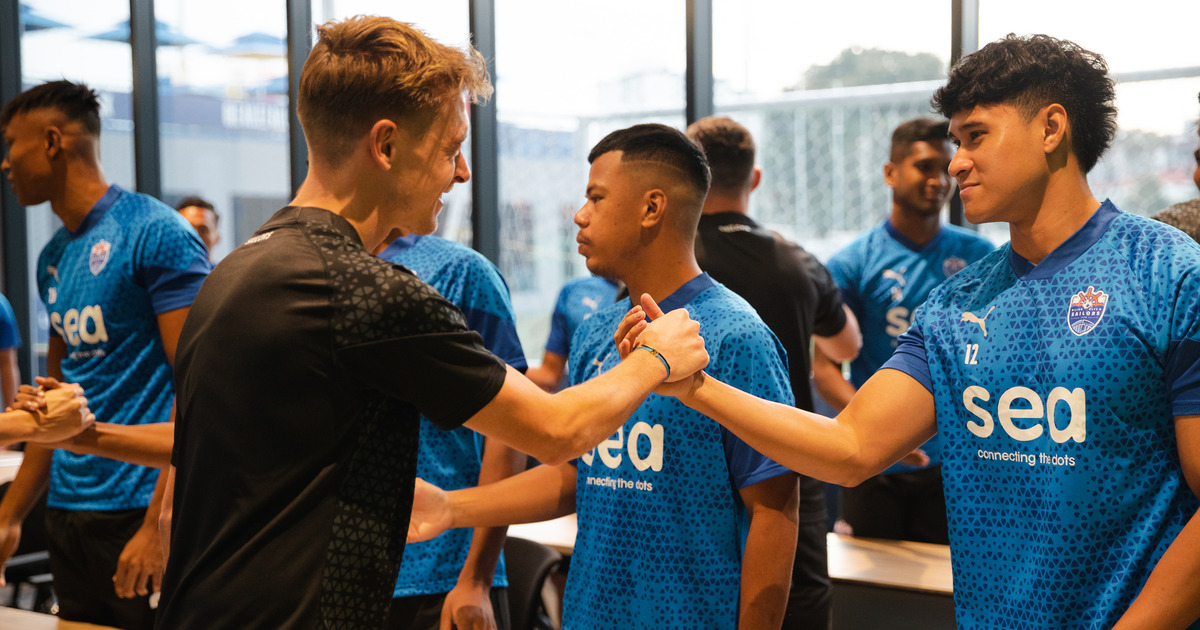 Risto's call for commitment and motivation will be helped by the infusion of youth into the Sailors' first team. 
Said Luka: "Most of our new signings are younger players, and this is because it's important that a generational shift starts, not just for the club, but also for the bigger picture of football development in Singapore. 
"We have recruited players who have demonstrated the most potential, and this is supported by the fact that we will have players from the first batch of our Early Enlistment Program (for National Service (NS)) starting to join the squad." 
Sailors fans have already got an early indication of the potential coming through the club's Academy, with two youngsters – 17-year-old midfielders, Yasir Nizamudin and Danie Hafiy – providing an assist each when the Sailors fell 7-2 to German giants Borussia Dortmund at the Jalan Besar Stadium in November.
"We'll have to see how these players can fit into the team and hopefully we can see some of these Under-21s making their senior debuts this year," added an optimistic Luka.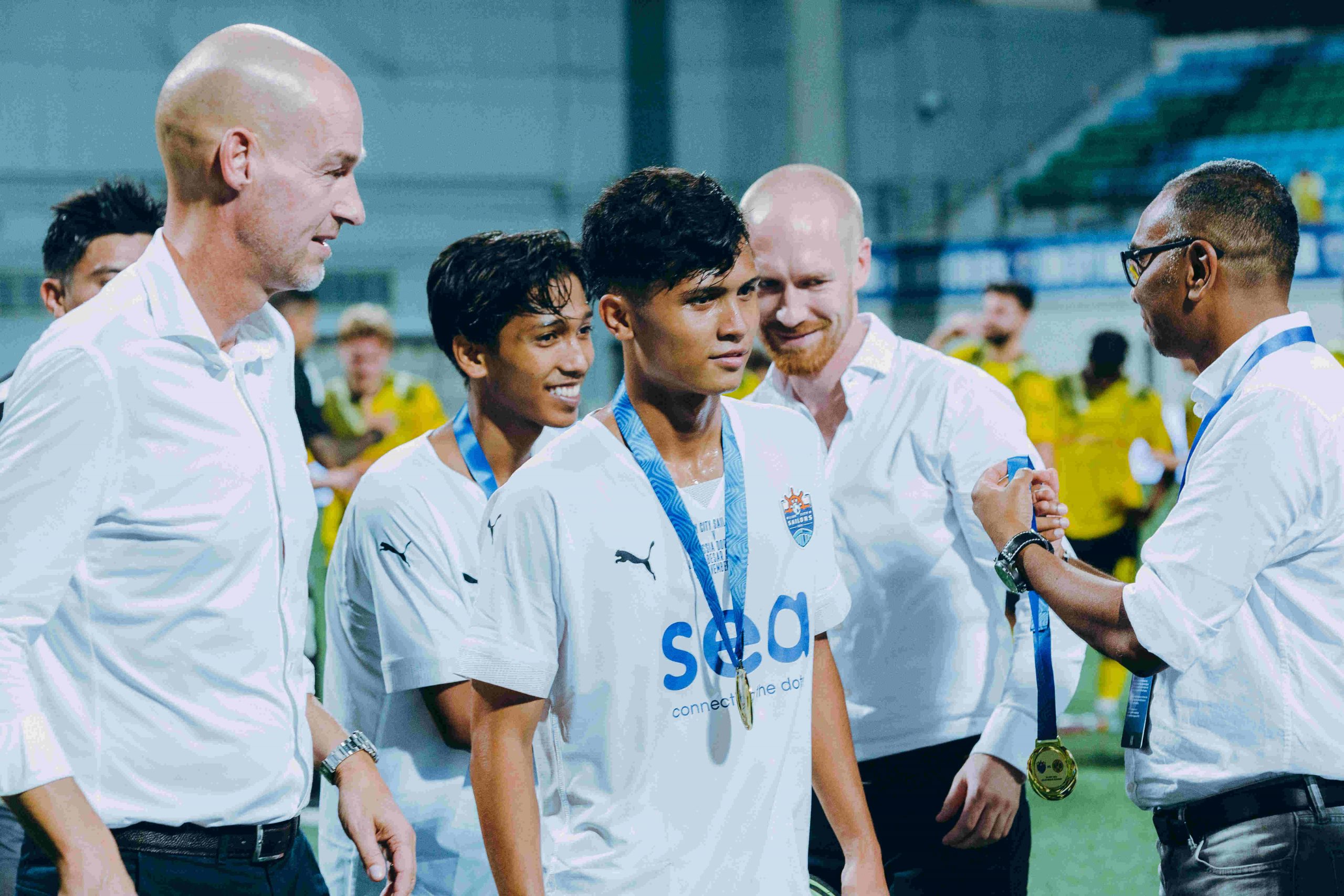 With all the pieces in place, a buoyant Risto called for all at the club to put in the hard work as they prepare to put on a show for the Sailors' faithful.
He said: "All projects have ups and downs, and we have to be able to stop and learn to change things along the way. There will be several lessons on the journey and we're going to work very hard to reach our goals, but we also need patience.
"If we can play the way we want to play, implement the game model that we envision, I will consider it to be a success – but that's still only a part of what we want to do for this ambitious project."