A packed Lion City Sailors' August fixture list has been lightened, after the Football Association of Singapore (FAS) announced a rescheduling of the Singapore Premier League (SPL) match against fellow title challengers Tampines Rovers that was originally to be played on 4 August. 
The away fixture at Our Tampines Hub will now take place on Tuesday, 21 September at the same venue. 
In its announcement, the FAS said the postponement was to provide Tampines adequate time to prepare after serving a quarantine after the team returned from their Asian Football Confederation Champions League (ACL) group stage exploits in Uzbekistan between 25 June and 10 July. 
Instead of facing Tampines twice in the next month, the Sailors will now battle the Stags on Sunday, 15 Aug before the rescheduled match some five weeks later on 21 Sept.
The Sailors played out an enthralling 3-3 draw with Tampines in the club's season opening fixture in March. 
The Sailors' August schedule will now see four SPL fixtures instead of five, starting with next Sunday, 8 Aug, against Balestier Khalsa at the Toa Payoh Stadium, with Tanjong Pagar United (20 Aug) and Hougang United (27 Aug) following after the Tampines fixture. 
It has been four years since Hariss Harun played in the Singapore Premier League (SPL) – then known as the S.League – but on Friday evening (23 July) at the Jurong East Stadium, the 30-year-old marked his return, helping Lion City Sailors to a 1-1 draw against defending champions Albirex Niigata (S).
But while Hariss was proud to make his Sailors debut – he officially linked up with the team in June – he admitted that his performance against Albirex left much to be desired.
"It was great to make my debut for the Sailors at last, after waiting for so long. Playing in Singapore again was good but I have to adjust to playing in artificial pitches again week in week out as in Malaysia, games were played mostly on grass pitches," said Hariss, who had spent nearly eight years across the causeway with Johor Darul Ta'zim (JDT).
"My performance against Albirex was definitely not my best, and I wasn't happy with it. That said, I am determined to improve to try and help the team more."
The Sailors struggled to contain Albirex in the first-half, and went a goal down on the stroke of half-time through a Ryoya Taniguchi penalty.
But the introduction of playmaker Diego Lopes at the break saw the Sailors gain a foothold in the game. And in the 72nd minute, the Brazilian played a key pass in the final third to set fellow substitute Hafiz Nor free on the left flank. Hafiz then squared the ball for Stipe Plazibat to equalise from close range.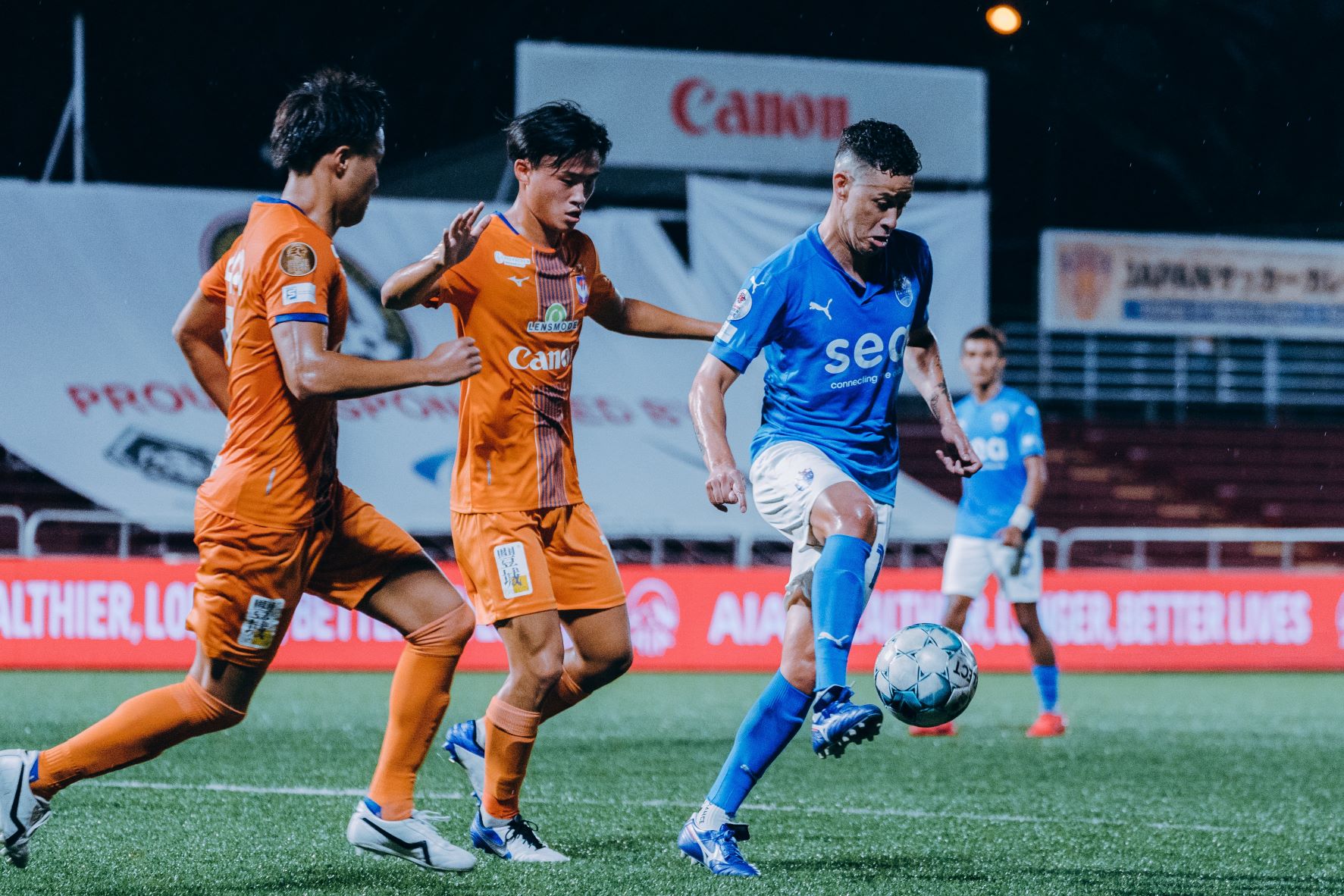 Hariss pointed to Diego's introduction as the turning point in the game, explaining: "In the first half, we tried to rattle them (Albirex), but they adjusted after a while and we struggled a bit.
"But we were more positive in the second half, and tried to play the ball more on the ground rather than going direct. After all, with Diego coming on, it's only normal for us to play into his feet more often because that's what he is good at, and he certainly gave us more quality in attack.
"Overall, considering how the match went, a draw was probably a fair result."
The Sailors, however, would have likely come away from the Jurong East Stadium empty-handed, if not for the heroics of captain Hassan Sunny in goal.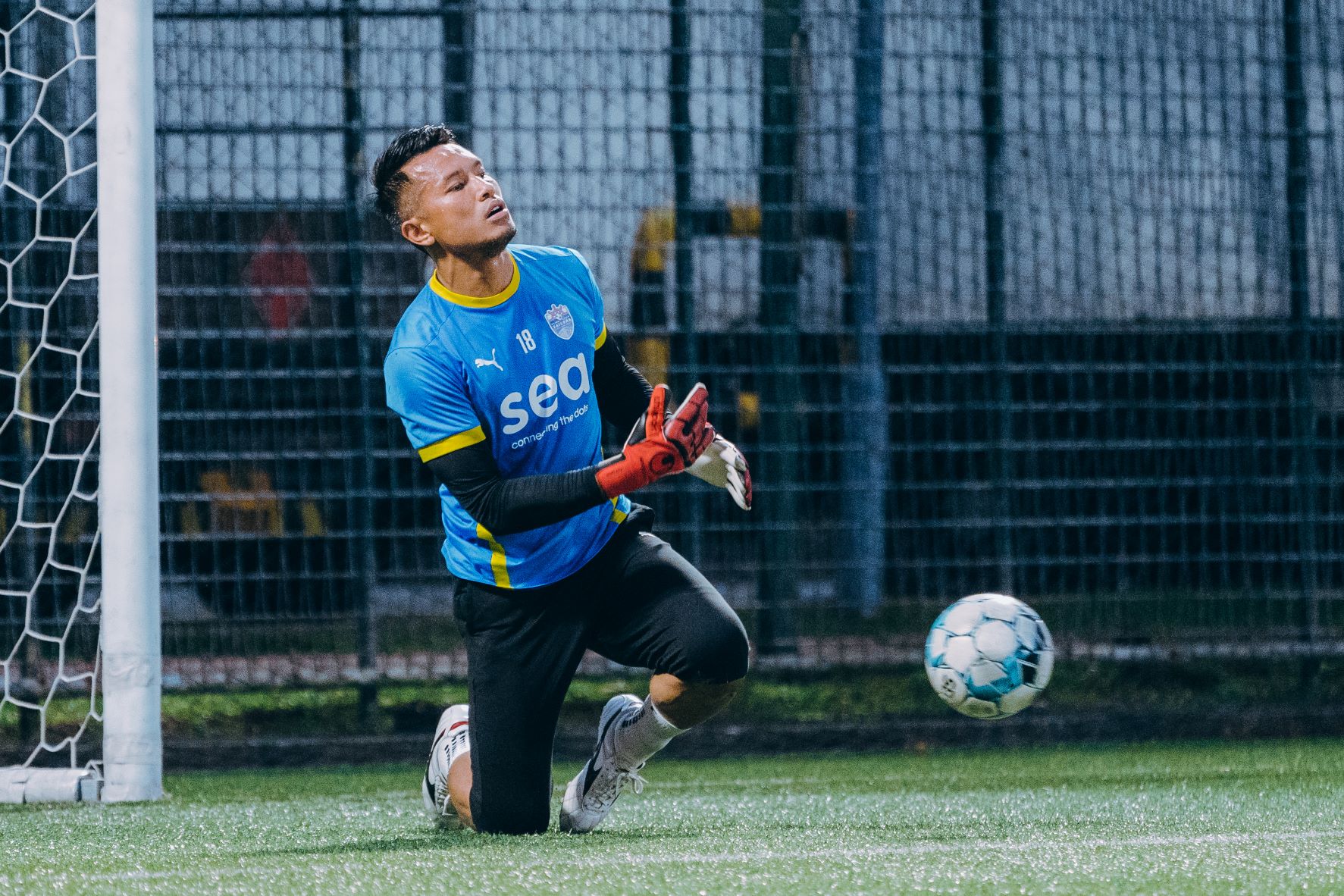 The 37-year-old shot-stopper pulled off a string of stunning saves to keep the Sailors in the game, and Hariss credits Hassan for inspiring the team with his man-of-the-match display.
"Hassan was amazing, he kept us in the game. It would have been a different story without his saves, some of which were jaw dropping," gushed Hariss. "He is our captain, and seeing him pull off those saves gave us confidence…there is no doubt he was the best player on the pitch (on Friday night)."
The draw leaves the Sailors second in the table, just one point behind current league leaders Albirex. With the Japanese side still needing to play the Sailors at the Jalan Besar Stadium in September, Hariss is confident that his new team will be able to end the season as SPL champions.
"We went into this game wanting to seize the initiative and win. It didn't happen, but to remain close and within a point of Albirex is important," he said.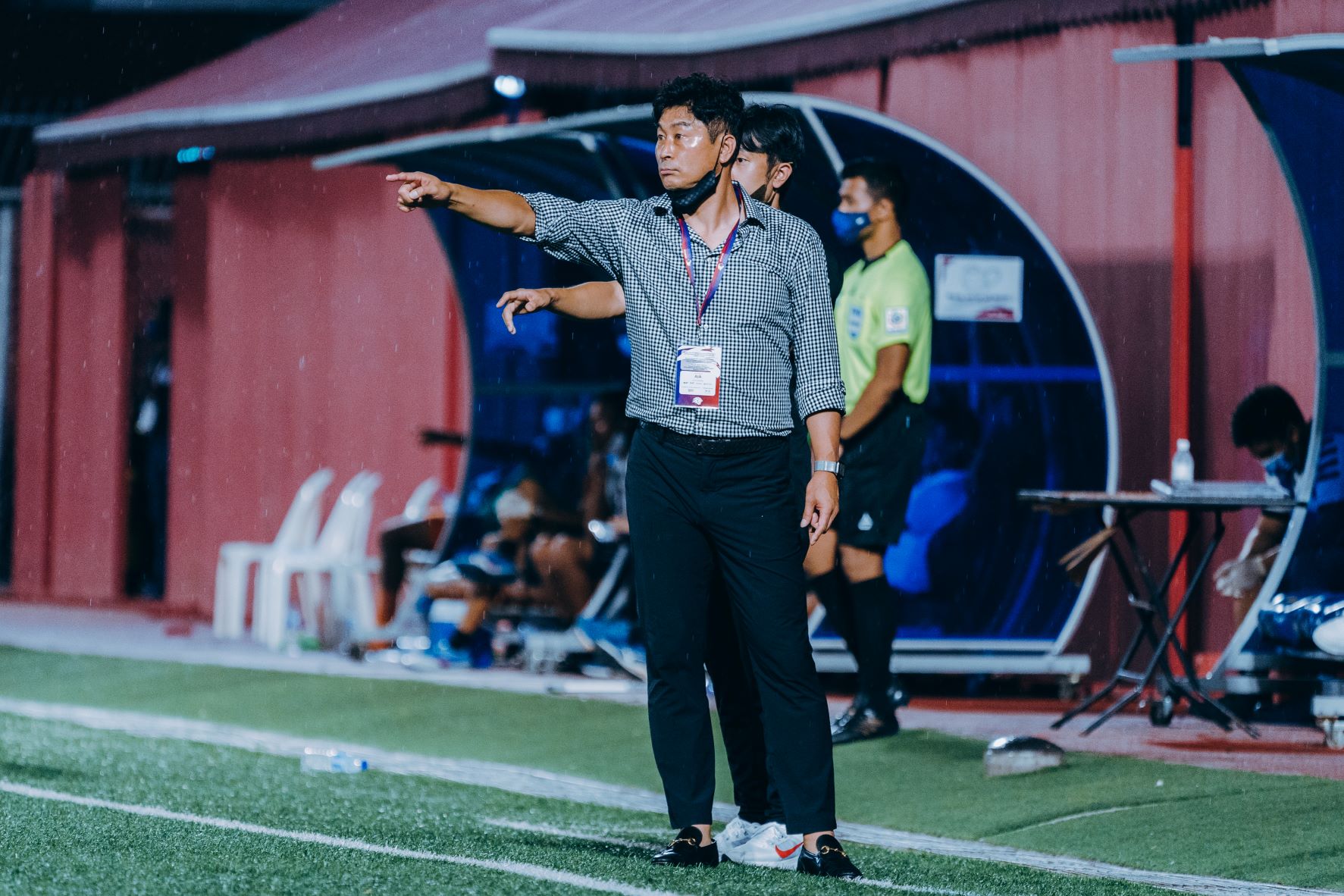 "Our target remains winning the SPL title, but there's still much work to be done. Every match matters, and every point counts. We have to focus on one game at a time.
"The good thing is, the team is getting better under Coach Kim (Do-hoon), so we must continue to improve to take our game up another level or two, and hopefully, we will finish top at the end of the season."
The Lion City Sailors have scored 77 goals in 25 games since the launch of the club in 2020, and are already widely recognised as an irrepressible attacking force.
This well-oiled attacking machinery is something that new Sailors Head Coach Kim Do-hoon will rely on, but it is the defensive structure of the team that has been the main focus for the Korean since he took the reins in late June.
The Sailors have registered just four clean sheets in 14 outings last season and another four in 11 matches this term, and improving this figure seems to be Kim's first step in turning the Sailors into a side that plays to his football philosophy.
His Ulsan Hyundai side that won the Asian Football Confederation (AFC) Champions League (ACL) in 2020 was as well known for their strong defence as their eye-catching brand of attacking football.
And it is an approach that has been popular with the Sailors.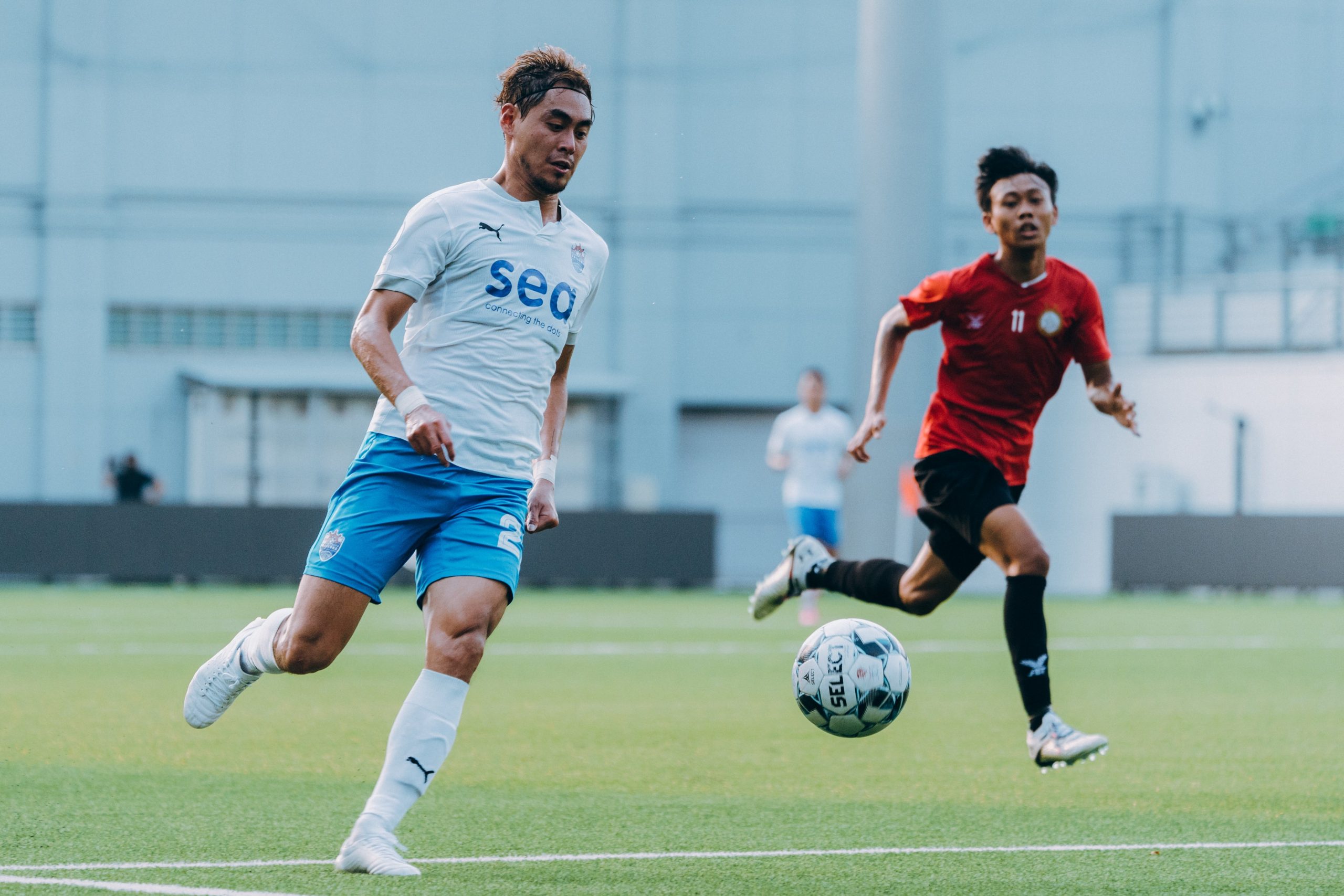 "In his opening address to us, he acknowledged the fact that we do concede quite a bit, although we're a decent attacking side which scored a good number of goals," said Gabriel Quak.
"So there's not much things to be tweaked and changed on the attacking part. What he is trying to implement now is tactical shape and trying to get us into a defensively-solid unit."
Sailors defender Amirul Adli echoed similar sentiments.
"Coach Kim has implemented a system to make us more disciplined and organised both on and off the pitch," he said. "He's focusing on building the foundation of the team – that's his main priority now."
It has been less than a month since Kim took over, but his influence has already been keenly felt. As someone who believes in playing a brand of high-octane attacking football, the South Korean is proving to be a demanding coach who always challenges his players to go beyond their limits.
Gabriel noted that intensity of training sessions has been "higher than usual", while Adli revealed that Kim has set a pull-up challenge for the team with each player having to hit more than 10 repetitions daily.
"I think what he's trying to do is to push us outside our comfort zone and get us used to the high level of intensity that he wants," said Adli.
"By setting challenges, he wants us to be mentally stronger so that it will feel normal to us when we face tough situations next – instead of feeling afraid.
"It's true that Coach Kim is pretty straight and firm with us, but at the same time there is this positive atmosphere around the team with everyone wanting to show what they can do."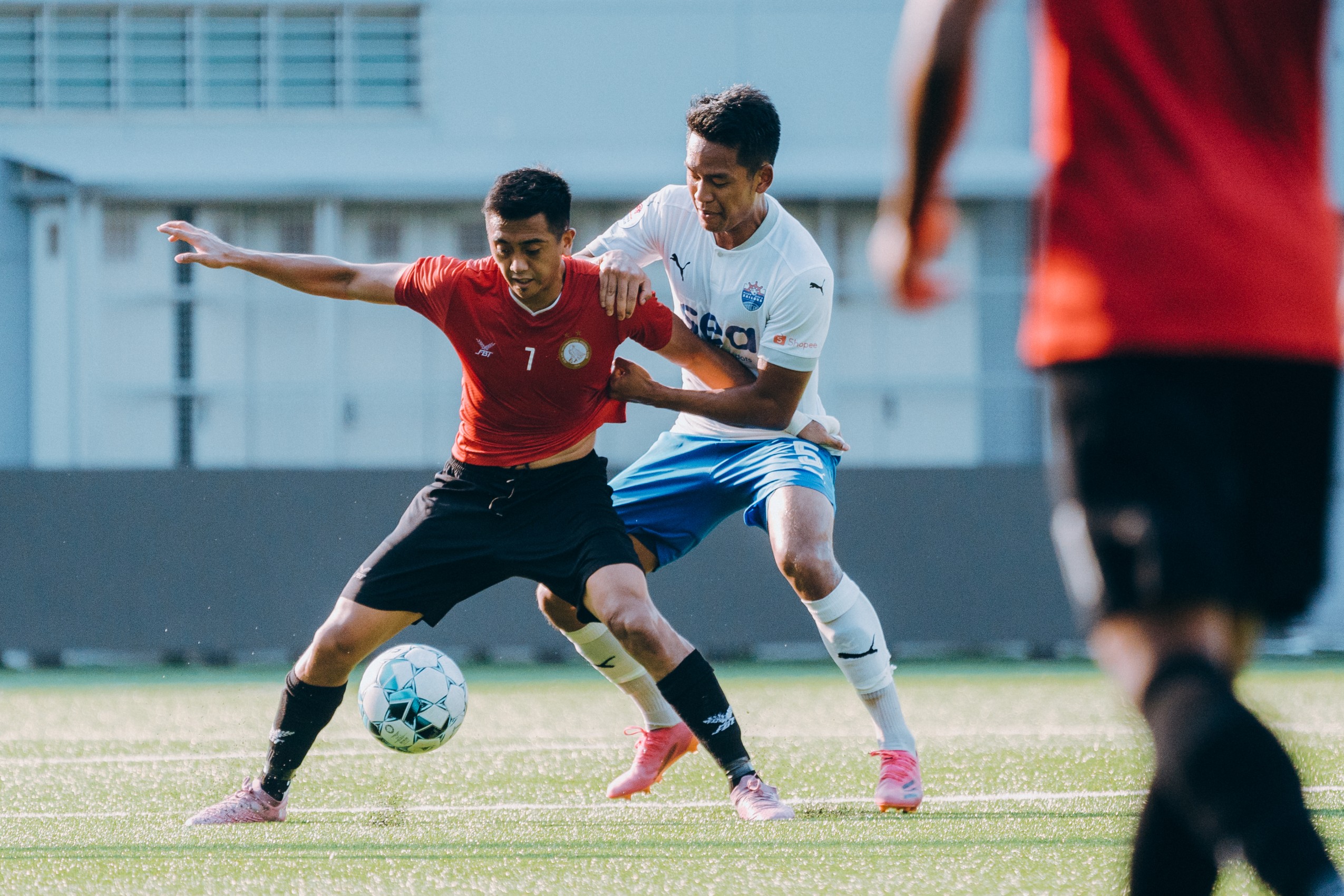 Having played three friendlies against Albirex Niigata (S), Tanjong Pagar United and Geylang International, the Sailors are slowly getting to grips with Kim's demands and philosophy.
The 50-year-old has a fine track record of developing players in Korea, and he has already shown the personal touch of his man-management method by speaking to the players individually to bring more out of them.
"We already had a couple of one-on-one conversations. He's clearly done his homework on the team before coming here, so he knows what we all can offer. He's told me his expectations of me and also what I can work on further," said Gabriel.
"For me, this is a really important aspect of a player-coach relationship. I really value this two-way communication and I believe I can improve even further with him around."
Kim's first official game in charge of the Sailors comes on Friday night (July 23), and it is perhaps the hardest task in local football – a top-of-the-table away clash against reigning champions and league leaders, Albirex.
The Sailors are currently one point adrift of the White Swans, and gunning for a victory that will see them take control of the Singapore Premier League (SPL) title race with less than 10 games to go.
Shahdan Sulaiman, Saifullah Akbar and Song Ui-young are all unavailable due to suspension, and the responsibility of dictating the tempo in the middle of the park will likely fall on new arrival Hariss Harun.
Gabriel is personally excited at the prospect of playing alongside his national team captain at club level.
"Hariss is a welcome addition to the team, he definitely gives us a big boost going into the end of the season," said the 2020 SPL Player of the Year.
"We have a few players out for this game, but how this team's built is that we've got capable players in every position and whoever steps up will be ready to give their all.
"We know what's at stake. One point is not good enough… it's our coach's first game in charge and I'm confident that we can put up a good show to get the win that we want," added Gabriel.
Like Gabriel, Adli is ready to give his all in this crucial six-pointer.
He declared: "Everyone knows how important this game is. For us, we're aiming to win every single game so we can become champions."
So here we go again – the Singapore Premier League (SPL) returns after a two-month hiatus, with the Lion City Sailors looking to pick up where they left off.
Despite the departure of Australian coach Aurelio Vidmar in May, the Sailors have continued their smooth navigation to the higher echelons of the league table and mounting a serious challenge for the SPL title. Before the league was halted, they went on an eight-match unbeaten run and are on a club-record streak of six straight wins.
Currently one point off the summit with 10 matches to go, the Sailors are primed for a huge second half of the season ahead.
Ahead of the highly-anticipated top-of-the-table clash against league leaders Albirex Niigata (S) on Friday night (23 July), here are five reasons for football fans to get excited about the resumption of SPL action.
1. Ahoy Hariss!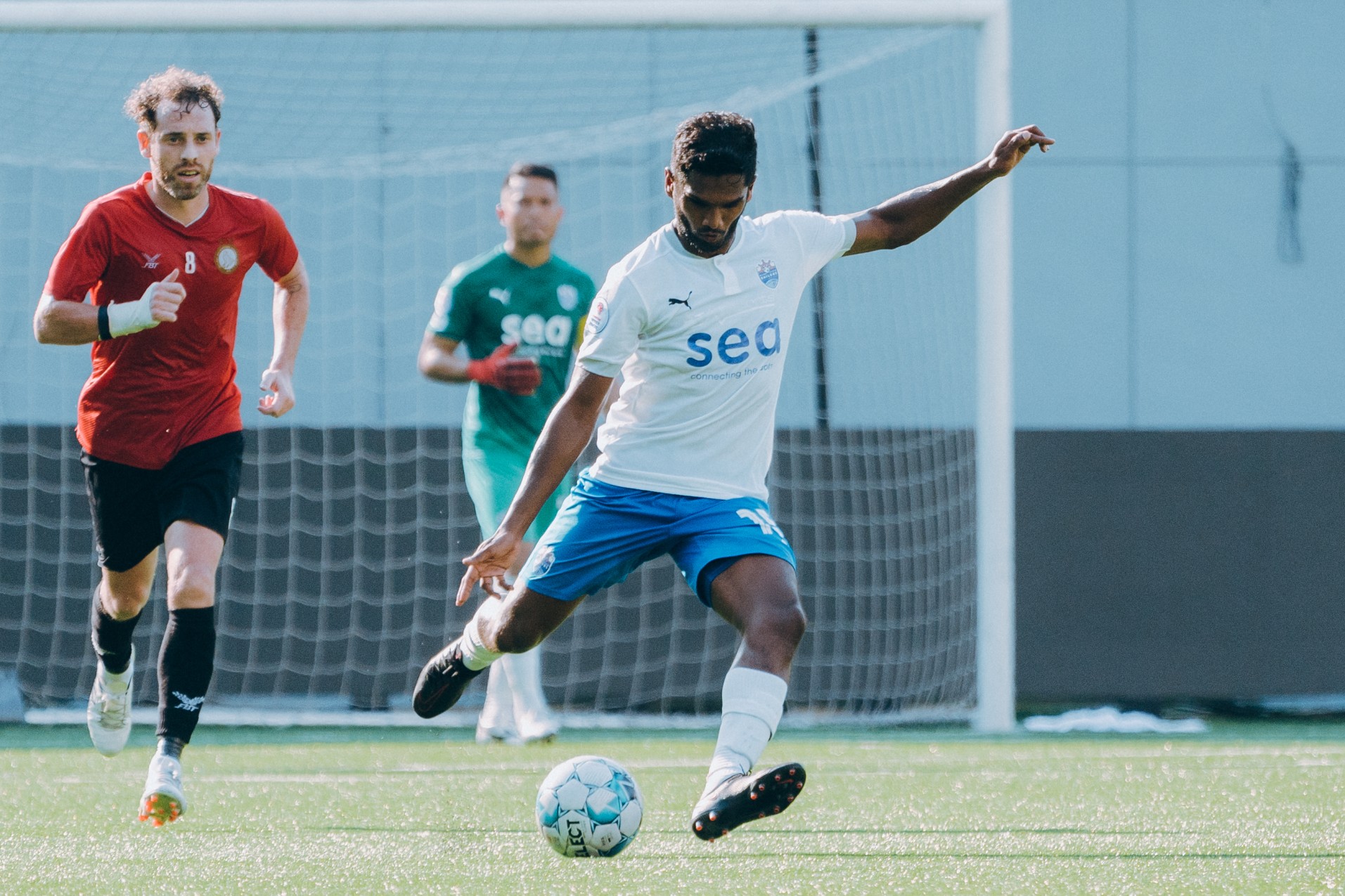 The signing of Singapore national team captain Hariss Harun on a three-and-a-half-year deal in May made the Singapore football fraternity stand up and take notice. It signaled the Sailors' clear intention to dominate the domestic scene and create waves in the region.
Hariss brings with him a wealth of experience, having won six Malaysia Super League (MSL) titles and one Asian Football Confederation (AFC) Cup (2015) in seven wildly successful years north of the Causeway with Johor Darul Ta'zim (JDT).
A combative midfield enforcer who thrives on winning duels then encouraging his team into attack, Hariss brings some much-needed steel to the Sailors' engine room. He is expected to complement the attacking sensibilities of teammates the likes of Shahdan Sulaiman, Saifullah Akbar and Diego Lopes.
His presence in the middle will help the Sailors' wide array of attacking talent to cast off their shackles and give them the freedom to push forward in search of more goals. His leadership qualities should also rub off on the younger players, with many of them looking up to Hariss as a model professional.
2. Ushering in a new era under Kim Do-hoon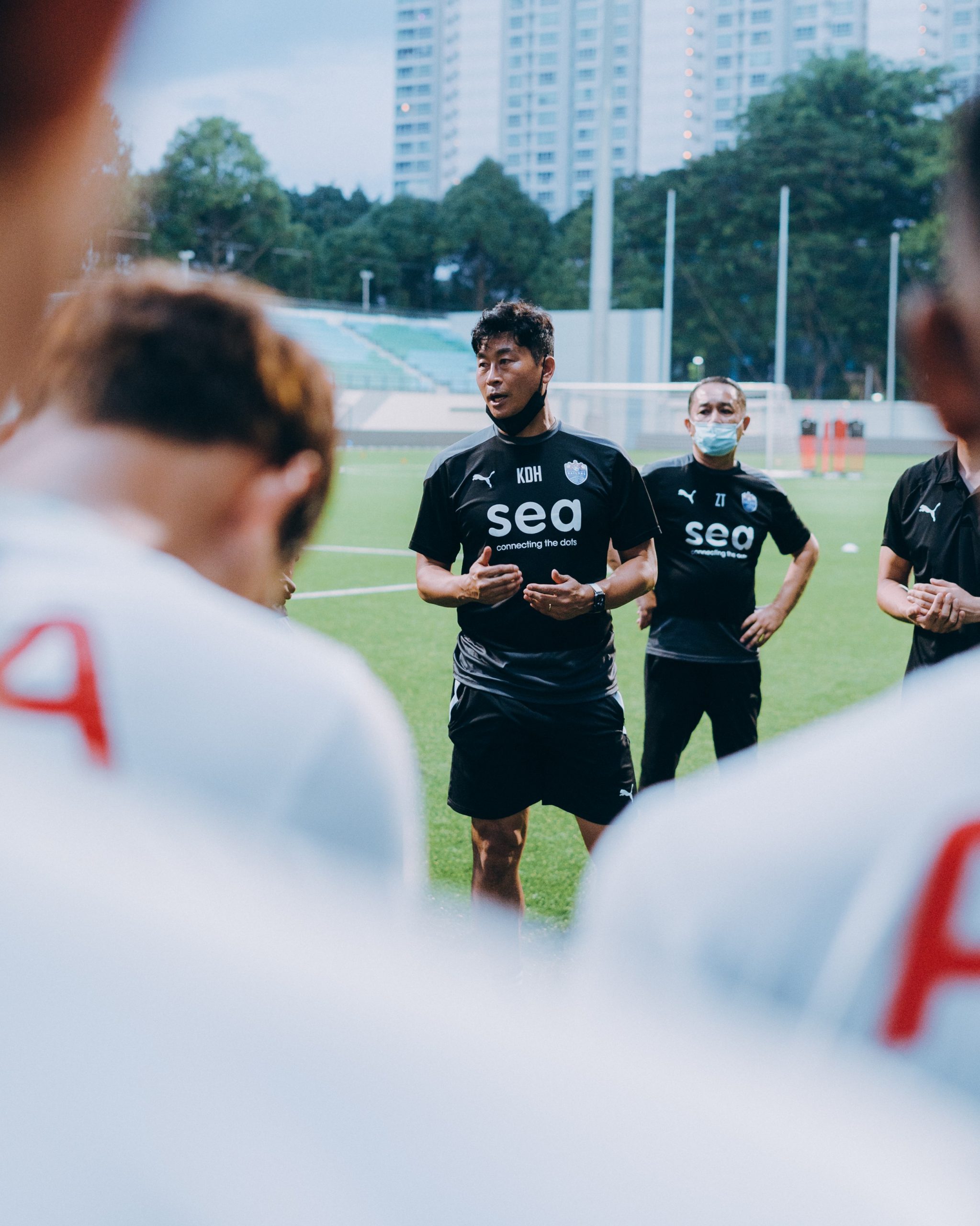 The signing of AFC Champions League (ACL)-winning tactician Kim Do-hoon on a two-and-a-half-year contract captured the imagination of the wider Singapore public. Kim's pedigree and his track record of success in his native Korea mean there is little doubt that his signing was a massive coup for the Sailors.
Kim's Ulsan Hyundai was well known for an attractive brand of attacking football complemented by defensive nous – and it is no surprise that he is looking to build up the Sailors in a similar mould. A strict trainer who places strong emphasis on discipline and fitness, Kim has wasted little time in laying down his philosophy.
Kim has been in charge for less than a month, but he has already recognised the way forward – he has emphasised the building of a solid foundation, grounded in team structure.
He is taking English lessons to improve communication with the Sailors, but that has not stopped him from moving to establish an interpersonal relationship with his players. Kim has made it a point to pull each player aside to discuss his expectations of them.
Kim's rejection of lucrative offers from the Chinese Super League (CSL) and Japan's J-League to join the Sailors is a testament to his commitment to the cause and his confidence in driving the club towards the lofty target of becoming one of the best clubs in Asia.
3. A healthy competition for places
You know how it works – a new gaffer tends to breathe new life into a squad. Everything starts afresh and the players will be keen to prove their abilities and make a positive impression on the new man in charge.
Players who have been first-team regulars like Shahdan, Gabriel Quak and Amirul Adli will have to show why they have been so highly-regarded and why they deserve to retain their spots in the starting eleven.
It also provides a fresh slate for players like Faris Ramli, Hafiz Nor and Aqhari Abdullah who have not played as regularly as they would have liked. They would certainly be out to show what they bring to the team and why they ought to be featured more than before.
There is healthy competition for places with every member of the squad already giving their utmost best in training sessions and matches and this can only be a good thing for the Sailors' drive for trophies.
4. The treatment room is less crowded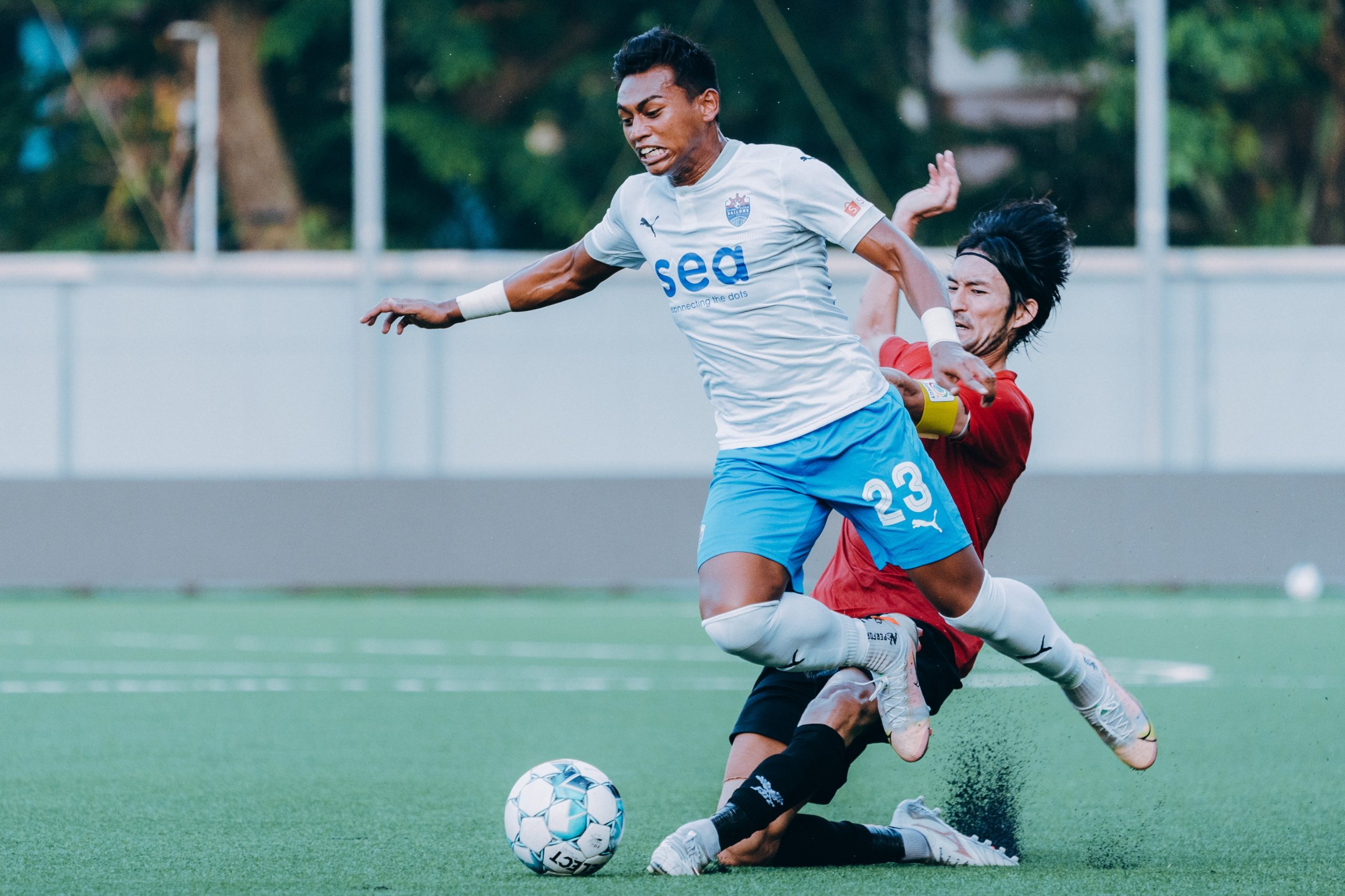 The long break proved to be a blessing in disguise for the injured members of the Sailors squad, allowing them more time to recover. It is surely a pleasant sight for Kim to see the club's treatment room now clearing up, with the likes of Nur Adam Abdullah, Justin Hui and Amiruldin Asraf now back to full fitness.
2018 Dollah Kassim Award winner Nur Adam was a real revelation at left-back with his crunching tackles and menacing crosses, before he sustained an unfortunate knee ligament injury in training that saw him miss five matches. Justin was out of action for the same amount of time due to a groin problem after showing promise in his first few Sailors appearances.
Amiruldin has yet to play a competitive match since October 2019 due to recurring medial collateral ligament (MCL) problem. Having first sustained the injury later that year, he sustained further damage to his knee in a training match in September 2020 and had to undergo microfracture surgery to repair the damage on his cartilage. Amiruldin finally returned to training a couple of months ago and has been in good form in recent friendly matches.
The availability of the trio boosts coach Kim's options going into the business end of the season – especially upfront where Amiruldin could bring a different dimension to the Sailors' attack.
5. A wide-open title race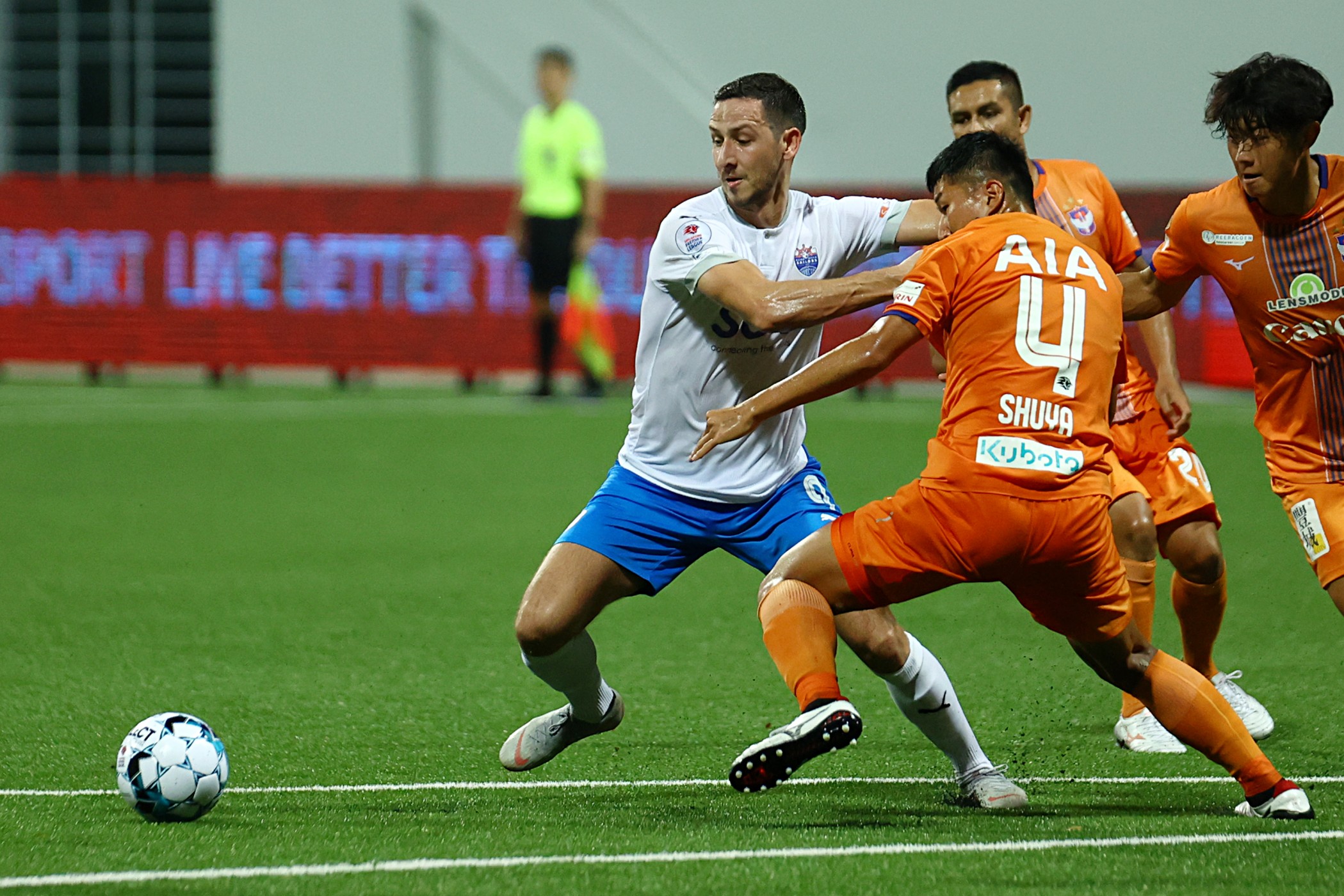 There are just six points separating league leaders Albirex and fourth-placed Tampines Rovers, in what is a wide open race for the SPL title this season.
And the competition is set to get red hot as we enter the business end of the season. There are 10 games left to be played – still some way to go to the finish line – and a whole lot to play for.
With Tampines turning their attentions back to the league after their AFC Champions League adventure, Hougang United on a three-game winning streak since losing to the Sailors in April, and Albirex still the only unbeaten team in the eight-team standings, we can expect tight contests in the matches ahead – starting with Friday's match against Albirex!
Bundesliga giants and 2021 German Cup winners Borussia Dortmund (BVB) and Singapore Premier League (SPL) club Lion City Sailors (LCS) have forged a two and a half-year partnership. The commitment will see a series of youth development programmes, coaching, educational and professional exchanges as well as football training camps in Germany, among others, that will bring the two football clubs together with one common goal.
This partnership between BVB and LCS will harness the growing commitment to build a strong infrastructure for Singapore's youth football development and overall support the growth in areas of sports science, sports medicine, analytics and talent scouting.
Benedikt Scholz, Head of International & New Business and Managing Director of BVB Football Academy said: "We are proud to solidify this partnership with LCS, one of the most exciting football clubs in the SPL. Establishing key partners of this scale and ambition has always been a central part of our vision for BVB, enabling us to keep sharing and contributing towards the growth of youth football in Asia.
"We are looking forward to working with LCS to bring to life our key objectives in youth development and sport education."
The partnership will see an annual training camp in Dortmund for the LCS Football Academy's elite team, with an additional training stint pencilled in for selected footballers from the Academy's scholarship programme.
Suresh Letchmanan, Managing Director of BVB Asia Pacific further highlighted: "We are very excited about this partnership; it is an incredible milestone for both BVB and LCS. Both clubs are dynamic and progressive brands with a commitment to developing talented youth players and these common beliefs make the two organisations ideally suited.
"We will be working closely to implement creative and innovative activities with LCS in the coming months that harness the passion of our clubs and connect with our fantastic fans in and around Asia."
The Sailors are excited at the prospect of a partnership that will boost its drive for development of the club and its LCS Football Academy that is aimed at growing into an elite youth development hub.
"We are delighted to partner with BVB, a club that has shown a tremendous commitment to youth development, fan engagement and the growth of the sport in general," said LCS Chief Executive Officer, Chew Chun-Liang.
"We are an ambitious club with a vision of becoming one of the best in Asia. To get there, we must learn from the best, and in BVB we have found a partner that is among the best in the world," he added.
"We look forward to a long and fruitful relationship with BVB."
Fitness was a youth-fuelled obsession that was put through the forge of serious injury. But a chance encounter turned the wheels in a different direction, then in the blink of an eye, Fathul Nur Hakim became a world champion working with Singapore footballers looking to put the country on the map of Asian football.
That is the synopsis of Hakim's sporting journey. And the 32-year-old still struggles to believe his own story.
"To beat the best of the best was something that I never expected, and that was a beautiful memory that will stay with me for a lifetime," he said, of his feat: beating over 1000 participants in the 2019 Dr.stretch World Stretching Competition held in Tokyo.
A brand that originated from Japan, Dr.stretch focuses on a "core balance stretch" approach with trainers helping their clients through different techniques to get to deep muscles that they cannot reach by themselves.
Several of those 1000 Hakim beat were master trainers and grand trainers with some 10 years of experience. Hakim only had some two years under his belt at that time, going to the global tourney without any expectations, to "gain experience".
That world championship triumph still feels surreal to him today.
"The winner in the previous year was a Japanese grand trainer who has been in the industry for a long time, while I was just a junior trainer in my second year," said Hakim, putting things in perspective.
"To help people achieve things and go past limits that they never thought they can achieve is something very special," he shared. "At that time, that was what motivated me at Dr.stretch every day."
Today, Hakim is a Lion City Sailor, helping the likes of Singapore's first multi-million dollar footballer, Diego Lopes and 2020 Singapore Premier League Player of the Year, Gabriel Quak reach further than they ever have before.
As a Sailors' sports therapist, Hakim's main task is to help the players recover from their injuries as quickly as possible by utilising his expertise in stretching techniques. He works hand-in-hand with the club's sports trainer Fazly Hasan and sports scientist Danial Feriza, who focus on other aspects of recovery like massage and cupping.
Hakim is a relatively new addition to the team, having joined before the start of the 2021 season and his journey to the Sailors is unorthodox to say the least.
A fitness junkie from a young age, he initially worked as a gym instructor and personal trainer for a period of six years. Being a football lover as well, he still plays the game at the recreational level and that was how he suffered a horrific injury that changed his life in 2015.
At the receiving end of a crude challenge by an opposing player, Hakim tore two ligaments – his anterior cruciate ligament (ACL) and medial collateral ligament (MCL) – in his left knee. To repair the damage, he required metal screws to be inserted into his knee, with weekly physiotherapy sessions at Singapore General Hospital (SGH) for approximately six months a key facet of his recovery programme.
Having regular conversations with his regular physio, Hakim started to appreciate what the job entails and was inspired to work in this field. He started reading up about physiotherapy, and the opportunity for a career change came with a chance encounter in early 2018.
As he was recovering from a hernia injury that he sustained while working out in the gym, Hakim happened to come across a packed Dr.stretch outlet at the NEX shopping mall in Serangoon.
Watching trainers help clients in stretching was something that truly intrigued him, and Hakim did not think twice before sending his resume to apply for a physiotherapy assistant role in the company. He was accepted after a successful round of interviews, beginning a new journey with a 16-day course in Osaka. That course equipped him well, allowing him to build up a solid clientele base.
Things moved quickly, with Hakim being promoted to assistant manager within 12 months, and he was then chosen to represent the Paya Lebar Singpost Centre's branch in a local Dr.stretch competition. Despite having some doubts, the faith shown by his bosses meant he felt obliged to put up a good performance for them.
Participants were marked based on the 'power, transition and the effectiveness of the stretching', as they were given one minute each to stretch the various blind-folded judges on their muscle groups like hamstring, quads or glutes – with the specific areas only made known on competition day itself.
Hakim bested six other participants from various branches to earn the right to represent Singapore at Dr.Stretch's annual World Stretching Competition held in Tokyo in October 2019.
He then beat over 1000 participants to become world champion.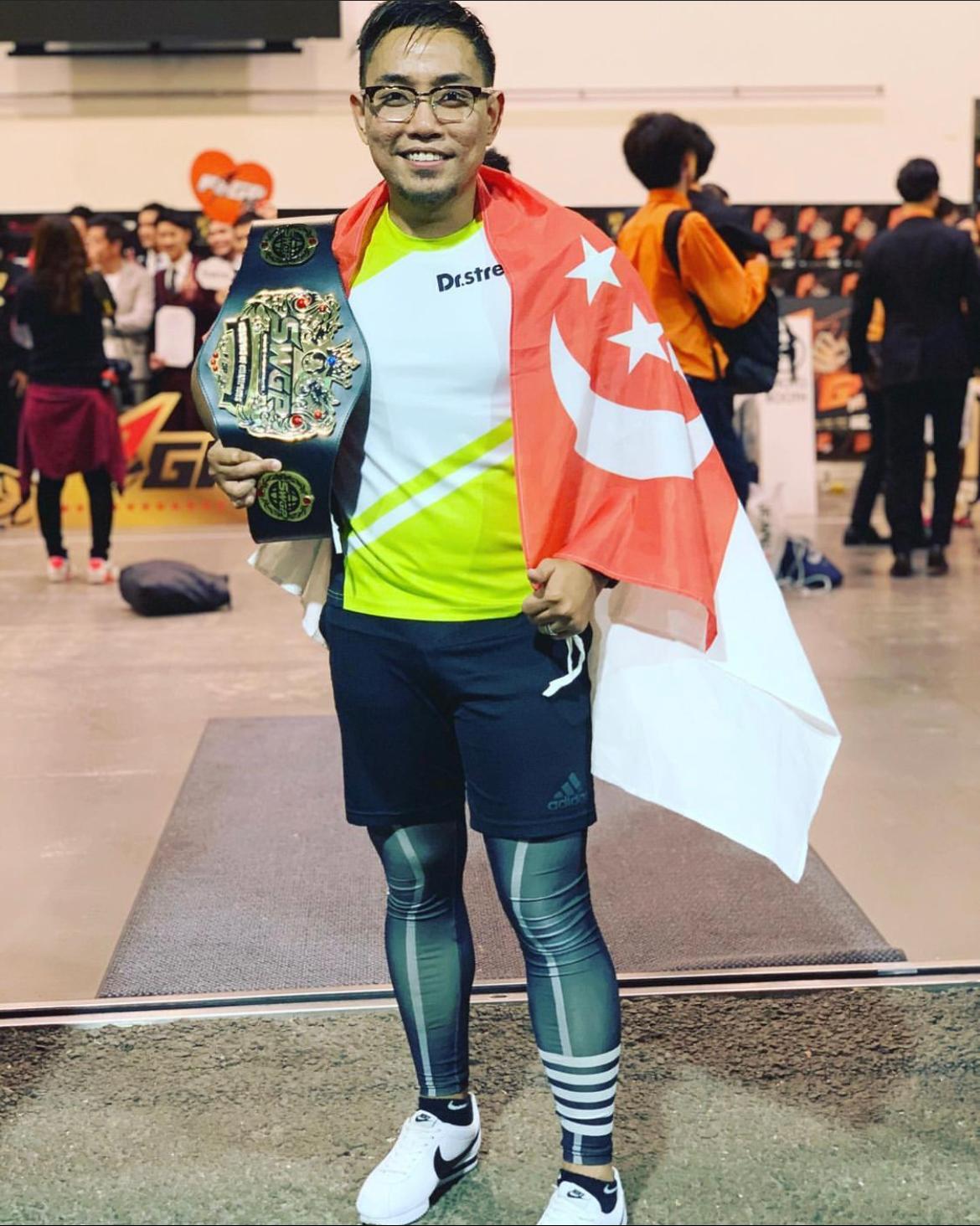 It was a defining moment for the ambitious Hakim, who recognised that he could develop further in the world of physiology. He continued to upgrade himself through courses and got his first experience of working in a football club in 2020 when he was attached to Singapore Premier League (SPL) champions Albirex Niigata (S) from Dr.stretch for a full season.
Later that year, his childhood friend Hafiz Nor acquired his help in terms of recovery and visited him for a one-off session. The Sailors winger "felt a lot of difference in terms of the previous soreness and body aches" and to show gratitude, Hafiz posted a photo of himself and Hakim at Dr.stretch on social media.
The photo caught the attention of the Sailors management, and Hakim was won over by the club's vision to evolve into one of the best clubs in Asia.
For Hakim this was living the dream – the marriage of his two big loves, football and physiology – to work full time as a physio in an ambitious professional football club.
The club's footballers still needed some convincing as stretching is widely viewed as a "very basic exercise that can be done at home". In contrast, massage and cupping are usually the local industry norms in terms of players' recovery.
"Do you know established J-League clubs like FC Tokyo and Yokohama FC have physios who only do stretching for the players?" pointed out Hakim. "I can understand why players here may neglect this area and only prefer massage, but it's my duty to step in and educate them of the benefits of stretching.
"What's the point of the best technology and methods in recovery if you don't even do the basics of stretching? Your muscle fibres are like rubber bands – if you keep pressing on them, it will cause inflammation and they will still feel sore.
"In order to reduce that, you have to stretch and that's where I can help them with my technique, to achieve the range of motion that they can't normally achieve themselves. In that way, the blood circulation can flow properly and they will eventually feel lighter. The results are of course not immediate, but the players will feel the difference in the long run."
It was that wholeheartedness and unwavering dedication to his work that helped him convince the Sailors' players to get in line with his philosophy. Right now, established players like Gabriel, Diego, Jorge Fellipe and new arrival Hariss Harun are undergoing regular sessions with him from three to four times a week.
Hakim finds the most satisfaction from "making a difference in someone's life" as he highlighted how Gabriel's "flexibility and mobility have improved a lot" since the start of the season.
"During my first session with Gabriel, he shared with me that there are certain areas in which he often suffers from pain and are not easily cured," said the therapist. "I began to help him stretch, physically lifting up his leg to a certain degree and in a certain motion.
"After that, he felt lighter and told me this is exactly what he's looking for in terms of recovery. Even when he was away with the national team, he was doing the exercises which I encouraged him to do," said Hakim.
"It makes me feel really good when a player appreciates what you do for him."
While he has now achieved his dream of working in professional football, Hakim is not one to rest on his laurels. Relishing the opportunity to learn from experienced heads the likes of Sailors Head of Sports Science, Mario Jovanovic, Head Physiotherapist Nurhafizah Sujad and Fazly Hasan on a daily basis, he is also consistently doing more research to learn more about treating cumbersome injuries.
Ultimately he aims to be a more well-rounded sports therapist in order to add more value to the club, and he is targeting certification in osteopathy next.
Hakim believes he could not be at a better place, with the Sailors' "family-like atmosphere where everyone respects each other and works as a team to achieve a common goal".
"I can see myself staying at the club for a very long time," he said.
Moving forward, Hakim yearns for the club to continue its emphasis on stretching and go beyond what they are practising now. He believes his measure of success is to help the club get to a level "no other SPL club has achieved before" in terms of recovery and performance.
"I hope we can set the benchmark in what we do," he reiterated. "It's not just doing stretching sessions with me, but every player can also partner with each other to do their stretches or warm-up together. That's the vision and target that I have for them.
"This club has serious ambitions to become a big club in the region and I'm happy to be part of this big project that can do Singapore football proud."
Having been involved in the National Team as their Head Physiotherapist for close to 10 years now, and with her family deeply entrenched in local football, Nurhafizah Abu Sujad thought she had just about seen it all when it came to the beautiful game in Singapore.
That was until the Lion City Sailors came along.
The privatisation of the Sailors in 2020 – making them the first, and to-date only, club in Singapore to do so – was a move heralded by many as the dawn of a new era for local football.
But Nurhafizah – or Fizah, as she prefers to be known – was initially cynical about the Sailors.
"As someone who is a part of the local football fraternity for a long time, I had my doubts about this venture," admitted Fizah, who comes from a renowned footballing family which includes her father, former Singapore international Abu Sujad, elder brother Nadzi, who played for Balestier Khalsa, younger brother and current Lion, Hafiz, as well as her iconic cousin, Fandi Ahmad.
"After all, we had previously seen other clubs embark on ambitious endeavours that didn't quite work out, so I was definitely a little sceptical about the Sailors project as well."
Revealing that she had turned down job offers from private hospitals to join the Sailors as she searched for a new challenge in the next chapter of her career, Fizah pointed to the Sailors' firm commitment to an ambitious vision that was the key factor in her decision.
Little by little, Fizah's doubts about the Sailors began to dissipate, as she witnessed the club taking significant steps to improve the way they operated – both on and off the pitch.
Supported by chairman and owner Forrest Li, the club has moved to strengthen the squad by signing key players such Hariss Harun, Diego Lopes and Stipe Plazibat. Equally significant, however, was the investment put into ensuring that the Sailors would be well-supported by a team of qualified and professional backroom staff.
Given the immense respect that Fizah had garnered as a physiotherapist over the past decade, and her drive for developmental work and building top-level sports science and sports medicine departments, it was clear that Fizah's vision was very much aligned with the Sailors'.
"I was convinced by how strongly Forrest believes in the Sailors, and how determined he is to achieve his goals for the club – I realised this is the real deal," revealed Fizah.
"What impressed particularly was the fact that the club is taking active steps to ensure that their sports medicine and sports science department is at a high level, something I'm obviously interested in."
As the Sailors' Head Physiotherapist, Fizah will primarily be in charge of injury prevention and management. She will also work closely with the Sailor's Head of Sports Science Mario Jovanovic in building a robust sports medicine structure across the Sailor's first team all the way through to the academy.
Fizah will continue to serve the National Team as their Head Physiotherapist during FIFA International Windows. It is a commitment to the national cause that the Sailors – who are regularly well represented in Tatsuma Yoshida's Lions – are proud of.
Fizah said her decision to embark on this career path was well-received by her family, although she joked that her brother, Hafiz, who plays for Singapore Premier League (SPL) rivals Hougang United, was far less enthralled than the rest.
"We're going to be on opposing sides of the dugout!" Fizah laughed. "We've had a bit of banter already about me joining the Sailors, but I know he supports me completely and is happy that I have this new role."
Fizah, who officially started in her new role on July 1, concedes she was a little "overwhelmed" by the large scale of the Sailors set-up when she reported for her first day of work.
"Including the coaches, we had over 20 support staff at training, which is the largest set-up that I've ever worked in, so I was quite overwhelmed at the start" said Fizah. "But having familiar faces around, like the National Team players as well as assistant coach Noh Rahman, helped greatly in my adaptation to the club.
"Due to the number of staff, every one of us can fully concentrate on our own roles, which means we can be more precise and detailed in what we do, making us more efficient."
This also allows Fizah to pay more attention to her secondary role of building the club's sports science and sports medicine department.
"In the next two to three years, I hope to be able to build up the quality of the club's sports medicine department. My goal is to have a robust team of physios and sports trainers that will be able to provide the very best services to the senior team, all the way through to the academy," Fizah declared.
In the short-term, though, Fizah is simply focused on helping the Sailors' senior players minimise the risk of injury whenever they step onto the pitch.
This is especially so given that the Sailors' new head coach, Asian Football Confederation (AFC) Champions League (ACL) winner Kim Do-hoon, has made clear his vision of implementing a "dynamic style of attacking football".
Fizah is fully aware that this usually involves players doing a lot of hard-running on the pitch, which can lead to a greater risk of muscular injury.
To counter that, Fizah will be emphasising on player recovery, which she says is crucial to keeping players fresh after such intense physical exertion.
"The key is good recovery…the recovery trajectory is incredibly important in preventing injuries, especially after an intense workout," Fizah explained. "Of course, good nutrition and fitness levels are also crucial, so we will keep a close eye on aspects like players' body fat percentage to make sure they are in optimum shape."
When asked which player she thought was a role model in keeping themselves in the best of shape, Fizah replied without skipping a beat: "Our National Team captain – and Sailor – Hariss Harun."
She added: "The way Hariss looks after himself off the pitch, in terms of his fitness, his recovery routines and what he eats is perfect. He's the role model that other local footballers should look to emulate."
Having now seen up close what the Sailors have done – and will continue to do – in their quest to become one of the top teams in the region, Fizah is confident that the club will succeed sooner rather than later.
"The goal of the club is to be one of the best in Asia. Given the support that has been provided by Forrest, I don't see why we can't achieve it," Fizah said.
"I think we can definitely go far if everyone here pulls in the same direction and is hungry for success. Personally, I'm very excited to be part of this journey. It's going to be a huge challenge, but I'm up for it, and I will do my very best to help the club achieve its goals."
The Lion City Sailors were in high spirits when news surrounding the restart of the Singapore Premier League (SPL) came through earlier today (7 July 2021).
The Football Association of Singapore (FAS) revealed in an announcement that fans will be allowed back into stadiums when the SPL returns to action after a FIFA International break on 17 July – and the news was met with much cheer among the Sailors.
"Fans are at the core of everything we're aiming to achieve at the Sailors, and we're delighted to be able to once again welcome fans to our matches," said Sailors' Chief Executive Chew Chun-Liang.
The return of fans could not have come at a better time for the Sailors who return to SPL action on 23 July, against title rivals Albirex Niigata (S) in a top of the table clash.
The Sailors trail the league leaders by a solitary point in the eight-team SPL standings, and with just 10 games of the season to go, this match could play a key role in the SPL title race.
"There has been a spring in the step of our players since our new Head Coach, Kim Do-hoon took charge, and having fans in the stands will be a great welcome for him," said Chun-Liang.
"And there is no doubt that fans will further boost the team in this important match too – the players are excited at the prospect of being able to perform for our loyal fans who haven't been able to watch us "live", and I'm looking forward to the match, that's for sure."
The FAS revealed that up to 250 eligible fans will be allowed to each SPL match starting from 17 July, with prevailing safe-distancing and security protocols in force. The FAS announcement outlines these details that are in accordance with Sport Singapore guidelines.
SPL fans will still be able to watch every match "live" on broadcast at Singtel TV, StarHub TV and live streaming online via the SPL Facebook page and YouTube channel, as well as the Facebook page of 1 Play Sports.
Lion City Sailors will have to wait until next season to make their debut in Asian Football Confederation (AFC) competitions.
This comes after confirmation from the AFC earlier today (7 July 2021) that all matches of the AFC Cup 2021 ASEAN Zone have been cancelled due to the challenges imposed by the global pandemic in finding a suitable host to stage the centralised matches.
The ASEAN Zone comprises Groups G, H and I as well as the Playoff Stage that would have followed. The Sailors were drawn in Group H alongside Kedah Darul Aman FC of Malaysia, Indonesia's Persipura Jayapura and the Vietnamese side, Saigon FC.
Geylang International was slated to be Singapore's other representative in the competition, in Group I.
"We were looking forward to competing against regional clubs, and all of us are disappointed that our portion of the AFC Cup competition has been cancelled," said Sailors Chief Executive, Chew Chun-Liang.
"But we are acutely aware of the challenges brought on by the COVID-19 pandemic, and the Sailors remain supportive of measures that help keep football fans, players and staff, across the region safe."
New Sailors Head Coach Kim Do-hoon will now shift his focus to the Singapore Premier League (SPL). The Korean will have to drive his charges to finish among the top three local clubs in the SPL to earn the right to compete in the region next season.
Said Chew: "We will continue to work hard to achieve success locally to ensure we qualify for AFC competitions next season and work towards our vision of competing and doing well in the region."
The Sailors are currently second in the eight-team SPL standings, one point behind Albirex Niigata (S). Kim's men will take on Albirex on 23 July in a top of the table clash that marks his first game at the helm.
After leading South Korea's Ulsan Hyundai to Asian Football Confederation (AFC) Champions League (ACL) success last December, Kim Do-hoon had plans for a year's sojourn to rest his mind and recharge his batteries.
Coming off a wildly successful four-year spell with the K League 1 side that saw him lead the club to their first-ever Korean FA Cup win and back-to-back runner-up finishes in the league, there was naturally no shortage of suitors for the 50-year-old who was set on taking some time out of the game.
He received lucrative offers from the Chinese Super League (CSL) and Japan's J-League, but ultimately it was a meeting with Lion City Sailors chairman Forrest Li that convinced Kim to change his mind.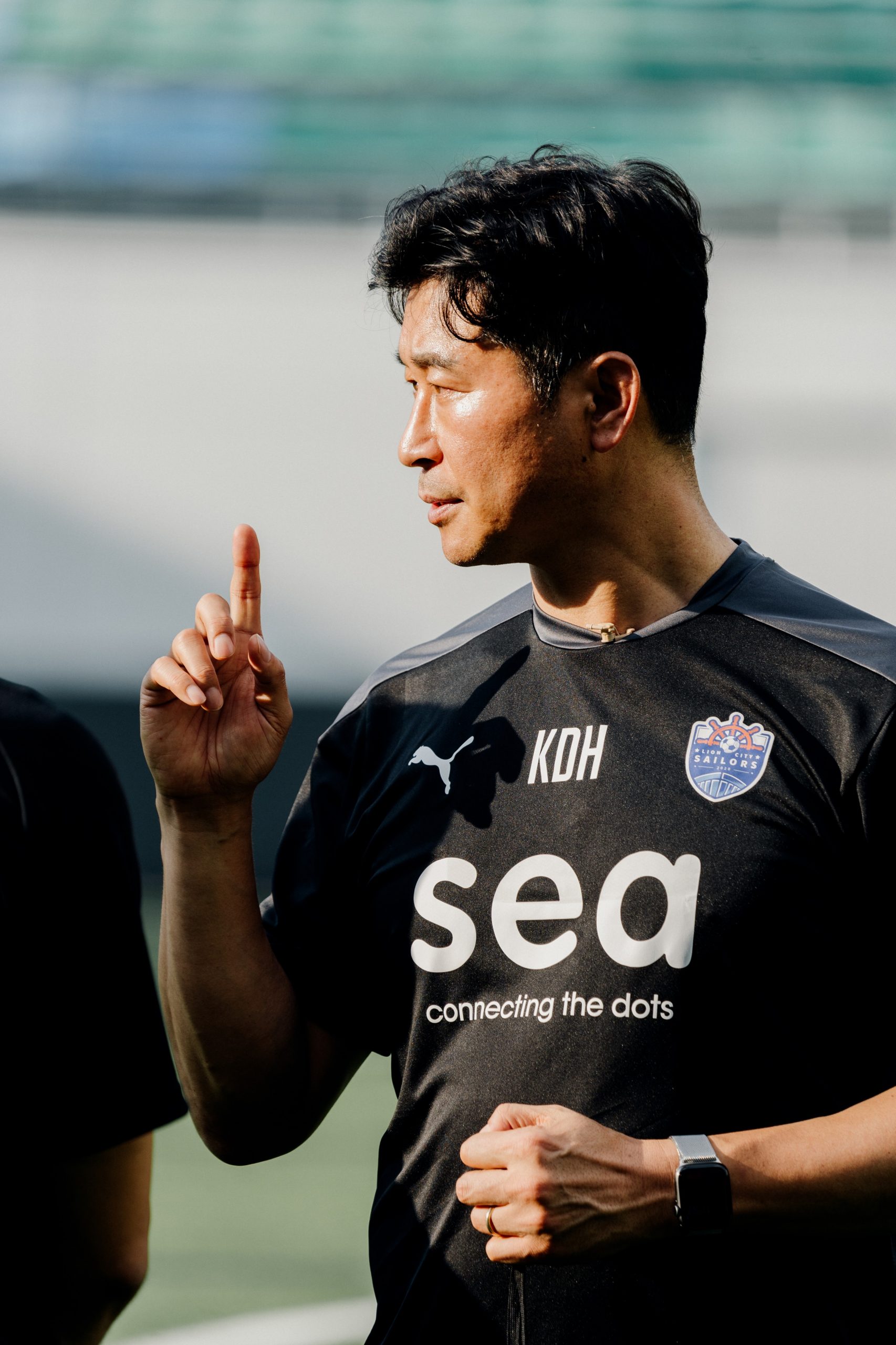 He had never managed outside of his home country, but Kim was won over by Li's vision and commitment to revolutionise Singapore football and equip the Sailors to challenge the best in Asia. It was Li's ambitious Sailors project that intrigued Kim, a new challenge that ultimately saw him cut short his planned sabbatical.
"I could tell from my conversation with Forrest that he's a football man – he really understands the game and is heavily invested in the club. He not only wants the club to become the best team in the country, but also has the vision for us to be a proud representative for Singapore on the regional stage," said Kim through a translator.
"Because of that, we always try to get the best players, coaches and backroom staff. And it's this kind of environment that I really like, and I feel that Forrest's vision is really in line with mine – a firm commitment to excellence and serious ambition to achieve targets.
"That's why I really wanted to be a part of the Sailors."
Talks between the club and Kim progressed swiftly with terms agreed on a two-and-a-half year contract that would last till the end of the 2023 season, as the South Korean was officially confirmed as the Sailors' new head coach in mid-May.
Kim had been in Singapore a couple of times prior to this appointment, including once as an AFC coaching instructor in 2013. In his short stays here he was left impressed by the security and cosmopolitan culture of the country.
While Singapore may not be an established Asian powerhouse like Korea or Japan, ambitious plans have been laid out to improve the standard of the game here and to eventually take it to the world stage– through the nation's much talked-about Unleash The Roar! project.
This is where Kim sees himself fitting in perfectly, as part of a larger plan to improve football. Since he started his coaching career with the South Korean Under-20s in 2014, Kim has thrived on bringing through promising young players and improving the style and results of teams he managed.
When he was at Incheon United, he led the club to a historic runners-up finish in the 2015 FA Cup – still their best-ever achievement in the tournament – where they only lost out to the more fancied FC Seoul, falling to two late goals.
At Ulsan, where the club's only honour in the 11 years prior to his arrival in 2017 was the 2012 ACL triumph, he masterminded two trophies in four years and went closer to challenging Jeonbuk Hyundai Motors for the league title. The Tigers only narrowly missed out in 2019 due to an inferior goal difference.
"I know there are big aspirations to improve the footballing scene here and to close the gap with other countries," he said. "Hopefully with my experience, I can be part of the change in Singapore – maybe to improve professionalism and football quality as a whole."
Having completed a 14-day quarantine after arriving in Singapore from his native Gyeongnam, Kim has wasted little time in getting down to work as he oversaw his first training session with the Sailors on Tuesday (29 June) evening.
Under his tutelage, Ulsan evolved into a team that not only played an eye-catching brand of attacking football, but was also known for their strong defence. Kim has laid out the same philosophy for his new charges.
While still in the midst of getting to know the players better, he has already observed enough from their matches this season to know that they have the potential to meet his high demands.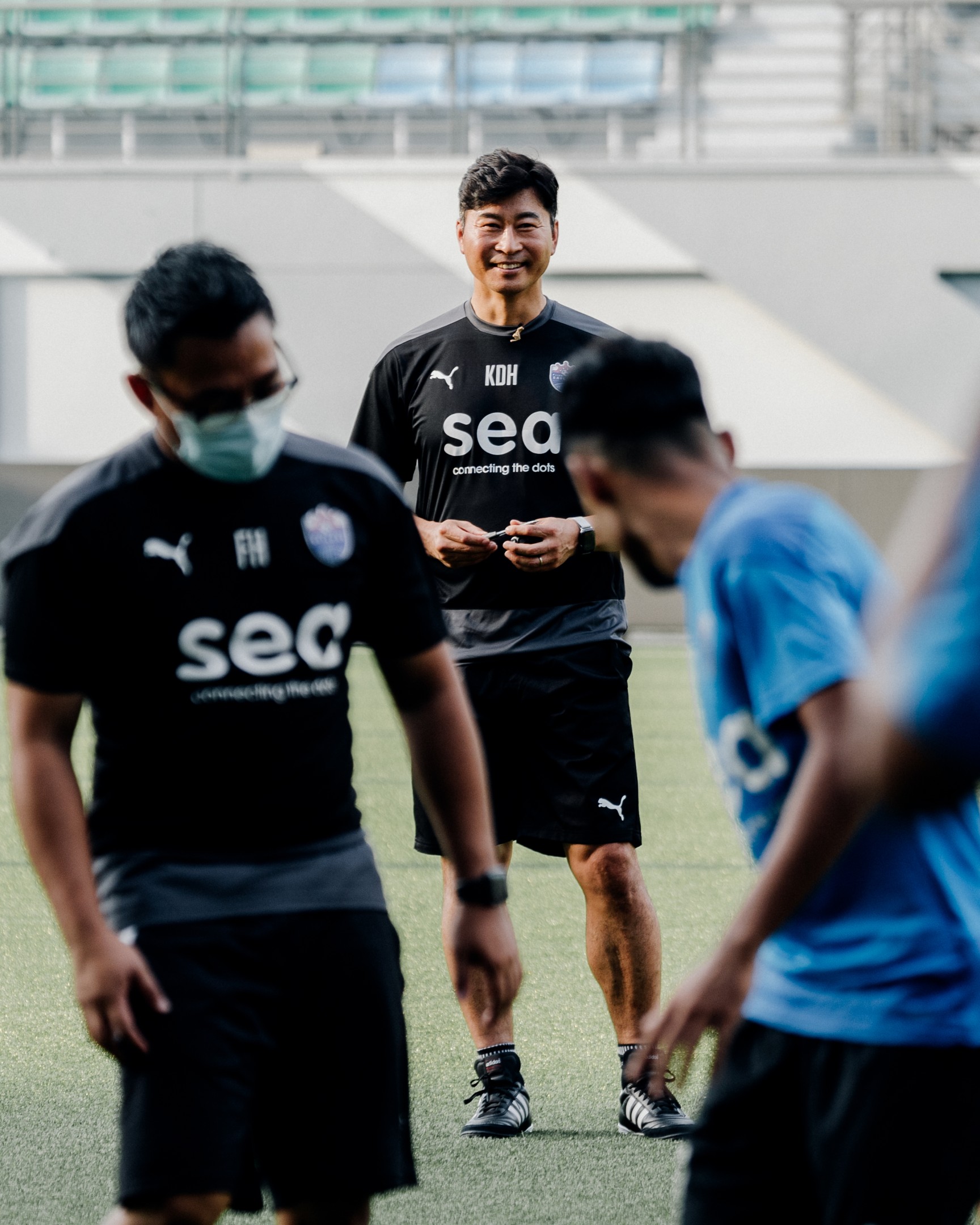 A prolific striker who represented the South Korean national team on more than 70 occasions, including at the 1998 FIFA World Cup, Kim certainly knows a good player when he sees one.
"Obviously there is the stigma of the SPL not being comparable to the big leagues in Asia, but I can see for myself, we're not as low as everyone thinks," he emphasised. "I like what I'm seeing from these players and I'm here to help them reach their potential. I'm sure we can achieve things together once everyone is accustomed to what I want from them.
"Essentially I want the team to play a dynamic style of attacking football so that the fans that come to watch us can enjoy the game. I want to focus on the team cohesion – we must be a hardworking team that fights for the ball all the time, we have to control the game as a whole while being compact at the back."
Kim believes the Sailors have the capacity for success, and is here to help to "accelerate the process" of the Sailors being competitive in the region.
"There is still a lot of room for improvement. But if we work together as a team and put in the effort, we can become a force in Asia in due time," he proclaimed. "There are no shortcuts to success, but I'm here to help us achieve our goals in a faster manner."
The short-term target: to lead the Sailors to their first-ever Singapore Premier League (SPL) title since their 2020 inception.
Kim will be looking to help the Sailors continue their excellent form before the international break, achieving a club-record six-game winning streak that has seen them go to 26 points, just one off the summit.
His first official game in charge of the Sailors will be a bumper top-of-the-table clash against league leaders and reigning champions Albirex Niigata (S) on 23 July.
And Kim cannot wait to get started.
"Obviously the target is to win the league title this season. That will help us qualify for the ACL next year and challenge ourselves," he said.
"We have to focus on this objective now before having bigger dreams and goals for next season and beyond."