As Majulah Singapura blared over the sound system at the Lion City Sailors Training Centre, the club's first-team players, Academy trainees, MacPherson residents as well as Member of Parliament (MP) for MacPherson Single Member Constituency (SMC) Tin Pei Ling sang with gusto and proceeded to recite the National Pledge in unison, reaffirming their commitment to Singapore. 
It was quite the sight at the newly-opened Training Centre on Tuesday (9 August) morning as the club opened its doors to the community, hosting MacPherson Zone E Residents' Committee (RC) and MacPherson Community Sports Club (CSC)'s National Day Observance Ceremony (NDOC) – the first time the Sailors welcomed the community at large.
Some 300 residents walked en mass from the MacPherson Community Centre across to the Training Centre on Mattar Road, where they partook in an ActiveSG workout, tried out a couple of sports, had a little bit of fun at some game booths and had the opportunity to soak up the atmosphere at the new home of the Sailors – with the Sailors first-team players and Academy trainees going through their paces on both pitches even as the event took place.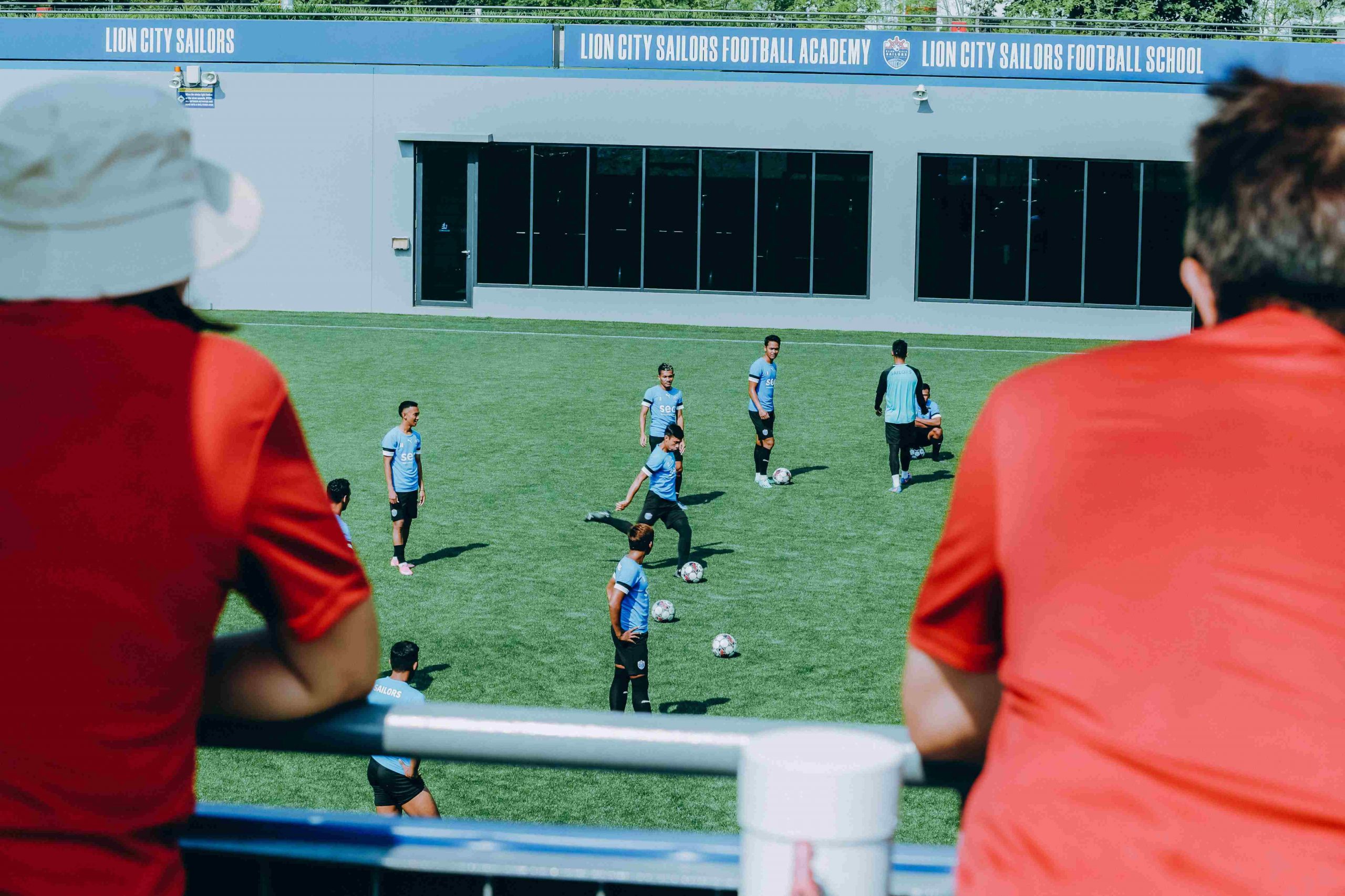 It was a blazing hot morning, but it was clear that MacPherson residents enjoyed a meaningful morning and showed even greater warmth in their interactions with one another at a facility which was designed to support more than just elite sports. 
Apart from having a world-class facility to hone the skills of budding footballers, the newly-constructed Training Centre was aimed to facilitate service to residents and bring greater vibrancy to the Mattar neighbourhood and the MacPherson community. 
The Training Centre which includes a viewing area for the public, a café, as well as community-friendly spaces at Level 2 has started on good footing.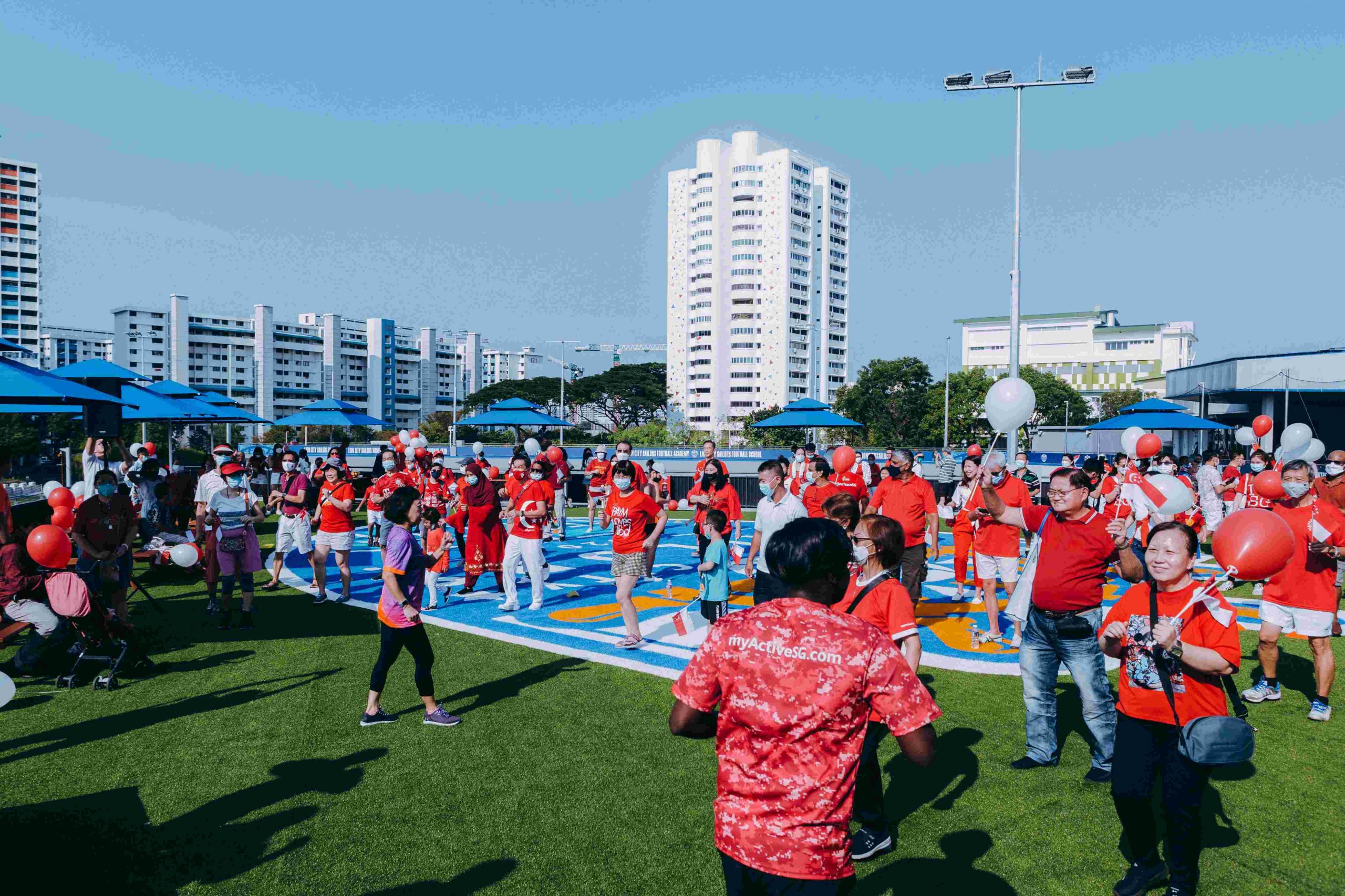 Less than two weeks after its official opening on 28 July 2022, the Training Centre has already opened its doors to family, friends and the community across two events. 
Earlier on 31 July, the integrated facility opened its doors to families of players, coaches and staff from both the Sailors first team and Academy for its inaugural Family Day, offering all a first-hand look at the new home of the Sailors, as well as to soak up the fun and games on offer. 
After viewing the various facets of the Training Centre such as the Academy's locker rooms, first team changing room and recreation room, the kids and younger ones had the chance to participate in an inflatable penalty game, four 1v1 stations and a bouncy castle – and also enjoyed treats like popcorn, candy floss and ice cream in what was a carnival at Mattar.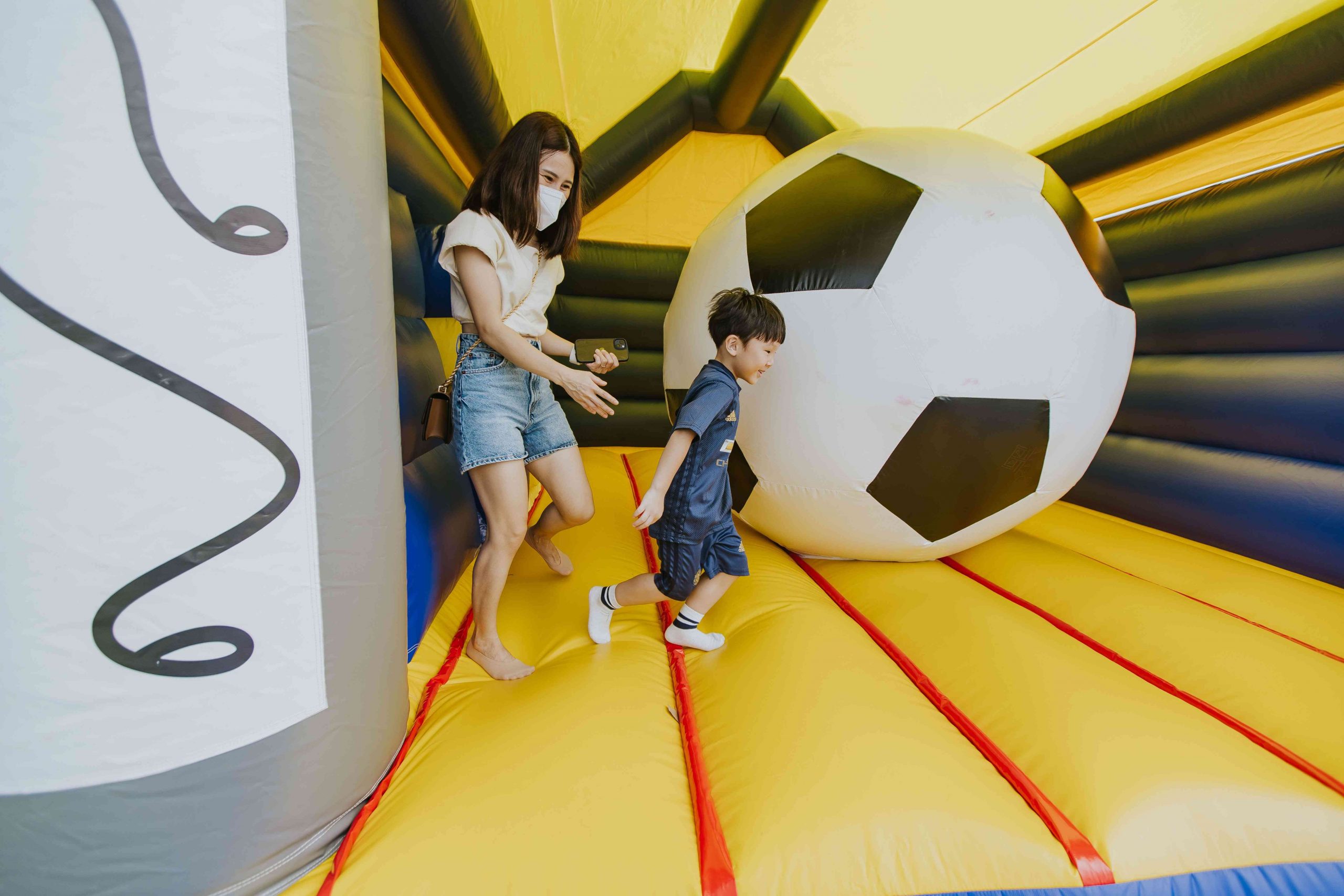 One thing is for sure – the Sailors' firm commitment to serving the grassroots and bringing the community together through football. 
"It has always been our aim to sink roots into Mattar and embrace the community around our new home. We've started regular discussions with our neighbours and the grassroots organisations here on possible collaborations, and we're grateful that they've made us feel very welcome," said Sailors Chief Executive, Chew Chun-Liang.  
"Through football, we can bring people together and do our bit to build a cohesive and united society in Singapore. And this will be the heart of everything we do, especially because football is one of the best vehicles to drive cohesion."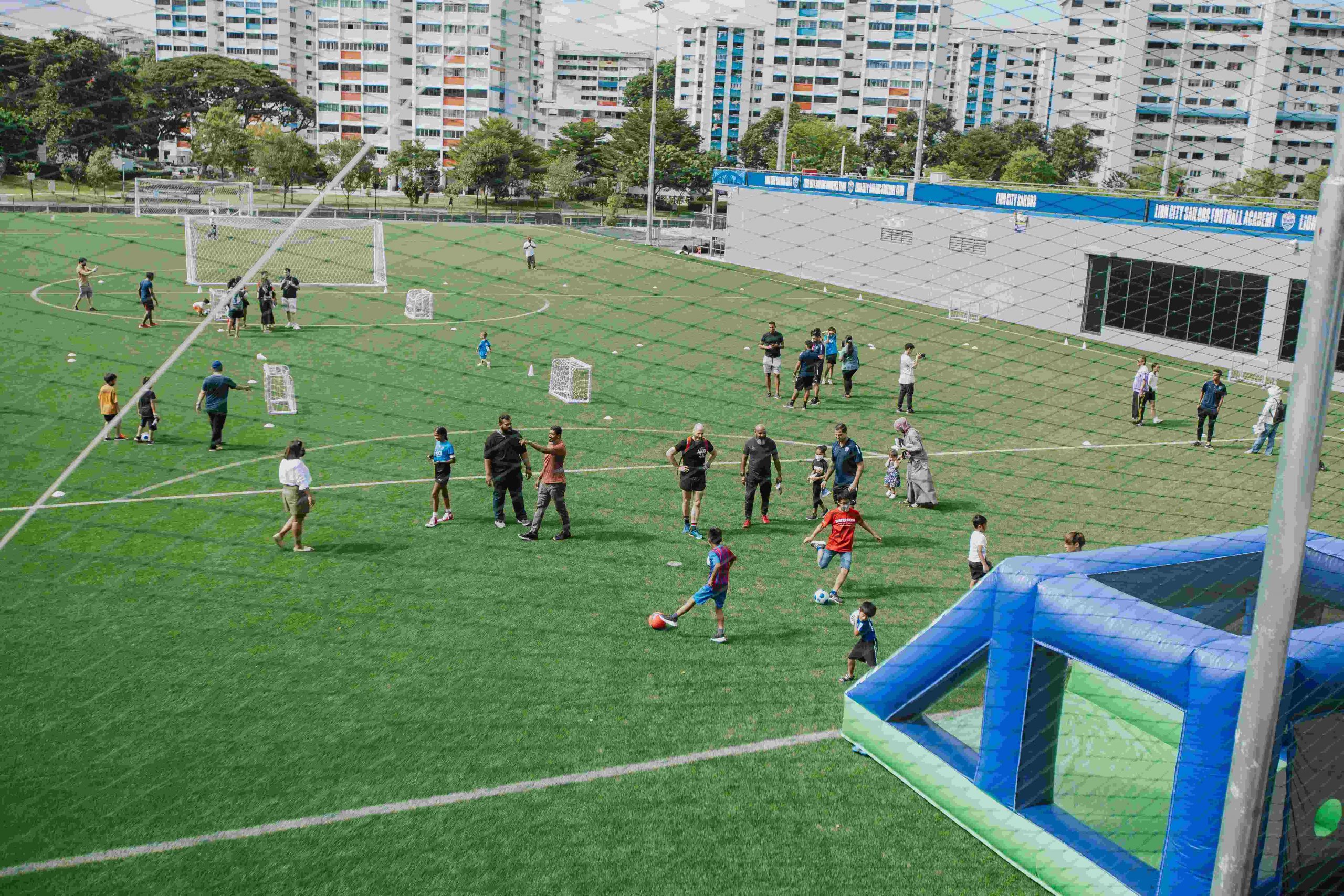 MP for MacPherson SMC, Tin Pei Ling was similarly looking forward to more collaborative efforts between the Sailors and MacPherson grassroots organisations in the future. 
She said: "Chun-Liang and his Sailors have been fantastic neighbours, from collaborating with our grassroots organisations in MacPherson for a Grant-a-Wish initiative in November 2021 even before they moved into Mattar Road, to now hosting a significant event like the NDOC. 
"We're delighted that the Sailors have embraced the MacPherson communities as much as they have, and I look forward to further deepening our relationship with the club as they settle down here. 
"The Sailors' wonderful facility opens up several options for various grassroot activities, and we're delighted that they are so open to working with our grassroots."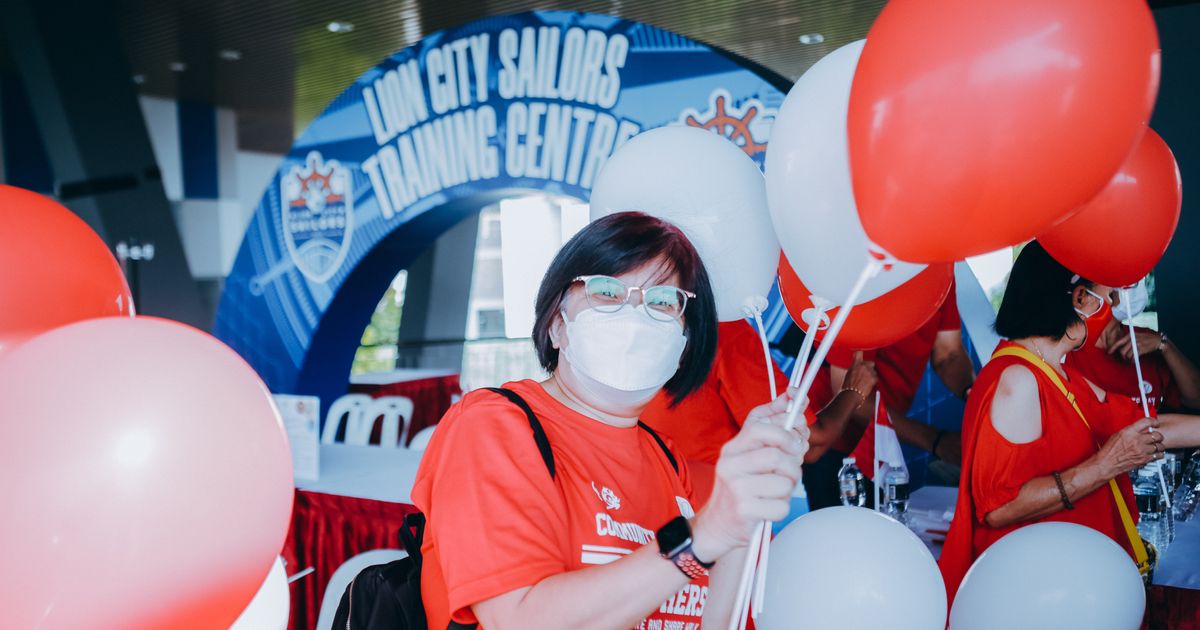 As part of the club's ongoing drive to do its part for the community it lives in and serves, the Lion City Sailors have joined hands with the Dyslexia Association of Singapore (DAS) to dedicate an entire matchday to promote awareness of the cause.
The Sailors have pledged all ticket proceeds from their next Singapore Premier League (SPL) home match against Tampines Rovers on Sunday, 24 July to the DAS Bursary Fund to support more children with dyslexia from low-income families to gain access to the specialist intervention that they require.
This special matchday that comes as DAS celebrates its 30th anniversary will also see selected DAS students escorting the Sailors players out onto the pitch at Jalan Besar Stadium and serving as ushers at the venue as well.
Fans who attend the match to show their support for the cause can enjoy fringe activities including display stations featuring art pieces created by DAS students, games and other merchandise booths curated by DAS to amplify fundraising and promote awareness of dyslexia.
Individuals with dyslexia will have difficulty with reading, writing and spelling due to problems identifying speech sounds and learning how they relate to letters and words. Dyslexia affects areas of the brain that process language, however, it does not mean they cannot learn. Individuals with dyslexia just learn differently.
Renowned personalities such as F1 racing driver Lewis Hamilton, physicist Albert Einstein as well as Singapore's founding Prime Minister Mr Lee Kuan Yew are known to have dyslexia.
Today an estimated 23,000 local students from pre-schools to secondary schools in Singapore have dyslexia severe enough to warrant intervention.
Studies have shown half of these children also face co-occurring challenges such as attention deficit hyperactivity disorder (ADHD), dyspraxia, dyscalculia and Asperger's Syndrome. As such, DAS needs to raise over S$2 million each year to provide bursaries for its lower-income students to gain access to the specialist support they need to be successful in learning.
Funds raised by the Sailors will be channelled to the broader DAS efforts as part of its 30th Anniversary celebrations that will culminate in its 2022 Charity Gala Dinner to be held on 7 September 2022 that will be graced by President Halimah Yacob – who will attend as the event's guest-of-honour.
Delighted to be partnering DAS to help raise awareness on dyslexia and do their part for a greater cause, Sailors CEO Chew Chun-Liang said: "We're grateful for DAS' trust as we work together to do our bit for what is a learning difference that can be a cause for real life-long struggles for individuals and their families.
"This is DAS' 30th anniversary, and we're honoured to be a part of their efforts to commemorate all those decades of good work helping Singaporeans with dyslexia achieve more despite this learning difference."
Sailors captain Hariss Harun was honoured for the Sailors to be able to lend their weight to what is a worthy cause.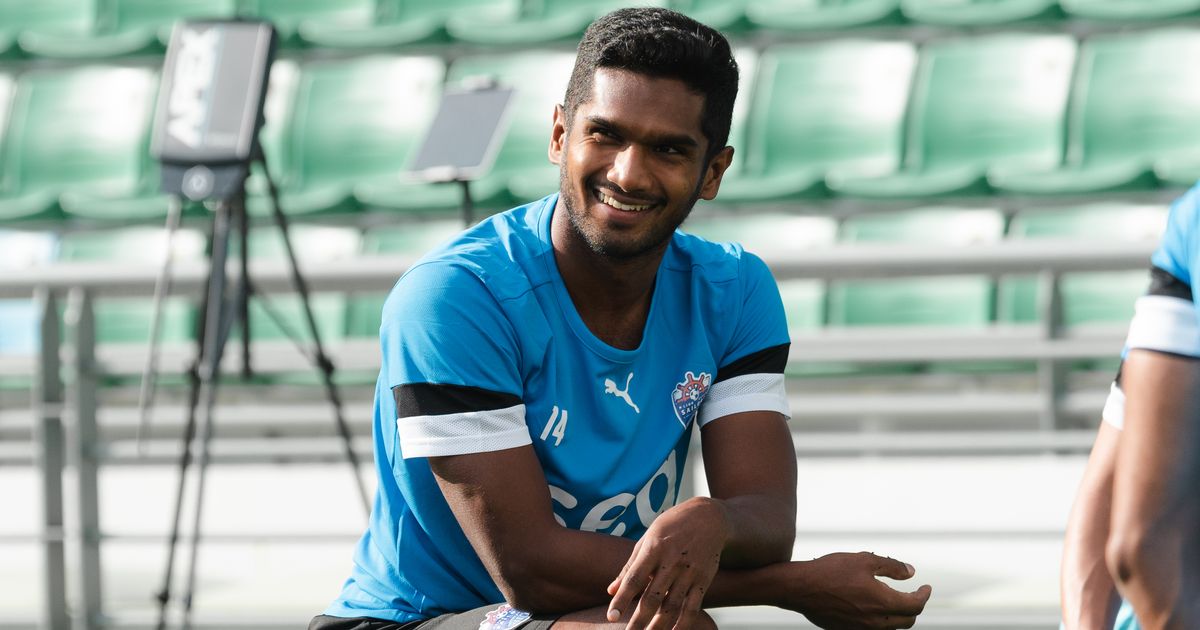 He said: "It's important for Singapore to have an inclusive society. We all must do our part and help the less privileged in our community.
"Kids with dyslexia have certain struggles and need all our help, so we're absolutely delighted to be able to support this great initiative."
DAS' Assistant Director of Publicity and Publications, Deborah Hewes, is someone who can speak from personal experience. She grew up with dyslexia and all three of her children have similar learning differences.
"Learning with dyslexia is challenging and school can be really tough, but with perseverance and hard work learning becomes easier over time – just like playing sport, putting in the training and practice makes for a winning team! All students benefit from inspired teachers and coaches, and with the right support they can have the confidence to be successful in their life endeavours.
"Our DAS students can shine in many areas and sports can help to level the playing field where they can shine. Supported by their team and coaches, sports is a great way for a child to experience success," she said.
Grateful for the support that the Sailors are giving to DAS students, she added: "The excitement of being on the pitch with some of their sporting idols and being part of this special event helps to raise awareness that learning differently is a challenge to embrace."
Through the commitment of an entire matchday to the DAS cause, the Sailors hope to help raise funds for those affected by dyslexia and also foster greater understanding in the community through the Beautiful Game.
"Football can be a fantastic vehicle for worthy causes, and at the Sailors, we are firmly committed to doing our part for the communities that we live in and serve," said Chun-Liang.
"We want to take this chance to rally the Sailors fans and the football fraternity to get behind the cause – come down, enjoy the game and perhaps learn something that also affected our founding Prime Minister, the late Mr Lee Kuan Yew."
Tickets to the Sailors vs Tampines match are available on SISTIC. Tickets can also be purchased at the Jalan Besar Stadium's ticketing counter at the North Gate on matchday.
See you Sailors fans on matchday as we look to come together and Score for Dyslexia!
Terms and Conditions – #CelebrateLCSFC
These terms and conditions, and any other documents and policies incorporated by reference, ("

Terms

") shall apply to the #CelebrateLCSFC competition (the "

Competition

") organized by Lion City Sailors Private Limited ("

Lion City Sailors

"), and shall form a contract between you and Lion City Sailors. 

Your participation in the Competition constitutes your agreement to be bound by these Terms The offering of the Competition to you is conditional on your acceptance of these Terms. If you do not agree to these Terms, you must not participate in the Competition.

Lion City Sailors' other policies (including, but not limited to, the Terms of Service available

here

) ("

Policies

") also apply to your participation in the Competition – to the extent of any inconsistency between the Policies and these Terms, the Policies shall prevail.
The competition shall run from

[28th October 2021]

to

[1st November]

("

Competition Period

").
To participate in the Competition, you must use your personal Instagram account to post on your own Instagram page, and must ensure that each entry is public and contains the hashtag #CelebrateLCSFC. Entries of Instagram posts to the Competition are limited to one per participant / person.

Winning entries will be chosen by the Lion City Sailors marketing department and will be judged on creativity (in its sole discretion).

The prizes for the Competition ("

Prizes

") are one Lion City Sailors Champions T Shirt (size subject to stock), one Lion City Sailors Cap, one Lion City Sailors mask and one Lion City Sailors Crew T-Shirt.

Winners of the Prizes will be contacted through Instagram direct messaging by Lion City Sailors. In the even that Lion City Sailors is unable to contact the winner after three (3) attempts a replacement winner will be chosen. 

Acceptance of a Prize by a winner shall constitute agreement for the winner to take part in such related promotional activities as Lion City Sailors may require. 
By participating in the Competition, you represent, warrant and undertake that:

you are at least eighteen (18) years old and are ordinarily resident in Singapore; 

you and your immediate family members are not employed by Lion City Sailors or its associated promotional partners, companies or suppliers; and

you will comply with all applicable laws when participating in the Competition.

By participating in the Competition, you acknowledge and agree that:

the Competition is deemed void to the extent prohibited by applicable laws; 

entries to the Competition are deemed void if Lion City Sailors determine (in its sole discretion) that such entries are illegible, incomplete, damaged, irregular, altered, counterfeit, produced in error or obtained through fraud or theft;

the decisions of Lion City Sailors are final and binding with respect to all matters relating to the Competition (including, but not limited to, selection of the winners of the Prizes);

all Prizes are non-transferable and non-exchangeable for cash or any other Prizes;

you grant Lion City Sailors a non‐exclusive, royalty‐free, transferable, sub-licensable, irrevocable, perpetual worldwide licence and right to use (including commercial use), distribute, reproduce, display and otherwise make available any content that you provide in connection with the Competition (including, but not limited to, your entry as well as your name, likeness and/or voice) ("

Provided Materials

"), and Lion City Sailors may use your Provided Materials in any publicity or advertising relating to the Competition or future competitions held by Lion City Sailors without compensation or approval (subject to applicable law); and

the Competition is in no way sponsored, endorsed or administered by, or associated with, Facebook, Inc. and its affiliates, and you agree to completely release Facebook, Inc and its affiliates from any and all liability in connection with the Competition. 
Changes to / cancellation of Competition
Lion City Sailors reserve the right to (in its sole discretion): (a) amend or vary any term of the Competition, or suspend or cancel the Competition at any time, including, but not limited to, where for any reason the Competition is not capable of running as planned, due to any causes beyond the control of Lion City Sailors that corrupt or affect the administration, security, fairness, integrity, or proper conduct of this Competition; and (b) suspend or disqualify your participation in the Competition at any time, including, but not limited to, where you breach any of the provisions of these Terms or the Policies or where your participation in the Competition is deemed by Lion City Sailors to be inappropriate, unsuitable or detrimental to Lion City Sailors.

For the avoidance of doubt, cancellation, termination or suspension by Lion City Sailors of the Competition shall not entitle any party to any claim or compensation against Lion City Sailors for any and all losses or damage suffered or incurred as a direct or indirect result of the act of cancellation, termination or suspension of the Competition.
By participating in the Competition, you are deemed to have consented to: (i) the collection, use and disclosure of his/her name, image, voice and/or likeness by Lion City Sailors for editorial, advertising, competitional, marketing and/or other purposes without any payment and/or compensation except where prohibited by law; and (ii) receiving competitional, marketing and other publicity information from Lion City Sailors from time to time. 

Please also refer to Lion City Sailors' Privacy Policy (available

here

). By participating in the Competition, you consent to Lion City Sailors' collection, use, disclosure and/or processing of your personal data as described in the Privacy Policy.
To the maximum extent permitted by applicable law, the Competition (and any systems used to provide the Competition) is provided "as is" and without any warranties, claims or representations made by Lion City Sailors of any kind either express, implied or statutory with respect to the Competition, including without limitation warranties of quality, performance, non-infringement, merchantability, or fitness for a particular purpose, nor are there any warranties created by course of dealing, course of performance or trade usage. Without limiting the foregoing, Lion City Sailors do not warrant that the Competition (and any systems used to provide the Competition) will be available, accessible, uninterrupted, timely, secure, accurate, complete or error-free, that defects, if any, will be corrected, or that they are free of harmful code.  You acknowledge that the entire risk arising out of your participation in the Competition (and use of any systems used to provide the Competition) remains with you to the maximum extent permitted by applicable law.

Lion City Sailors do not assume any responsibility or liability whatsoever for any Losses resulting from (i) any errors in communication associated with the Competition, (ii) any problems with the Prizes; and (iii) any use of the Prizes.
To the maximum extent permitted by applicable law, you agree to defend, indemnify and hold harmless Lion City Sailors and its affiliates and their respective officers, directors, employees, subcontractors and agents) from and against any and all Losses, whether foreseeable or not, directly resulting from any third party claims, investigations, legal or administrative action, litigation or arbitrations or demands to the extent arising out of or relating to: (a) any actual breach of any of your representations, warranties, covenants, or obligations under these Terms; and (b) any breach of any third party's rights.

To the maximum extent permitted by applicable law, under no circumstances shall Lion City Sailors be liable to you for any losses, liabilities, damages, fines, judgments, settlements, costs, expenses, and fees (including reasonable and justified attorney's fees), including, but not limited to: (a) indirect, incidental, consequential, punitive or special damages whatsoever; or (b) loss of profits, loss of business, loss of opportunity or loss of goodwill, whether foreseeable or not, arising out of or related to this terms of service, regardless of the forum and regardless of whether based on breach of contract, tort (including, without limitation, negligence), misrepresentation, under statute or otherwise ("

Losses

"). Your only right with respect to any problems or dissatisfaction with the Competition is to discontinue participation in the Competition. If, notwithstanding the preceding sentence, Lion City Sailors is found by a court of competent jurisdiction to be liable for any Losses, Lion City Sailors' total liability to you or any third party is limited to SGD 100 (one hundred Singapore dollars).
Lion City Sailors may revise and update these Terms at any time in its sole discretion by posting an updated version. It is your responsibility to check regularly to make note of any changes. All such changes to these Terms are effective immediately when posted and apply to your participation in the Competition thereafter. Your continued participation in the Competition following the posting of such revised Terms constitutes your acceptance and agreement to the changes which are binding on you.

These Terms and any non-contractual rights or obligations arising out of or in connection with it shall be governed by and construed in accordance with the laws of Singapore.

You shall do all things necessary, including executing all documents necessary, to give effect to the intention of the parties under these Terms. 

Failure by Lion City Sailors to enforce any of their rights at any stage under these Terms does not constitute a waiver of those rights.

Any dispute, controversy, difference or claim arising under or relating to these Terms shall be referred to and finally resolved by arbitration administered by the Singapore International Arbitration Centre in Singapore in accordance with the Arbitration Rules of the Singapore International Arbitration Centre for the time being in force, which rules are deemed to be incorporated by reference in this Clause. The seat of the arbitration shall be Singapore. This arbitration agreement shall be governed by Singapore law. The Tribunal shall consist of three (3) arbitrators and the language of the arbitration shall be English. 

A person who is not a party to these Terms shall have no rights under the Contracts (Rights of Third Parties) Act (Cap 53B) to enforce these Terms.
They stood firm on the frontlines of Singapore's battle against the Covid-19 pandemic, and continue to serve the nation even as Singapore starts to loosen restrictions. 
The Lion City Sailors stand with Singapore in saluting the healthcare workers of our country. 
The Sailors invite Singapore's healthcare heroes to this Friday's Singapore Premier League (SPL) fixture against Hougang United at the Jalan Besar Stadium to catch the action – for free. 
And in the spirit of going the extra mile as several of our healthcare workers do, the Sailors would also like to go a little further and offer free 15-minute shoulder massages to our healthcare heroes in the stadium.
"We are wildy appreciative of our healthcare workers' service to the nation and all the sacrifices that they have made in keeping Singapore safe," said Sailors Chief Executive Officer, Chew Chun-Liang. 
"Even though it is just a small gesture, we felt that the Sailors must try and serve our healthcare heroes just as they've served us – hence our offer of shoulder massages in the stadium, as a token of our gratitude to the people who shouldered a key facet of the work in keeping Singapore safe," added Chun-Liang.
"To our healthcare heroes: please come and enjoy the match – on us. The Sailors thank you for your service." 
To redeem match tickets, healthcare workers simply have to show ticketing staff any form of work identification, such as a staff pass. Healthcare workers can then register their interest for massages with staff on the ground who provide more details. Conditions for entry as stipulated by the Football Association of Singapore, in accordance with Sport Singapore guidelines must be met. 
When Lion City Sailors defender Naqiuddin Eunos was 13, his father, then the sole breadwinner of the household, suddenly found himself out of a job.
It was a terrible blow for Naqiuddin and his family – with Naqiuddin and his brother still schooling, and his younger sister just three years of age, the family struggled to make ends meet during that time.
It is why the full-back was enthused and eager to have participated in Beyond Social Services' (BSS) food distribution programme.
"The loss of my father's job came very suddenly, and it was a real shock to us. It led to a very tough time for my family in terms of finances," 23-year-old Naqiuddin recalled. "Both my brother and I had school expenses to pay for, and my sister was still so young then, which meant my mother had to stay home to look after her.
"Thankfully, we did receive some aid from the financial assistance schemes in school, and I remember being really appreciative of this help. I realised then that every little bit of help counts, especially when it goes to someone who needs it."
That difficult period in Naqiuddin's life, however, helped to mould him into the hardworking, tenacious and motivated individual he is today – traits which are evident in the way he plays.
"From that time where we had to endure financial hardship, I made a promise to myself to work hard to achieve what I want so I won't be a burden to my family in the future," said Naqiuddin. "Instead, I want to support my family and give them a good life. That keeps me motivated to grind hard every day so that I can reach the top of my game."
Having experienced how hard life can be for families who struggle financially, Naqiuddin is now keen to give back and help the disadvantaged members of society whenever he can.
Naqiuddin's involvement in the food distribution programme came about as part of a collaboration between the Lion City Sailors and BSS, which saw our Sailors – both players and staff alike – volunteer their time and effort to pack and distribute food to BSS' beneficiaries.
Speaking about the volunteering experience, Naqiuddin said: "All of us at the club were really happy to help in the programme. We all recognise that while we have enough resources in our lives, there are people in Singapore who need help, so it's important for us to give a helping hand.
"We could see how difficult life was for some of the families, where they sometimes don't have enough to eat, and live in very bare homes. Personally, I've seen my family struggle financially at one point of time in my life as well. Now that things in my life are stable, I want to give back to the community now, and do my part to help ease the burden in whatever way I can for the underprivileged."
It may have been his birthday on Sunday (Mar 29), but instead of celebrating his special day at home, Sailor Zulqarnaen Suzliman was out and about early in the morning at Our Tampines Hub (OTH) to do his part in helping the community battle Covid-19.
More commonly known by his nickname "Mamat", Zulqarnaen, along with three other Sailors – Saifullah Akbar, Naqiuddin Eunos, and Haiqal Pashia – was at OTH to distribute hand sanitisers to the community, as part of the #BYOBclean initiative by Temasek Foundation.
"Even though it's my birthday today, I decided to volunteer my time with this #BYOBclean initiative because I think it's important that all of us come together to fight this virus," said Mamat.
"We have to treat this (virus) seriously and do what we can to beat it. But what I'm doing today is still nothing compared to the frontline healthcare workers, who are working hard and sacrificing a lot more every day."
With the suspension of team trainings and the Singapore Premier League (SPL) currently on hold, Mamat did, however, admit that it has been tough adapting to life without football.
"Of course, I miss football a lot," said Mamat. "I miss the training, the grind, and playing matches. But I know I have to be patient for now and wait till everything is fine."
Agreeing, Sailor midfielder Saifullah added that he was taking no chances with the virus, and was following all the safety guidelines – such as staying at home as much as possible, observing social distancing, and wearing a mask when he goes out – closely.
The 21-year-old explained that he is extra cautious when it comes to the virus, as he lives with his elderly grandmother and baby sister.
"Because of how old they are, I think my grandmother and sister are more vulnerable to the virus, and I don't want to do anything that will put them at risk," said Saifullah. "I'd rather be safe than sorry, so I take all the necessary precautions to ensure that we remain healthy.
"Nonetheless, I still decided to come out here to OTH today to help out in this initiative because it's the right thing to do. As Sailors, we have a responsibility to give back and contribute to the community whenever we can."
Apart from Saifullah and Mamat, four other Sailors – Adam Swandi, Naqiuddin Eunos, Haiqal Pashia and team manager Herwandy Hamid – also made the trip down to OTH during the week to take part in this initiative.
All of us at Lion City Sailors are proud to join in Singapore's fight against Covid-19!