The Lion City Sailors might be making their debut in the Singapore Women's Premier League (WPL) this season, but that has not stopped them from aiming high, as they look to emulate the men's team by winning the league title.
It is not hard to see why the Sailors fancy their chances of becoming champions. Led by head coach Yeong Sheau Shyan, the Sailors boast a talented squad with a good blend of youth and experience that includes a number of Singapore internationals, including the likes of National Team captain Ernie Sulastri, up-and-coming midfielder Nur Izzati, as well as the likes of Dorcas Chu and Canadian Madison Telmer .
"In terms of results, we are gunning for the top," declared Sheau Shyan. "But we are also more focused on the process. This is our maiden season, and the goal is to really get everyone training hard, understanding the way we want to play, and develop over the next three years."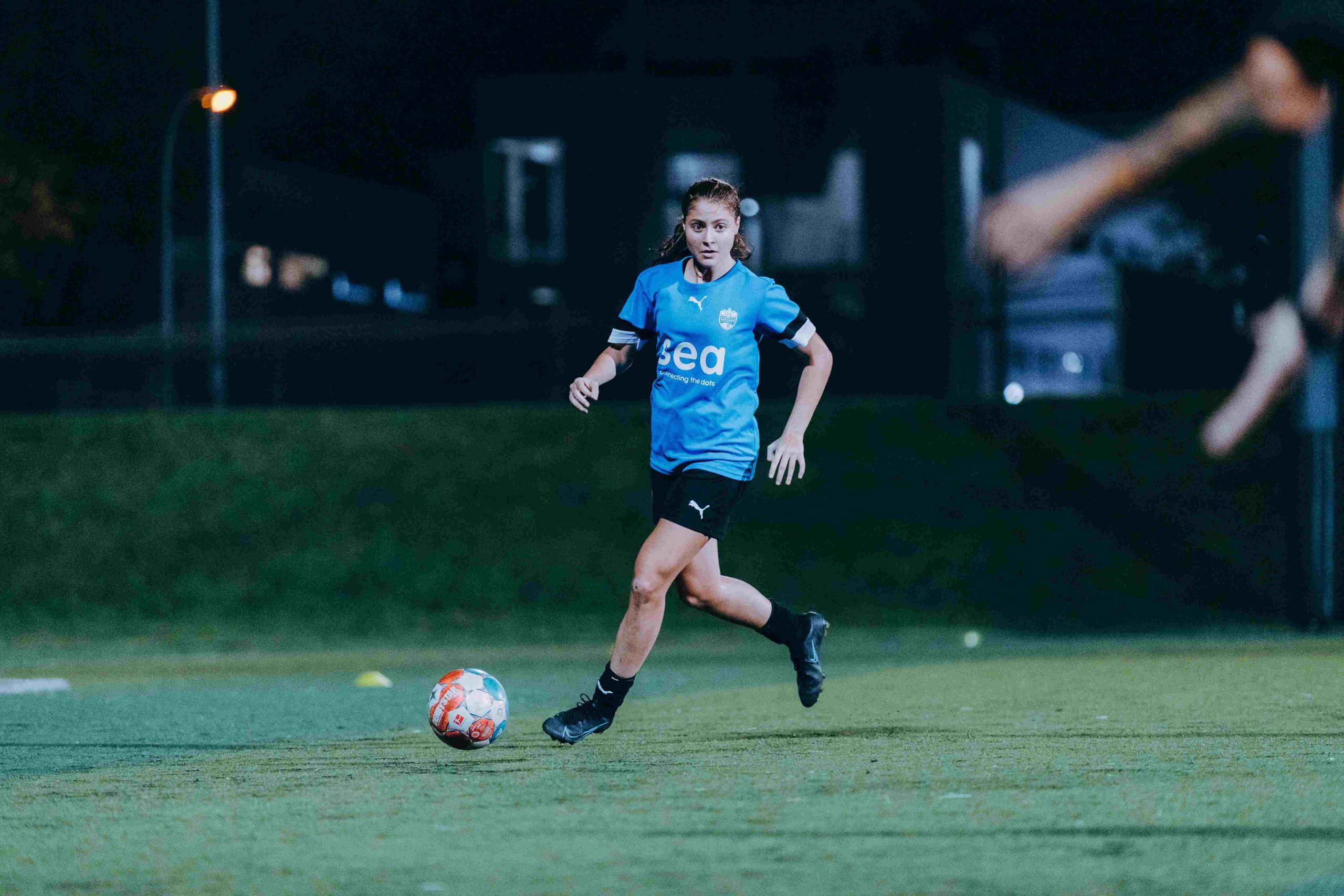 And the Sailors do not just want to win the WPL title – they want to do so in style, by playing an attacking and exciting brand of football.
"We want to come out and play good attacking football. After all, our belief is that football must be fun and entertaining," Sheau Shyan said.
Since the Sailors' inception in 2020, the club has established for itself a reputation of being an ambitious trailblazer, with the men's team winning the Singapore Premier League (SPL) title last year, while also making history in their impressive maiden Asian Football Confederation Champions League (ACL) campaign last month.
Sheau Shyan admits that the success achieved by the club so far has raised expectations, calling for the women's team to follow suit. She said: "I always have very high personal expectations for each season, but this is the first time I've felt any external pressure to perform."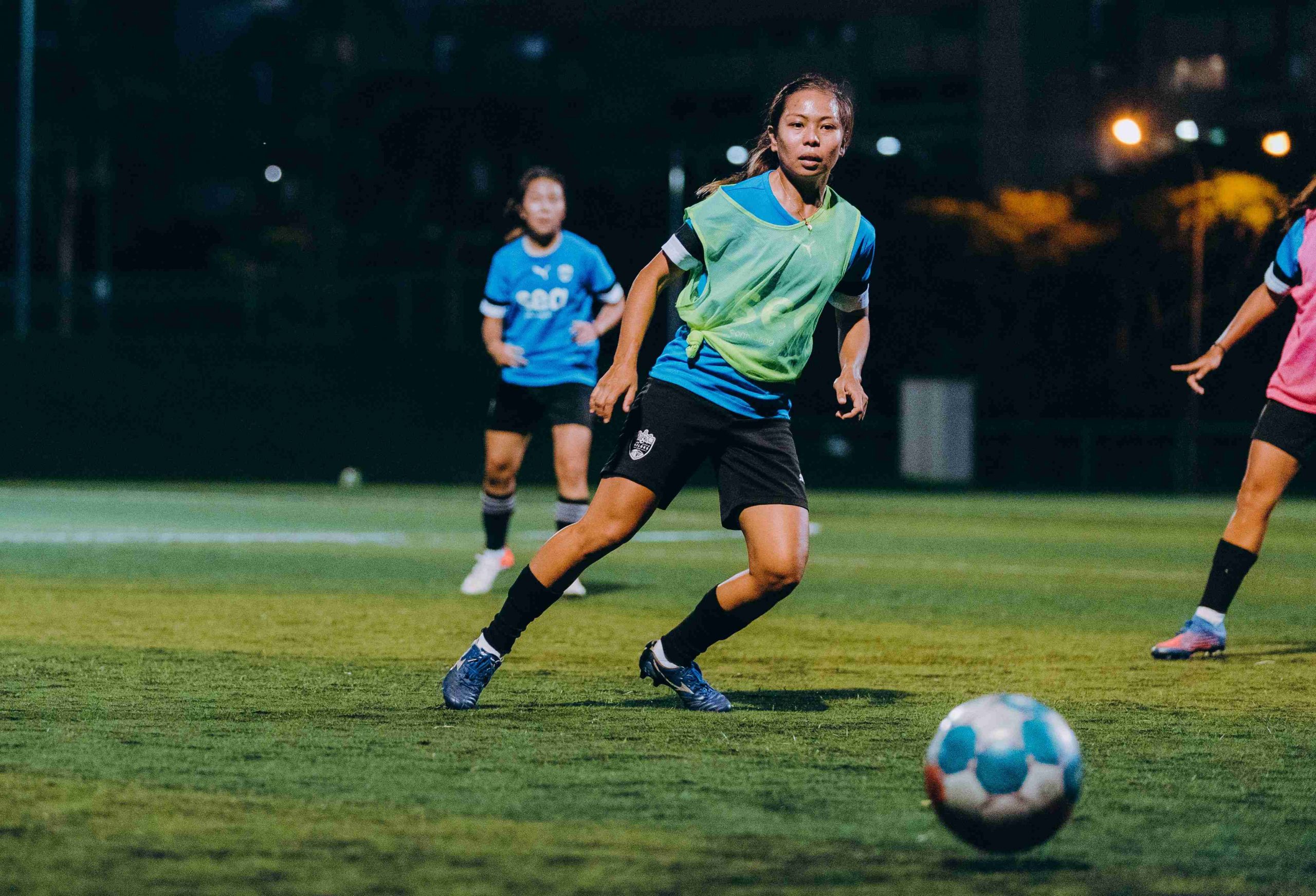 Sailors captain Ernie echoed the sentiment, as she added: "There is definitely added pressure on the team. There is a certain level that the public expects from us as we are representing the Sailors.
"However, if we stick together as a team, follow our coach's strategic plans, give our best in every game and trust the process, then I'm confident that everything will fall into place for us."
While the Sailors are among the favourites to win the WPL title, both Sheau Shyan and Ernie are well aware that it will not be an easy target to achieve.
For one, Covid-19 pandemic – which forced the WPL into a two-year hiatus – meant that the team had limited opportunities to train together, much less play matches.
"We are trying to get the team to gel in a short span of time," Sheau Shyan explained. "As we were previously restricted by Covid-19 measures, we're talking about a mere two weeks of full team training together in two years."
Given the quality of the other six teams in the league, the Sailors can also expect stern competition for the WPL title.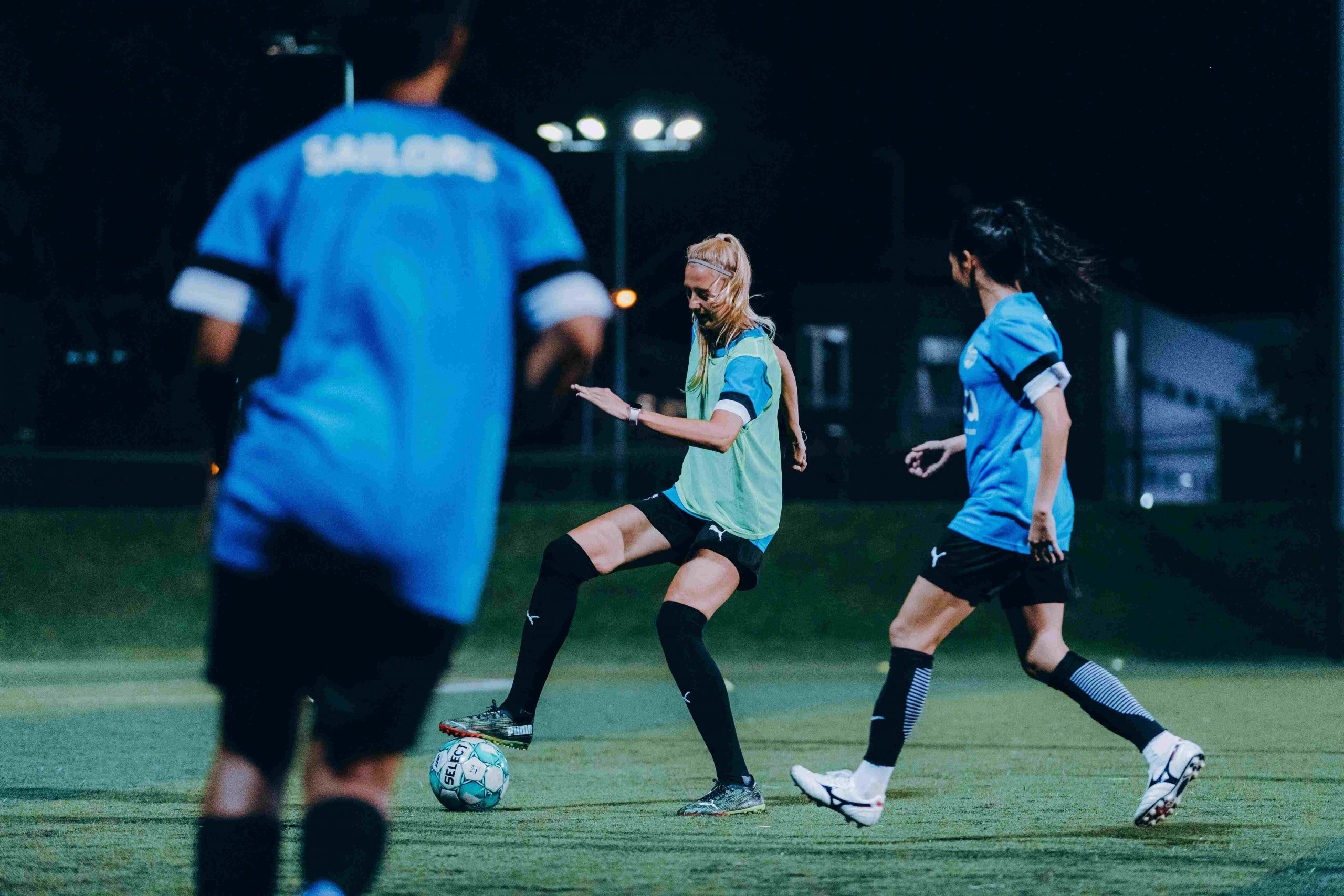 "All the teams in the WPL are under high-calibre coaches whom I respect," Ernie mused. "Under the guidance of these coaches, I believe all the teams will put on a good fight and perform to the best of their abilities, so every game will be a challenge for us."
While the WPL season officially kicks off this weekend, the Sailors have to wait till next week before making their debut with a clash against Albirex Niigata (S).
Sheau Shyan hailed the Jurong-based outfit as an "experienced team…that plays direct football", while Ernie believes that they will prove to be difficult to break down.
"We expect Albirex to play a more defensive, tactical style of football," said Ernie. "It will not be an easy match, but we trust coach Sheau Shyan's tactical plan will get us the victory. We just need to execute it well and do our best to make her proud."
There was no letting up for the Lion City Sailors after their Asian Football Confederation Champions League (AFC) sojourn, with three Singapore Premier League (SPL) matches lined up in the month of May. 
The champions edged Hougang United 4-3 and Geylang International 1-0, before trouncing Tampines Rovers 4-0 to equal the club record of six successive SPL wins – first achieved between April to May 2021.
As the team goes off for a much-needed break before their next SPL match on 19th June, we look back on the three major talking points from their three successful outings this month. 
Head Coach's focus has had a tangible Kim-pact on the Sailors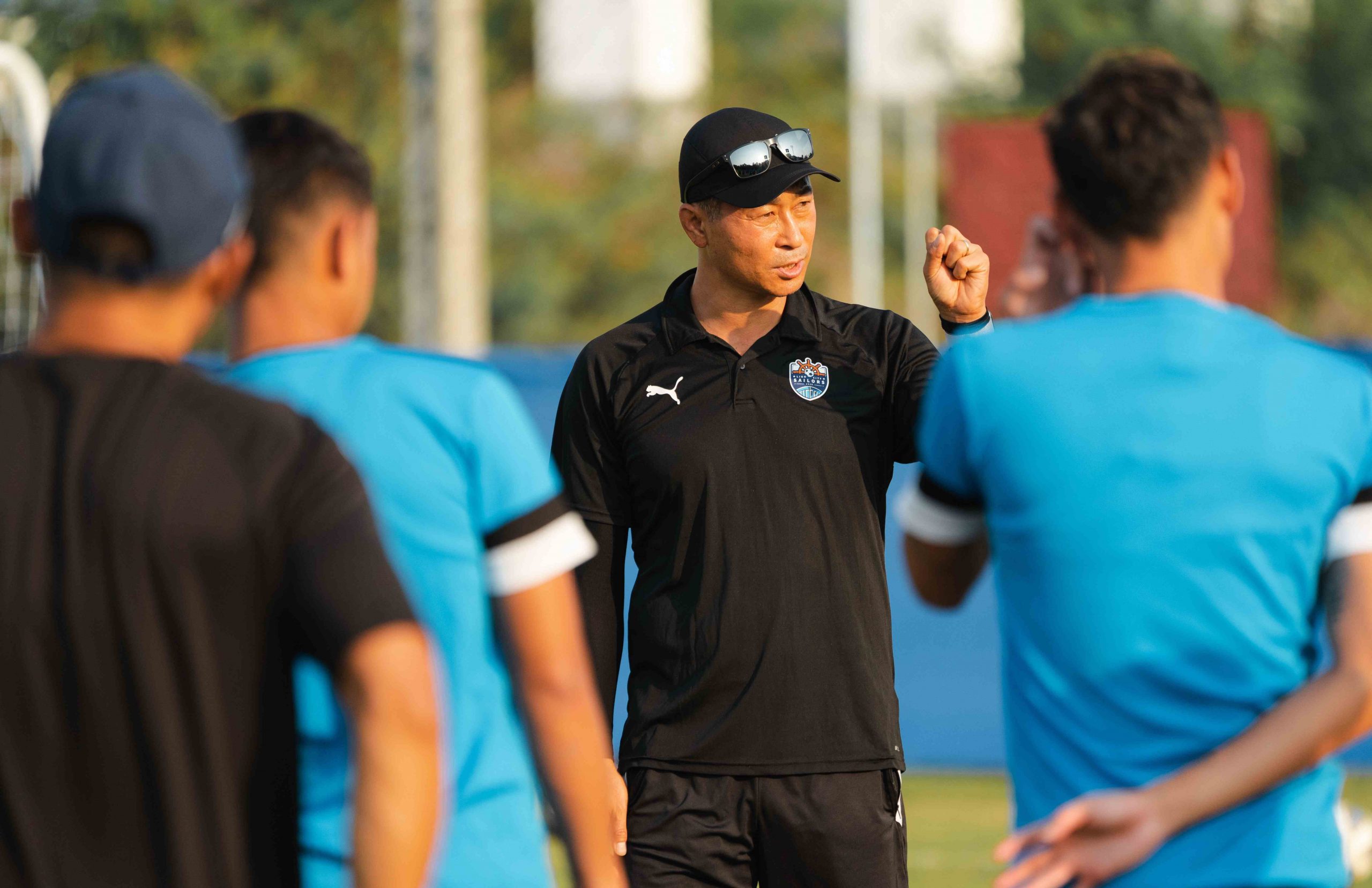 Ever since the Sailors returned from the ACL, Head Coach Kim Do-hoon has emphasised that the team must show further improvement in their game-play and maintain the same level of intensity even in the SPL. The 2020 ACL winner remains adamant that his charges cannot afford to be complacent despite having already demonstrated that they can be competitive against Asia's big boys.  
The Sailors showed up in their first post-ACL match against Hougang with an enterprising attacking performance that cut the Cheetahs' defence up at will, but proceeded to put in a flat display against Geylang and were perhaps lucky to get the three points against the Eagles. 
That prompted Coach Kim to dish out some harsh words – words that stung – and the players responded and reaffirmed their commitment to the cause with a wonderful all-round display against Tampines. It was a tough task against one of the league's most in-form sides, but the Sailors applied whatever they worked on in training to tear the Stags apart with some well-constructed, slick moves.  
His words and focus on continual development have certainly had a tangible impact on the team, and fans can be assured the Sailors will continue in the same relentless manner when they return to the SPL. 
Maxime's proving he's the real deal 
His quality was never in doubt from the day he signed, and the scary thing is, Maxime seems like he's just getting started. 
There were some quizzical looks from the fraternity when Maxime was sparingly used in the first SPL round, but Coach Kim and the coaching setup clearly knew what they were doing – slowly bedding him in and allowing him time to acclimatise to the weather and football in Singapore. The former PSV Eindhoven man has not looked back since returning from the ACL, starting and making a goal contribution in all three games. 
After a Man-of-the-Match display against Hougang in which he produced one goal and one assist, he then laid on Diego Lopes's matchwinner against Geylang before yet another goal and assist to destroy Tampines. Stats and thrilling displays aside, his European experience has also been integral to the team's development with the likes of Haiqal Pashia learning from Maxime as he grows into a more accomplished player. 
Maxime's rise mirrors that of Diego, who has now firmly established himself in the first eleven and appears to be at the heart of every good Sailors' move. With the two dovetailing well and showing an uncanny chemistry on the pitch, there is surely more for Sailors fans to savour in months ahead. 
A solid core making the difference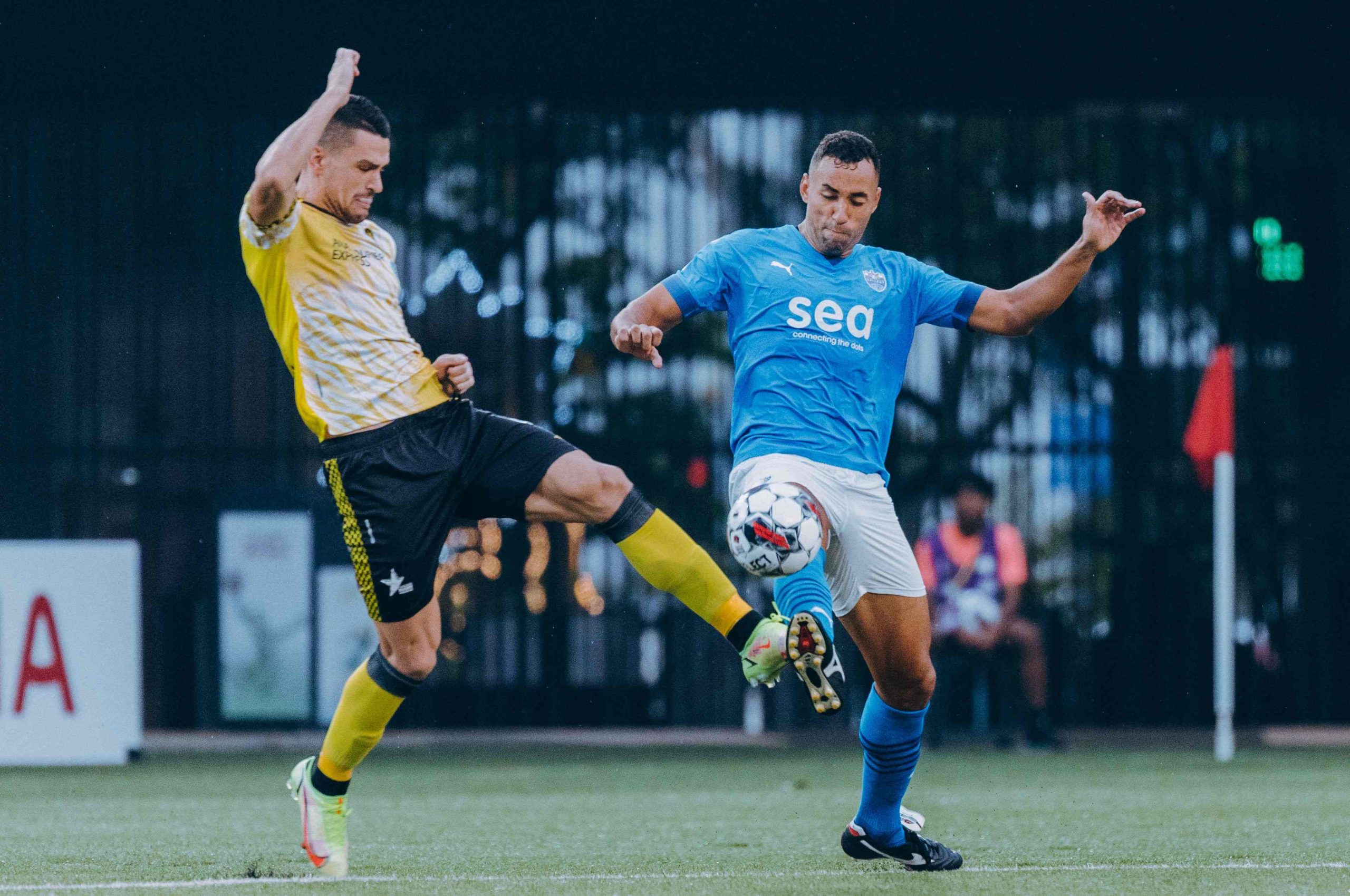 The numbers tell a story: the Sailors kept one clean sheet in Kim's first 10 SPL matches in charge in 2021, but this season they have five shutouts to their name in the same number of games. 
It all appears to stem from a solid core that makes the team so difficult to break down. Having played in midfield for virtually his whole career, Hariss Harun has now grown into his new role and is clearly a first-choice centre-back option for both club and country. Having played every minute for the Sailors in both the SPL and ACL, the indefatigable skipper is often exactly where the team needs him, either putting his body on the line or sweeping up the danger as the last line of defence. 
The blossoming partnership between Hariss and Pedro Henrique is, of course, another reason why the Sailors are thriving, with the latter now showing exactly why the club went all out to secure a left-footed centre-back who is both strong in the challenge and comfortable on the ball. 
Behind the dominant pair is Hassan Sunny who seems to age like fine wine. His superb command of the penalty area has seen him chalk up four consecutive clean sheets for the first time since a six-match streak in August 2010. 
With a solid defensive core in place and in form, the Sailors have a sturdy platform from which to launch a charge for the SPL title when the league resumes in June. 
The Lion City Sailors will help fly the Singapore flag at the Asian Football Confederation (AFC) Asian Cup 2023 Qualifiers in June. 
Lions' captain Hariss Harun will be joined by 11 of his Sailors' teammates – Hassan Sunny, Amirul Adli, Iqram Rifqi, Nur Adam Abdullah, Shahdan Sulaiman, Adam Swandi, Hafiz Nor, Song Ui-young, Saifullah Akbar, Faris Ramli and Gabriel Quak – in new national team coach Takayuki Nishigaya's first national squad.  
The 27-strong squad will come together on Wednesday (25 May) for centralised training before flying to Abu Dhabi for a friendly with Kuwait. The Lions will then travel to the Kyrgyz Republic on 2 June where they will face the hosts, Tajikistan, and Myanmar in Group F of the qualifiers.
The six group winners and five best second-placed teams will advance to the 2023 Finals. 
Singapore are looking to qualify for the Finals for the first time in the country's history. The Lions' sole appearance came in 1984 as hosts.
The Sailors go into Lions' camp in good form, winning all three Singapore Premier League matches – a 4-3 win over Hougang United, 1-0 victory over Geylang International and a 4-0 thumping of Tampines Rovers – since returning from their AFC Champions League (ACL) campaign in Buriram, and will look to bring the same levels of performance to the national team. 
The Lions leave for Abu Dhabi on Sunday (29 May).
Sailors in the Lions squad for the Asian Cup Qualifiers: 
Hassan Sunny, Hariss Harun, Amirul Adli, Iqram Rifqi, Nur Adam Abdullah, Shahdan Sulaiman, Adam Swandi, Hafiz Nor, Song Ui-young, Saifullah Akbar, Faris Ramli, Gabriel Quak
Four different scorers, a clean sheet against one of the Singapore Premier League's (SPL) in-form sides, equalling a club-record of six consecutive league wins and a nine-point lead established at the top of the table. 
On Saturday (21 May) evening, the Lion City Sailors turned in a perfect response to harsh words from Head Coach Kim Do-hoon, beating title rivals Tampines Rovers 4-0 at Our Tampines Hub. 
A week after a lacklustre display in a 1-0 win over Geylang International that disappointed Kim, the reigning SPL champions put in a fluid and commanding performance that blew the Stags away – and also reaffirmed their commitment to excellence and a continual development of the Sailors' style of football.
With the team scheduled for a few weeks' break due to a bye in the following SPL matchweek and the upcoming FIFA international window, Kim called for his charges to leave it all on the pitch, and they did just that.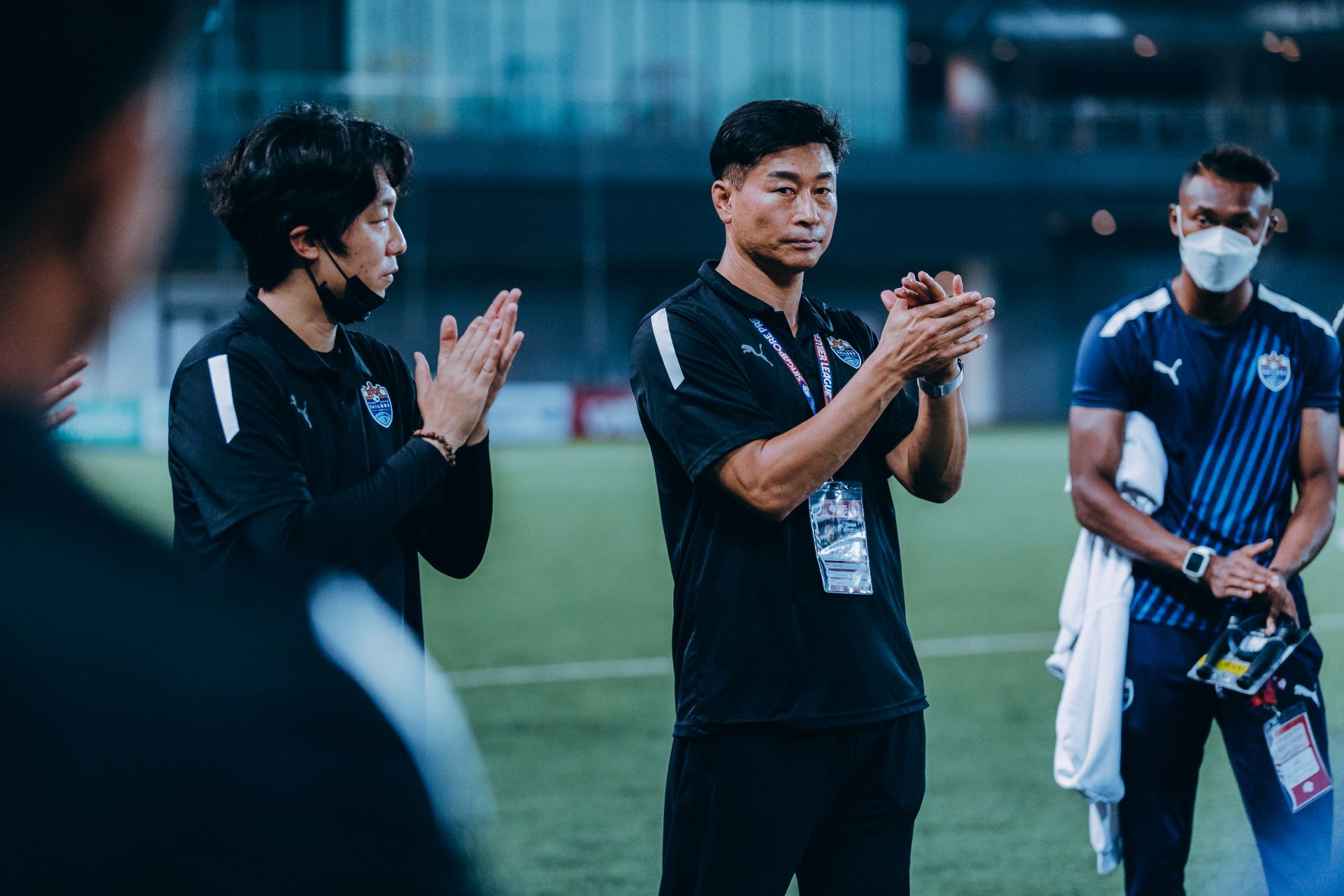 "Before the game, I told my boys let's have a good game and pick up the points so that we can have a good holiday and enjoy time with our families. Full credit to them, they were brilliant today – absolutely fantastic," said the 2020 Asian Football Confederation Champions League (ACL) winner with Ulsan Hyundai. 
"I kept telling the team that we need to continue to develop and play better football after coming back from the ACL – and today the boys showed their quality and played exactly how we prepared. What's more impressive is that we kept a clean sheet and that shows how strong we're getting with each game. 
"There's nothing else I can ask from them and I'm really proud of them tonight."
The Sailors tactician made five changes to his starting eleven, handing starts to Hafiz Nor and Nur Adam Abdullah in the full-back positions, while Singapore internationals Shahdan Sulaiman, Faris Ramli and Gabriel Quak also returned.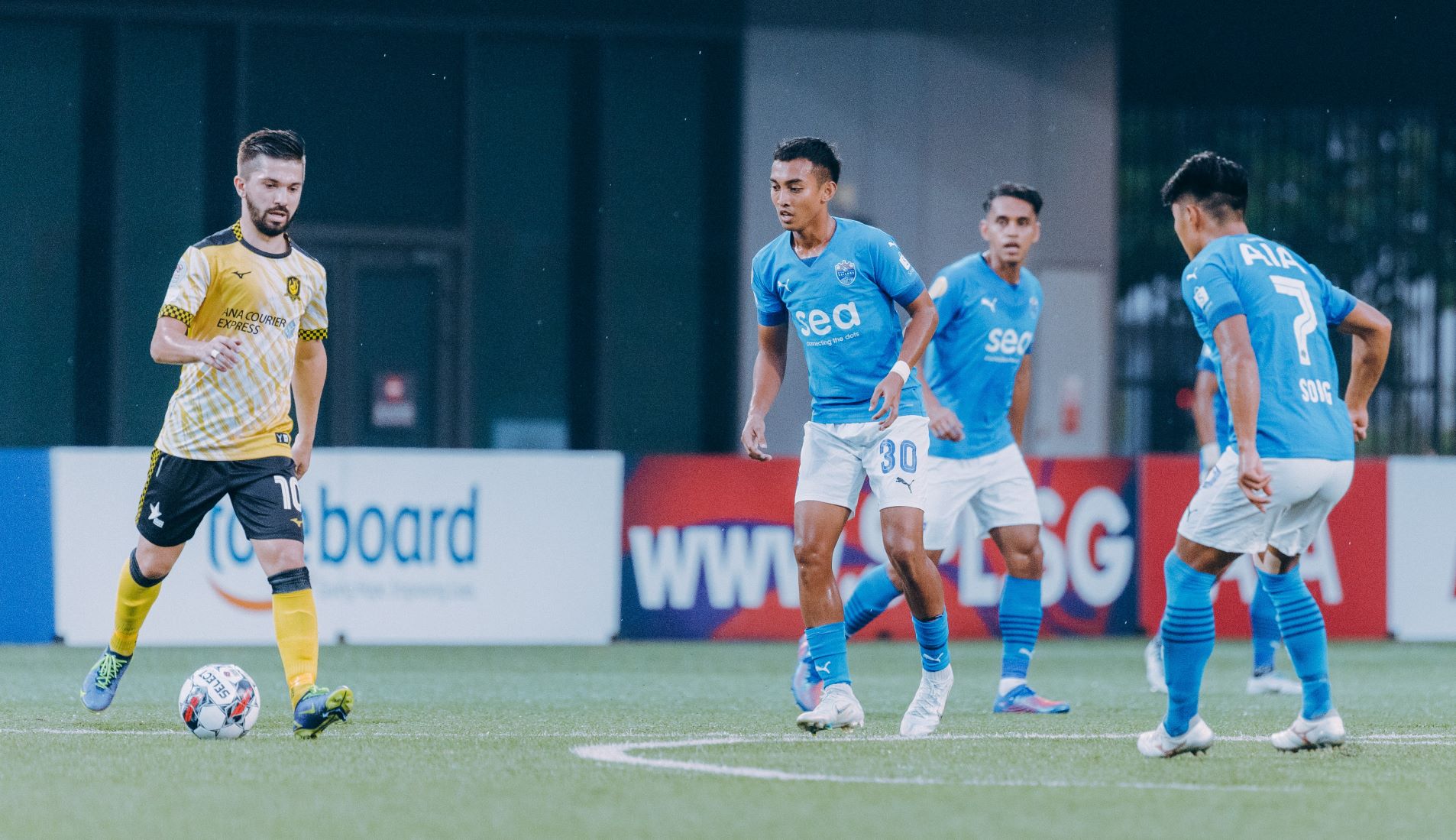 With kickoff delayed by an hour and 15 minutes due to the Lightning Warning System, the Sailors were itching to get going and took the game to Tampines in the opening stages, their high press causing some early jitters in the Stags' backline. 
The Sailors' first real chance came in the 25th minute, with Song – deployed in the false nine role that he played to good effect at the ACL – being denied by Syazwan Buhari in a one-on-one opportunity. 
The deadlock was broken 14 minutes later. After Faris won the ball back in the final third, Gabriel jinked past a couple of defenders on the right before unleashing a cross-shot that Ryaan Sanizal deflected past his own goalkeeper.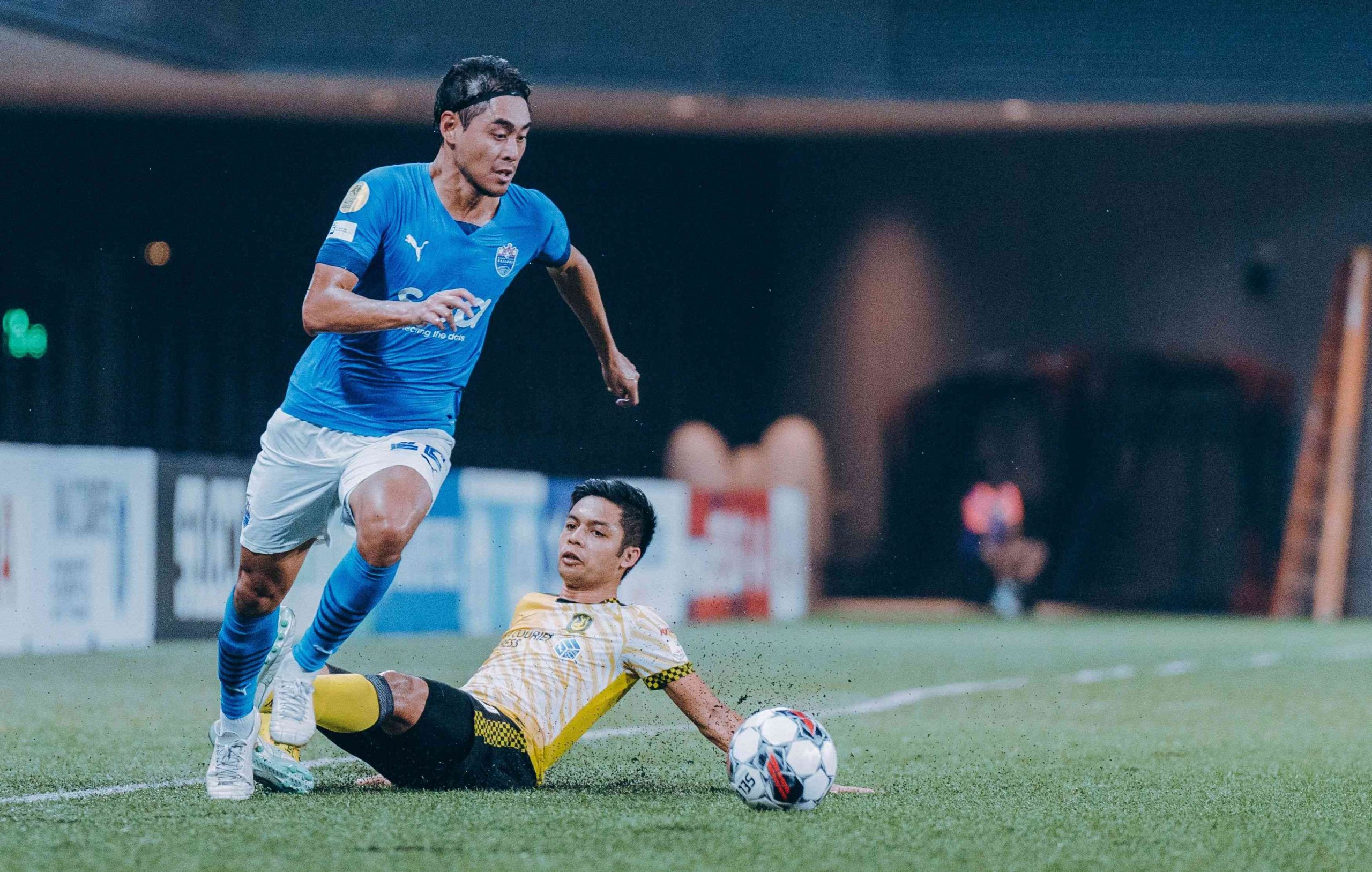 After going close on another two occasions just before half time, the Sailors carried the same intensity into the second half and continued to wreak havoc in the transitions, with Maxime seeing his fierce drive pushed around the post on 50 minutes. 
Tampines' top scorer Boris Kopitović – who scored 11 goals in his previous six outings – struck the outside of the post with his free-kick on the edge of the box soon after and he would live to rue that missed opportunity. 
The Sailors went on to double their advantage in the 56th minute with substitute Haiqal Pashia making an instant impact. Introduced into the fray two minutes earlier for Gabriel, the 23-year-old raced down the right flank before whipping in a teasing ball for Maxime to divert in despite Syazwan's best efforts to keep it out. 
Kim's men were beginning to go full throttle at that stage, with Maxime turning provider with a trademark cross to tee up Song for a firm downwards header from six yards out as the Sailors extended their lead to three 10 minutes later.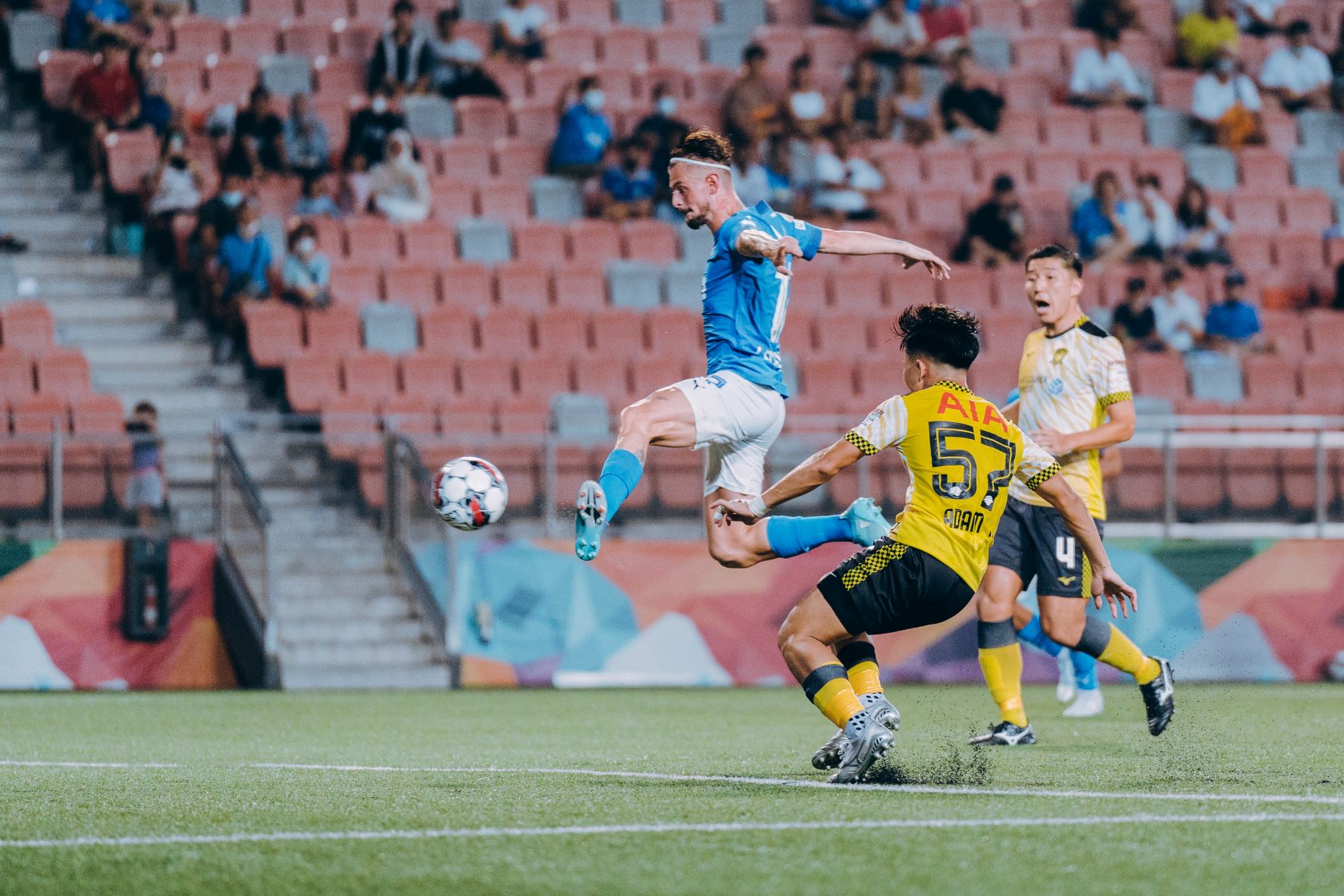 That was the Belgian winger's seventh assist of the season as he continues to cement himself as the league's top creator. 
The rout was completed in the 71st minute, with Pashia taking a superbly-weighted Diego Lopes pass in his stride before slipping it past the onrushing goalkeeper for his first goal of the season, and rounding off a memorable appearance off the bench. 
"Pashia's one of the players who developed the most in this last year, and the speed of his development sometimes scares me," said Kim. 
"I've to give credit to him because he has put in a lot of hard work during training. He did exactly what we wanted from him in the second half – going one on one and using his speed down the line. But there's still a lot more he can bring and I'm excited at what he can offer us."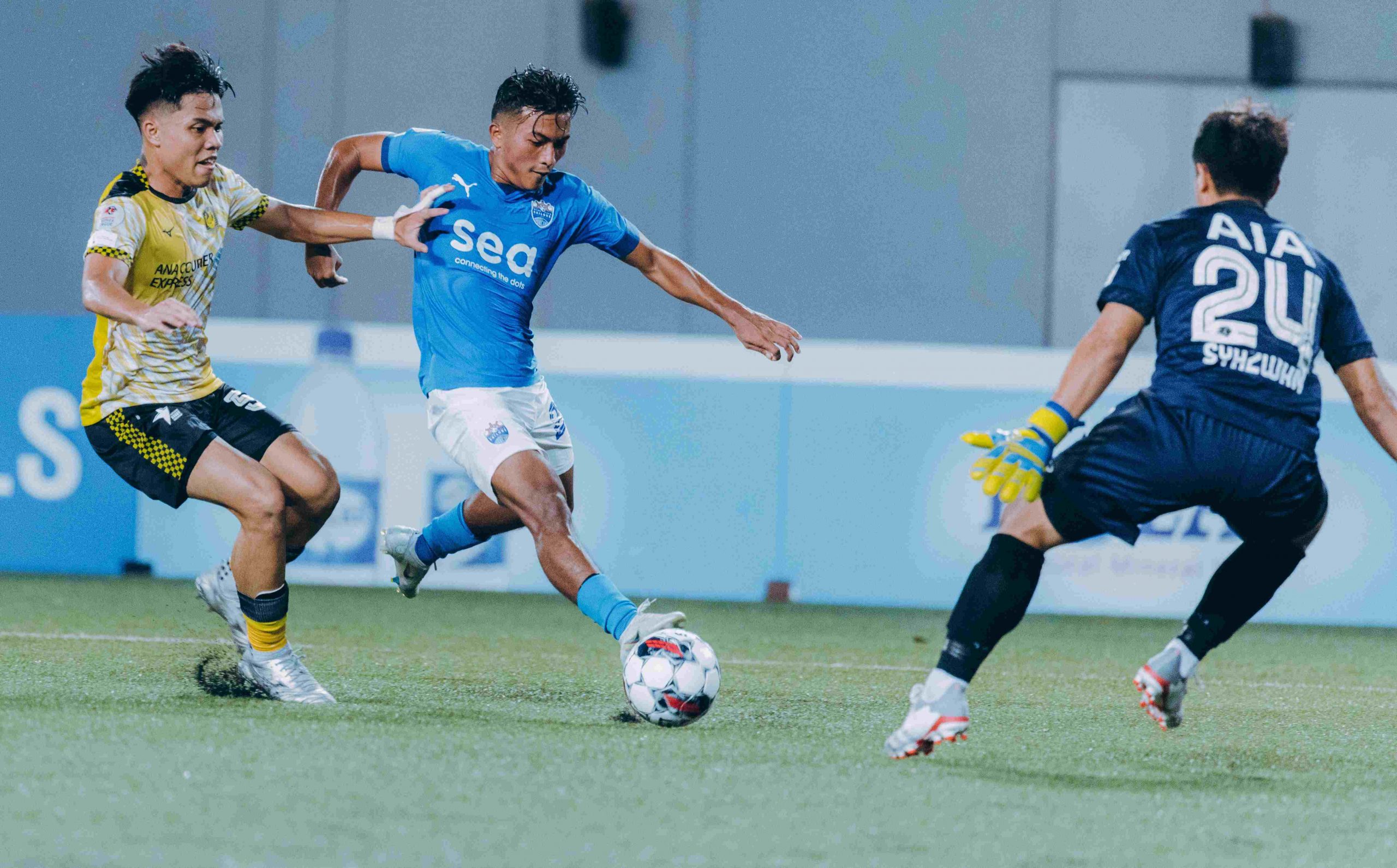 With Man of the Match Hariss Harun stoutly marshalling the defence till the final whistle, the Sailors preserved the clean sheet that was a fourth straight league shutout for Hassan Sunny since a six-match streak between July to August 2010 when he was a Tampines player.
The Sailors have now opened up a healthy gap at the top of the eight-team SPL standings, but Kim refused to be drawn into any title-winning talk and instead called for his side to continue in the same vein when they return to SPL action on 19th June against Balestier Khalsa. 
"We showed our full potential today, but I wouldn't say the full potential of today is the full potential of tomorrow. There's a lot more room for improvement and I want us to keep becoming better," said a pleased Kim. 
"We have to perform not just for ourselves, but also for our fans. Hopefully there's a lot more good performances for them to enjoy throughout the rest of the season."
It was an off-colour and insipid display – one that did not reflect the team's abilities and potential – as the Lion City Sailors laboured to a 1-0 Singapore Premier League (SPL) win over Geylang International last Saturday (14 May). 
It was a performance that disappointed Kim Do-hoon, who did not mince his words after the game, words that have resonated with the team as they prepare for their next assignment, a tough away game against Tampines Rovers at Our Tampines Hub on Saturday (May 21) evening. 
Sailors' winger Hafiz Nor is acutely aware that he and his teammates will need to show vast improvement to demonstrate their firm professional commitment to Kim – and to defeat the in-form Stags.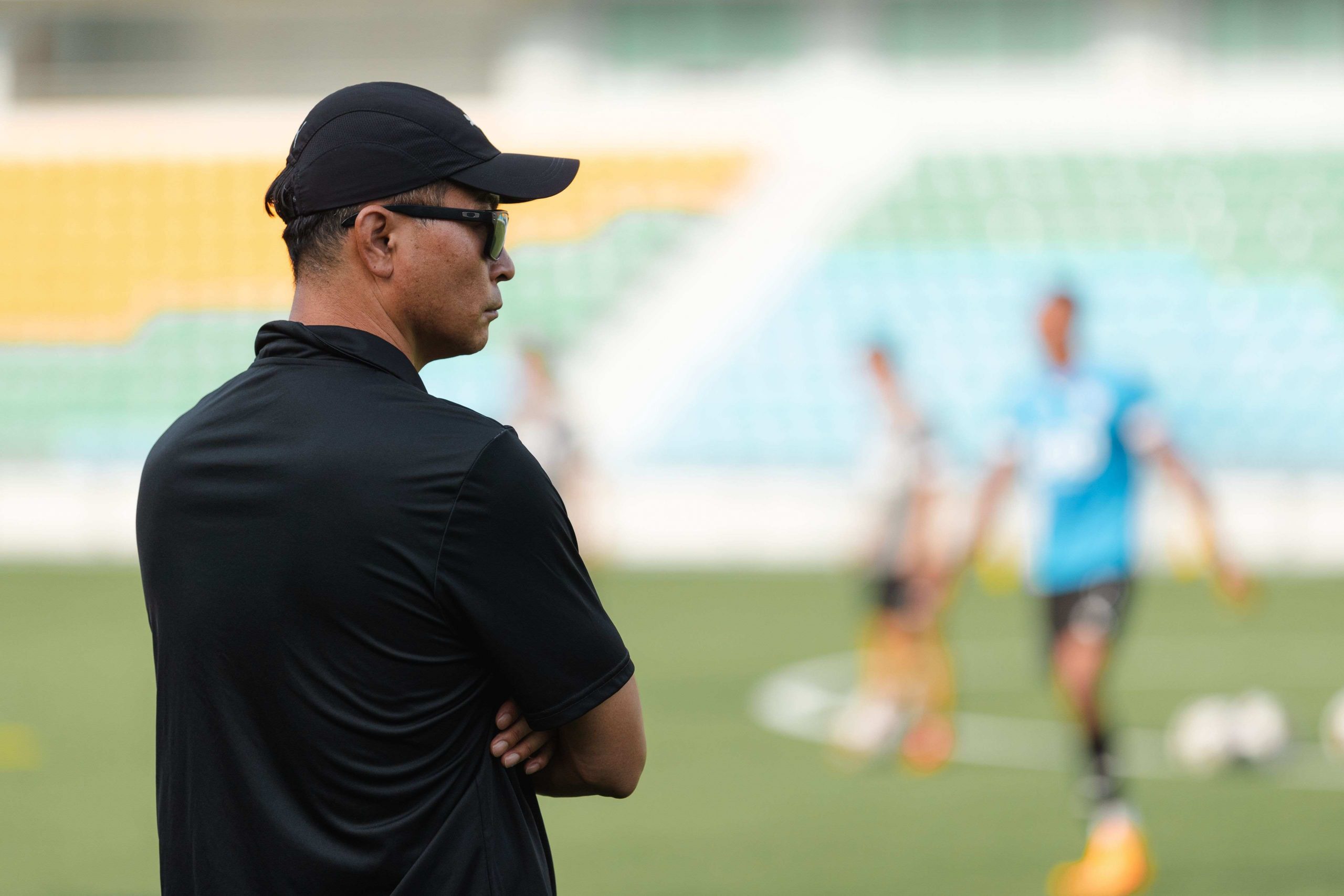 "Obviously our performance wasn't up to standard against Geylang and we're aware that Coach is quite disappointed with us. We appreciate his honesty in saying we just didn't do well enough and it's now up to us to prove – not just to him, but also ourselves – that we're much better than this," said the 33-year-old Hafiz. 
"We know we have the quality, we just have to go out there and give 110 percent in every game, regardless of the opponent, to show why we deserve to be champions again. If we want to remain up there, we have to put our heads into the game – fully – and show what we're capable of."
The Sailors have won their last five SPL matches, but will face a stiff challenge to make it six, against a Tampines side that are unbeaten in their last six since a narrow 1-0 loss to Kim's men in March. Gavin Lee's charges are shaping up nicely and will eye the chance to narrow the seven-point gap between both teams in this one.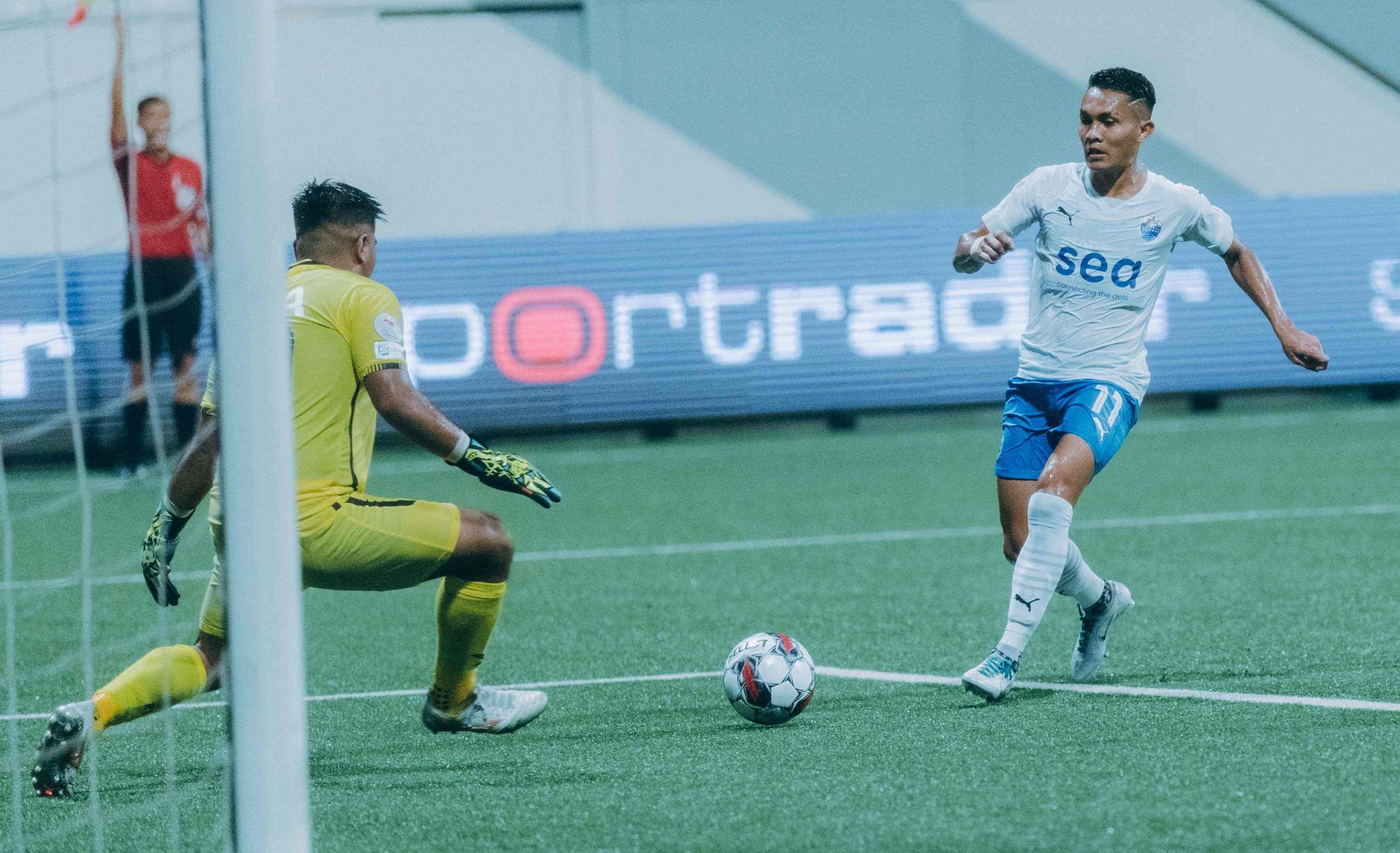 In what could prove to be a real grind, Hafiz vowed to leave it all on the field to return from the east of the island with a win. 
"Tampines are definitely one of the strongest contenders for the title. They play a good brand of football and have strong individual players, so it's definitely not going to be easy for us," stressed the speedy wide man.
"What's most important for us is to set out with the right mentality and show hunger going into this game – if we display those elements, we should be able to get the three points." 
Things have been going well for Hafiz on the personal front as he welcomed his second child in April. And he is hoping to enjoy similar joys on the career front.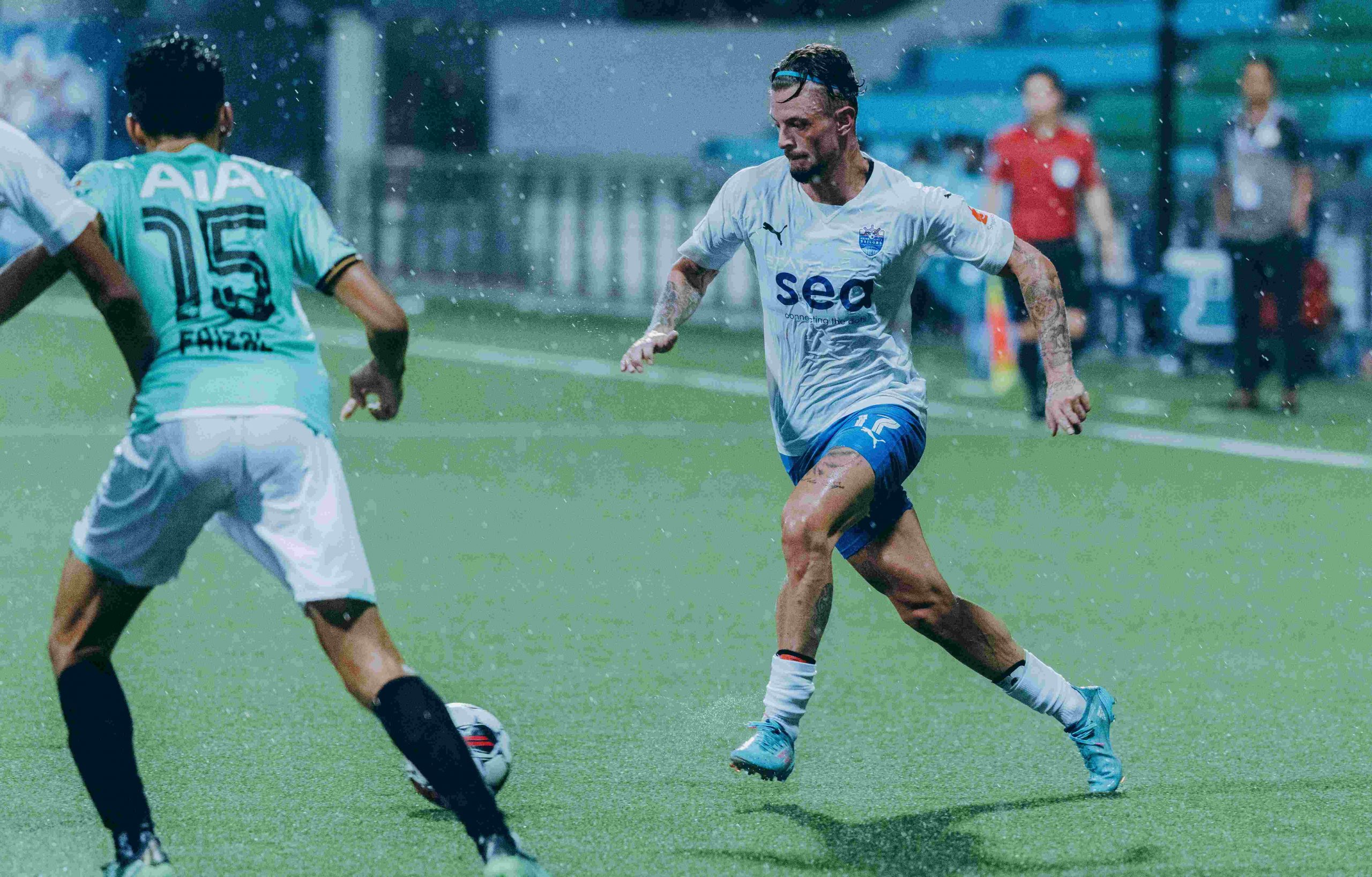 Having already played more minutes in the SPL than he did in the 2021 title-winning season, the Singapore international has gleaned much from training with a winger of European pedigree in Maxime Lestienne, and he is looking to add more goals to the one that he has got so far. 
"Maxime's definitely one of the best foreigners I've ever played with in my career. He's so smart in the way he makes his runs and always does the right things in one-on-one situations with defenders," elaborated Hafiz. 
"It's not just in training, but also in games – I would observe from the bench how he does things and how he assists the others. It's a good learning experience and he inspires me to do more whenever I'm on the pitch. 
"Even though I'm turning 34, I know I can still improve and be a more effective winger for the team – be it providing more assists or scoring more goals. I'm working very hard every day to show that age is just a number – we are all working hard to get back to the levels that we know we can hit." 
As the Lion City Sailors players trudged off the pitch at the Jalan Besar Stadium on Saturday (14 May) night, celebrations were muted, perhaps overshadowed by a sense of relief to have escaped with a 1-0 win over a spiky Geylang International to collect a fifth straight Singapore Premier League (SPL) win.
The Sailors impressed with their attacking prowess in the 4-3 win over Hougang United on 6 May, and Kim Do-hoon's men were expected to be brimming with confidence against an Eagles side that have not won in six matches since that surprise 1-0 win over the Sailors in March. 
But it was a listless – even placid – performance that saw the Sailors produce just two shots on target all night, one of which was Diego Lopes's match-winner. 
It was a far cry from the swashbuckling Sailors that flew the Singapore flag at April's Asian Football Confederation Champions League (ACL) group stage campaign. 
Kim could not hide his disappointment.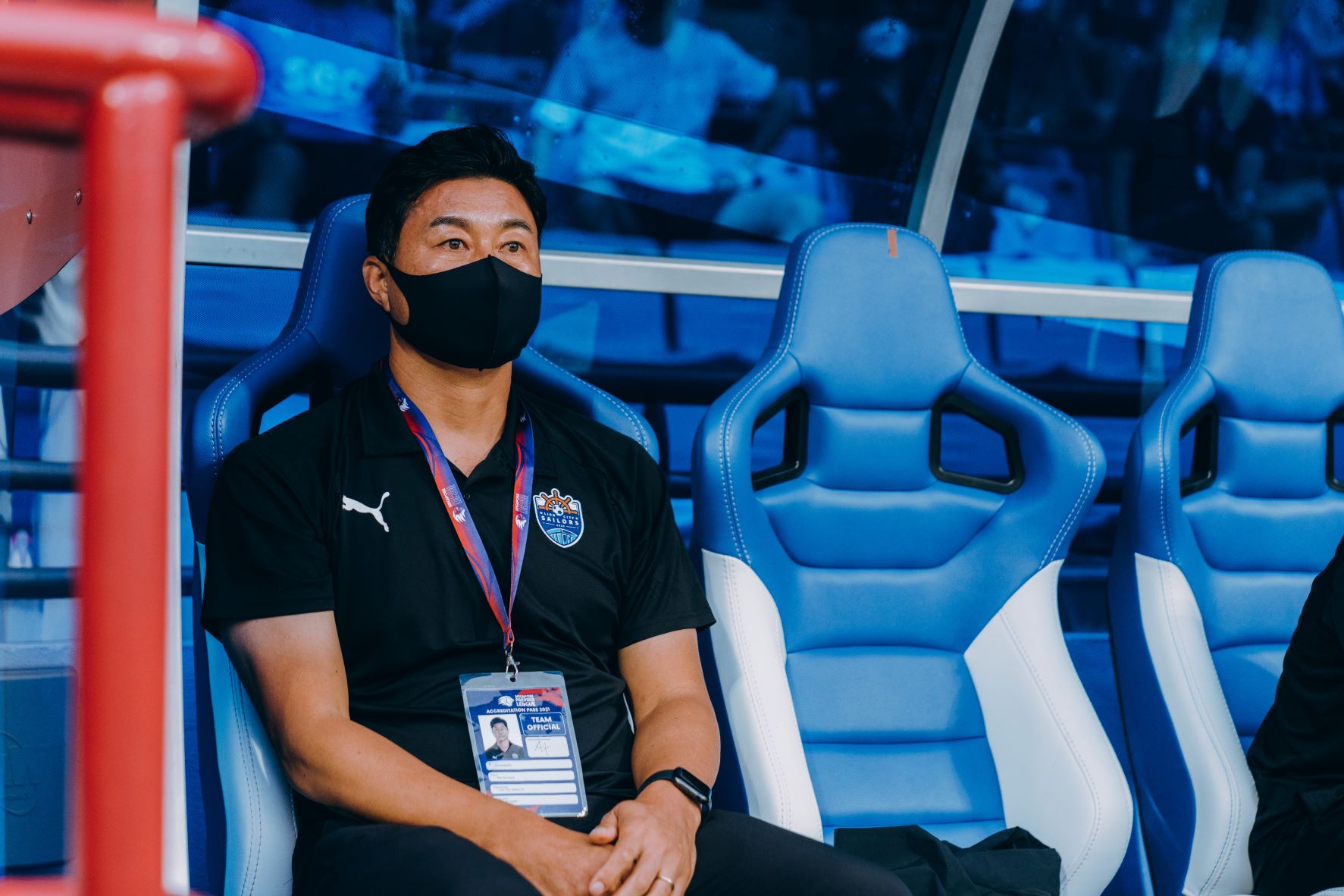 "Was the pressing as fast and aggressive as what we experienced in the ACL? No. Instead of building up play, instead of trying to challenge ourselves, we're literally running away from what our opponents were doing, and not doing what we were supposed to be doing. Where's the personality? Where's the character?" questioned the SPL's coach of the month for April. 
"Today we let ourselves down. This is not acceptable."
Geylang showed endeavour and hunger which could have gotten them a point, but Kim believes the below-par display was more an issue of the Sailors' headspace – and called for a long hard look in the mirror.
"I'm not going to talk about our opponents, because this is all internal – it's about us.
"I'm looking back at myself as well – because it starts from me. How can I make the most of the quality that my boys have, how can I help them bring that quality onto the field?" mulled the mastermind behind Ulsan Hyundai's 2020 ACL triumph.  
"Ever since we got back from the ACL, I kept saying that we need to prove ourselves again and we need to show on the pitch that we're continuing to develop. But it seems like there was a bit of relaxation or a bit of the feeling that maybe we're happy where we are now – that's completely not the atmosphere I want in my dressing room," said the disappointed 51-year-old. 
"As professional football players, you have to do everything to perform well on the pitch but I didn't see too much of that today. If we can't do that, I can't really say we're professional enough."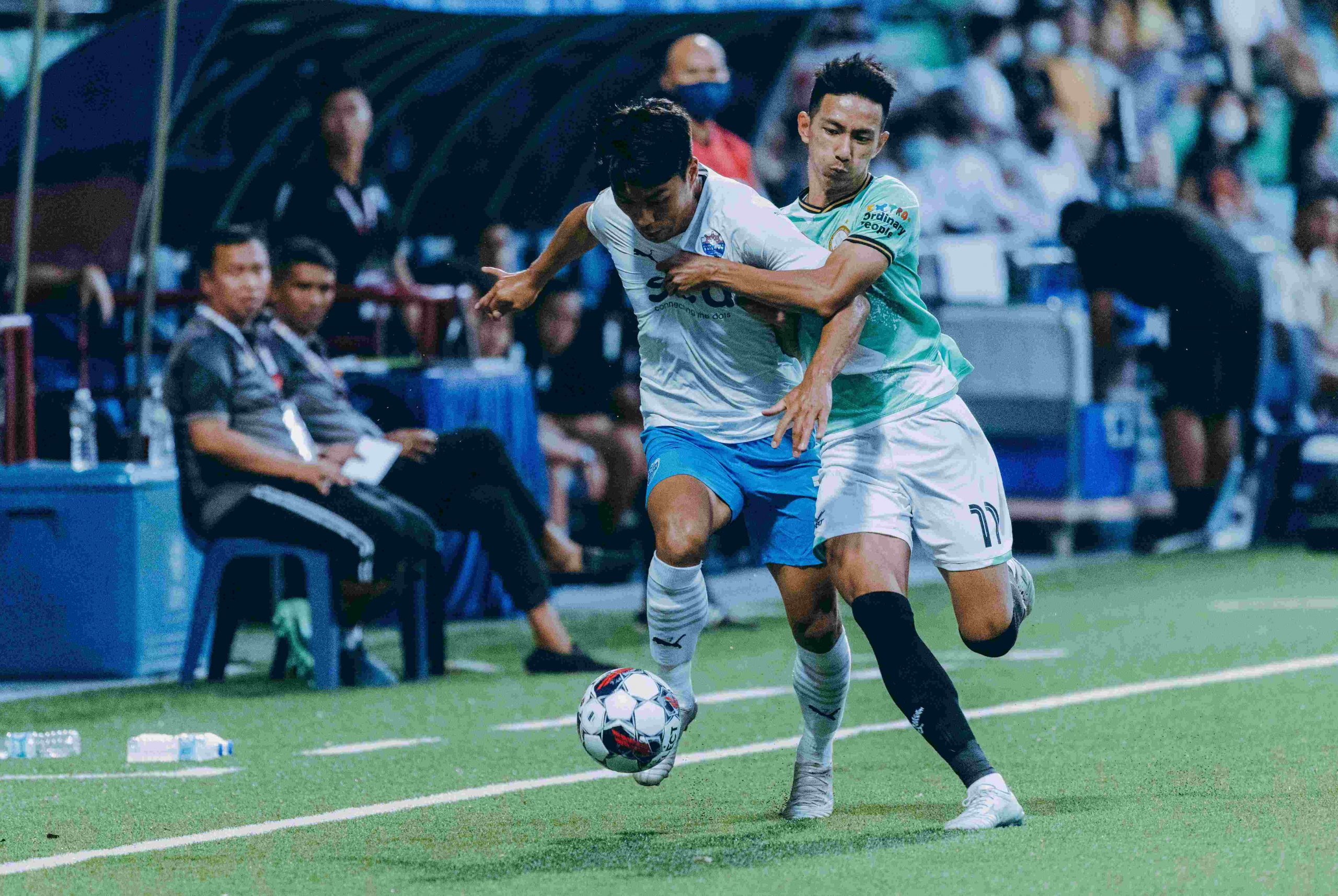 Geylang dished out the Sailors' only domestic defeat in 2022, and Kim did not underestimate the Eagles on Saturday, naming a strong starting eleven – with only two changes: Hassan Sunny returning in goal and M. Anumanthan coming in for Shahdan Sulaiman in midfield. 
The game was less than four minutes old when the Lightning Warning System came on and only resumed under a heavy rain even after three-quarter of an hour's delay. The Sailors' first chance came on 19 minutes with Kim Shin-wook nodding over from six yards out after Maxime Lestienne had put it on a plate for the former South Korea captain. 
Geylang's plan was clear – to have Šime Žužul holding up the play before spreading it out wide to their pacy wingers – and that almost worked a treat in the 29th minute. The Croatian front man released Hazzuwan Halim through on goal, but Hassan made himself big to deny the Geylang winger from giving his side the lead.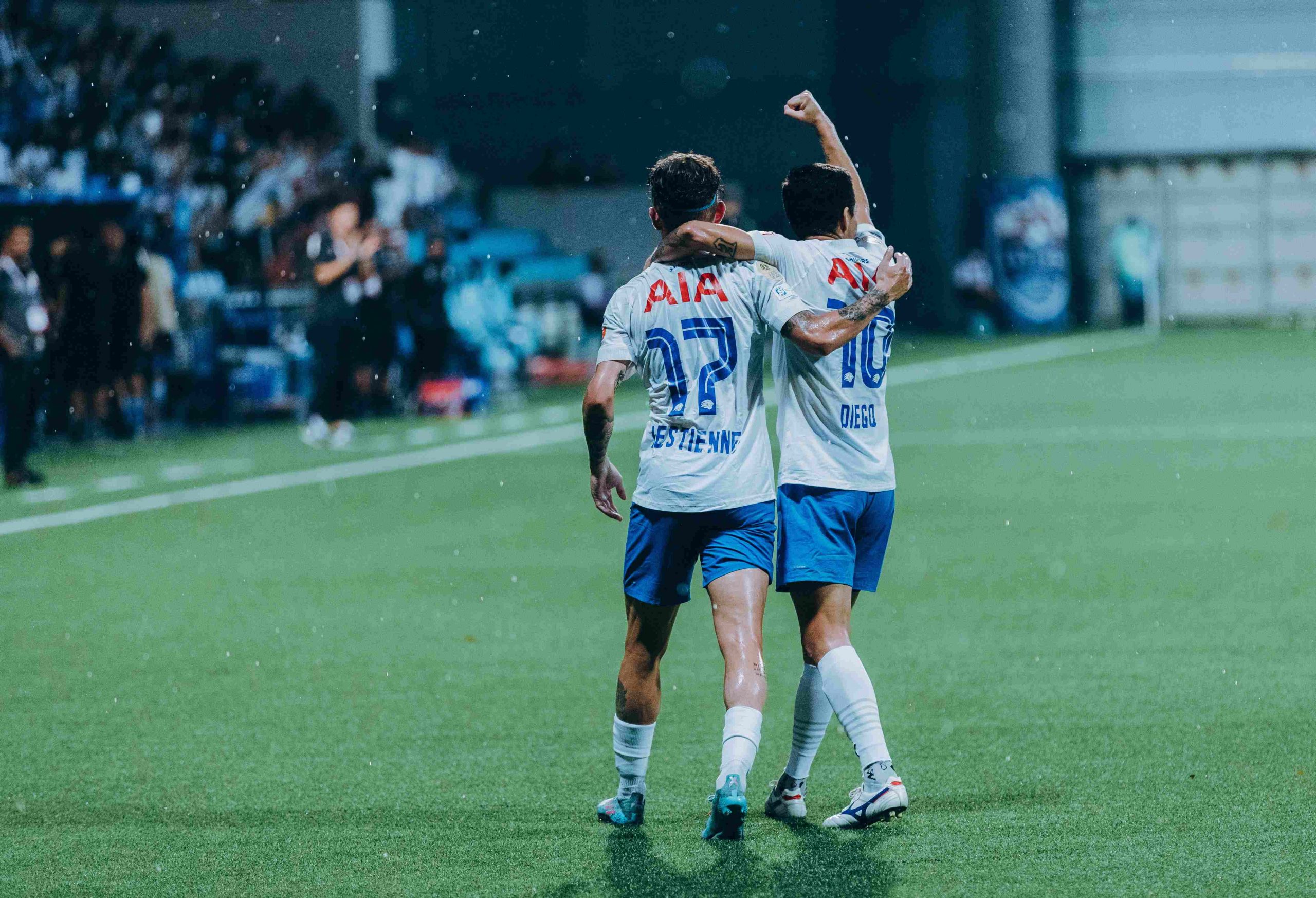 The defending champions broke the deadlock six minutes later, with Diego making a shrewd run to free himself from the heavy jostling in the penalty area before meeting Maxime's inswinging corner with a firm header that flew past Geylang debutant keeper Hafiz Ahmad. 
The Sailors held the one-goal advantage until half time and started the second half with Diego and Shin-wook going close. After Gabriel Quak was introduced at the break, Shahdan, Faris Ramli and Hafiz Nor subsequently joined the fray but were unable to fashion clear-cut goal-scoring chances.
Captaining the Eagles on his 33rd birthday, Abdil Qaiyyim relished the opportunity to play against the Sailors for the first time since his 2021 mid-season move and put up a dominant display at the back to thwart his former teammates. 
Noor Ali's men made life difficult for the Sailors late on and could have stolen a point, if Takahiro Tezuka's 30-yard free-kick was not denied by the crossbar.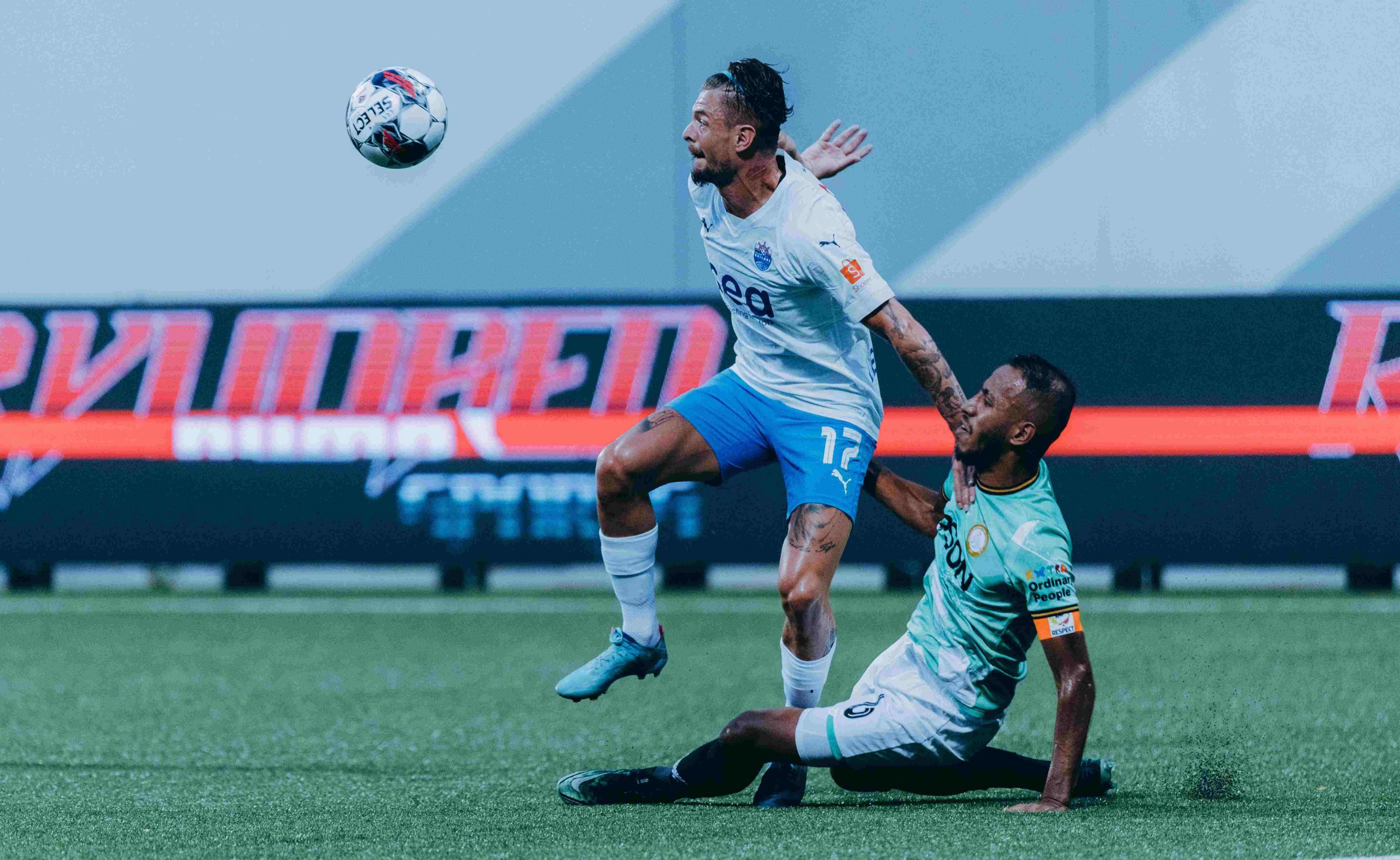 With a tough clash against in-form Tampines Rovers coming up next Saturday (21 May), the Sailors will need to put in a much better display to maintain their position at the top of the eight-team SPL standings. 
"If we continue in this way we can maybe pick up three points every week, but this will be the level where we will remain at," warned Kim. "I'm sure none of us want this – we can't be happy with where we're at now.
"One thing I'll make sure is that the boys get this message – football is not played by reputation. It's not about individuality, it's about the whole team. 
"Individual players will need to put in effort and show personality so that we can go to the next level. That was something we lacked in this game and I'm going to make sure we don't repeat this attitude."
After a victorious return to domestic football, the Lion City Sailors will continue their Singapore Premier League (SPL) title defence as they host Geylang International at the Jalan Besar Stadium on Saturday (14 May) evening. 
Kim Do-hoon's men put in a polished attacking display against Hougang United last Friday (6 May) that impressed many, but a couple of late defensive lapses meant the scoreline finished only 4-3 in favour of the champions – much closer than it should have been. 
That was the first time in 18 domestic outings, including the AIA Community Shield, that the Sailors have conceded more than one goal in a game under Kim and Sailors vice-captain Amirul Adli has called for a stronger defensive display against Geylang. 
"That was our first game back in the SPL, so we needed to adapt – it's vastly different from how it is in the ACL (Asian Football Confederation Champions League)," explained the 26-year-old. 
"As a defender, conceding goals is very disappointing and coach Kim always emphasises being solid in defence. Thankfully we got the win, now we just have to work on being organised as a team defensively and tighten up things at the back in the coming matches."
The Sailors are acutely aware of the threat that Geylang pose, with the Eagles inflicting their first and only SPL defeat in a 1-0 upset at Our Tampines Hub earlier in March – although Noor Ali's charges have since gone six games without a win. 
Adli believes his side will need to focus on themselves instead of fixating on the opportunity for revenge. 
"Geylang have got the players to punish us like Šime Žužul and Vincent Bezecourt, but we just have to concentrate on how we play our football and it's important how we bring the best out of each other," said the versatile defender. 
"We have to prepare well and not be complacent, even though Geylang has not been in the best of form."
Adli has enjoyed a good streak lately, largely featuring for the team on the right side of defence during the positive ACL campaign as well in the narrow Hougang win, and he is relishing the opportunity to shine in a new position. 
"Of course my preferred position is centre-back, but the team has a big pool of talent and it's not easy to get into the first eleven. So whatever opportunity I'm given, I will take it with open arms and give my 100 percent for the team," said the Singapore international.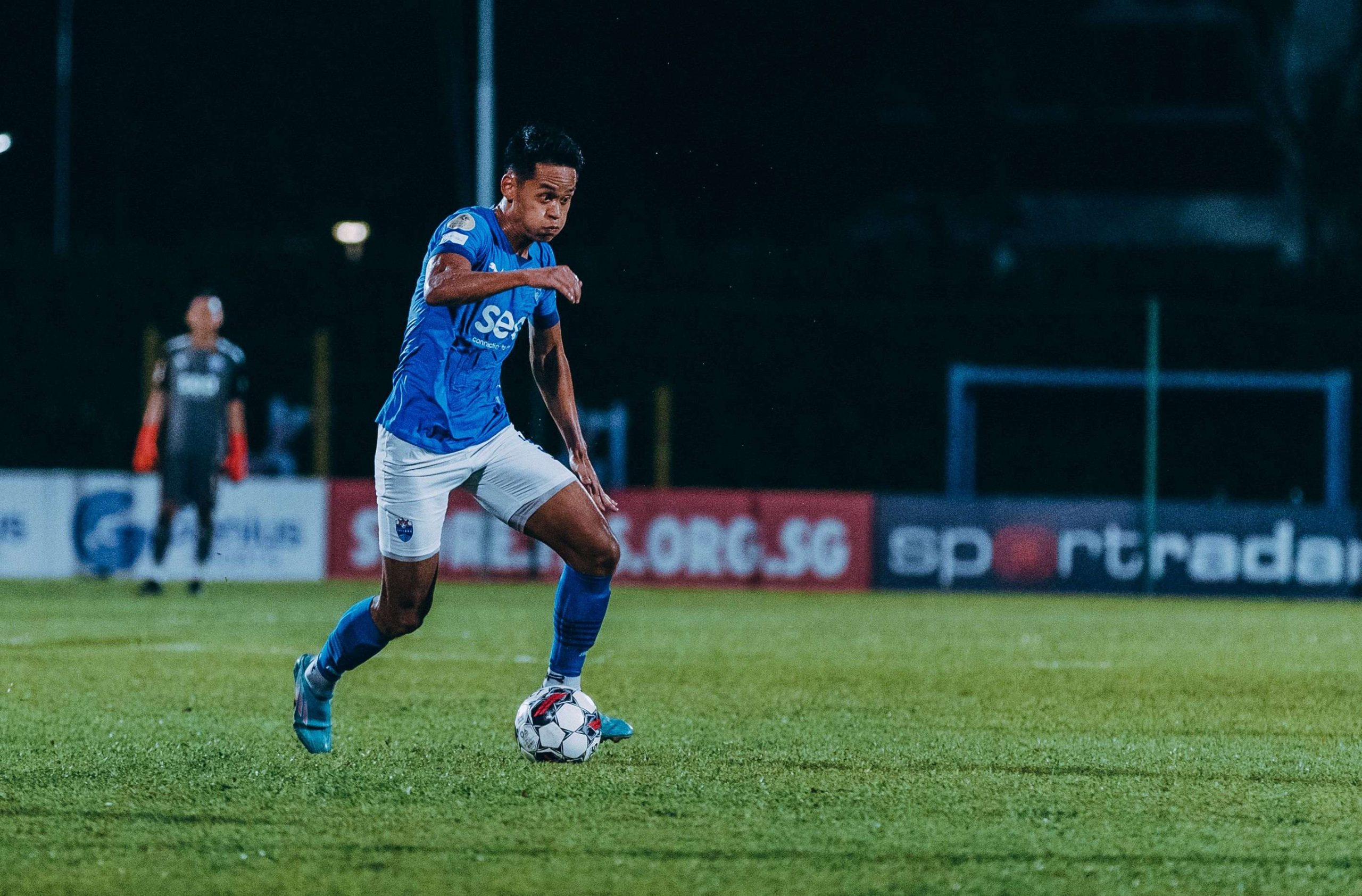 "This is the first time I'm playing at right-back for an extended time, but I'm slowly getting used to it. With tips from the coaches and my fellow defenders, I'm getting better game by game, for sure. 
"Most importantly, the full-back position is one that requires a high level of fitness and stamina – much more than a centre-back. So I've been trying to build up my fitness so that I can be the modern full-back that the team needs." 
The Geylang fixture will be the first home game for the Sailors since returning from the ACL, and with restrictions lifted to allow full-capacity at Jalan Besar, Adli is hoping to see fans turn up in throngs to inspire them to a fifth straight league win. 
"Even with the restrictions where only a certain number of people were allowed (into the stadium), the fans were amazing. So now it's even better where more of them can turn up to support us, moreover it's a weekend game," he said. 
"The roar from our die-hard fans means a lot to us and that gives us that extra bit of energy to reward them with positive performances and results. We really look forward to playing in front of them again on Saturday." 
On paper, it was a tricky test for the Lion City Sailors, and Hougang United proved to be exactly that on Friday night (6 May) at the Hougang Stadium. 
Kim Do-hoon's men ran out 4-3 winners in their first Singapore Premier League (SPL) fixture since returning from their maiden Asian Football Confederation Champions League (ACL) campaign, in a match that saw the Sailors cut open the opposition defence almost at will, creating one opportunity after another – but also conceding three goals of their own.
The Sailors' Head Coach acknowledged the unusual occurrences he witnessed, but hailed the performance that saw his team pick up where they left off after an ACL campaign that saw the Sailors play six matches in 16 days.
"To come back, play well and get three points in our first match back after a tough schedule in the ACL, what more can I ask for?" said the 51-year-old. "Kim Shin-wook scored three, but it was a team effort and the goals came from great team play."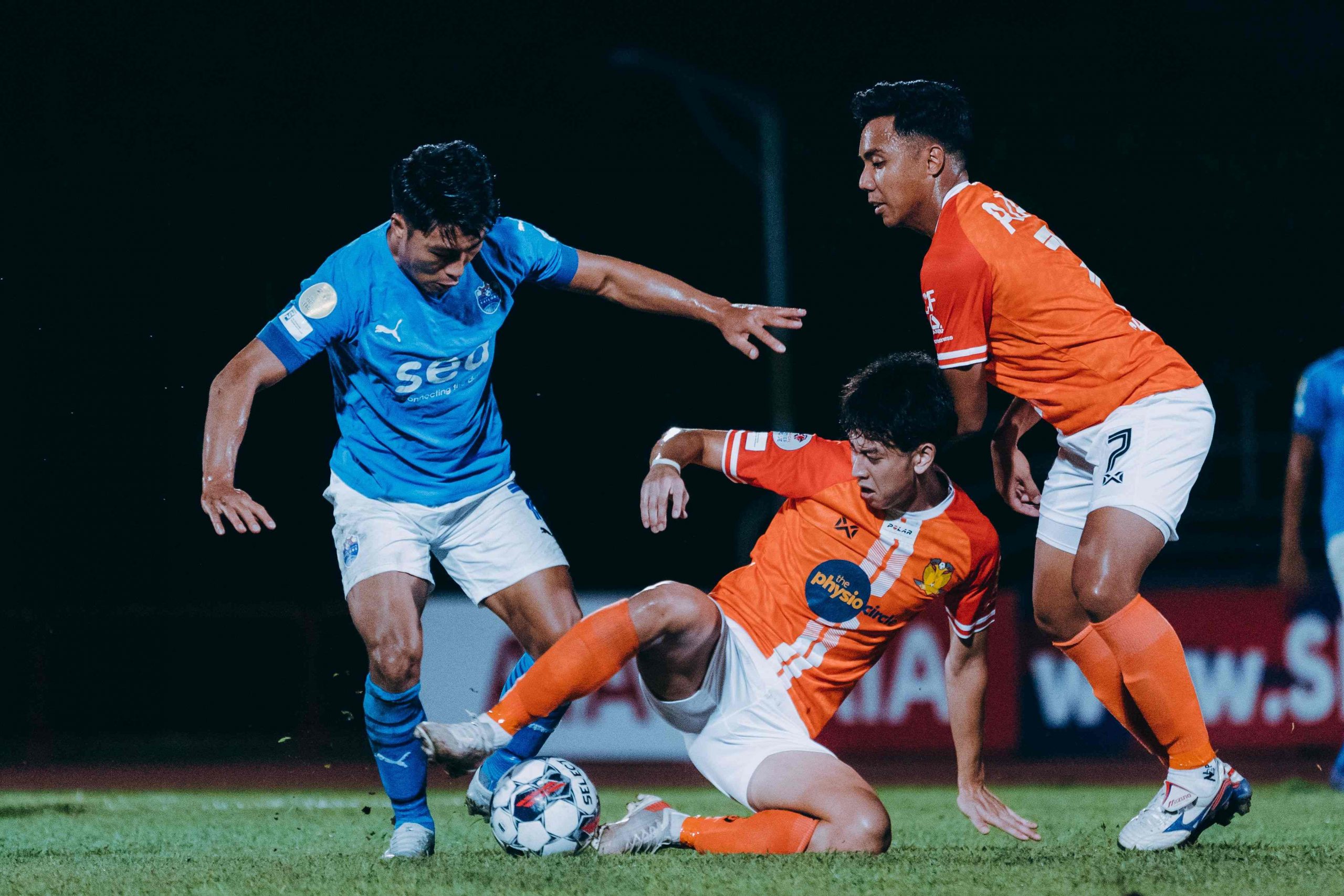 Shin-wook was at his clinical best at Hougang Stadium, scoring his second hat-trick in Sailors colours, while Maxime Lestienne – who tormented the Cheetahs defence all night enroute to being  named man of the match – got the other goal on a night that could have seen the Sailors score more than just the four they managed. 
"On top of the three points, I'm very happy with our game management, the speed and tempo at how we play – it's definitely better than what we have shown before the ACL campaign. It's great to see the team developing, and we have to continue to work on these positives that we gained in the top-tier tournament," he added. 
The Sailors were 2-0 up within the first 25 minutes and led by 4-1 even before the hour mark, before two late Hougang goals meant the affair finished much closer than it looked. 
It is a fourth straight SPL win for the champions and the Sailors are now unbeaten in six league games since the 1-0 loss to Geylang in March, as they carried the positive momentum from their ACL campaign onto the domestic front.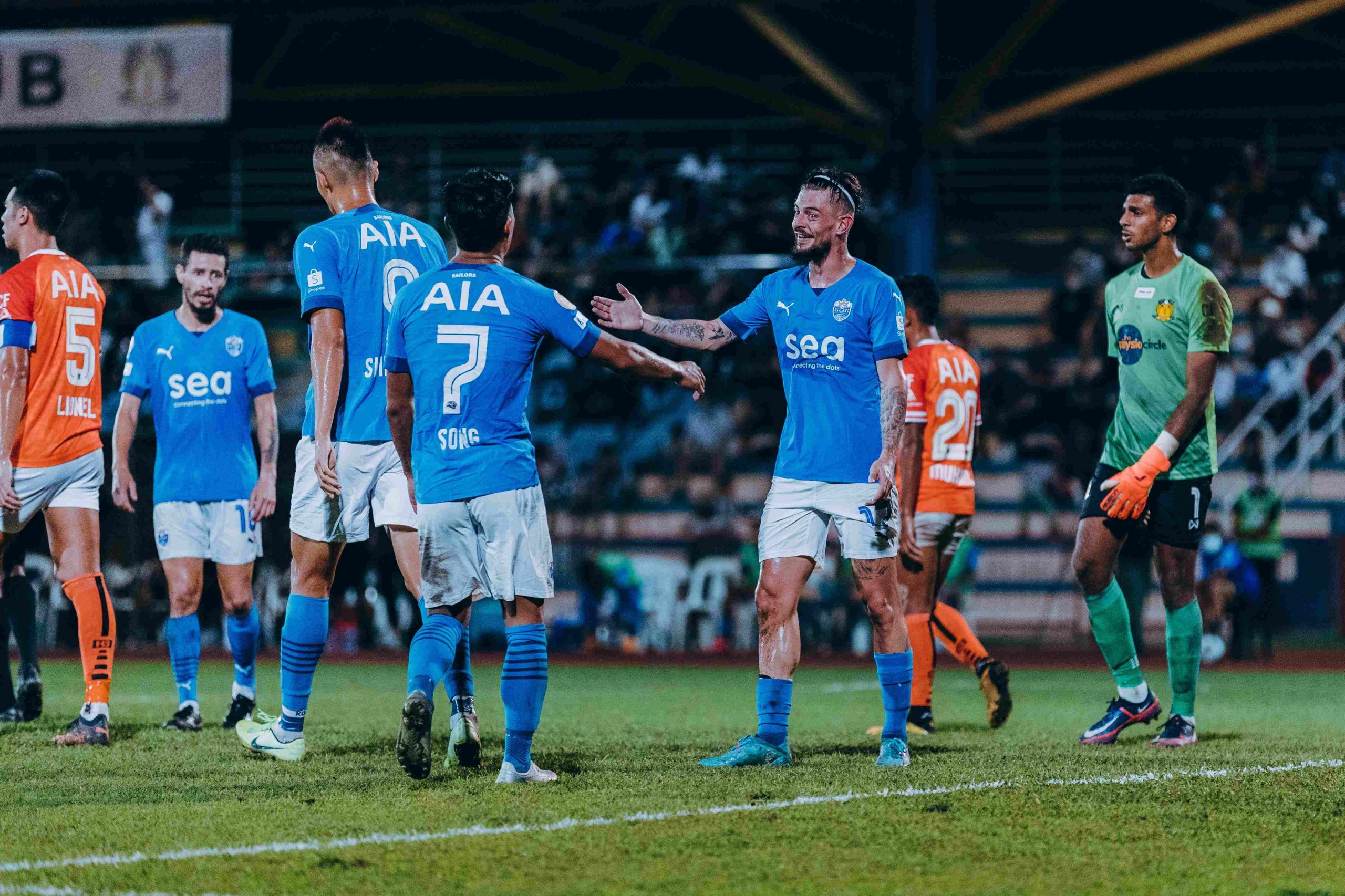 The result saw the Sailors extend their lead at the top of the eight-team SPL standings to seven points, before nearest challengers Tampines Rovers and Tanjong Pagar United take to the field this weekend. 
The demanding Kim promised that his team will get even better from here on in. 
"We're now being more creative on the pitch and creating more clear-cut chances, but looking at the number of chances we had today, we should have scored more," said the South Korean.  
"The boys need to be more confident with the strength and technique they have – and this can only get better with training."
With spectator limit now removed at SPL matches, it was a boisterous Hougang Stadium that greeted the teams, and the Sailors rose to the occasion – scoring after just 16 minutes. 
In a rapid move that started from Amirul Adli's throw-in in a defensive area, the Sailors worked their way forward with Maxime striding onto Anaqi Ismit's inch-perfect crossfield pass and producing a clever first-time finish past an onrushing Mukundan Maran in the Hougang goal.
This was Maxime's third goal in a Sailors' shirt. 
Eight minutes later, it was two with Maxime again involved. The Belgian created the initial danger down the left flank before Shin-wook reacted the quickest to a deflection, slamming home from close range.  
Hougang rallied and pulled one back in the 36th minute, with former Crystal Palace midfielder André Moritz slipping a neat shot beyond Izwan Mahbud from just inside the area. 
But the Sailors would restore their two-goal advantage three minutes before half-time, with Shin-wook gleefully nodding into an empty net on the goal line after Maxime's shot was parried into his path.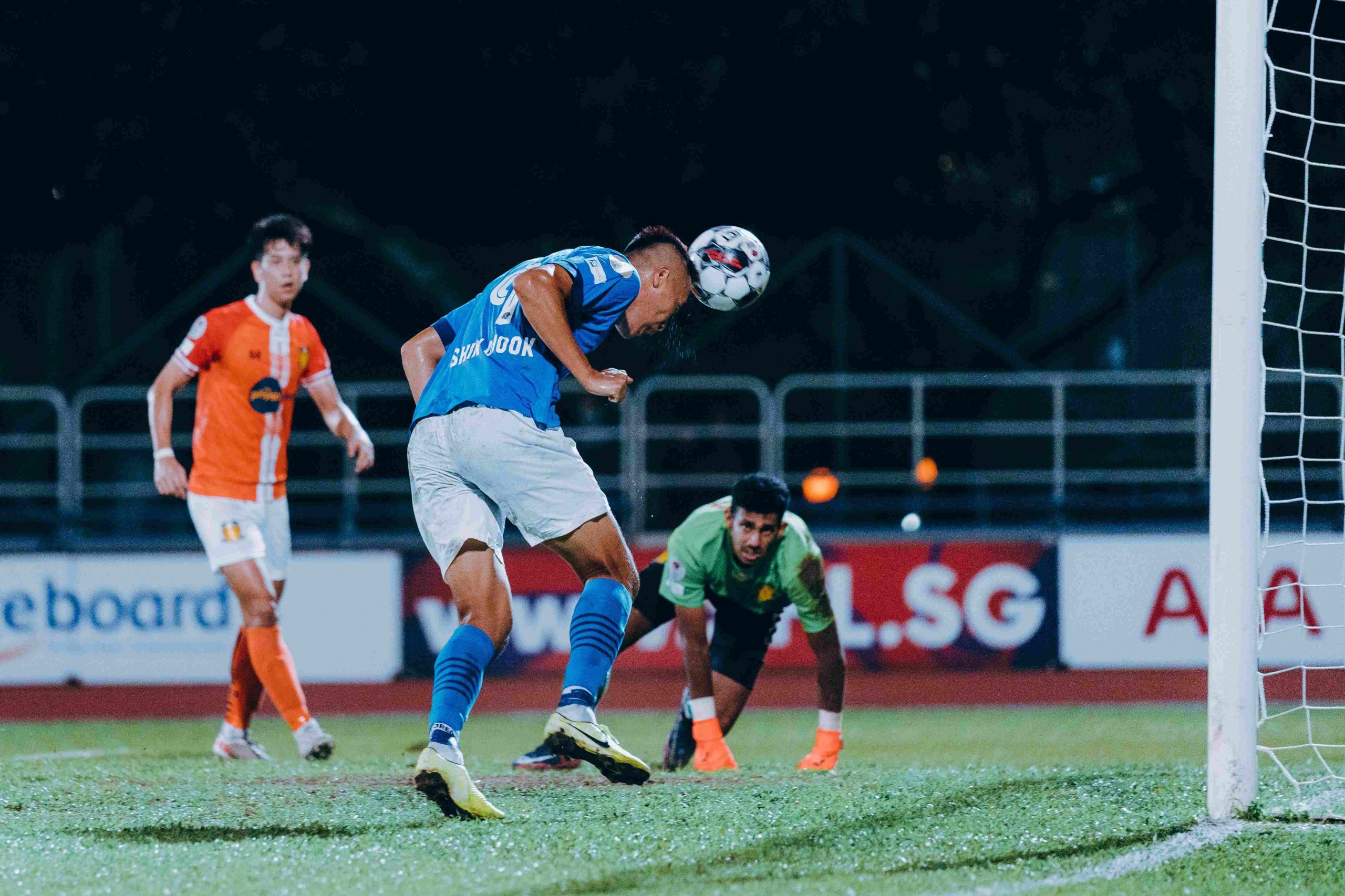 Seeing a header come off the post in the 54th minute, Wookie was not to be denied the match ball two minutes later. Once again, it came from a delightful team move with the irrepressible Maxime exchanging passes with Diego Lopes before lifting the ball to the back post for Song. The Singaporean could have shot, but instead squared across goal for Shin-wook to net his ninth league goal in 2022.
The goal means Shin-wook now closes in on the SPL's current leading goal-scorer, Tampines' Boris Kopitović, who has 11. 
There was no letting off from Kim's charges even after that fourth goal and they kept piling forward to create chance after chance. However, some good goalkeeping from Mukundan and poor finishing meant that Hougang were still in with a shot. 
The Cheetahs would net two late goals, with Pedro Bortoluzo netting from close range while Moritz caught Izwan out with an opportunistic shot from range, but there was no denying the Sailors the three points on the night.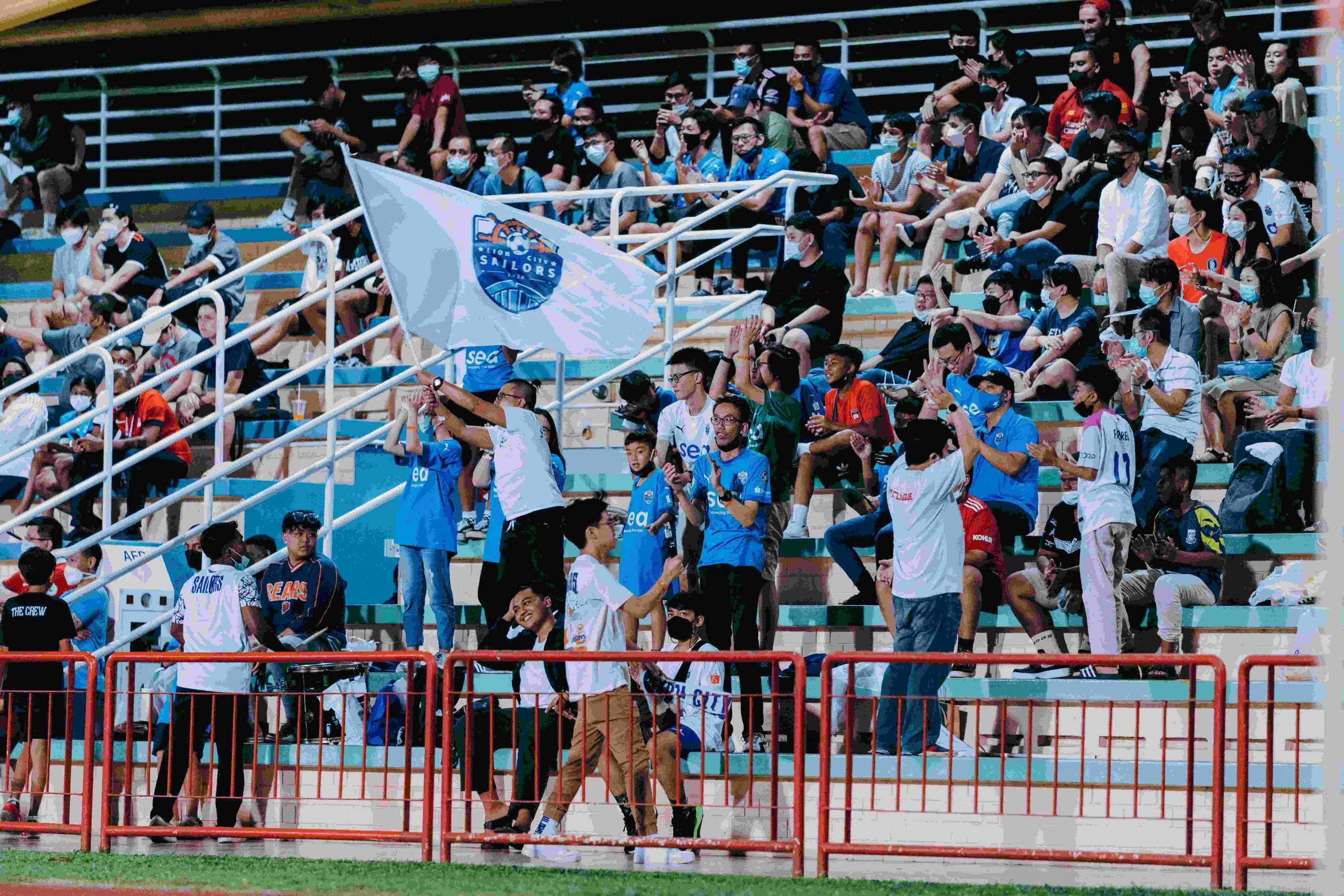 This was the first time that the Sailors conceded more than one goal in a game in 18 domestic outings (including the AIA Community Shield) under Kim. Acutely aware that there is further improvement to be made, the 2020 ACL winner will look to fine-tune things on the training ground ahead of their next task – a home clash against Geylang International next Saturday (14 May). 
Geylang handed the Sailors their only loss in the SPL this season, in a gritty display of defensive organisation that the Sailors had no answer to.
"Now the challenge is internal – we must continue to fight against ourselves. It's about how we can be more cruel to ourselves instead of being comfortable with where we're at right now. We have to stay grounded and humble to maintain the tempo we showed in the ACL," said Kim.
"Our next game is against Geylang who gave us the painful memory of our first defeat and we're not going to repeat that this time."
After tangling with the continent's elite at the Asian Football Confederation Champions League (ACL) group stage campaign in April, the Lion City Sailors return to the Singapore Premier League (SPL) on Friday (6 May) night, taking on Hougang United at the Hougang Stadium.
The Sailors' approach is clear: continue to improve on the pitch, and earn the right to compete against Asia's best once again. 
The only way to make it back to the ACL is to retain the SPL crown and it is a fact not lost on Shahdan Sulaiman who started each of the six Sailors' Group F games in Buriram, Thailand. 
"Coach Kim (Do-hoon) told us on the first day back at training that all that is in the past – the ACL is over and we can't keep looking back. We must look forward and see where we can improve further," said the experienced midfielder, who turns 34 next Monday (9 May).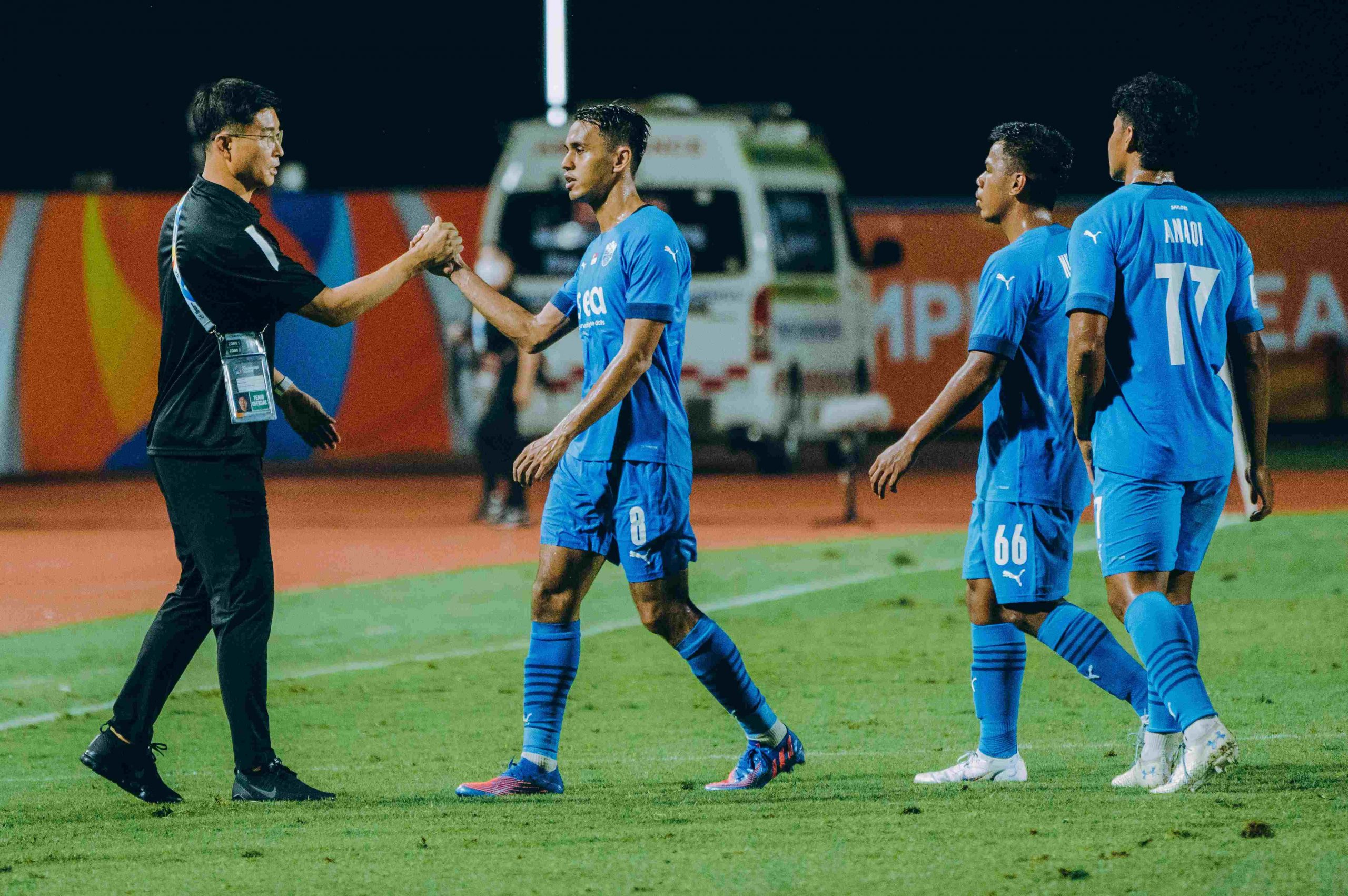 "Having tasted the ACL experience as a squad, we want to be there again so it is very clear to us that we need to do the job domestically first. It's not a given that we will be champions again – we have to go out there in every game to prove ourselves and get the points that we need."
The Sailors enjoyed a much-needed two-day break upon returning to Singapore from Buriram on Sunday and had the opportunity to catch up with their loved ones over Hari Raya. 
After reveling in the festivities and recharging after a hectic April, Kim's charges are ready to go again in the SPL with three matches to be played in May, and they return to Singapore with more than just the ACL experience under their belts.
"Due to the pandemic, we did not get to travel for pre-season so this is the longest period of time that they've spent together as a team," shared Shahdan. "It was just all of us, every single day, in one hotel, so definitely we grew closer to each other – and the bond between us is definitely stronger now."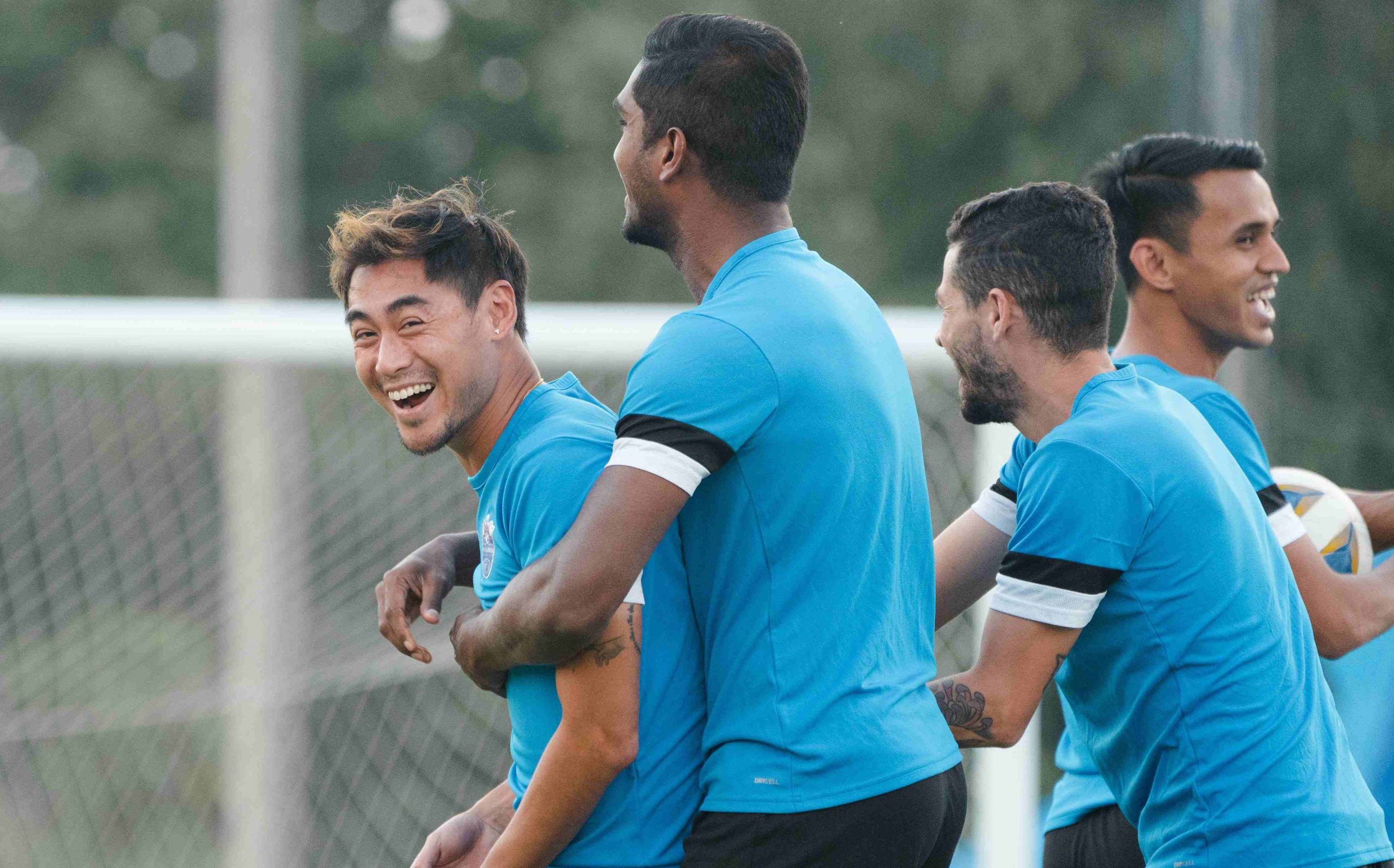 The challenge now is for the Sailors to translate the levels of performance and intensity demonstrated at the ACL into dominant performances on the SPL front. The defending champions admittedly have not been at their most fluent in the first round of SPL matches, but still hold a four-point lead at the top after seven games. 
"The ACL has been beneficial for every player to learn and adapt to playing at a higher tempo. Now we have to show whatever we gained in Buriram and produce the same level on the domestic stage," emphasised Shahdan. 
"Coach Kim demands a lot from the team in every game, so I'm sure we'll maintain our standards against our opponents in Singapore."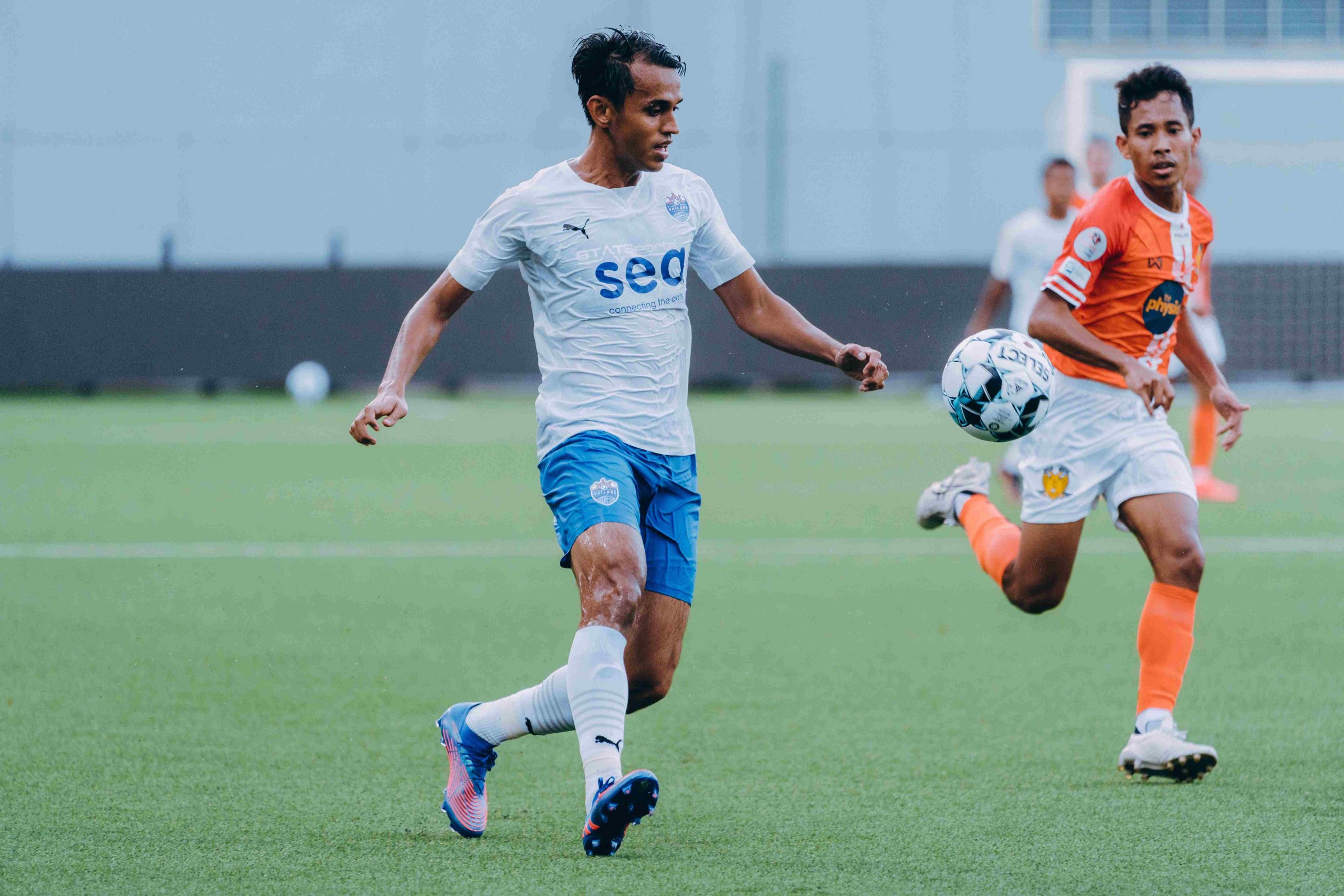 Sixth-placed Hougang are unbeaten at home so far in 2022 with two wins and one draw, and they will pose a serious threat. Their 3-1 loss to the Sailors in the opening week was also only the second occasion that the Cheetahs fell to Kim's charges by a two-goal margin. 
Shahdan acknowledged the tricky nature of the game, but preferred to focus on what he and his Sailors can control. 
"Hougang have always been tough opponents, but like what Coach has been instilling in us, even at the ACL, it's always about us and concentrating on how we can play – that will not change."
The Lion City Sailors are well-represented in Singapore's football teams flying the Republic's flag at the 31st Southeast Asian Games in Vietnam (12 to 23 May), with a total of 13 players in the men's and women's teams. (Main photo courtesy of the Football Association of Singapore)
Nur Adam Abdullah and Saifullah Akbar are part of Nazri Nasir's 20-man Under-23 squad that travelled to Nam Dinh earlier today (4 May) and begin their Group B campaign against Laos three days later with group matches against Thailand, Cambodia and Malaysia coming up in the week that will follow.
Stephen Ng's 20-strong squad is captained by the Sailors' own Ernie Sulastri who is joined by 12 other Sailors women: Beatrice Tan, Noor Kusumawati, Fatin Ridzwan, Khairunnisa Anwar, Syazwani Ruzi, Umairah Hamdan, Dorcas Chu, Ho Hui Xin, Izzati Rosni, Danelle Tan, Nicole Lim, and Venetia Lim.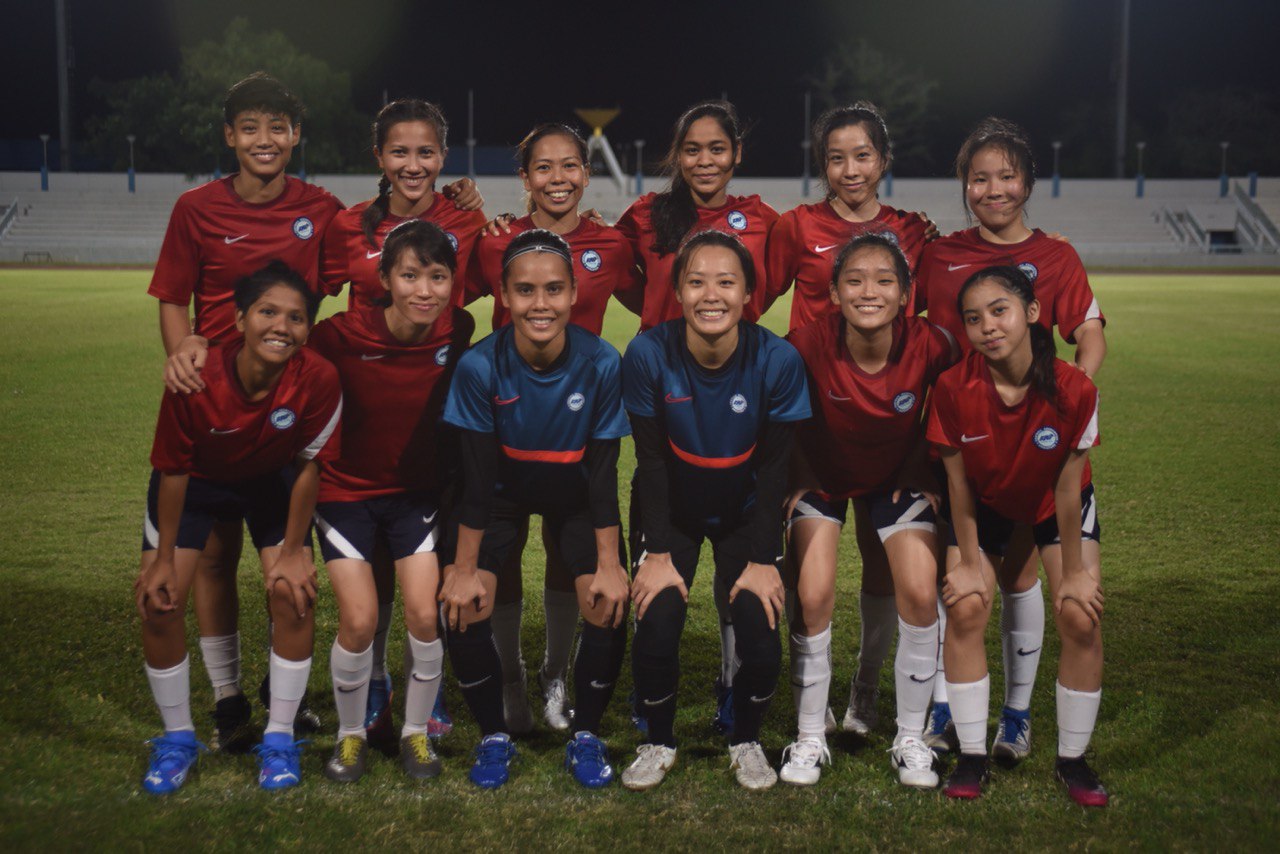 They leave Singapore for Cam Pha on Saturday (7 May), and begin their Group B SEA Games campaign against Thailand three days later. Laos and Myanmar are the other teams in the group, in what will be the Lionesses' first appearance at the biennial games since 2003. 
This is the first SEA Games campaign for every single player in Ng's squad.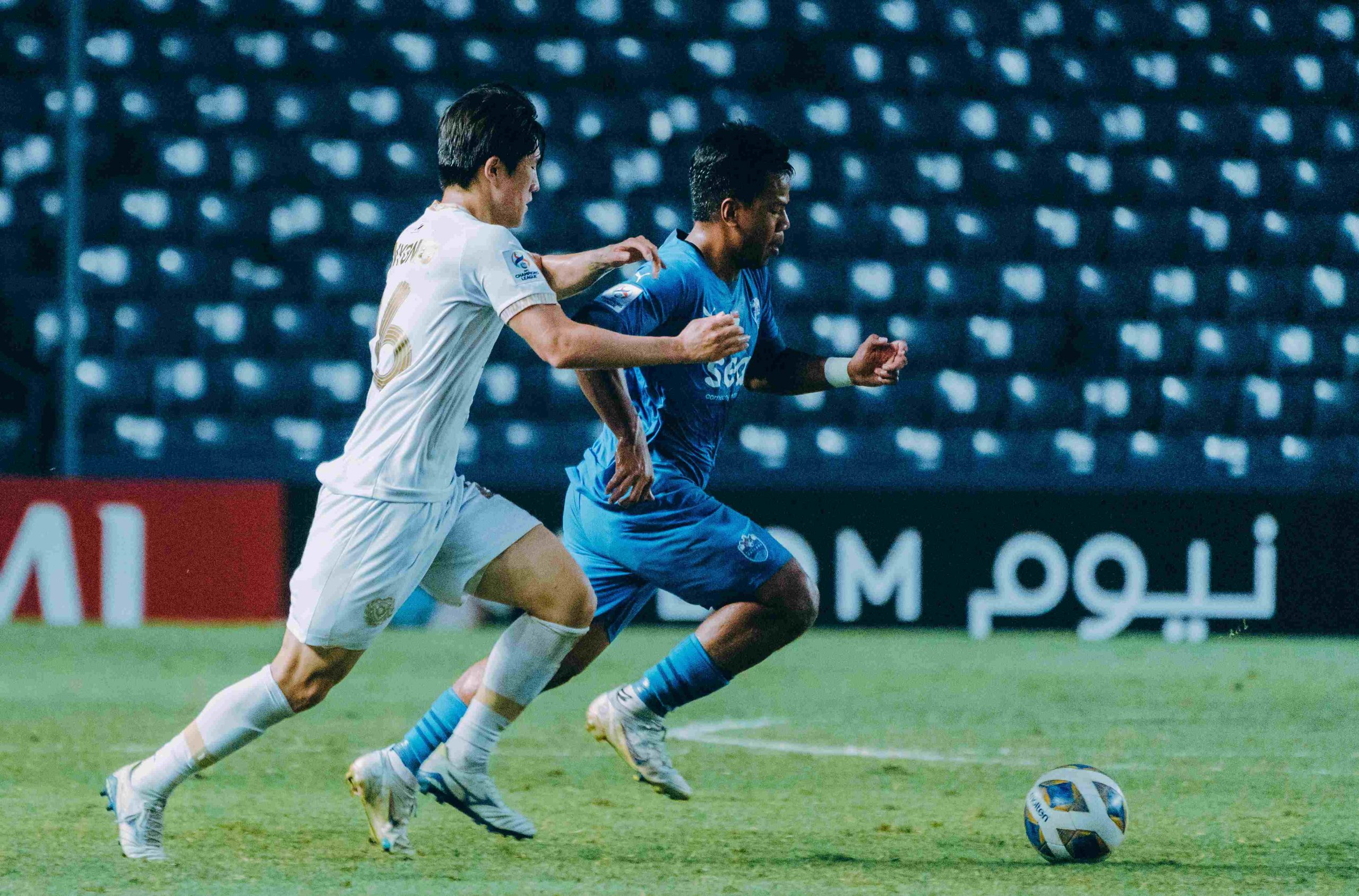 The Singapore men will also be looking to rewrite the Republic's SEA Games history. Nur Adam and company will be looking to emerge from the group stage for the first time since 2013. The men's best performances came in 1983, 1985 and 1989 when they finished as silver medalists. More recently, the Republic won bronze medals at three of the four Games between 2007 and 2013.
All Singapore football matches at the Vietnam games will be streamed live on Mediacorp's meWATCH platform.