As he trudged off the Our Tampines Hub pitch after a 34th-minute sending off, Pedro Henrique gave an apologetic wave to the visiting Lion City Sailors fans as he dragged his feet into the dressing room. 
Handed a straight red for tugging down Geylang International Croatian forward Šime Žužul, the towering Brazilian centre-back's absence on the pitch proved crucial as the 10-man Sailors eventually went down 1-0 to the Eagles in the 4 March Singapore Premier League (SPL) fixture. 
It was their first loss in 21 competitive outings. 
Having to watch from the sidelines as Kim Do-hoon's men ground out a 1-0 win over Tampines Rovers and a 1-1 draw against Albirex Niigata (S) while he served out his two-match suspension, Pedro is chomping at the bit to get back to action for the Sailors, acutely aware that he now has a fight on his hands to secure a return to the first eleven.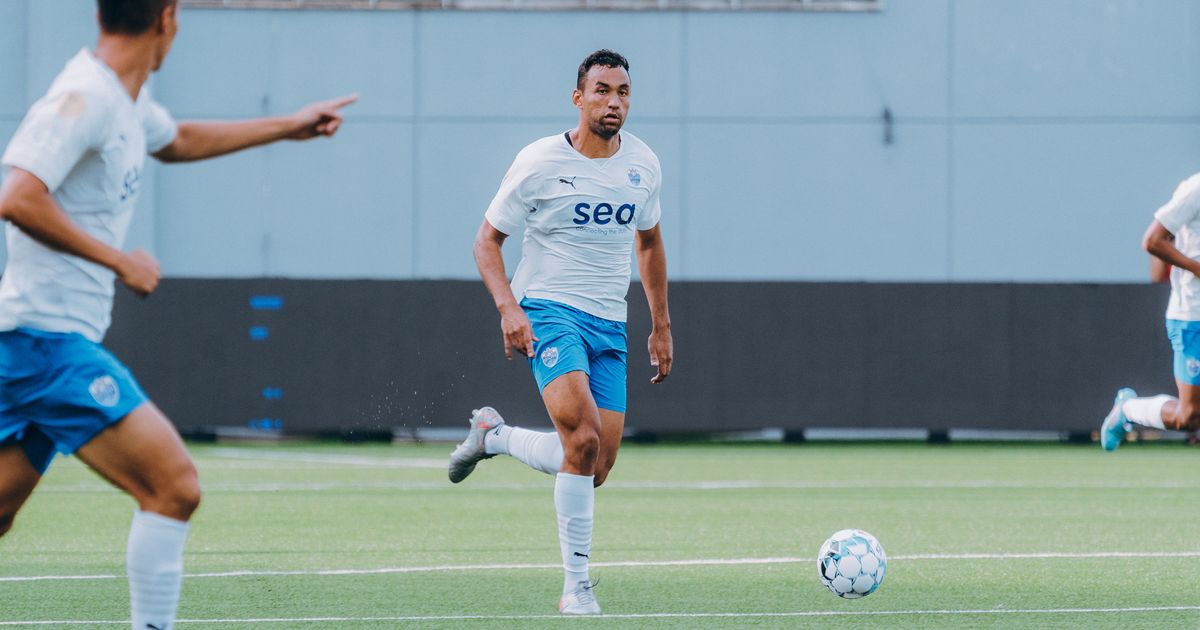 "After reviewing the video I feel that I should not be sent off, but I have to admit I made a mistake," reflected the 29-year-old. "No player likes to be sent off and miss games – I've played professional football for 11 years and that was my third red card – but that's now over and I have to focus on the present and future. 
"Being on the sidelines has made me more motivated to come back stronger and help the team. I know the team has done well without me, so I know it's not easy for the coach to put me straight back in. 
"The key for myself is just to get ready and do my best possible, to regain my spot. I just need to prepare myself properly and make sure I'm in the best condition to perform when Coach makes the call."
Pedro has impressed in his first couple of outings for the Sailors in a 2-1 Community Shield win over Albirex and a 3-1 defeat of Hougang in their opening SPL game of 2022. But the dismissal and two-match ban disrupted what has been a promising start to his career in Singapore.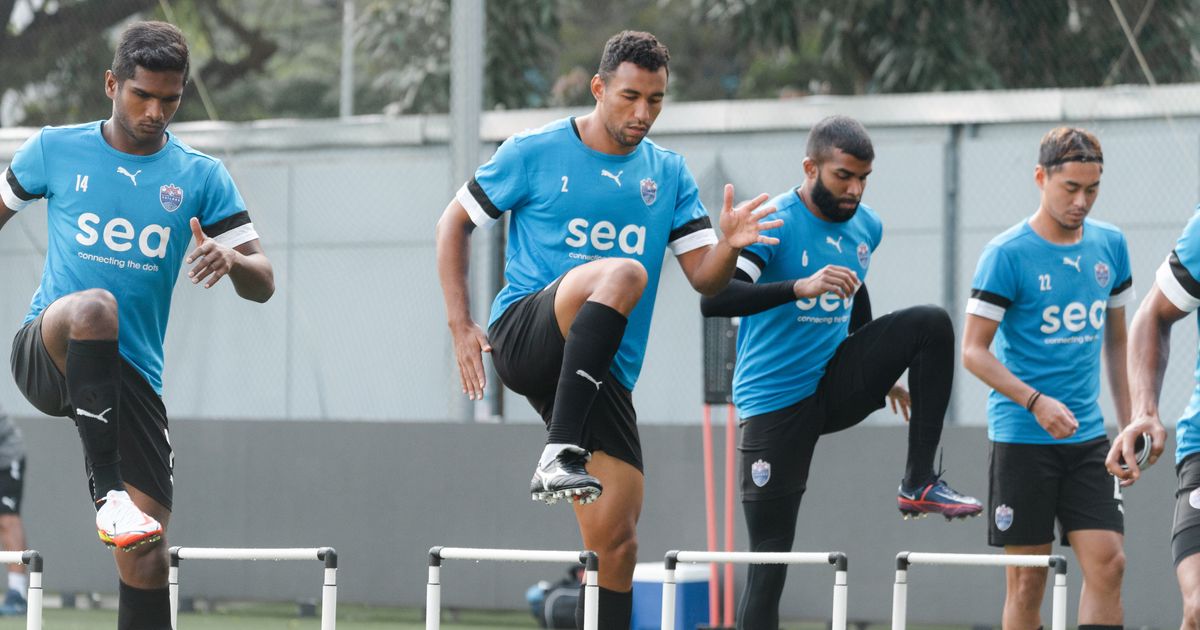 Now settling in well and acclimatising to life in the Lion City with the help of compatriot Diego Lopes and interpreter Nelson, the former Vitoria Guimaraes captain is looking forward to get back into gear as the Sailors host a tricky Balestier Khalsa side at Jalan Besar Stadium on Friday night (1 April). 
While the Sailors are unbeaten against Balestier in the five encounters since their 2020 inception, the Tigers class of 2022 could prove to be tough opponents with their Japanese attacking trio of Ryoya Taniguchi, Kuraba Kondo and Shuhei Hoshino. 
"We did play a friendly against them in pre-season, so we know the quality of their players and how dangerous they can be," said Pedro, who previously plied his trade in the Portuguese and Brazilian top tiers. "While we know their threat, we just have to focus on playing the football that Coach Kim wants us to play and I'm sure that'll bring us good results. 
"Our team has shown a strong will to win every game and the desire to play the attacking football that the fans love to see – that will never change for us."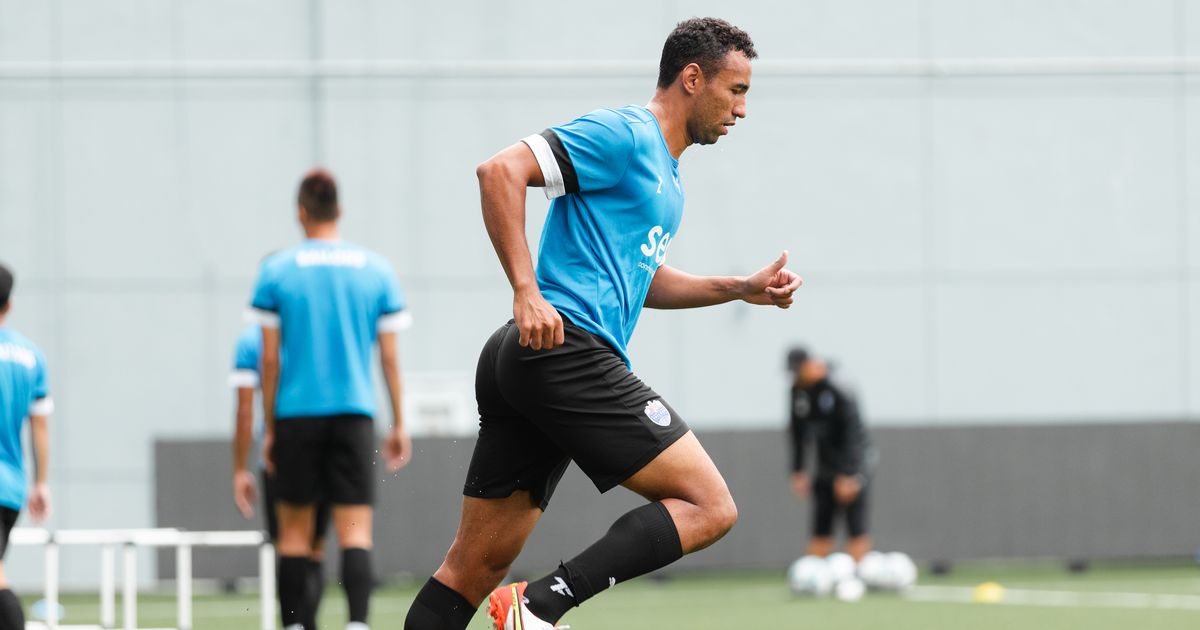 The Balestier game kick-starts a busy and important April with two more SPL games in quick succession – against Young Lions next Wednesday (6 April) and Tanjong Pagar United three days later (9 April) – before the Sailors head to Buriram, Thailand, where they will have to navigate six games in a period of 15 days against quality opposition like Urawa Red Diamonds, Daegu FC and Shandong Luneng in their maiden Asian Football Confederation (ACL) campaign. 
With Singapore national team representatives like Song Ui-young, Shahdan Sulaiman, Hariss Harun and Hassan Sunny coming off the back of strong performances for the Lions in the recently-concluded FAS Tri-Nations Series 2022, Pedro believes the Sailors are primed to excel on both fronts and build on what has been a mixed start to the season as the team lies third in the table with two wins and a draw from their opening four games. 
"I've been really impressed by how my teammates performed for the country and it's my honour to be playing alongside these players. The league is very competitive this season for sure, and everyone wants to beat us because we're the defending champions, but I know our boys have what it takes to rise to this challenge," he elaborated. 
"We're always trying to improve as a team and we know for sure we can play better football than what we've been producing so far this season. But the primary aim is of course to pick up all nine points in the league, so that we can go to the ACL full of confidence."
It has been a mixed start to the 2022 Singapore Premier League (SPL) season for the Lion City Sailors as they accumulated seven points from their opening four matches to sit in third in the eight team standings – a point behind leaders Tanjong Pagar United. 
Starting their title defence with a 3-1 win over Hougang United, the Sailors suffered a setback in the following outing with a 1-0 loss to Geylang International – their first loss in 21 matches in all competitions. Kim Do-hoon's men then bounced back with a 1-0 defeat of Tampines Rovers, before battling to a 1-1 draw against four-time champions Albirex Niigata (S). 
As the Sailors gear up to face Balestier Khalsa on Friday in their first match after the FIFA international break, we look back on the five major talking points from the team's first four league outings of 2022. 
Hassan's evergreen excellence in the Sailors' goal 
Hassan Sunny has arguably been the Sailors' best player this season so far. In the three matches that he has played – missing only the Geylang defeat – the Singapore international has proved that he is still one of the best in the business – if not the best. 
His overall command of the area has been impeccable, and he has been virtually unbeatable in one-on-one situations – pulling off numerous point-blank saves especially against Tampines and Albirex. Hassan has conceded two goals this season, both top quality blinding strikes from distance. 
Turning 38 in April, Hassan is evidently ageing like fine wine and not going away any time soon. Dedication to his craft and leadership are two of his qualities that drive the rest of the team to step up. With him and Izwan Mahbud pushing each other hard on a daily basis, the goalkeeping situation at the Sailors – as well as on the international front – is in safe hands. 
The Covid-19 situation has not helped
Head Coach Kim Do-hoon has yet to be able to field a consistent starting eleven, with various members of his squad falling victim to the coronavirus on separate occasions. 
Faris Ramli missed the opening win over Hougang, then it was Tajeli Salamat and M Anumanthan's turn against Tampines, with Kim Shin-wook also stuck in isolation prior to the Albirex fixture.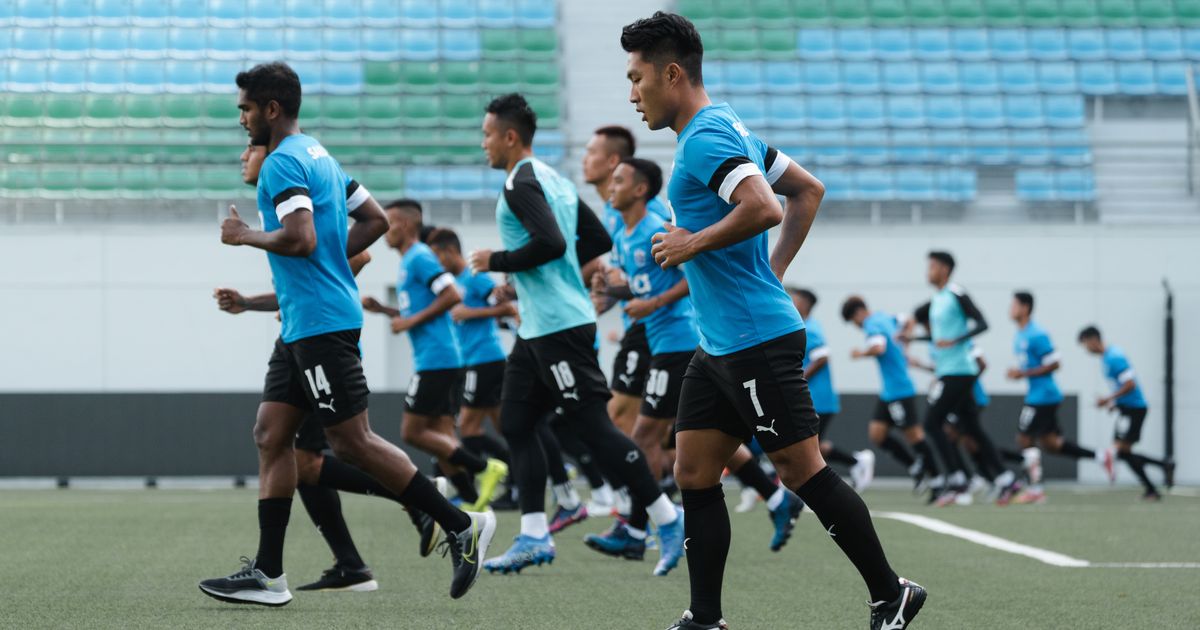 The Covid-19 situation remains fluid with players possibly testing positive the day after playing a game or even in the week leading up to the next game, requiring the Sailors' technical team to react fast and adapt to such situations, redeploy their chess pieces or even rejig the game plan. 
Iqram Rifqi is the latest one to be struck by the virus which led to him reluctantly withdrawing from the Singapore squad at the Football Association of Singapore Tri-Nations Series against Malaysia and the Philippines. 
While this is hardly ideal, it is a situation that will affect every club, and will need to be managed throughout the season. Fortunately the Sailors have both strength and depth in the squad Kim has assembled. 
We're beginning to see the real Diego
Olá, Diego! The Brazilian playmaker is now starting to show what he can do, and why he deserves to be a regular starter for the Sailors.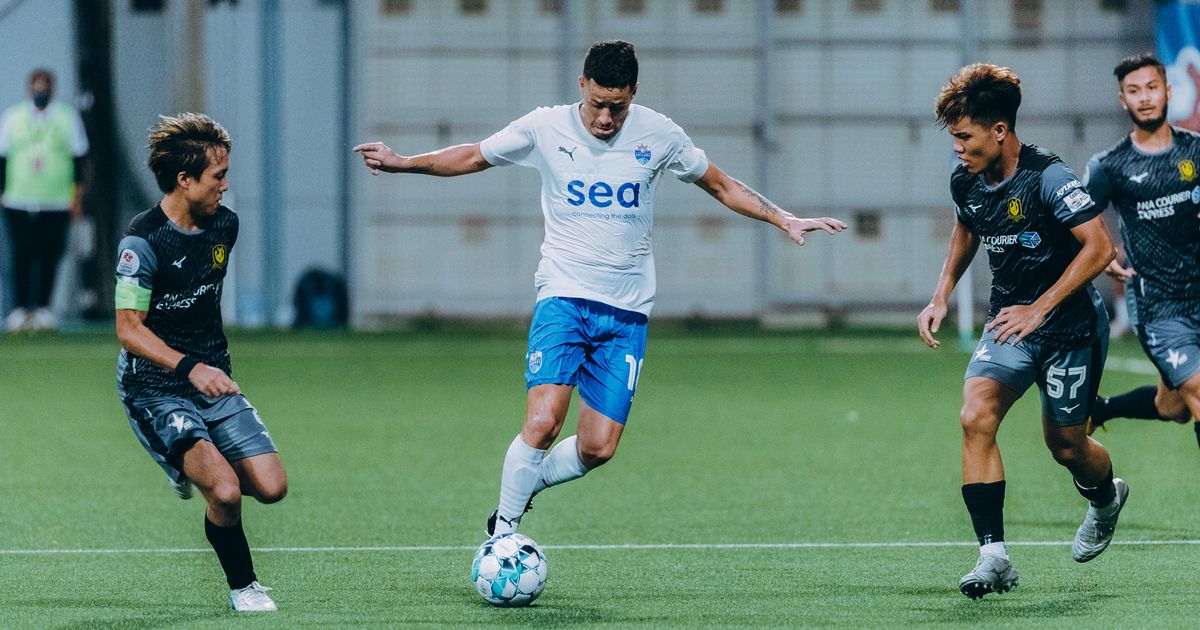 Arriving with a sizable price tag in 2021, the former Benfica man exploded into life in the SPL with a hat-trick in an 8-0 win over Geylang and a wondrous match-winning volley in a 1-0 defeat of Hougang under Aurelio Vidmar, but subsequently found it hard going. 
With a solid pre-season under his belt and honest chats with the Head Coach about expectations for 2022, the 27-year-old Diego has begun this campaign well. He came off the bench to score against Hougang, before being entrusted to start the Tampines and Albirex matches – marking the first time he started and completed the full 90 minutes since May 2021. In those two outings, he provided a real treat for the fans with silky close control and an ability to dictate play from the middle of the park. 
The Sailors – and fans – are certainly looking forward to seeing him pick up where he left off when the SPL restarts, and hopefully hitting the right notes in the upcoming Asian Football Confederation (AFC) Champions League (ACL) campaign. 
Resurgence of 2011 Lion City Cup stars
They were breakout stars in the 2011 Lion City Cup at the age of 15, and the pair of Adam Swandi and Iqram Rifqi have enjoyed some good times, but have also struggled through rough injury-riddled periods in their professional careers. Both of them are now starting to reap the rewards of their hard work and persistence. 
A horrific anterior cruciate ligament (ACL) injury in July 2019 saw Adam missing more than a year of action and he had to be content with being an impact substitute on several occasions since his comeback. In Kim's first game in charge in July 2021, the playmaker was given his first start in over two years but lasted just 14 minutes due to another injury setback. The 26-year-old kept working hard behind the scenes, and is now trusted to start regularly in central midfield alongside Shahdan Sulaiman, impressing with his industry and smooth passing ability.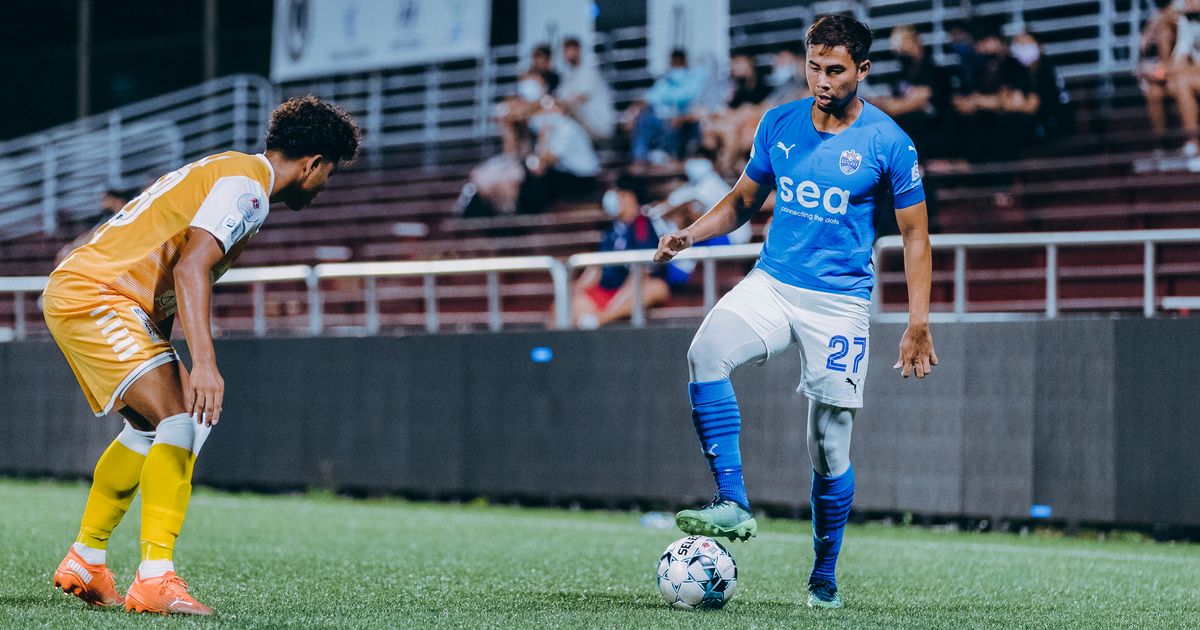 Iqram was also an ACL victim that led to him missing the majority of the Sailors' inaugural season in 2020 and a hamstring injury meant he made only a handful of appearances on loan at Geylang in 2021. However, he has come back with a vengeance this season – netting in the opening win against Hougang and is the only player along with captain Hariss Harun to start all four league games this year. Iqram's sparkling form means there will be tough competition for Nur Adam Abdullah to regain the left-back position that he owned last year. 
Still perfecting the Sailors' art  
The Sailors will be first to admit that their performances in the first four league matches of 2022 could have been better. The coaching team and players have been hard at work trying to fine-tune the Sailor's offensive rhythm and fluidity in their football. And slowly but surely, things are coming together for the Sailors.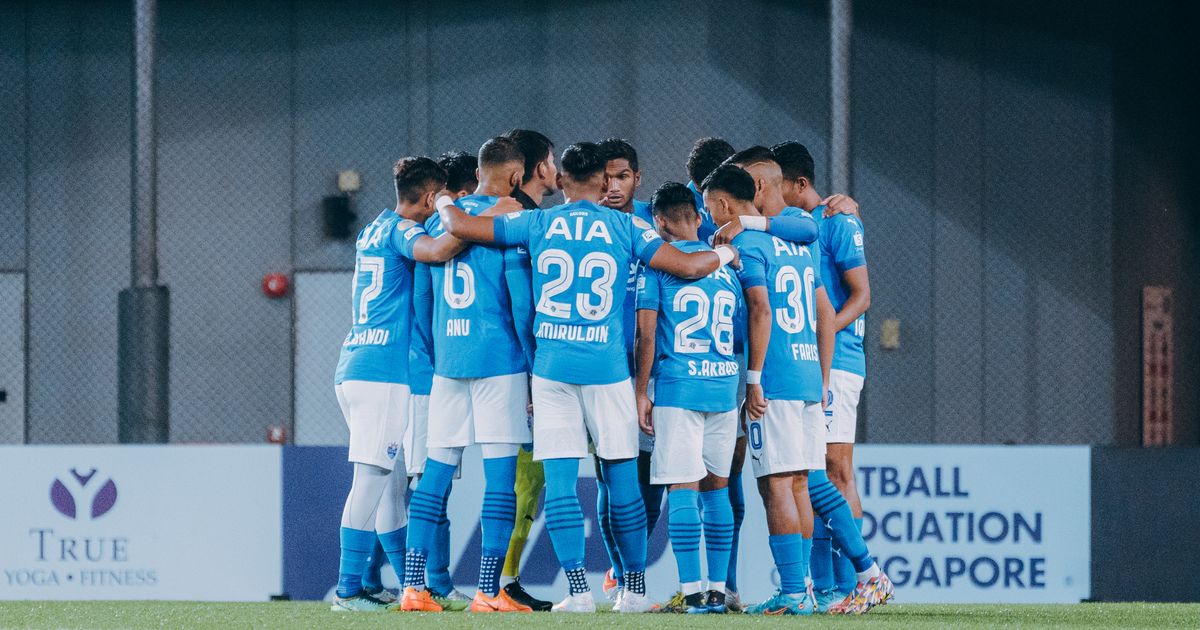 Against Albirex, the side that pushed the title race to the final match last season, the Sailors showed especially in the opening half-hour that they can dictate the tempo of the play and deprive the opponents of the ball by constantly pressing from the front.
On the numbers front, things are looking healthier as well. Gabriel Quak and Nur Adam Abdullah have worked their way back to full fitness and made quite an impact as second-half substitutes against Albirex, with the former showing the nerve to net an injury-time penalty equaliser. Pedro Henrique will return for the SPL restart after completing a two-match suspension, while Maxime Lestienne is also chomping at the bit and working doubly hard to get his first start in a Sailors shirt. 
All these bodes well for the Sailors as they gear up for an important April – with SPL fixtures against Balestier, Young Lions and Tanjong Pagar to navigate before travelling to Buriram, Thailand for their maiden ACL campaign.  
Lion City Sailors duo Iqram Rifqi and M Anumanthan have withdrawn from Nazri Nasir's Singapore team, leaving nine Sailors in the squad that will line up in the Football Association of Singapore's (FAS) Tri-Nations Series that kicks off this evening (23 March).
Iqram, who has enjoyed a good start to the 2022 Singapore Premier League (SPL) season, starting all four Sailors' games at left-back, pulled out of the Lions squad after testing positive for Covid-19.
The 27-year-old Anu withdrew because of a family emergency.
The remaining 24-man Singapore squad will line up against Malaysia on Saturday (26 Mar) and the Philippines three days later, before the Lions return to their clubs.
The Sailors will next line up against Balestier Khalsa at the Jalan Besar Stadium on 1 April.
Trailing 1-0 to Singapore Premier League (SPL) title rivals Albirex Niigata (S) at the Jurong East Stadium on Friday night (18 March), the Lion City Sailors stared defeat in the face – and did not flinch. 
Neither did Gabriel Quak. 
First, it was his deep cross into the area that led to Kim Shin-wook being tugged down in the area by Albirex defender Tatsuya Sambongi to earn the Sailors a penalty. 
Then the 31-year-old took responsibility for the resulting kick, stroking it confidently past Albirex goalkeeper Takahiro Koga with just two minutes left of injury time to rescue a valuable point for the Sailors in a crucial SPL six-pointer. 
This was just Gabriel's second appearance of the season – he came on as a 77th-minute substitute for Iqram Rifqi – as he worked his way back from a shoulder injury sustained in last December's AFF Suzuki Cup.
"I really like all these high-pressure moments, I had no issues stepping up. I'm just glad the ball hit the back of the net to steal a point for us," said the Singapore winger, who was last season's top local scorer with 13 goals. 
Sailors toiled hard but found it difficult to break down a resilient Albirex side, with coach Kim Do-hoon glad to see his charges showing the mental fortitude to ensure they at least did not leave Jurong East empty-handed.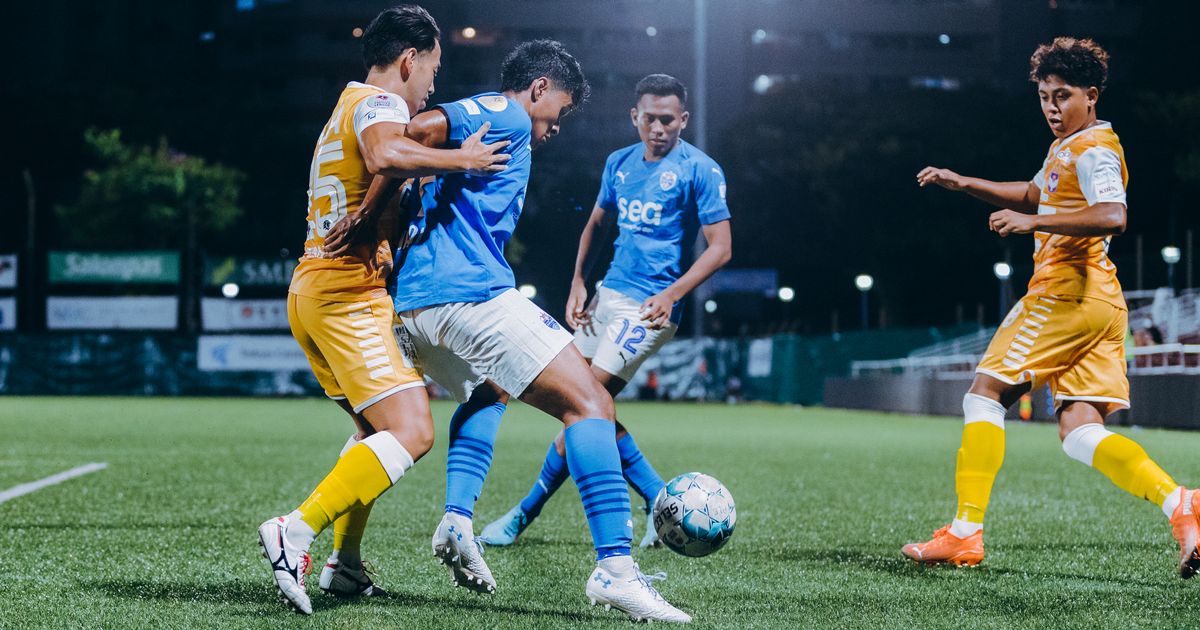 "This shows the difference between last year and this. To come back at the end of the match shows the strength and mentality of my boys. I'm not satisfied because we always strive for a victory, but this never-say-die spirit is something that we can definitely build on," said the 51-year-old. 
"As defending champions, we know we need to constantly prove ourselves – it's not just in matches, but also in training – and I'm grateful that these boys continue to show great attitude in trying to improve."
With players like Song Ui-young, Saifullah Akbar and Naqiuddin Eunos all unavailable, while main forward Shin-wook was not 100 percent, Kim needed to make a few changes to the lineup that beat Tampines Rovers 1-0 last Sunday. 
Amiruldin came in for "Wookie" upfront, while Hafiz Nor and Anaqi Ismit – who was making his senior Sailors debut – were given their first starts of the campaign on the Sailors' flanks. 
As opposed to previous matches, the Sailors had started off the more purposeful of the two sides as they pressed from the front and enjoyed good passages of play. Diego Lopes – starting in successive games for the first time since May 2021 – provided fans a real treat, with his superb close control enabling him to keep the ball under pressure as he dedicated play from the middle of the park.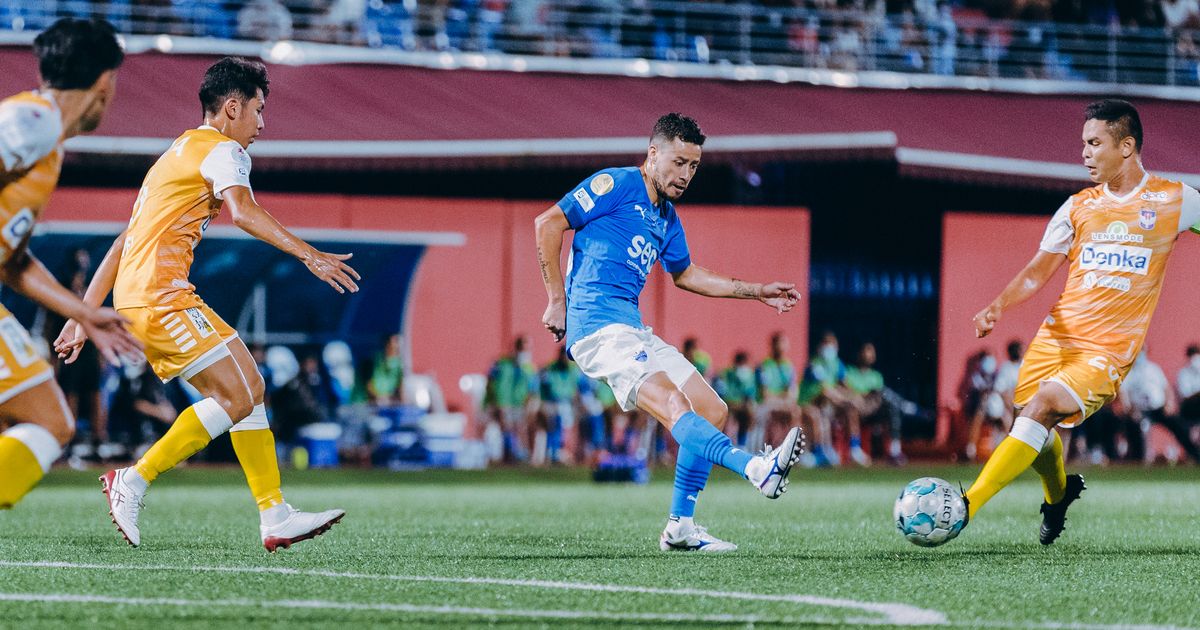 Hassan Sunny, Hariss Harun, Shahdan Sulaiman and Adam Swandi also turned in performances that drove the Sailors forward even as they trailed Albirex for most of the match.
While the Sailors enjoyed possession and exchanged passes comfortably, clear-cut chances were hard to come by, with Albirex growing into the game towards the closing stages of the first half and looked more dangerous in attack. The hosts duly broke the deadlock just before the break.   
As the ball bobbled outside the area after a corner, Daichi Omori seized the opportunity to lash a swerving drive that took a touch off Amirul Adli before swerving past a full-stretch Hassan in the Sailors goal. 
At half time, Kim rang the changes with Nur Adam Abdullah coming on to fill in for Tajeli Salamat in an unfamiliar right-back position for his first appearance of the campaign, while Maxime Lestienne replaced Anaqi Ismit on the left. 
Haiqal Pashia and Shin-wook were introduced later, before Gabriel Quak joined the fray with 13 minutes to play. 
The rejigged Sailors were more threatening in the attacking third, with Adli and Shin-wook both going close before the equaliser eventually came at the death. 
Gabriel, who scored an 88th-minute stunner at the same end in a 3-2 defeat back in October 2020, held his nerve to convert the spot-kick to give the boisterous Sailors fans something to cheer about.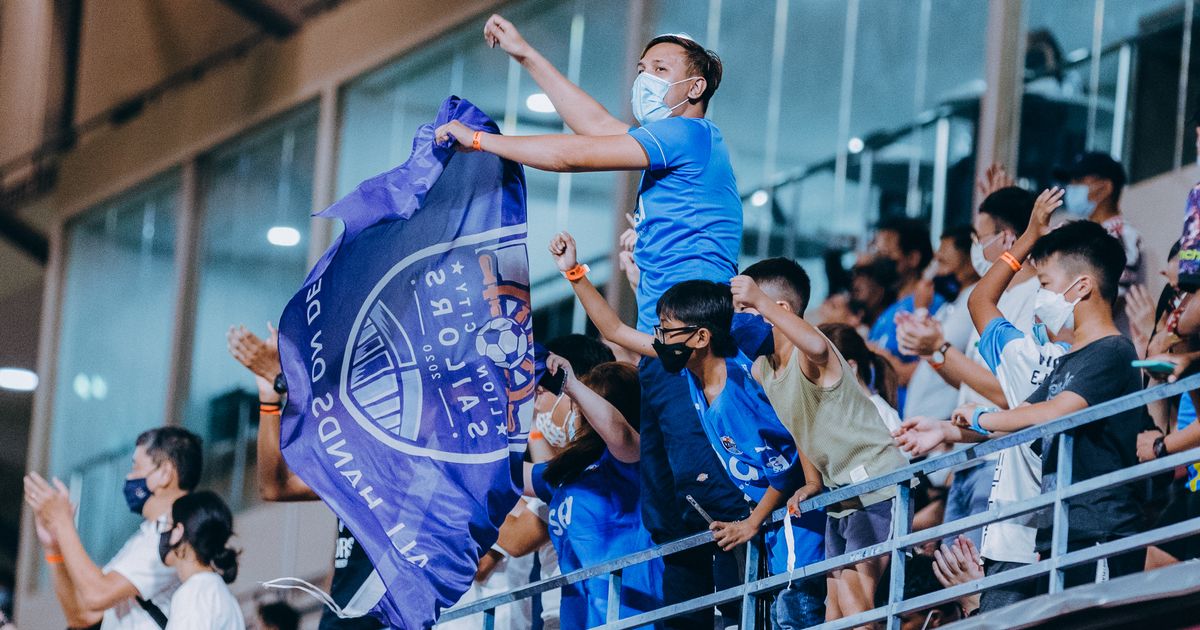 The euphoria continued in the stands and even spilled outside the stadium, long after the final whistle had sounded. 
The point meant the Sailors now have seven points from four matches, level with Albirex and Tanjong Pagar atop the eight-team SPL standings, before the latter host Geylang International on Saturday evening. 
While it has not been the most ideal of starts to the season, the Sailors are taking several positives going into next week's international break. 
"Football's a game that can change in a split second. Credit goes to every player that played a part in getting this result in the last minute and we'll continue to work harder for better results for our fans," said Kim, who was confident that his charges will build on this performance.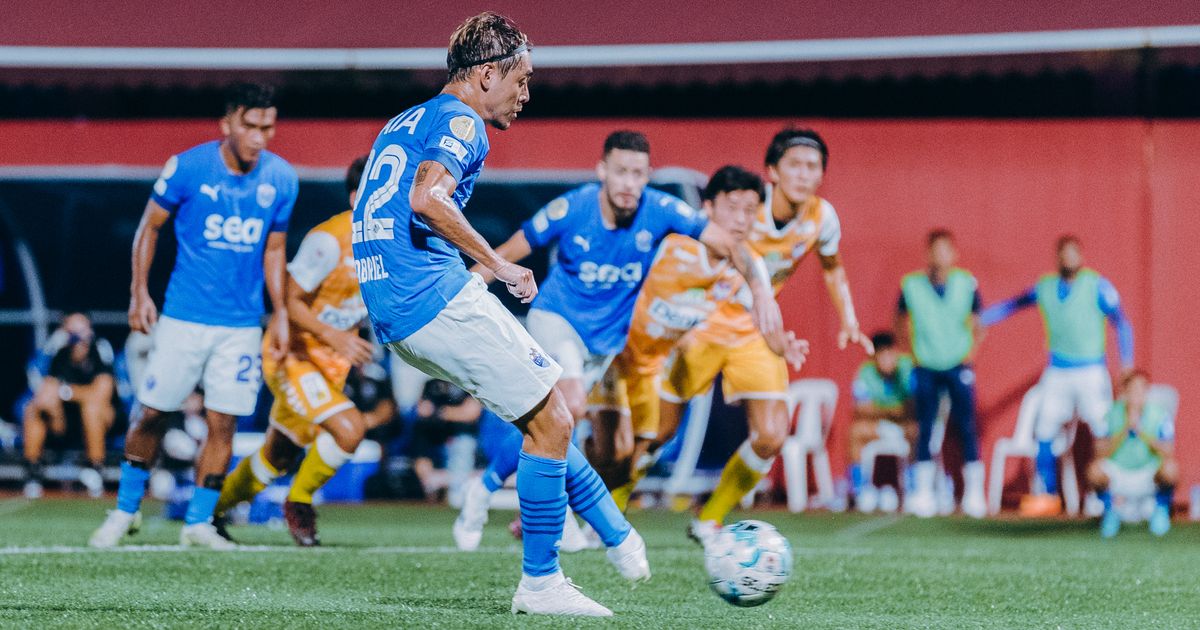 Gabriel sang from the same song book. 
"Having lost to us in the Community Shield, they wanted a victory badly so conceding a late equaliser to us must have felt like a defeat to them," he said. 
"There's nothing much to be worried about right now, I rather we start slow and end the season high, and I'm sure we can build on this draw."
The Lion City Sailors are well-represented in Nazri Nasir's Singapore squad that will take on Malaysia and the Philippines at the FAS Tri-Nations Series 2022, a three-team 'A' international friendly tournament hosted in Singapore from 23-29 March.
Hariss Harun is poised to lead the Republic's Lions under interim Singapore coach Nazri, and the Singapore captain is joined by 10 Sailors teammates including Iqram Rifqi – who has enjoyed a good start to the Singapore Premier League (SPL) season – in the 26-man squad. 
The left-sided fullback has started all four Sailors' games in 2022 – including the AIA Community Shield – and already has one goal to his name. Iqram scored with a rasping shot in the Sailor's 3-1 win over Hougang United in the club's SPL opening fixture. 
"It's always an honour to be called up to represent Singapore, and I'm delighted that the work that I've put into every training session and every match for the Sailors is paying off," said the 26-year-old who was part of the Lions squad that inspired the nation at last year's AFF Suzuki Cup. 
"I know there are things in my game that I can improve on, and I'm glad that I'm being tested and pushed on a daily basis by coaches and my teammates at the club. I think my game is improving, and I hope I'll be able to pull on the Singapore jersey and do a job for my country."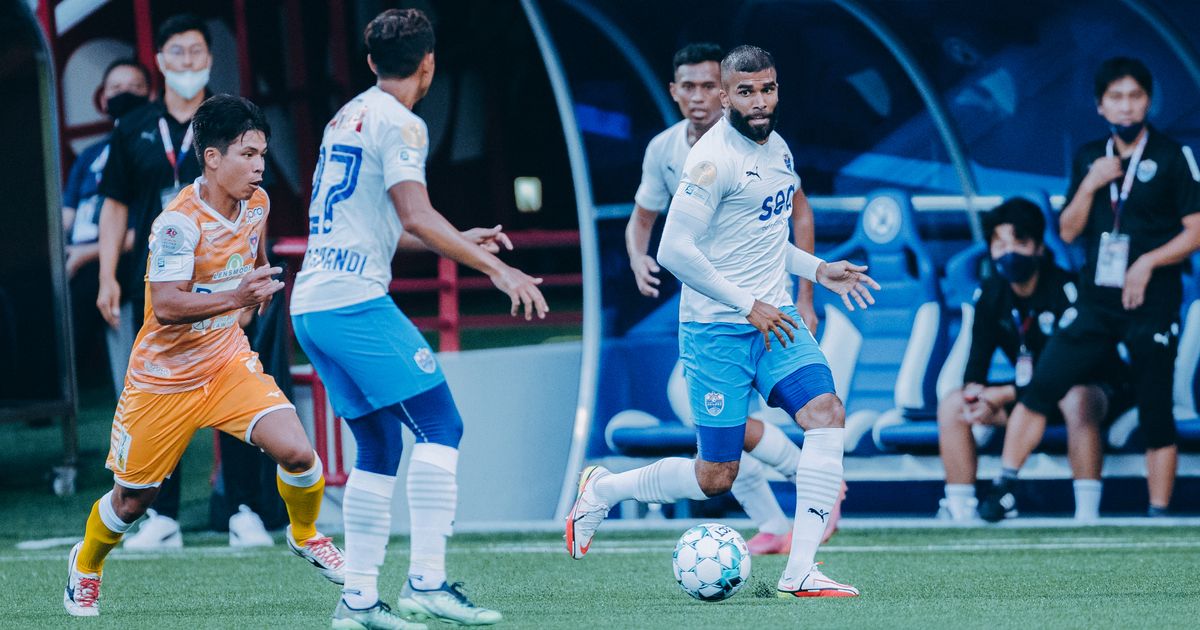 The Sailors will line up against Albirex Niigata (S) on Friday (18 Mar) in the club's final SPL fixture before the international break, with the Lions playing Malaysia on 26 Mar before facing the Philippines three days later. 
Harimau Malaya and the Azkals will square off on 23 Mar. 
All three matches will be played at the Singapore Sports Hub's National Stadium, with kickoff scheduled for 8pm.  
As Singapore eases Covid-19 restrictions, more spectators will be able to catch the Lions 'live'. Up to 15,000 fans will be allowed for both Lions games – up from 10,000 at the Suzuki Cup – with a 5,000 limit set for the Malaysia-Philippines fixture. 
Sailors in the Lions squad: Hassan Sunny, Izwan Mahbud, Amirul Adli, Hariss Harun, Iqram Rifqi, M Anumanthan, Shahdan Sulaiman, Hami Syahin, Adam Swandi, Hafiz Nor, Song Ui-young
Standing in the centre circle at the Jalan Besar Stadium, Kim Do-hoon stood still, hands on hips and eyes fixed on the players in front of him. With a shrill burst of the whistle, he barked instructions and stepped in to demonstrate to his Lion City Sailors exactly what he wanted. 
The South Korean was leaving no stones unturned as the Sailors prepared for what is poised to be a titanic battle on Friday night (18 March) – a final challenge in the Singapore Premier League (SPL) before the international break next week. 
The Sailors will face Albirex Niigata (S) at the Jurong East Stadium in a battle between last season's top two sides. In 2021, both teams were neck and neck in a tight title race, going into the final day level on points before Kim's men held their nerve to be crowned SPL champions for the first time. 
Rivalries were renewed in the 2022 season curtain-raiser, with the Sailors coming from behind to triumph 2-1 in the AIA Community Shield in February. Some four weeks after that encounter, both sides will meet again – this time with three points at stake.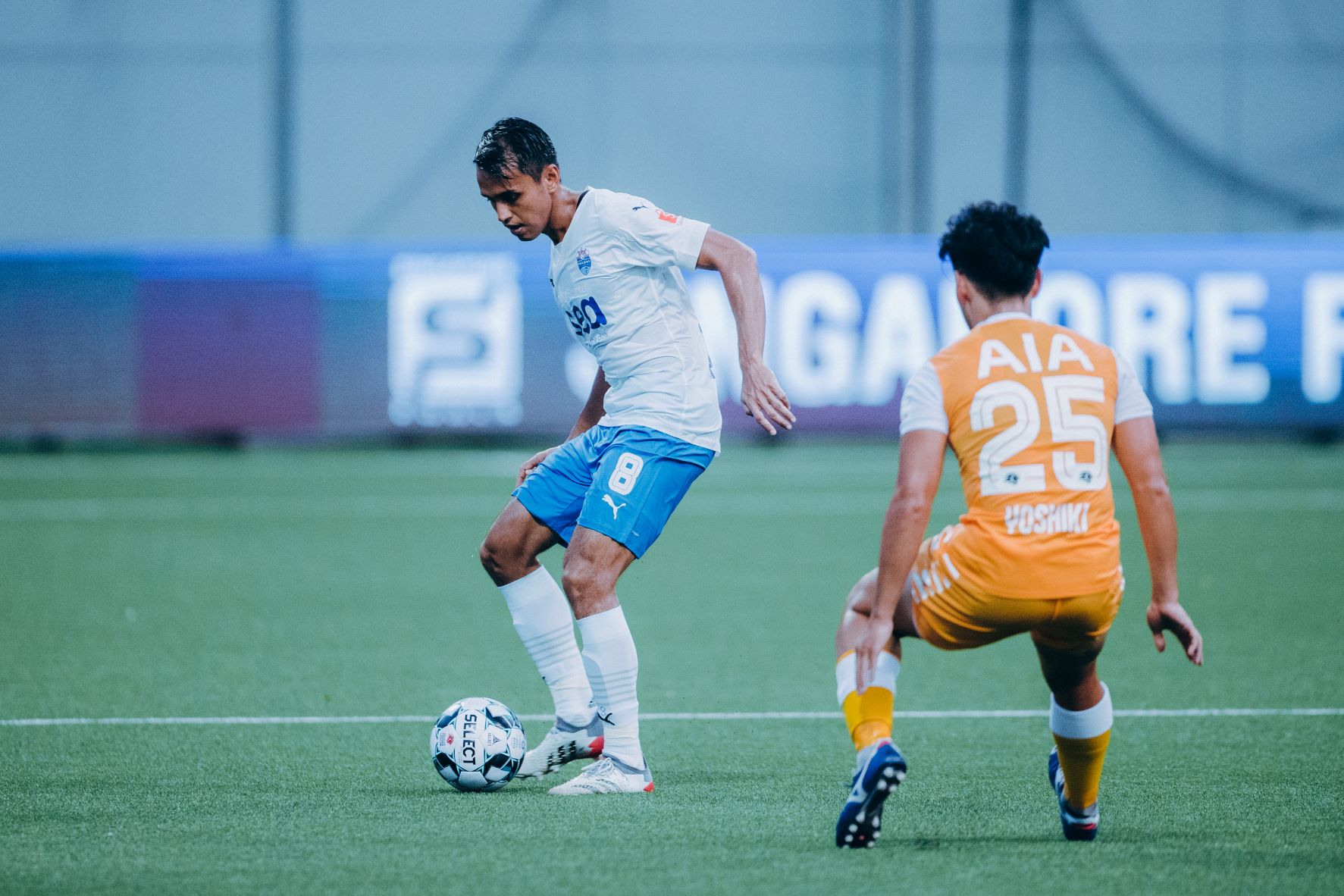 Kazuaki Yoshinaga's White Swans have been in imperious form since losing 2-0 to Tanjong Pagar United on opening day, plundering 11 goals without reply as they thrashed Balestier Khalsa 6-0 and Young Lions 5-0 respectively to come into this clash level on six points with the Sailors after three matches. 
Both sides have their eyes set on the summit which is currently occupied by Tanjong Pagar (seven points), and Kim is under no illusions on the magnitude of this game. 
"We have confidence – after beating them in the Community Shield – but this will be a whole new challenge. They'll want to avenge that defeat, and especially since they're playing at home, I'm sure they will give something more for their fans," said the 51-year-old. 
"We just have to stay humble, and focused on our task: on the pitch, the players have to be prepared to run that extra step for each other. We'll have to put on an improved performance to get the result that will put smiles on our fans' faces." 
The Sailors fell to identical 3-2 defeats in 2020, before holding the White Swans on all three occasions in 2021. 
Indeed, an improved performance – a more cohesive display specifically in areas of defensive organisation and offensive rhythm – will be required if the Sailors are to get what will be a first-ever league victory over Albirex.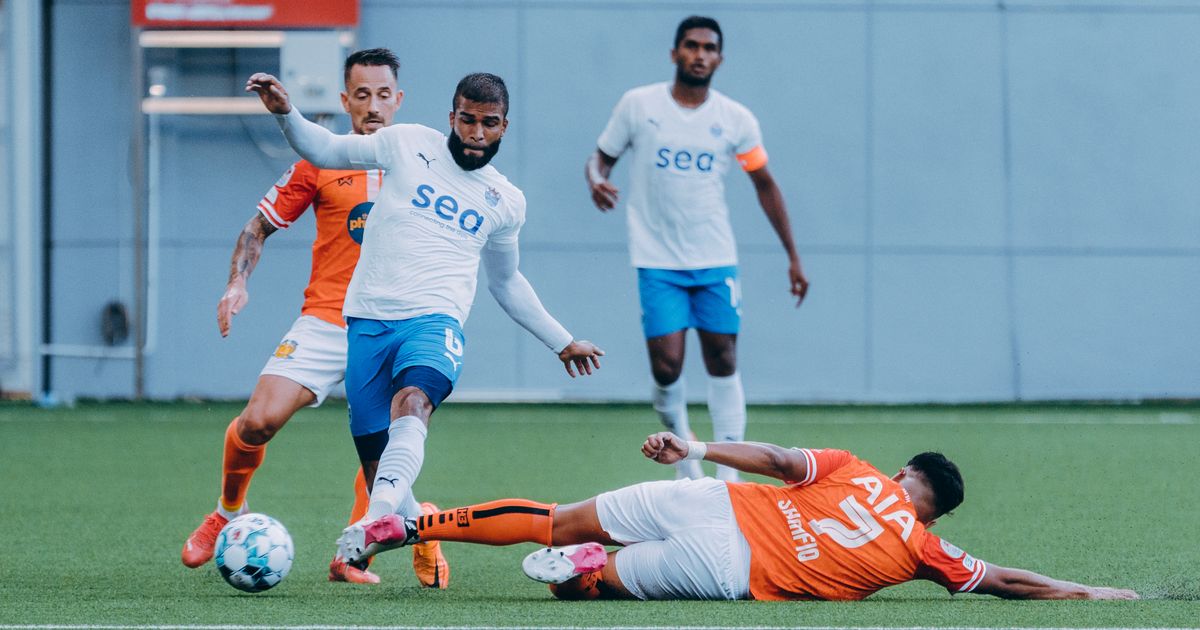 "It's understandable that our fans are quite disappointed with our first four matches (Shield and three league games). There are reasons why we've not been able to produce our best football yet, but we're not providing excuses," said Kim, who first took charge in July 2021. 
"With a few new players, it definitely takes time for the squad to come together, and we're still a work in progress. (Kim) Shin-wook has been training very hard since he's here and he has the capability to contribute more than just goals for the team. We're working on the offensive rhythm and the attacking combinations definitely need to be more precise, but that will come with more understanding and more matches. 
"I always emphasise team defensive solidarity – because it's not just about individuals. The last game (1-0 win over Tampines Rovers) proved that if we don't concede, we can nick a goal at the other end and win the match. Without conceding, we need not be pressured by the scoreline and take extra effort to get back into the game." 
While the 2022 season is still in its infancy, it is setting up to be an intriguing one with the likes of Tanjong Pagar and Geylang International showing they have what it takes to be amongst the top few local sides.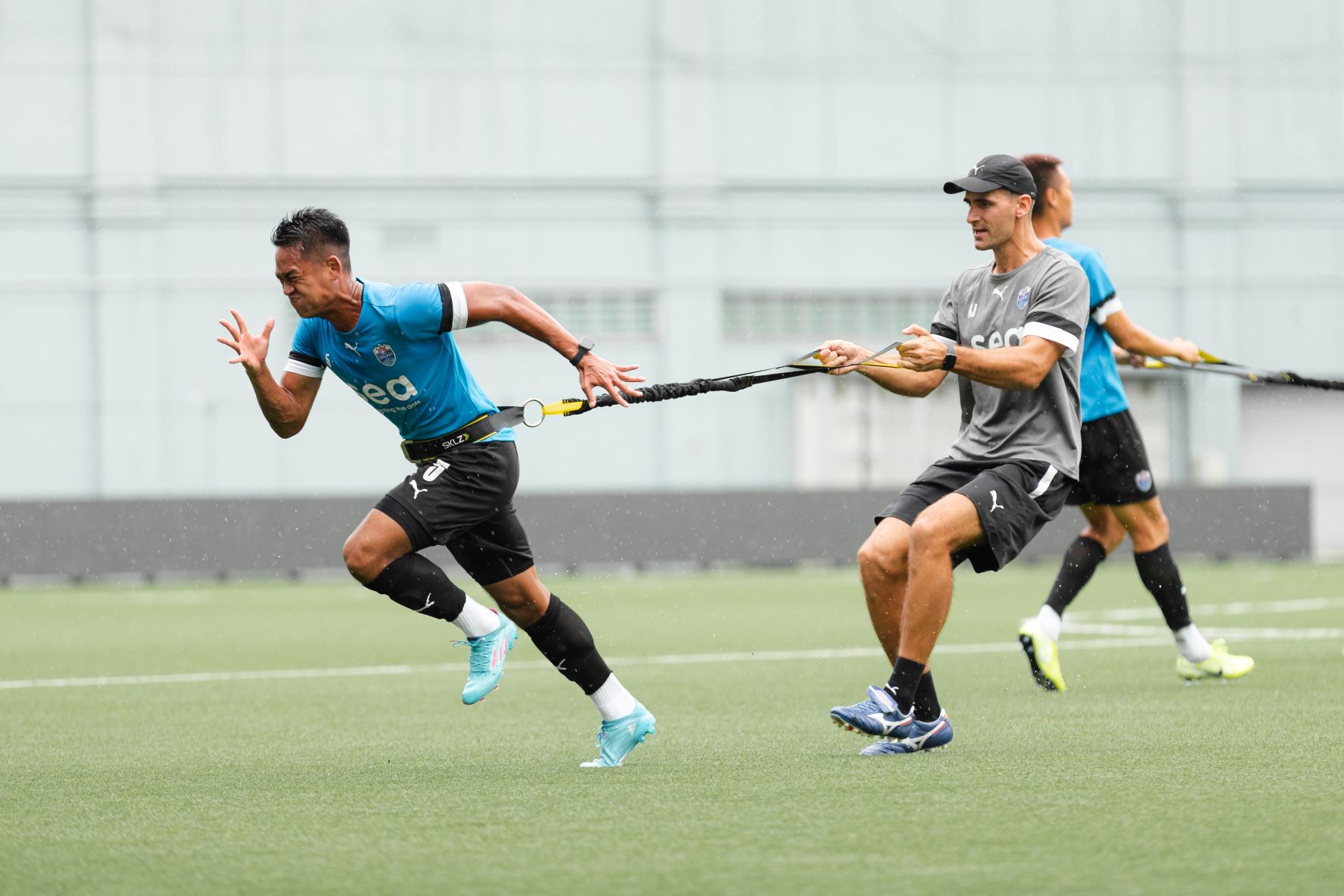 Kim wants his Sailors to embrace the challenge from other teams and go above what they produced in the previous campaign. 
"We know coming into this season that opponents will be more aggressive to challenge us even more. But that's something that will help my boys to stay more focused in training and matches," he said. 
"We have to take up this challenge to constantly improve ourselves and lift this team to the next level. We have to go out in every game with the right mindset and play with our philosophy. 
"One thing's for sure: the attitude and spirit in the team have been superb. Everyone is putting their head down to do what we need to do, and that's what gives me the confidence that we can get better after a slow start."
The Lion City Sailors will line up against Albirex Niigata on Friday evening (18 March) in a tough Singapore Premier League (SPL) fixture away at the Jurong East Stadium. The Sailors expect to be tested in front of an away crowd that will be backing the White Swans to the hilt. 
But the SPL's defending champions could well have the full force of Sailors fans – The Crew – backing their title defence the next time the Sailors line up at their Jalan Besar Stadium home on 1 April, after the FIFA international window.
Jalan Besar will be able to open its doors to 3,000 fans on matchday, three times the current numbers.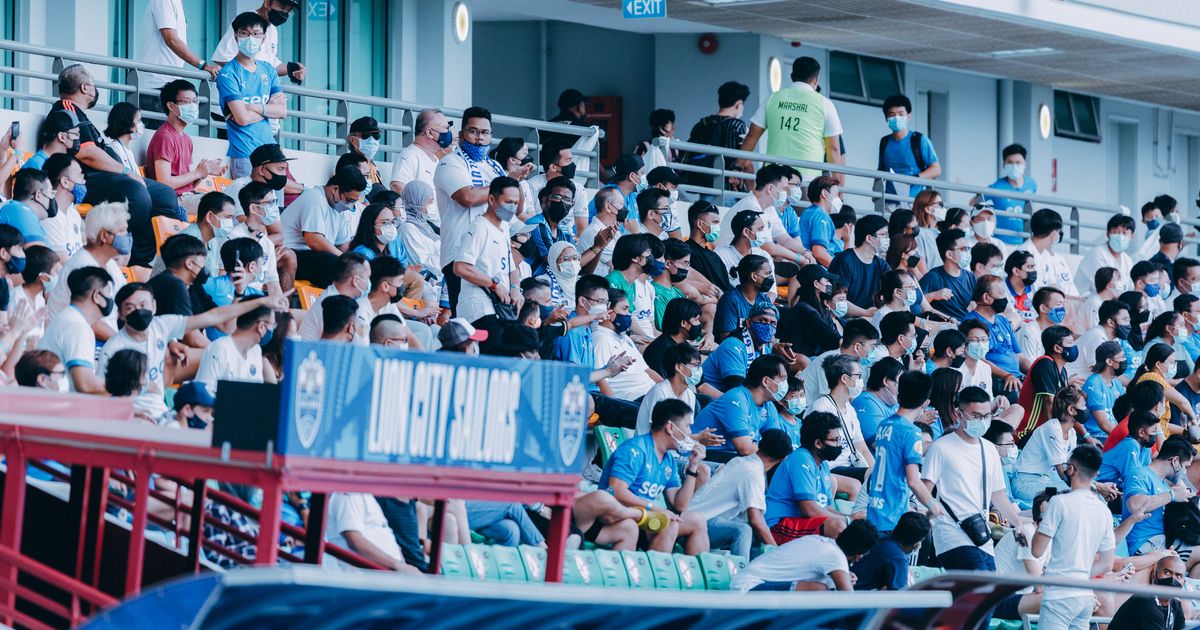 This comes after the FAS announcement that spectator limits at SPL stadiums will be raised to 50 percent of each stadium's capacity starting tomorrow (18 Mar), in line with the government directive of simplification of safe management measures that went into effect earlier this week.
"Our fans have been brilliant for us so far this season, and I'm excited to see the impact from the stands when we are able to welcome more of our fans into Jalan Besar," said Sailors' Chief Executive, Chew Chun-Liang. 
Backed by a raucous crowd, the Sailors have a 100 percent record at Jalan Besar in 2022, beating Hougang United 3-1 (4 Mar), before edging out Tampines Rovers 1-0 last Sunday (13 Mar). This after beating Albirex for the first time in the club's two-year history when the Sailors triumphed 2-1 to win the league's curtain raiser, the AIA Community Shield.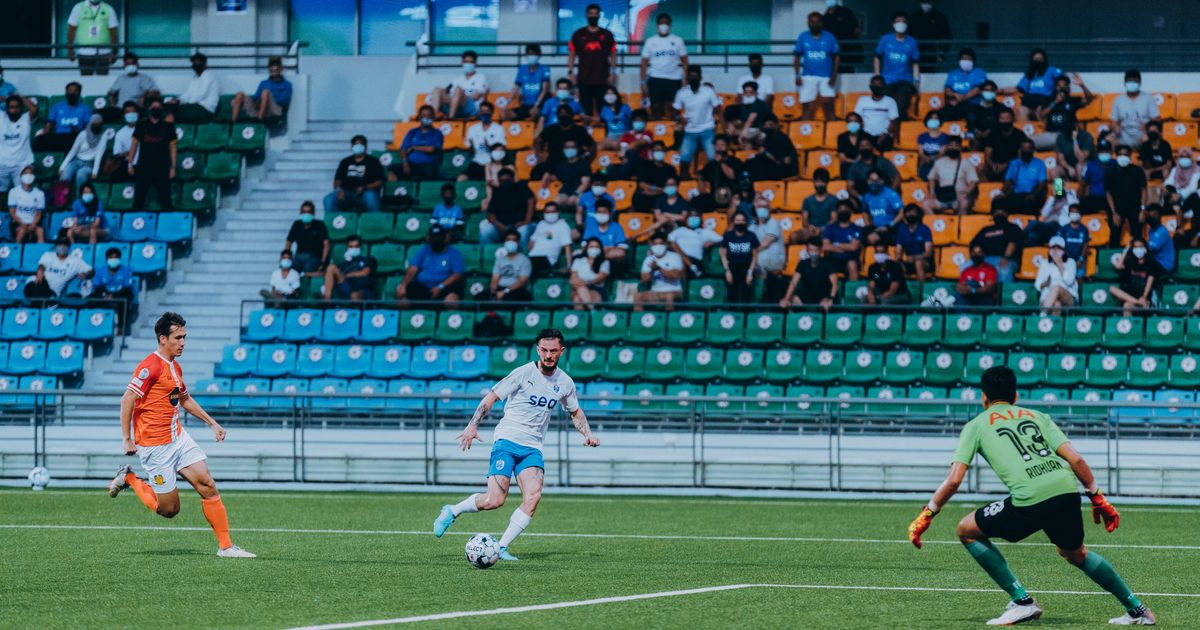 "We've seen healthy demand for tickets for the two home games that we've hosted so far, and this easing of measures will be helpful in deepening our engagement with local football fans," said Chun-Liang. 
"We've already implemented online ticketing in partnership with SISTIC, and I'm confident that we will be able to provide fans with a smooth matchday experience, and entertain them both on and off the pitch."
While safe distancing will no longer be mandatory in stadiums, mask-wearing will continue to be mandatory at all times and spectators are required to be fully vaccinated in order to gain entry. 
Chun-Liang is already looking forward to 1 April, when the Sailors host Balestier Khalsa. 
He said: "It'll be fantastic to see a bigger crowd in the stadium, and just how much more the team will be boosted by our fans."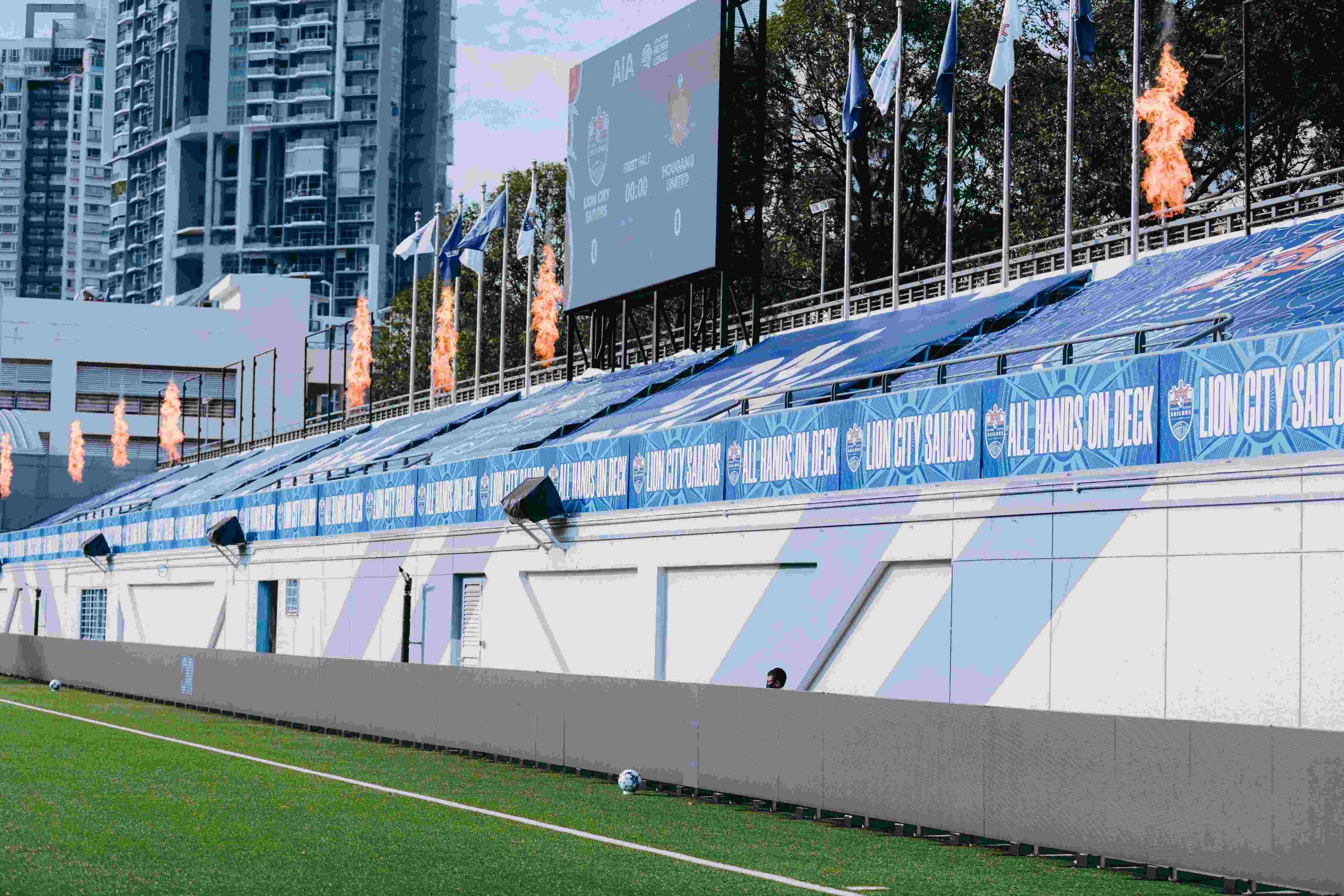 Defensive solidity, an audacious Kim Shin-wook Panenka penalty – and perhaps a dash of luck – were what it took for the Lion City Sailors to defeat Tampines Rovers in a hard-fought 1-0 victory at the Jalan Besar Stadium on Sunday night (13 March) and return to winning ways in the Singapore Premier League (SPL). 
In a week that saw the team hard at work to sort out issues that resulted in a disappointing 1-0 defeat to Geylang International on 4 Mar, Head Coach Kim Do-hoon did not have the luxury of a full squad with a number of players not in condition to train, and others out through injuries. 
The South Korean went with seven changes to the Sailors' lineup and the much-changed side repaid his confidence with a clean sheet – and the three points – to deny a solid Tampines side that carved out several promising opportunities. 
This was only the Sailors' second clean sheet in 14 outings, including the AIA Community Shield, since Kim took over in July 2021, and he acknowledged that his team should be coming away with clean sheets with regularity. 
"I've always said that playing better football and dominating the game starts from being solid in defence, and that's what the boys showed today. This is our first clean sheet this year and that was the most satisfying thing from this match," said the former Ulsan Hyundai man.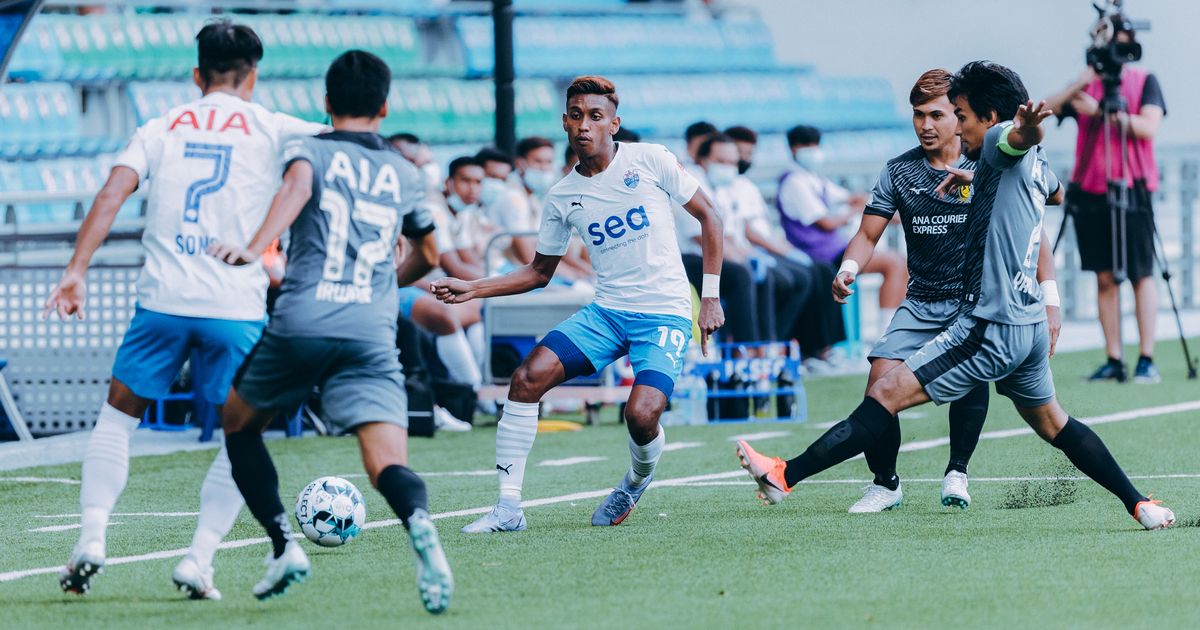 "It's not an excuse, but this was a difficult week with the conditions that we had. I put out the players in the best shape to play in the match, and every one of them did their part tonight. They played for their teammates who were not with us this week. 
"I just want to thank the boys who played for making such an effort to get the result, and it's clear that everyone needs to be ready to play – there's no so-called best eleven for us – when the opportunity comes, you have to take it. And this also ensures healthy competition within our team," he added. 
Kim restored stalwarts Hassan Sunny, Shahdan Sulaiman and Shin-wook to the starting eleven, while others like Diego Lopes, Haiqal Pashia and Naqiuddin Eunos were handed their first starts of the campaign. In the absence of the suspended Pedro Henrique, Amirul Adli also came in to partner Hariss Harun at the heart of defence. 
The rejigged Sailors faced issues against a fluid Tampines side, especially in the first half, but held the fort. Hassan was his usual excellent self in goal, tipping Boris Kopitović's shot onto the post before denying Taufik Suparno with two point-blank saves all within the first 10 minutes. When the 37-year-old was finally beaten in the 21st minute, Adli was alert and positioned himself well to clear Yasir Hanapi's goal-bound shot off the line.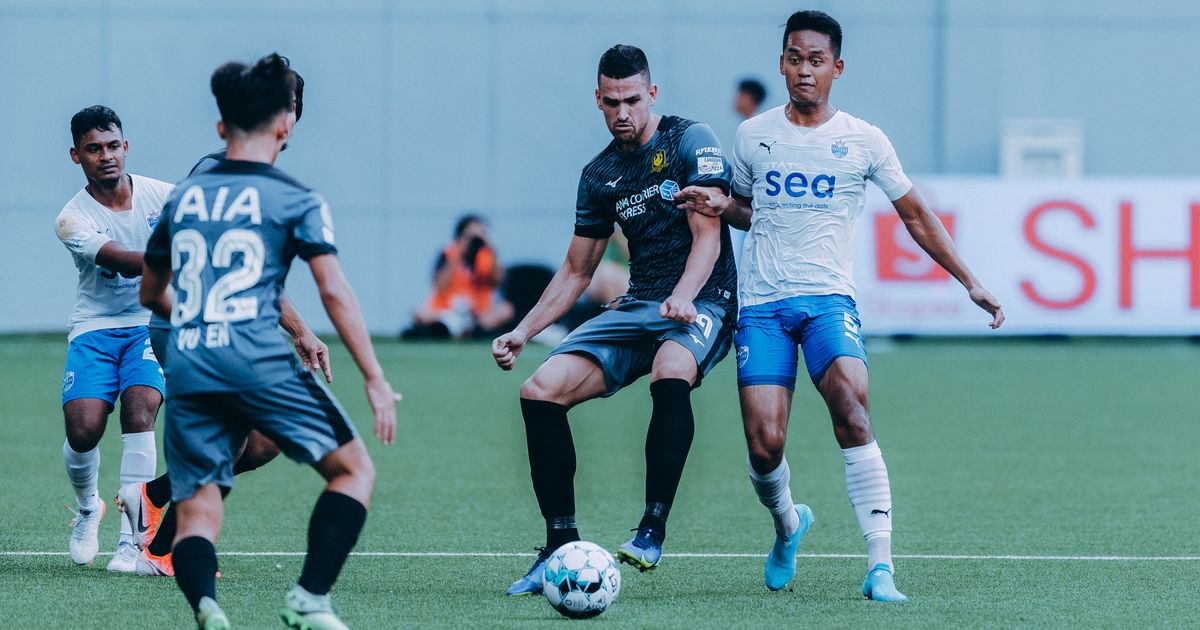 With Gavin Lee's men constantly working their way into dangerous areas, the Sailors stood firm with Diego – on his first start since September 2021 – also putting in a solid defensive shift, dropping back into his area to block off another promising Tampines chance. 
The Sailors' only meaningful opportunity was a 14th minute Shin-wook header off a Diego cross, but that did not hit the target. 
Half-time provided the opportunity for Kim to change things around – with Hafiz Nor coming on to play in an unfamiliar right-back role in place of Naqiuddin, while Adam Swandi replaced Saifullah Akbar as Shahdan's midfield partner. 
The changes appeared to bring more balance to the team, and the Sailors began to show more desire and aggression to press higher up the pitch – with Diego hassling Kyoga Nakamura to win the ball before seeing his curling shot tipped around the post two minutes into the second half. 
The match-deciding moment came in the 55th-minute after Pashia was adjudged to be brought down by Christopher van Huizen in the area. Shin-wook duly stepped up from the spot and had the audacity – as well as execution – to pull off a Panenka effort that bamboozled Tampines goalkeeper Syazwan Buhari.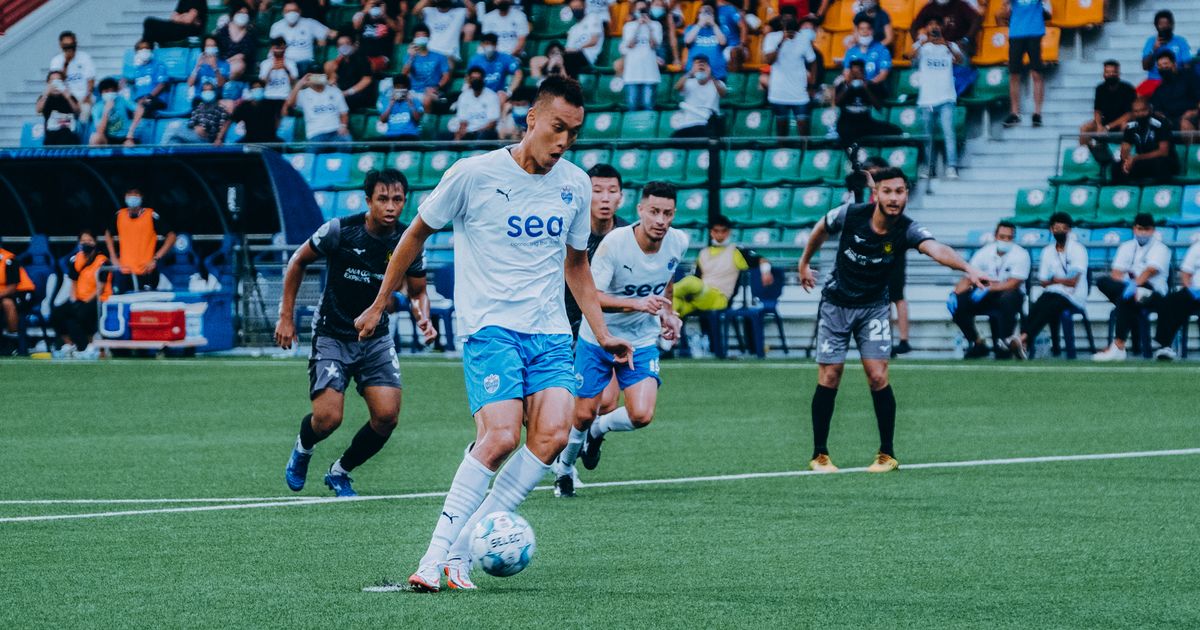 A combination of some dogged defending and Lady Luck thereafter ensured the Sailors held out for the victory. First, left-back Iqram Rifqi produced a goal-saving challenge on Zehrudin Mehmedović when the Serbian was through on goal on 66 minutes. 
Then Tampines saw two goals ruled out – with substitute Firdaus Kasman's opportunistic 68th minute shot disallowed with Yasir adjudged to be interfering with play from an offside position, before Mehmedović was deemed marginally ahead of the Sailors' last defender when he fired home an overhead kick in the area six minutes later. 
In what was a welcome sight, Gabriel Quak then came on for the final five minutes for his first appearance since sustaining a shoulder injury during last December's AFF Suzuki Cup as the Sailors collected their second win of the season to remain level on six points with Albirex Niigata (S) – and one behind leaders Tanjong Pagar United.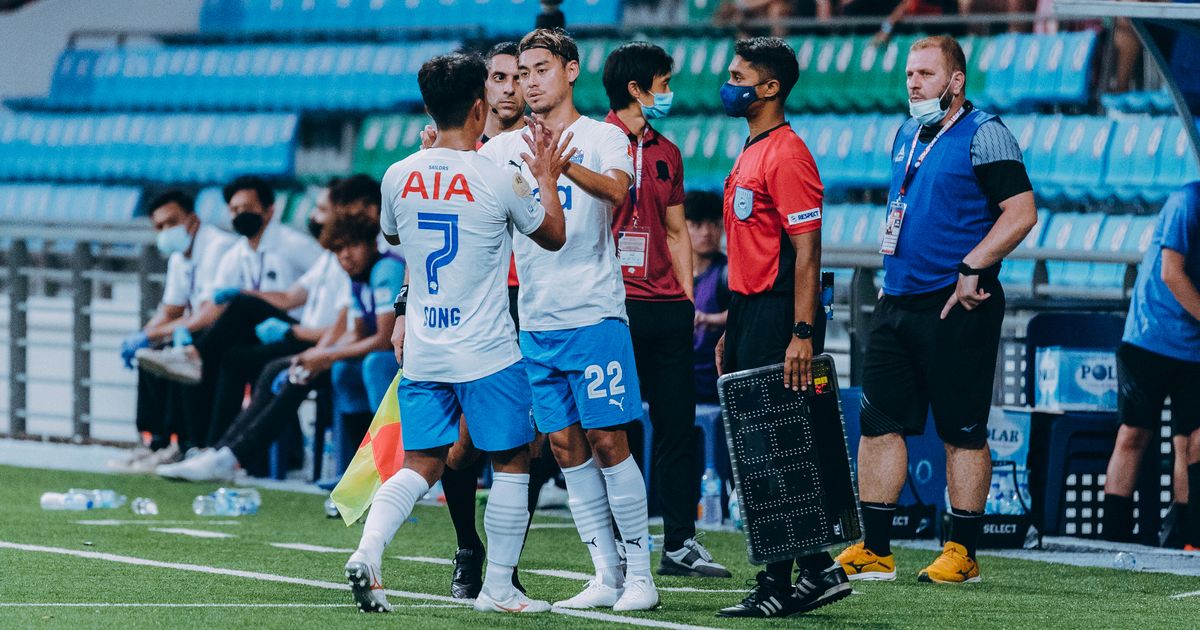 While Kim readily admitted it was not the most fluent of performances, the three points was ultimately most important as they gear up for an important away clash against Albirex this coming Friday (18 Mar). 
"It was a well-deserved victory, the boys did exactly what we asked of them at half-time and changed the game for us, but we won't get too carried away with this win," said the 51-year-old. 
"We know we need to show huge improvement in our football. We need to start to play our football from the first minute, we need to do better in timing our press, and also our positioning.
"(For Tampines' disallowed goals) Luck is part of this Beautiful Game and it's the referee who makes the decisions. For us, we will definitely look back on those images – not to see and decide whether it's a goal – but to work on how we can defend better as a team." 
As the Lion City Sailors trudged back into the dressing room after another gruelling training session at the Jalan Besar Stadium, Song Ui-young was still out on the pitch firing one ball after another at goal.
The Singaporean midfielder was stung by last week's 1-0 defeat to Geylang International that saw the Sailors fall to the club's first defeat in 20 Singapore Premier League (SPL) matches, and he is determined to do everything he can to ensure there is no repeat as the Sailors host Tampines Rovers this Sunday (13 March).
"We were very disappointed that we couldn't take the three points. We were one man down (after Pedro Henrique's sending-off) which made our task more difficult, but there are no excuses for the loss," said the 28-year-old. 
"That game is already history, so we've been focusing on training hard to bounce back in our next game. No matter whether we win or lose, it's always the same aim for us – to keep improving and get better in every area that we should. 
"We have a very strong bond within the team, so the belief and motivation is always very high – we're ready to take the three points this time."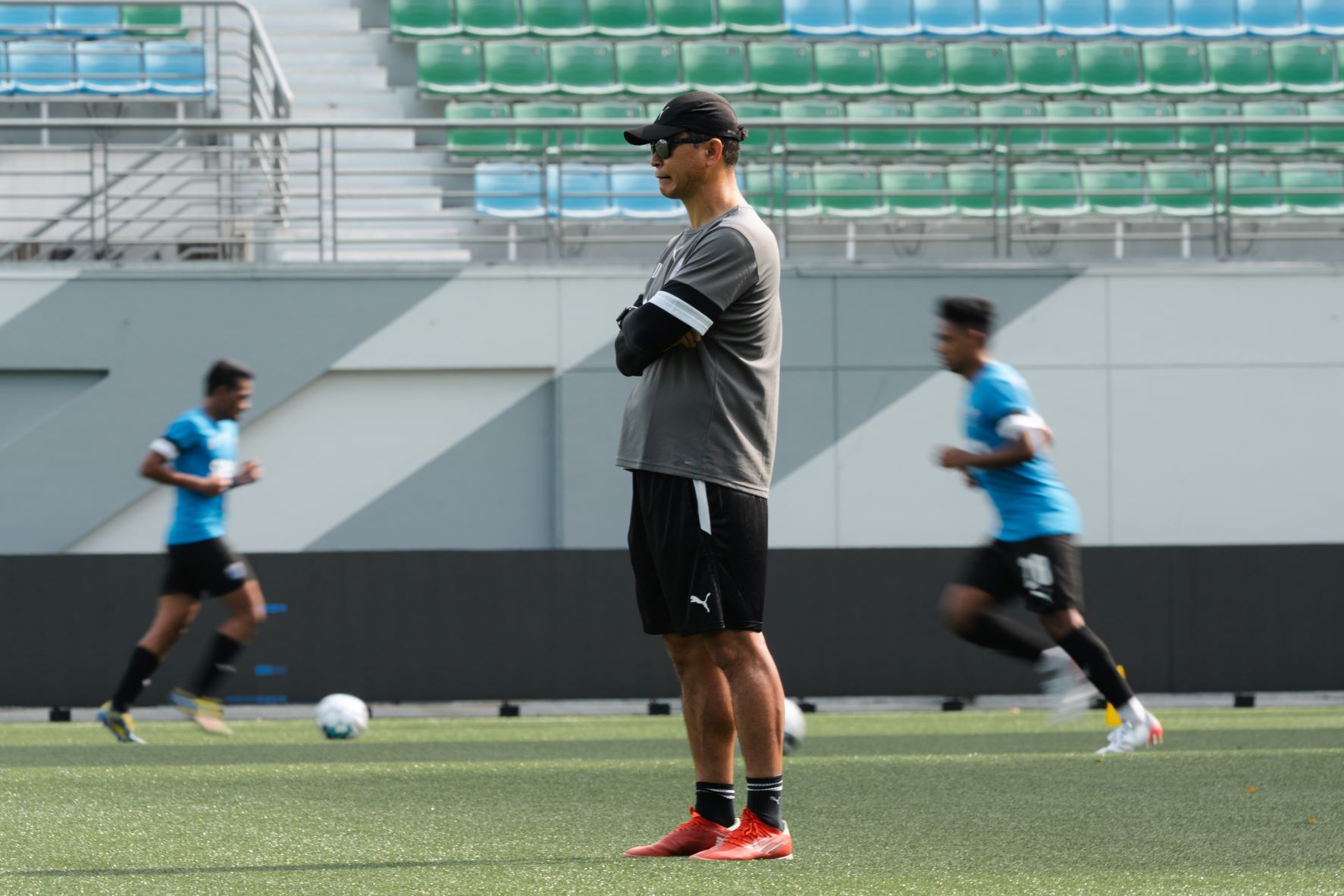 It is exactly this drive that Sailors' Head Coach Kim Do-hoon believes will put his team in good stead.
"I've said before the SPL kicked off that I've been delighted with the spirit that everyone in the team brings to training sessions – and that drive has got stronger this past week," said Kim.
"We are determined to bounce back from last week's loss, and we are soldiering on." 
The Sailors were undefeated against Tampines in 2021, with a 3-3 season-opening draw followed by emphatic 4-1 and 6-1 victories en route to winning their first-ever SPL title. But Song is not bothered by past statistics and prefers to focus on the development of the team in a season where other teams are also vastly improving. 
Kim Do-hoon's men lie third in the table with three points after two matches, behind Albirex Niigata (S) on goal difference, and a point behind surprise leaders Tanjong Pagar United. 
"It's important how we play, not who we play against. We have to focus on ourselves rather than thinking too much about our opponents," stressed Song, who has played in the SPL since 2012. 
"This year, my role on the pitch is a bit different from where I usually play but it doesn't matter. Whatever role the coaches want me to play, I do my best and make sure I support my teammates in the best way I can."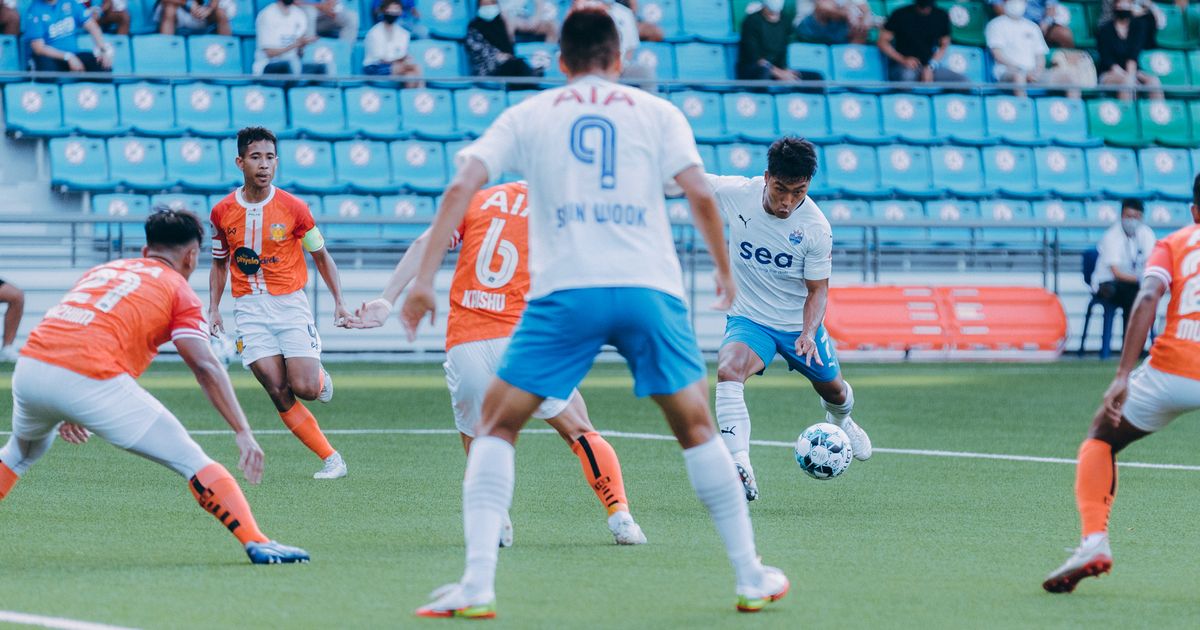 Kim is counting on the spirit and team ethic to help the Sailors to power through what has been a challenging week. 
"We don't expect any easy games in the SPL, and it is clear from results that we've seen so far in the league that it is going to be very competitive this year. Tampines are a good side with quality players who play with a clear structure, and we expect a very tough game," said the former Ulsan Hyundai man.
"The Geylang loss hurt us, and a big part of that was the awful feeling that we let our fans down last week. It is us who have a point to prove in this game against Tampines – we must bounce back from the defeat, and to do that we must win the internal mental battle. 
"And from what I've seen from the team this past week, we are going into the game ready to give everything we've got."
International Women's Day is celebrated across the globe on 8 March, commemorating the cultural, political, and socioeconomic achievements of women. 
In this special feature, we look behind the veil of Sailors women who continue to drive the club forward, to better understand their struggles, challenges and inspiration as they make their mark in the male-dominated Singapore football industry.  
With firm eyes gazing over the green of the Mattar Road fields, Chloe Alphonso barks out instructions with an air of authority that belies her slight figure. She demands nothing less than 100 percent focus from her trainees, because commitment and discipline are critical in sport, and it is also what she demands of herself. 
The 25-year-old is one of the roses amongst the thorns at the Lion City Sailors Football Academy, and like for every trainer – or administrator – in the organisation, football is accepted as serious business, and every member must play their part for the team to succeed.
Football is a largely male-dominated industry in Singapore, but there are those like Chloe who stride freely in and carve out a space for themselves, breaking the bias with their personality, perspective, and commitment to the cause they have chosen. 
The Sailors are blessed to have several such women in the club's ranks, and on International Women's Day, the Sailors celebrate their spirit and effort.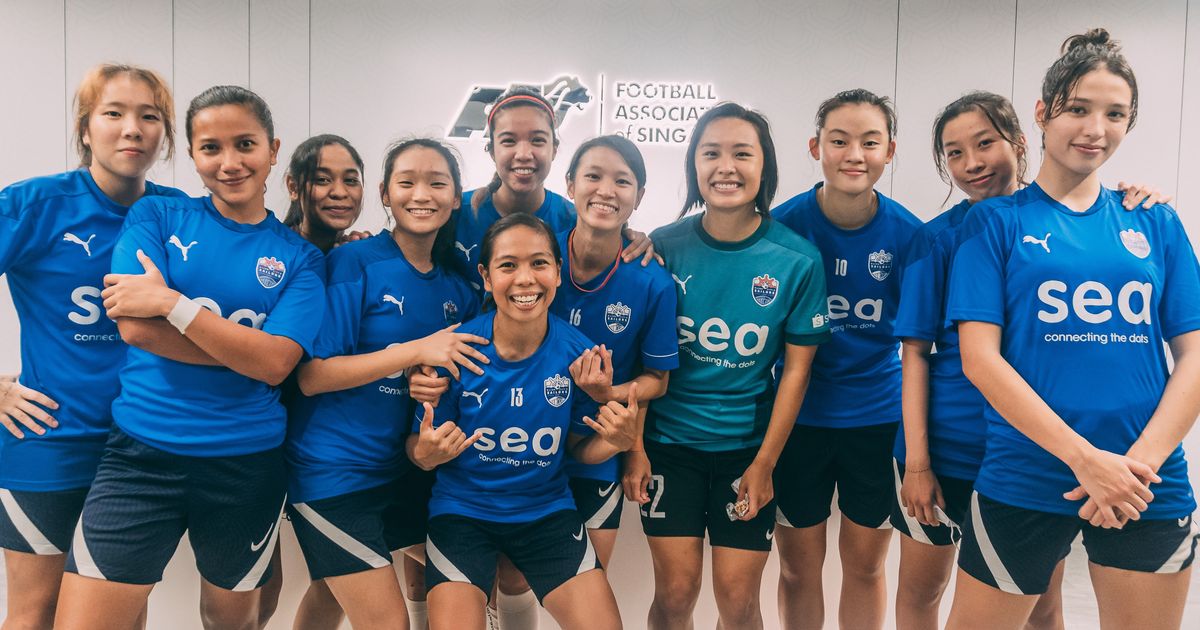 Chloe is a performance trainer who specialises in strength and conditioning (S&C). She assists the Academy's Head of Performance Mark Onderwater and Lead S&C Coach Callum Liddle, and also has the responsibility of leading both gym and on-pitch sessions for the boys from the Under-10 squad all the way through to the Singapore Football League (SFL) team that will participate in Singapore's amateur league. 
The Sailors women
Chloe admits her presence does draw attention and quizzical looks from some surprised parents, but she is confident that her presence is well-merited. 
"Whenever I tell someone about my role in the Academy, their first instinct is "wow!" Jaws start to drop with eyes wide open, but I don't take that as a bad thing," said Chloe, chuckling. 
"It's good that people are impressed that more women are coming into the field and there are many others who are doing the same thing as I am at the elite level." 
Football remains a male-dominated sport, but the ground is shifting. 
More and more females are getting into the game, at all levels, and in varying roles, and it is no different at the Sailors, a club that has embraced the expertise and contribution of women in the organisation.  
Nurhafizah Abu Sujad is the Sailors' Head of Physiotherapy, and also widely celebrated as the Florence Nightingale of local football, while Suzanna Foo is the acting Team Manager for the Sailors' star-studded Singapore Premier League (SPL) team. And then there is Yeong Sheau Shyan who is perhaps the leader of the largest group of women within the club, she is the Head Coach of the Sailors Women's Team. 
Breaking through the wall 
These ladies differ in areas of expertise, in personality and age, but have all faced similar barriers on their road into the sport, but they also share a similar commitment to push past obstacles to drive towards their goals. 
Sheau Shyan struggled to land job opportunities when she first came into the scene in 2006 and only switched to full-time coaching some years later. 
"There weren't actually any coaching opportunities for female coaches, perhaps because schools and academies would rather have some "old uncles" who have a little bit of football experience than to trust a female coach – because they've never seen one before," said the 44-year-old.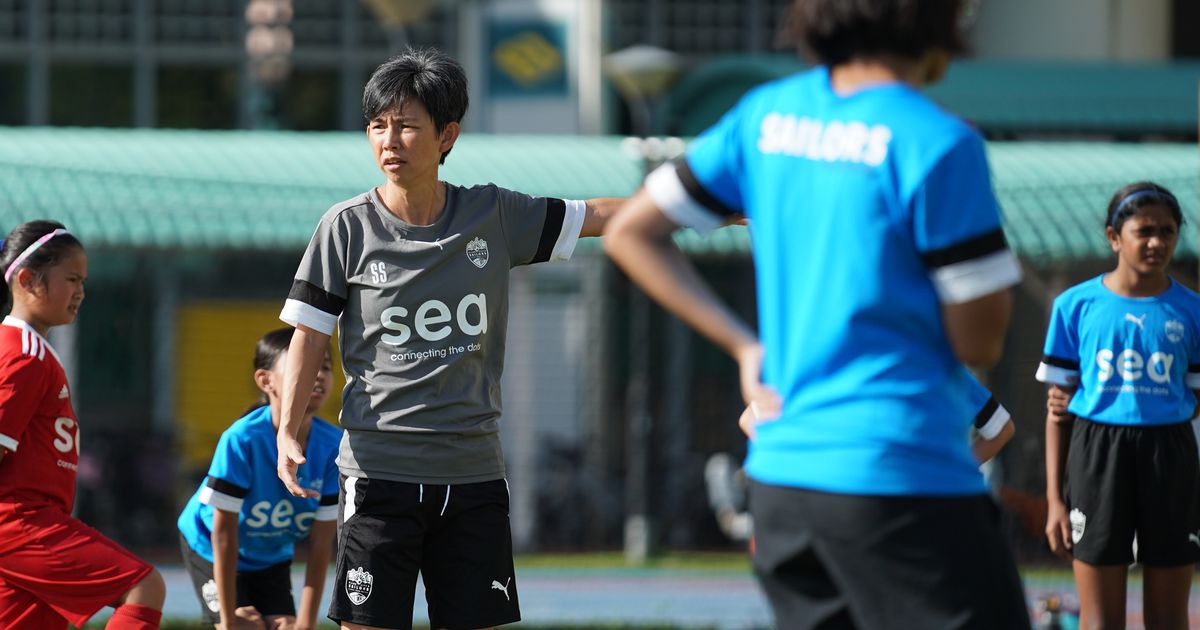 "It was difficult to make coaching a full-time career choice because you only had one or two coaching jobs to try and make enough to survive."
For Chloe who started coaching at the LCS academy some five months ago, after graduating with a Masters in Sports and Exercise Medicine from a UK university, the stigma came earlier when she was a young aspirant in a local polytechnic and was often made to feel she did not belong in this field. 
"People often go like "women in sport? Those don't exist, oh, surely you should pick someone else", or "women aren't capable of doing the things that men are doing". Even in university in the sport science setting, the ratio between women and men was quite obvious," she revealed. 
Suzanna's struggles kicked off in the last millennium – the very year Singapore got its first professional league – but appear to sprout from the same roots.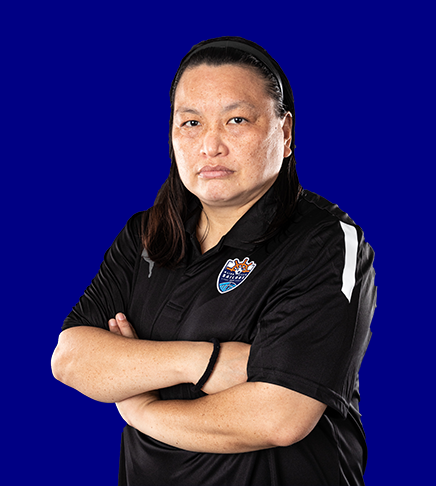 Since the S.League (now rebranded as the Singapore Premier League) was established in 1996, she has worked in football administration roles at the Football Association of Singapore (FAS) as well as at various local clubs' senior teams and youth teams. 
"Back in those days, fewer women were working in football so it was normal for the boys to think that we don't understand this sport and they tend not to open up to women. They used to always believe that men should be the one in leadership roles and not women," said the 47-year-old. 
"Even my mum thought it was not suitable for me to work in football, so we needed to be very strong in our character and be firm in our beliefs. It required a lot of patience and endurance to handle all the issues that came our way in this line of work." 
Challenges still remain 
The challenge of balancing motherhood and career exists for women across every industry, and it is no different in sport. Fizah is well familiar with the bias mothers have had to face in the working world.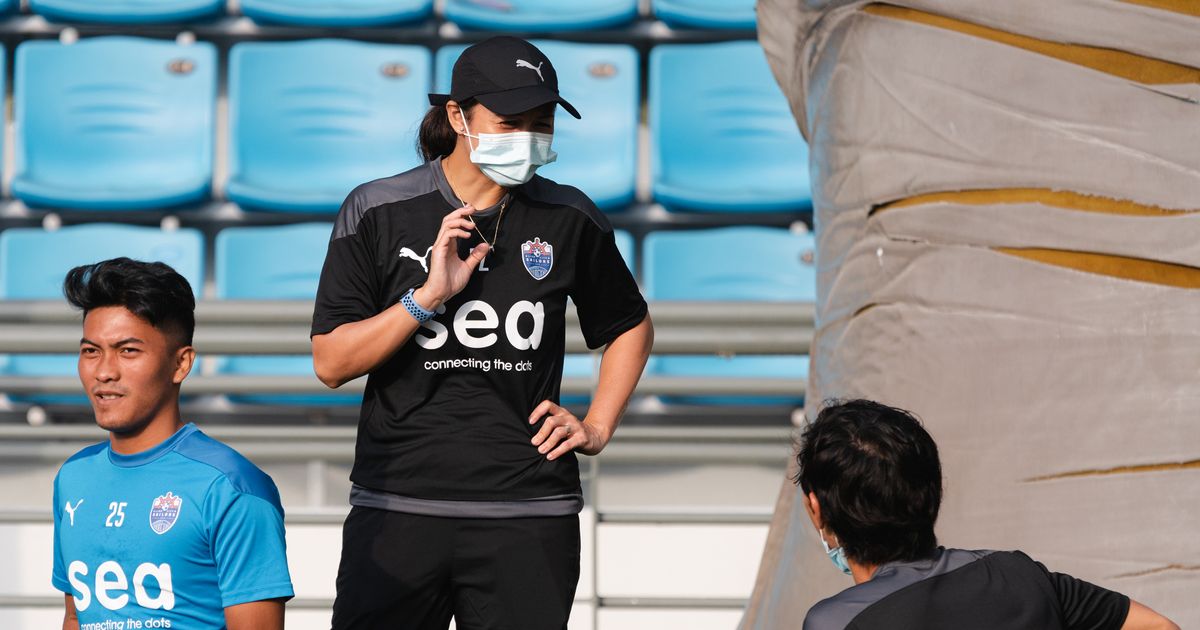 "When I first started as a physiotherapist in football – with the FAS – there were already preconceived judgments being thrown at me. I was a mother of two toddlers, and my prospective employers seemed to believe that I would find it challenging to work in the football environment because it would see a lot of travelling, and I would have difficulty managing work and family," said the 40-year-old. 
"I wanted to prove them wrong, that despite having a family, I can continue to do well at work while continuing to be a good mother to my children, and wife to my husband. 
"Of course you miss birthdays and important events like sports days and kindergarten graduation when you're travelling, but you make up for all that by being present whenever you have time with your family," added Fizah. 
For Suzanna, there is the obvious disadvantage of not being able to walk into the changing room as freely as she would like to and have a deeper conversation with her male players, but she works around this.
Chloe has found a method that has helped her along her own journey: to derive strength from lifting other females who are involved in sport.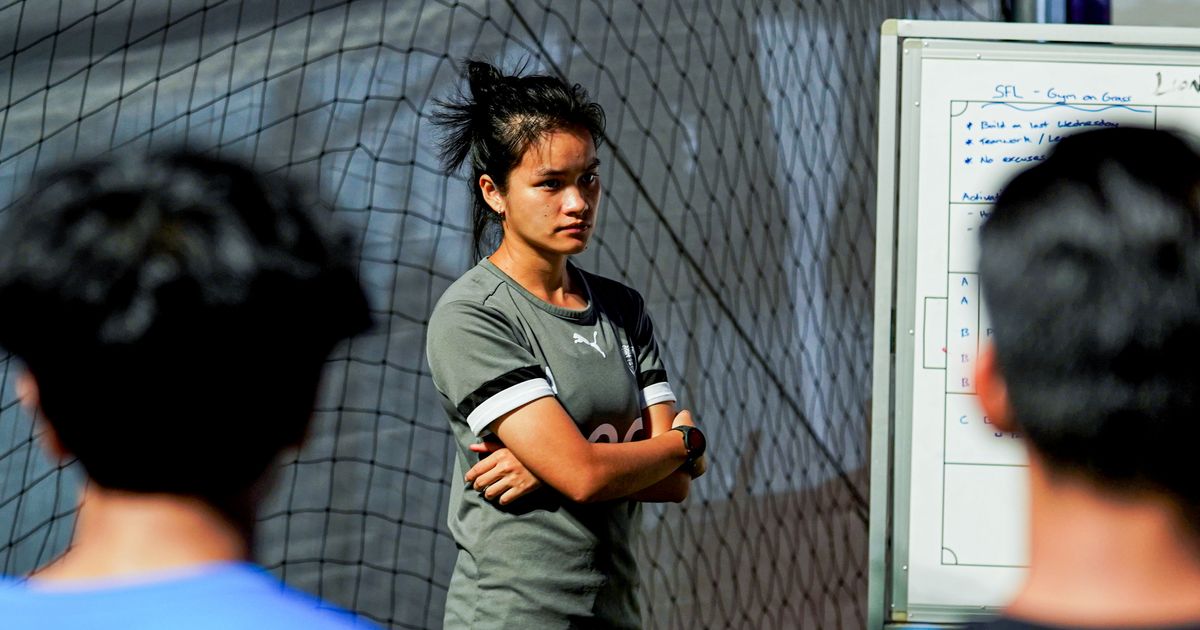 "Whenever I see someone, for instance a personal trainer in a different organisation, I always talk to them and give them support like: "hey, don't doubt yourself! You can do it!" It's important not to let anyone else tell us otherwise, we're more than capable of doing the same thing – if not better than men."
"Just by being around other females and giving them the motivation does a lot because I do need that from others at times as well," she said. 
Support from allies 
On this path less trodden, these Sailors women find inspiration from varied sources, renowned female figures and people who matter most to them. 
Chloe is driven by females working hard to succeed at the top level in various capacities, while Sheau Shyan's coaching philosophy is very much shaped by experienced Dutch coach Hesterine De Reus, who came to Singapore a few years ago as a UEFA technical consultant to support the FAS' Women's Department. 
In difficult moments, Suzanna always turns to her late father's advice – to always be responsible at work. 
"My dad was the one who inspired me to work in football, he brought me to the National Stadium to support the national team when I was young. He was the one who kick-started my love for football and encouraged me to stay on in the sport," she said. 
"He has passed on, but whenever I face any obstacles, I always remember what he said and will fight on."
Fizah's biggest role model is her mother. 
"To help support our large, extended family with at least three generations living in the same household, she worked as a babysitter for extra income. She assumed so many roles at the same time, in addition to being a mother, and that perhaps prepared me for what I was to face as an adult." said Fizah.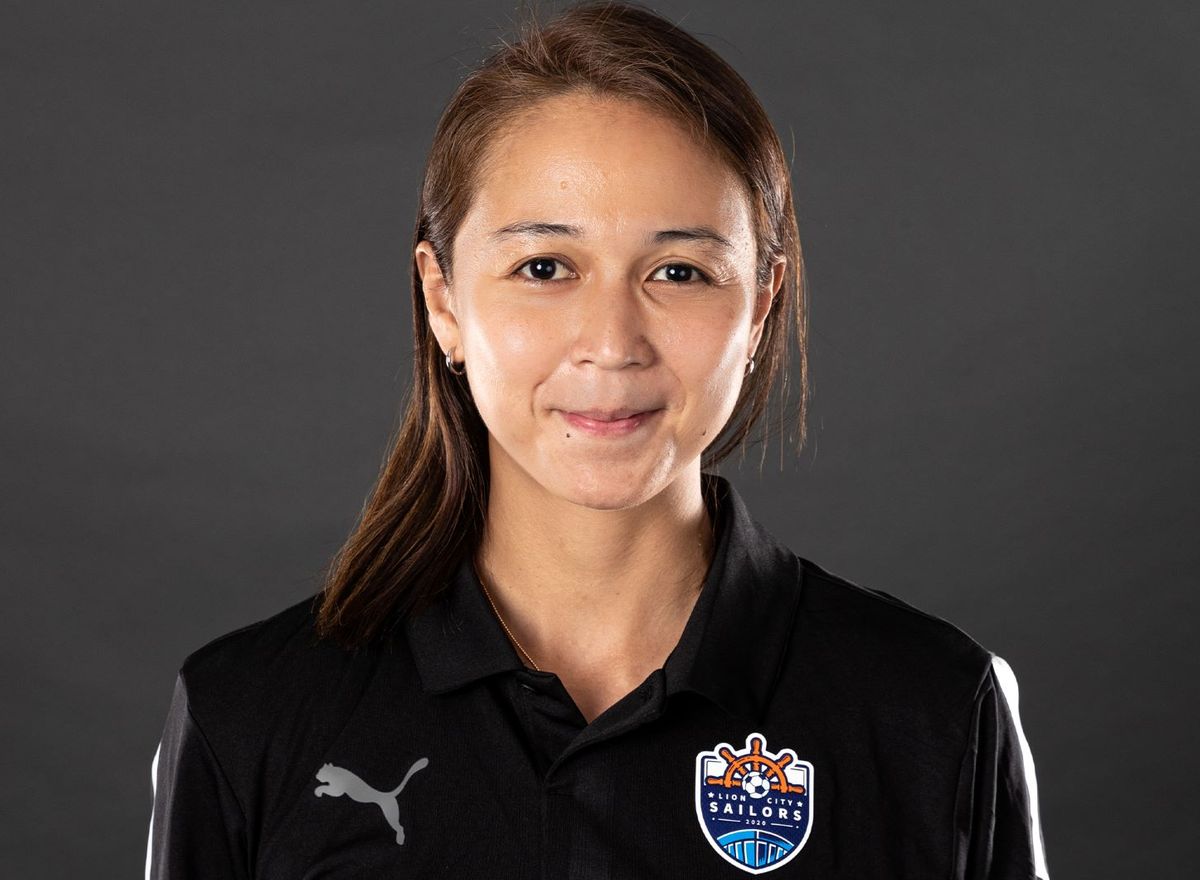 "Her perseverance and dedication to serve all of us really inspired me to do the same – to give more than 100 percent in everything that I took and to do better for those I cared about," said Fizah, who has been blessed with a sturdy support structure at work.
"One of perhaps the most critical aspects of my career as it panned out was that the FAS came to be like my second family," she added. 
"With good rapport and communication with my colleagues, I know I can always depend on someone if I'm down or need to attend to things at home. My team knew when I meant business and what kind of quality of work was required, but they also knew that I was their friend, their sister. It's this kind of environment that allowed me to succeed." 
Significance of International Women's Day
As the world comes together to celebrate International Women's Day (IWD) on 8 March, the 2022 IWD slogan #BreakTheBias means a lot to these Sailors women as they look to go even further in football.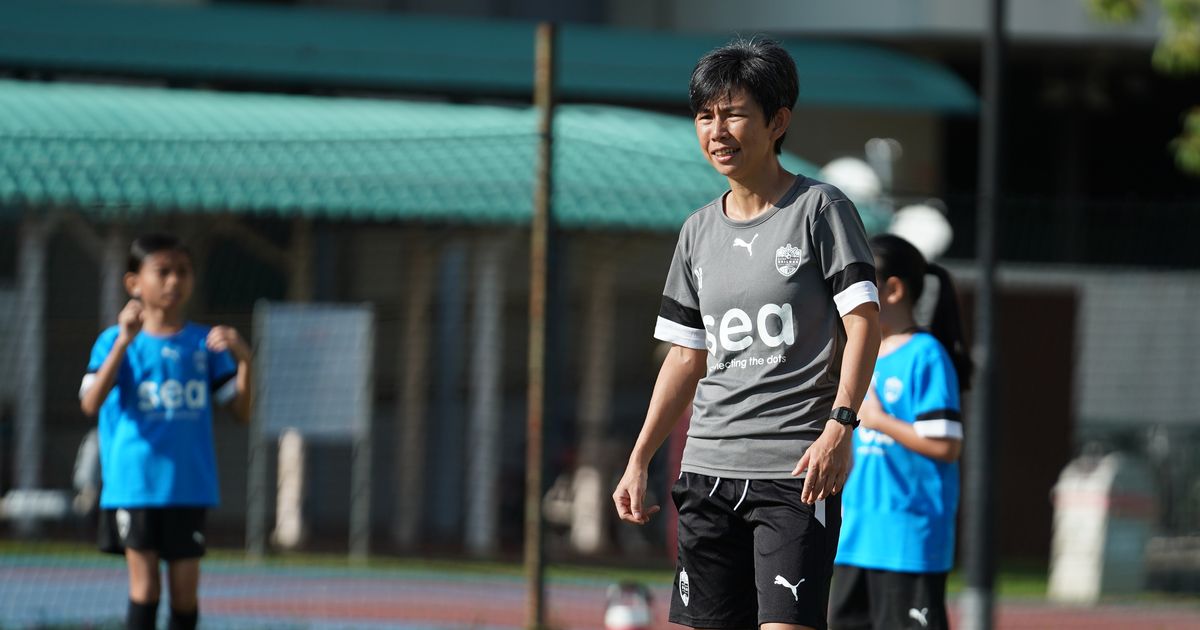 Suzanna and Sheau Shyan are happy that there is more awareness of the issues and challenges facing women in male-dominated environments, while Chloe believes things should go even further. 
"Honestly, it's like Valentine's Day. Love should be celebrated every day – just like we should celebrate women every day!" she mused. "Having a day to highlight the significance of this just shows how much it takes to change the general mindset. 
"I'm not belittling the significance of IWD, I just think it's super important not for just our generation, but also past generations to slowly chip away and break down the stereotypes that women don't belong (in various areas). We need all voices to speak up for women.
"For myself, I definitely aspire to become a Head of S&C or Head of Performance in the future. Seeing more and more females in this male-dominated environment, I've no reason to tap out and I know I just need to keep pushing to achieve my dreams."
Fizah, who is already a leader in her organisation, believes the way forward must see females working to lift each other up instead of viewing each other as potential threats. 
"We've to learn to team up in the spirit of mutual empowerment, to encourage and support one another. That way, we can make it more likely that we are all able to find success together," said the former youth netballer. 
"I live by my alma mater's (Tanjong Katong's Girls School) motto of "Moribus Modestus" – to be a modest individual, but still determined and purposeful in the things that I set out to do," she said. 
"The aim is to be the light that helps those around you to see, and to make a difference in their lives. This motto has kept me going, and it has been especially helpful, considering the nature of my work, when positive energy emanating from me can help those around me."