It took a bit of huffing and puffing, but the Lion City Sailors eventually toppled Tanjong Pagar United's defensive walls on Saturday (27 May) evening to maintain their perfect start to the Deloitte Singapore Women's Premier League (WPL).  
Yeong Sheau Shyan's charges dominated proceedings at the Choa Chu Kang Stadium, dispatching the Jaguars 2-0 in what was their fourth win in four WPL outings in 2023. 
"We did well against a team that was sitting deep. They had only one striker up front and the space at the back was tight, so it was really tough," said Sheau Shyan. "Last year, when teams played like that, we struggled and took a long time to penetrate and score.
"I'm happy with the progress that we are showing."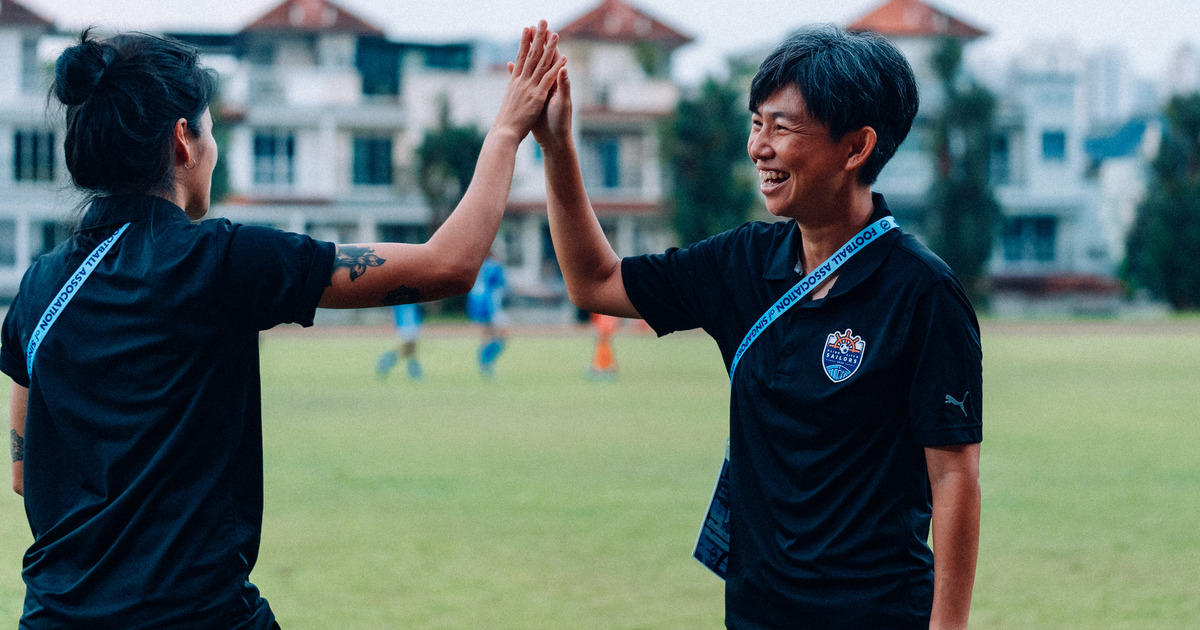 The match commenced as it often has against opposition set up in a low block – with the Sailors dominating possession – but on Saturday, they started to find a way through early. 
The Sailors threatened as early as in the eighth minute when a Miray Altun freekick found Lila Tan, who saw her powerful shot beat Tanjong Pagar goalkeeper Nurul Haziqah Haszman but not the crossbar. 
Lila would not be denied, staying sharp in a melee following Nur Syazwani Ruzi's corner to flick home a header for her first goal of the season in the 19th minute.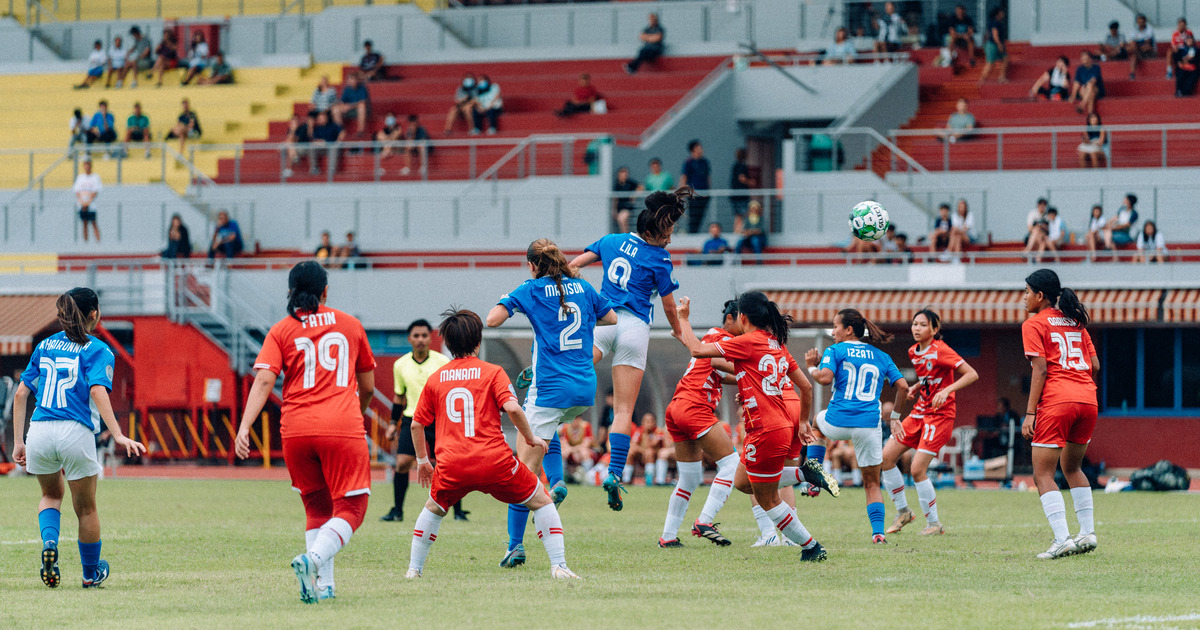 "It's an amazing feeling to score, for sure, but it's really all about the team. Everyone played their best tonight, stayed very disciplined in our positioning and really followed what Coach Sheau Shyan taught us," said the forward, who turns 20 on 4 June. 
The victory was sealed deep into injury time when the irrepressible Nur Izzati Rosni dazzled past the Tanjong Pagar defence to deliver a cross, which Madison Telmer got a touch to, before 15-year-old substitute Ardhra Arul Ganeswaran popped up at the far post to slot home.
"We had three players at the far post and Ardhra was the one that put the ball in. I'm really proud of her, she was an enterprising presence on the Sailors' left flank," said Sheau Shyan, who had much to smile about on the night – especially on the sprinkling of talent that is now beginning to emerge from the Sailors' Girls Academy.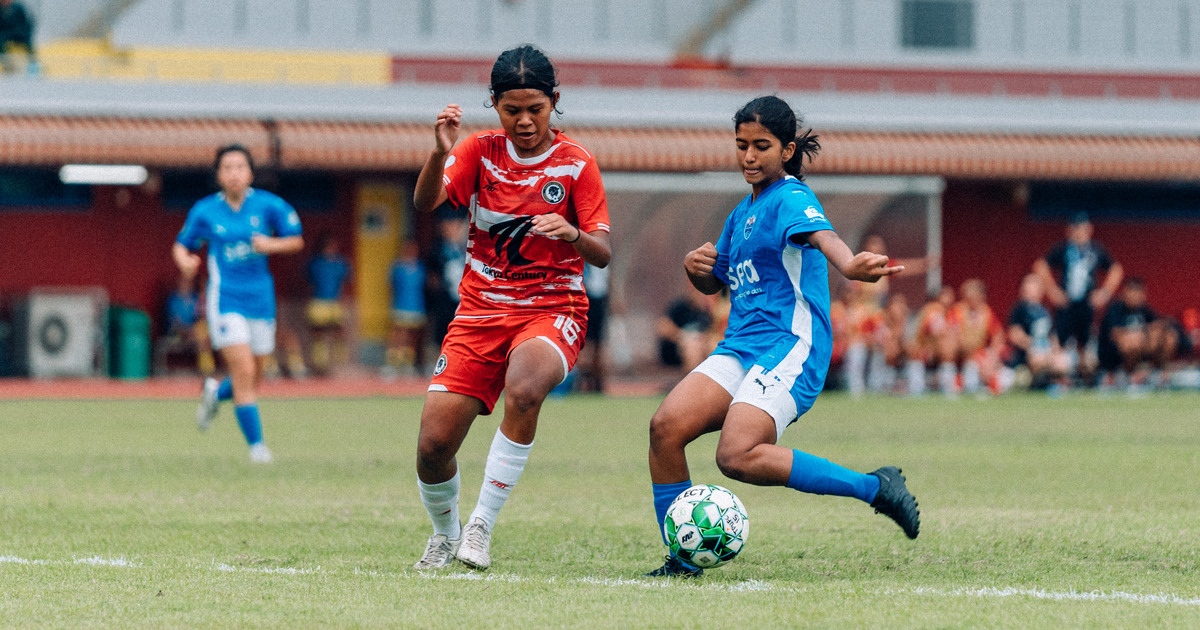 Ardhra is the first player promoted from the Academy to score a WPL goal for the Sailors, while her peers Josephine Ang and Natasha Naszri also came on as second-half substitutes. 
Fellow teenager Madelin Sophie Lock – who turned 16 few days ago – was also handed her Sailors Women debut and put in an encouraging display at the heart of midfield alongside Madison. 
"Madelin did a good job today, she was steady, calm, and elegant during the first half. Performances like these are a testament to our Academy's effectiveness in terms of producing players who can comfortably step into the WPL," said Sheau Shyan.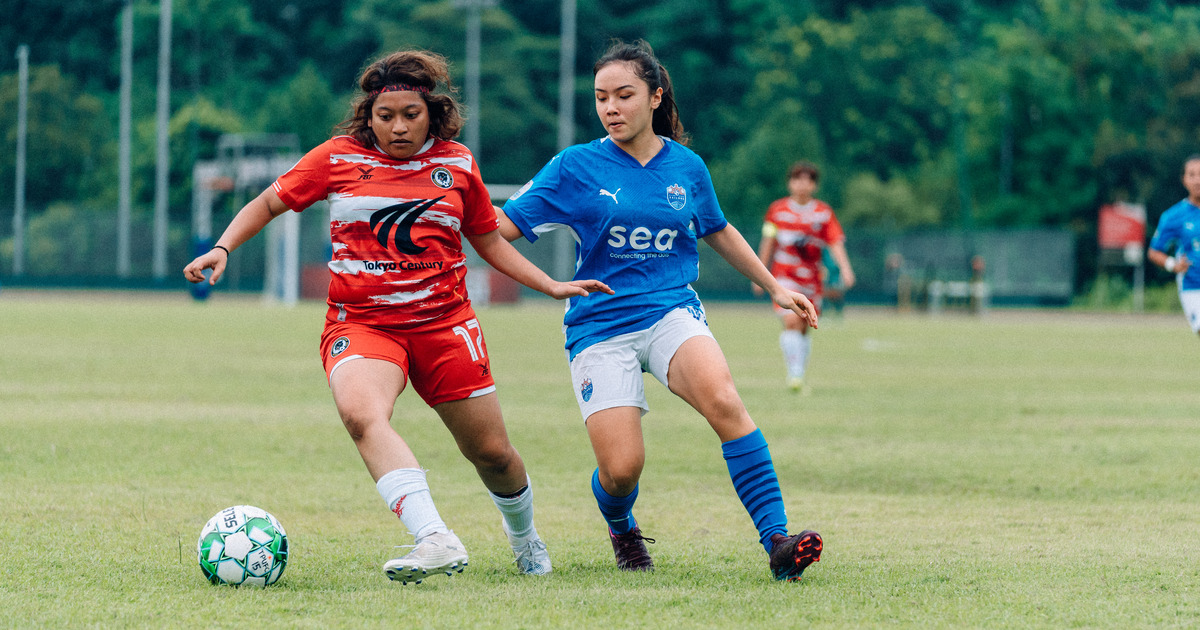 "We have to keep preparing for the young players to step in at any time and with the likes of Madelin, Natasha and Ardhra in the team, the Sailors future looks bright."
The Sailors Women will next take to the pitch some three weeks later, facing fellow WPL title challengers Albirex Niigata (S) on Sun, 18 June at the Yishun Stadium.
Defensive solidity, a fiery desire to win and a classy Paula Druschke curler drove the Lion City Sailors Women to a 1-0 victory over Tampines Rovers at the Choa Chu Kang Stadium last Sunday evening (21 May).
And while the game saw the Sailors dominate possession to register their third win in three Deloitte Women's Premier League (WPL) games in 2023, Nur Syazwani Ruzi asserts that her team must continue to improve if they are to keep their winning streak going against Tanjong Pagar United this Saturday (27 May). 
"We need to utilise our chances to score more goals because right now, we are not converting our chances. Our conversion rate is not great, and this has to be improved," said Syazwani, who was named the Player of the Match in the Tampines fixture for her sparkling display at right-back. 
"I'm always looking to give my 100% no matter the result, and I am very confident in our team's abilities. The team consists mostly of national players, so we have an edge because of our exposure to international football," said the 22-year-old.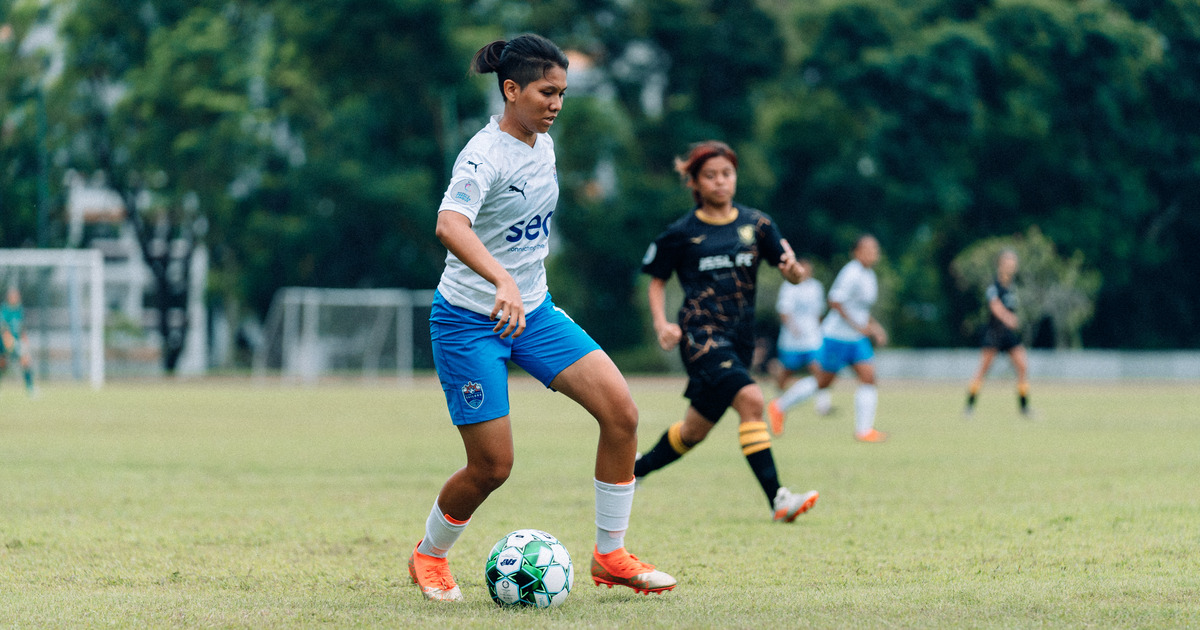 Nonetheless, Syazwani is wary of underestimating Tanjong Pagar, who sit 4th in the 10-team WPL standings with two wins and a loss.
"It will be a tough game because Tanjong Pagar is a resilient team with speedy attackers who can cause problems. Farah (Nurzahirah), Yuki (Monden), and Dhaniyah (Qasimah) can all do damage if we're not careful," she added.
Midfielder Natasha Naszri also cautioned against any form of complacency. 
"We must work defensively and offensively as a team. We have shown before that we are capable of doing this, and if we do it again, I'm sure we can get the result we want against Tanjong Pagar," said the 16-year-old, who made her Sailors Women bow in a 45-minute runout against Tampines.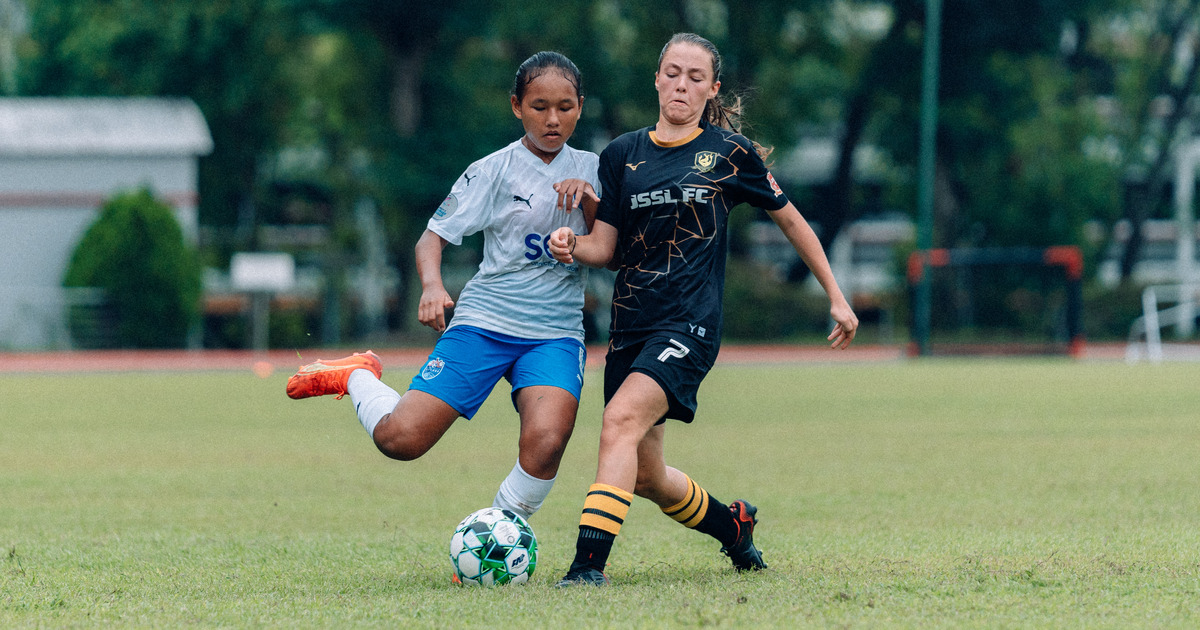 Now gleaning much from training alongside the more experienced girls at the Sailors after being promoted from the Girls' Academy, Natasha is buoyed to achieve more with the reigning WPL champions. 
"I initially struggled against Tampines, but my confidence grew after I got into the game and I was more comfortable playing. Going forward, I want to create chances for the team, and I hope I can rack up good numbers in that area and help the team to win," said the Singapore U16 captain.
"Being one of the youngest in the team, I am happy to be guided by my senior teammates such as (Nur) Umairah (Hamdan), Fatin (Aqillah) and Syazwani. There are so many great players here I can learn from; it's about picking up their good habits on how they train on the pitch and how they take care of themselves off it."
While the debut against the Stags boosted her confidence, the young and forceful midfielder is not resting on her laurels and insists she is only focused on improving her game.  
"I have always dreamed of training in a top-class training facility and being surrounded by so many good players. I'm looking forward to putting in the hard work and helping our team to win our upcoming games," she added.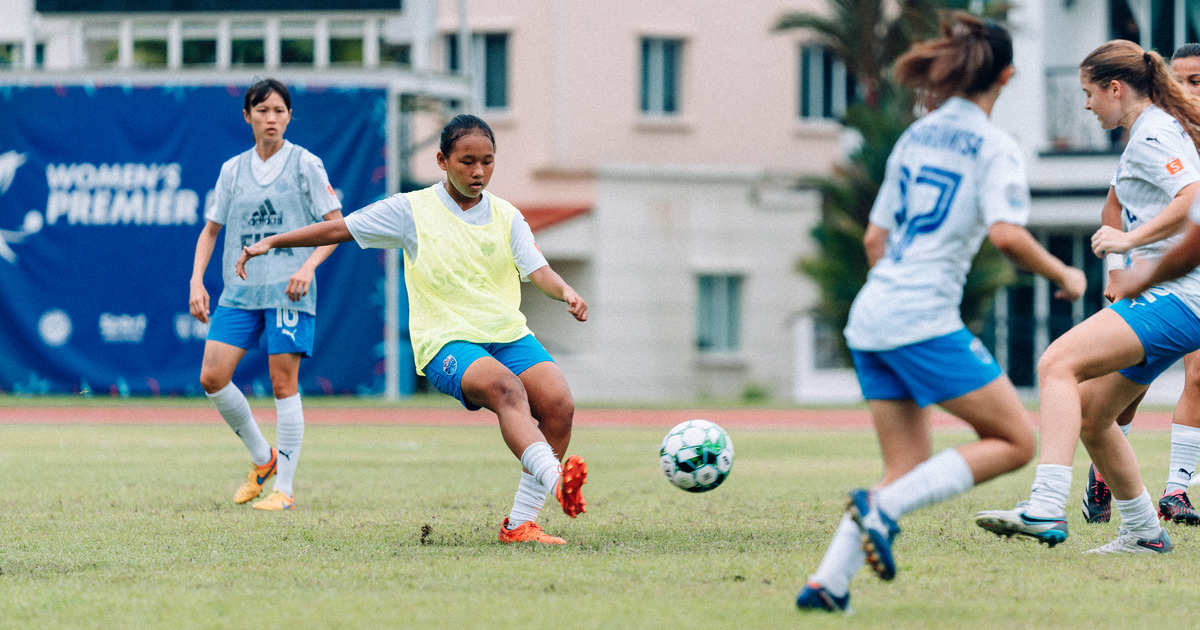 Having witnessed tremendous support from the Sailors' faithful from the Choa Chu Kang stands last Sunday, Natasha hopes her Sailors can turn in yet another performance worthy of the love that has been showered upon them. 
She said: "It was so great to see our fans coming out in full force to support us. They give us this unique energy and motivate us to push harder in the game when we're not doing so well." 
Syazwani echoed Natasha's sentiments, adding: "It is so touching to have fans come down to support us that day against Tampines despite our Men's team playing at about the same time."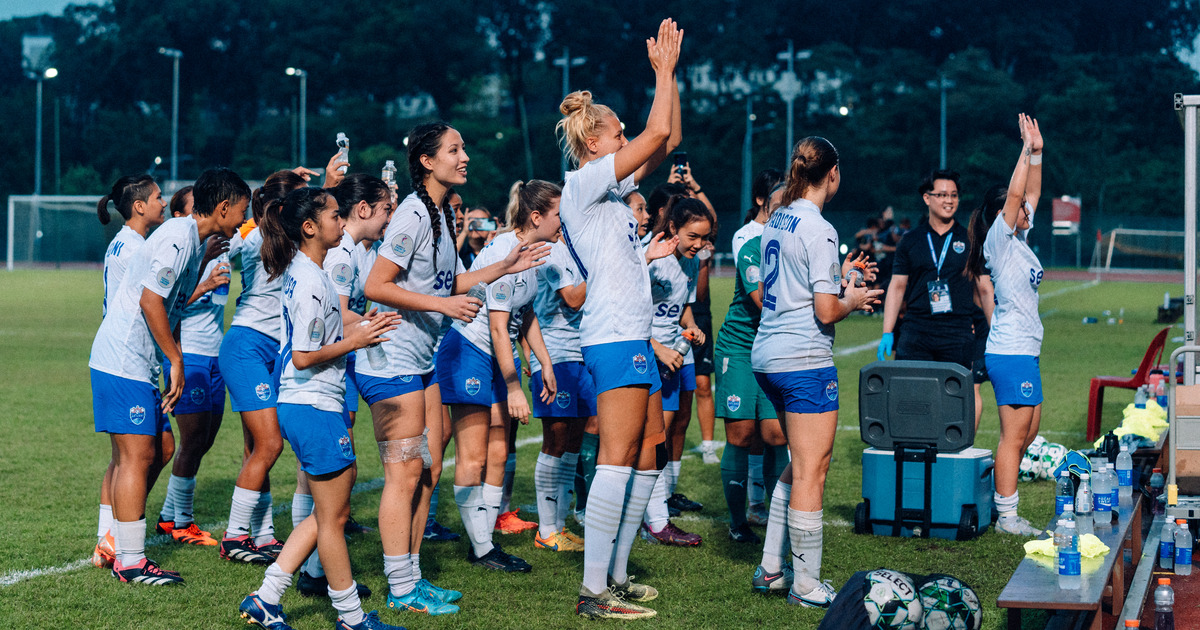 "We really do appreciate it, and I have to tell them: Come and join us this Saturday at Choa Chu Kang, your support will be of immense value to us!"
As the final whistle sounded at the Bishan Stadium on Sunday (21 May), there were hugs and high-fives amongst the 11 Lion City Sailors on the pitch, even a few who fell to their knees.
Chants of "Let's Go, Sailors" floated up into the sky, propelled by blue-and-white scarves spinning and waving in the Bishan stands. 
These jubilant post-match scenes came after Risto Vidaković's Sailors dug deep into their reserves to come from a two-goal first-half deficit to claim a much-needed 3-2 win over Albirex Niigata (S) in the Singapore Premier League (SPL).

Risto was delighted with his changes' ability to bounce back from a sluggish first-half display to find a steely resolve and take all three points – a facet the Sailors Head Coach believes augurs well for the rest of the season.
"We didn't play well in the first half and missed some chances, and everyone had their heads down. It was a cemetery inside the locker room at half-time," said the Serbian, who paid tribute to the character shown by his players.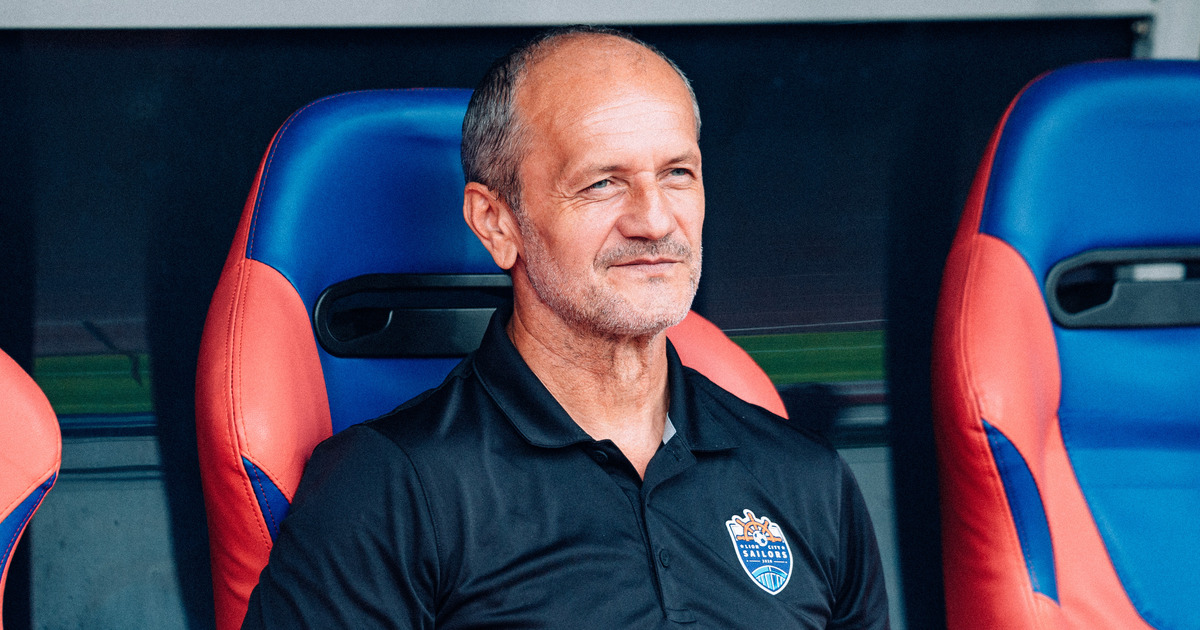 "Football is a game of 90 minutes and we need to stay focused over the course of it. We knew that if we scored one goal quickly, we could turn the result around, and that's basically what happened.
"I'm really proud of the players. They played their best and never gave up."
The result means the Sailors stay well in the hunt for the SPL title – they are now just one point off second-placed Albirex and three behind Tampines Rovers who lead the nine-team SPL standings.
But 12 minutes into the match at Bishan, it looked like a completely different story was unravelling. 
After a disappointing 3-3 draw with Brunei DPMM a week ago on 13 May, the Sailors were looking to bounce back but Albirex stunned the home crowd by racing to a two-goal lead midway through the first half. 
Nur Adam Abdullah unfortunately netted an own goal while trying to clear Seia Kunori's header in the 13th minute, and 12 minutes later, Tadanari Lee stuck out a leg to divert home Kaisei Ogawa's free-kick to put Albirex 2-0 up.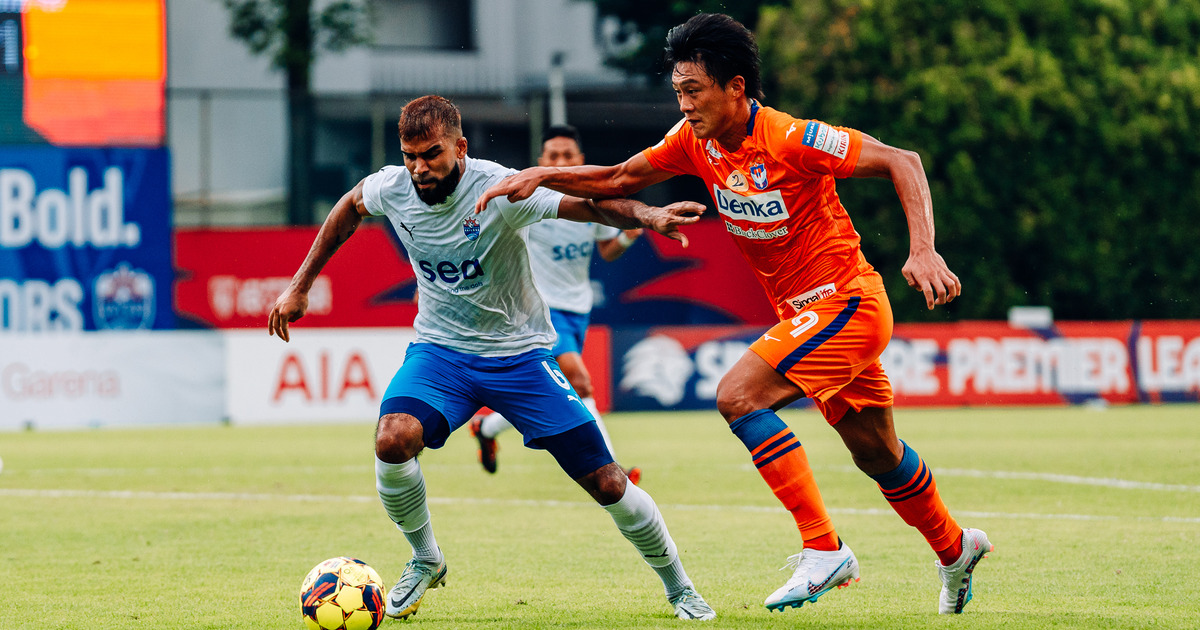 The Sailors then had goalkeeper Zharfan Rohaizad to thank for keeping the men in white-and-blue in the game. He pulled off a superb reaction save to deny Tadanari from point-blank range in first-half stoppage time.  
Half-time allowed Risto's men to change things around – with Bernie Ibini-Isei replaced by Abdul Rasaq Akeem while Hafiz Nor came in at right-back for Zulqarnaen Suzliman. 
The changes appeared to bring more balance to the team, and the Sailors began to show more desire and aggression to press higher up the pitch – with Brazilian midfielder Diego Lopes hassling Albirex midfielders to win the ball.
Things started to flow in the second half, with Maxime Lestienne combining expertly with Diego to work his way into the danger area. The latter then latched on to Shawal Anuar's cut-back from the right flank to slot home to halve the deficit in the 49th minute. 
The Sailors rode on to the momentum and made it 2-2 four minutes later, as Maxime's pinpoint cross eluded the Albirex defence and found Shawal, who slammed home at the far post.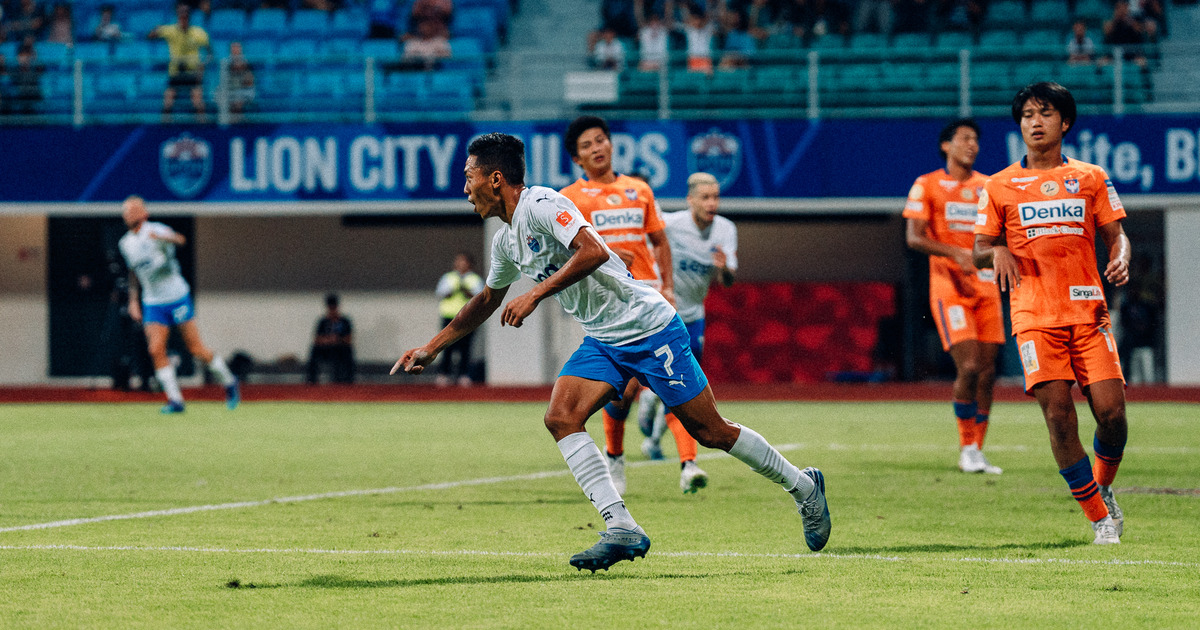 Substitute Riku Fukashiro thought he had restored Albirex's advantage in the 63rd minute, but an acrobatic goal-line clearance from Hafiz Nor on his 70th appearance for the Sailors kept the score level. 
The Sailors continued to dominate and completed the comeback in the 75th minute. 
After an excellent cross from Maxime, Rasaq connected with a sweet volley that flew past Hassan Sunny to make it 3-2 and win the Sailors the game. 
The scorer of the match-winning goal, however, was modest about his contributions to the team. 
"The team worked very hard today to claim the three points – we were working hard the whole week too – and Albirex is not an easy team to play against. I am happy that I played my best and contributed to the team's win," said the 21-year-old.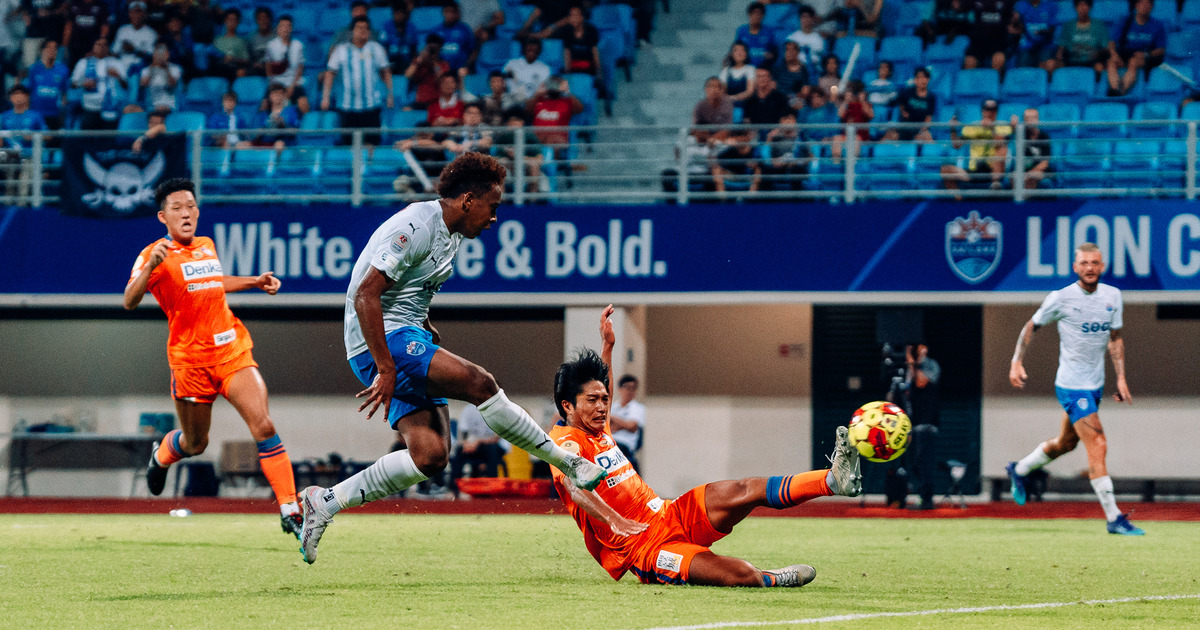 "However, we cannot be complacent, and we must carry this confidence to the rest of the games as well."
This drive for improvement is exactly what Risto is asking for. 
"We cannot stay stagnant, we need to work hard to improve our team chemistry further and see how we progress even more as a team – but it is great to know that we can show character in tough situations," said the 54-year-old.
"It's not just about scoring goals. We want to be more composed on the ball, know how to release it quicker, circulate it, and most importantly, play beautiful football for our fans to enjoy.
"It was as if we waited for the fans to come in with the cheers to pick up our performance," said Risto, chuckling. "But I have to say the support from them helped to bring us to a different level, they really are our 12th player."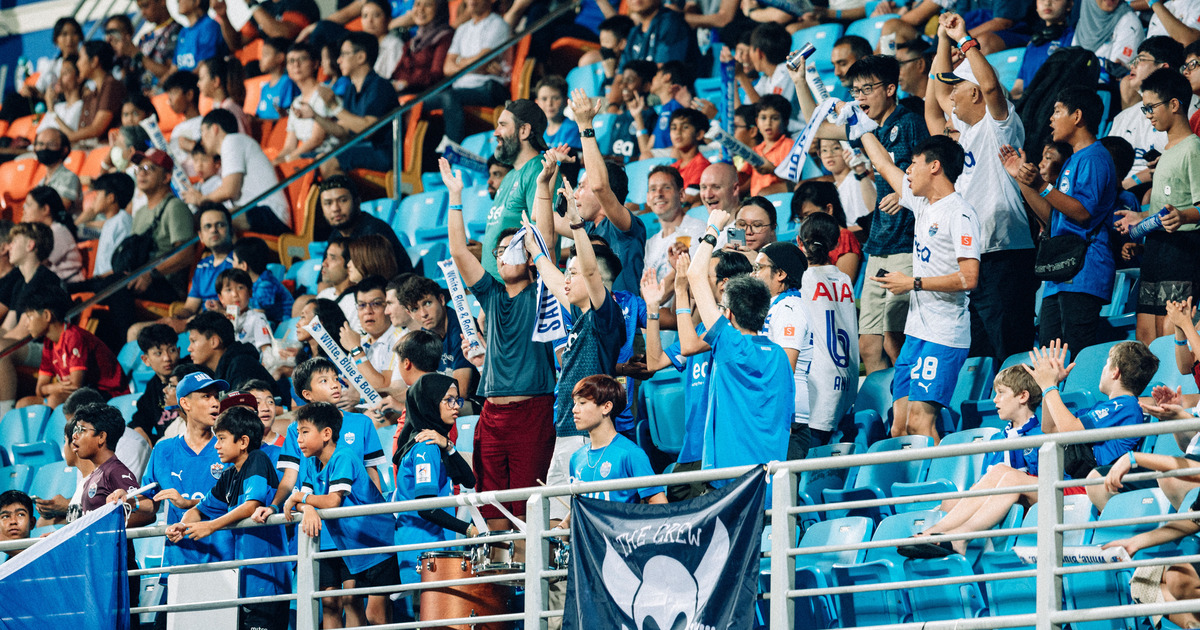 The Sailors' next SPL game will see them take on Balestier Khalsa at the Bishan Stadium next Thursday (1 June). 
A late goal. A matchwinner. A perfect parting gift.
The script could not have been written any better for Lion City Sailors Women's team forward Paula Druschke.
Playing her final game for the Sailors last evening (21 May) before returning to Germany following the end of her school exchange programme, Paula was determined to leave the club with a bang.
And the 20-year-old duly delivered.
With the Sailors unable to find a way past a resolute Tampines Rovers side in their Deloitte Women's Premier League (WPL) fixture at Choa Chu Kang stadium, Paula was sent on from the bench to provide more goal threat for her side.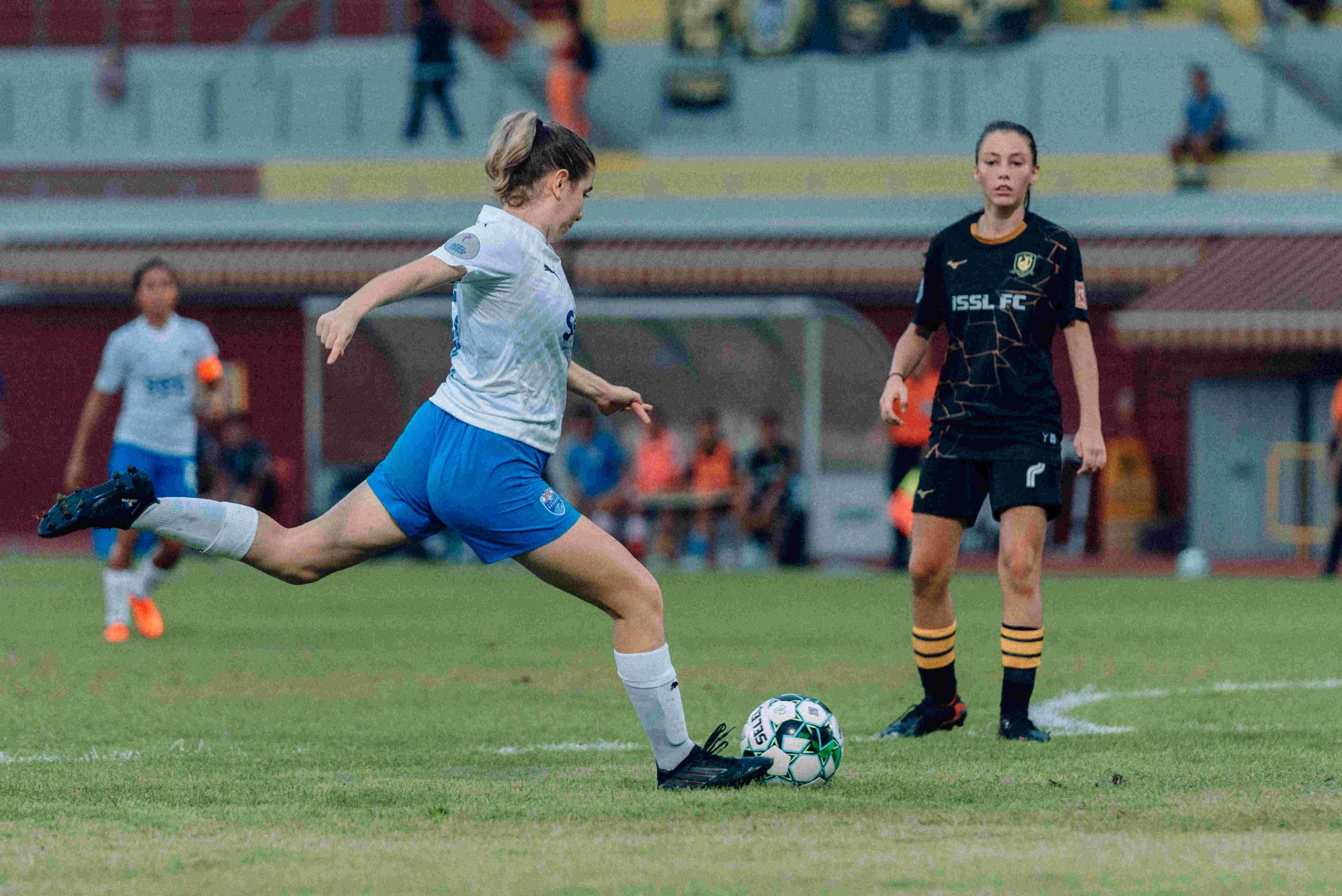 It proved to be a masterstroke, as she produced a moment of magic in the 87th minute – a first-time curler with her left-foot that sent the ball into the top corner of the net – to secure a 1-0 win for the reigning WPL champions.
"That goal was something every one of us wanted so badly for Paula," Sailors Women Head Coach Yeong Sheau Shyan said. "Paula's brought a lot of energy and laughter to the team. She's always raring to go, ready to run at defenders with the ball, and gives her all in every training session and match.
"The team adores Paula, not just as a player but as a person. She's family forever and we will miss her a lot."
However, while the Sailors' night ended on a good note thanks to Paula's goal, Sheau Shyan admitted that the outcome of the game could have easily turned out differently.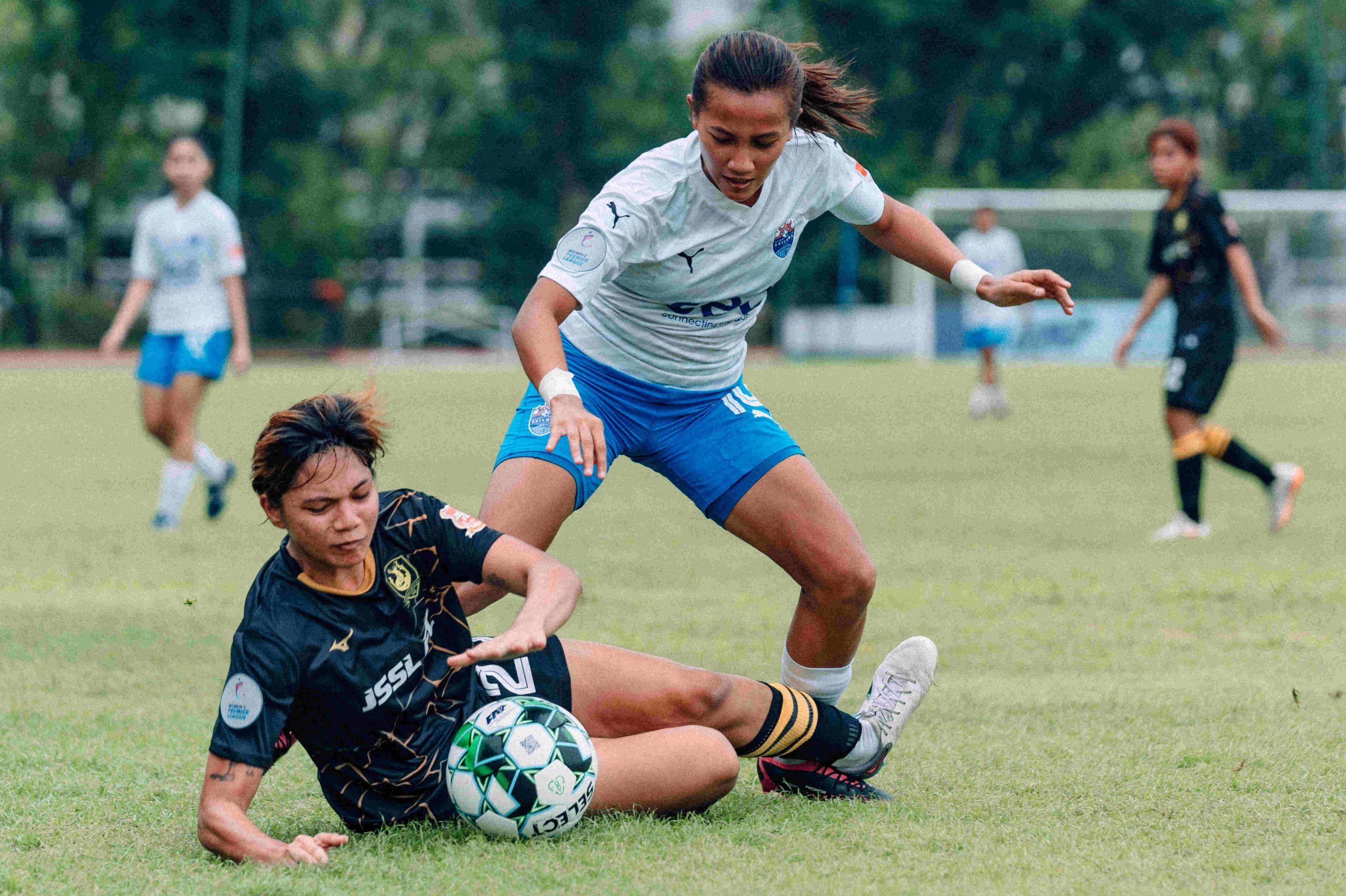 "The game really could have gone either way today. We were very fortunate that Paula gave us a valuable parting gift," Sheau Shyan mused. "Although it looked like we had good possession, we gave away the ball too often in the middle third. 
"Honestly, I was very concerned with the way we played in the first half.  We have seen enough games last season when the opponents took one chance to score despite us having more of the possession."
Sheau Shyan was especially concerned with her team's lack of penetration and cohesion in the attacking third.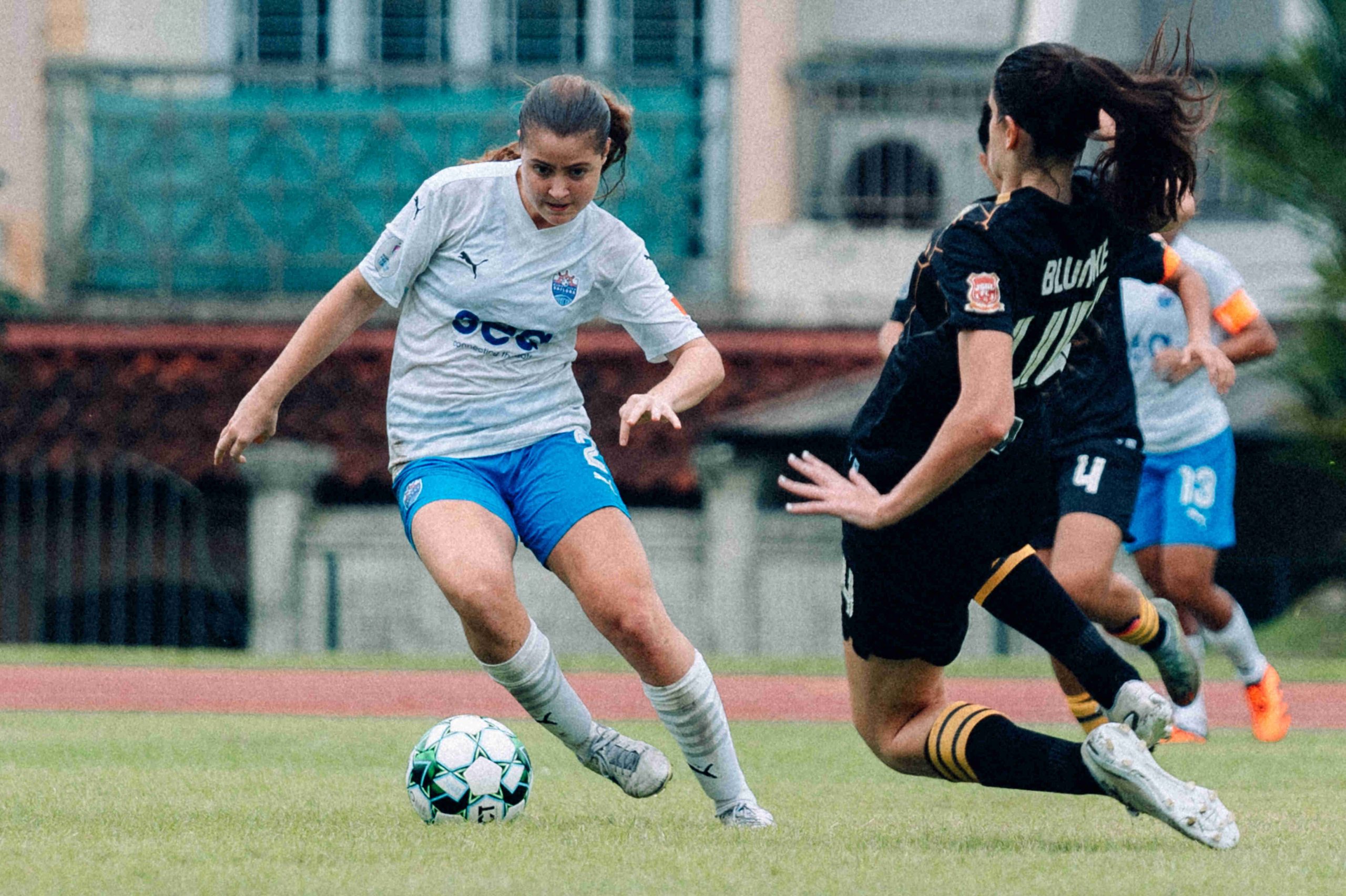 "Throughout the game, we were consistently getting into the attacking third on our right flank. But our conversion rate from crosses was zero. This has to be improved," Sheau Shyan elaborated. "As mentioned before the game, our team's preparations were disrupted for more than a month due to national team commitments, and we've always struggled to adjust back to our attacking style when the players return from their international duties.
"We must work on getting our groove back, to improve the players' movement off the ball in the attacking third. It's also important that we turn our possession into goals."
Nonetheless, Sheau Shyan praised her players for their persistence in getting the winner, as she added: "The players have a strong belief that we will score even when we are goalless for long periods in a match. They keep going at it, and I'm very proud of them for that. I think this shows that we've grown as a team in terms of composure."
The Sailors, who remain perfect this season with three wins in three games, will next take on Tanjong Pagar United this Saturday (27 May) evening.
The Lion City Sailors were held to a 3-3 draw by a dogged Brunei DPMM side at Jalan Besar Stadium on Saturday (13 May), but Risto Vidaković and his men have put that result behind them, turning their focus firmly to the important task at hand – a tasty encounter this Sunday (21 May), against Singapore Premier League leaders (SPL) Albirex Niigata (S).
It is a high-stakes battle at the Bishan Stadium for both clubs, with the third-placed Sailors looking to close the four-point gap that stands between them and the White Swans who have a game in hand.
Tampines Rovers are second in the nine-team SPL standings on 23 points, three ahead of the Sailors. 
Nur Adam Abdullah is confident that the Sailors will bounce back and is backing his side to show tenacious fortitude against Albirex, who triumphed 4-0 the last time the teams met back in March.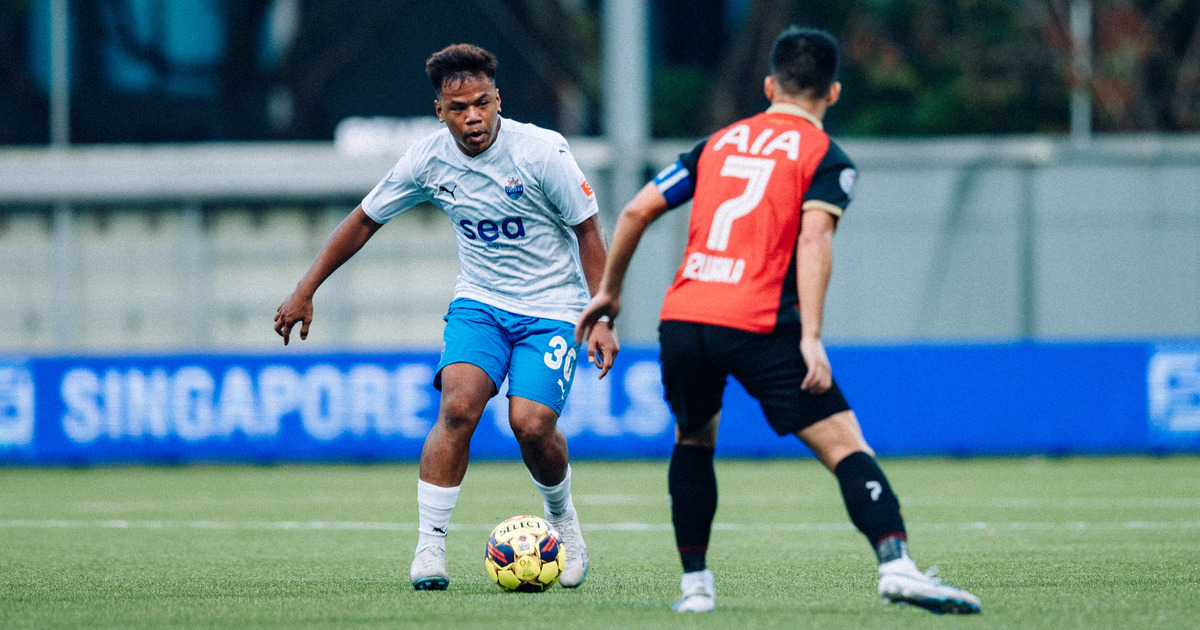 "All of us came into the DPMM game to get the win, so we were disheartened to concede late. A win against DPMM would have set the stage nicely for us, but that draw certainly doesn't define us, and I'm confident we'll be able to show what we're made of against Albirex," said the full-back. 
"Albirex look very sharp this season, and it will be tough facing them, but we're progressing well as a team in the game model that Coach Risto has laid down for us – we just have to finish the chances we create," added the 22-year-old, pointing to the DPMM encounter.
"We should have closed that game with the chances we created, but we didn't do that, and we were punished. We can't let that happen again."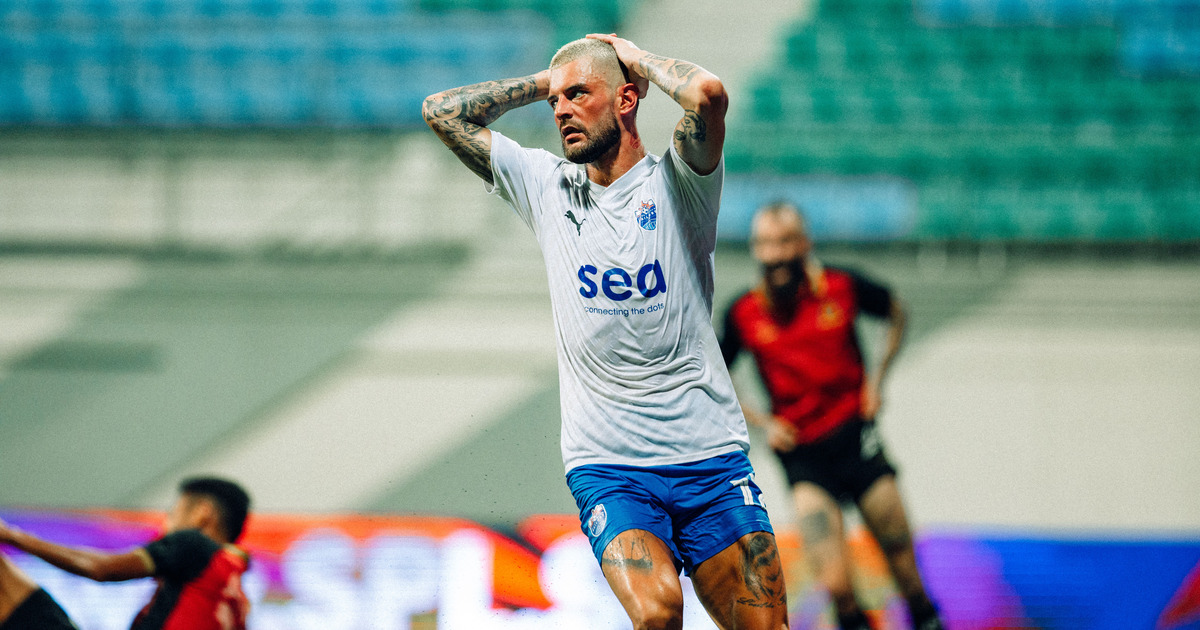 The Sailors twice came from behind to take the lead against DPMM with goals from Maxime Lestienne and Diego Lopes. With the score at 3-2, the Sailors had a couple of chances to put the game to bed, but instead it was DPMM's Andrei Voronkov netted a 89th-minute equaliser to seal his hat-trick and steal a share of the spoils for Adrian Pennock's side.
Manuel Herrera López, nicknamed Súper, called for laser-sharp focus from his teammates as they battle to stay firmly in the hunt to wrest the SPL title from Albirex, the defending champions.
"We must win against Albirex to bridge the gap between them and us. We must make sure to concentrate for the entire ninety minutes to get a win that will boost our challenge for the title," said the Spanish centre-back. 
"I will do everything I can to help the team for this Sunday's big match, and that is the approach all of us have."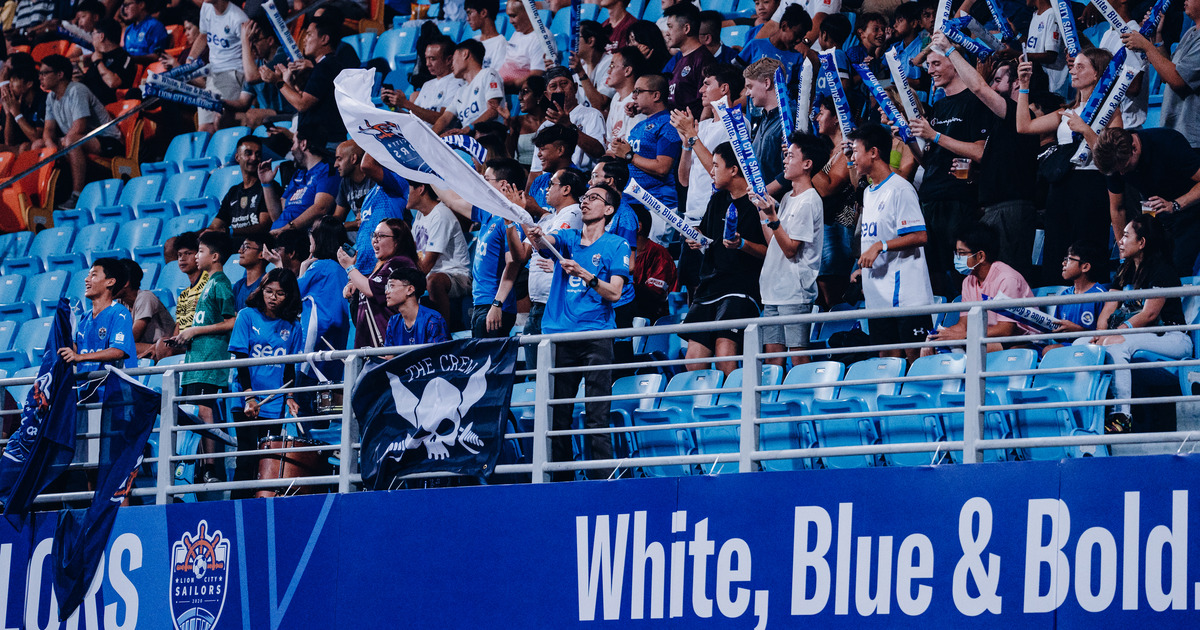 Nur Adam sang from the same song book. 
"Albirex are sitting at the top, and we will go into this with everything we have," he declared.
Nur Adam is also champing at the bit to impress and deliver for the Sailors' cause, and he firmly believes that the Sailors will have a spring in their step when they walk out at the Bishan Stadium – where they have won all four home games thus far.

"It is always good playing on home ground because The Crew will be there to support us, and the feeling is special. The fans are our 12th man with their voice giving us that something extra."
They have had to play on difficult pitches, cope with the departure of key players, and find a way to overcome ultra-defensive teams intent on disrupting their game.
 So far, the Lion City Sailors Women's team has managed to pass every test they have faced, often with flying colours.
This Sunday (21 May), however, the reigning Deloitte Women's Premier League (WPL) champions  – who won two games out of two thus far  – will have to overcome their toughest obstacle yet, when they take on Tampines Rovers at the Choa Chu Kang Stadium.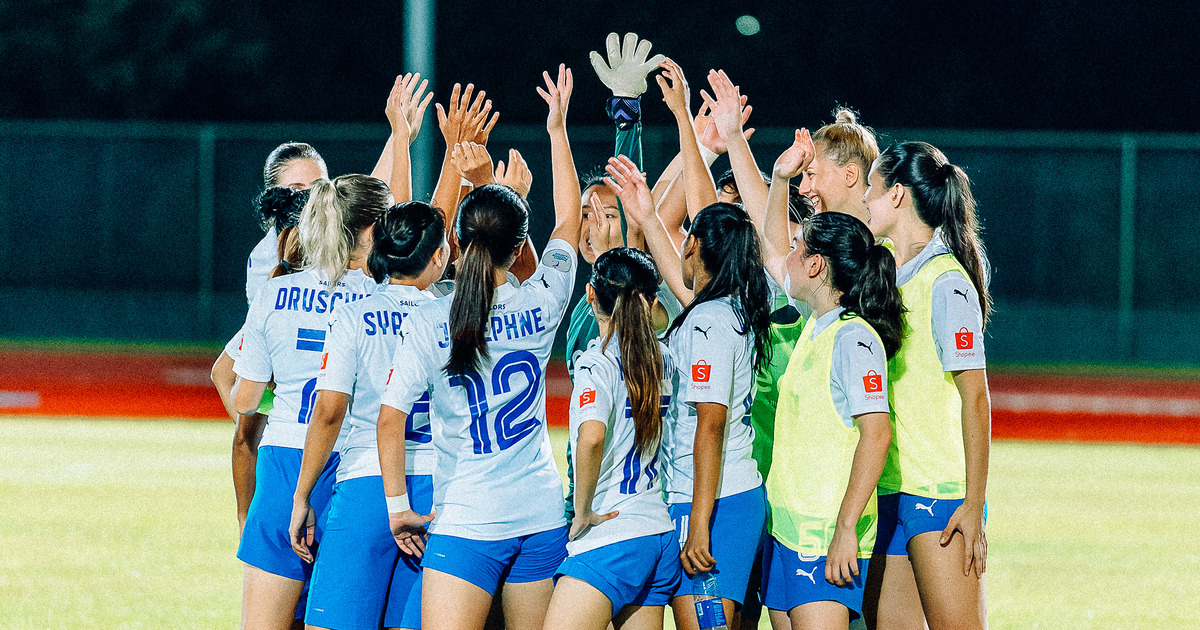 But it is not the formidable challenge posed by the Stags – who boast the likes of Singapore National Team players Farhanah Ruhaizat and Stephanie Gigette Dominguez – that keeps Sailors Women head coach Yeong Sheau Shyan up at night.
Rather, her primary worry lies in the emotional and mental burnout experienced by most of her players in the aftermath of the recent Southeast Asian (SEA) Games. A total of 11 Sailors players were called up to the Singapore team that bowed out of the group stage with one win and two losses. 
"The SEA Games not only put the players under a lot of stress physically, but also took a toll on their emotional and mental state," said Sheau Shyan. "Even though they are back in Singapore now, many of them are still trying to recover. 
"It's understandable, because they had trained especially hard in the month before the Games, with many of them even taking no-pay leave to focus on National Team preparations."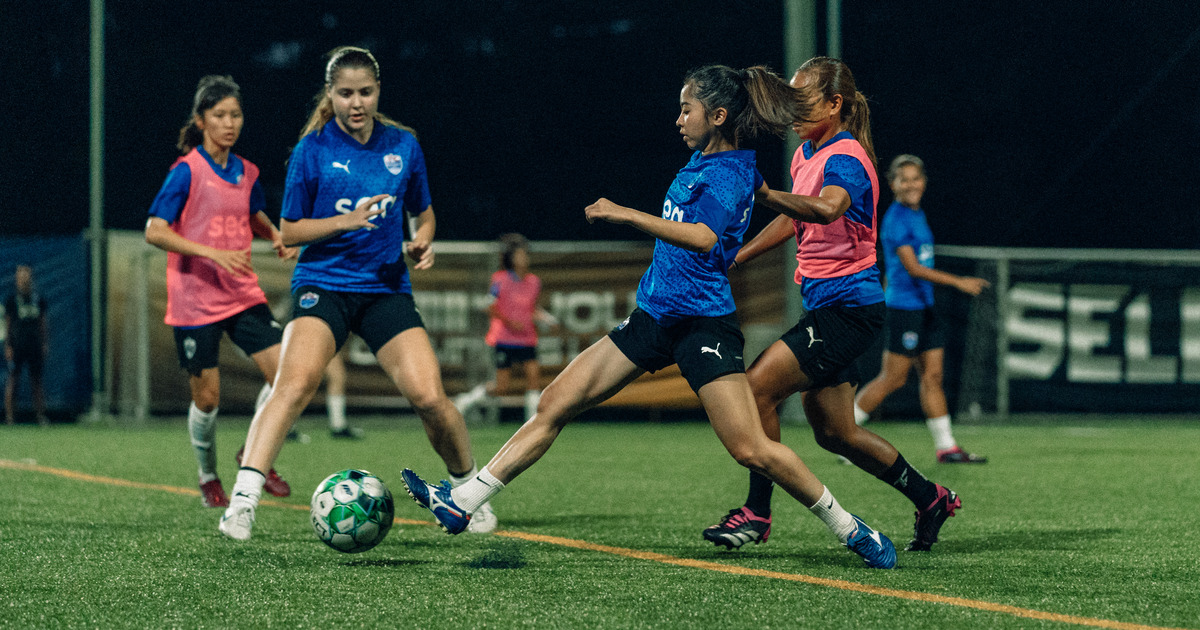 Sheau Shyan also revealed that she has concerns over whether her players can adapt quickly enough to playing the Sailors' style of football, which is markedly different from what is asked of them at the National Team.
She elaborated: "The players wouldn't have remembered much of what we've been preparing at club level; their minds were on other formations and tactics, because the National Team plays in a different way. For them to adjust back to our style of play is going to take some time and that's something I've been trying to get them to do for the past week. 
"Most of our players were called up for the Games, so for the past month, we've only been able to do individual and small-group training for the few players remaining. But it is what it is – these are things that we know we have to cope with and we're up to this challenge."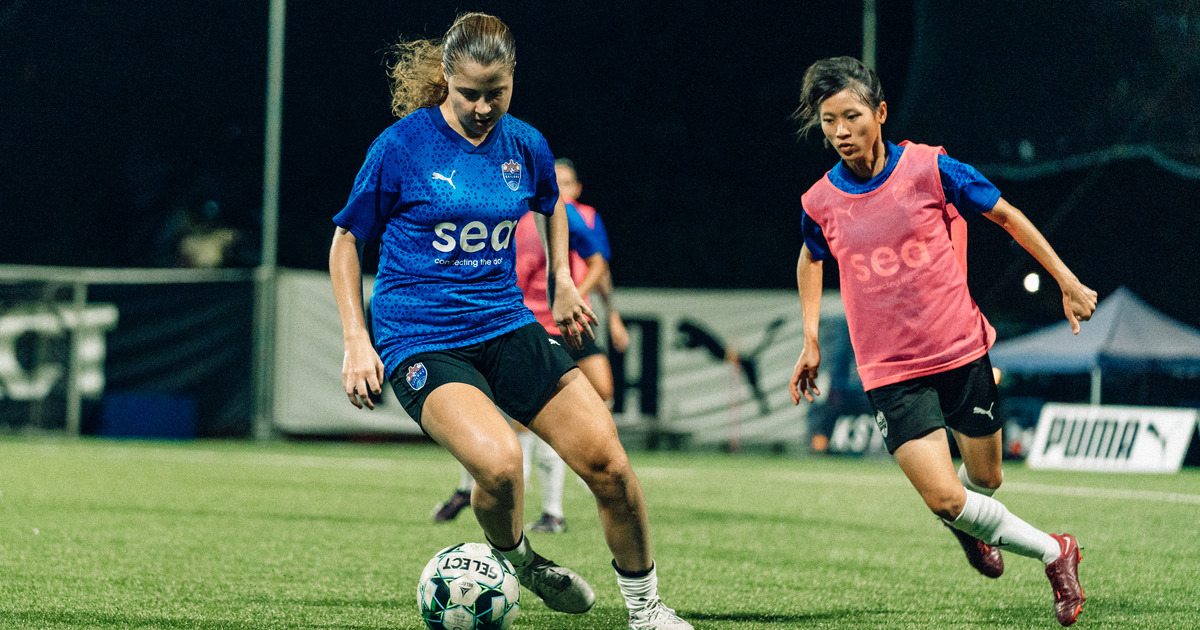 Given the difficulties faced by the Sailors, Sheau Shyan expects her side's fixture against Tampines to be a scrappy affair.
"This is the biggest test for us and will allow us to see how strong our girls are mentally," she said. "But I might have to play some of the younger girls who may not be tactically ready, but at least they'd be in a better physical condition.  
"It's not going to be easy for them to come in and adapt straight away, so I expect this Sunday's game to be a messy battle, and whoever wants it more will win. Tampines are an up-and-coming team, so this will be a good challenge for us."
The SEA Games experience, however, was not completely without its merits. For Nur Umairah Hamdan, it gave her a chance to understand the game from a different perspective, as the 21-year-old – who plays as a centre-back for the Sailors – was deployed as a centre-midfielder for the National Team.
"The SEA Games was tough, but it was an eye-opening journey for me because I played in a new position," Umairah explained. "It taught me how to push my limits and try something new.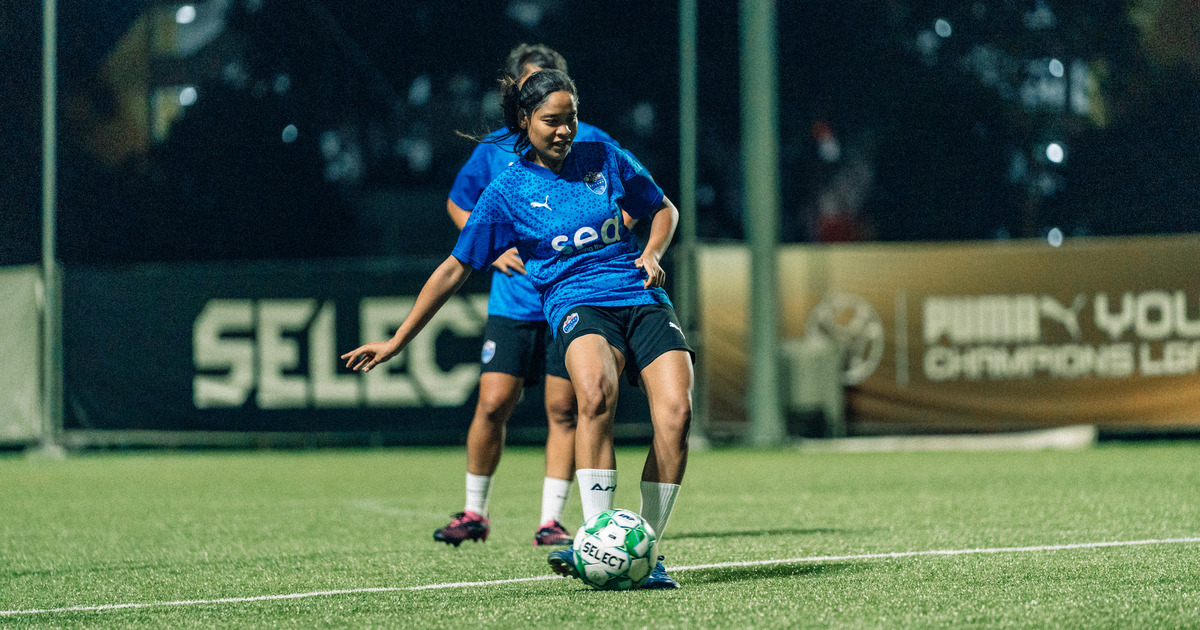 "More importantly, I'm more aware of how a central midfielder sees the game, and how they would like to receive the ball from defence. So now I have a better understanding of how a midfielder plays, I can help them out by giving them the kind of passes that makes life easier for them."
The challenging experience of the Cambodian Games also brought the Sailors in the National Team closer together.
"We bonded a lot at the SEA Games. We were together in close proximity, and we helped each other throughout the physically and mentally draining journey," said Umairah.
"But we're all now excited to go back to play in the WPL. We miss the local league and playing for our club. I'm looking forward to stepping onto the pitch as a Sailor again and we're all relishing this responsibility of helping the club become champions again."
They had the opportunity to close the gap on Singapore Premier League (SPL) leaders Albirex Niigata (S), but the Lion City Sailors were held to a 3-3 draw by a dogged Brunei DPMM side at Jalan Besar Stadium on Saturday (13 May) evening. 
After the Sailors had done brilliantly to come from behind to take the lead twice, Andrei Voronkov netted a 89th-minute equaliser to seal his hat-trick and steal a share of the spoils for Adrian Pennock's side. 
The result was enough for the Sailors to leapfrog Tampines Rovers – who face Tanjong Pagar United later today – into second in the nine-team SPL standings on goal difference. But it left Risto Vidaković's men wondering what could have been.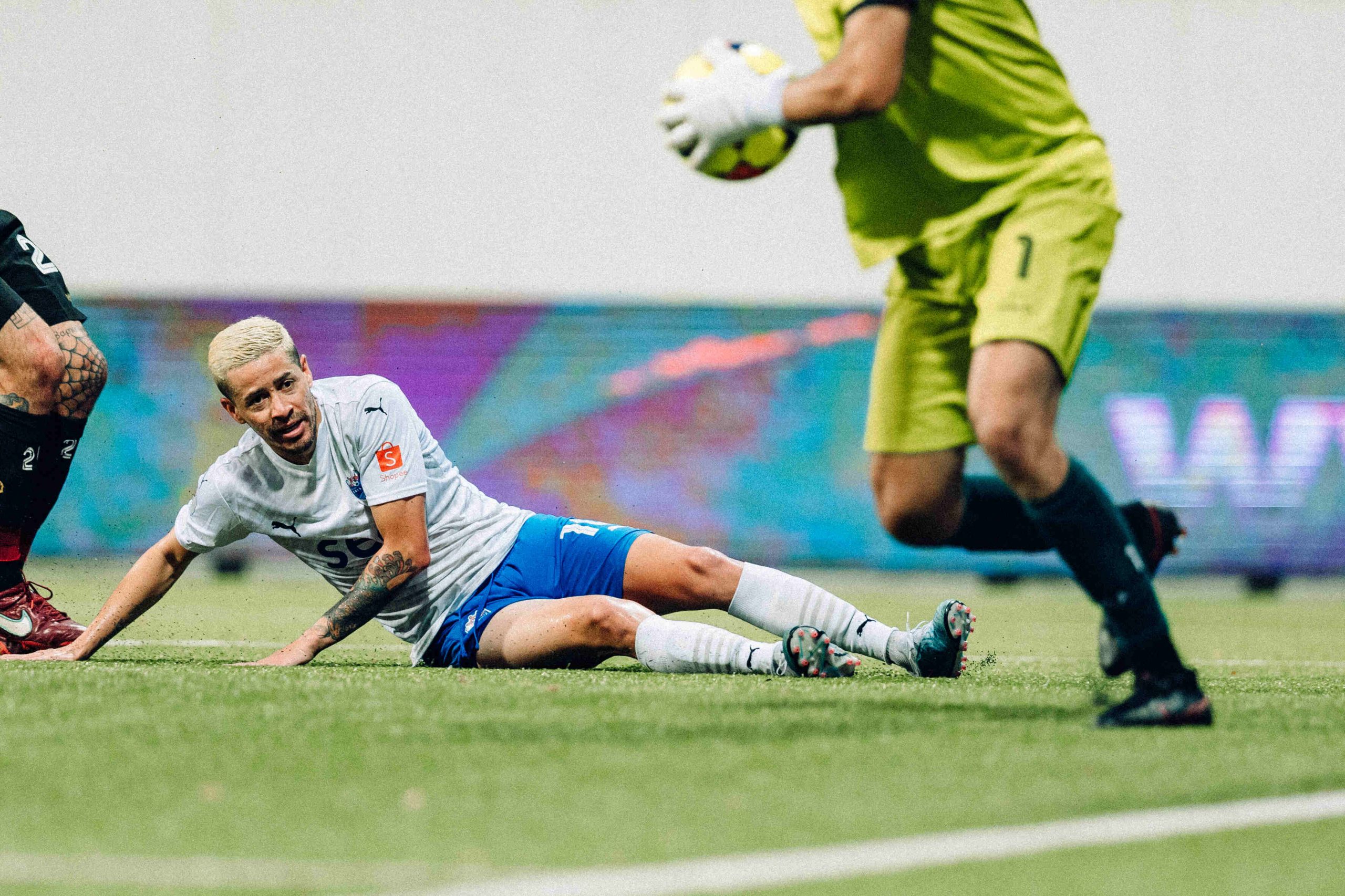 "I cannot fault my players, they gave everything today. The team played a good game and this is football, sometimes unpredictable," the Sailors head coach said after the match. 
"We have to look forward. We are playing good football. I can tell that the team is growing. We are improving and taking a step in the right direction." 
Just like their 2-1 win over Geylang International last week, it was a case of déjà vu when the Sailors found themselves behind early in the game with Voronkov nodding home Hakeme Yazid's corner after just four minutes. 
The opener sparked the Sailors into life and they nearly got an immediate response down the other end, but Bernie Ibini-Isei and Maxime Lestienne failed to put their chances away.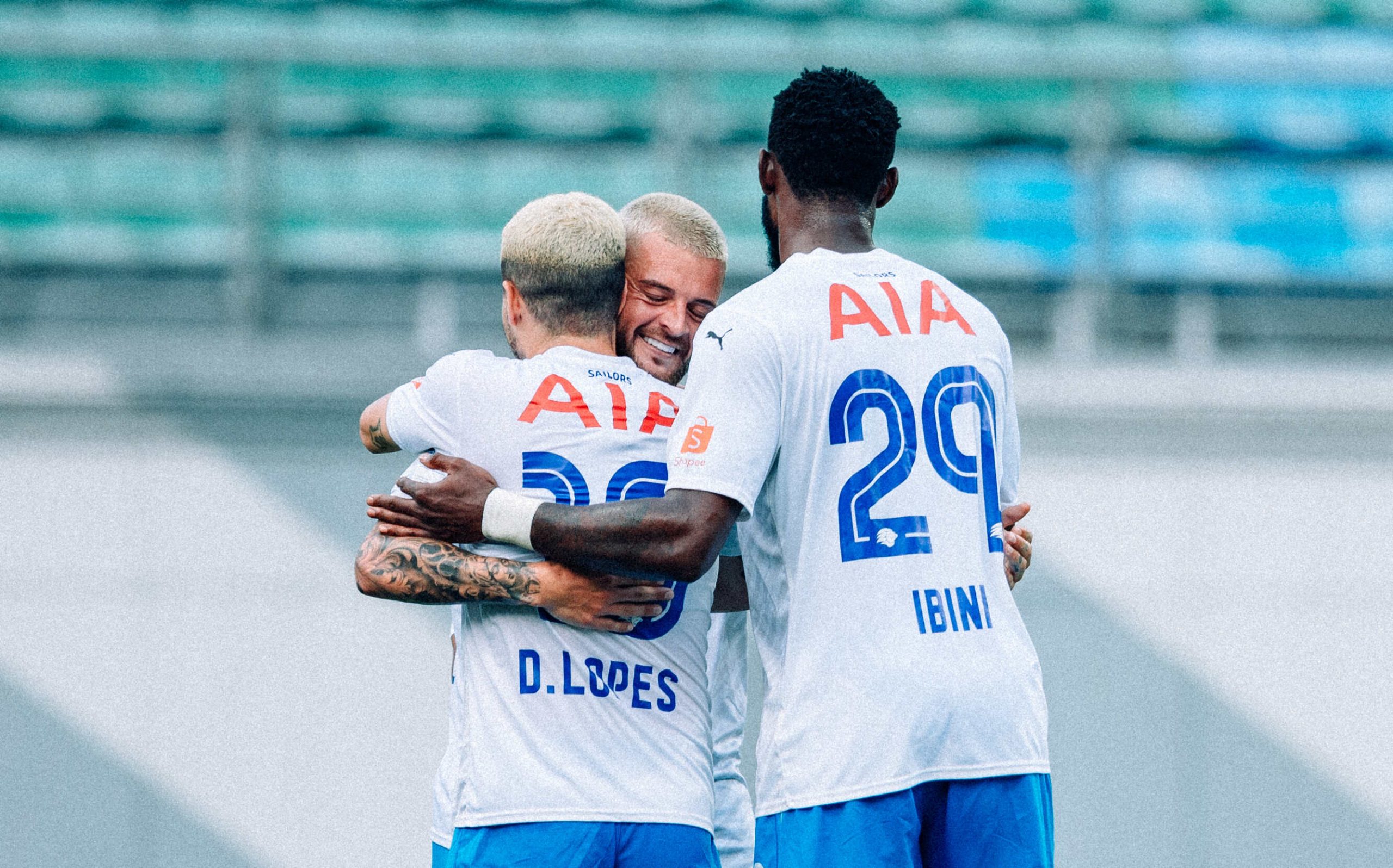 It did not take long for the visitors to equalise, however, with Diego Lopes sweeping home Maxime's cutback on 15 minutes. 
Diego would return the favour four minutes later as his laser-guided through pass picked out the run of Maxime, who proceeded to curl the ball beyond DPMM custodian Akmal Tursunbaev with trademark precision.
But DPMM levelled matters again on the half-hour mark. 
The lurking Voronkov was quickest to react after Sailors custodian Zharfan Rohaizad could only parry Abdul Azizi Rahman's effort into his path.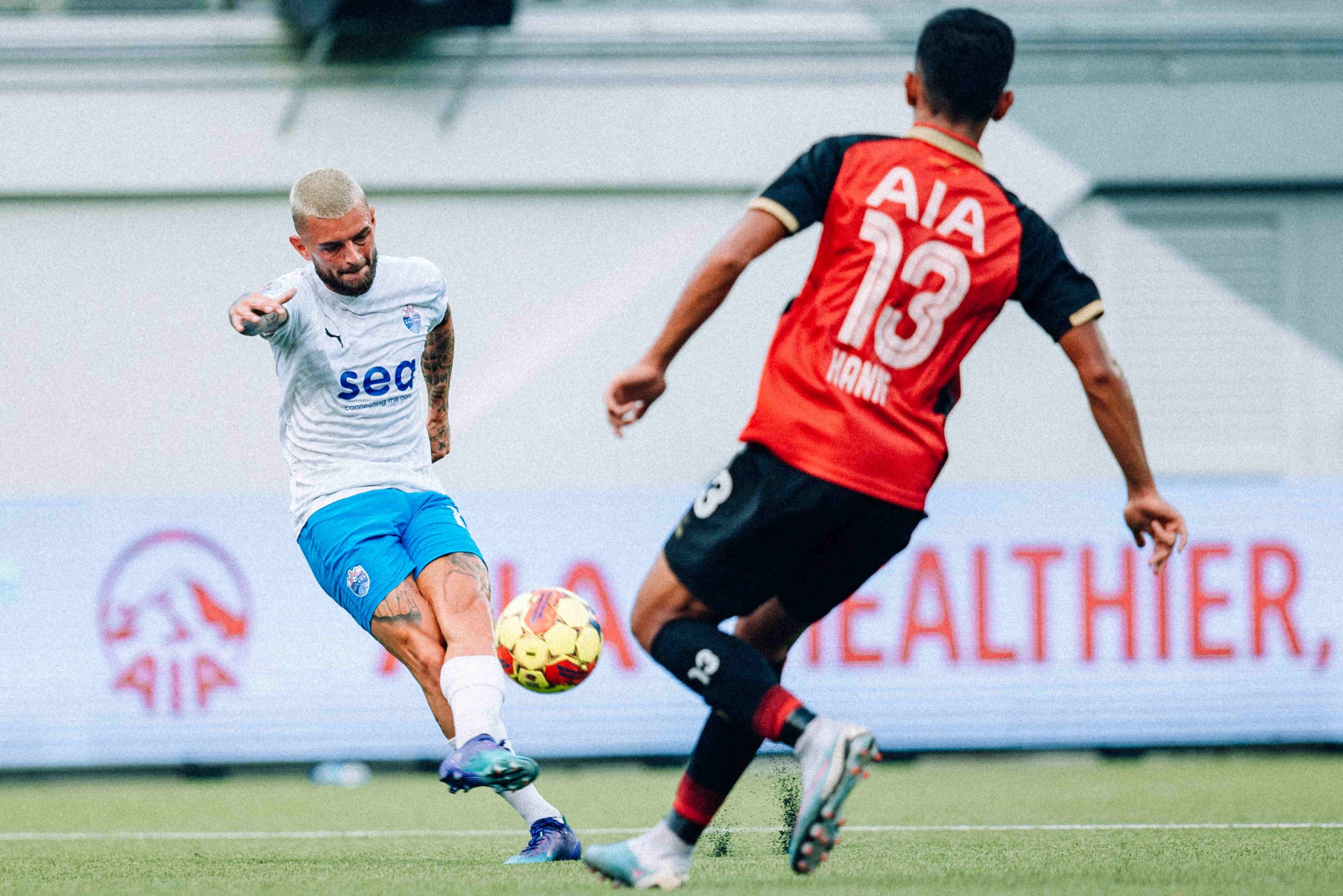 The Sailors would then retake the lead for a second time on the night just before the interval. 
It was the combination between Diego and Maxime yet again, with the former slipping the ball through to his Belgian teammate down the right with a smartly taken quick free-kick. 
Maxime still had work to do as he cut inside Angel Martinez to drill an unerring finish into Tursunbaev's far post for his 10th goal of the season, with the goal allowed to stand following a VAR check. 
Praising the duo, Risto said: "They know and understand each other's style of play and that makes it easy to have that kind of connection. Their teammates also have a good chemistry with the pair and that can only be a good thing for us."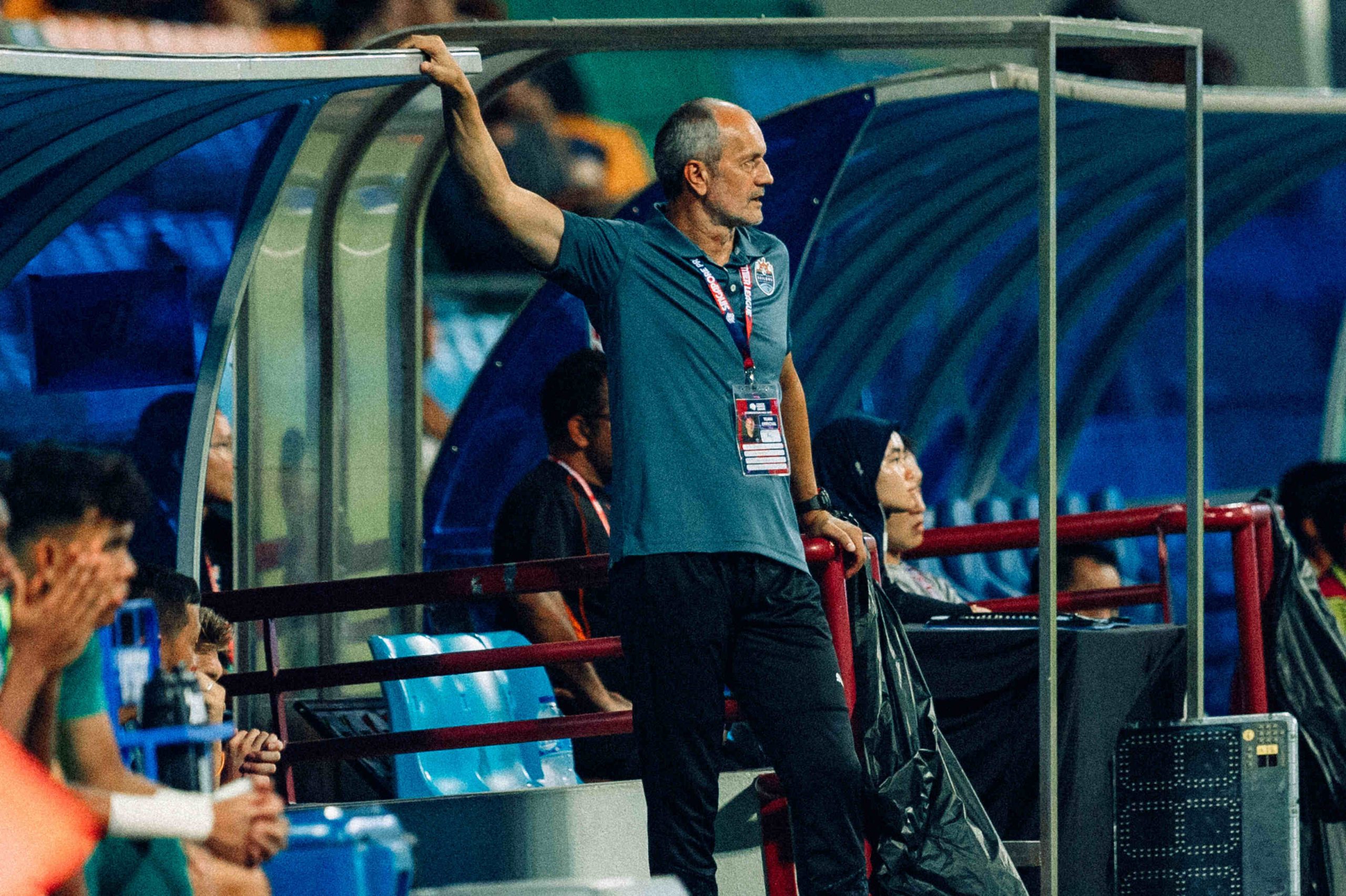 The second half was a stark contrast of the five-goal first half, with clear chances few and far between. 
Bernie and Shawal Anuar – a returning name to the Sailors starting line-up – both came close, but it was all the Sailors could muster after the restart. 
Just as the Sailors thought they had done enough for the win, Voronkov slammed home the loose ball at the death in the area to earn a point for the 2019 SPL champions. 
There was one final chance for the Sailors to steal a dramatic late victory shortly after, but Maxime could only drag his right-footed effort wide. 
Risto still refused to pin any blame on his players.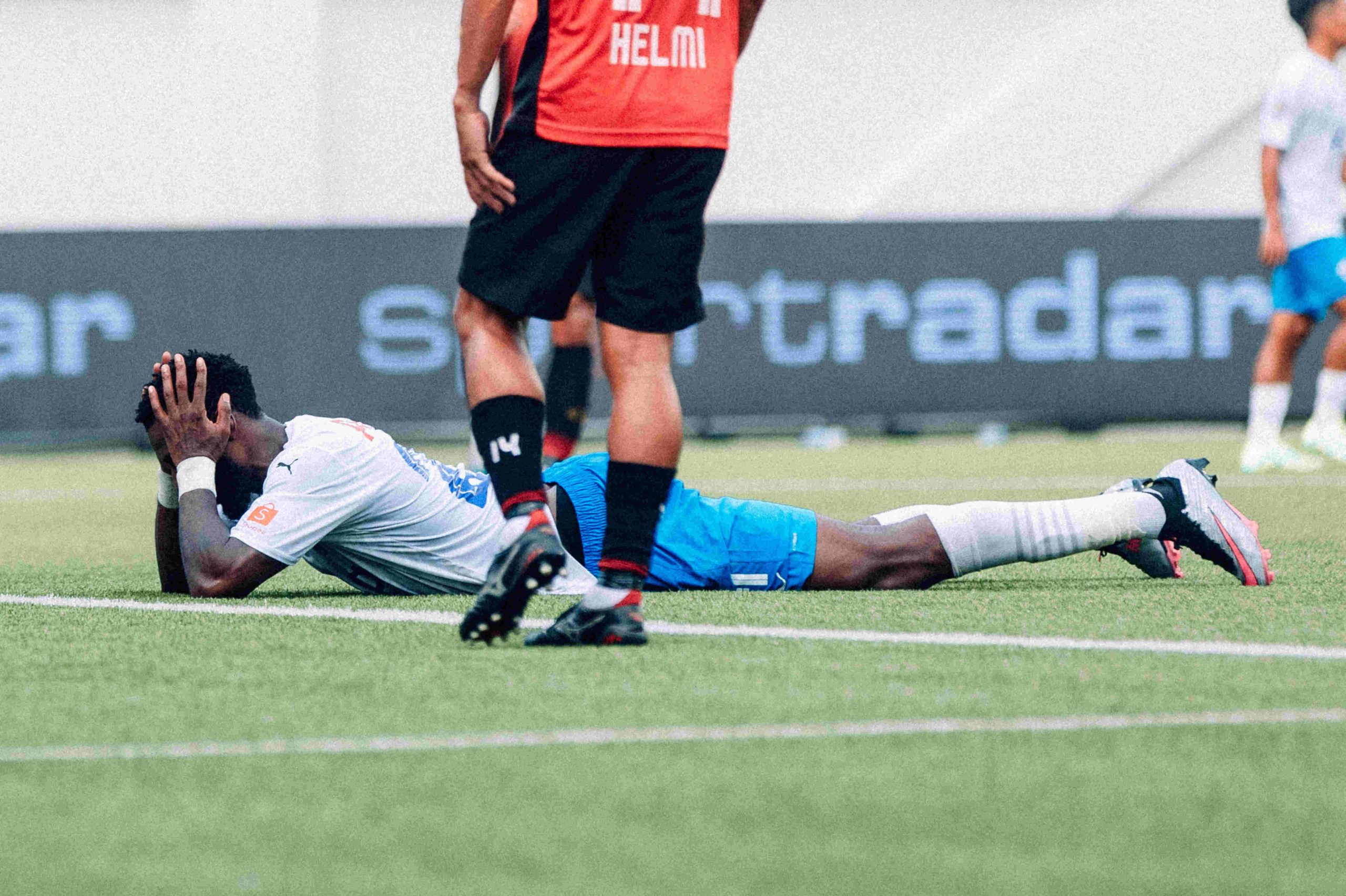 "We should have closed the game with the chances we created. They (DPMM) didn't do anything special in the second half, but got one chance and they scored," said the Serbian. 
"We now need to rest and recover well, analyse this game and see what we can improve on."
Midfielder Adam Swandi echoed Risto's sentiments. 
"All of us came into this game looking to get the three points, so we were naturally disappointed to concede late on. There's nothing we can do now, except to bounce back stronger in our next game," added the 27-year-old.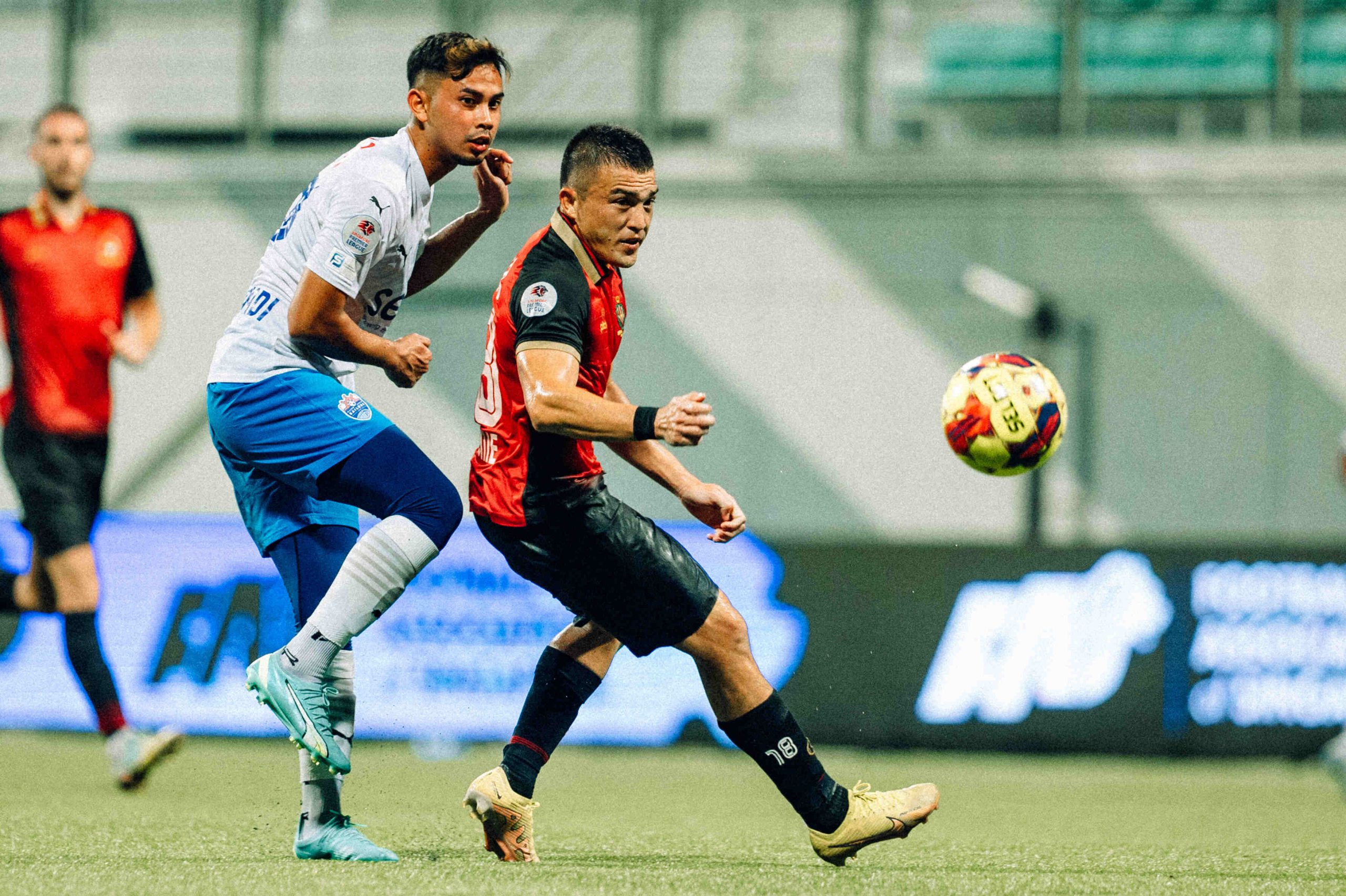 With Albirex up next in a huge clash at Bishan Stadium on Sunday (21 May), Adam has his eyes firmly set on taking down his former employers. 
"Albirex are comfortable at the top and we will go into this with everything we have," he declared.
"A win against DPMM would have set the stage nicely for this game, but we are definitely gunning for the three points to show that we mean business."  
Fresh from their 2-1 comeback win over Geylang International last Sunday (7 May), another stern test awaits the Lion City Sailors as they face Brunei DPMM at Jalan Besar Stadium on Saturday (13 May) evening. 
It will be the second time the Sailors will come up against the 2019 Singapore Premier League (SPL) champions this season, having run out 3-1 winners in their first encounter at Bishan Stadium in March.
Adrian Pennock's side may sit sixth in the nine-team SPL table, but Christopher van Huizen has warned against complacency and believes Sailors have what it takes to make it two wins in two against them. 
"There was an element of surprise for us as we were unsure as to what to expect from DPMM in their first game back in the SPL. We ultimately got the win, which is the most important thing," said Chris. 
"I'm confident we can claim the three points again, but we are not going to be big-headed and take things lightly. We will be watching them closely and work really hard to achieve what we want."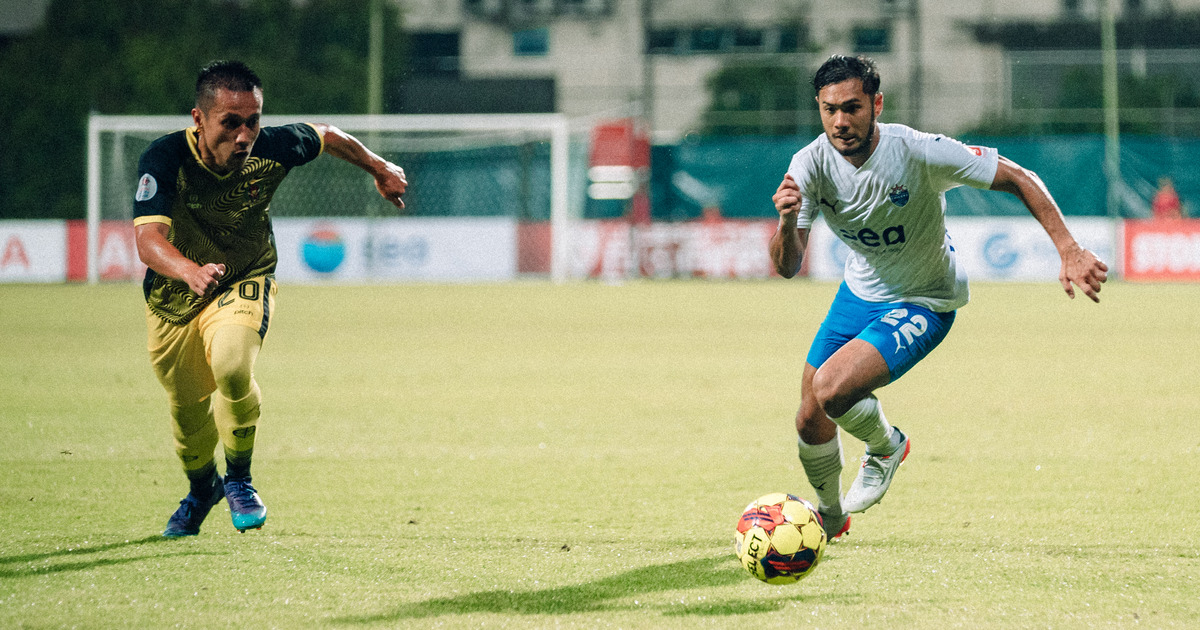 Against the Eagles, however, Risto Vidaković's men had to dig deep. Going behind to a 10th minute Iqbal Hussain's opener, they eventually prevailed via a pair of brilliant Maxime Lestienne free-kicks in the final 20 minutes. 
Reflecting on that game, Chris said of his former side: "Geylang wasn't an easy opponent who played fantastic football. I thought we started well, but that early goal did catch us off guard. 
"We were not particularly worried and I thought we played better with the way we kept the ball after the break. It is a good sign that we were creating chances. 
"With players like Max and Diego (Lopes) who are able to carve out the opportunities, we just need to work on our end product by converting them."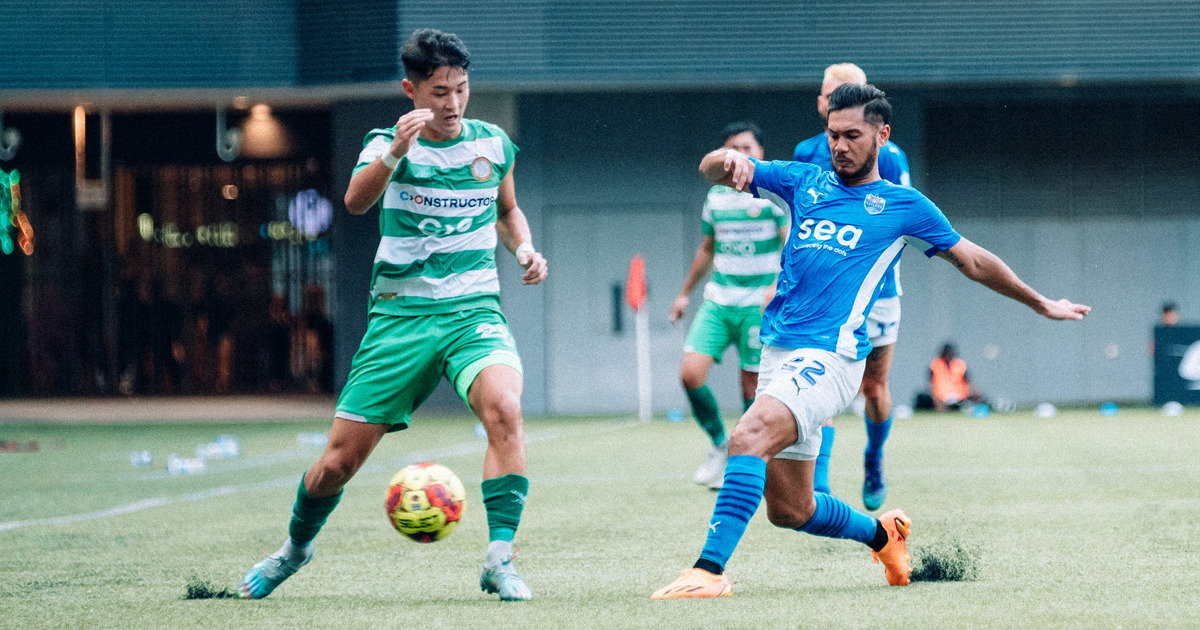 While a winger by trade, Chris – who topped the SPL assists chart with 10 in the 2019 season – has found himself being deployed at full-back in recent times for both club and country. 
He admits that although the position change may be something still new to him, it is something the fleet-footed 30-year-old relishes.
"I feel blessed to be this versatile and contribute to the team. I am always learning and I acknowledge that there is still room for improvement – especially in my defensive positioning and in 1 vs 1 situations. That said, I also hope to protect Zharfan (Rohaizad)'s goal and help him keep as many clean sheets as possible. 
"I also count myself lucky to have someone like Max playing in front of me, I can just support him from the back. I don't bother about the criticism I face, I simply want to prove people wrong and I'm happy as long as the team gets the three points at the end of the day."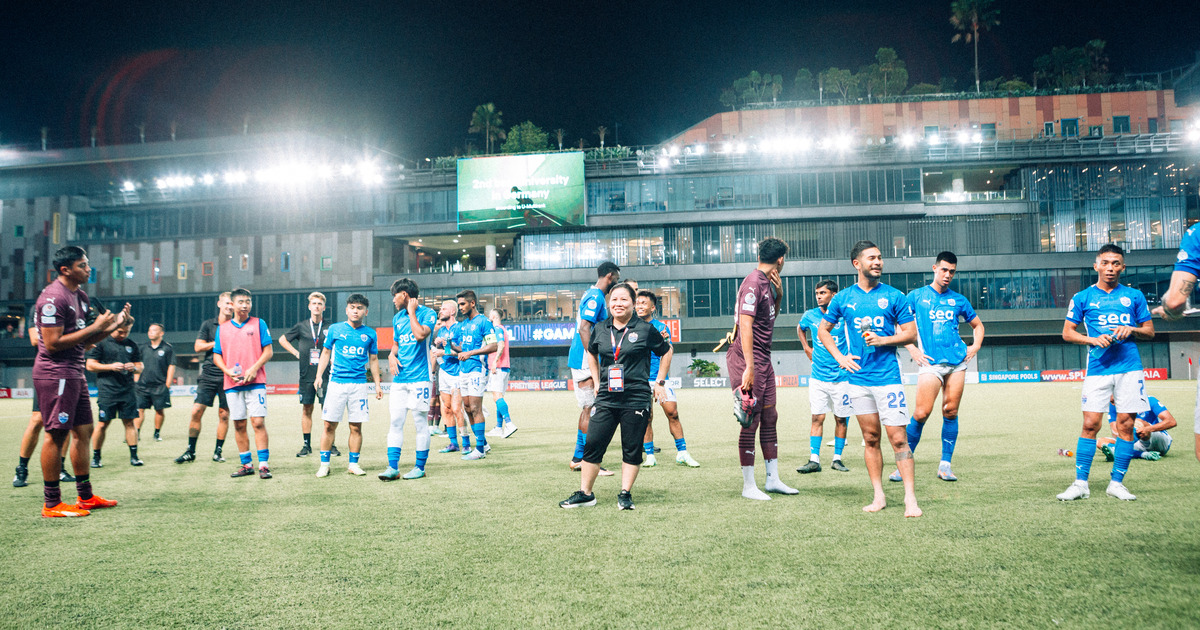 Victory against DPMM will not only see the Sailors leapfrog Tampines Rovers into second spot for at least 24 hours, but also put pressure on leaders Albirex Niigata (S) – their opponents in a blockbuster clash on 21 May.
"As you can see, we are not very far off the top two of Albirex and Tampines in the standings. Going into the second round of the SPL, it's important to do our best and maintain the consistency week in, week out if we are to stand a chance to reclaim the title," said Chris.
"The fans are our 12th man and they will play an important role once again. I hope to see them in the stands cheering us on as we push for the win."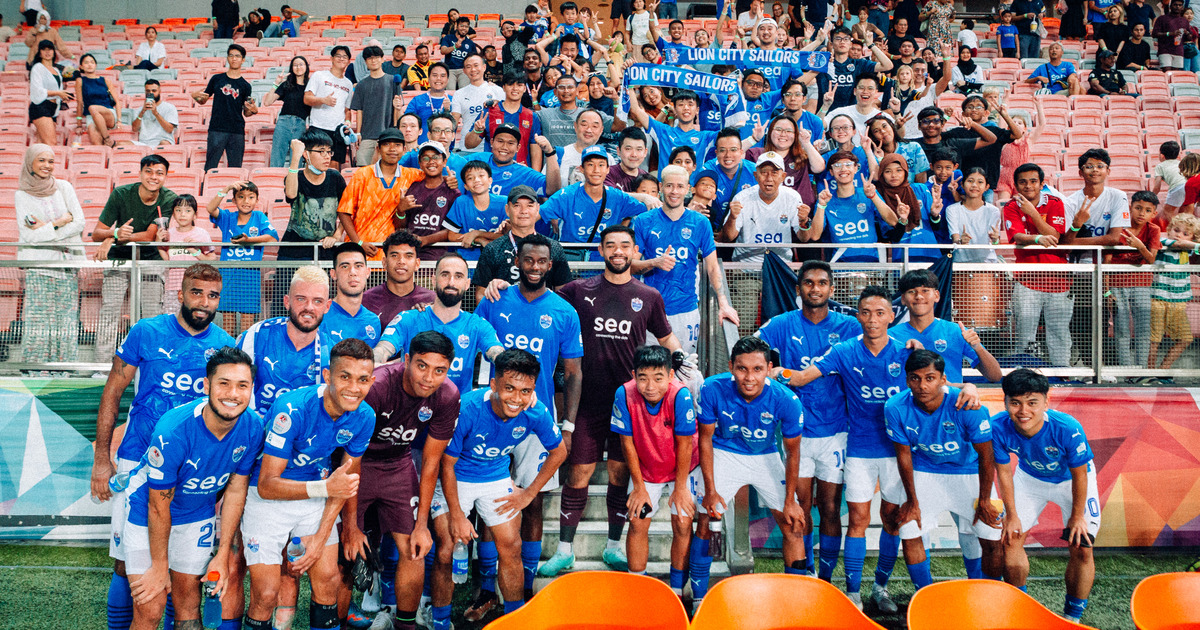 Is Maxime Lestienne currently the best player in the Singapore Premier League (SPL)?
According to Lion City Sailors Head Coach Risto Vidaković, the answer is a resounding "Yes".
It would be hard to argue with Risto's assessment, especially after the Belgian scored twice – both via free-kicks – to inspire the Sailors to a 2-1 comeback victory over Geylang International at Our Tampines Hub on Sunday (7 May) evening. 
When asked about the 30-year-old's match-winning display, Risto did not hold back in his praise, as he said: "There is no doubt in my mind that Maxime is the best player in the league. He's a superstar, he has played at a higher level, and he shows in every game that he's the main man on the pitch.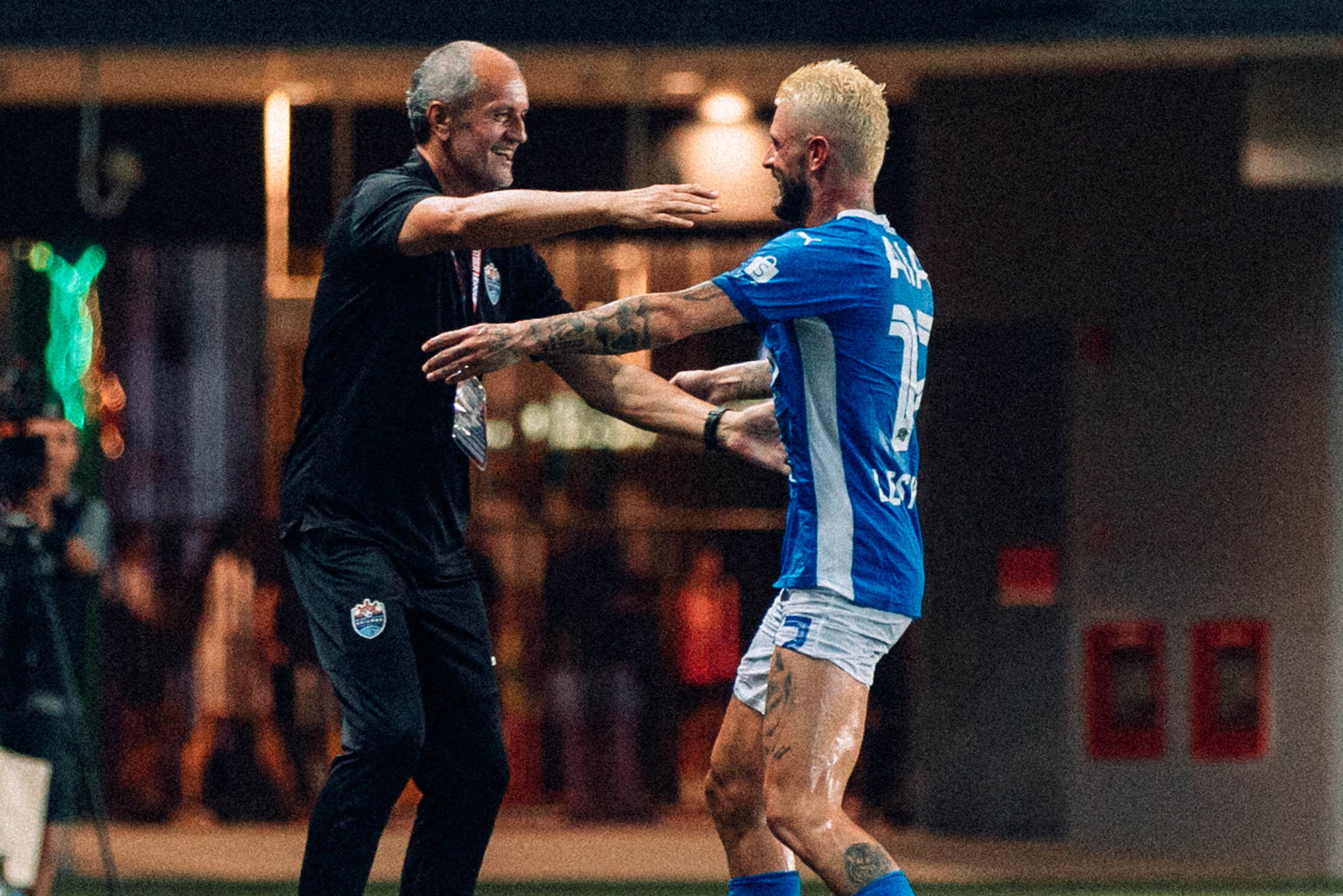 But Maxime and the Sailors were made to work hard for the three points, as Geylang gave as good as they got in front of the raucous home fans.
With the Sailors missing defenders Nur Adam Abdullah, Bill Mamadou and forward Abdul Rasaq Akeem due to their involvement in the ongoing Southeast Asian (SEA) Games, Nathan Mao was handed a spot in the starting line-up, making him the youngest-ever player to start a SPL game at 15 years and 42 days old.
Nathan, who surpassed the previous record holder Raoul Suhaimi (15 years and 239 days old), is also only the second player below the age of 16 to start a SPL game.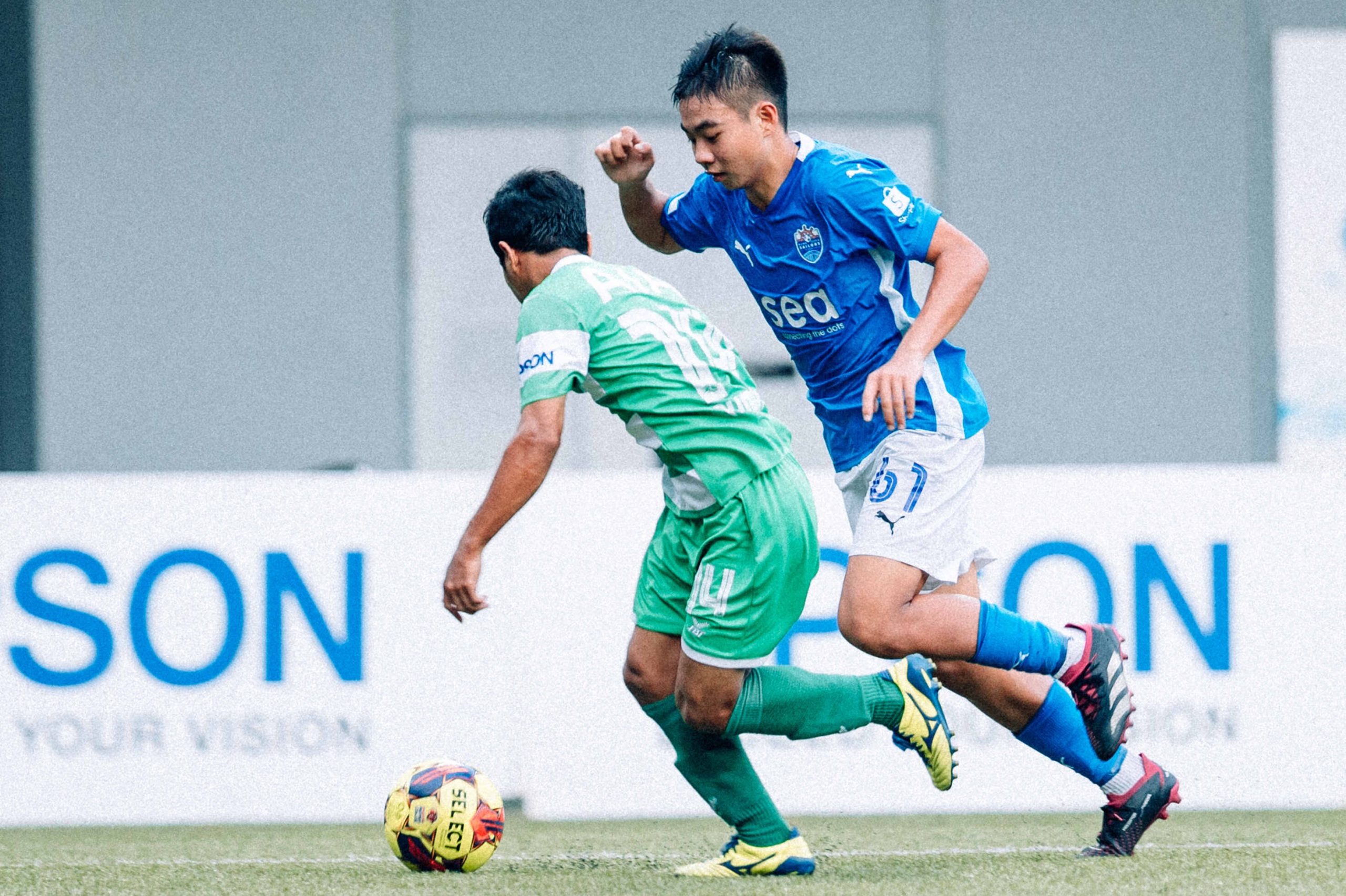 Nathan's big day, however, got off to a bad start as Geylang took the lead after just 10 minutes, with Iqbal Hussain calmly finishing off a clinical counter-attacking move.
The early goal seemed to take the wind out of the Sailors' sails, and they found themselves pegged back by the Eagles for much of the first half.
This was when Zulqarnaen Suzliman rose to the occasion for the Sailors, as the marauding right-back put his body on the line to prevent Geylang from doubling their lead on at least three occasions. 
"That was just defensive instinct," said Zulqarnaen. "I always give my best for the team, and I'm happy that I contributed today by preventing the opposition from scoring.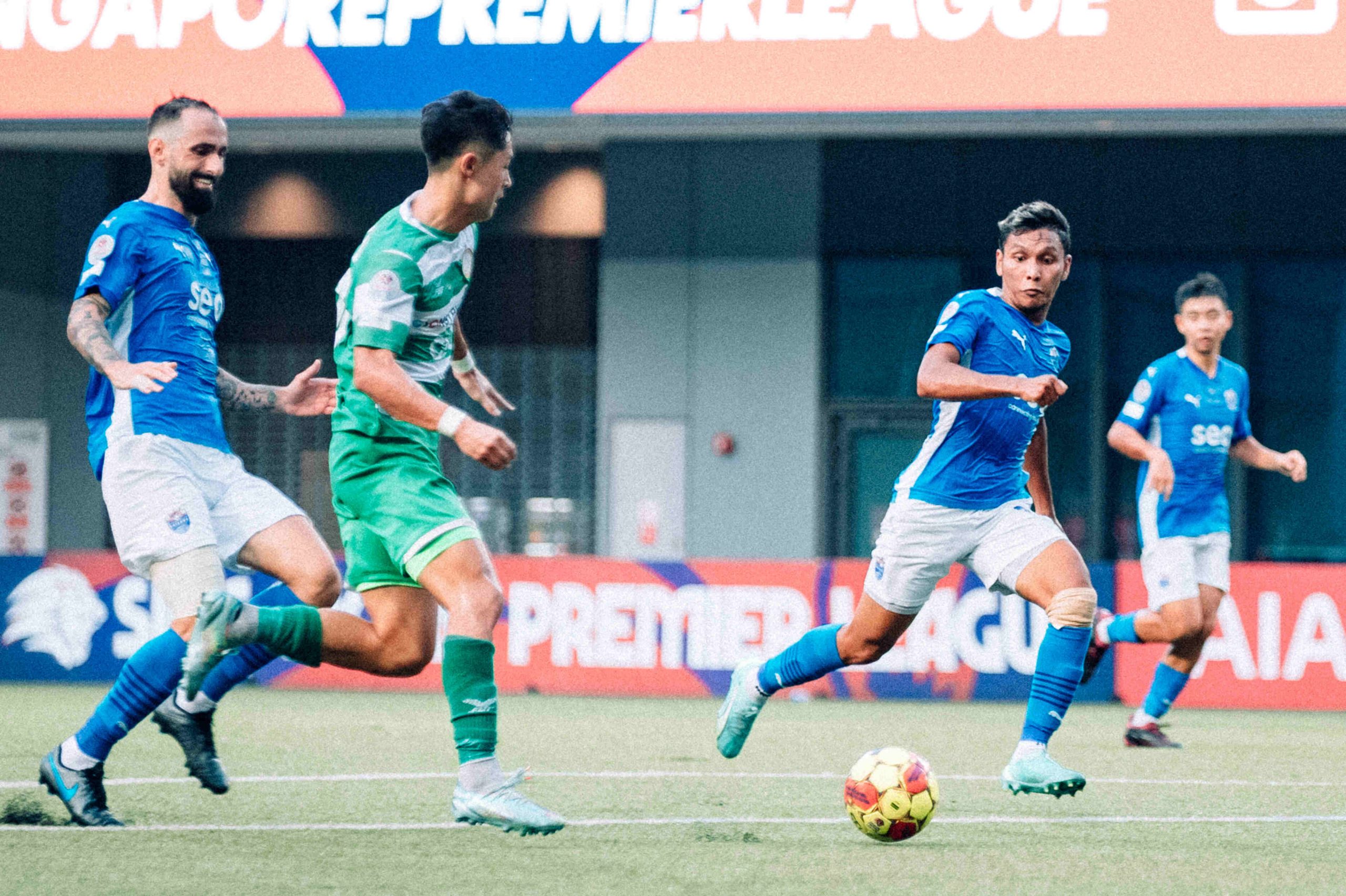 As the clock ticked on, however, it was clear for all to see that the Sailors desperately needed a touch of inspiration to get back into the game against a resolute Geylang side. 
And Maxime duly obliged.
When the Sailors were awarded a free-kick on the right edge of the Geylang penalty box in the 69th minute, everyone expected Maxime to send the ball into the box for someone to get his head on to.
Instead, the forward blindsided the Geylang defence, as well as goalkeeper Hafiz Ahmad, and curled the ball into the top corner with his left foot.
20 minutes later, Maxime struck again. This time, the Sailors were awarded a free-kick on the left edge of the Geylang penalty box – but while the position was different, the outcome was the same, as Maxime curled the ball into the top corner and left Hafiz grasping at air.
Even though the Sailors went down to 10 men in stoppage time following Rusyaidi Salime's dismissal for an off-the-ball incident, Maxime's late goal proved to be enough to secure all three points for his team.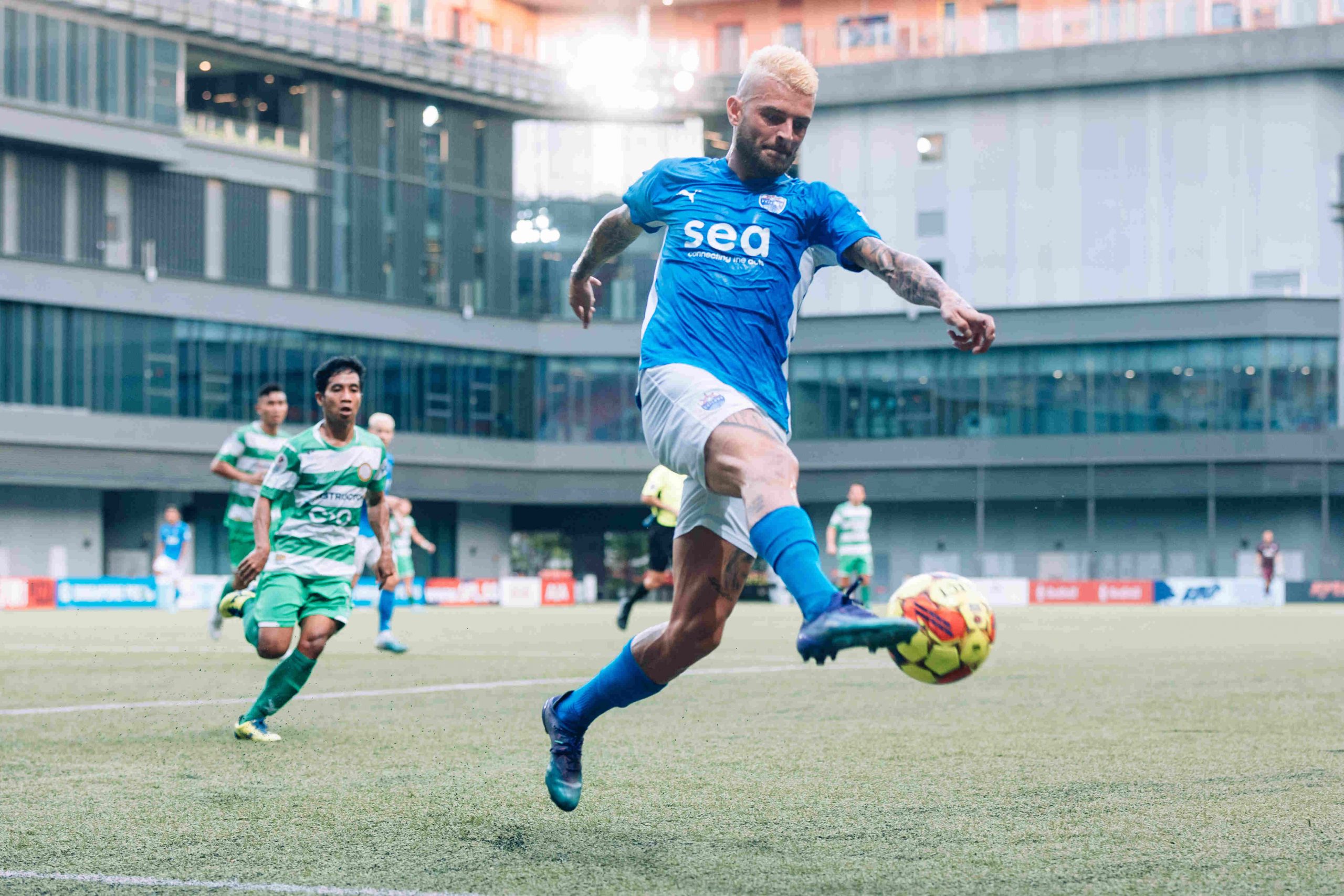 "I work a lot on my free-kicks during training," Maxime revealed. "I've taken quite a few already, and it doesn't go in all the time, so I'm happy that it resulted in goals today. It was a strong game from Geylang, but we had a lot of chances which we should have converted. Thankfully, in the end we managed to score and get a good result."
Zulqarnaen corroborated Maxime's account, as he added: "He practices his free-kicks during training, and you can see the results of that today because it made the difference. His technique is incredible, but it also shows that you need to work hard because it will pay off."
The win leaves the Sailors third in the table, just one point behind Tampines Rovers in second, and five points behind current league leaders and reigning champions Albirex Niigata (S). 
The Sailors will next take on Brunei DPMM at the Jalan Besar Stadium on Saturday (13 May). 
It has been close to three weeks since the Lion City Sailors' last Singapore Premier League (SPL) match – a dramatic 1-1 draw with the Young Lions, who scored a penalty in the last minute of stoppage time for a share of the spoils.
The frustration from dropping points, especially in that manner, is still evident in Risto Vidaković's voice when he talks about that game.
"We dropped two points against the Young Lions, that was a game that we should have won," said the Sailors Head Coach. "If we had won, we'd be three points off the top of the SPL table right now.
"Overall, I think we lost too many points in the first round of the SPL, and that (Young Lions) match was just one instance in which I think we should have done better.
"But we cannot think about that game anymore. We must forget it and look forward to the next round of the SPL, because the title race is still open."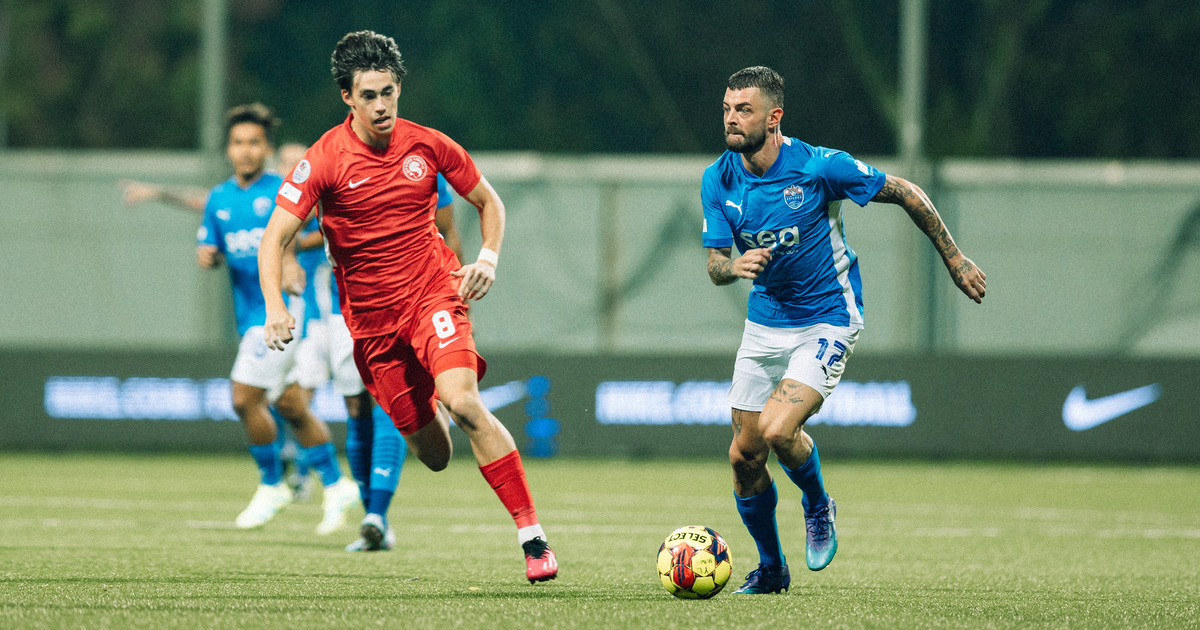 Risto is not wrong – with 16 points after the first eight SPL games, the Sailors currently find themselves third in the table, five points behind league leaders and reigning champions Albirex Niigata (S).
And they are only just getting started.
"I've always said that this team needs time before we can see its full potential. It's natural that we've not hit the heights in the first part of the season because there are many new components at the club," mused the Serbian. 
"But I can see that the team is growing, it's progressing well. There is a good atmosphere at the club, and everyone is working hard to improve, so I'm confident that the second round of the SPL will be better for us.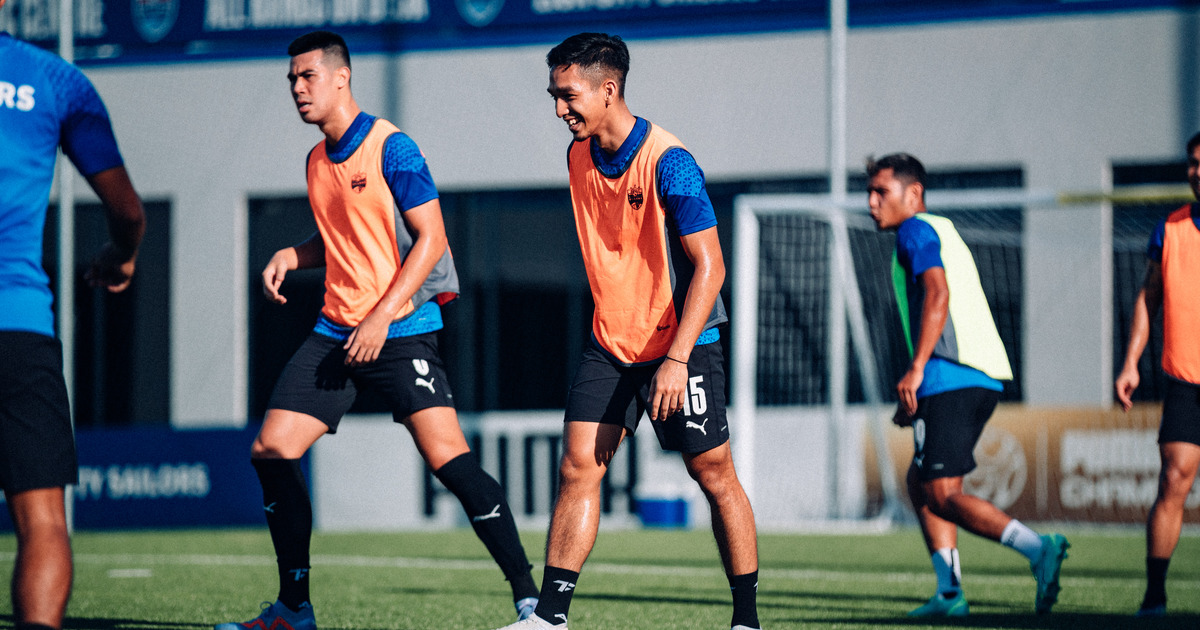 One of these "new components" is striker Bernie Ibini-Isei, who only signed for the Sailors barely a month ago.
Risto remained tight-lipped over whether the former A-League forward would feature in the Sailors' next game – against Geylang International at Our Tampines Hub on Sunday – but revealed that the 1.87m forward will be ready to start if called upon.
"He (Bernie) is ready to play. In fact, he is ready to start against Geylang," said Risto. "However, he is not at 100 percent yet – that will only come with more games, when he builds his confidence and scores goals. That's when we'll be able to see the best of him.
"But he is trying his best in every training session to reach the level we know he can. His will to get to where he needs to be is strong, and he's determined to help the team for the remainder of the season."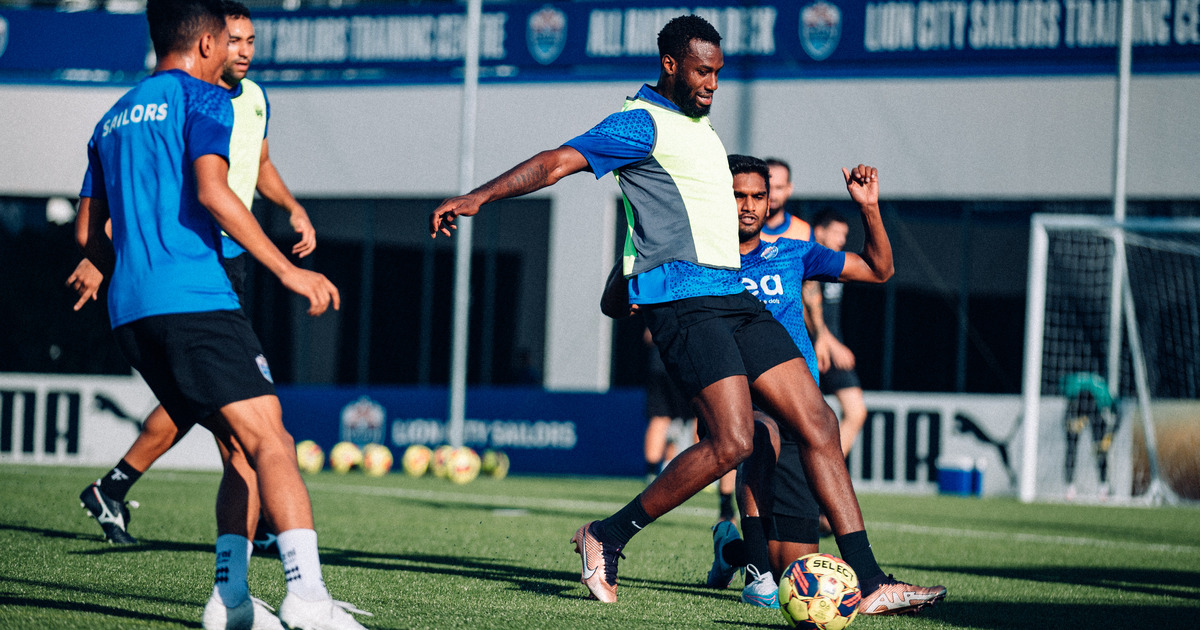 While the Sailors remain firmly in the chase for the SPL title, Risto insists that they are simply taking it game-by-game, starting with this weekend's clash against the Eagles.
"We're not thinking about the title for now. All we're focused on is the next opponent, and the work that we have to do to beat them," Risto said.
"Geylang are a very good team that plays good football. They are just three points behind us in the table, and they will be a stern test for us.
"Winning and losing is part of football, but the most important thing is that the players are giving their 100 percent in every game. I can assure the fans that our team will do just that and leave everything on the pitch to get the three points against Geylang."