The Lion City Sailors have signalled their intent to take an assured first step in the Asian Football Confederation (AFC) Champions League (ACL) next year, with the acquisition of South Korean international Kim Shin-wook. 
The 1.98 metre forward was signed from Chinese Super League giants Shanghai Shenhua on a free transfer and will join the club on a three-year contract. The 33-year-old comes with immense ACL experience, having won the tournament twice, first with Ulsan Hyundai in 2012, then again with K League 1 rivals Jeonbuk Hyundai Motors in 2016.   
Shin-wook's aerial prowess brings an additional dimension to the Sailors' attack and set-pieces, but he is equally adept with the ball at his feet, scoring a brace for his country in the FIFA World Cup Qualifiers earlier this year in June. He captained the South Korean team that beat Sri Lanka 5-0 at home.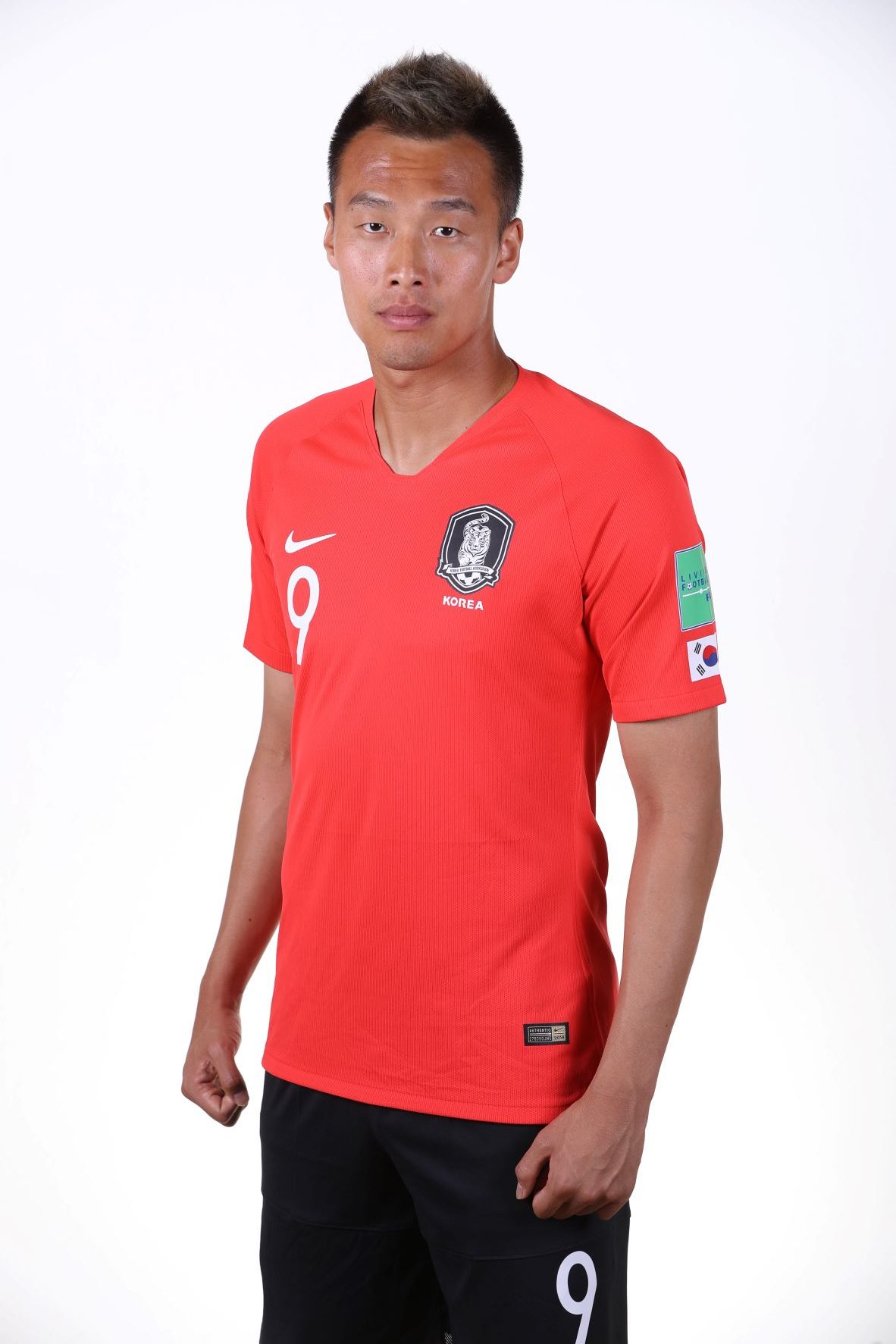 The Sailors will make their ACL debut next year, securing qualification for Asia's top club competition after winning the Singapore Premier League title for the first time. 
"The Sailors project is an ambitious one that is fast gaining momentum. I was presented with the vision that got the club to this point, as well as what's in the pipeline for the years ahead, and I immediately knew I wanted to be a part of it," said the 2013 K League 1 Most Valuable Player. 
"I enjoyed my time in Shanghai Shenhua, and I'm grateful to the fans for all their support during the years I was at the club. 
"I'm delighted for the opportunity to build something with the Sailors, and I'm looking forward to the exciting challenge in the years ahead," he added. 
The club was founded with the aim of reigniting passion for Singapore football and have already sparked interest with the signing of Brazilian midfielder Diego Lopes in 2020 and Lions captain, Hariss Harun.   
The acquisition of Shin-wook underlines the Sailors' resolve for continual improvement ahead of their debut in the ACL next season. 
Moves to improve the backroom and support structure have also been made, and moves in that area are perhaps what will help Kim settle in quickly. 
Sailors Head Coach Kim Do-hoon has made an immediate impact since joining the Sailors at the midway point of last season, drawing from his ACL-winning experience with Ulsan Hyundai in 2020 to implement a high tempo brand of attacking football as he led the team to the SPL title. The South Korean has roped in countrymen Myung Jae Yong (Assistant Coach) and Kim Young Kwang (Video Analyst) in September to further drive the Sailors. 
"Shin-wook brings with him characteristics that will help take our game to the next level, and I'm delighted that he found as much excitement in the Sailors project as I did when I joined," he said.
"We are still a work in progress, but with the commitment from everyone at the club and the added boost that Shin-wook gives us, I'm confident that we will continue to get better."
Sailors Chairman Forrest Li was heartened by the support shown by Singapore football fans in 2021, and he reaffirmed the club's commitment to excellence. 
"Bringing in top-quality players like Shin-wook will boost our domestic and regional ambitions. We will continue to improve on the football front and off-the-field, as we take steps towards our vision, including our academy scholars programme and the state-of-the-art training facility that is being built," he said. 
"It was fantastic to see so many fans come into stadiums last season, and their passion is the most visible yardstick of our progress. We want to continue to deliver excitement and footballing excellence on the field, so that fans back Singapore football as we drive towards our vision."
The Lion City Sailors are set for a squad reshuffle ahead of the 2022 Singapore Premier League (SPL) season, with five players returning either from National Service (NS) obligations or loan stints, and five others leaving the club. 
Frontman Stipe Plazibat will leave as the Sailors' leading goalscorer with 23 goals in the two years since the inception of the club in 2020. Brazilian Jorge Fellipe, Aqhari Abdullah – who joined in 2016 when the club was known as Home United – Ho Wai Loon (on loan with Balestier Khalsa) and Faizal Roslan (on loan with Geylang International) will join Stipe in departing the 2021 SPL champions.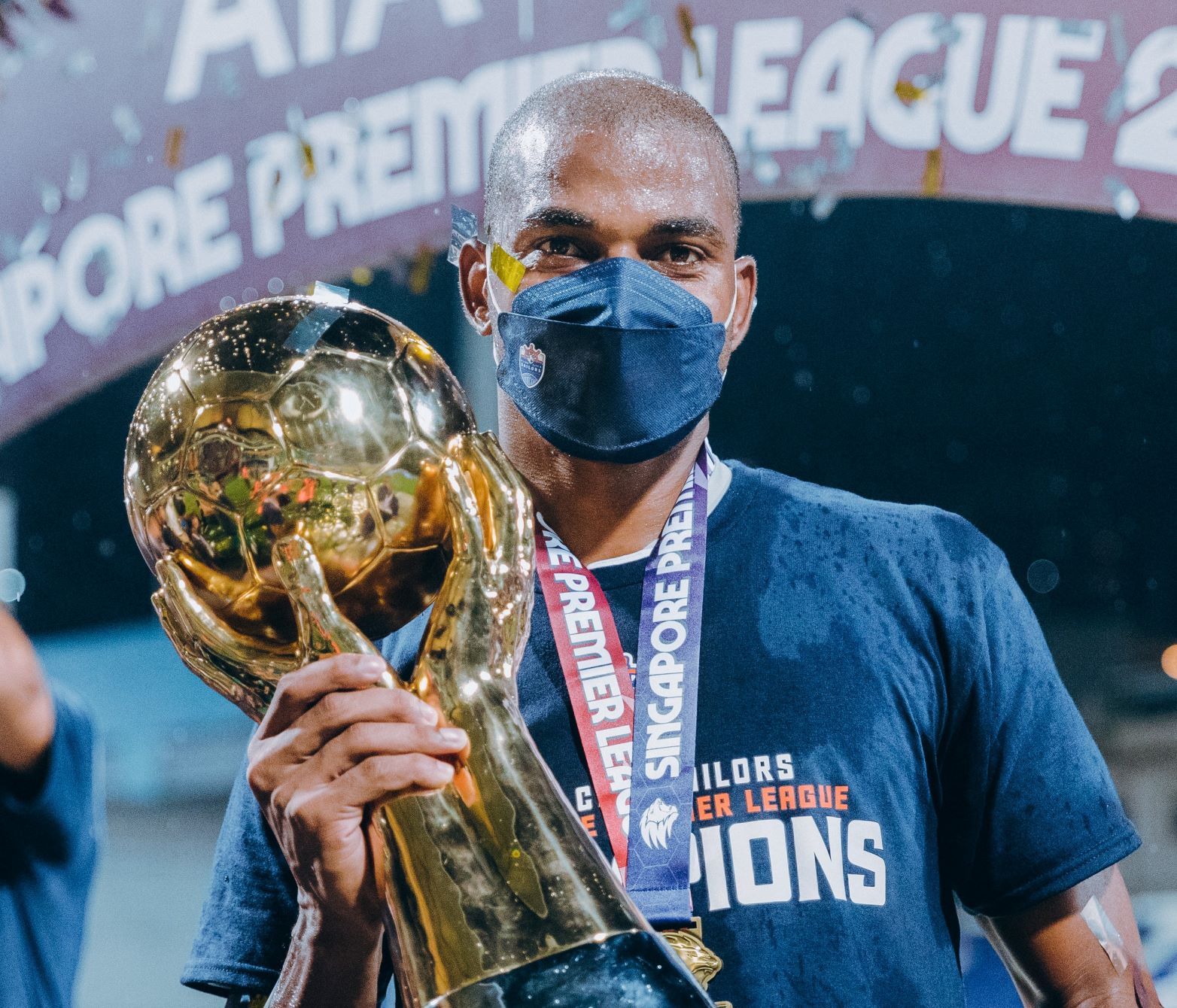 Iqram Rifqi returns from his loan stint with Geylang, along with Anaqi Ismit (on loan with Tanjong Pagar). 
The trio of Hami Syahin, Bill Mamadou, Zulqarnaen Suzliman will also return to the club after serving out their NS obligations. All three turned out for Young Lions during their NS stints when they were able to find time out from their duties. 
"Stipe, Jorge and Aqhari have made several important contributions for us on the pitch, without which we would probably have not been able to win our first SPL title this season," said Sailors Chief Executive Chew Chun-Liang. 
"More than that, they have had a very positive influence in the dressing room, are well-respected by players and staff alike, and we are confident that they will all continue playing at a high level wherever they go.
"On behalf of everyone at the Sailors, I would like to thank Stipe, Jorge and Aqhari for their invaluable service to the club. We will miss their presence."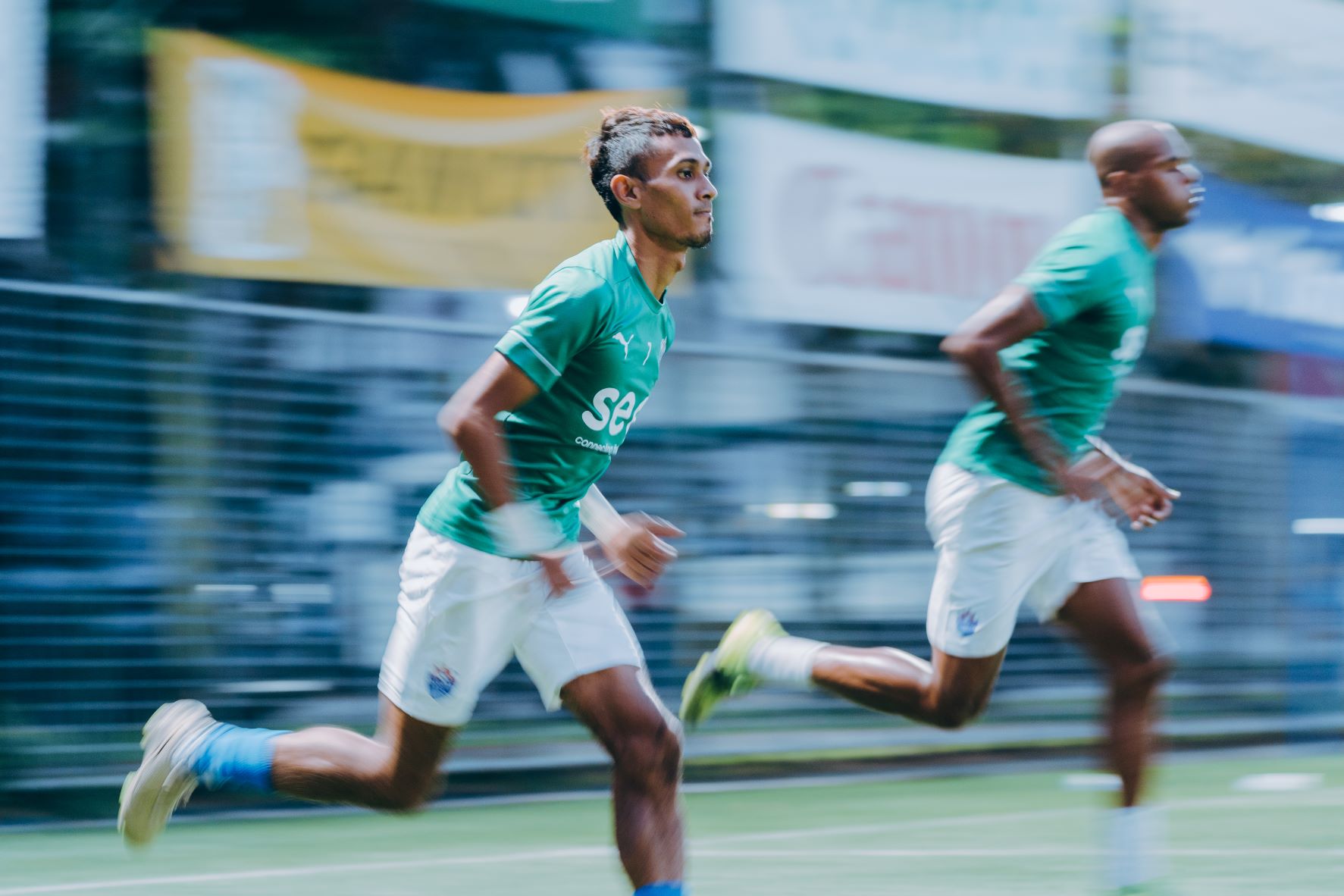 Chun-Liang revealed that these departures come as the Sailors overhaul the squad in preparation for the challenge of the Asian Football Confederation Champions League (ACL) next season.
"It's never easy to say goodbye to players, especially when they have been crucial to our success so far," said Chun-Liang.
"However, we are aware of the need to plan carefully for next season, where we will be competing on multiple fronts, including the ACL. 
"We're glad to welcome back the likes of Hami, Zulqarnaen, Iqram, Anaqi and Bill as we concurrently look to strengthen our squad to put ourselves in the best position to meet the objectives that we have set for the coming year."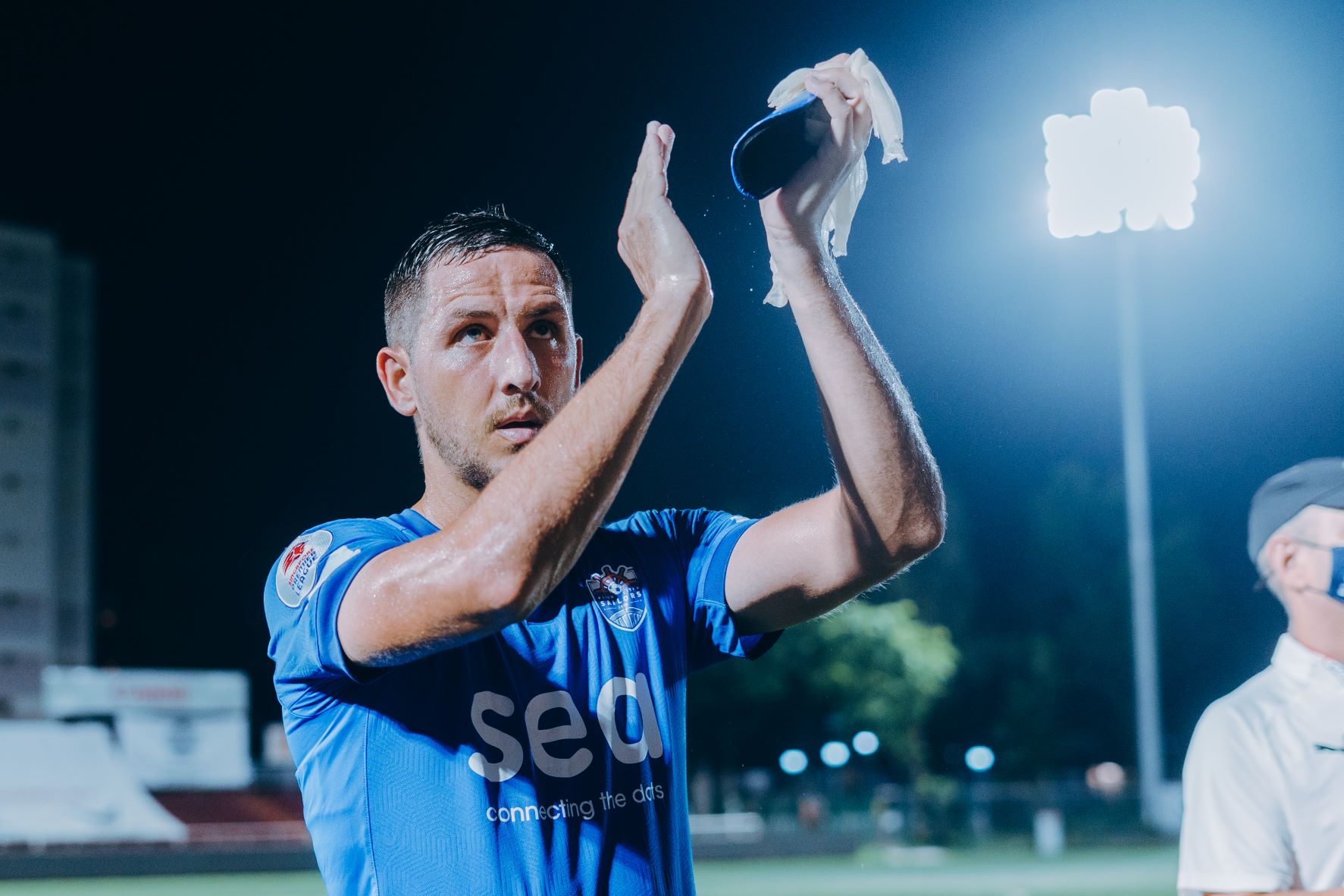 He joined the Lion City Sailors in 2020 with the lofty aim of winning trophies and achieving success with the club.
Today, with a top scorer award, a Singapore Premier League (SPL) winners medal, and the adoration of the Sailors fans in tow, there is no doubt that Stipe Plazibat has accomplished his goals at the club.
But sadly, Stipe's voyage with the Sailors is set to come to an end.
The Croatian will officially leave the Sailors when his contract ends in December, with the club deciding to go in a different direction ahead of the 2022 season.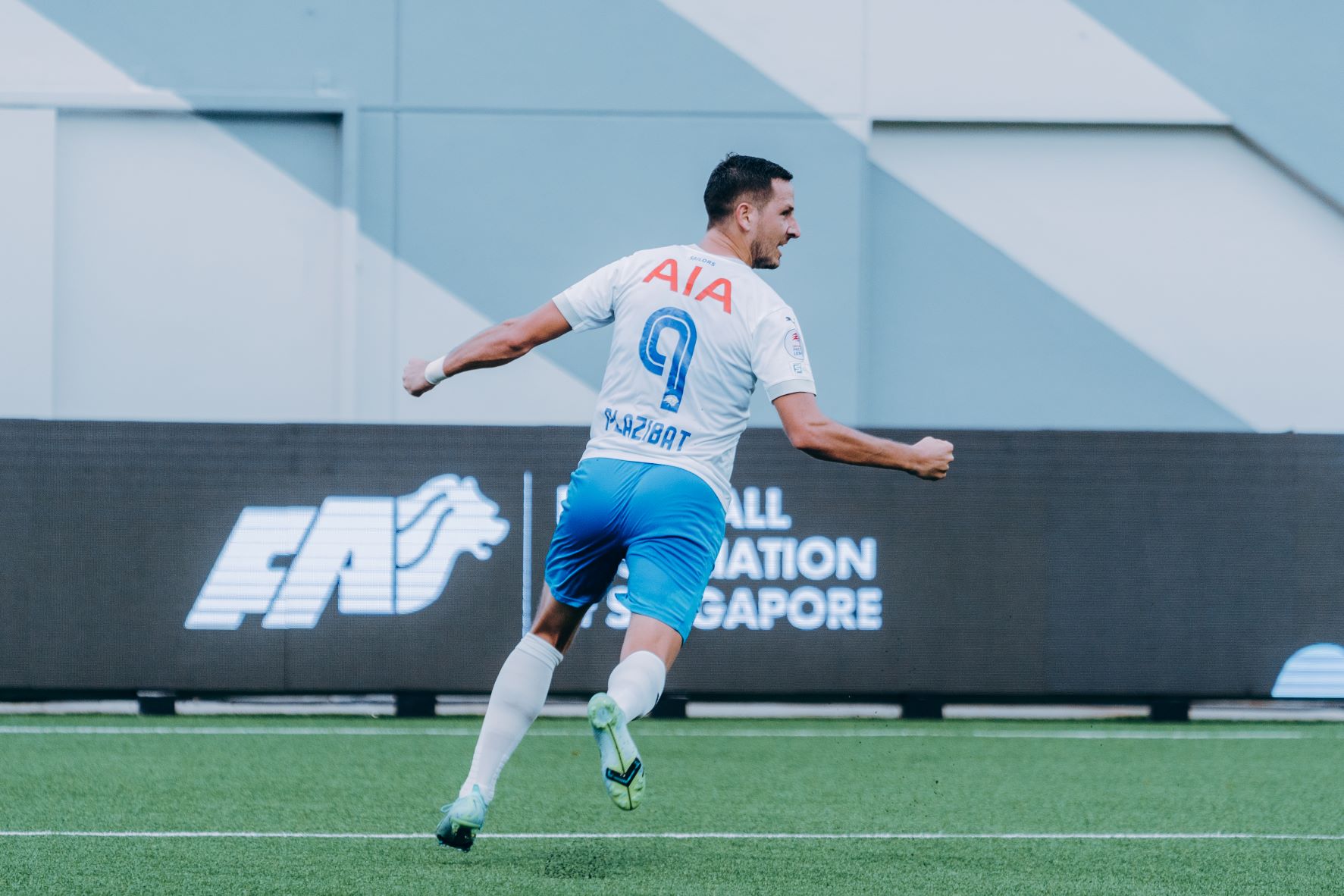 Rightly regarded as one of the best strikers in the SPL at the moment, Stipe will be leaving the Sailors as the club's reigning top scorer with 23 goals across two seasons.
But the 32-year-old is more than just a prolific goalscorer. His work ethic, consummate professionalism, intelligence on and off the ball, and eye for a pass – he recorded seven assists in the SPL this season alone – has made him a favourite both in the dressing room, as well as among the Sailors fans.
Reflecting on his two years at the club, Stipe, who played an integral role in the Sailors' historic SPL title win this year, said: "I am proud to have been part of this new and ambitious club, and that I was able to play a vital role in achieving our first league title.
"My target was winning trophies with the club, and we managed to do it this year. Winning the SPL title has undoubtedly been the highlight of my time at the Sailors.
"On an individual level, I won the golden boot last year, I was in the SPL Team of the Year for the past two seasons, and I believe that I have become more mature, both on and off the pitch.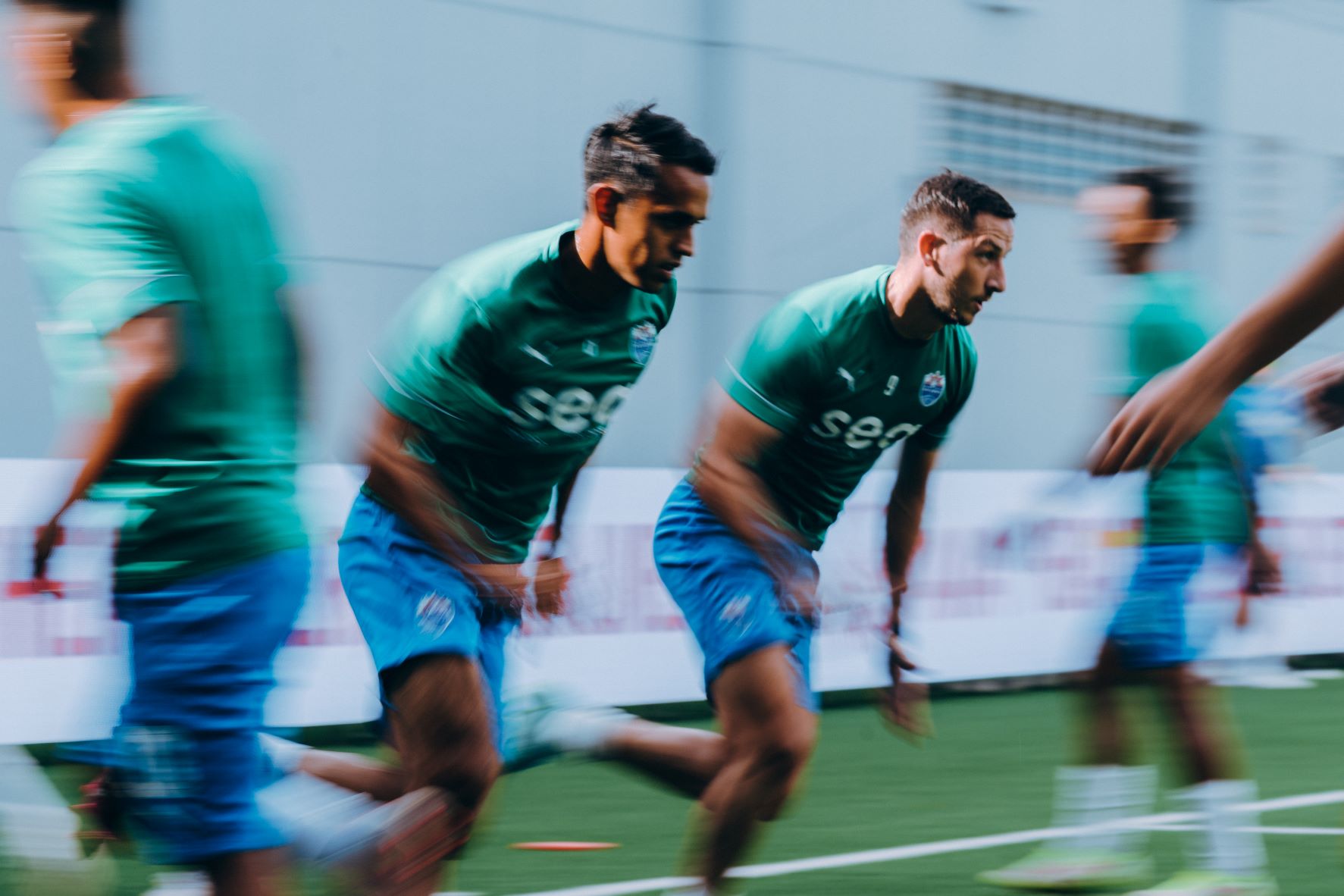 "So yes, I have definitely achieved the goals that I set for myself when I first joined the club."
Stipe's contributions to the Sailors extends beyond the pitch, with the Split native having taken the time to mentor several of the club's promising young talents.
"I'm happy to have played a role in helping some of the club's young players like Saifullah Akbar and Nur Adam in their development," Stipe revealed. "To see them win the SPL Young Player of the Year awards (in 2020 and 2021 respectively) makes me feel like I've accomplished something more meaningful than just on-pitch success.
"I may be leaving the club, but I'm confident that, with the SPL title and the guidance I've provided for the young players, I've left a good legacy behind."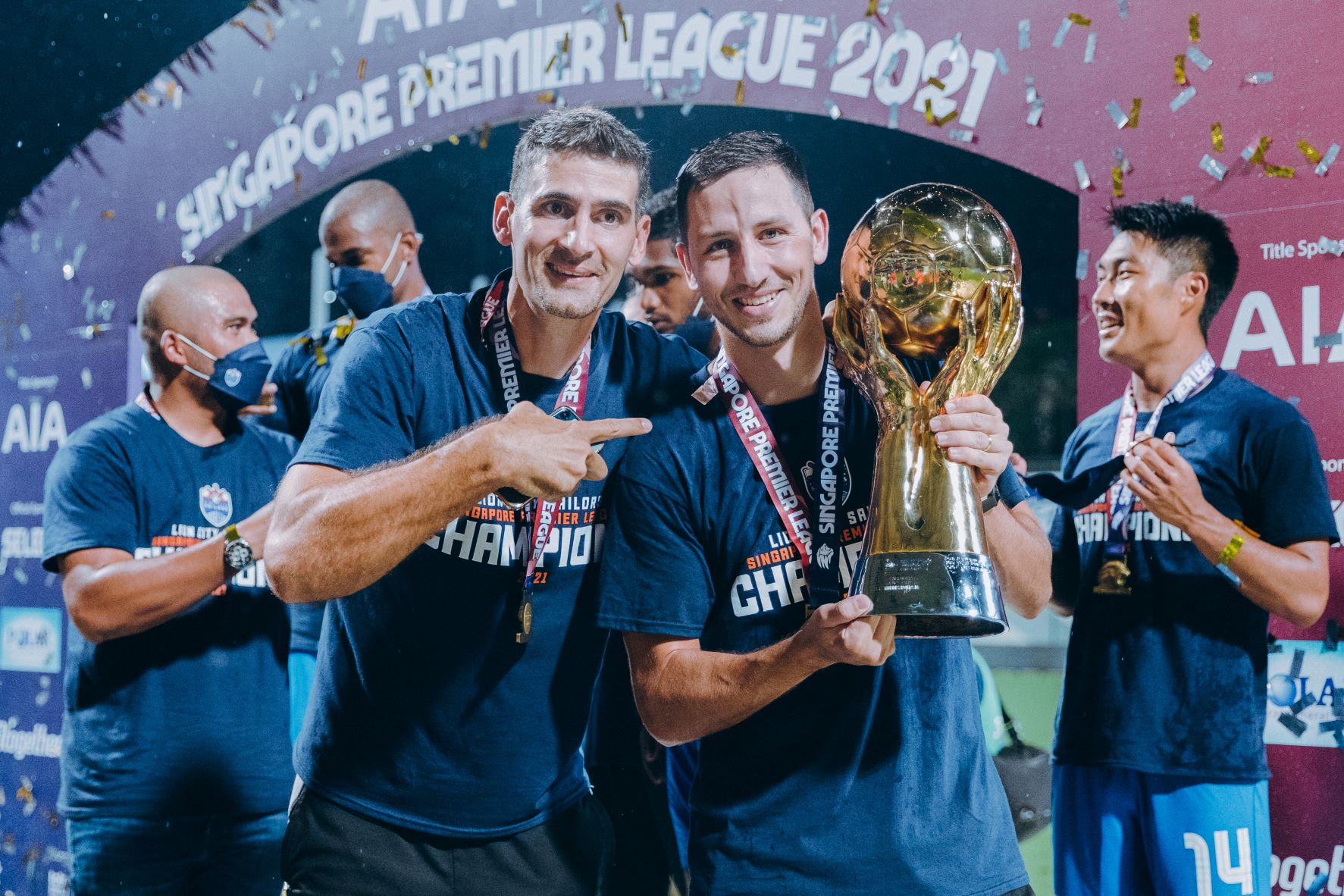 And while Stipe might have only been a Sailor for two years, he has formed strong bonds with several of his teammates and staff, as he said: "I will miss my close friends at the club, like Song (Ui-Young), Hariss (Harun), Gabriel (Quak), and Mario (Jovanovic). The friendship that we have is not something you can find every day, so I really treasure it."
Song, who hailed Stipe's impact on the Sailors, backed his close friend to continue performing at the highest level at his next club.
"He (Stipe) has consistently been among the top scorers in Singapore for many seasons now," said Song. "He has always displayed his professionalism, passion for the team, and he was a big part of our title win this year.
"I believe that he will continue his good form and performances for many more years, and I wish my brate (Croatian slang for 'brother') all the very best."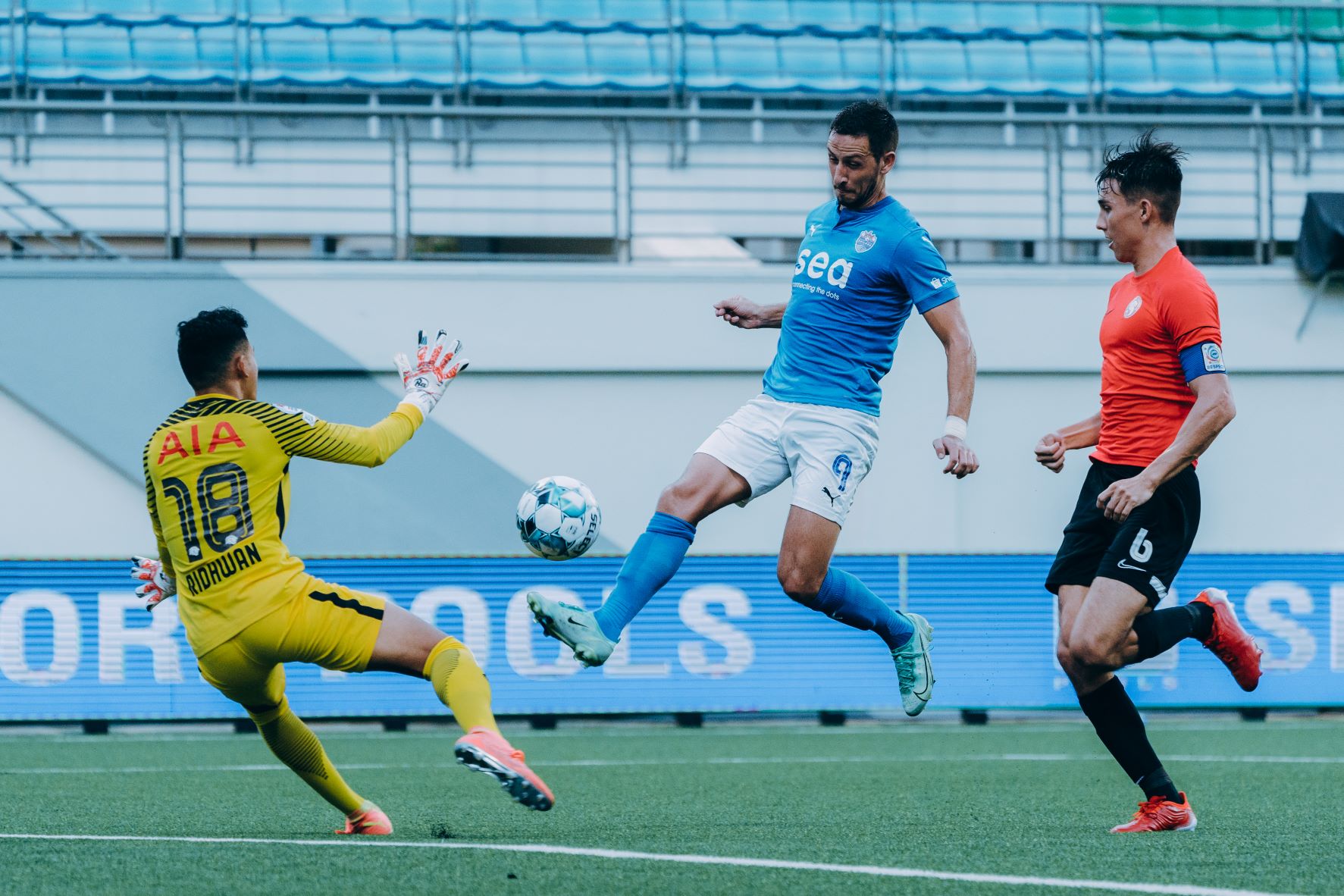 Gabriel admitted that he would miss having Stipe around at the club, especially as the duo had developed an almost telepathic connection.
"Over the past two years, we've formed a good partnership, not only on the pitch, but off it as well," said Gabriel. "We became really good friends, and I think that translated into our good chemistry when we played…you can see that for many of our goals, we provided assists for each other.
"I definitely enjoyed playing with him, and I'm proud to call him my partner on the pitch. He's played such a crucial role for us, being our top scorer, and it'll be sad to see him leave.
"I wish him all the best for the future, and would also like to congratulate him on the recent birth of his child. And even though he's leaving the club, we will definitely still keep in touch with each other."
Apart from being a well-liked and respected member of the squad, Stipe was also a popular figure among the Sailors fans.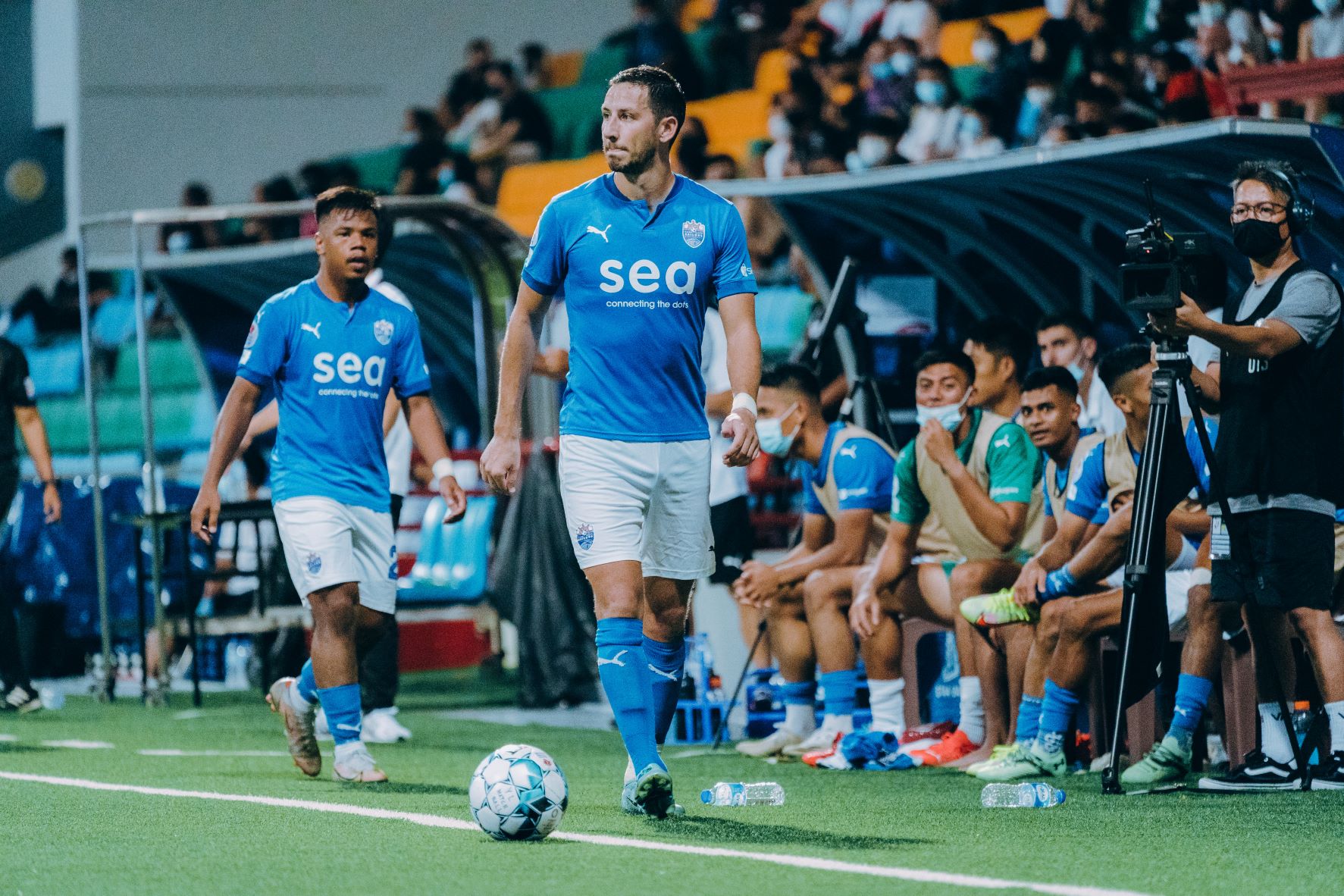 Expressing his deepest appreciation to 'The Crew' for supporting him unconditionally during his time at the club, Stipe said: "I would like to thank all the fans for their amazing support. I am happy that we were able to give them a reason to celebrate, and to believe in Singapore football again. I wish them and the Sailors all the best."
For now, Stipe remains unsure as to what the future holds for his career. While admitting that a move abroad would be the most likely outcome, he is not ruling out the possibility of staying in Singapore and playing for another SPL club.
"My next move depends on what opportunities I receive, and most probably that will come from abroad," Stipe mused. "But never say never – I may still stay in Singapore yet. For now, though, I am just enjoying my time at home with my wife, our new-born baby, and my family."
No matter what happens next, however, Stipe will remain an indelible part of Sailors' history.
From everyone at the Lion City Sailors, thank you, Stipe Plazibat. All the best, and bon voyage!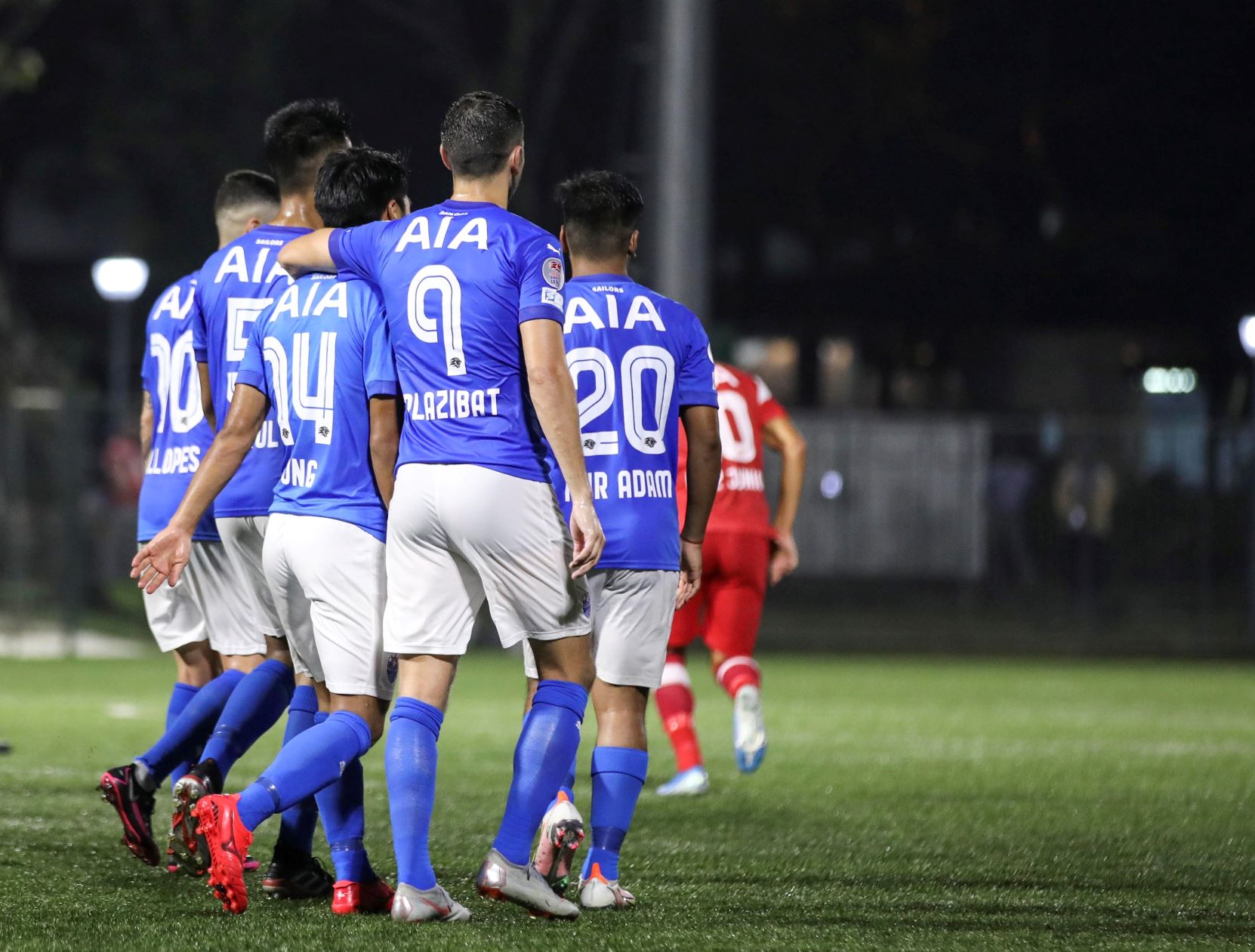 The Lion City Sailors put up some scintillating football in their 2020 Singapore Premier League (SPL) debut, but finishing third in the eight-team standings was clearly not good enough for a club with a long-term goal of achieving excellence in the region. 
Ahead of the 2021 season, the Sailors pulled out all the stops assembling an improved squad to put up an even stronger challenge for the title. 
Quality local acquisitions came in the form of Faris Ramli, Amirul Adli and Nur Adam Abdullah, then came the eye-catching signings of Brazilian duo Jorge Fellipe and Diego Lopes. Diego's arrival captured the imagination of the fraternity – the former Benfica midfielder came at a price of S$3 million from Portuguese top-flight side Rio Ave. 
Not the best of starts
All eyes were on the Sailors as they looked to avoid the previous season's slow start that saw them pick up just one point from their opening two matches. 
Hosting 2020 runners-up Tampines Rovers in a mouthwatering opening-day clash, Aurelio Vidmar's men got off to a flyer. They went 2-0 up within the first six minutes and led by 3-1 early into the second half. But a quick-fire Yasir Hanapi brace meant they spurned two valuable points in a thrilling 3-3 draw.
A first win of the season would come soon as the Sailors emphatically thrashed Tanjong Pagar United 5-0, but they were then handed a rude wake-up call next, convincingly beaten by Hougang United in a 3-1 defeat. Make no mistake about it – the Sailors did not deserve to get anything out of that game. It seemed like a case of history repeating itself. With just four points from their opening three matches, the Sailors already needed to play catch-up with 2020 champions Albirex Niigata (S).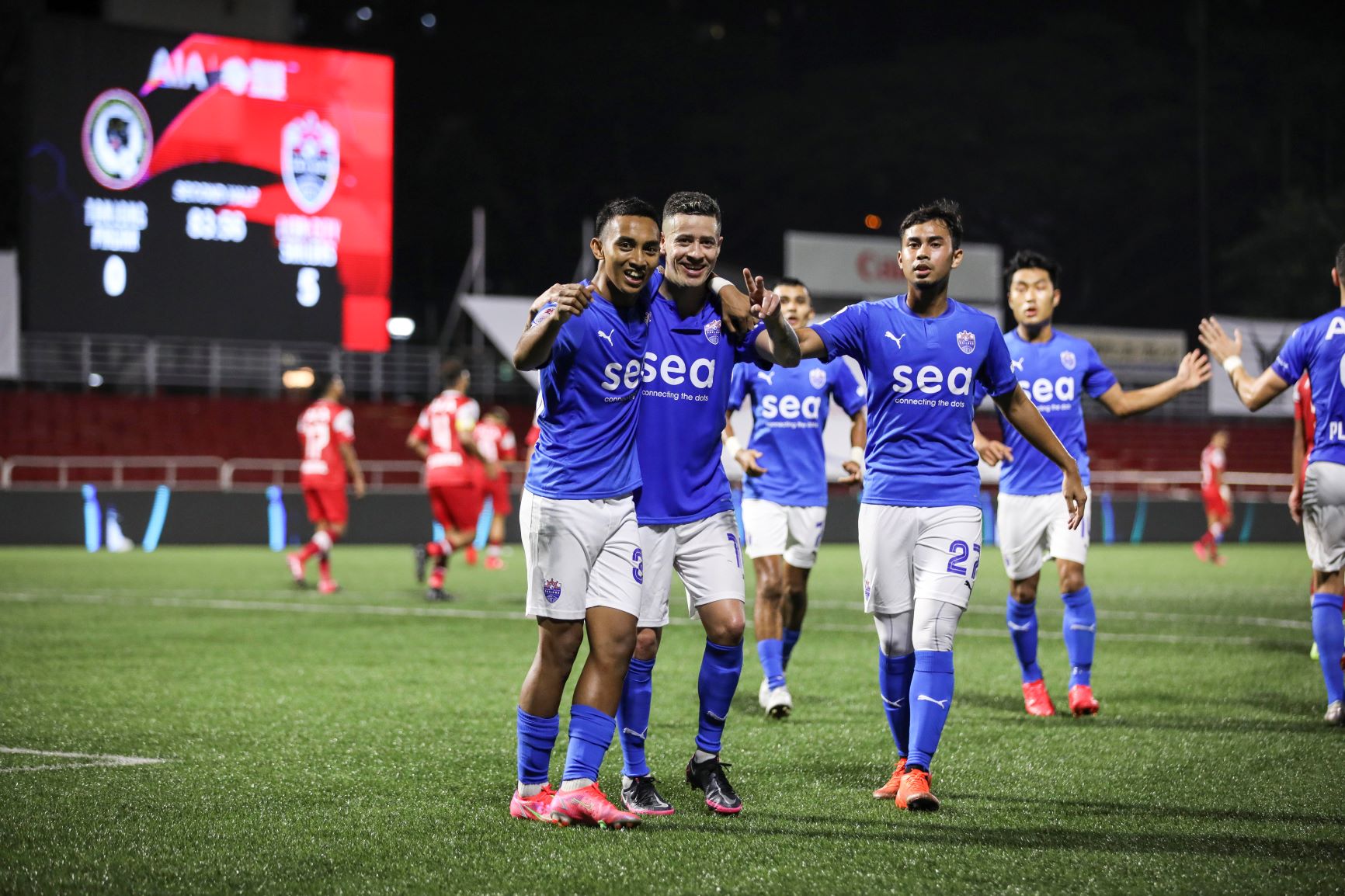 Bouncing back with a 3-1 win over Young Lions, the Sailors' defensive frailties continued to haunt them, conceding a couple of goals through set-pieces in the first of three encounters against Albirex. They did rally and manage to come from two goals down to rescue a 2-2 draw late on, but being fourth in the standings after five matches played saw question marks over the Sailors' credentials for the SPL title. 
Hitting the winning notes despite a change of coach
An 8-0 demolition of Geylang International proved to be the tonic the Sailors needed, kick-starting a great winning run. A 4-1 drubbing of Balestier Khalsa soon followed with a number of quality goals, including Gabriel Quak's stunning first-time volley was eventually named the Goal of the Year.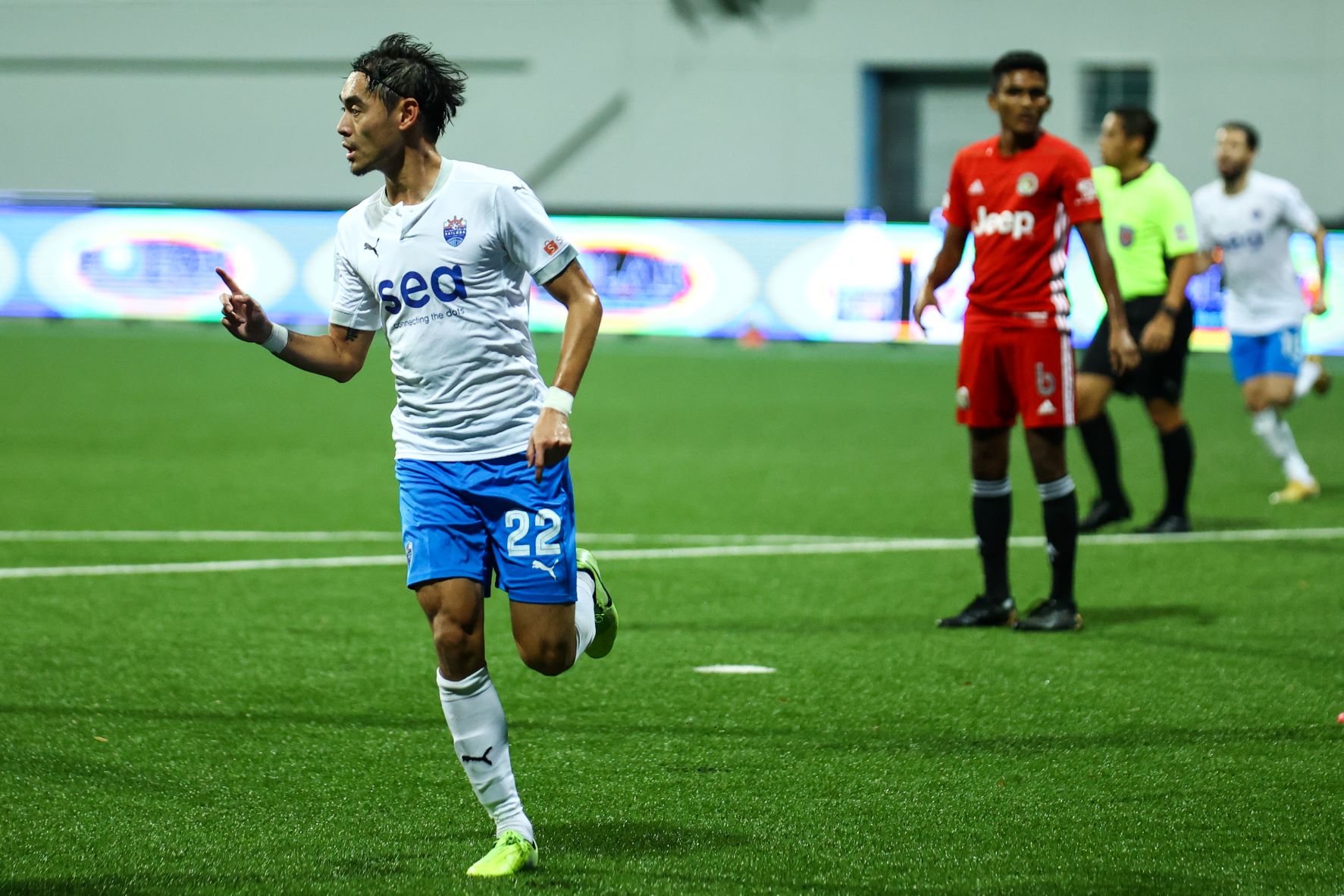 The Sailors then exacted revenge over Hougang in a 1-0 away win with star man Diego netting a physics-defying volley to take all three points, but that match proved to be Aurelio's final act as Sailors Head Coach with the Australian leaving to pursue other opportunities. 
Under-21 Head Coach Robin Chitrakar took interim charge, but the Sailors marched on, defeating Geylang 2-1, Tanjong Pagar 3-1 and Young Lions 1-0 to stay on course. Chalking up six straight wins meant they were now the most credible challenger to Albirex's crown. 
At the halfway mark of the season the Sailors were just a point behind the White Swans.
A new era begins 
The Sailors landed Ulsan Hyundai's Asian Football Confederation (AFC) Champions League (ACL) winning coach Kim Do-hoon on a two-and-a-half-year contract to take over the reins in what was a coup for the club.  
Having won the 2020 ACL, his credentials were never in question, and he wasted little time in getting down to business. Placing a huge emphasis on physical training and focusing on building up a robust defence to complement the Sailors' highly-attractive attacking style, the players clearly needed a bit of time to adjust.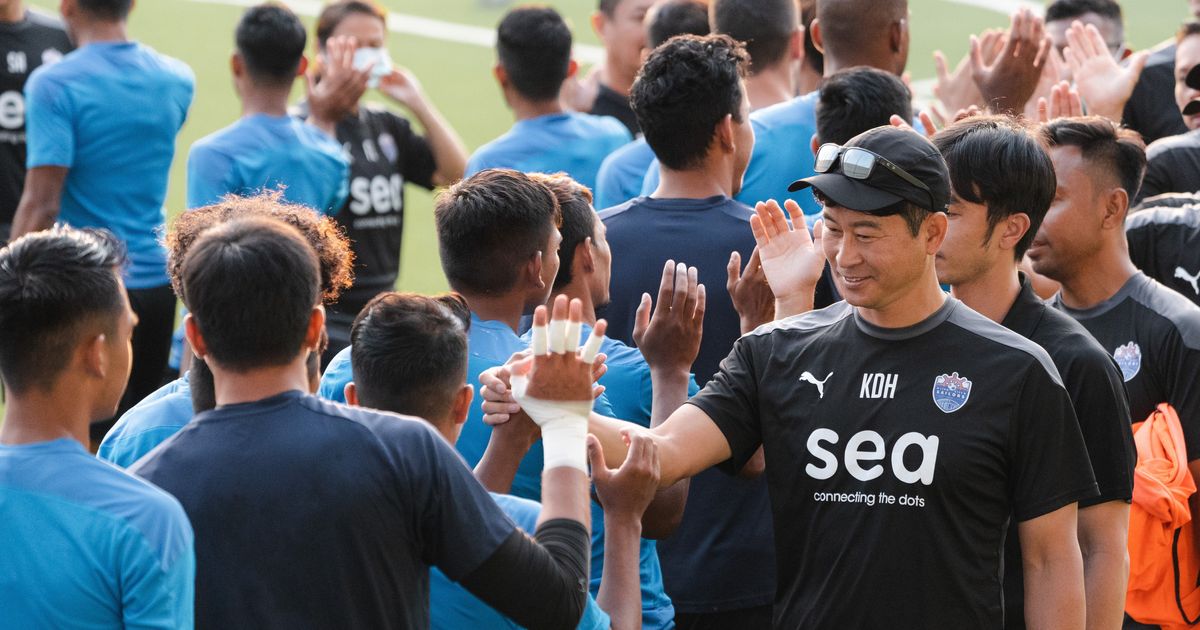 Starting off his tenure with a gritty 1-1 draw away at Albirex, Kim's second game in charge did not exactly go as smoothly. They needed a 95th-minute penalty from Stipe Plazibat to scrape a 1-1 draw against Balestier. With no wins in his first two matches, the pressure was definitely on, but the South Korean picked up an impressive 4-1 victory over Tampines next for his first win in charge.  His tactical nous came to the fore, with his plan of pressing from the top and pressuring the Stags into defensive mistakes working a treat. 
Hiccups before finally reaching the summit
That was followed by a 2-1 victory away at Tanjong Pagar, before the Sailors were frustrated by a defensively-resolute Hougang side in a 1-1 home draw. Faris Ramli's goal-bound shot was agonisingly cleared off the line deep into injury time as the Sailors found themselves five points off the pace with five matches to go. 
The Sailors were then given a huge scare by Young Lions as they trailed 1-0 at half time. A loss would have seen them fall eight points adrift of Albirex, but they dug deep and found steel, making the breakthrough with a rare Jorge Fellipe double and triumphed 3-1. 
Then came the most important game of the season – the Sailors needed to beat Albirex in a top-of-the-table clash to swing the title pendulum their way. 
Kim's charges led for 70-odd minutes after Haiqal Pashia's opener, but a loss of concentration in the final minute of injury time allowed Ryoya Taniguchi to head in the equaliser. That goal seemed to have all but ruined Sailors' championship hopes. Albirex needed to drop points in either of their final two games for the Sailors to stand any chance of winning their first trophy, and that appeared unlikely.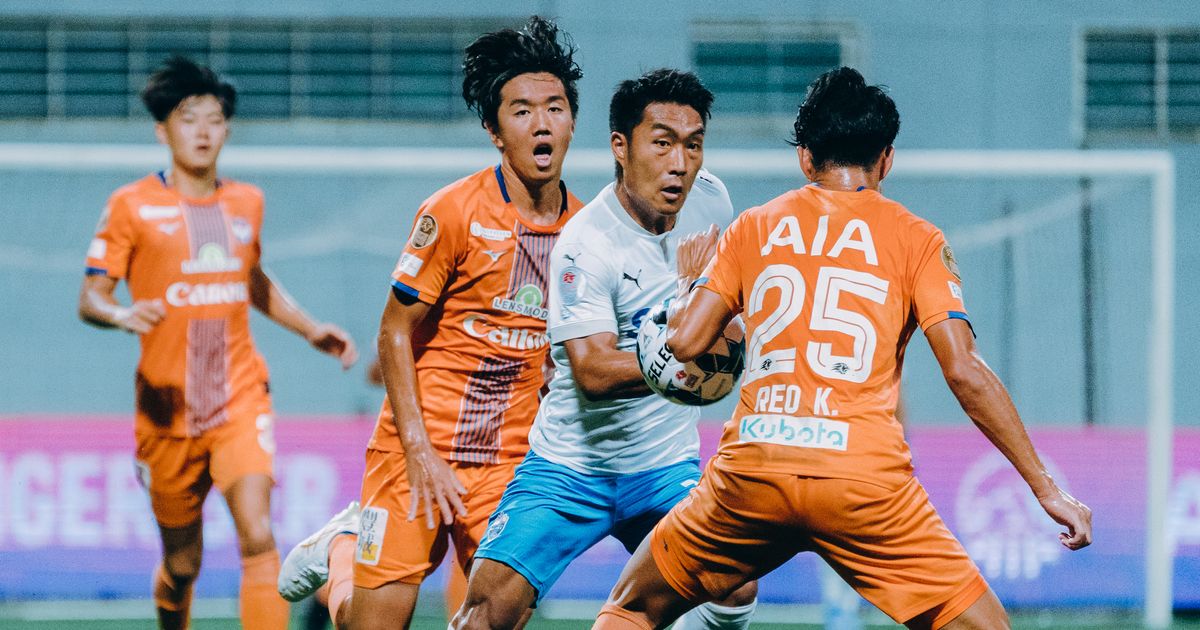 The Sailors brushed off disappointment and focused on what they could control, blitzing Tampines 6-1 away in an incredible team performance just days later. The win narrowed the gap to Albirex to just two points going into the final two rounds. 
And the unlikely did come to pass on Matchweek 20. 
Albirex were held to a shock 0-0 home draw by a determined Tampines side who were out to put their torrid run of form behind them – a result not many saw coming. The Sailors were handed a golden opportunity to regain the title initiative and they did not waste it with a professional display to dispatch Geylang 3-0. The victory meant they leapfrogged the White Swans to go top based on a superior goal difference heading into the final round of fixtures on 10th October.
Remarkably, that was the first time the Sailors have ended a matchweek atop the SPL in 2021 and they were not about to relinquish their position easily. 
On an enthralling final-day that saw tickets sell out hours before kick-off, the Sailors got off to a good start with Song turning home the opener, but were then stung by a shock Tigers equaliser through Aidil Johari. But Gabriel's goal just before half time settled nerves and they would eventually wrap up a 4-1 victory through Lopes and a second Gabriel goal.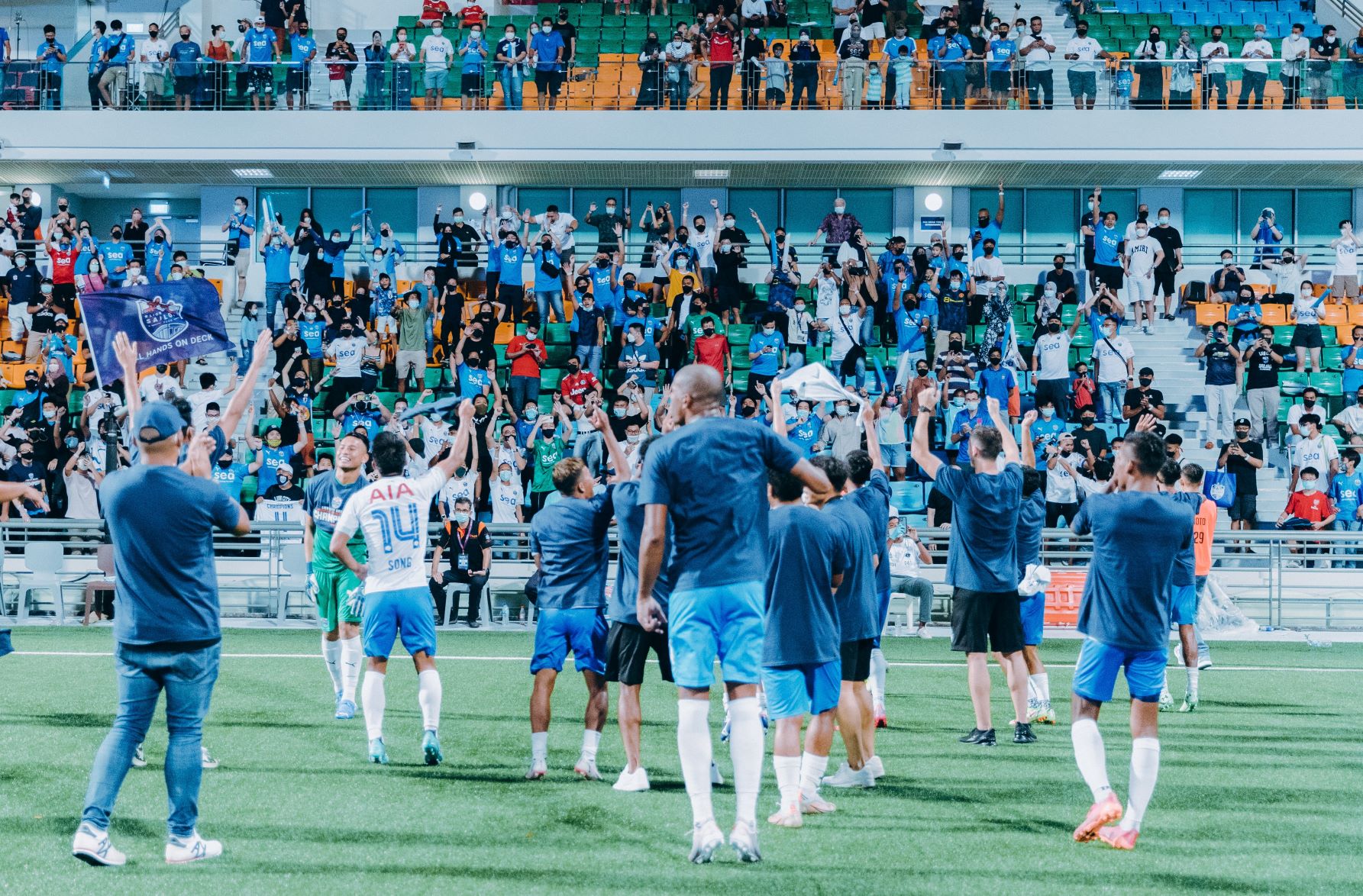 The Sailors became SPL champions on the back of a club-record 18-match unbeaten run.
The players' attention will now turn elsewhere – some are taking a break while others will report for international duty at the year-end AFF Suzuki Cup. But once the Sailors come together again, eyes will be focused on building on the 2021 season and flying the Singapore flag in the region when the Sailors make their ACL debut next year. 
The Singapore Premier League's (SPL) Young Player of the Year for 2021, Nur Adam Abdullah has been included in Nazri Nasir's final Singapore Under-22 squad for the upcoming Asian Football Confederation (AFC) Under-23 Asian Cup 2022 Qualifiers.
Saifullah Akbar, the 2020 SPL Young Player of the year, and the only other Lion City Sailor who was part of the 28-man provisional squad also made the shortened list of 23 players.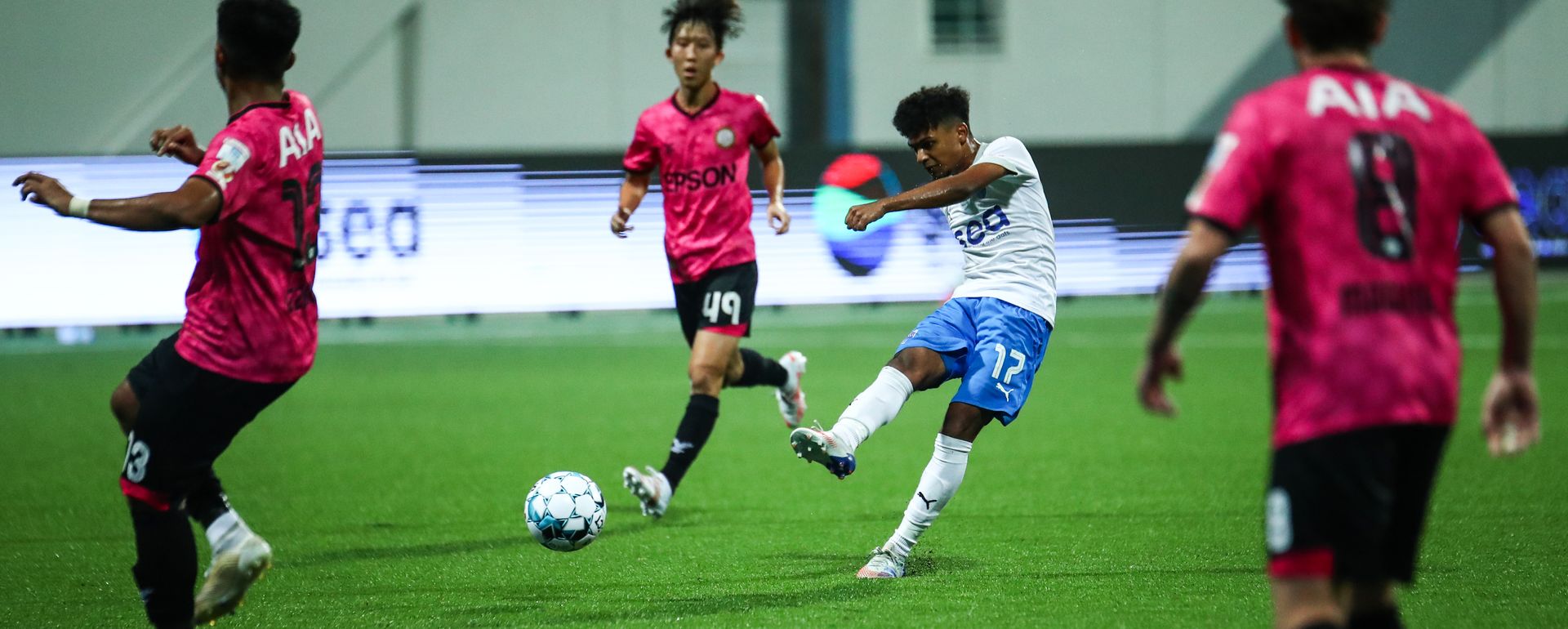 The qualifiers will be hosted in Singapore from 25-31 October.
The U22 side will kick off their Group H campaign against Timor-Leste on 25 Oct, and will face Philippines and South Korea over the following six days, charged with the task of qualifying for the finals of U23 Asian Cup for the first time in Singapore history.
In line with the prevailing COVID-19 safe management measures, a maximum of 1,000 spectators will be allowed in the stadium for each match. Tickets are available from www.fas.org.sg/tickets. 
A total of 11 groups from both the West and East Zone will contest the Qualifiers, with the group winners and four best second-placed teams set to advance to the final stage. The AFC U23 Asian Cup 2022, the fifth edition of the tournament, will be held in Uzbekistan in June next year.
He can still see it clearly in his mind's eye, in slow motion: the ball leaving Naqiuddin Eunos' foot, rising into the Jalan Besar night sky then dipping invitingly towards him. 
(Photo courtesy of Football Association of Singapore)
Gabriel Quak had only one thing on his mind – smash it. 
He did, and spectacularly so. With a swing of his left foot, the 30-year-old sent the ball rocketing into the back of the net, and the SELECT Goal of the Year (GOTY) trophy onto his shelf at home. 
That majestic volley came in the Lion City Sailors' 4-1 win over Balestier Khalsa in April at the Jalan Besar Stadium, an important three points en route to the club's first Singapore Premier League (SPL) title, and as a bonus to Gabriel, beat five other nominees at the Football Association of Singapore's (FAS) Awards Night on Tuesday (12 October) to the GOTY award.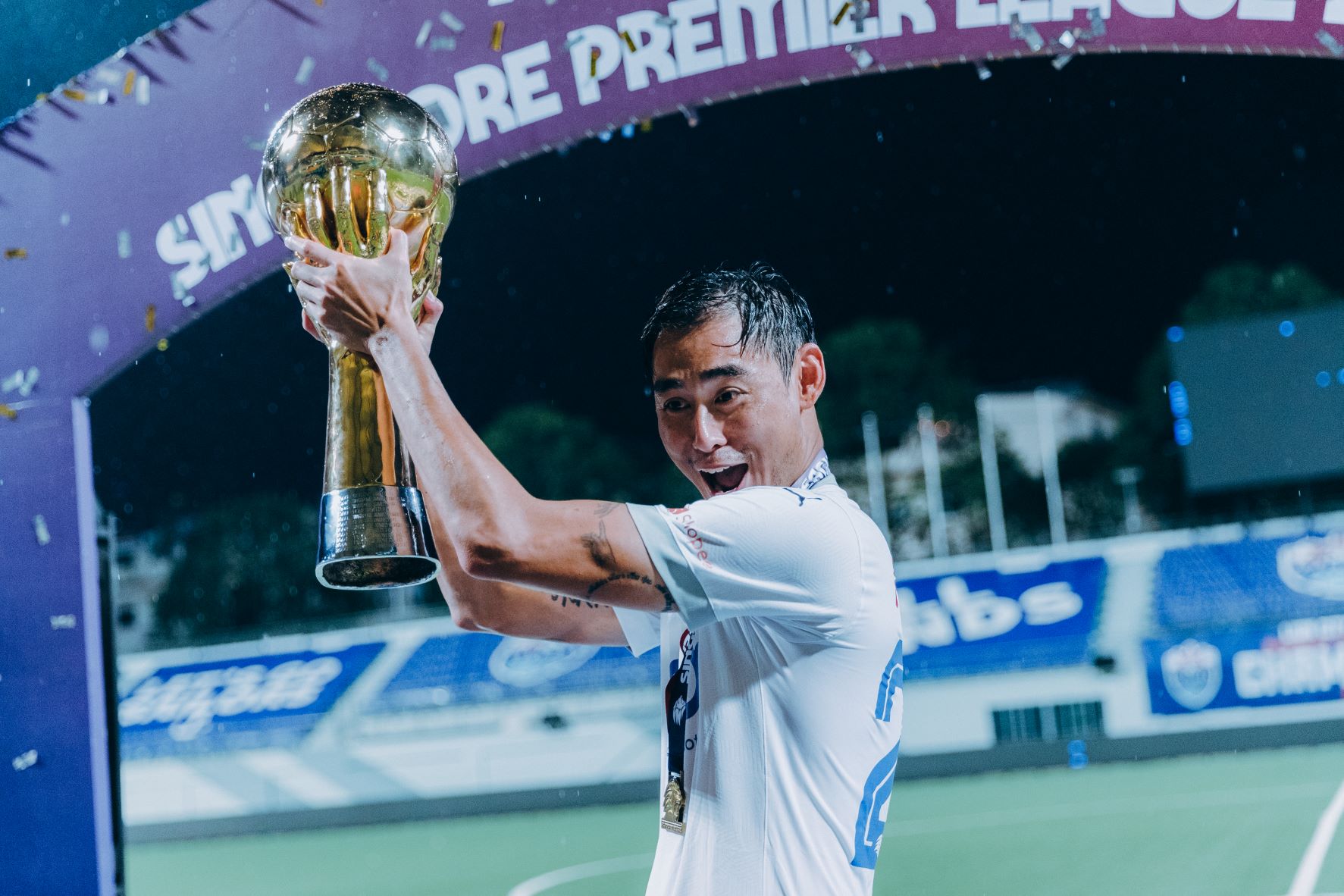 The goal happened in a split second, but it was one that has been in the making for years. Gabriel described it as "the nicest goal" in his entire career, ranking it just ahead of his neat solo effort in a 3-0 win over Geylang International during the 2020 season. 
"That goal against Geylang was a reflection of my style – footwork and little dribbling in the build-up before scoring – so it was one that I really liked," he said. 
"But yes, this one against Balestier has to be the nicest. Credit to Naqi his cross was perfectly weighted and fell into a nice spot. For many years, I've been practising on pot shots after training, sometimes my teammates would cross from the side and I would try to finish first-time. I'm just glad that it finally came off on record, in an official game."
The fact that he managed to beat an accomplished keeper like Zaiful Nizam – someone a 16-year-old Gabriel watched at the Lion City Cup – made the achievement even sweeter. 
Before the awards, Gabriel was not certain he would win, especially with the majority of the other nominees scoring from a further distance than his and he felt Fathullah Rahmat's 35-yard strike for Tanjong Pagar United in their final day 4-4 draw against Albirex Niigata (S) was one that ran the closest. 
"Credit to all the other nominees, all of them scored fantastic goals and if I've to pick out one, I thought it was Fathullah's – it was a great build-up with him playing a one-two (with Khairul Amri) before scoring from way out. And he certainly meant that," elaborated Gabriel. 
"Honestly I wouldn't say my goal was better than the rest. Perhaps mine was slightly different from theirs because it was on the run and struck first-time. I'm just thankful the panel of judges found mine the most aesthetically pleasing and it's a huge pleasure to win this award."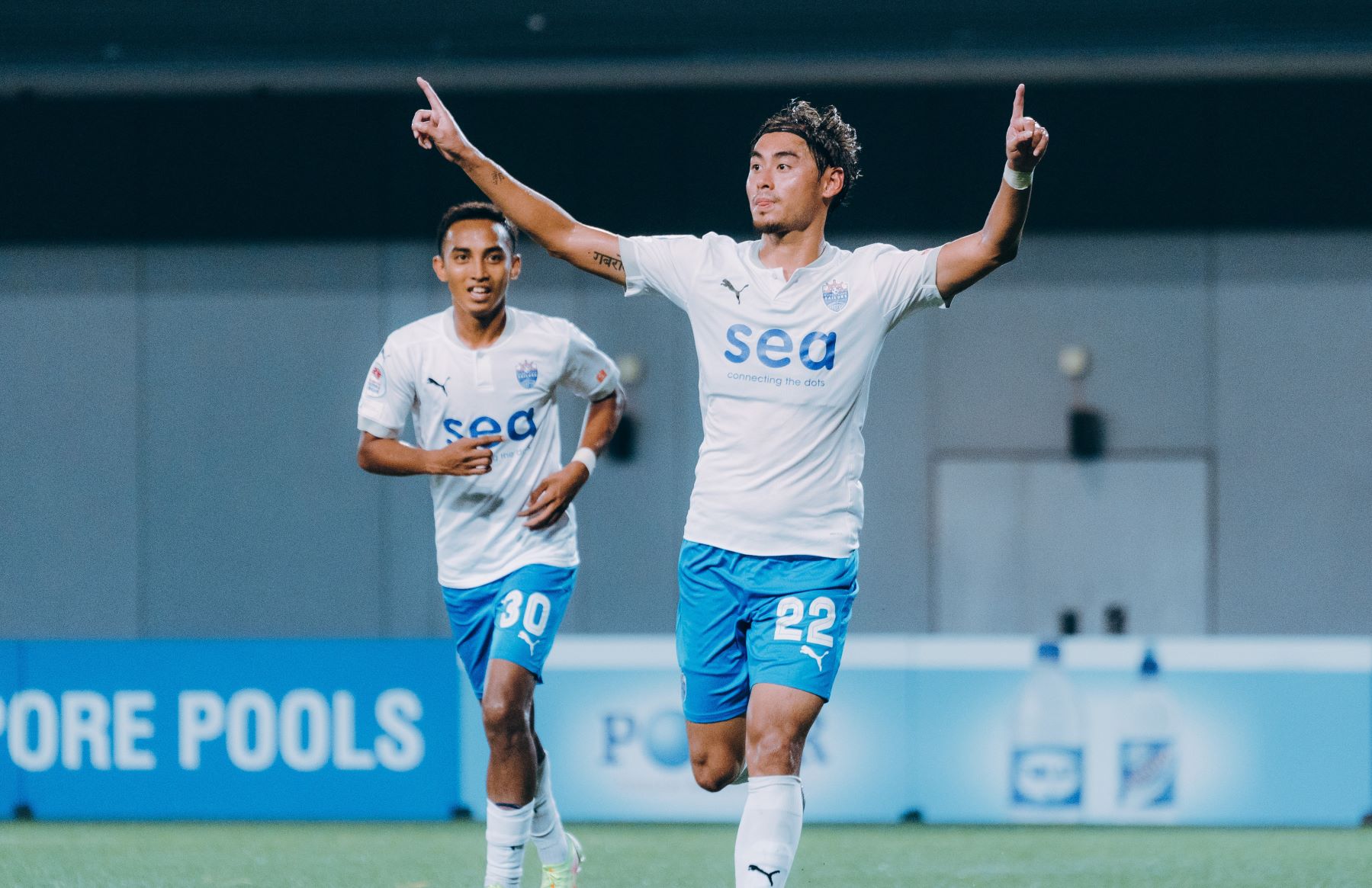 The GOTY award adds on to the growing number of personal accolades that Gabriel already has to his name – in 2020, he was crowned Player of the Year (POTY) and also named in the SPL Team of the Year (TOTY) – and it is one he felt is the most unique.
"I don't think anyone really sets a target to win the GOTY as compared to winning POTY or being in the TOTY. It depends on the action in the game and it just happens naturally," he said. 
"The beauty of winning GOTY is that the goal is probably going to be replayed time and time again, as compared to the other awards."
The award sums up another great year for Gabriel, who has managed to build on his 2020 success, scoring 13 out of the Sailors' 59 goals. This was also his best single season scoring record since he made his professional debut in 2008 with Young Lions, finishing as the top local goalscorer for the second consecutive season. 
In the process, he has earned the moniker of 'Gabigol', a nickname that has caught on with teammates and fans alike. Having reached such heights in his career for the past two campaigns, Gabriel knows he has to continue to raise the bar or at least maintain these levels of consistency – and he is embracing the challenge. 
"The 'Gabigol' tag came from our club's Brazilian interpreter, Nelson. I was scoring quite consistently at the start of the season, so one fine day in training he started calling me that," revealed Gabriel. 
"That's the nickname for Gabriel Barbosa who is scoring goals for fun in the Brazilian league. I don't know how, but it began to spread and everyone began to call me that as well."
While it is nice-sounding, Gabriel accepts that it will come with pressure, especially after he's enjoyed two consecutive seasons as the top-scoring Singaporean.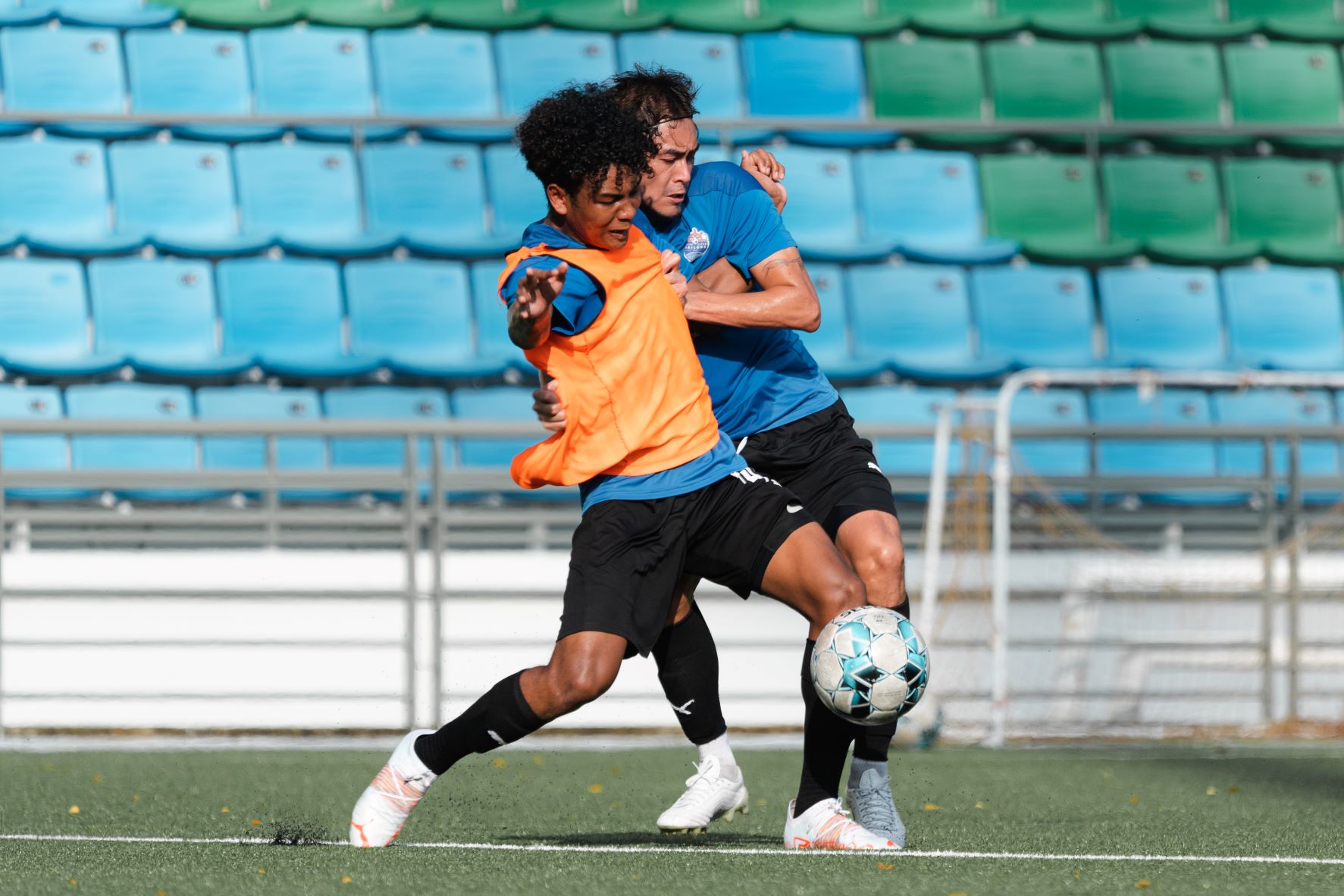 "I know after the individual success I had in the previous season, many people were expecting me to deliver and expectations were high," he said of his 2020 season. "I took it as a challenge – I always love one and I'm personally very competitive – and I'm just glad that this year, my numbers were there for everyone to see, and ultimately we won the league as a team – that was always our objective."
While another GOTY award is not on his radar, matching the levels of performance that led to that goal and the league title definitely is.  
"If you ask me if I'm confident to maintain at this level, I would say yes. Year in, year out, I always try to make sure I don't fall short of my standards. In a footballer's life span, there's bound to be ups and downs," he said.  
"But one thing is for certain: I'll continue to put in the work to ensure that we can build on this league title – and I know my teammates will be doing exactly the same."
On Tuesday, Nur Adam Abdullah found himself alongside Saifullah Akbar and Ryoya Taniguchi, attacking players who have chalked up impressive numbers in the 2021 Singapore Premier League (SPL) season. 
Saifullah, a fellow Lion City Sailor, chalked up four goals and three assists, while Albirex Niigata (S) midfielder, Taniguchi, ended the season with nine goals and eight assists. 
The pair was Nur Adam's competition, nominees for the AIA Young Player of the Year (YPOTY) award at the Football Association of Singapore (FAS) Awards Night. And simply put, he did not think he stood any hint of a chance to win, especially not with his statistics for the season – one solitary assist. 
Numbers present a detailed picture, but they do not always tell the full story, and in those cases, the full story can surprise – just as Nur Adam was when he was crowned as the SPL's YPOTY for 2021.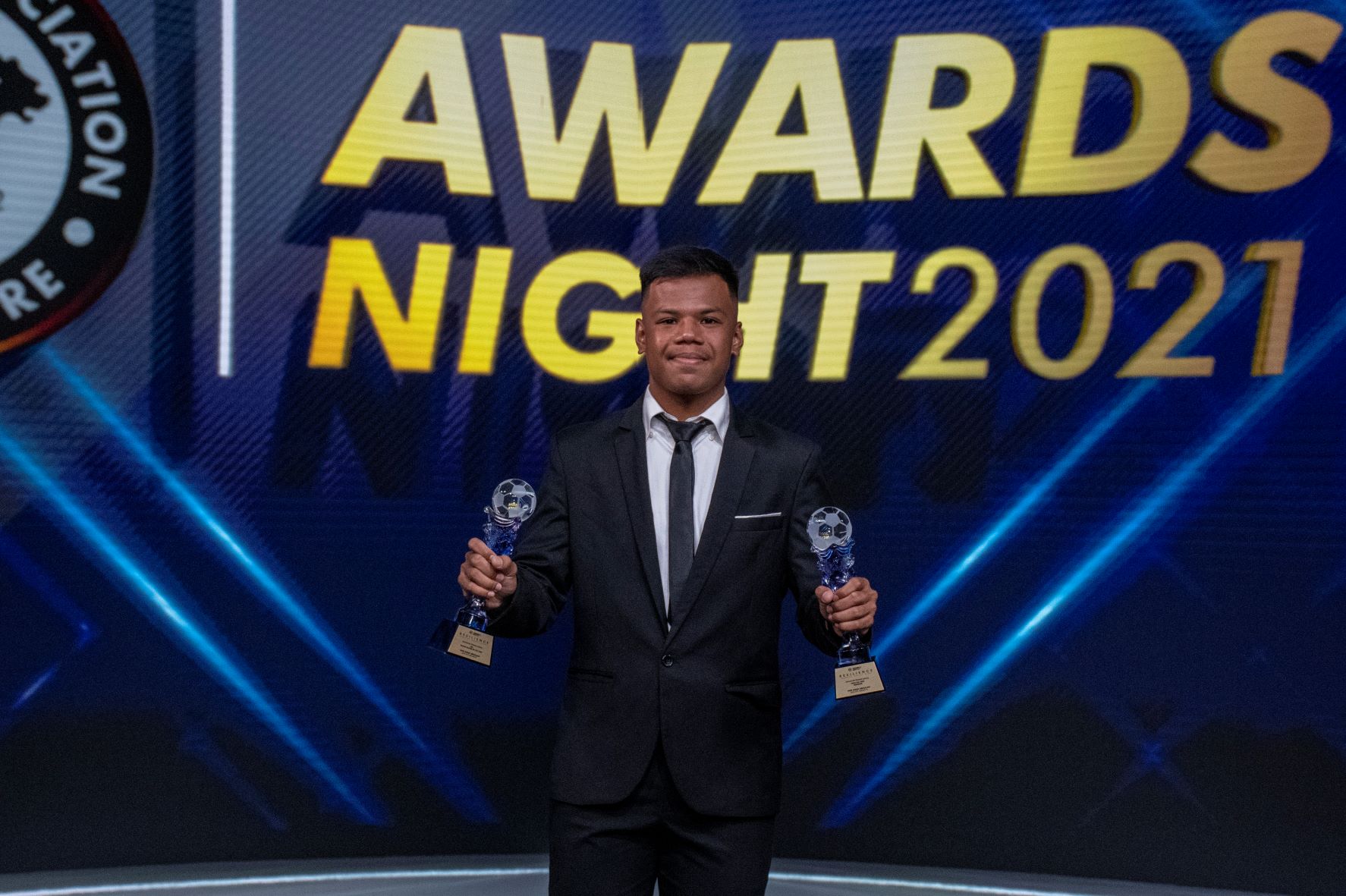 (Photo courtesy of Football Association of Singapore)
In just his third professional season, the effervescent left-back enjoyed a solid campaign with performances that belied his tender years. Indeed, the 20-year-old was a key figure in the Sailors' first SPL triumph. 
"In my conversations with my friends and family, I told them I may not be able to win because based on stats, I only had that one assist," admitted Nur Adam. "But if you based it on performance, I would say I've been pretty consistent throughout the year."
To double his joy, he was also named in the SPL Team of the Year (TOTY) alongside fellow Sailors, Jorge Fellipe, Shahdan Sulaiman and Stipe Plazibat, which also came as a surprise to him. Nur Adam felt "an older or more experienced player" would perhaps be more deserving of the left-back position.
Stats alone certainly do not tell the true tale of Nur Adam's 2021 campaign. He made the left-back spot his own in his first season with the Sailors. He played and completed all 16 games that he played in, the Under-23 rule notwithstanding.  
Despite having to cope with the transition from developmental side Young Lions to the title-chasing Sailors, he thrived, earning plaudits from all quarters with his ability to put in crunching tackles as well as bomb forward to support the attack.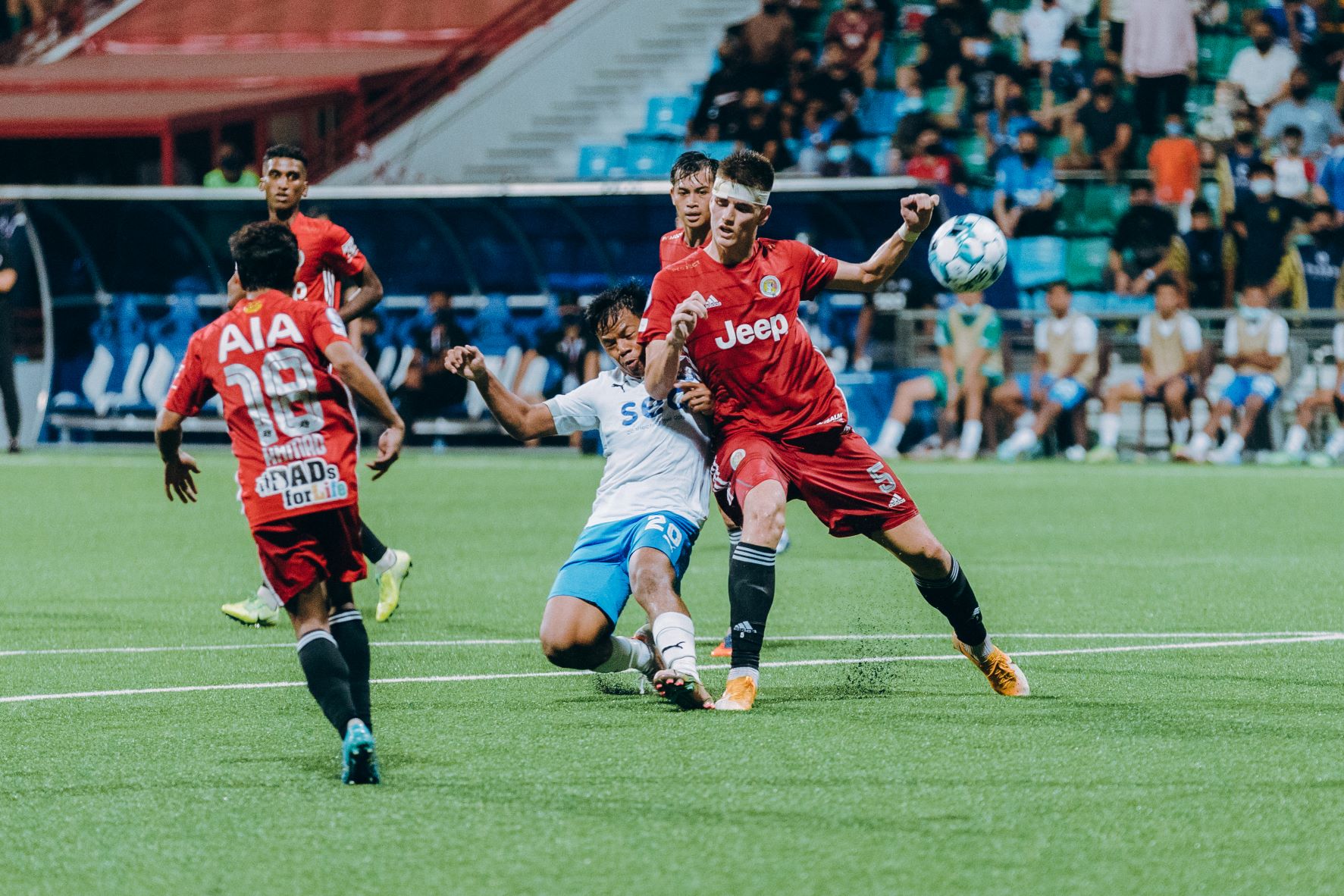 His grit and tenacity has even brought forth comparisons with legendary Singapore left-back, the late Borhan Abu Samah, who was affectionately named Singapore's "Russian Tank".  
To be amongst the awards served to round off a memorable year for the rising defender, but Nur Adam preferred to share the credit with his team and loved ones. 
"I would just like to say thank you to all my teammates, the staff and coaches at the Sailors, as well as the fans who've been giving me amazing support and I'm really thankful for that," he said. 
"Not forgetting my family members as well, they've always been there and stood by my side on every step of my journey. They saw me suffer and go through some really low moments in my career, especially when I broke my leg seven years ago. Every one of them has played a part to help me get to where I am today."
Nur Adam is the first defender to win the YPOTY since Home United's Sirina Camara did so in 2013, and he believes he has benefitted from the worldwide trend of full-backs playing a bigger role in football teams – and getting recognition for their work.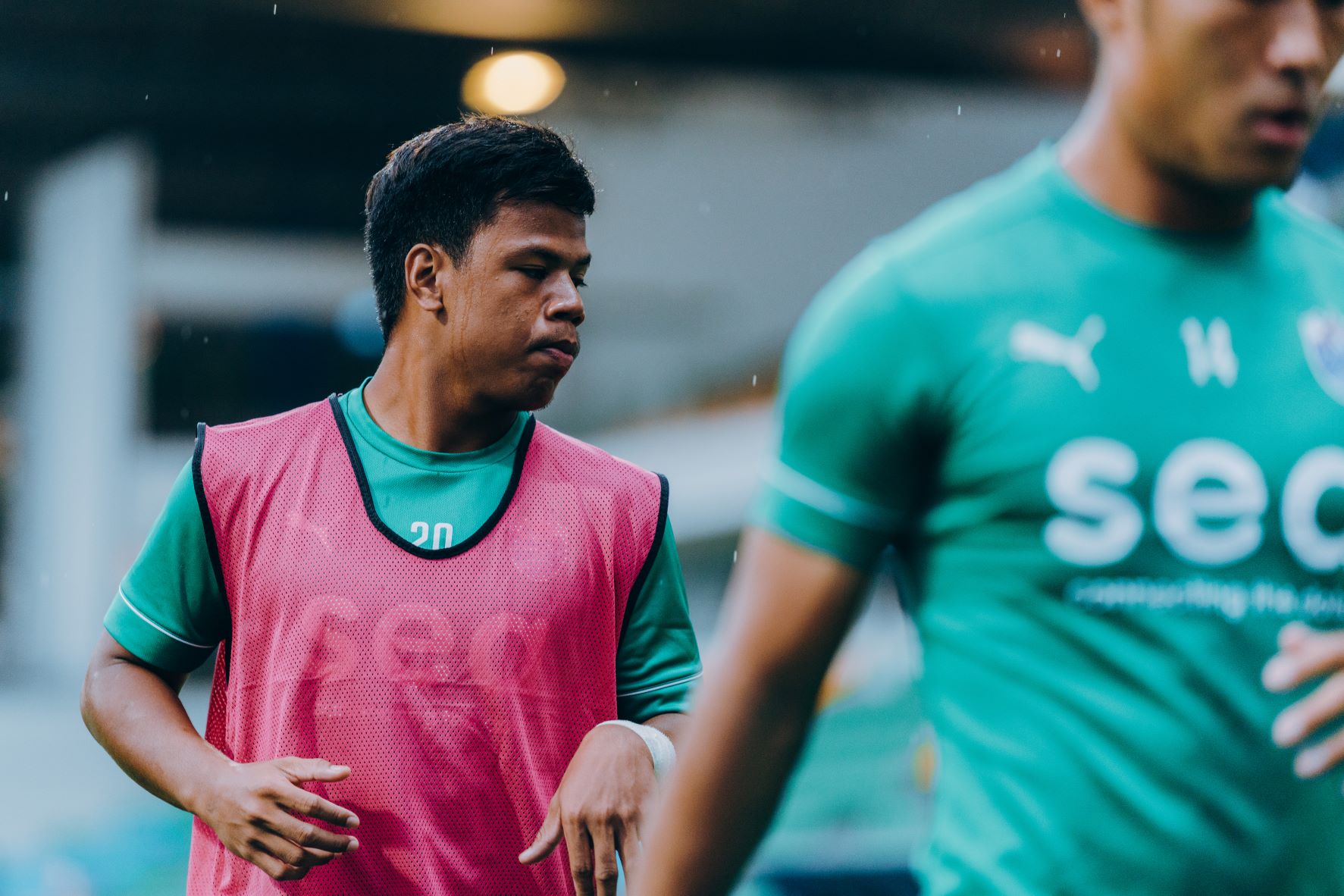 "In my opinion, the full-back is now one of the most, if not the most, crucial position in football now. We're not just defenders, but also attackers," he elaborated. "We must have pace, stamina and dribbling skills – basically the whole package – to be able to play in this position."
Now that the 2021 league season is over, Nur Adam is already looking forward to the next one with the Sailors set to participate in their first-ever Asian Football Confederation (AFC) Champions League (ACL) campaign. 
The next season could prove to be a pivotal one for Nur Adam. It is likely to be his last before he reports for National Service (NS). Due to enlist at the end of next year, he is out to make the most of the remaining time to evolve into an even better player. 
"You know I was already talking to Coach (Kim Do-hoon) that my target is to score five goals next season?" revealed Nur Adam, who is in his third and final year as a sports management student at Republic Polytechnic (RP) under the through-train pathway from Singapore Sports School. 
"I just want to get more, in terms of statistics, to contribute to the team. I'm not sure whether I'll get to play much after I've enlisted… but for now, I just want to focus on getting whatever advice I can from the coaches and experienced players. The most important thing is helping the team to retain the SPL title and do well in the ACL."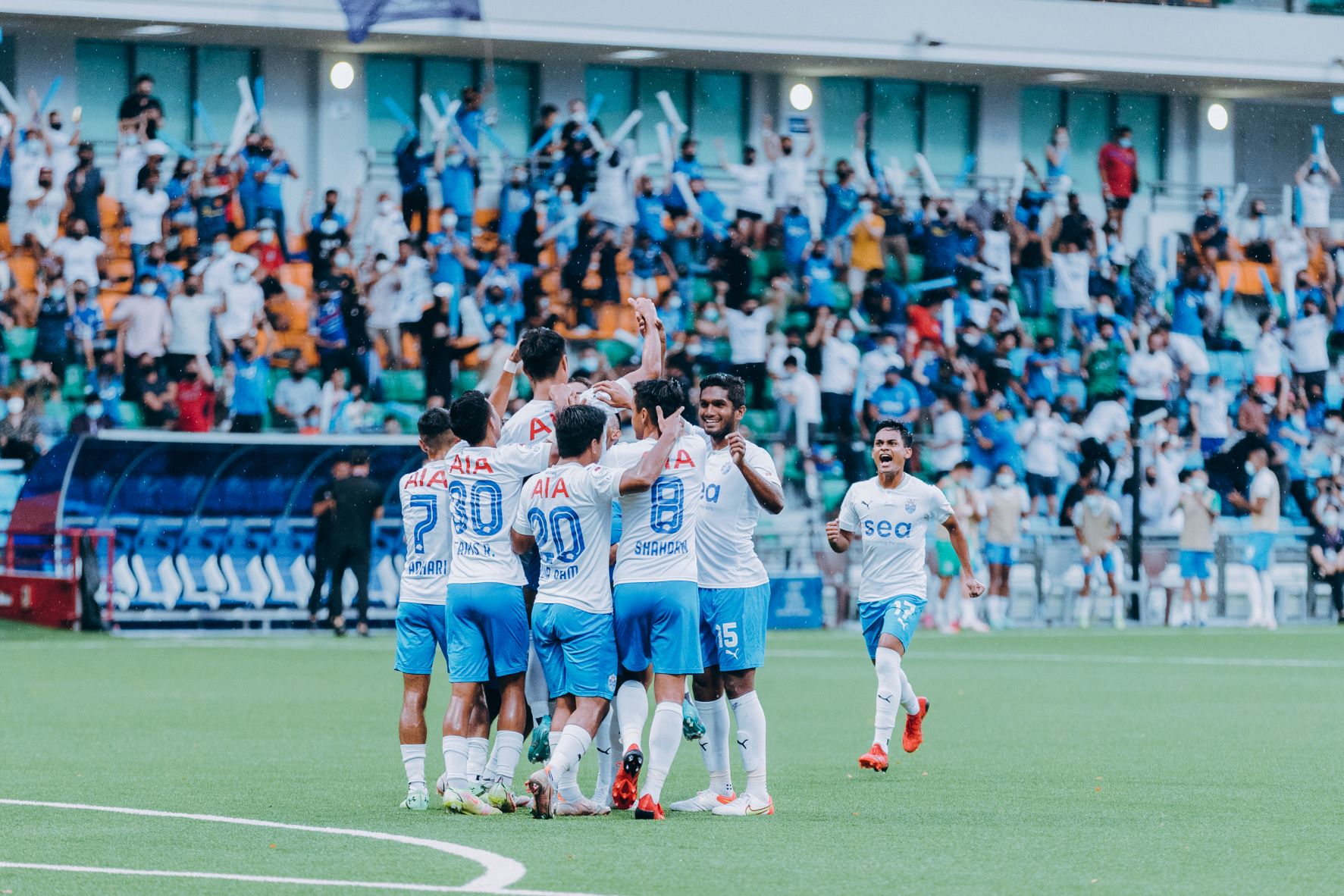 But the year is not yet over for Nur Adam, far from it. International duty beckons.  
Nur Adam has been named in the provisional Singapore squads for two big tournaments – the AFC Under-23 Qualifiers at the end of this month and the initially postponed AFF Suzuki Cup 2020, now scheduled for December. 
The possible lack of rest is not a factor that bothers the determined lad, as he looks forward to fulfilling a dream – a target, really – that he set for himself at the age of 13. 
"The long-term goal I set when I was in the Sports School was to make my national team debut before I go for NS. It would be fantastic if that could happen. To play in the Suzuki Cup would be amazing," said the 2018 Dollah Kassim Award winner. 
"I recall watching the 2012 edition when Shaiful Esah was whipping in his pinpoint crosses from left-back – the bend whenever he strikes the ball was just 'wow' – and he's one of my local football idols.
"Of course it's a testing year for me and Saifullah (who is called up for both squads as well), but I guess the benefit is that we're still young and can recover faster. We have 24 hours a day, we just have to recover well to make sure we're ready for all the matches ahead.
"And I will grab the opportunity with both hands if it comes." 
Nur Adam Abdullah made the left-back spot at the Lion City Sailors his own in 2021. His swashbuckling style has seen him consistently bomb up and down the flank, a familiar sight as the Sailors stormed to their first Singapore Premier League (SPL) title.
The win was Nur Adam's first professional trophy after a stellar season, and the 20-year-old ends the year with the top award for players aged under 23: He was named the AIA Young Player of the Year at the Football Association of Singapore's (FAS) Awards Night earlier today (12 October). 
Nur Adam pipped teammate Saifullah Akbar – 2020's YPOTY – and Albirex Niigata's Ryoya Taniguchi, the White Swans' leading assist provider this season to the award. This after putting in strong performances that also saw him named the league's young player of the month in September. 
September was a particularly good month for the Sailors, with Head Coach Kim Do-hoon winning the coach of the month award, and Brazilian defender Jorge Fellipe named as September's player of the month.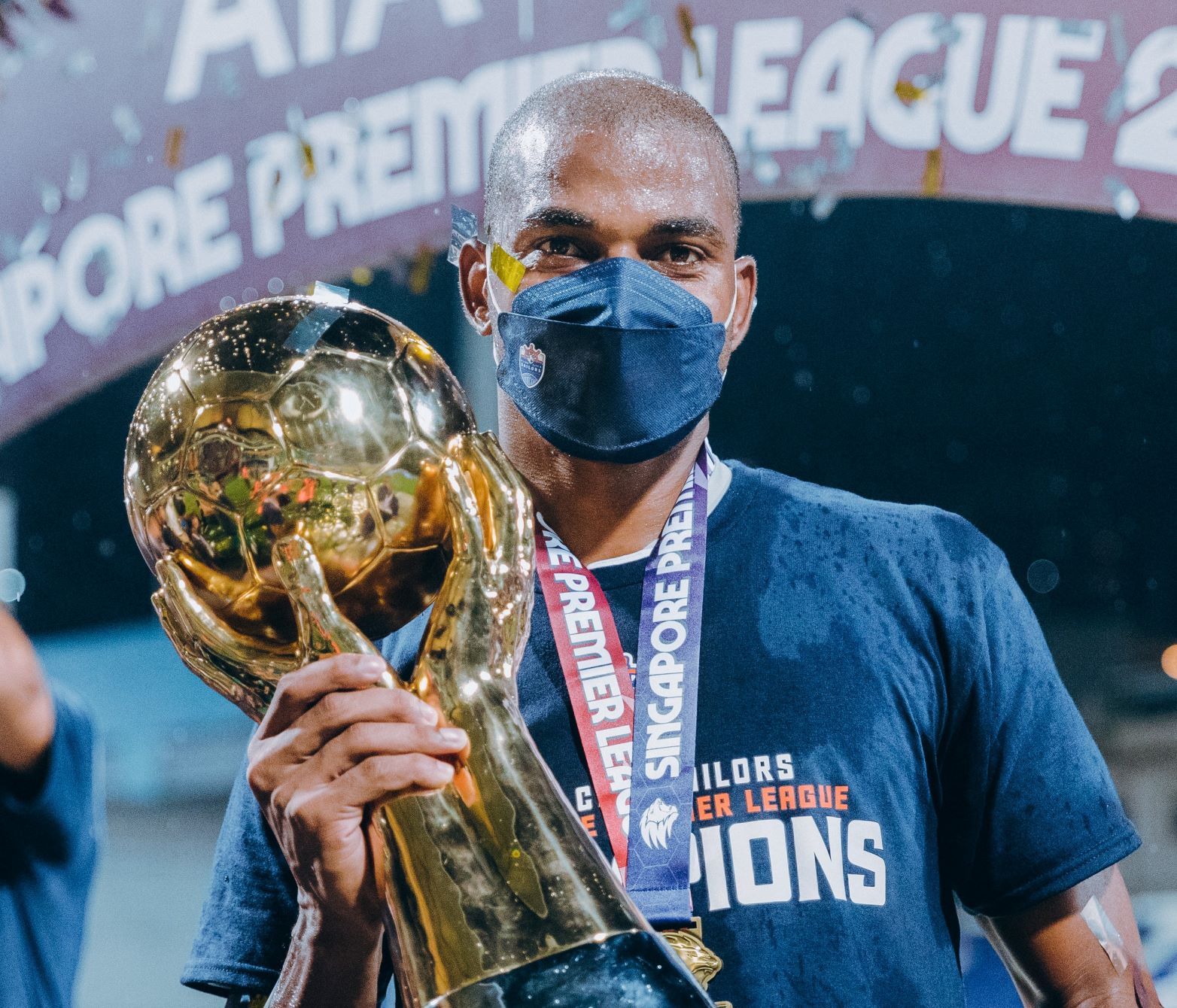 Jorge was one of four Sailors –Nur Adam, Shahdan Sulaiman and Stipe Plazibat – named in the AIA SPL Team of the Year. 
Jorge and Stipe were nominated for the AIA Player of the Year Award, but the accolade was won by Hougang United forward Tomoyuki Doi who was also the league's top scorer with 19 goals.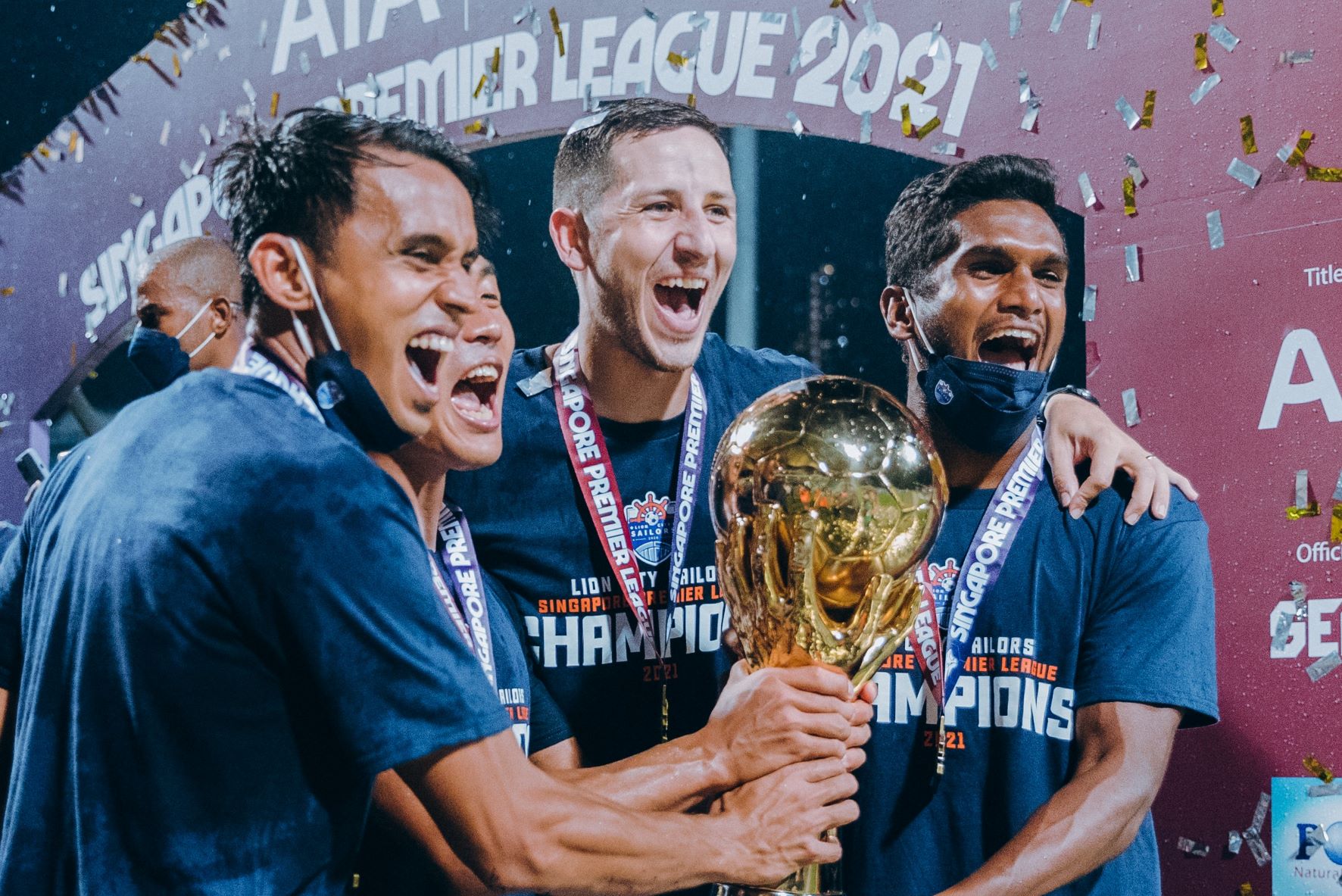 Gabriel Quak, 2020's POTY and 2021's top local goalscorer, added yet another personal accolade to his trophy cabinet. The 30-year-old's sensational left-foot volley in the Sailors' 4-1 win over Balestier Khalsa in April was named the SELECT Goal of the Year.  
The Sailors salute our award winners!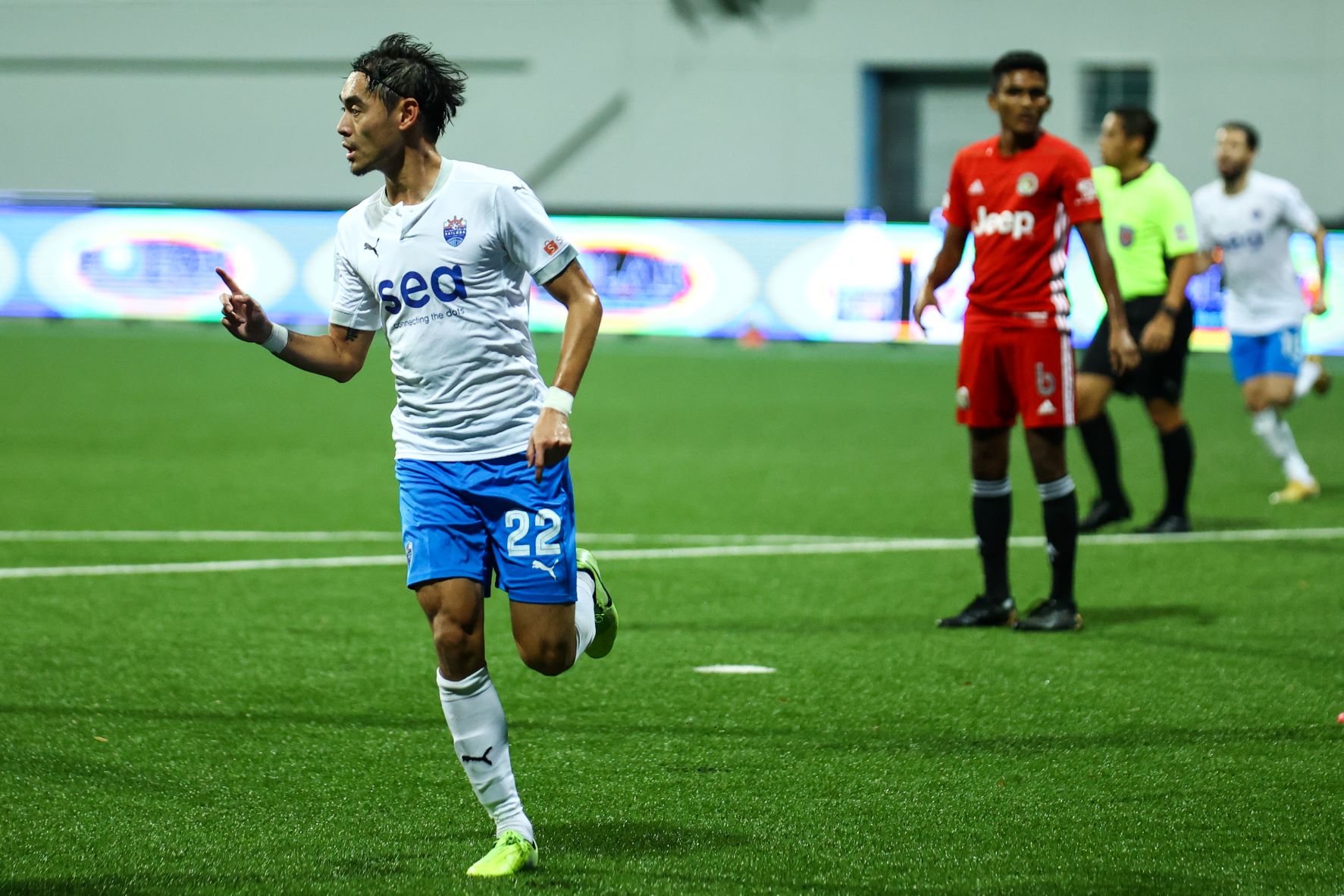 The confetti had long been swept off Jalan Besar Stadium's plastic green arena, and those 1,000 jubilant fans had already gone to bed and woken up as part of the crew that willed on the first Singapore club to win the Singapore Premier League (SPL) since 2014. 
The floodlights at the stadium have yet to be turned on since, but the electricity that sparked the night sky above Jalan Besar for 90 odd minutes on 10 October will crackle on in the hearts of all who were present at the most spectacular of season finales in recent history – the night the Lion City Sailors became SPL champions for the first time. 
For those out on the pitch, the memory of the wild 90 mins on 10 Oct has been seared into memory, along with the moment gold and blue confetti floated down from the sky. 
"It's an absolutely unbelievable feeling to finally be an SPL champion," said Gabriel Quak, who was a key figure in the Sailors' 4-1 win over Balestier Khalsa that secured the title. Gabriel's two goals – along with a goal apiece from Song Ui-young and Diego Lopes – fuelled the Sailors' hard-fought victory on the night.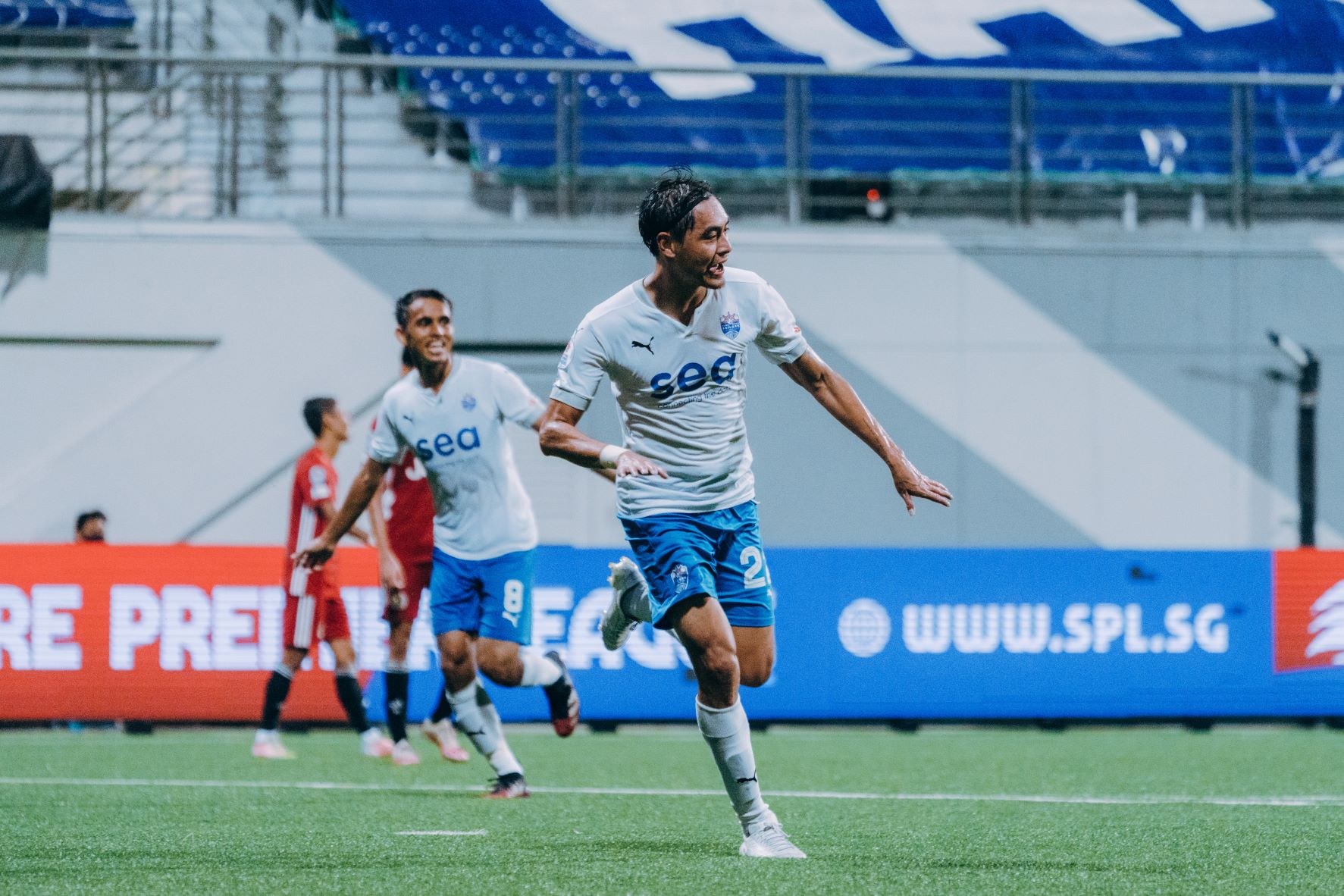 But the scoreboard belied the roller-coaster of emotions on a night closest rivals Albirex Niigata (S) stormed to a 4-1 half-time lead against Tanjong Pagar United in a concurrent match – and threatened to overcome the goal difference deficit to steal the SPL title. 
Albirex were eventually stunned by a Jaguars side that came back from a three-goal half-time deficit to salvage a 4-4 draw, a result that saw the Sailors win the league by a two-point margin. 
But the Sailors were forced to navigate stormy waters, with Hariss Harun forced off by injury, playmaker Shahdan Sulaiman deputising at centre-back, and nerve-wracking moments after Balestier found a goal – through Aidil Johari –  that levelled the match at 1-1. 
"I had only filled in at centre-back once before and that was when I was in Malaysia with Melaka United (in 2018), and I was a bit surprised when Coach Kim asked me to play there, but I knew I had to just step in and try to do a job for the team," recalled Shahdan. 
"We were somehow quite shaken by Hariss's injury and it looked like there was a lack of ideas from us," admitted Gabriel, of the 10-minute period when his team looked shaky – as a previously rocking Jalan Besar falling eerily silent – and could well have conceded another goal.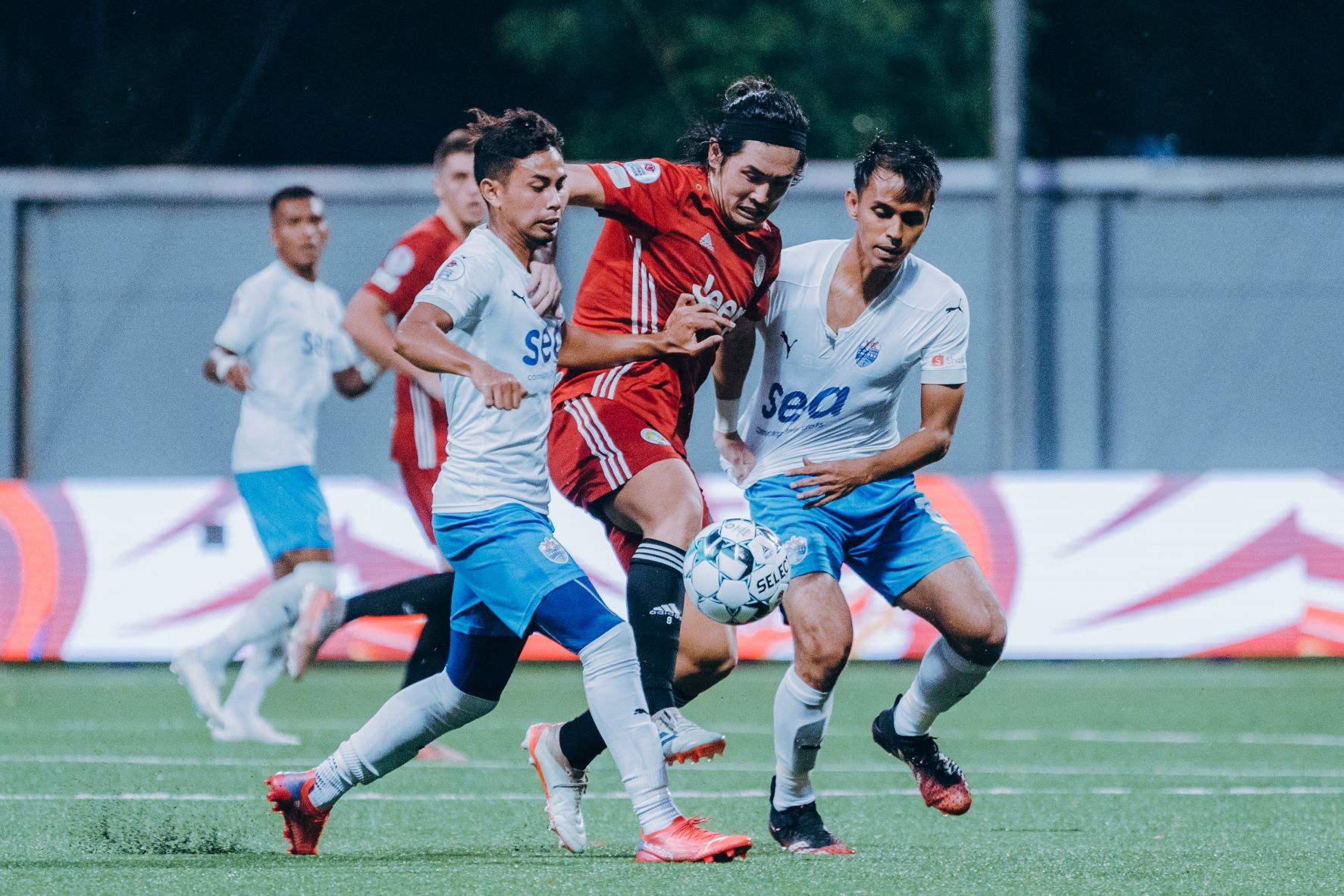 But the Sailors dug deep to find steel and regained the lead just before the break. In what he described as his "most important goal of the season", Gabriel showed great desire to win an aerial challenge with Balestier goalkeeper Zacharial Leong before hooking into an empty net. 
"That goal set the tone for the second half," added Gabriel, for whom this is a first domestic league title.
Sunday's 90 minutes was perhaps a distilled reflection of the Sailors' topsy-turvy season that saw three head coaches – Aurelio Vidmar, Robin Chitrakar (interim) and Kim Do-hoon – a few failed attempts to take control of the title race, injury issues and even a surge of support from Singapore football fans that was accompanied by a momentary dip in confidence. 
"To win a title takes a lot of hard work as a team. We went through several ups and downs to finally end the season on top – that makes this triumph taste particularly sweet," said a philosophical Shahdan. 
Shahdan, is one of only three players – along with club captain Hassan Sunny (Warriors, 2014) and Adam Swandi (Albirex, 2018) – who have experienced an SPL triumph. The 33-year-old last won the league with Tampines Rovers in 2013, but the exhilaration, even as a seasoned veteran, remains otherworldly. 
"Back then with Tampines, I was still quite young, in a team of experienced players like Aleksandar Duric and Farra (Fahrudin Mustafic)," said Shahdan. "Now I'm one of the leaders in my team who needs to guide the younger ones. That's perhaps the only difference. The joy of winning a title remains the same – absolutely amazing."
The expectation of a league victory – and that absolutely amazing feeling – was perhaps what drew fans to Jalan Besar on Sunday.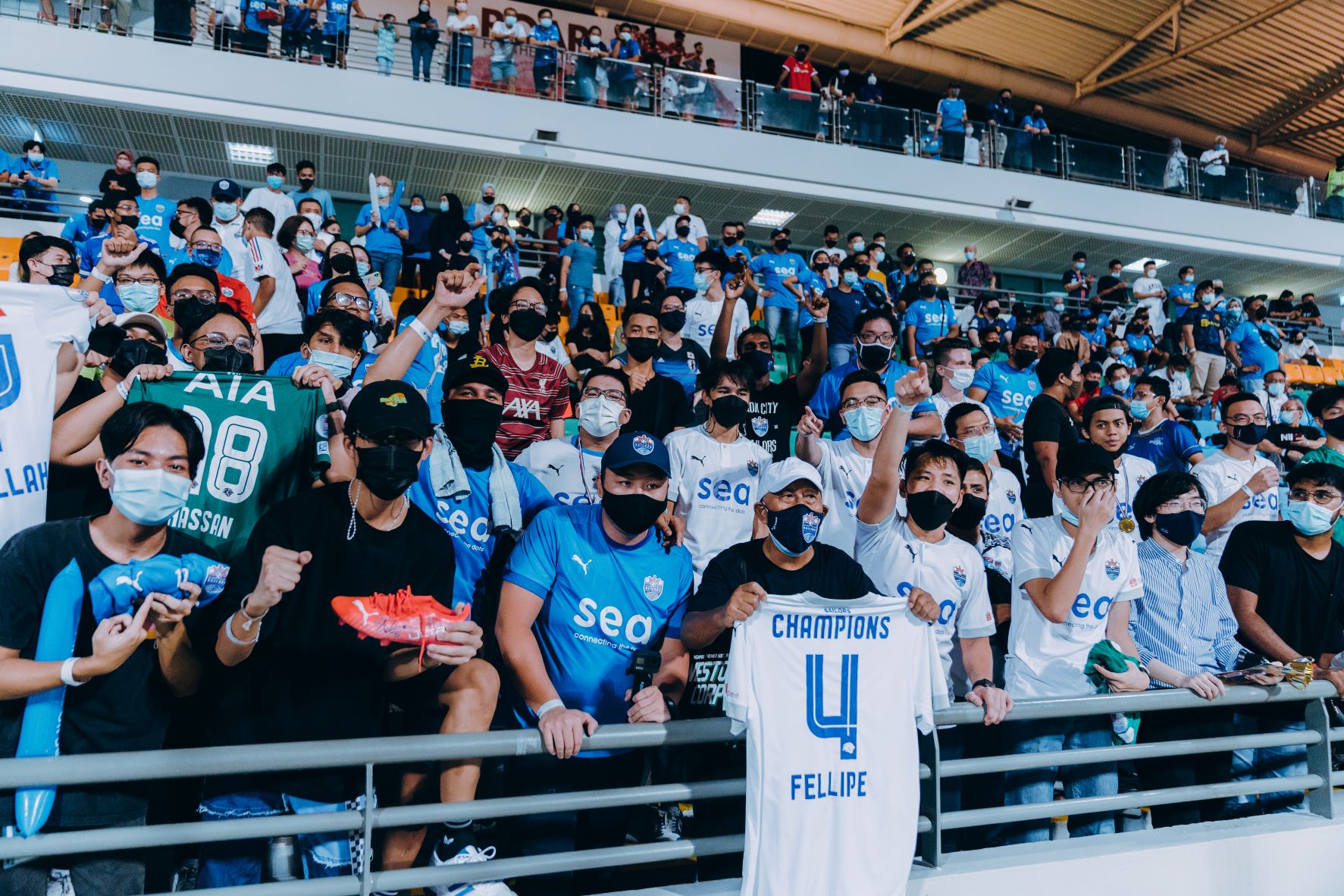 Queues for match tickets began to form by 12pm, some three hours before sales commenced. With only 1,000 spectators allowed under current COVID-19 regulations, those who could not get tickets even perched themselves atop of the multi-storey car park facing the venue in order to catch a glimpse of the action. 
Fans played their part in the win, going beyond just lending their voice to the Sailors, to even chanting "Tanjong Pagar" to signal to the men on the pitch that the Jaguars were doing well against Albirex at the Jurong East Stadium. 
And the stands erupted at the final whistle that signaled the club's historic first SPL title. 
As the Sailors held the 15kg, 67.5cm trophy aloft before proceeding to celebrate on the pitch with their loved ones, it was clear that triumph went beyond just football.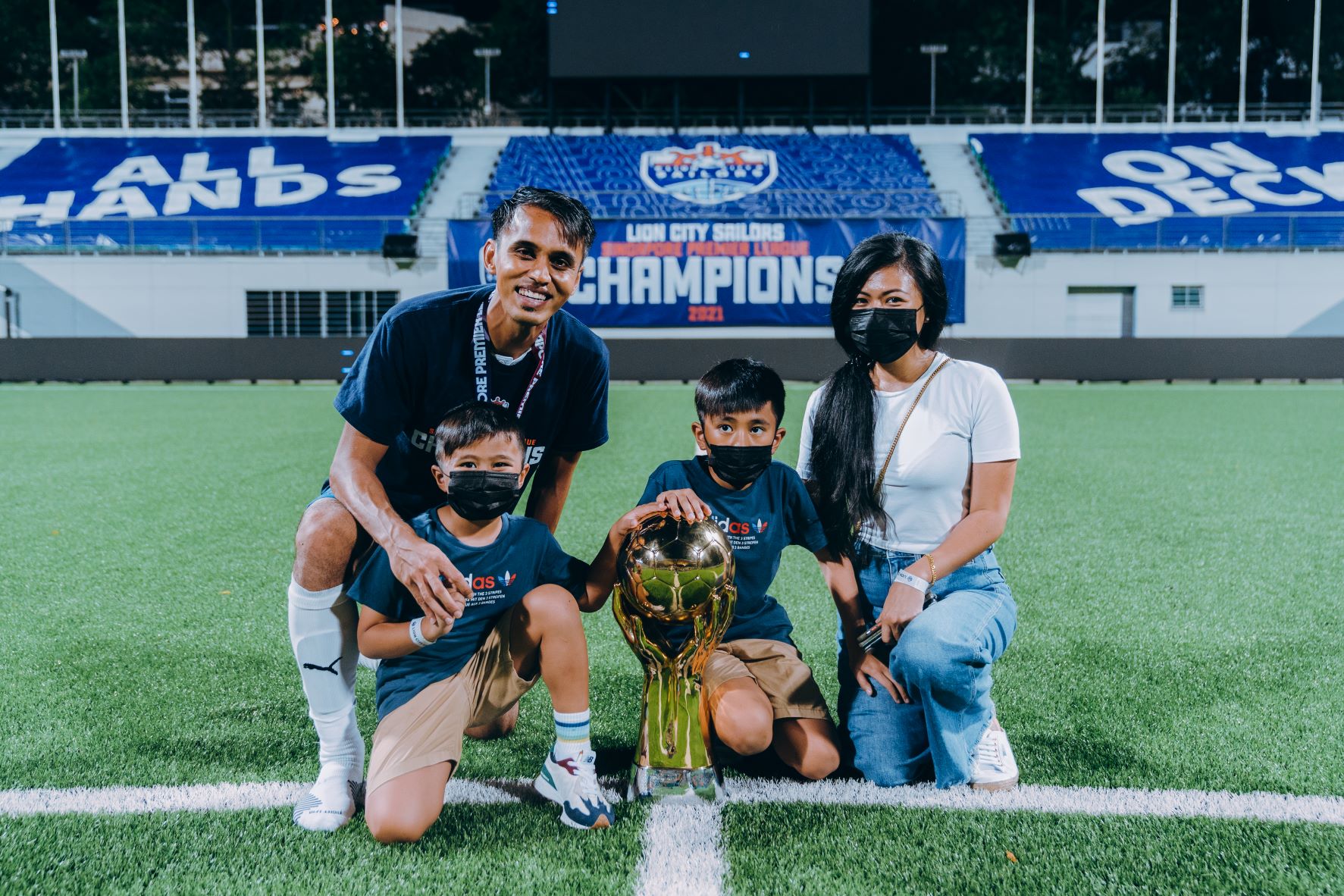 For Shahdan, this was the first time he would celebrate an SPL title win with his two sons. His eldest, Shaqeel Ilhan, was just a newborn when Shahdan last lifted the trophy some eight years ago. 
"It was such a special feeling to have Shaqeel and my younger son (five-year-old Shaheen) present as we won a trophy – they were just so excited to hold it in their hands," said the midfielder, who missed only one match throughout the season, through suspension.  
Similarly for Gabriel, having his six-year-old daughter Gladys and two-year-old son Garrett present on such a momentous occasion made everything sweeter. 
"My daughter is at an age where she can understand many things, so it's nice for her to witness this – it's a moment money can't buy," said the national team forward, whose 13-goal tally saw him finish as the top local goalscorer for the second consecutive season.
"I'm just glad to be able to score for them. Celebrating with them on the pitch, it felt like all the sacrifices I made for my career paid off."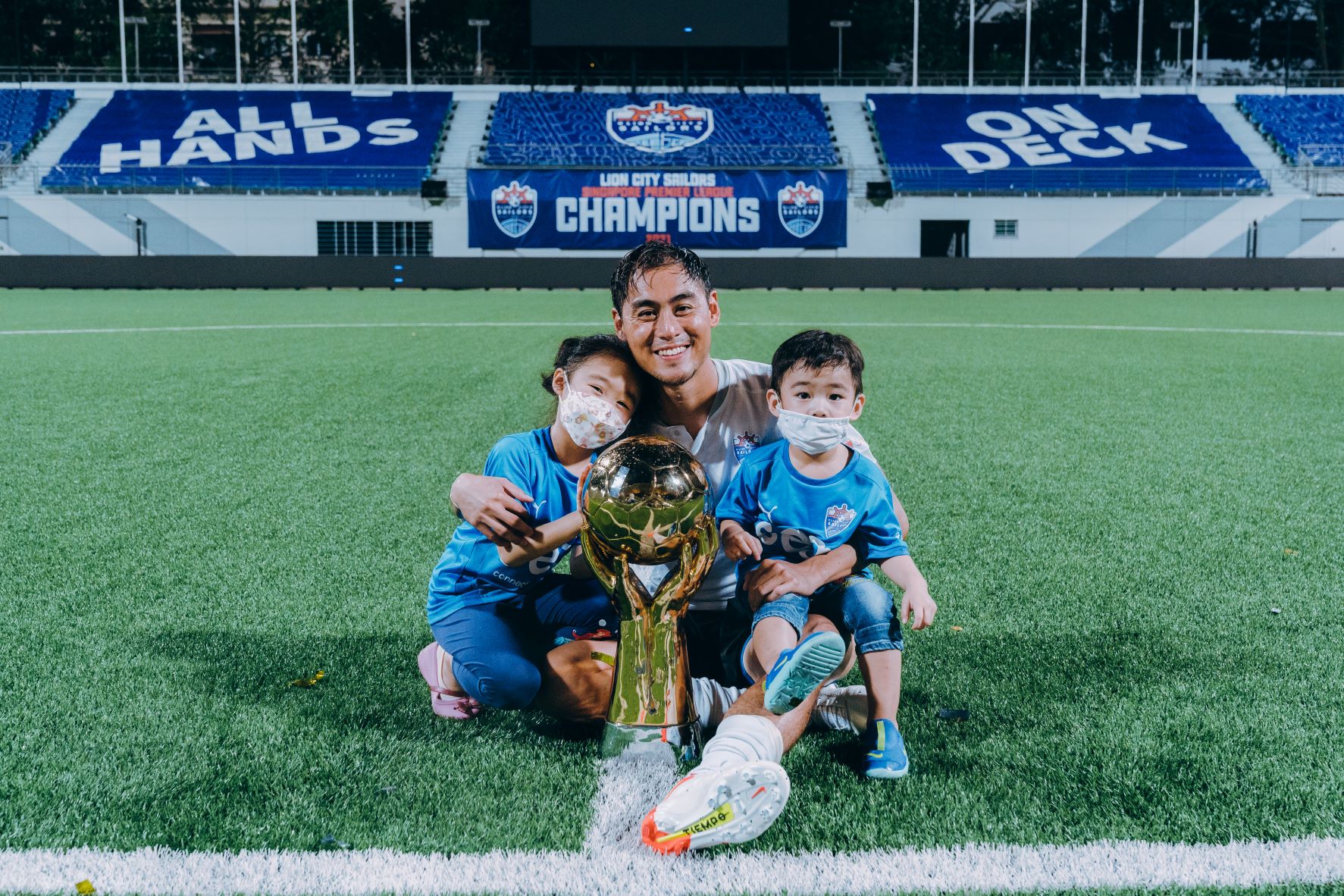 While soaking in the historic moment with teammates, family and fans, the Sailors saved something special for the man who made all this possible – club Chairman Forrest Li.  
The Sailors chanted "Forrest!" on the pitch as they bounced up and down and shot their hands up into the Jalan Besar sky – with a fervour matching the chants of those in the stands. 
"He's out of town at the moment, but I think if anyone deserved the loudest cheer, it has to be Forrest," said Gabriel. "We can only do so much, but ultimately the foundation of our success was put in place by his inspired vision and commitment to excellence. 
"Massive respect for the trust he has put in the team and the club,  he believed in us from Day One. We look forward to having him back in Singapore so we can celebrate together."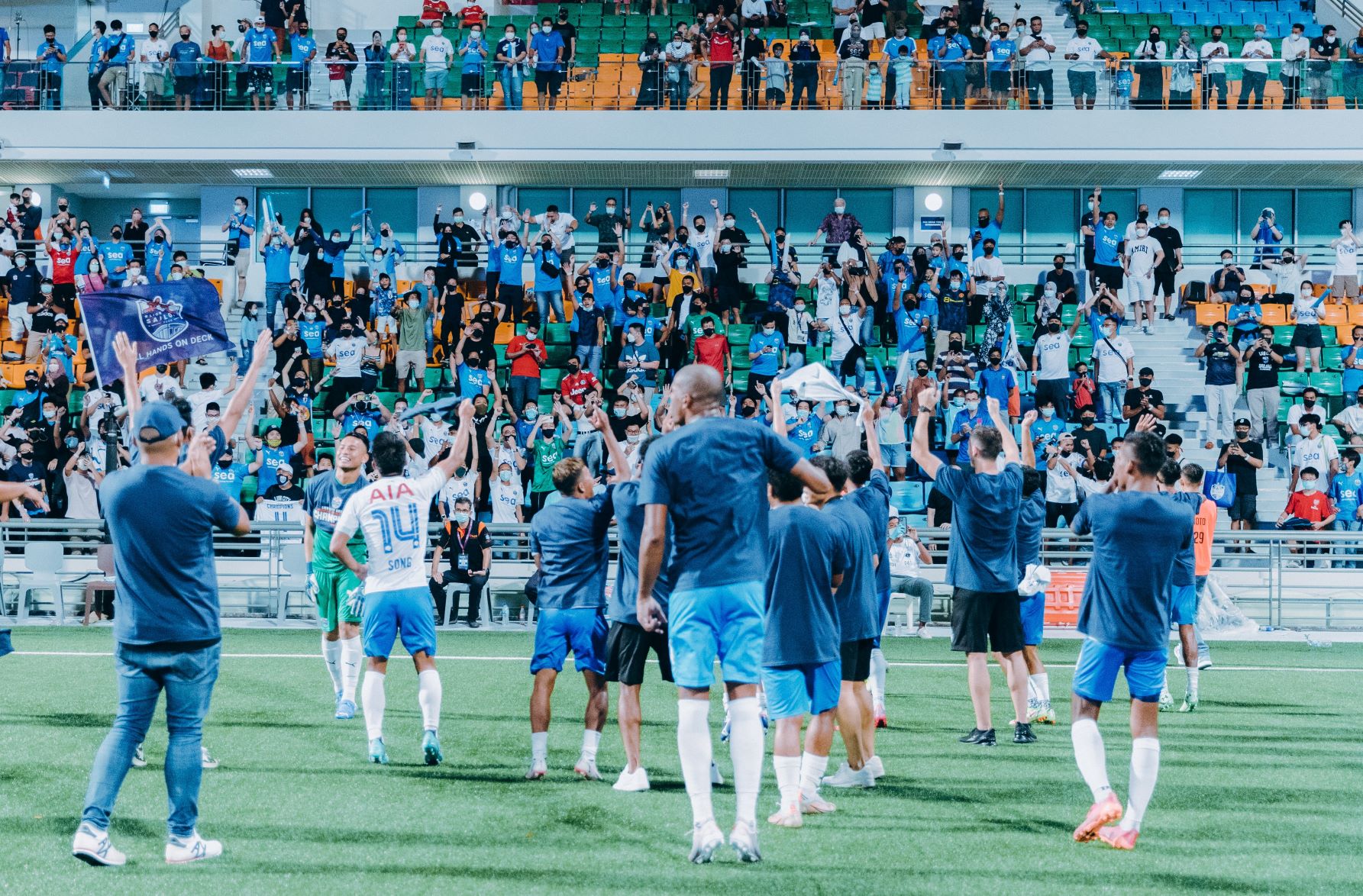 The dust is only just beginning to settle on the historic SPL title, but Sailors' eyes are already looking to the horizon. The club Chairman's vision of establishing the club as a regional powerhouse kicks into gear next year, with the Sailors' first involvement in the Asian Football Confederation (AFC) Champions League campaign. 
"First we have to establish ourselves locally – we have to make sure this title is not a one-off. We have to win the league year in year out," said Gabriel. "Only then can we talk about the continental stage – and we're clear that we have to keep working hard if we want to match up with Asia's best."
Terms and Conditions – #CelebrateLCSFC
These terms and conditions, and any other documents and policies incorporated by reference, ("

Terms

") shall apply to the #CelebrateLCSFC competition (the "

Competition

") organized by Lion City Sailors Private Limited ("

Lion City Sailors

"), and shall form a contract between you and Lion City Sailors. 

Your participation in the Competition constitutes your agreement to be bound by these Terms The offering of the Competition to you is conditional on your acceptance of these Terms. If you do not agree to these Terms, you must not participate in the Competition.

Lion City Sailors' other policies (including, but not limited to, the Terms of Service available

here

) ("

Policies

") also apply to your participation in the Competition – to the extent of any inconsistency between the Policies and these Terms, the Policies shall prevail.
The competition shall run from

[28th October 2021]

to

[1st November]

("

Competition Period

").
To participate in the Competition, you must use your personal Instagram account to post on your own Instagram page, and must ensure that each entry is public and contains the hashtag #CelebrateLCSFC. Entries of Instagram posts to the Competition are limited to one per participant / person.

Winning entries will be chosen by the Lion City Sailors marketing department and will be judged on creativity (in its sole discretion).

The prizes for the Competition ("

Prizes

") are one Lion City Sailors Champions T Shirt (size subject to stock), one Lion City Sailors Cap, one Lion City Sailors mask and one Lion City Sailors Crew T-Shirt.

Winners of the Prizes will be contacted through Instagram direct messaging by Lion City Sailors. In the even that Lion City Sailors is unable to contact the winner after three (3) attempts a replacement winner will be chosen. 

Acceptance of a Prize by a winner shall constitute agreement for the winner to take part in such related promotional activities as Lion City Sailors may require. 
By participating in the Competition, you represent, warrant and undertake that:

you are at least eighteen (18) years old and are ordinarily resident in Singapore; 

you and your immediate family members are not employed by Lion City Sailors or its associated promotional partners, companies or suppliers; and

you will comply with all applicable laws when participating in the Competition.

By participating in the Competition, you acknowledge and agree that:

the Competition is deemed void to the extent prohibited by applicable laws; 

entries to the Competition are deemed void if Lion City Sailors determine (in its sole discretion) that such entries are illegible, incomplete, damaged, irregular, altered, counterfeit, produced in error or obtained through fraud or theft;

the decisions of Lion City Sailors are final and binding with respect to all matters relating to the Competition (including, but not limited to, selection of the winners of the Prizes);

all Prizes are non-transferable and non-exchangeable for cash or any other Prizes;

you grant Lion City Sailors a non‐exclusive, royalty‐free, transferable, sub-licensable, irrevocable, perpetual worldwide licence and right to use (including commercial use), distribute, reproduce, display and otherwise make available any content that you provide in connection with the Competition (including, but not limited to, your entry as well as your name, likeness and/or voice) ("

Provided Materials

"), and Lion City Sailors may use your Provided Materials in any publicity or advertising relating to the Competition or future competitions held by Lion City Sailors without compensation or approval (subject to applicable law); and

the Competition is in no way sponsored, endorsed or administered by, or associated with, Facebook, Inc. and its affiliates, and you agree to completely release Facebook, Inc and its affiliates from any and all liability in connection with the Competition. 
Changes to / cancellation of Competition
Lion City Sailors reserve the right to (in its sole discretion): (a) amend or vary any term of the Competition, or suspend or cancel the Competition at any time, including, but not limited to, where for any reason the Competition is not capable of running as planned, due to any causes beyond the control of Lion City Sailors that corrupt or affect the administration, security, fairness, integrity, or proper conduct of this Competition; and (b) suspend or disqualify your participation in the Competition at any time, including, but not limited to, where you breach any of the provisions of these Terms or the Policies or where your participation in the Competition is deemed by Lion City Sailors to be inappropriate, unsuitable or detrimental to Lion City Sailors.

For the avoidance of doubt, cancellation, termination or suspension by Lion City Sailors of the Competition shall not entitle any party to any claim or compensation against Lion City Sailors for any and all losses or damage suffered or incurred as a direct or indirect result of the act of cancellation, termination or suspension of the Competition.
By participating in the Competition, you are deemed to have consented to: (i) the collection, use and disclosure of his/her name, image, voice and/or likeness by Lion City Sailors for editorial, advertising, competitional, marketing and/or other purposes without any payment and/or compensation except where prohibited by law; and (ii) receiving competitional, marketing and other publicity information from Lion City Sailors from time to time. 

Please also refer to Lion City Sailors' Privacy Policy (available

here

). By participating in the Competition, you consent to Lion City Sailors' collection, use, disclosure and/or processing of your personal data as described in the Privacy Policy.
To the maximum extent permitted by applicable law, the Competition (and any systems used to provide the Competition) is provided "as is" and without any warranties, claims or representations made by Lion City Sailors of any kind either express, implied or statutory with respect to the Competition, including without limitation warranties of quality, performance, non-infringement, merchantability, or fitness for a particular purpose, nor are there any warranties created by course of dealing, course of performance or trade usage. Without limiting the foregoing, Lion City Sailors do not warrant that the Competition (and any systems used to provide the Competition) will be available, accessible, uninterrupted, timely, secure, accurate, complete or error-free, that defects, if any, will be corrected, or that they are free of harmful code.  You acknowledge that the entire risk arising out of your participation in the Competition (and use of any systems used to provide the Competition) remains with you to the maximum extent permitted by applicable law.

Lion City Sailors do not assume any responsibility or liability whatsoever for any Losses resulting from (i) any errors in communication associated with the Competition, (ii) any problems with the Prizes; and (iii) any use of the Prizes.
To the maximum extent permitted by applicable law, you agree to defend, indemnify and hold harmless Lion City Sailors and its affiliates and their respective officers, directors, employees, subcontractors and agents) from and against any and all Losses, whether foreseeable or not, directly resulting from any third party claims, investigations, legal or administrative action, litigation or arbitrations or demands to the extent arising out of or relating to: (a) any actual breach of any of your representations, warranties, covenants, or obligations under these Terms; and (b) any breach of any third party's rights.

To the maximum extent permitted by applicable law, under no circumstances shall Lion City Sailors be liable to you for any losses, liabilities, damages, fines, judgments, settlements, costs, expenses, and fees (including reasonable and justified attorney's fees), including, but not limited to: (a) indirect, incidental, consequential, punitive or special damages whatsoever; or (b) loss of profits, loss of business, loss of opportunity or loss of goodwill, whether foreseeable or not, arising out of or related to this terms of service, regardless of the forum and regardless of whether based on breach of contract, tort (including, without limitation, negligence), misrepresentation, under statute or otherwise ("

Losses

"). Your only right with respect to any problems or dissatisfaction with the Competition is to discontinue participation in the Competition. If, notwithstanding the preceding sentence, Lion City Sailors is found by a court of competent jurisdiction to be liable for any Losses, Lion City Sailors' total liability to you or any third party is limited to SGD 100 (one hundred Singapore dollars).
Lion City Sailors may revise and update these Terms at any time in its sole discretion by posting an updated version. It is your responsibility to check regularly to make note of any changes. All such changes to these Terms are effective immediately when posted and apply to your participation in the Competition thereafter. Your continued participation in the Competition following the posting of such revised Terms constitutes your acceptance and agreement to the changes which are binding on you.

These Terms and any non-contractual rights or obligations arising out of or in connection with it shall be governed by and construed in accordance with the laws of Singapore.

You shall do all things necessary, including executing all documents necessary, to give effect to the intention of the parties under these Terms. 

Failure by Lion City Sailors to enforce any of their rights at any stage under these Terms does not constitute a waiver of those rights.

Any dispute, controversy, difference or claim arising under or relating to these Terms shall be referred to and finally resolved by arbitration administered by the Singapore International Arbitration Centre in Singapore in accordance with the Arbitration Rules of the Singapore International Arbitration Centre for the time being in force, which rules are deemed to be incorporated by reference in this Clause. The seat of the arbitration shall be Singapore. This arbitration agreement shall be governed by Singapore law. The Tribunal shall consist of three (3) arbitrators and the language of the arbitration shall be English. 

A person who is not a party to these Terms shall have no rights under the Contracts (Rights of Third Parties) Act (Cap 53B) to enforce these Terms.