Author:
Lion City Sailors
Any doubts over whether the Lion City Sailors could pick up where they left off prior to the international break were empathically dispelled on Sunday night (June 19).
On their return to AIA Singapore Premier League (SPL) action after a month's hiatus, the leaders cruised to a club-record seventh consecutive league win by beating Balestier Khalsa 6-1 at Toa Payoh Stadium.
Kim Do-hoon had admitted before the match that some tweaks could be made for battle at a venue where two points were dropped in their last visit, and it perhaps helped that the Sailors were given an early wake-up call when Daniel Goh smashed an opportunistic 30-yard effort off the bar after just three minutes.
But the Sailors' response was swift and glorious. As a loose, bouncing ball came his way some 35 yards out from goal, Shahdan Sulaiman stunned everyone by meeting it first-time with a half-volley that swerved into the bottom left corner.
The midfield maestro would go on to curl another unstoppable 30-yard strike into the top right corner on 41 minutes as he put on a long-range shooting masterclass, and was unfortunate not to complete a hat-trick when a 35-yard volley came off the bar in the second half. "I think it was a good performance, not only from me, but from the whole team," the 34-year-old modestly reflected. "Coming back from the break, it is a good win to restart our systems."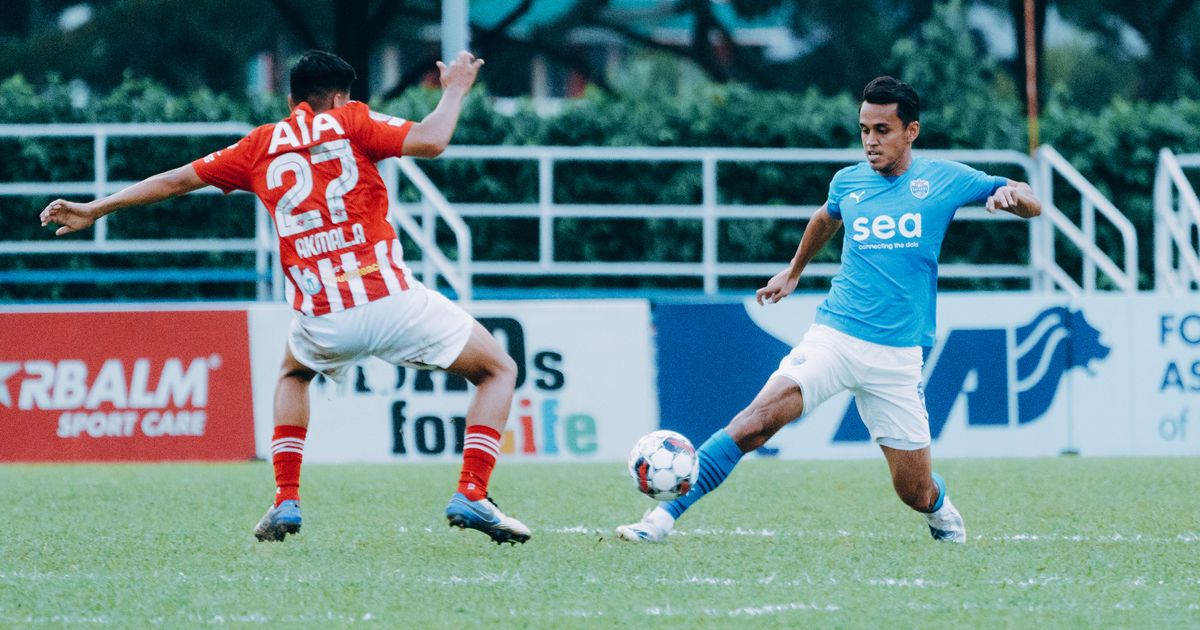 Shahdan also played a key role in the Sailors' second goal on 19 minutes by releasing Diego Lopes with a trademark through ball, allowing the Brazilian to set up Song Uiyoung for a tap-in. Captain Hariss Harun got the third in the 26th minute, controlling Pedro Henrique's headed flick off Maxime Lestienne's corner with his chest before firing in from close range to open his Sailors account.
If the hosts had no answer to Shahdan, they certainly did not have a handle on Lopes. The Sailors' number 10 was constantly picking apart the Balestier defence, and was unfortunate to see a deft lob cleared off the line in the first half. A goal would have perfectly complemented his hat-trick of assists, with the latter two coming after the half-time break.
First, a perfectly-weighted pass sent substitute Gabriel Quak racing clear into the box on 74 minutes to slot in a left-footed effort for his 40th SPL goal. Seven minutes later, Lopes played a one-two with Kim Shin-wook before crossing for Faris Ramli to head in his first of the season barely two minutes after coming on. The goal made Faris the 11th different player to score for the Sailors – a league-best tally this year.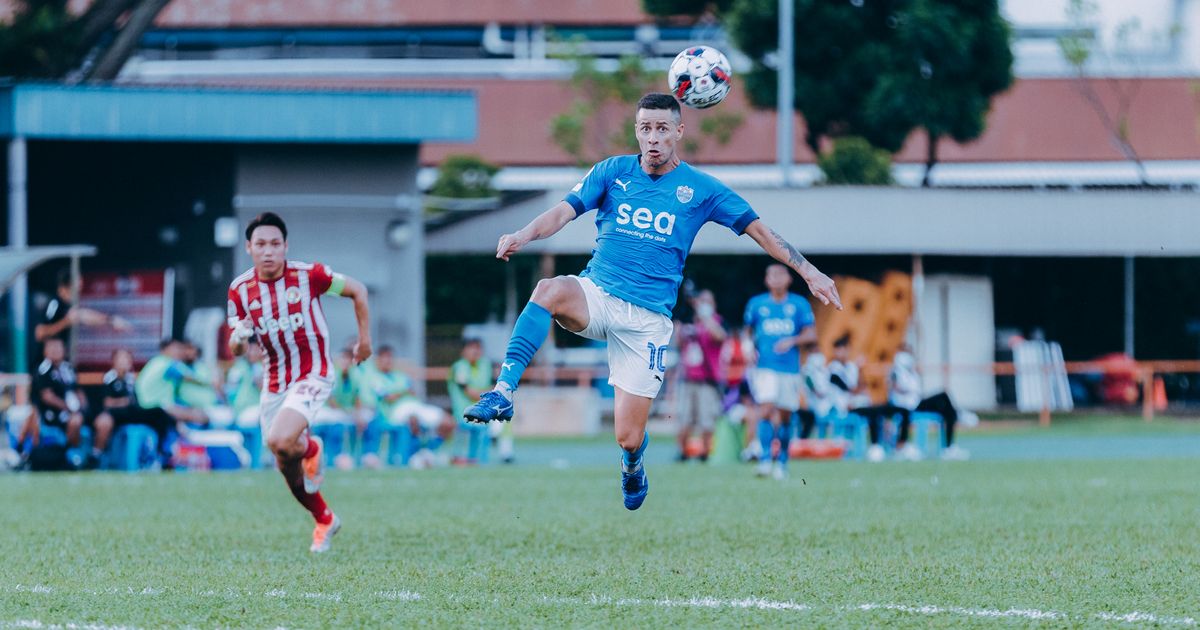 Kim himself saw a first-half header rattle the woodwork in an encounter where the margin of victory could have been larger, with Faris also firing over from a decent position, and Balestier goalkeeper Hairul Syirhan doing well to tip over a fierce strike from Lestienne.
At the other end, Hassan Sunny was rarely troubled, but would not have been pleased with the loss of a clean sheet – he was powerless to stop Goh's well-struck penalty in the third minute of added time.
Indeed, such are the high standards of Coach Kim that he said: "I wouldn't call it (the win) perfect (as) we conceded a goal. But, I give full credit to my boys because they were trying to stay focused to make a perfect game until the last moment, so full credit to them and congratulations to my players tonight. We will try our best to continue with the good momentum in the next game."
The Korean knows that the Sailors have to keep up the hard work for their next match on Friday (24 June) against Albirex Niigata (S), who remain six points behind in second after crushing Hougang United 5-0 on Sunday.
The Lion City Sailors laid down a serious marker in their quest to win the Deloitte Women's Premier League (WPL) title this season, as they overcame Hougang United 6-0 last evening (June 18) at the Yishun Stadium.
Forwards Lila Tan and Dorcas Chu both snagged themselves a brace, while Khairunnisa Anwar and Madison Telmer also got on the scoresheet for the Sailors.
The margin of victory is the largest in the WPL so far this season, with four rounds of matches having already been played.
Sailors assistant coach Adelina Gomez – standing in for head coach Yeong Sheau Shyan, who is currently overseeing the Singapore Women's Under-16 national side's training camp in Thailand – hailed her charges for putting in such a dominant performance.
She said: "The game wasn't easy considering the condition of the pitch but the girls made it look plain sailing. Our combinations and support plays were fantastic. It was a superb game, and they should be so proud of their performance.
"We met our objectives and stuck to the game plan. I think getting the three points and a clean sheet is already a display of how well they've performed."
Two-goal hero Lila added: "It was a huge challenge to play on the field after it rained. At times, it felt like playing beach football, as the field was all muddy and wet. Nonetheless, I believe we tried our very best despite the slips and falls."
Lila, who was among the 12 Sailors called up the Lionesses' provisional 29-player squad ahead of the upcoming ASEAN Football Federation (AFF) Women's Championship, was also pleased to have got off the mark in her debut for the club.
"Its a thrilling feeling to be able to score on my debut! I am just happy I gave it my all on the field and played with no regrets," said Lila. "It's important to be able to consistently perform on the field and fully demonstrate your potential as an athlete, especially leading up to the upcoming AFF championship."
Adelina was particularly pleased with her side's movement and penetration in the final third.
"We were really comfortable in playing those crucial balls into space and it caused a lot of issues for the opponent," Adelina elaborated. "We also worked well together in combining passes and runs for goal scoring opportunities."
While Lila and Dorcas both garnered plaudits for their goalscoring exploits, it was the performance of midfielder Venetia Lim – making her debut for the Sailors – who caught the eye of Adelina.
"I'd say every player played their heart out last night. But Venetia was the one who stood out for me," Adelina mused.
"Her football intelligence is phenomenal, and she read the game superbly. She was so composed and calm on the ball, her decision making was spot on, and she played brilliantly despite returning from an injury."
With the win, the Sailors, who beat Albirex Niigata (S) 4-1 in their first match of the season two weeks ago, find themselves third in the table on six points – three points behind current league leaders Tanjong Pagar United, who have played two games more.
The Sailors will next take on Still Aerion FC at the Yishun Stadium on July 16.
After a four-week break, the Lion City Sailors will get back to league action when they travel to Balestier Khalsa this Sunday (19 June) evening.
Kim Do-hoon's men will do so on the back of a six-match winning streak in the AIA Singapore Premier League (SPL), and another victory at the Toa Payoh Stadium will see them set a new club record.
However, the Korean is more focused on continuing the momentum that was being built before the international break as the Sailors hunt a second straight SPL title.
"Such statistics are not in my head," he said. "It is more about how we can sustain good performances on the pitch after coming back from the Asian Football Confederation Champions League (ACL) and show continuous improvement. Of course, we will fight for the three points and put on a good show."
The Sailors were far from their best in their first match upon their return from the ACL back in May – a 4-3 win against Hougang United – and Kim knows that they have to put in a much-improved performance against the Tigers, who, despite having lost their last four games, will certainly pose their own threat.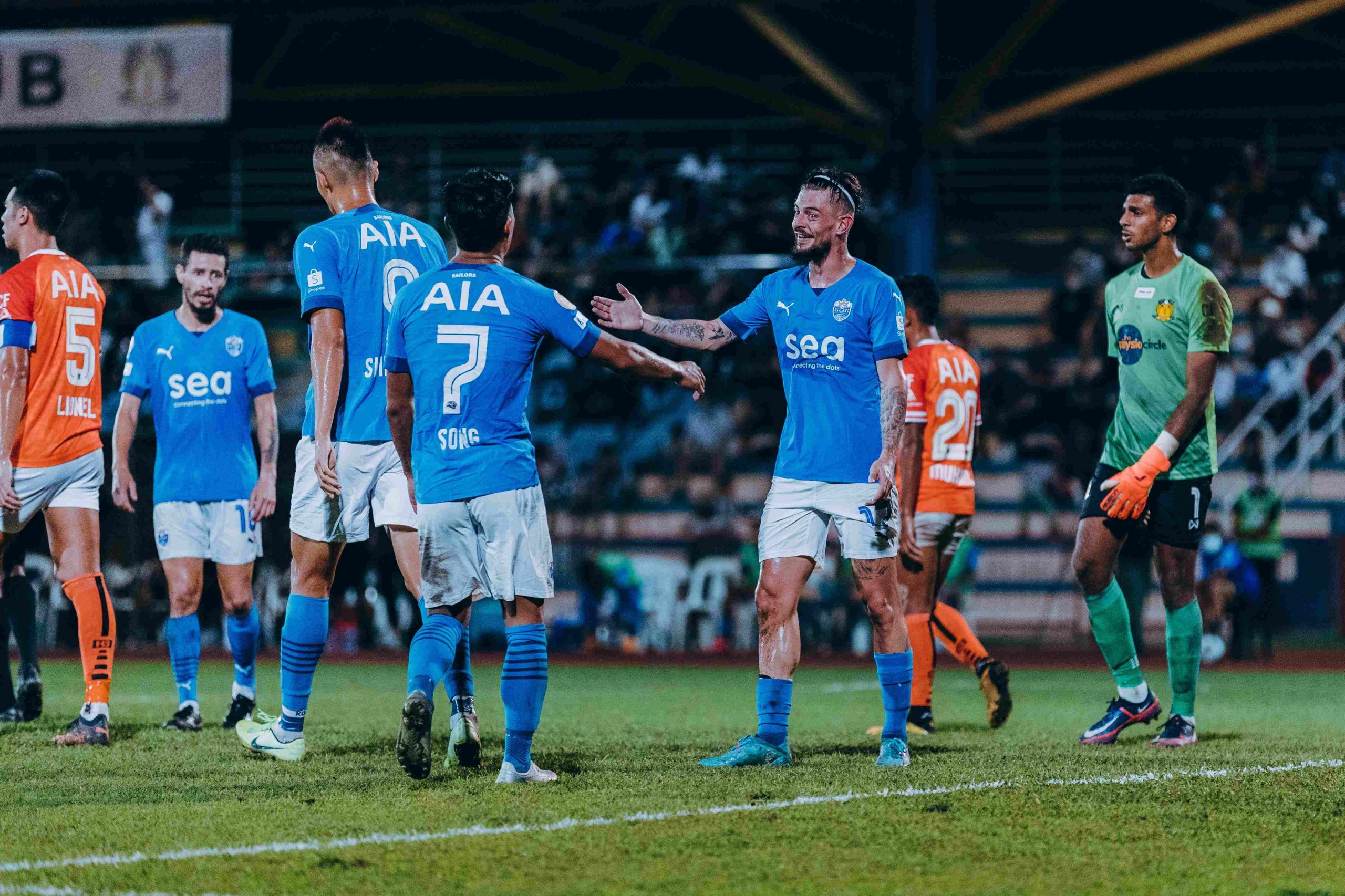 While the Sailors have won five of their six encounters in history, the one time they dropped points was at Toa Payoh Stadium. Then, Stipe Plazibat's 95th minute penalty salvaged a 1-1 draw, and Kim admitted that the venue might see him make some specific tweaks to his game plan.
"To be honest, it will have an effect on the match but at the end of the day, both teams will be playing under the same conditions and we will have to overcome any difficulties," he said. "I think that Balestier have been showing good performances in spite of the results; they added quite a few new players for this season and it always takes time to gel in a situation like that. But credit goes to their head coach (Akbar Nawas) for getting them to play some good football.
"It was not easy playing them in our last meeting (a 4-0 win in April) and I believe it will be the same this week… They are a team who likes to play offensive football and they are very aggressive at running behind their opponents' defensive line."
Kim revealed that the international break was a "good" one for those who were not on duty as they worked on fitness and individual aspects for improvement. However, the 12 Lions who were part of the Singapore National Team will still need to be assessed for match fitness.
Hassan Sunny and Shahdan Sulaiman completed all four matches during the window while Hariss Harun, Faris Ramli and Song Uiyoung played the majority of the minutes; Amirul Adli, Hafiz Nor, Nur Adam Abdullah, Iqram Rifqi, Adam Swandi and Gabriel Quak all saw action as well. Young midfielder Saifullah Akbar, however, is a doubt for the game after picking up a knock. "Whoever is ready will get to play," Kim said.
Nonetheless, the Sailors will welcome Zulqarnaen Suzliman back from the Young Lions after the 24-year-old completed his National Service, and Kim noted: "I am very happy to have him back and he has been welcomed back by everyone. He is an offensive full-back with speed and that threat is an asset for us."
It is clear that the spirit and confidence is high in the Sailors camp, and Kim wants it to stay that way by getting all three points at the weekend.
"It is important that we play the football that we know we can, after good preparations," he said. "If we can show that on the field, I am sure we will have a good result."
A day before the Lion City Sailors were due to take on Balestier Khalsa in the Deloitte Women's Premier League (WPL) last weekend, it was announced that the match would be rescheduled due to several Balestier players testing positive for Covid-19.
While the Sailors would have liked to ride the momentum from their 4-1 win over Albirex Niigata (S) the week before, the unexpected postponement did come with its own advantages.
For one, it meant that the Sailors – who had just two weeks of full team training before the start of the season – now had an extra week to train together, allowing the players to work on their cohesion and understanding on the pitch.
Sailors assistant coach Adelina Gomez said: "We pencilled in a training session to replace the postponed game, so that we could prepare for our next game. Of course, the additional week of training was helpful, and I think the extra sessions we had gave us time to work on our game plan."
The Sailors' next challenge in the WPL will see them take on Hougang United, who have lost all three of their games played so far.
Despite Hougang's poor run of form, Adelina cautioned against underestimating the Cheetahs, as she said: "They're (Hougang) very speedy off the ball and that could potentially cause issues for us if we don't read it quick. They've got a pretty solid back line as well, so we need to be creative with our movement to create chances.
"Moving the ball around, as well as staying calm and patient is something we're aiming to do. If we can do that, we will be able to create opportunities in their box.
"We want to play fun, entertaining and attacking football. We're going to seize the opportunity right from the beginning. I think if we start on the right foot, it'll give us an advantage."
The Sailors, however, will have to try and get all three points against Hougang without captain Ernie Sulastri, as well as head coach Yeong Sheau Shyan. The duo is part of the technical team of the Singapore Women's Under-16 national side, who are currently in Thailand for a training camp.
Nonetheless, Adelina, who will be standing in as head coach this weekend, is confident that her charges will be able to get the job done, even without Sheau Shyan and Ernie.
"The training sessions have been going well so far, so I'm confident we'll do fine on Saturday. Adaptation is key because situations like this happen all the time, but our girls work very well together," Adelina declared.
"I don't want to be complacent but I have utmost faith in our girls. Ultimately the end goal is to fight for the three points and keep a clean sheet this weekend. They've been looking sharp and focused at trainings so I'm optimistic we can get all three points."
The Singapore National Women's Team has called up 12 Lion City players for their upcoming 'A' international friendlies against Hong Kong, which will take place on June 23 and 26 at the Jalan Besar Stadium.
Among the Sailors called up to Stephen Ng's provisional 29-player squad include captain Ernie Sulastri Binte Sontaril, goalkeeper Beatrice Tan, as well as up-and-coming forward Danelle Tan.
The Lionesses will be hoping to build upon an encouraging SEA Games campaign in Vietnam last month, which saw them make history with a 1-0 win over Laos.
Then, it was the Sailors very own Nur Izzati Rosni who scored the only goal of the match to secure the Lionesses' first win at the Games since 1985.
Following the friendlies against Hong Kong, the Lionesses – who are currently ranked 135th in the FIFA world rankings – will look towards the ASEAN Football Federation (AFF) Women's Championship 2022, which is set to take place in the Philippines from July 1 to July 14.
Singapore have been drawn into Group A for that competition, alongside Thailand, the Philippines, Indonesia, Malaysia, and invited nation Australia.
Singapore Sailors
Dorcas Chu, Ernie Sulastri, Fatin Aqilah, Lila Tan, Nicole Lim, Venetia Lim, Noor Kusumawati, Nur Izzati, Nur Syazwani, Nur Umairah, Beatrice Tan, Danelle Tan
The Lion City Sailors women's Deloitte Women's Premier League (WPL) clash against Balestier Khalsa, which was initially scheduled to take place on Saturday (June 11) at Yishun Stadium, will be rescheduled to a later date.
This postponement comes in the wake of several Balestier players testing positive for Covid-19. The rescheduled date for this match will be announced in due time.
The Sailors, who beat Albirex Niigata (S) 4-1 in their opening WPL match last weekend, will now turn their attentions to the game against Hougang United at the Yishun Stadium on June 18.
Back in January this year, Venetia Lim tore a tendon in her foot after being tackled during training – an injury that subsequently kept the Singapore international out of action for close to four months.
While it was an unfortunate setback for the up-and-coming midfielder, Venetia refused to wallow in self-pity. Instead, she worked hard on her rehabilitation, and eventually recovered in time to be included in the Lionesses' SEA Games squad.
Indeed, Venetia featured in all three of the Lionesses' matches at the Games in Vietnam, starting two of them and coming on as a substitute during the team's historic victory over Laos.
Now, the 18-year-old has her sights firmly set on helping the Lion City Sailors achieve their goals in the Singapore Women's Premier League (WPL).
While Venetia was an unused substitute in the Sailors' 4-1 win over Albirex Niigata (S) last weekend, she is hoping that her efforts in training will lead to her playing some part in the team's next game against Balestier Khalsa at the Yishun Stadium.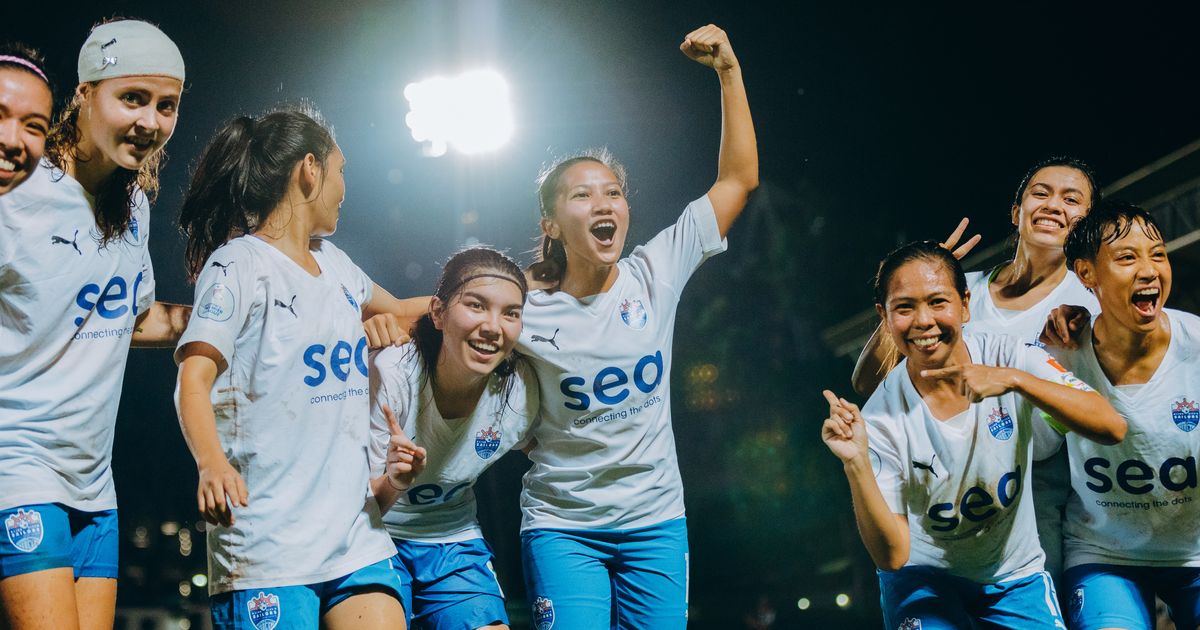 "I'm looking forward to making my debut for the Sailors, but at the same time, I can't help but feel a little nervous as well," Venetia candidly admitted.
"Personally, I am very thankful towards coach Sheau Shyan for giving me this opportunity to be part of the Sailors. Having been injured for the past few months, I just hope that I will be able to contribute effectively to the team."
While the Sailors' margin of victory over Albirex was ultimately comfortable, they were pushed hard by the Jurong-based outfit, and head coach Yeong Sheau Shyan was keen to emphasise after the game that there was still room for improvement.
It is a sentiment that Venetia agrees with, although she firmly believes that the Sailors will get better with more games under their belt.
"I thought the team took some time to settle down, and Albirex put up a strong challenge," Venetia mused. "But despite the short amount of time we had to gel with each other prior to the first match, I think we did well to settle down and execute the coach's game plan.
"Now, I can see that the team is more comfortable playing with each other, and we are all determined to continue striving hard to achieve our goals."
On a personal level, Venetia hopes her experience with the Sailors in the WPL this season will help her develop further – both on and off the pitch.
"I hope to grow and improve both as a football player and as a person," she said. "All the seven teams in the WPL will be fighting hard for the win in every game, and will be vying for the championship.
"To be able to play these incredible teams, against some of the best players in Singapore, will definitely provide me with more match experience. It will also help me learn other aspects of the game, and give me exposure to diverse playing styles. These teams will put me to test and develop me through their respective means."
For now, though, Venetia is simply focused on helping the Sailors get all three points against a potentially tricky Balestier side.
"Balestier is a strong team, and will undoubtedly be hungry for the win. Their aggressiveness and strength in the attacking third could pose problems for us, and I'm sure they'll put up a good fight," said Venetia.
"But we will approach the game by playing as a team. We have set the bar pretty high during the first game, so we have to build on that. As a team, we need to be confident, keep our composure, and concentrate on playing according to the coach's game plan. If we do that, I'm confident it'll increase our chances of winning the game."